Want to create a cozy retreat right in your home? This neutral Primary Bedroom Makeover is packed with ideas and inspiration for recreating a relaxing space.
Could you use a space to recharge, friend? A quiet sanctuary that's bright and airy, smells like lavender, and feels like a big, cozy hug? Umm, yes please! I've got just the thing for you.
Today is the last post in the series about our primary bedroom makeover! If you missed the previous posts, you can catch the project background here —5+ years in the making!— and the renovation details here. This post has everything from furniture and accessories to paint colors, so you can recreate your own soothing retreat.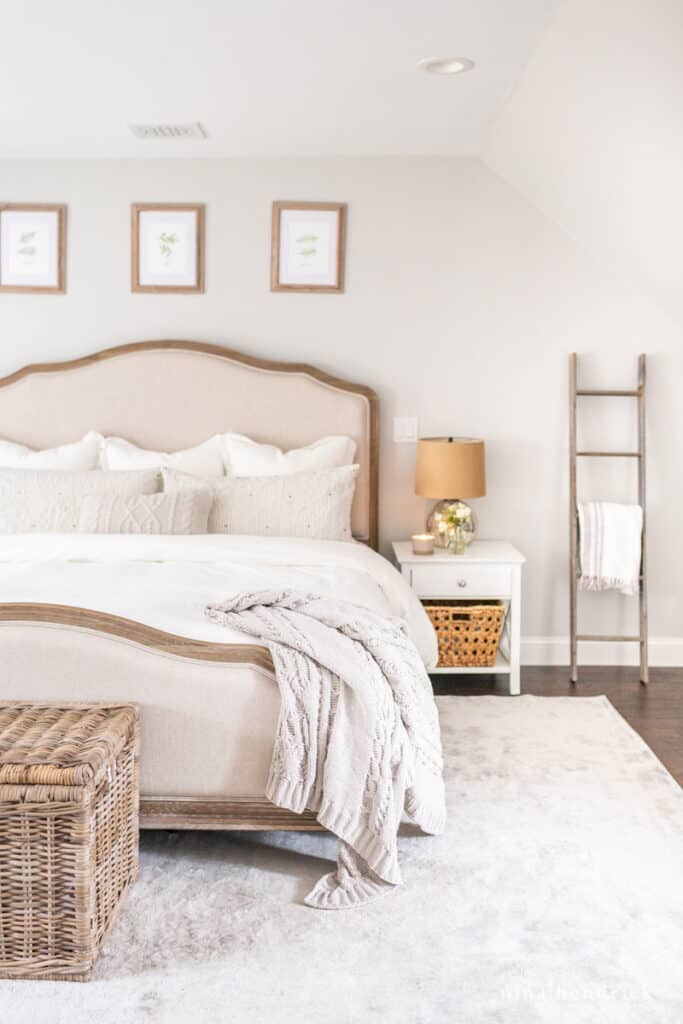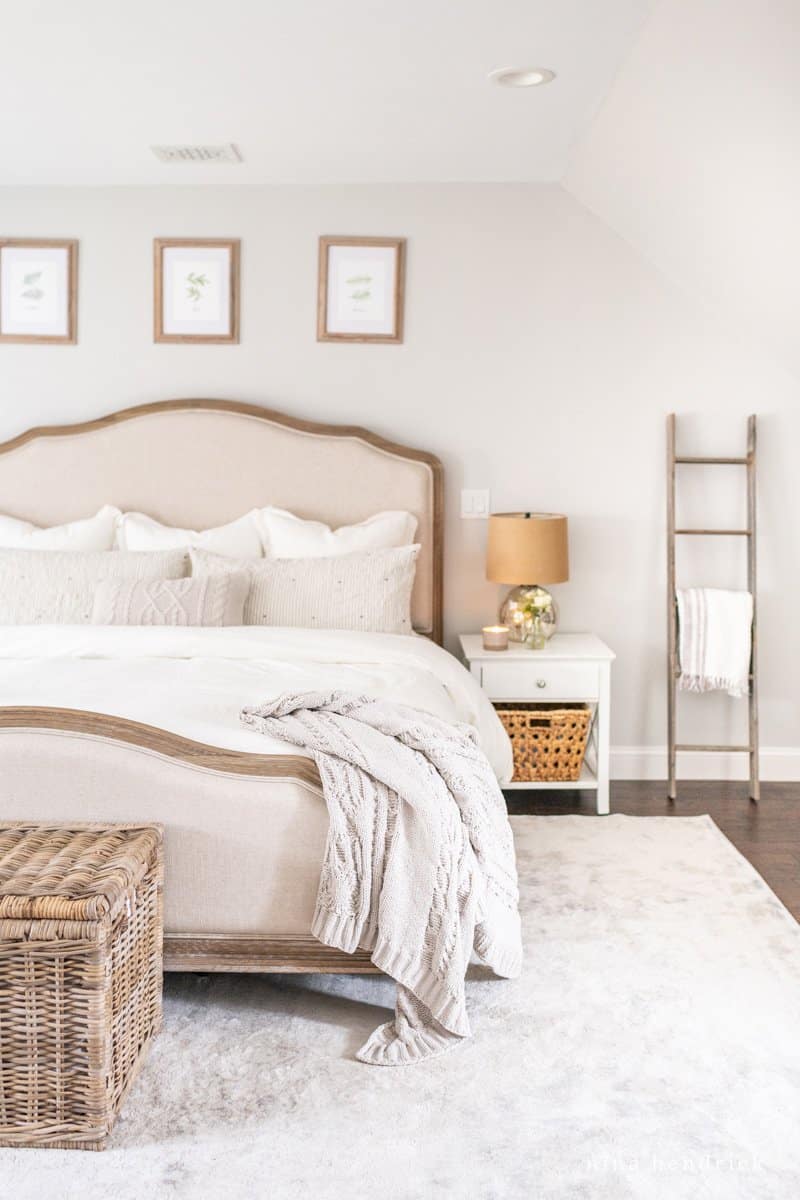 Primary Bedroom Makeover
Now, if you're like me, the primary bedroom might be a ways down your priorities list. I mean, we lived in ours half-renovated for longer than I'd like to admit…
Primary Bedroom Before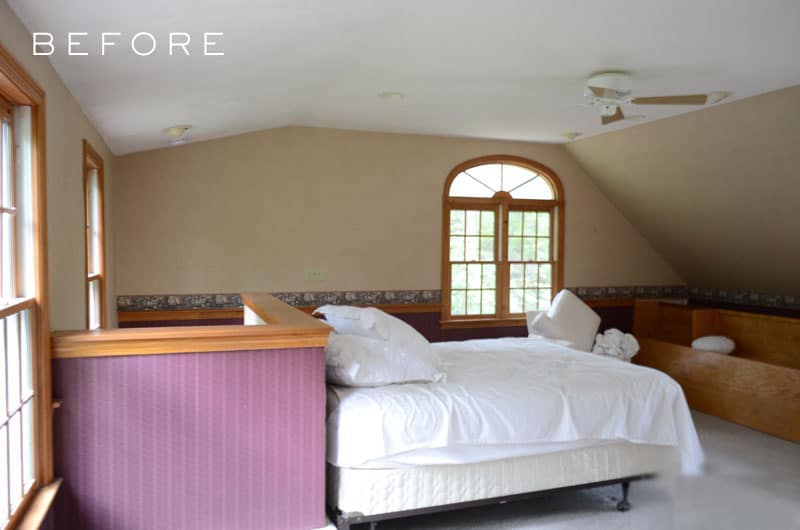 Here's a reminder of the before-before. Our current primary bedroom used to be an office in the bonus room above our garage. It had a super weird layout with an extra staircase and an exterior door. You also had to access it from the main house through a door in our former closet. But we knocked out some walls, reconfigured the layout, carved out a hallway and laundry room to make the best use of space, and made it all our own. You can read more details about our floor plan adjustments here!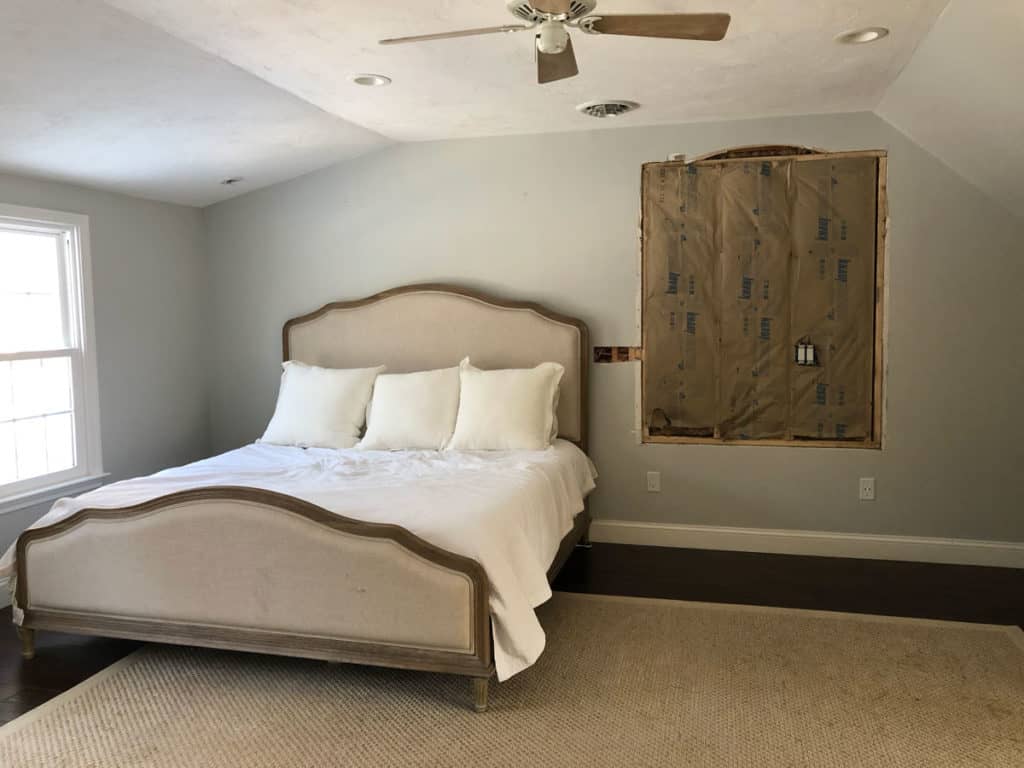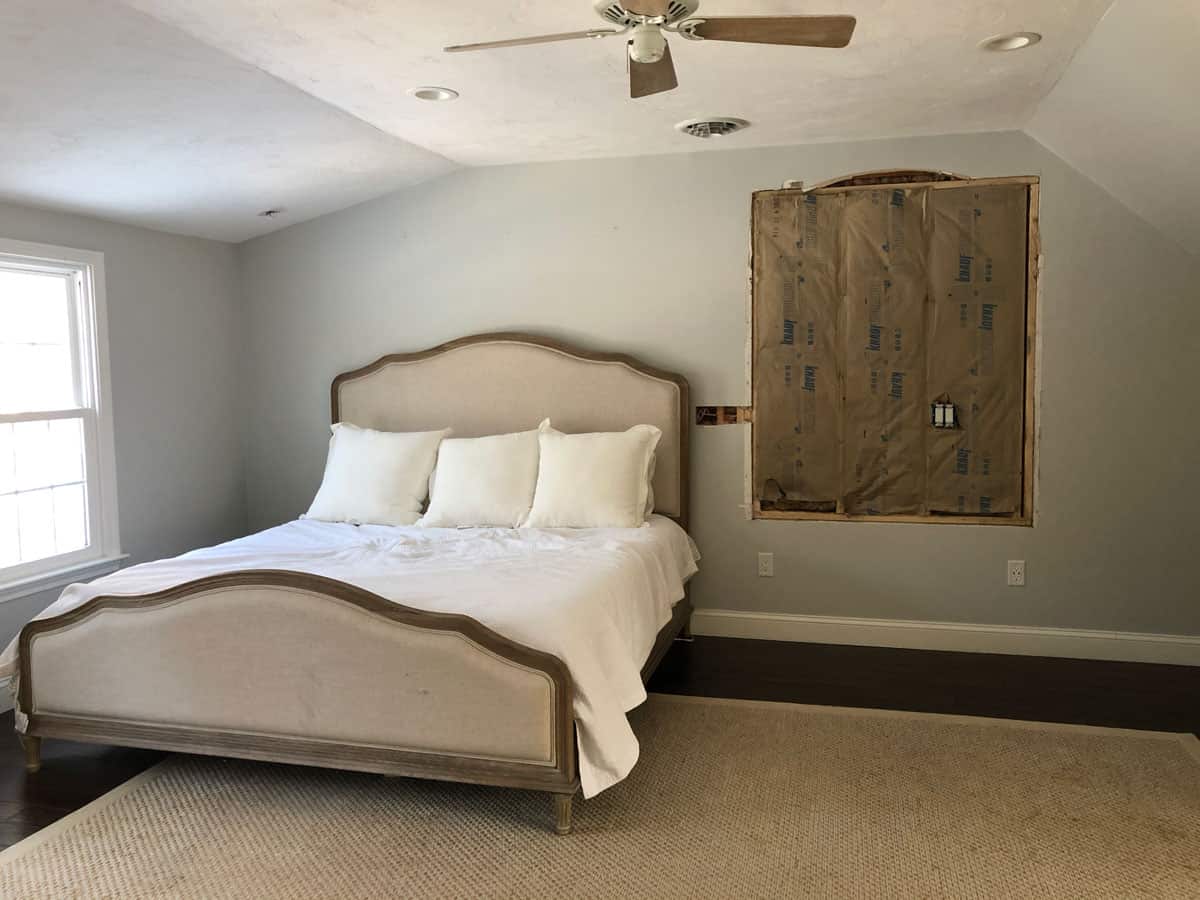 You know how DIY shows transform a total mess of a room into an Instagram-worthy space in 17 minutes? That's not how ours went. It was a years-long project.
However, we did make some changes along the way, like a fresh coat of paint and a beautiful new bed. I even styled a breakfast in bed inspiration shoot for Mother's Day one year. Hey, why not? There was unfinished plaster just out of sight, but it sure looked pretty. However, I was tired of living with the primary bedroom unfinished, so we finally tackled this project in the winter of 2020.
Primary Bedroom After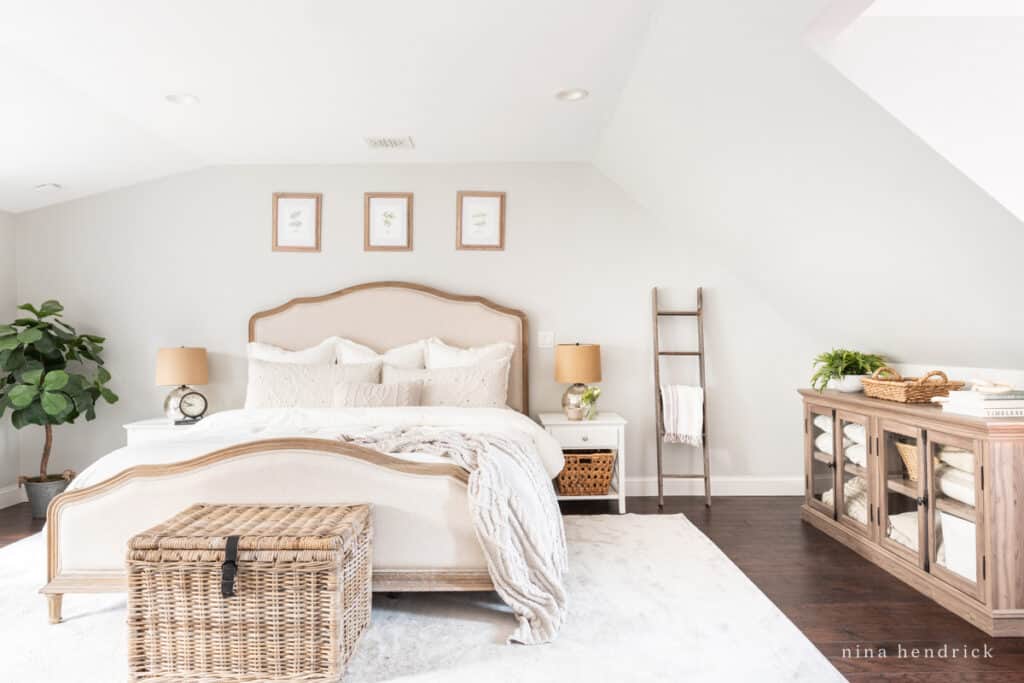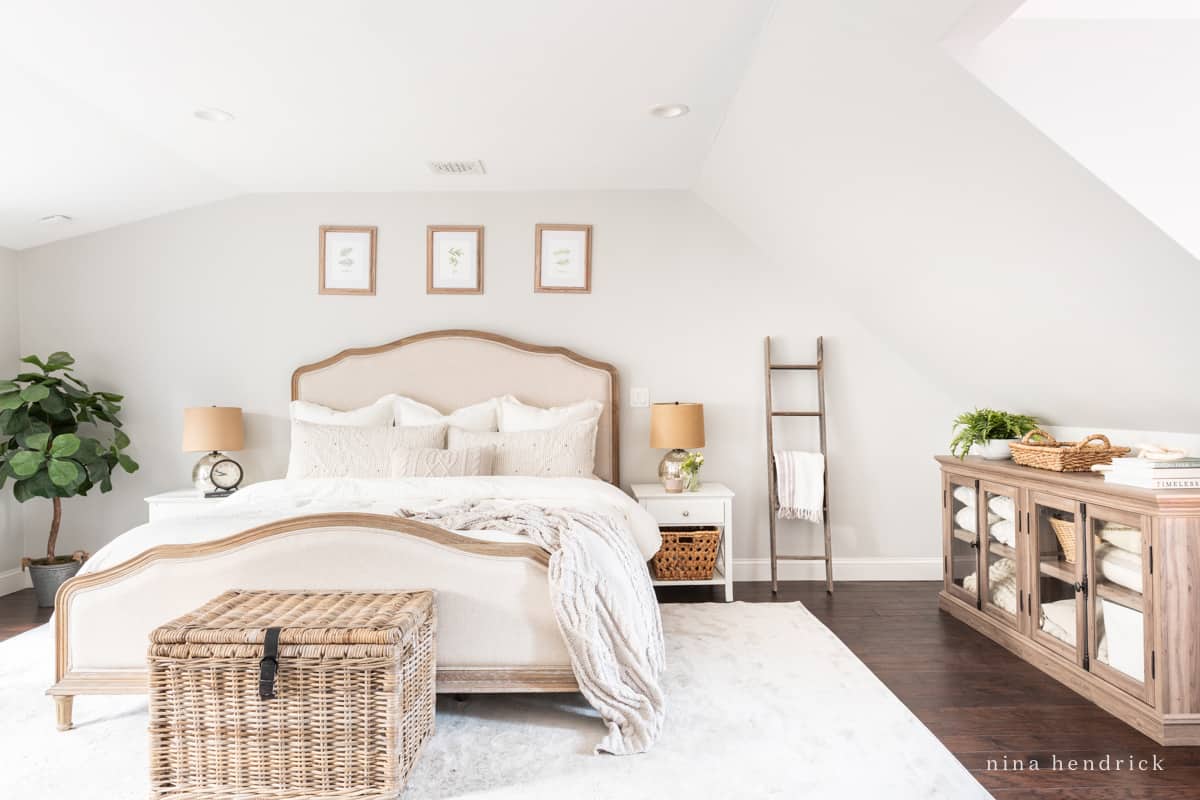 Now, our primary bedroom is one of my favorite rooms in the house. After a fresh coat of Sherwin-Williams Repose Gray lightened by 50%, it's light and bright while still being really cozy.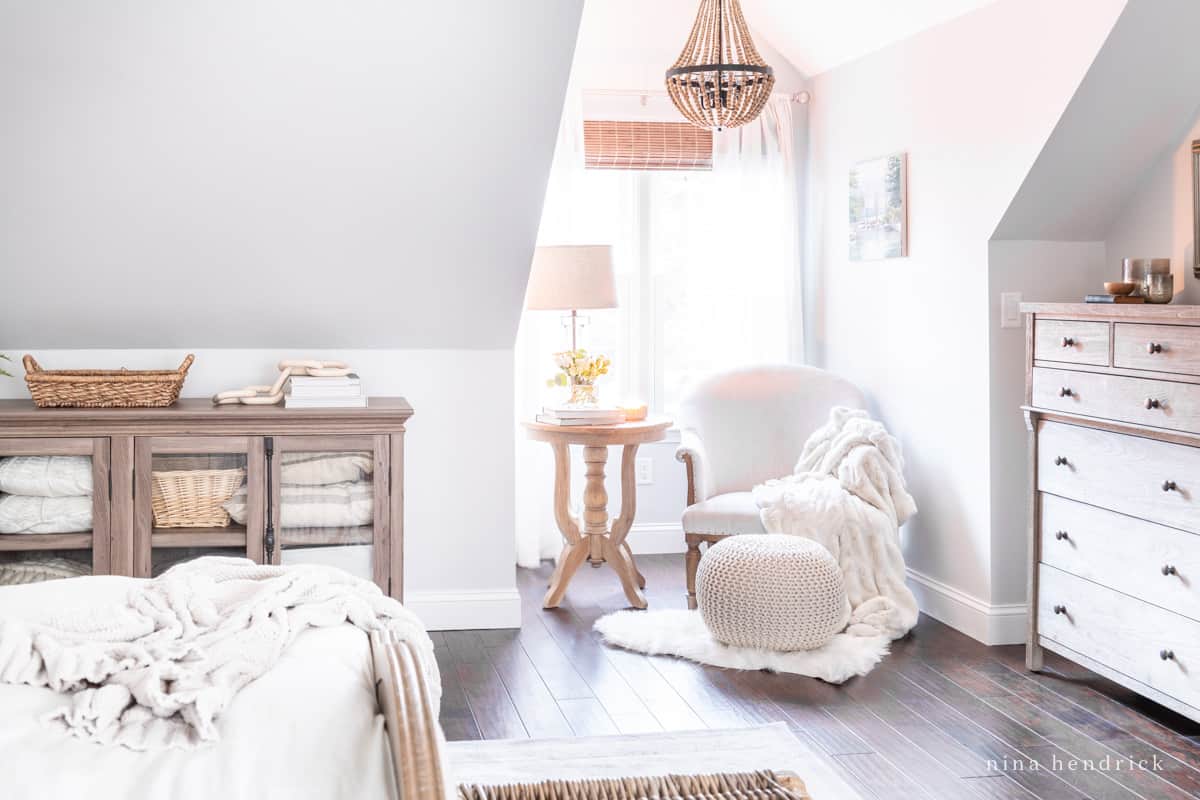 Especially the little reading nook under the dormer window! That's my absolute favorite part.
This post contains affiliate links, which means I may get a small commission (at no extra cost to you) if you shop my link. Please see my disclosure if you'd like more info!
Cozy Reading Nook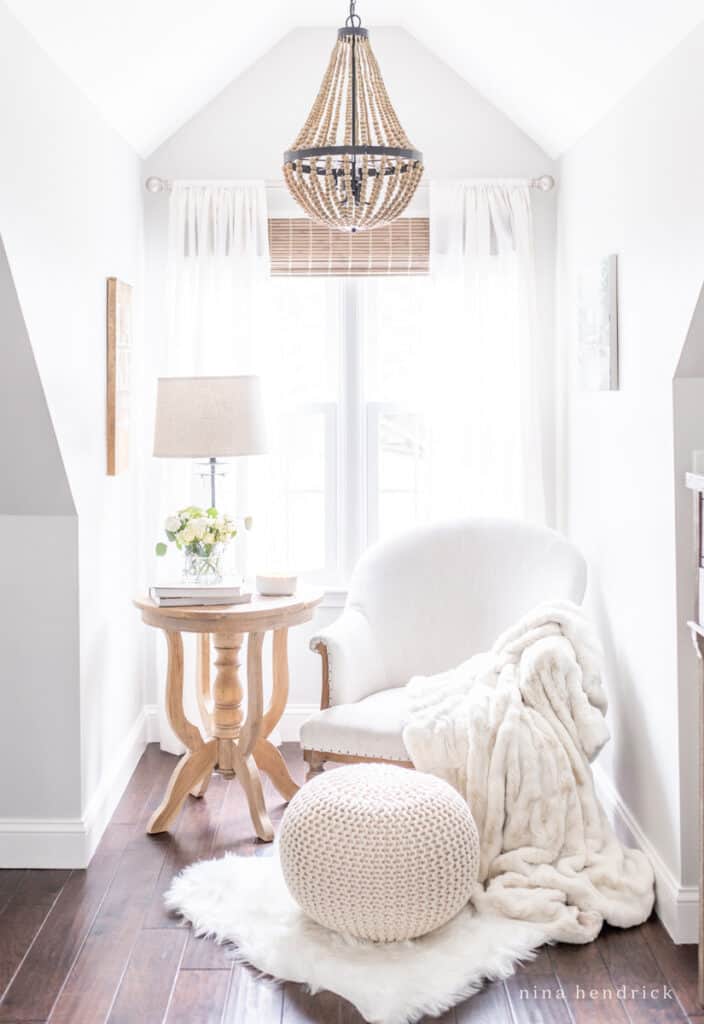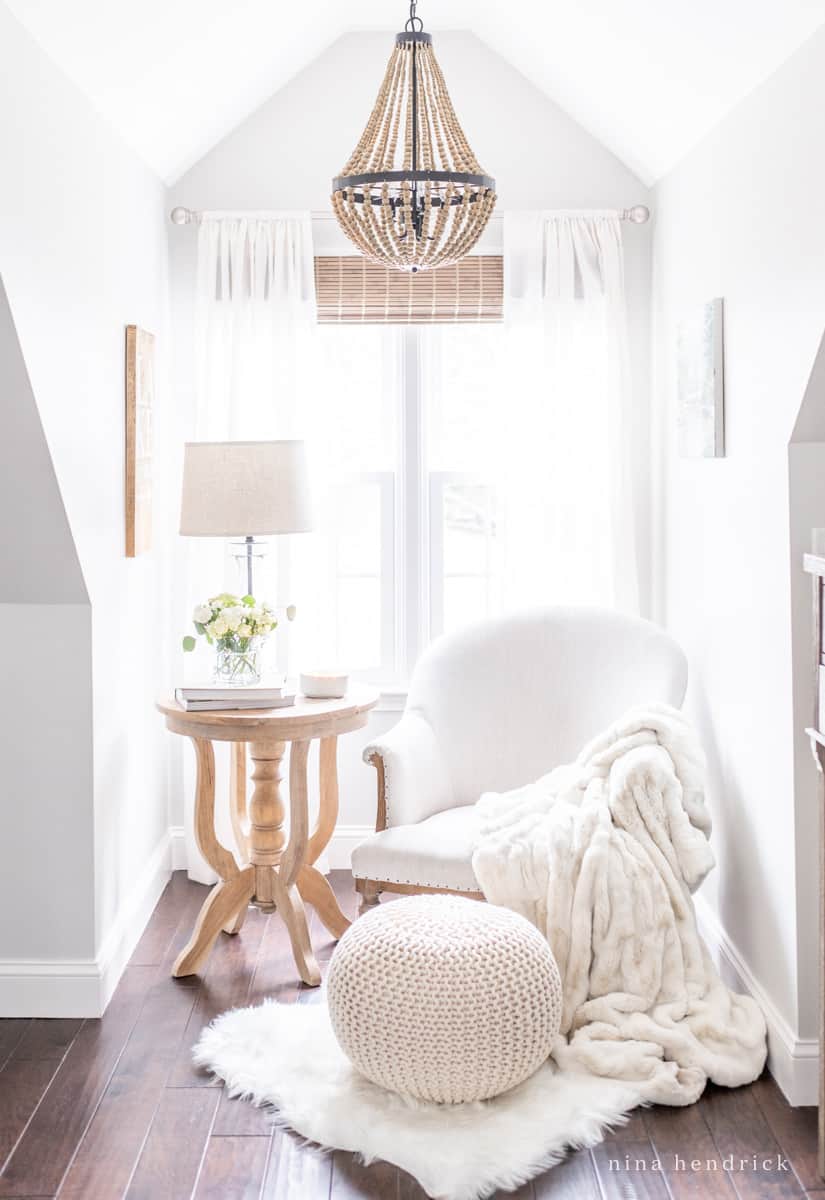 Our bedrooms are so important! Especially this year. It might the only room left in the house without legos and crayons and sippy cups now that your kiddos are home so much more.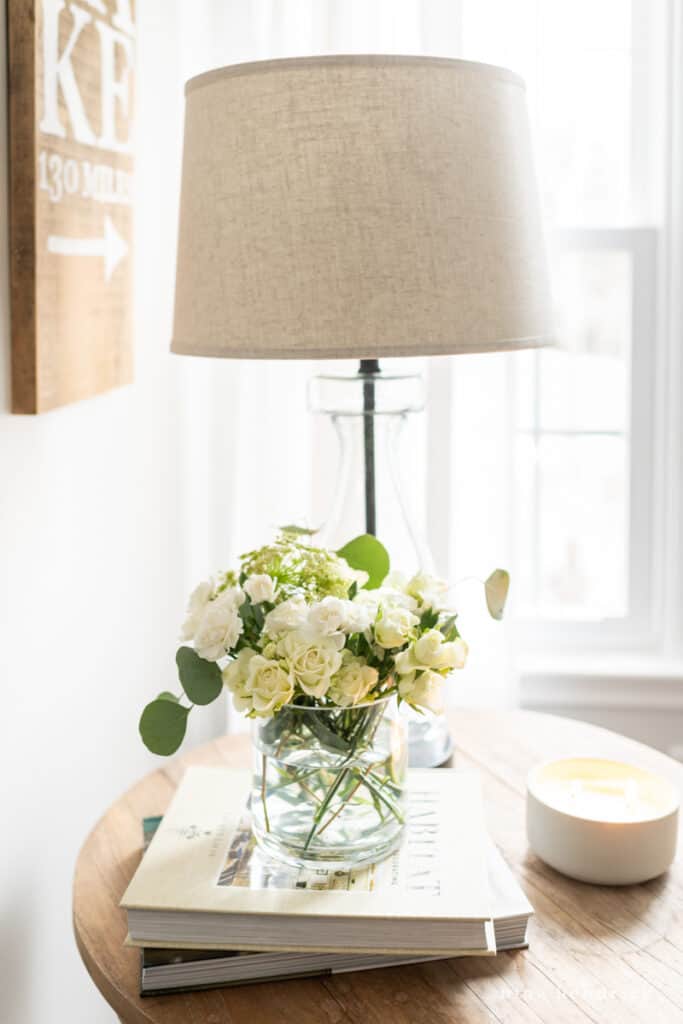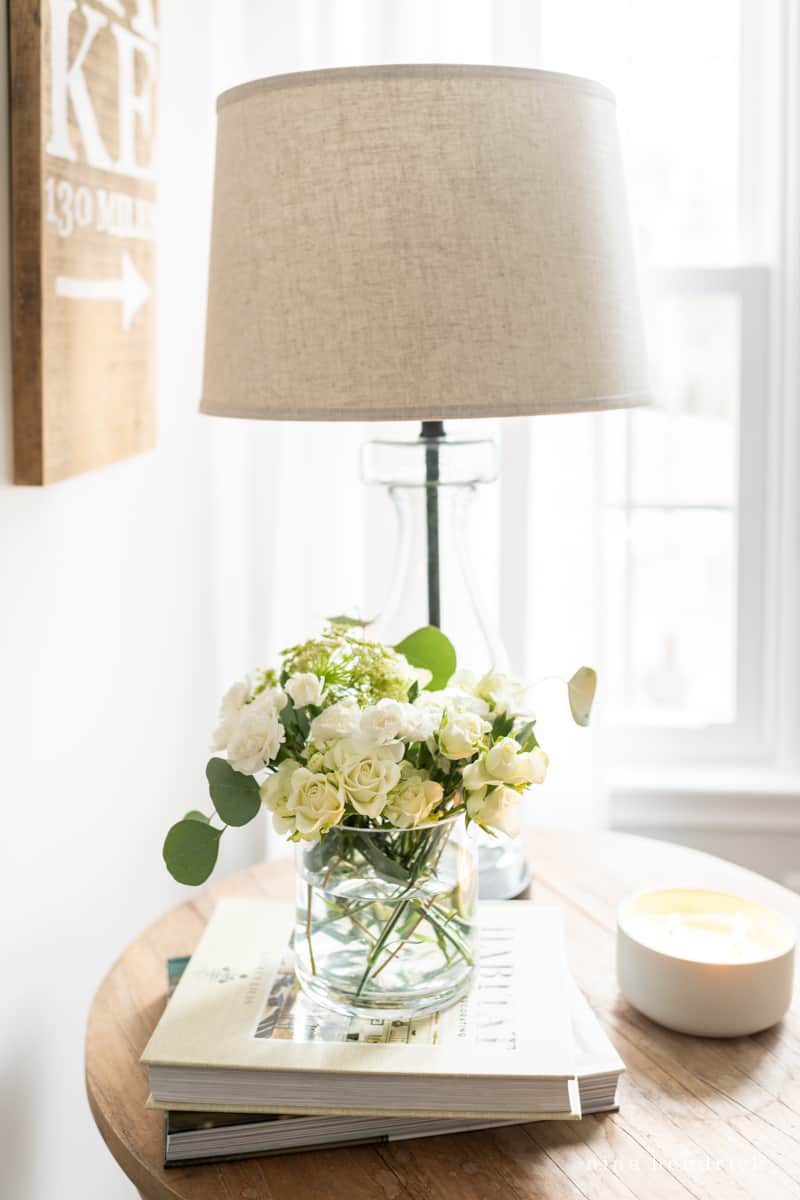 My advice: make your primary bedroom a retreat, friend. Somewhere you can't wait to return to at the end of the day. A place that recharges and rejuvenates you. A sanctuary that's all yours, away from the chaos of real-life with kids. Five stars, definitely recommend.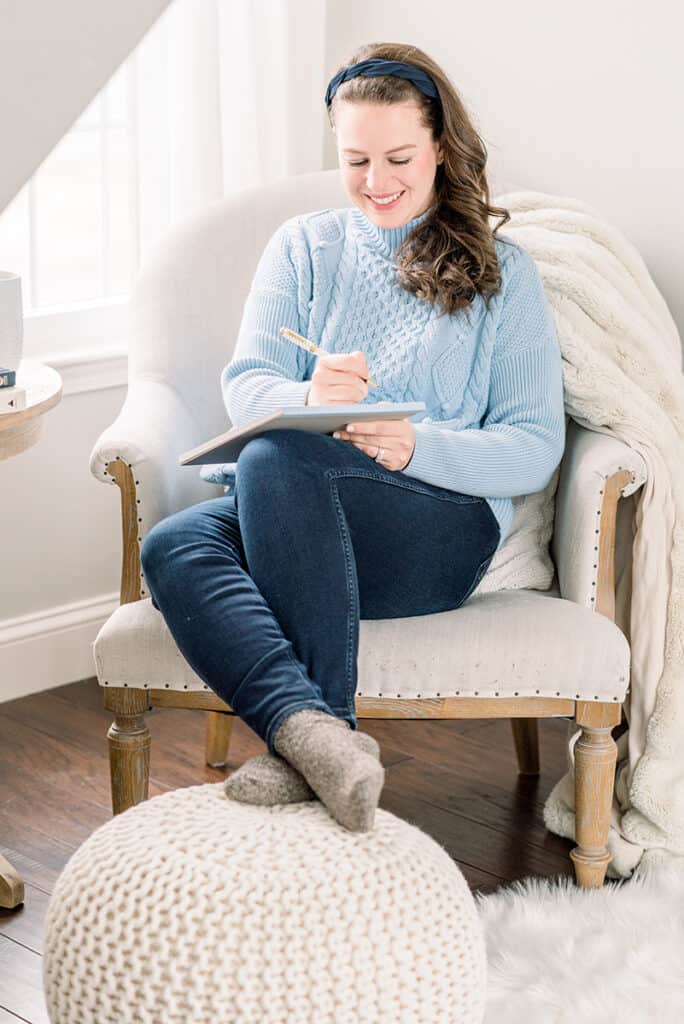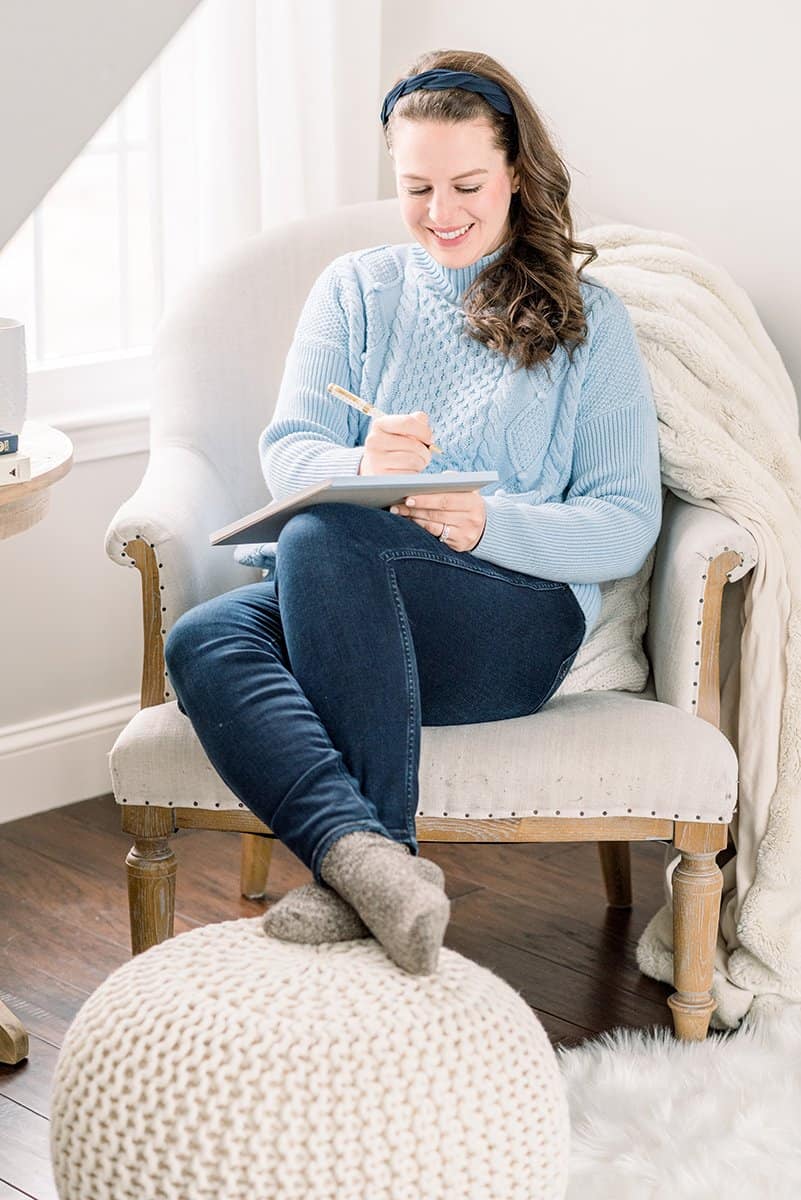 I shopped the rest of the house to put together this cozy reading nook. I sneak off here to read and write and just think in the quiet. It's the perfect little spot.
Shop the Reading Nook

Wood & Upholstered Bed
Let's discuss this bed frame real quick. Hands down, it's my most requested source on the entire blog! For that reason, I wrote an entire post dedicated to tracking down this wood and upholstered bed here.
Dressers that Match the Wood & Upholstered Bed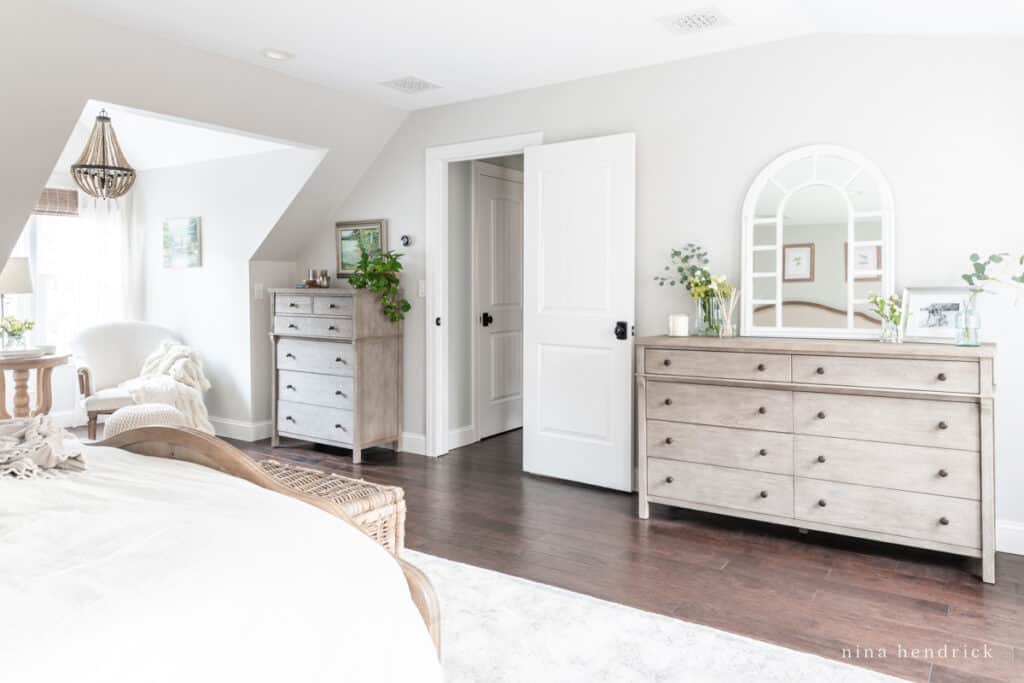 While I wanted some contrast in the room with white nightstands, I decided that I wanted to go in the direction of weathered wood for the dressers to match the bed.
These are the dressers I found: the wide dresser and the tall dresser. I love them! They're solid wood and almost a perfect match to their bed. There's also a wood & upholstered bed in their own set if you're looking for a more square shape.
Gray & Cream Neutral Vintage Style Rug
The wool and sisal rug we bought before turned out to be a complete dud, and it was what I considered an investment piece. The vacuum pulled the fibers until it was just completely awful.
I decided to go in a different direction this time around and went on a hunt for the perfect neutral gray and white rug. This was the one I found! A year later, it's still holding up great. It's gorgeous. It looks faded like it's vintage, but obviously, it's not.
Cozy Neutral Bedding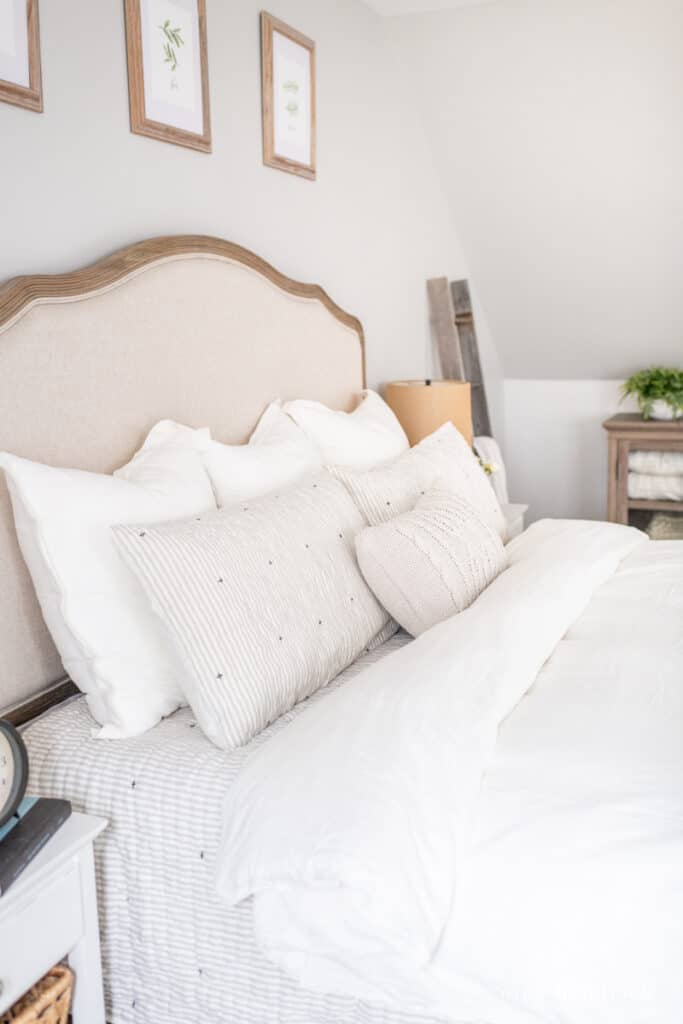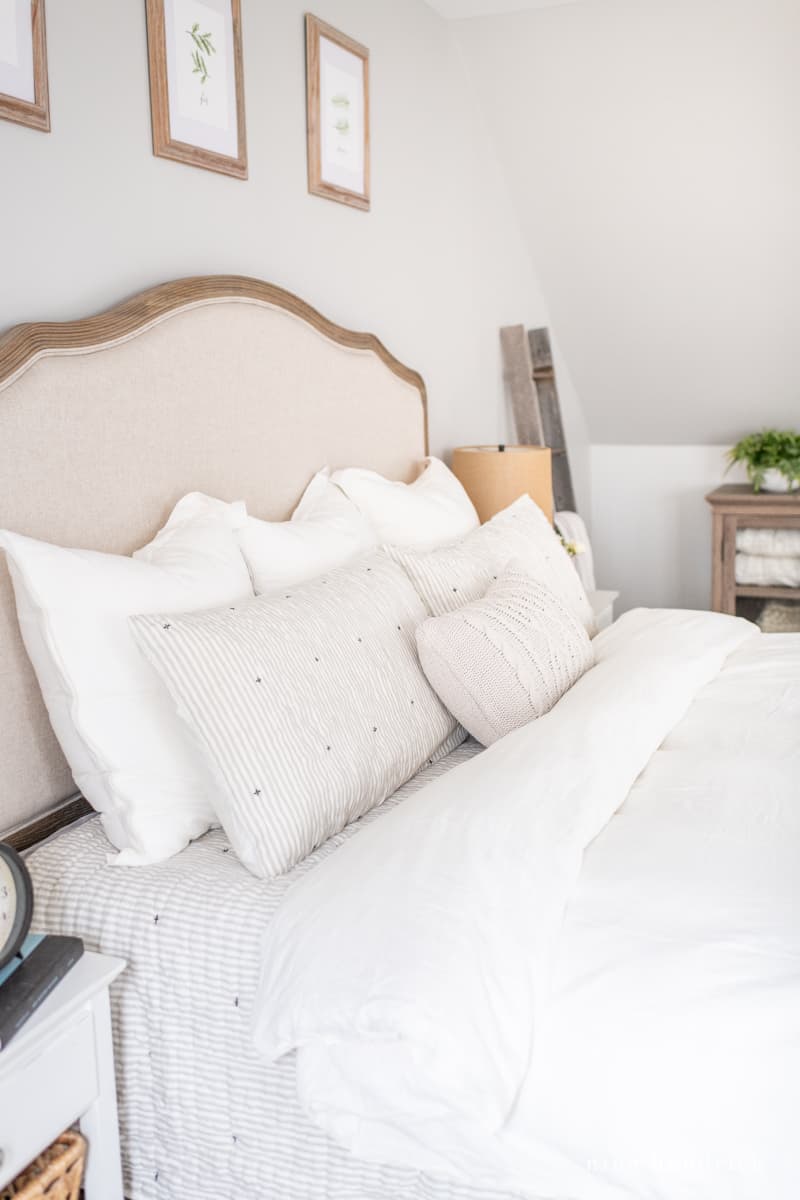 I chose simple but cozy bedding for this space. I love linen sheets for every season. There's also an ivory linen duvet and euro pillows. Lastly, I added the ticking stripe padded quilt and shams for winter. I topped everything off with a neutral pillow and throw.
Linen Cabinet
I also wanted to find a cabinet that would fill in the space in the hip wall where our roof slopes down.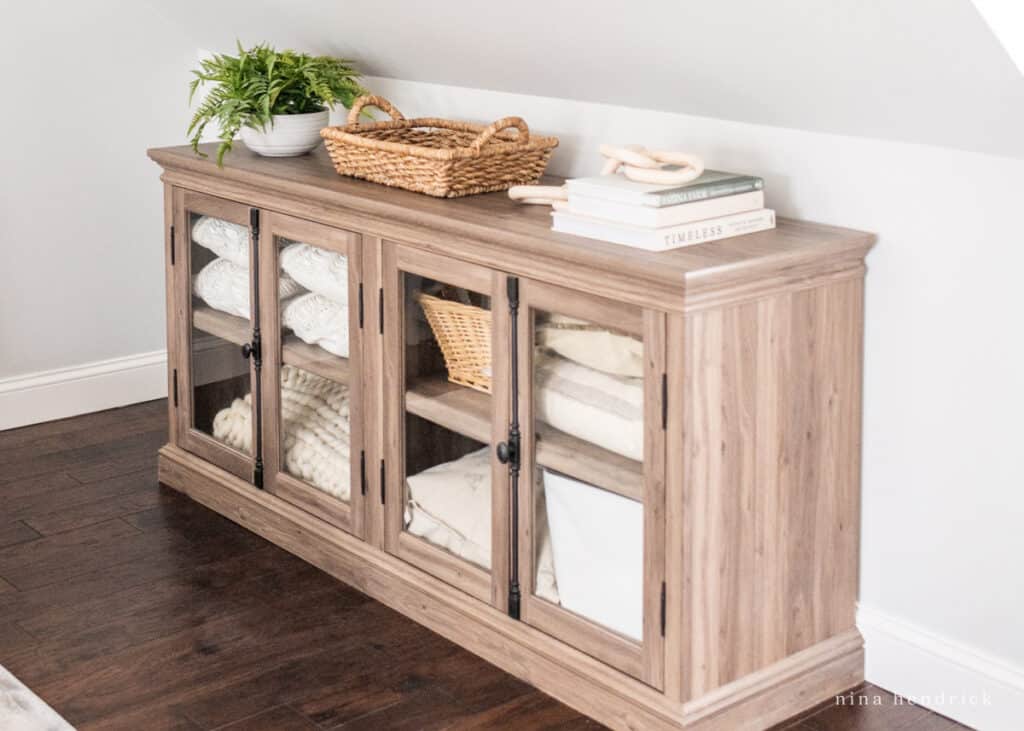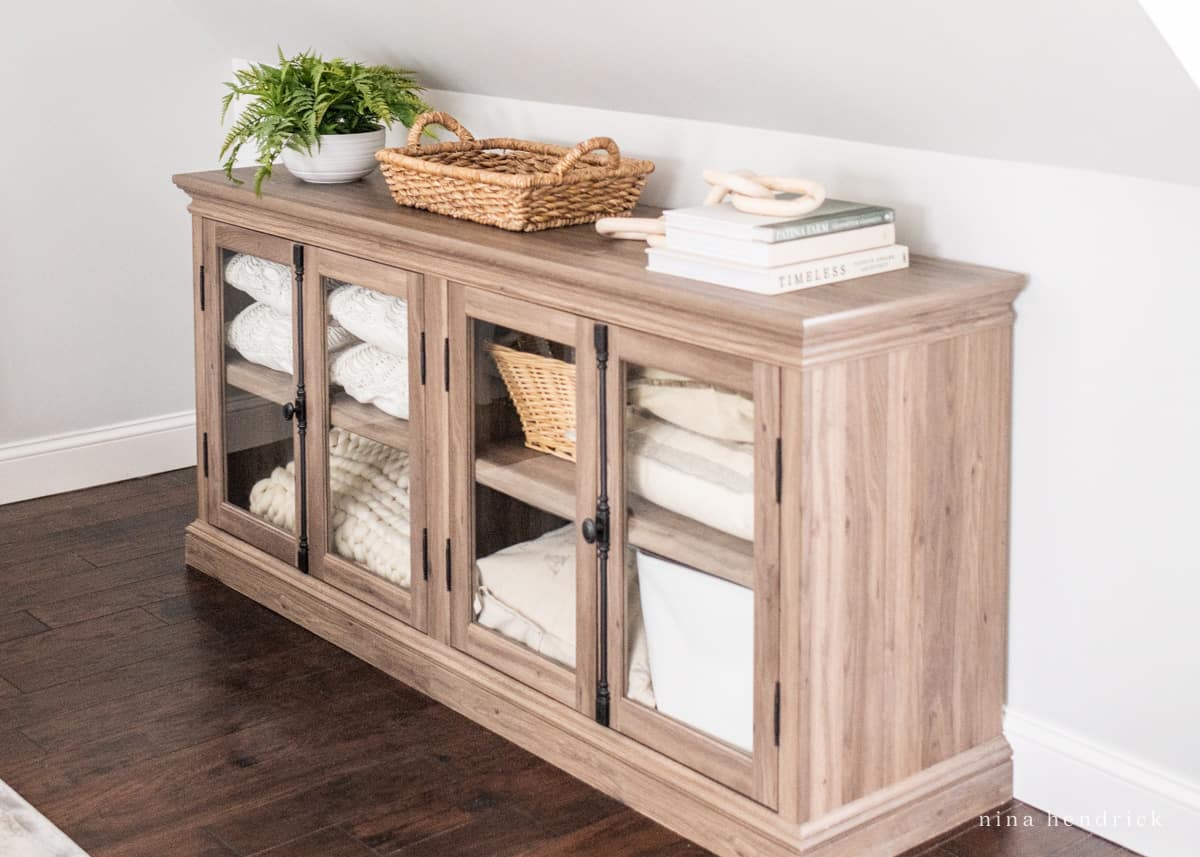 I thought a linen cabinet would work well for this space. This one is technically a media cabinet, but the dimensions and color were both perfect.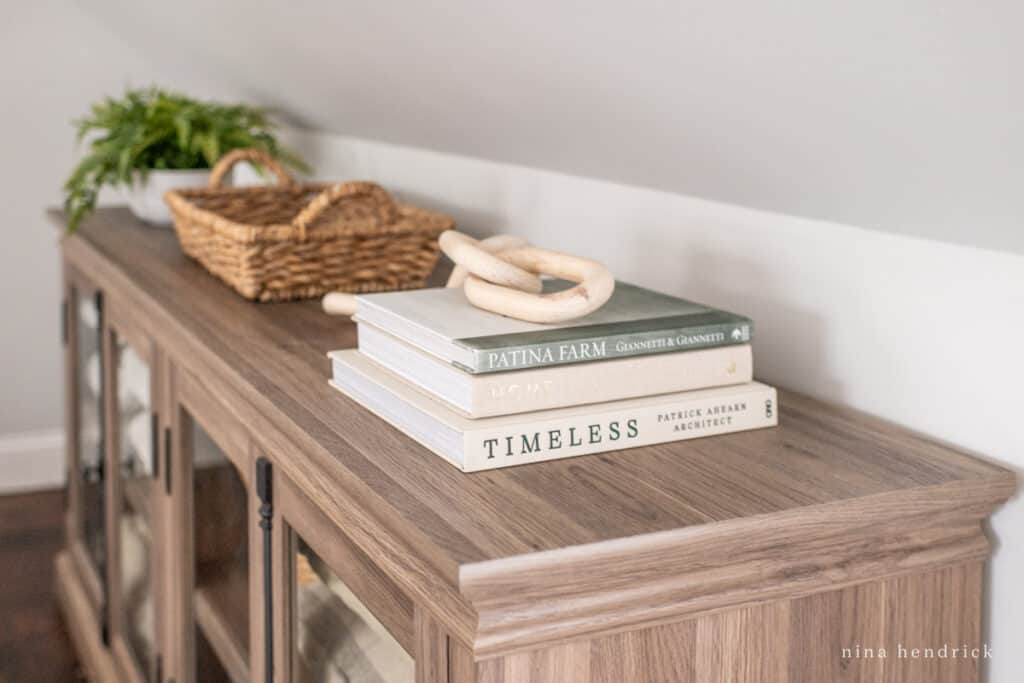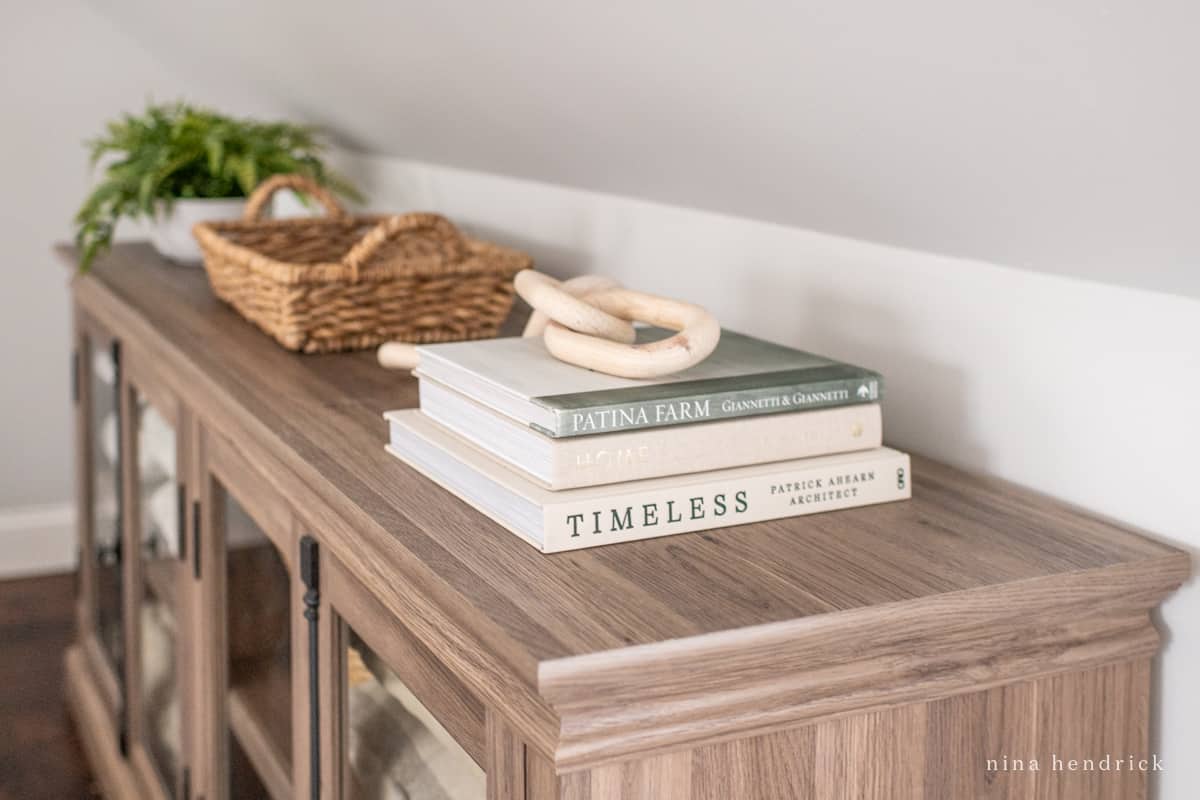 The Rest of the Primary Bedroom Makeover Sources
To be completely honest, it took me a while to get this posted, because I already knew some things will be changing. Then I stopped and considered. This is a common problem I face with blogging: waiting until something is exactly how I envisioned it before I share. However, how realistic is that? It's so much more normal and probably helpful to show you the process of decor evolving over time.
Wicker Chest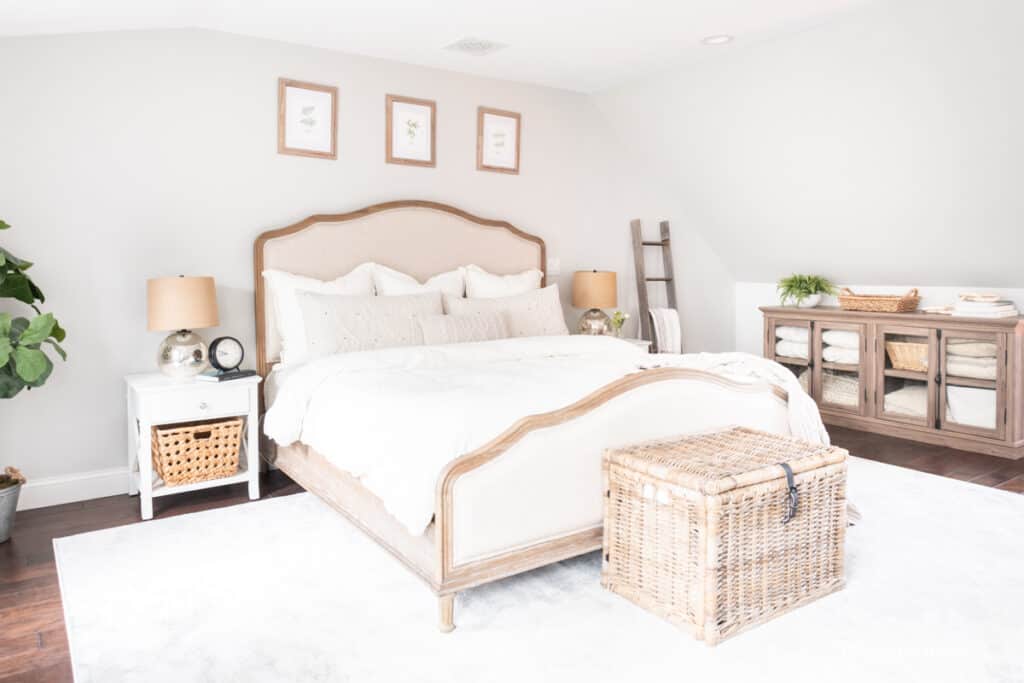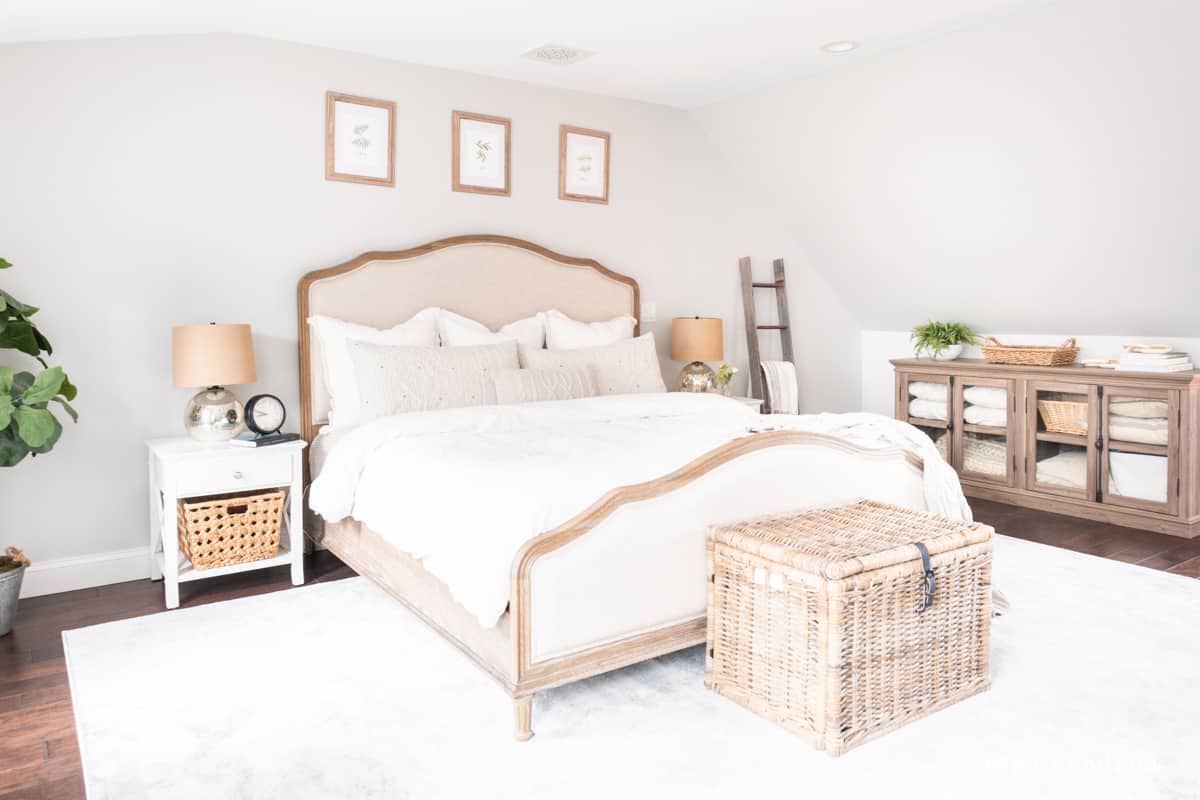 I also should say that there's absolutely nothing wrong with this room to me with how it's styled in these photos! It still feels like a relaxing retreat, which was my goal. One tweak I've made since has to do with scale: I had to wait for a back-ordered larger wicker chest to match the size of our King bed.
The wicker chest pictured (the since-discontinued IKEA BYHOLMA, you can sometimes find one on eBay if you're persistent enough, or here's a similar one in this size range) will be going in Lyla's room and should be perfect to store extra linens at the foot of her full-sized bed.
White Nightstands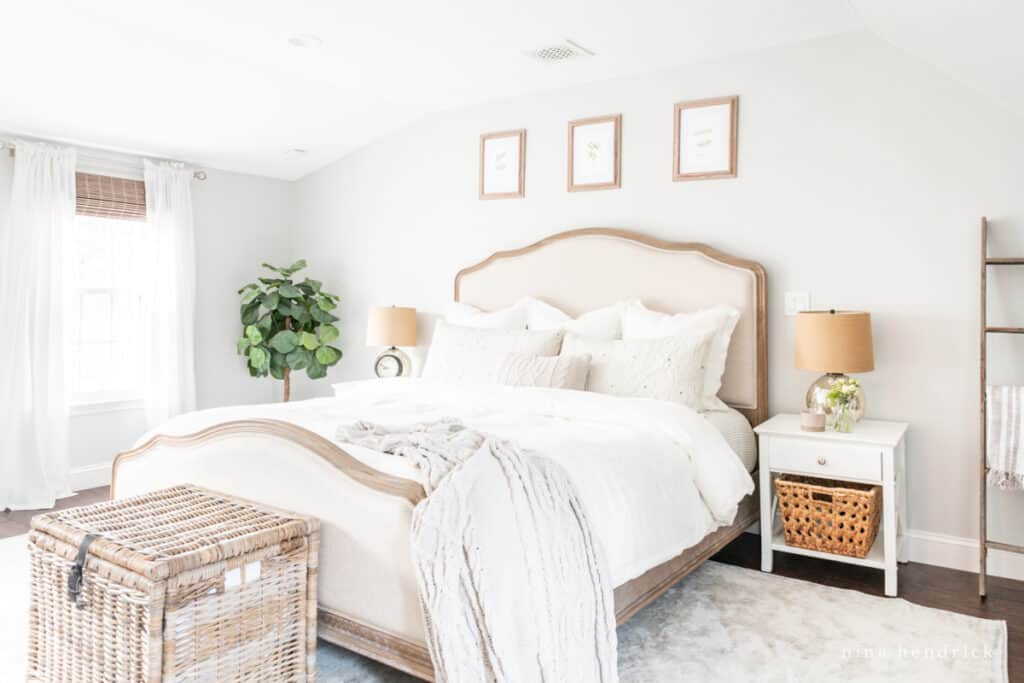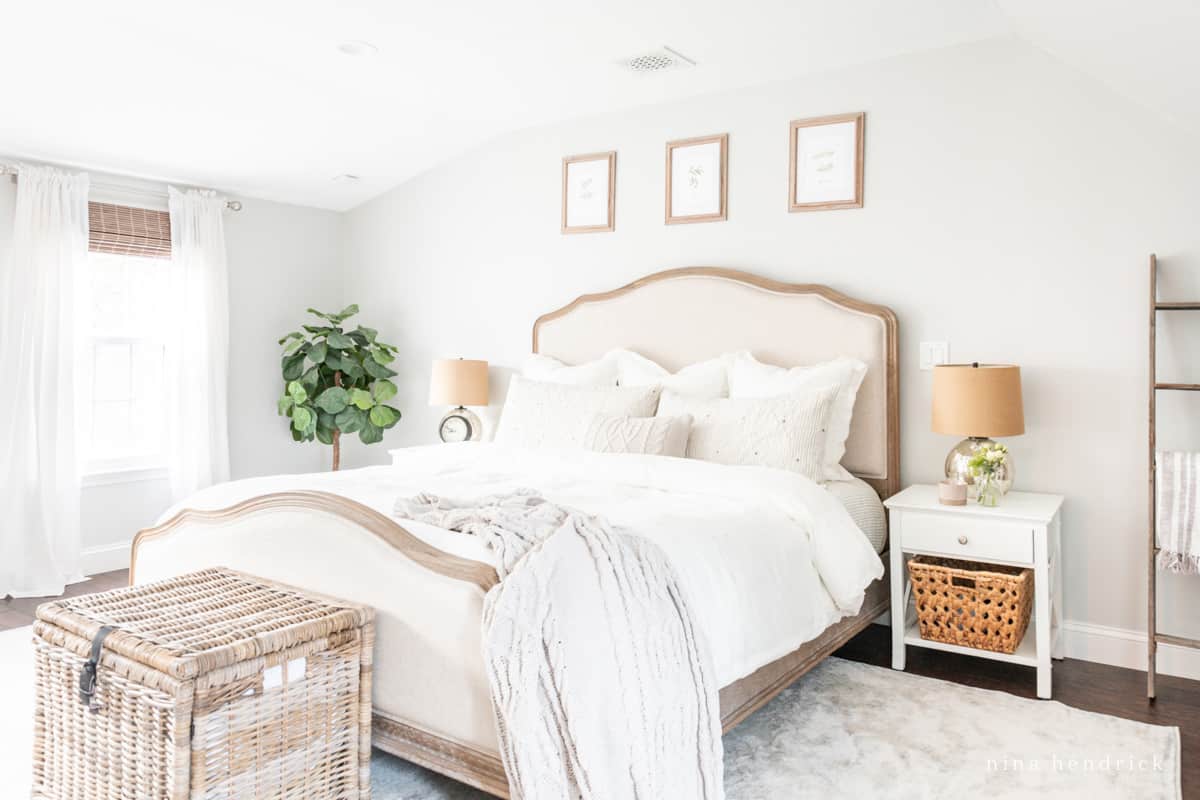 Also, I'm searching for updated nightstands to replace the water-damaged and beat-up fiberboard ones from our first apartment— yes, that's what you're seeing in these photos. Those nightstands must photograph really well still because I'm often asked for the source— they were from either Target or Walmart in 2007. I honestly may replace them with something pretty similar but with a wood frame— like these here. I like how clean and fresh the white is in contrast to the rest of the wood furniture. The baskets were from Homegoods.
Wall Art
Lastly, I will likely be changing out some of the wall art over time, as some of what we have currently are placeholders. I love my grandfather's landscape paintings, but I've also been trying to figure out how to mix in some modern/abstract art into our home. Since art is absolutely something I believe in investing in, I'll likely wait until I come across the perfect thing.
Primary Bedroom Makeover Source List
Wall Color — Sherwin-Williams Repose Gray lightened by 50%
Ceiling Color — Benjamin Moore Simply White in Eggshell
Trim Color — Benjamin Moore Simply White in Semi-Gloss
Flooring — Engineered Mocha Stain, similar here
Bed — King size, Joss & Main, check this post for up to date sources
Bedding — linen sheets, ivory linen duvet, euro pillows, ticking stripe padded quilt and shams, neutral pillow, and throw
Nightstands — very old, similar sourced here
Baskets under nightstands — Homegoods
Lamps — old, similar sourced here
Alarm Clock — old, similar sourced here
Rug — 9×12′ here
Wicker trunk— IKEA, since replaced with this one (better scale for king bed)
Artwork above the bed — DIY Evergreen printable in Christmas Tree Shop frames, similar here
Faux Fiddle Leaf Fig — Homegoods, similar here
Window shades— Driftwood
Drapes — Natural Linen, looks white in person
Window Hardware — Satin Nickel
Long Dresser — Gray Wash
Mirror above dresser — this one painted white
Tall Dresser — Gray Wash
Oil Paintings — painted by my Grandfather
Wood Bead Light Fixture — Small
Faux Sheepskin — white
Wood Frame Chair — Homegoods, similar here and here
Faux Fur Throw — Ivory
Knitted Pouf — Ivory
Side Table — Raw wood
Lamp — base & shade
Linen Cabinet — technically a media cabinet
Wood Chain decor — small
Basket tray — here
Faux fern — similar
Blanket ladder — similar
Striped throw — here
I think that covers it! Let me know in the comments or on Instagram if you recreate a primary bedroom makeover retreat of your own, I'd love to see!
Pin It for later: Primary Bedroom Makeover