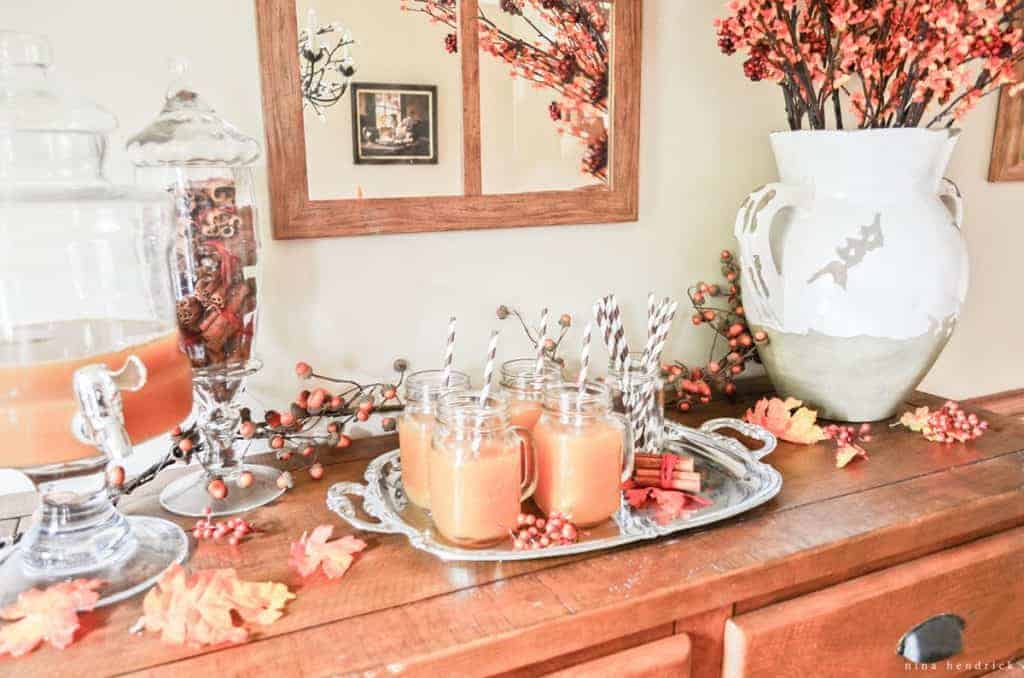 Step inside this classic blogger fall home tour and gather autumn inspiration ideas from the pumpkins, foliage, and a warm cider bar. 

Fall Home Tour 2014
Welcome to our home! If this is your first time visiting , you may not know that I am obsessed with fall. By the end of this tour, I think that will seem like a very obvious statement. :)
Along with Ariean at One Krieger Chick, I am hosting "An Autumn Welcome" Home Tour. I am so excited to tour the homes of 35+ Creative Bloggers this week. I can tell you that I've seen the previews, and these ladies have some seriously beautiful homes! Make sure to check them out at the bottom of this post.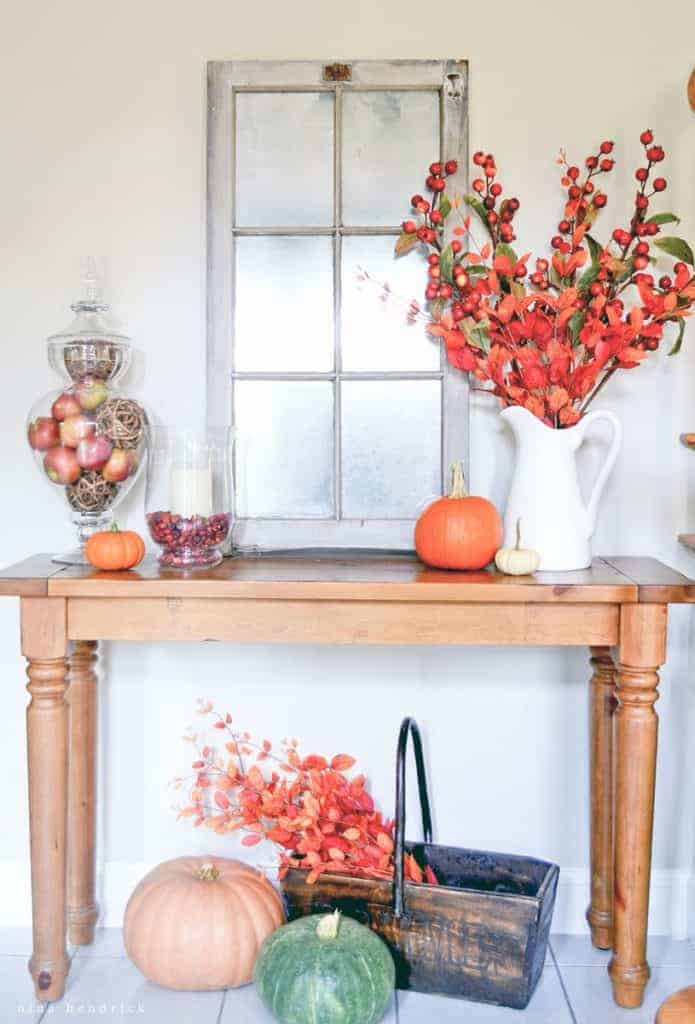 The first taste of fall in our home is the entryway! I fell in love with these colorful pumpkins and I knew I just had to have them. I will fill up my "Pomme" bucket with apples as soon as we go apple picking, but for now, this was the perfect home for some extra branches. The window mirror is still residing in the entryway for now- I love that it can be used for any season.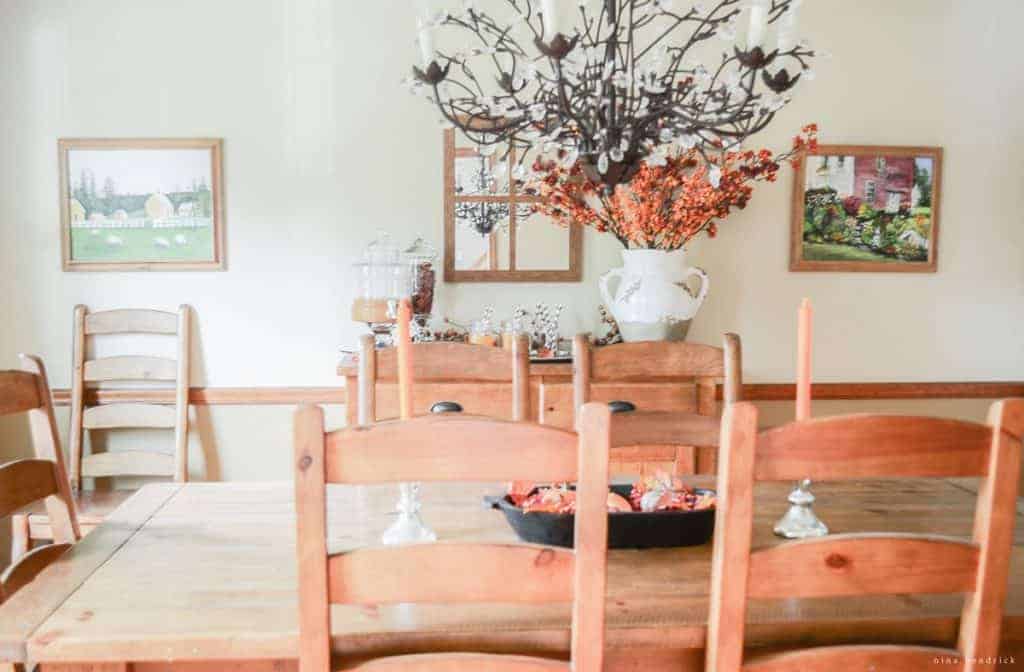 To the left of the foyer is the dining room. Although we haven't updated the paint yet, I'm actually growing fond of the warm colors in this room. It works especially well for fall! I'm still on the hunt for the perfect table runner.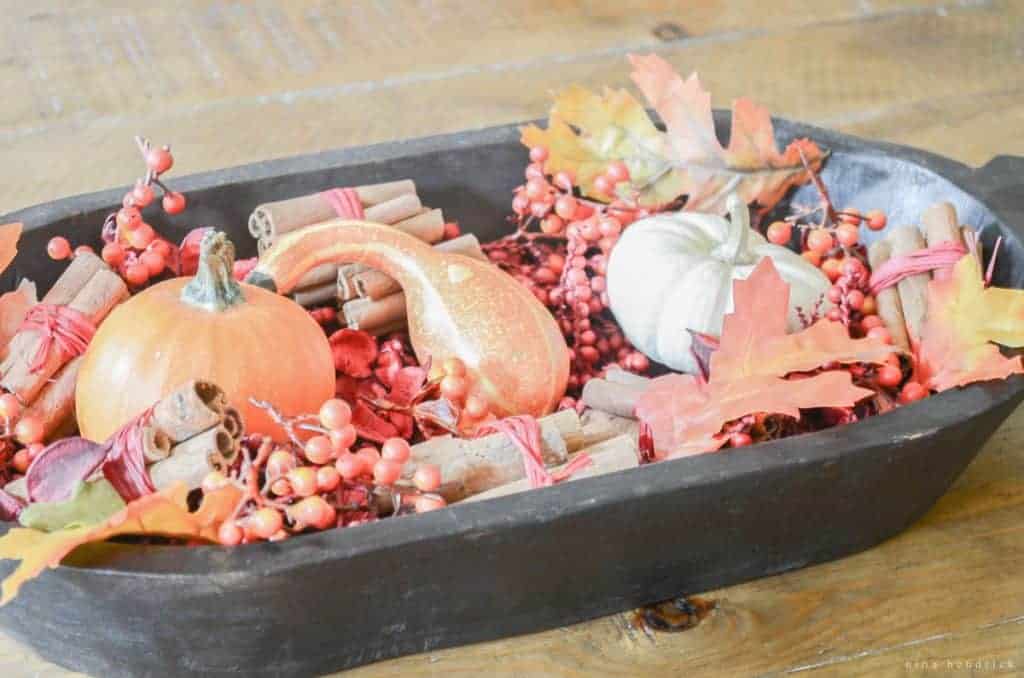 For now, I have some autumn potpourri in my dough bowl. I love the colors, textures, and smells!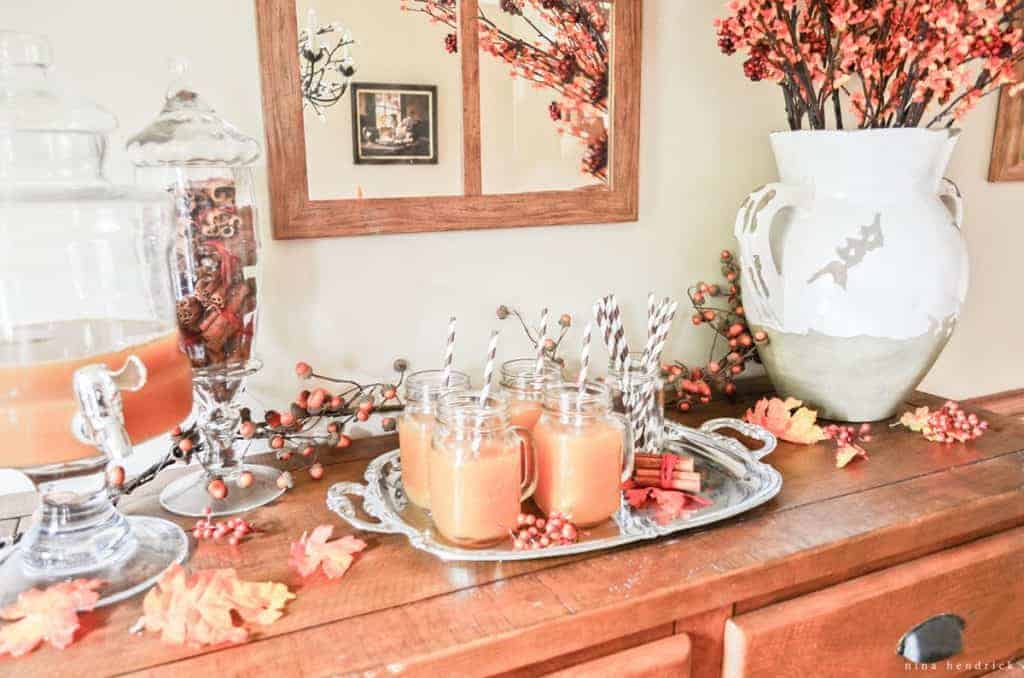 Come on in for a mug of cider! I love setting up the buffet with seasonal drinks or desserts. This cider bar will definitely make an appearance for our fall entertaining.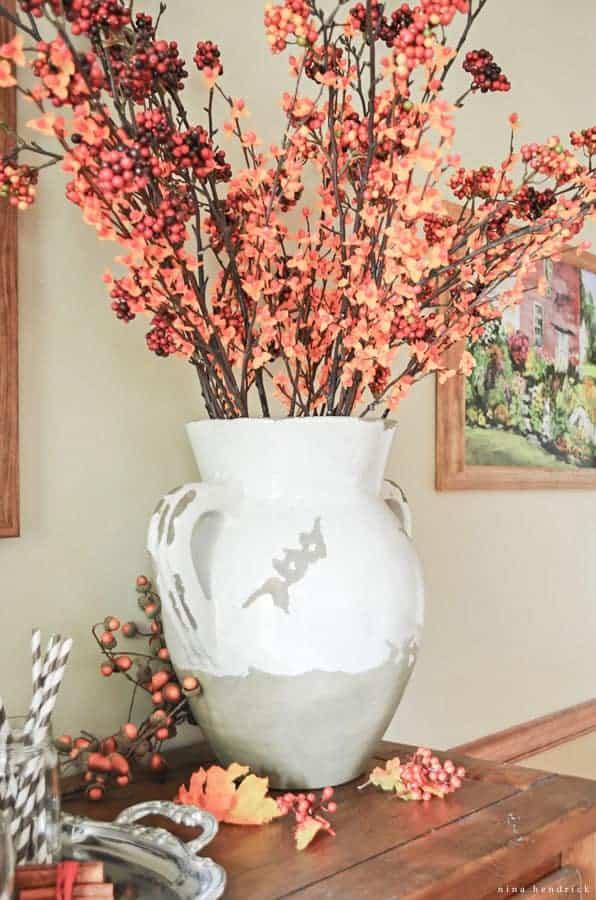 I brought my large urn into the dining room for fall and filled it with a variety of faux berries. The wall ultimately needs a larger buffet, but the fullness of the urn and berries makes it look a lot less empty!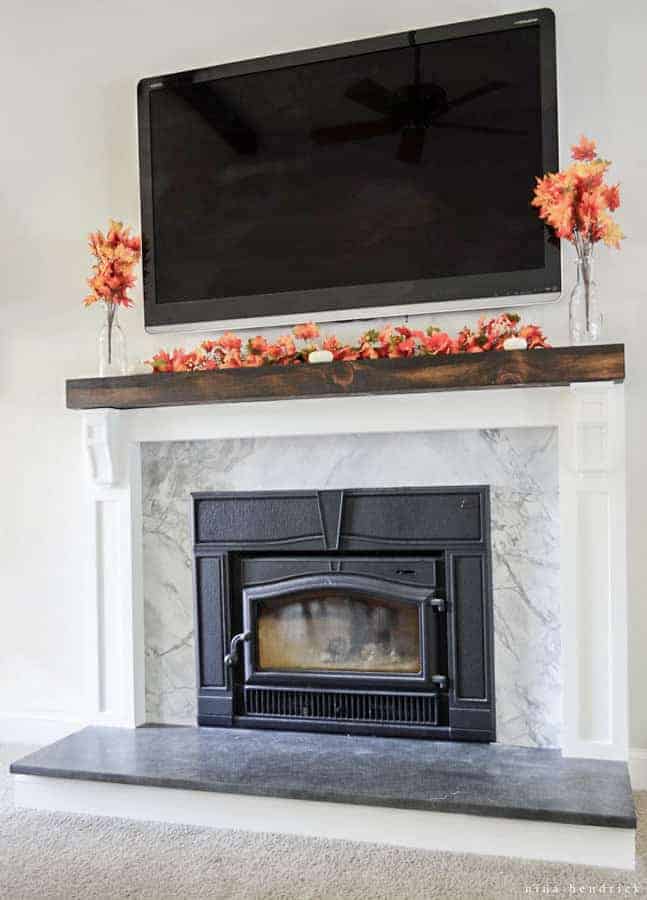 We actually just finished our fireplace remodel last week! I have grand plans of decorating it with birch logs and pretty fireplace tools- but with two munchkins running around, this was it for now ;)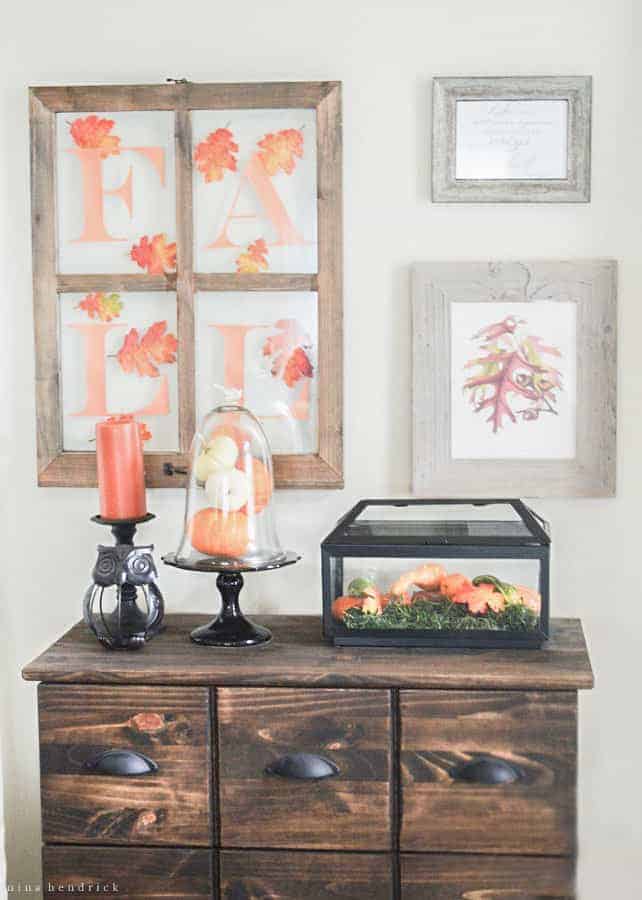 I created this mini-gallery and vignette in the family room above our new ikea hack apothecary console. It is still changing frequently, and I've already started to transition it to Halloween with dark pieces.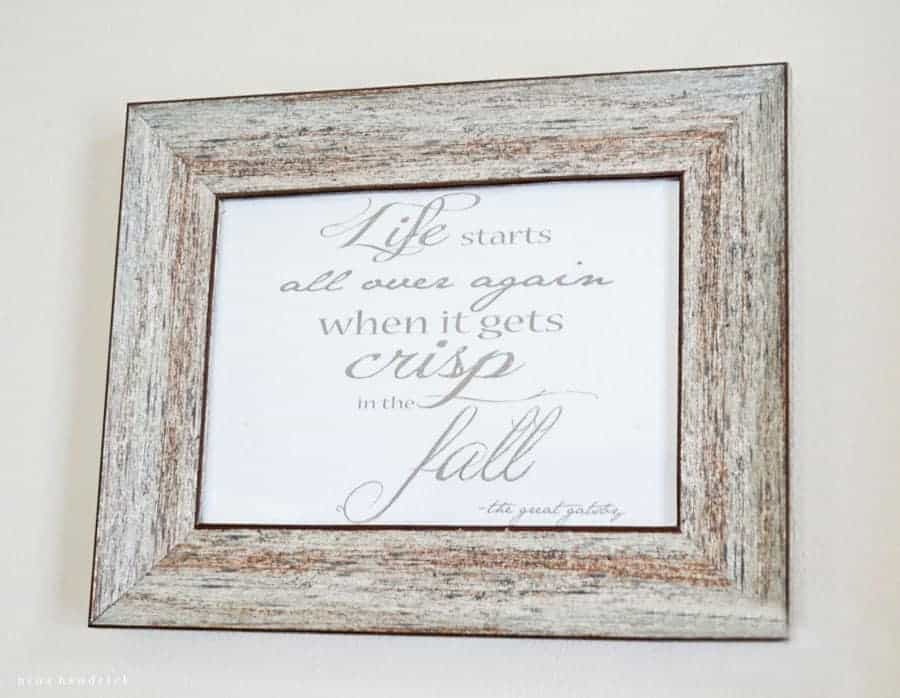 Here's a close up of the print I created. This saying by F.Scott Fitzgerald is my absolute favorite fall quote.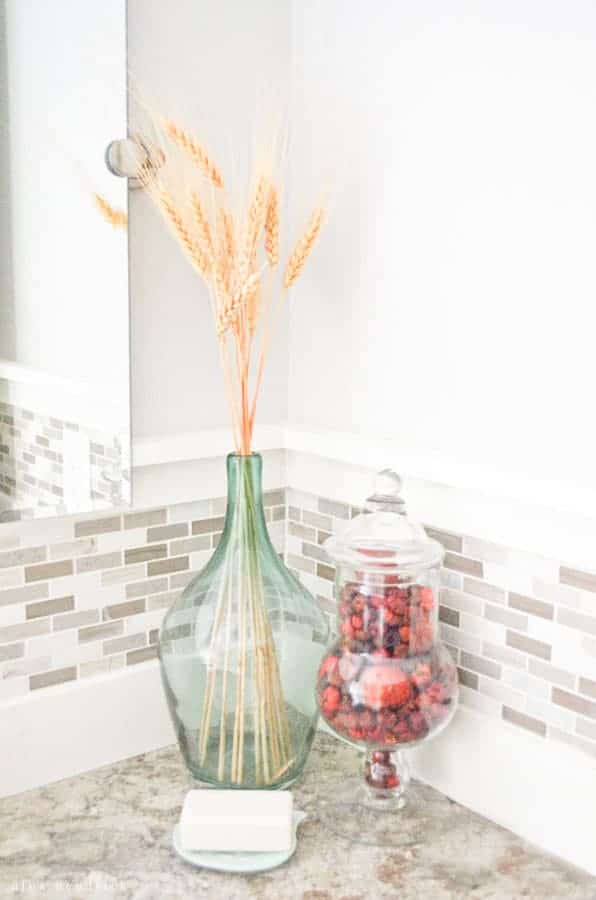 The powder room even got a little fall flavor with wheat and a jar of pumpkin potpourri.
I always have grand ambitions to decorate every single area of my home for the seasons and holidays, and maybe someday I will be there, but for now this is a good start :) Make sure to check back for updates as my fall decor evolves and we transition to Halloween and Thanksgiving!
In the meantime, make sure to check out these incredible fall home tours:
Nina Hendrick (You're Here!)
Michelle Lea Designs
Upcycled Treasures
Migonis Home
Made to be a Momma
Blue i style
A House Full of Sunshine
The Wood Grain Cottage
Southern State of Mind
Designer Trapped in a Lawyer's Body
The Hankful House