Get inspired with our fall living room decor ideas! Explore DIY projects, cozy textiles, and seasonal scents for a cozy autumn haven. Discover creative ways to decorate and transform your living room into a cozy autumn haven.
As the leaves start to tumble and the sweet scent of pumpkin spice fills the air, it's time to cozy up your living room with some fantastic fall decor. Your living room is the ideal place to kick off your fall decorating adventure. With its warm tones and cozy vibes, fall decor can transform your living room into the perfect space for hosting family movie nights, curling up with a good book, or simply unwinding by the fire.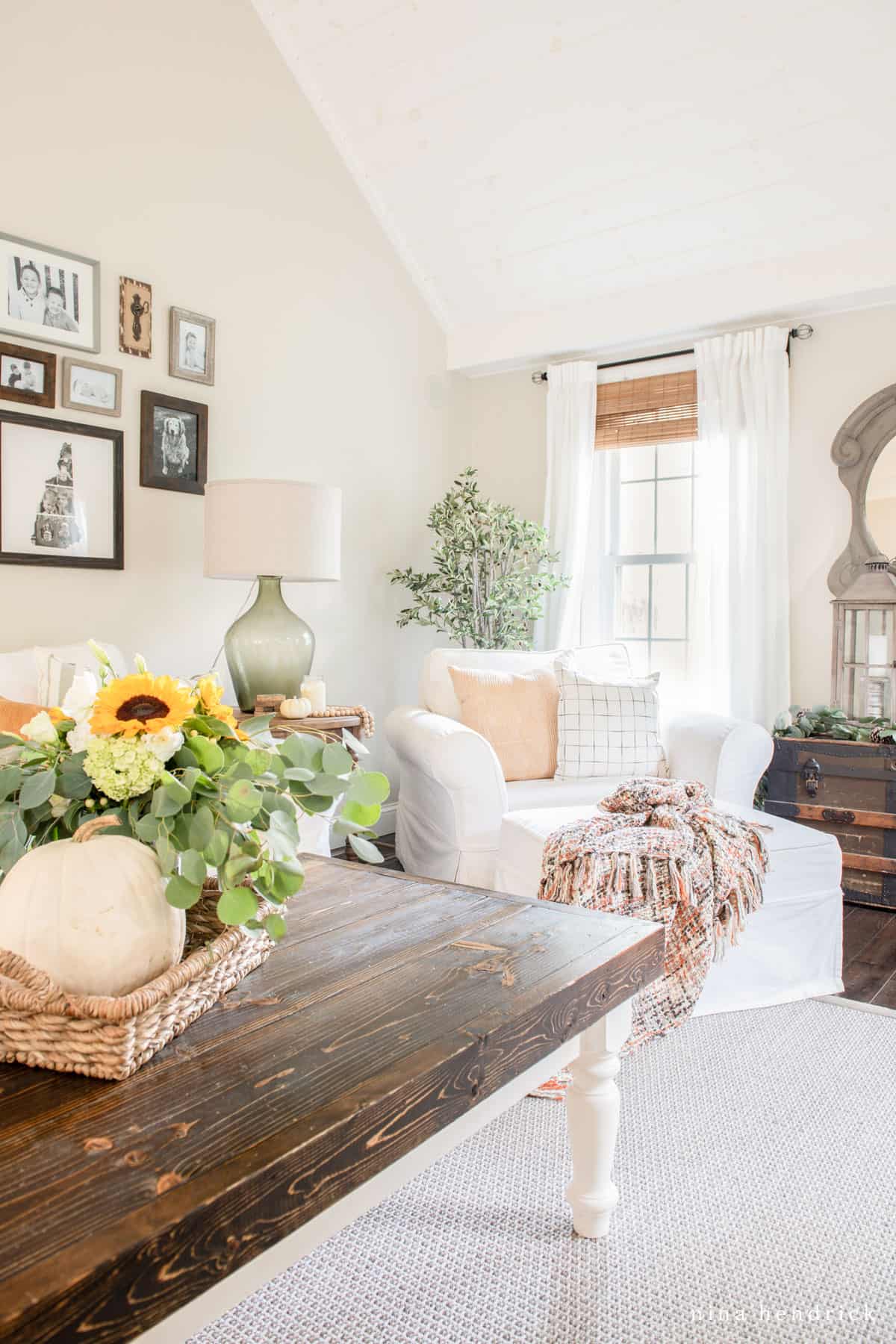 I'm a fall enthusiast myself, and there's nothing I love more than decking out my living room with autumn-inspired decor. So, let's dive into a collection of creative and charming living room fall decor ideas, and together, we'll usher in the season in style.
This post contains affiliate links, which means I may get a small commission (at no extra cost to you) if you shop my link. Please see my disclosure if you'd like more info!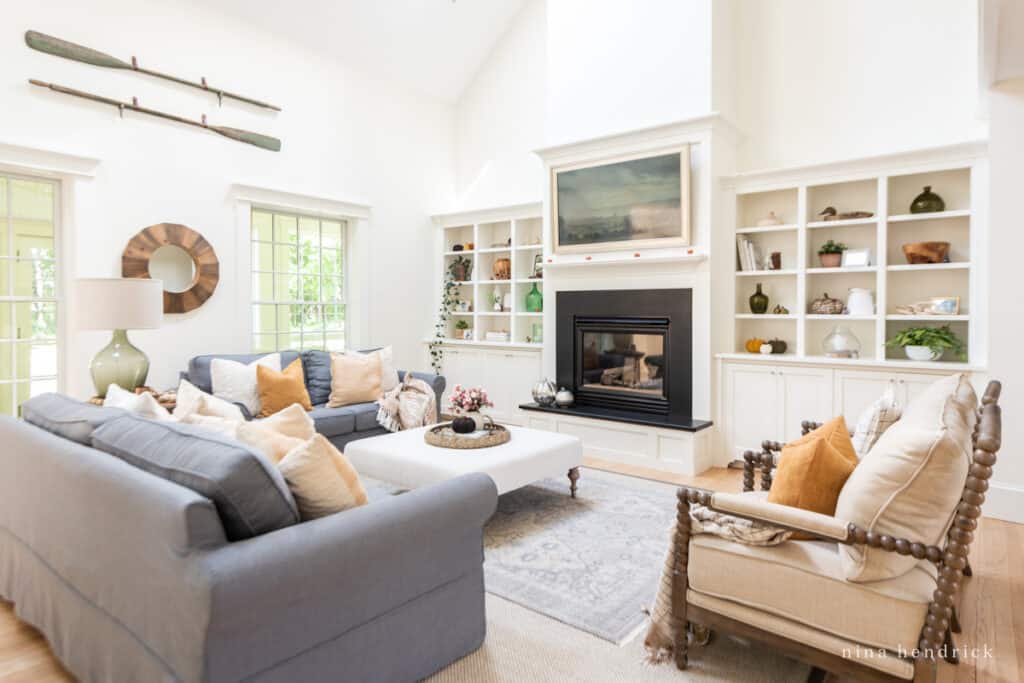 Embrace Fall Colors
Let's begin with colors, because when it comes to decorating your living room for fall, they're the real stars of the show. While there are countless ways to approach fall living room decor, playing with fall hues is absolutely essential. It's like the artist's palette for your living room.

Now, let's get creative with our color choices. You can start by embracing neutral palettes, which can be a fantastic backdrop for fall vibes. Think about introducing white pumpkins for that seasonal touch, and instead of going all-in on traditional colors, opt for cozy textures like knits to evoke that autumn feel.
But don't stop there – muted fall colors are an absolute delight. Picture subtle shades of oranges that lean towards a soft, almost pink hue, or perhaps a gentle, minty green. These muted tones create a soothing, welcoming atmosphere that still screams 'fall' without overwhelming your space.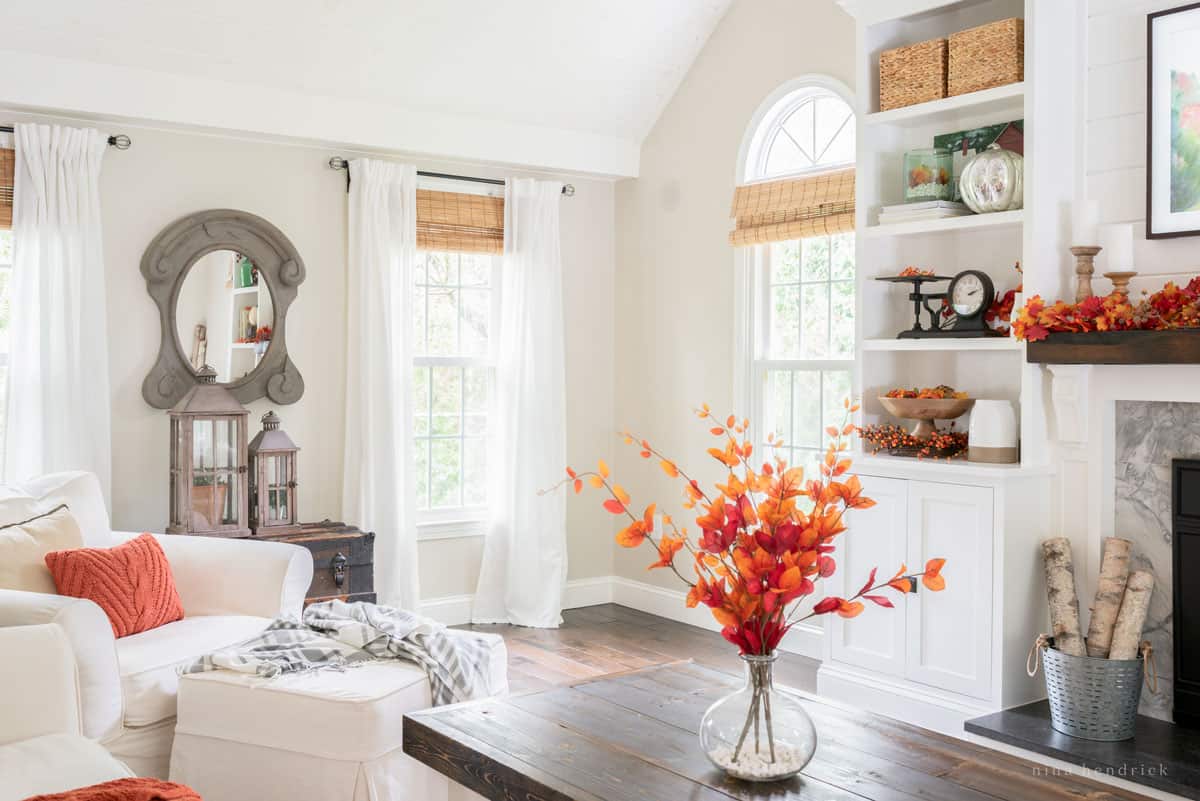 Of course, we can't forget the classics. The classic fall color palette, featuring those rich reds, oranges, and yellows, never goes out of style. It's like having a slice of pumpkin pie in every corner of your living room.
But here's where it gets exciting: you can also surprise everyone with unexpected fall colors. Think about introducing shades like pink and purple into your living room decor for a unique and unconventional twist on the season. It's all about infusing your personality and style into your autumn setup.
Don't forget metallics! Copper and brass accents can elevate your fall living room decor, adding sophistication and glamour while maintaining a cozy atmosphere. Imagine copper candleholders casting a soft glow and brass frames highlighting cherished memories. These touches add a modern flair and complement fall colors, creating a luxurious retreat for crisp autumn evenings.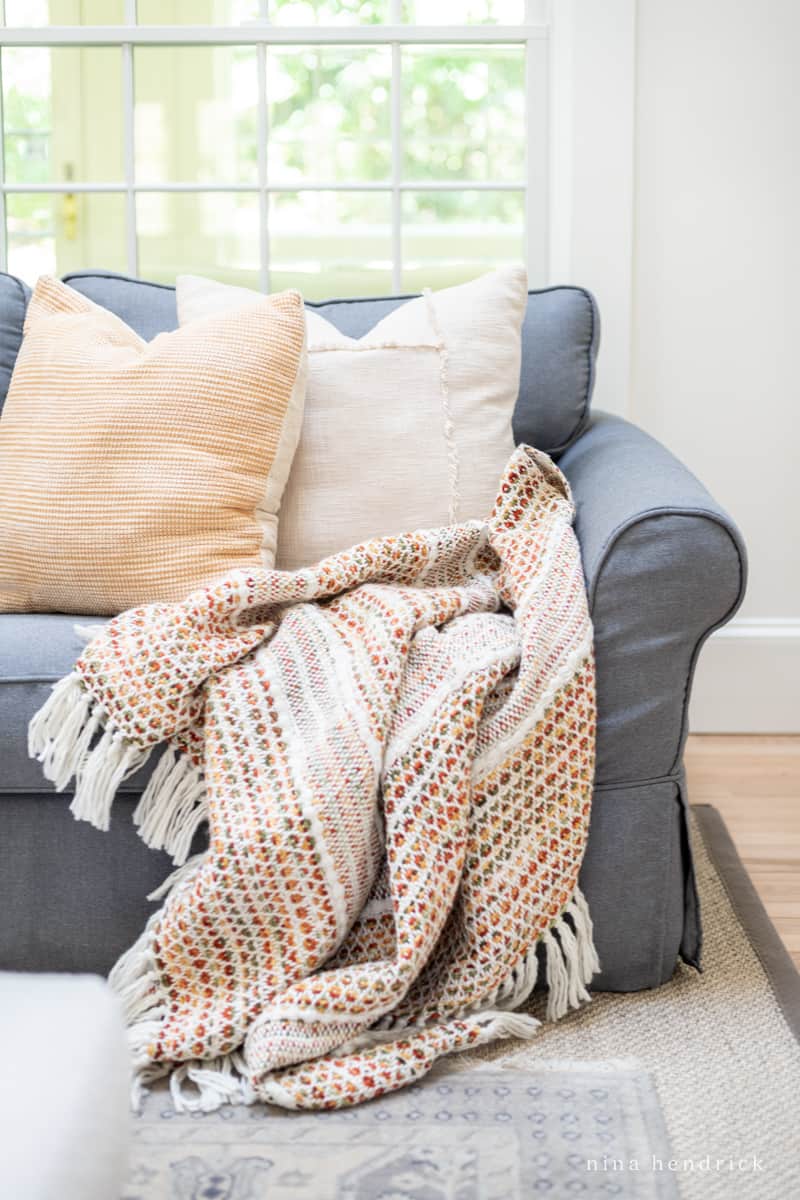 Layer with Cozy Textiles
When it comes to fall living room decor, one of the most versatile and impactful approaches is to layer your space with cozy textiles. This simple yet effective technique can effortlessly transform your living room, making it a warm and inviting haven for the season.
Throw Blankets
Start by draping a cozy throw blanket over the back of your sofa or armchair. This not only adds an immediate touch of warmth but also introduces texture to the room. The best part? You can easily switch out the throw blanket as the seasons change, allowing your living room to evolve with the year.
Area Rugs
To infuse your living room with a sense of comfort and warmth, consider adding an area rug. A well-chosen rug not only defines the space but also creates a welcoming atmosphere. It's the perfect foundation for your fall decor.
Throw Pillows
Bring in texture and color by incorporating throw pillows into your living room decor. Look for pillows in cozy textures or fall-inspired hues like plaids, flannels, knits, and velvets. These materials evoke a distinct sense of fall coziness. You can also play with patterns and prints, from floral to geometric and abstract designs, to infuse your living room with an inviting and seasonal feel.
By following these living room fall decor ideas, you'll be well on your way to effortlessly and effectively transforming your space to embrace the changing season.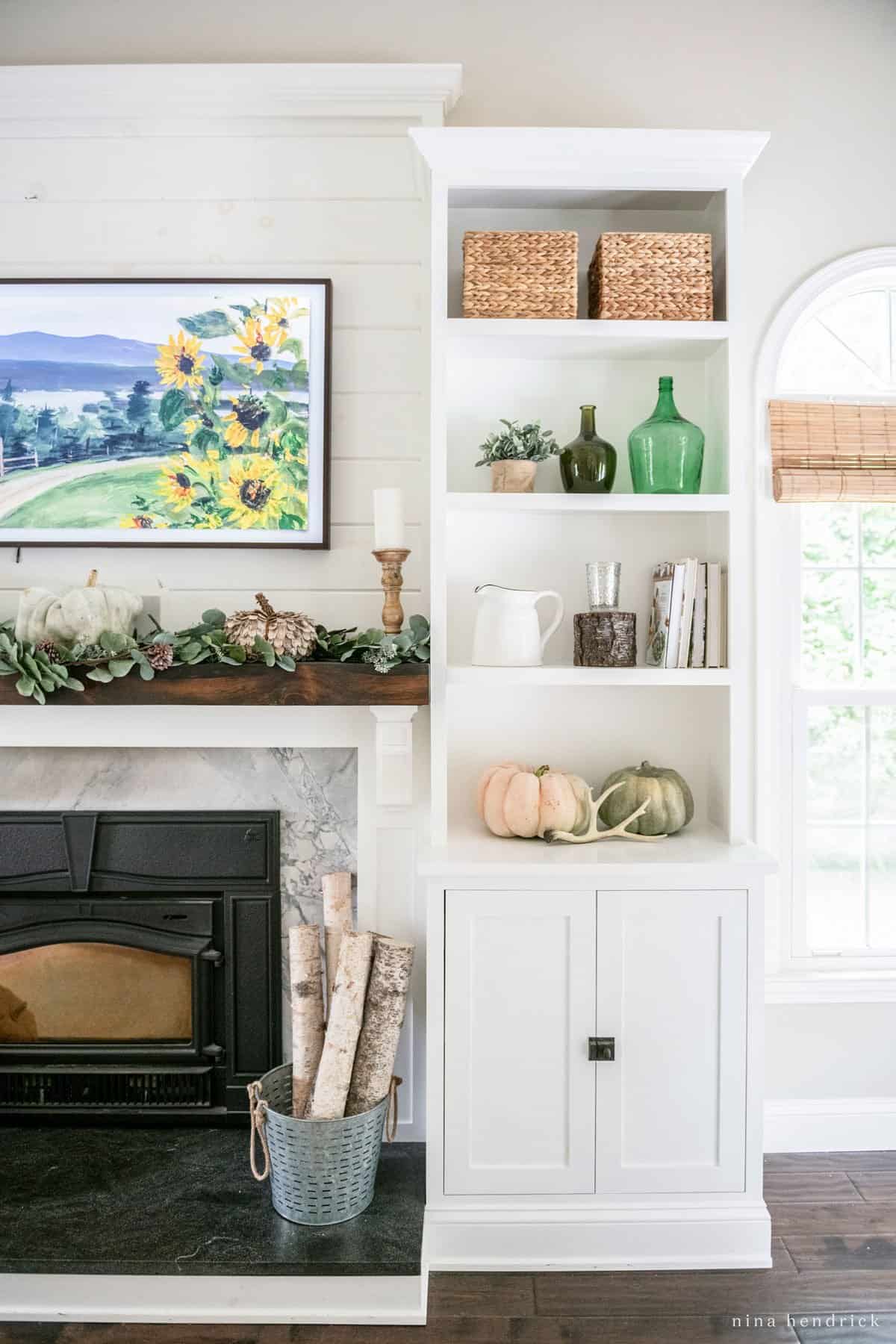 Bring the Autumn Outdoors into Your Living Room
When it comes to creating an inviting living room for the fall season, why not turn to the beauty of the outdoors for inspiration? Incorporating natural elements can infuse your space with warmth and charm. Here's how to seamlessly integrate these elements into your living room decor:
Real or Faux Foliage
Begin by adding real or faux leaves, branches, logs, and pinecones to your living room decor. Real foliage, whether gathered from your own backyard or purchased, brings a touch of natural warmth and texture. Alternatively, opt for the convenience of faux elements, available in a variety of colors and textures, which can be used year after year.
Natural Accents
Place a basket filled with apples or pumpkins on your coffee table or hearth, bringing a rustic, seasonal feel to your living room. Scatter vases filled with fresh flowers or branches throughout the room to introduce vibrant pops of color. Stack logs for those cozy fires you're about to have as the air grows colder.
These natural living room fall decor ideas seamlessly blend the beauty of the outdoors with your indoor sanctuary, making your living room the perfect place to relax and unwind this fall.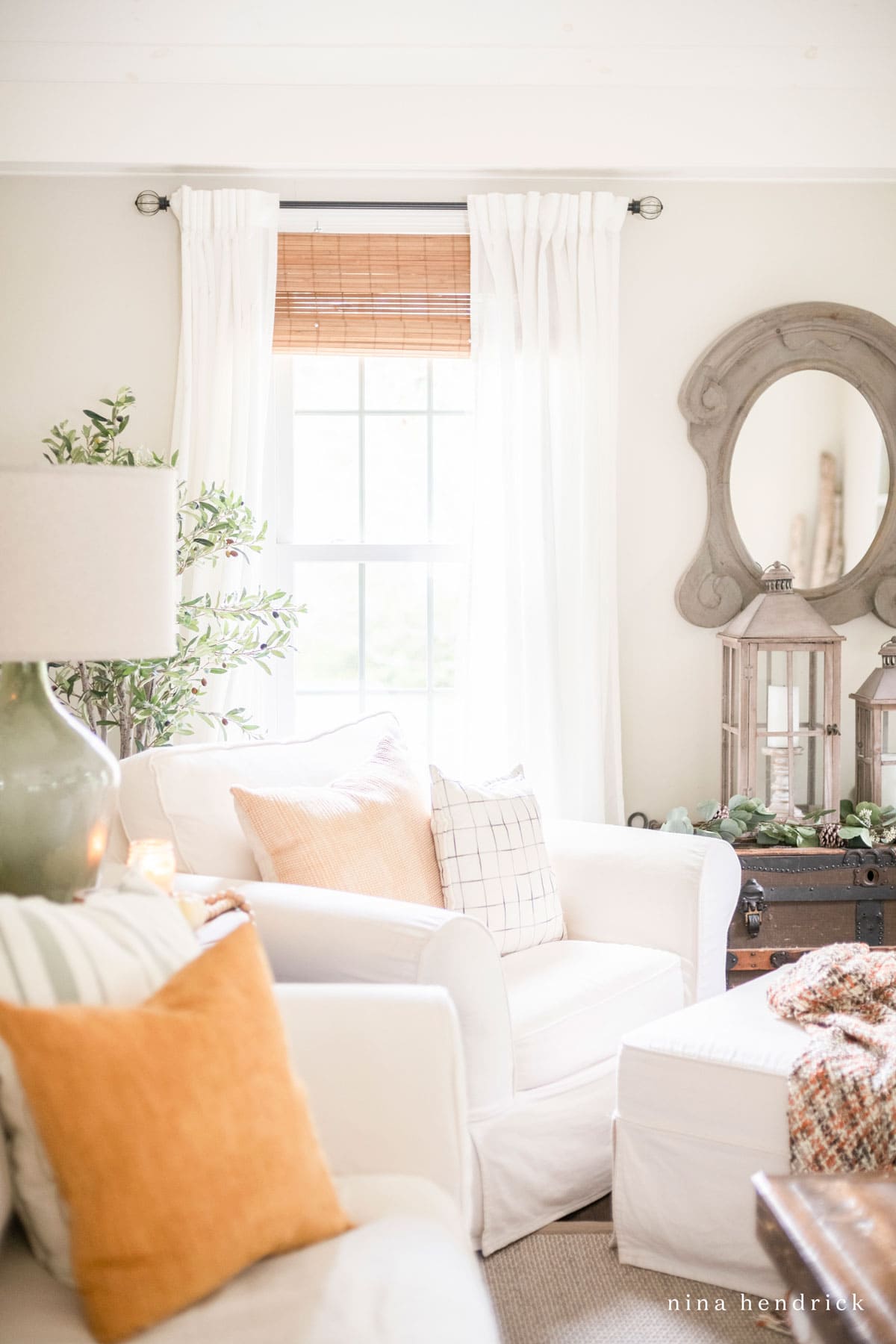 Creating Cozy Fall Living Room Vibes with Lighting
Let's shed some light on your fall living room decor! Lighting is the key to transforming your space at night.
Warm Bulbs: Swap out harsh white bulbs for warmer, yellow or orange-tinted ones. It sets a cozy, autumnal mood with ease.
Table Lamps: Add strategically placed table lamps for soft, intimate lighting – perfect for chilly evenings and relaxation.
Accent Lighting: Elevate your fall decor with candles, lanterns, and string lights. They add style and adapt to any mood or occasion.
Dimmer Switches: Take control with dimmer switches, adjusting brightness to suit your needs.
With these lighting ideas, your living room will embrace the autumn season in style. Whether you're hosting guests or enjoying quiet moments, the right lighting makes all the difference.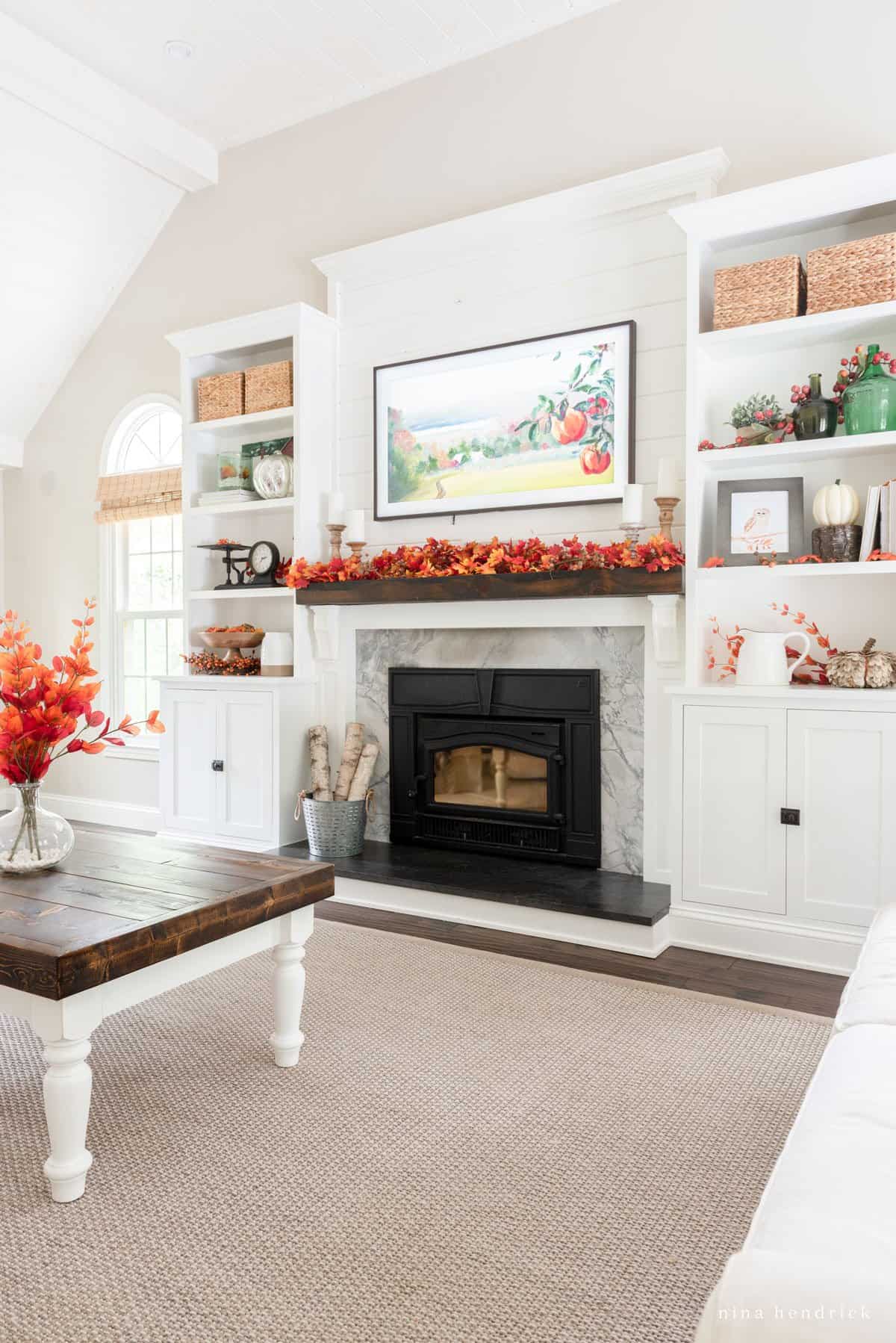 Fireside Charm: Decorate Your Living Room Mantel for Fall
When the weather takes a cooler turn, there's nothing quite like a crackling fire to draw people into your living room. Your fireplace mantel becomes the star of the show, instantly adding a touch of fall charm to your space. Let's explore how to make it even more inviting with some seasonal touches.
Start by dressing up your mantel with autumn-inspired elements. Picture a delightful row of festive pumpkins, dried leaves, or a garland of greens gracing the mantel's surface.
To elevate the cozy ambiance, introduce candles and lanterns to your mantel decor. Their gentle, flickering light adds a touch of warmth and casts an enchanting glow across the room.
As the fire dances and the mantel exudes fall-inspired charm, your living room is set to become the ultimate destination for all things cozy and inviting. With these fall living room decor ideas, you'll create a space where cherished moments are made, whether you're curled up with a blanket, sipping on hot cider, or sharing stories by the fire. It's the perfect embodiment of the season's warmth and comfort, right in the heart of your home.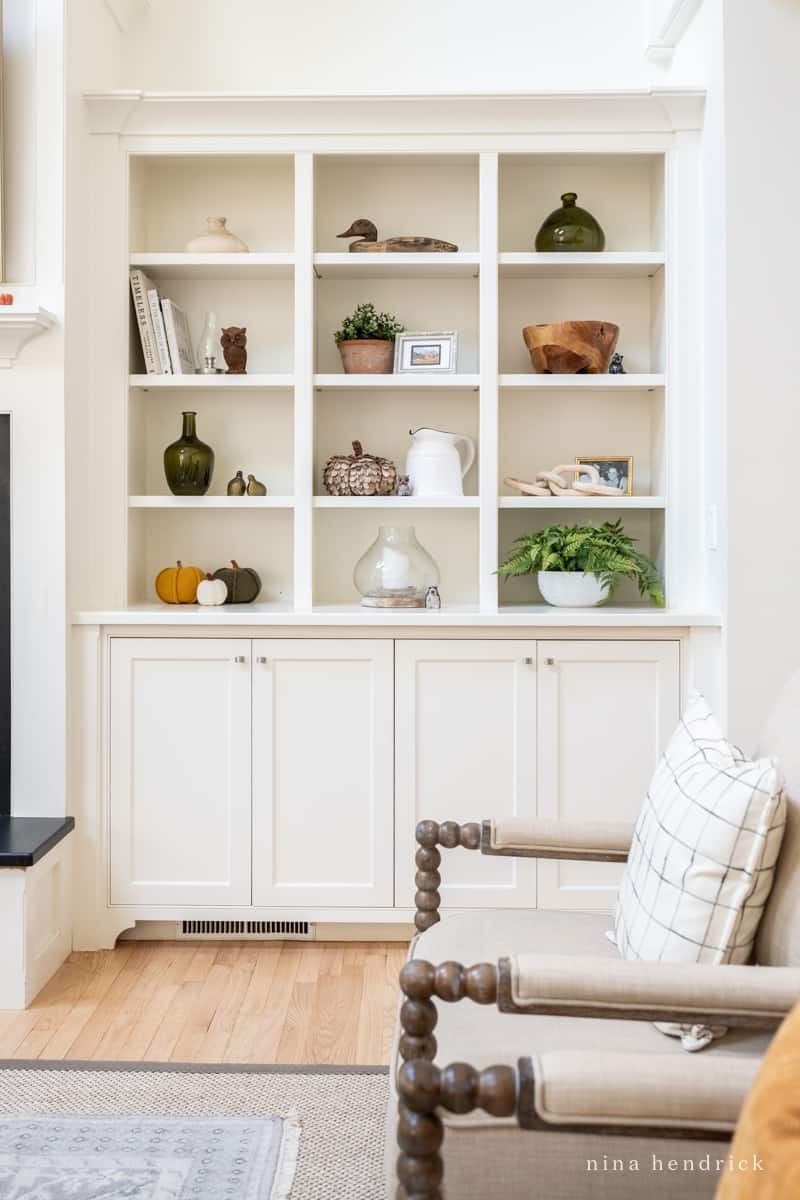 Easy Shelf Decor Upgrades for a Cozy Fall Living Room
Shelves can be your best friend when it comes to infusing your living room with fall decor. And the best part? You don't need to embark on an extensive shelf makeover project!
Start by making simple swaps and additions to your shelves. Think pumpkins, gourds, and pine cones. Not only do theses accessories add a beautiful aesthetic, but they effortlessly infuse that seasonal touch into your room. Just tuck these items here and there, and you'll instantly add those cozy fall vibes to your built-ins.
But why stop there? Elevate the ambiance by introducing warm-colored candles and vases. These charming details add an extra layer of coziness to your space.
So, rest easy on your budget – with just a few straightforward decorations, you can give your living room that inviting fall atmosphere you've been yearning for.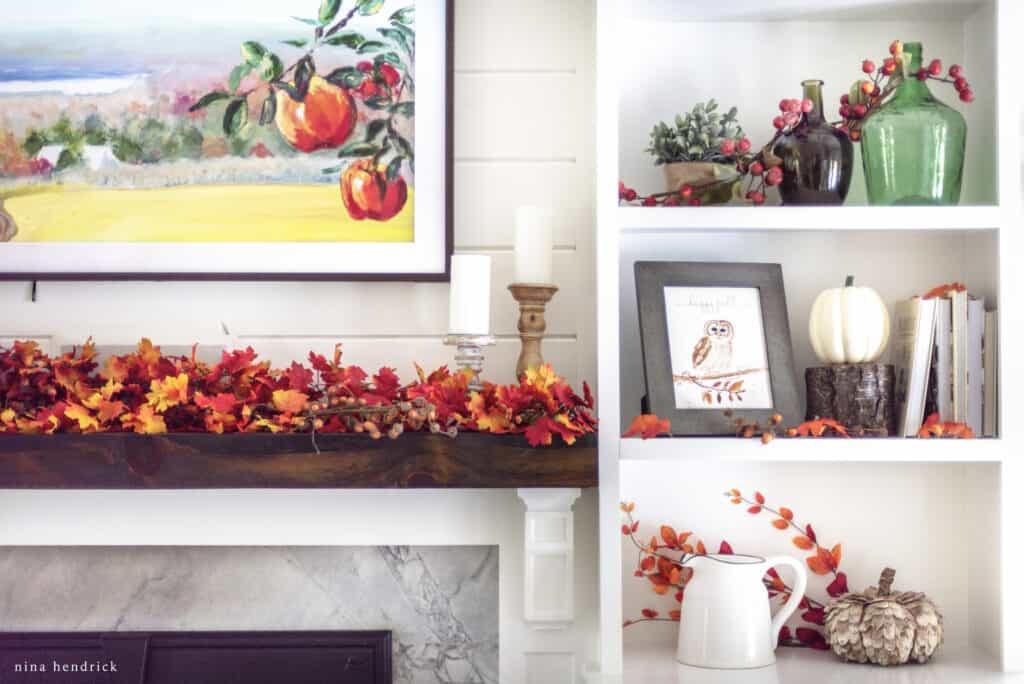 Elevate Your Living Room Space with Fall Artwork
Choosing the right artwork can truly make a world of difference in your living room's overall feel. It's the secret sauce that can turn a "so-so" space into one that looks professionally designed. And the best part? When it comes to fall-inspired decor, the options are endless. Plus, keep an eye out for my free fall decor printables to help you add that extra touch!
When you're on the hunt for fall-inspired prints, think landscapes in warm and inviting colors like orange, red, brown, and yellow. Consider vintage pieces that draw inspiration from nature, featuring trees, leaves, rustic wood, and harvest-themed artwork. If you're leaning toward a more traditional look, explore prints and artwork showcasing pumpkins, haystacks, or cozy cabins.
To really make your wall decor pop, think about arranging multiple pieces in a gallery wall. This effortlessly adds impact and interest to your living room, giving it a curated, designer feel.
You can also add your fall living room artwork to a frame on a shelf, or upload it to your Frame TV. These are both great ways to switch things up easily for the season!
With the perfect autumn artwork, you can easily transform your living room into a cozy and inviting haven for the fall season.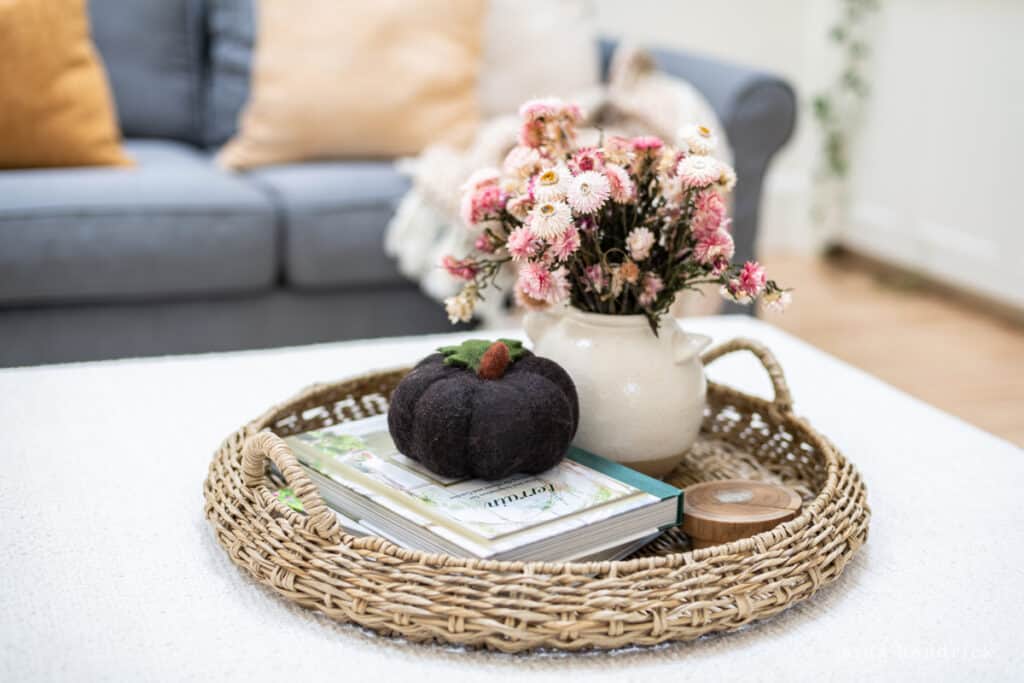 DIY Fall Coffee Table Centerpieces: A Touch of Autumn
Looking to infuse your living room with cozy fall vibes? Crafting your own coffee table centerpiece is the way to go! It's a perfect DIY opportunity that lets your creativity shine.
Start by gathering some charming pumpkins, fall leaves, or vibrant floral fall stems. These natural elements capture the essence of autumn and instantly breathe life into your living room. Mix and match colors and sizes for that rustic, seasonal appeal. Add your foraged objects to a vase, bowl, or basket and arrange on your coffee table with a candle, other decor accessories, and a stack of books in a small vignette.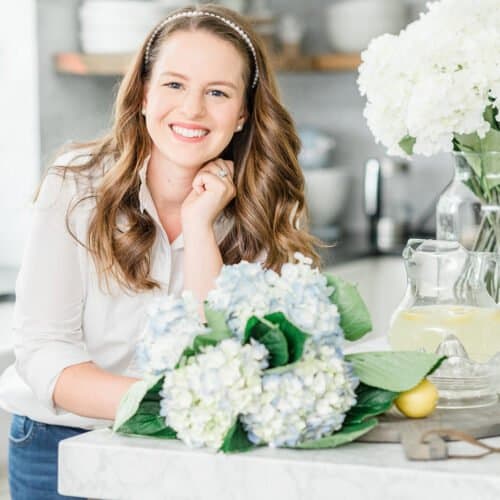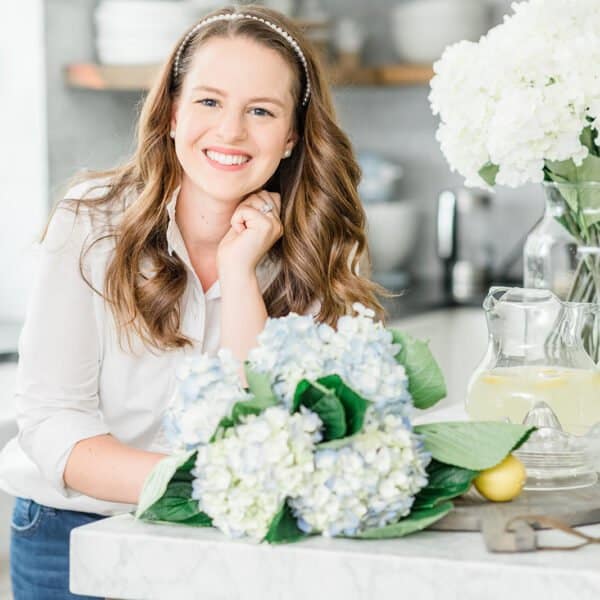 Tip from Nina: the best centerpieces lift away easily. This ensures that when you're ready for a cozy evening with a warm drink and a good book, your coffee table can quickly transform to meet your needs.
With these DIY fall living room ideas, you'll have a coffee table centerpiece that not only embodies the spirit of the season but also adds a personal touch to your space. Happy decorating!
Create a Cozy Atmosphere with Scents
Let's talk about the unsung hero of a cozy living room: scents. They play a vital role in crafting that warm and inviting environment we all love.
Candles and Diffusers
One of the simplest ways to introduce delightful scents to your living room for fall is through candles and diffusers. Opt for fragrances inspired by the season, like the comforting aroma of apple, the spicy allure of cinnamon, or the pumpkin-spiced goodness that we all adore. These little wonders work wonders in infusing your room with a cozy atmosphere.
Potpourri and Incense
Looking for a more subtle way to add fragrance? Potpourri and incense are fantastic options. They offer a gentle, lingering scent that won't overpower your space.
Remember, scents have a remarkable impact on the overall ambiance of your living room. By embracing the scents of the fall season, you can create an irresistibly cozy atmosphere that'll make your guests feel right at home.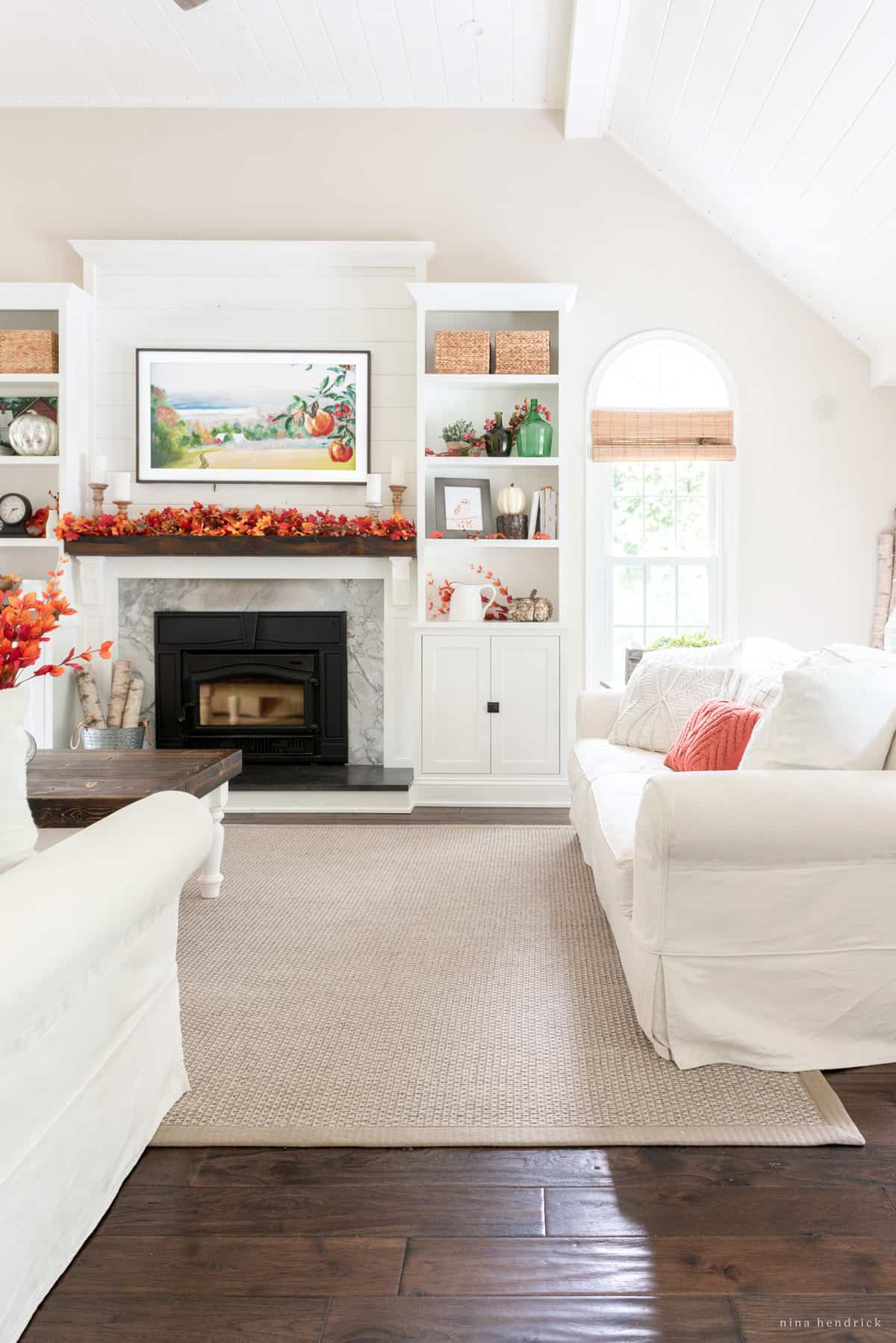 Overall, fall decorating in your living room is all about celebrating the season's rich colors, natural elements, and inviting scents. Whether you're adding festive touches to your mantel, creating DIY centerpieces, or selecting the perfect wall decor, your living room can truly shine this fall.
Ready to dive into the world of fall decor with fellow enthusiasts? Join our free decorating community today and share your fall living room ideas with like-minded individuals. Let's make this autumn the coziest and most stylish one yet!