Elevate your fall gathering with these apple cider bar ideas ! Discover decor, cider options, cocktails, and delicious food pairings.
Who wouldn't love a cozy apple cider bar at their fall gathering? It's a festive, flavorful, and fun way for guests to customize their drink and make lasting memories. Whether you're hosting a pumpkin carving party, Friendsgiving, or a Halloween bash, there is nothing quite like a warm mug of apple cider to bring a feeling of comfort and coziness. 
Imagine the warmth of a steaming apple cider in hand, surrounded by the colors of fall. Hosting an apple cider bar isn't just about drinks, it's about crafting unforgettable moments and celebrating the season with loved ones. And if you've been here before, you probable know that's what I'm all about! Join me on this journey as I explore the art of creating the perfect autumn gathering, one sip at a time.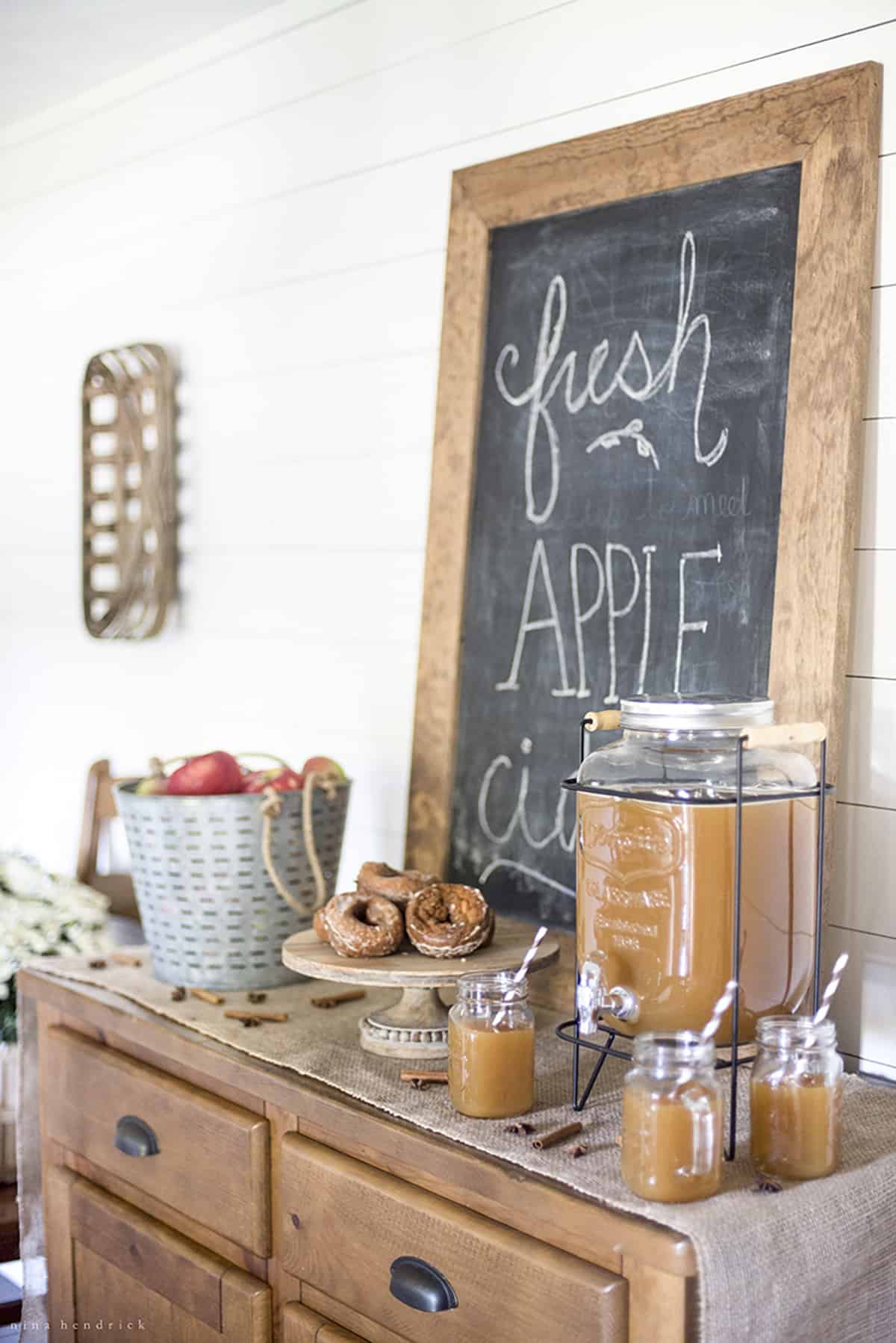 Apple cider, that comforting elixir, is made by gently heating freshly pressed apple juice and infusing it with spices like ground cinnamon or nutmeg. Served hot in a mug or glass, often garnished with fruit slices or a fragrant cinnamon stick, it's the epitome of a classic beverage. But why settle for just serving it straight from the jug at your party when you can elevate it with an apple cider bar?
In this post, I'm going to dive into some apple cider bar ideas for your next event. We'll chat about fun decoration tips, break down the essential ingredients for your cider mix, talk about serving it up in style, and even toss around some fun themes to turn your apple cider bar into the ultimate Instagram-worthy spot at the party. So, grab a cozy seat, and let's start dreaming up your perfect apple cider bar experience!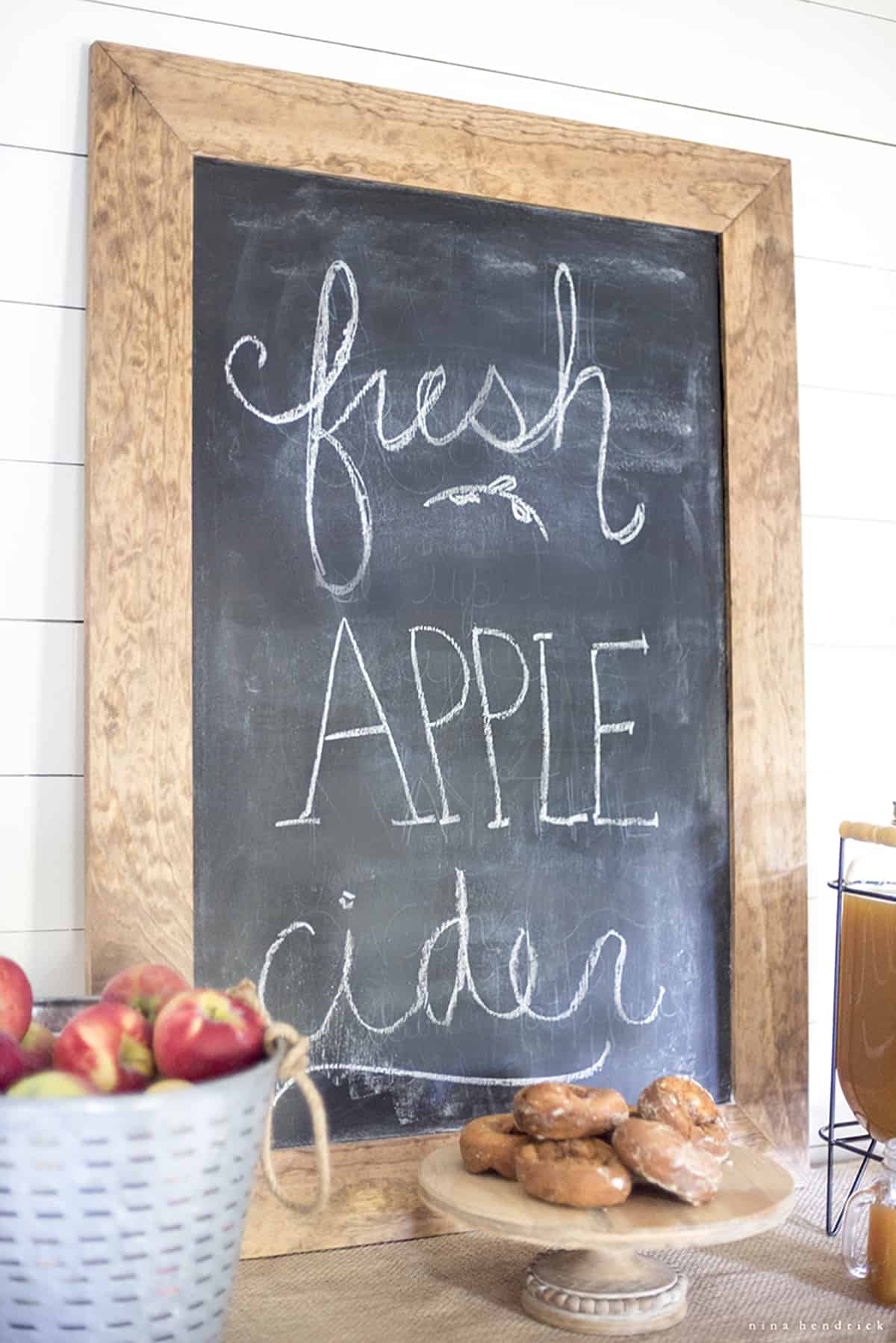 Setting the Stage: Apple Cider Bar Decorations
Setting the perfect scene is just as crucial as crafting the ideal cider. Transforming your space into a welcoming and cozy cider haven sets the tone for an unforgettable gathering. Here are some imaginative decoration ideas to turn your surroundings into an apple cider paradise:
Color Palette Magic: Begin by selecting a warm and inviting fall color palette, featuring rich oranges, deep reds, and earthy browns. This palette will serve as the canvas for your cider bar's visual appeal.
Natural Elements: Embrace the beauty of the season with hay bales for seating (ideal for outdoor setups) and an assortment of fall produce like pumpkins, mums, and colorful leaves. These elements will infuse rustic charm into your cider bar.
Warm Glow: To create a warm and inviting atmosphere, hang patio lights overhead. They'll cast a cozy and intimate ambiance as day transitions into evening.
Cider Station: Dedicate a table to your cider bar, adorned with a decorative tablecloth and designated spaces for cider, mugs, and garnishes. Incorporate a glass beverage dispenser, a hot beverage dispenser for warm cider, and a rustic galvanized ice bucket for canned hard ciders. This functional setup also doubles as a captivating focal point.
Quirky Quotes: Add a touch of whimsy with small signs or a chalkboard featuring playful apple cider quotes. This not only sparks conversations but also sets a lighthearted mood.
These creative decoration ideas ensure your cider bar not only delights the taste buds but also creates lasting memories in a beautifully curated space.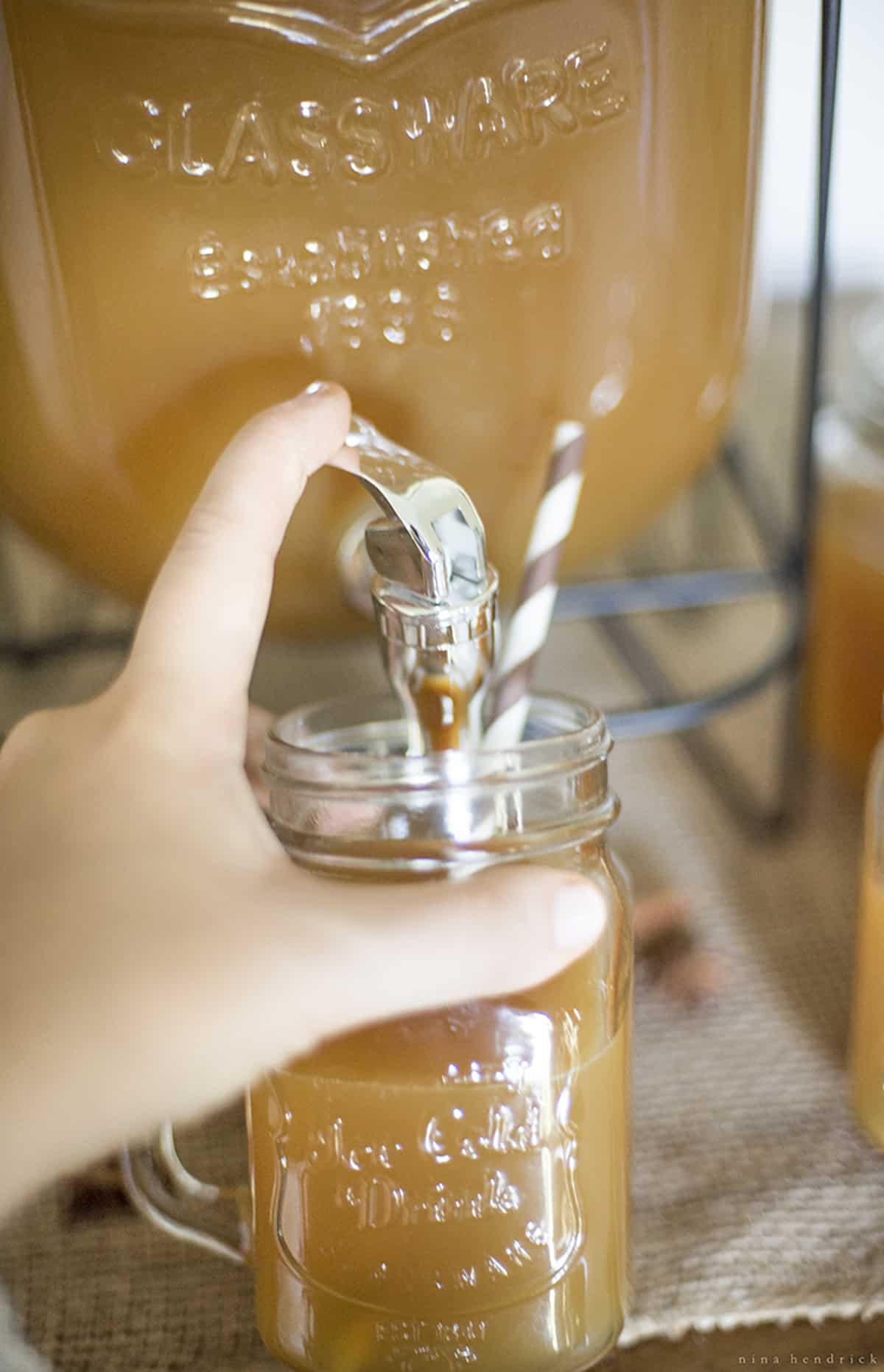 Selecting Your Apple Cider: Choices for All Ages
Choosing the right apple cider is a pivotal ingredient for a successful cider bar experience. Thankfully, you'll find a vast array of options to explore. From sweet and fruity to tangy and tart, the apple cider world is a treasure trove of flavors.
For those seeking sophistication, adult craft and specialty ciders offer unique and tantalizing tastes. On the flip side, classic sweet, non-alcoholic ciders are a hit with both kids and adults, making them versatile crowd-pleasers.
As you navigate the cider selection, consider several factors:
Flavor Profile: Is your cider choice sweet, semi-sweet, or tart? Determine the flavor profile that aligns with your guests' preferences.
Alcohol Content: Are you looking for alcoholic or non-alcoholic cider? Cater to your audience's age and preferences.
Sweetness Level: Assess the sweetness of the cider to ensure it matches your guests' taste preferences.
Event Size and Budget: Consider the gathering's size and your budget to determine how many cider varieties to offer.
Local Flavors: Don't forget to explore local options from nearby breweries or orchards. Local cider adds an authentic touch to your bar.
The cherry on top? You can also craft your own hot cider with mulling spices. This hands-on approach lets you infuse a personal touch into your event and impress your guests with your homemade elixir. Whether you opt for store-bought or craft your own, having multiple cider options ensures there's something for every palate at your gathering. It's a surefire way to make your hot apple cider bar the star of the event!
Sip, Spice, and Serve: Essentials for a Memorable Cider Bar Experience
Creating your dream apple cider bar involves more than just the cider itself; it's about enhancing the overall experience. Here are essential elements to elevate your cider bar:
1. Mugs and Glasses: Begin with the classics – mugs are the traditional choice for serving apple cider. Consider selecting mugs or glasses with distinctive styles that catch everyone's eye. For a personal touch, surprise your guests by using mason jars as cider glasses, each adorned with rustic twine and a small apple slice bearing their name. It's a charming way to show your attention to detail.
2. Essential Tools: Equip your cider bar with indispensable tools like shakers, strainers, and muddlers. These handy gadgets help you craft the perfect cider conco
ctions.
3. Flavorful Twists: Elevate your cider's flavor profile by introducing unique twists. Think of additions like vanilla, ginger, or nutmeg to add an extra kick. Sweeten the deal with flavored syrups or honey to cater to various taste preferences.
4. Mix It Up: Get creative with mixers. Incorporate juices, sodas, or even alcohol to create distinctive cider blends that keep your guests coming back for more.
5. Garnish Galore: It's all about the details. Elevate your cider's flavor and presentation with garnishes like caramel, cinnamon sticks, orange slices, cloves, apple wedges, a sprinkle of pumpkin spice, or a dash of nutmeg. These little touches make a big difference.
6. Practicalities: Don't overlook the small essentials that can make a significant impact. Ensure you have a stash of napkins at your cider bar for spillages and sticky fingers. Consider using reusable or compostable straws, not just for an eco-friendly touch but also for a smooth sipping experience that complements your cider creations perfectly.
With the right mugs, garnishes, syrups, flavorings, mixers, and tools, your cider bar becomes a canvas for your creativity. Customize it to your heart's content, and watch your guests savor every sip!
Signature Cider Cocktail Ideas
1. Apple Cider Bourbon: For a traditional option, savor the Apple Cider Bourbon cocktail, a classic blend of bourbon, apple cider, and a squeeze of lemon juice.
2. Hot Apple Pie Cider: Seek a sweet and spicy treat with Hot Apple Pie Cider, made with apple cider, Calvados, and crowned with a dollop of whipped cream.
3. Apple Cider Sangria: Embrace refreshment with Apple Cider Sangria, a delightful fusion of apple cider, white wine, and seasonal fruit.
4. Apple Cider Margarita: For a unique twist, venture into the world of Apple Cider Margaritas, a playful blend of apple cider, tequila, and maple syrup.
5. Apple Cider Mule: For a refreshing sip, indulge in the Apple Cider Mule, a fusion of apple cider, vodka, and ginger beer served over ice.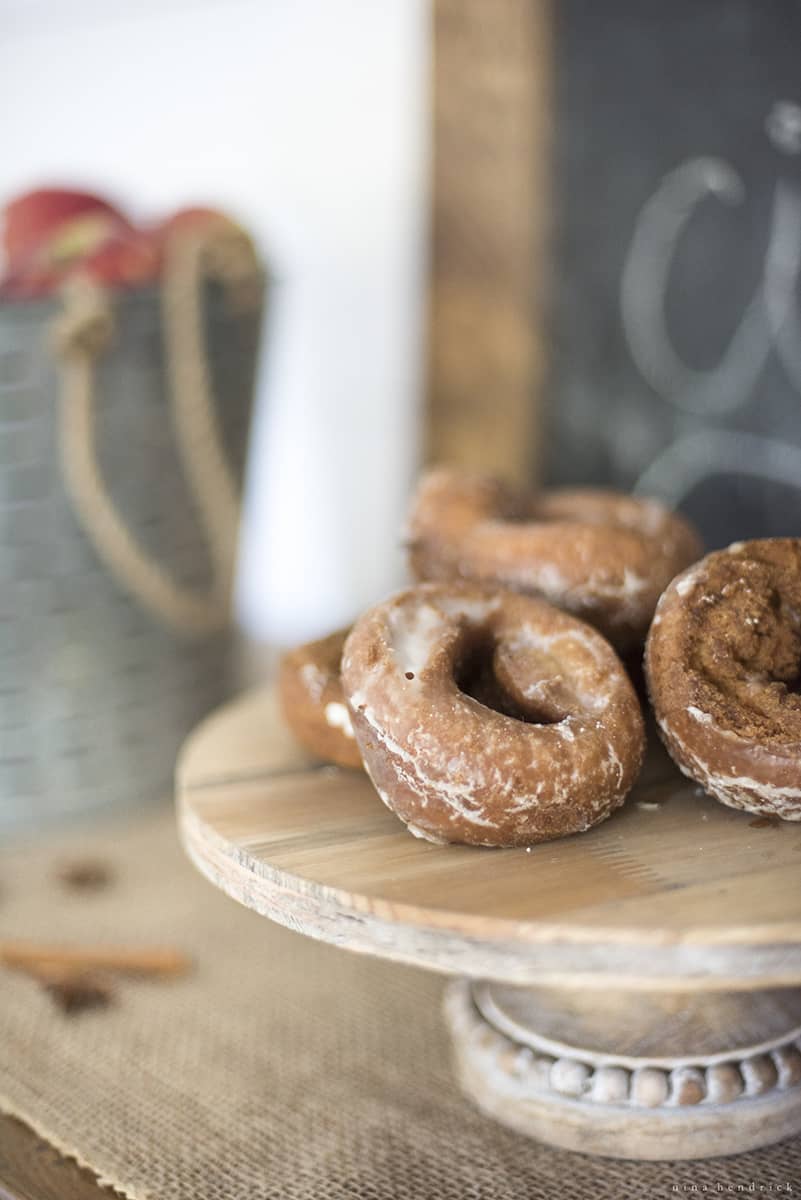 Delicious Pairings: Elevating Your Cider Bar Experience
Now, let's explore the delectable pairings that will elevate your apple cider bar to the next level.
Sweet and Savory Delights
Elevate your cider experience with an array of savory snacks that will tickle your taste buds. Think beyond the basics – create a cheese and charcuterie spread featuring a variety of cheeses and cured meats. To add an extra twist, introduce slices of juicy oranges, pears, or other seasonal fruits to infuse a burst of flavor into your savory bites.
Indulgent Sweets
If you're yearning to satisfy your sweet tooth, we've got you covered. Pair your cider with anirresistible dessert that screams "fall"! Picture this: caramel apples adorned with a rich, gooey coating, warm and comforting apple pie, a pile of apple cider donuts, or a generous serving of apple crisp that balances sweetness and crunch. These sweet treats will harmonize perfectly with the warm, inviting flavors of your cider. So, go ahead, savor the deliciousness!
Entertainment and Activities
Your apple cider bar is not just about serving cider – it's an opportunity to provide a variety of entertaining activities and treats that will make your event unforgettable.
Caramel Apple Station
Set up a delightful caramel apple station, allowing guests to dip their apples in warm, gooey caramel. Afterward, they can roll the caramel-dipped apples in toppings like chocolate chips, candies, or sprinkles. It's a treat that everyone can create and enjoy.
Apple Bobbing
Add excitement to your event with a classic apple bobbing activity. Guests can bob for apples in a tub of water, creating an exciting and occasionally messy game that's perfect for fall.
Crafty Corner
If your guests are inclined to get crafty, set up a crafting station with supplies for making personalized apple-themed decorations. It's a fantastic way for guests to express their creativity and leave with a memorable keepsake.
Photo Booth Fun
Elevate the event's entertainment by offering a fun photo booth equipped with apple-themed props and backdrops. It's a great opportunity for guests to capture and share lasting memories.
No matter which activities you choose, your apple cider bar is bound to be a hit at your next event. With freshly pressed cider, delectable treats, and engaging activities, you'll create an unforgettable experience for your guests.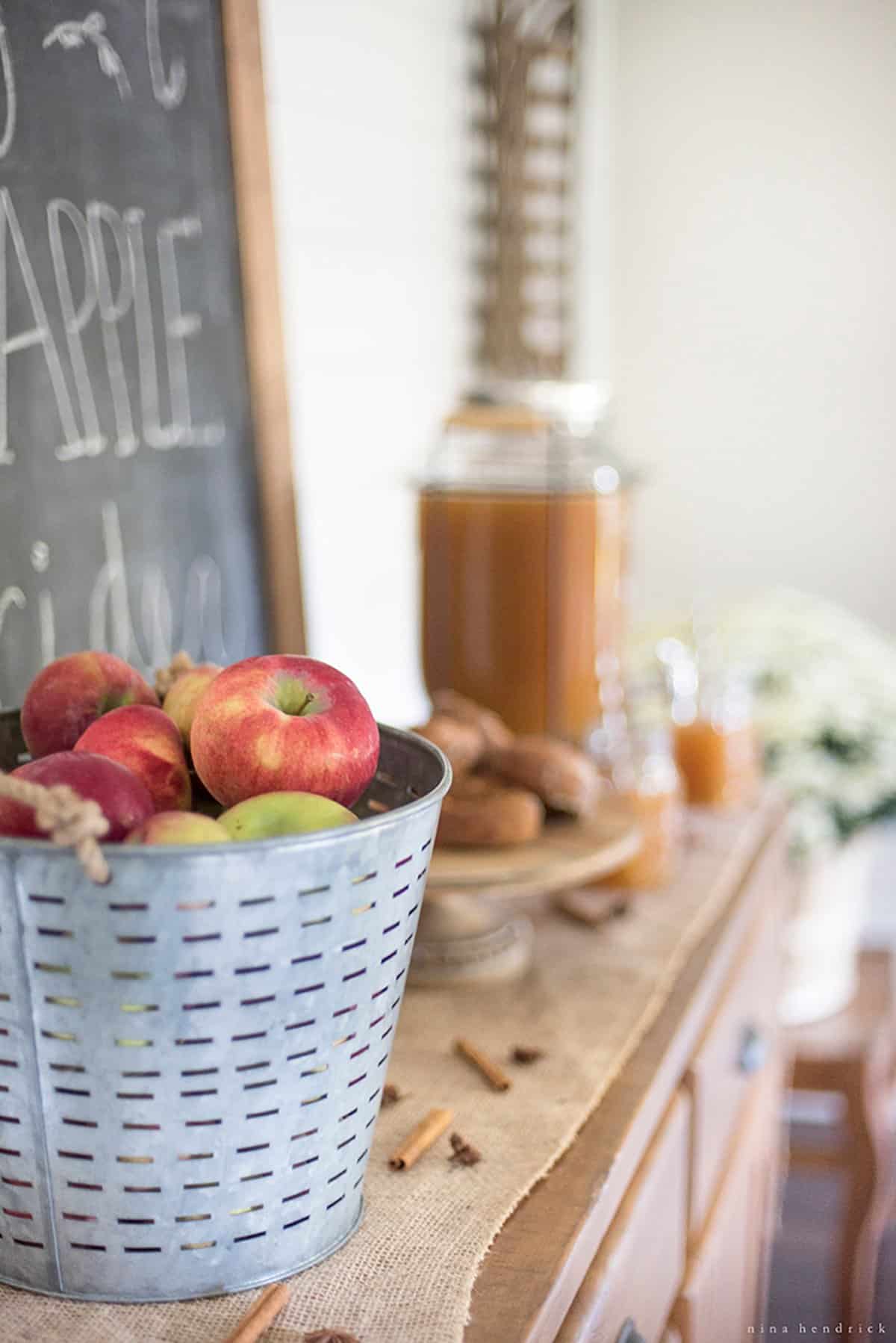 Favors and Keepsakes
To ensure your apple cider bar leaves a lasting impression, consider offering small bags of mulling spices as favors. This way, your guests can recreate the delightful mulled cider they enjoyed at your cider bar. Include a recipe card with the favors, ensuring your guests remember how to craft the perfect mulled cider.
For other charming favors, think about sending your guests home with their mugs, locally crafted apple soaps, or apple orchard-scented candles. Whichever you choose, your guests will undoubtedly appreciate these thoughtful keepsakes.
So there you have it – the ultimate guide to hosting a festive apple cider bar event that will leave your guests raving and reminiscing. With creativity, attention to detail, and an abundance of delicious cider, your gathering is sure to be a memorable autumn celebration. Cheers to warm mugs, delectable pairings, and the joy of fall!