Discover creative fall porch decor ideas and inspiration in our guide to turning your front porch into a cozy autumn retreat. Embrace the season's beauty and welcome it with warmth!
It's that magical time when we bid farewell to the sweltering heat and dive headfirst into the cozy, pumpkin-spiced embrace of the autumn months. And what better way to celebrate this glorious season than by sprucing up your front porch? It's not just about decorating, it's about creating a warm, inviting space that welcomes you and your guests with open arms. So, let's chat about some easy and affordable fall front porch decor ideas and get your space ready for the ultimate autumn vibes. It's like turning your porch into the coziest spot in Stars Hollow, where Lorelai and Rory would feel right at home!
Ready for more fall inspiration? Dive into our other autumn-themed posts, including a delightful fall home tour and fall decor ideas for every room. Let's keep the fall vibes going!
This post contains affiliate links, which means I may get a small commission (at no extra cost to you) if you shop my link. Please see my disclosure if you'd like more info!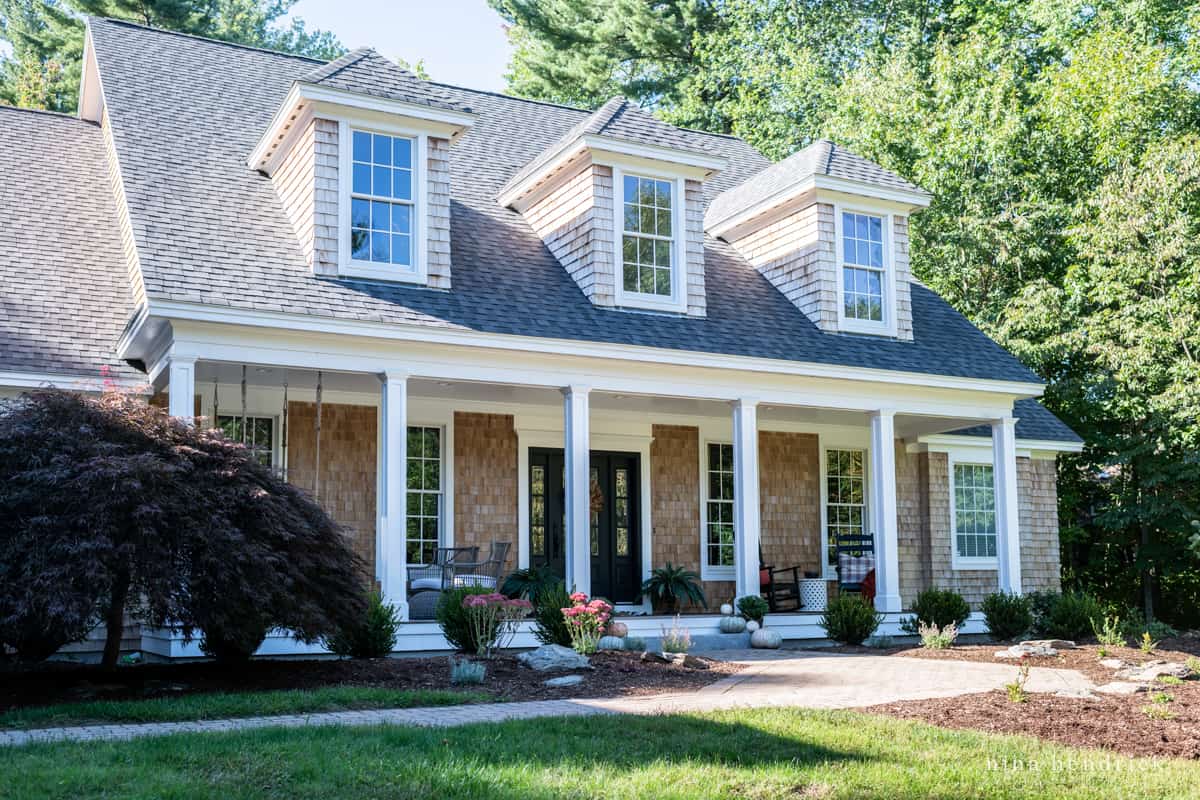 Tips for Decorating a Porch for Fall
When it comes to porch decor, the key to success is setting the right tone. Here are some easy tips to elevate your porch into a haven of fall vibes.
1. Paint Your Porch with Autumn's Palette: Choosing Fall Colors
Start by picking a color palette that sets the stage for your fall transformation. Think warm and cozy with shades of oranges, reds, yellows, and browns. These colors will wrap your porch in a welcoming autumn hug. Consider integrating them into various elements, like pillows, throws, blankets, and candles.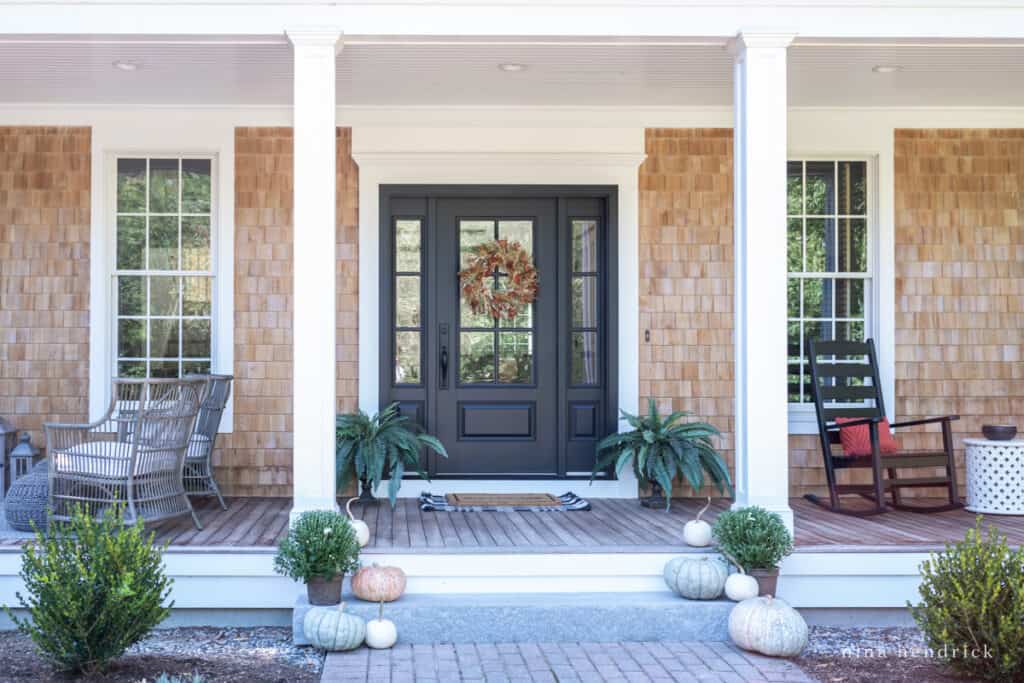 2. Embrace Nature's Beauty: Incorporating Natural Elements into Your Fall Front Porch Decor
You know what's awesome about fall decor? Mother Nature herself has got some of the best stuff to offer. So, why not spruce up your porch with a mix of pumpkins, gourds, hay bales, dried cornstalks, decorative kale and some of those seasonal favorites like mums and fall leaves? Trust me, these goodies will bring that genuine, straight-from-nature touch of fall right onto your porch.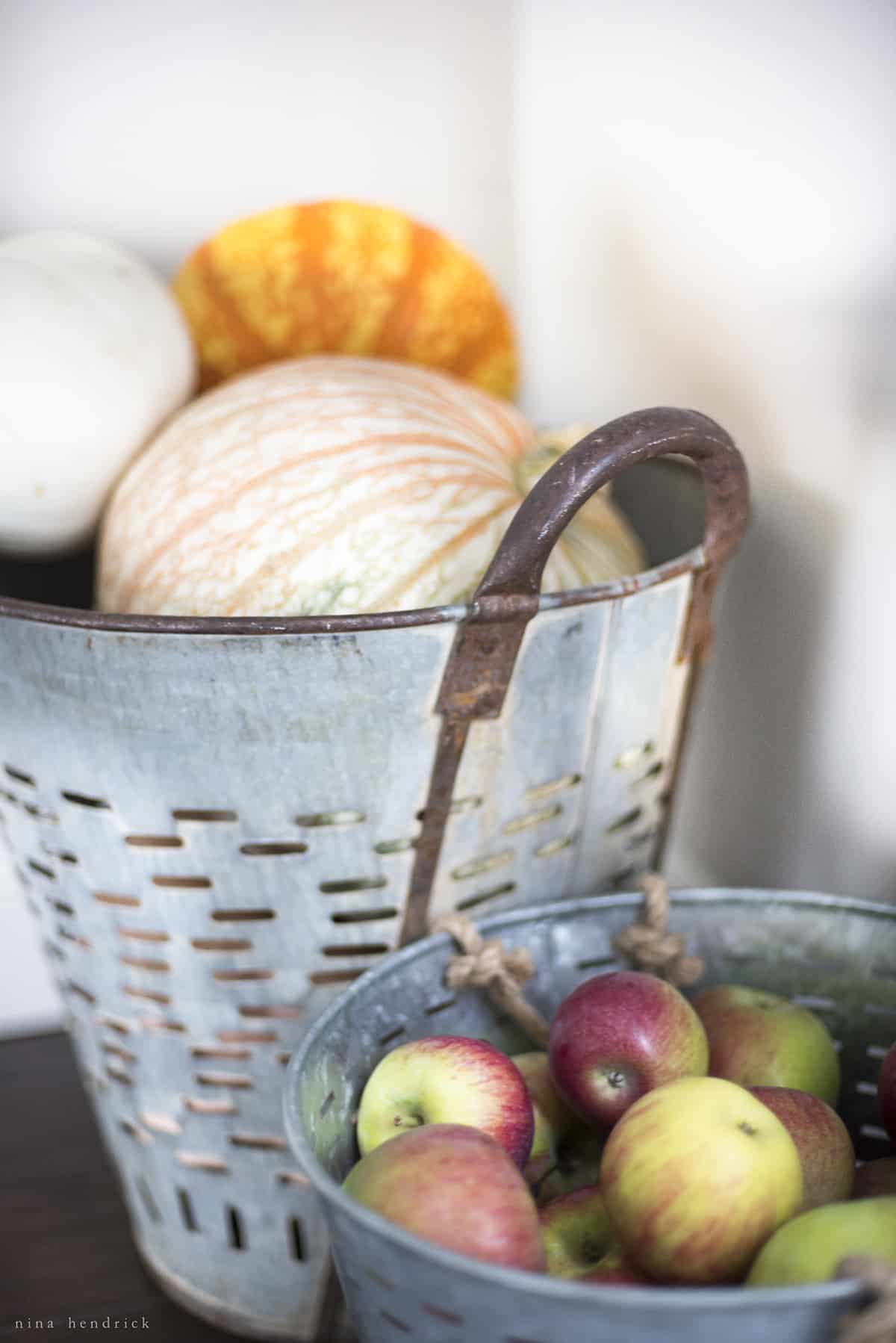 Affordable Fall Porch Decor Ideas
Embracing nature in your decor doesn't have to break the bank. Here are a few budget-friendly fall front porch ideas using natural accents:
Fallen Leaves: Gather colorful fall leaves to craft beautiful displays or a garland that celebrates the season's palette.
Pine Cones: Collect pine cones from your yard or a nearby park. They can be transformed into wreaths or used as accents in bowls and baskets.
Branches: Fallen tree branches can be turned into rustic decorations. Hang them above your door or lean them against your wall for a simple yet effective touch.
Flowers: For a cost-effective option, purchase mums in late summer when they haven't yet bloomed. Plant them in generous pots or planters to let them grow larger until fall. Just be sure to water and care for them well.
Just sprinkle in some creativity and a knack for nature's beauty, and voilà – you've got yourself a gorgeous fall-themed porch that won't break the bank.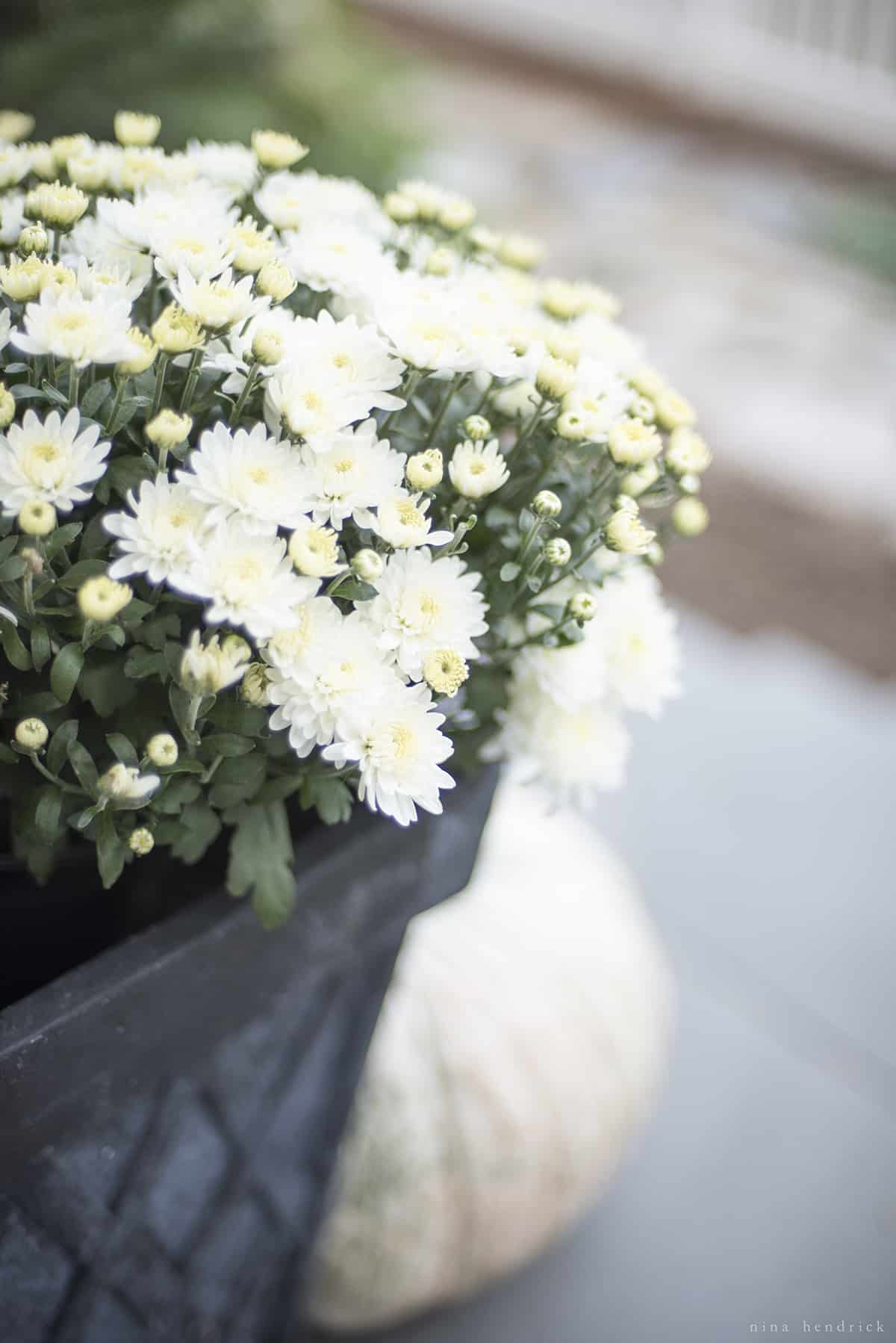 3. Elevate Your Porch with Stunning Fall Planters
If you're all about keeping things easy-breezy when it comes to bringing some autumn flair to your front porch, think about adding some pretty fall planters filled with seasonal blooms. These trusty companions will bring warmth and color to your porch with minimal effort.
Classic Mums: Mums are the true stars of fall foliage. Their vibrant petals in rich shades of red, orange, and yellow are like a burst of autumn sunshine. Just pop them into your planters or even some galvanized buckets for an instant fall makeover. They're hardy, low-maintenance, and ideal for those days when you'd rather enjoy a pumpkin spice latte than fuss over decor.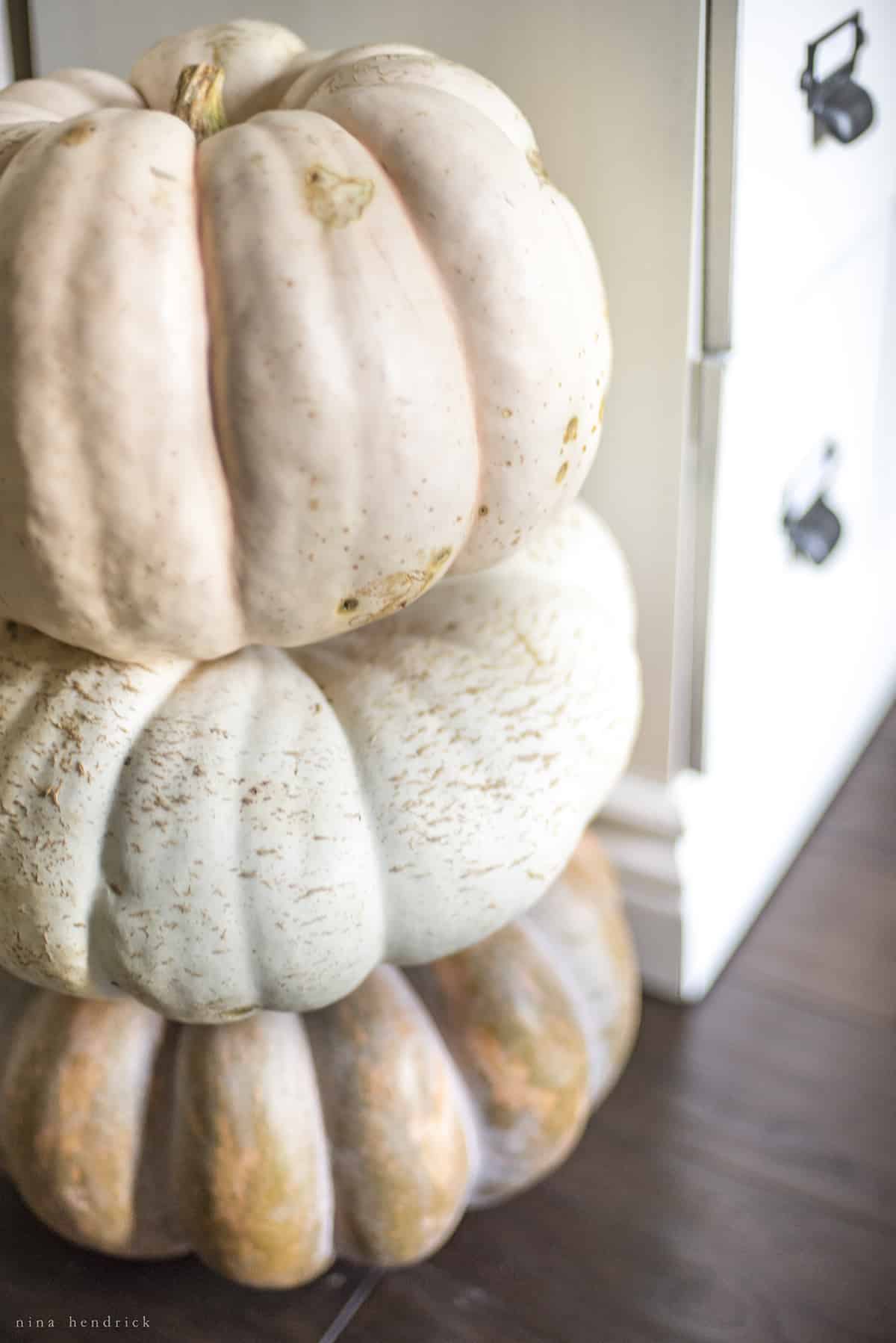 Pumpkin Stacks: What's more fall than pumpkins? Stack them in your planters for a playful and rustic touch. Mix and match sizes, or experiment with different pumpkin colors, from classic orange to ghostly white or deep green. It's a delightful way to infuse your porch with that quintessential pumpkin-picking farm vibe.
Mixing and Matching: Don't be afraid to mix and match your fall planters. Combine mums with a pumpkin topiary, add tall grasses for texture, decorative kale or cabbage, or introduce a few corn stalks for an extra dose of autumn charm.
And the best part? You don't need to be a gardening guru to make them thrive. Just a little regular watering will do the trick – your mums will stay fresh, and those pumpkin stacks will rock their vibrant colors for weeks. Now, here's the fun part: if your mums happen to lose a bit of their luster (or, let's be honest, you may have an "oops, I forgot to water" moment), no worries! Take it as a chance to switch things up and introduce new autumn shades to your porch. It's an opportunity to switch up your fall front porch decor theme just in time for Halloween or Thanksgiving.
4. Enhance Your Fall Porch with Stylish Decor Accessories
Now, if you really want to take your porch decor up a notch, think about spicing things up with some decorative accessories. Imagine this: a quaint farmhouse-style wooden ladder decked out with cozy blankets or a charmingly rustic fall-themed sign. Now, normally, I'm not the biggest fan of word signs, but there's just something about fall that brings out our inner kitsch, and I have to admit, they kind of fit right in. And don't forget about a wheelbarrow – fill it up with gourds or pumpkins, and you've got yourself a display that perfectly captures the spirit of the season. It's all about adding that extra touch of character and charm to your porch.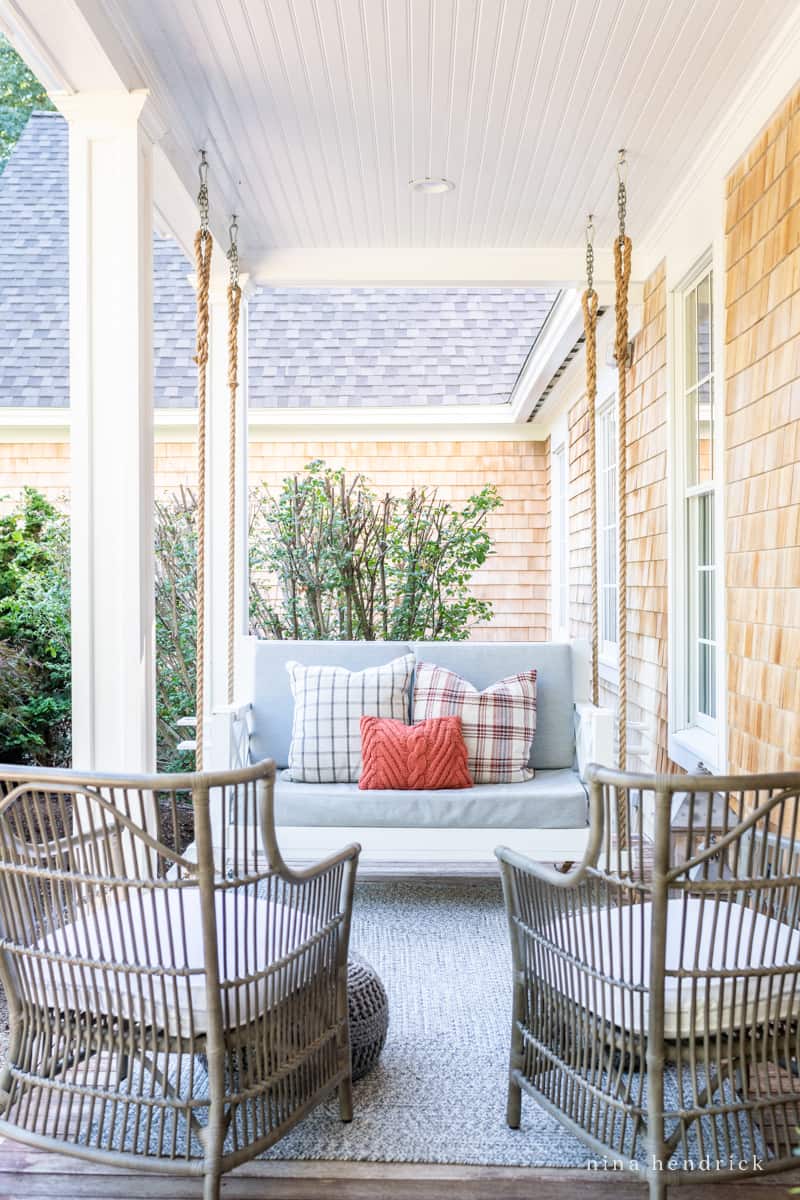 5. Seating Serenity: Adding Comfort to Your Fall Porch
Cozy seating is the not-so-secret ingredient to an inviting autumn atmosphere. Add a couple of comfortable chairs or a bench to your front porch decor for fall with a warm blanket nearby, creating a comfy spot to enjoy a cup of tea and a good book.

Now, let's talk about the coziest addition of all — the porch swing. Imagine it like you're in one of those feel-good autumn Hallmark movies. You know, like the ones where the leaves are turning, and there's a hint of apple pie in the air. But hey, it's not just about the looks, it's about creating your own little haven where you can kick back and soak in that crisp fall breeze. The swing's gentle sway? Pure therapy. It lets you fully dive into the season's beauty, from the vibrant leaves to the soothing sounds of nature. So, whether you're lost in a good book or having a heart-to-heart with your favorite people, the porch swing is the embodiment of fall relaxation and comfort.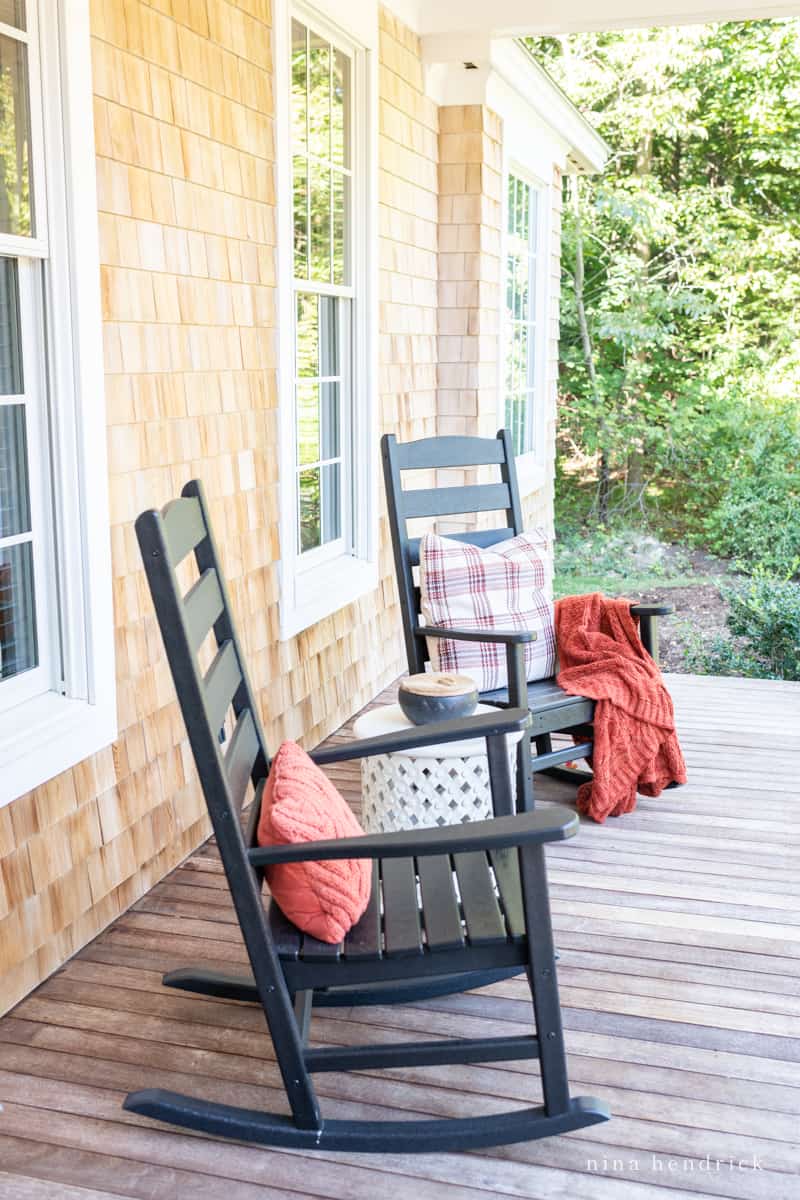 6. Wrap Your Porch in Warmth with Cozy Textiles for the Autumn Season
Speaking from personal experience, there's something truly magical about those cozy and warm textiles on your fall porch. Let's go back to the scene above and expand: a chilly evening, a cup of steaming cider in hand, sitting on the porch swing wrapped up in a plaid blanket that feels like a hug from fall itself. So, here's a tip from my fall-loving heart to yours: add some outdoor-friendly blankets or throw pillows with some lovely autumn texture.
7. Bask in the Glow: Illuminating Your Porch for Fall
Brightening up your porch with a sprinkle of sparkle and warmth is a game-changer when it comes to fall decor ideas. String lights? Instant cozy vibes. If you're all about that subtle charm, pop some tea lights or candles in outdoor lanterns. And don't forget solar-powered pathway lights – they'll light the way with a soft, welcoming glow. Oh, and here's a tip from me to you: outdoor spotlights work like magic to show off your favorite plants or decorations. So, let your fall creativity shine — literally.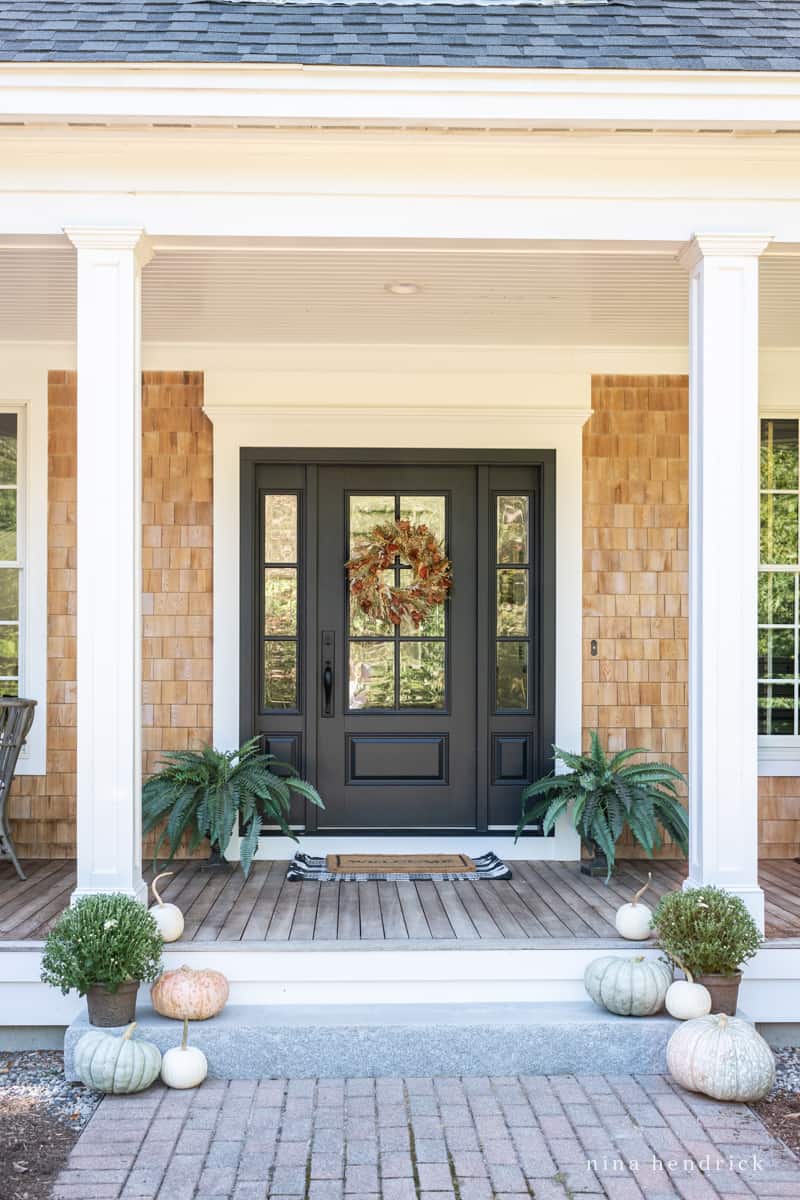 8. Wreaths of Welcome: Crafting Stunning Fall-Themed Door Decor
Decorating your front door with a fall wreath is a classic way to celebrate the season. They're like that friendly wave to everyone who strolls up to your door. You can go the DIY route for a personal touch, or if time is of the essence, there's no shame in opting for a premade wreath. Many artisans on Etsy offer a treasure trove of unique, handmade wreaths that can effortlessly add charm to your porch.
Whether you're feeling crafty and want to make your own or prefer to check out ready-made options, wreaths are the "cherry on top" of your porch decor. It's a little detail, but it's got some serious impact – the kind that ties your entire fall porch setup together beautifully.
9. Step into Autumn with Layered Rugs for a Cozy Vibe
Want to give your fall porch decor an extra pop? Try this fun trick: layer some doormats or rugs. It's like adding a little magic to your porch! By doing this, you not only introduce extra colors but also create a cozy texture mix that makes your porch feel even more inviting. Plus, it's practical too – those layered mats can help catch dirt and leaves before they sneak inside to your entryway.
Speaking of dirt, to ensure your fall porch decor looks fresh and clean throughout the season, follow these maintenance tips:

Weekly Sweeping: With leaves falling, your porch may be constantly covered in a colorful shower of foliage. Sweep regularly, or even daily if surrounded by trees, to keep your porch tidy and prevent potential slip hazards.
Protect Decor: If your area experiences rain or snow in the fall, consider using weather-resistant decor or apply protective coatings to your items. Outdoor furniture covers can also be handy.
Remove Rot: Natural decorations like pumpkins may begin to decompose over time. Remove any rot promptly to prevent it from spreading to other decor items.
Outdoor Rug Care: If you're using outdoor rugs, shake them out regularly to remove dust and leaves. Ensure they are weatherproof to maintain their look throughout the season.
Regular Checks: After heavy rain or wind, inspect your porch for signs of weather damage. Keep your decor secured to prevent it from blowing away or toppling over.

By following these maintenance tips, you'll keep your fall decor looking its best, even as the weather changes.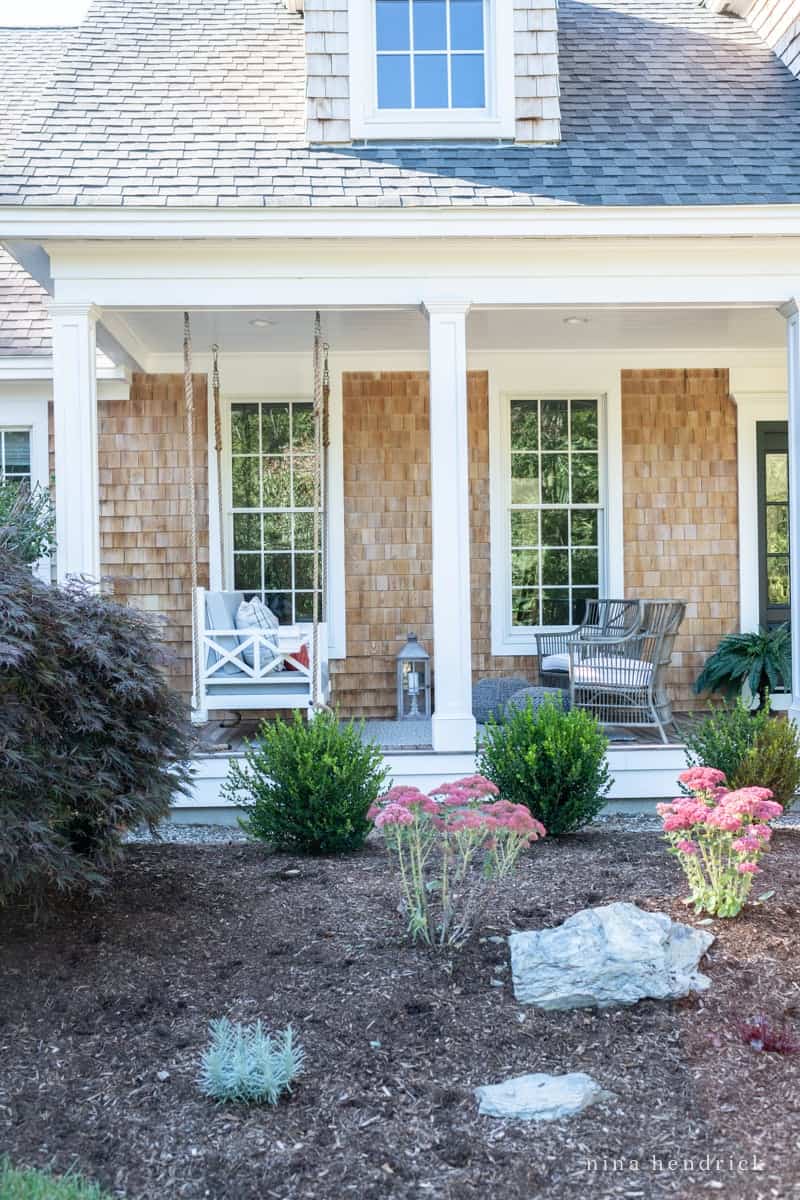 10. Celebrate the Season: Host a Fall Front Porch Gathering
Feeling like it's time to have some fun? Why not throw a laid-back fall bash right on your porch? Round up your pals for classic autumn activities like pumpkin carving, sipping cocktails, or a cozy movie night under the stars. And if you've got the room, how about setting up an Apple Cider bar? Picture this: a pitcher of steaming apple cider and glasses ready on a side table, just waiting to delight your guests. Don't forget to throw in some small plates of snacks like popcorn, nuts, or pretzels to munch on while you all enjoy the festivities. It's all about creating those cozy, memory-filled moments.
So, there you have it, your guide to fantastic fall porch decor ideas for the ultimate autumn vibes. Remember, it's not just about decorating; it's about creating a warm and inviting space that welcomes you and your loved ones to savor the beauty of the season. So, go ahead, embrace your inner fall fanatic, and let your porch be your canvas for all things autumn. Happy decorating!
And don't forget to join the conversation in our online decorating community. Your ideas and creativity are always welcome! 💬🍂🏡