Learn how to recreate an early fall tablescape and dining room that captures the time between summer and fall when fresh flowers and fruit is abundant.
Are you feeling ready to decorate for Fall yet? While my heart is heading there, outside says a lot differently. I still can't find pumpkins where I live in New England, so for now, my decorations are headed in a different direction! This Early Fall Tablescape reflects what's more readily available— sunflowers, hydrangeas, and apples. To see more Early Fall inspiration you can start here, visit the kitchen, mudroom, get entertaining and menu ideas, or download this apple print.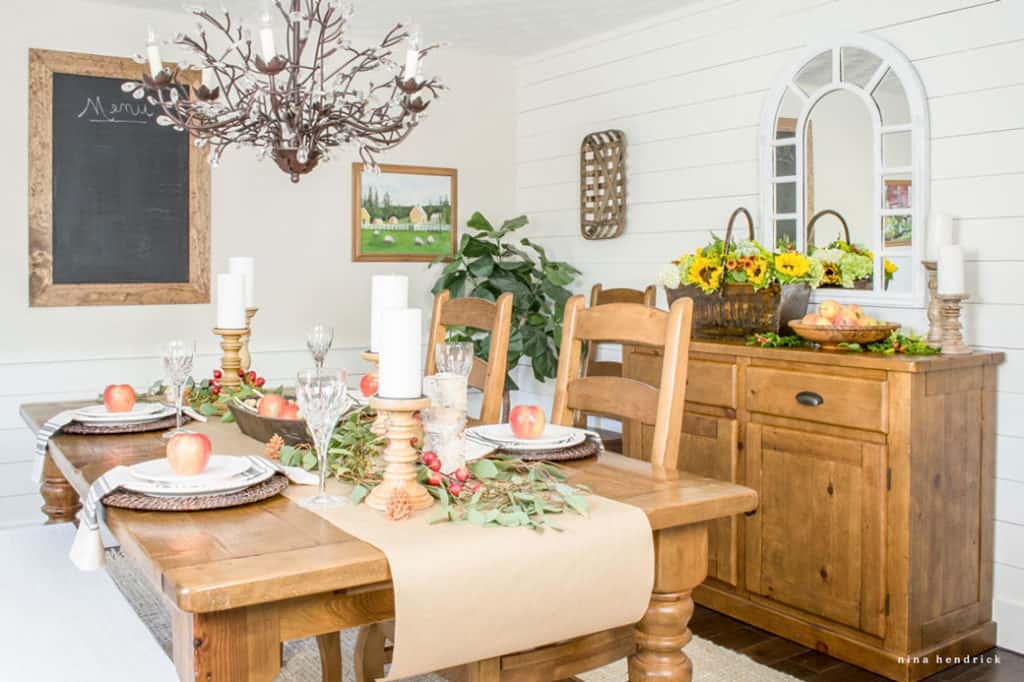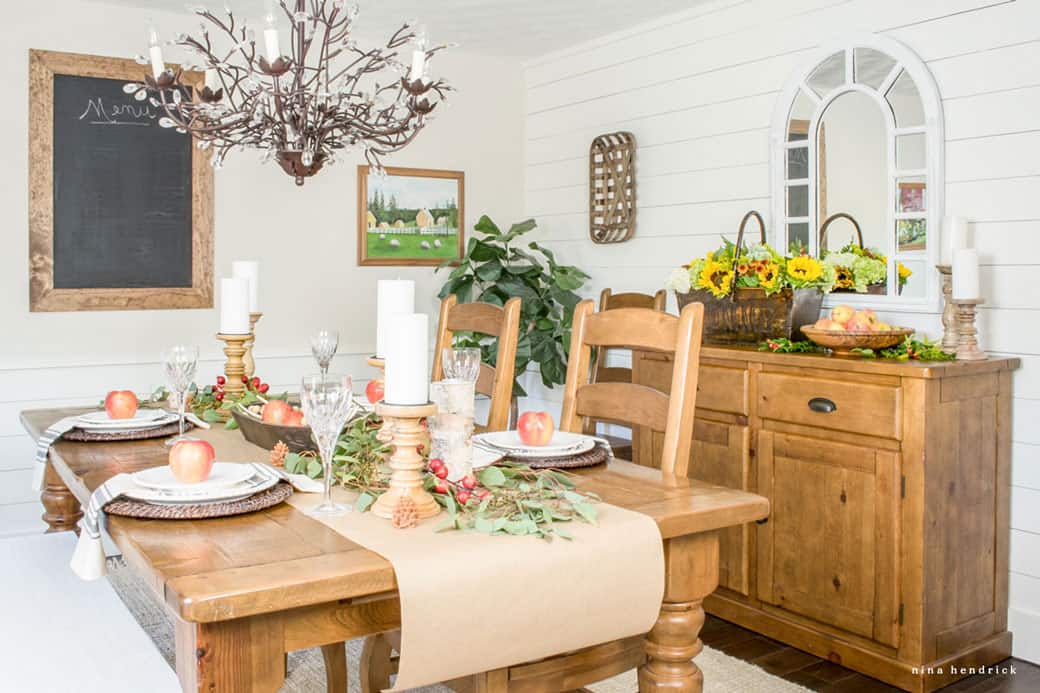 Early Fall Tablescape Ideas and Inspiration
While I can't bring myself to do a neutral fall this year, neither was I feeling the extremely vivid oranges and reds yet. My theme, for now, surrounds the bountiful season between summer and fall.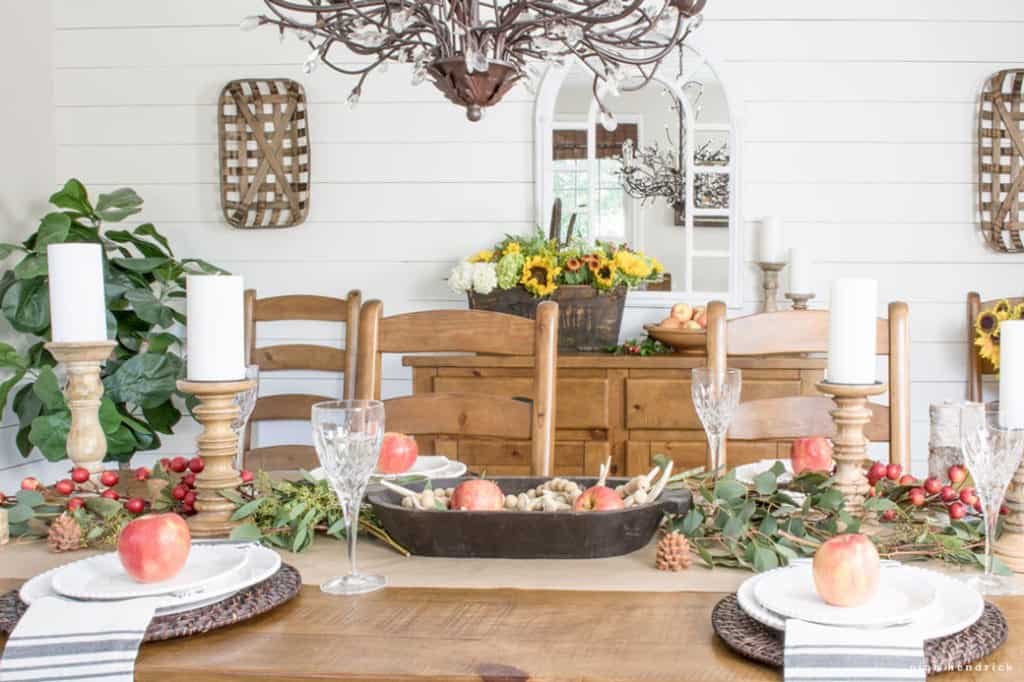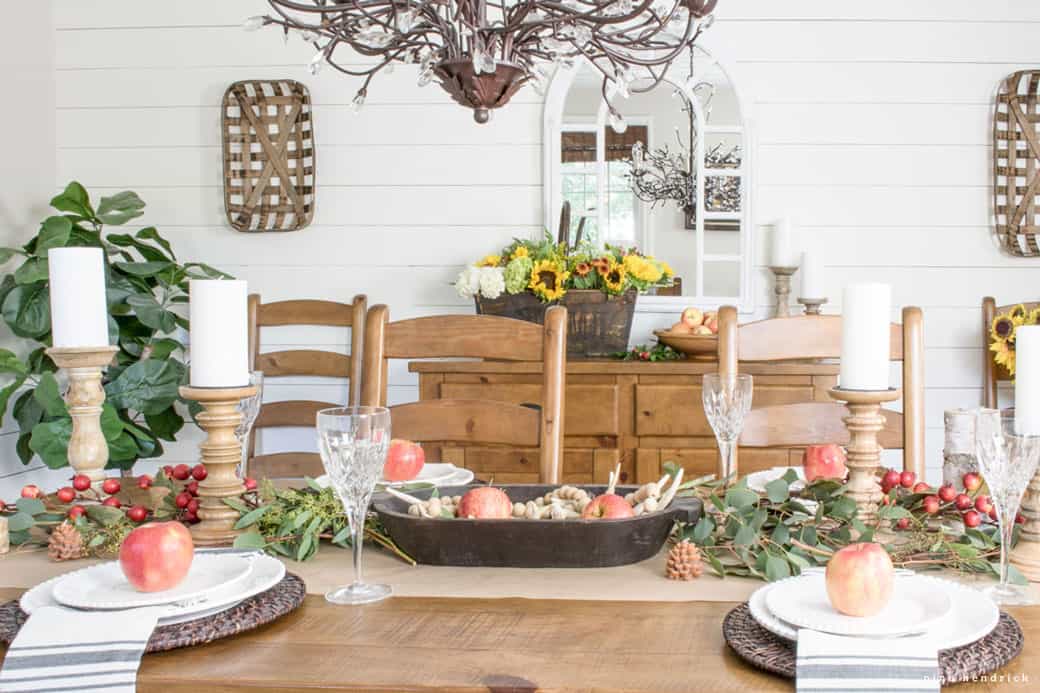 The colors are more reminiscent of the end of summer, and what's occurring right outside my window here in New England with everything muting a bit.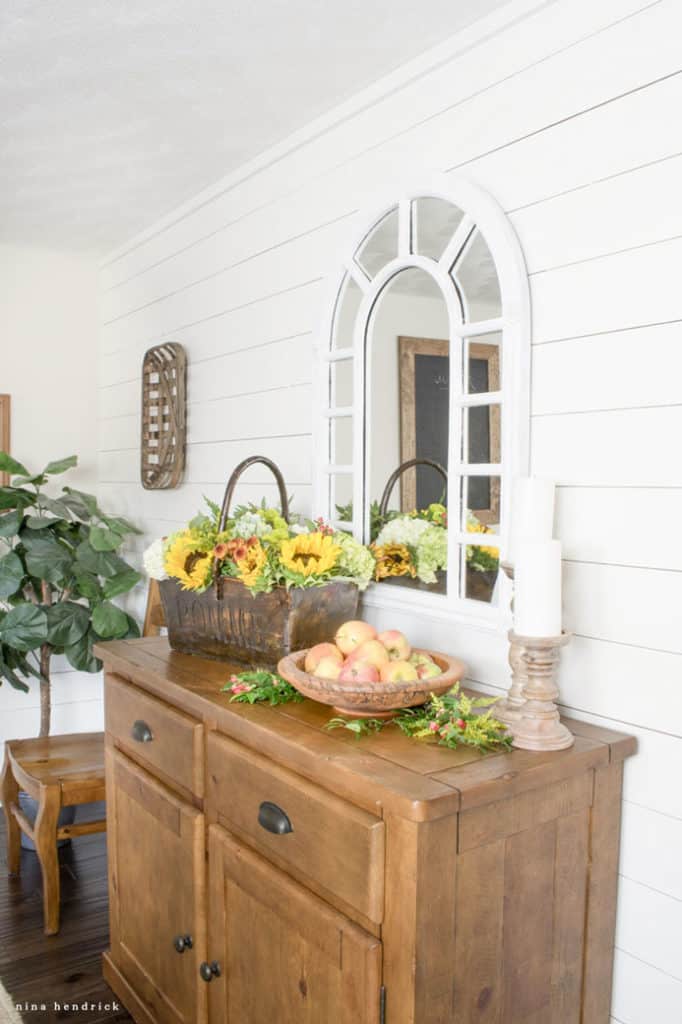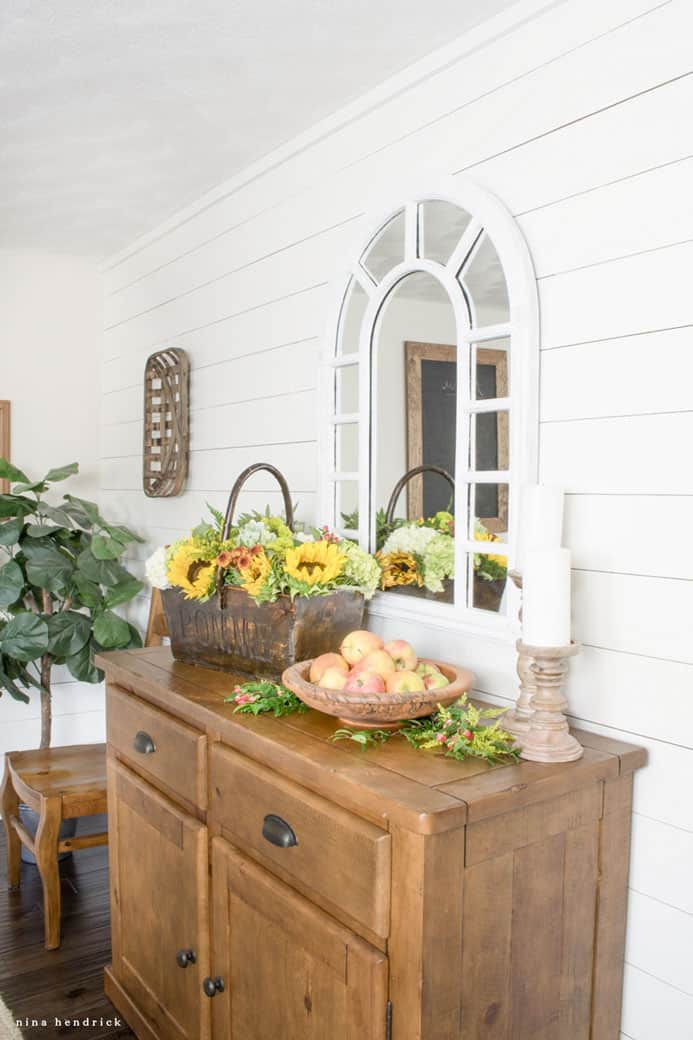 Although the colors are fading outside, this is still a season of abundance, and I wanted to bring that into the room!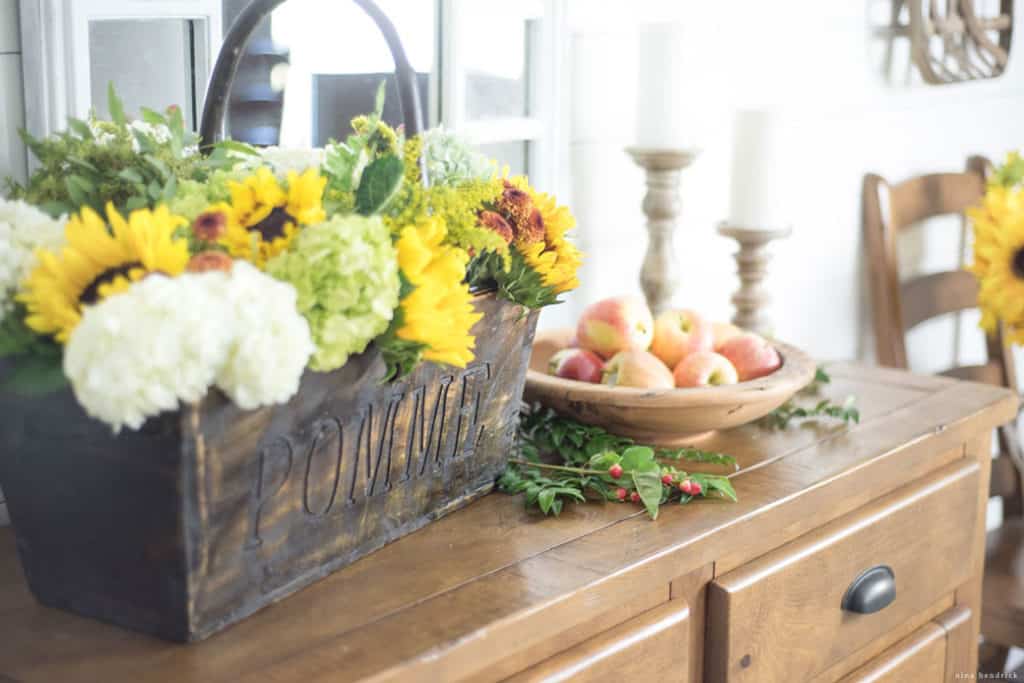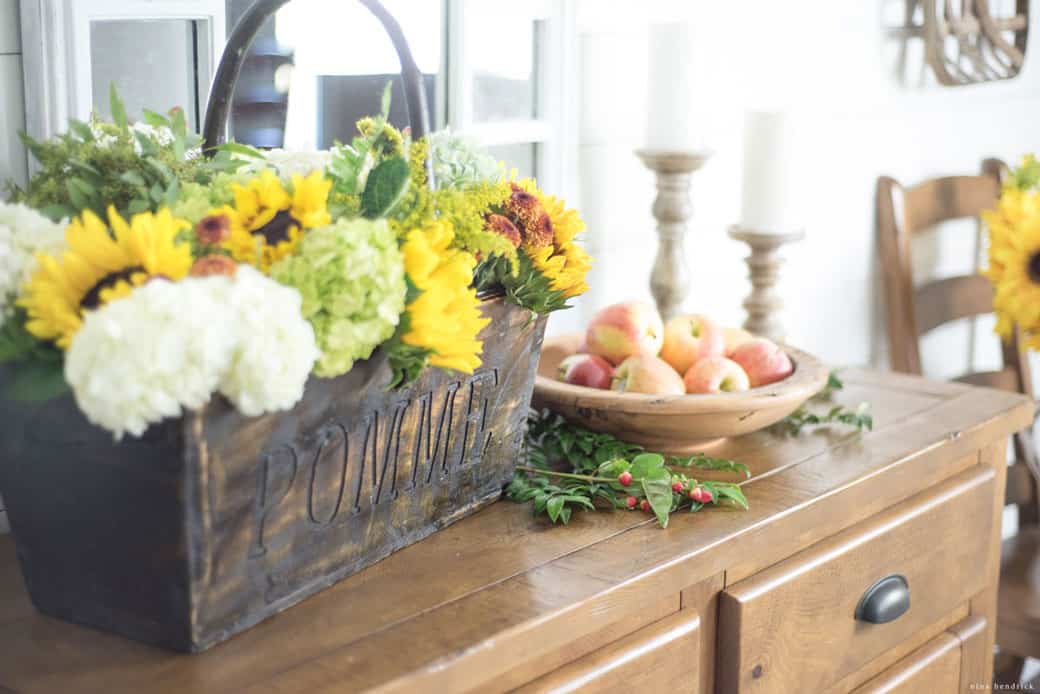 The flowers were arranged from inexpensive Trader Joe's bouquets. It still surprises me that I can fill my entire home with beautiful flowers for less than the price of a throw pillow!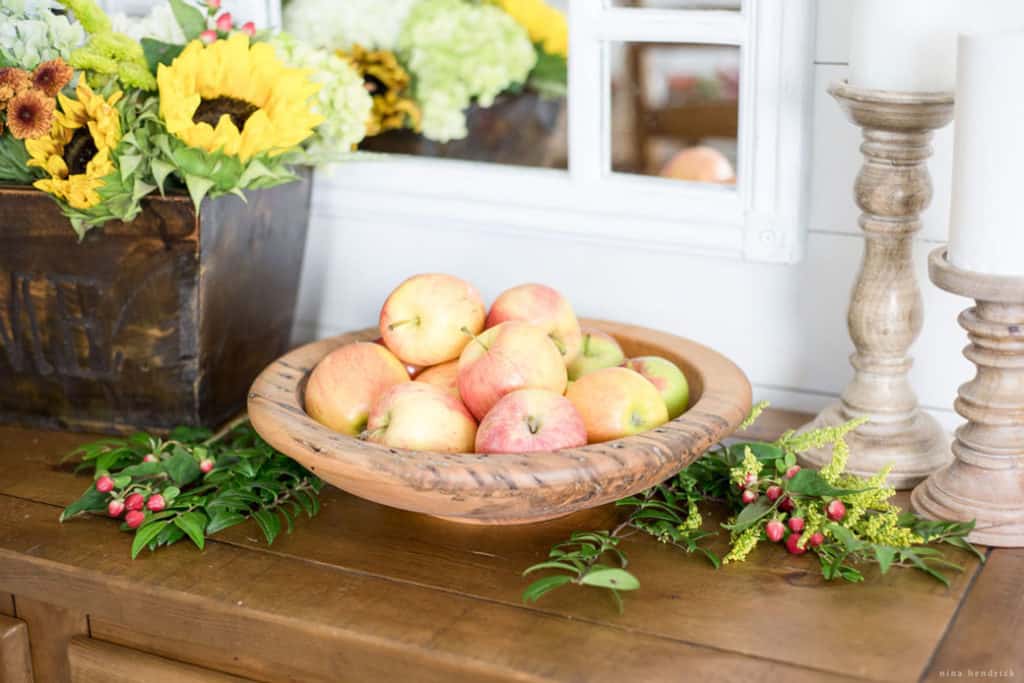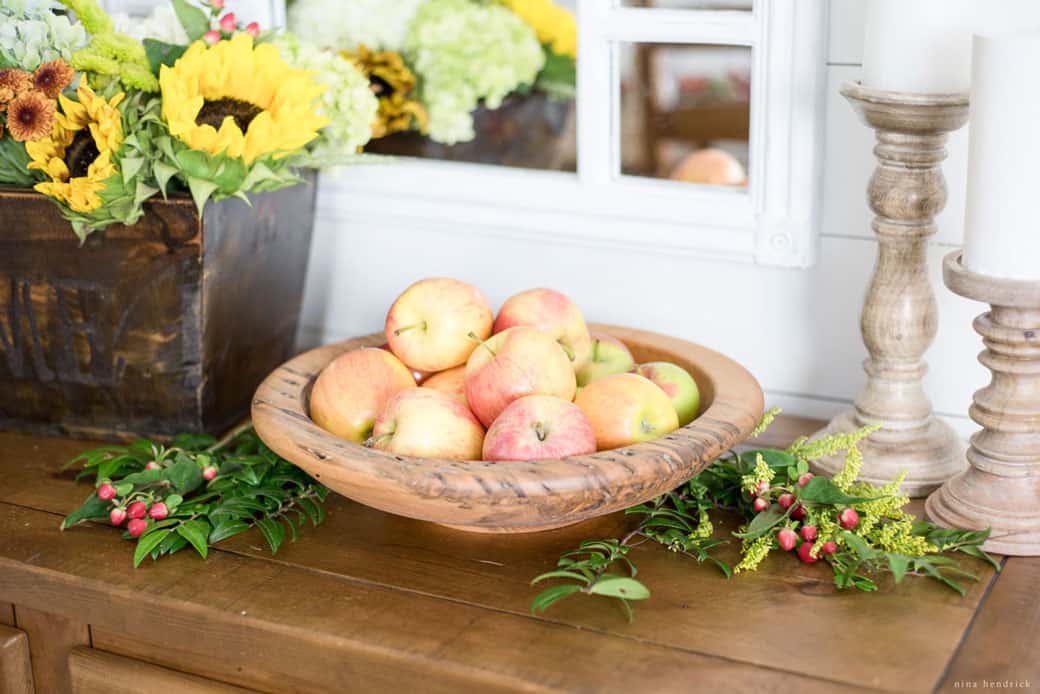 Apples are a recurring theme this season. While pumpkins are nowhere to be found in my area yet, we have plenty of apples. I have a printable, and some recipes involving apples for you later this week!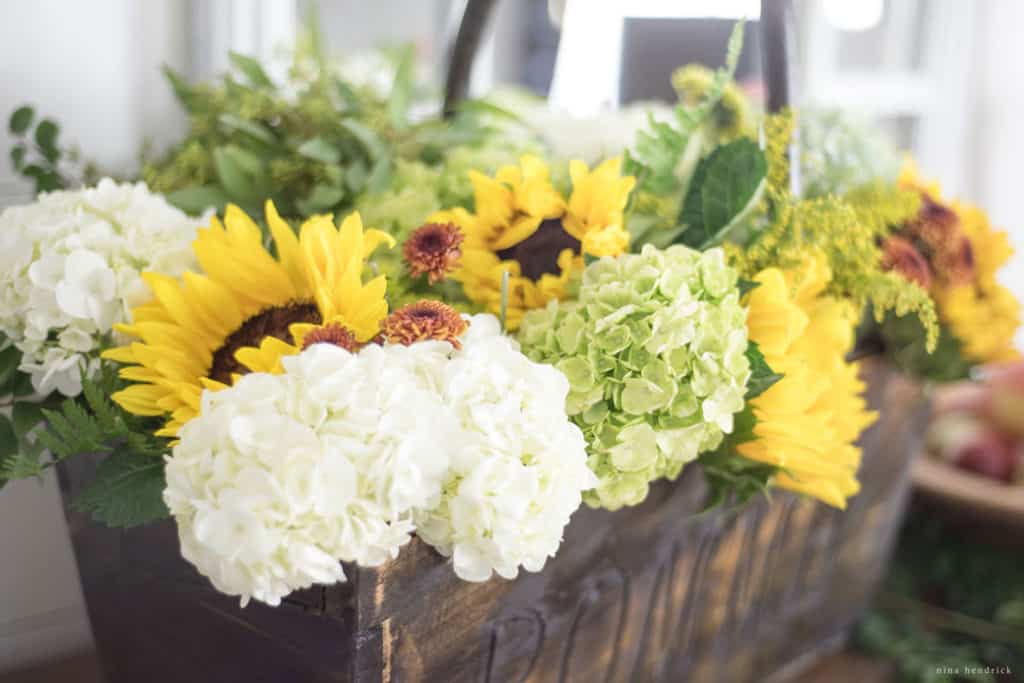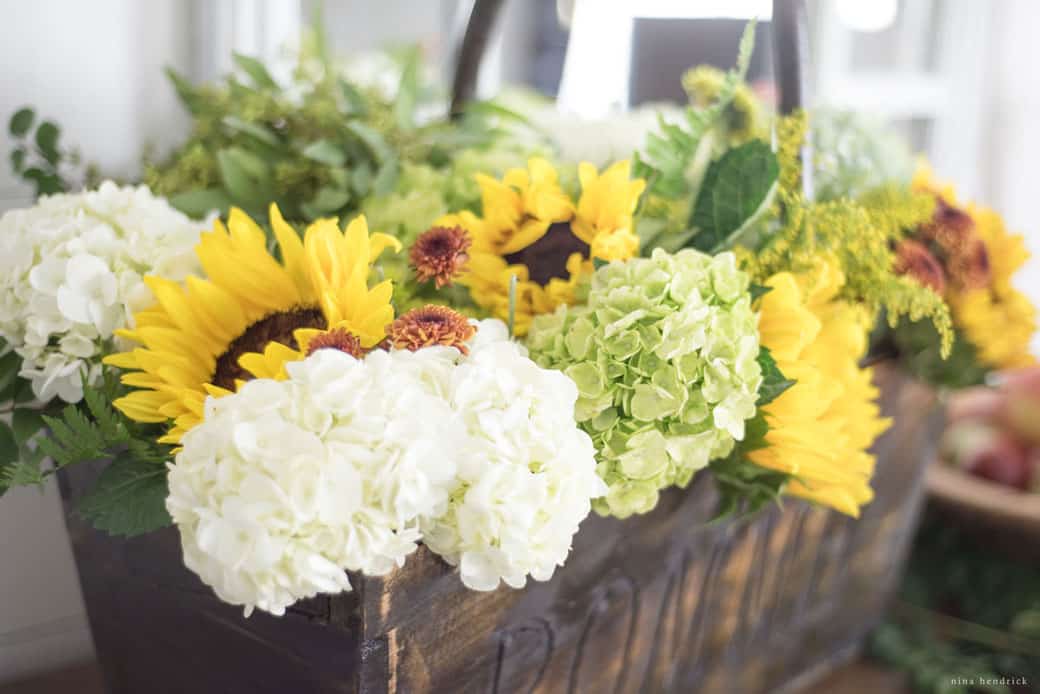 The Pomme Basket is a reader and Instagram favorite every fall. It was from Arhaus five or six years ago and sold out. Unfortunately, I haven't been able to source one that has wording like this. However, I did find a similar source for the burl bowl I love so much here! Mine was given to me by a family friend named Bernie who makes them as a hobby, but the source has great options.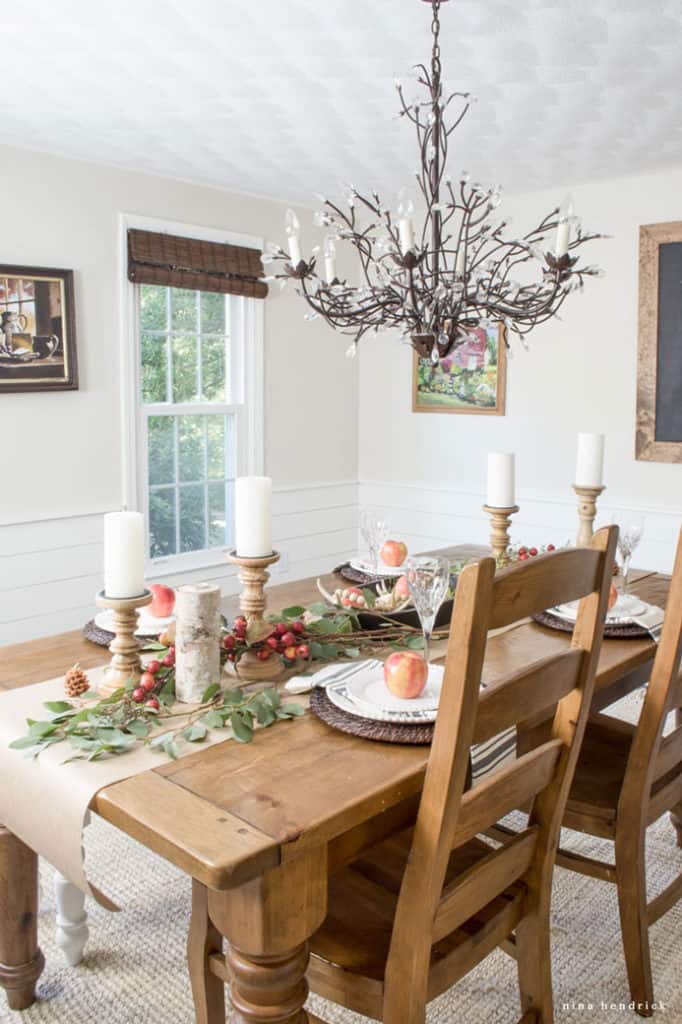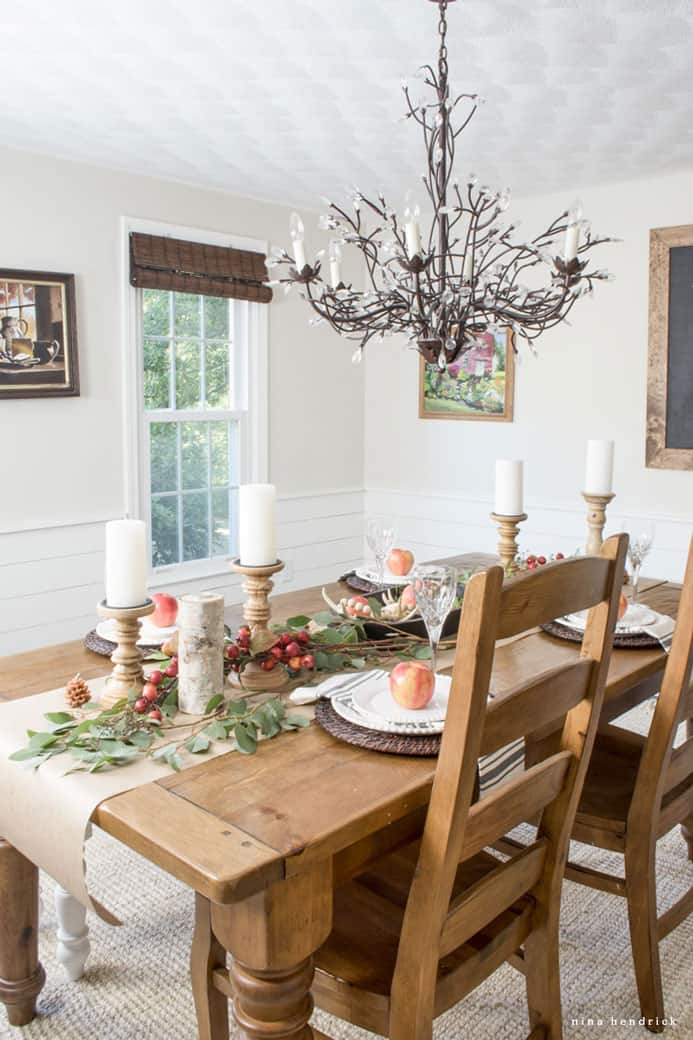 This tablescape is a variation of my favorite standby. This time around I added seeded eucalyptus, which seems to be easy to find this year, and a kraft paper runner. If you're curious about our dining set, this table is similar. They no longer carry the exact finish we have. Here are the chairs (ours is closest to the Natural Pine finish). Here's a similar buffet. The bench was a DIY and you can see the tutorial here—but if you're more a shopper than a DIYer, here's a similar source. The paint colors in the room are Edgecomb Gray lightened by 50% and Simply White on the planks.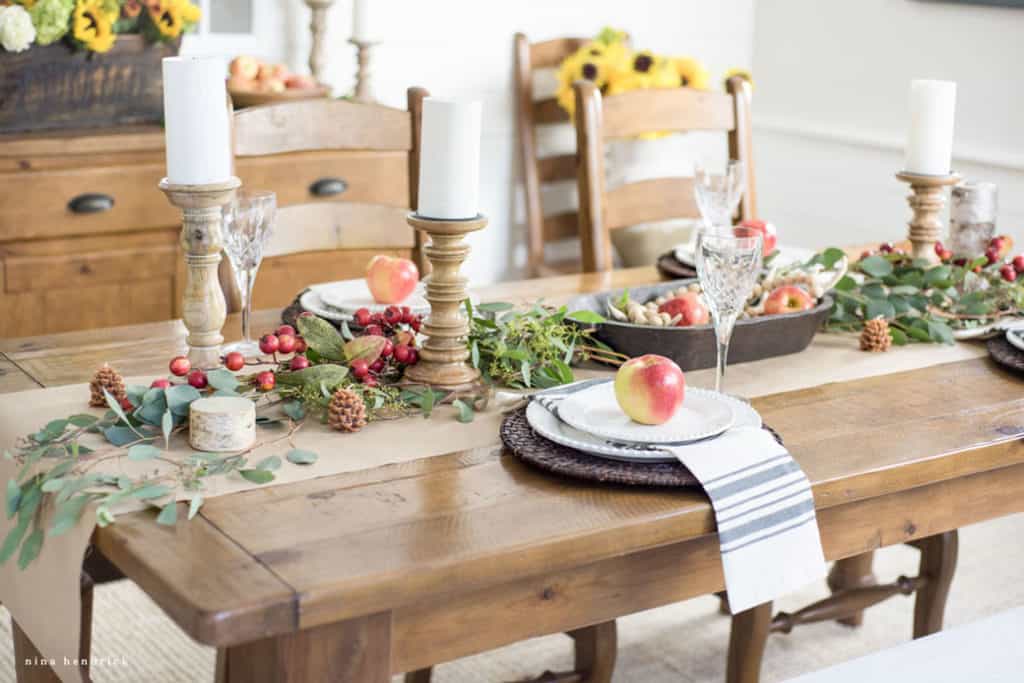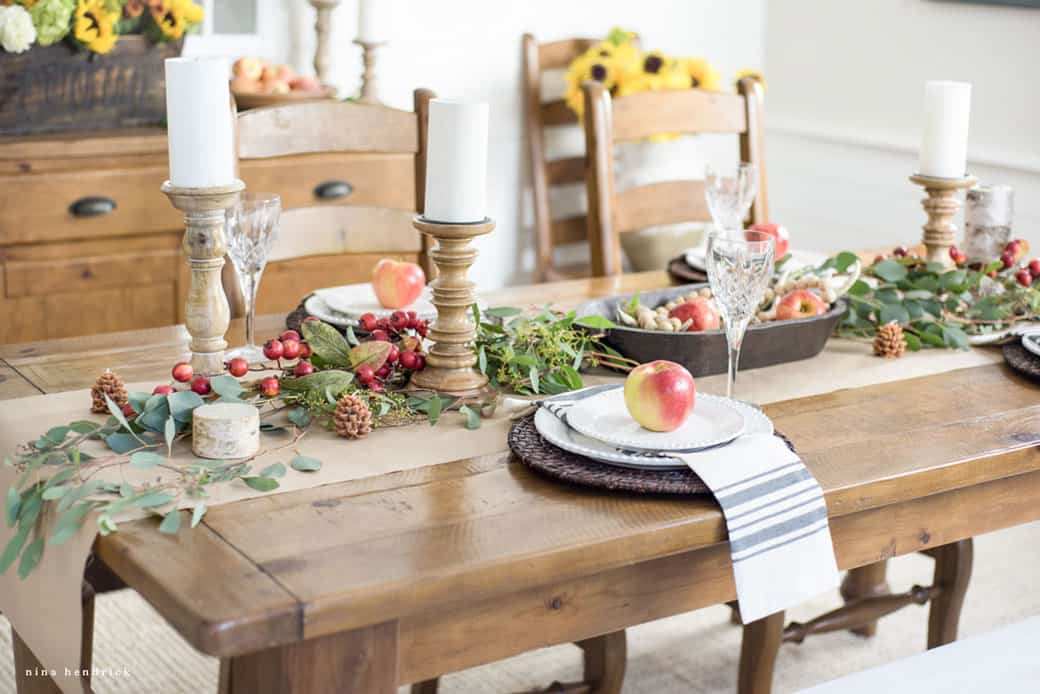 I loved this view of the table, with the extra sunflowers waiting in the background.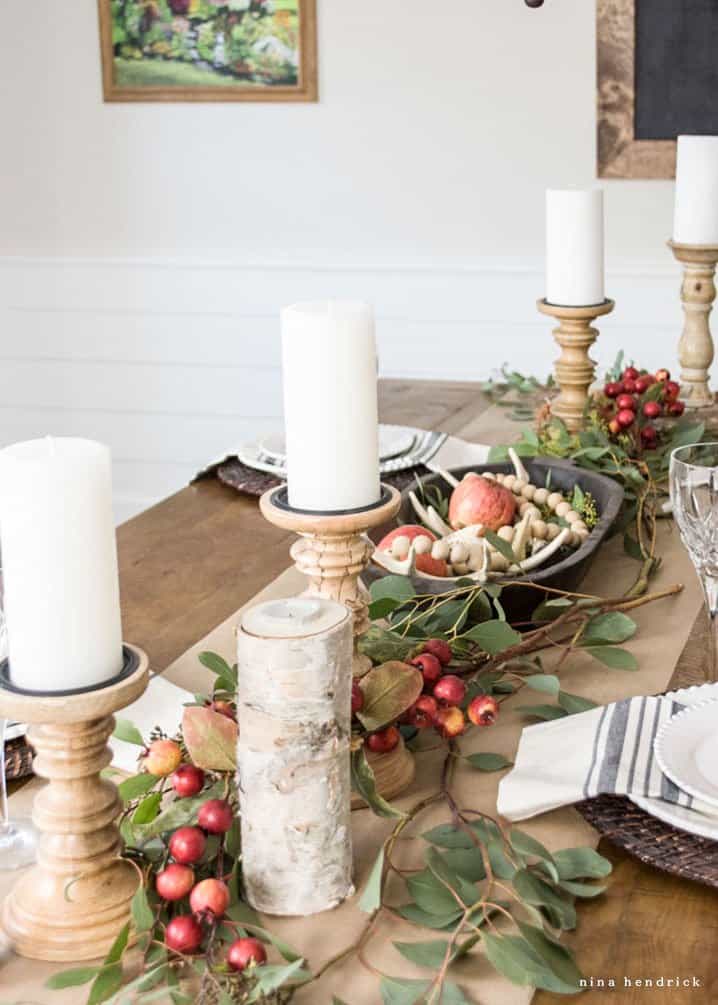 Apple orchards are a great source for deer sheds (antlers a deer drops or sheds naturally ). My dad found one of these antler sheds in an orchard. The others are faux, found here. The candlesticks can be found here.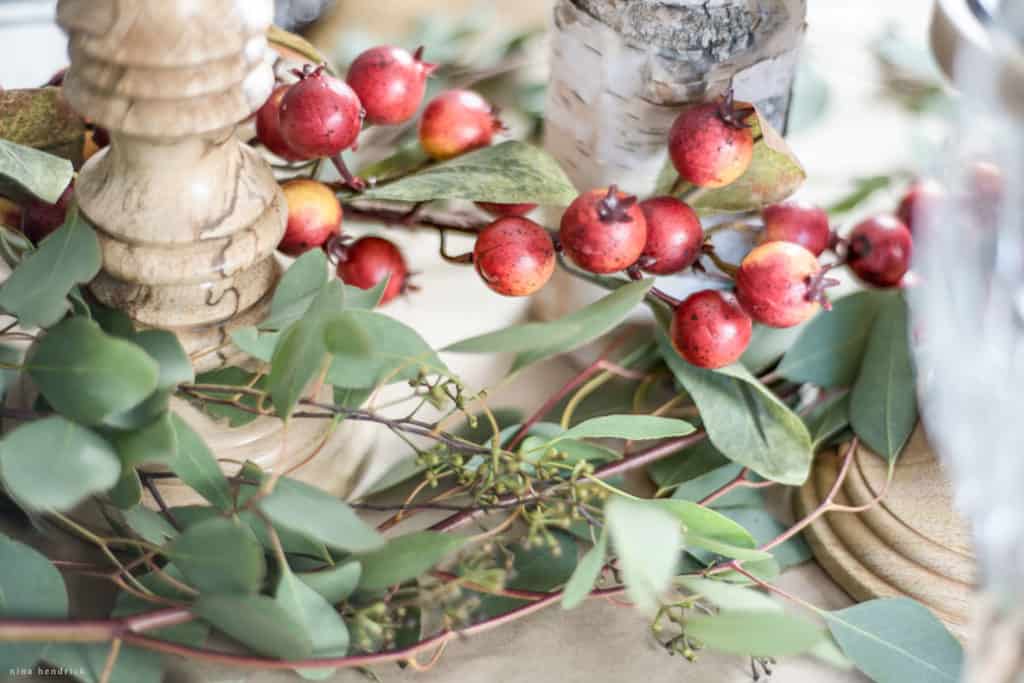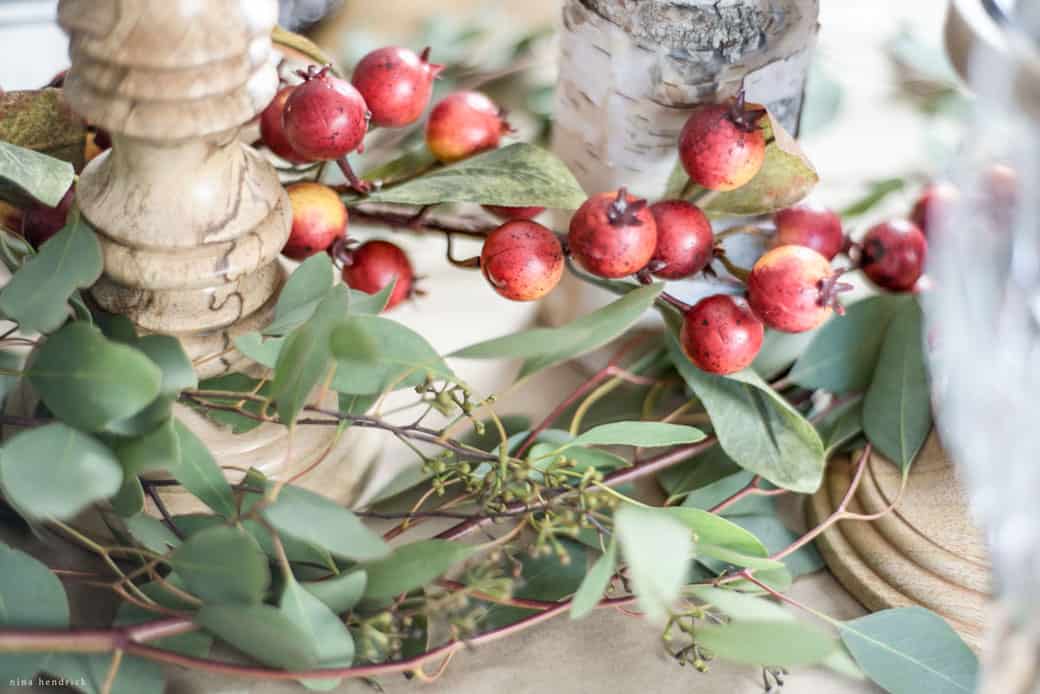 The table runner consists of live seeded eucalyptus and faux crabapples. I love the juxtaposition of using real natural elements and faux.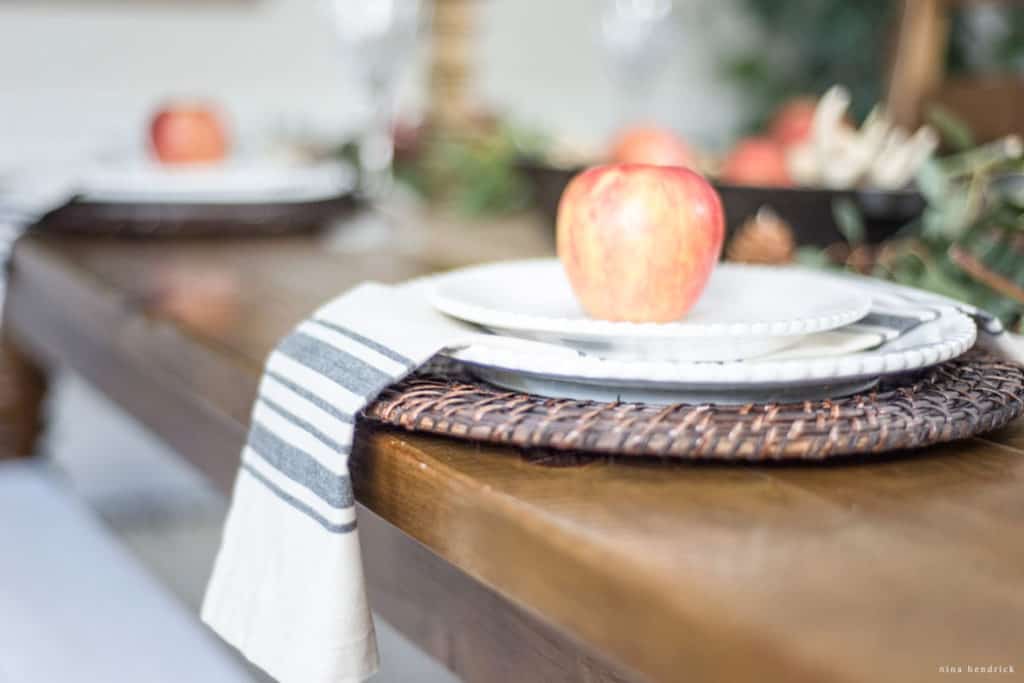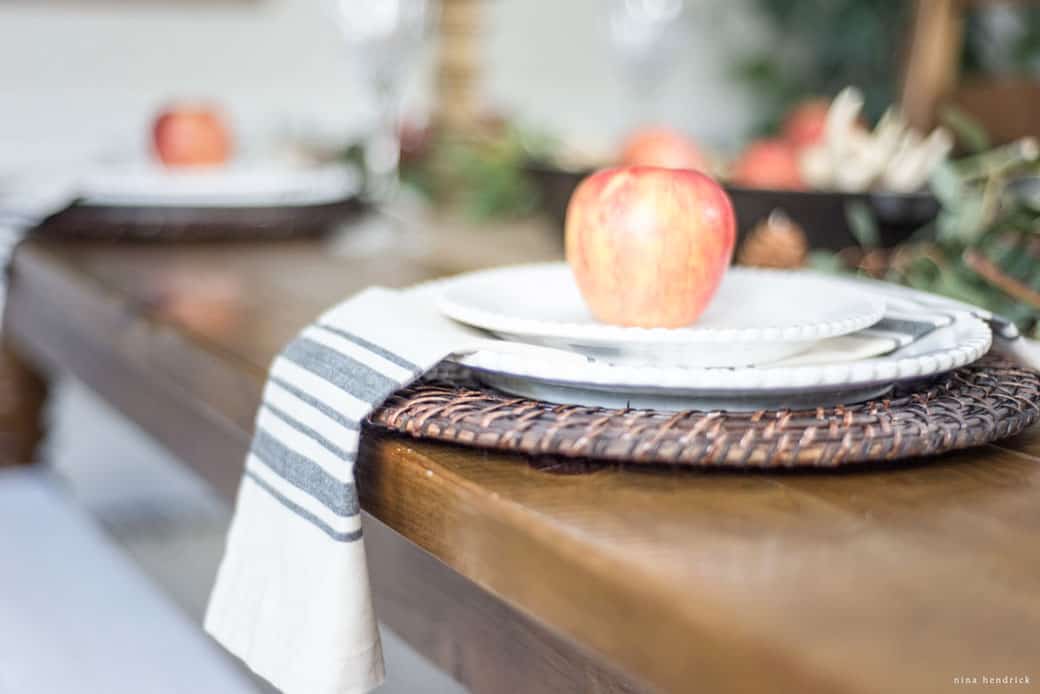 I layered my beaded white plates with these striped napkins. The darker wicker chargers provided some contrast to the lighter wood of the table.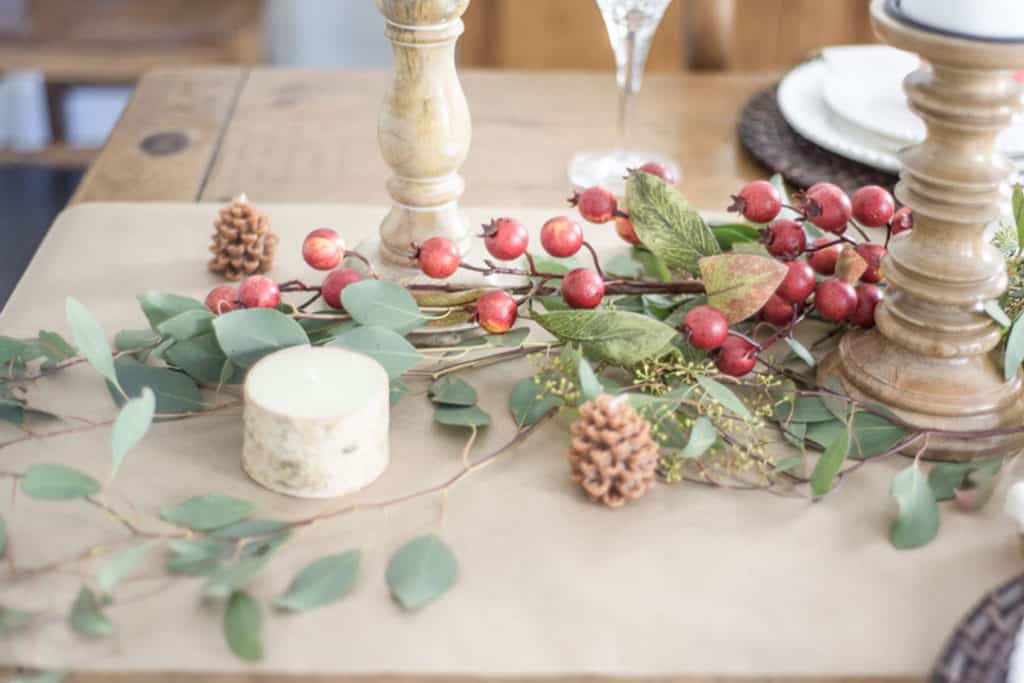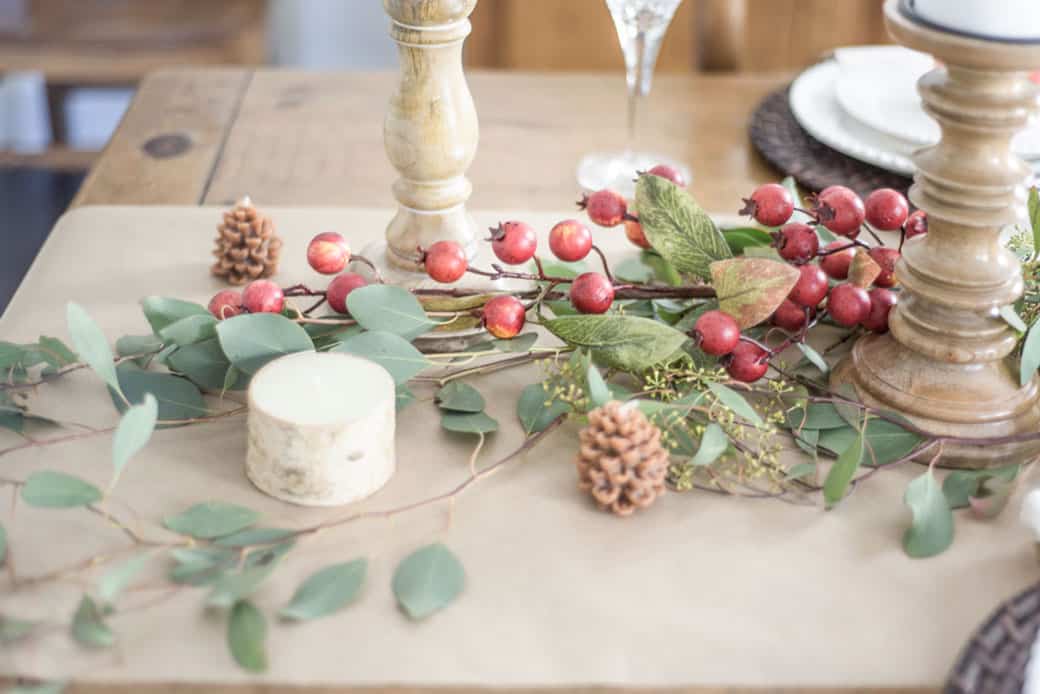 Finally, I dreamed up this idea years ago, and I really love it for Thanksgiving and other fall gatherings.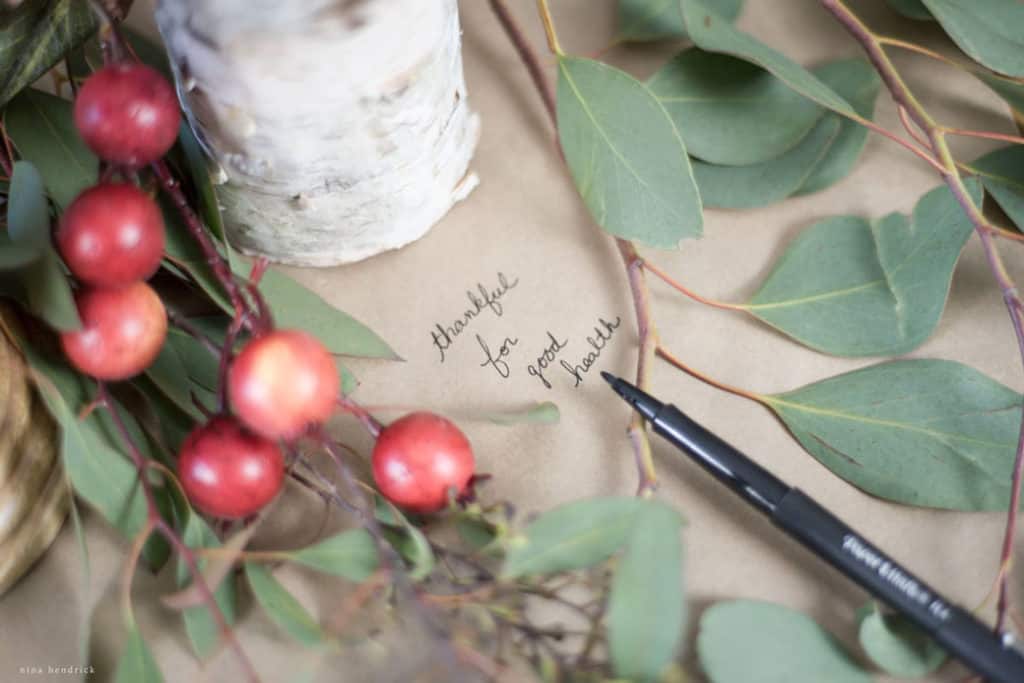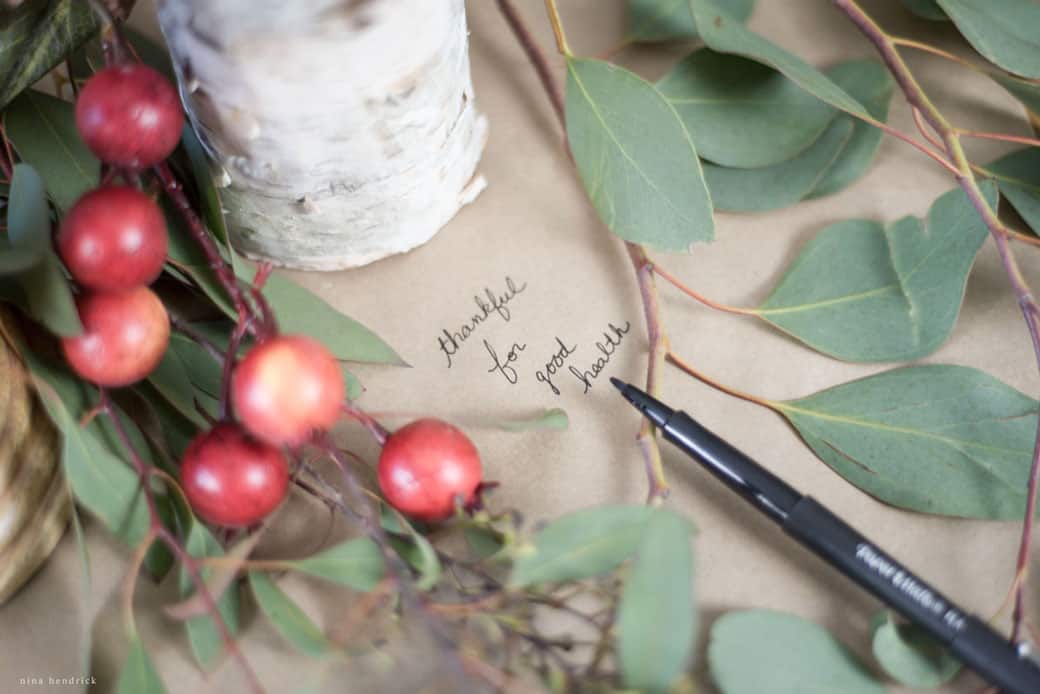 This is a simple kraft paper runner. It's a great and simple way for guests to write down and share what they are thankful for.
Shop this Post

Dining Room Makeover | Planked Wall Tutorial | DIY Farmhouse Bench
Pin It For Later | Early Fall Tablescape