Discover the art of creating a stunning fall tablescape with our step-by-step guide. From selecting a color palette to arranging a captivating centerpiece, learn how to blend style and functionality for an unforgettable autumn gathering.
As the leaves start to don their vibrant hues and the air gets crisper, it's the perfect time to add some cozy charm to our homes. And what better way to do this than by setting up a stunning fall tablescape? Whether you're hosting a festive gathering, looking for ideas for your Thanksgiving tablescape, or simply want to spice up your dining area, I'm thrilled to walk you through the steps of creating a tablescape that perfectly captures the essence of fall. From the warm glow of candles to the rich colors of autumn leaves, let's dive into the world of creative table setting and make our dining spaces a delightful celebration of the season. So, grab a pumpkin-spiced latte, and let's get started on this exciting journey together!
To see more fall inspiration you can start here, visit the kitchen, or download this apple print.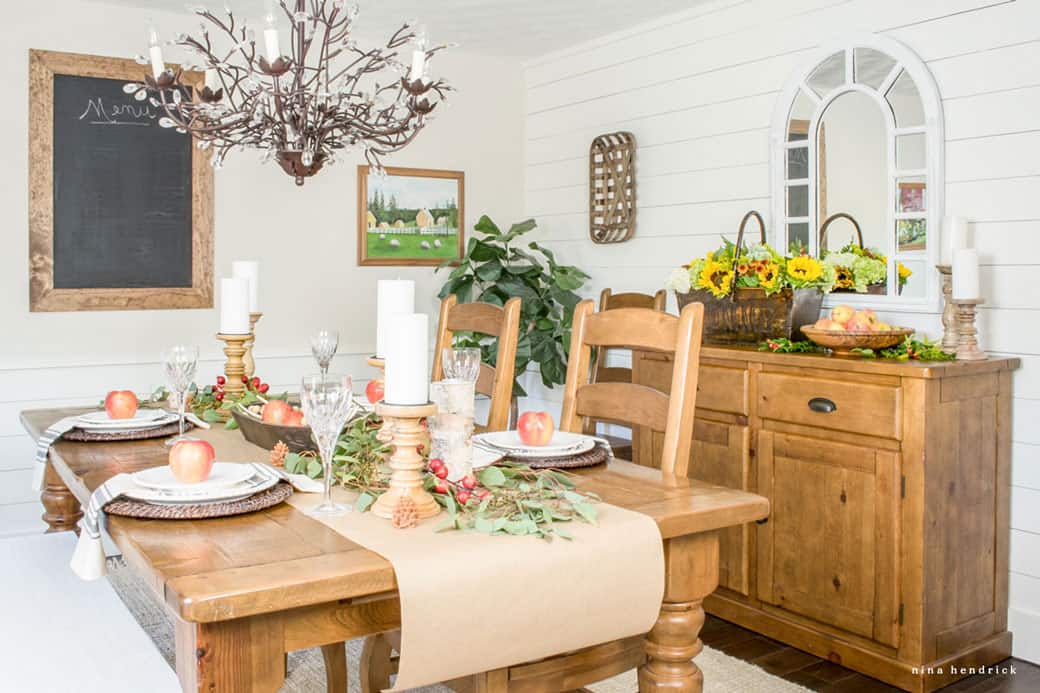 This post contains affiliate links, which means I may get a small commission (at no extra cost to you) if you shop my link. Please see my disclosure if you'd like more info!
Fall Tablescape Ideas and Inspiration
1. Setting the Theme: Choosing Your Fall Palette
When choosing your palette for your fall tablescape, think about what autumn means to you. Do you love the classic look of warm hues like yellows, burnt orange, and burgundy inspired by fall leaves (if so, here's some inspiration!)? Or are you drawn to the softer, more muted tones like olive greens and taupe (check out this post for a neutral take!)? Remember, there's no right or wrong here—it's all about what makes you feel like wrapping up in a cozy sweater and sipping a hot cup of apple cider.
But wait, there's more to fall than just colors. Let's talk textures! Incorporating natural elements like wood, burlap, or linen can add a lovely rustic touch to your table. Imagine a wooden centerpiece or a burlap table runner – they're not just beautiful, but they also bring in that unmistakable autumn feel. And hey, if you're feeling adventurous, why not add a bit of sparkle with some metallic accents like gold flatware or brass candlesticks? A little bit of gold or copper can make your dining room table setting pop and bring in that magical fall sunset vibe.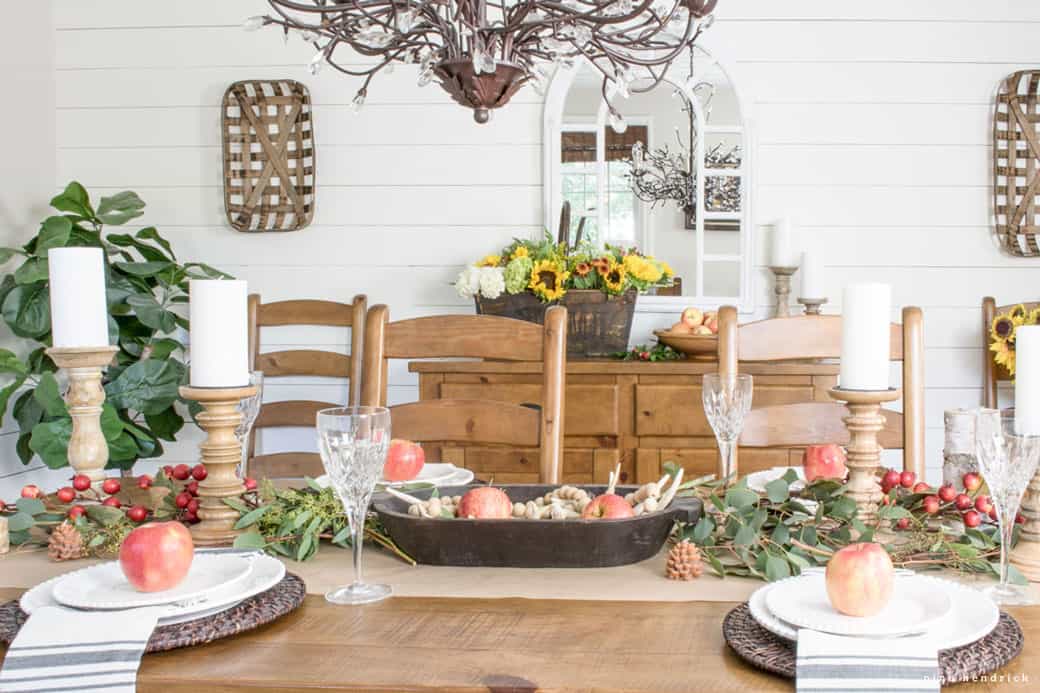 So, as you rummage through your cabinets or hit the stores, keep your eyes peeled for items that speak to your chosen color scheme and textures. Trust me, choosing the right palette and textures is like laying down the red carpet for an absolutely stunning fall tablescape.
While I couldn't bring myself to do a neutral fall for this photo shoot, neither was I feeling the extremely vivid oranges and reds. Instead, my theme embodied the bountiful season between summer and fall.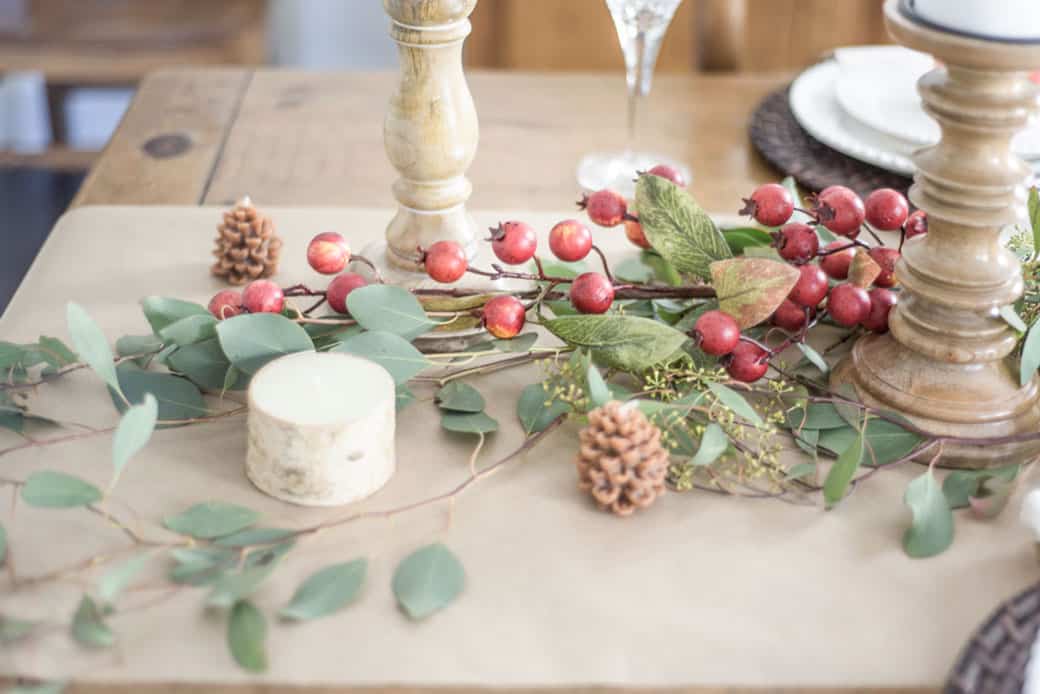 2. Selecting the Perfect Table Runner
Alrighty, let's move on to one of the key players in our tablescape game – the table runner. This little gem is like the runway of your dining table; it sets the stage for all the other decorations. Picking the right one can really tie the whole look together, so let's dive into some tips and ideas, shall we?
First off, when choosing a runner or tablecloth, think about how it complements your fall theme. You want something that harmonizes with your color palette and textures without overpowering them. If your plates and decorations are more on the ornate side, maybe opt for a simpler runner to balance things out. On the flip side, if your dishes are plain, a runner with a bold pattern or texture can add that much-needed flair.
Now, for the fun part – options! Store-bought runners come in a myriad of designs, materials, and colors. You can find everything from elegant linen with autumn leaf prints to rustic burlap ones that scream 'harvest time'. But, if you're feeling crafty, DIY runners are where it's at. They add such a unique, personal touch to your table.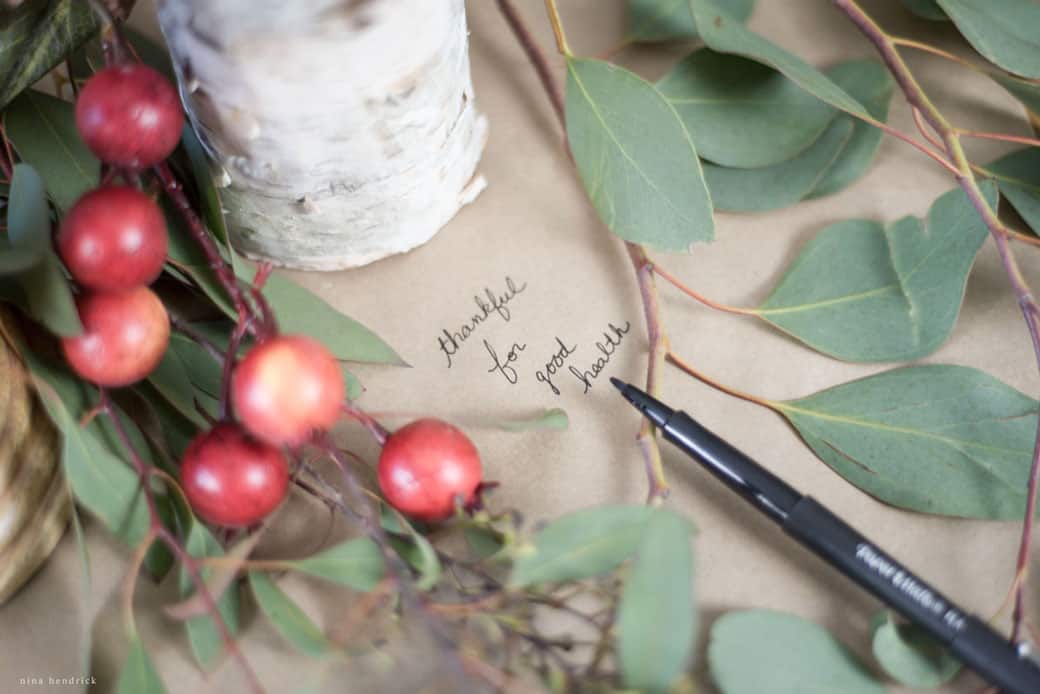 And speaking of DIY, let me share a little idea I've been in love with for years, especially for Thanksgiving and other fall gatherings. Picture this: a simple kraft paper runner down the center of your table. But here's the twist – leave out some black felt pens for your guests. This isn't just a runner; it's a conversation starter, a memory maker. Guests can write down what they're thankful for, share a joke, or even doodle some fall leaves. It's interactive, personal, and so much fun. Plus, it's super easy to make and won't break the bank.
Whether you go store-bought or DIY, the key is to choose a runner that feels right for your gathering. It should invite your guests in, complement your theme, and maybe, just maybe, help create a few cherished memories along the way.
3. Creating a Captivating DIY Fall Centerpiece
Now, let's talk about the star of the show — the centerpiece. This is where your fall tablescape really comes to life. You can go as simple or as lavish as you like, but the key is to make it harmonious with your overall theme.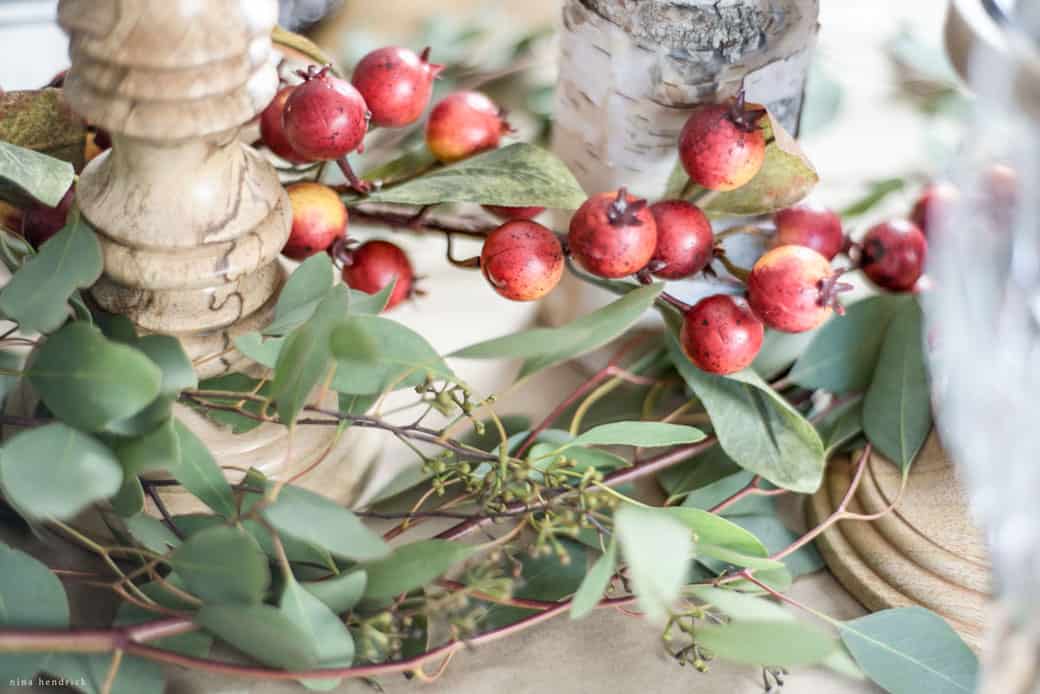 In my own fall tablescape, I've gone for a mix of nature's bounty and a touch of the whimsical. Picture this: the table runner, as we discussed earlier, covered in lush seeded eucalyptus and faux crabapples. I adore mixing real and faux elements – it adds depth and keeps things interesting.
At the heart of the table sits a charming little dark brown dough bowl. This isn't just any bowl; it's a scene straight from a fall orchard, filled with fresh apples, wooden beads, and deer sheds. Fun fact: apple orchards can be a treasure trove for deer sheds (antlers that deer naturally drop). One of these antlers in my display was a lucky find by my dad in an orchard, while the others are faux – easy to find online. This centerpiece is flanked by wooden candlesticks and DIY birch candle holders, adding a warm, inviting glow.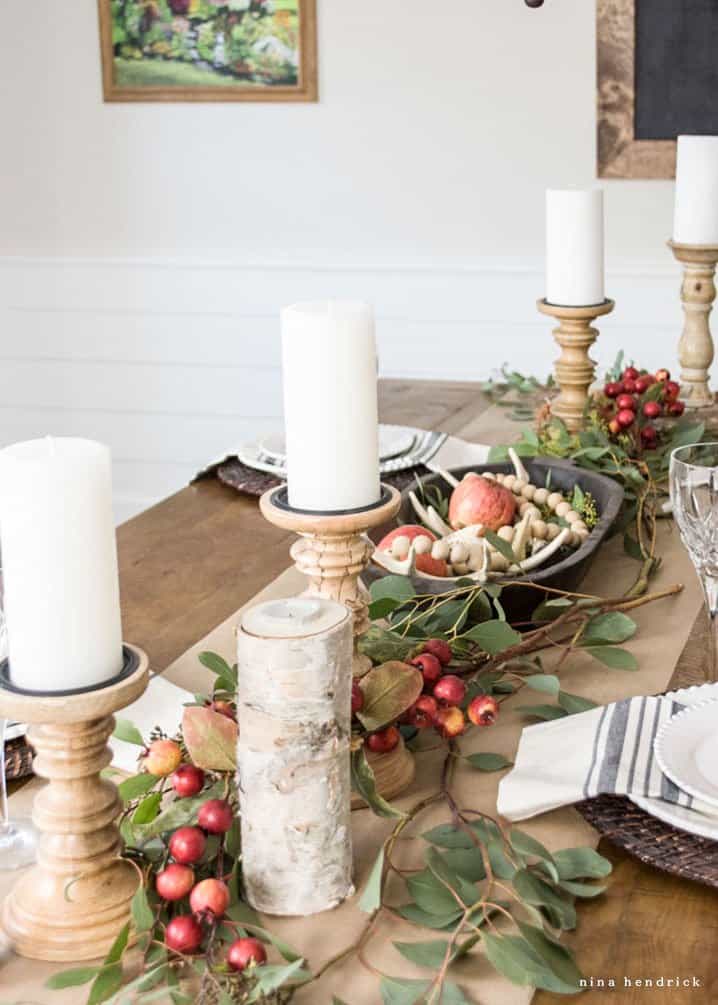 But that's just one idea! Your fall centerpiece can take many forms. How about a collection of white pumpkins, of varying sizes, nestled amongst ivy or autumn leaves? Or a trio of elegant candles surrounded by a wreath of fall foliage and berries? The possibilities are endless.
Remember, while you want your centerpiece to be eye-catching, it shouldn't overpower your table. Balance is key. And here's a little tip: choose something like a dough bowl, which can be easily lifted away to make room for the feast at your Thanksgiving celebration or fall dinner party. This way, you get both beauty and practicality – a win-win in my book!
So go ahead, get creative, and let your centerpiece set the mood for a memorable fall gathering. Whether you're inspired by nature, DIY projects, or something entirely unique, your centerpiece is your chance to make a statement on your fall table.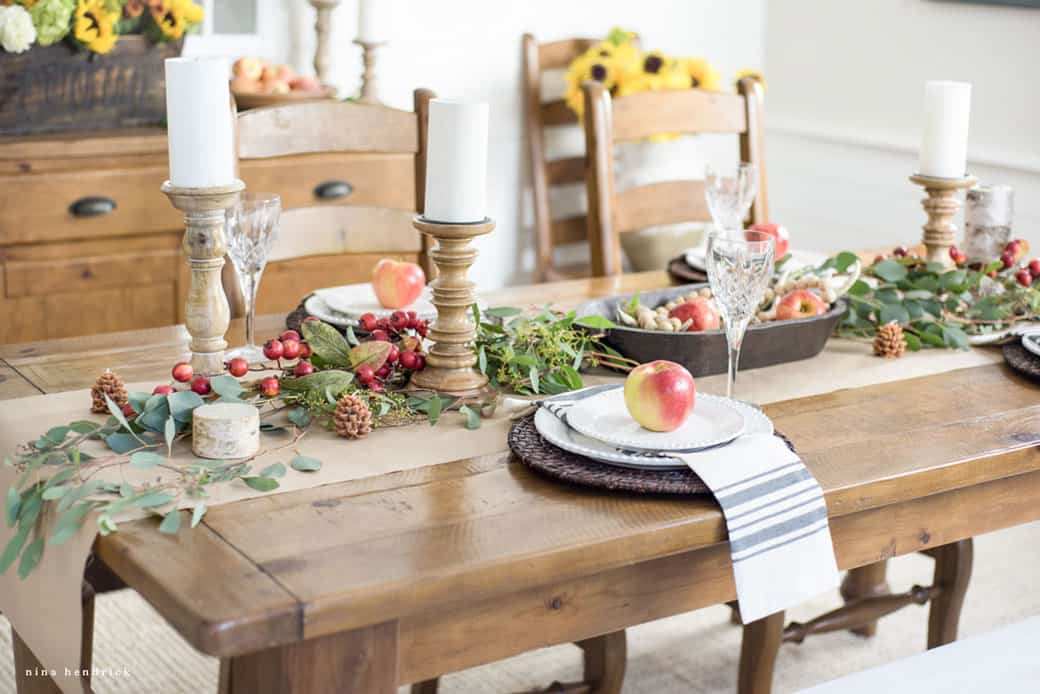 4. Place Settings: A Blend of Style and Function & Final Touches
Welcome to the delightful world of place settings and those final, all-important touches. This is where your fall table setting truly comes together, combining style and function with a dash of personal flair.
Let's start with the basics: arranging your dinner plates, cutlery, and glasses. It's like setting the stage for a wonderful meal. In my own tablescape, I've gone for a layered look. I used beaded white plates, which I paired with striped napkins for a touch of pattern and texture. Underneath, darker wicker chargers add a lovely contrast against the lighter wood of the table, creating a depth that's both eye-catching and elegant.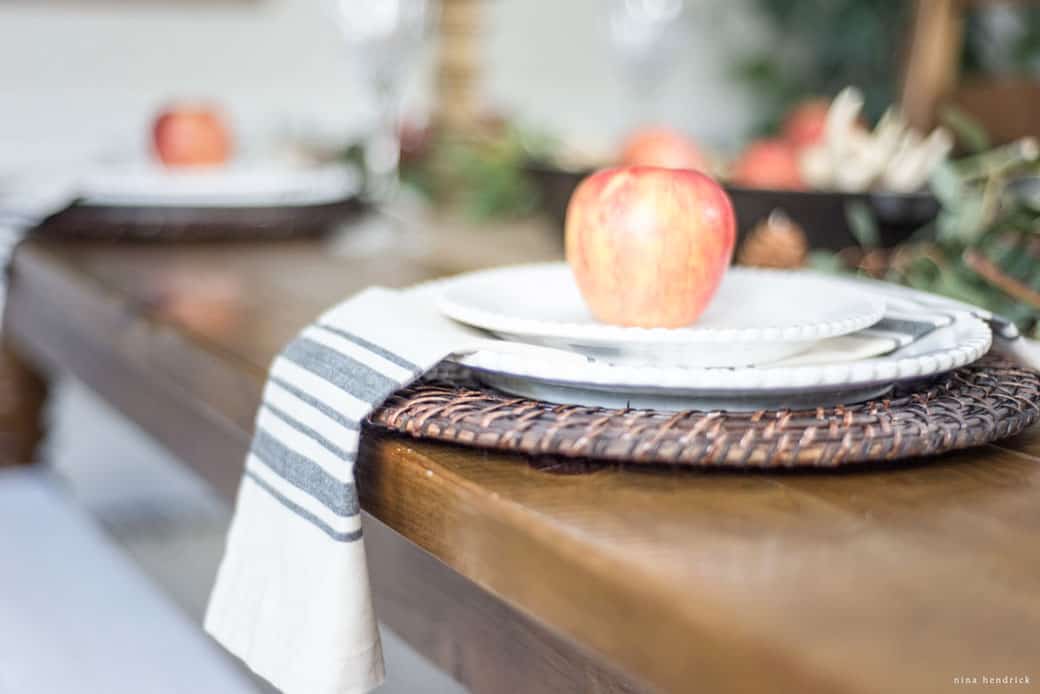 But it's the little things that really make your table sing. I love the easy idea of placing a fresh, polished apple atop each plate – it's a wholesome, welcoming snack for each guest and ties in beautifully with the fall theme. And for a sprinkle of personalization, why not add a paper nametag shaped like an apple leaf? It's these small, thoughtful touches that your guests will remember.
When it comes to napkins and napkin rings, here's your chance to infuse a bit of your personality. You could go rustic with burlap and twine, or elegant with silk and ornate rings. It's all about matching the vibe of your overall theme.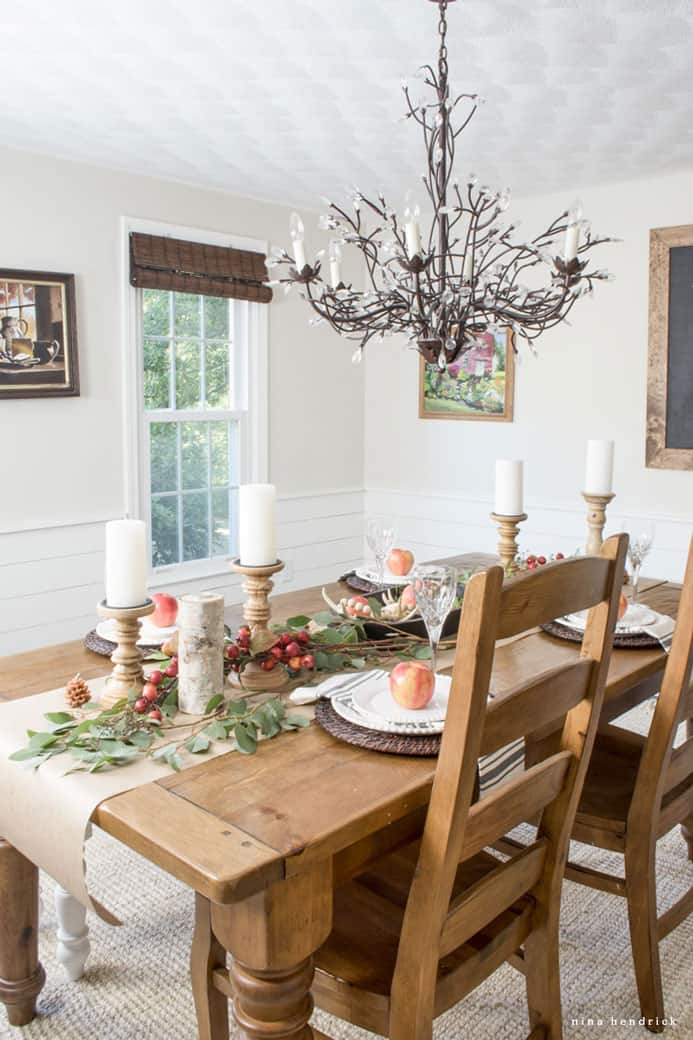 Finally, it's crucial to ensure functionality and guest comfort. Your tablescape should be more than just a feast for the eyes; it should make dining a breeze. Make sure there's enough elbow room, the glasses are within easy reach, and that the centerpiece, as gorgeous as it might be, doesn't obstruct views or conversation.
In essence, creating a beautiful tablescape is all about balance – blending aesthetics with practicality, and adding your own special touches to make it uniquely yours. Whether it's through personalized elements, attention to detail, or eco-friendly choices, your goal is to create a warm, inviting space that celebrates the joy of fall dining.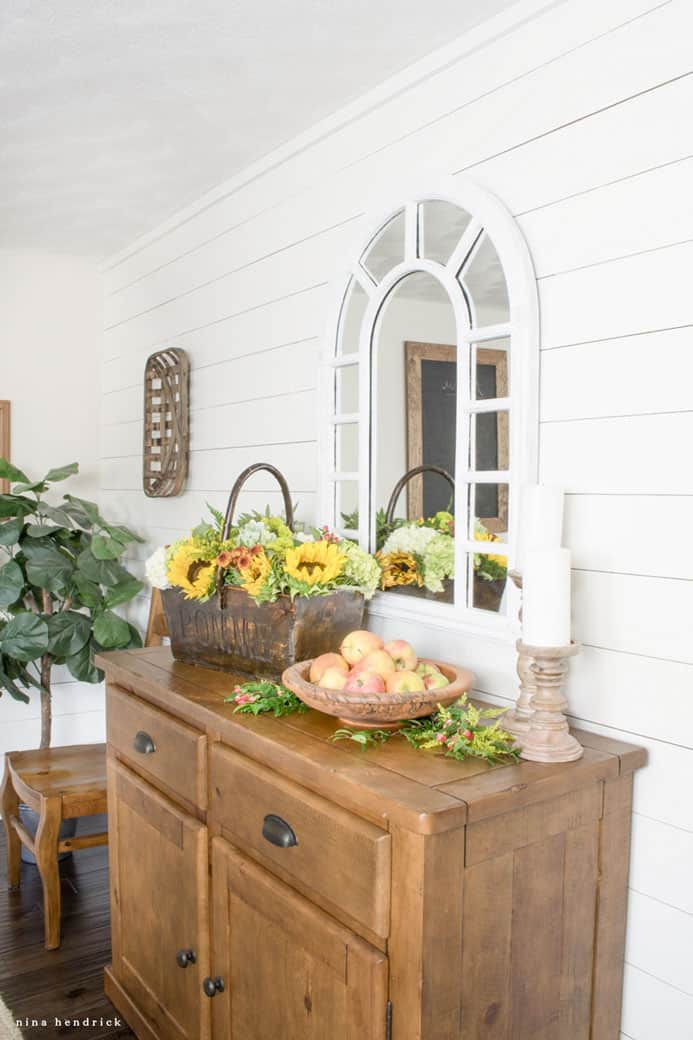 5. Setting the Mood with Additional Fall Decor
Now that we've laid the foundation with our tablescape, it's time to elevate the atmosphere with some additional fall decor. Remember, it's these extra touches that can transform a simple gathering into an unforgettable autumnal affair.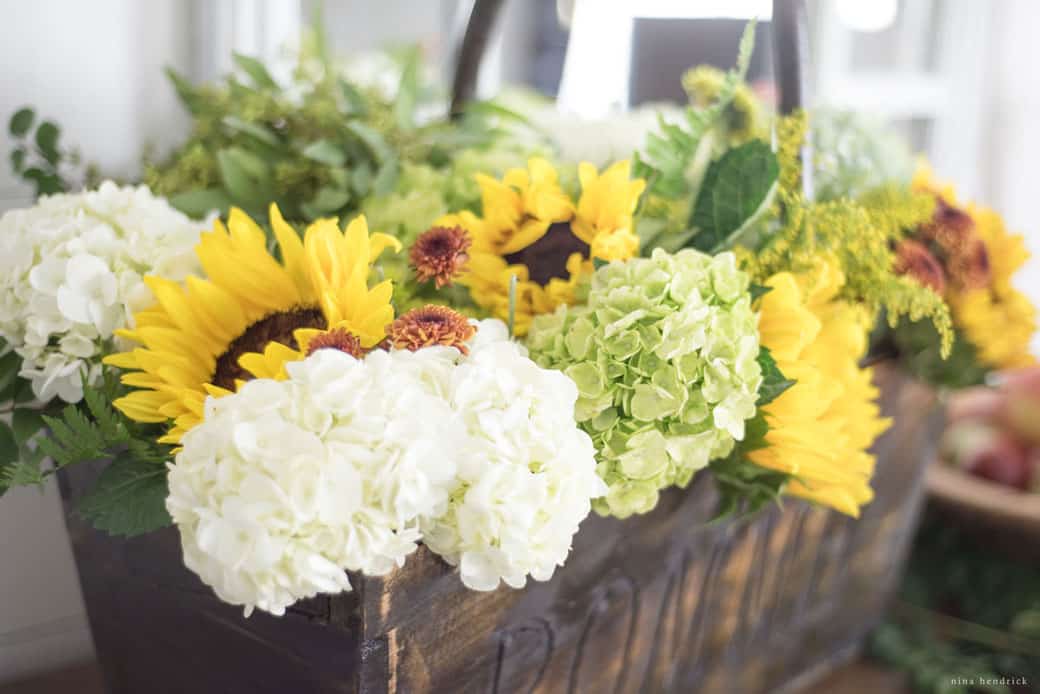 Buffet Setting with a Floral Arrangement
First up, let's talk about setting up a buffet – a perfect companion to your main table. It's not just about where the food goes; it's an extension of your fall theme. A standout piece for your buffet could be a stunning floral arrangement. Imagine a rustic wooden basket, with the charming word "pomme" (that's French for 'apple') carved into it. Fill this basket with an abundance of blooms: white and green hydrangeas, sunflowers, and burnt umber mums. Tuck in some greenery or stock to give it that lush, overflowing look. Beside this floral masterpiece, place a bowl brimming with fresh apples – a nod to our fall apple motif and a subtle link to the rest of your decor.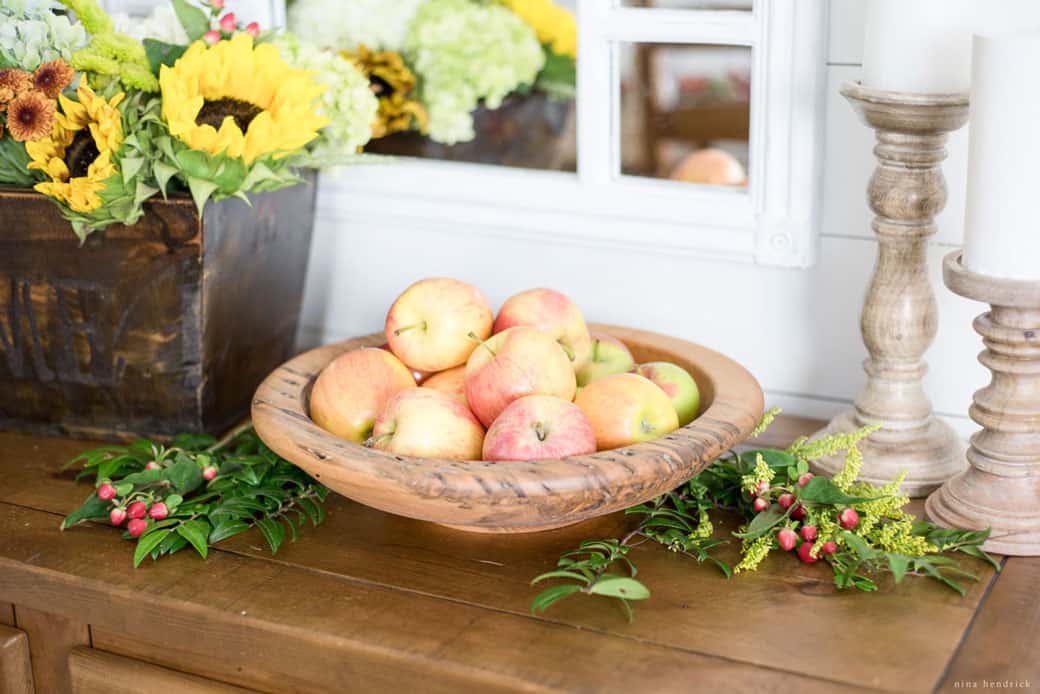 Apple Cider Bar
And what's a fall gathering without a nod to the season's quintessential beverage – apple cider? Set up a cozy little apple cider bar. It's a delightful way to welcome your guests and immediately immerse them in the essence of fall. You can have a selection of both hot and cold cider, and maybe even a few add-ins like cinnamon sticks, cloves, or orange slices for that extra zing. For more inspiration on setting up the perfect apple cider bar, be sure to check out my detailed post on it!
With your tablescape, buffet setting, and additional decor elements, you're all set to host a fall gathering that's both visually stunning and heartwarmingly inviting. These fall table decor ideas are not just about aesthetics; they're about creating an environment where your guests feel welcomed and where the warmth of the season is palpable. So go ahead, let your creativity flow, and watch as your home turns into a beautiful autumn haven.
And there you have it – a complete guide to creating a charming and memorable fall tablescape. From the warm palette of your theme to the delightful personal touches in your place settings, we've covered all the essentials to help you bring the magic of autumn right to your dining room.
But the journey doesn't end here! I'd love to see how you bring these ideas to life in your own home. Share your beautiful fall tablescapes with me on Instagram @ninahendrickhome. Let's inspire each other and spread the joy of seasonal decorating!
Remember, each tablescape tells a story – your story. So go ahead, get creative, and let your fall tablescape be a reflection of your unique style and the beauty of the season. 🍂🌻