Looking for inspiration to renovate your family room? This family room makeover features gorgeous wall treatments and a bunch of natural & neutral decor ideas.
Today I want to take you on a tour of our cottage style neutral and natural family room makeover. It's been a long road to get to where we are today on the project! I already shared in the project intro that we began without a plan, and it took way longer because of that. Once we created a plan, we finally reached the finish line, and the room came together so beautifully! In case you missed it, you can also see the inspiration mood board here.
Cottage Style Natural & Neutral Family Room Makeover
explore by room
Family Room Before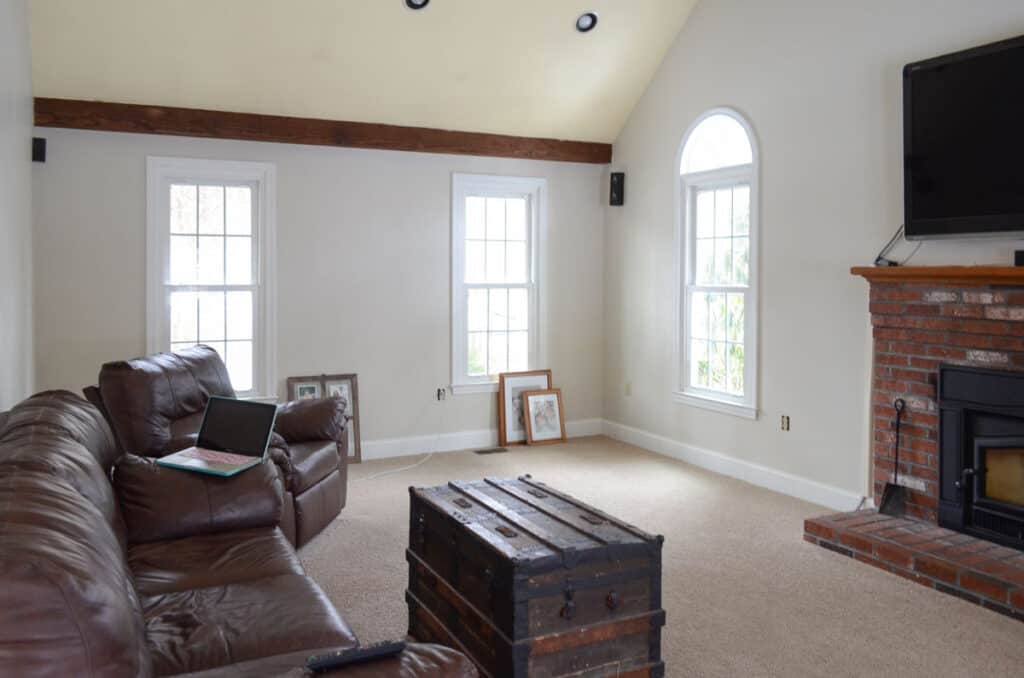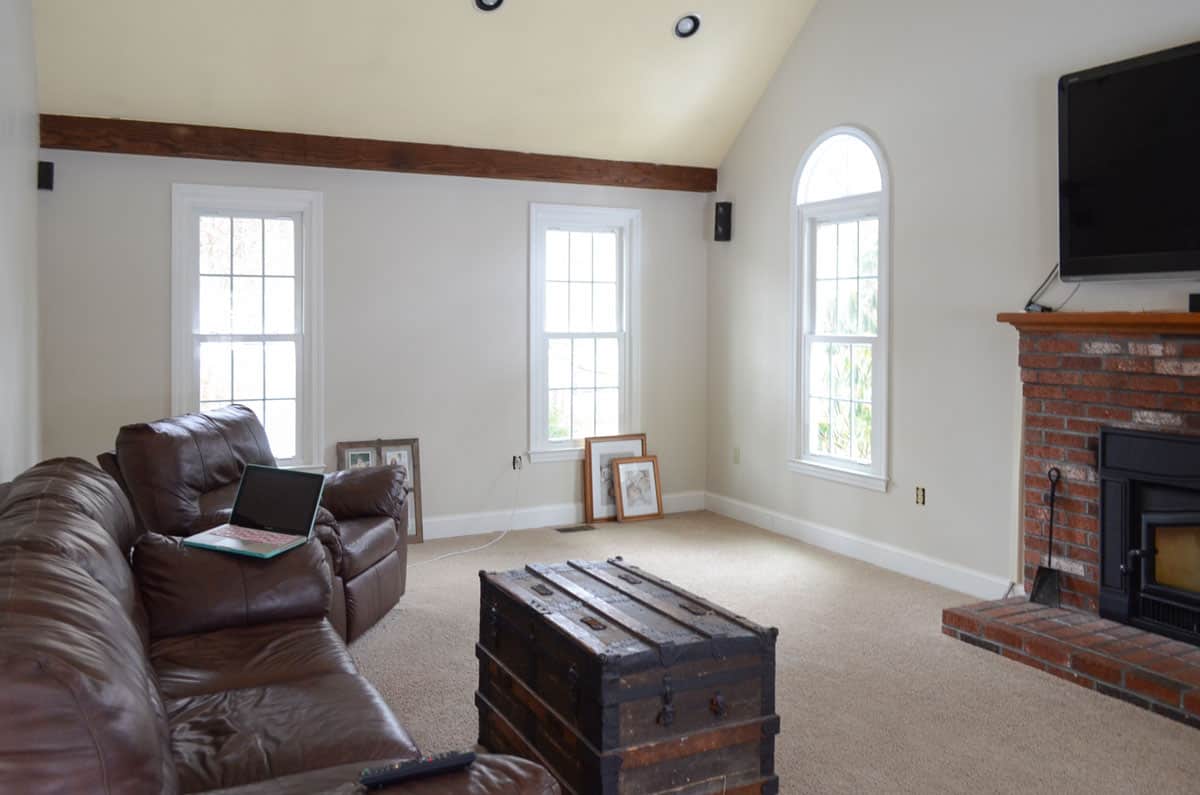 To remind you of the before: before, the room was yellow on both the walls and ceiling. This was pre-blogging, so I don't have a photo — just trust me, it wasn't good. The wood beams were in terrible shape. When we first moved in, we still had the leather furniture from Mack's basement man cave.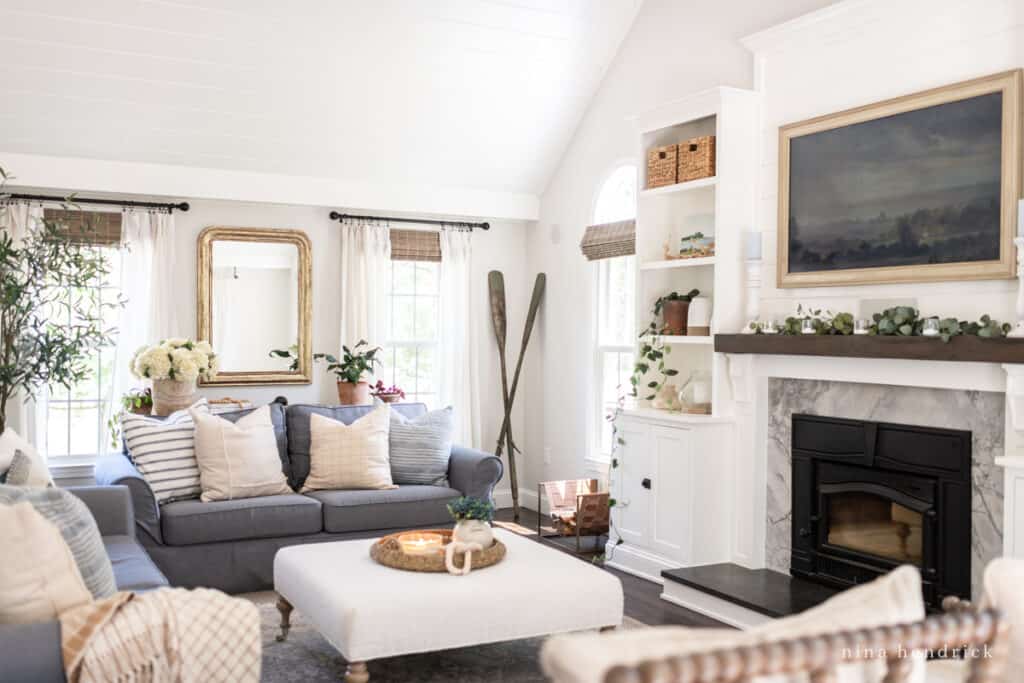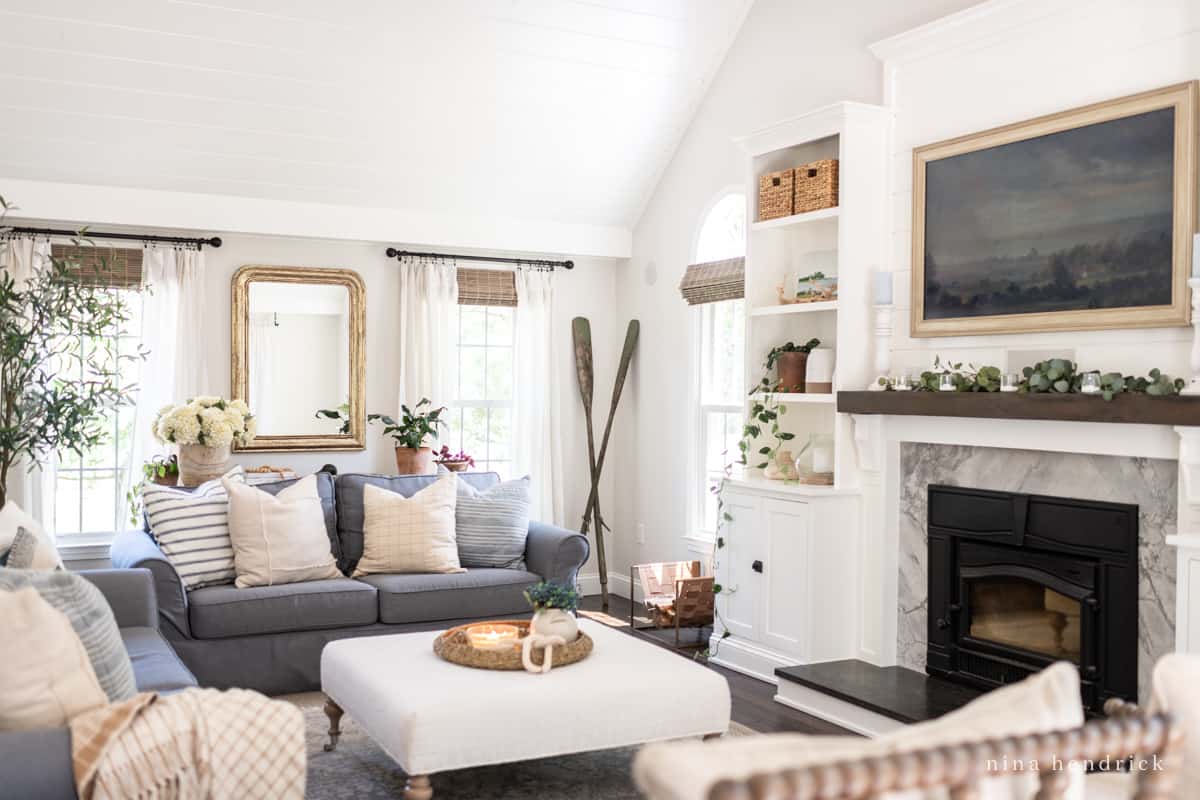 Over the years, we chipped away at projects, covering the brick fireplace and later adding the built-ins. We were losing a lot of heat from this room, so we added insulation to the ceiling and covered everything with tongue-and-groove boards and wrapped the beams in fresh trim.
Recently, after the knots showed through the painted pine boards, we had everything professionally sealed and painted and we also completed the room with a board-and-batten wall treatment.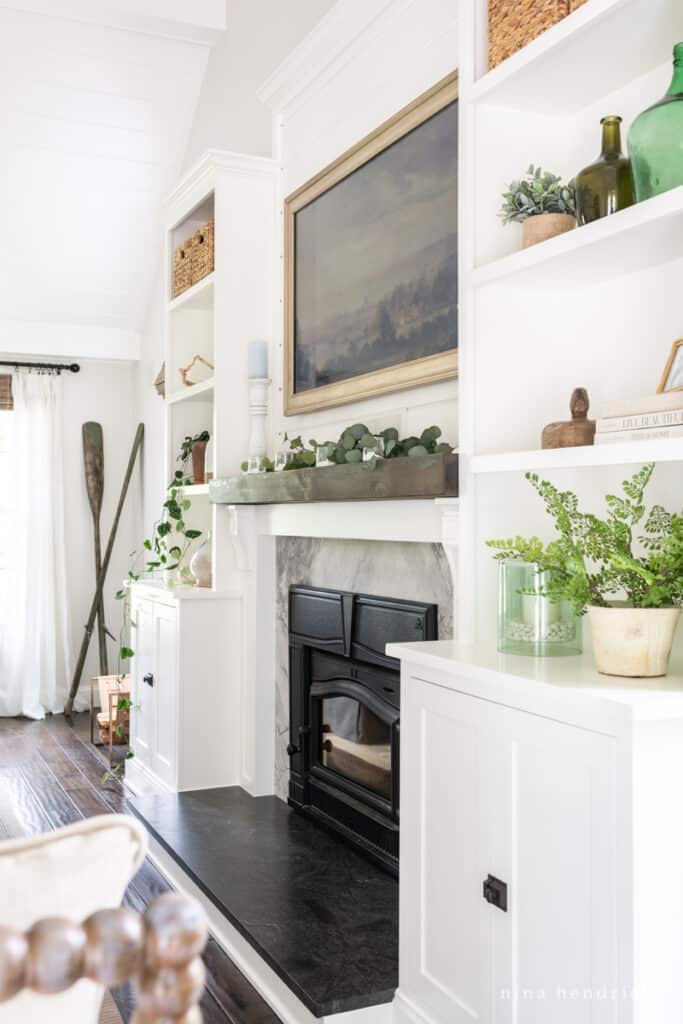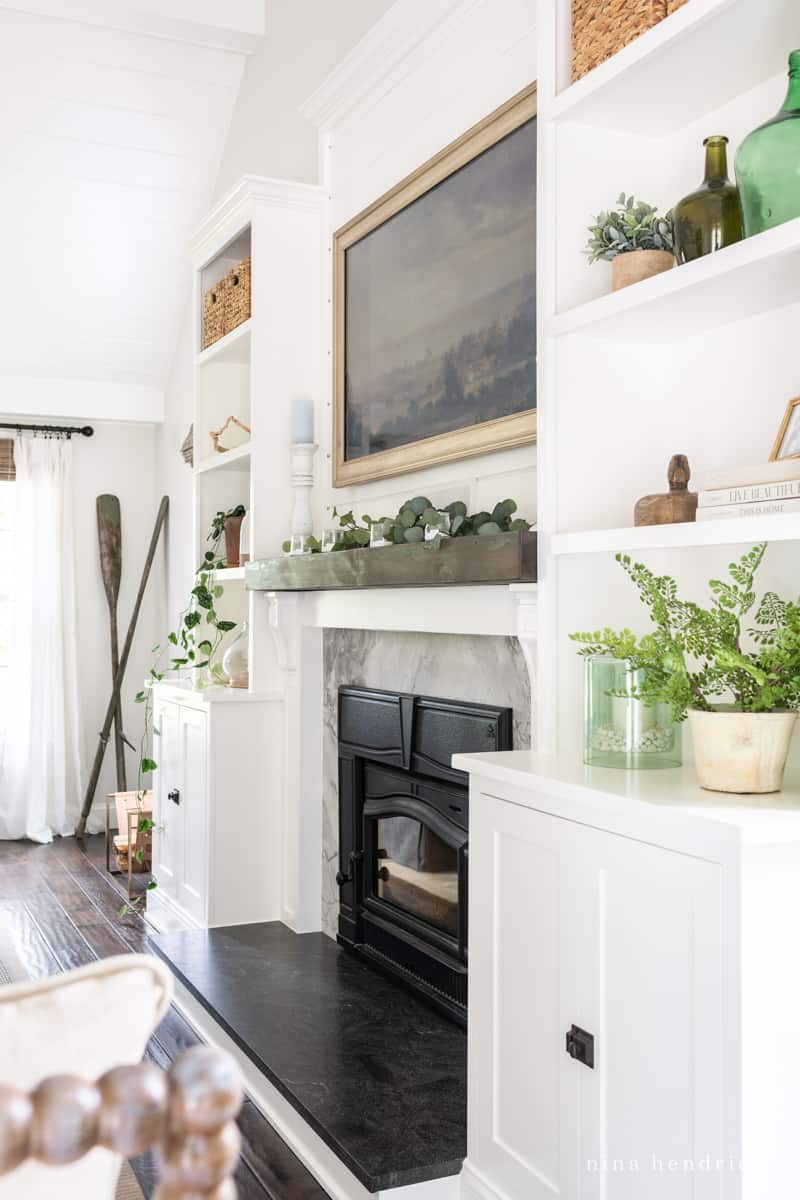 Along with the natural and neutral decor, it tied the room together. I can't get enough of this room, I love it so much!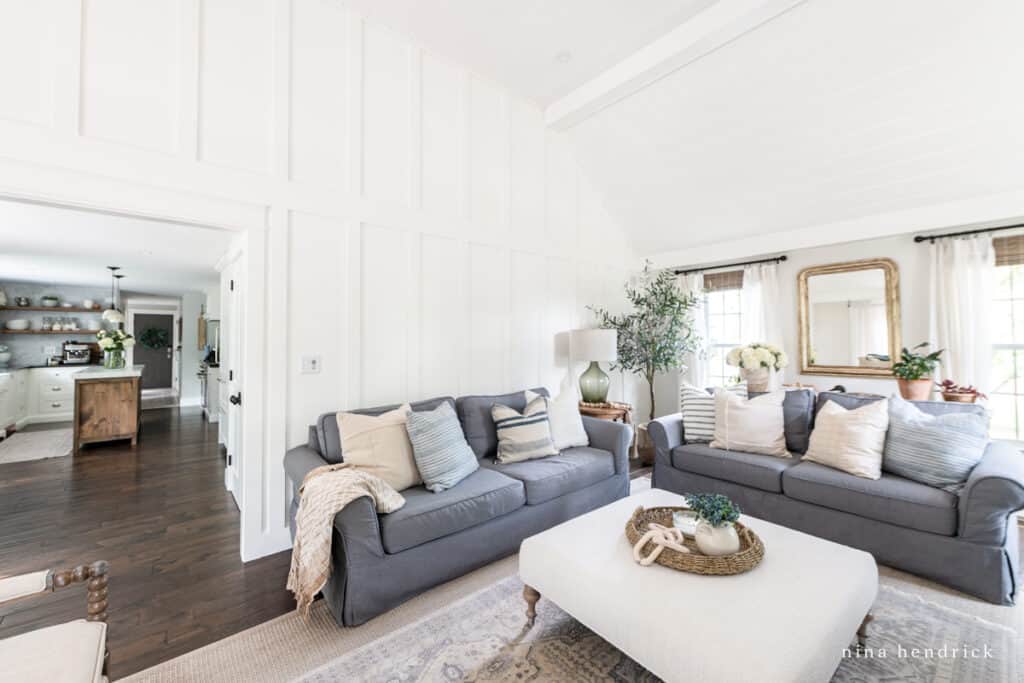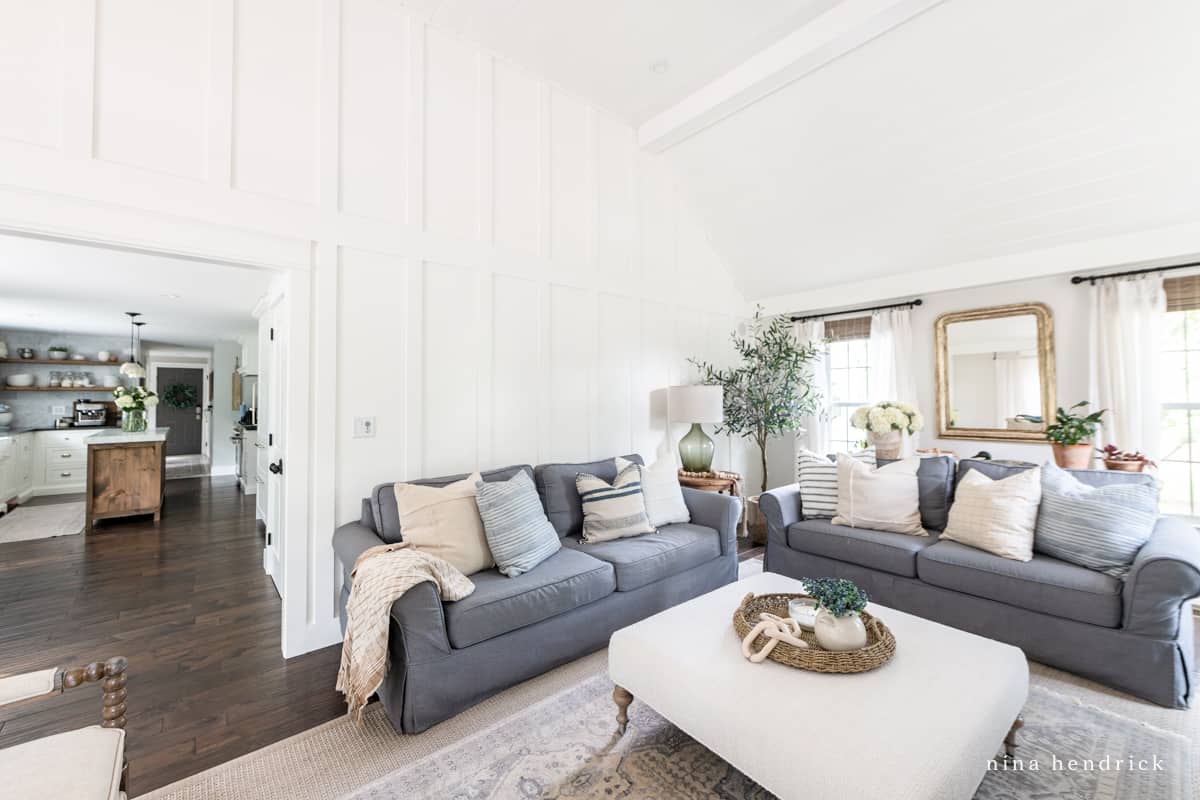 Let's go over some of the details of this family room makeover:
All the white is Benjamin Moore Simply White in satin. I normally use semi-gloss paint, but I really love how the satin looks, and I'll definitely keep it in mind for the future! The greige color on the walls is Benjamin Moore Balboa Mist lightened by 50%. It's the perfect light neutral for this room! I'm glad we broke up the white with a hint of color. I think it's a really excellent compromise.
This post contains affiliate links, which means I may get a small commission (at no extra cost to you) if you shop my link. Please see my disclosure if you'd like more info!

I recently refinished the mantle since it had gotten beaten up over the years. I sanded it down to fresh wood and gave it a coat of custom stain (you can see the process here) so that it would be more similar to the shelves and island in the nearby kitchen.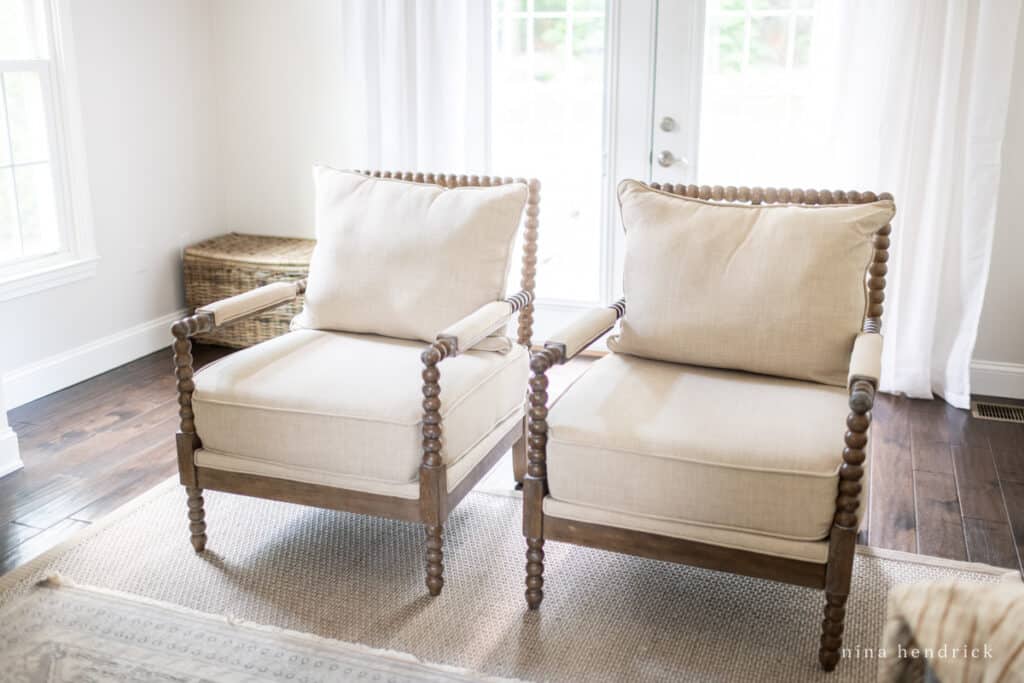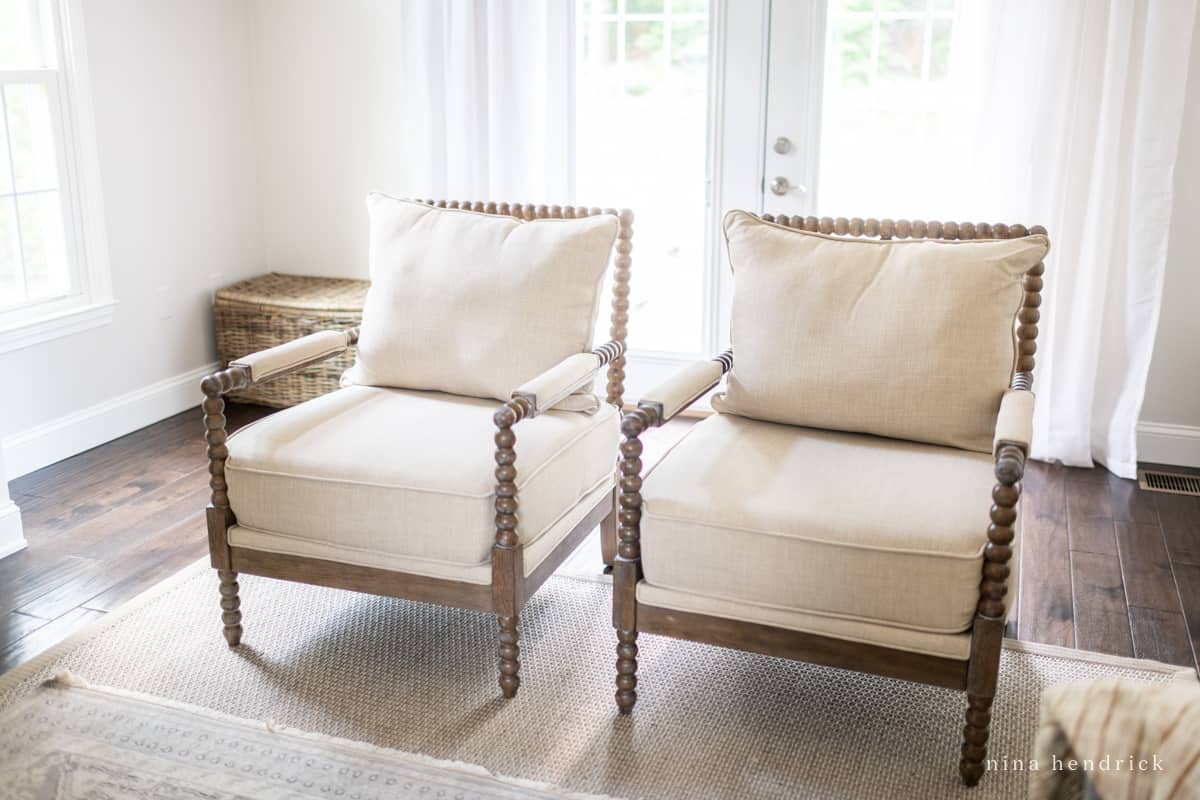 We mostly reused furniture and accessories that were already in the space, but I added these two spindle chairs that are a dupe of some extremely expensive chairs that were outside of the realm of possibility. I'll include a full source list at the bottom of the post!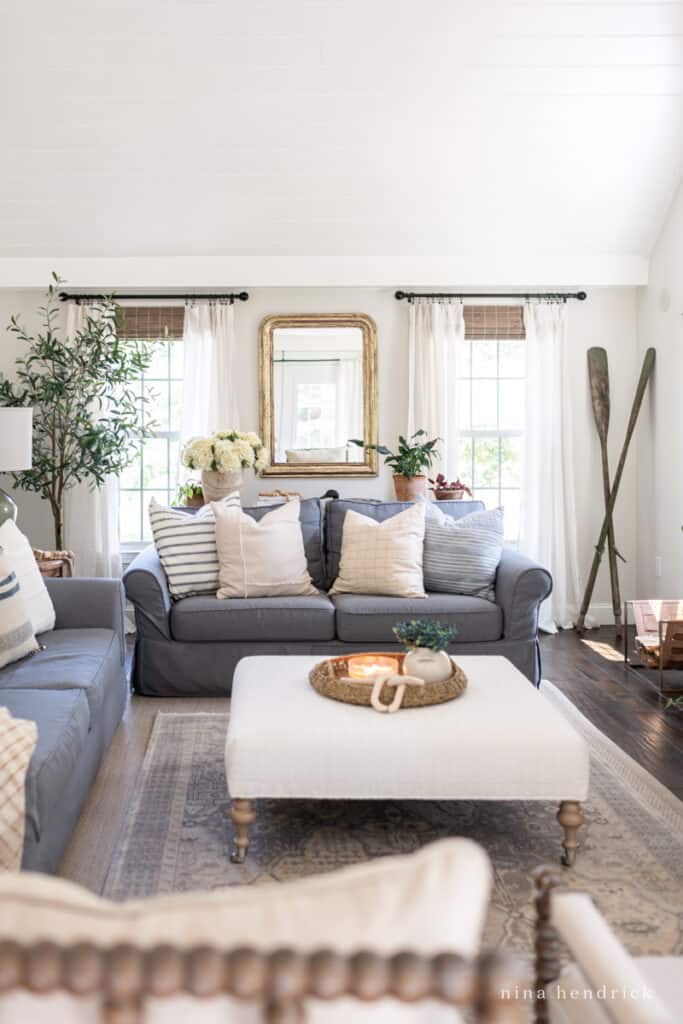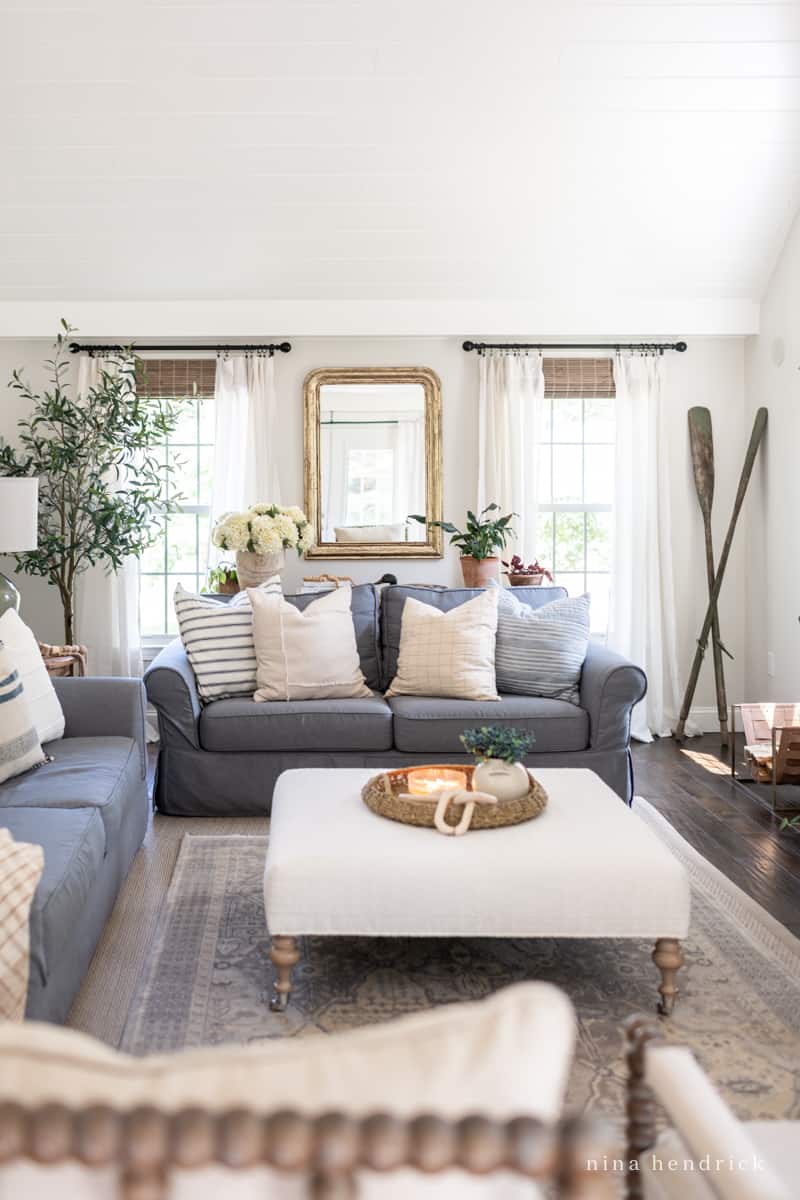 I also added fresh slipcovers to our PB Comfort sofas. I didn't think the off-white of the original slipcovers would play nice with the bright white trim. I really love the gray-blue of these replacements!
We also added the ottoman. It was a custom order from Serena & Lily and it took a little while to arrive, but it was well worth the wait! We've really loved having a soft ottoman instead of a hard coffee table. The tray — which was a Target find — makes corralling any accessories we may need much easier!
I always get a lot of questions about the mirror — here's a similar source. If you're on the hunt for one that's this style, it's called a Louis Philippe mirror!
A lot of the small decor are items I already had, but I grabbed a few things on Etsy. The duck decoys and chippy oars are all vintage and I love the character they bring to the room! The grape wood was also an Etsy find and brings in another hint of a coastal cottage vibe.
We already had a Frame TV and I found this really neat company that creates gorgeous custom frames. Now the TV ties in with the Louis Phillipe mirror perfectly!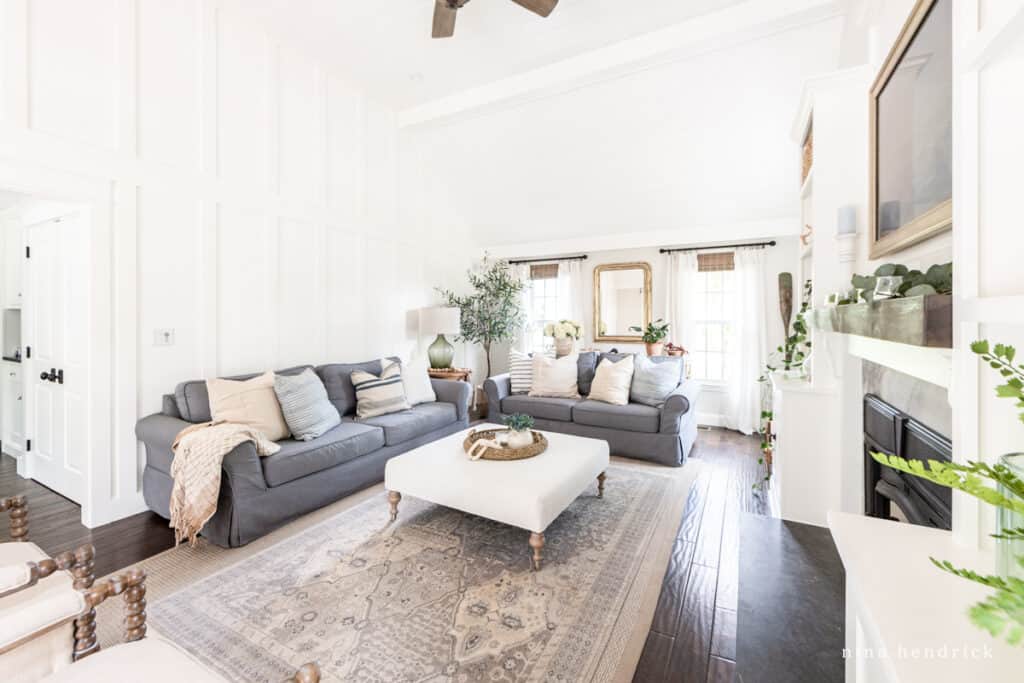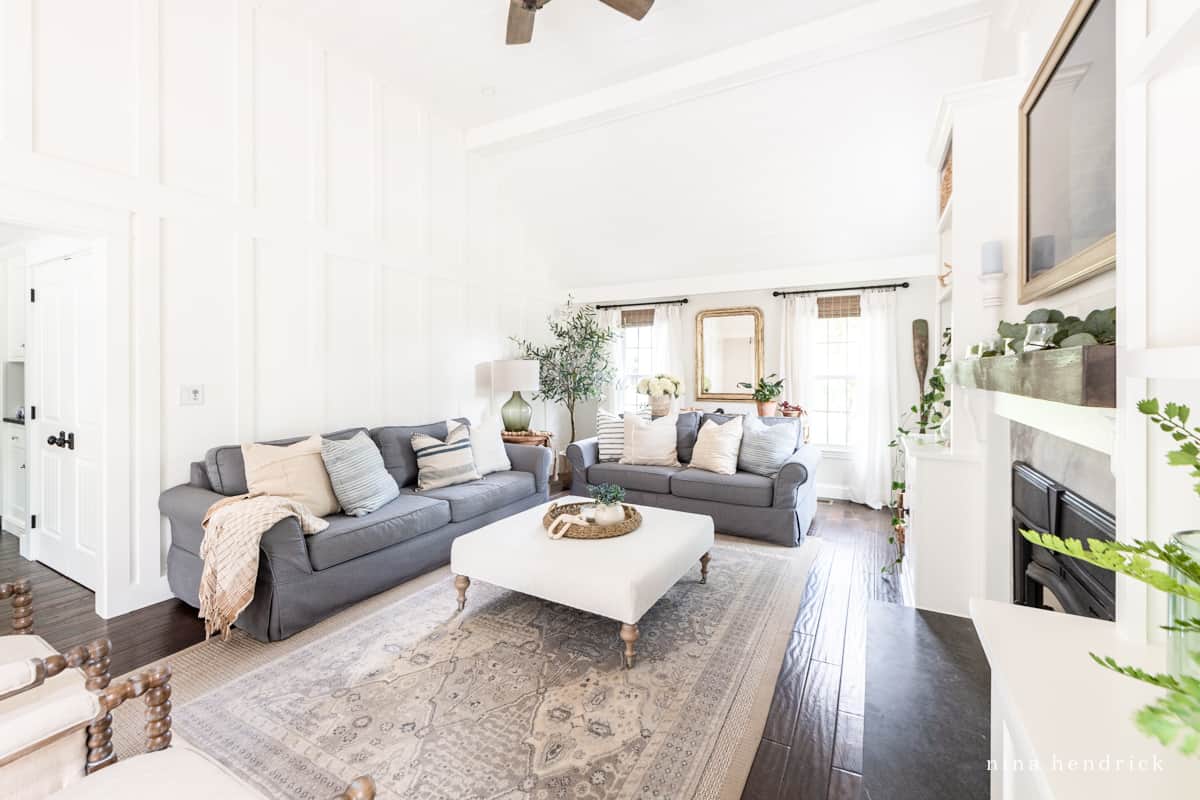 The sisal foundation rug is a custom size for the long and skinny dimensions of this room. I topped it with a smaller hand-knotted rug from Serena & Lily. It actually worked out really well to layer rugs and get the hand-knotted rug in a smaller and more affordable size.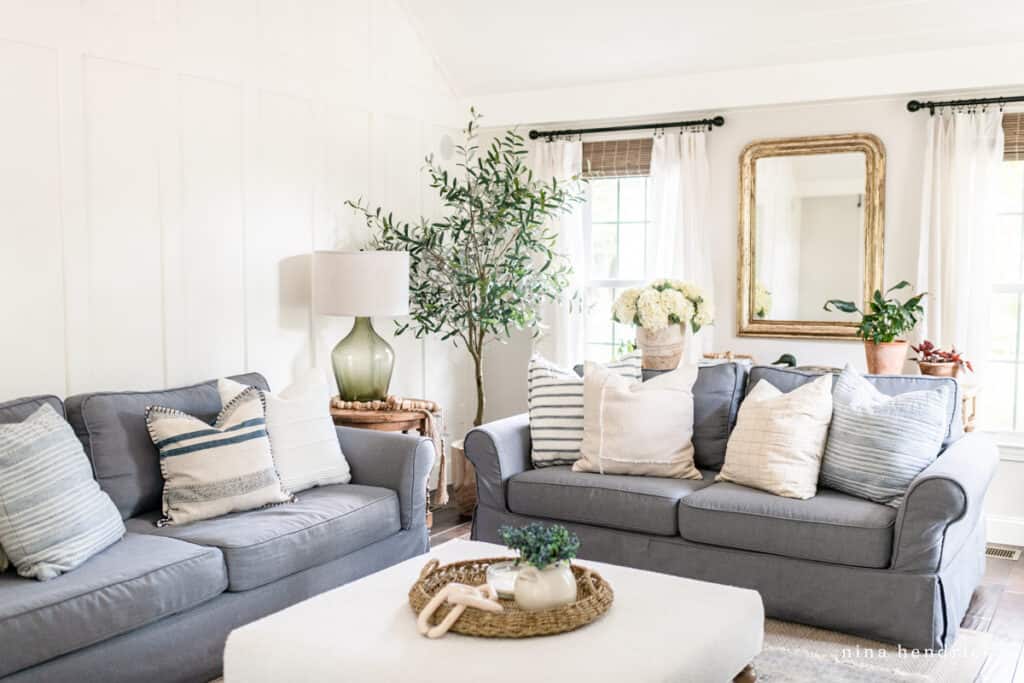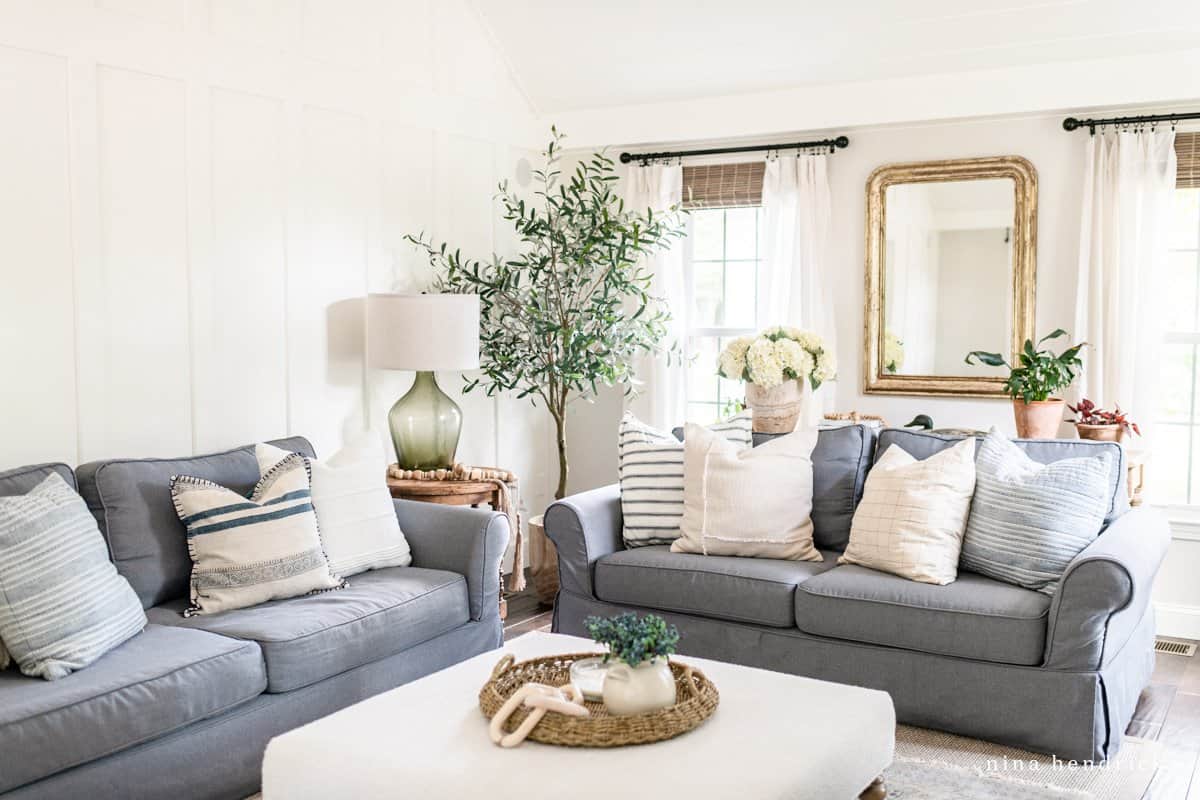 I swapped out a smaller faux olive tree with this taller version that better fits the scale of the cathedral ceilings. I also brought in a bunch of my favorite house plants, since greenery is a must in any space!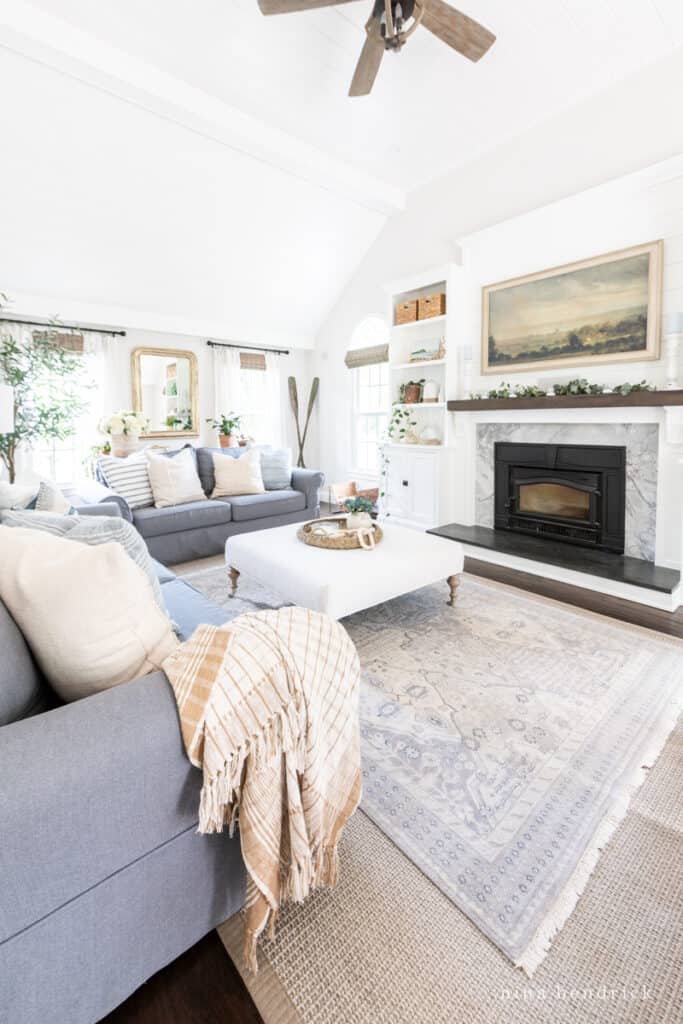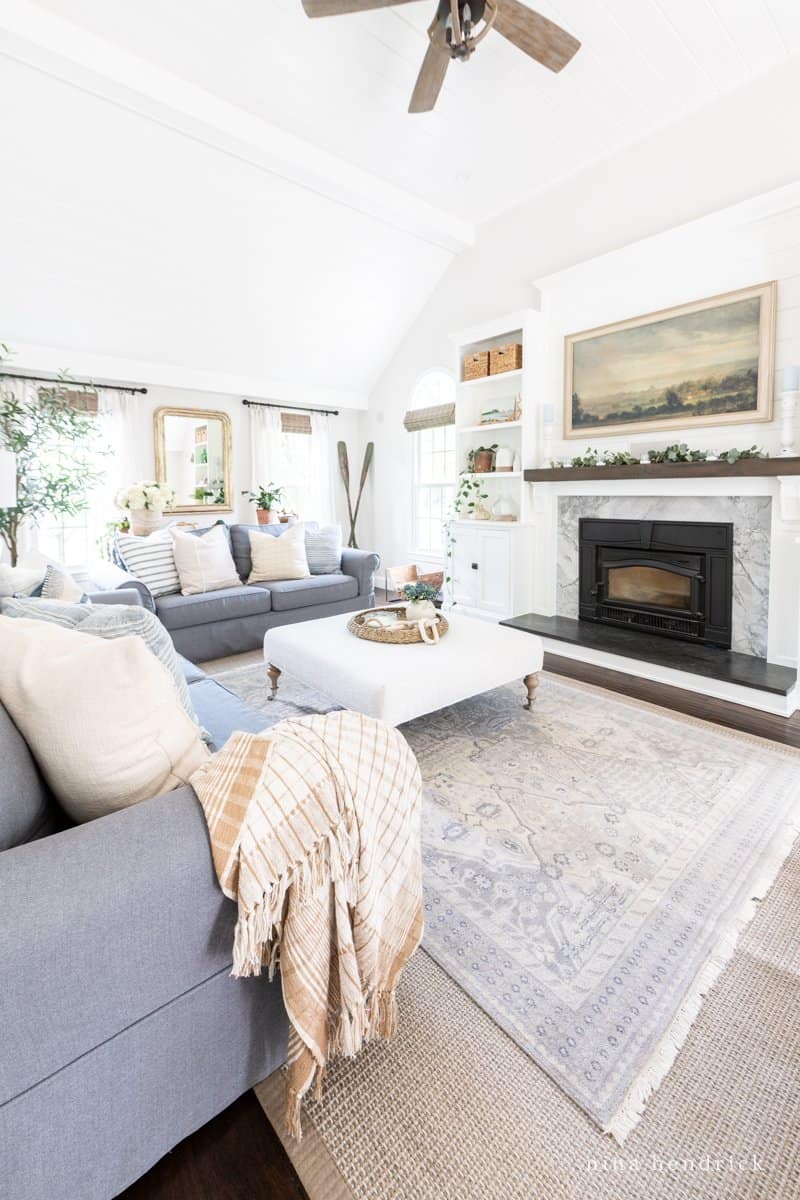 And so there you have it, that's our natural & neutral family room makeover! Again, I love it so much. It just goes to show you how much you can get done once you have a plan in place. If you're planning a project soon, grab the freebie linked below this video: "5 Tips for Adding Character to a Builder-Grade Home". It gives you some of my favorite ideas for transforming a house and planning a project. I hope that it's helpful!
Family Room Source List
Wall Color — Benjamin Moore Balboa Mist lightened by 50% in Eggshell
White Paint Color — Benjamin Moore Simply White in Satin
Flooring — Read my dark hardwood floors post here, Similar Look Here
Window Shades — Driftwood
Curtain Rods — Amazon Basics (these are a favorite!)
Curtain Clips — here
Linen Panels — Off White
Frame TV — here
Custom Frame for TV — Warm Silver
Sofas — PB Comfort (read my review here!) with replacement ComfortWorks slipcovers
Rug — Custom size sisal bottom rug — sisalrugs.com
Top Layer Rug — Serena & Lily Norland Rug
Ottoman — Serena & Lily Chelsea with textured loop fabric in Sea Salt
Spindle Chairs — Overstock
Sofa Table — World Market
Wood Planters — Creative Co-Op (hydrangeas and olive tree)
French Mirror — Similar here in gold (it's called a Louis Philippe Mirror if you want to hunt!)
Olive Tree — 7′ Crate & Barrel
Round End Table — Uttermost Samuelle Wooden End Table
Oversized Lamp — Similar, no longer sold
Wood Garland — here
Vintage Oars — ShabbySeaCottage on Etsy
Round Tray — Target, sold out but similar here
Crock — Studio Magee for Threshold here
Orange Blossom Candle — here
Blueberry Bunch — here
Wood Chain — Bloomist
Grapewood Piece — Etsy
Vintage Duck Decoys — Etsy
Vintage Olive Demijohns — Etsy