Looking to create a welcoming and relaxing space? I packed this mood board with neutral family room inspiration for your makeover!
In the renovation story of any home, there are always rooms that are tricky. Maybe it's an awkwardly shaped room, there isn't enough light, or it's hard to distinguish how the room fits into everyday life. The first thing I advise after conducting a room audit is to create a mood board. In this post I'll share the mood board with natural and neutral family room inspiration that finally helped me bring our space together! Update: You can see the finished family room makeover here!
Natural & Neutral Family Room Inspiration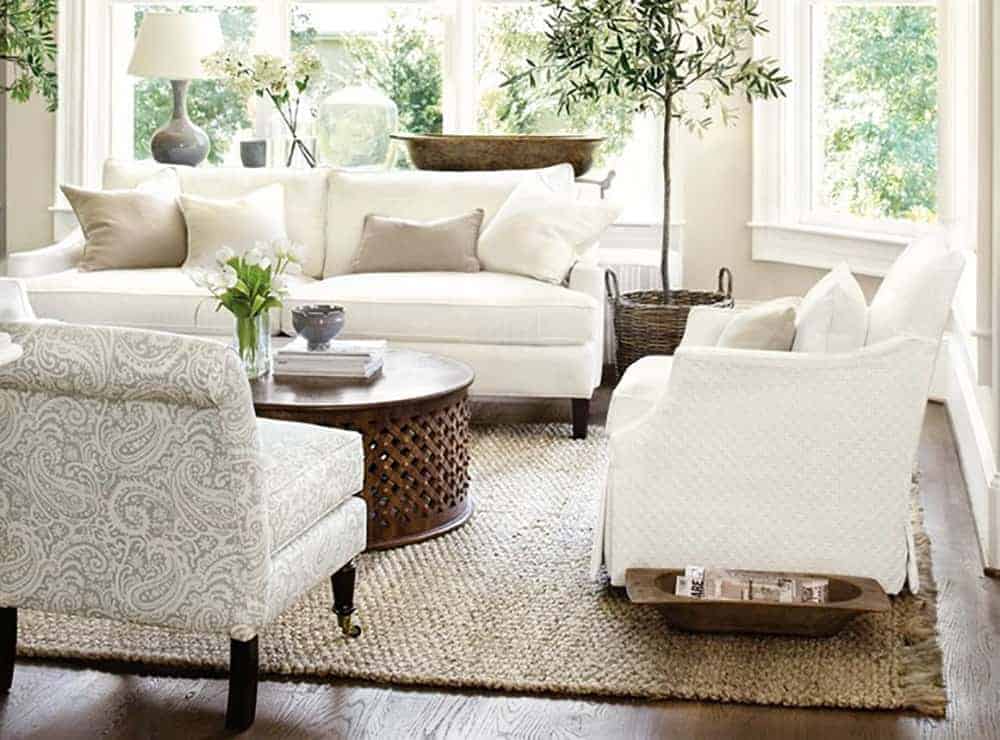 Image Source: Ballard Designs
How do you add natural and neutral style to your family room?
Creating a natural and neutral family room design means choosing finishes and decor that will stand the test of time.
Consider light paint colors in the gray or greige family — or even cream or white!
Again, fabrics should stay in the family of neutrals, but experiment with texture.
For color, choose one non-neutral accent color.
Add in lots of greenery to bring the room the life!
Family Room Project Background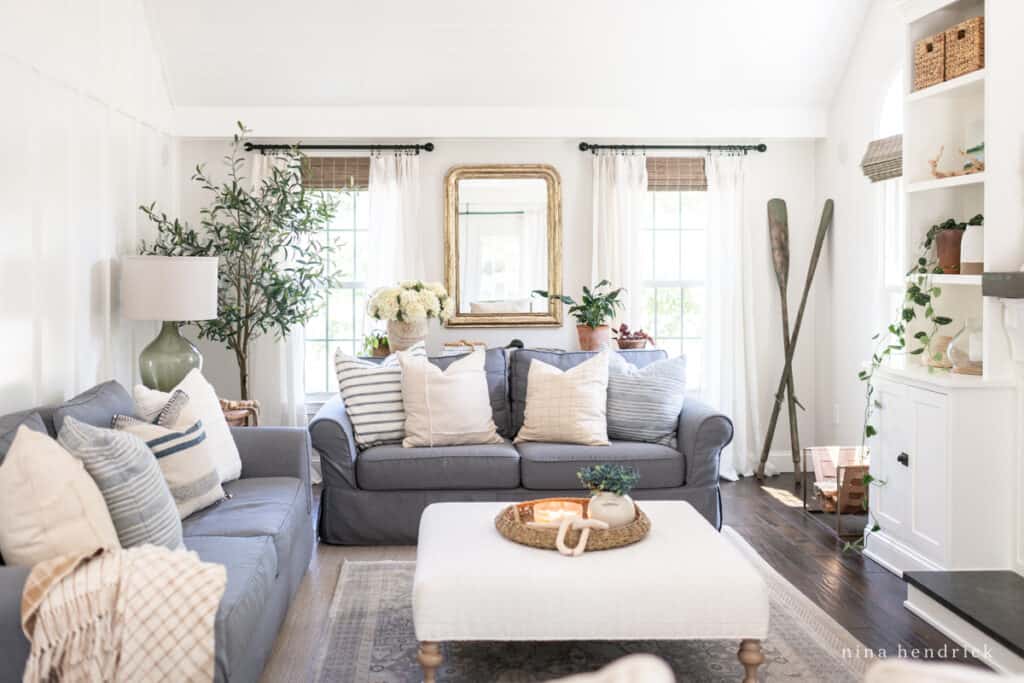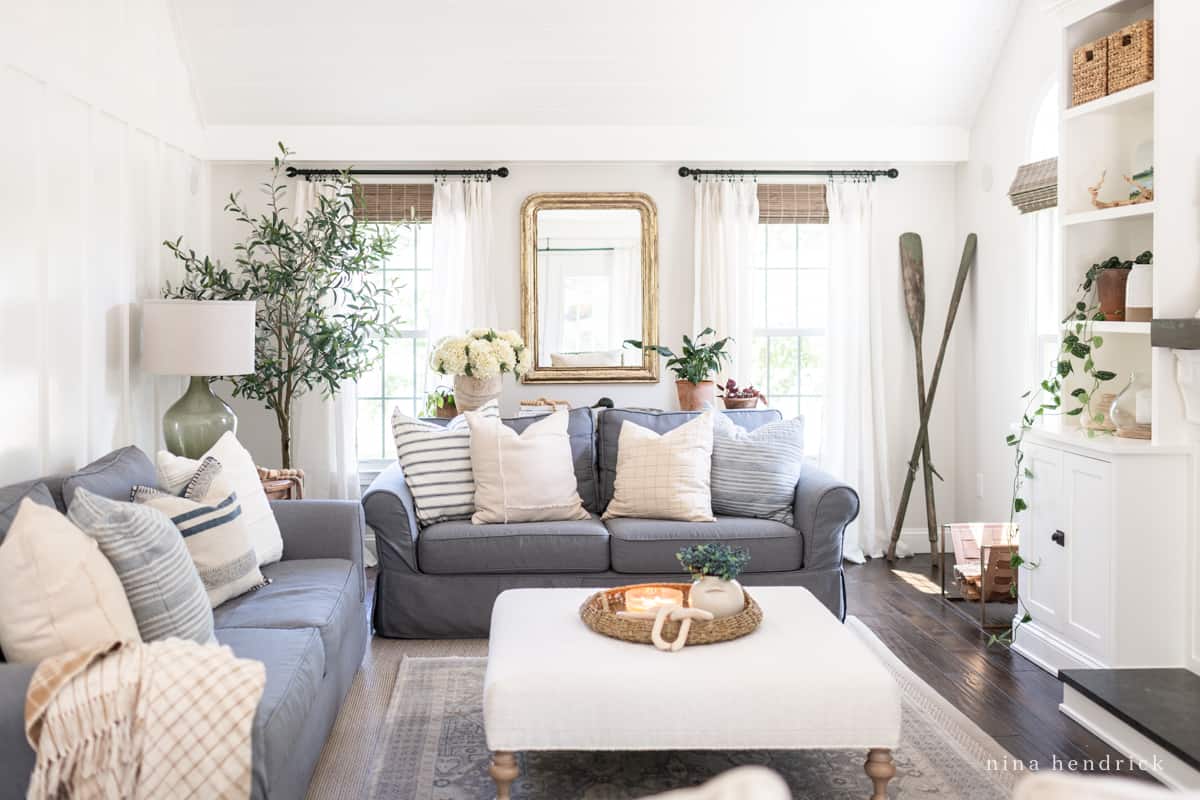 In the renovation of our 1980s colonial, my biggest (and final!) challenge was our family room. While I could envision and execute certain aspects of the room, I had a really hard time bringing everything together into a cohesive design. In the past, I avoided spending too much time in this room because it made me feel incompetent and embarrassed. After all, I'm supposed to be a decorator! Why couldn't I master this room?
I've already talked about how I began the project without a plan. That is definitely not my recommendation!
There were challenges. The family room is a shallow but wide room (12 by 20), which forced me to be a bit creative with furniture layout. It has a cathedral ceiling, which means two of the walls are very tall.
To catch you up, our first step was when we painted the formerly yellow walls in Benjamin Moore's Edgecomb Gray. A year later, we covered up the staggered brick fireplace with soapstone-look leathered granite and marble-look quartzite. We added inexpensive but pretty window treatments. A few years later, we replaced our discount store leather sofas with Pottery Barn Comfort Sofas. After that, we covered the ceiling with white tongue-and-grove and added built-ins to the fireplace.
Then the project stalled. I still had plans of giving the tall wall across from the fireplace a board-and-batten treatment. But other projects came first.
Time moved on, and unfortunately, after a few years, all the painted wood began showing knots. I knew I wanted to wrap up the room, completing the board-and-batten and giving everything a fresh coat of paint.
We decided it was too big of a project to tackle on our own and that we'd get much better results if we had a professional spray the paint on. So we hired it out.
Finally, after all of those years (almost nine from start to finish!) it was time to come up with a cohesive decor plan. I knew I wanted to go for the natural and neutral family room vibe with hints of cottage and coastal style — as I had always planned.
This post contains affiliate links for your convenience. Please see my disclosures here for more information.
Here's my natural and neutral family room inspiration board: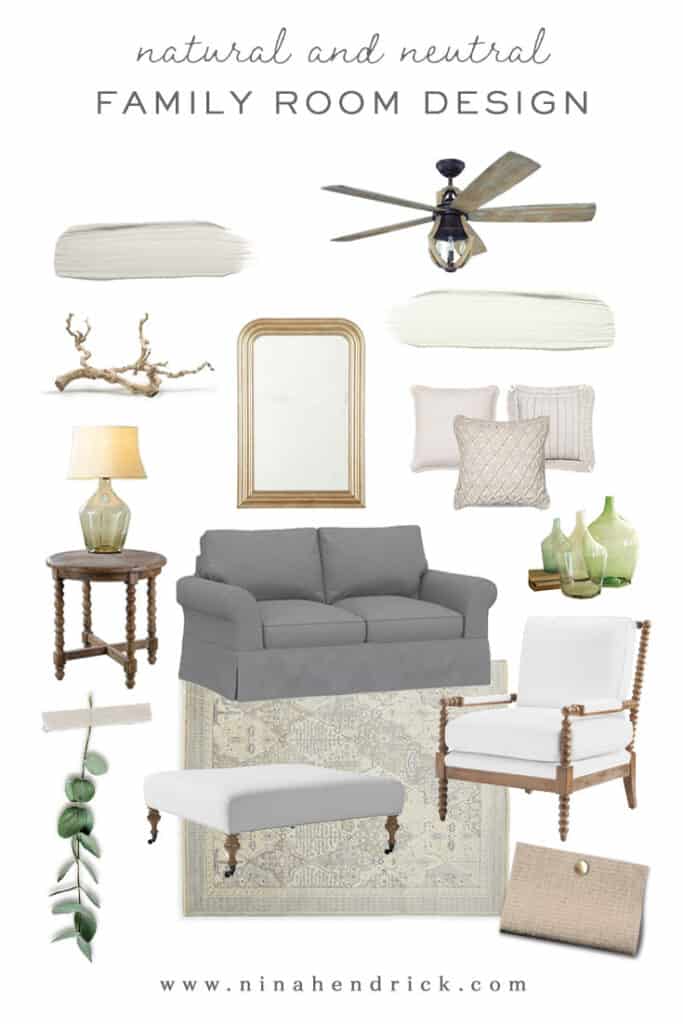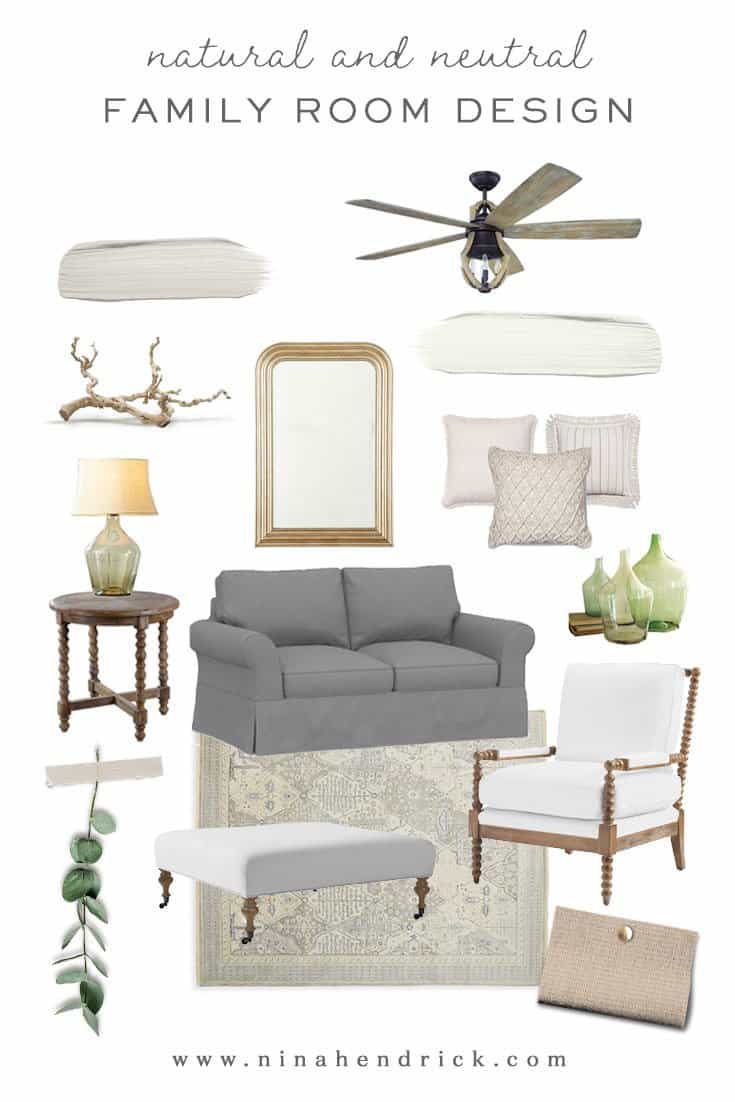 Benjamin Moore Balboa Mist Paint | Ceiling Fan | Grapewood | Louis Philippe Mirror | Benjamin Moore Simply White Paint | Neutral Throw Pillows | Jug Lamp | Spindle Table | Slipcovered Sofa | Green Jugs | Ottoman | Rug | Chair — ALTERNATE
Paint Colors
The family room saw a few paint color changes over the years, but to maximize the light and bright feeling I decided to ultimately paint it Balboa Mist during the final project. We had it lightened by 50% to make it even lighter and brighter.
Simply White is the main white accent color in our house and everything white got a fresh coat in this color.
Custom Sisal Rug
The fabric swatch on the mood board represents our custom sisal rug. I had to order a custom rug size because of the challenges with the dimensions of the room and fireplace. You can find the same rug here.
Spindle Chairs — Get the Look for Less
I really fell in love with the Beckett Chair from Serena & Lily, but it wasn't within my budget. After a LOT of searching, I tracked down this chair, which is very similar but for a quarter of the cost. The cushion color is actually less beige in person and the chairs work perfectly with our rug.