A review and the pros and cons of having hand scraped dark hardwood floors in your home, plus the best cleaning tips.
I'm tackling a question that I'm asked about a lot: all the details plus the pros and cons of having dark hardwood floors. Dark hardwood floors can give any home a timeless and elegant look. They are very durable, and with proper care, they can last for many years. Although they may require more upkeep than lighter colored wood floors, the long-term beauty of the flooring far outweighs any minor inconveniences.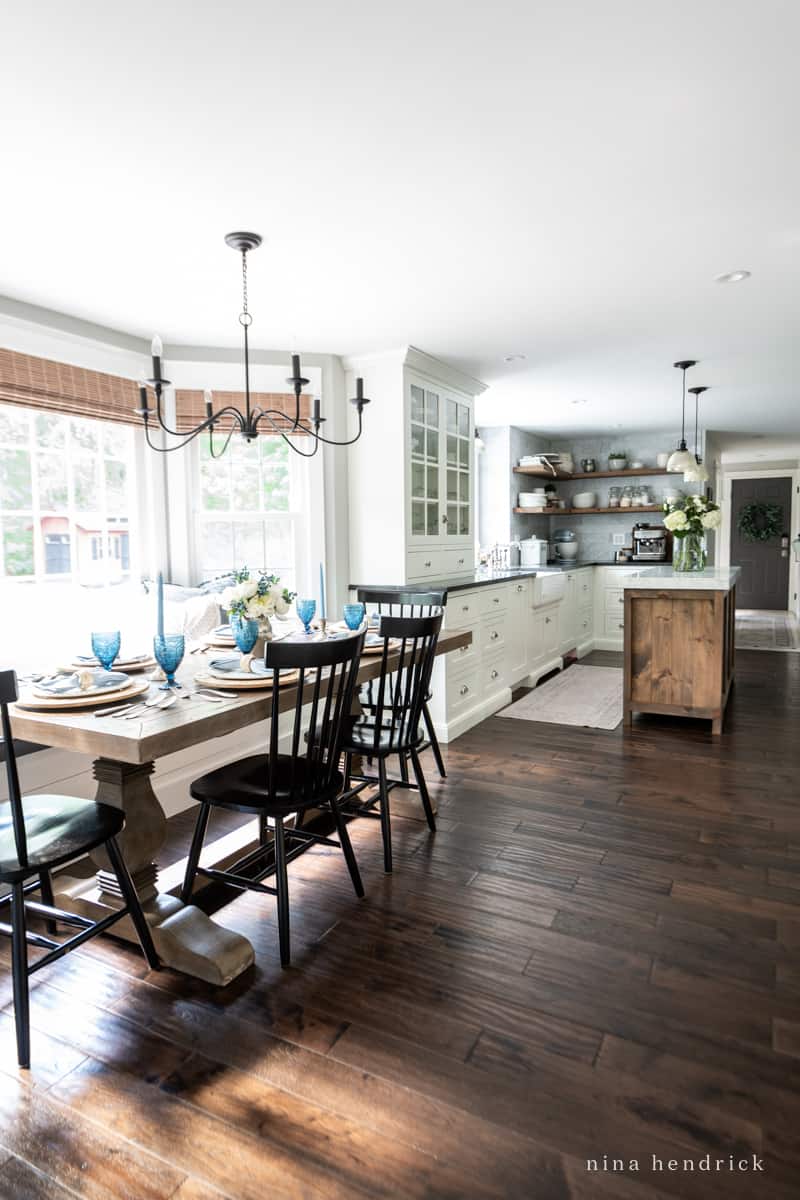 When it came to choosing the new flooring for our Massachusetts Colonial, I always had a very clear vision for that house of having extremely dark wood floors. While the current popular choice in flooring tends to be wide plank light wood floors like white oak, there is something timeless and traditional about the warmth and depth of darker hardwood floors. They are the perfect contrast to lighter colors elsewhere in your home.
With that being said, there are some drawbacks and things you may want to consider. Here are all the details plus the pros and cons of living with dark hardwood floors!
This post contains affiliate links, which means I may get a small commission (at no extra cost to you) if you shop my link. Please see my disclosure if you'd like more info!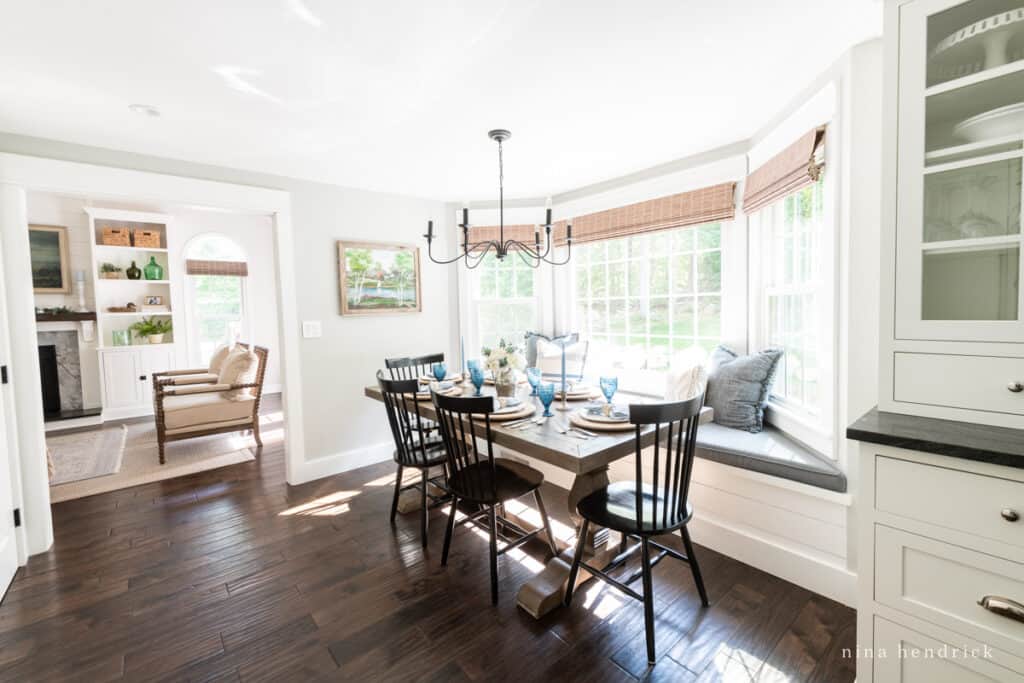 Dark Hardwood Flooring Details
Choosing a Wood Type
First off, the exact flooring we purchased a decade ago for this project is no longer available. However, by looking at the specs I can give you some similar sources. These floors are hickory solid hardwood planks in a 5″ width with variable length and a hand scraped, matte finish. Hickory is a rustic wood with some graining, knots, and color variation (although this is less noticeable with darker stains). While I love the look of pine, I knew that such a soft wood wasn't practical at this point in life (or maybe ever).
Hickory is a 1820 grade on the Janka hardness scale and is the hardest wood species native to the U.S. That makes it perfect for high-traffic areas and busy households with kids, dogs, and things being dropped on it — which definitely fit our household.
Oak isn't as hard as hickory, but with a 1300 Janka hardness rating, it is still very durable and it's one of the most popular flooring options for a reason. While I wasn't able to find a similar hickory floor source to ours, these Oak floors in the Mocha finish are a nice approximation to achieve this look. They are hand scraped with a satin sheen and have nice grain and warmth.
Upstairs, we needed to use engineered hardwood so that we wouldn't affect any plumbing or utilities under the subfloor with long flooring nails. Imagine the nightmare if we'd hit a water pipe! Again, the exact flooring we used has been discontinued, but this source in Oak is extremely similar in the Pacific Grove finish.
Choosing a Finish Sheen
With dark hardwood floors, I highly recommend a satin or flat finish. You're already facing some challenges because of the dark color and a high gloss sheen will be even less forgiving. An added benefit to a satin finish is that it allows more of the rich color of the stain to show through since it reflects less light.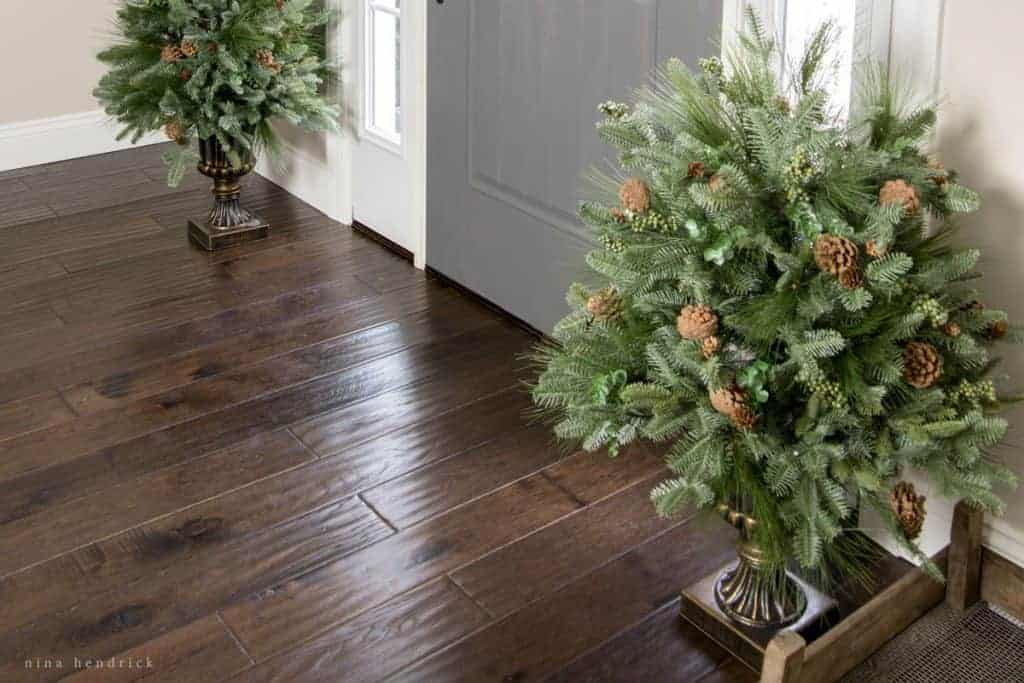 Hand Scraped vs. Smooth
One other decision you'll have to make is whether you'd like hand scraped flooring or smooth milled flooring.
Hand scraped flooring has the appearance of being milled by hand with woodworking tools. There are bumps, dents, and ridges to give it added character. A benefit to this look is that it hides imperfections like scrapes and nicks well. We've been able to simply touch up small divots with a sharpie, since the stain pooled in tiny holes during the original distressing and made them appear black, anyway.
Hand scraped wood, while gorgeous, leads to some challenges. My mom gifted me a robotic vacuum, and it wasn't able to navigate the bumpy floors (although this was several years ago, so they may have improved since). If you have your heart set on having one, see if you can test one out or choose a smoother wood texture.
An additional consideration us that if you decide to refinish hand scraped floors, the texture means that you'll have to do extra sanding. You'll also lose the hand scraped character with the refinishing.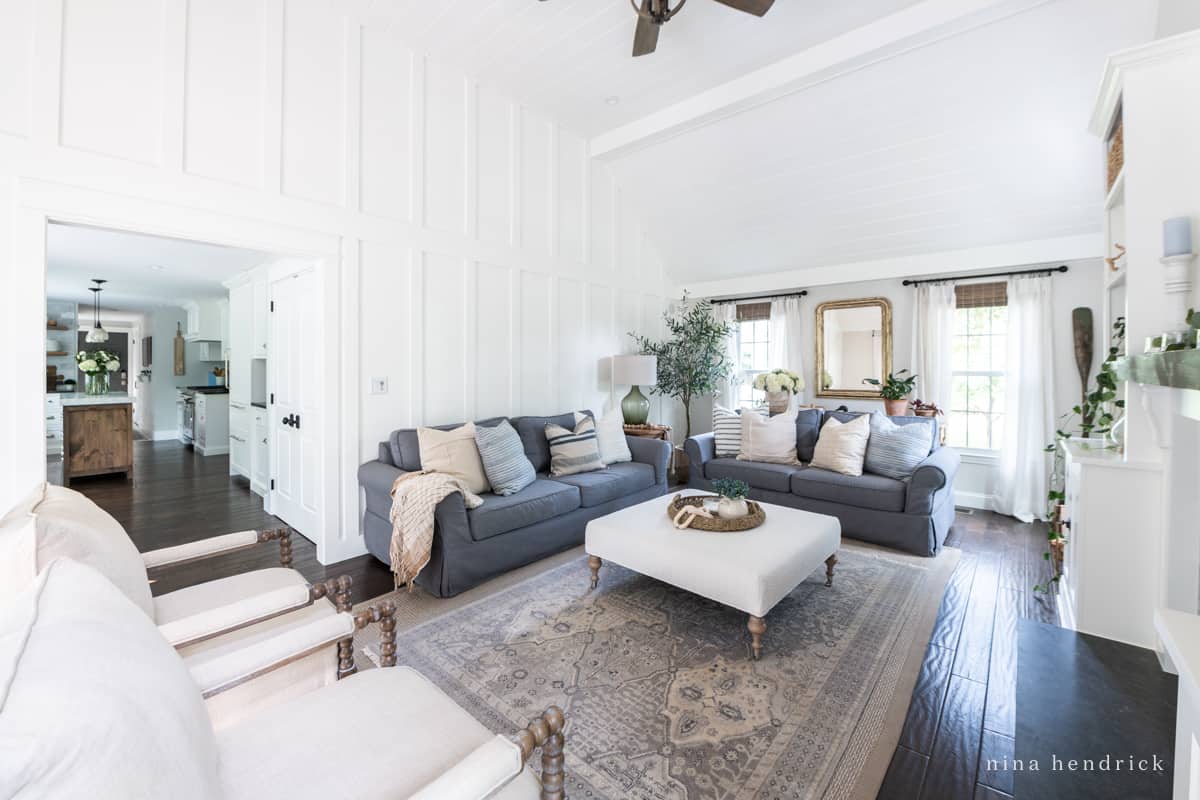 To Replace or Refinish?
When we moved into the Massachusetts Colonial, there wasn't a single flooring type out of the six (!) on the first floor that was in good shape.
The linoleum was cracked and peeling. The hardwood was worn and damaged. The carpet was threadbare. Any rooms with tile had cracks and missing pieces.
We knew we would get our money back on resale for "hardwoods throughout the first floor" of our house. That is especially true because we chose a material that could stand the test of time. We opted not to refinish the existing builder-basic red oak floors and fill in the blanks because the rooms were all at different heights.
However, if you're moving into a home where you have existing solid hardwood flooring that's in good shape and all one level, staining it dark is certainly an option.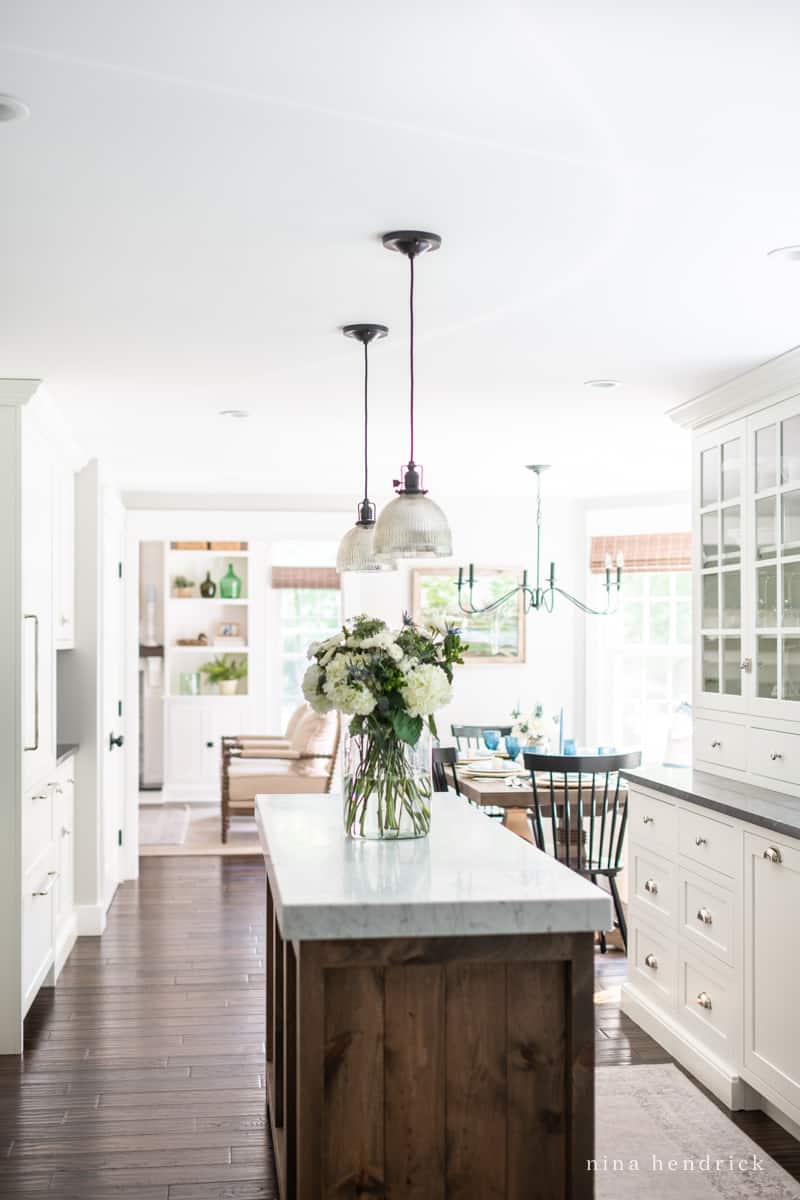 Dark Hardwood Floors Pros
Beauty
Dark hardwood floors are a classic and timeless flooring option and are a great choice for those who want something that won't become outdated. They are known for their beautiful and rich hue, which adds warmth and character to any space.
The main advantage of dark hardwoods is that they are beautiful. This is a matter of opinion, of course. However, dark hardwood flooring is a classic in traditional decor style and it naturally goes with the modern trend of having lighter colors on the walls and in the furniture throughout the home.
It's also easy to build contrast in a space with dark wood floors with white cabinets. I played off of the dark floors with the dark countertops and accent light fixtures in our kitchen remodel. It was a classic look and lighter hardwood floors just wouldn't have worked the same way in that space!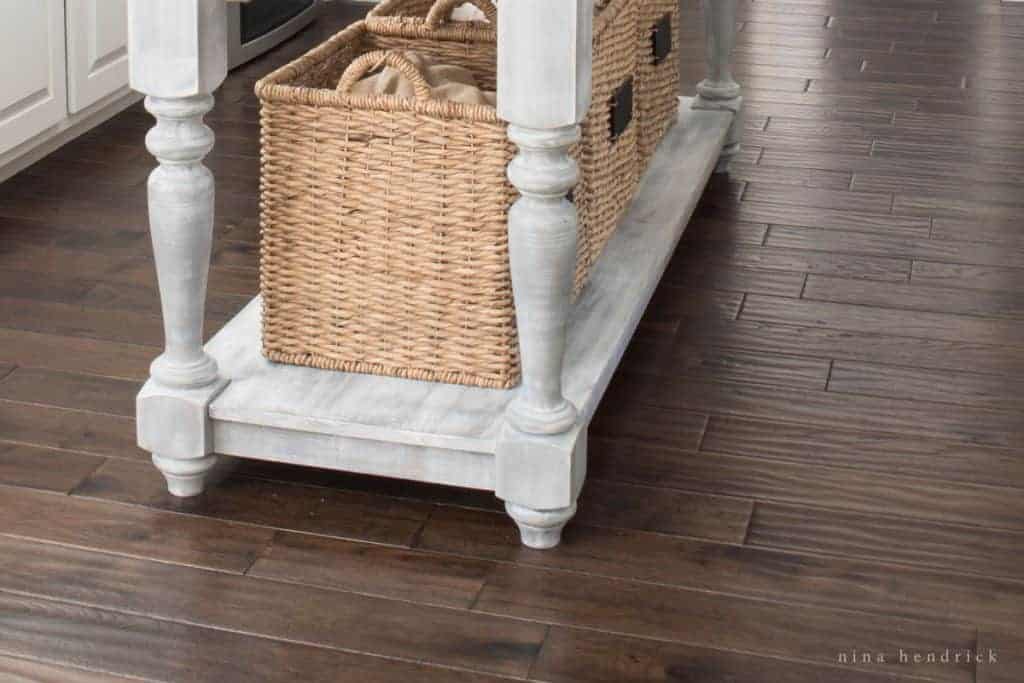 Dark Hardwood Floors Cons
Room Size
One of the minor cons about dark hardwood floors is that dark colors can make a room feel smaller. If you have a large space, this may not matter quite so much. However, if your goal is to make your room feel larger, this is more easily accomplished with lighter floors. On the flip side, if you're trying to make a room feel cozier, this could turn out to be a benefit!
High Maintenance
To sum up the negatives about having dark hardwood floors, it would definitely be the fact that they require a lot of upkeep. While lighter wood floors hide dirt and dog hair, dark hardwood floors show every speck of dust if you look closely.
When we were looking at samples, we were repeatedly cautioned against choosing dark floors, since we had a young family and a dog—specifically, a golden retriever. The person at the flooring store tried to convince us to go for honey colored laminate, which was pretty much the opposite of what I wanted. There is some merit to his suggestion, however, since flooring like luxury vinyl plank (LVP) is relatively inexpensive and durable and there are a lot of beautiful options that look just like the real thing. Nevertheless, that wasn't a good fit for my decor style.
While beautiful, these floors are high maintenance. They have to be vacuumed at least once a day because — as predicted — every speck of dirt, dust, light-colored debris and dog hair shows.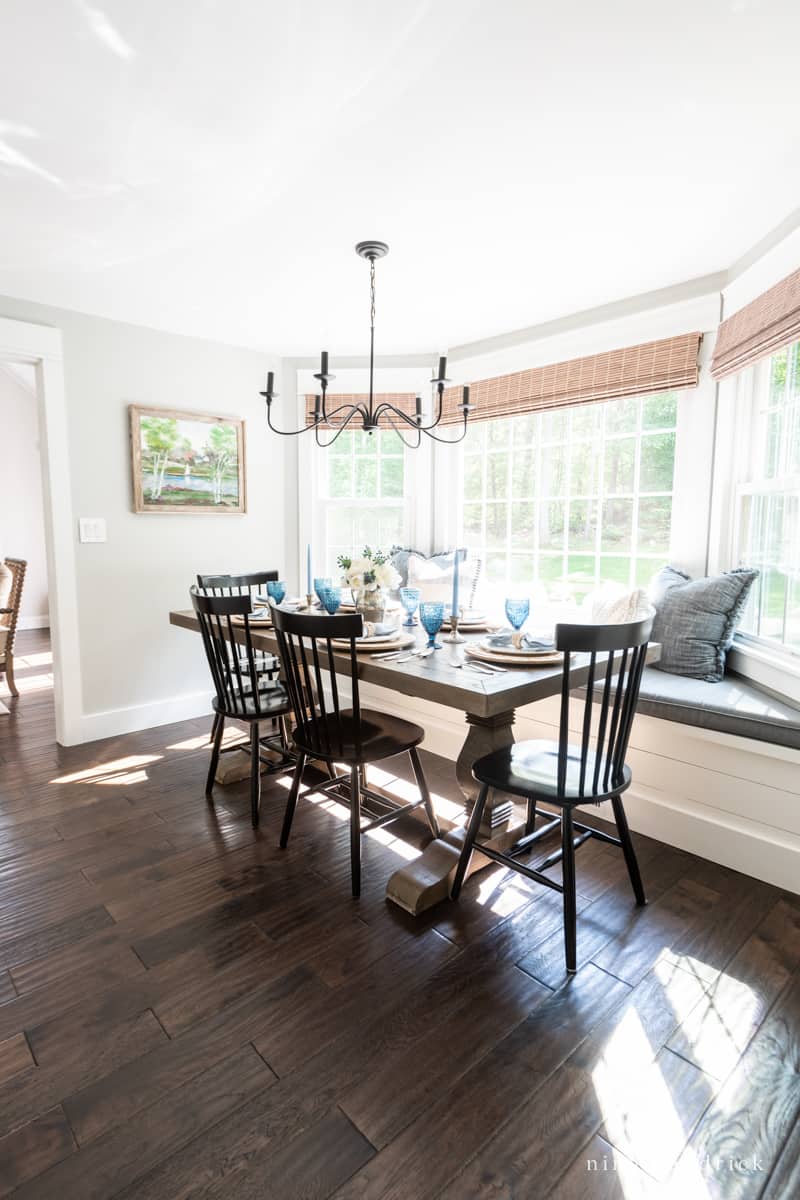 How to Clean Dark Hardwood Floors
For ultimate convenience, we invested in a Dyson stick vacuum (we have the older version). Being cordless made it quite easy to simply grab off of the charger and do a quick run. Better yet, it's lightweight and easy for the kids to use, so they can be sent to grab it and clean up after themselves if they make a mess.
For mopping, the floors look like new when I go over them with a steam mop.
If I had to choose the biggest issue with darker wood floors, I would say that the cleaning would be it. However, it wasn't a deal breaker and probably kept us neater in the grand scheme of things (which certainly isn't a bad thing!).
Would you ever install dark hardwood in another home?
There was a time when I had a different answer to this question, but now I'd have to say no. While I love the look of dark hardwood, our light colored dogs are not the greatest match with dark floors. I love golden retrievers more than I love dark hardwood floors!
Our new home has lighter oak floors and they hide the dirt and dog hair so much better. While we're a busy household and still need to vacuum a lot, I've finally accepted that I need to make choices that make my life easier!
Overall, dark hardwood floors are a great choice if you love the look, don't mind the maintenance, and perhaps have a black lab. 😉 In all seriousness, they are a beautiful, timeless choice that fit in perfectly with a traditional design style.
I hope this review was helpful if you're considering dark hardwood flooring! Let me know in the comments what you end up deciding.