Since I have spent the past week doing some spring cleaning, there hasn't been a ton of progress to share. So I'm continuing to catch up a little on my backlog of Enchanting Details parties that I've never blogged about!
This Spring Cookie Decorating Party and mini dessert table was part of our Easter celebration last year- but the theme was really more "Spring", since there were very few Easter-specific decorations. I kept the colors as soft pastels, and with the light filtering in to the breakfast nook (photos of which I've never actually shared!), it created a very beautiful and ethereal set-up. The boys loved it, since I pretty much just let them go crazy with cookies, frosting, and sprinkles :)
I decorated with ruffled fabric, glassware that I already owned, and a "Sweet Tweet" Bird Printable Kit, which I designed. The mini dessert table held a birdcage, which is intended for candles, but also worked as a unique cupcake stand. There was also a plate full of strawberry cupcakes, and pink lemonade.
The cookie decorating table included a reversible cake plate for the sugar cookies and icing, cake pops in flower pots, and nest cupcakes. Each setting had a placemat, and a cup of sprinkles. Squeeze bottles full of icing were placed upside down in the cake stand so that the frosting would be ready when we began decorating!
Logan decorating!
Cooper skipping the decorating part and feeding himself sprinkles with a spoon ;)
Cooper's creation.
This ribbon chair is one of my favorite party tricks- it is so impactful, easy and inexpensive!
Tomorrow I'll be sharing how I made these nest cupcakes. They are the perfect treat for spring! Here's hoping that the snow melts and the weather starts to cooperate to get my yard readt for my Easter plans for this year. I'm humming and ignoring these rumors of more snow…!
Linking up!: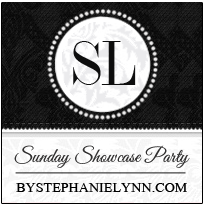 Join the Weekly Newsletter
Subscribe to get our latest content by email and access to our File Library. Download organizing and home decor printables FREE!