Welcome spring, celebrate Easter, and easily spruce up your space in four simple steps with these spring mantel decor ideas!
Decorating a mantel for Christmas is so easy: hang up the stockings, add a little holly or greenery and some candles, and you're done. Most of us have so many holiday decorations to choose from that the biggest challenge is deciding which pieces get the place of honor.
But what about springtime? After a long winter, it's definitely time to freshen up with some lighter, brighter decor designed to welcome the new season. Since there are no strong traditions of springtime decorating, though, it can be hard to know where to start.
Want to learn the mantel decorating basics? Check them out here!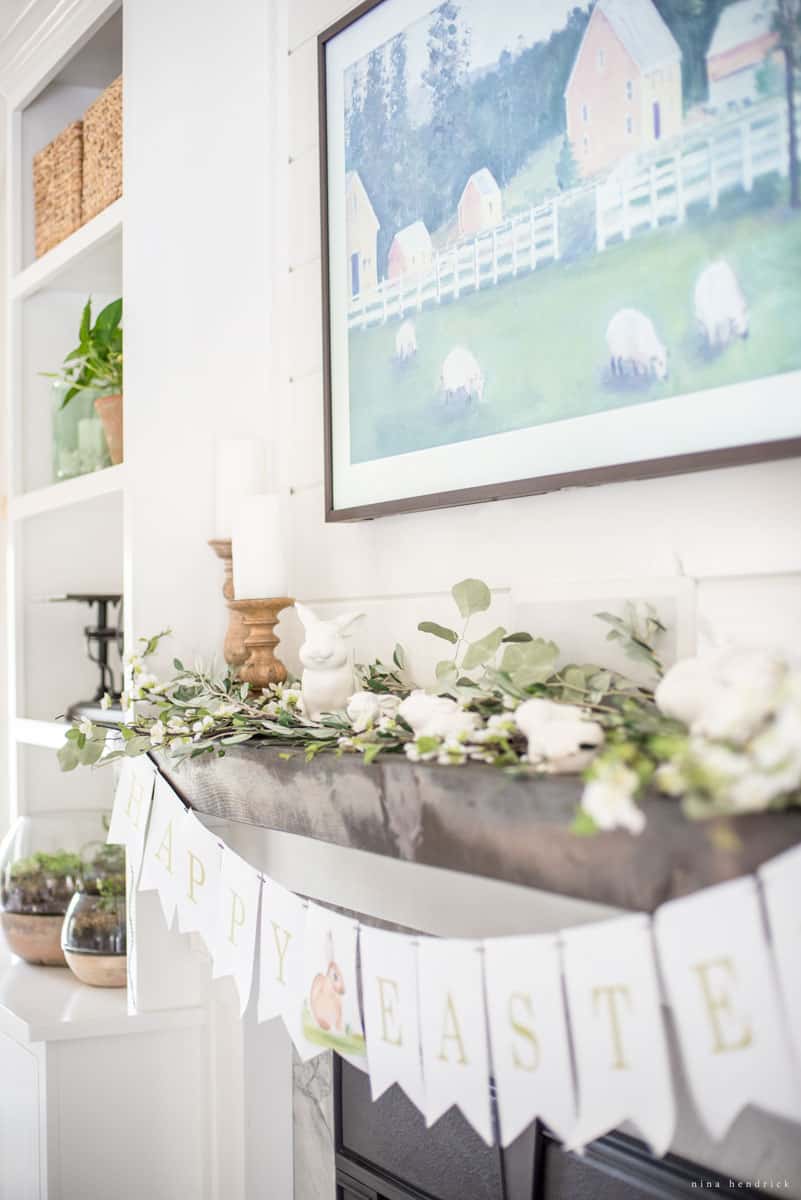 Fortunately, spring mantel decor doesn't have to be hard. Once you know the basic elements of decorating for spring and some handy design guidelines for creating balance, you'll be ready to turn that mantel into something special. Let's get started!
How to Decorate a Simple Spring Mantel
Welcome spring and create an easy spring mantel with these four simple steps as guidelines!
This post contains affiliate links, which means I may get a small commission (at no extra cost to you) if you shop my link. Please see my disclosure if you'd like more info!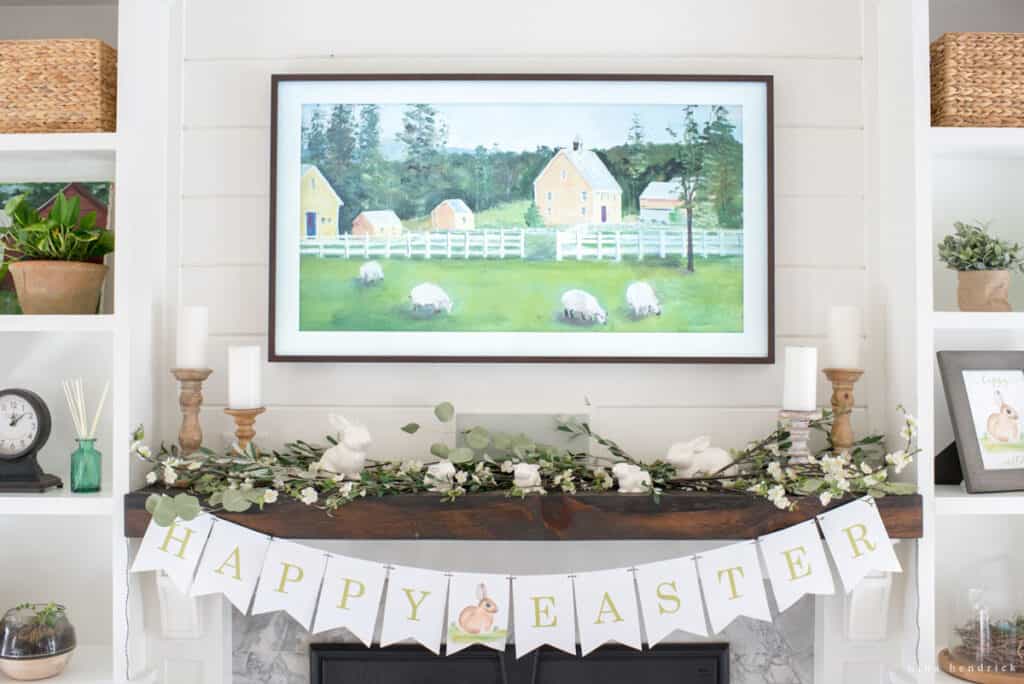 Step 1: Get Inspired by a Theme
The key to spring decorating is to embrace what makes the season so special. So, what did you miss most during the long days of winter? I recommend brainstorming a quick list. Here's mine:
Sunshine
Flowers
Green leaves/grass
Colors in the landscape (i.e., not just winter gray)
Fresh air
The smell of the ocean
Birds singing
Being outside with my kids
Your personal list can vary, but it's a great way to jump-start your search for a theme. Notice that I didn't list many colors exactly (other than green!), but there are plenty of spring colors suggested by my list. Flowers come in all sorts of shades, so you could focus on your favorite pink flowers as a jumping-off point, or maybe you'll gravitate toward yellow for the sun, blue for happier skies, or a classic spring palette of pastels.
You could also let yourself gather inspiration from the idea of the birds returning and consider using that as your theme. That could mean looking for cute ceramic or glass birds while shopping, but you could also get a little more abstract with your theme: twig nests, speckled eggs, and tree branches with budding leaves and blossoms would also work with this theme.
Being outside with my kids is also a very general but fruitful pathway to explore. This could lead to so many cute ideas and themes, from ladybugs and grasshoppers to seashells, picnic baskets, or a colorful tea set.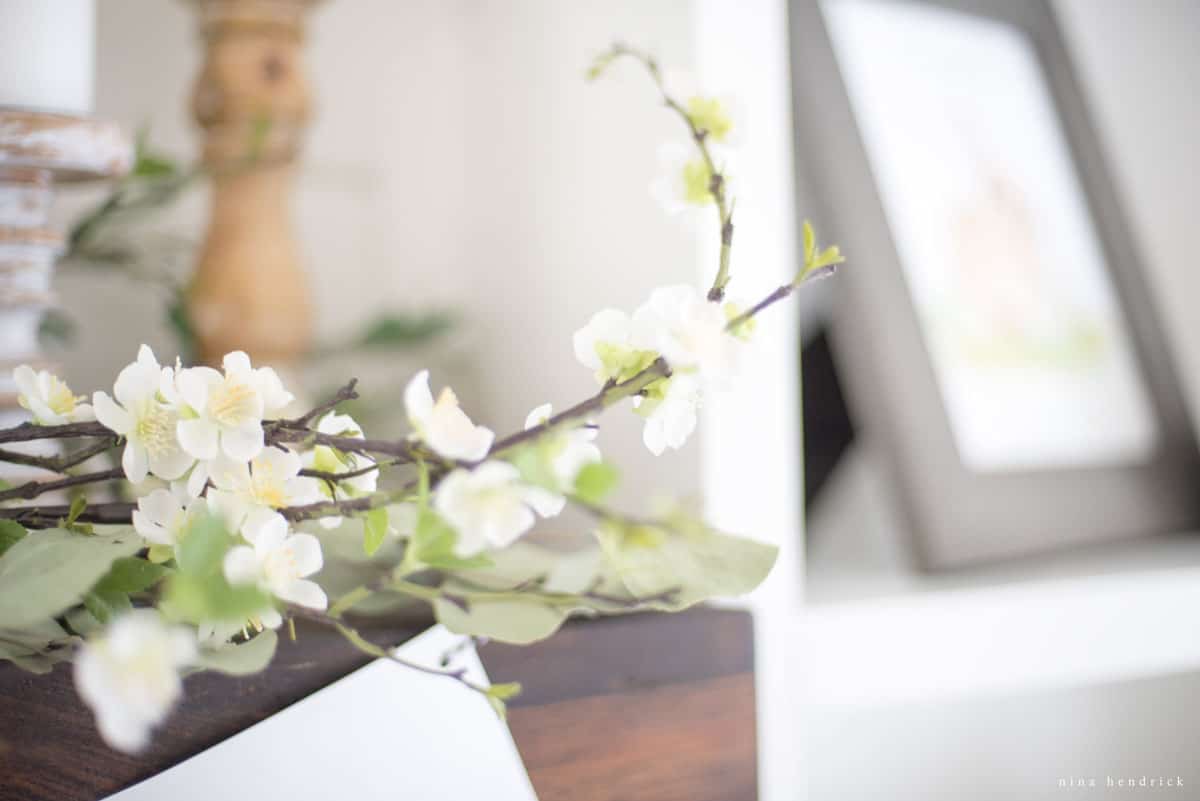 Step 2: Start With Natural Elements
While there are no rules, I would suggest that natural beauty is crucial for spring or Easter mantel decor. That means adding (real or faux) flowers, branches, or other greenery to celebrate the new life that's blooming all around you. Nature should be the foundation of your spring mantel decor ideas, so begin your plan with a list of natural elements that will complement the theme you chose in step one.
To get you started, here are some of my favorite natural elements:
Flowers
Nothing says springtime like a vase of flowers, but you have so many options other than a plain glass vase. You can also consider arranging florals in a glass or ceramic bowl, Mason jars, other kitchenware, or unique containers you pick up at a craft or antique store.
As for the flowers themselves, tulips, daffodils, lavender, and hyacinths are classic spring choices, and you can purchase them as cut flowers or forced bulbs, which will last for several weeks. In general, flowers that are in season will last longer than more exotic varieties, but you should decorate with what you love!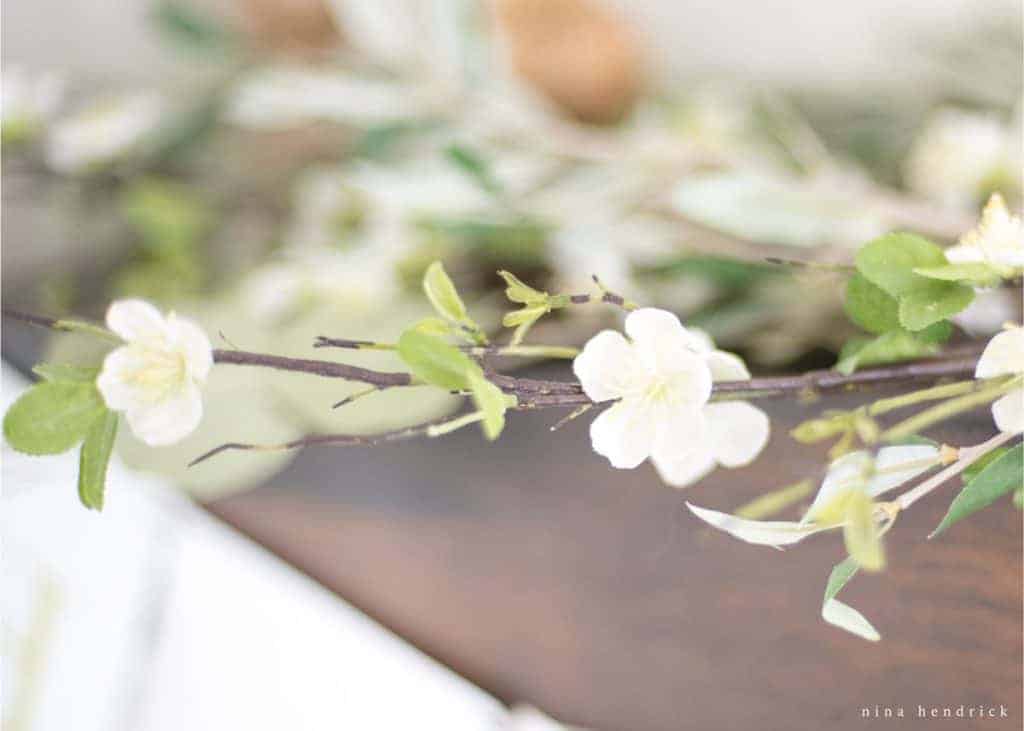 Blossoming Branches
For more structure and interest, you can add branches to your decor as well. Curly willow branches and grapevine cuttings add lots of texture to your mantel decor. You can also find fuzzy pussy willow branches in the spring. It's also possible to force branches into flowering indoors: forsythia is the classic choice for this, but it also works with cuttings from crabapples, cherries, and magnolias. It feels like such a treat to have spring tree blooms inside!
Leaves and Greenery
Speaking of magnolias, their leaves make wonderful, long-lasting greenery for your fireplace mantel—and they're much more spring-like than traditional evergreen branches. Likewise, you can add fern fronds and other leafy greenery to your mantel to conjure up the magic of spring indoors.
Tip from Nina: If you choose to work with live flowers and greenery, have a plan to replace items as they begin to wilt. Faux greenery and flowers look more realistic than ever, so they're also a really good choice for your mantel—especially if you like the idea of covering your mantel with a foundation of flowers or hanging a garland of greenery.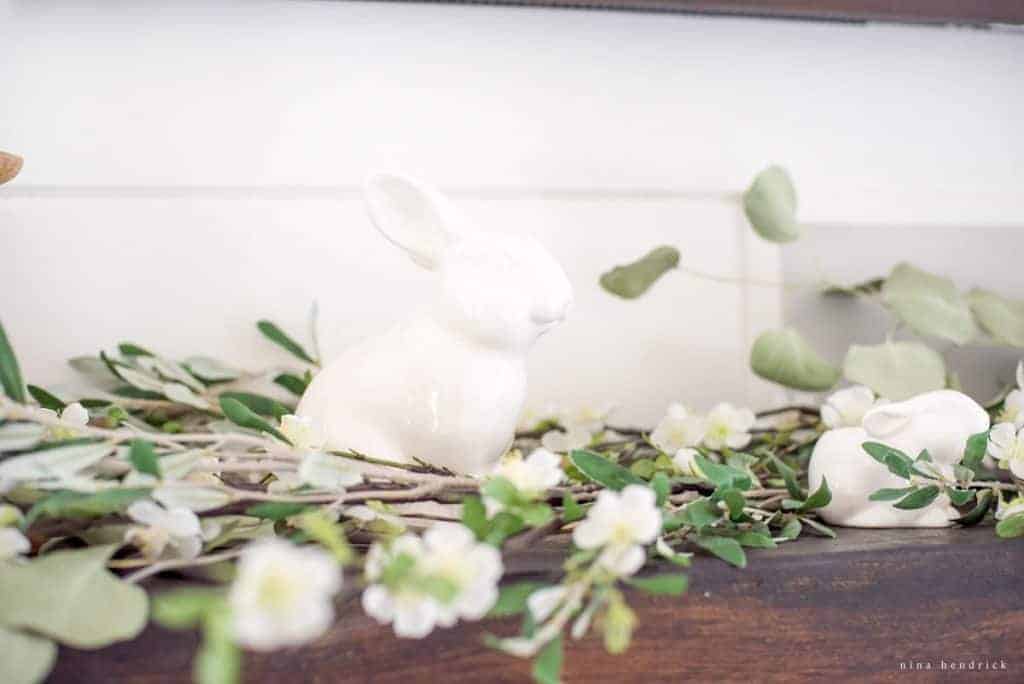 Step 3: Add Other Elements
Once you've chosen your theme and your natural foundation, it's time to round out your mantel decor with a few other accents and accessories. This is where your theme can really shine, so go shopping with your color palette and natural items in mind.
Of course, "shopping" can start at home! Look around to see what you already have that can work on your mantel, whether it's a few framed photos, some favorite candlesticks, or even your childhood Easter basket. Once you've gathered potential items from home, you can go shopping for any remaining elements to tie everything together and fill the space.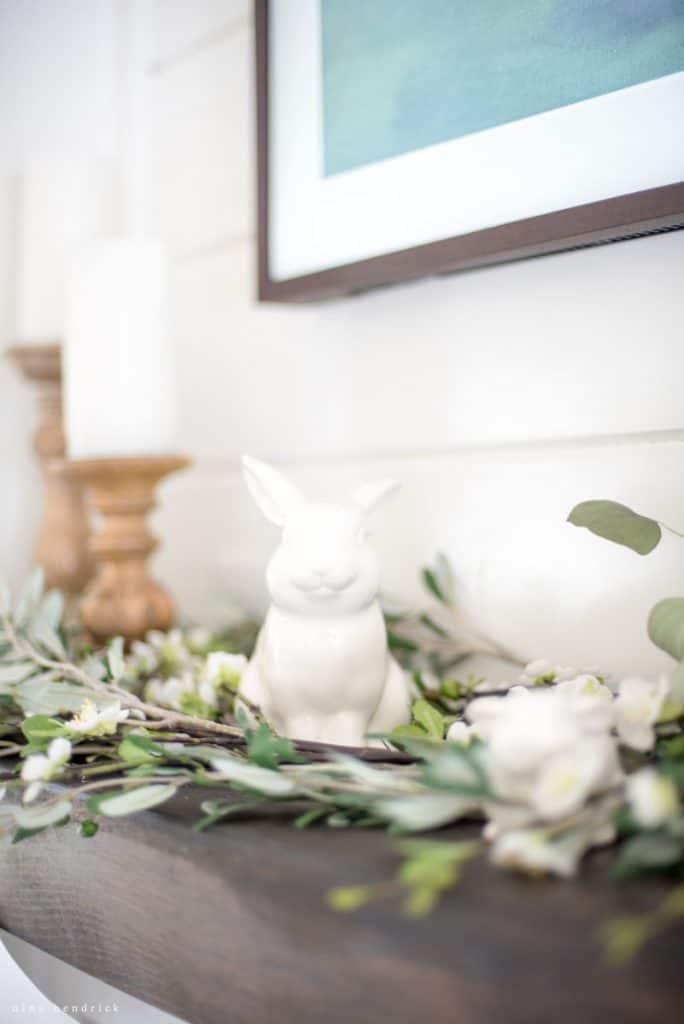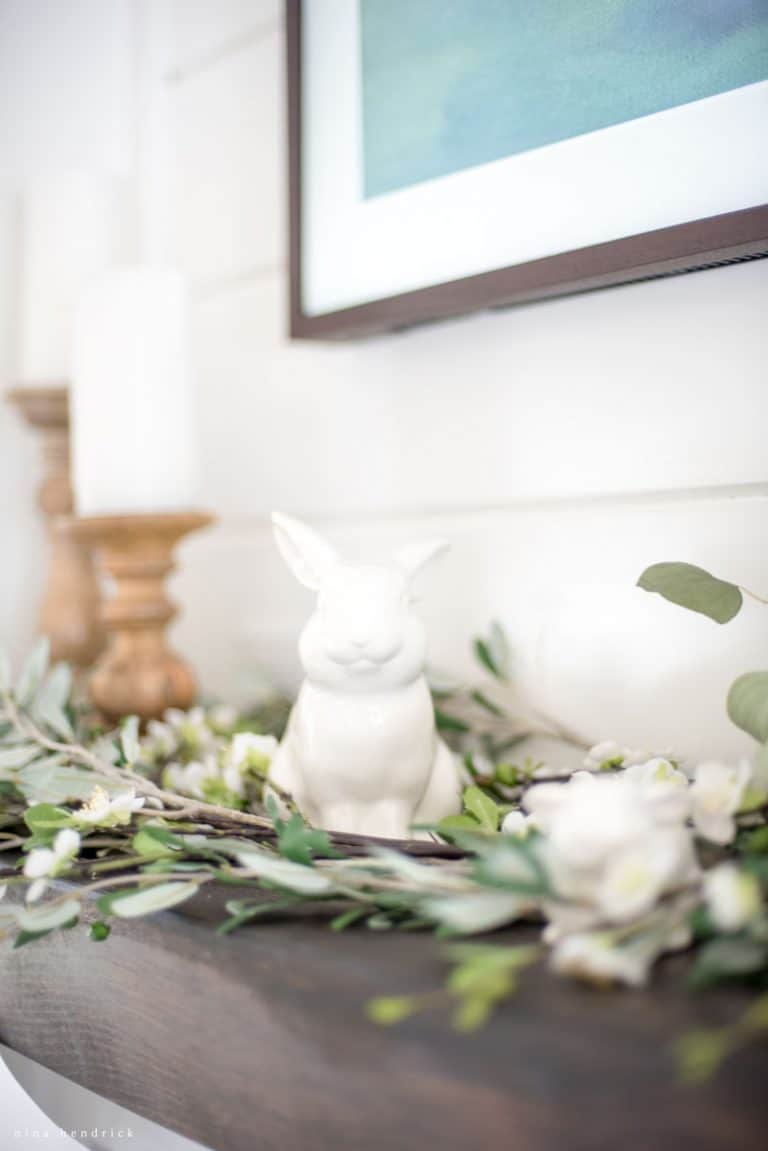 Here are some of my favorite spring mantel decor ideas to inspire you:
Candle holders
Interesting ceramic vessels, bowls, and vases
Antique glass dishes
Bud vases
Hurricane lamp covers
Photos in frames, if they evoke the season
Framed artwork, especially interesting prints or watercolors
Books
Baskets and wicker elements
Classic Easter decorations like animal figurines and Easter eggs
Plants
Garlands
Printed signs
Seashells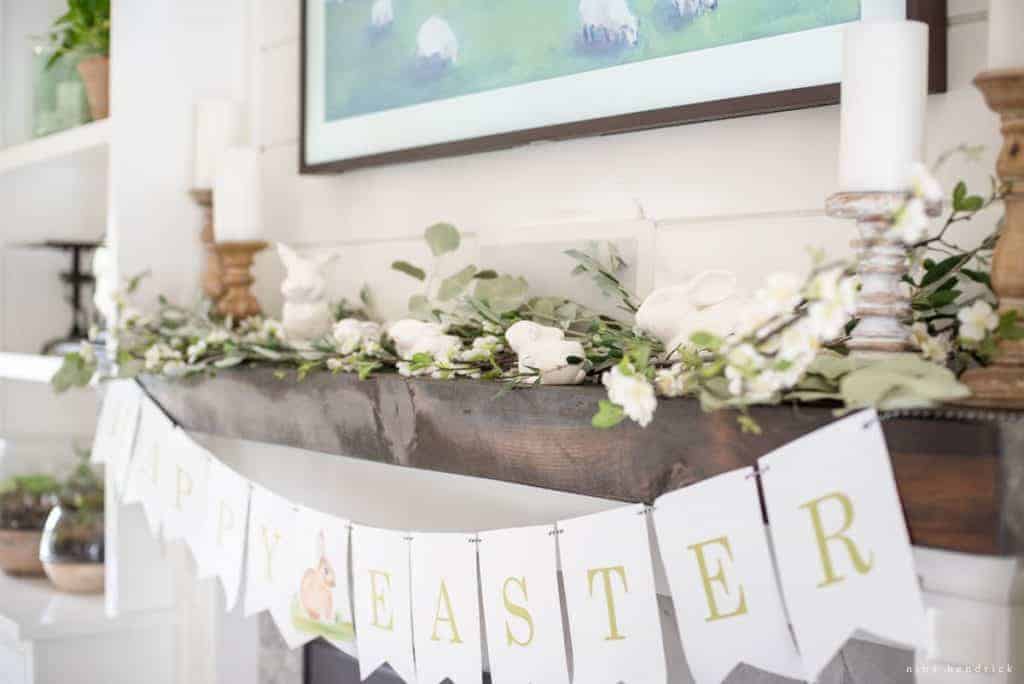 Step 4: Arrange It
When it comes to arranging items on your mantel, the goal is balance, but not necessarily symmetry. In fact, you want to avoid perfect symmetry and a perfectly matched look, so that the eye travels from one item to the other—and so that you leave a few more "discoveries" hidden amongst your layers to keep things interesting throughout the season!
Start with your base: This is an item that will spread over the mantel and tie all the elements together. It could be fabric or a leafy garland. I chose flowering branches spread over the mantel and a "Happy Easter" printable banner. Whatever you choose, your base should stretch across the majority of the mantel to visually connect all your other elements.
Anchor the outside: Next, place your tallest items on the outside edges of your mantel. Ideally, these items will be roughly the same height, but they don't have to be mirror images of each other. It can be interesting to use different heights! I used candles to anchor the outer edges on my spring mantel, but you could use any large item you like. Tall vases or urns work well here, too.
Choose your centerpiece: With your anchors in place, it's time to choose an item for your place of honor in the center to serve as your natural focal point. This could be one large, but low, item, like a traditional mantel clock. It could also be a collection of items that form a nice grouping. It's best to form groups of items with odd numbers: groups of three or five are much easier to arrange pleasingly than even numbers. If you have a work of art or a flatscreen TV (or a TV disguised as art!) above your mantel, that's going to be your centerpiece, so you can skip this part.
Fill in the field: Finally, it's time to fill in any gaps with a few smaller items. This step is optional, and it's really just a matter of taste. If you have a large mantel with lots of space between your centerpiece and anchor points, adding a few additional pieces will help tie everything together and add depth to the overall design.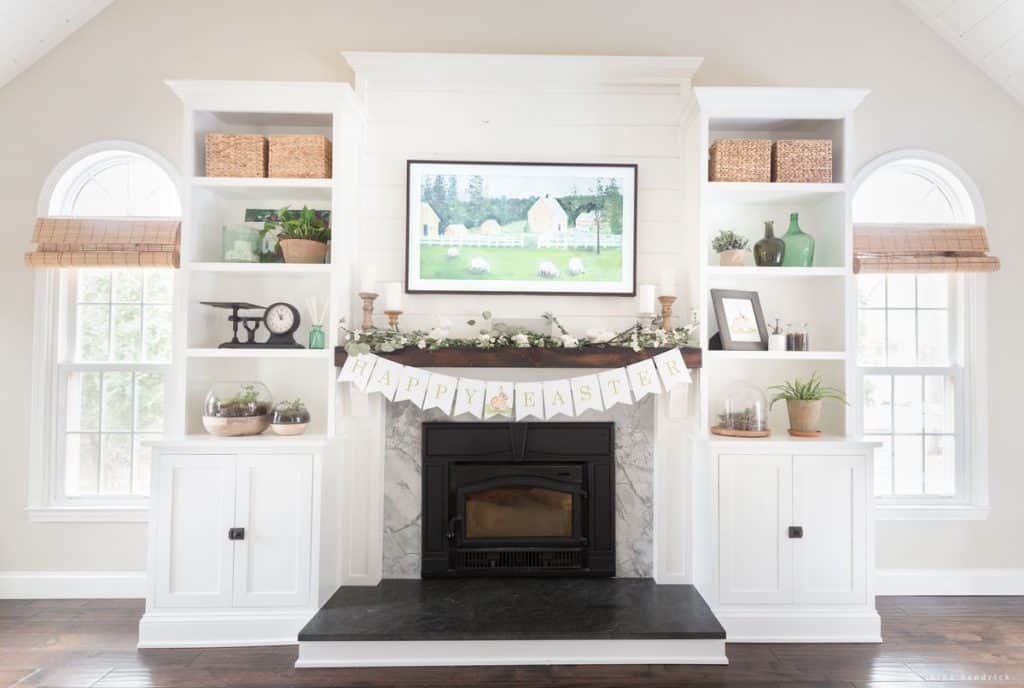 My Favorite Easter & Spring Mantel Ideas
So how did my spring mantel decor turn out? Let's look!
I chose a base of flowering branches to evoke nature and tie everything together with green leaves and white blossoms. The Easter printable banner can easily be removed after the holiday, but everything else is general spring decor that will look great well into May.
For the anchors, I have four candles. Notice that they are approximately the same height, but that the holders are actually different, so we have balance rather than perfect symmetry.
Finally, I have a big framed TV that I can change the artwork on, so this acts as the centerpiece. To complement it, I added these cute ceramic bunnies to the rest of the mantel—again, with the taller ones on the outside and lower items toward the center. I bought these five bunny figurines a few years back to represent our family. The kids always love to say who each one is, even though the little ones are all the same.
So there you have it! I love this simple spring mantel decor because it's very calming, but it definitely breathes new life into the living room. How will you decorate your mantel this spring? Let me know in the comments of this post or comment on my Instagram @ninahendrickhome!