Spring Mantel Decor Ideas for Easter
Get ready for Easter with this spring mantel decor featuring bunnies and spring branches.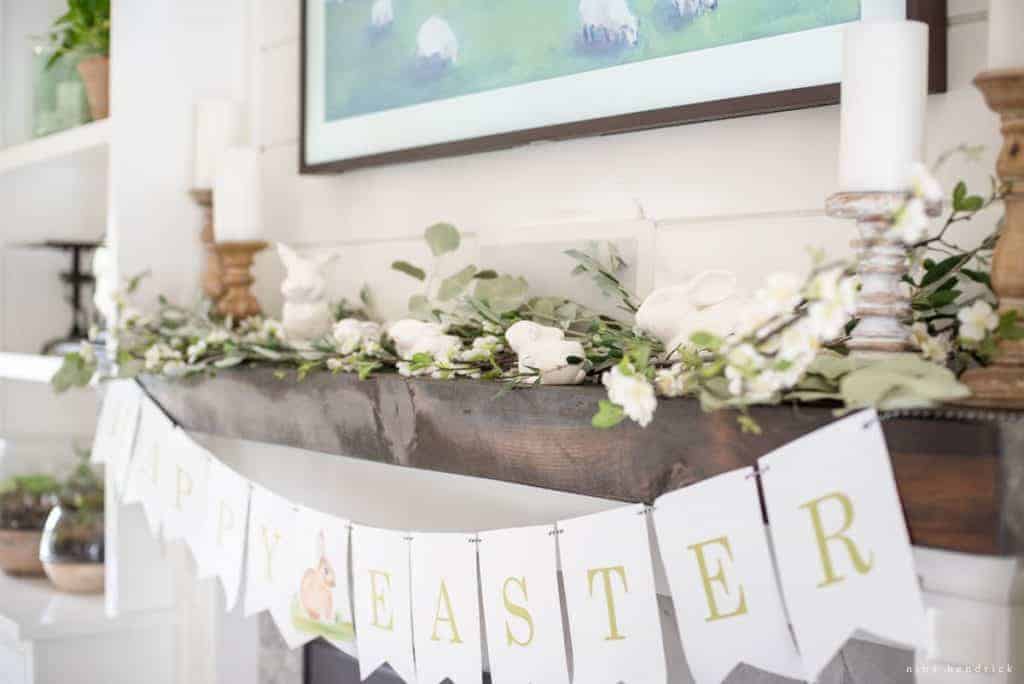 Today, I'm sharing my first ever spring mantel decor post! You can visit some pretty spring mantels and vignettes at the bottom of the post.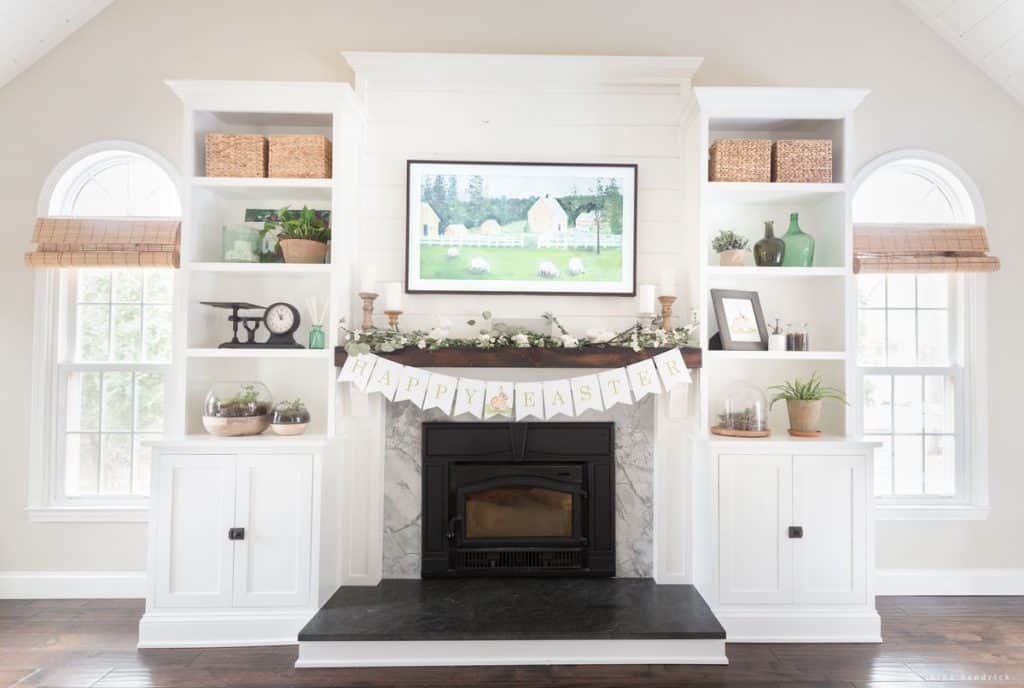 If you've been around long, you know my love-hate relationship with our mantel. I've always loved the potential it had (along with other spaces in our fixer-upper), but it was really tough to decorate!
Between the giant TV teetering over the mantel, giant speaker, and bare-bones vibes, there was a lot of real estate that wasn't properly utilized, which made it hard to get in the decorating spirit of any holiday.
Since then, we've installed these beautiful built-in shelves, revamped the fireplace with a soapstone/quartzite look, and gave this room a fresh coat of paint. And let me tell you, it felt like springtime!
A major improvement in this living room was the installation of our framed TV. If there's one thing I would encourage you to do, it would be to get a framed TV! It's still a TV but appears like a framed piece of art. Instead of making the TV a focal point of the room, it's hidden away and gives the room a cohesive look and feel.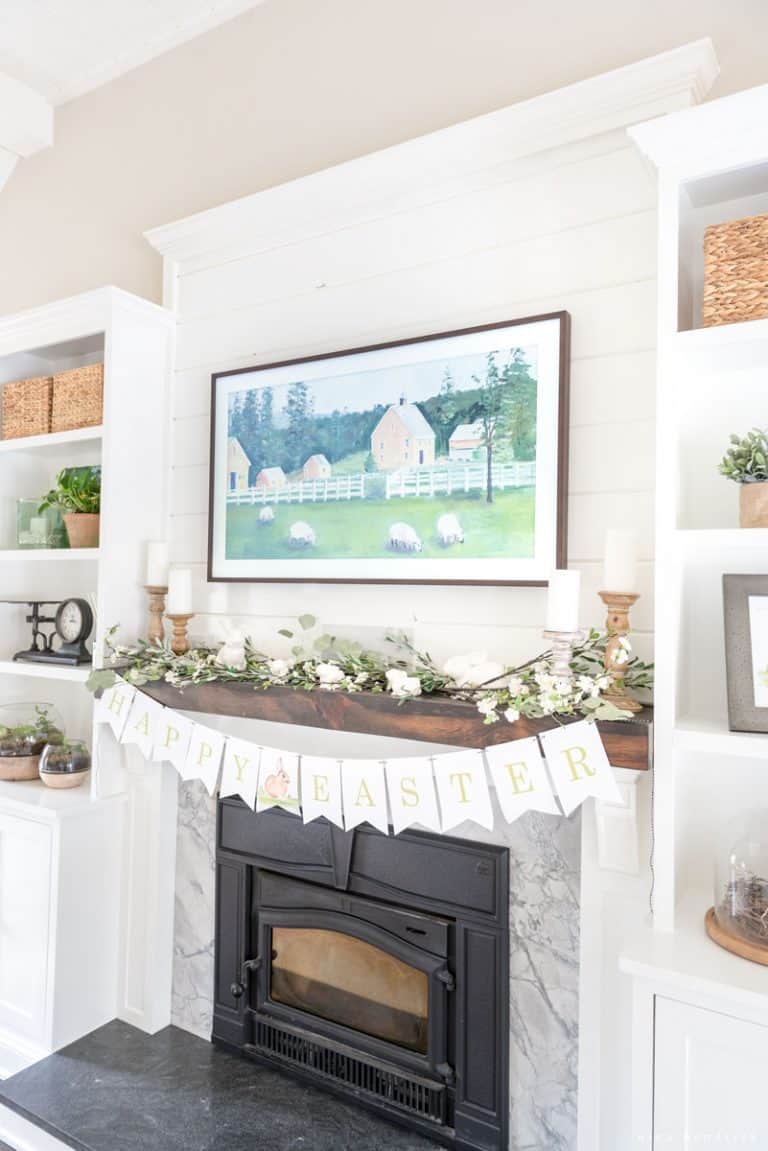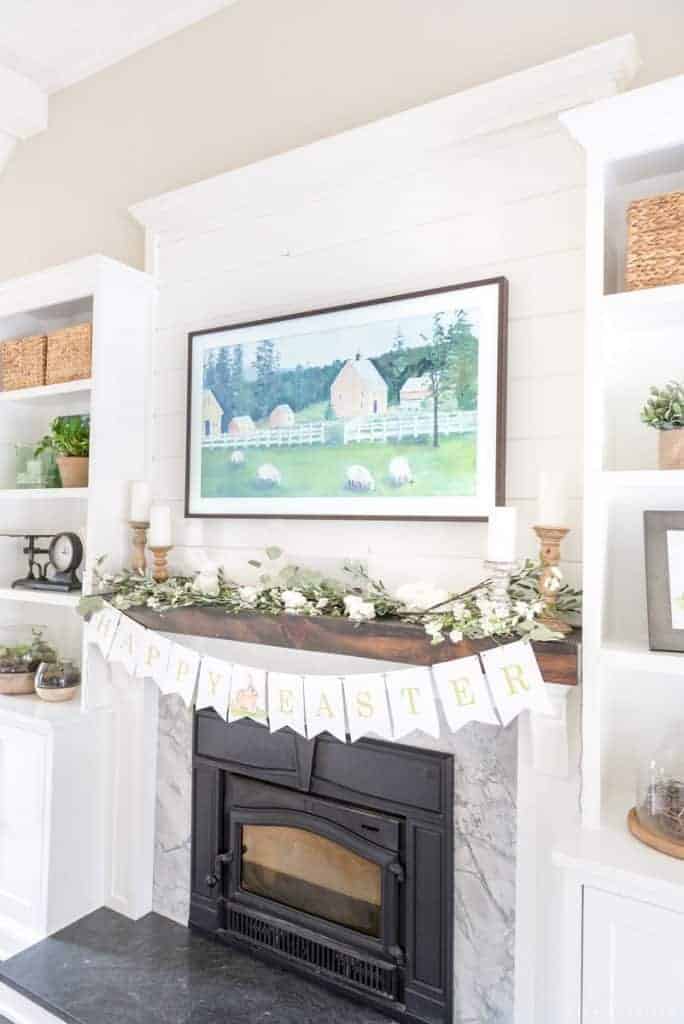 I could go on and on about the difference it made in this room, but to get a full grasp on the dramatic before and after, you'll need to see how we took our living room from big and shallow to warm and cozy with natural colors and soft textures.
Easter Mantel Decor
I love springtime! And the way I really get into the spirit of celebrating all things new is decorating our living room. Besides our breakfast nook, we spend a lot of quality time here.
The mantle is the main focal point of our living room, and I love to give it a little extra TLC with spring and Easter decorations.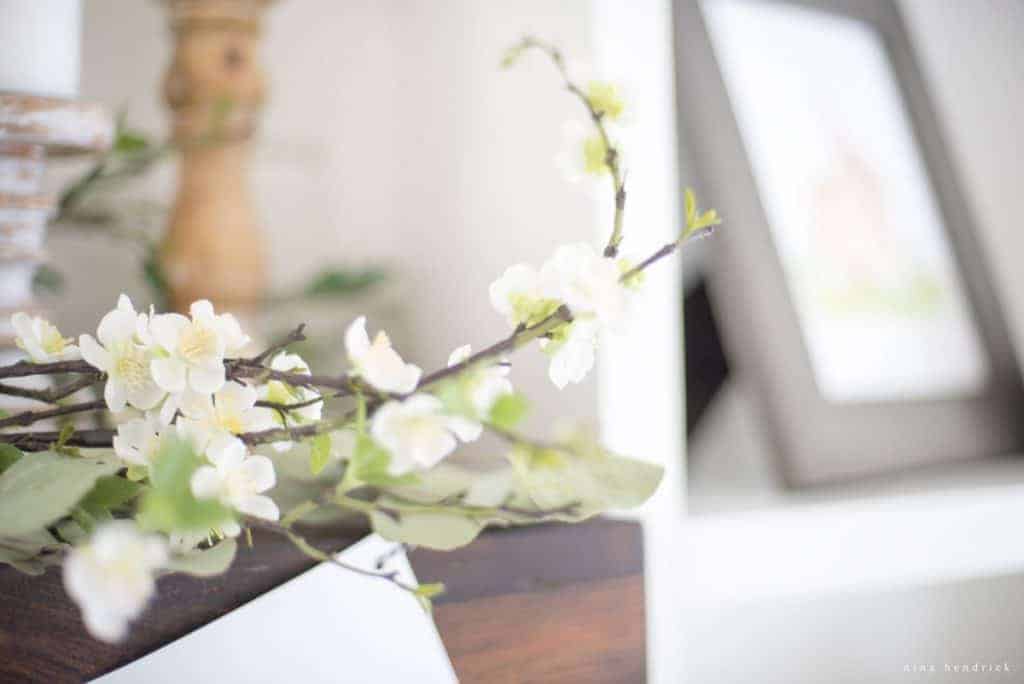 How do you decorate a spring mantel?
There's really no right or wrong way to decorate your home. It's all according to your style and preferences, which is why it's so important to know your decorating style, then pull together items that reflect your style.
For a mantel, start with greenery to lay a foundation, just like I did here: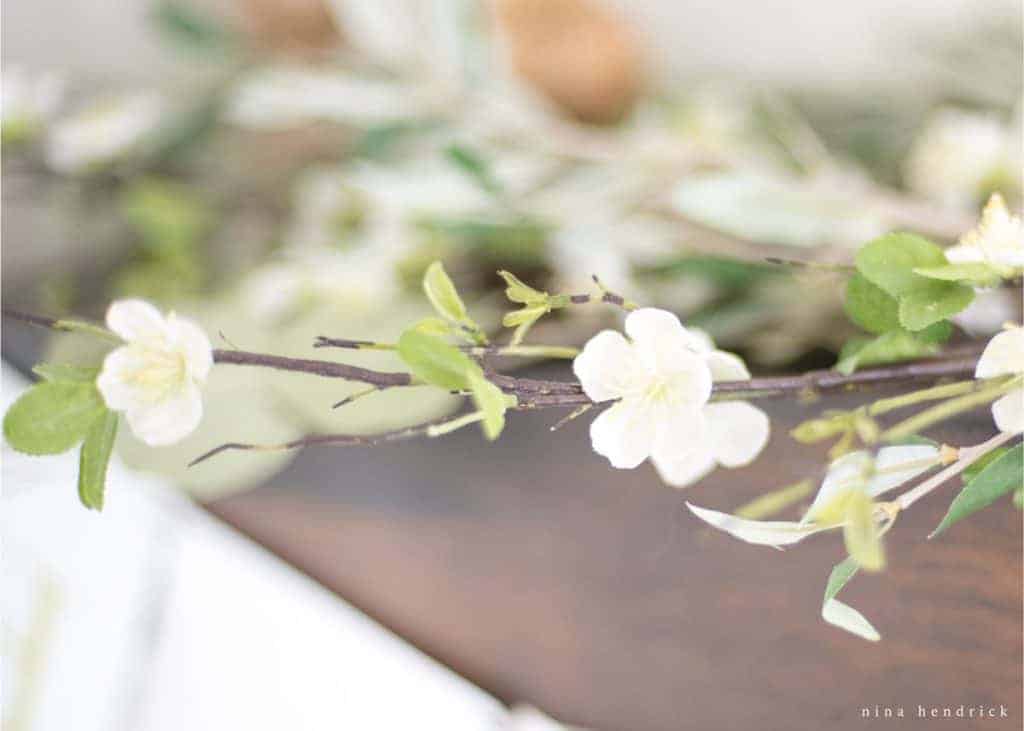 You can also use other items like garlands, fabric, and other "flat" items as the groundwork.
After your "foundation" is laid, start arranging the rest of your decor to balance out the mantel.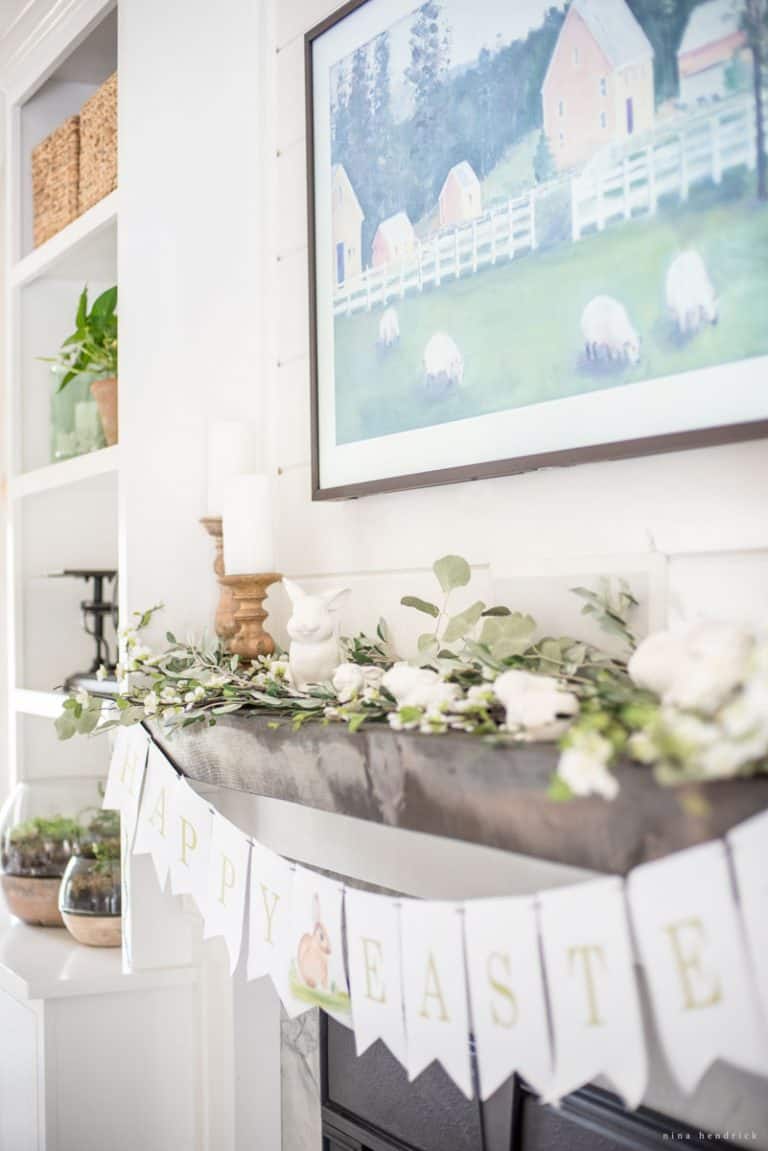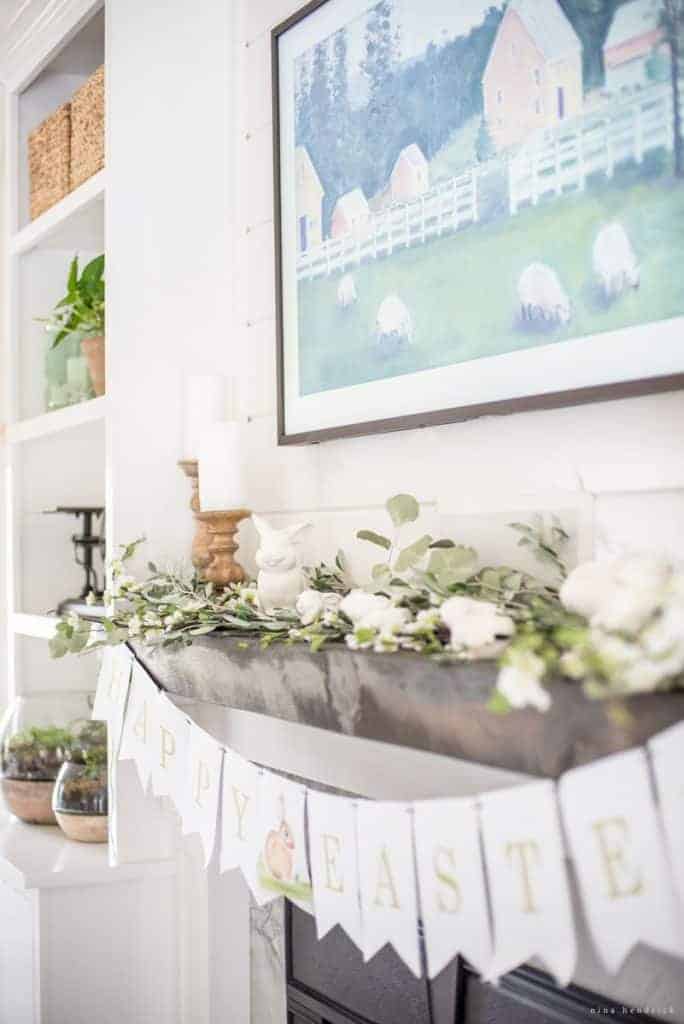 A few important basic decorating tips:
Place items in groups of odd numbers, like 3, 5, or 7 for larger spaces.
Vary the heights of the items, keeping the taller things on the outside.
Basically, your mantel should look balanced to the eye. Typically, the items will go from tallest to smallest from the outside working in. Pick up on other colors in the room and bring those in with your decor…
You can even make your technology work for you! I can't even tell you how nice it is not to have to work around a TV. I have always said that they should make technology livable, and this is one case where they succeeded.
It isn't perfect- you can still tell that it's backlit, but it is so much better than what was there! It was our Christmas gift to ourselves, and it was definitely a worthwhile investment.
Then, add in smaller items…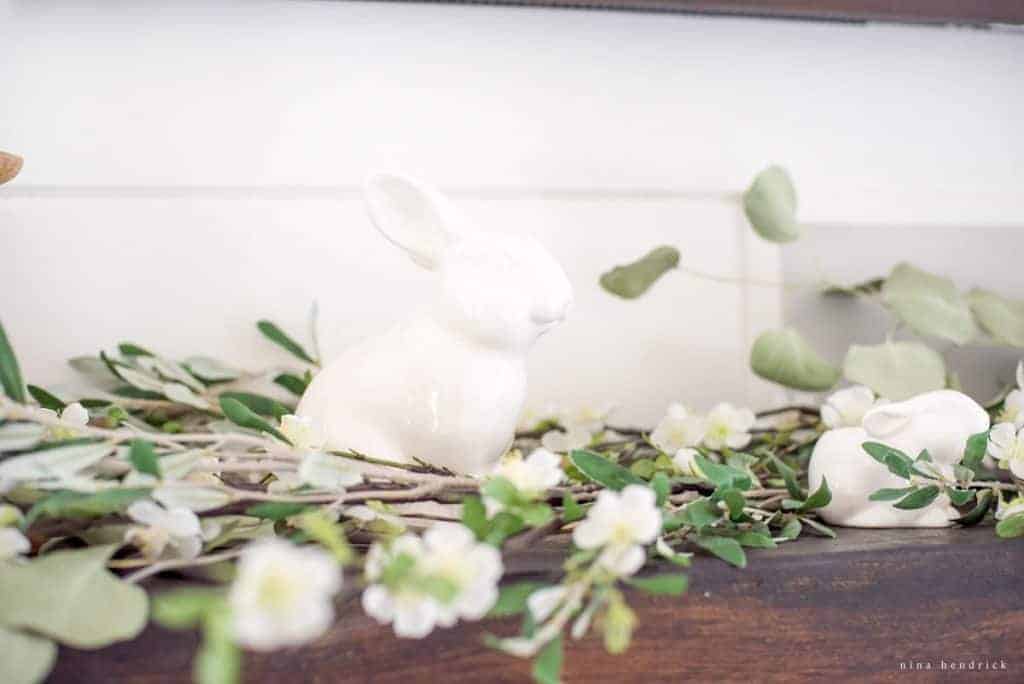 I bought these five bunny figurines a few years back (to represent our family). The kids always love to say who each one is, even though the little ones are all the same.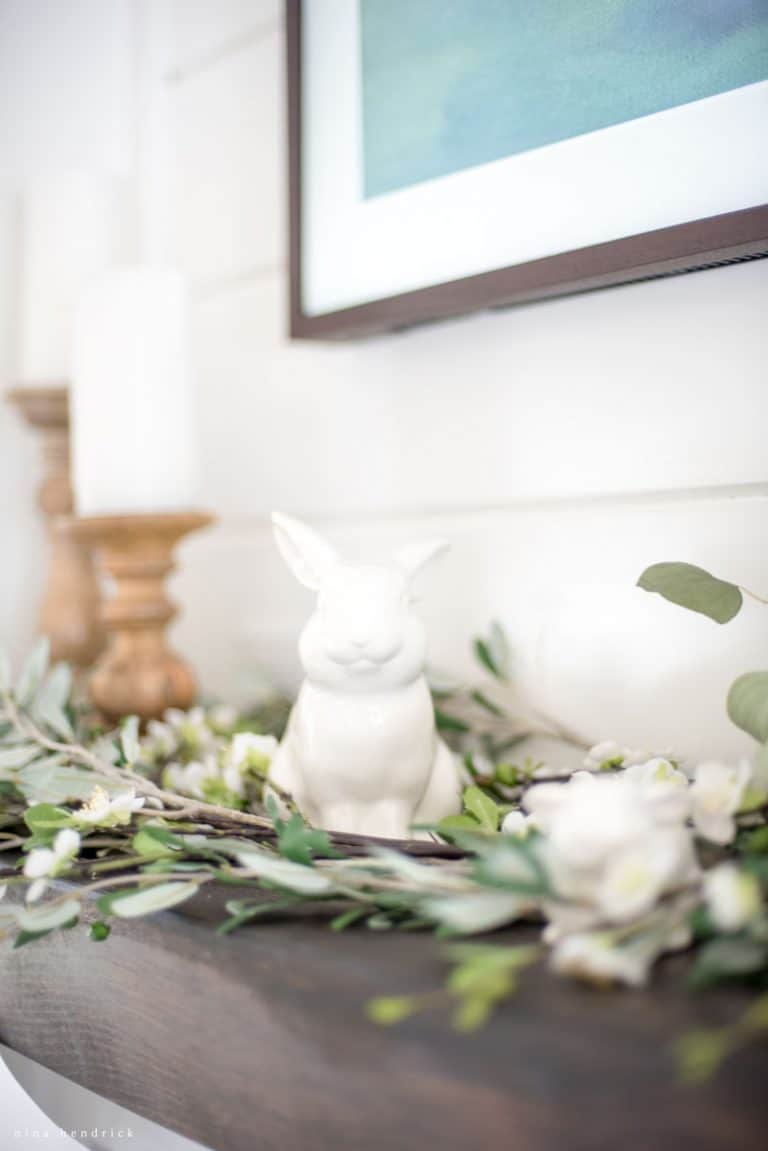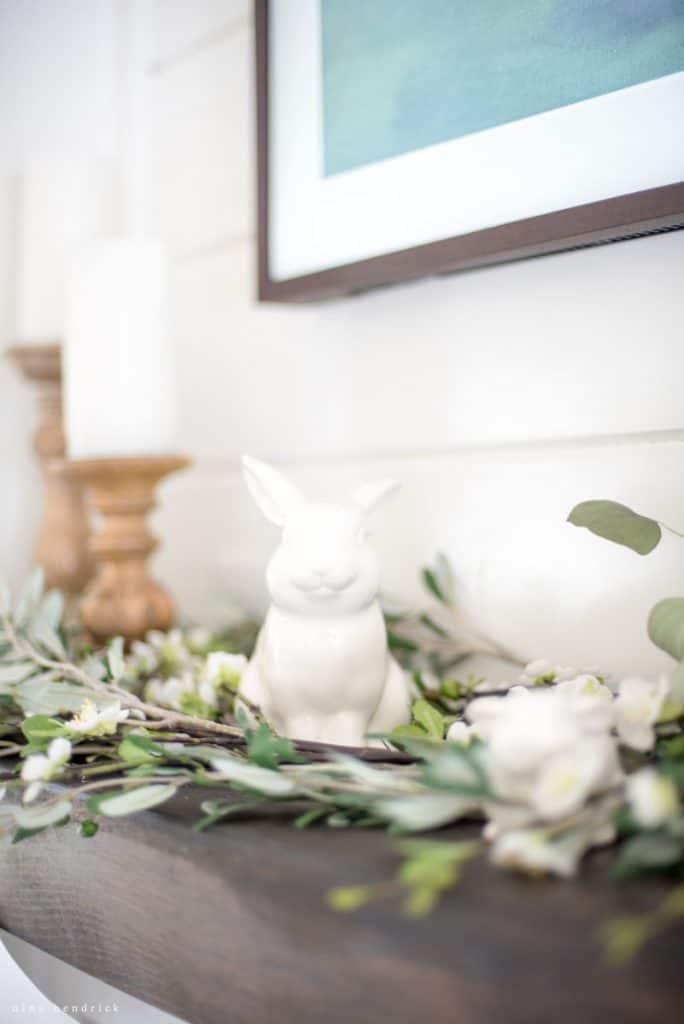 After you are pleased with your mantel, add other related items to the space.
For example, I saved the Printable Easter Banner from last year featuring the little bunny I painted. You can also see the 8×10 Print version up in the corner. I didn't really mean to triple up on the bunny decor, but you could use a nest watercolor instead, too.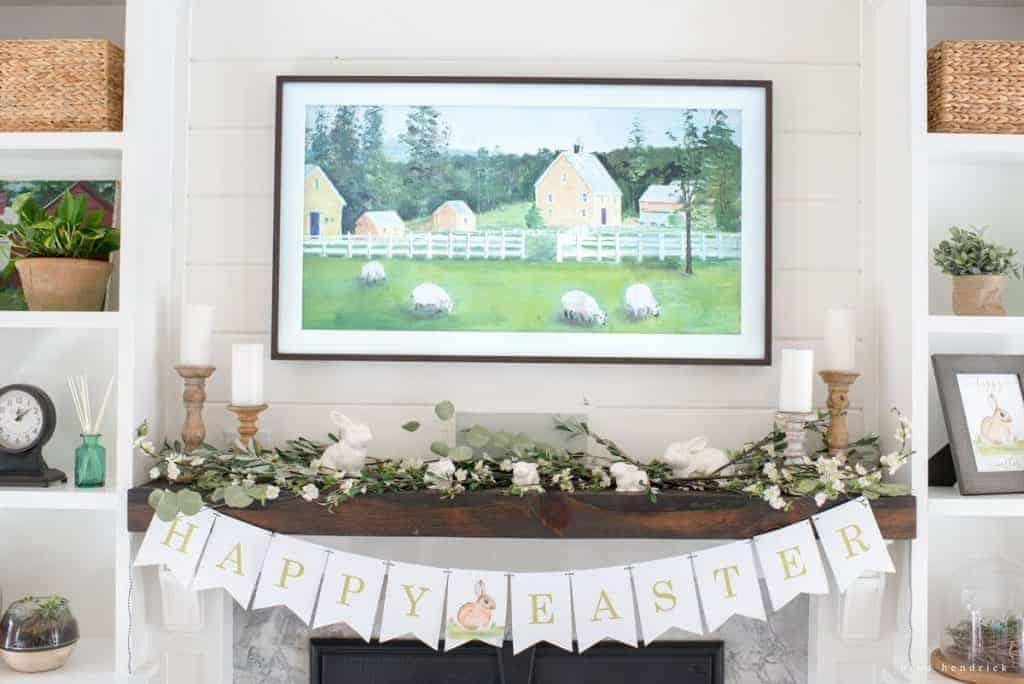 Thank you so much for stopping by today! Please make sure to visit my other friends below!
Today some of my friends are sharing their beautiful and inspiring Spring mantel decor or a Spring vignette. Hop over to see what they are sharing…
Duke Manor Farms / Nina Hendrick Design Co. (you're here!)/ Town and Country Living / Deeply Southern Home
Amber Tysl / In My Own Style / Place of My Taste / Jamie Costiglio
Setting for Four / Shabbyfufu / Decor Gold Designs / Sincerely Sara D.
The Happy Housie / Craftberrry Bush / On Sutton Place / Kelly Elko / Rooms FOR Rent
Zevy Joy / Willow Street Interiors / Summer Adams / A Burst of Beautiful
Sincerely, Marie Designs / Rambling Renovators / The Turquoise Home / Paint Me Pink