A fun, floral Easter tablescape is the perfect way to welcome spring and get your home ready for a brand-new season. Get inspired with these decorating ideas.
Who's excited for spring?
Even though it takes a while for New England to catch up on sunshine and warmer temperatures—and it will be quite some time before flowers are blooming outdoors again—knowing that Easter is around the corner always puts me in the mood for springtime decorating and entertaining. It's the perfect time of year to refresh your decor with some color and greenery.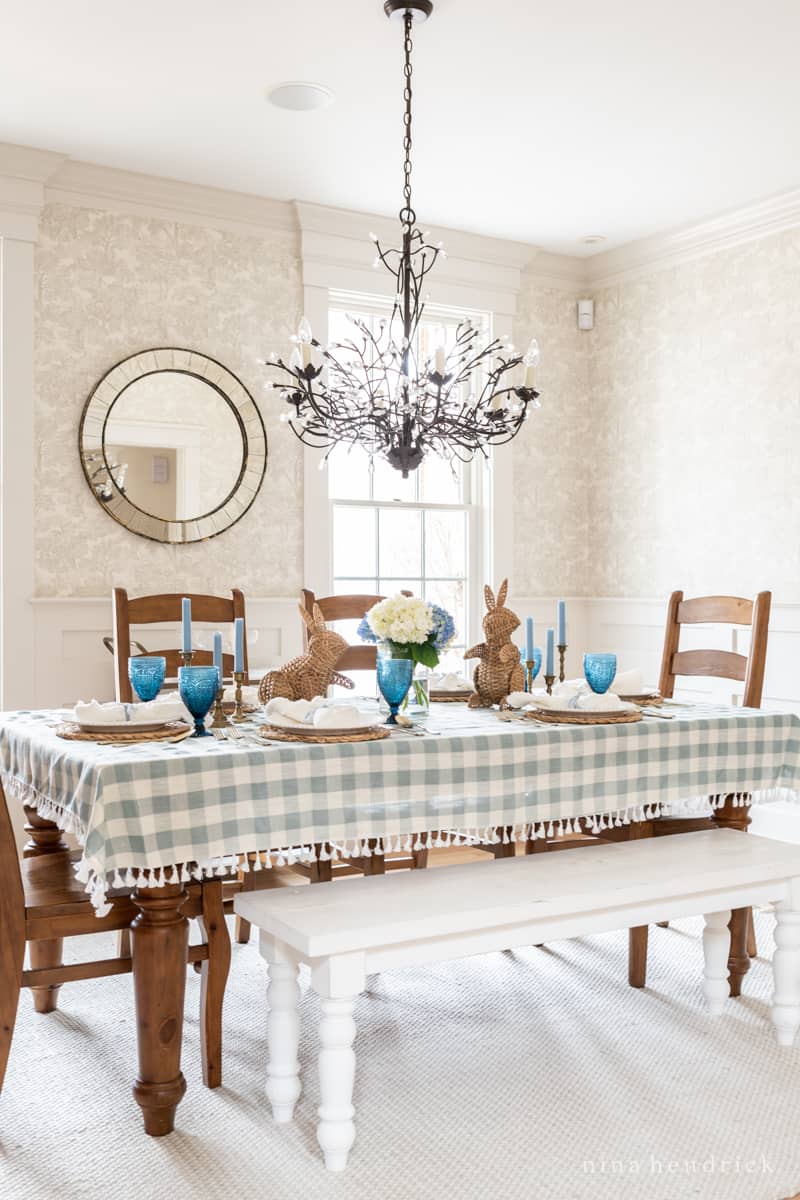 It's amazing what even a simple bouquet of flowers from the grocery store can do to boost your mood at this time of year. But you don't have to limit yourself! A full spring tablescape is a perfect way to decorate for an Easter brunch or other family gathering. And when Easter is over, you can still enjoy the breath of fresh air that a well-crafted tablescape provides for your home.
Not sure where to start? Don't worry! I've collected photos of my all-time favorite Easter table decor to inspire you, plus plenty of tips on how to create a balanced tablescape that will help you build the perfect springtime focal point for your home.
This post contains affiliate links, which means I may get a small commission (at no extra cost to you) if you shop my link. Please see my disclosure if you'd like more info!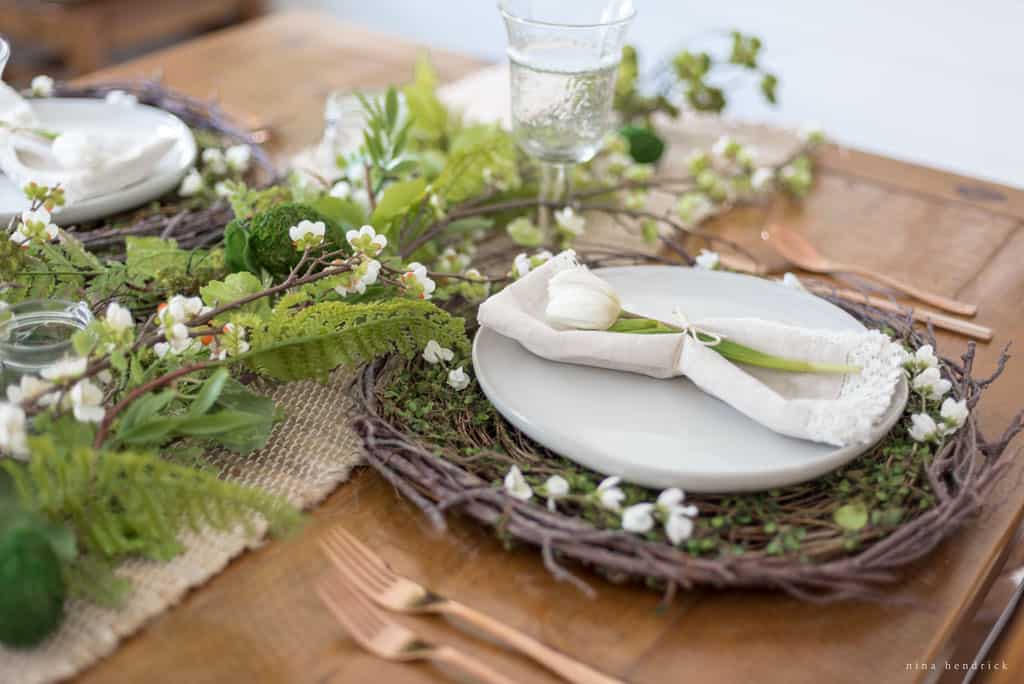 Why Design a Tablescape?
Traditionally, tablescapes are for entertaining. The idea is that you gather your guests around your dining table for a stunning meal—one made even more special by a beautiful centerpiece that runs the length of the table. A tablescape is more than just a vase of flowers—it's a whole experience.
But even if you're not planning a party, I say that a tablescape makes a great anchor for your seasonal decor. It's the perfect opportunity to highlight some smaller, elegant pieces in a place where you'll get to enjoy them every day. Your table is an ideal focal point for seasonal decorating, too—especially if you don't have a fireplace mantel or other area of your home that serves that purpose.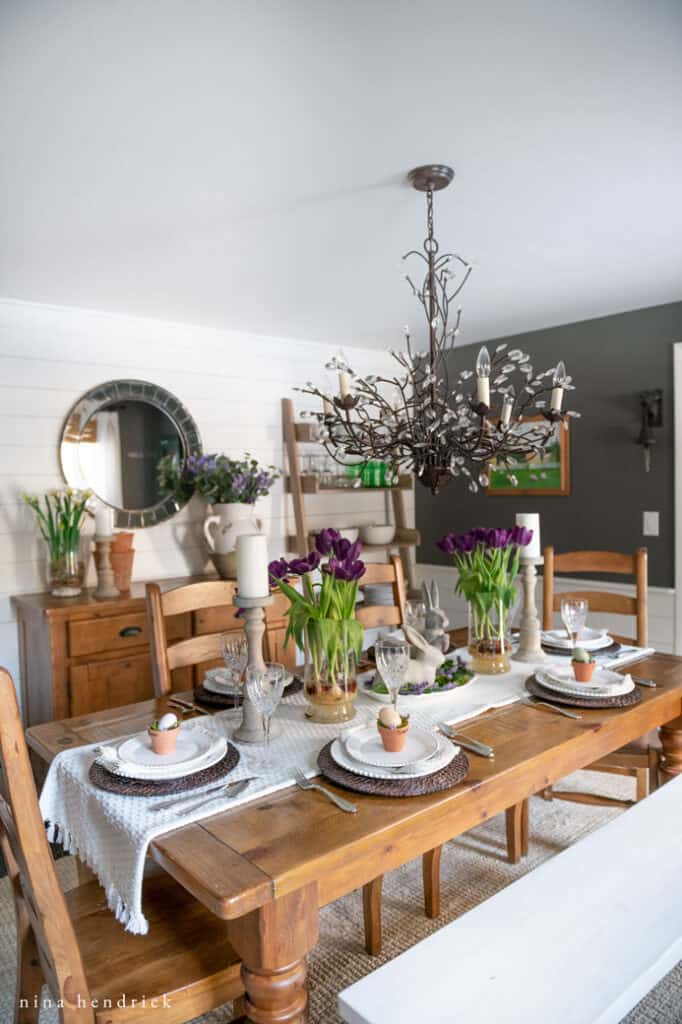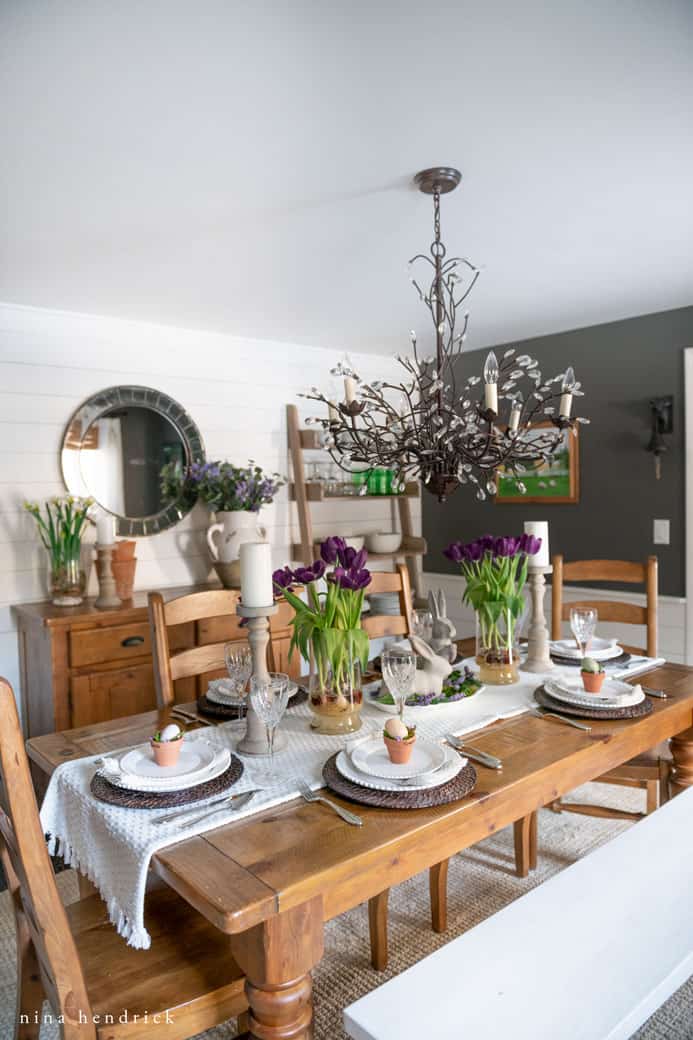 Spring Tablescape Basics
To get started with your tablescape, think about what theme you'd like to build your decor around. You could choose a color, a pattern, or a texture/fabric, or build your tablescape around a favorite piece of decor, like a crystal vase or some vintage ceramics.
For springtime and Easter table settings, your choices are wide open—maybe too much so? Here are some classic ideas to get you started.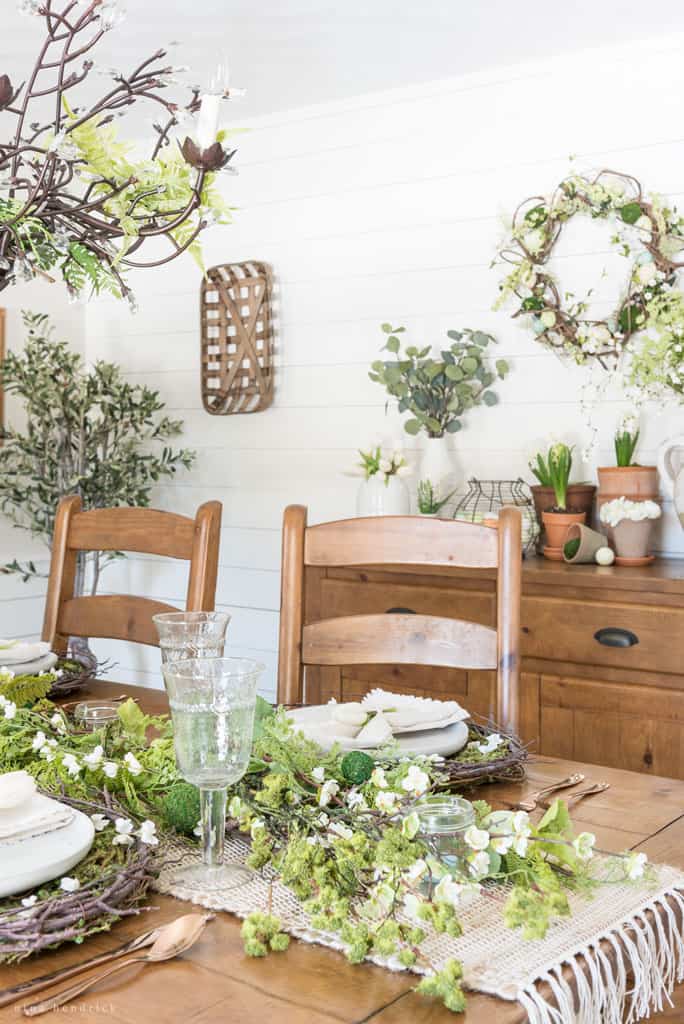 Colors
Pastels are classics for spring decorating, so choose your favorite as a unifying theme for your tablescape. To keep your tablescape from being too much like a Hallmark card, try a more limited, curated color palette instead of going for the whole rainbow. For example, pair your favorite pastel with white for a clean look, or choose two tones near each other on the color wheel (pale yellow and light green, for example).
You can also create a more sophisticated feel by leaning into a palette of neutrals, natural wood tones, and "dusty" tones or your favorite colors. If you've ever seen a box of naturally pink, blue, green, white, and brown eggs at a farmer's market, you have a mental jumping-off point for a gorgeous, modern Easter color scheme.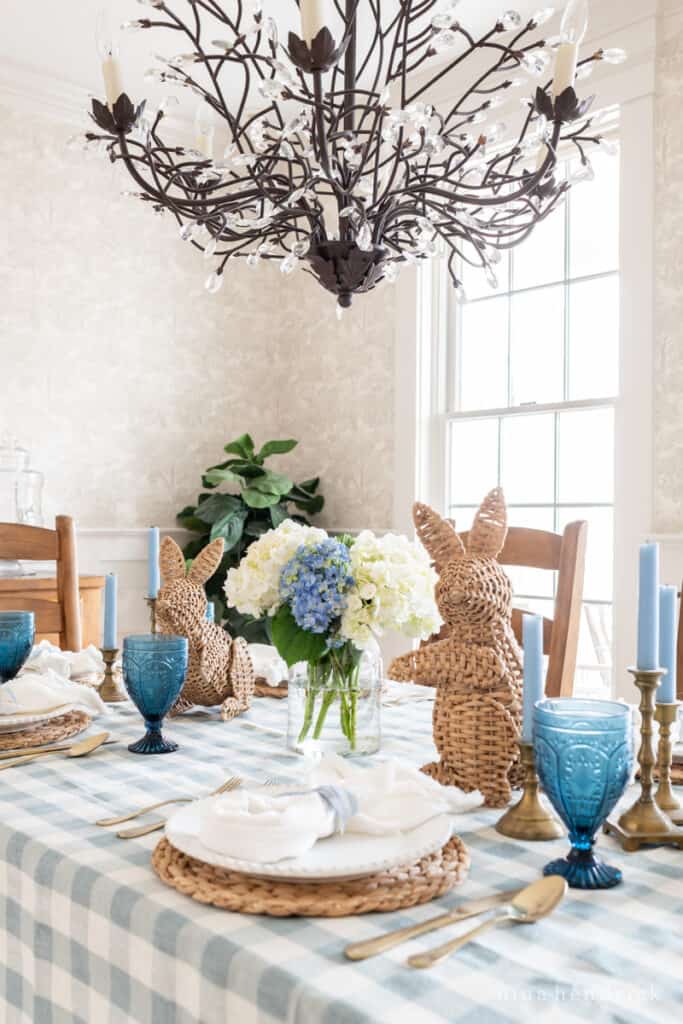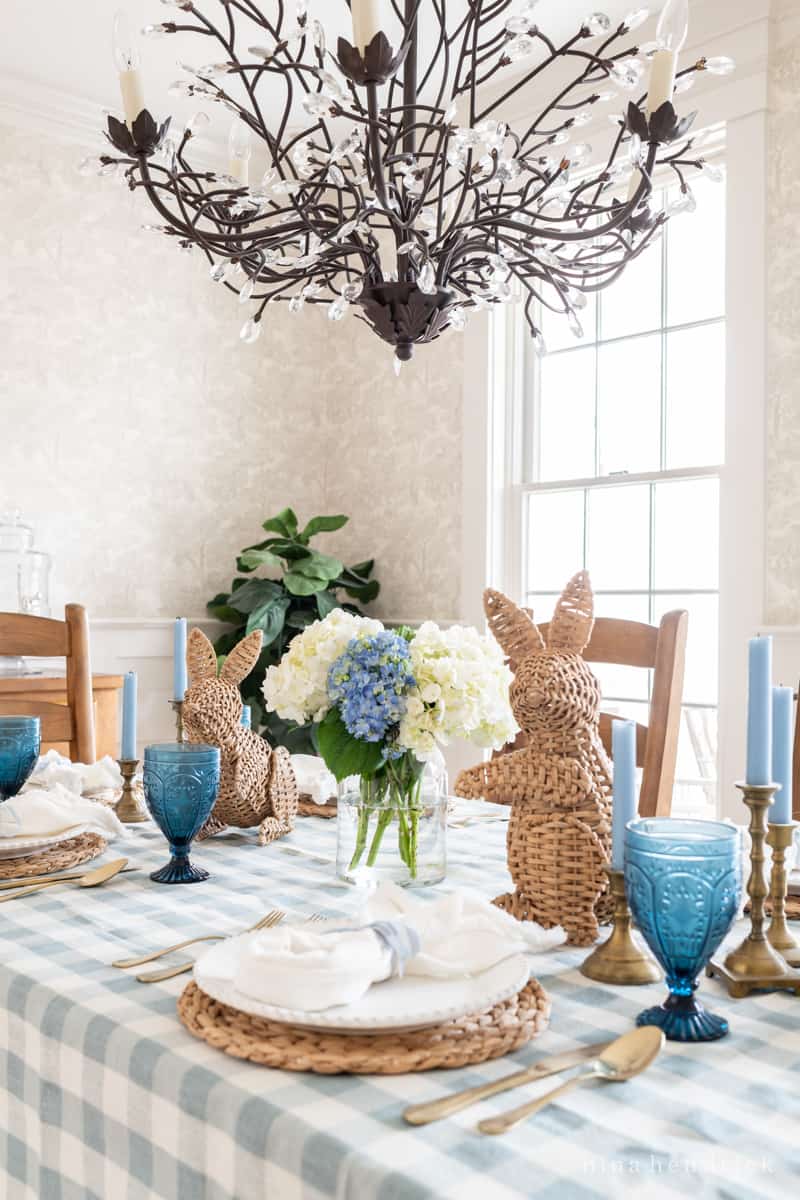 Patterns
Florals are the obvious choice for spring, so you could build your theme around a specific flower that's in season or choose floral fabrics for table runners, napkins, placemats, and other linens. But don't forget about other classics like gingham and seersucker or even delicate polka dots.
You can also add interest by choosing fabrics with interesting textures. Burlap is a great choice for adding texture, but you can also consider canvas, eyelet, and fabrics with a loose weave or a bit of embroidery instead.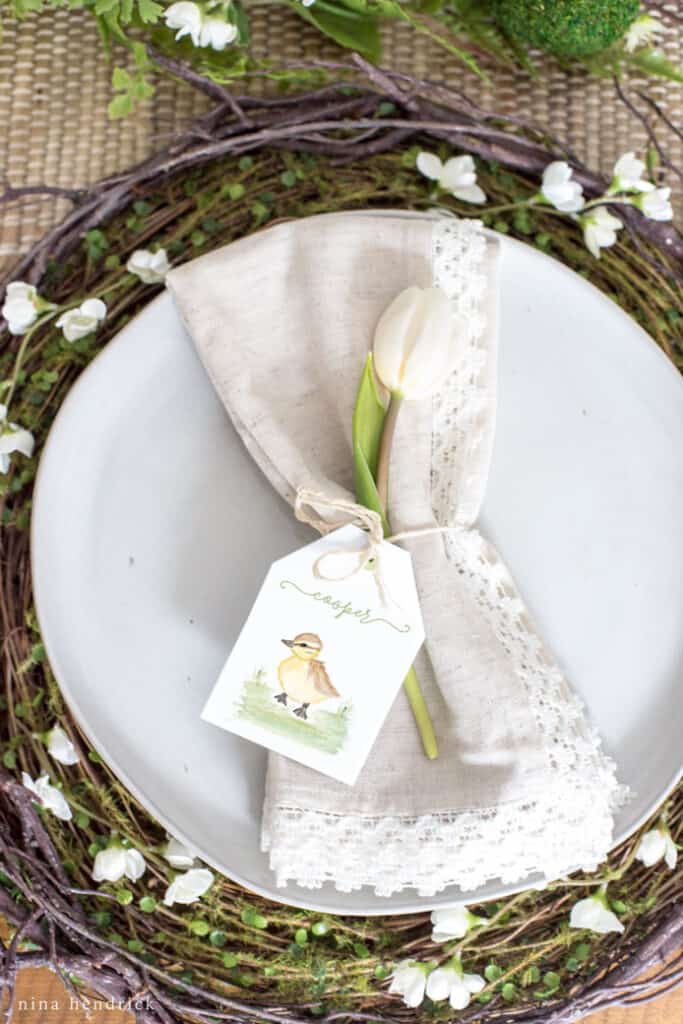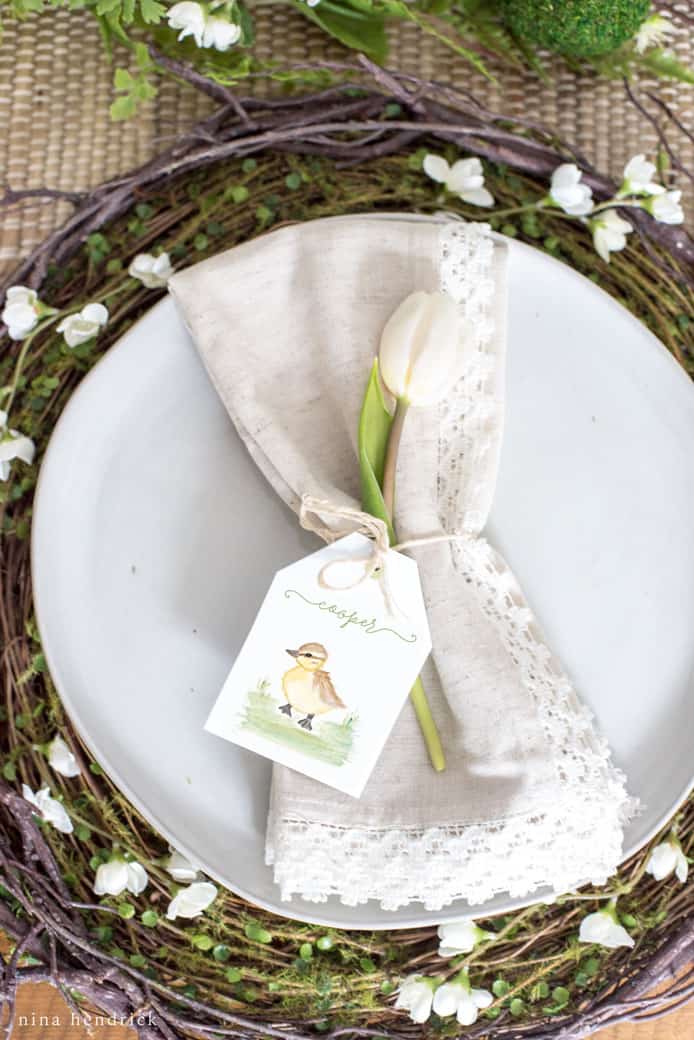 Themes
Spring is the time for new life, so it's no wonder we traditionally focus on cute baby chicks and bunnies during this season. You can find surprisingly sophisticated decor featuring your favorite animals—look for interesting materials like ceramic and wicker, or see what you can find at your local flea market or antique store for something totally unique.
You can also build a theme around anything that strikes your fancy: a set of candle holders, interesting vases or bowls—even the faux flowers and branches at your local craft store can inspire a wonderful basis for your tablescape. There's no right or wrong answer—just find something you love, and go with it!
Want more specific instructions for creating a tablescape? Check out my earlier post about How to Create a Tablescape for a step-by-step tutorial.
Easter Tablescape Ideas
I love designing spring tablescapes! Here are three of my favorites—along with some insights into what makes them work and how you can get the look to create a beautiful Easter table in your home.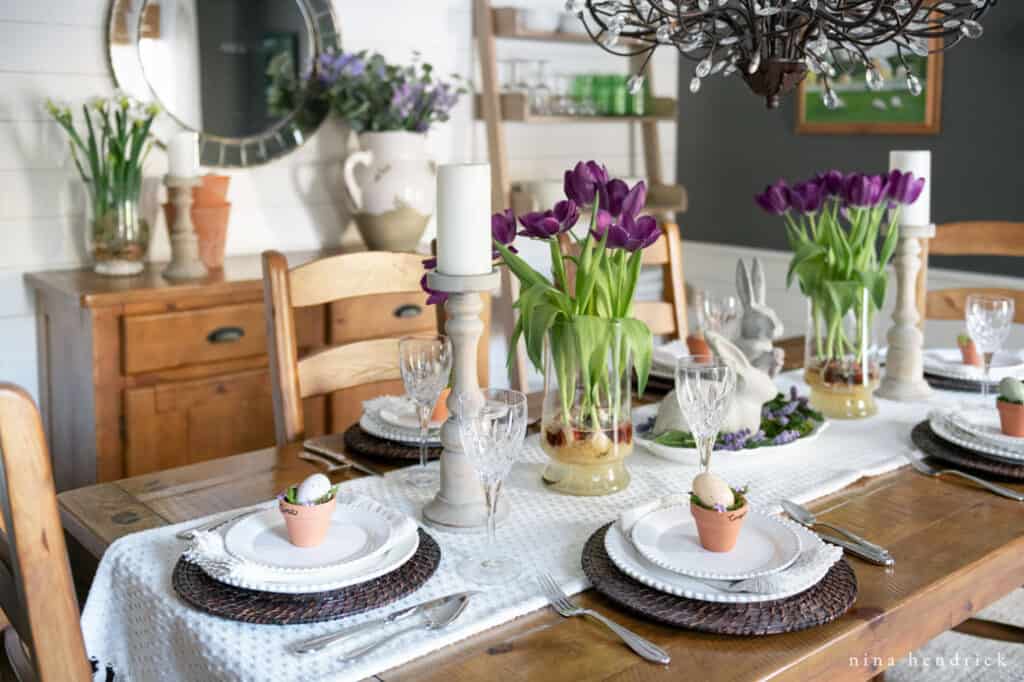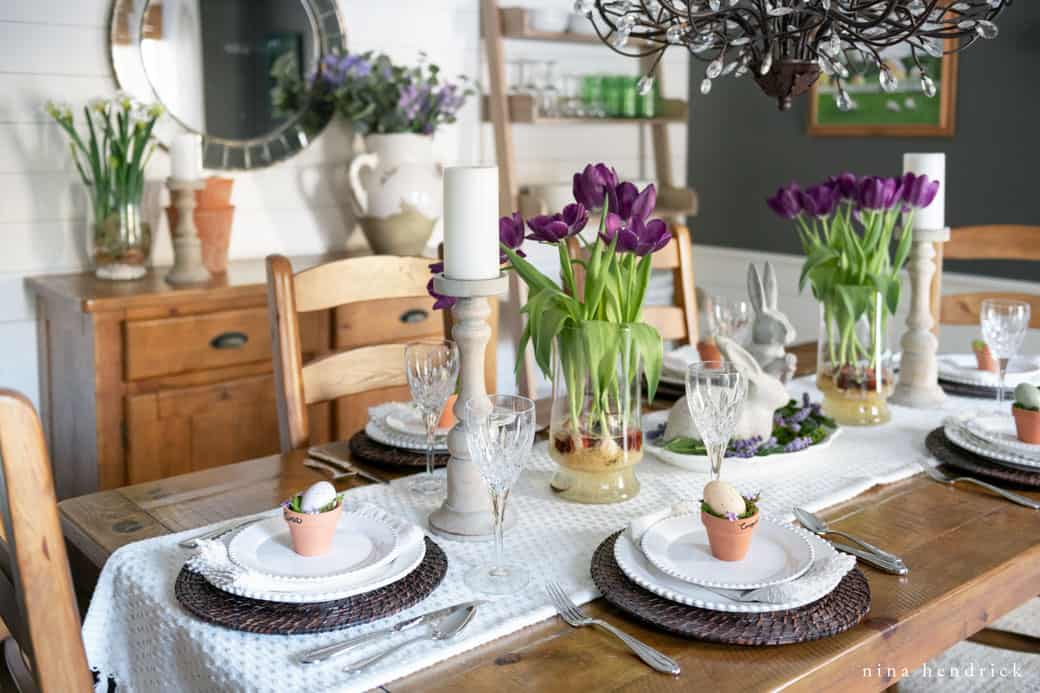 1.
Pretty Purple Easter Tablescape
I don't often decorate with the color purple, but when I wanted a big pop of spring color, I knew that it was time! I started with two vases of gorgeous purple tulips. These were forced from bulbs, so they last quite a while, but you could get a similar look with cut tulips, too—just be prepared to switch out the flowers more often if you plan to keep your tablescape going throughout the season.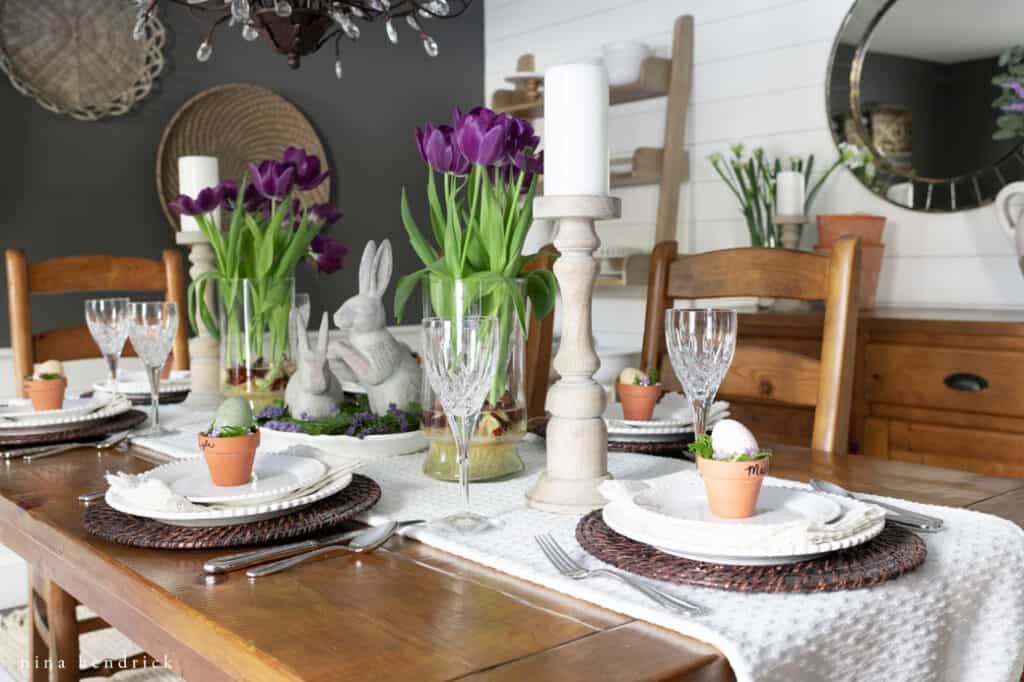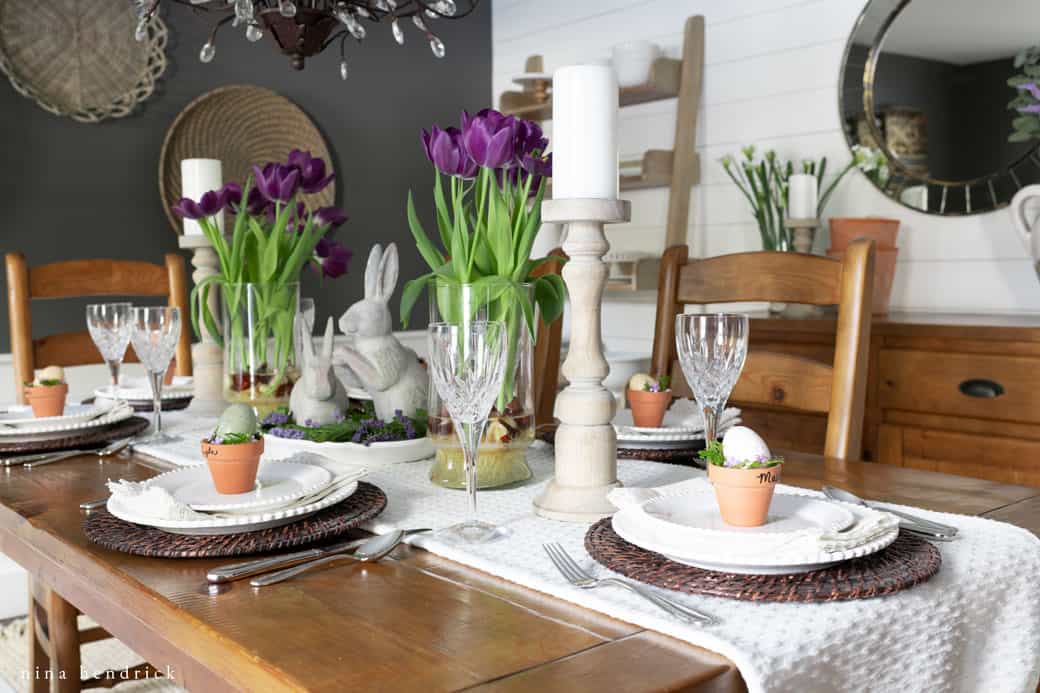 Because the tulips are so sculptural looking, I balanced them with some tall, chunky candleholders and a simple white runner with some nice texture. I love how elegantly neutral the place settings are, with white-on-white and the nice woven charger for interest.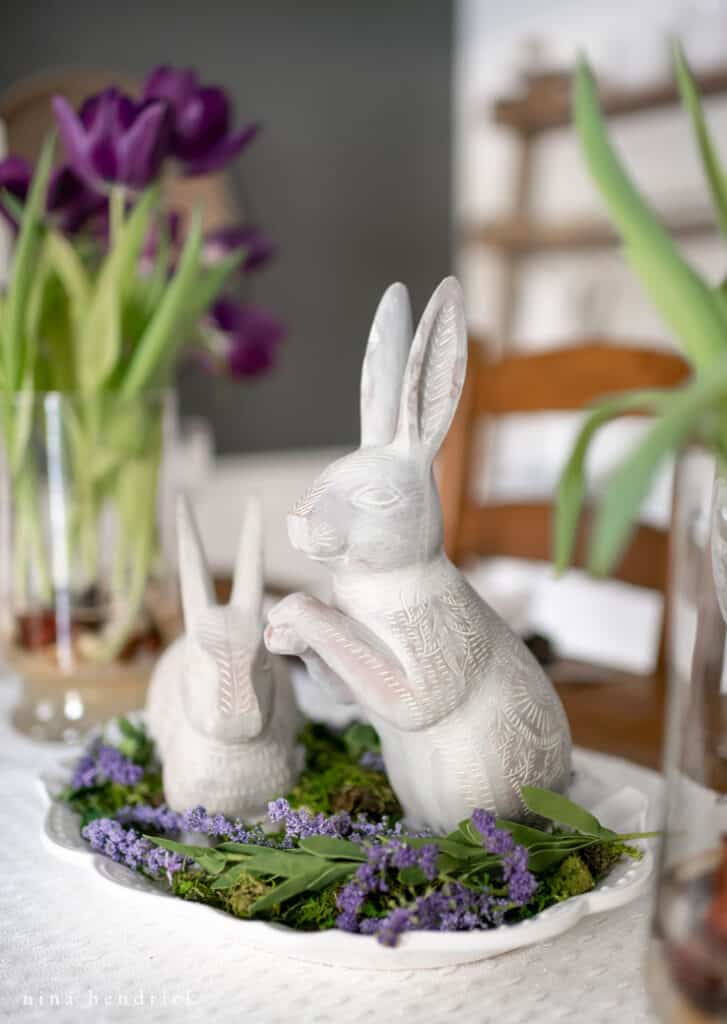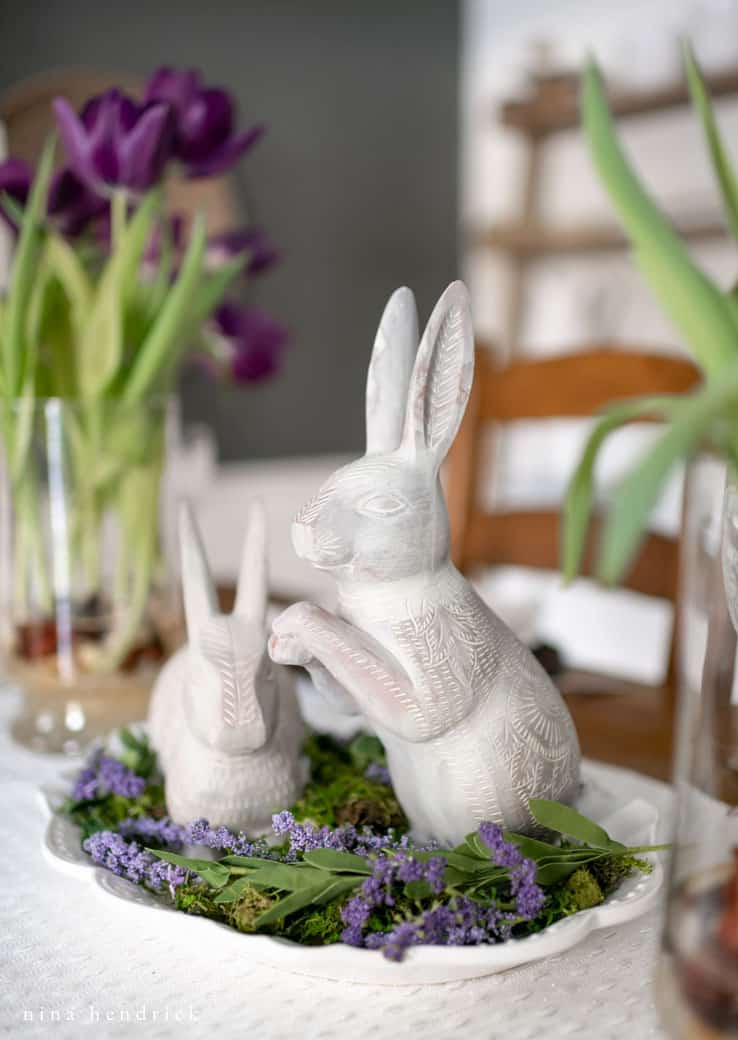 But Easter is supposed to be fun, so I didn't want it to be too posh. The centerpiece is made up of adorable resin bunnies that add some whimsy to the table. Placing them on a plate filled with flowers and greenery helps them pop—and it's super easy to lift the centerpiece and replace it with a platter of food when you're ready to eat!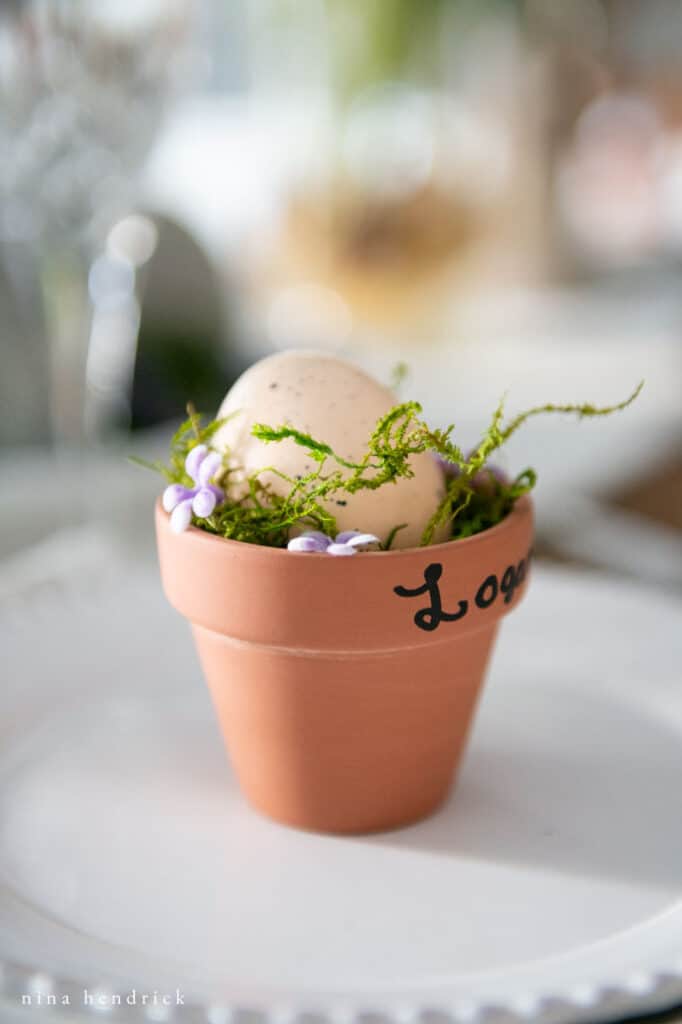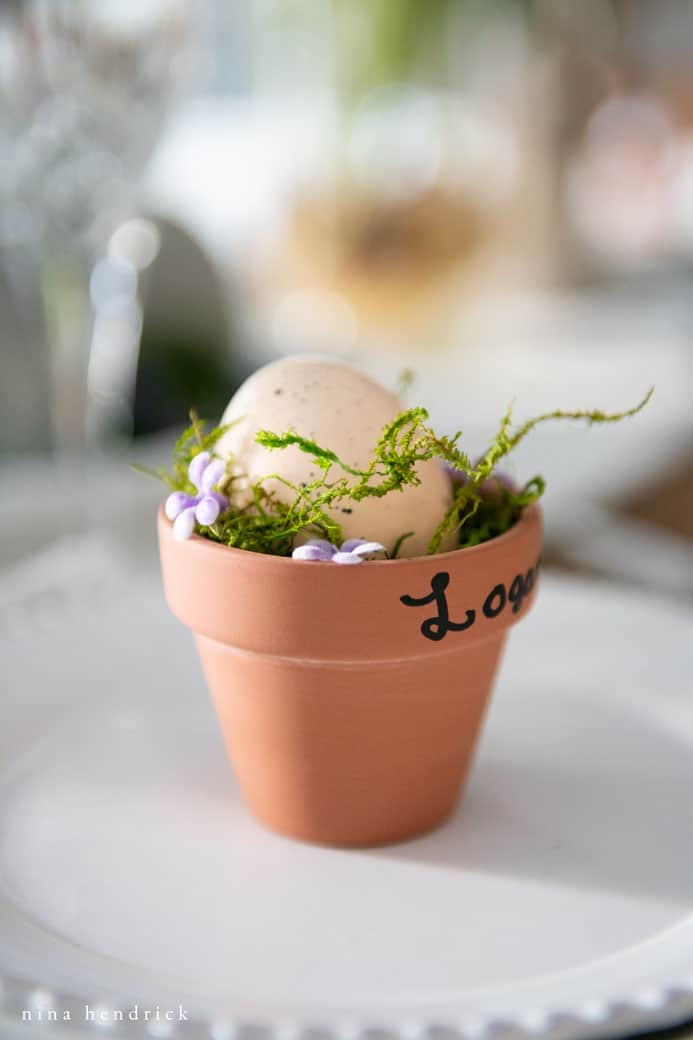 I also love the personalized DIY souvenir flower pot nests that serve as place cards. These sweet little place settings were very inexpensive, quick, and easy. I bought some mini flowerpots, wrote names with a paint marker (a permanent marker works too!), and added some moss, Easter eggs, and a couple of little faux flowers. You can find all those items at your local craft or dollar store! You could also swap out the eggs for candy or chocolate eggs.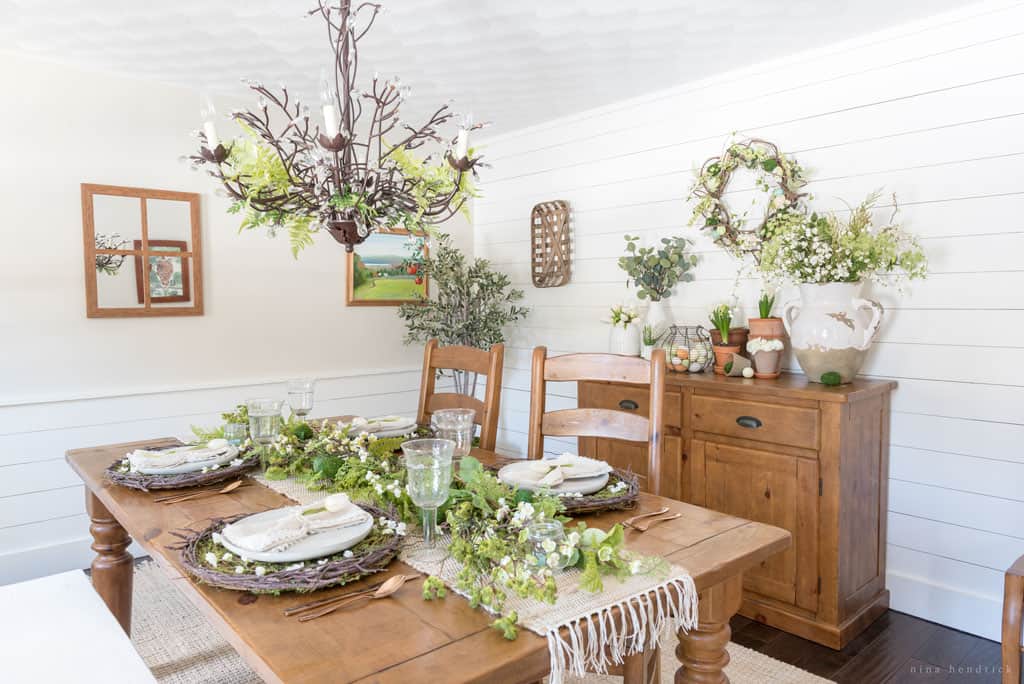 2.
Natural Spring & Easter Tablescape
After a long winter in New Hampshire, the first green buds are just as exciting as full-blown flowers, so this tablescape focuses on ferny greenery, moss, and branches to welcome the season.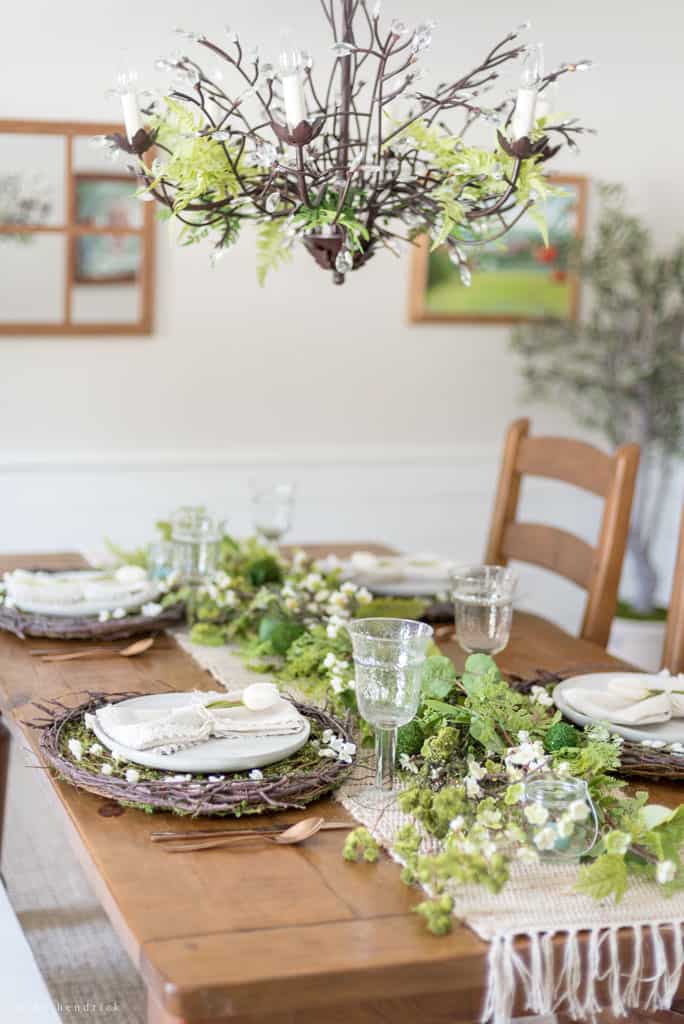 To begin to create this natural spring table setting, I chose a textured, neutral runner and created layers with faux moss, greenery, and flowering branches to play with different shades of spring green. This is a casual look, and none of this gets in the way of you seeing the person seated across from you at the table, and you can easily make room for dessert.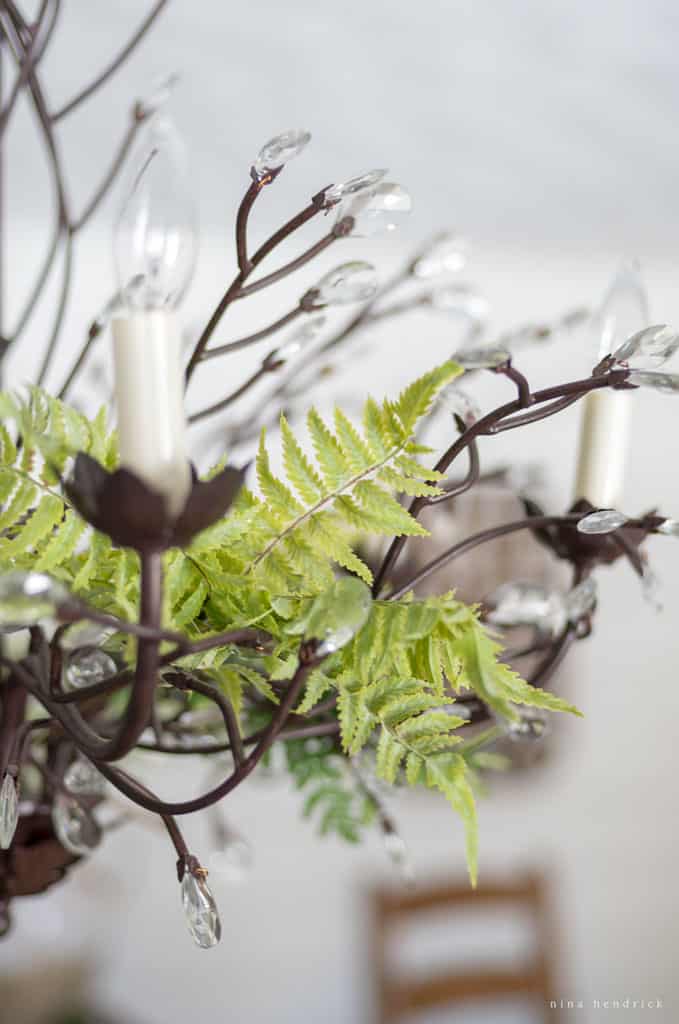 I love this chandelier so much! It has always been one of my favorite pieces for how wild but classy the light fixture is, and it was always fun to come up with new seasonal ideas for it. I tucked some faux fern accents into it to make it look like everything was bursting into bloom after a long winter.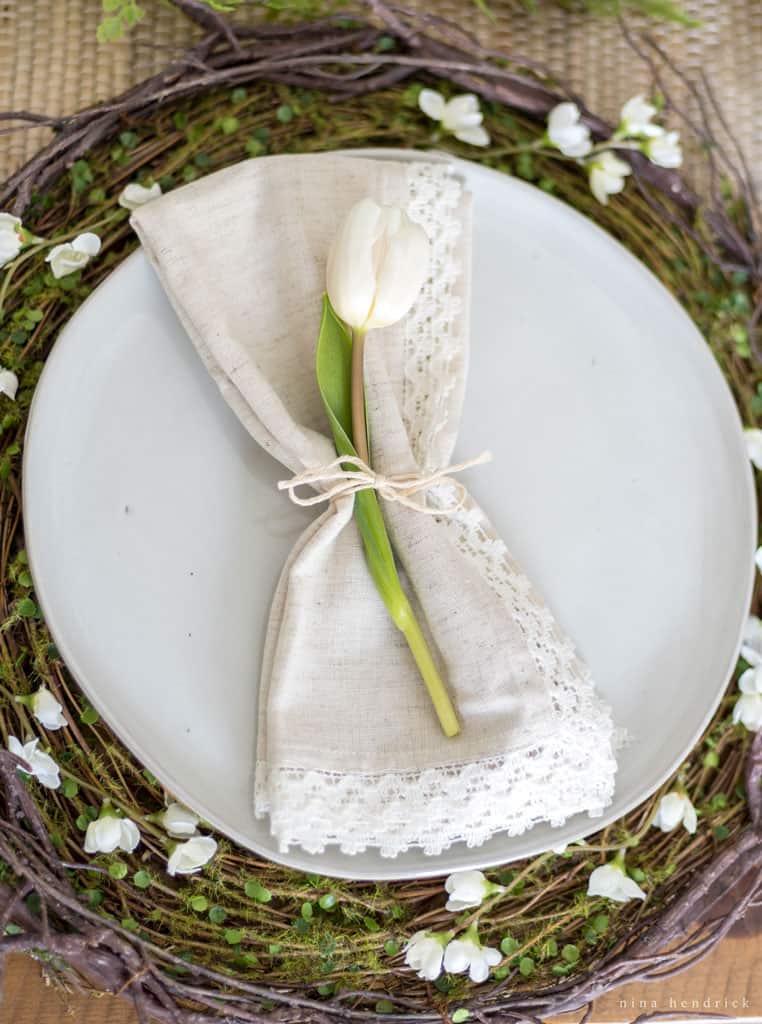 The branches of the chandelier were echoed by these wonderful woven twig chargers (sold out). I added moss and tiny faux flowers to keep with the theme, and it created the perfect background for the plates and the single white tulip. So easy, but so pretty!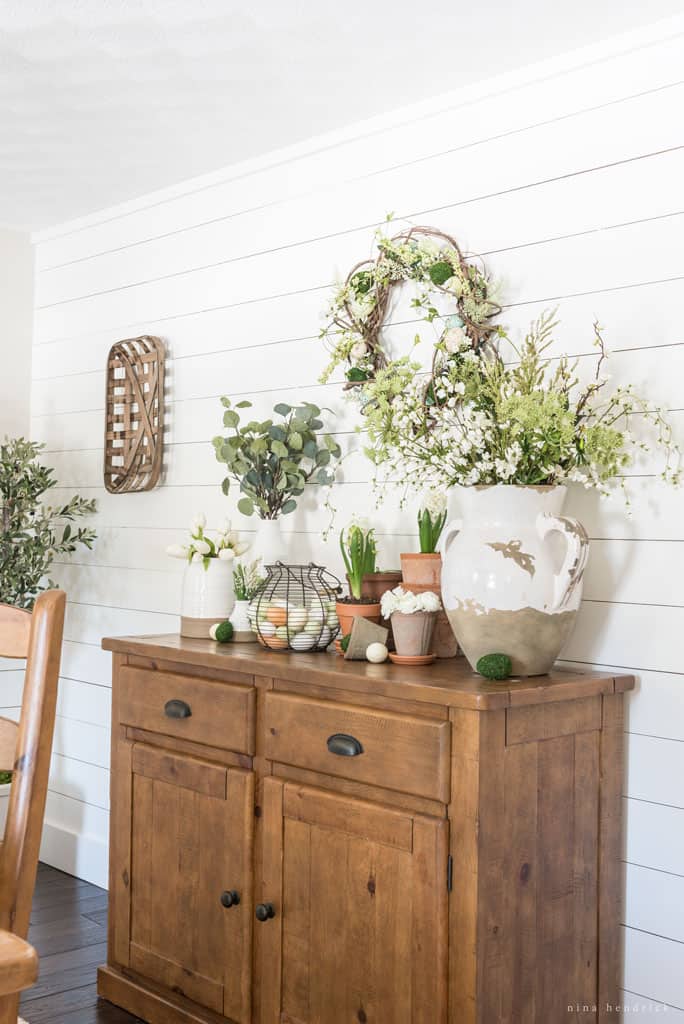 Because this tablescape is so simple, I also put some additional items on the sideboard. The warm wood of the furniture plays so well with the green and white pieces—and check out the basket of farm eggs! The inspiration here was a potting shed, with some pots and containers just waiting to be brought in to enjoy.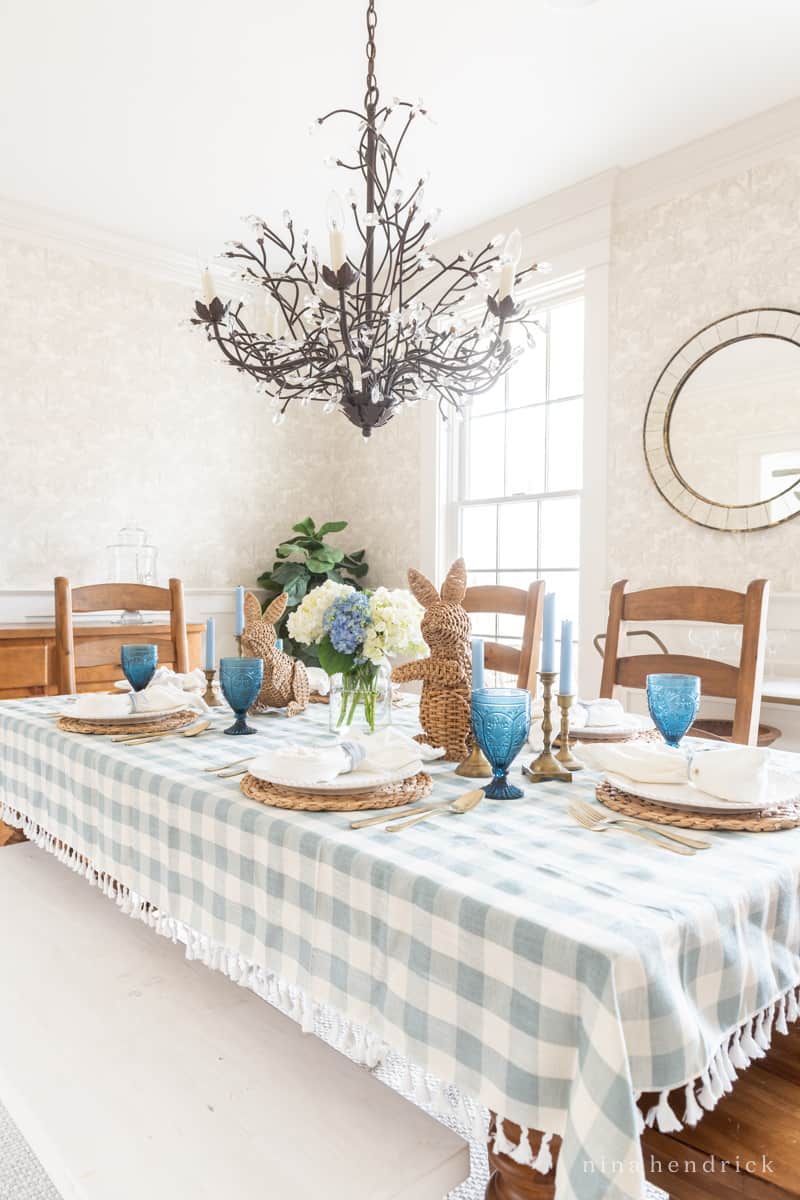 3.
Coastal Easter Tablescape

Ideas

Okay, I'll admit it: I am just loving Coastal Grandmother Style, and I wanted to channel that aesthetic into a springtime tablescape. Is it a little early to walk the seacoast beaches? Let's just say that I wouldn't want to dip my toes into the frigid Atlantic just yet. Still, I love the idea of a coastal Easter!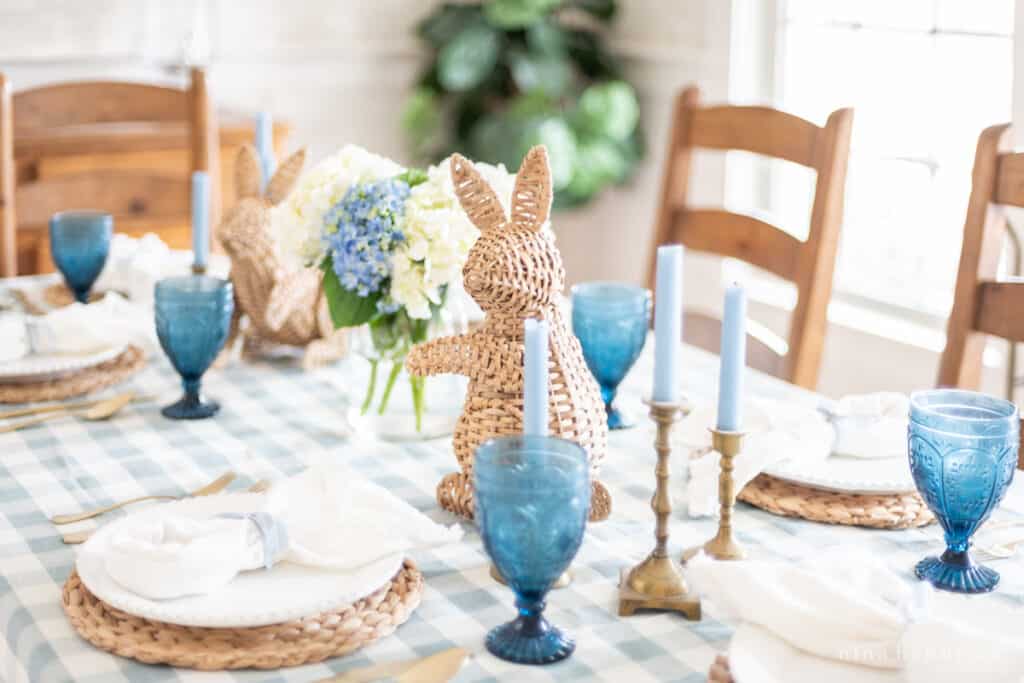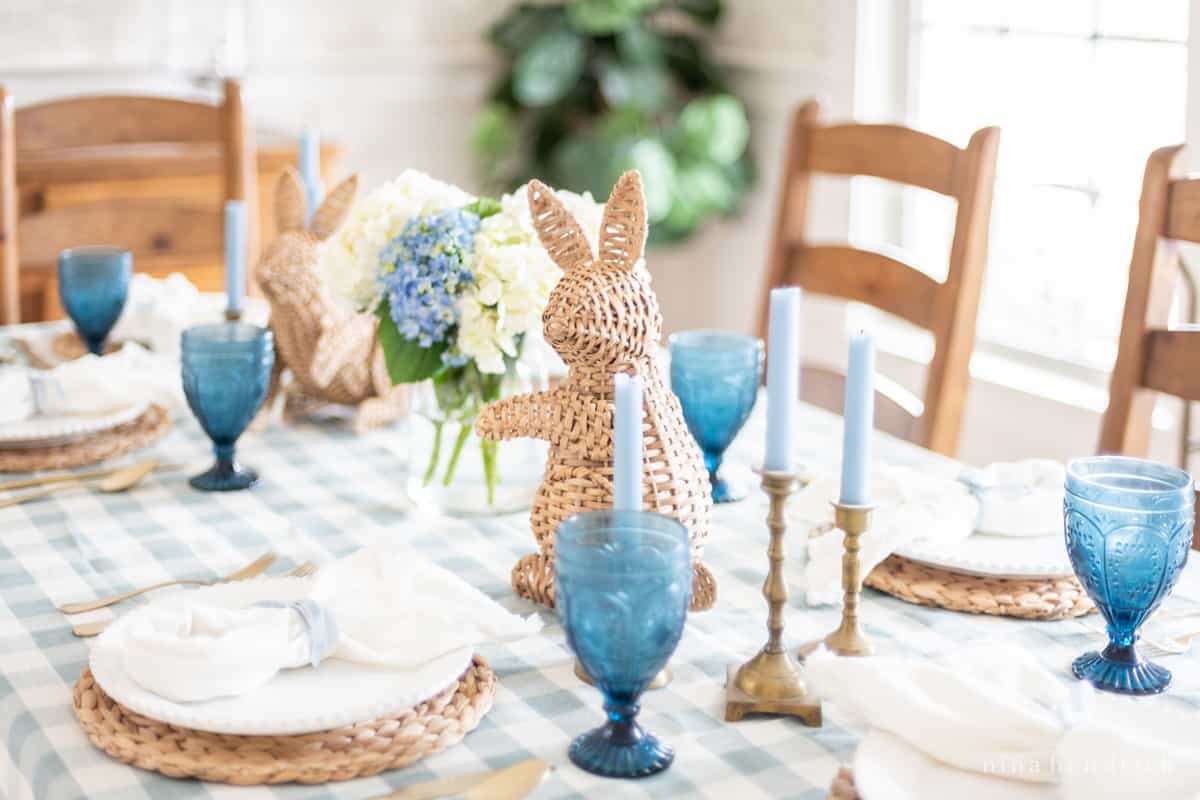 Blue is one of my all-time favorite colors, and it's a key to coastal style. I love the pretty, powder-blue gingham tablecloth. It's the perfect background for the beaded white plates. The gingham also adds to the picnic vibe, which is enhanced by the wicker chargers—you know how coastal grandmothers love their picnic baskets!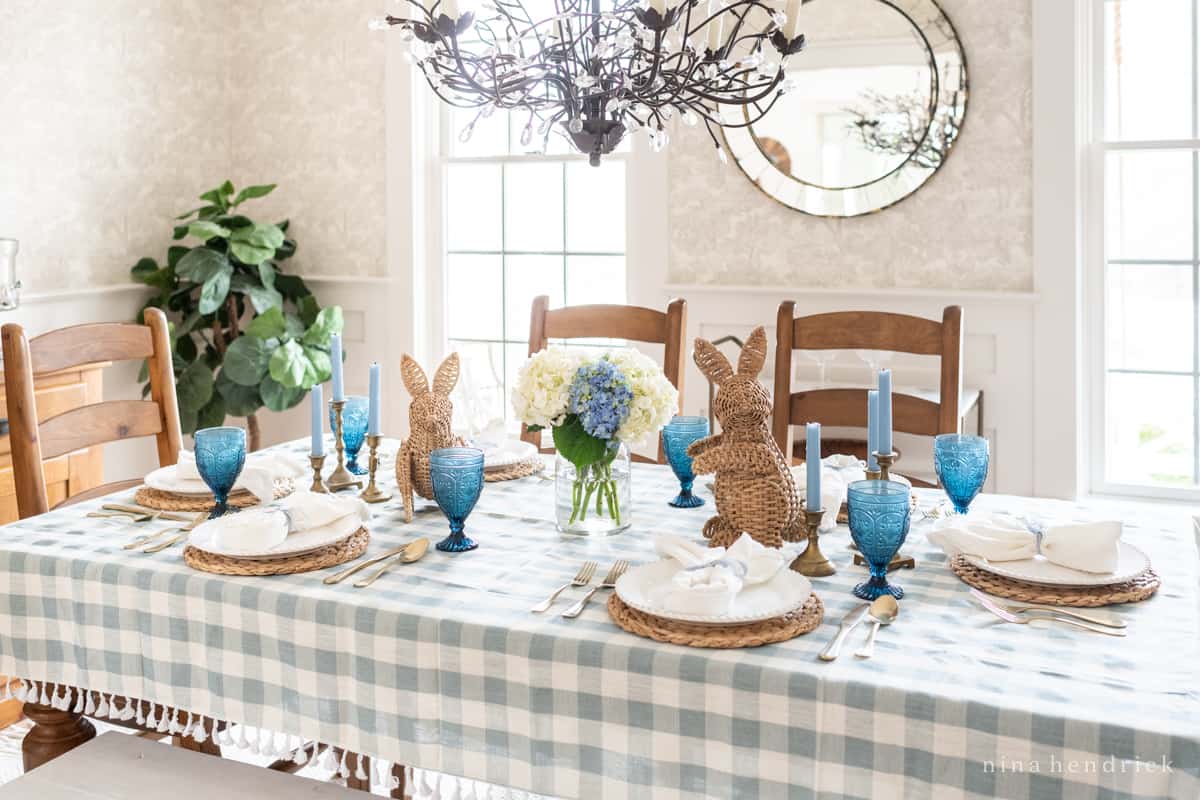 The sweet wicker bunnies are the perfect playful nod to the season. I love the contrast with the brass candlesticks for a little gold glow—much appreciated to warm up the cool blue and white color palette.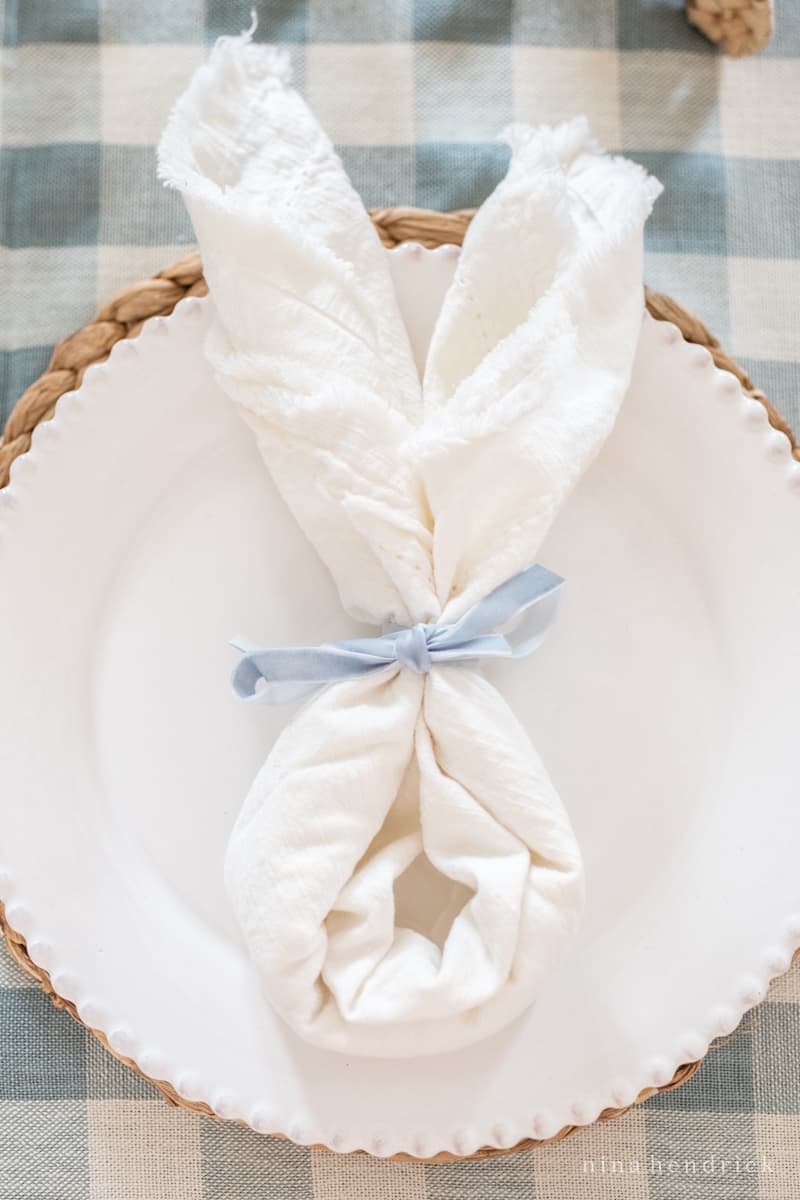 I folded each linen napkin into the shape of an Easter bunny and tied them with a piece of pale blue velvet ribbon. This is a simple way to bring a little charm to each place setting. You could also add a chocolate bunny!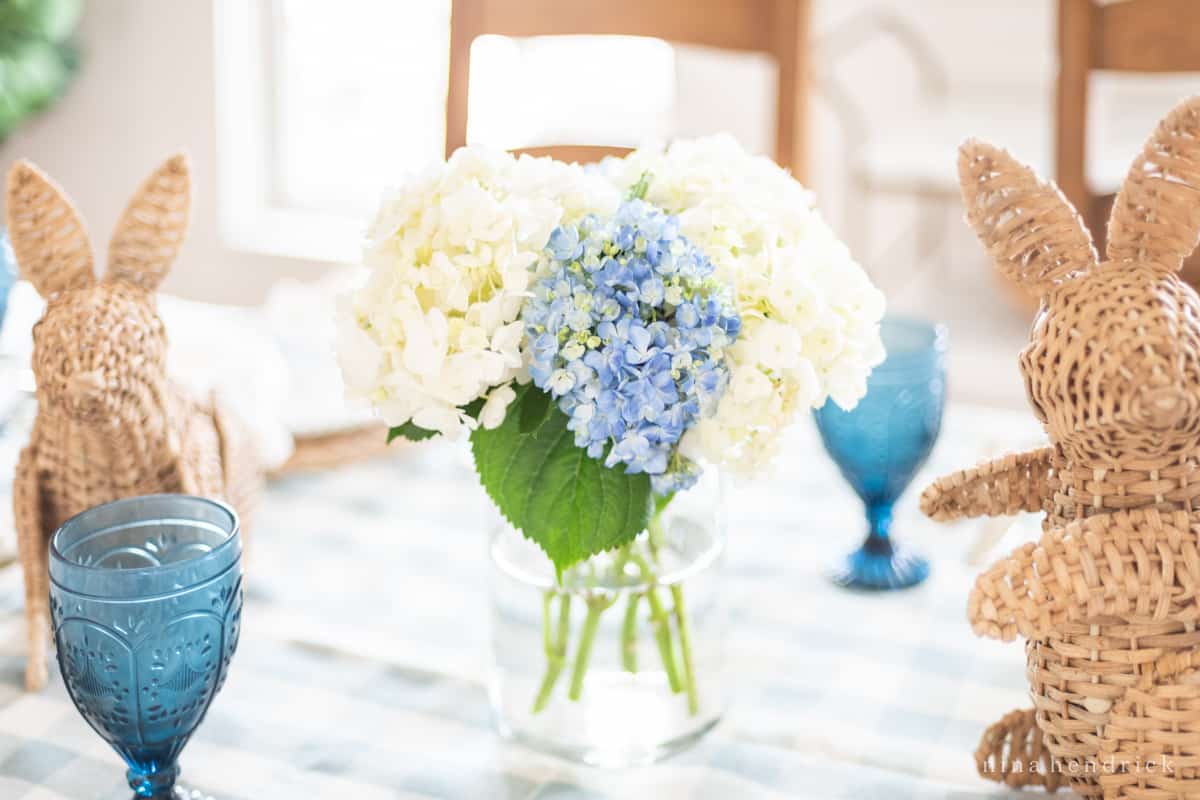 Finally, there are hydrangeas. Hydrangeas are the coastal flower, so they definitely deserve their place of honor on the table.
So there you have it—three great tablescapes for Easter! How will you decorate your springtime table? Follow along on Instagram to see more of my spring decor!