These spring decorating ideas for your home give you some simple and inexpensive ways for how to decorate for spring and Easter.
If you're looking to add some extra life and color to your home, spring decorating is a great way to do it! From accessories in bright and cheerful hues to subtle pastel touches, I have plenty of creative inspiration to get your home ready for the season. Whether you want to go all out with a vibrant and lively look, or just add a few touches here and there to make your space more inviting for the season, you'll be sure to find some great spring decorating ideas in this post to try out in your own home!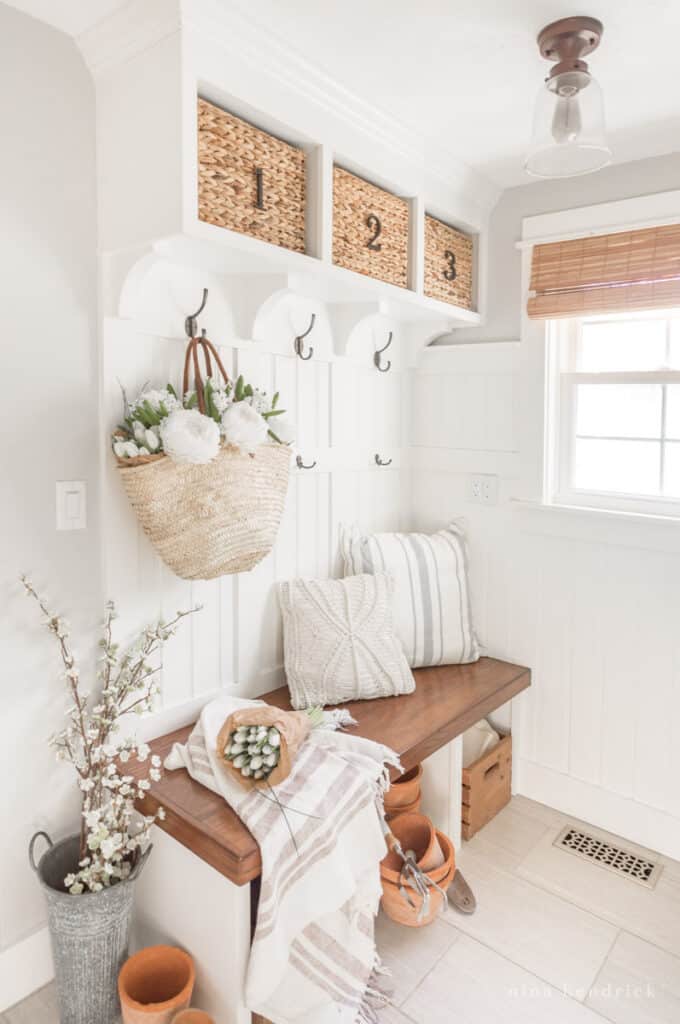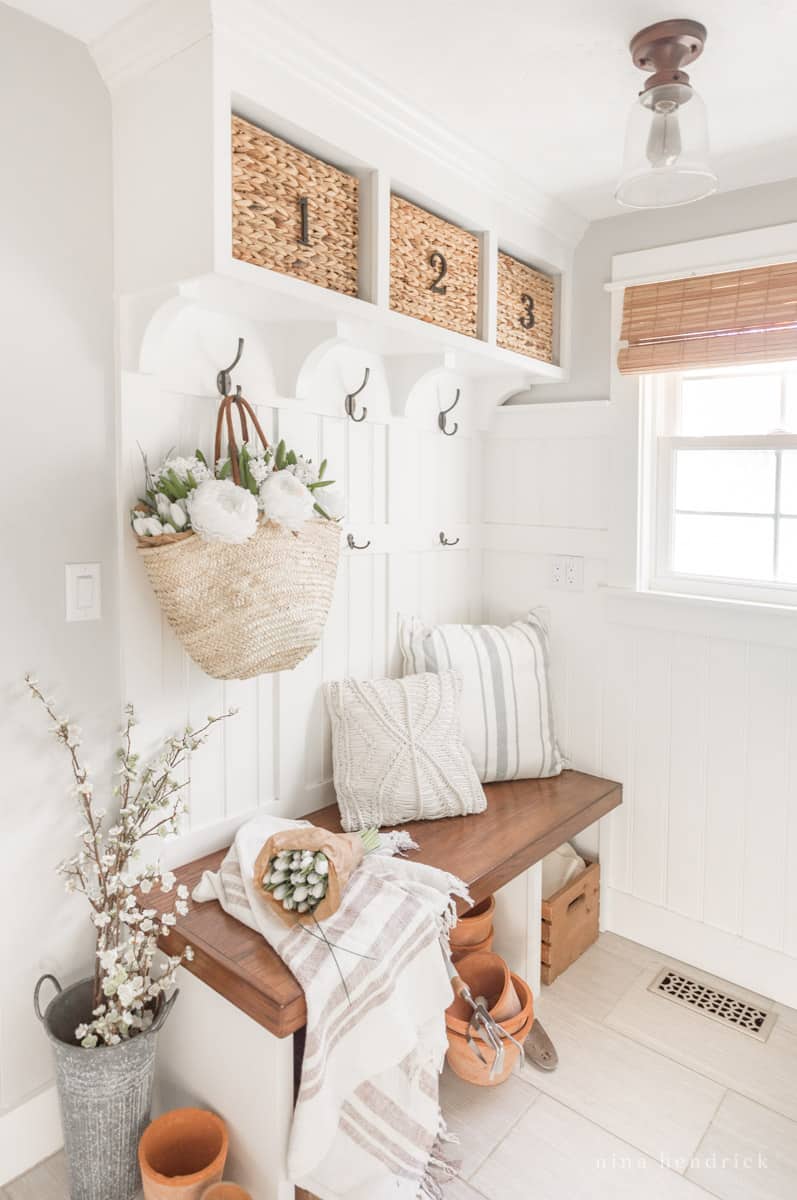 One February morning as you're walking to your car, bracing yourself against the bite of the bitter cold and wind, you hear it… a little chirping birdsong. It interrupts the regular silence of the cold months and surprises you. You'd almost forgotten. It sounds almost like those warmer mornings when you aren't rushing back inside from your car. It's the sound of spring. Even if you get a foot of snow tomorrow, it's begun… you have springtime on your mind and you've remembered that winter won't last forever. Then you have the thought of grabbing some tulips at the market on your way home. You're inspired to refresh your space and decorate for spring!
In this post I'll share my favorite spring decorating ideas for you to implement quickly, easily and on a budget. My goal is for you to go out and do these things as soon as that urge to decorate for spring hits. Then, I'm going to show you little ways to up-level those urges. Like rather than just some grocery store tulips, let's add a few items and make a small vignette! I'll show you how to do that and more later on in the post. First, let's go over some basics of what to use to decorate for spring.
This post contains affiliate links, which means I may get a small commission (at no extra cost to you) if you shop my link. Please see my disclosure if you'd like more info!
How to Decorate for Spring — The Basics
I think that spring is one of my favorite seasons to decorate for (behind fall) because of the promise that it holds. It feels so good to bring cheerful colors into our homes and celebrate the renewal of life after the long winter months. We appreciate everything all over again, like the bulbs sprouting from the ground and the tiny leaf buds. Surrounding ourselves indoors with home decor that serves as a reminder of renewal and the warmer months on the horizon can make all the difference when winter feels like it will go on forever! That's why the following spring decorating idea is a no-brainer.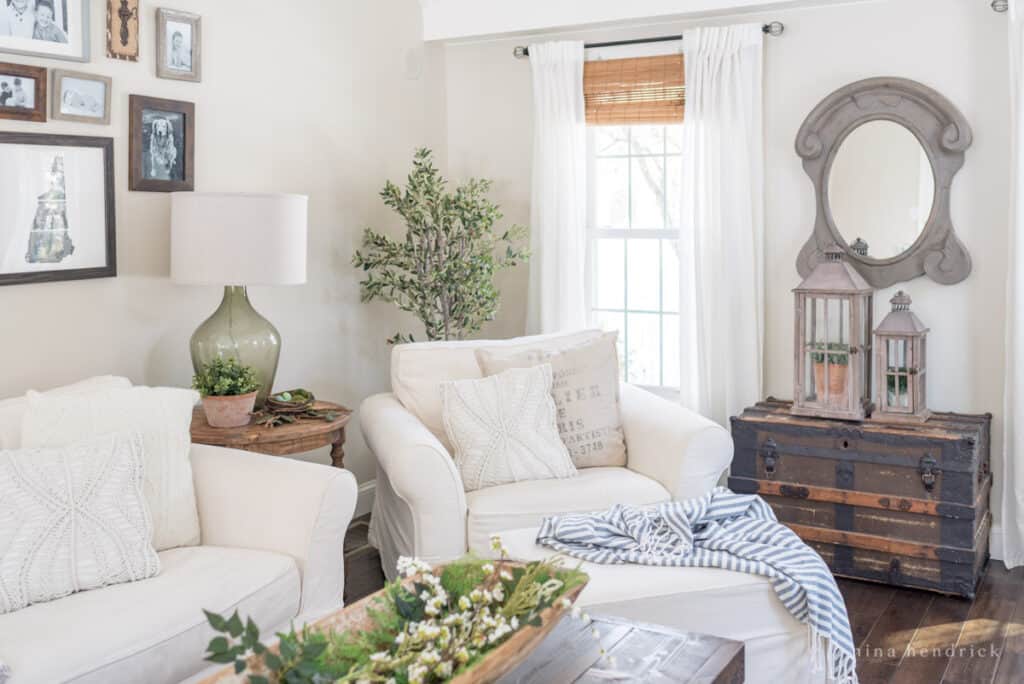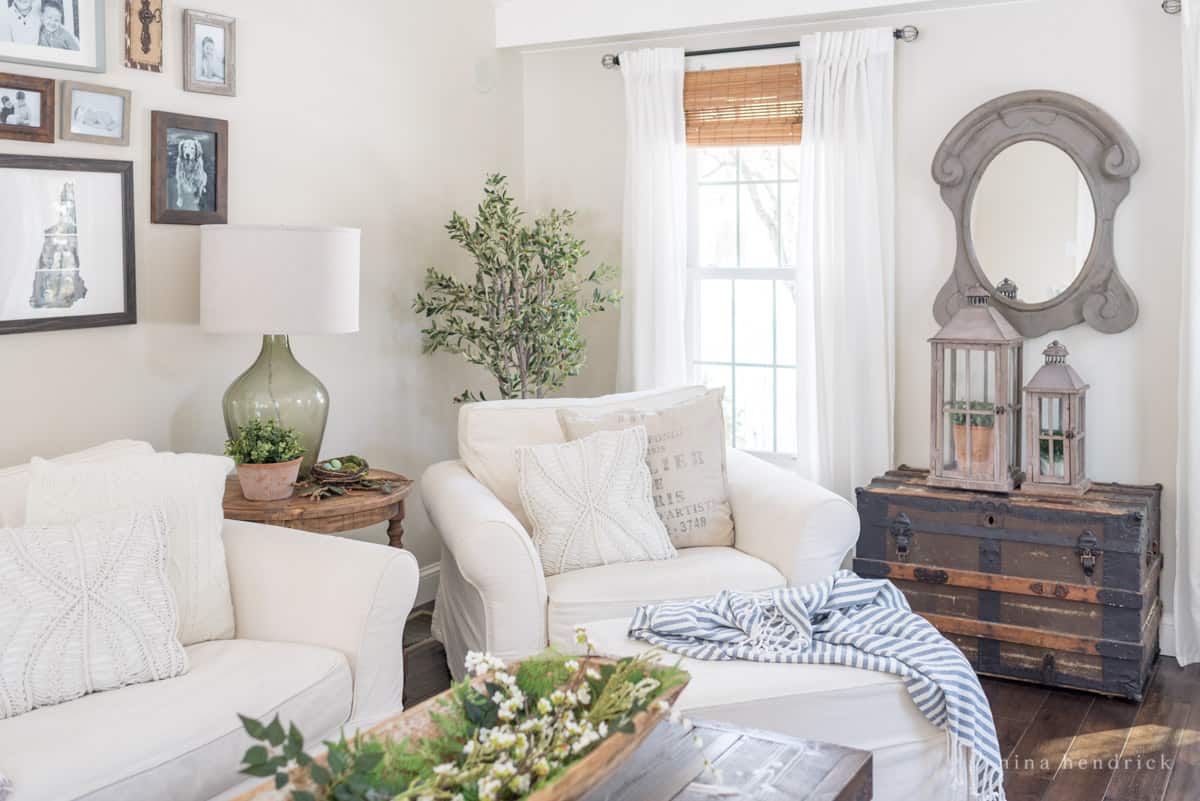 Use Natural Elements
To capture the fresh feeling of the new season, consider using natural elements in your spring decor. Spring and spring flowers are pretty much synonymous with one another, so using natural elements is the perfect idea for easy spring decor.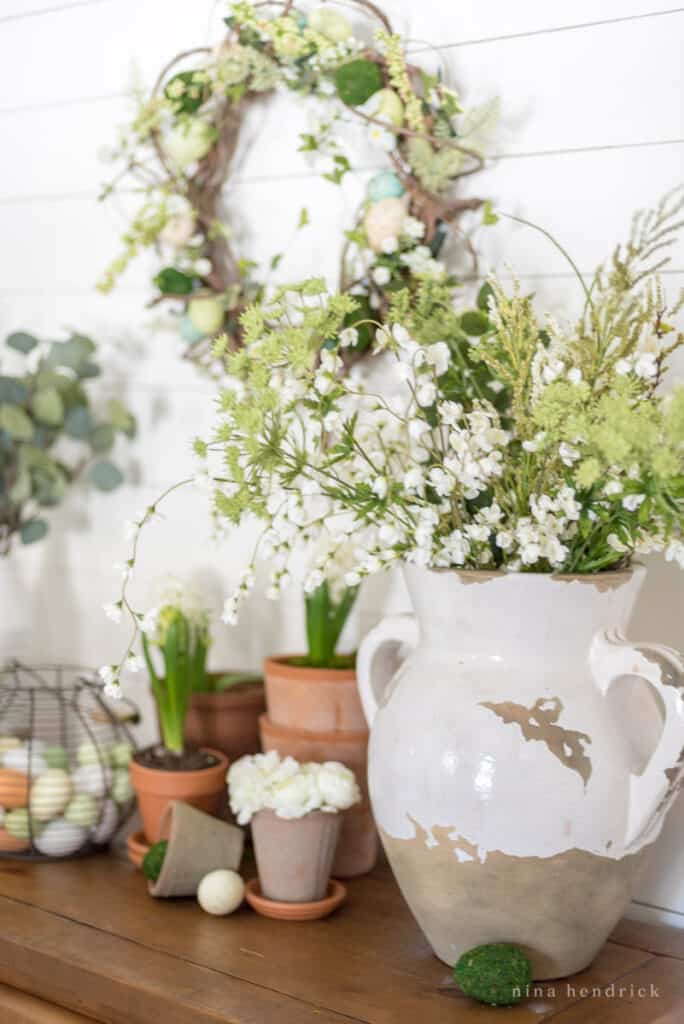 Spring Decorating Ideas that Include Natural Elements
Use airy and leafy greenery to signify how the world is about to turn green again. If you've already got flowering branches or a neighbor who will share, snip a few and bring them inside!
Decorate with bulbs like tulips, hyacinths, and daffodils that can later be planted outside when the ground has thawed enough. The bulbs can then continue to be enjoyed for years to come!
If you can't find something natural, try faux. Craft stores are a great source for faux florals, foliage, and grapevine wreaths for a DIY spring wreath. Plus, they often have sales.
Whole Foods and Trader Joes are my favorite sources for fresh flowers and flowering branches in the spring.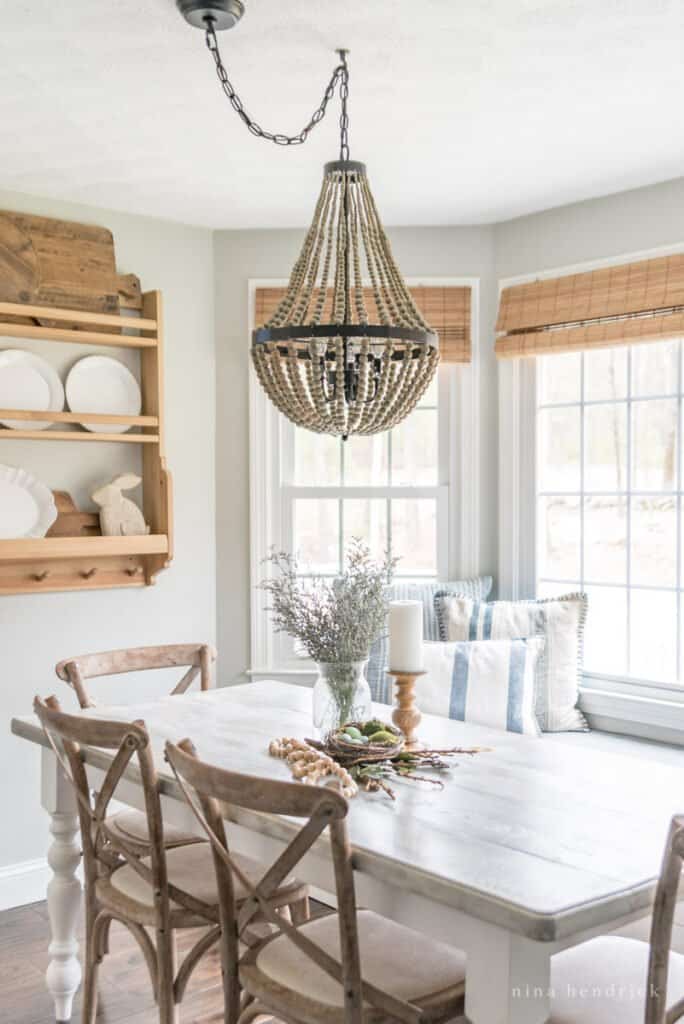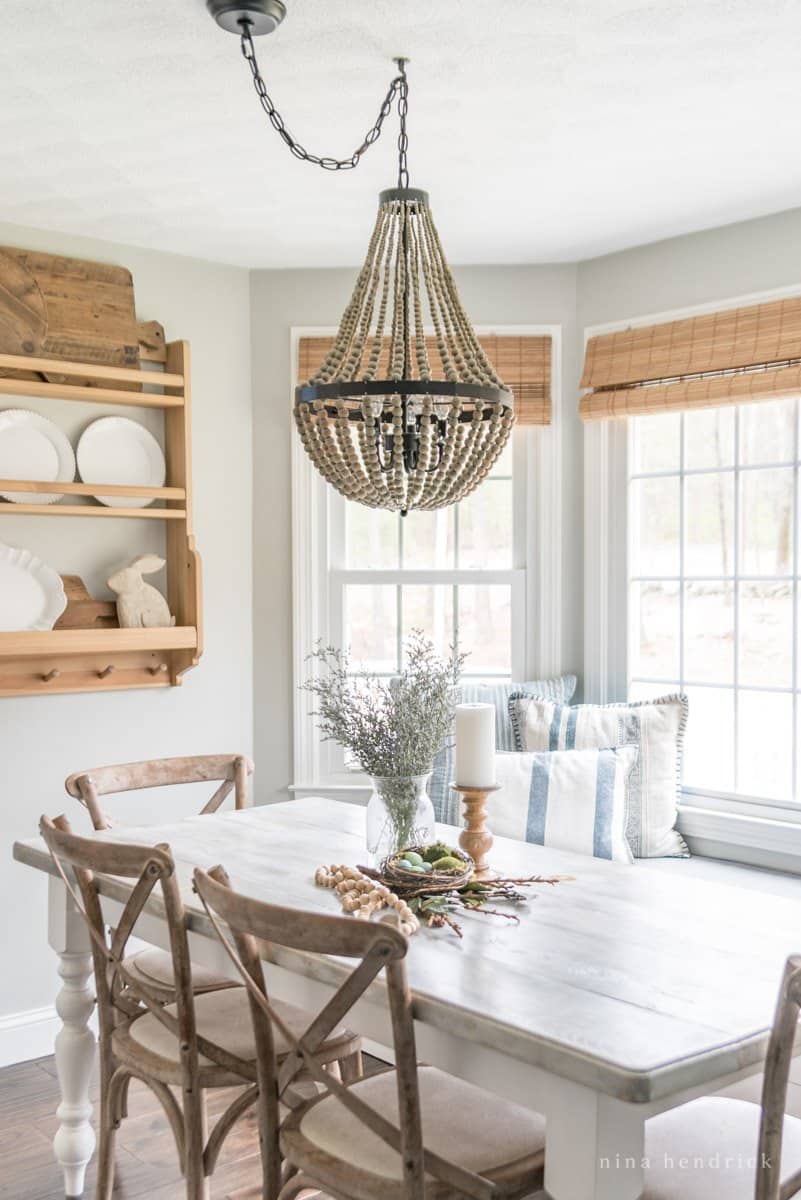 Decorate for Easter and Spring with Animal Statues, Nests and Easter Eggs
Speaking of bunnies, spring is the perfect opportunity to decorate with animals that represent the season. With Easter taking place in spring, lambs and bunnies are a natural choice. Birds are also busy building nests and laying eggs. If you're fascinated by birds and eggs like I am, spring is the perfect time to bring those items into your decor!
Spring Decorating Ideas Around Your Home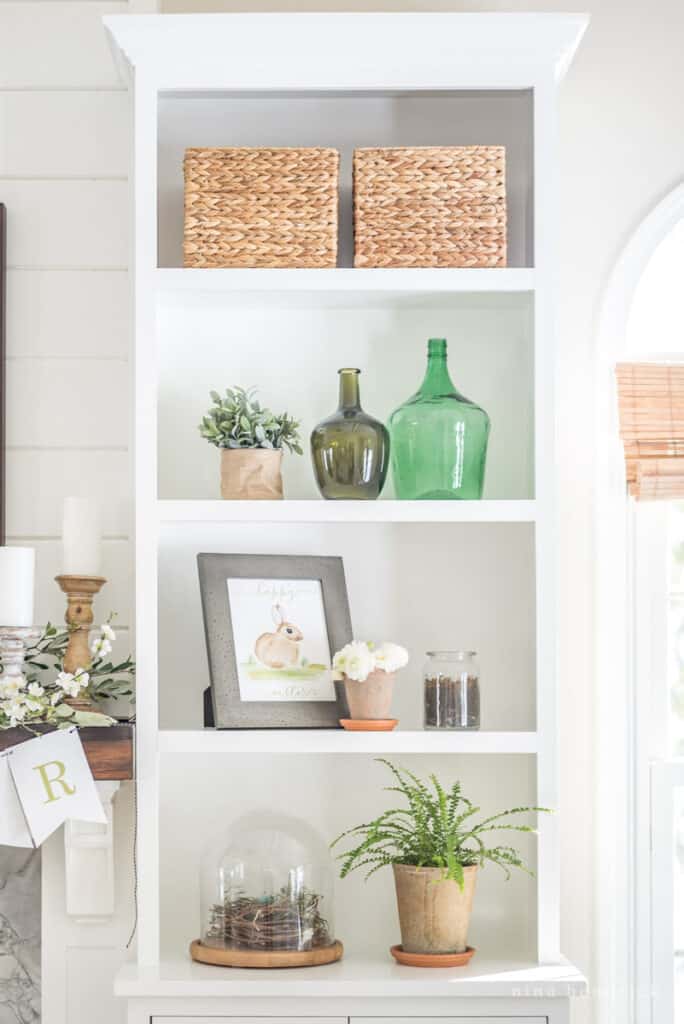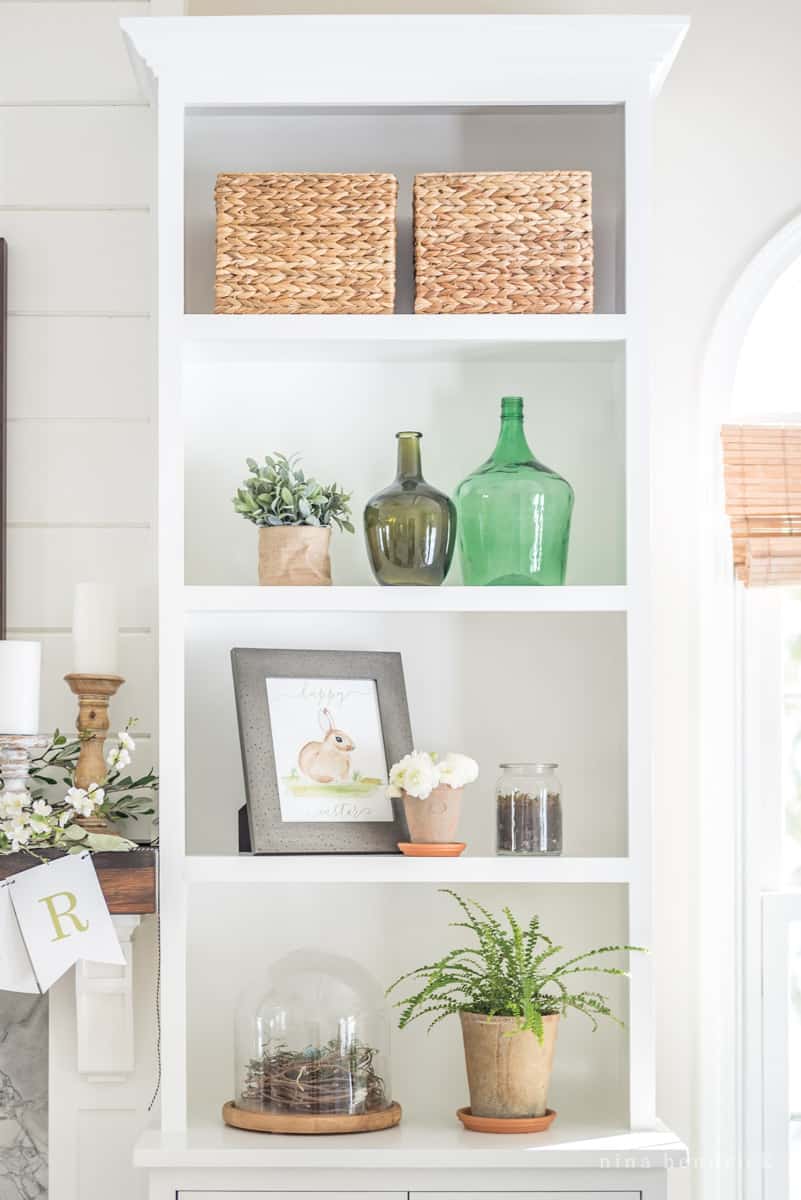 How to Decorate for Spring with a Vignette
One of the easiest ways to decorate for spring is to create a vignette. Vignettes are a great introduction to tablescapes – like miniature versions! After you master vignettes, you will be ready to learn how to create tablescapes in no time!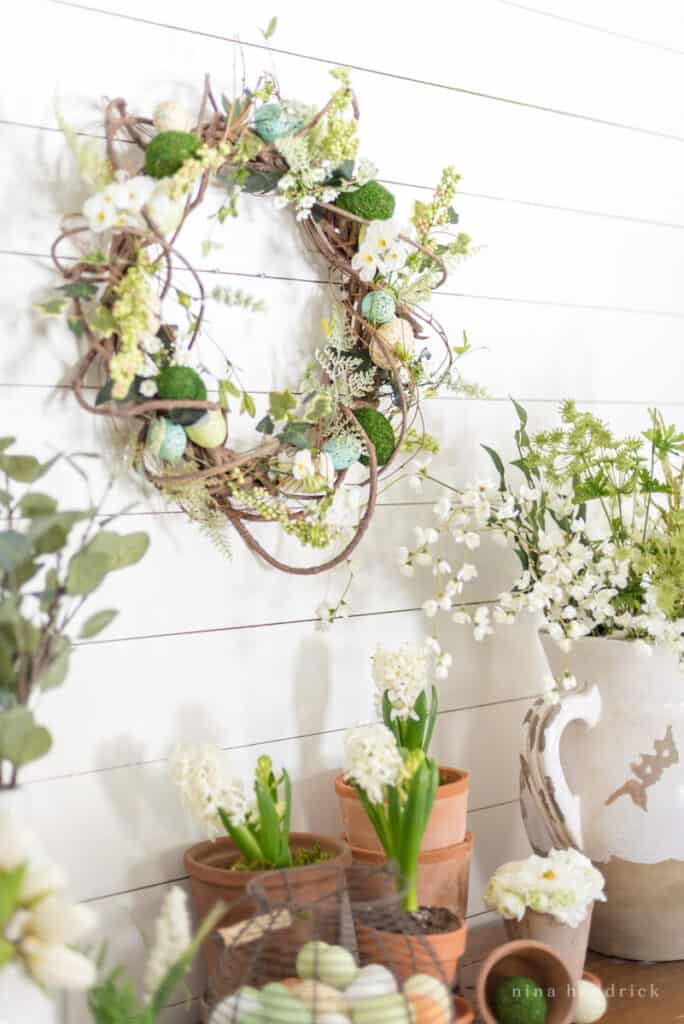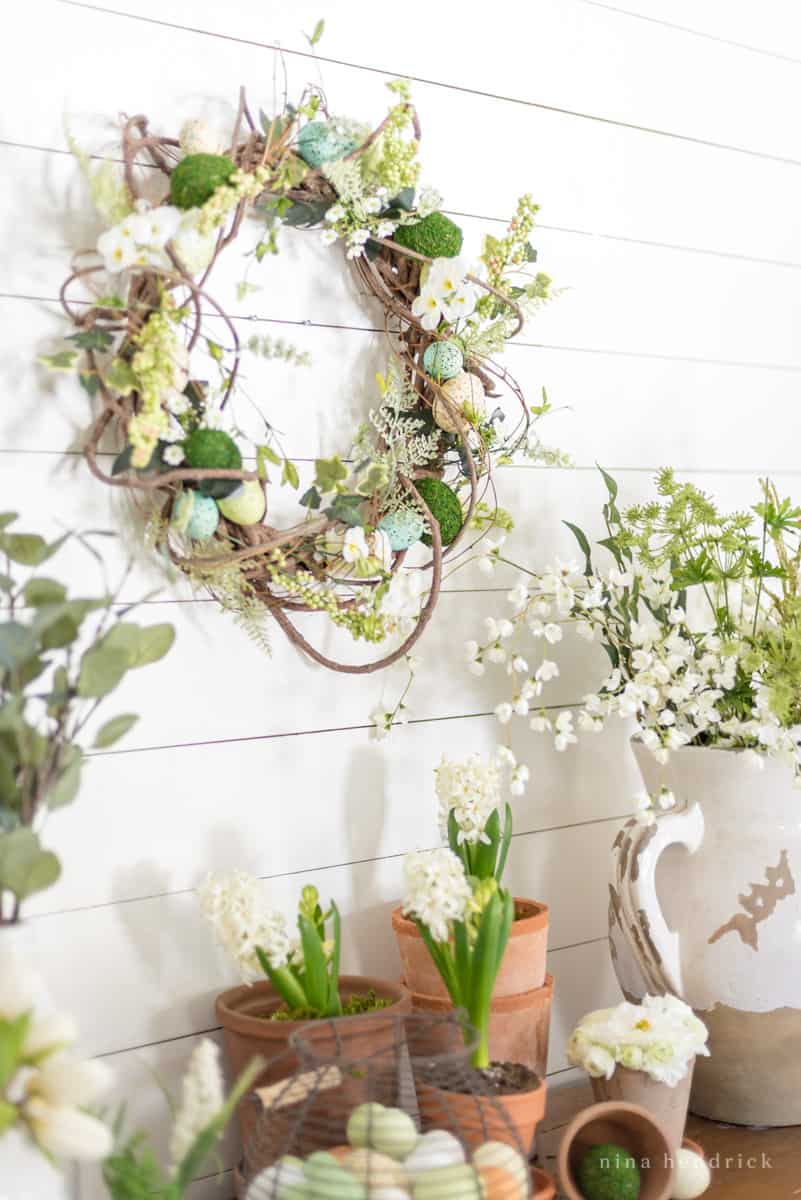 Here are a few tips to styling a spring vignette:
Incorporate the ideas above to make the vignette specific to spring!
Choose items unique to your style and the theme of the room.
Don't be afraid to use color!
Cluster objects in odd numbers, like 3, 5, or 7, for larger spaces.
Vary the height of the items, starting with tallest on the outside and smaller toward the middle.
Vary the textures of objects, using wood, glass, flowers, greenery, bowls, etc.
You can set vignettes up in the foyer, on the sideboard in your dining room, or on a living room shelf. You can even create a small vignette for your kitchen counter!
Decorate for Spring and Easter with Printables
Printables are a great inexpensive way to decorate for the seasons! I already wrote a whole post detailing how to decorate for spring using printables, so make sure to check that out and download your favorite artwork. Printables are the perfect free spring home decor for creating vignettes and other displays.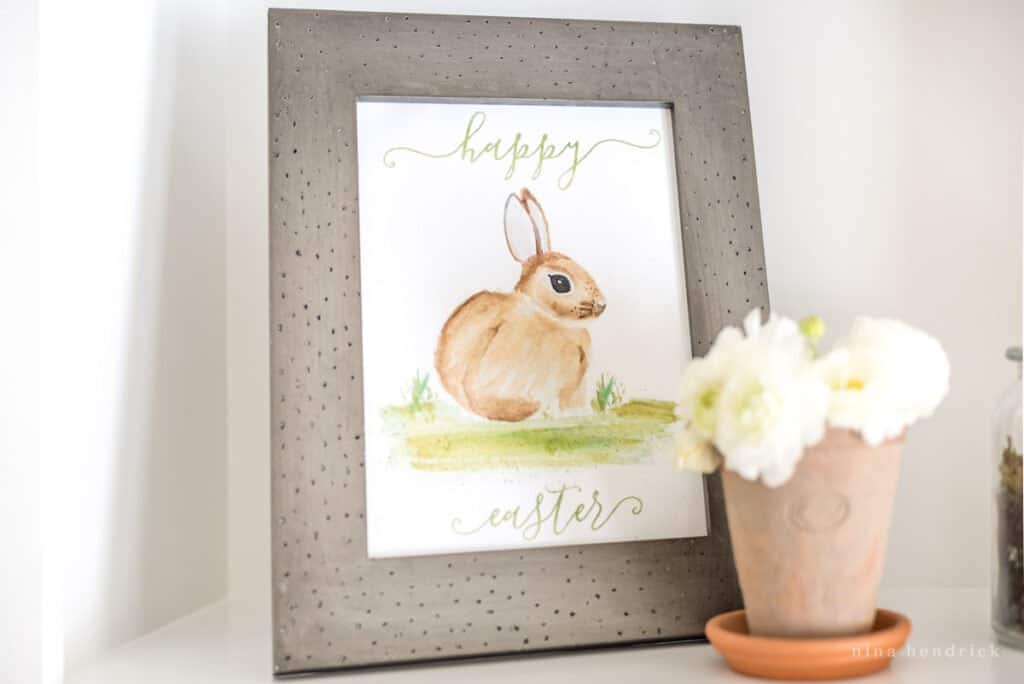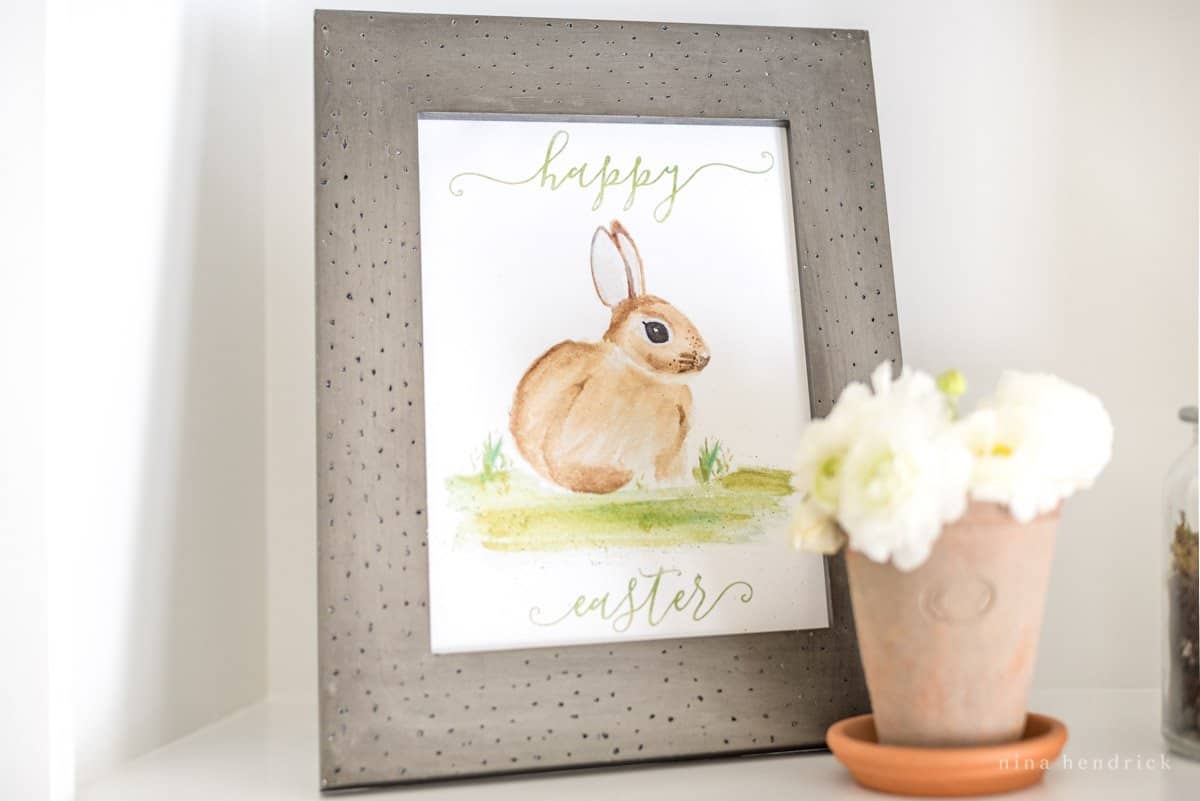 Get our free SPring printables
in our subscriber library
when you join our newsletter
Create a Spring Tablescape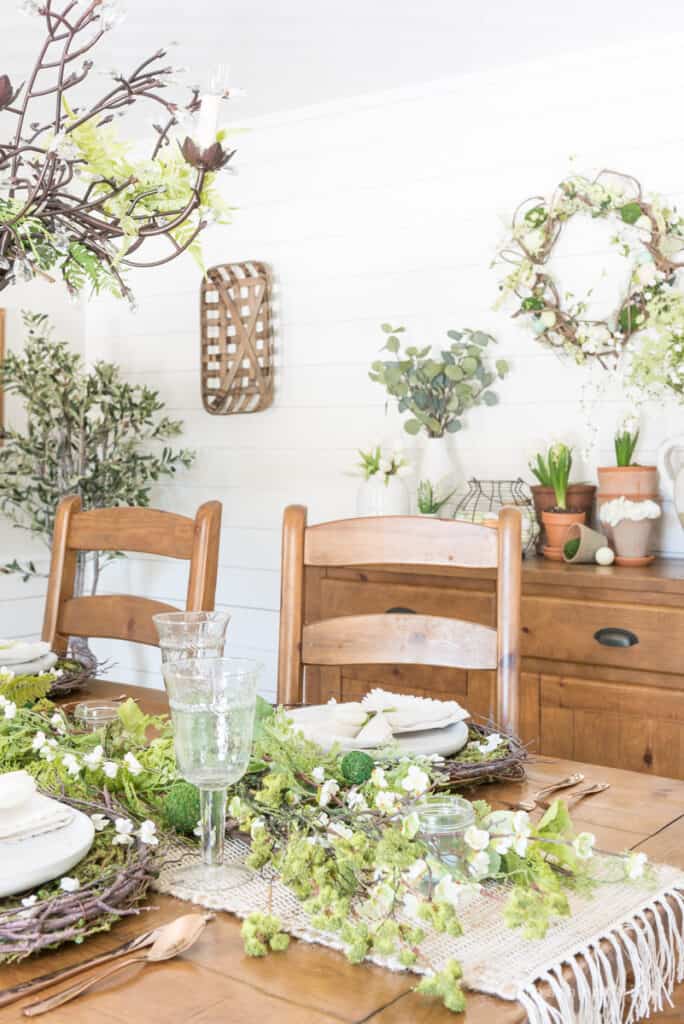 Since often spring will involve a meal for Easter or Passover, a great spring decorating idea is to create a spring tablescape. 
"Tablescape" is simply a blanket term that combines your table's centerpiece and place settings, or the overall decoration of your table. I created a post about how to create a tablescape here that covers all the basics, but let's go over some ideas for how to personalize the table specifically for spring.
Spring tablescapes also don't have to be limited to Easter. Here I created a St. Patrick's Day tablescape and shared some of my favorite decorating ideas!
Spring tablescapes can include:
Normal tablescape elements like a runner, linens, plates, silverware, and glasses.
Get creative with the centerpiece! Since you'll likely be including food, make the centerpiece portable and removable so that you can add an actual meal to your table.
Provide a gift like a mason jar filled with moss and candy eggs, or a flowerpot filled with an Easter egg. These items can also double as name tags or place cards!
You might even try something out of the ordinary with bold arrangements, like a purple tulip tablescape. I've never decorated for spring with purple before, but I love the way the color popped!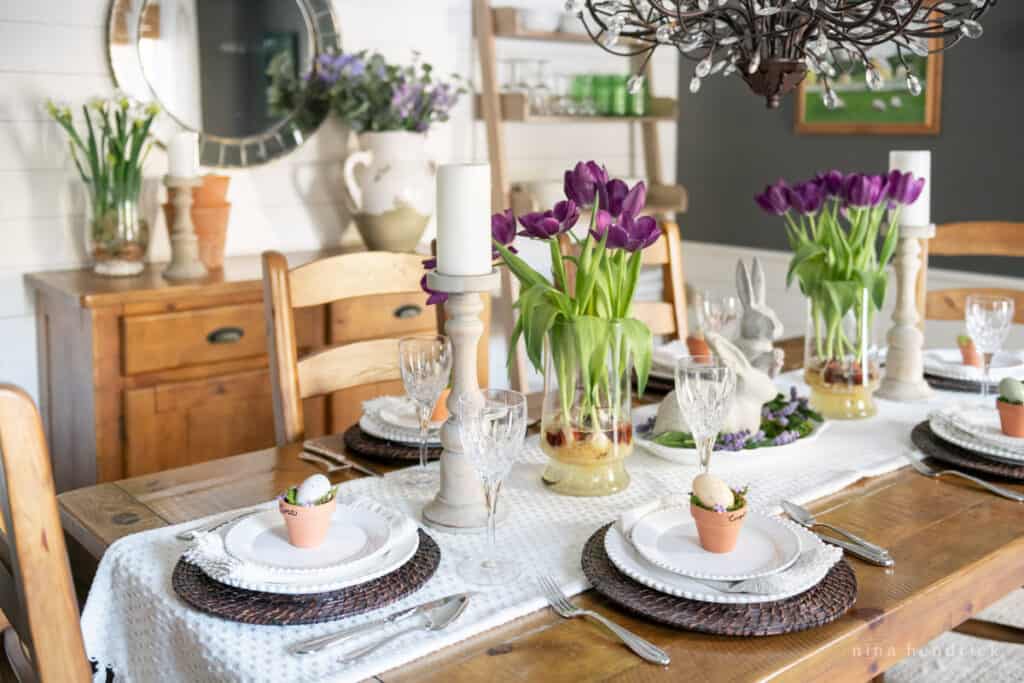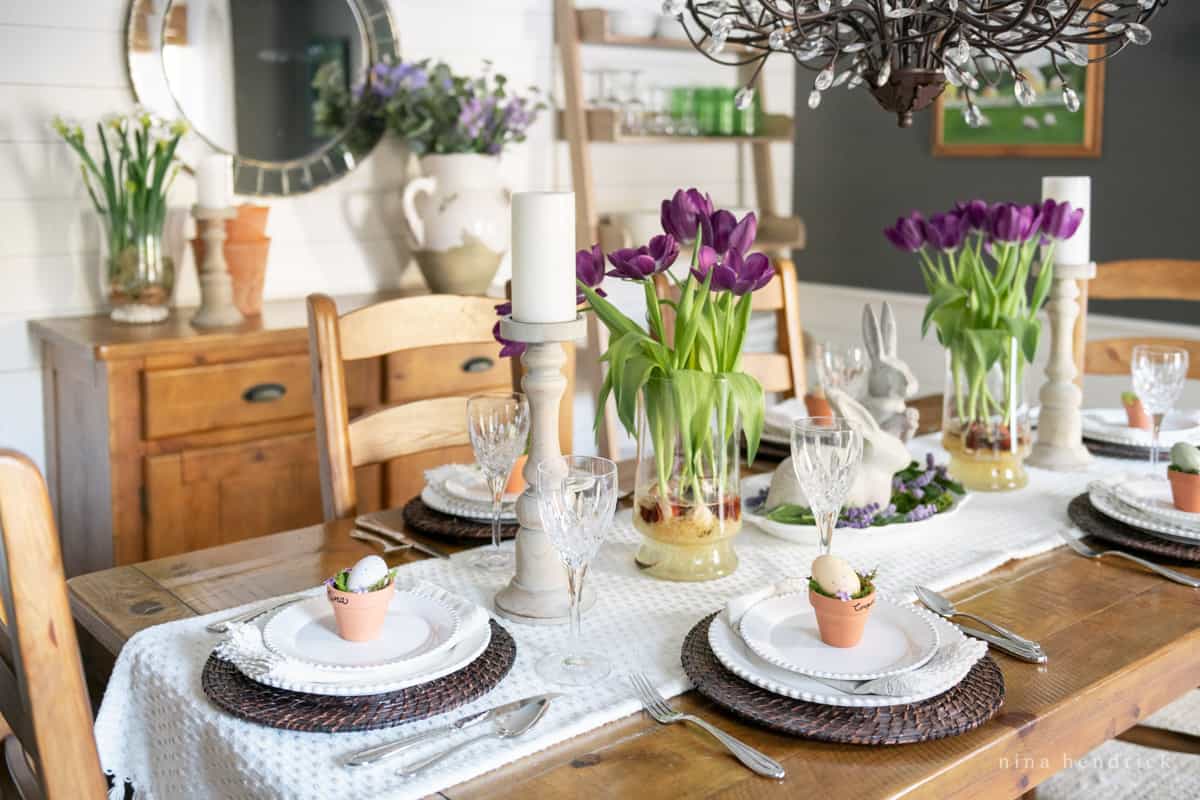 Decorating Your Mantel for Spring & Easter
Christmas mantels always get all the attention, but there are plenty of spring decorating ideas for mantels, too!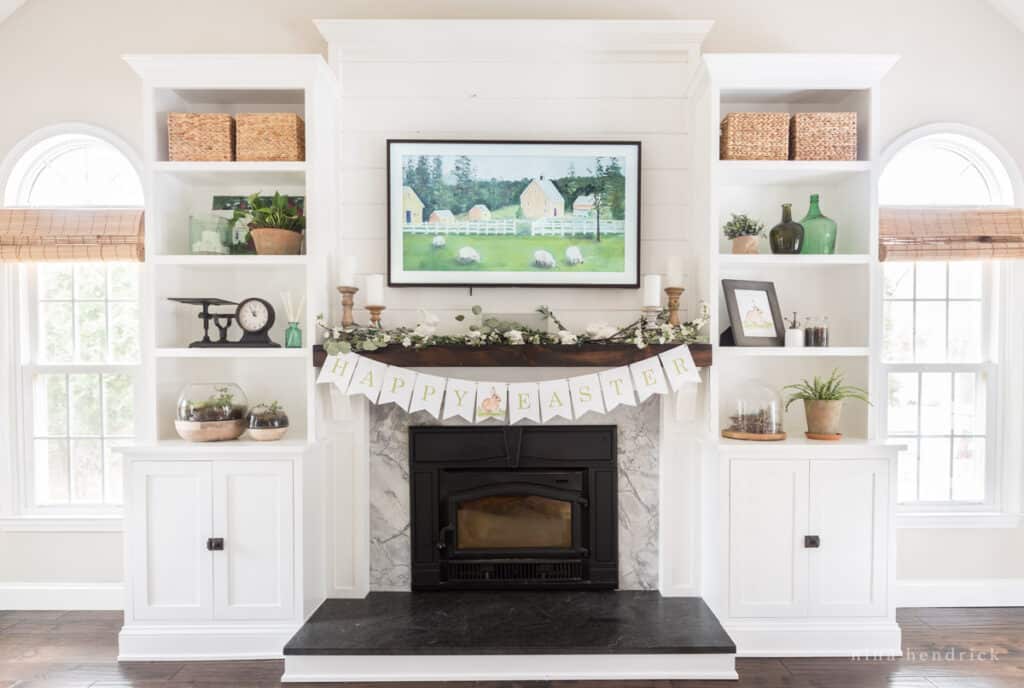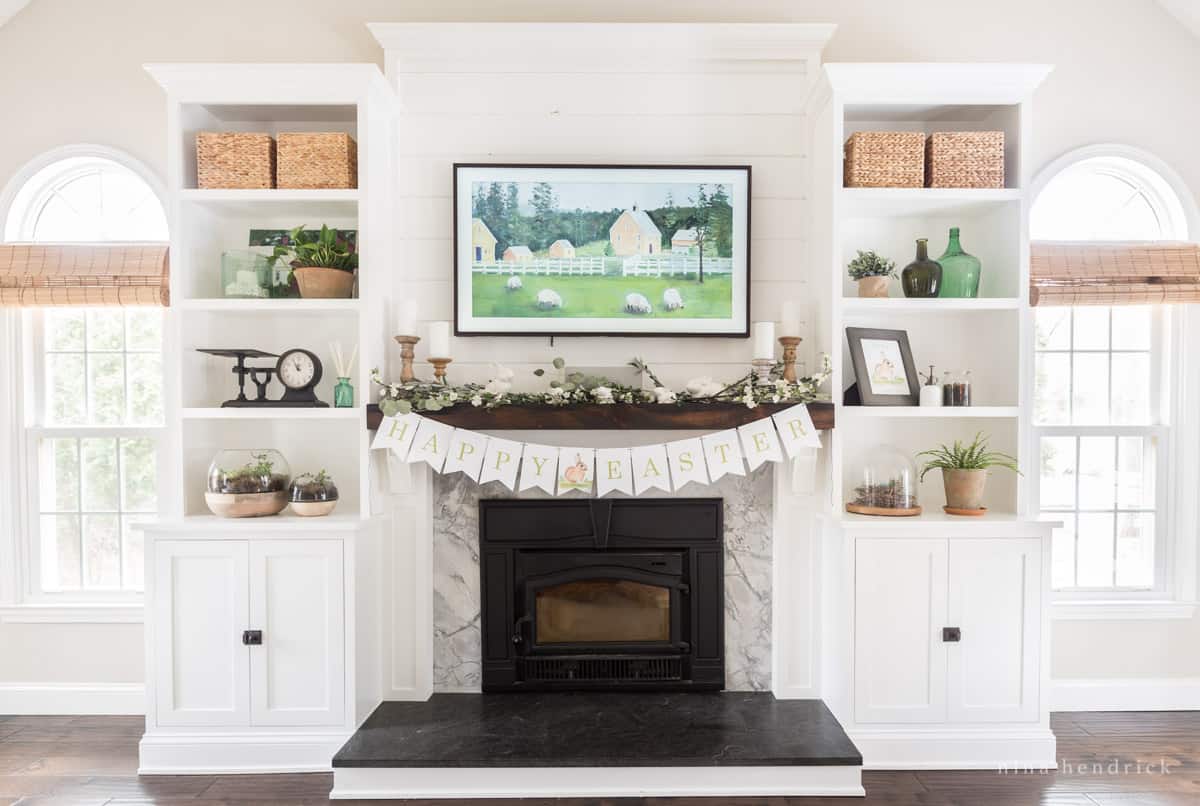 A lot of the same rules apply for decorating a mantel as creating a vignette. To make the mantel specific to springtime, incorporate some of those natural elements we covered in the beginning or use pastel shades in your decor items like candles and vases.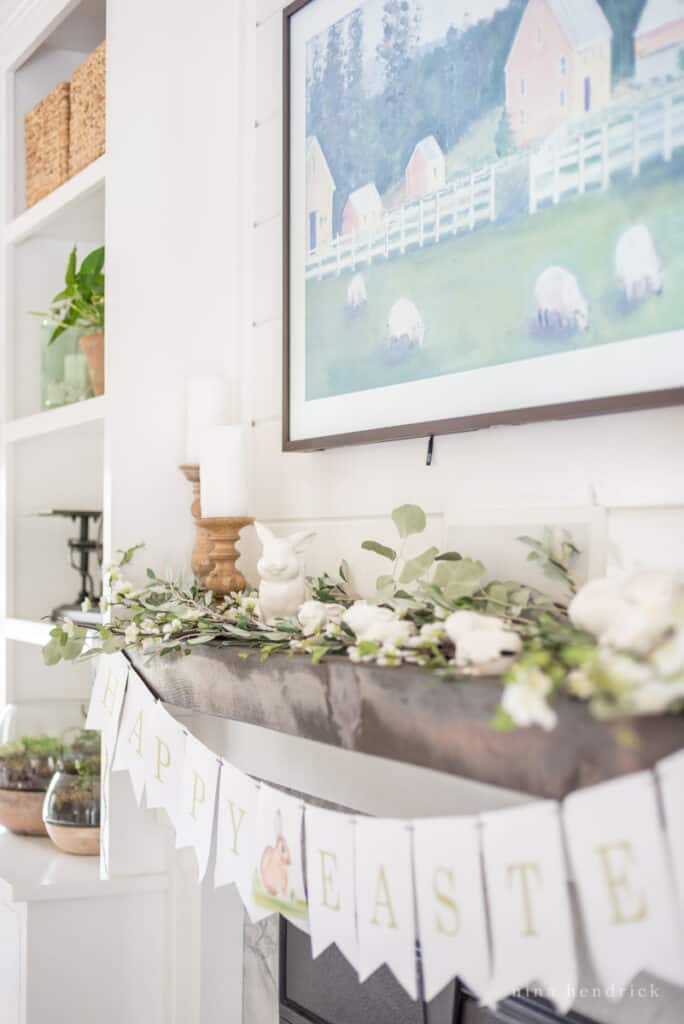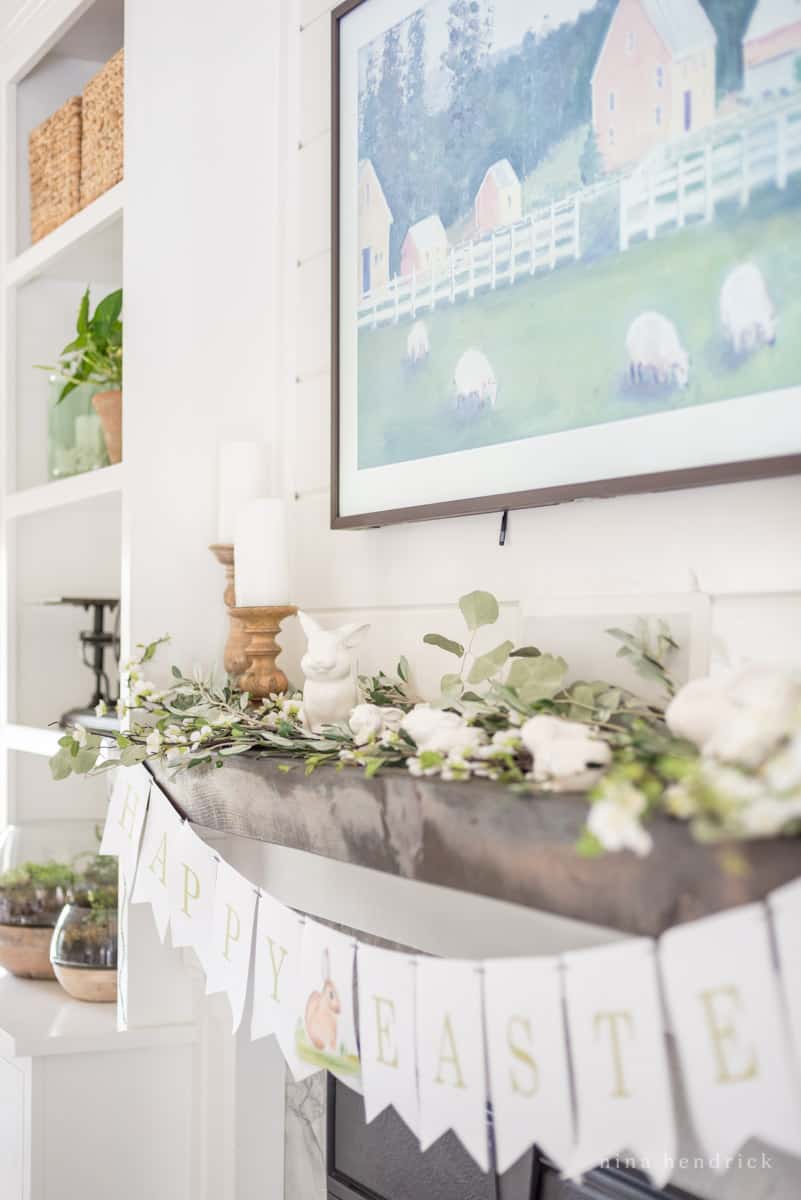 For an Easter mantel, I used this "Happy Easter" printable banner, bunny statues, and faux cherry blossom branches. I also added one of my grandfather's paintings to our Frame TV.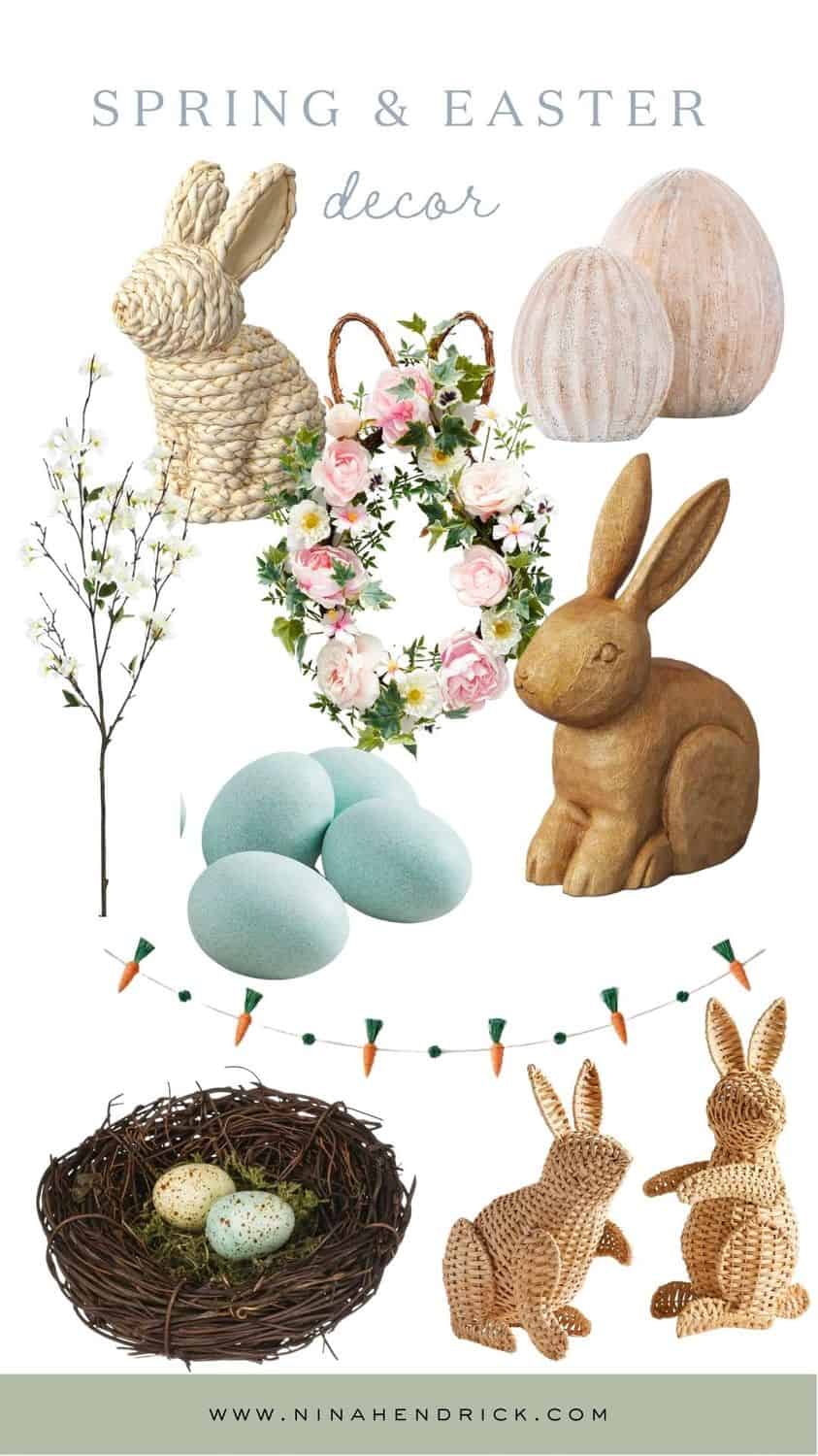 Rattan Bunny | Bunny Wreath | Fluted Egg | Cherry Blossom | Easter Eggs
Wooden Bunny | Carrot Garland | Nest | Wicker Bunnies
Other Spring Decor Ideas
Adorn your front door with a lovely spring wreath made from seasonal blooms.
Fill a large glass vase with Easter eggs before adding tall spring branches.
Decorate the shelves in your built-in or a bookcase with spring décor accents.
Swap out your everyday textiles for springtime or pastel throw pillows and linens.
If it's warm enough where you live, head outdoors to clean your front porch and add some planters (you can even use faux florals if it's cold where you live!)
Decorate your entryway to look like a potting shed with flower pots, tools, flowers, and potted plants.
Of course, there are many spring decorating ideas beyond the ones I've shared in this post, but this should get you off to a great start for decorating your home for spring and Easter!
I hope these ideas inspire you for the season ahead! Even if you're reading them on the coldest day of winter, remember: spring will be here, the flowers will bloom, and new life will begin again! Make sure to follow me on Instagram for more spring decorating ideas if you aren't already! Happy spring from my home to yours.