Recreate these 5 simple St Patrick's Day decorating ideas to honor the country of Ireland and bring beauty and greenery into your home this spring.
Decorating for St Patrick's Day doesn't have to be bright green, cheesy, and over the top. It can be subtle and elegant with a springtime feel! To honor the collected charm of Ireland, these St Patrick's Day decorating ideas include plenty of beautiful and wild looking flowers, greenery, moss, and clover. The rustic pieces tie into the old-world beauty of the country and bring this Irish-inspired table setting together.
Get creative with your decorations and make it your own. If you have an Irish heritage, you can even add a few of your own family touches, like a family photo or heirloom. No matter what your ancestry and however you choose to decorate for St Patrick's Day, make sure to include some green, shamrocks and rainbows!
5 Simple St. Patrick's Day Decorating Ideas
This post contains affiliate links, which means I may get a small commission (at no extra cost to you) if you shop my link. Please see my disclosure if you'd like more info!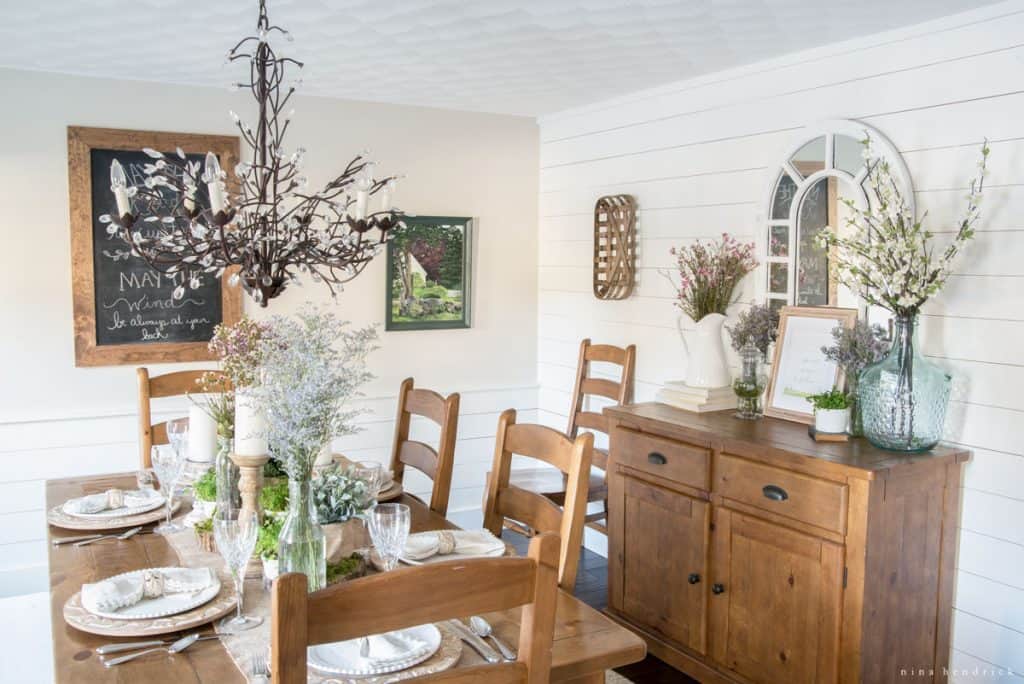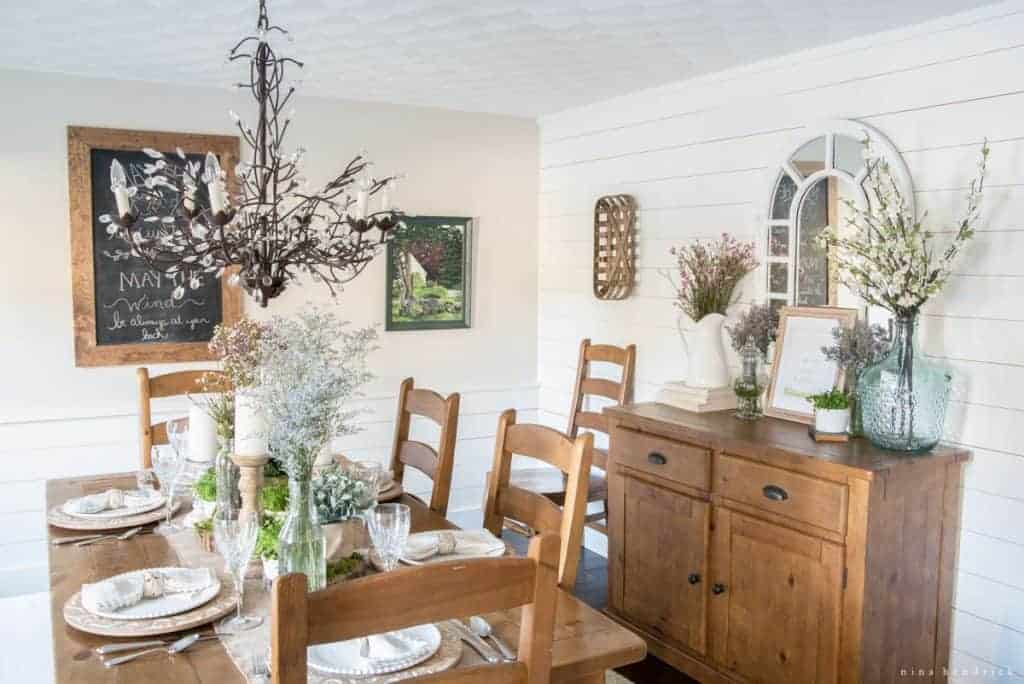 1. Create an Irish-Inspired Tablescape
Since St Patrick's Day isn't typically a holiday you'd decorate your entire house for, it makes sense to choose a single focus area to decorate like a tablescape.
A tablescape is also a great choice for St Patrick's Day decor because it gives you a place to serve your traditional Irish-American boiled dinner of corned beef and cabbage with Irish soda bread. If you're looking for tablescape basics (including where to put the food!) I put together this post with my favorite tips.
For this tablescape, I wanted to incorporate as much green as possible so I could easily transition a St Patrick's Day themed table into a spring table with little effort. I'm always an advocate for simple and approachable decorating for any season! Here are some of my other favorite spring decorating ideas.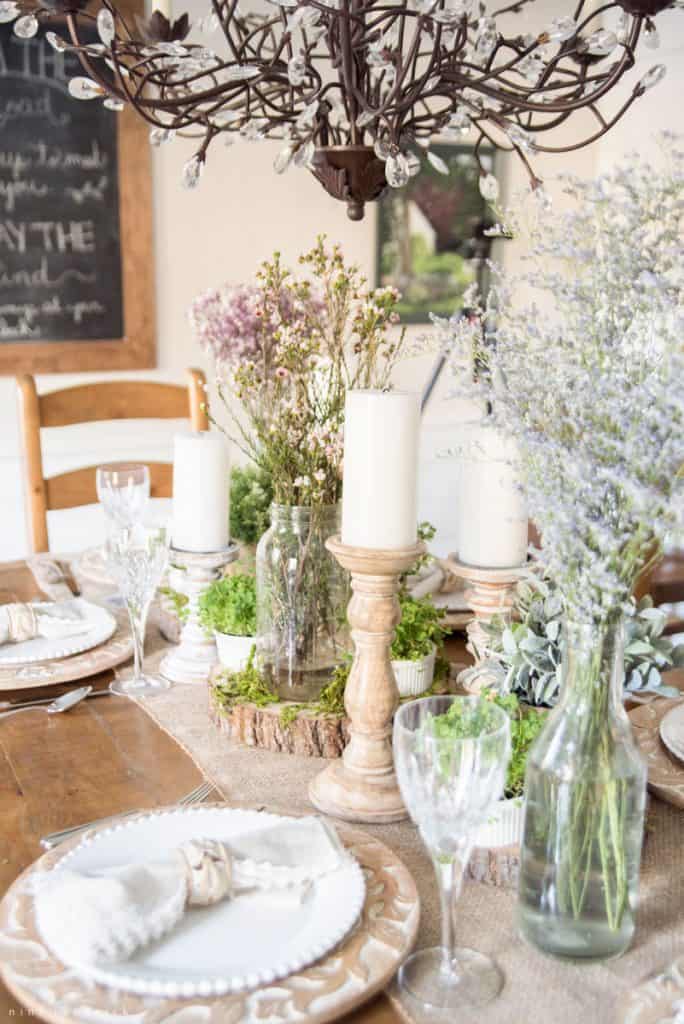 Centerpiece with Irish Inspiration
St. Patrick's Day decorating ideas don't have to be complicated to be impressive. A simple yet eye-catching centerpiece with Irish inspiration is sure to be a hit. An easy way to make a festive centerpiece is to gather a few items that remind you of Ireland, such as a few green or white candles, shamrocks, and wildflowers. Place these items in a decorative bowl or tray and surround them with colorful stones and moss. The result is an elegant and unique centerpiece that is sure to bring a bit of Irish luck to your St. Patrick's Day celebration.
2. Use Decor with Irish Roots
Ireland is famous for its lush green countryside and its rich culture, so it's no wonder that St. Patrick's Day decorations are often inspired by its Irish roots. Decorations like shamrocks, leprechauns, and Irish flags can be used to bring the spirit of St. Patrick's Day into your home. However, for a more subtle look, you can also use earthy greens and browns to decorate your home and still give it a Celtic touch. This is my favorite method, and to tie these items back to Ireland, I love the idea of supporting Irish brands.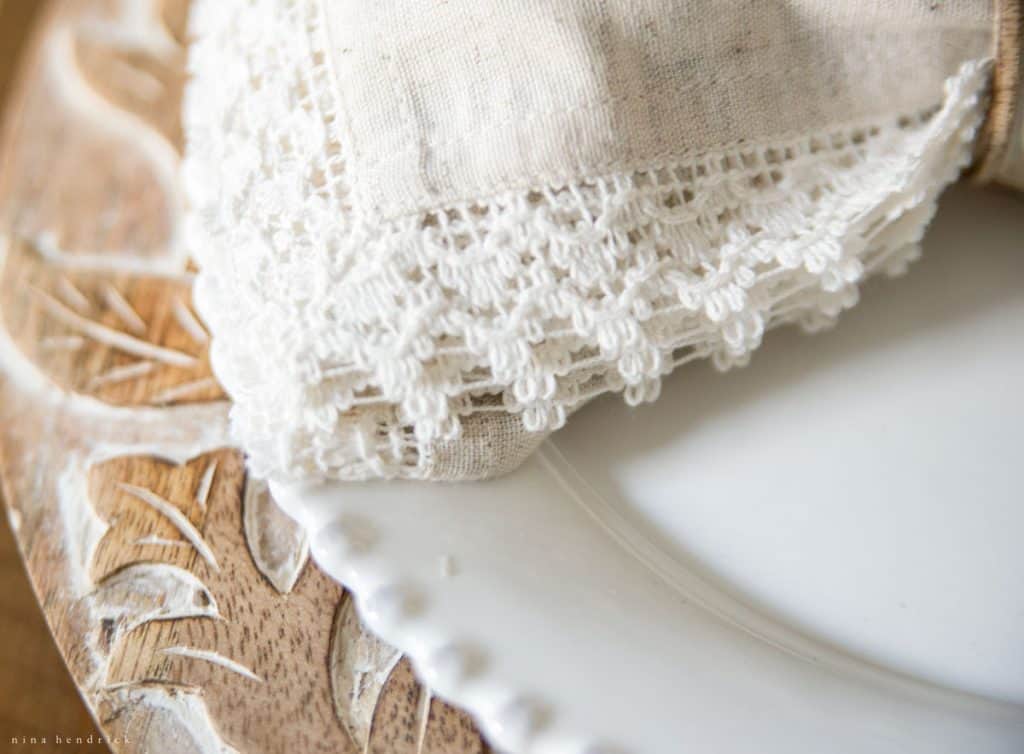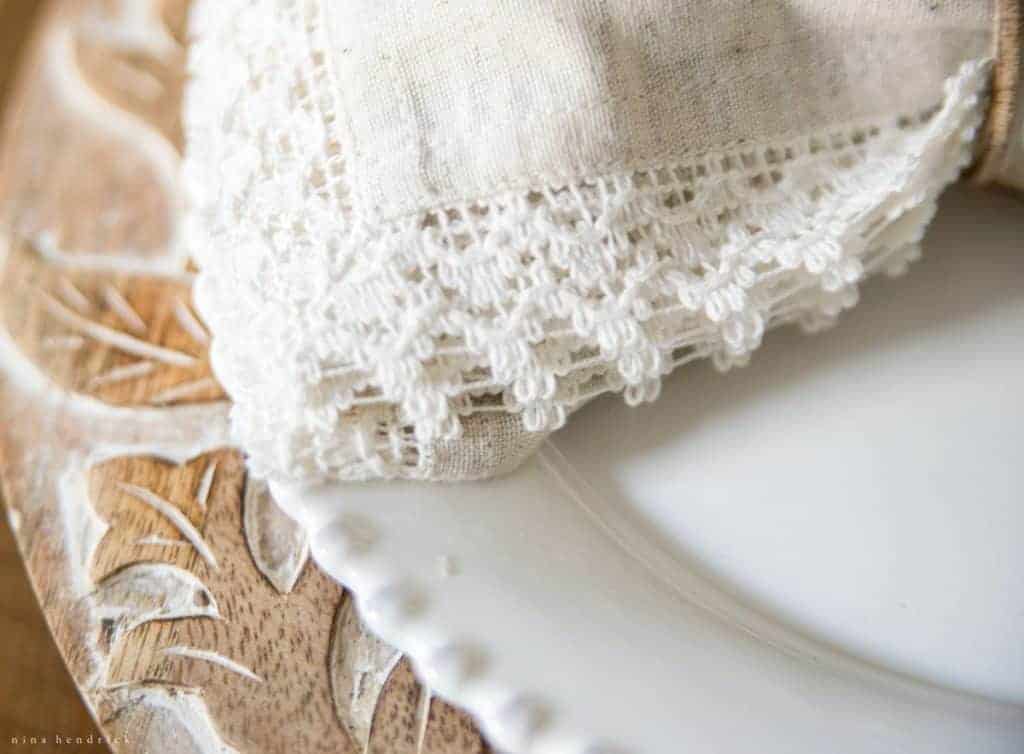 For the tablescape above, I added my Waterford flatware and crystal glasses as a nod to the country's beautiful craftsmanship. My lace-edged napkins and carved wooden chargers seem to hint at the culture as well.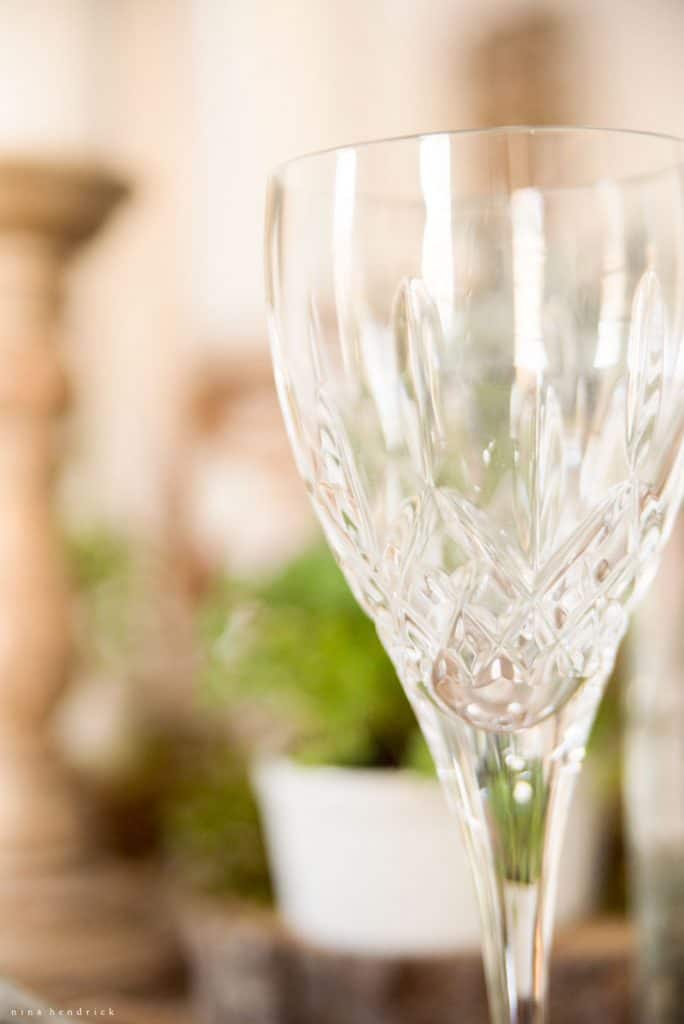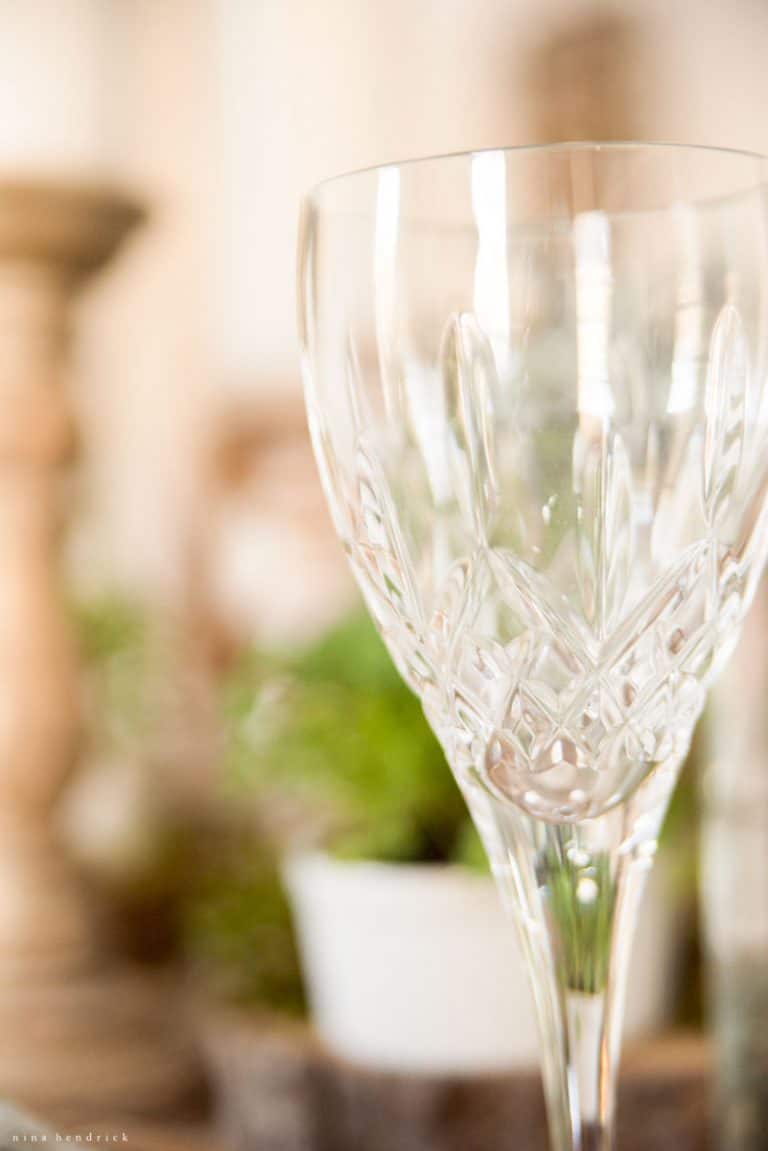 You could also use brass or old silver candlesticks which bring to mind the age and sense of tradition we often associate with Ireland. When you visit the country, there's a sense of honoring things from the past, and it's one of my favorite qualities of the country. 
3. Create a St. Patrick's Day Vignette
Another idea for choosing a singular focus area to decorate for St. Patrick's Day is to create a vignette. A vignette is a small decorating scene on a tabletop or shelf that helps you tell a story.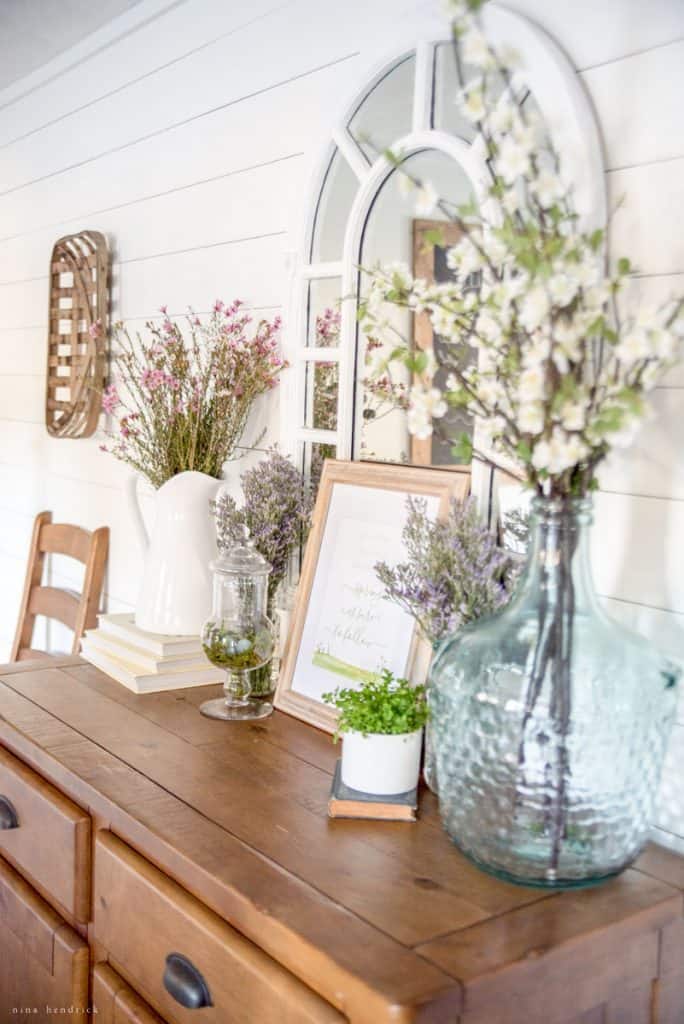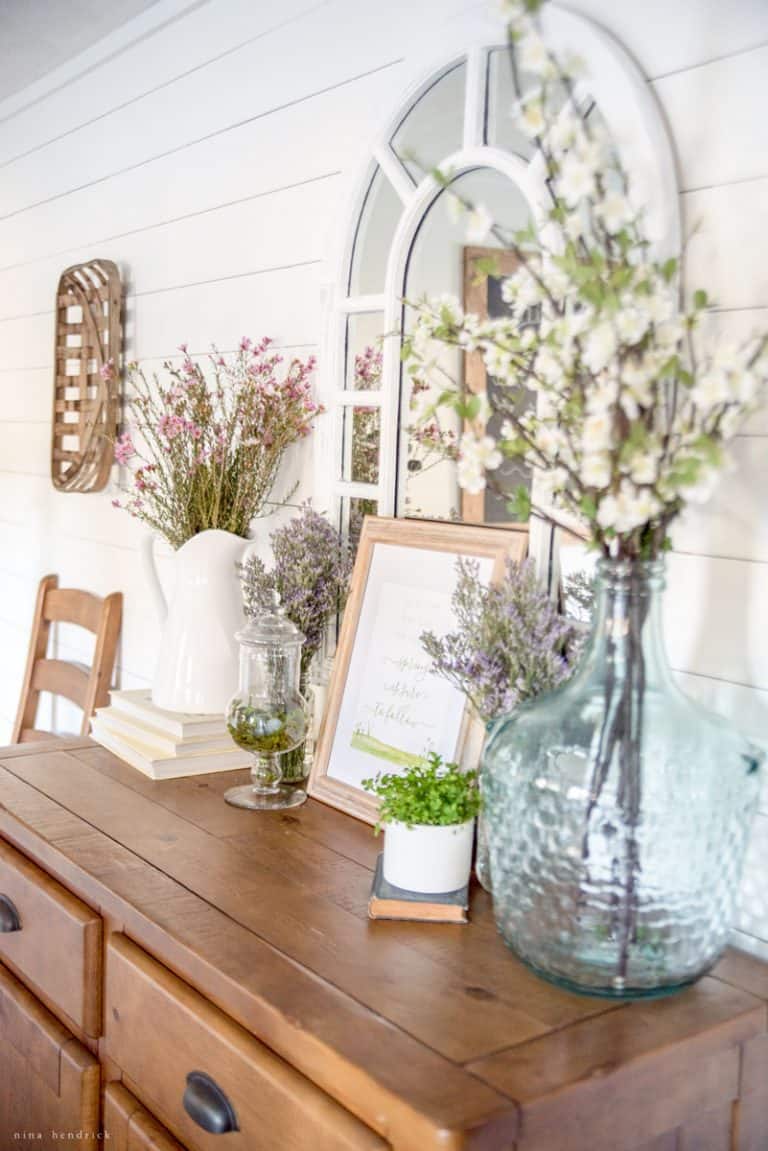 In this vignette, I used a similar collection of greenery and wildflowers as the tablescape and paired them with this spring printable. As with the tablescape, I could remove the greenery when needed, and we have a dining room that's ready for the rest of spring!
To create your own vignette, here are a few ideas for what you can add:
a few glimmering white or dark green candles in gold or brass candlesticks
a green table runner under your display
add a banner to the front of a console table in your entryway
small "pots of gold" filled with chocolate gold coins
These ideas will help you create an eye-catching, festive St Patrick's Day atmosphere in your home. Whether you choose one, two, or all of these ideas, you'll be sure to make your St Patrick's Day celebrations extra special!
3. Decorate with Clover, Lots of Greenery, and Flowers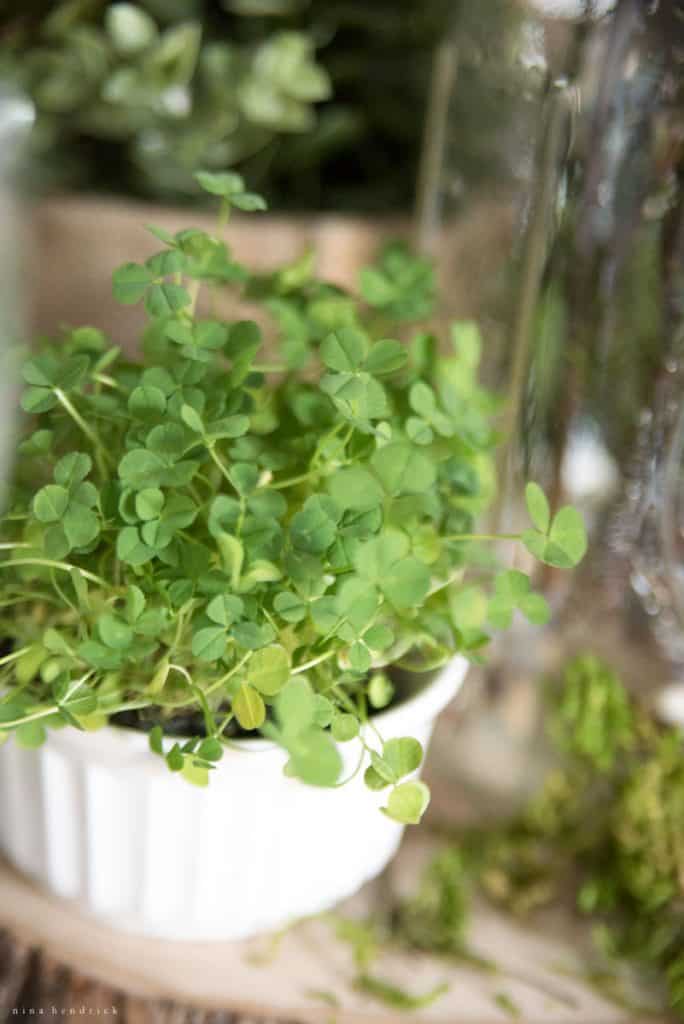 Okay, I have to go with the obvious here. Decorating with four-leaf clovers or shamrocks is a no-brainer for brining good luck on St Patrick's Day! However, rather than paper or plastic clovers, many grocery stores will have little live pots of clover that you can use in your decor around St Patrick's Day. Here I have it in a small ramekin, but you could also use a little brass pot for a fun nod at a pot of gold.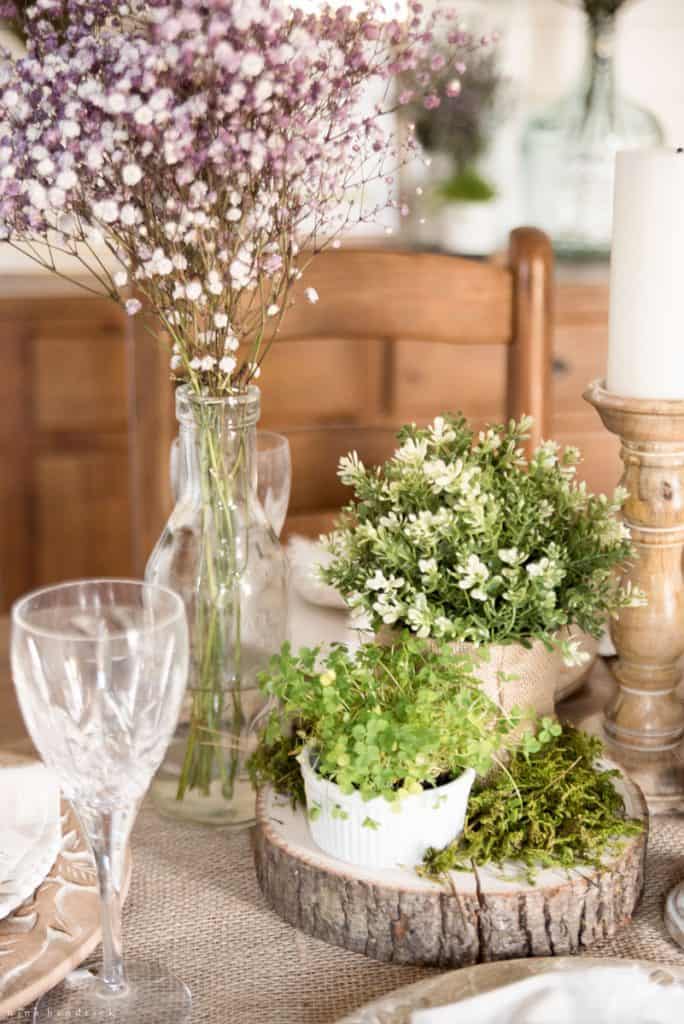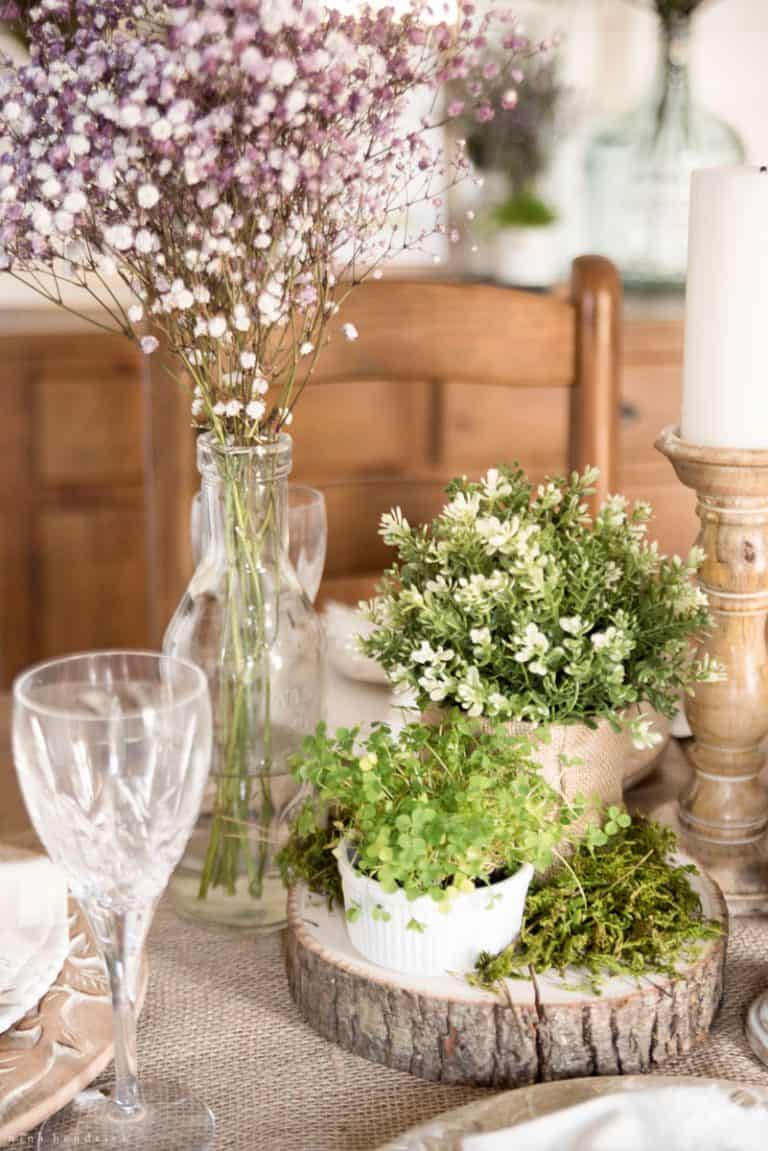 Ireland is famous for being lush and verdant. While the four-leaf clovers get the most attention, Ireland also has plenty of other trees, vines, and fields of wildflowers. Any St Patrick's Day decorating ideas should include plenty of gorgeous greenery to bring to mind the Emerald Isle.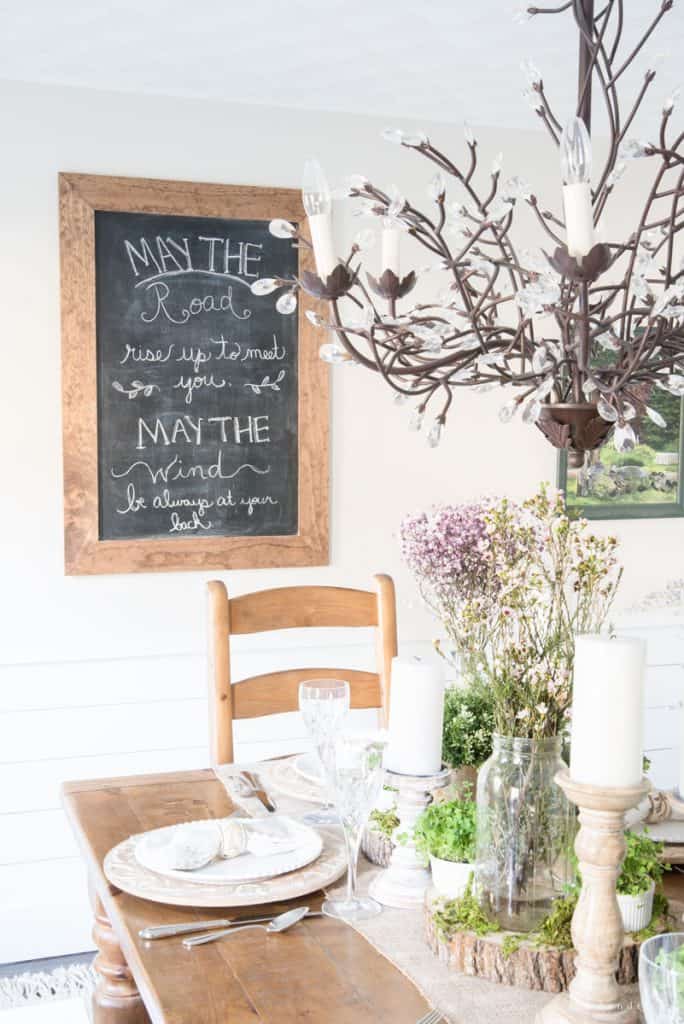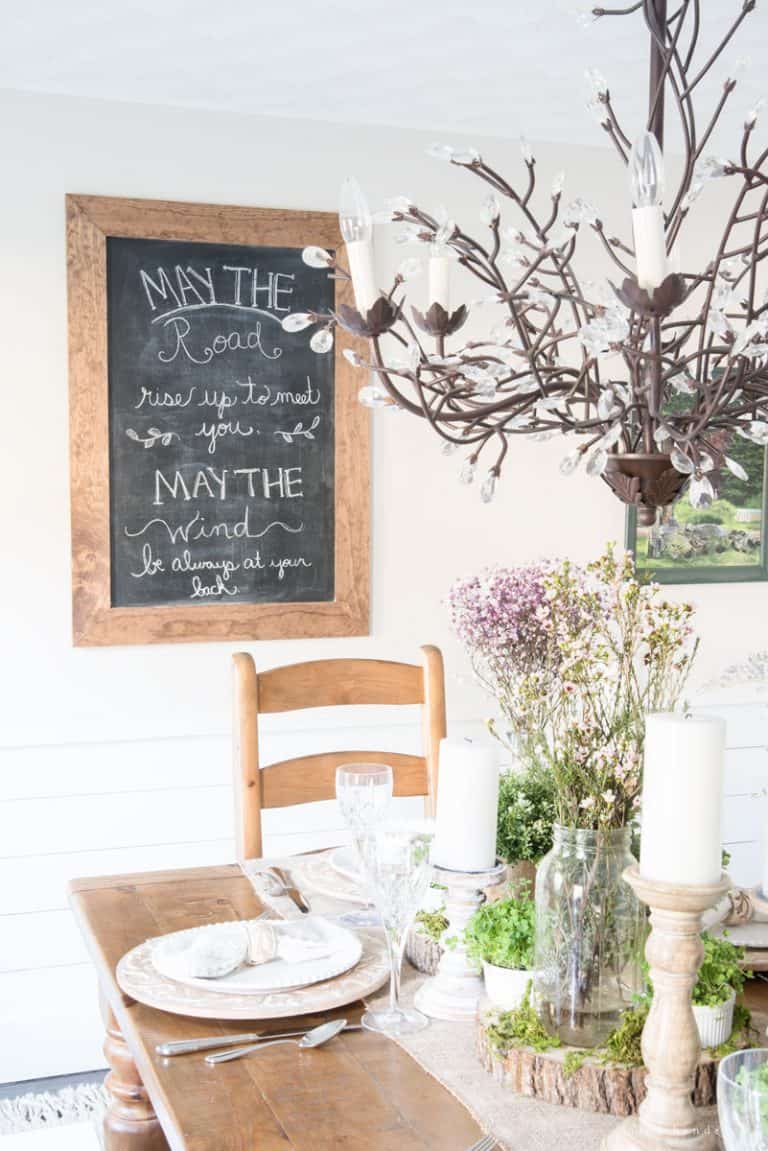 5. Include Artwork with an Irish Blessing
One of the most popular St Patrick's Day decoration ideas is to include artwork with an Irish blessing. There are so many beautiful and sentimental sayings to choose from to adorn your home, from the classic "May the road rise up to meet you" to "Laughter and joy fill your days". Whether you choose a wooden sign with an etched saying or a framed print, you'll be reminded of the true spirit of St Patrick's Day each time you pass by.
I freehanded this ancient Irish Blessing on a chalkboard, but there are also many prints that you could display for the season. This blessing honors both nature and spiritualism, which are two main pillars of Irish culture and St Patrick's Day. It's a comforting reminder as we celebrate spring, renewal, and the brighter days up ahead.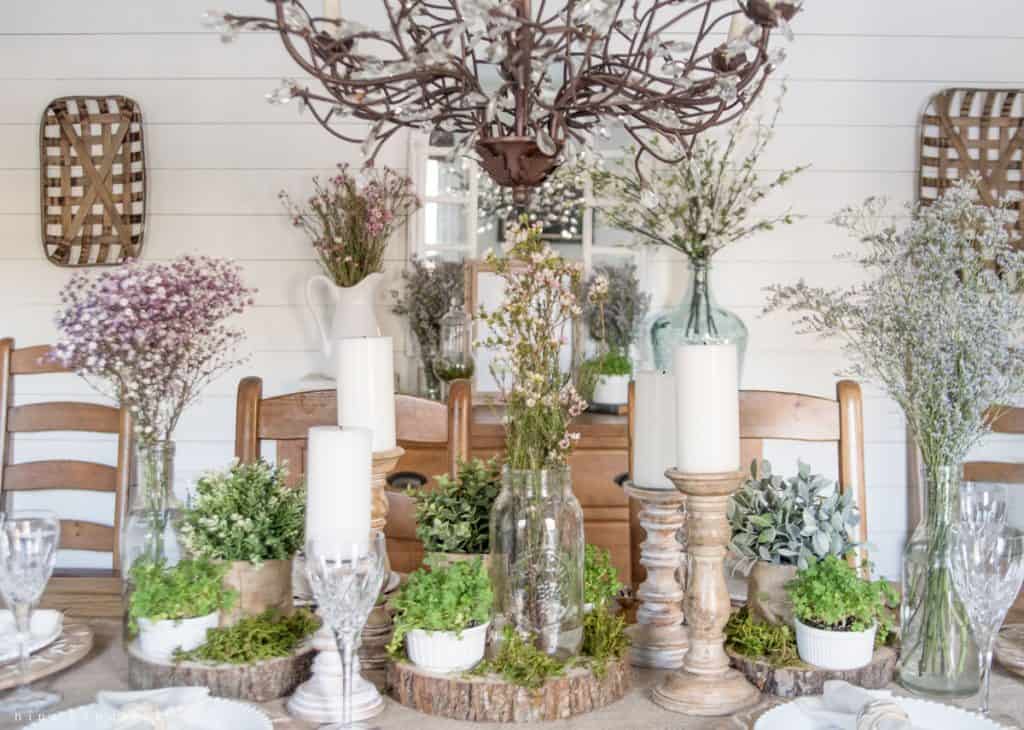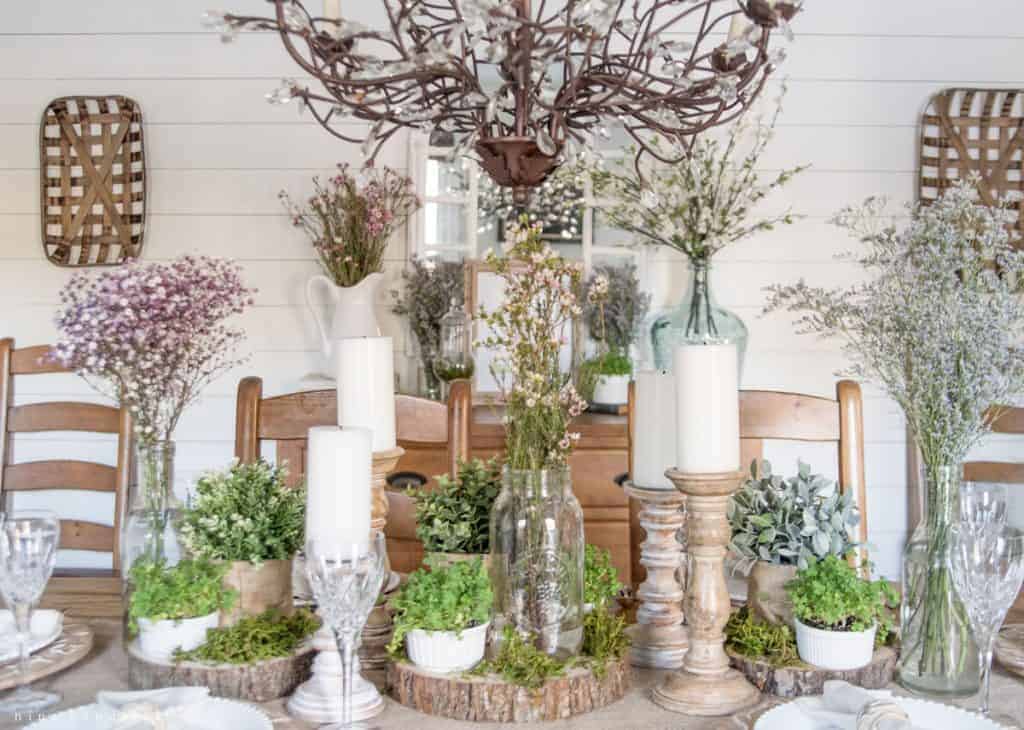 More St Patrick's Day Decorating Ideas
Decorate with velvet throw pillows in different shades of green mixed with everyday neutral pillows.
Add touches of green and gold throughout your space with decor accessories.
Drape shamrock garland on your mantel or a console table.
Hang a shamrock wreath on your front door, or even create a door hanging with a moss shamrock shape
​Create a leprechaun trap as a fun DIY craft for kids that doubles as holiday decor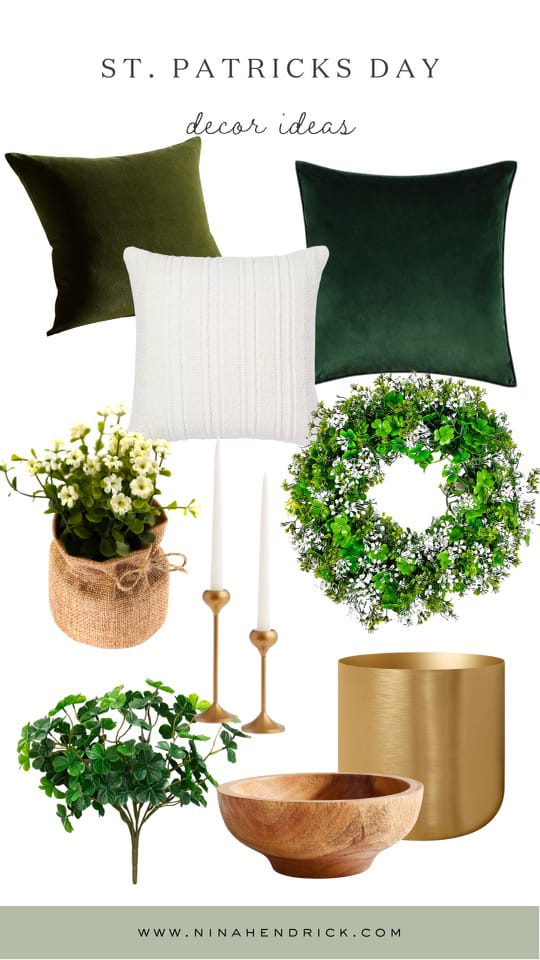 Mossy Green Velvet Pillow | Striped Pillow | Dark Green Pillow
Flower Arrangement | Brass Candlesticks | Wreath
Shamrocks | Wooden Bowl | Brass Planter
Overall, I hope these St. Patrick's Day decorating ideas inspired you to honor the beautiful country of Ireland and the heritage of Irish American culture. It's truly such a fun holiday and I believe it's one with a spirit that can be celebrated by everyone. Tag me on Instagram @ninahendrickhome if this inspires you to display your own St. Patrick's Day decor!