Learn how to set up a relaxing, sweet, and heartfelt breakfast in bed on Mother's Day (or any day!) with these easy tips.
For Mother's Day this year, you really want to make Mom feel special. You want her day to start out with luxurious relaxation and peaceful reflection. You want to give her the royal treatment!
After all, she is the queen of the house.
And on this special day set aside just for her, you'd like her morning to start out with sumptuous pampering. I know that I, for one, would not argue with that! :)
So, in that vein, I'd like to invite you to my perfect Mother's Day morning daydream. You see, in order to know what mothers want, you need to jump inside the head of one for a quick moment.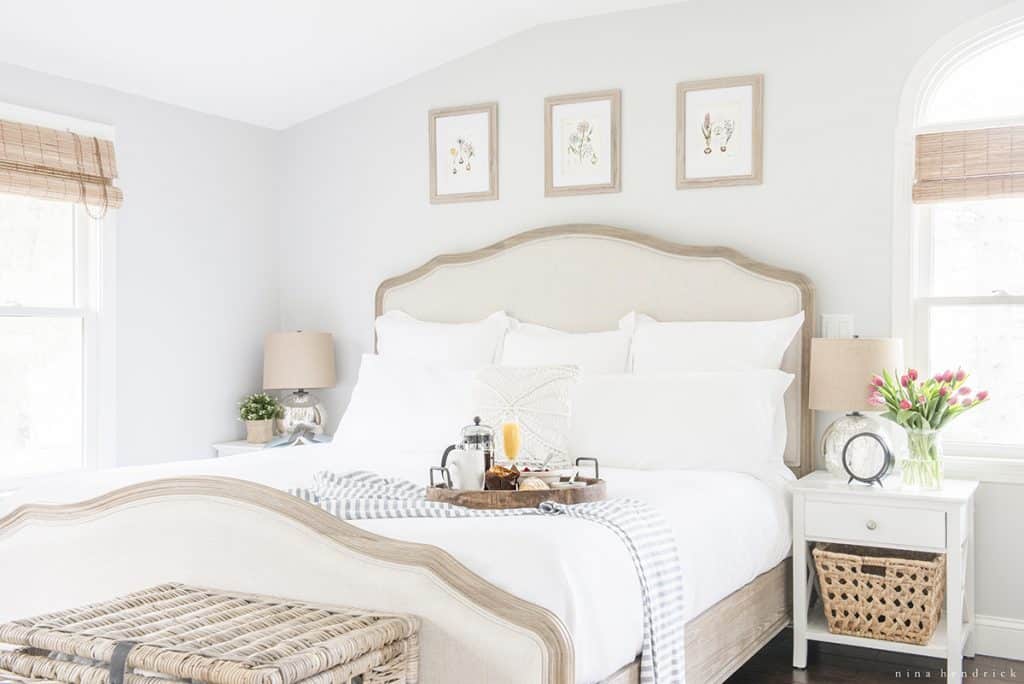 This post contains affiliate links, which means I may get a small commission (at no extra cost to you) if you shop my link. Please see my disclosure if you'd like more info!
A Perfect Mother's Day Morning
My perfect Mother's Day morning starts out by sleeping until I truly feel rested. No 6am wake up call, no one needing an ipad screen time passcode, and no needing to break up a brawl between rowdy boys over toothpaste. Just peacefully opening my eyes feeling fresh as a daisy.
(Quick disclaimer: I love my kids more than anything, but sleep and tranquil mornings have been a scarce commodity in our household for more than a decade now. So in my Mother's Day daydream, this mom is definitely sleeping in!)
Next, I'm served with a light and delicious breakfast that exquisitely hits the spot. After eating, there's no rush. Only heaps of time and leisure.
So I grab my book and relax in bed for a bit, propped up on my ultra fluffy pillows, reading and lazing away while I sip my decadent coffee. My to-do list is magically blank, instead of blinking in my mind like a lit-up Vegas sign.
*Sighhhhhhhh*
Doesn't that sound just perfect??
If it sounds similar to what you'd like for the Mom in your life, then read on for an easy guide to giving her the perfect breakfast in bed on Mother's Day!
If you think mom would love a more formal sit down brunch instead, there's ideas and inspiration in this post!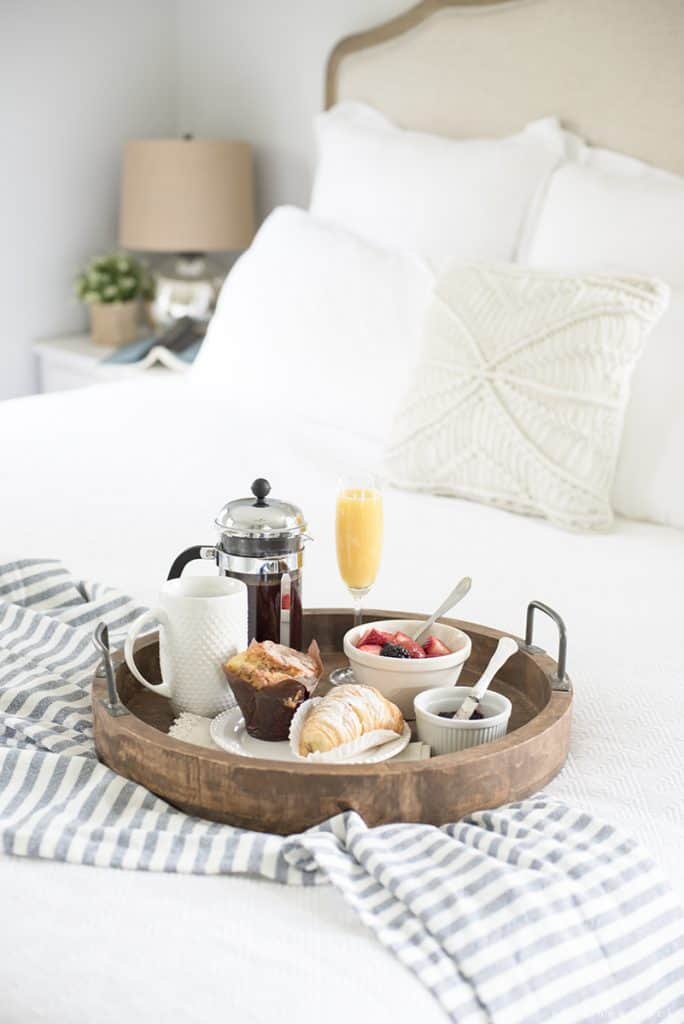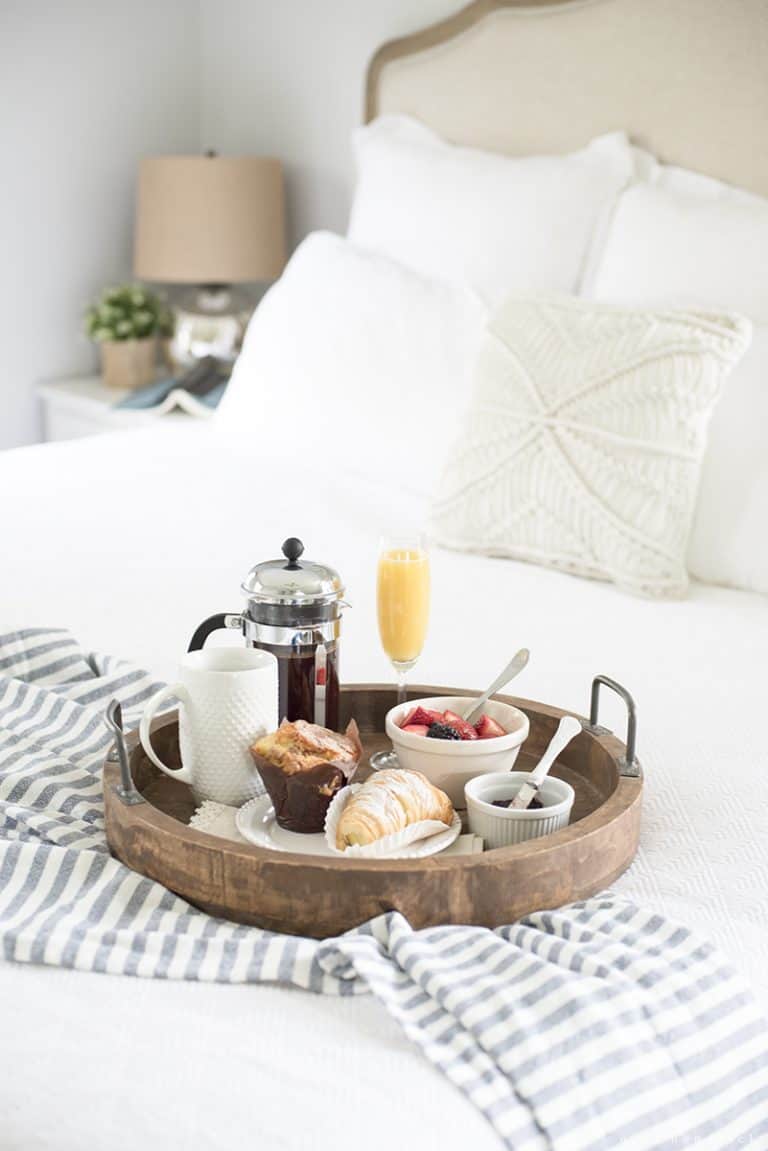 How to Make Mom Breakfast in Bed
So you've decided you want to pamper Mom with a Mother's Day breakfast in bed, but you're not sure where to start. Don't worry! With a little pre-planning, you can create a really lovely experience for her, without going to extravagant lengths.
Let's break it down to the basics.
You'll need:
A tray
Food
Drink
Linen or napkins
Silverware
Fresh flowers
Something sentimental
I'm about to go over each one and give you my best tips and ideas, so you can plan with ease and show Mom how much she's loved!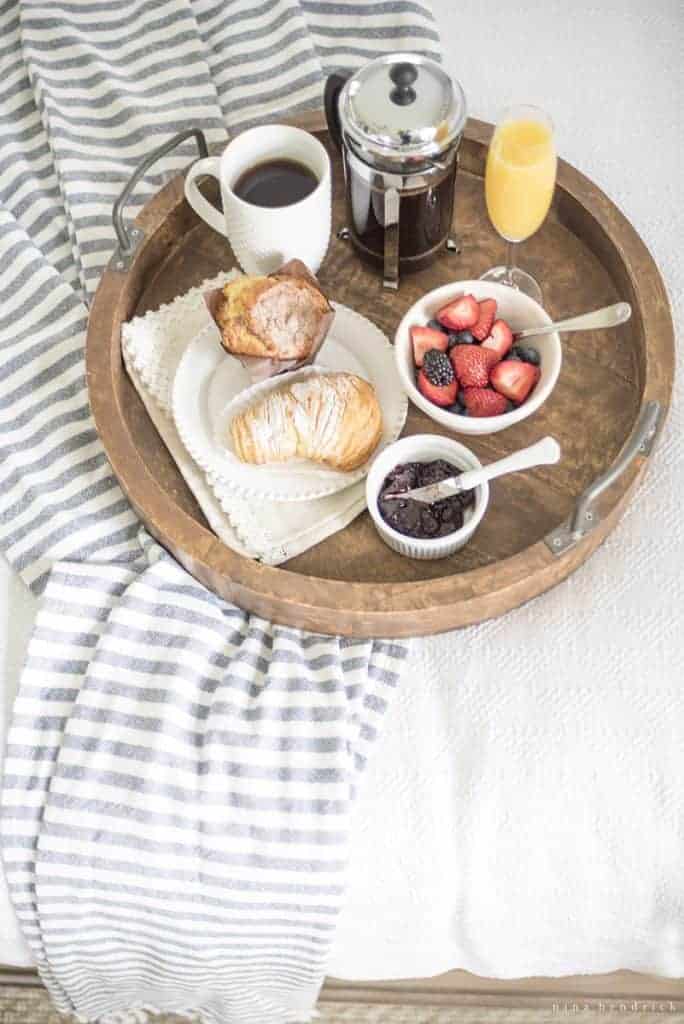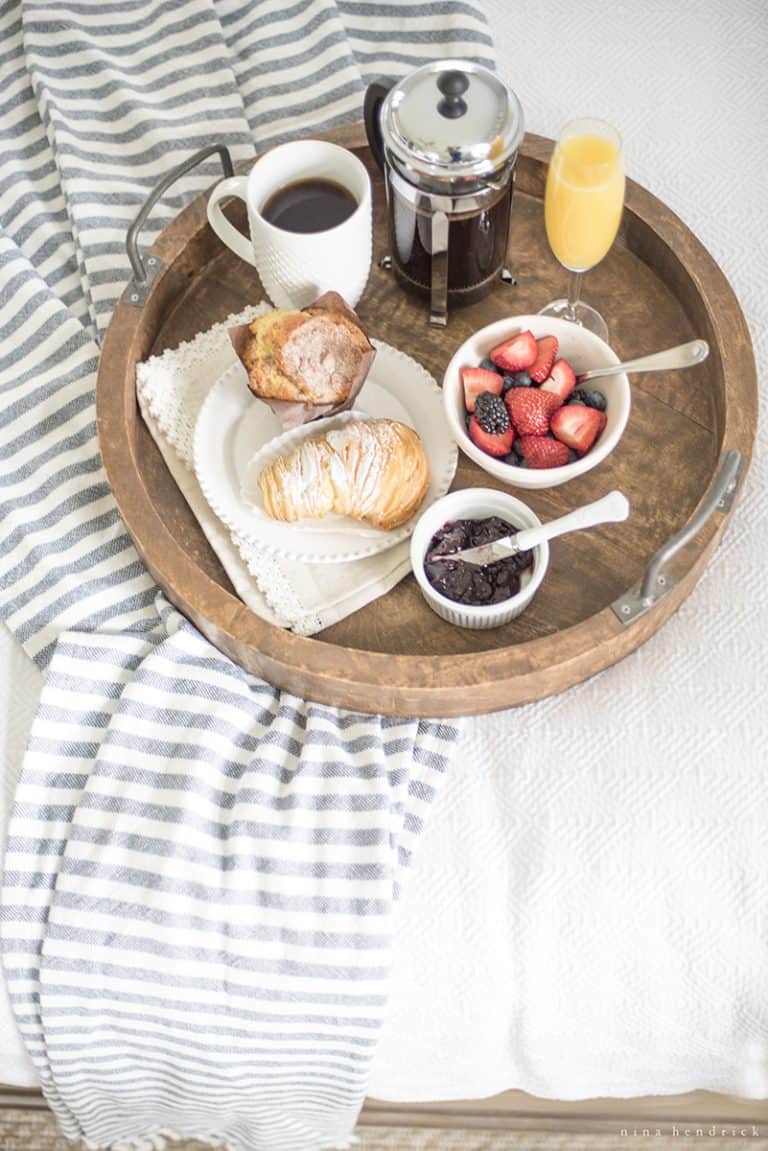 Serve Her Breakfast on a Bed Tray
It feels so special to be served breakfast on a tray! Whether it's room service at a fancy hotel, or hor d'oeuvres at a fun event, trays signify that the food they hold has been prepared for a special occasion.
Don't have a tray handy? No need to stress. You can improvise with a large cutting board, a serving platter, or even by scooting a small side table up to her bed.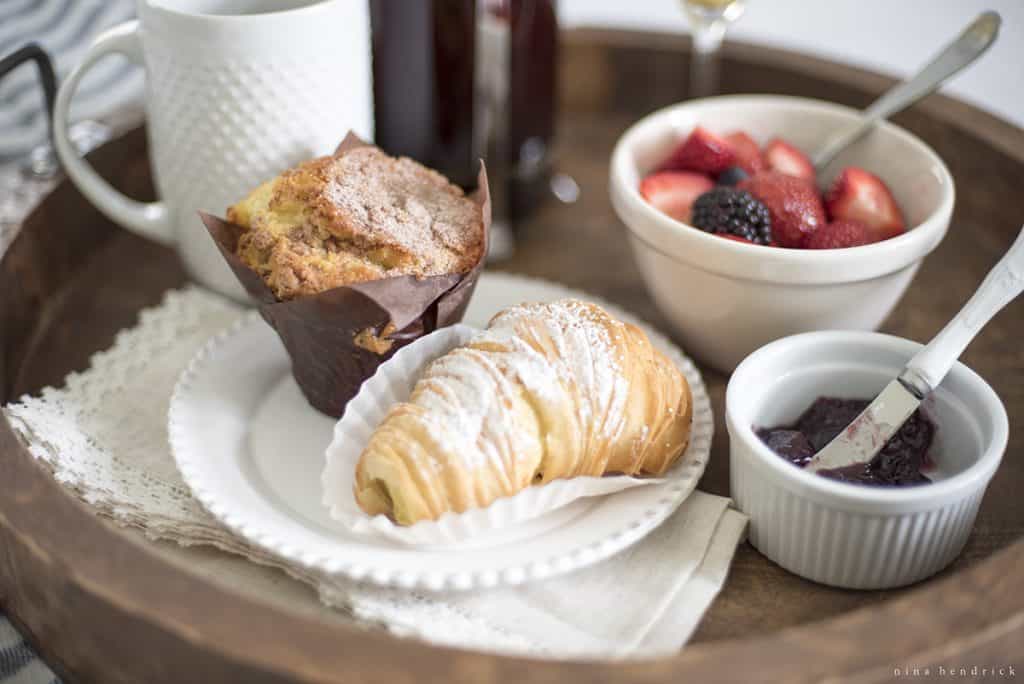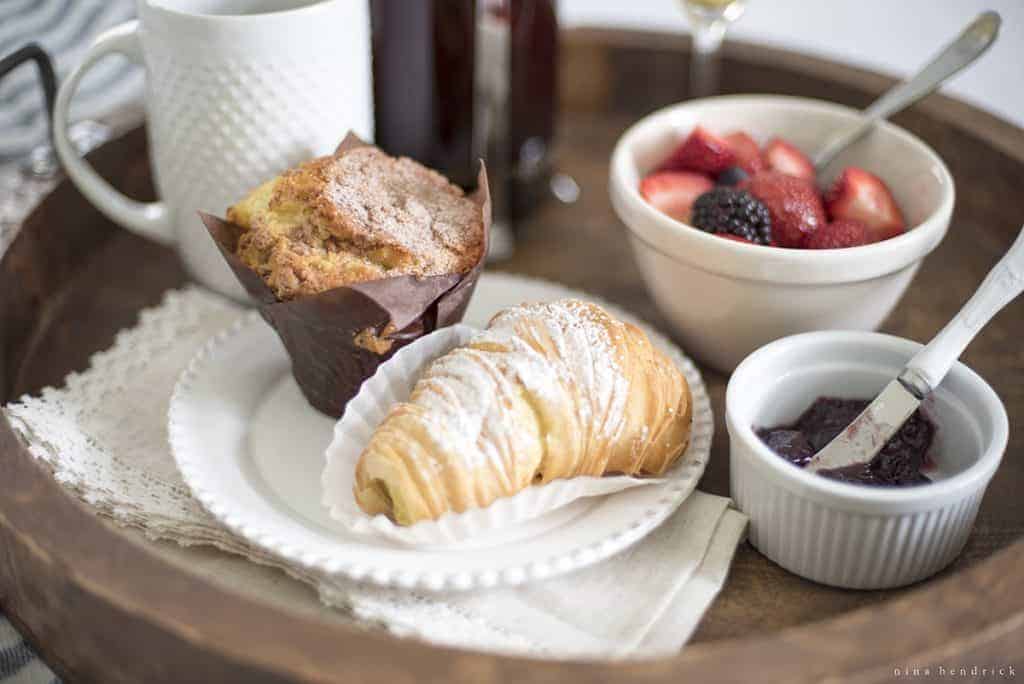 Breakfast in Bed – Food Ideas
Personally, I like a light breakfast. I don't wake up with a roaring appetite, so I'm perfectly satisfied with fresh fruit and my americano.
But some moms need a more substantial first meal, so my advice is to know thy mother!
What are her favorite breakfast foods? What flavors does she rave about? What does she usually order at restaurants in the mornings? What are her dietary restrictions? This is your starting point.
A special occasion breakfast will usually include a protein, and a carb or two. Make sure to mix sweet and savory foods.
I also recommend incorporating some fresh fruit into the mix. Fresh fruit creates a balanced-feeling meal with restaurant vibes. (Fruit is technically a carb, but it's full of fiber and who's counting on Mother's Day? 😉)
Below are some popular breakfast foods from each category. Keeping in mind what Mom likes, you can pick out items from this list to build her perfect breakfast menu!
Protein:
Eggs made to order
Omelet
Quiche
Egg soufflé
Bacon or Prosciutto
Sausage
Cheese
Greek yogurt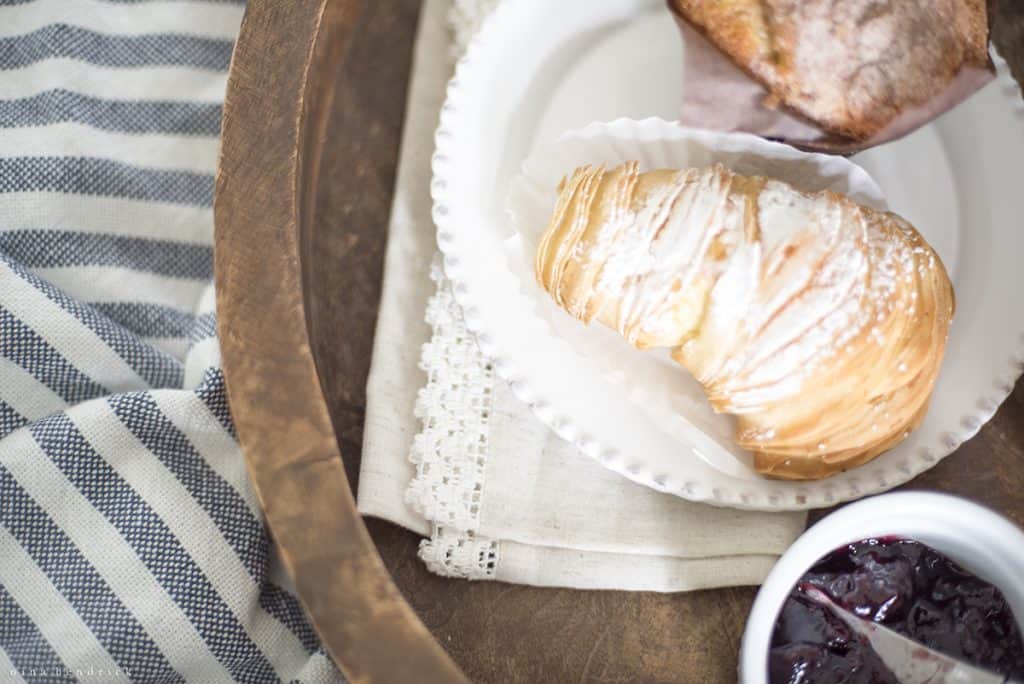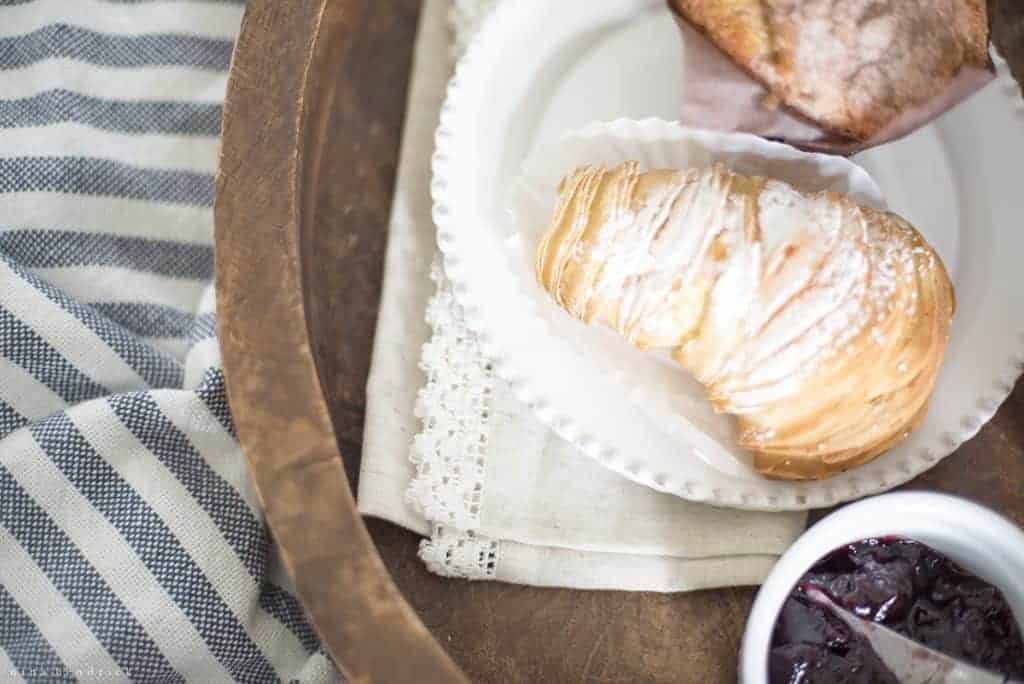 Carb:
Croissant
Toast or French Toast
Bagel
Donuts
Pancakes or Crepes
Waffle
Danish
Biscuit
Cinnamon roll
Muffin
Scone
Hash browns / Breakfast potatoes
Oatmeal
Grits
Don't forget to include any maple syrup, jellies, jams, butter, honey, cream cheese, or condiments that she loves!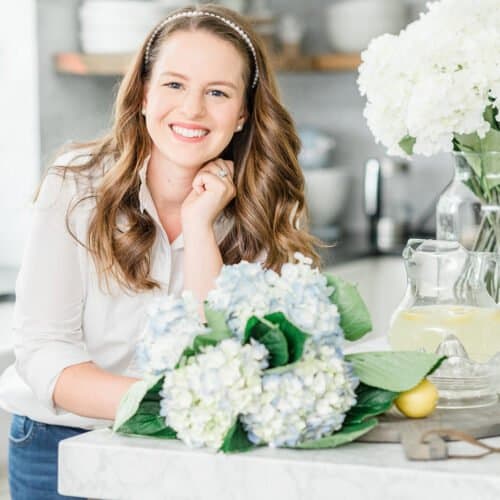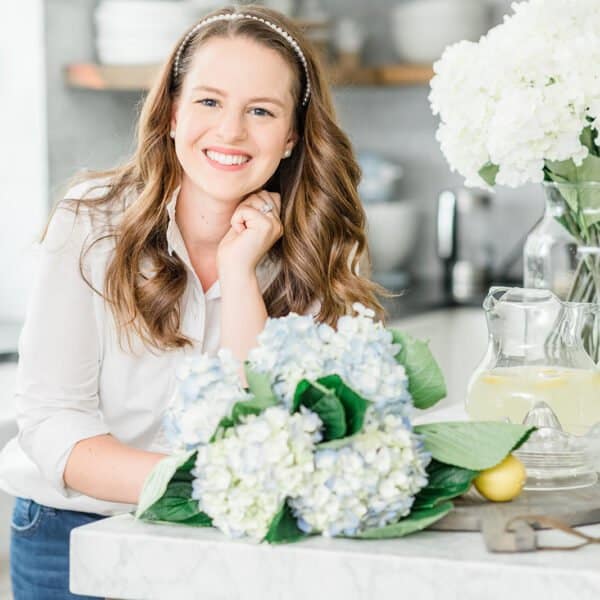 Tip from Nina: For a fresh fruit side, go with a banana on the side or a bowl of blueberries or mixed berries, melons, or orange slices. These tend to be the most common choices, as they pair nicely with a lot of traditional breakfast foods.
When figuring out food for Mom's breakfast in bed menu, don't feel like you need to make everything from scratch. I promise you, the mom in your life will appreciate her favorite restaurant or store-bought breakfast goodies just as much as homemade ones!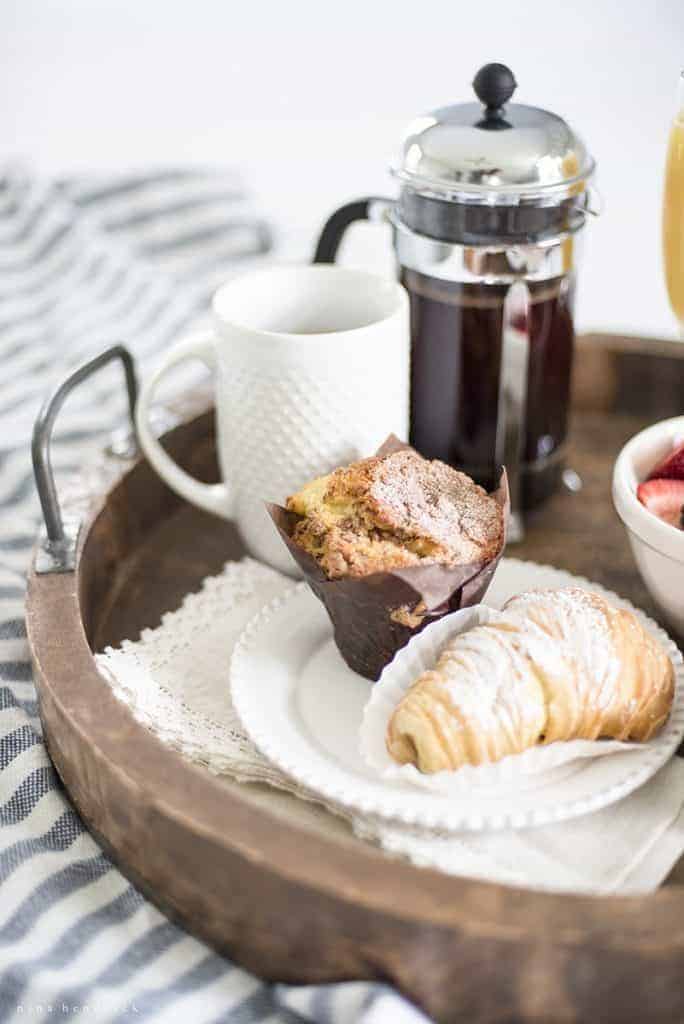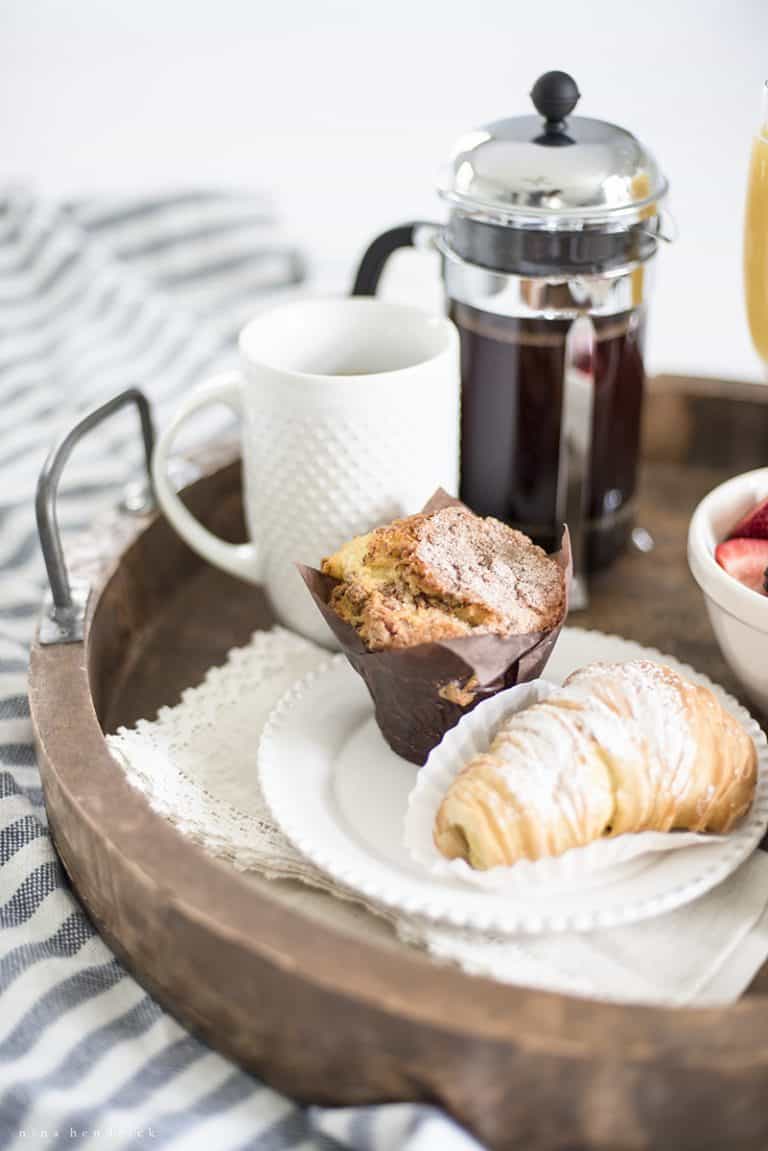 Breakfast in Bed – Drink Ideas
A proper breakfast in bed will need to include a delicious drink or two! If Mom is a coffee drinker, you'll want to serve her favorite coffee or espresso drink. Be sure to use her favorite mug, and include any extras she may need, like cream or sweetener.
If she'd like a mimosa, serve up that combination of orange juice and bubbly in a champagne flute for a lavish feel.
Incorporate a glass of refreshing ice water to keep her feeling nice and hydrated.
Break out the Fancy Linens
The simple gesture of including a beautiful napkin or fancy linen will really make her breakfast tray feel special. You just need one! When in doubt, stick with a white linen. It goes with everything, and is a classic.
Silverware
You'll need to include the cutlery needed for the food items on your tray. A fork or a spoon might be obvious, but don't forget to include a butter knife if she likes jam on her biscuit!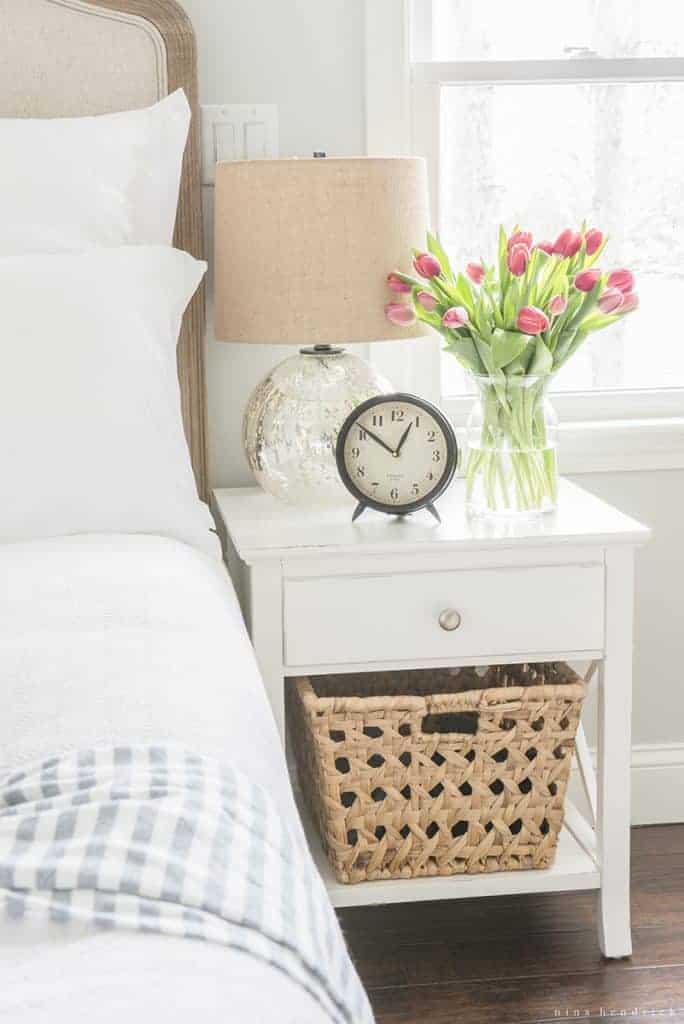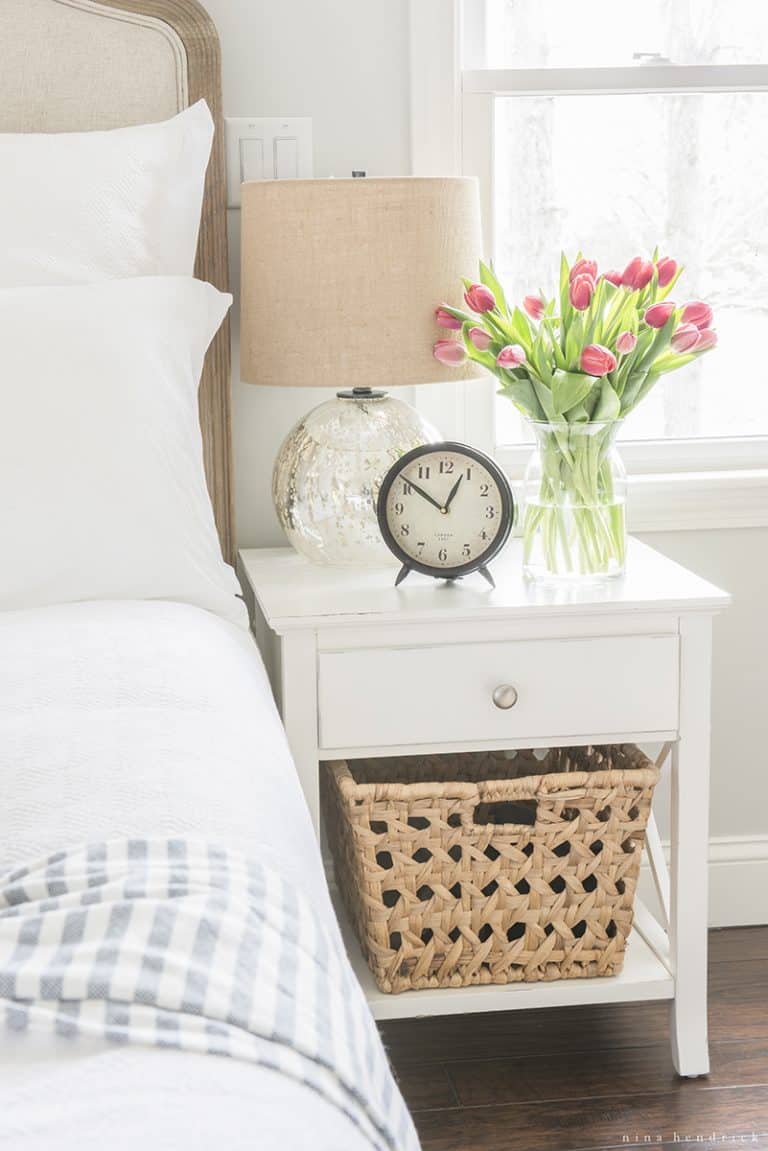 Fresh Flowers
Nothing says "Happy Mother's Day" like a spring bouquet of fresh flowers! They can be store bought, or picked from the yard. Put together your own bouquet, or buy one that's pre-arranged.
You can put a full sized arrangement on her bedside table, like the beautiful tulips I have pictured, or include a short, petite vase on her breakfast tray. Either way, she'll love the touch of greenery.
Have no idea where to start with flowers?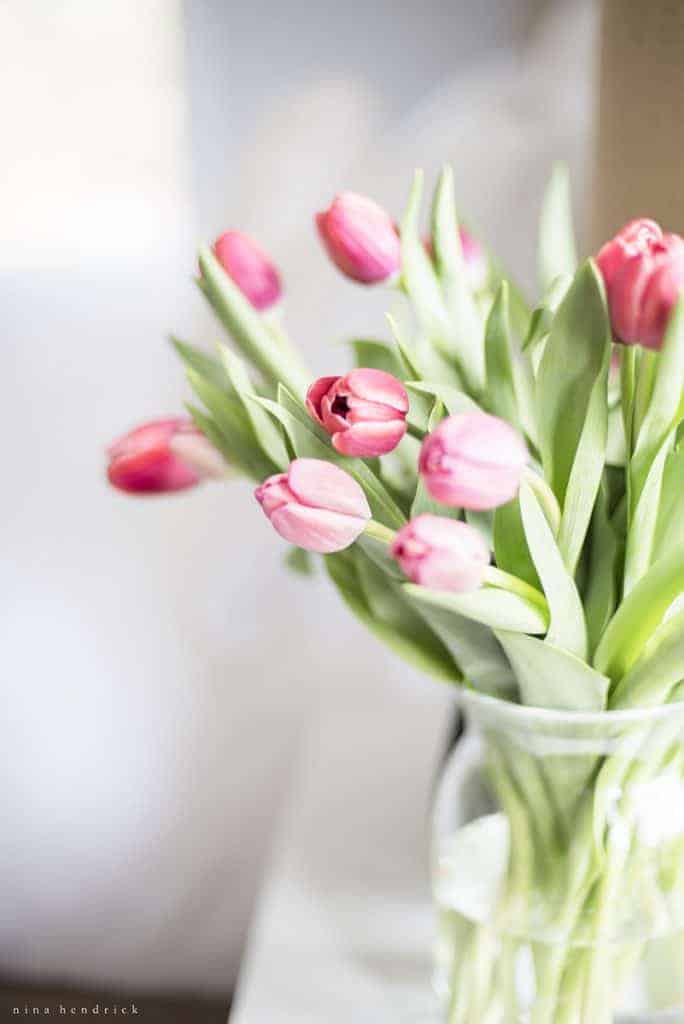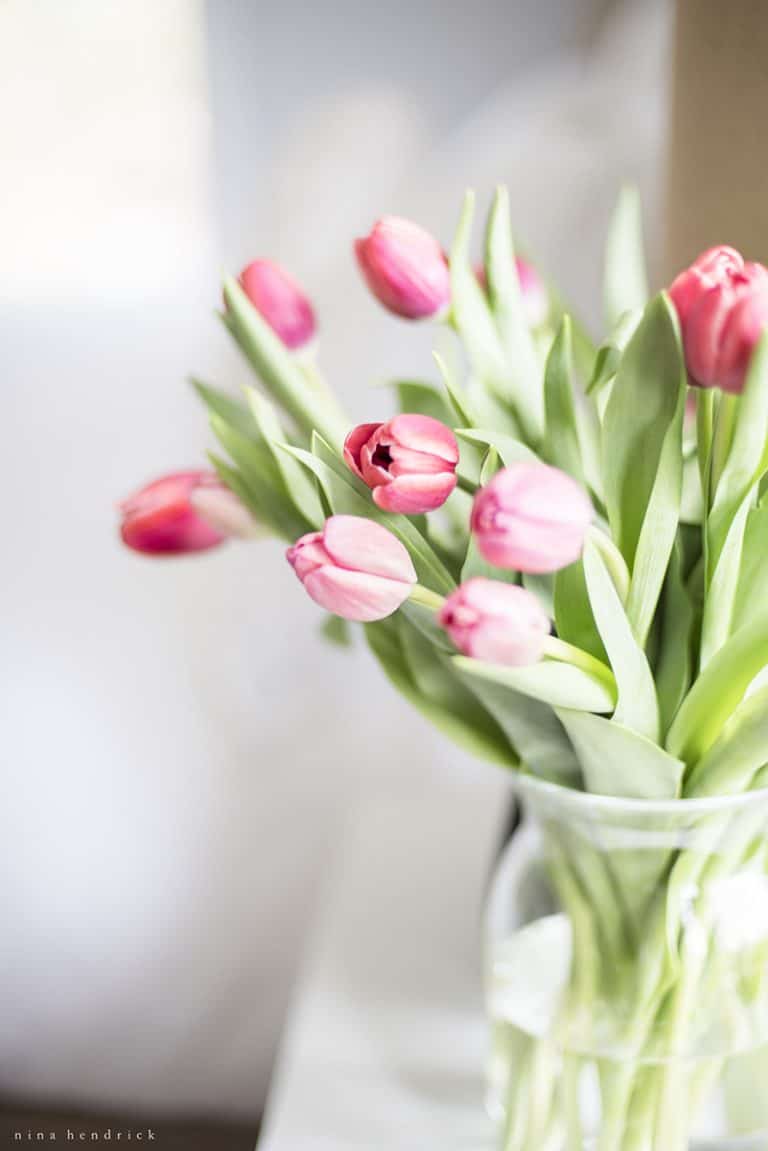 You can't go wrong with roses, peonies, or tulips.
Go for soft colors like pretty pinks. If you're harvesting your own flowers, look for daisies, lilacs, violets, or any other blooming wildflowers.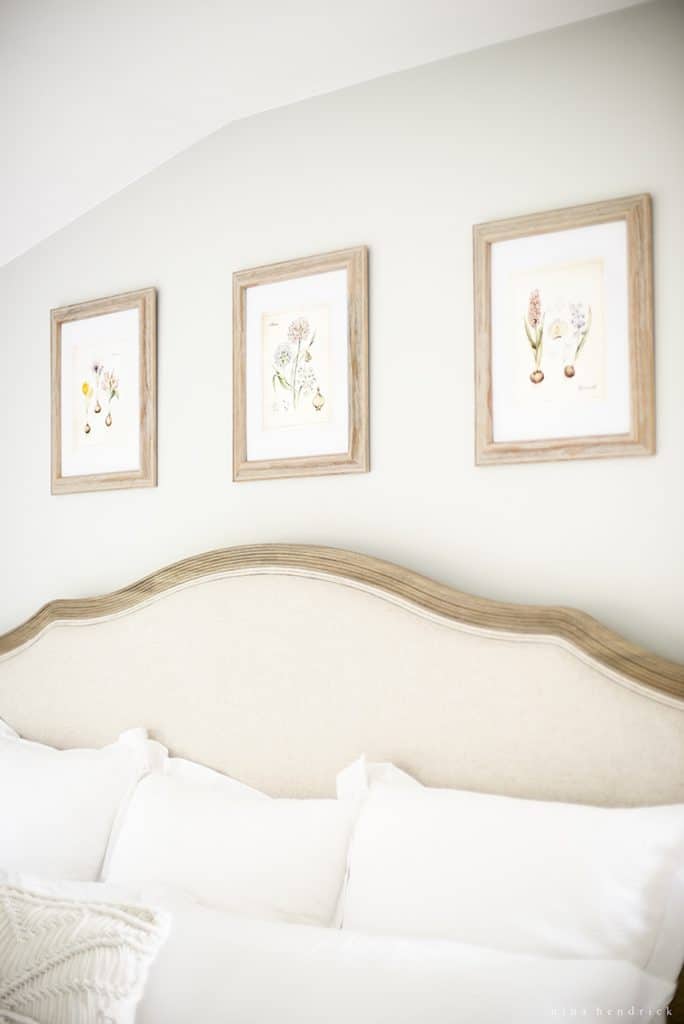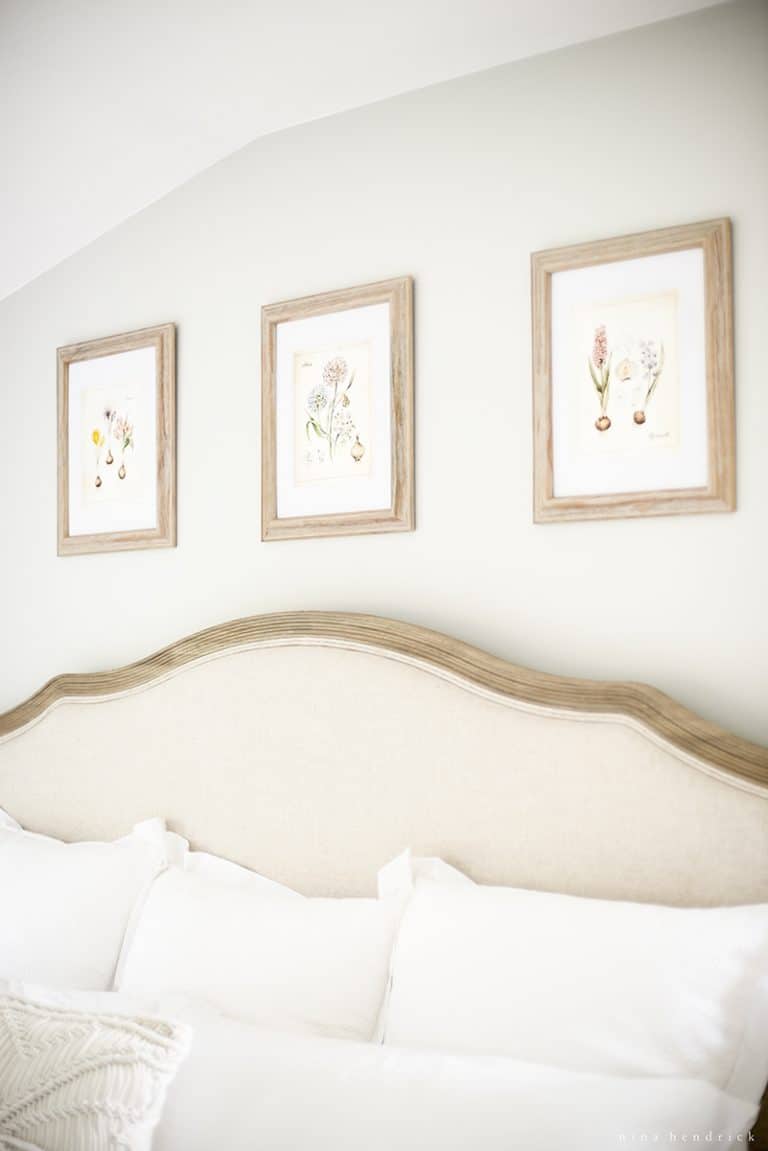 Give Mom Something from the Heart
Finish your breakfast tray by including something sentimental, like an original work of art, a card, or a letter expressing your appreciation. Make sure to really personalize it and take the time to articulate what she means to you.
And have a box of tissues handy!
Wishing all the Moms a Happy Mother's Day
I have a distinct childhood memory of my brother and I setting out to make our Mom a Mother's Day breakfast one year, and we decided she'd love some delicious pancakes. When we couldn't readily find a few of the needed ingredients, we came up with our own creative substitutes, as children tend to do! :)
I found out much later that the pancakes were completely inedible, but Mom never let on at the time. And now it's one of my favorite family stories. 🤍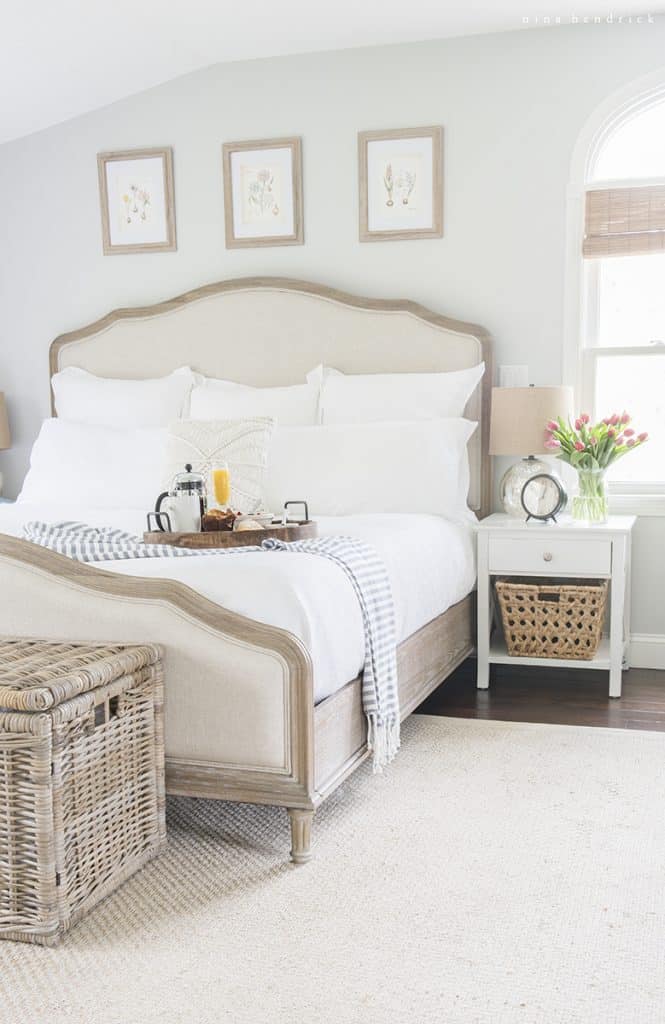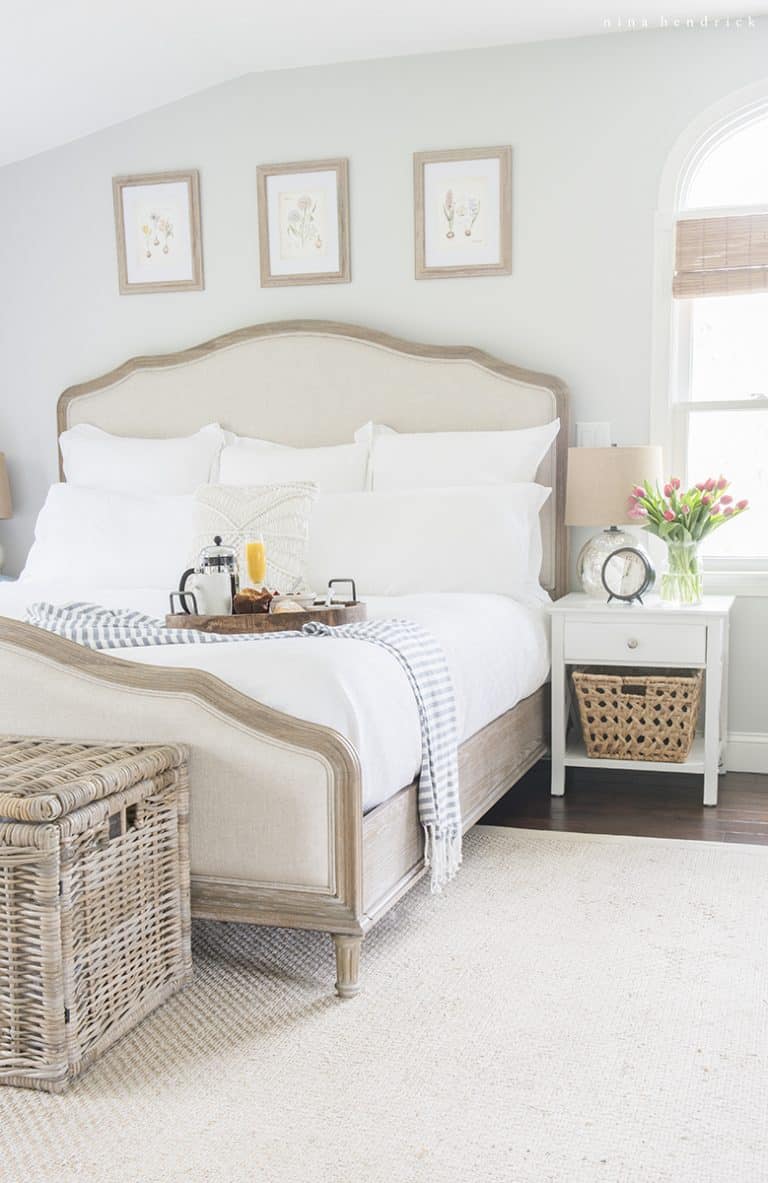 I hope this guide helps you create a special morning for the lovely Mom in your life. She'll appreciate any efforts you make if it comes from the heart.
And to all the beautiful moms out there – this one's for you! I hope your Mother's Day is full of love, relaxation, pampering, and mimosas. ;)
Cheers!