Is there anything more magical than the sparkle of Christmas lights at night and snow gently falling? Immerse yourself in the holiday spirit with this glittering Christmas home tour at night.
Christmas is a magical time of year, especially when it comes to decorations. One of the most iconic decorations of the season are Christmas lights. Every year, people around the world string up twinkling lights to bring a bit of festive cheer to their homes. At night, these lights take on an ethereal glow that can be seen from miles away. In this blog post, I'll share the beauty of Christmas lights at night in our homes over the years along with some practical tips for managing your lights. It's the perfect way to get in the spirit for the holidays!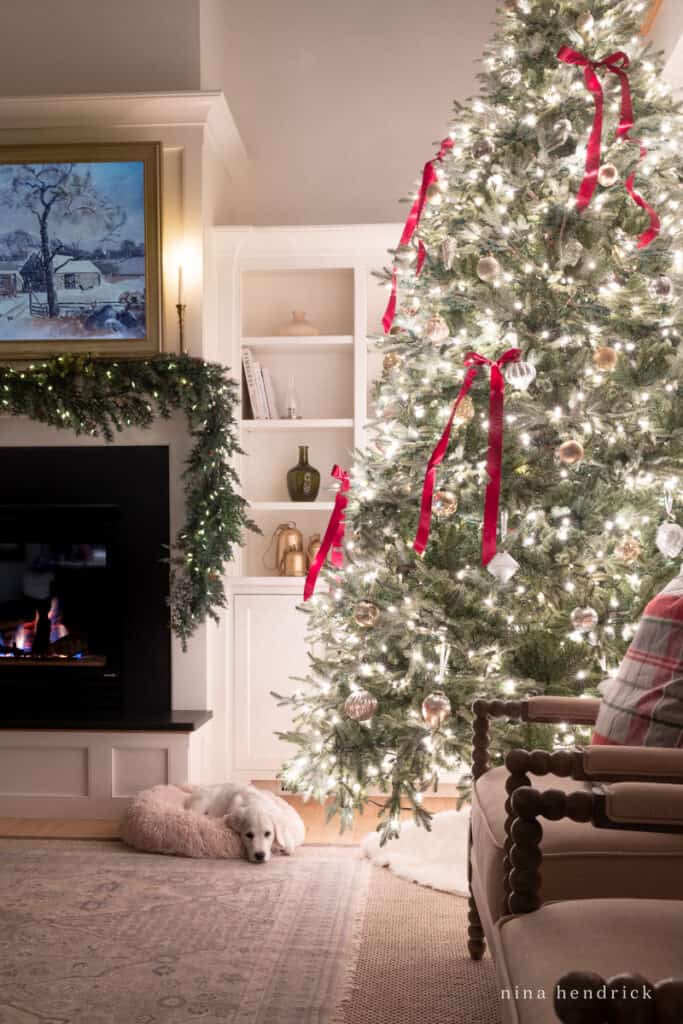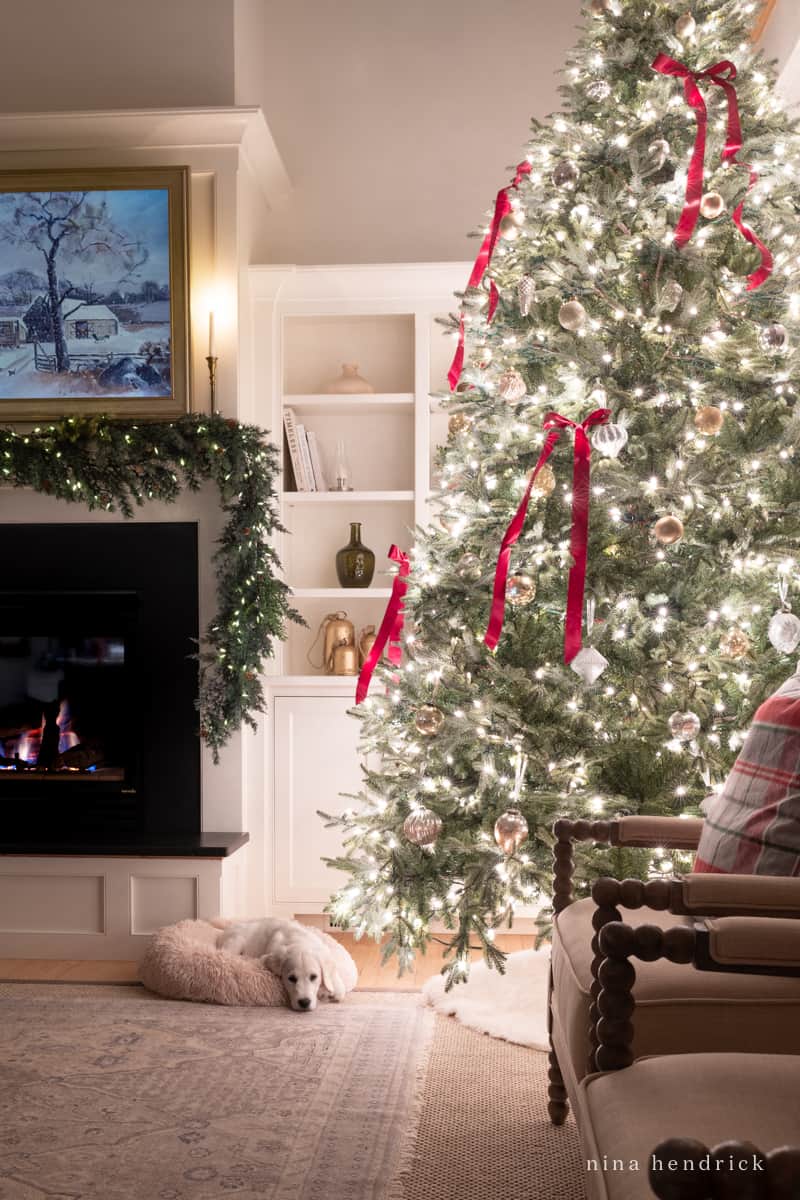 There's something so magical about gazing at the sparkling beauty of the tree and the glow of candlelight through our home as anticipation for the big day builds. I've compiled all my previous tours into a single post, so that you can take a look at the best of our festive evenings.
I've been lucky enough to decorate two homes for Christmas over the years. First was our New England Colonial, which we renovated from the ground up before moving home to New Hampshire in 2021. Our new home is a classic Cape Cod on the seacoast with cedar shingles. It's been fun to explore the Christmas lights at night in our new neighborhood and city!
This post contains affiliate links, which means I may get a small commission (at no extra cost to you) if you shop my link. Please see my disclosure if you'd like more info!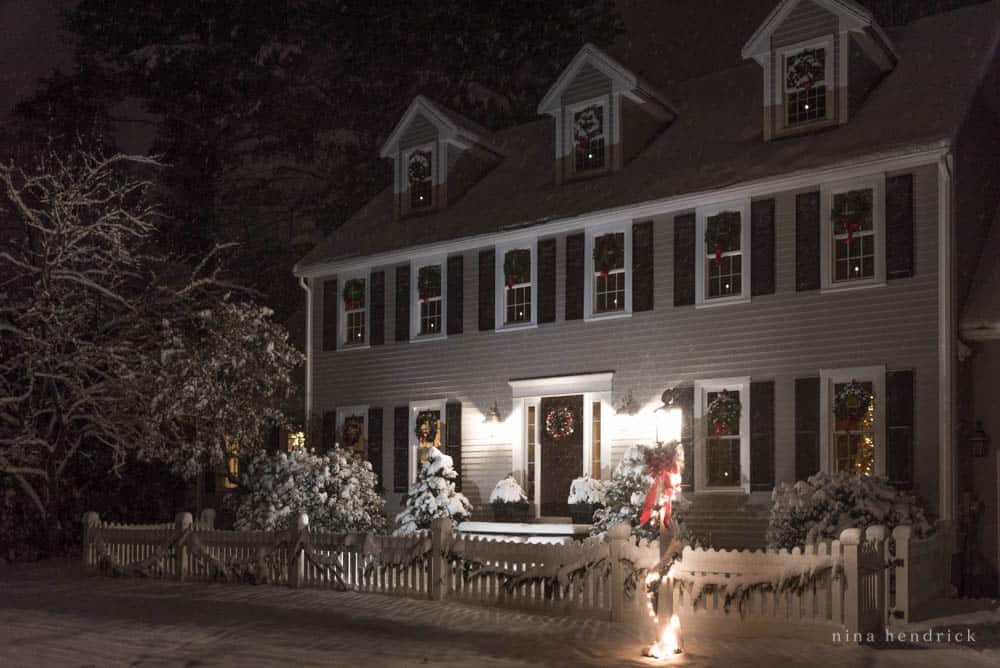 Exterior Christmas Lights at Night Ideas
Christmas lights at night can create a magical atmosphere. Stringing festive lights around your porch, trees, and other outdoor areas can bring a warm and inviting feeling. You can choose from a variety of styles and colors to create the perfect look for your home. If you have a large outdoor area, consider setting up several different types of lighting to create different looks. You can add a festive touch to your outdoor space with multi-colored icicle lights, or classic white lights in a variety of shapes. If you want a more subtle look, LED fairy lights or rope lights can create a soft and romantic atmosphere. Whatever style you choose, your outdoor Christmas lights at night will be sure to bring a warm and inviting feeling to your home this holiday season.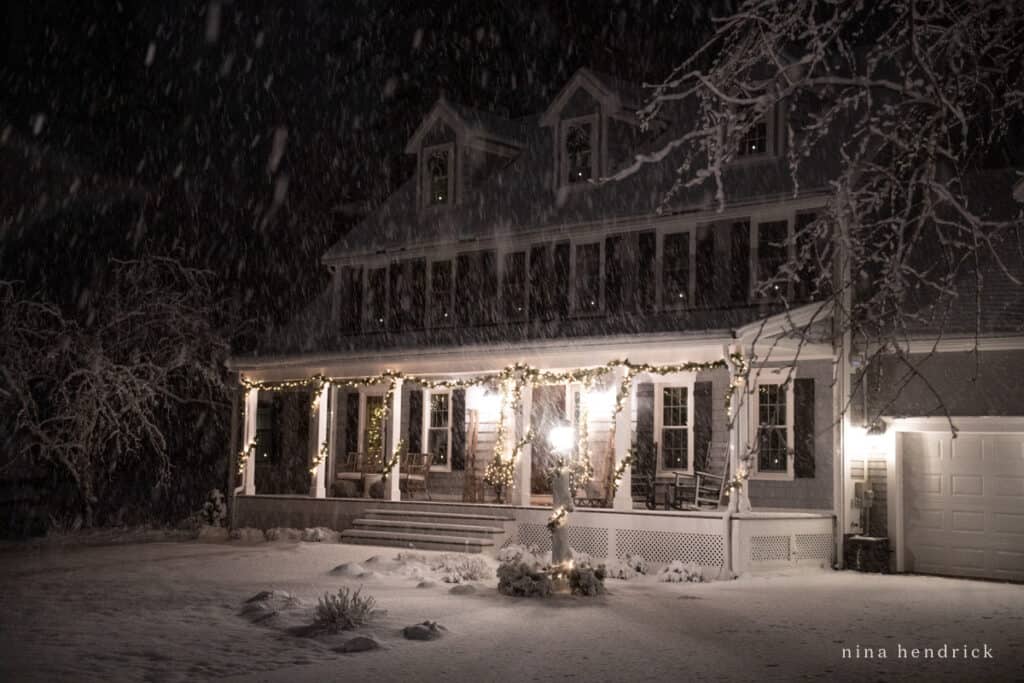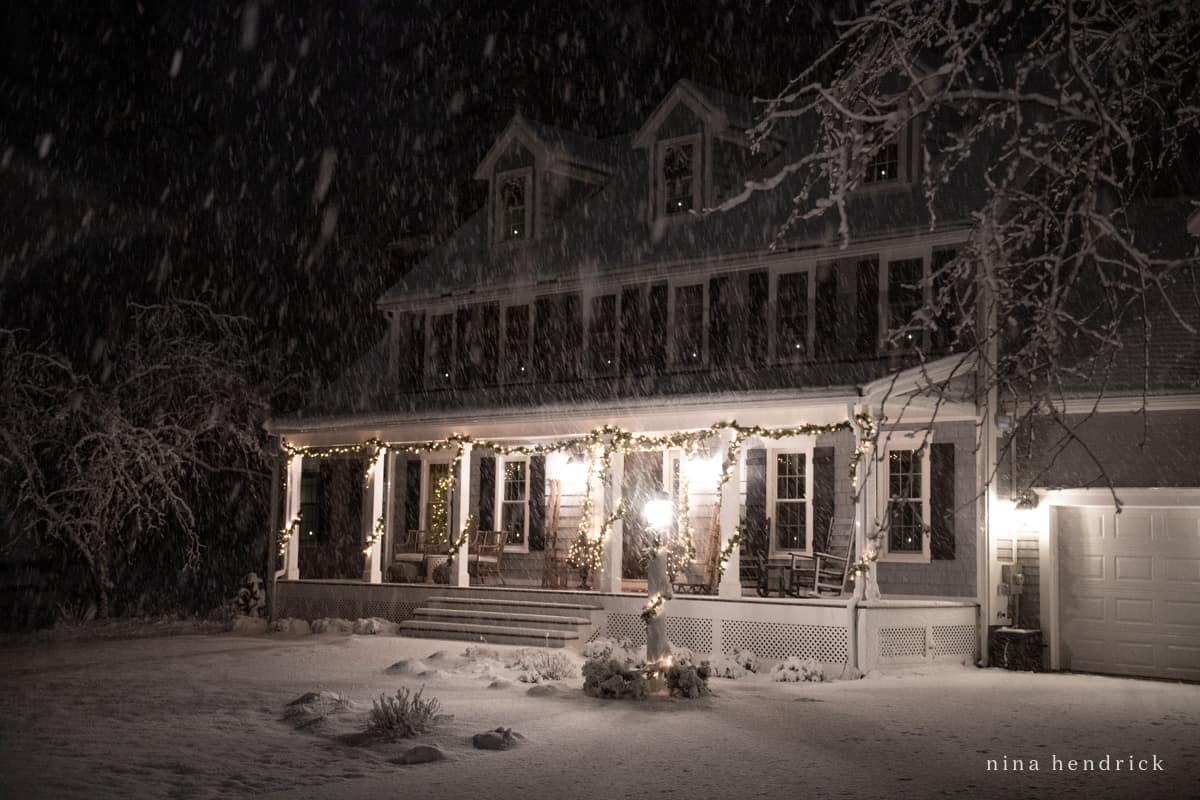 Hang Lighted Garland Around Your Porch Posts
Hang some lighted garland around your porch posts or railings to add a festive touch to your home. You can find garland that lights up in several lengths and colors. I'm a big fan of white lights and these are the garlands that I use each year. Garlands are a great way to create a warm and inviting atmosphere outside your home. Not only will your home look beautiful, but you'll be able to enjoy the lights from the comfort of your own porch. It's a perfect way to get into the holiday spirit!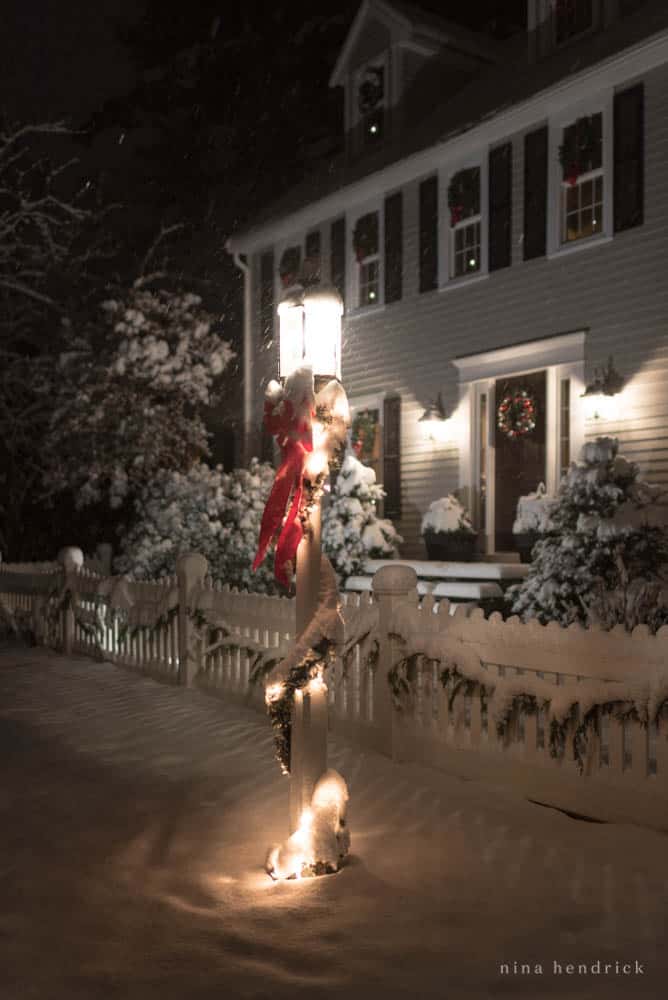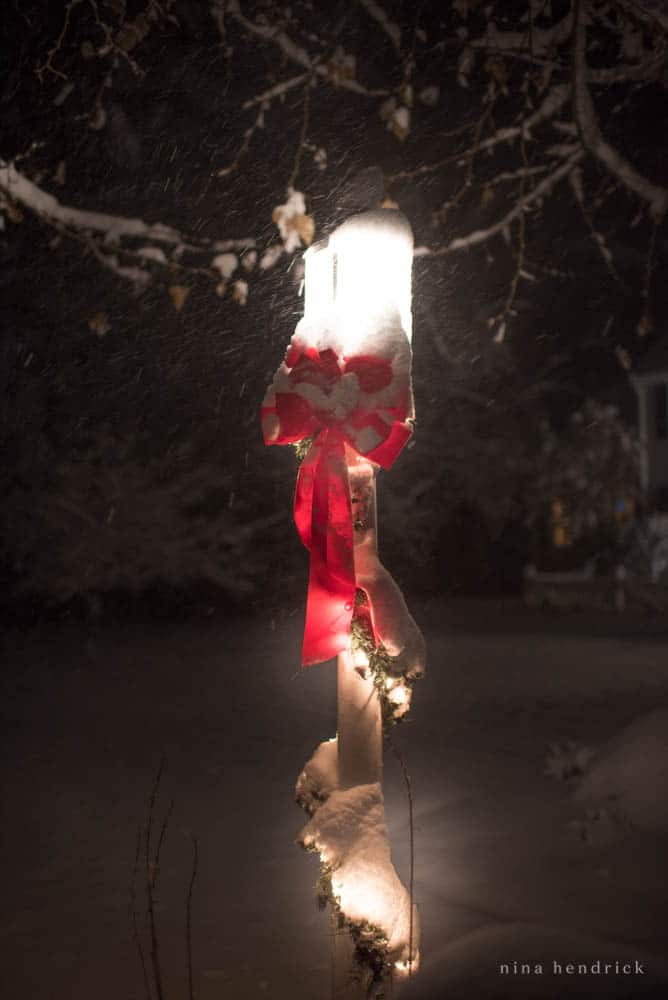 You can also wrap lighted garland around your lamp posts, which feels extra magical. This reminded me of the lamp post in The Lion, The Witch and The Wardrobe with the snow illuminated from below.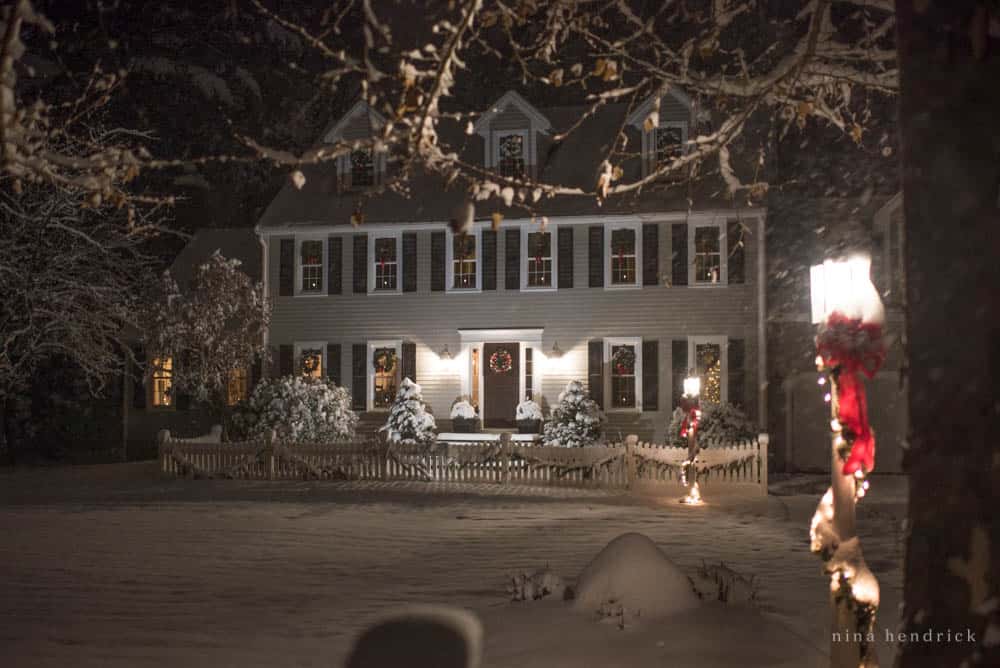 Use Plug-in or App-Based Timers to Set a Schedule for Your Christmas Lights at Night
Christmas lights at night can be a beautiful sight. To make sure your lights shine bright and on time, you can use plug-in or app-based timers to set a schedule for your lights. Plug-in timers are an inexpensive and easy way to have your lights come on and off at the same time each day. App-based timers are great if you want to control your lights from your phone or have them come on and off based on certain conditions. With either option, you can be sure that your Christmas lights at night will be a shining example of holiday spirit.
Tips — Outdoor Christmas Light Safety
It's important to keep safety in mind when it comes to outdoor Christmas lights. When installing Christmas lights, make sure to use lights that have been approved for outdoor use. Always follow the manufacturer's instructions for installation, and inspect the lights for any broken or frayed wires before use. Make sure to keep the lights away from water and be sure to turn them off when not in use or when leaving the house. Additionally, always make sure the lights are not too close to combustible materials, and never overload the circuits.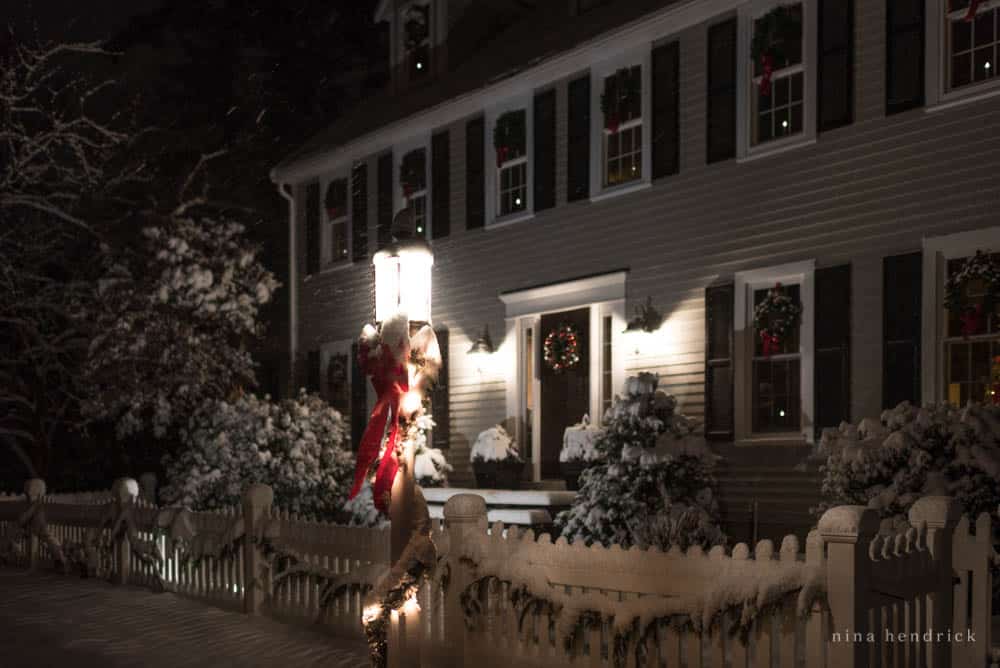 When to Turn Off the Lights
Turning off the Christmas lights at the end of the night is important for several reasons. Leaving them on can be a fire hazard, especially if the lights are old or frayed. It is also important to conserve energy and reduce your electricity bill. Leaving the lights on all night can also be a nuisance to your neighbors. It is best to turn off the lights at a reasonable time, such as midnight, so that everyone can enjoy the holiday cheer without having to deal with too much light pollution.
Battery Operated Outdoor Wreaths
Adding a battery-operated outdoor wreath to your home is an easy way to bring the spirit of the holidays to the exterior of your house. No need to worry about cords or plugs – installation is a snap. There's a vast variety of wreaths available in all kinds of colors, styles, and sizes. Many even have a built-in timer, so they'll stay lit for extended periods of time and even shut off automatically when desired.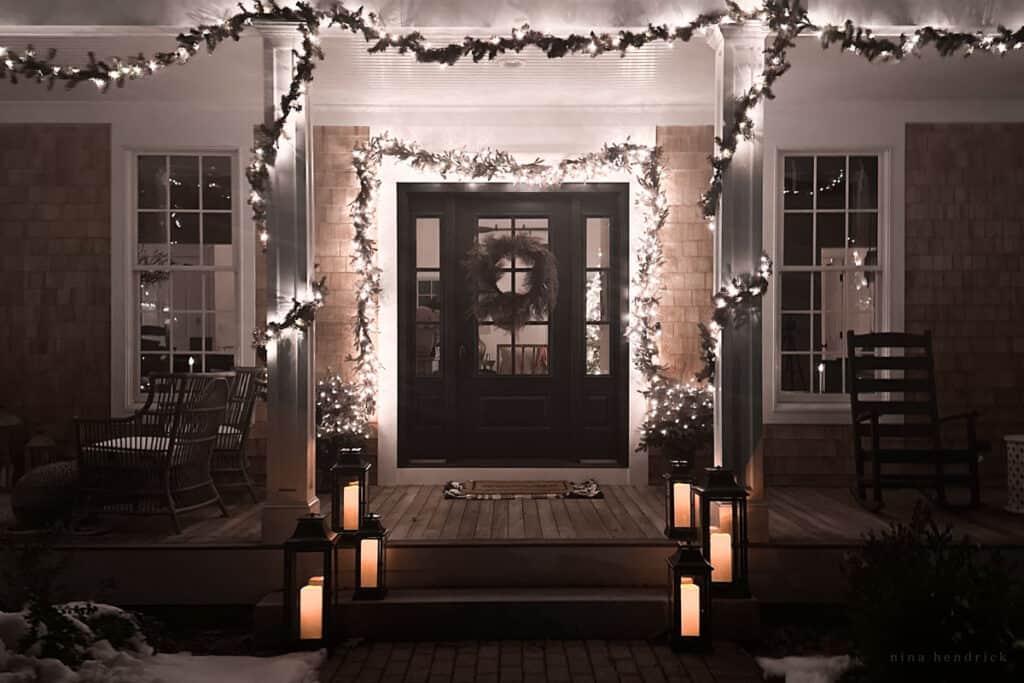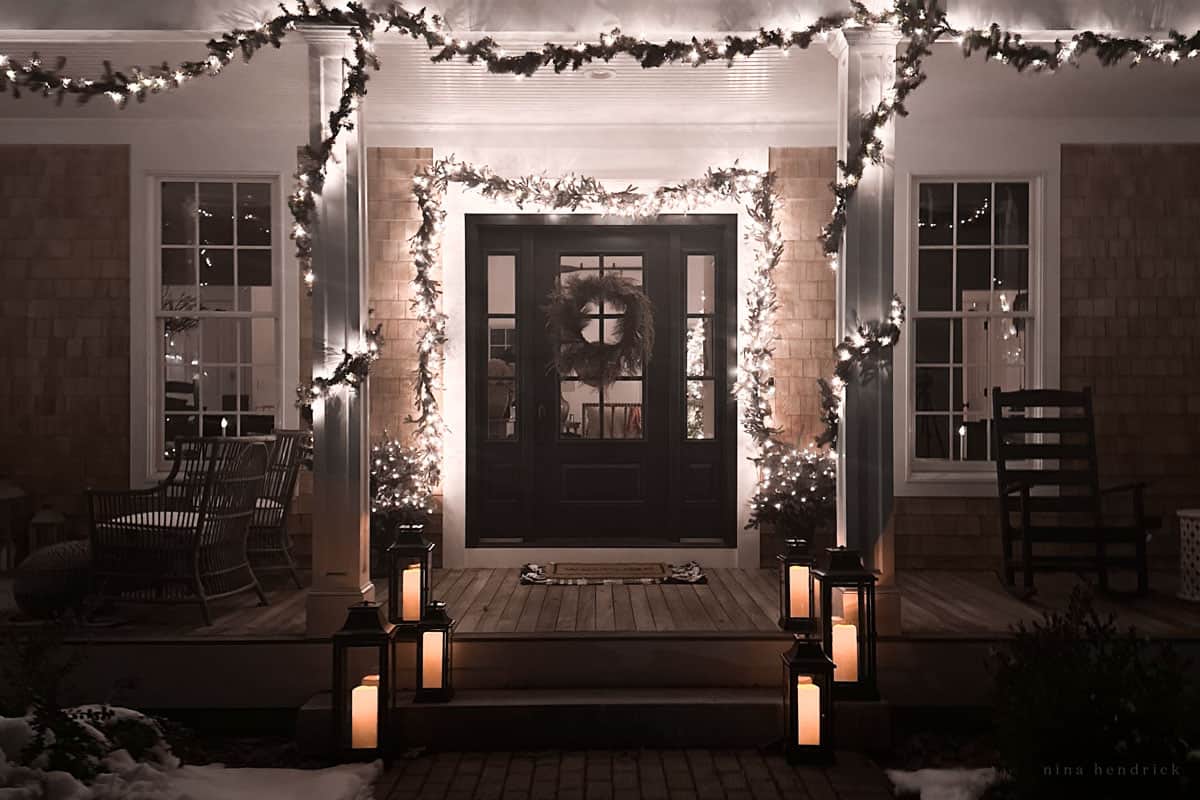 Outdoor Lanterns with LED Remote Candles
Are you looking to create a festive, inviting outdoor display of Christmas lanterns inspired by Pottery Barn? LED remote battery-operated candles with a timer are the perfect solution! Not only do these candles provide a beautiful sparkle to your outdoor holiday décor, but they are also a safe, efficient, and cost-effective way to light up your outdoor space. One remote works for all the candles, even if they come from different packs. Plus, you can easily set a timer once so that your lanterns will light up and turn off at the same time each night. No need to use the remote daily!
Solar Landscape Spotlights
Solar landscape spotlights are a perfect choice for outdoor Christmas decorations. These lights are powered by the sun and require no extra wiring, making them easy to install and maintain. They are available in a variety of colors and styles, so you can find the perfect ones to fit your outdoor Christmas theme. The lights themselves are very bright and long lasting, so they can be used to bring a festive look to your yard or landscape. They are also a great way to add a warm, inviting ambiance to your outdoor living spaces for the holiday season.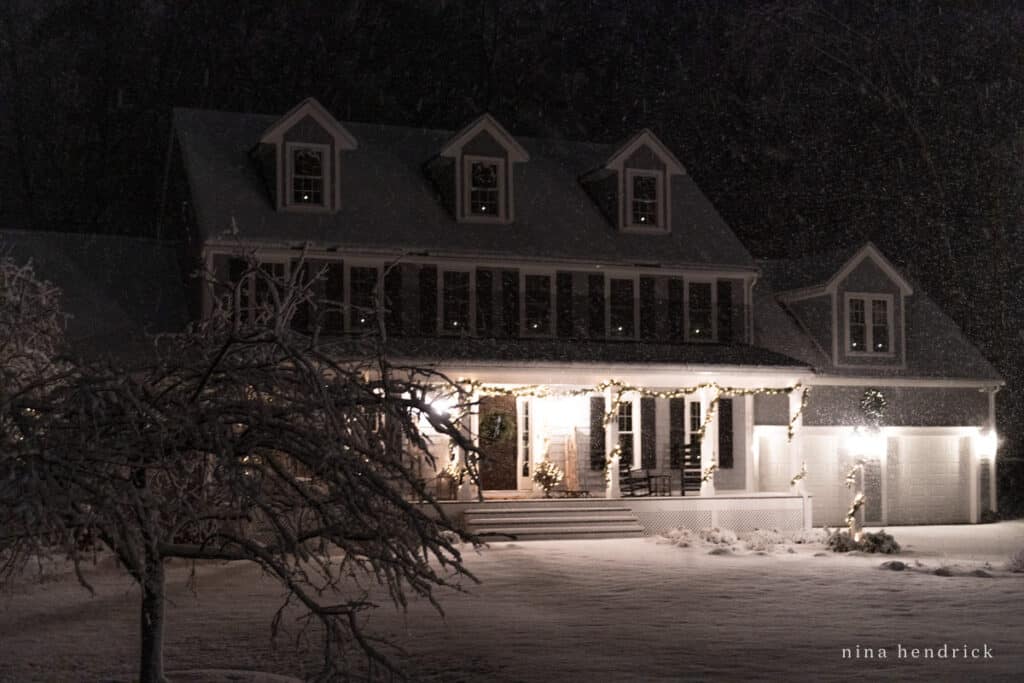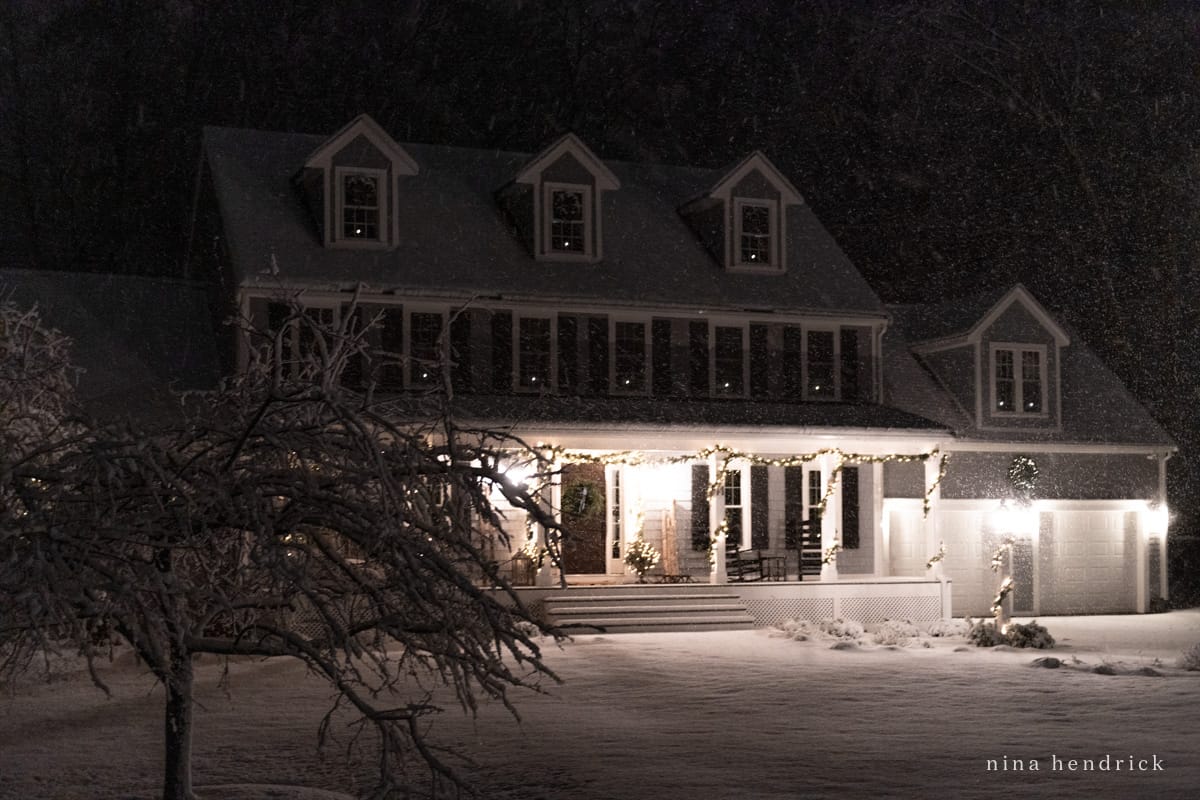 Window Candles
Window candles are an iconic part of the holiday season, radiating a cozy and welcoming atmosphere to your home. Despite being placed indoors, we can still consider them an exterior decoration, since they are primarily viewed from the outside. The warm glow of window candles can give your home a magical feel after the sun goes down. Whether you're looking for a classic look or something more creative, there's a window candle sure to make your home shine brighter. After trying various brands, I have landed on 612 Vermont's Christmas window candles as my go-to! They are the brightest, their timer function is effective and the batteries last an impressive amount of time. Place them in the windows in the front of your home to create a beautiful display of holiday cheer.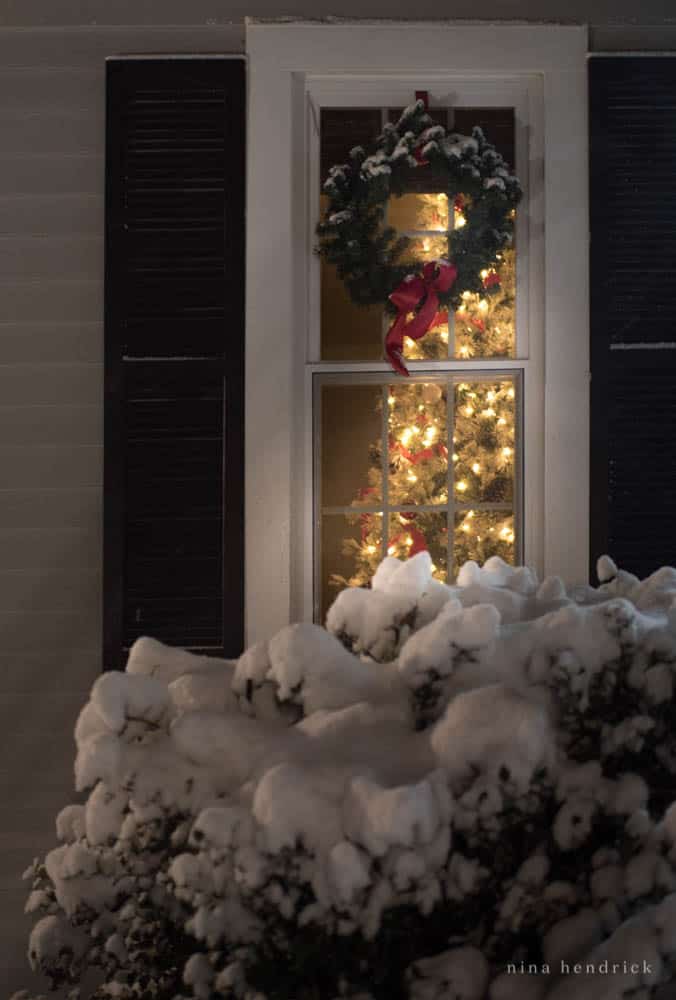 The twinkling of Christmas lights at night is the stuff of dreams. Every neighborhood is different, but there is something special when the sun sets and the Christmas lights start to twinkle in the night. Whether you prefer your decorations to be minimalistic with white icicle lights or extravagant with multi-colored bulbs, the sight of your home glowing in the night is truly a magical sight to behold. There is nothing quite like the feeling of being tucked away in your own little home, all lit up and cozy, surrounded by the warmth of the Christmas lights.
Interior Christmas Lights at Night Ideas
Using Christmas lights is a great way to create a magical and cozy atmosphere inside your home on holiday season nights. Whether you opt for twinkling lights in garlands, candles, or the traditional Christmas tree lights, you can easily set the perfect festive mood. Illuminating your home with Christmas lights can truly bring the holiday spirit to life.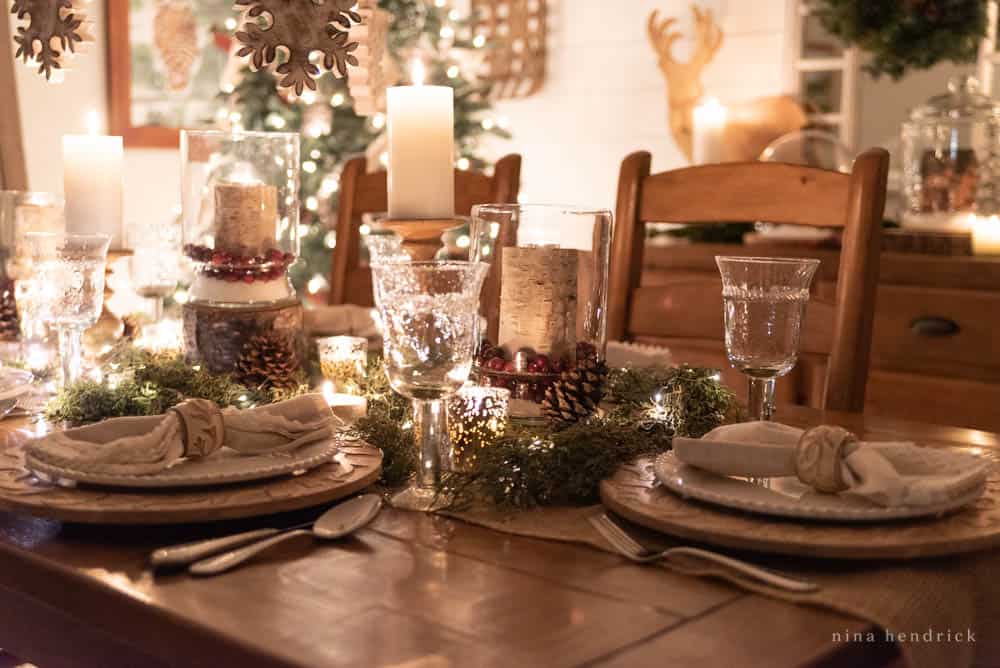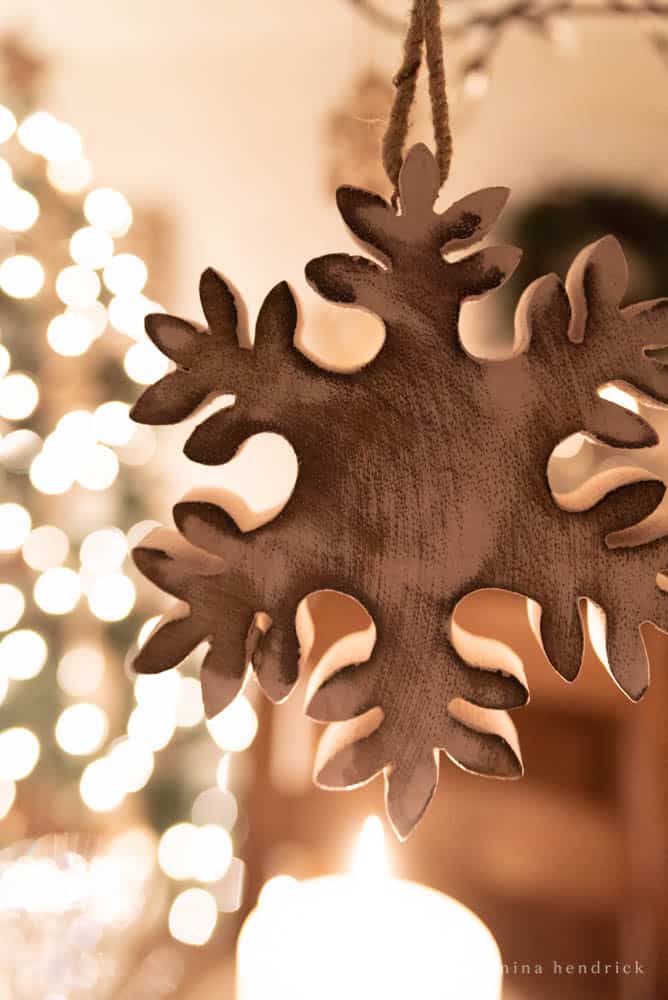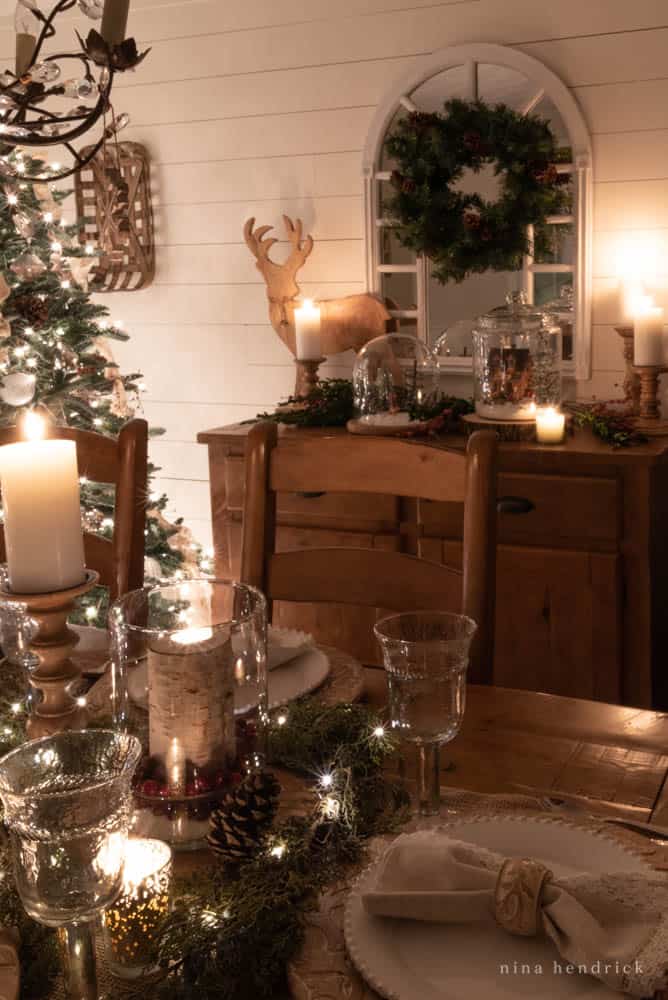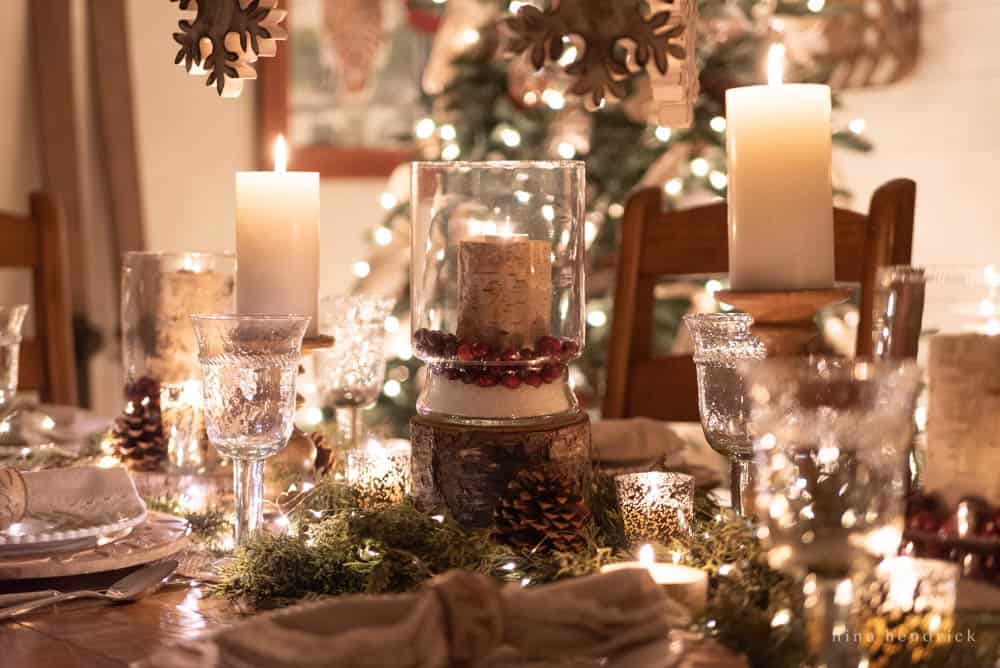 Christmas Dining Room at Nighttime
As the snowflakes fall gently outside, come on in and enjoy a cozy Christmas dinner illuminated by candlelight. This special tablescape is a unique way to celebrate the holidays with your family and friends, adding a warm and inviting ambiance to the occasion. Get ready to break bread and share stories around the table as the candlelight casts a beautiful glow. There's nothing quite like a cozy Christmas dinner illuminated by candlelight to get you in the holiday spirit.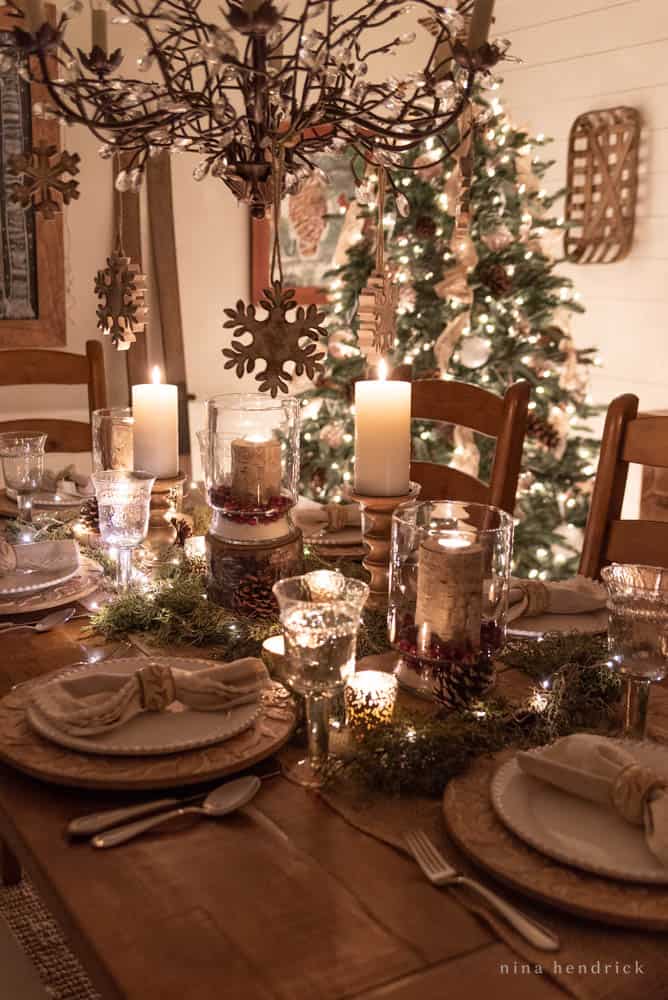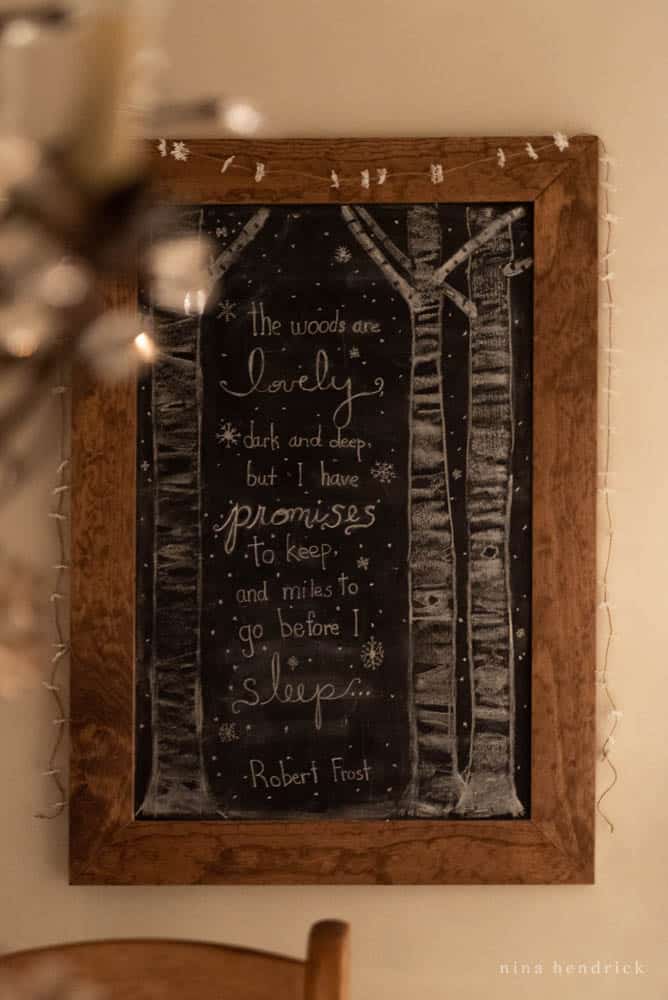 This tablescape was inspired by the Robert Frost poem, Stopping by Woods on a Snowy Evening. I made the dining room cozy and inviting by placing LED Christmas lights with a battery pack around the centerpiece and lighting an abundance of candles.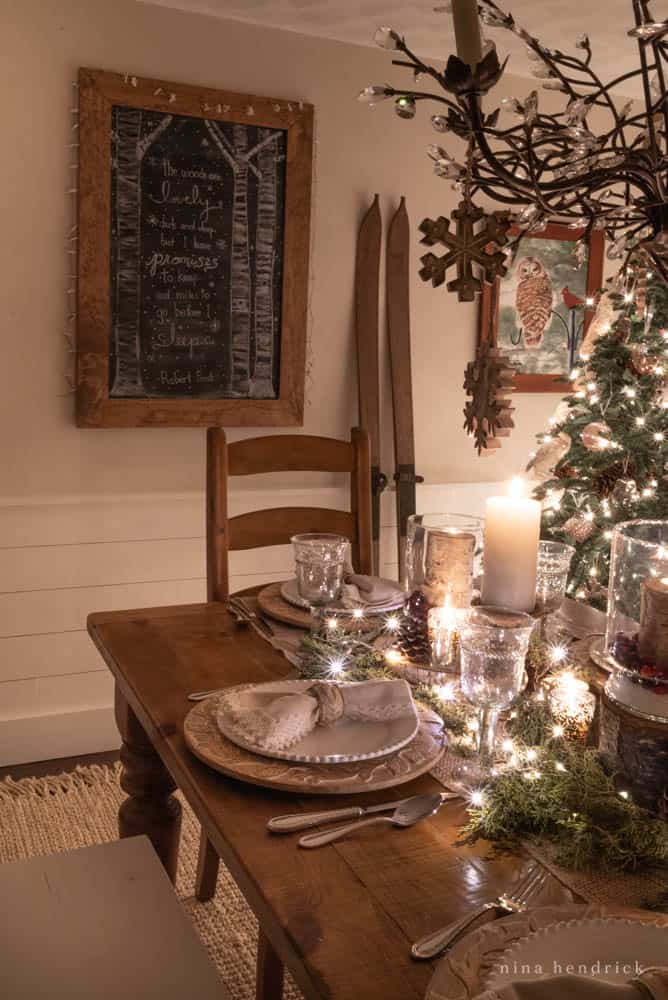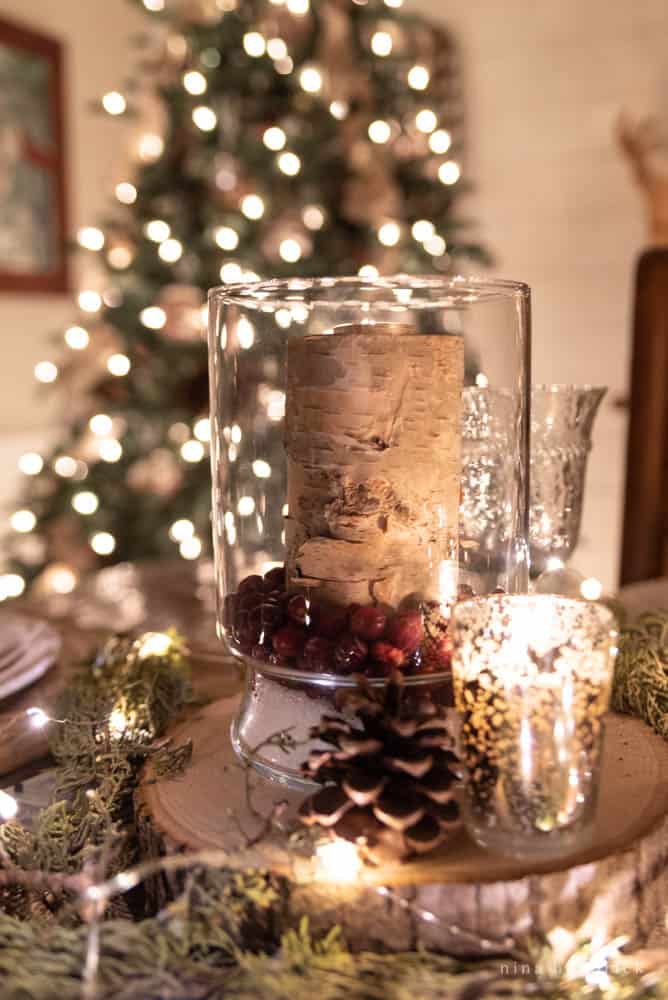 The reflections of the mercury glass candles on the table and the goblets ready for holiday punch created a truly magical atmosphere. It's the perfect place to spend time with family and friends and embrace the spirit of the season. See more rustic Christmas decorating ideas here!
Candle Safety Tips — Best Practices
It's important to use caution when decorating with candles. Use flameless candles or LED lights instead of real candles, as real candles can cause a fire if left unattended. Be sure to place candles in an area away from flammable materials, such as curtains, bedding, and furniture. If you choose to use real candles, blow them out before leaving the room or going to sleep. Never leave children unattended with lit candles.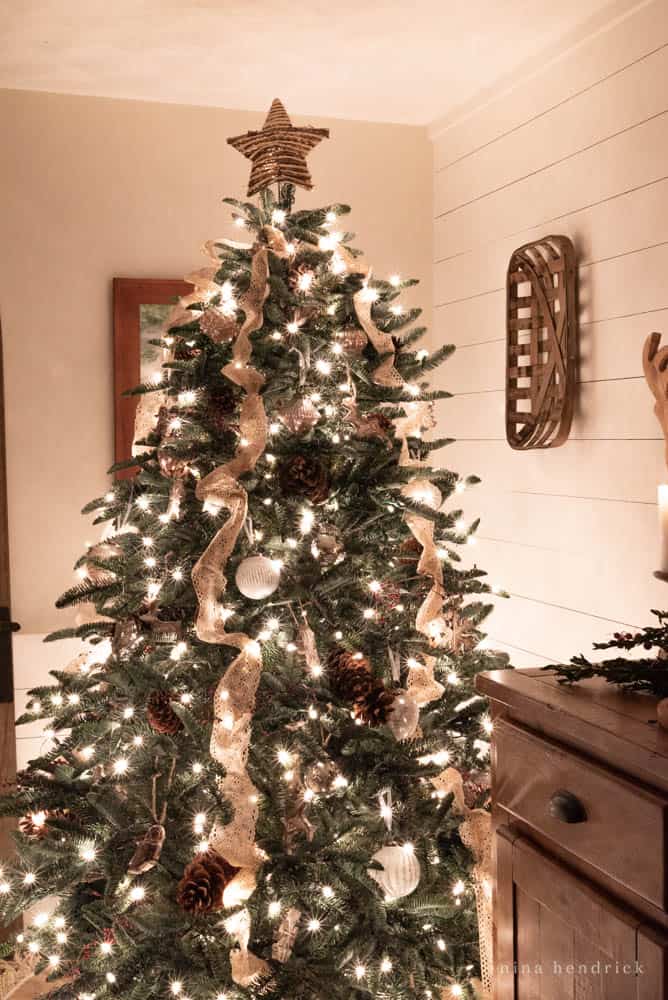 The warm, twinkling lights of the rustic woodland Christmas tree in the corner, also inspired by Robert Frost's poem Stopping by Woods on a Snowy Evening, captures the peacefulness of a winter evening in the woods and gives the room extra ambiance. Its twinkle lights, pinecones, wooden ornaments, and vintage decorations create a magical atmosphere that glows in the dining room. I can't think of many things more special than dining by both candlelight and the light of this tree!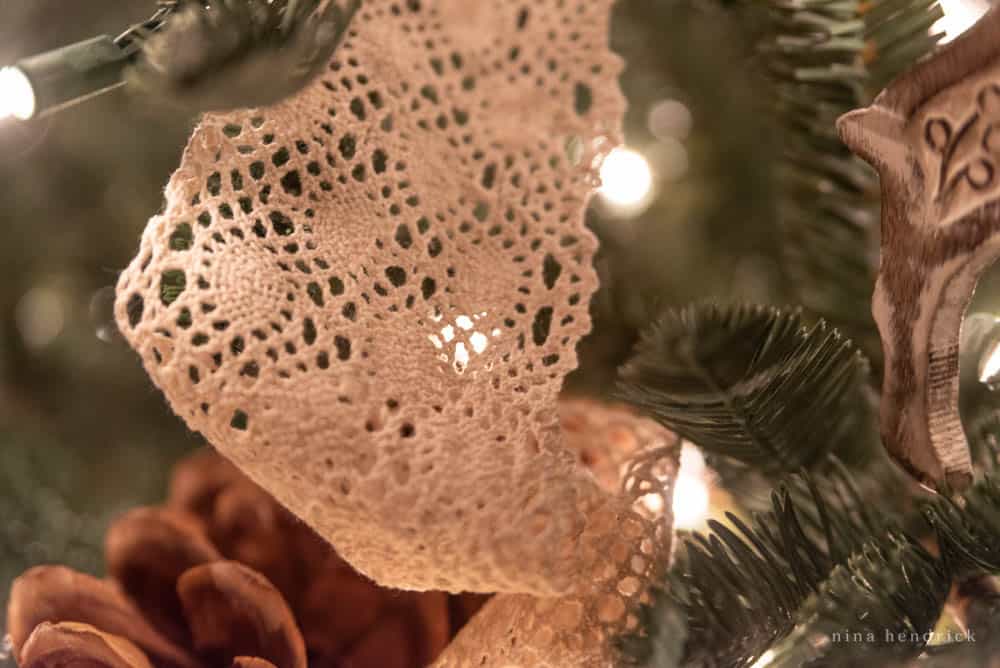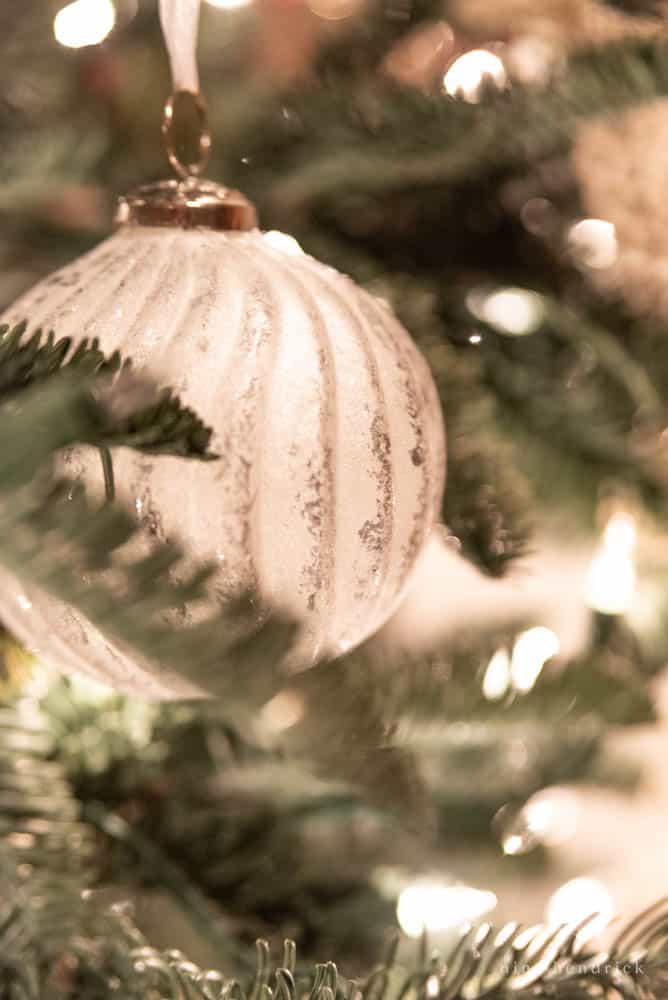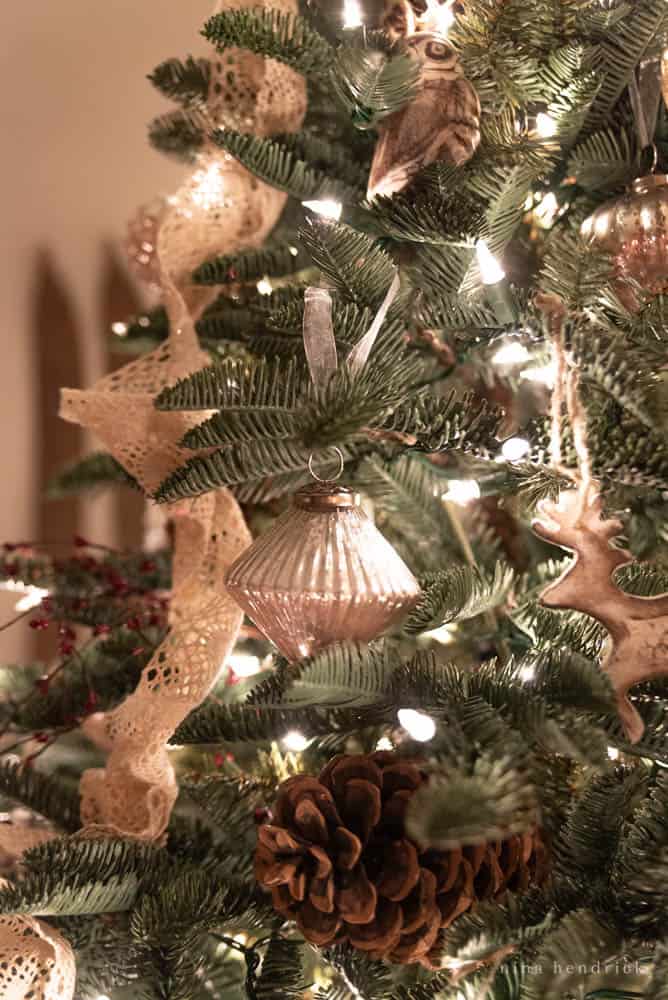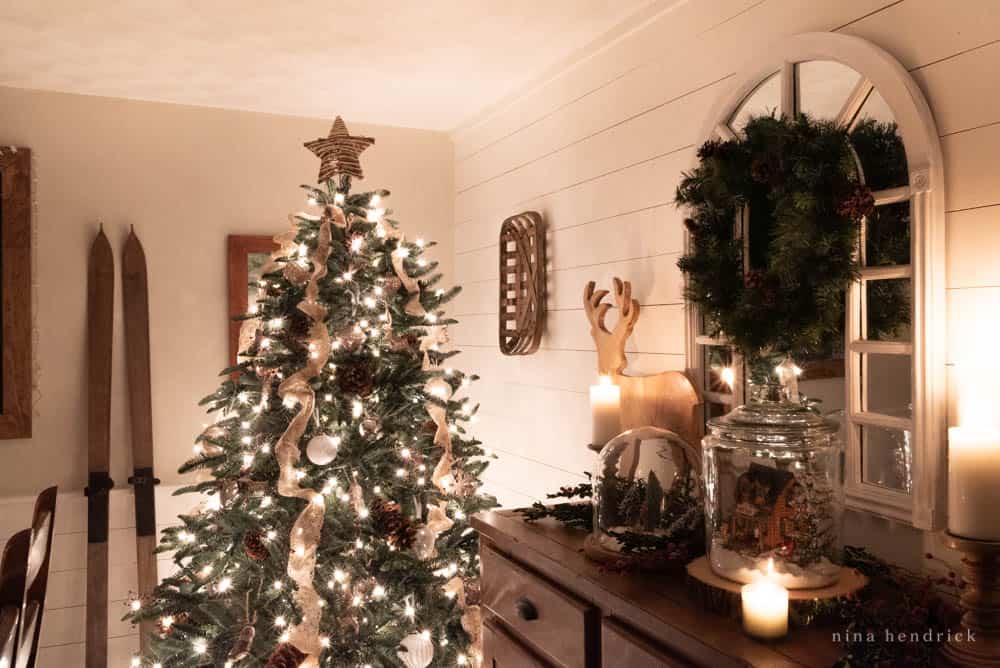 Christmas Lights at Night in the Family Room
Since the family room is such a popular spot to gather for the holidays, it's the perfect place for Christmas lights at night! There is something special about the twinkling of the lights that just sets the mood for a cozy night in with loved ones. The lights reflect off the walls and ceiling, creating a warm and inviting atmosphere. It's a great way to spend the evening, cuddled up with a hot cup of cocoa and a good book. The lights also bring the holiday cheer and spirit alive, making it a festive event to look forward to. Christmas lights at night make the season even brighter and more beautiful. You can see more classic Christmas ideas in this post!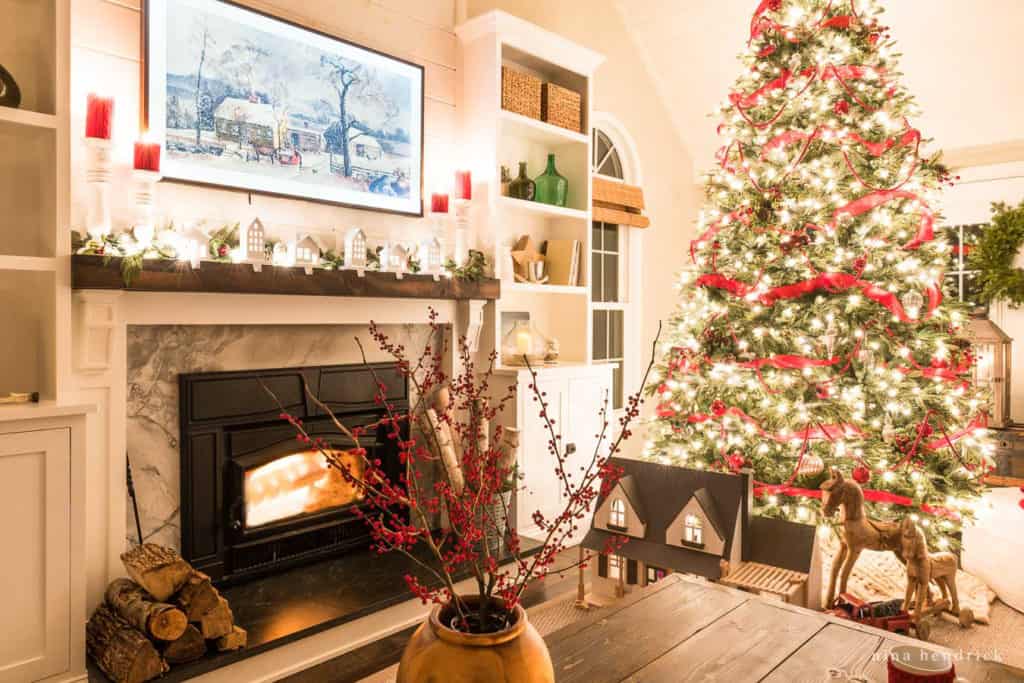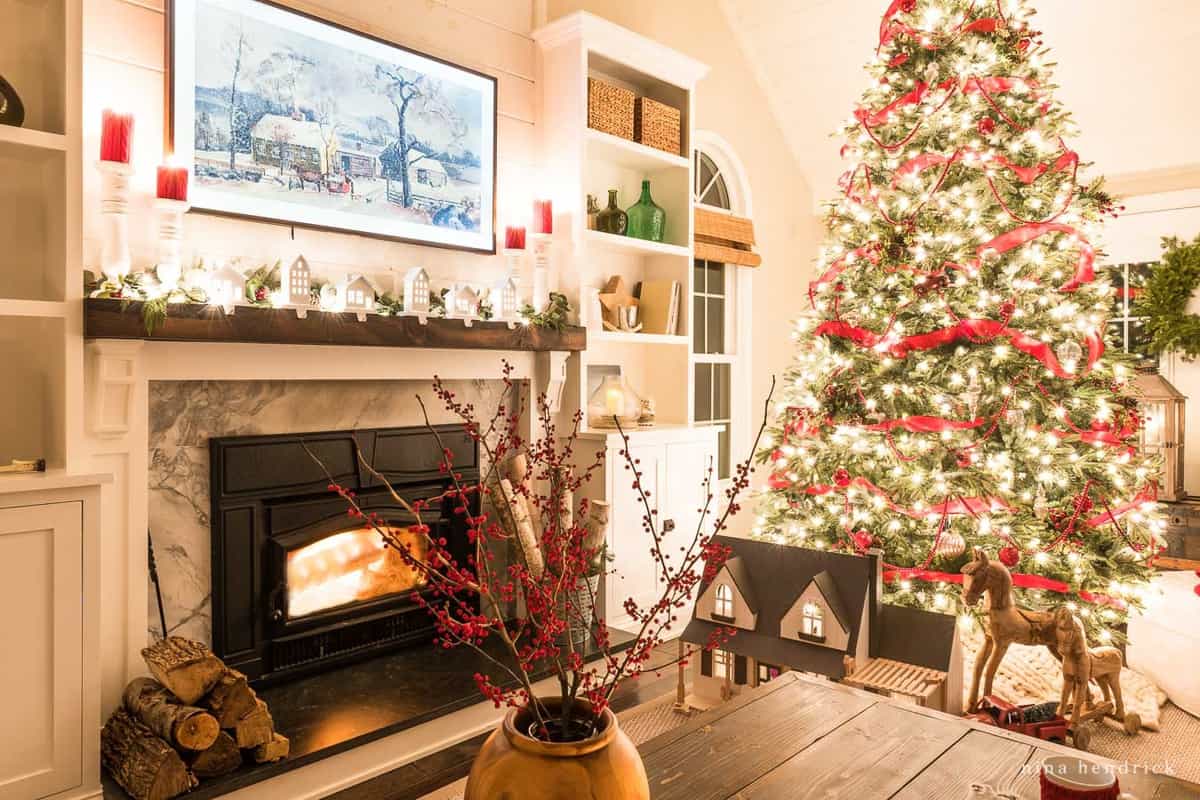 At night, the sight of a classic red and green Christmas tree lit up with bright twinkling lights is truly a magical experience. The vibrant colors seem to dance and glisten in the darkness, creating a warm and inviting atmosphere. The sight of the lights can bring back memories of past Christmases, as well as bring a feeling of excitement and anticipation for the holiday season.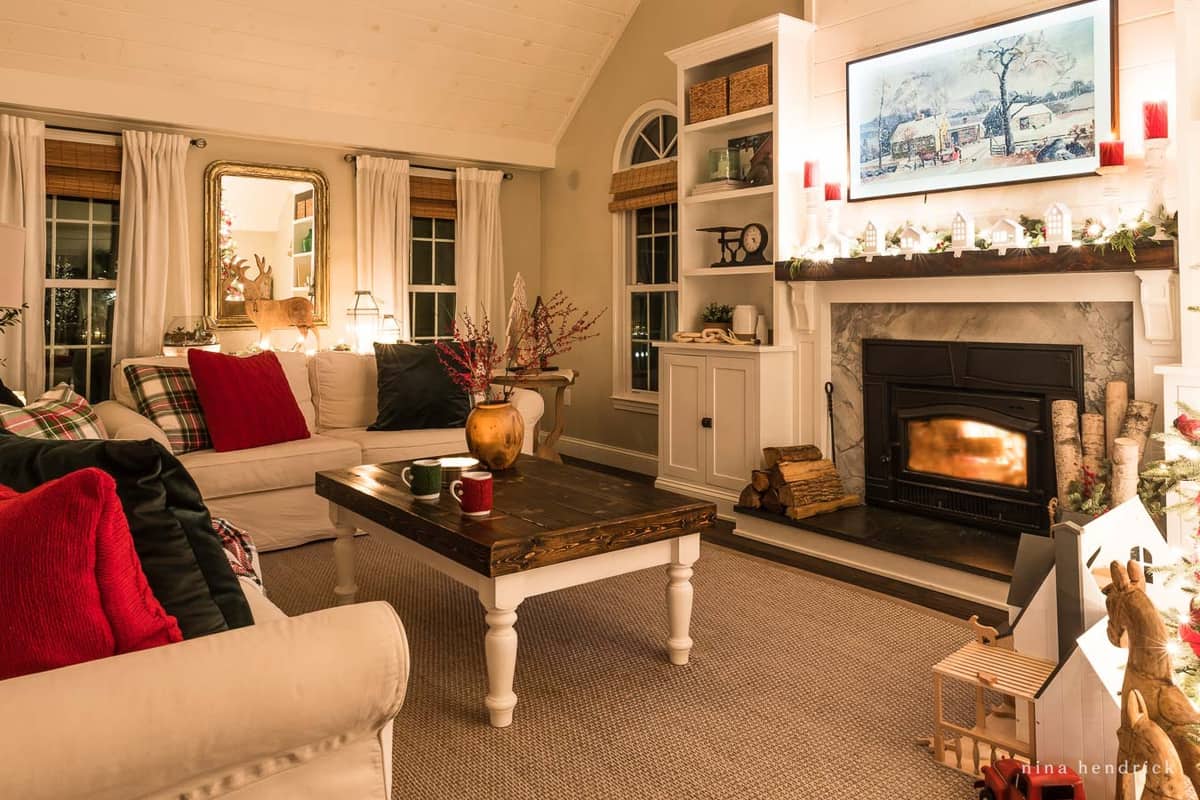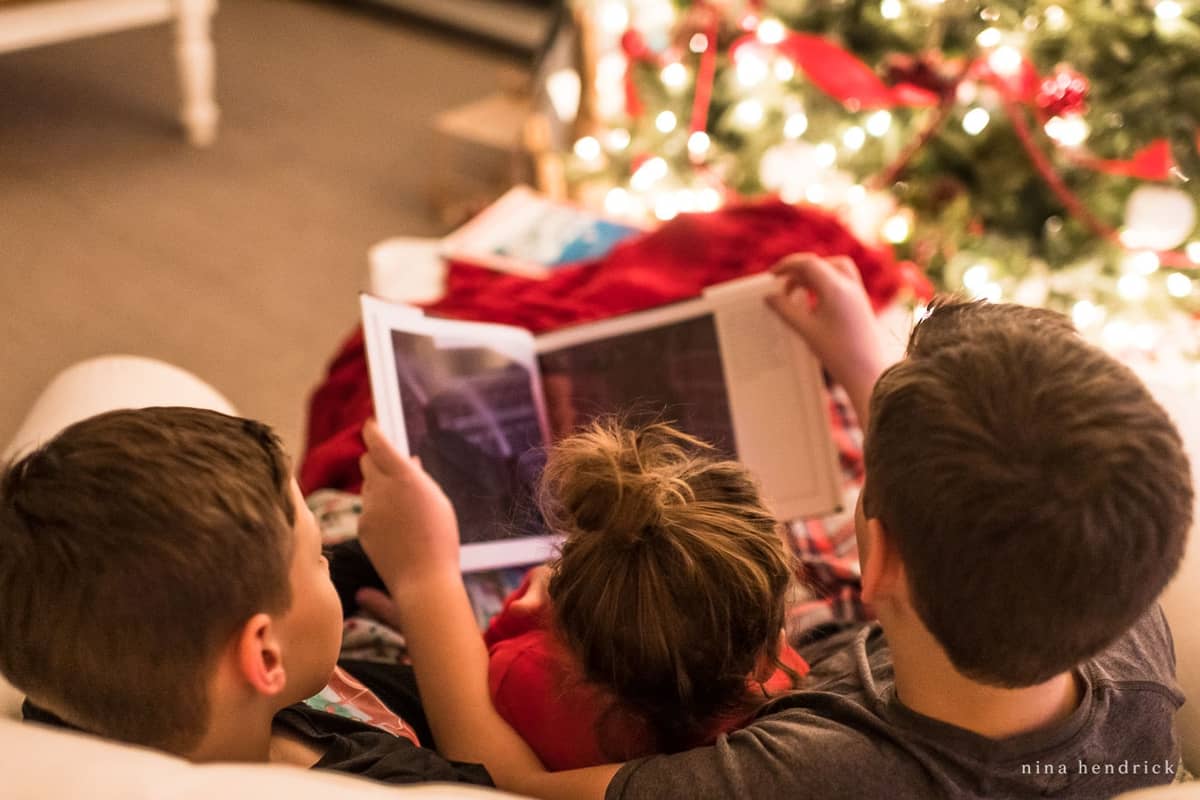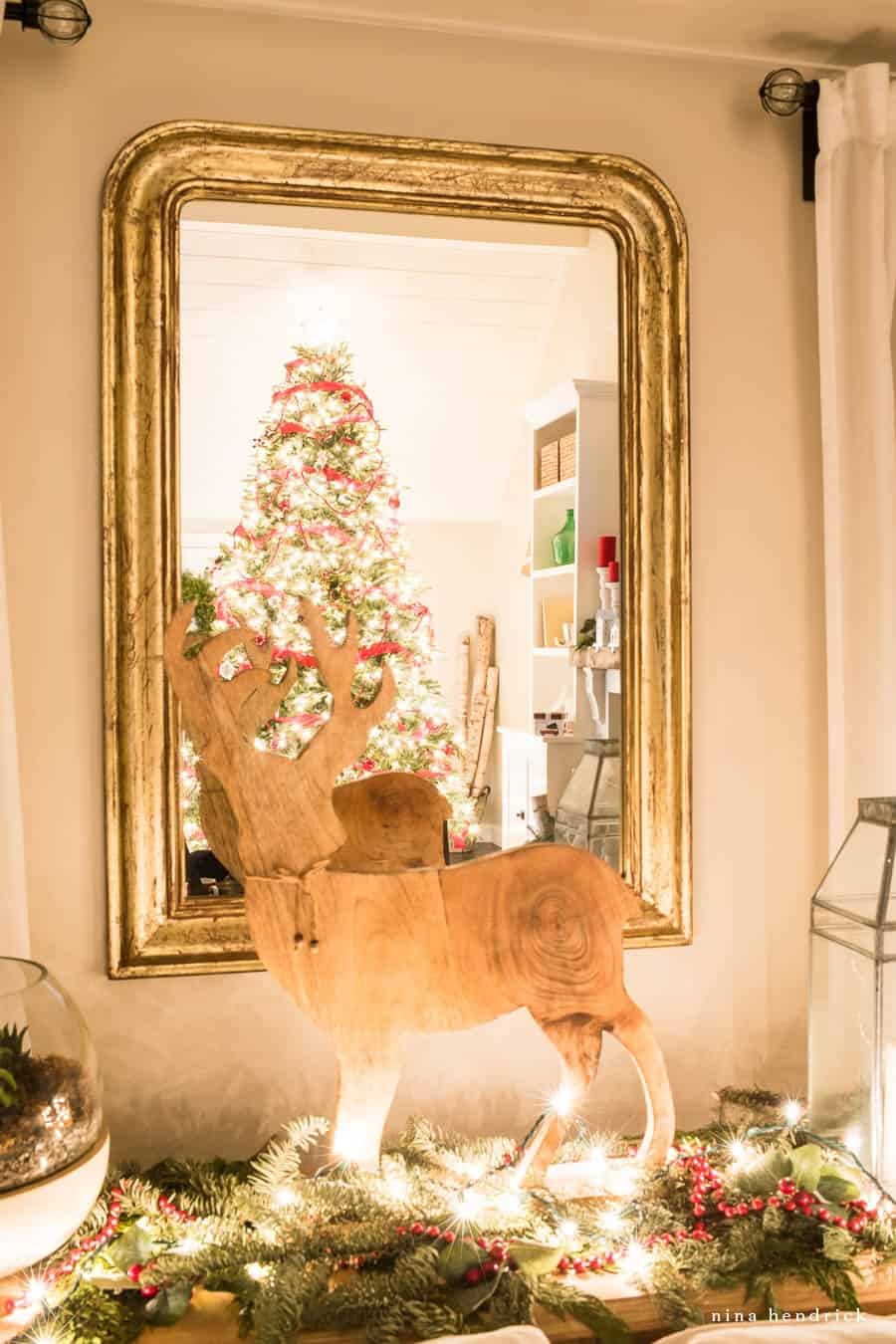 Christmas Light Safety Tips — Heat and Evergreens Don't Mix
It's important to remember that vintage lights are not always as safe as newer LED lights. The heat generated by the old-fashioned incandescent bulbs can be a fire hazard, especially when combined with evergreen trees and other flammable materials. To ensure the safety of your home and family, always unplug your lights before leaving the house or going to bed, and make sure your tree is away from any heat sources. Additionally, be sure to inspect your strands and bulbs for damage before hanging them, and replace any damaged strands and bulbs immediately. Following these tips can help you have a merry and safe holiday season!
a personal note from nina
Nighttime during the Christmas season is especially magical. The twinkling of the Christmas lights as we all gather is incomparable. They seem to mimic the stars in the night sky, signifying peace and happiness. Under those sparkling lights, our family gathers and reconnects and takes a moment to pause in our busy lives. Reflecting on our past home tours, I'm amazed at how much my children have grown since the first picture taken — it feels like just yesterday. It was especially touching to see our late, beloved golden retriever, Lucy, in the photo with our babies. Finally, having our sweet puppy Gracie join us on our last tour felt like a beautiful completion of a circle.
This tour feels like a reminder of how special the season is — and the birth and hope that we celebrate on Christmas day. As I gaze upon the shimmering lights, I am filled with joy and peace. From our home to yours, I wish you the merriest of Christmases.
Nina Hendrick