This Christmas Home Tour is a one-stop destination for inspiration and classic Christmas decorations ideas. Learn over twenty festive tips and tricks and explore a beautiful New England colonial decked out in Classic red and green Christmas decor. Make your home the talk of the season with these timeless Christmas decorating ideas!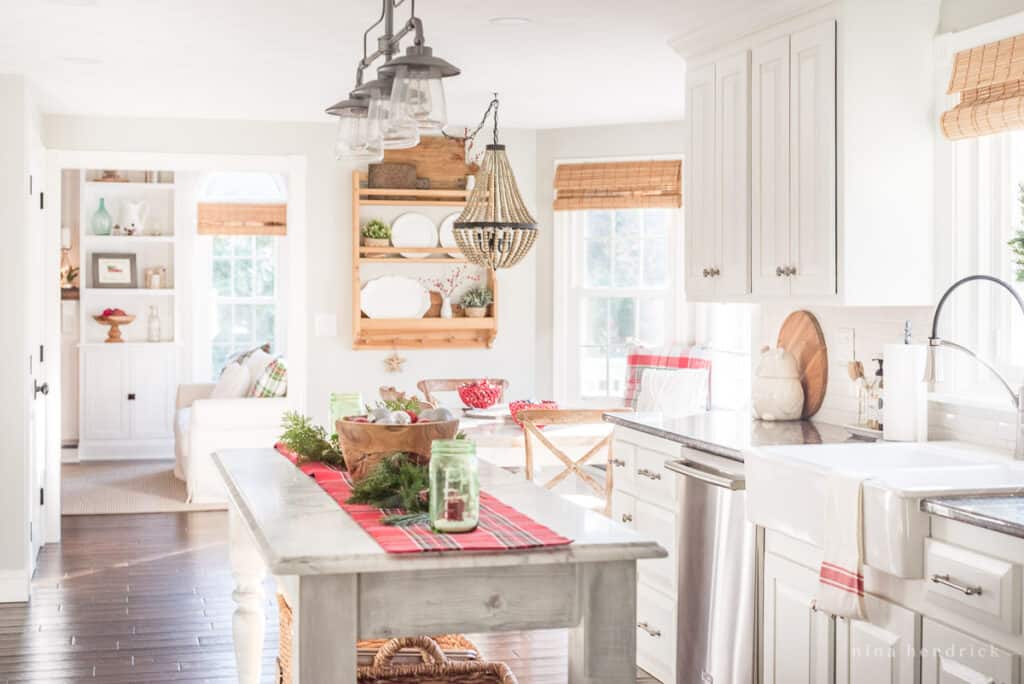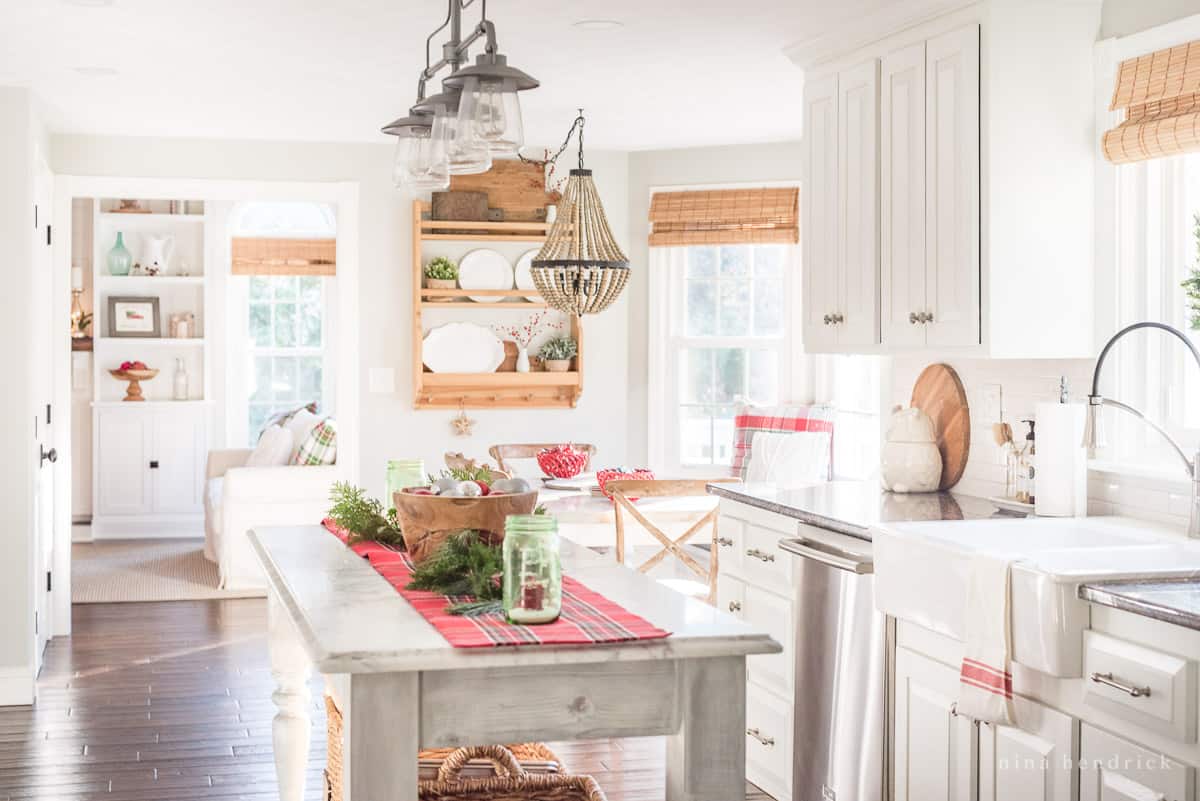 It's that wonderful time of year when the Christmas spirit starts to fill the air, and everyone is ready to decorate their homes with festive cheer. It often brings about a feeling of nostalgia, with many families taking the time to bring out their classic decorations that have been passed down through generations. From the vintage ornaments to the heirloom stockings, classic Christmas decorations can fill our homes with memories of past holidays and add a special touch of warmth and comfort to the present celebrations. For more Christmas inspiration, you can visit my post on easy Christmas decorating ideas and some of my favorite rustic Christmas decorating inspiration!
For this classic Christmas Home Tour, I was looking to embrace the classic Christmas colors of red and white with hints of green. Whether you're planning on a full-on traditional look or just looking to add a few festive touches to your home, there are plenty of ways to bring the classic holiday palette into your home this season. In this blog post, I'll be discussing some of the ways to incorporate classic Christmas Christmas decorations into your home to help inspire your holiday decorating this year!
This post contains affiliate links, which means I may get a small commission (at no extra cost to you) if you shop my link. Please see my disclosure if you'd like more info!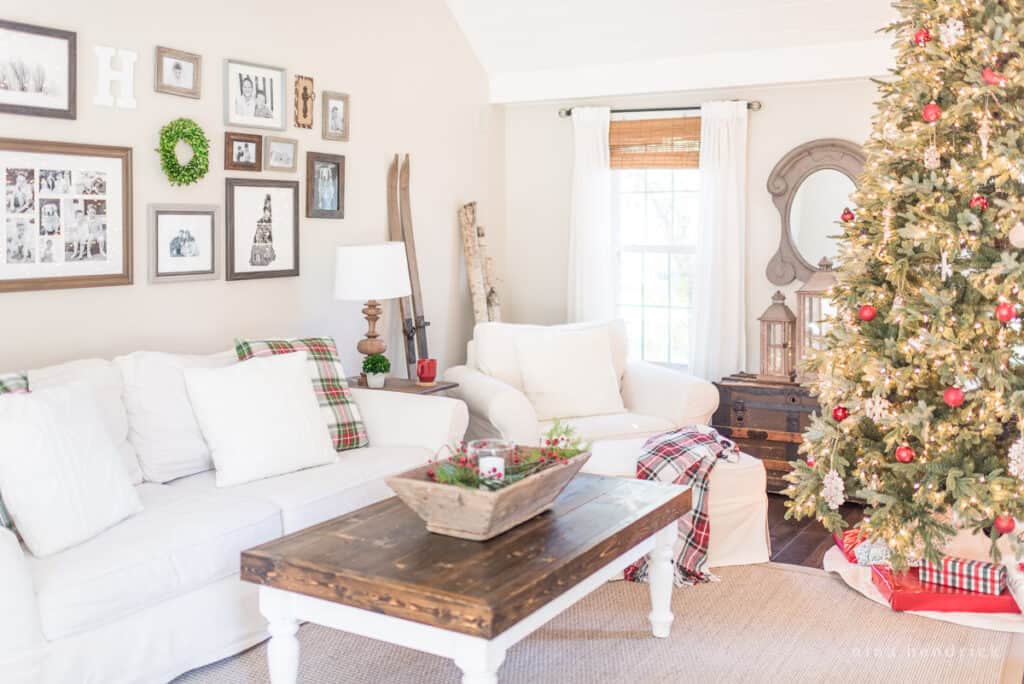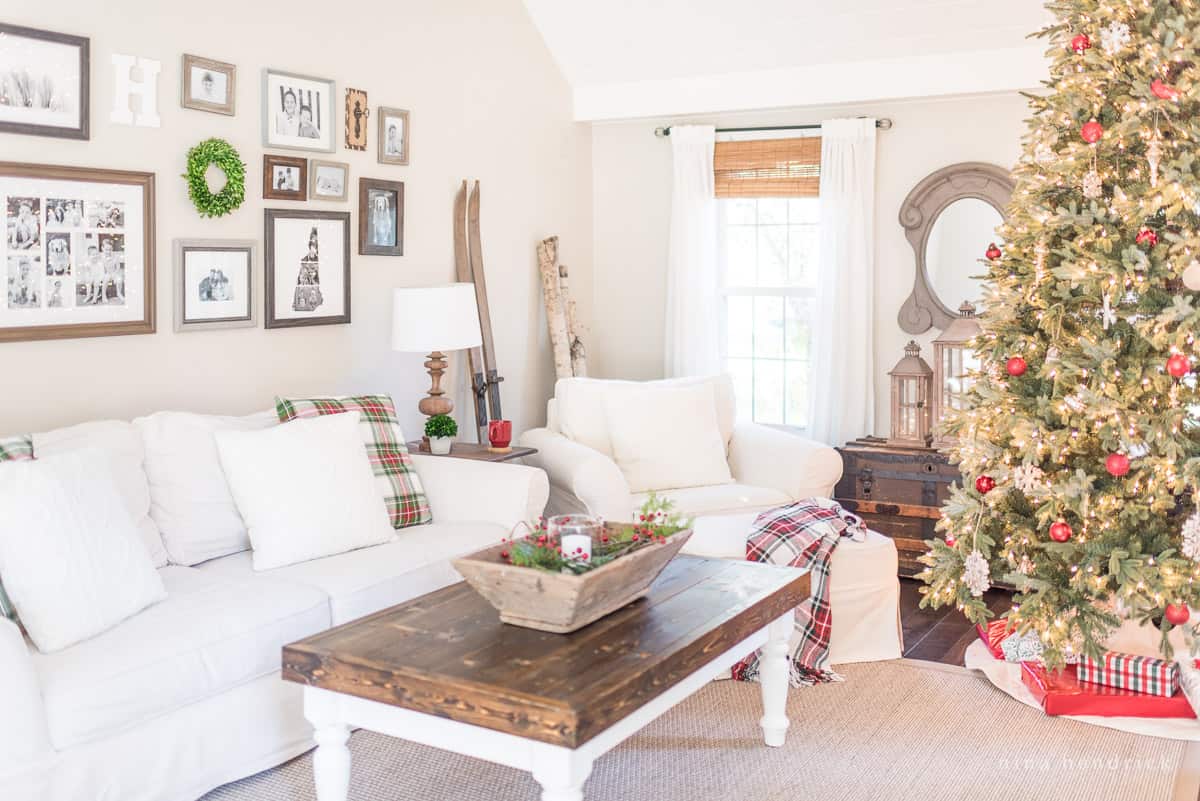 Classic Christmas Decorations Ideas Throughout the House
Our Christmas home tour takes you through the splendor of this special time of year. From the twinkling lights that adorn the tree, to the cozy fire crackling in the living room, you will feel the Christmas spirit the second you walk in the door. The classic Christmas decorations will delight you in every corner of the home, from the sparkling garland that hangs above the mantel to the glittering ornaments simple placed in a wooden bowl in the kitchen. As you make your way through the home, you will experience the joy of the season, from the smell of cinnamon and evergreen, to the cheerful holiday music. The tour ends in the kitchen, where you can enjoy a warm cup of hot cocoa and homemade treats. Join us on this magical journey of the holiday season, and experience the warmth and cheer that only Christmas can bring!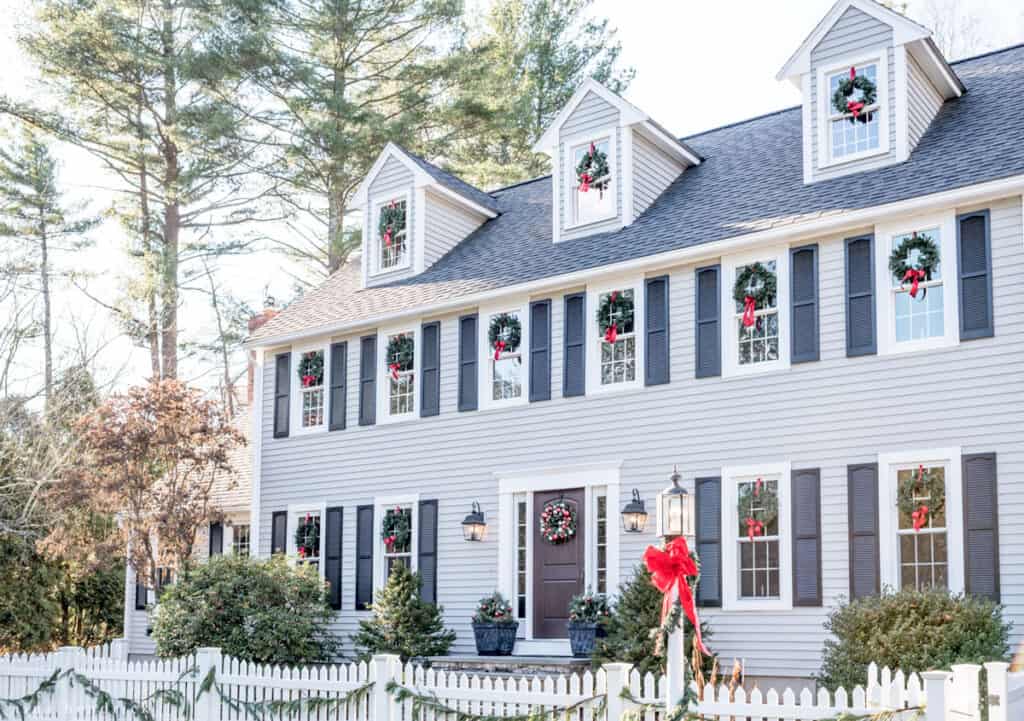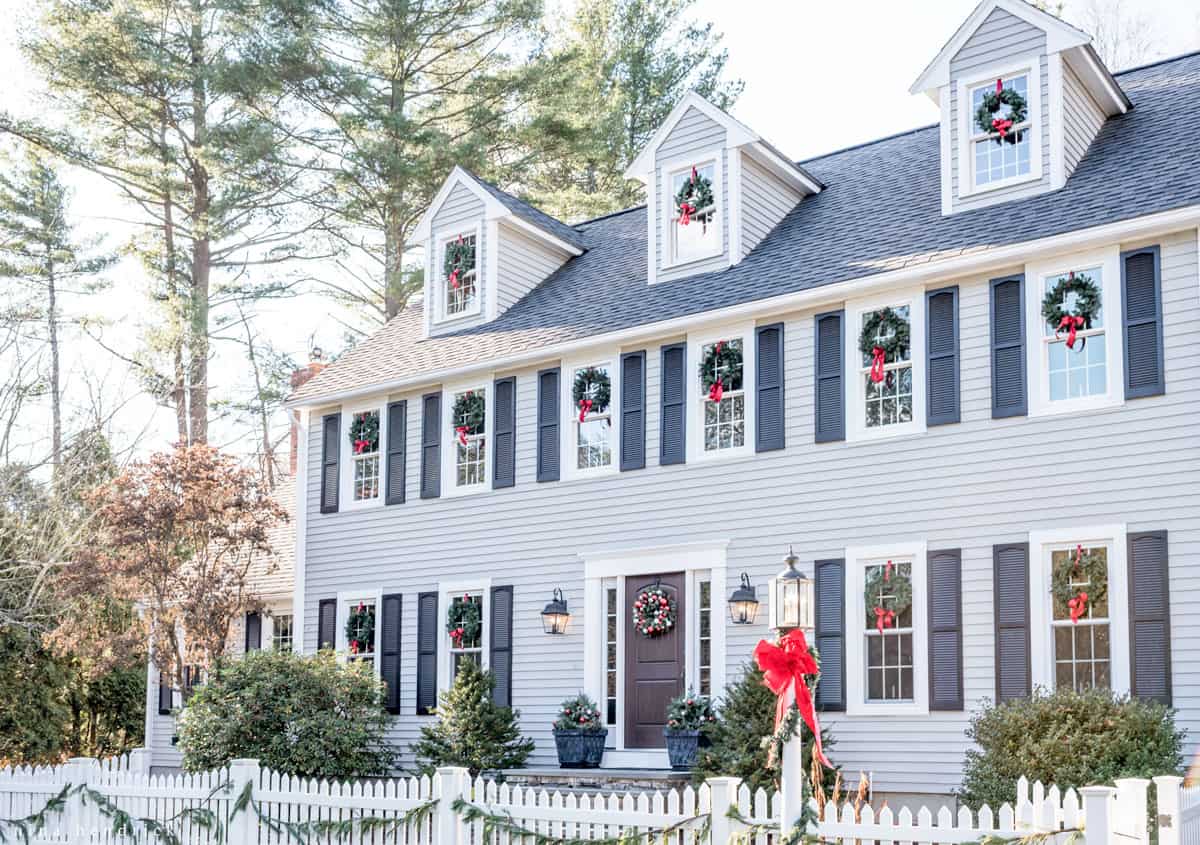 Classic Outdoor Christmas Decorations
Welcome to our New England Colonial home, carefully decorated for the holiday season! Our tour will begin outside, where you can take in the glittering lights and joyful decorations. My goal was to give our house the charm of a classic Christmas movie, so that you can almost hear the joyous Christmas carols emanating from the property. I wanted it to feel like you have stepped back in time to a simpler era. As you take in the beauty of the season, I'll tell you a bit more about the house and its decorations. So, let's begin our tour!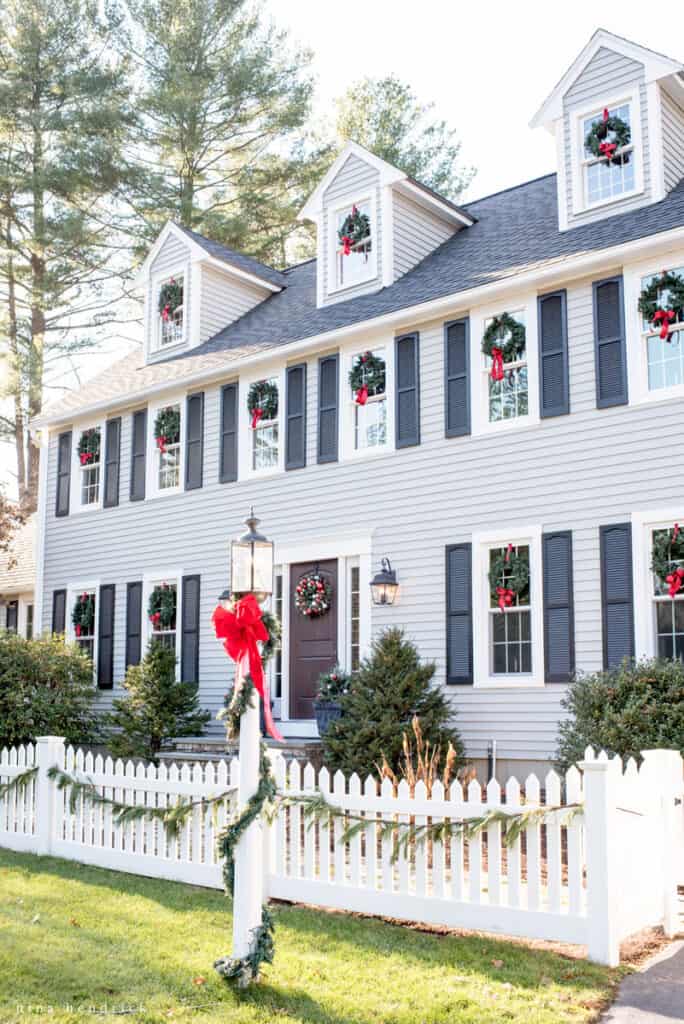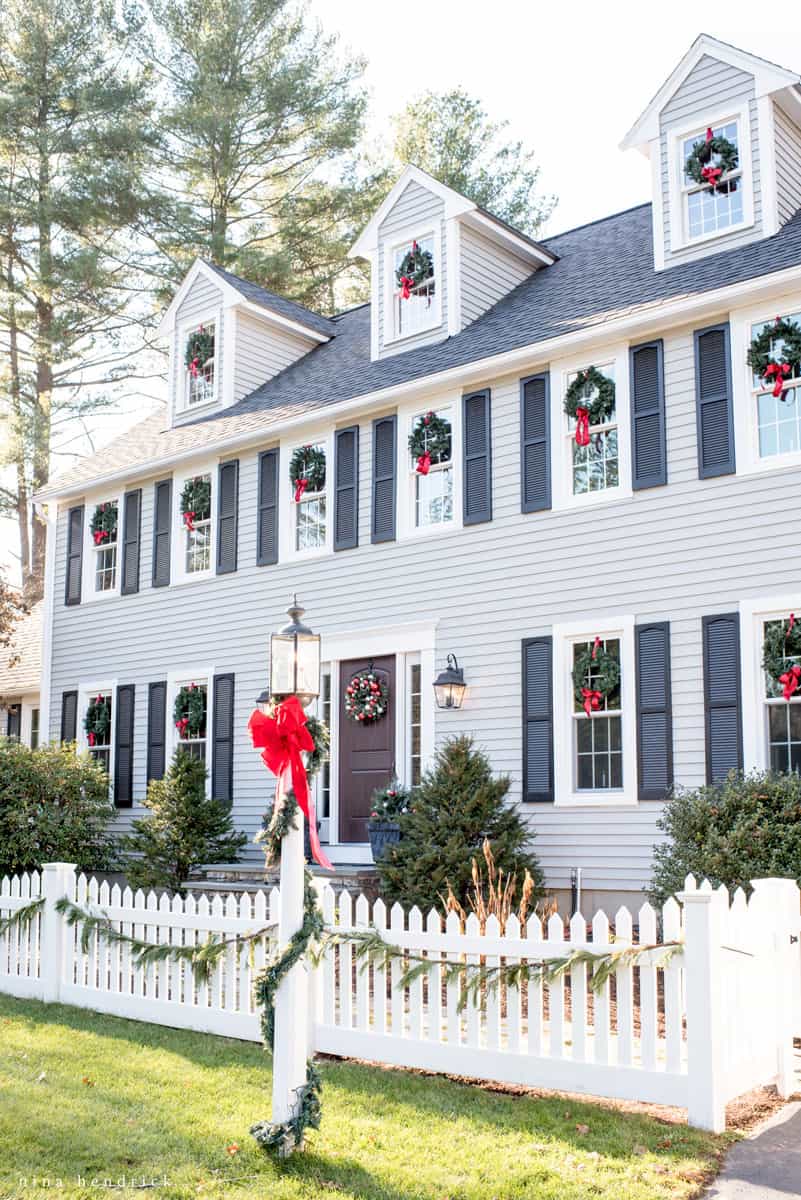 Every window in sight is adorned with a vibrant red bow nestled in a wreath. Lamp posts are also wrapped in green garlands and bows, adding to the cheerful atmosphere. I hung a real cedar garland along our white picket fence, bringing even more holiday cheer to the outdoor area. These decorations are easy to recreate and will certainly have your home feeling festive!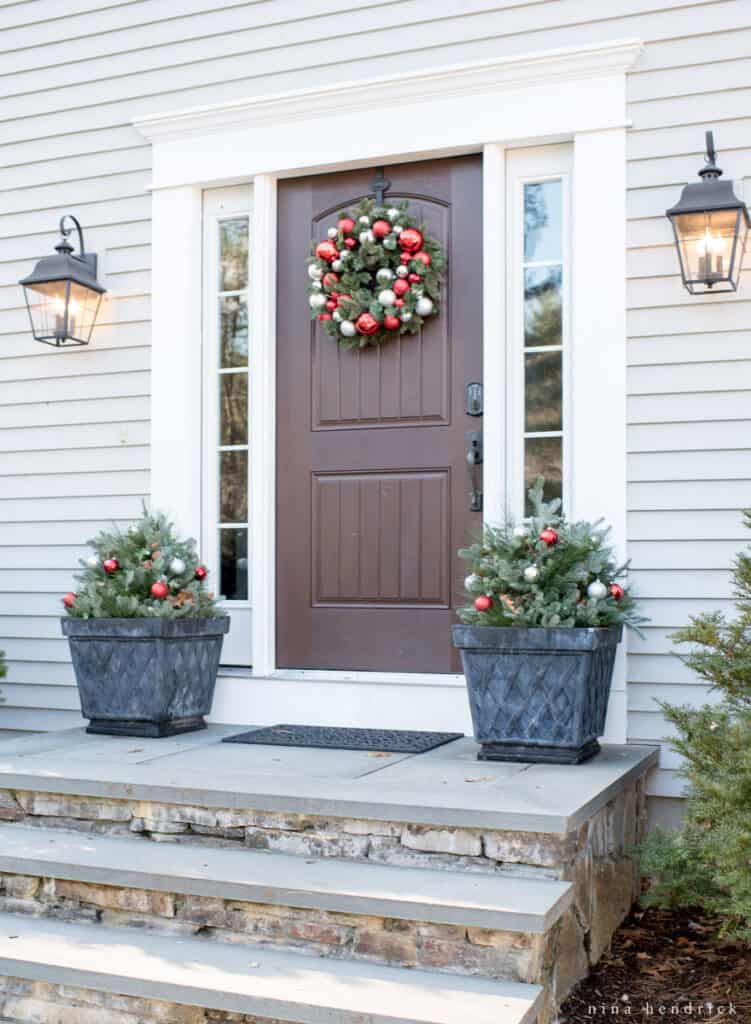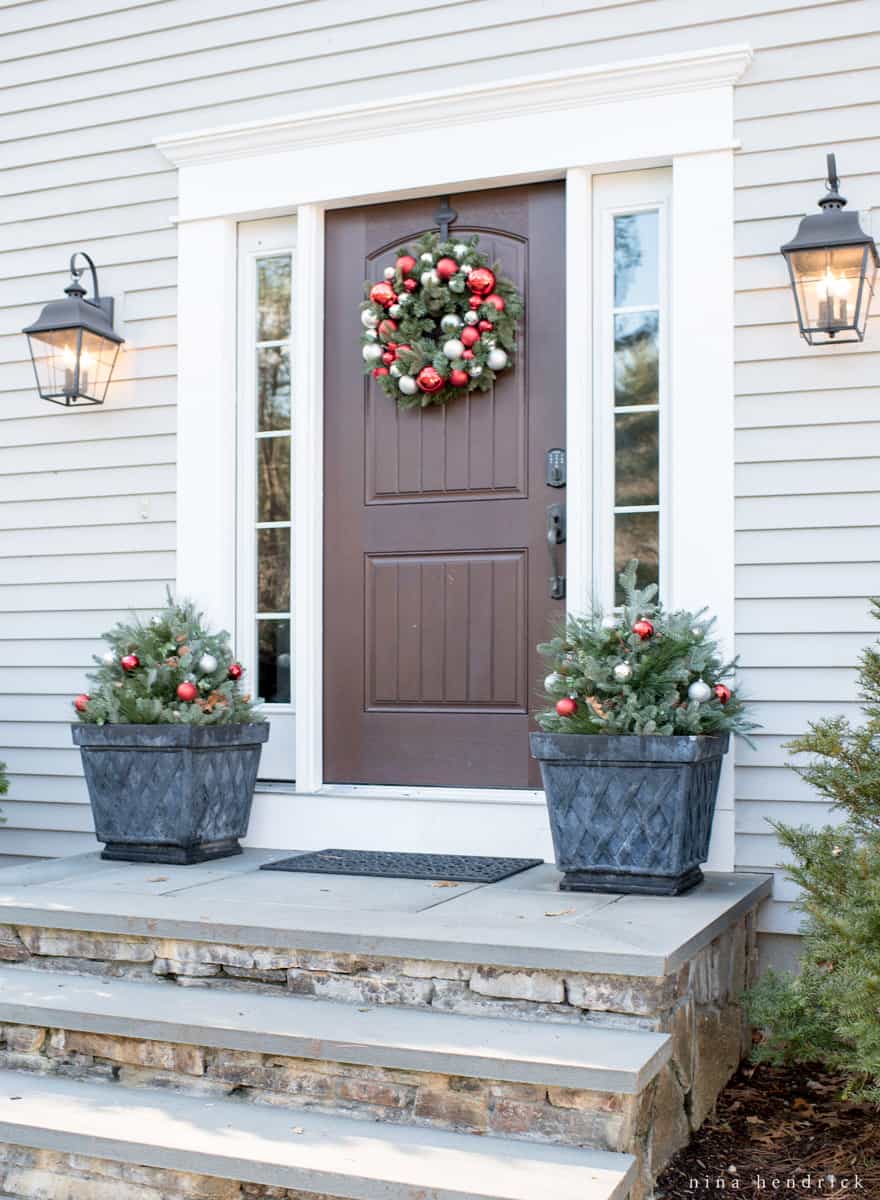 Our small stoop features planters flanking the door, filled with faux evergreens and accented with red and silver ornaments. To top it off, a beautiful wreath adorned with ornaments hangs on the door, creating a merry holiday welcome. It's a seasonal favorite that brings a smile to our faces each time we come home.
The outdoor space truly shines at night. All we need now is snow to transform our yard to a winter wonderland! You can see more of our Christmas home at night here! You can also see more outdoor Christmas decoration ideas in this post!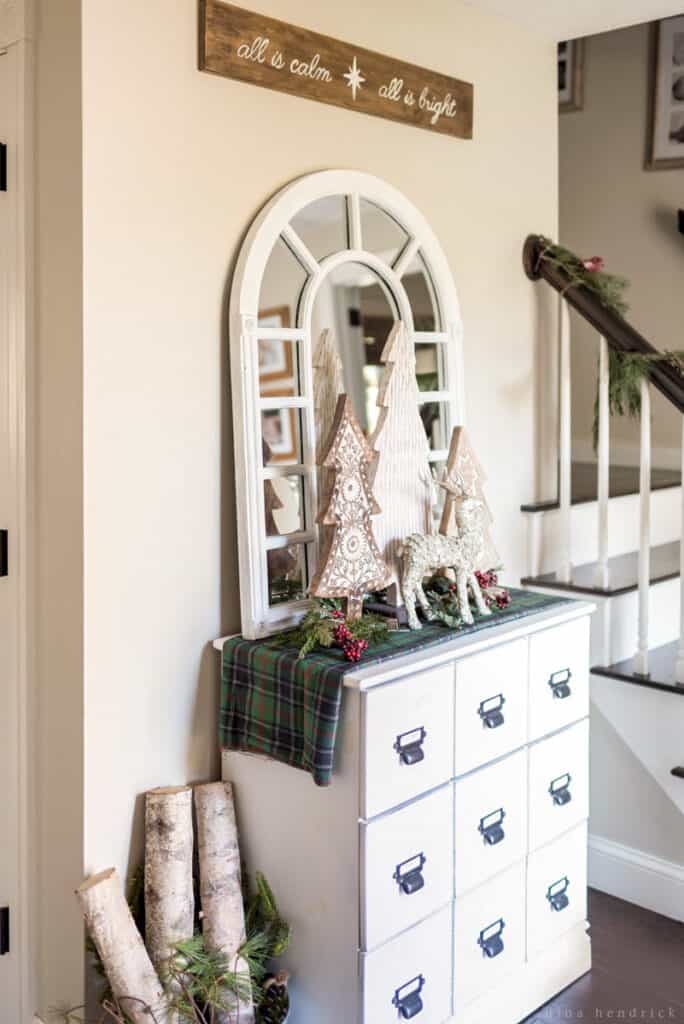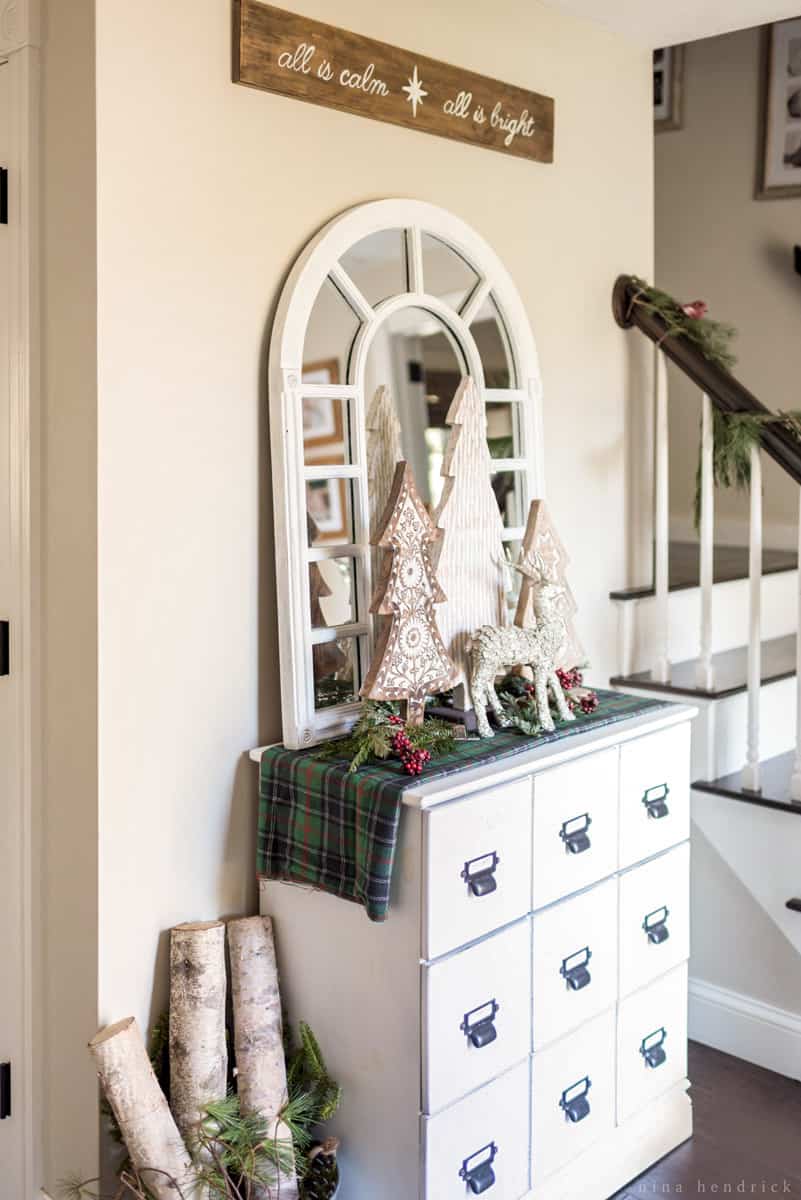 A Welcoming Foyer
When I moved to decorating inside, I wanted to keep the decor in the foyer light. Despite it being the first thing guests see when they enter our home, it does not have to be excessive to be beautiful and welcoming! I wound a natural pine and cedar garland around the bannister. You can see a peek into my office, where I decorated a flocked tree to enjoy as I wrap Christmas presents.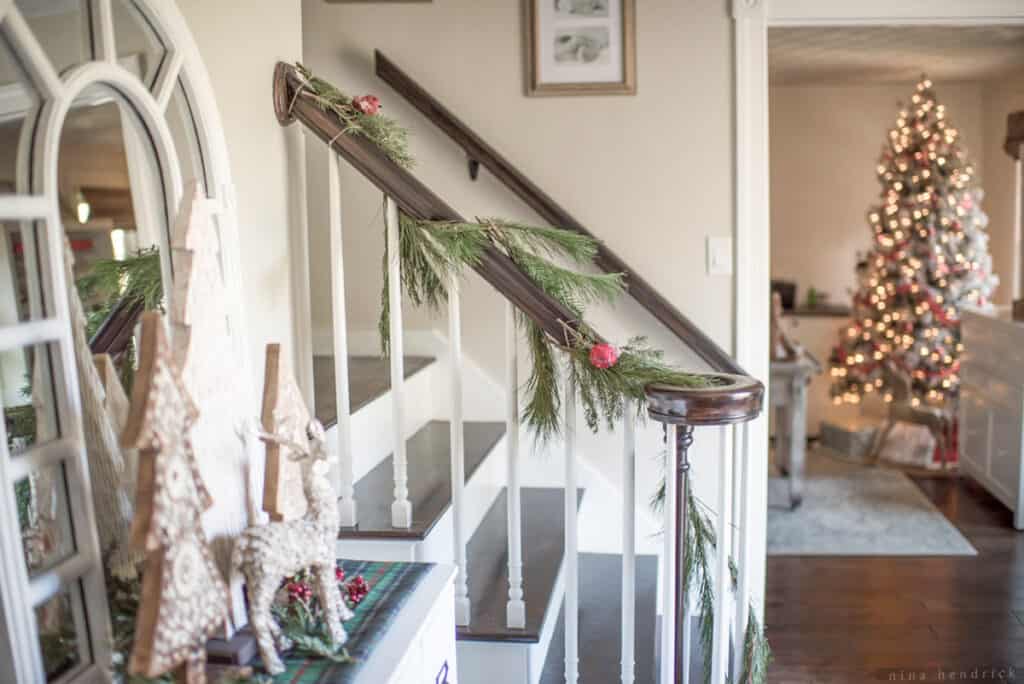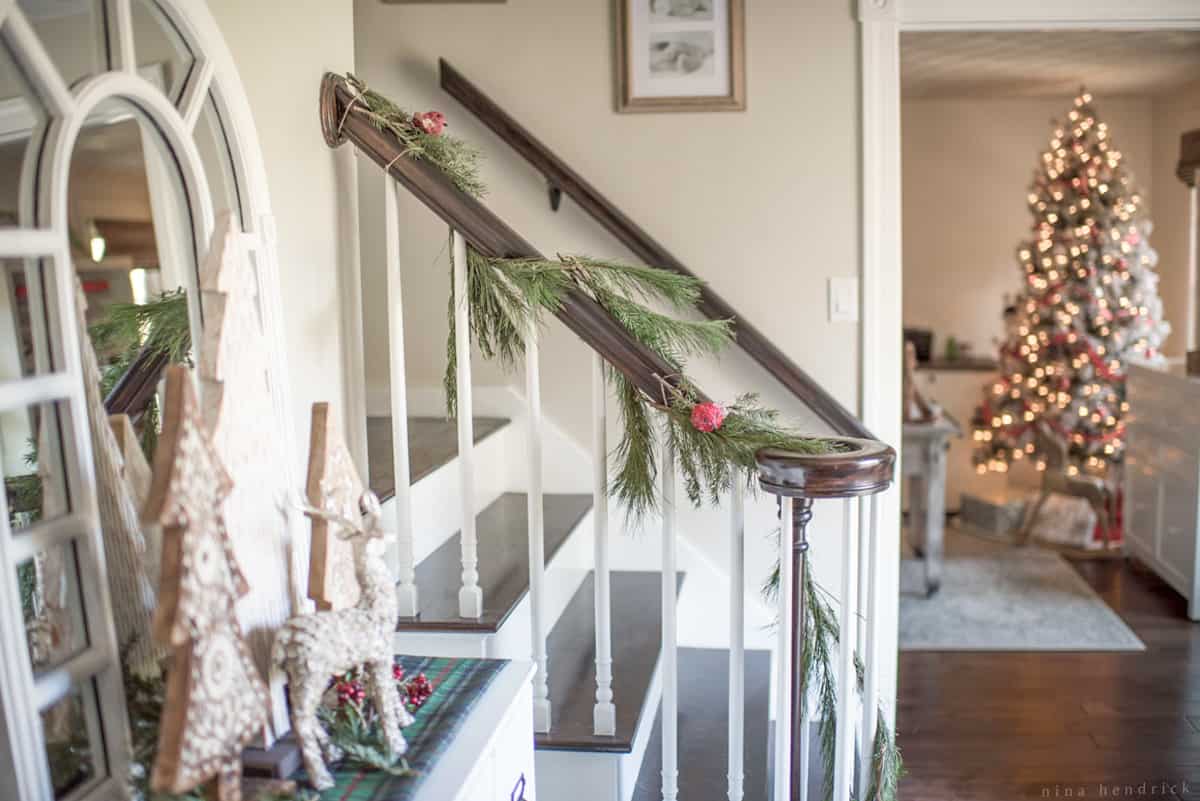 A simple piece of plaid fabric covers the foyer table. I found the wooden trees at HomeGoods, but I've had the glitter deer for several years. I always advocate for getting creative and finding new ways to use decor you already have rather than buying new things each year.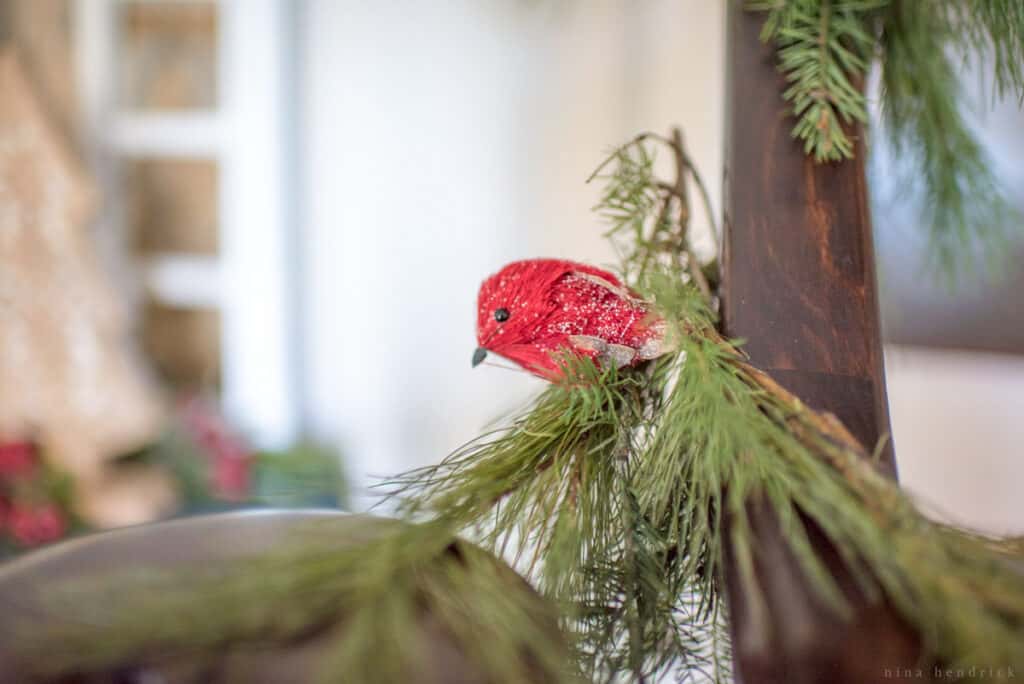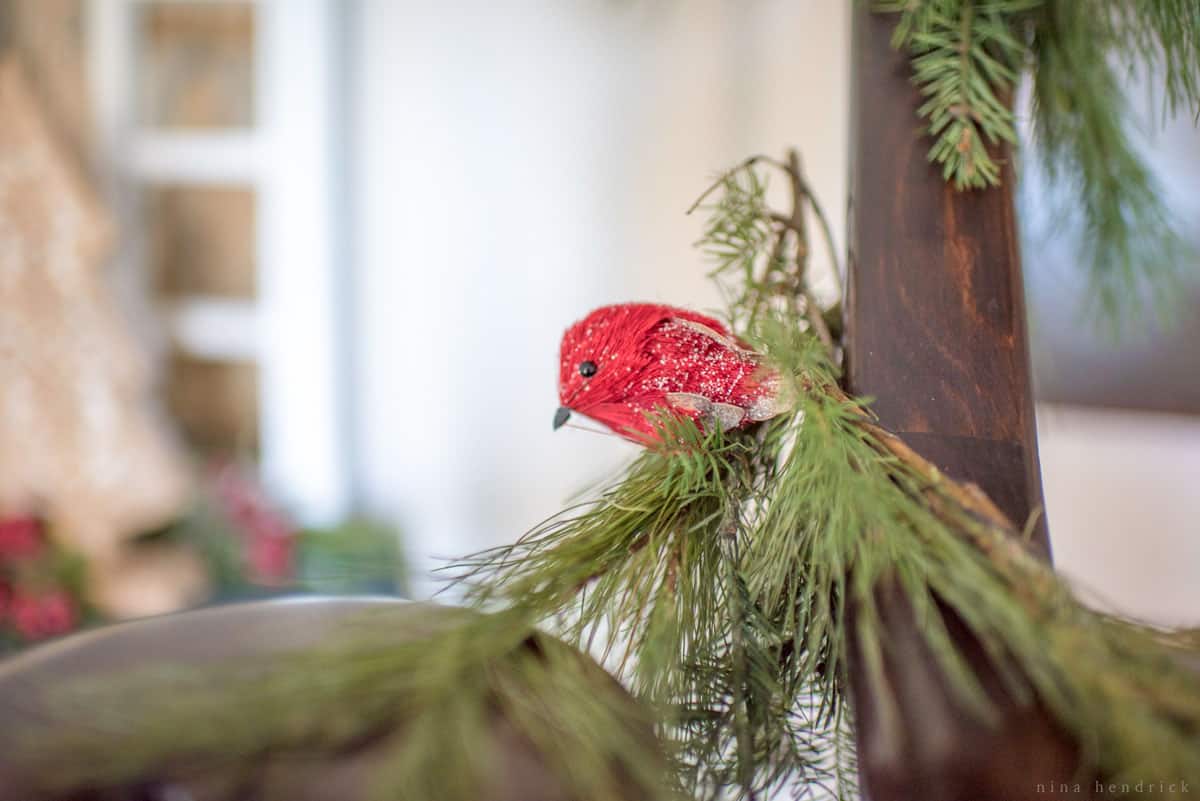 Finally, these sweet little red birds are sprinkled throughout the foyer and my office for a charming and unexpected touch. I love little details like these! All of these classic Christmas decorations transformed the foyer into a merry and inviting space.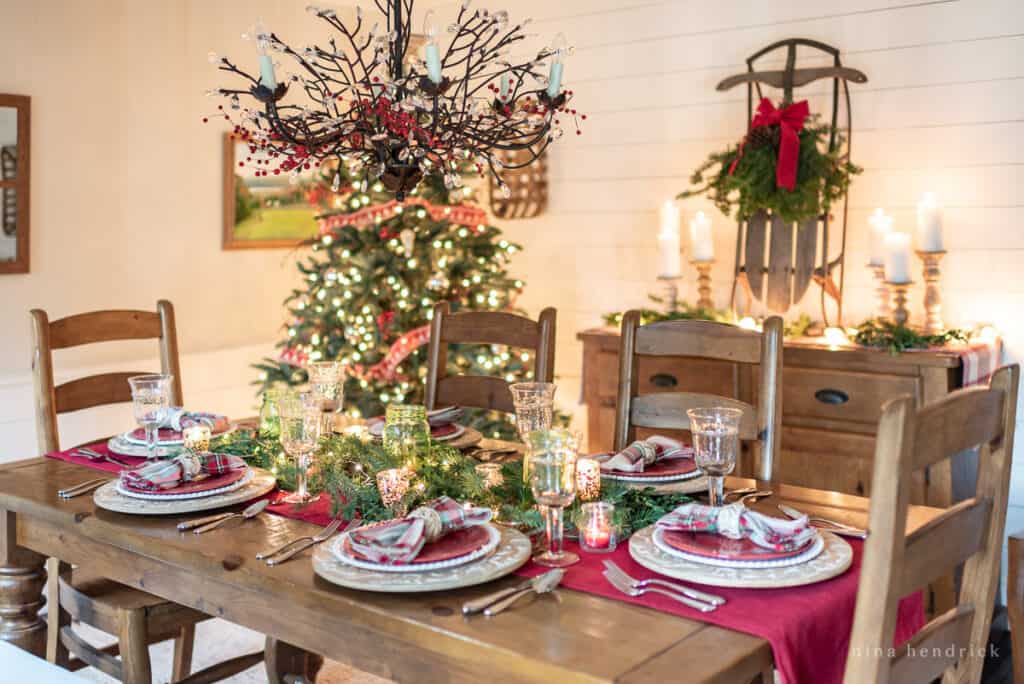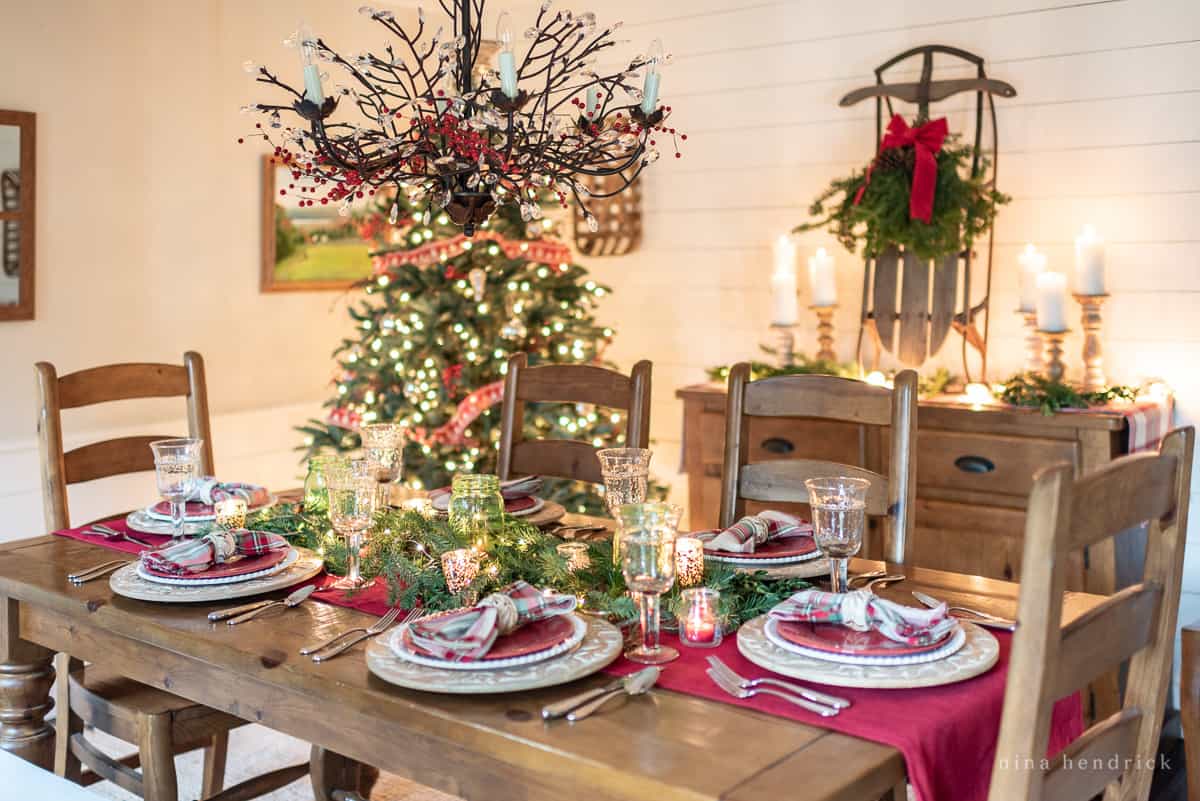 Nostalgic Christmas Dining Room and Tablescape
The dining room is one of the more elaborately decorated rooms in the house, but still relatively simple when you look at the elements. It's made up of simple everyday pieces combined with classic Christmas decorations. I shared all the details about this tablescape here!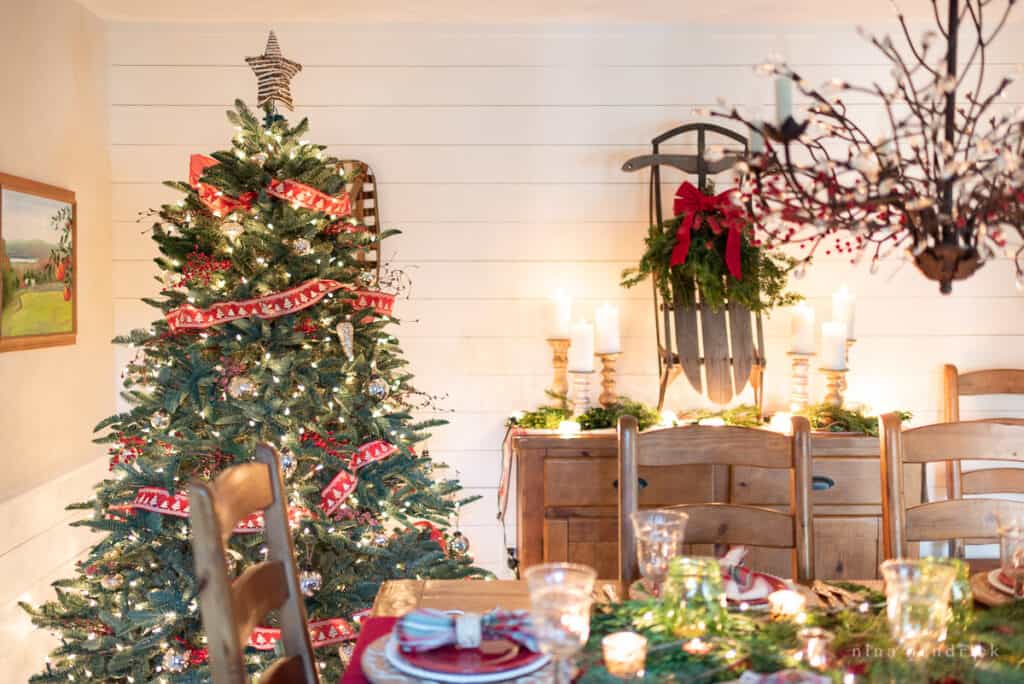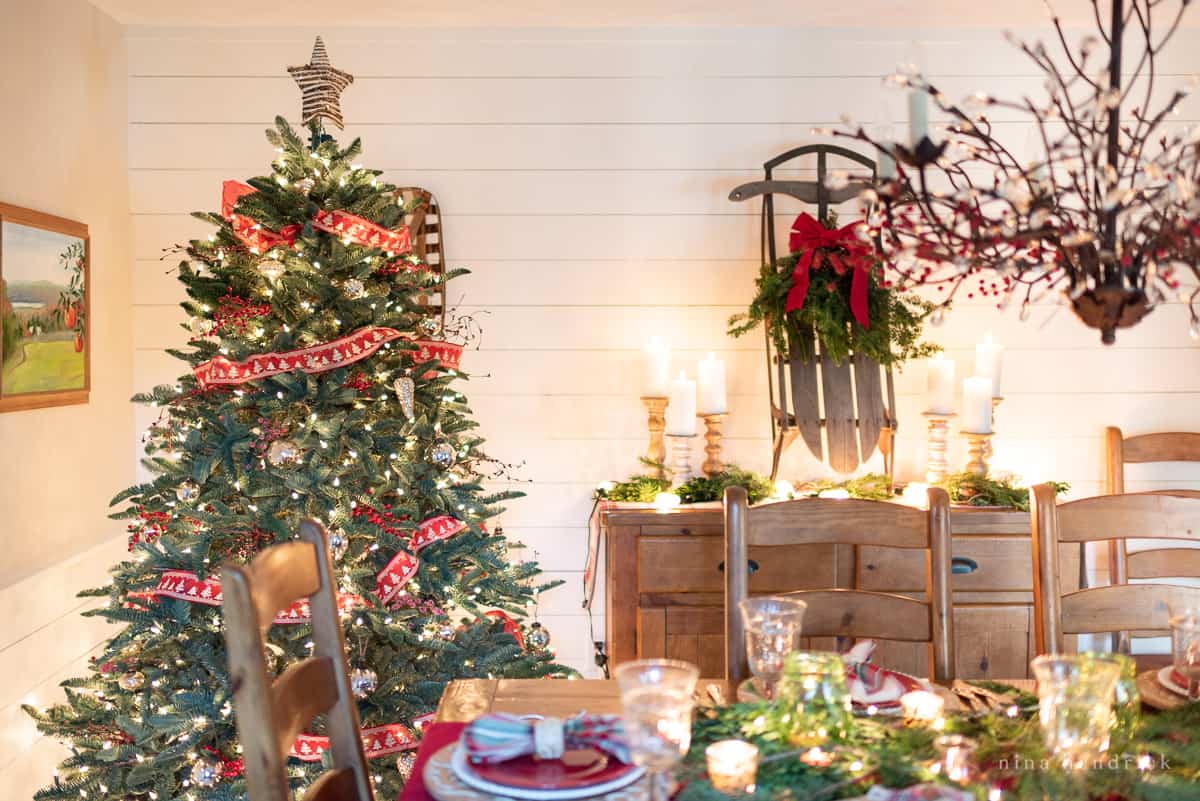 I adorned the branch chandelier with some simple, red berries. These vibrant berries bring a cheerful, cohesive atmosphere throughout our home, and I love the continuity!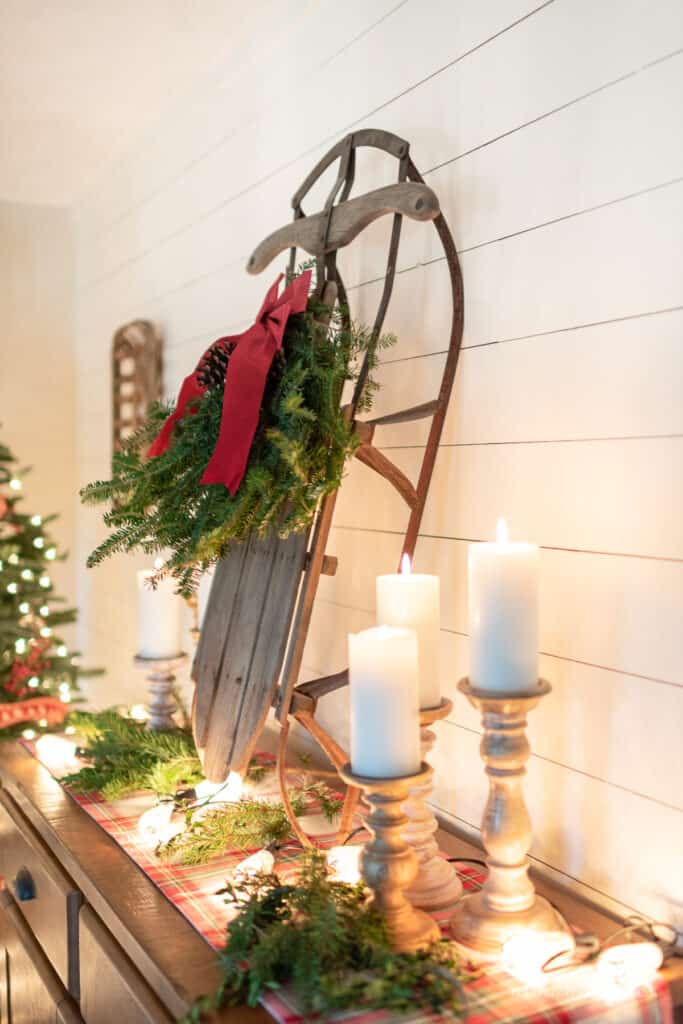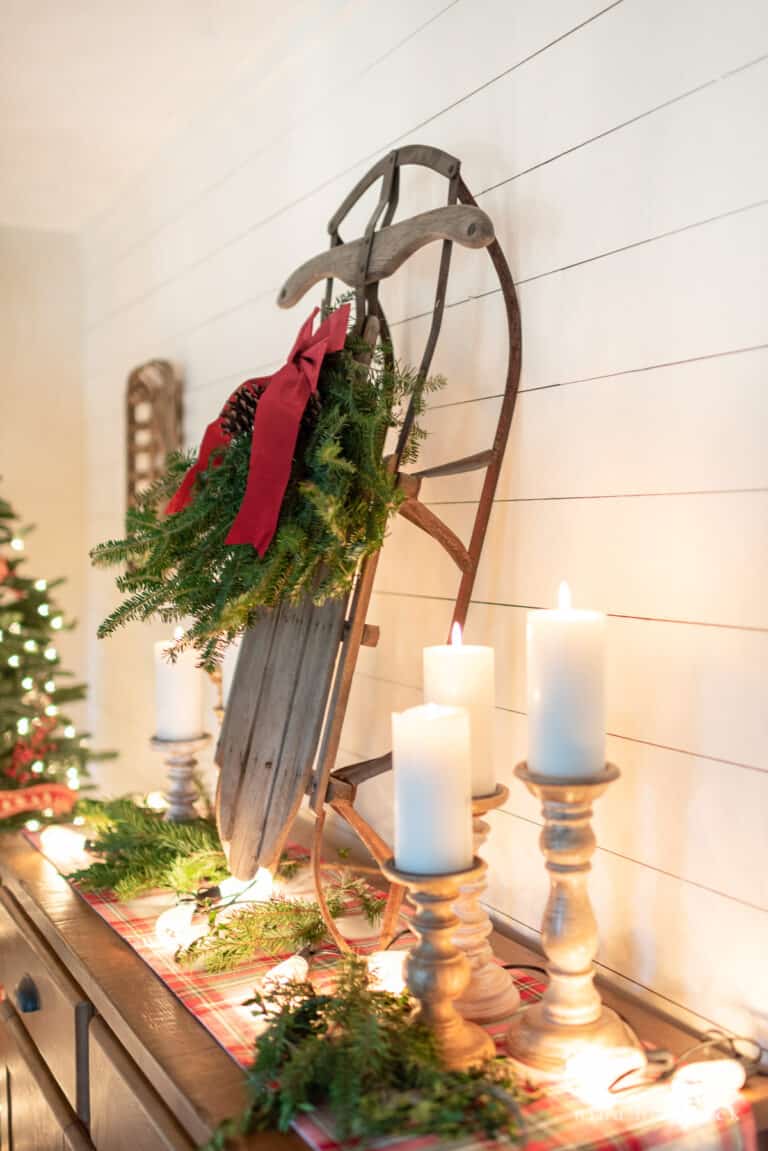 This old wooden sled was the perfect starting point for the sideboard vignette. If you're looking for a unique twist on classic Christmas decorations, then look no further than reclaimed antiques like sleds and skis. Not only do they add a touch of nostalgia to any Christmas display, but they can also be used as the perfect base for creative vignettes and arrangements. Here I paired the sled with a simple red, green, and white runner, an evergreen garland, and some wooden candleholders adorned with classic white candles.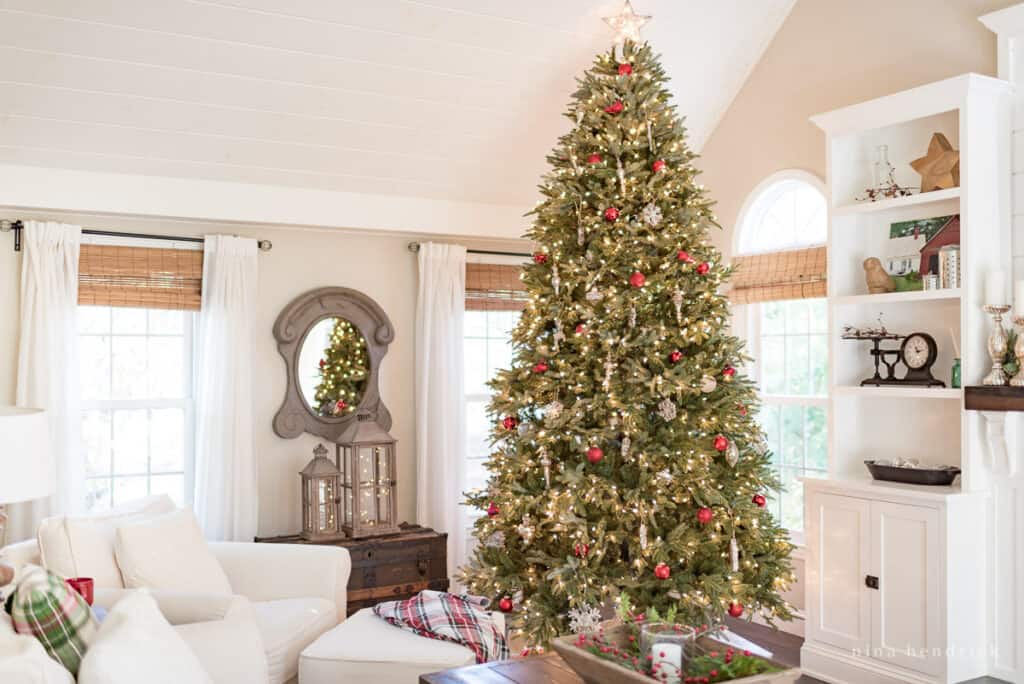 Classic Christmas Decorations in the Family Room
The family room of our home is the perfect place to gather. From the warm and cozy furniture to the festive classic Christmas decorations, it is filled with the spirit of the season. The twinkling lights and the aroma of evergreen and cinnamon fill the room, and the laughter of our family echoes from the walls. We all gather here to exchange gifts, enjoy holiday treats, and watch our favorite Christmas movies. This room is the heart of our traditions, a place of joy, celebration, and love. I have even more Christmas family room inspiration in this post!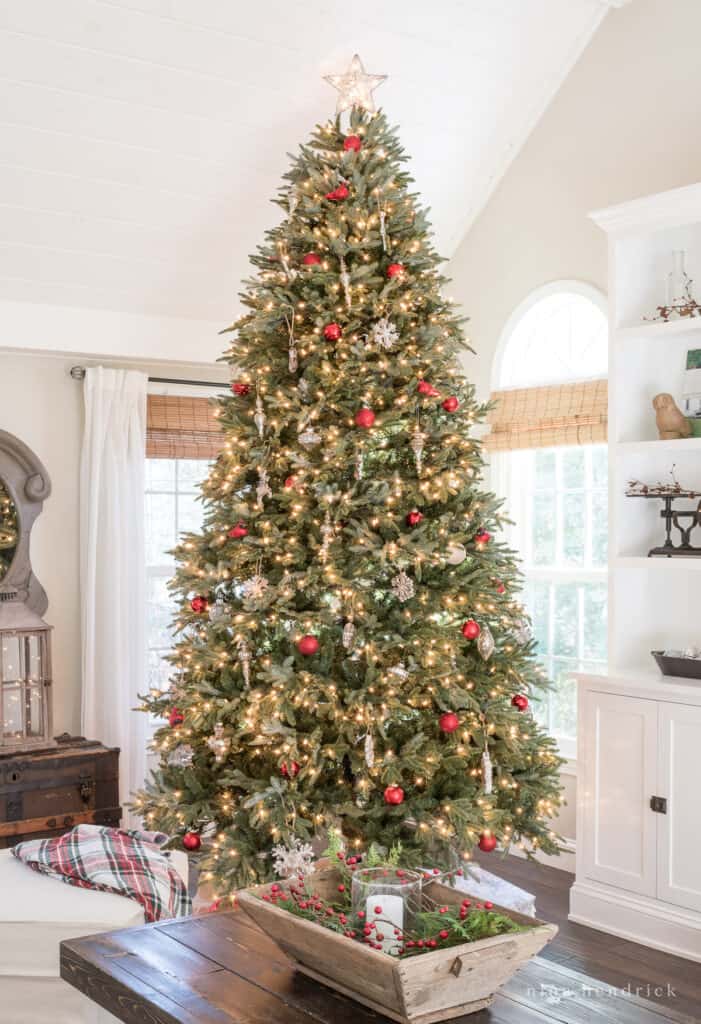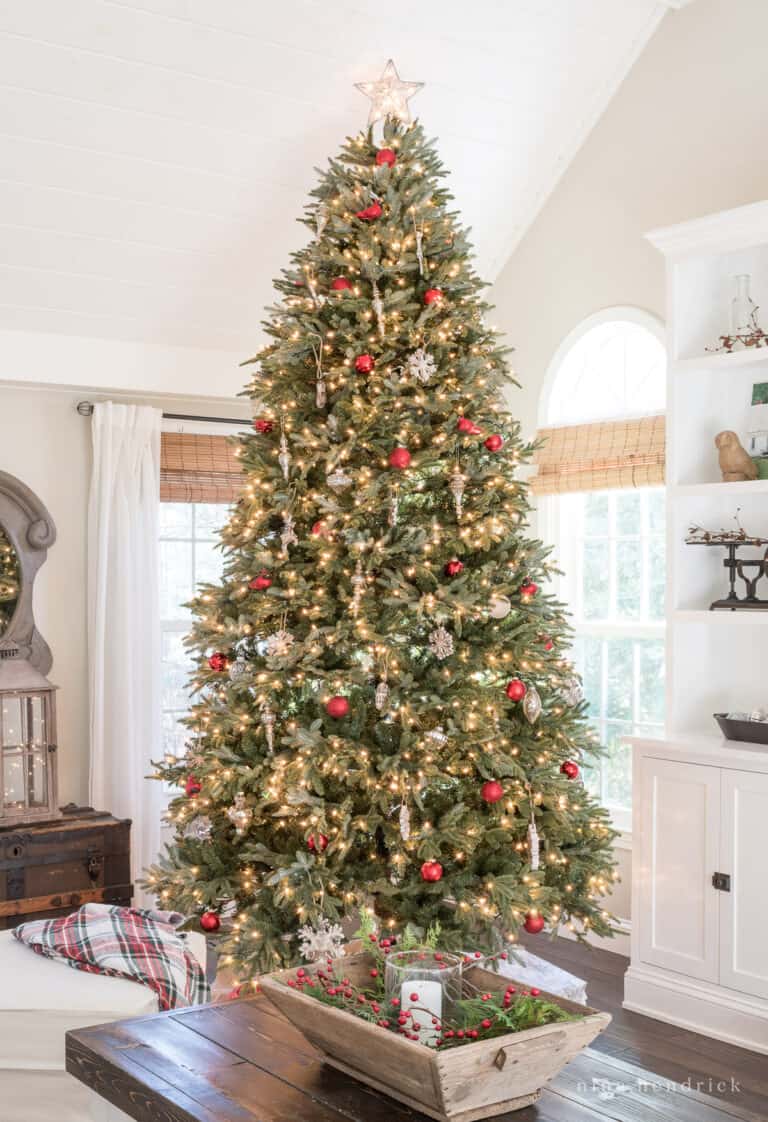 The Christmas tree is without a doubt the focal point of the room, with it's glittering lights and sparkling ornaments. This year, we have outdone ourselves with an enormous 11′ Fraser Fir faux tree. We couldn't be happier with the size and quality of our tree, and we can't wait to decorate and enjoy it for years to come. A collection of vintage-inspired mercury glass ornaments hangs from the branches of the Christmas tree along with a few snowflake-shaped wooden ornaments and classic red orbs.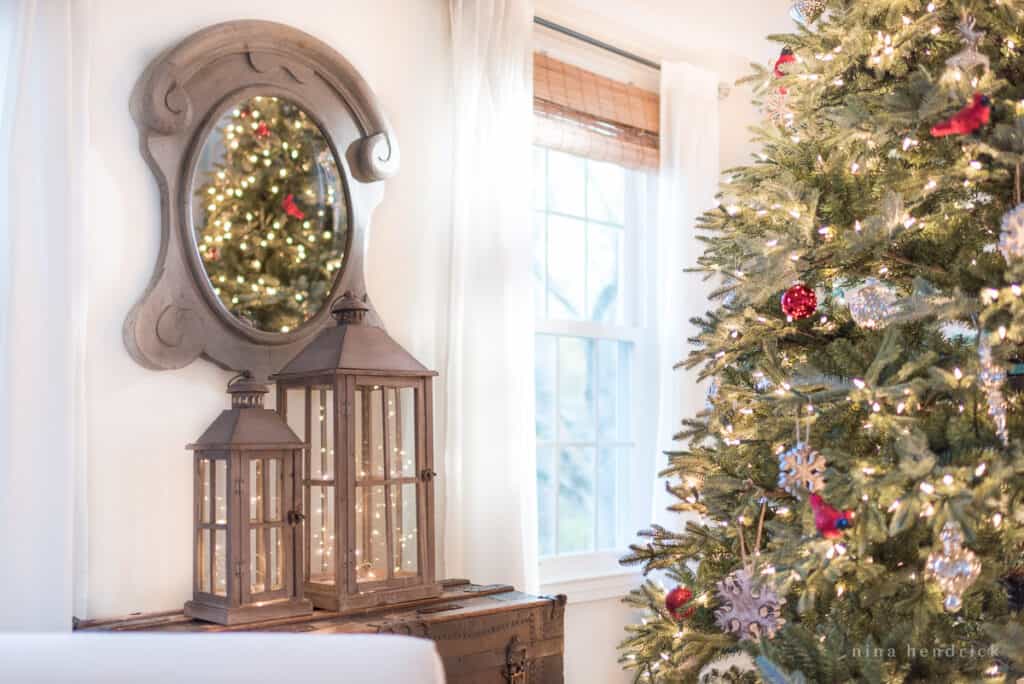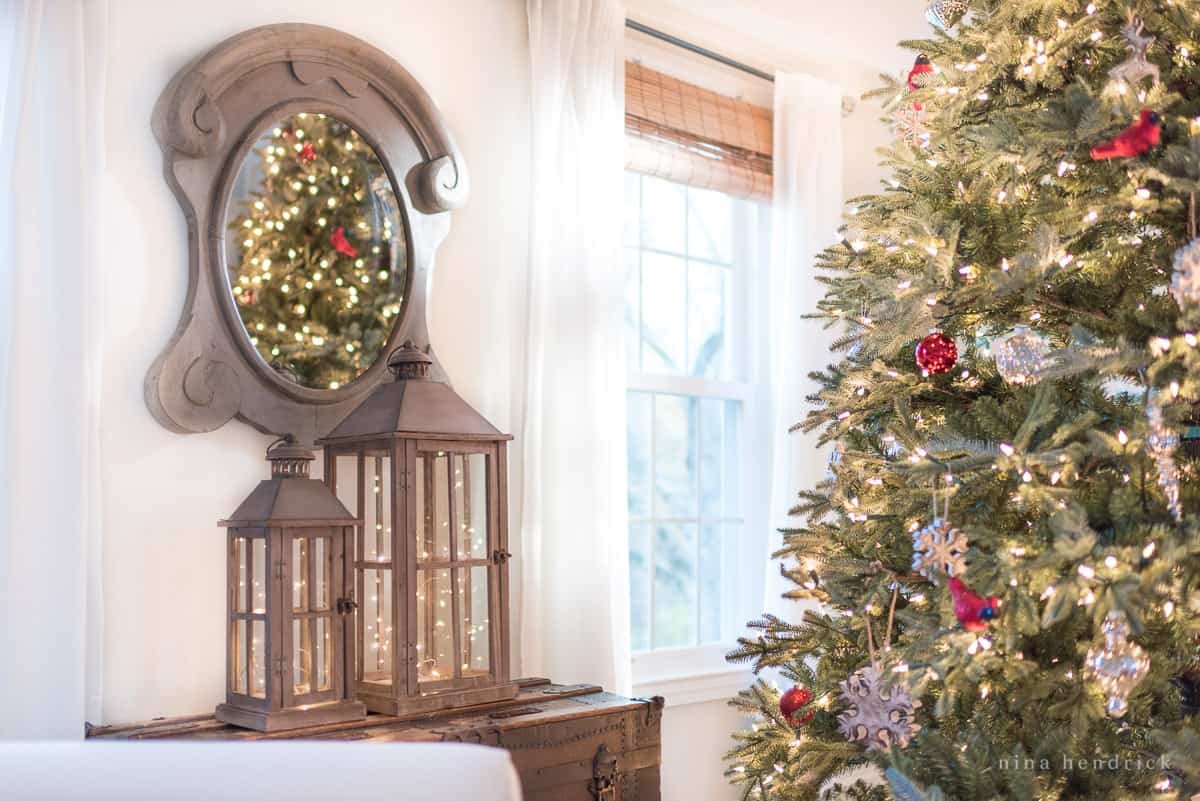 I miss having a real tree, but I'm so glad I don't have to vacuum up needles anymore! To make up for it, I've added a scent diffuser to the room to provide a lovely evergreen aroma. If you're also missing having a real tree, you can bring a real evergreen garland into the room to get that woodsy scent!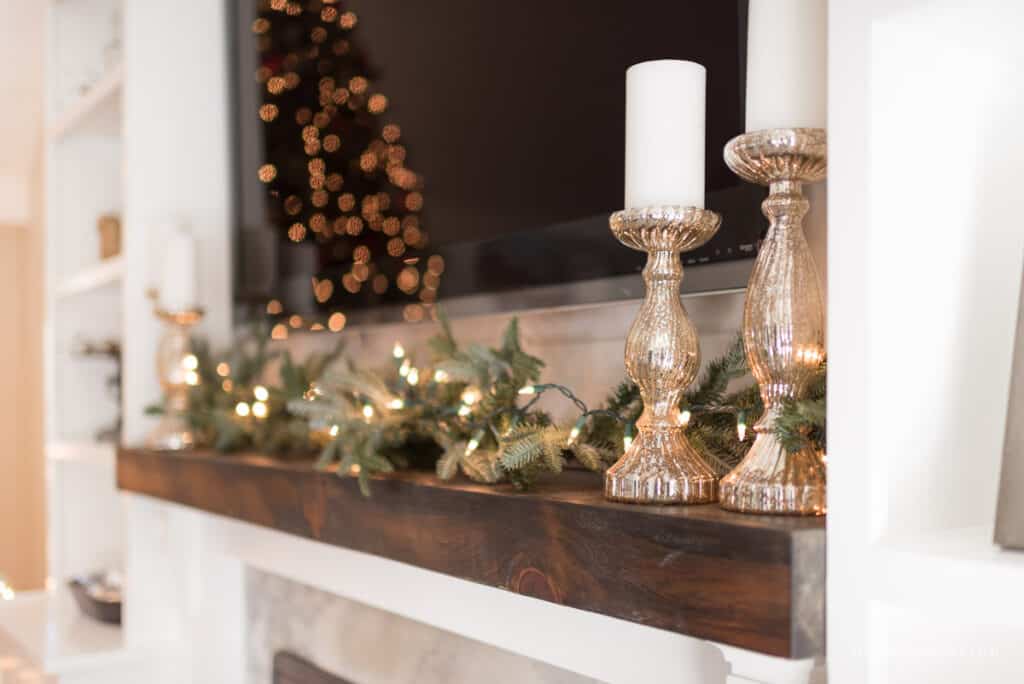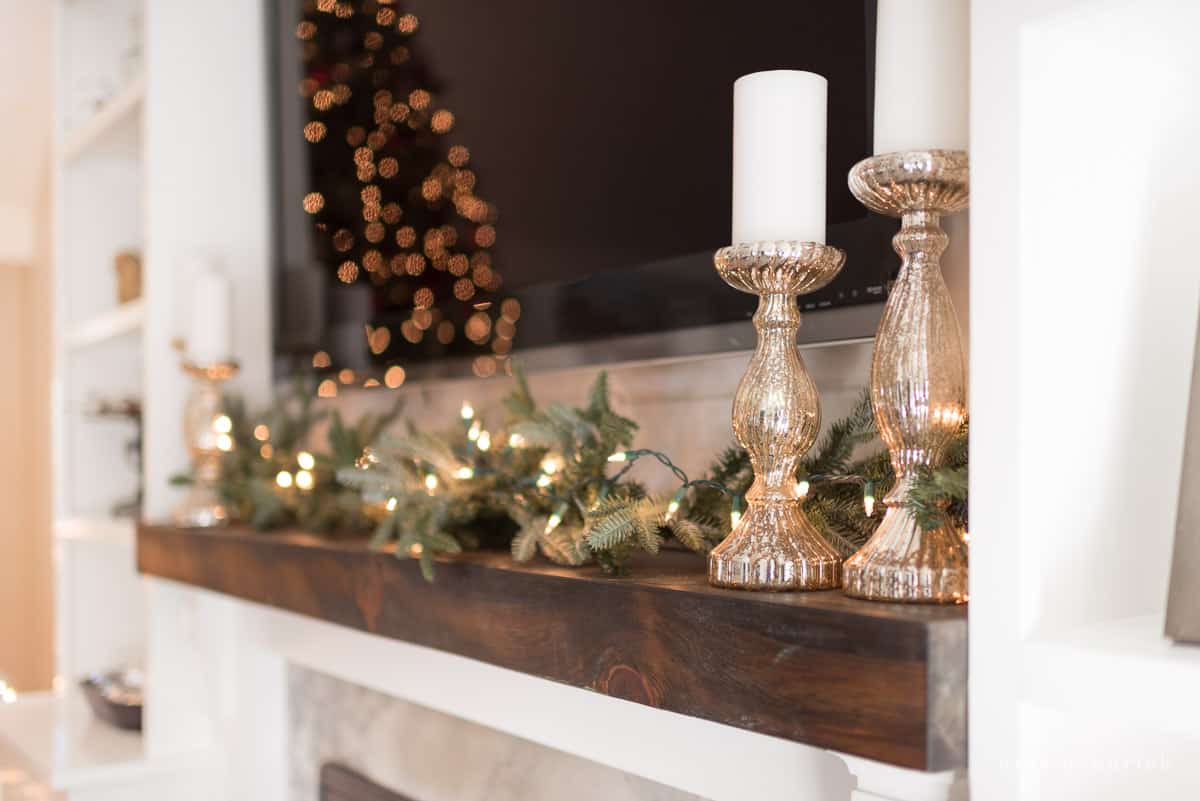 Christmas Mantel
The mantel is adorned with an evergreen garland and mercury glass candleholders. It's illuminated with soft white lights for a warm and inviting feel. The Christmas mantel is a beautiful and inviting focal point of the home during the holiday season. Sometimes I enjoy it even more than the tree, as it sparkles below our Christmas movies!
If you don't have a fireplace and mantel to decorate, you can easily repurpose a shelf or hutch to use as your Christmas mantel. A small vignette elsewhere in the room with a place to hang your stockings serves as the perfect alternative!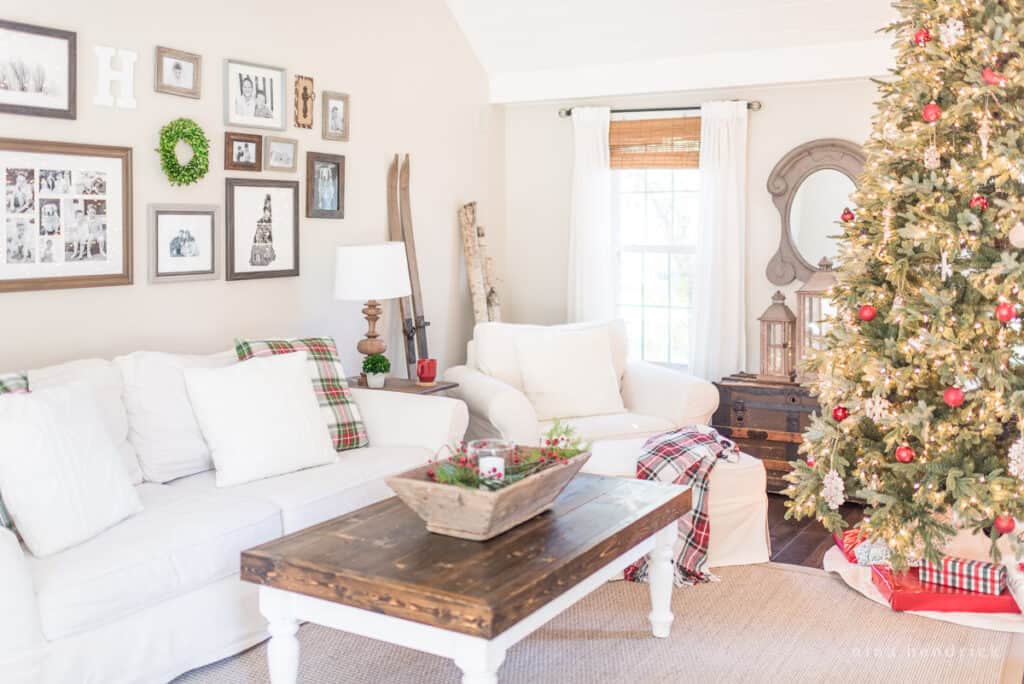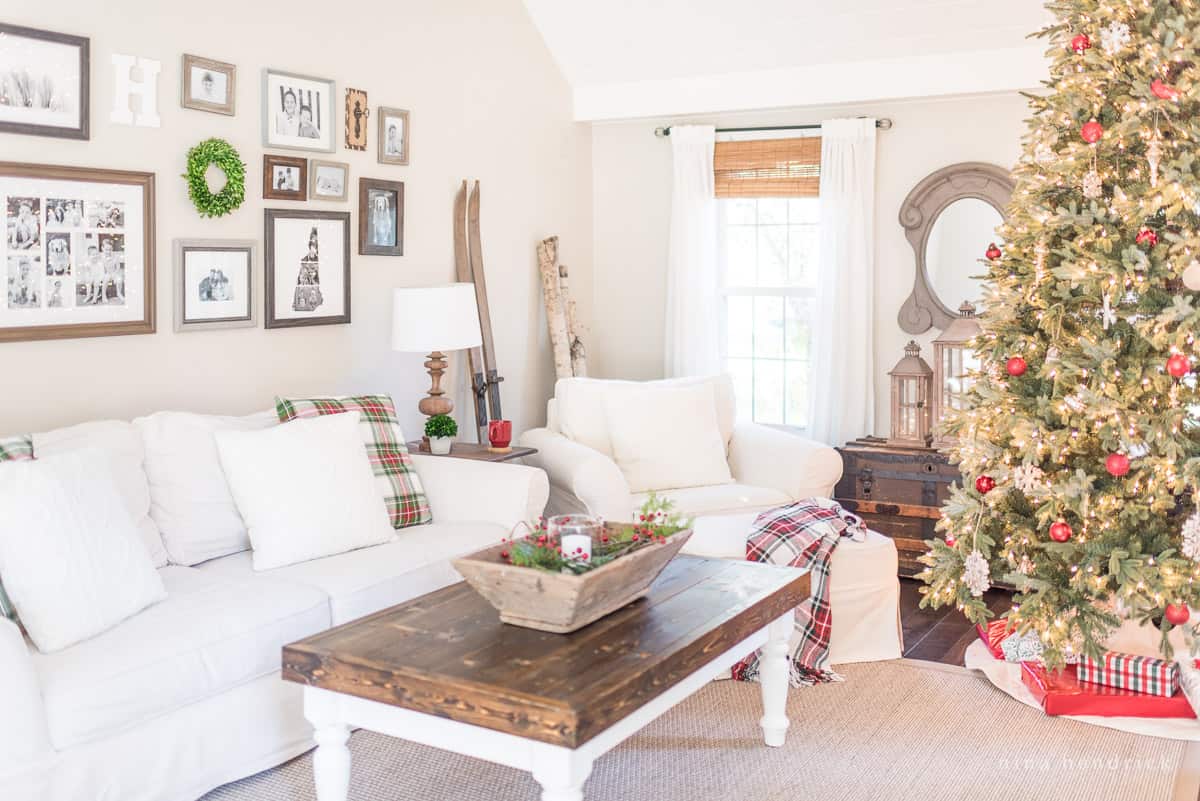 Cozy Classic Christmas Sofa Additions
Our white slip covered sofa and oversized chair are layered in holiday-themed pillows and a cozy throw blanket. The pillows feature a traditional red and green plaid. Unfortunately, these specific pillows are sold out, but I've found a great alternative here! The throw blanket is made of a soft flannel material that makes you want to cozy up under it. The sofa is the perfect place to curl up and enjoy a warm cup of hot cocoa, popcorn, and a classic Christmas movie as a family. Home Alone is our favorite! The whole room has a warm, inviting feeling that makes you feel right at home, making it the perfect place to spend the holidays.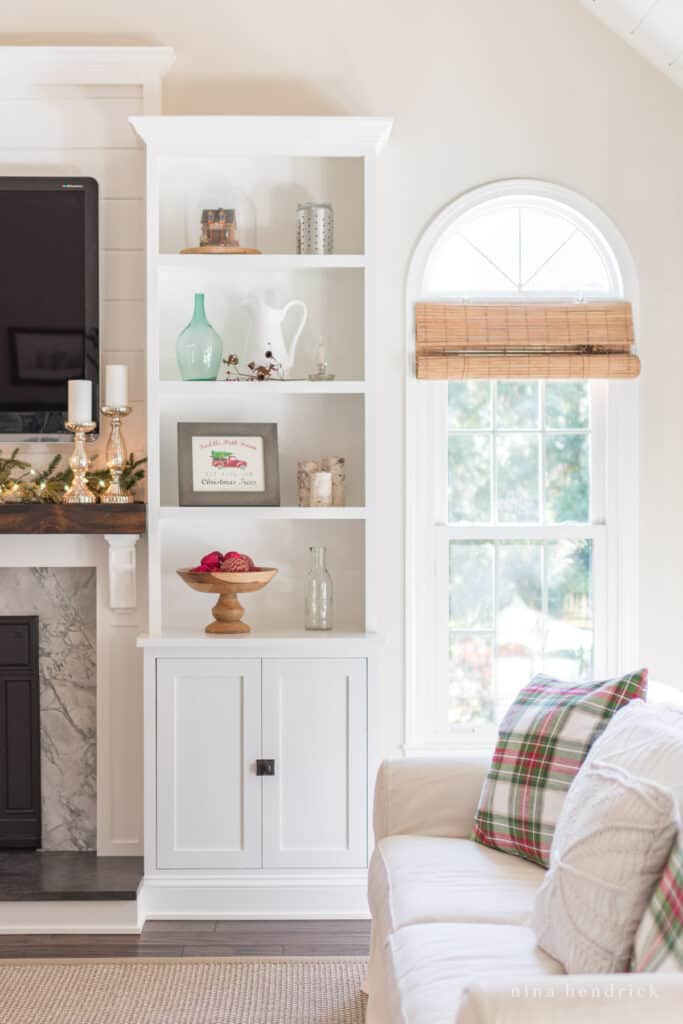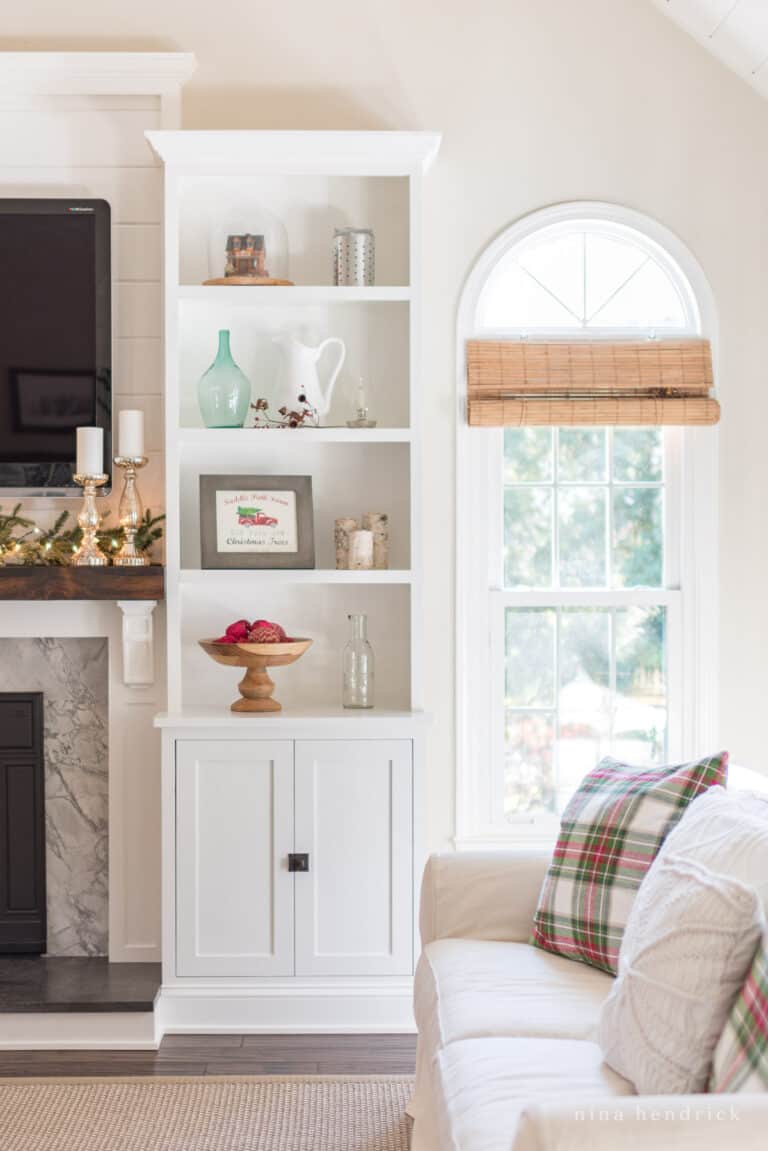 Built-Ins Decorated for Christmas
We just completed our family room built-ins, and I'm so excited to have a new area of the room to decorate! The white-painted, classic design of the shelves provides an ideal backdrop for seasonal decorations. This Christmas, I arranged a mix of wooden, white, red, and green pieces to give the shelves a joyful feel.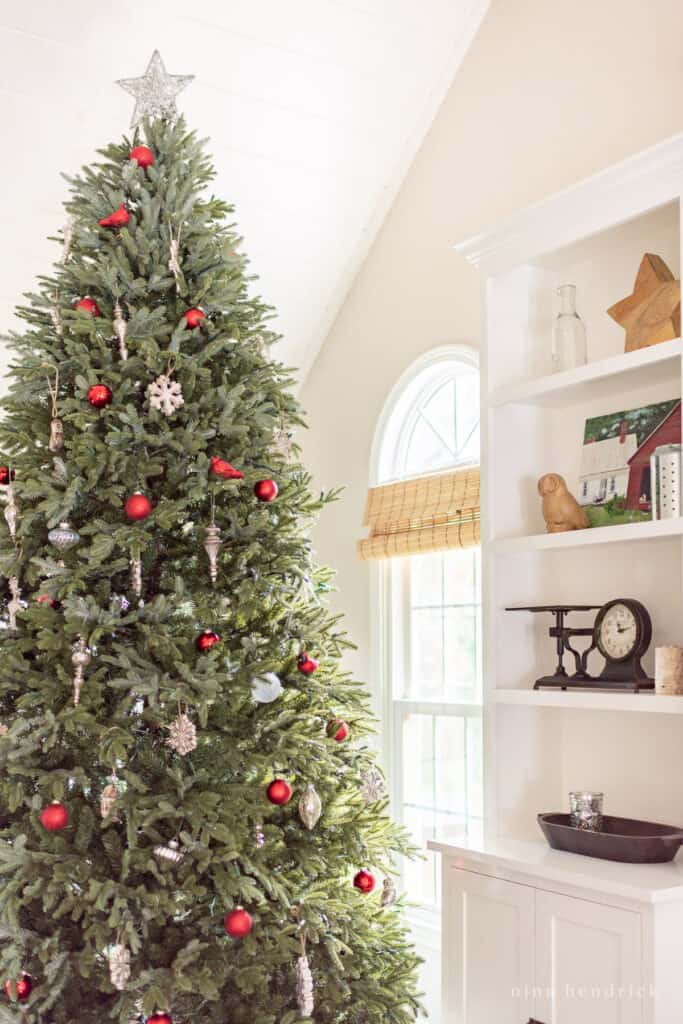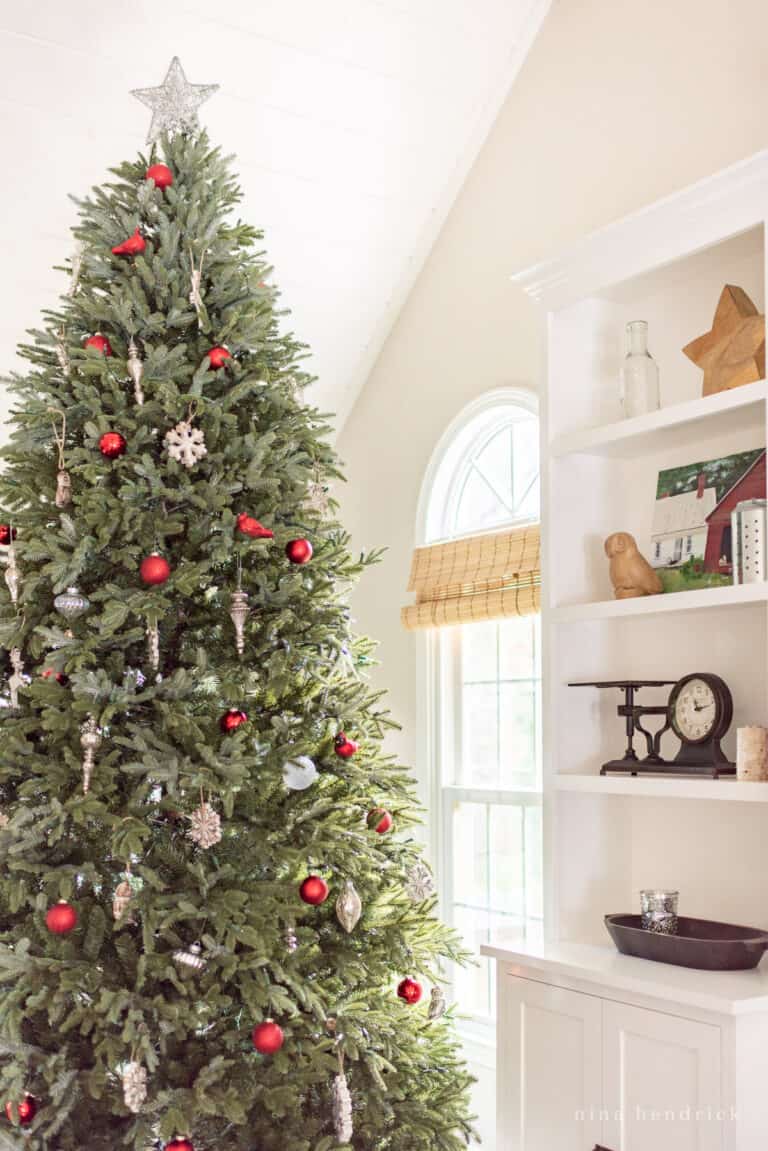 Simple additions to my year-round decor include a wooden star, green glass jars, berry sprigs, a small cabin under a cloche, and a rustic Christmas sign. You can grab the Christmas sign in my free printables library by signing up below!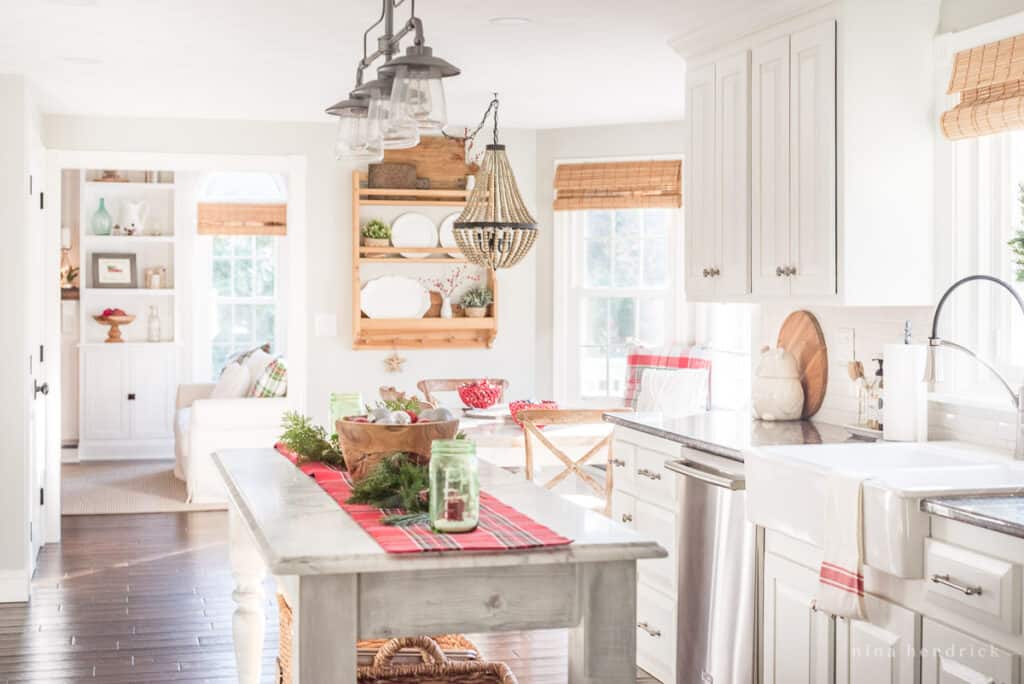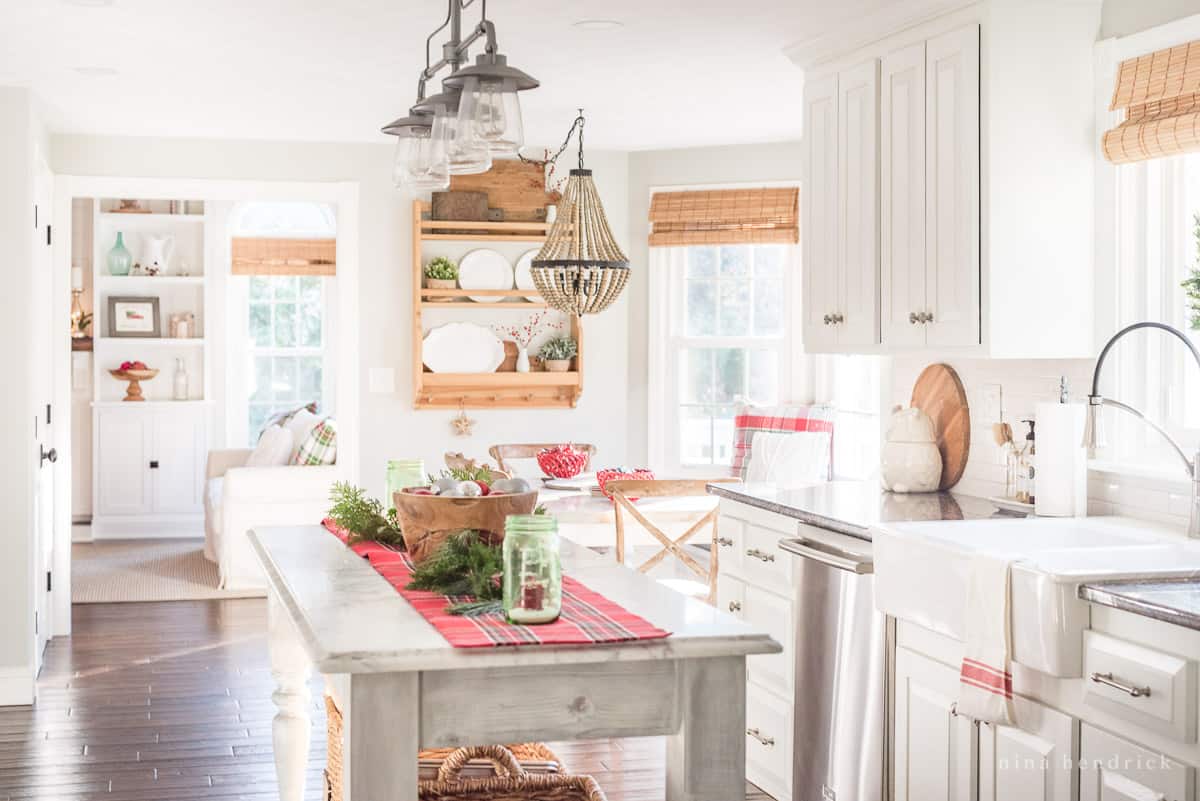 Classic Christmas Kitchen Tour
The kitchen is full of Christmas cheer and the air is filled with the smell of holiday baking. It's enough to make you feel right at home! I also shared some of my favorite Christmas kitchen ideas in this post!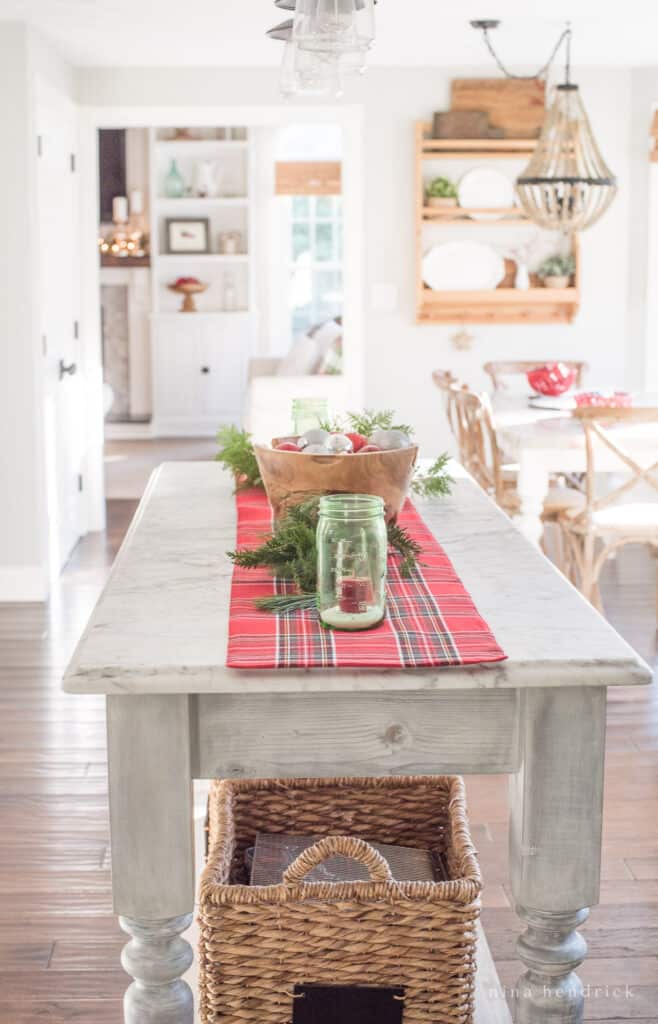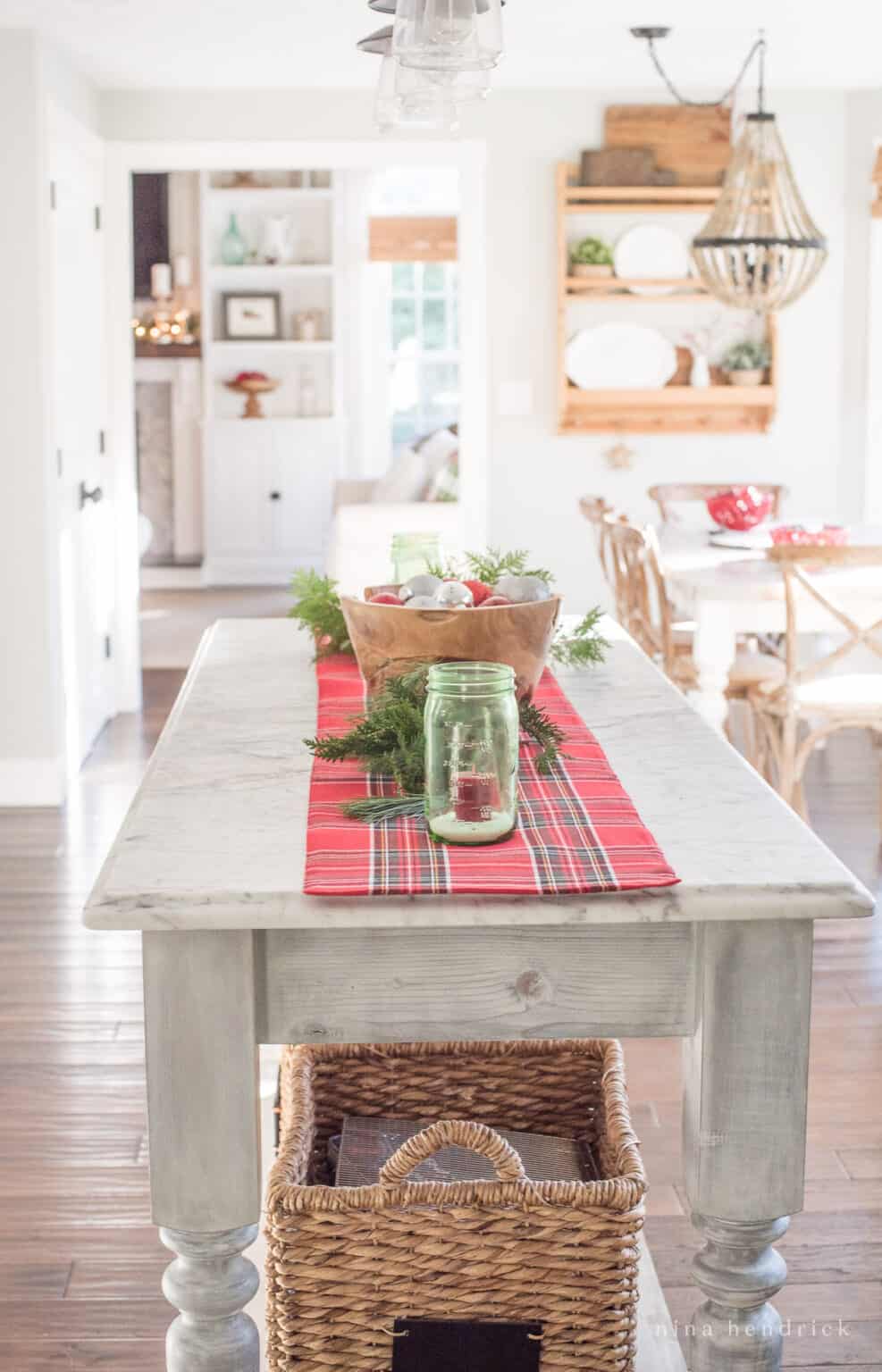 I wanted to keep the decor simple in this space in order to maintain its functionality. On the island lies a red plaid runner, and a rustic wooden bowl is filled to the brim with red and silver ornaments. Evergreen clippings, as well as two green mason jars with tealights, complete the display. My favorite trick is to sprinkle some epsom salt at the bottom of the jars to give the illusion of snow!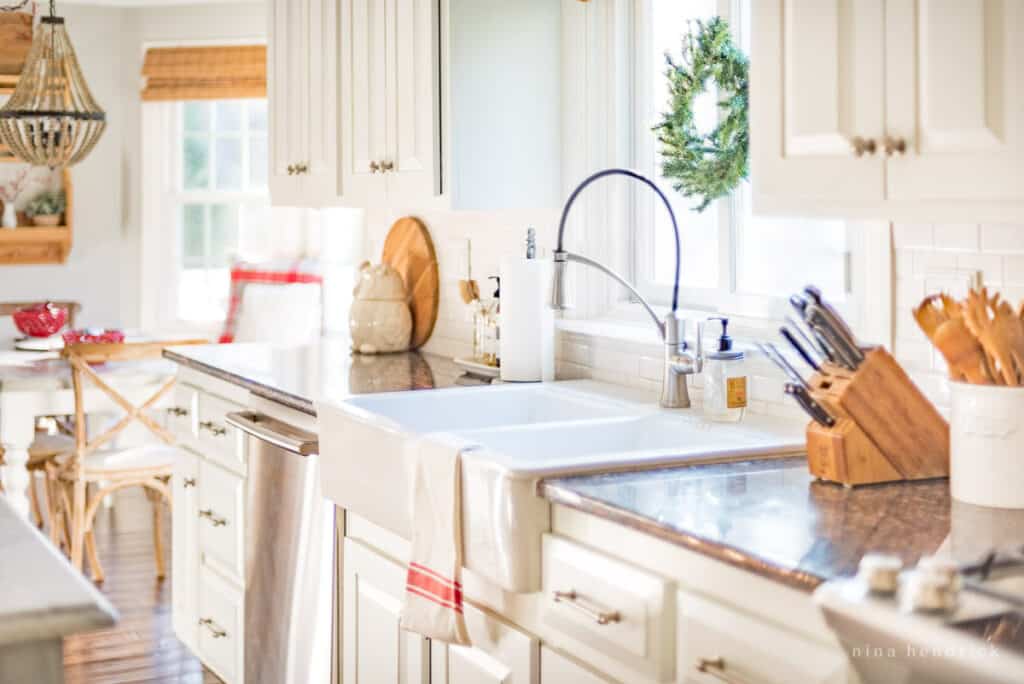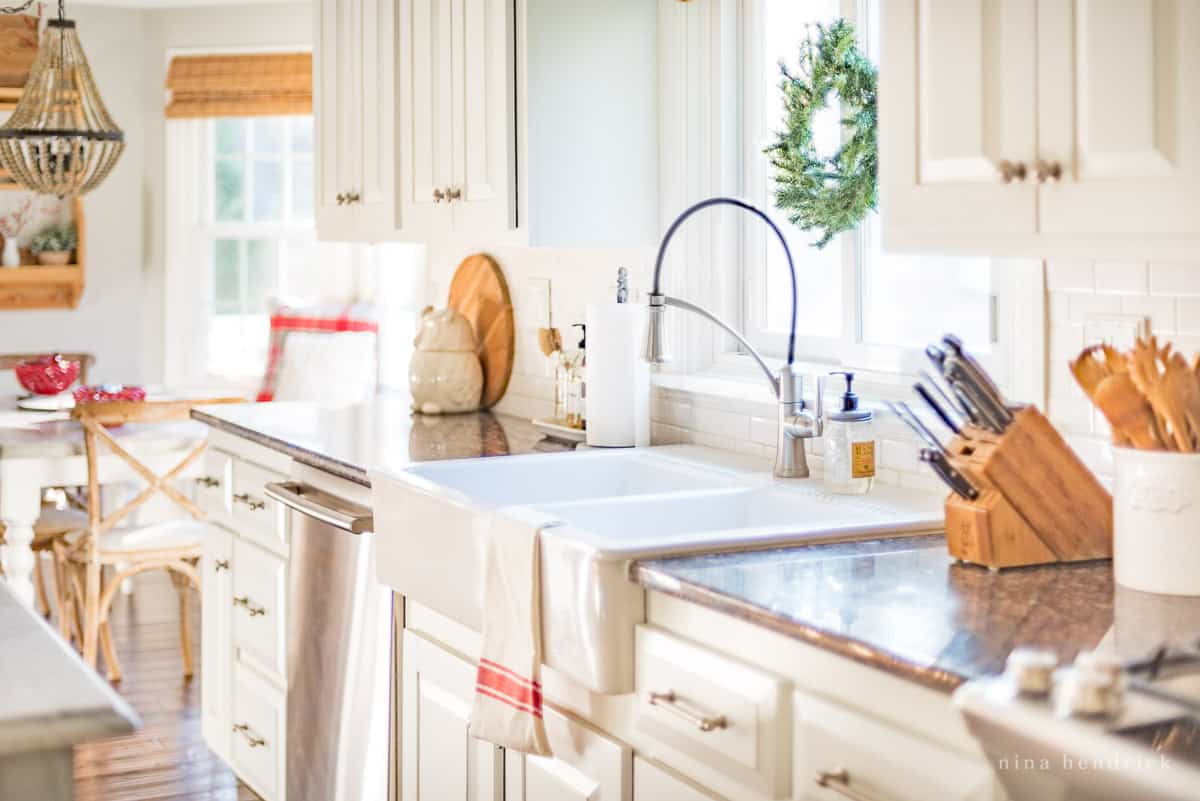 I added a dishtowel with a festive red stripe to the sink and adorned the window with a faux evergreen wreath.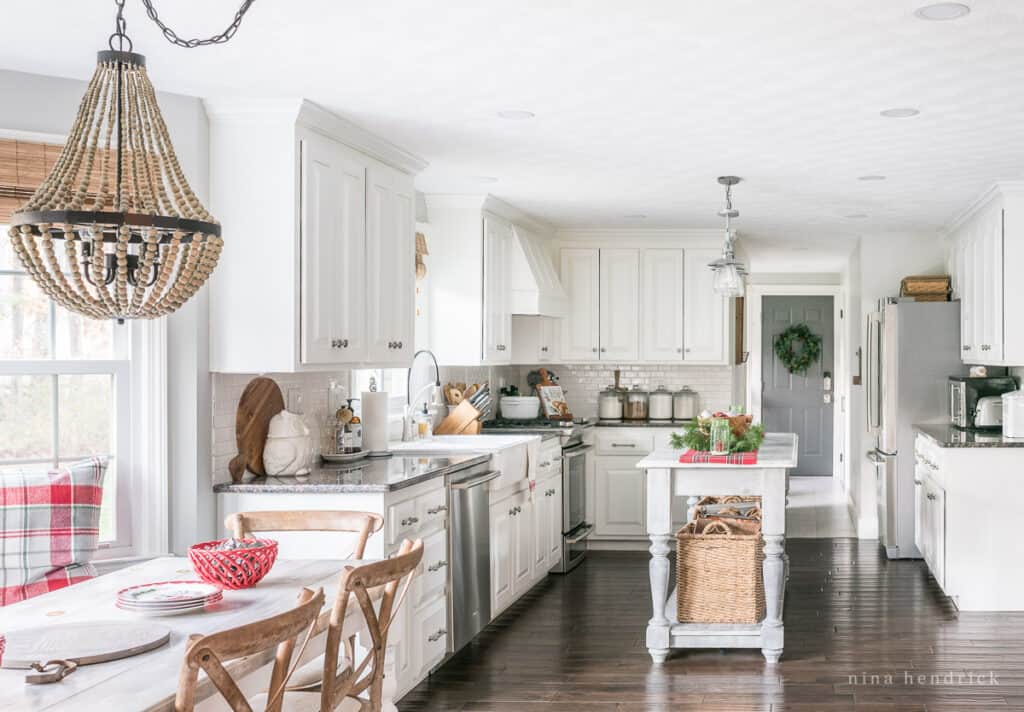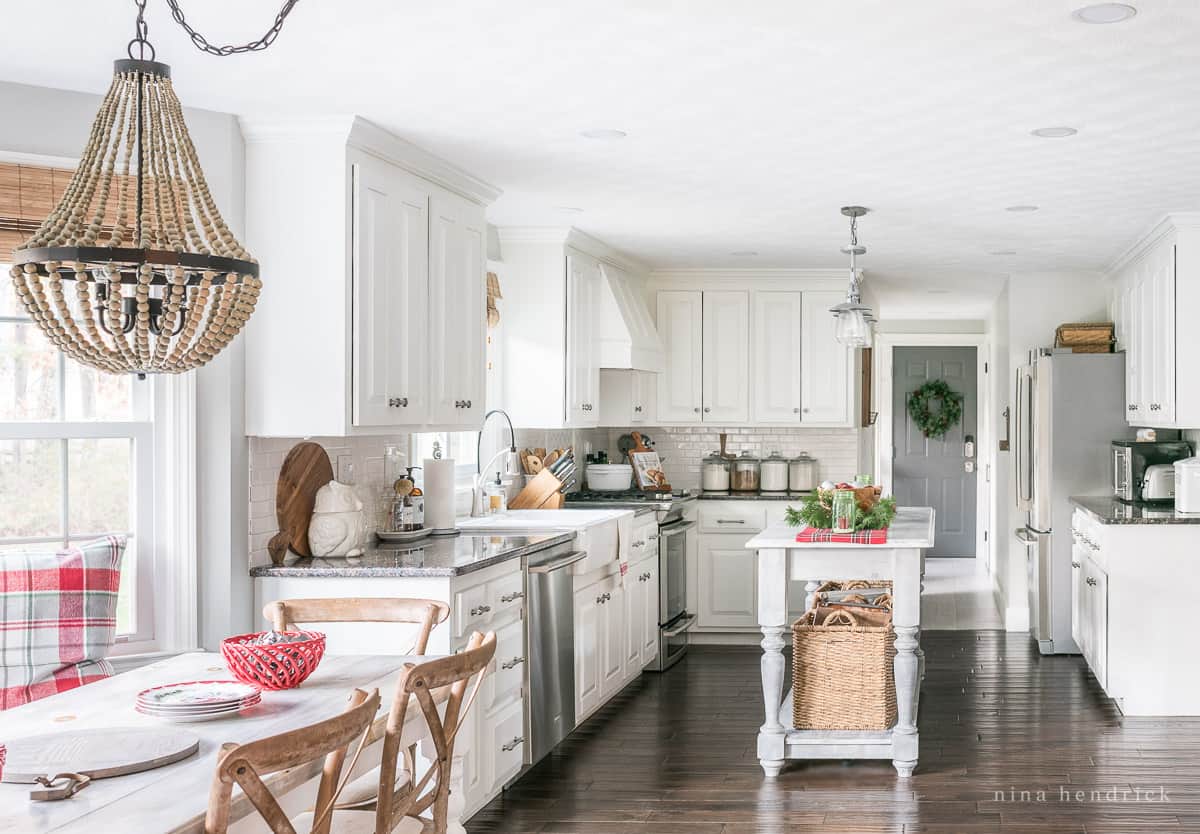 You can see a peek of our breakfast nook, which is all ready for Christmas morning brunch! We're hosting this year and Christmas brunch is one of my favorite traditions. You can see my favorite ideas here!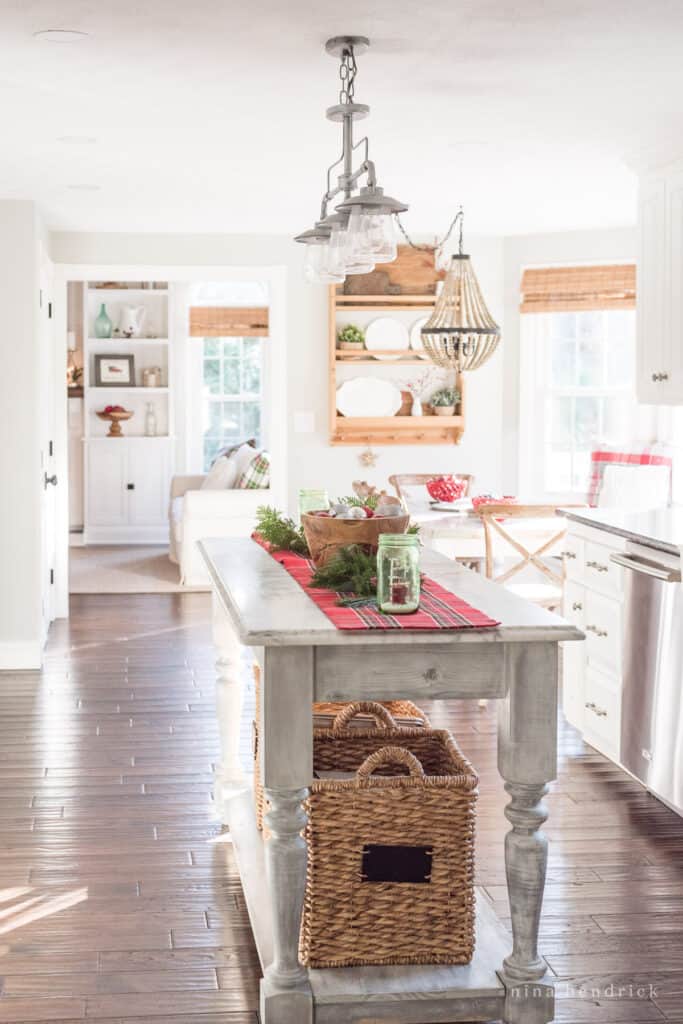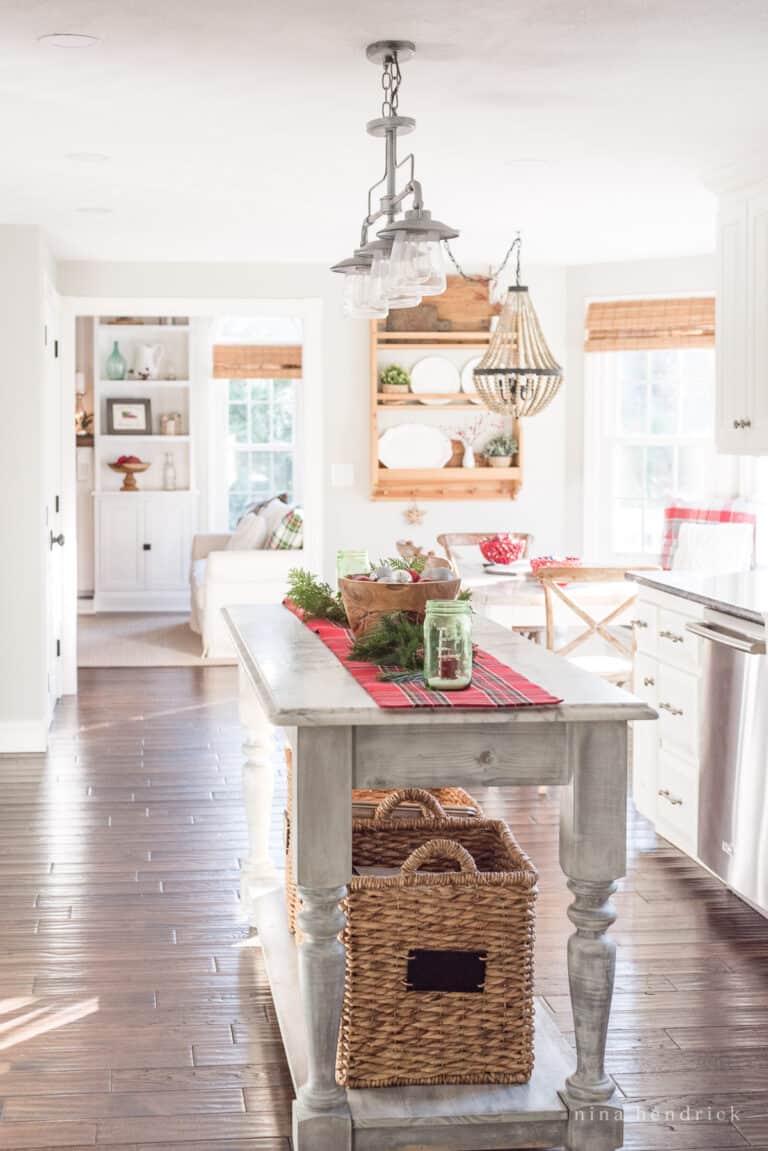 Make sure to tag me on Instagram @ninahendrickhome to share your holiday decorating!
I sincerely hope that this tour has given you the motivation and inspiration to start decorating for the holidays! Classic Christmas decorations are a wonderful way to bring the spirit of the season into your home. The twinkling lights and the merry greenery bring a sense of nostalgia and create a magical atmosphere for you and your family to revel in. May your home be filled with joyous moments and happy memories this holiday season, and may you all be able to share in the bliss of Christmastime together!