Rustic Christmas decor ideas are wildly popular for good reasons. There's a handmade, vintage feel that fills your home with character and warmth. Rustic holiday decorations come in various substyles, including farmhouse, country, French country cottage, and lodge, and western ranch. You can really personalize it to fit your taste and lifestyle.
In this post, I'll cover rustic farmhouse style Christmas decor, which blends the cheerful, family-focused concept of country cottage decorating with primitive country decor. It's fun and easy to find online or in stores.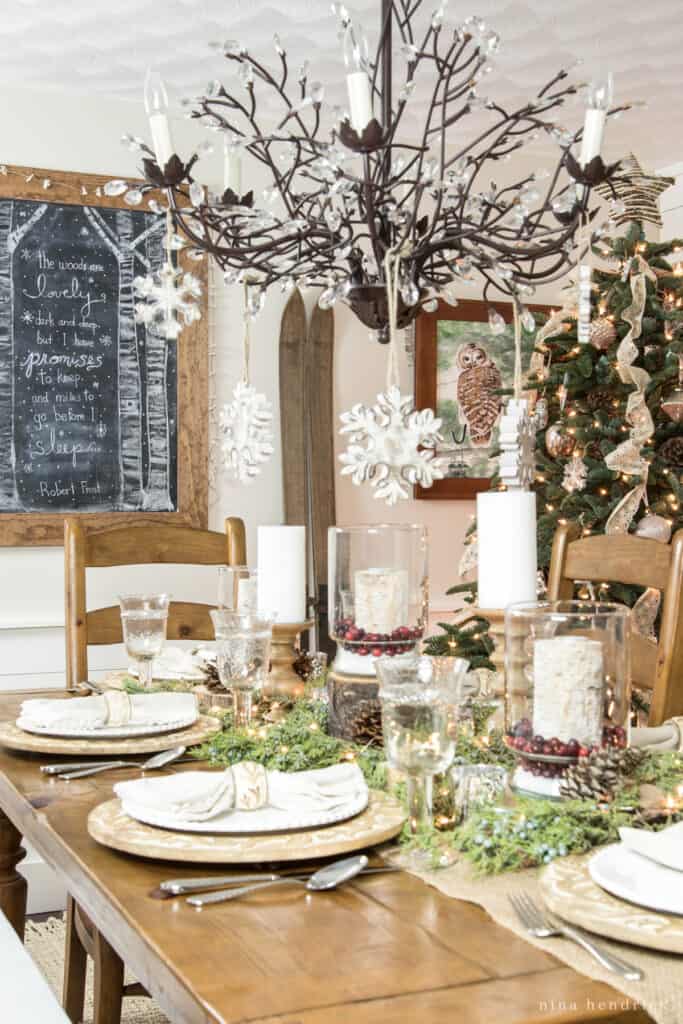 In addition, you can forage outdoors for many of the natural elements at no cost and bring nature indoors for a cozy space. You can also repurpose the materials you have on hand and create a unique personal style.
You can easily incorporate rustic Christmas decor into modern and minimalist design styles for a look that will touch the heart.
This post contains affiliate links, which means I may get a small commission (at no extra cost to you) if you shop my link. Please see my disclosure if you'd like more info!
Rustic Tablescape Ideas
Rugged, earthy elements are a natural fit in rustic style decorating. For a festive table setting, incorporate natural greenery with pine trimmings along a central burlap or red and green plaid table runner.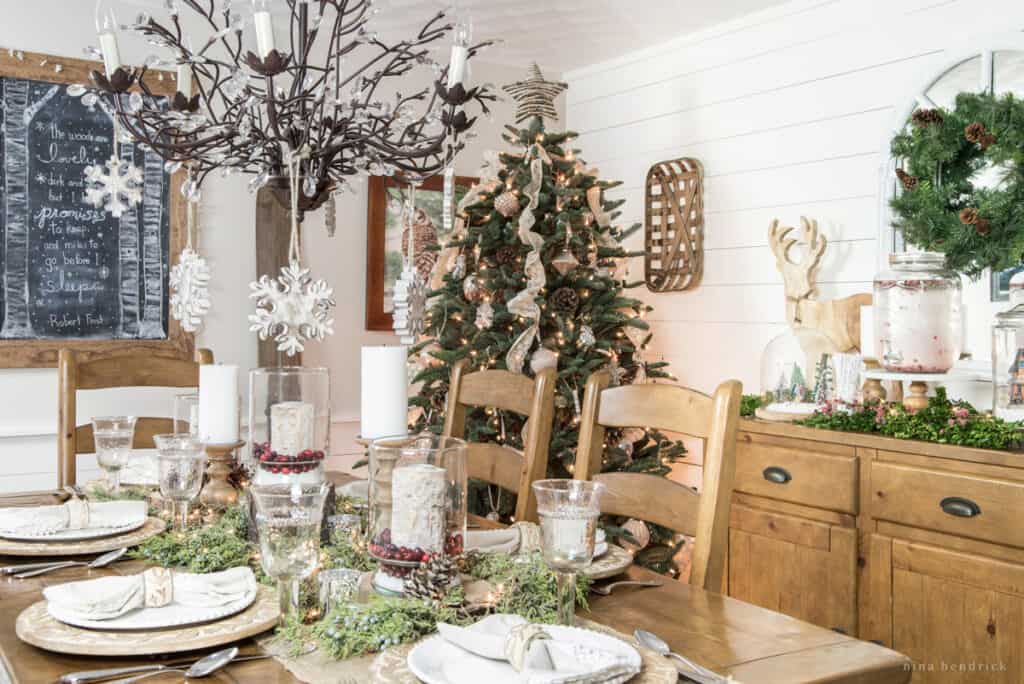 Juniper garlands can also be used in place of pine trimmings. Add in some aspen or birch bark candle holders and pinecones. Use oversized glass vases filled partially with epsom salt or artificial snow and cranberries for a wintry pop of color.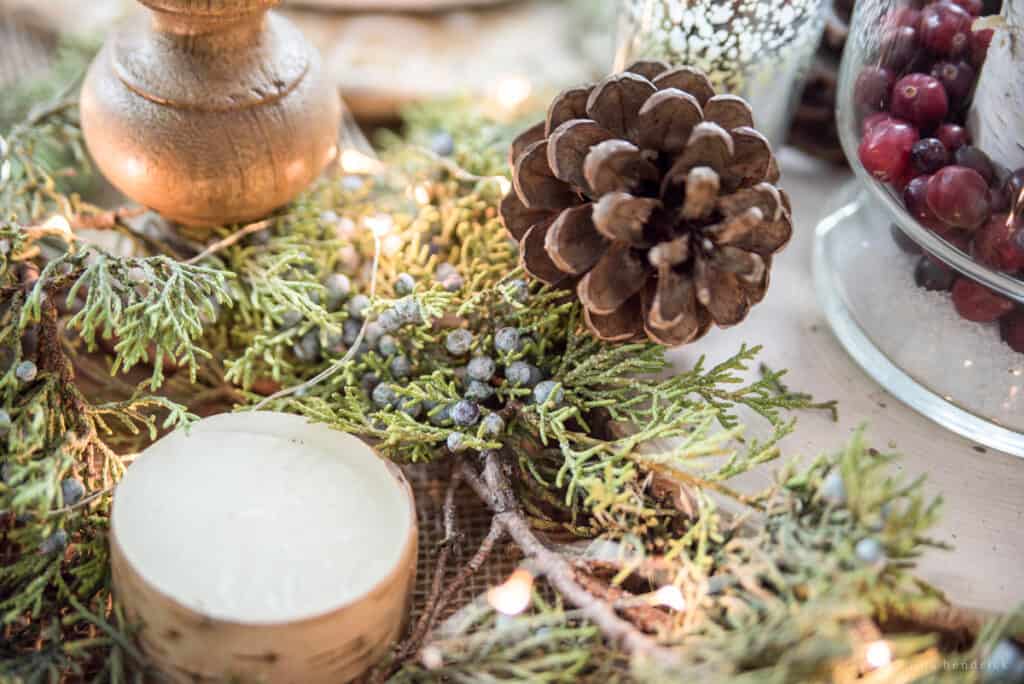 Delicate warm white fairy lights woven through the greenery add a peaceful ambiance. Round slices of logs make adorable place settings under dinner plates. You can even use them to elevate table centerpiece elements such as candles.
Speaking of fairy lights, if you want to see this rustic Christmas dining room lit up at night, check out this post!
Rustic Christmas Decor for the Mantel
Give your mantel an authentic forest-like feel with a mix of greenery such as fir and cedar clippings, pinecones, and holly berry sprigs. Tall, white, wooden candle holders topped with bright red pillar candles draw the eye vertically while adding interest to the color palette.
Instead of using plain hooks, these cute little Christmas village figurines serve a dual purpose as decor and stocking holders. And would you agree that you can't have too many fairy lights during the holidays?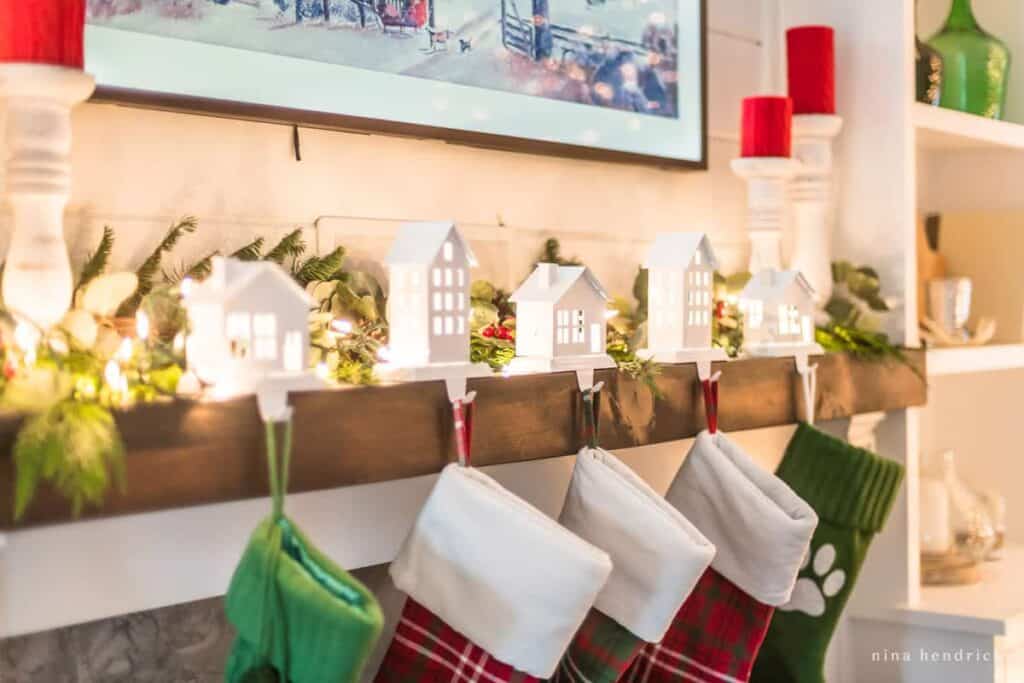 Mood lighting plays a massive role in rustic Christmas decorating. Delicate white lights add a touch of sophistication and a hint of magic that feels like Christmas.
Personalized Rustic Christmas Decor Ideas
With personalized rustic Christmas decor, you can make one-of-a-kind decorations that reflect your style and personality.
That's what I love about these rustic chalkboards. A classic poem from Robert Frost, Stopping by Woods on a Snowy Evening, influenced much of my nostalgic farmhouse holiday decor that year.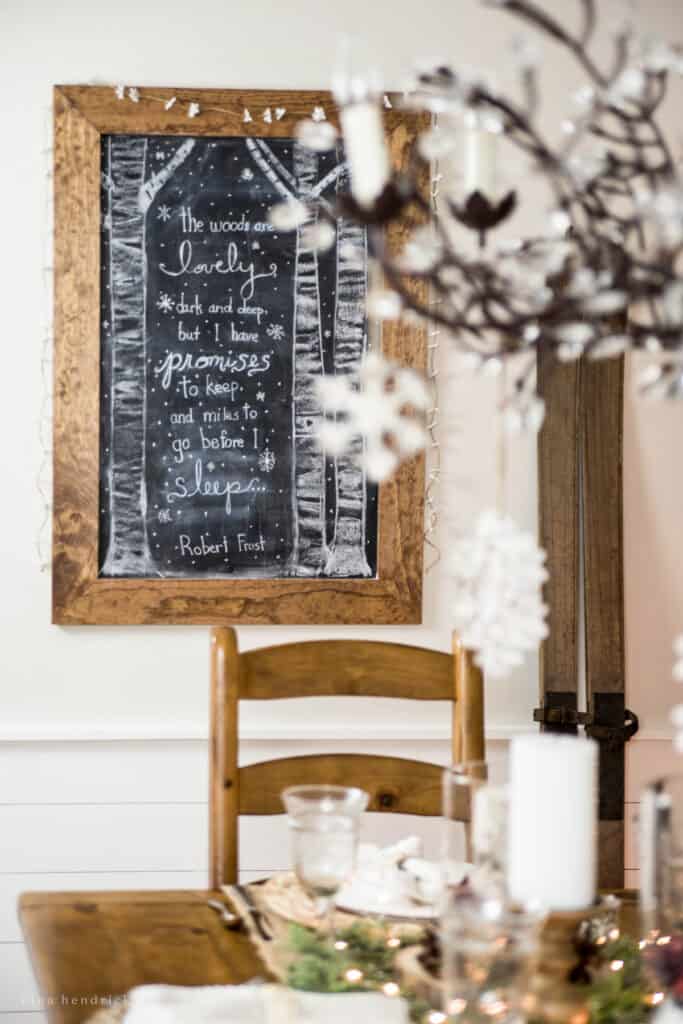 There are so many things about this poem that speak to me. I think it's technically a winter poem and not so much about Christmas, but in my mind, it is synonymous with trying to get home to your loved ones for the holiday. But the narrator pauses a moment to take in the surrounding beauty in the middle of a snowy forest.
Create a Hot Cocoa Tray Centerpiece with Chalkboard Art
Tis' the season to stay warm and cozy both inside and out. My second chalkboard sign was inspired by sipping hot cocoa on chilly winter days because ''Baby, it's cold outside!''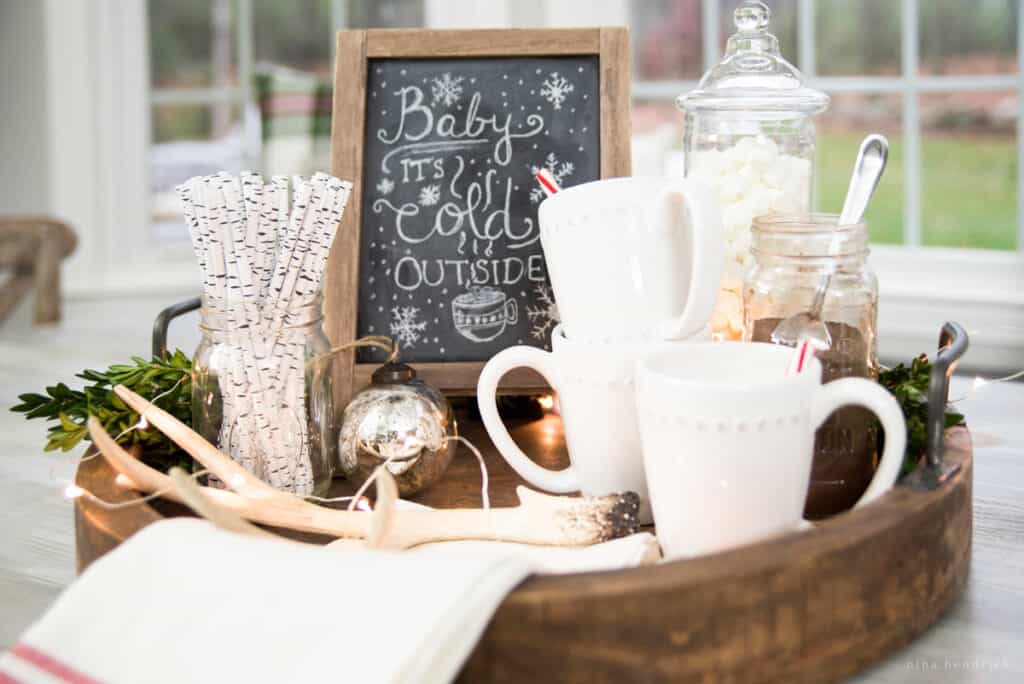 The chalkboard makes a heartwarming focal point in this rustic table centerpiece, decked out with white coffee mugs, candy canes, and the raw ingredients displayed in vintage glass containers. The birch bark straws, mercury glass tree ornament, and antler wrapped in fairy lights add a primitive touch.
Rustic Christmas Tree Decorating Ideas
When rustic Christmas decorating is your passion, it's a good idea to have multiple options for themed Christmas tree decor. Especially when you have more than one Christmas tree.
Woodland Themed Christmas Tree
If you like decorating with neutral colors, a woodland-themed Christmas tree might be right up your alley. I started the woodland theme in my Mudroom, inspired by the Robert Frost poem I mentioned earlier. It ties in perfectly with the look I wanted on our dining room Christmas tree.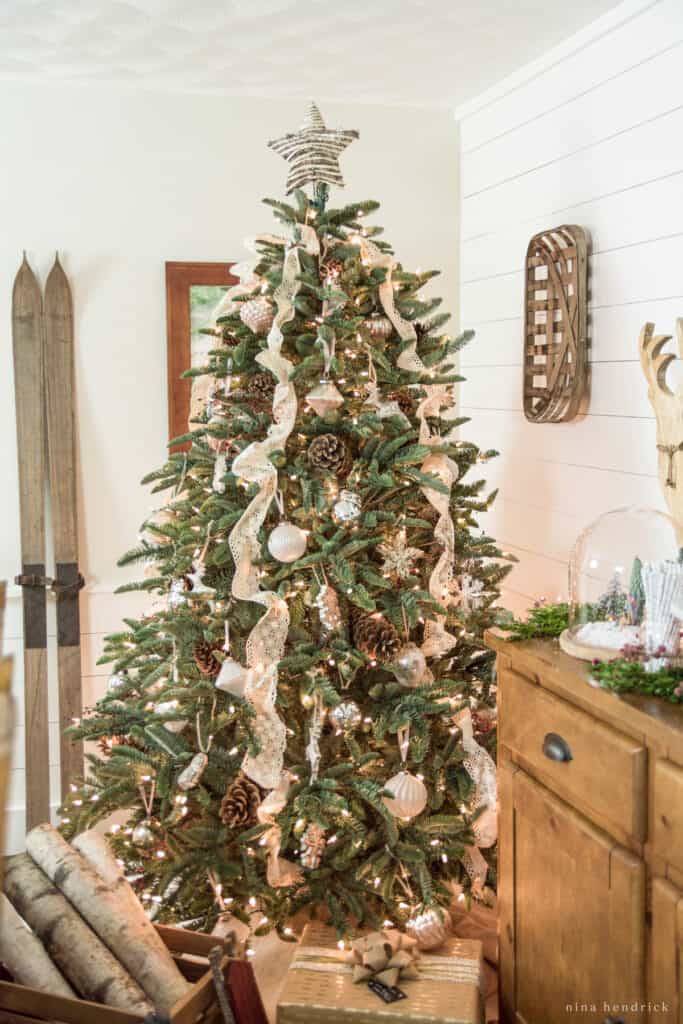 Here's a list of rustic elements needed to recreate this Christmas tree: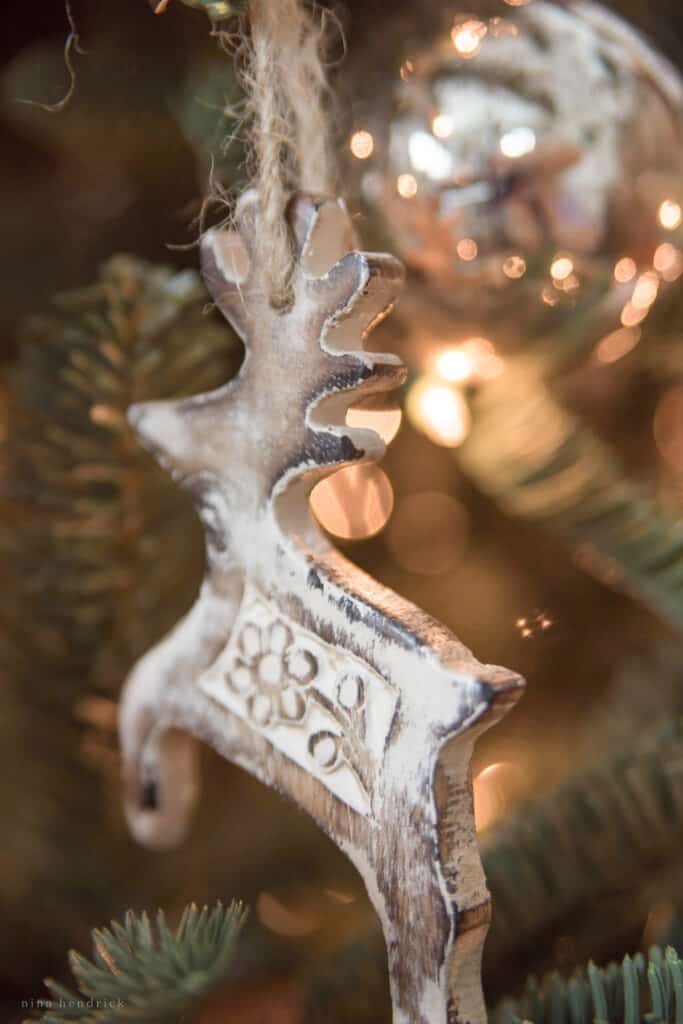 The woodland theme is primitive, with many natural forest-inspired elements and vintage accents. It's the opposite of glitz and glam — no shiny garlands found here. But your Christmas tree will still sparkle with tiny white LED lights and mercury glass ornaments.
Vintage lace is used in place of a traditional garland and is hung vertically instead of wrapped around the tree.
Classic Themed Christmas Tree
The massive Christmas tree in our family room had a classic red, white and green color scheme. Vintage-inspired toys were used as tree ornaments and props to impart a nostalgic, family-focused feel.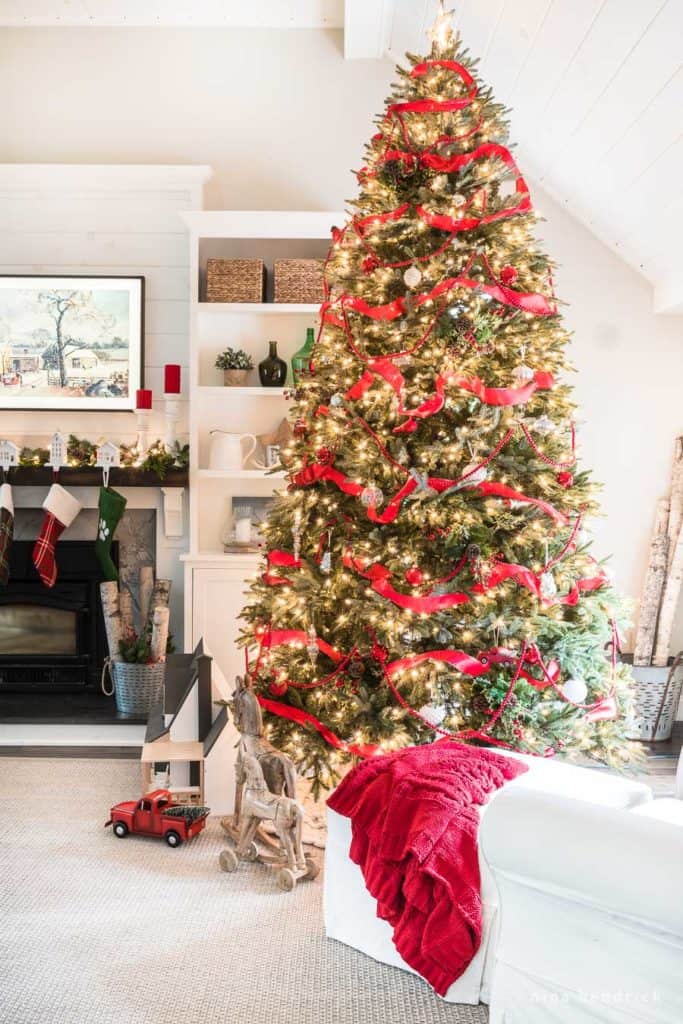 Here's a list of rustic elements needed for a classic Christmas tree. Use this as inspiration to get started — part of the fun is using your creativity! (Tip: Most of it can be found online at Amazon or Target):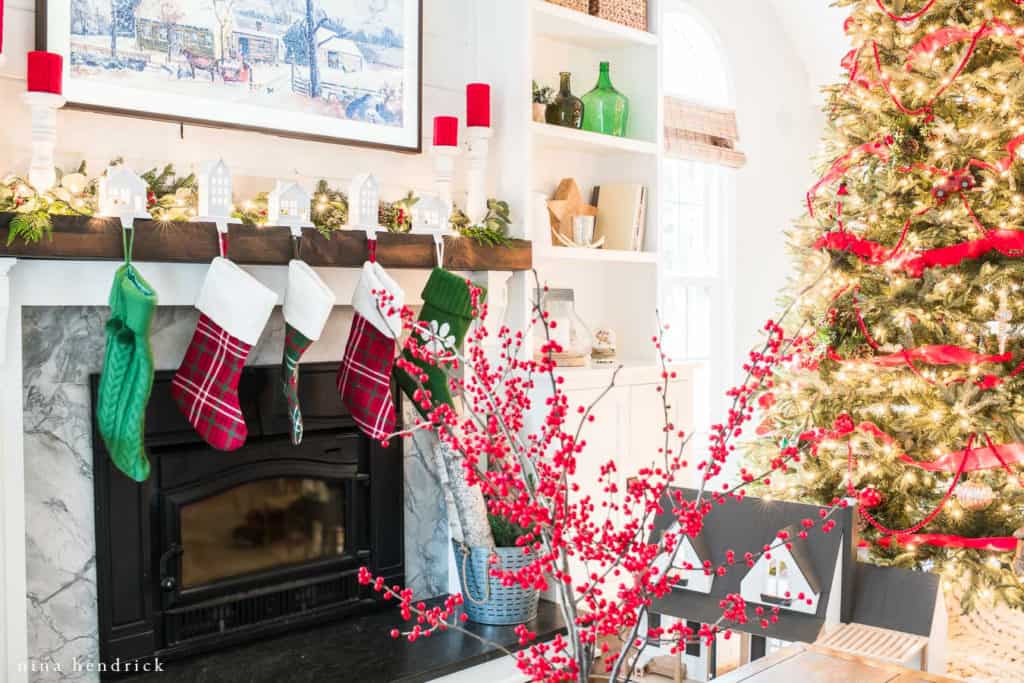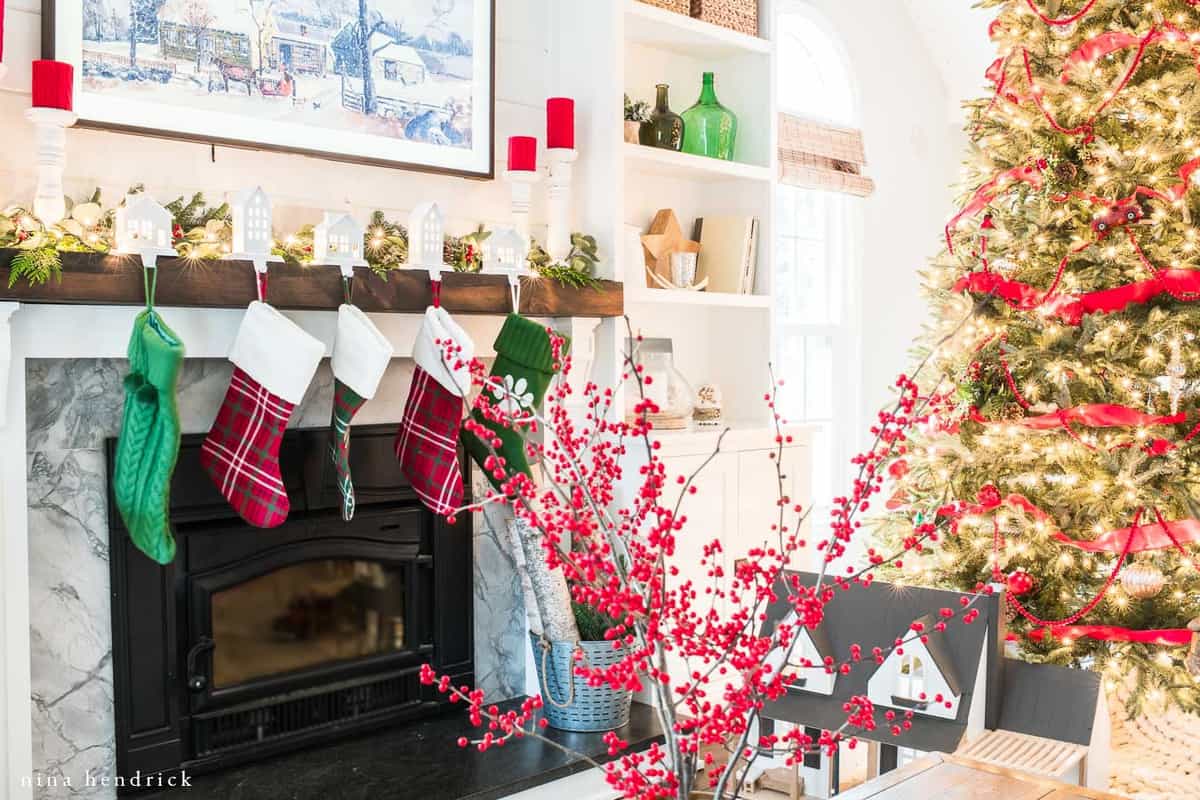 The same color scheme is repeated on my rustic mantle decor. Repetition of colors, patterns, or shapes is a design principle that creates a cohesive, coordinated look throughout the room.
Decorate Your Mudroom for a Farmhouse Christmas
A mudroom is a transitional space that blends outdoor activities with an indoor environment. That makes it ideally suited for natural elements, and as I previously mentioned, it's where my woodland decorating theme began.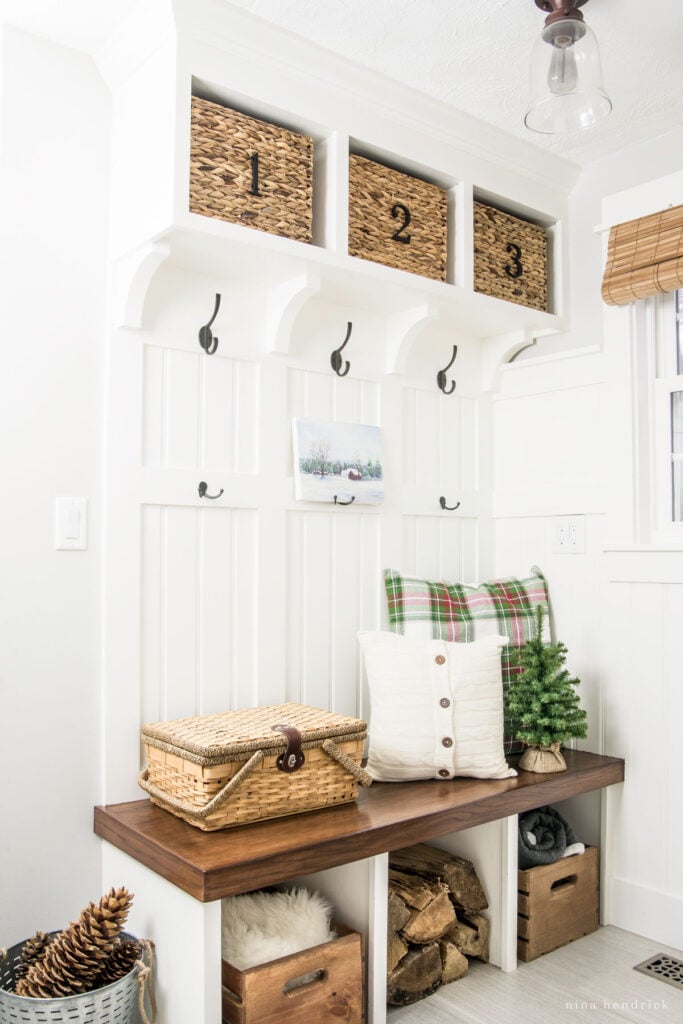 A Woodland-Inspired Mudroom
This cozy little room feels very welcoming, with earthy hues of green and brown surrounded by cream-colored walls.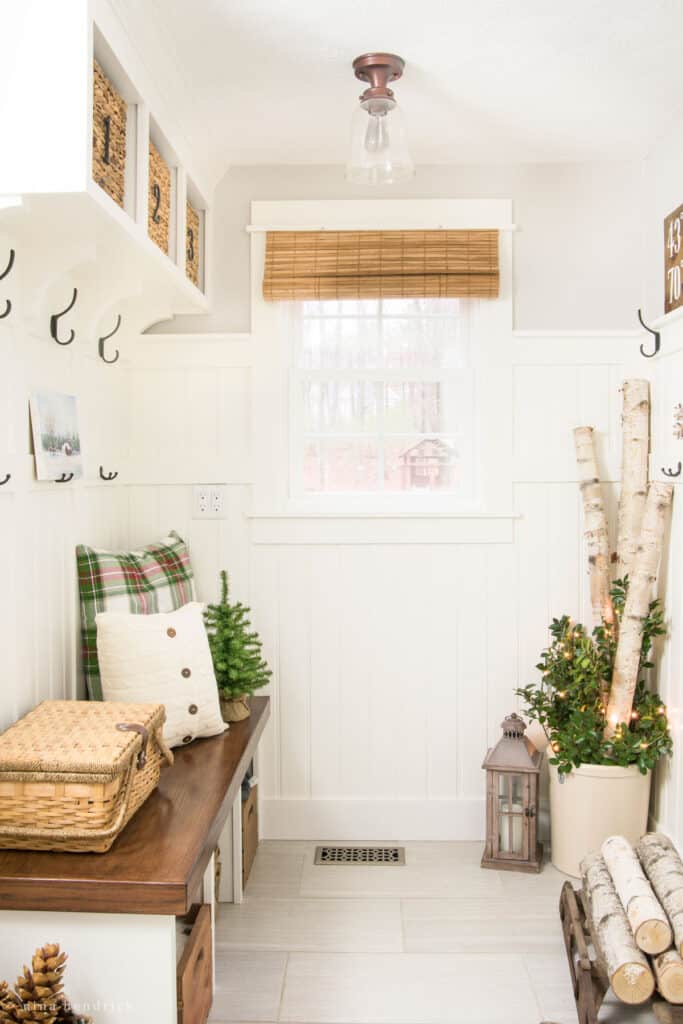 For an easy corner display, fill a crock with three Birch logs and some fir or cedar clippings. You can substitute those clippings with greenery from other shrubs in your yard, as I did with the holly pictured here. Weave in some fairy lights for a festive feel.
Soften the space with cushions. Cute, holiday-inspired covers include a button-up sweater and a Christmas-inspired red and green plaid pattern. A scarf draped casually over the wall hook adds texture, design, and color, in addition to a holiday wreath, a vintage wooden ornament, and a rustic wooden sign.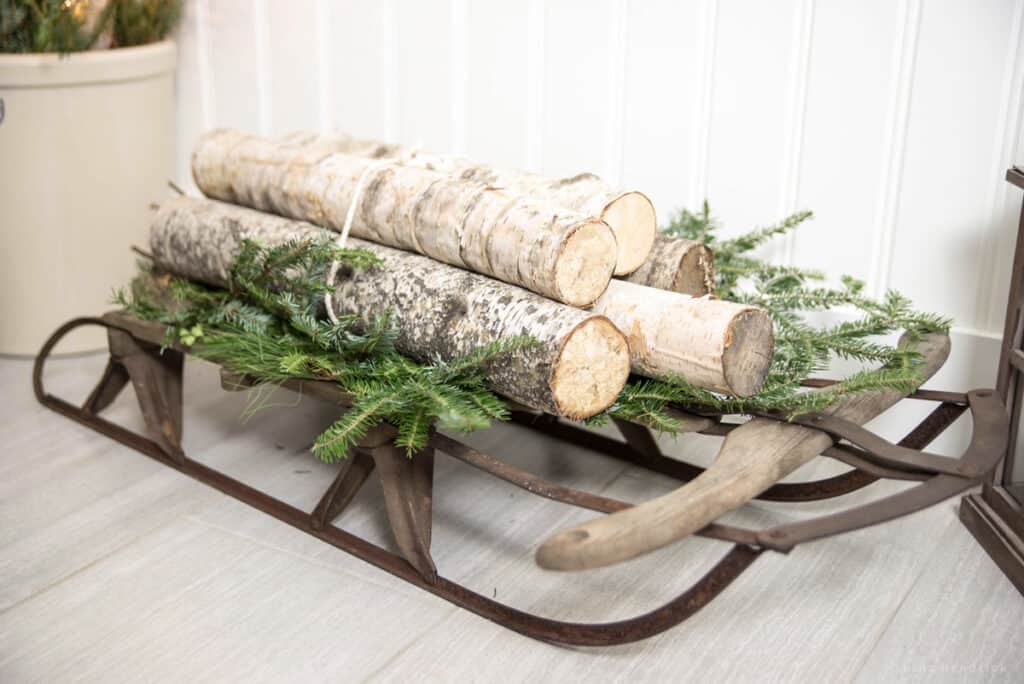 Any antique or vintage elements related to winter activities, such as sledding or ice skating, make ideal additions to a rustic theme.
Other Heartwarming Rustic Christmas Decorations
Use the following rustic Christmas decoration ideas to inject holiday cheer throughout your home.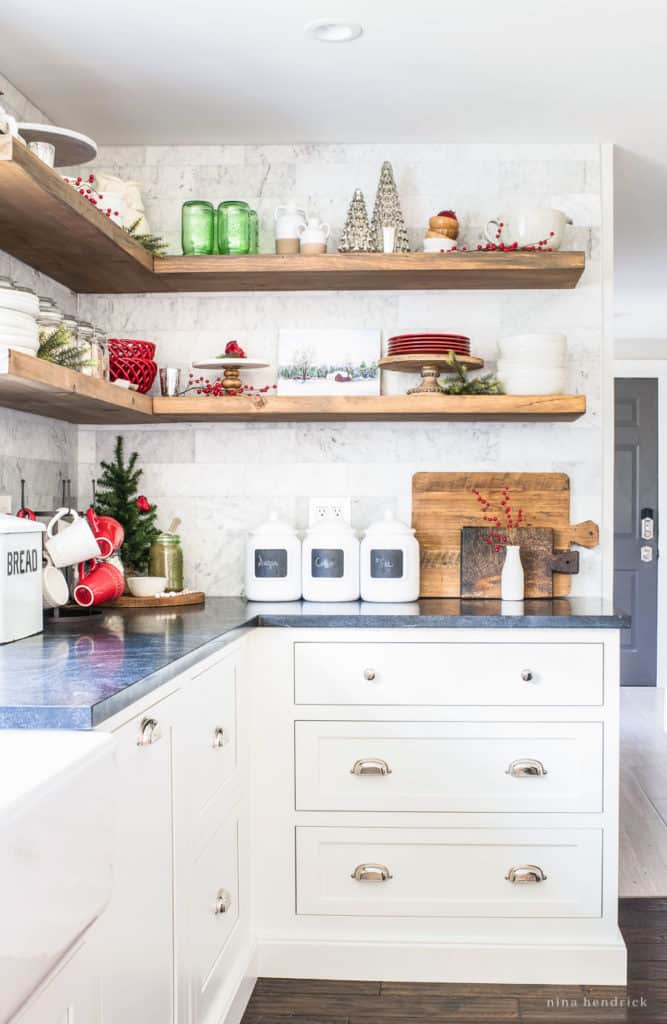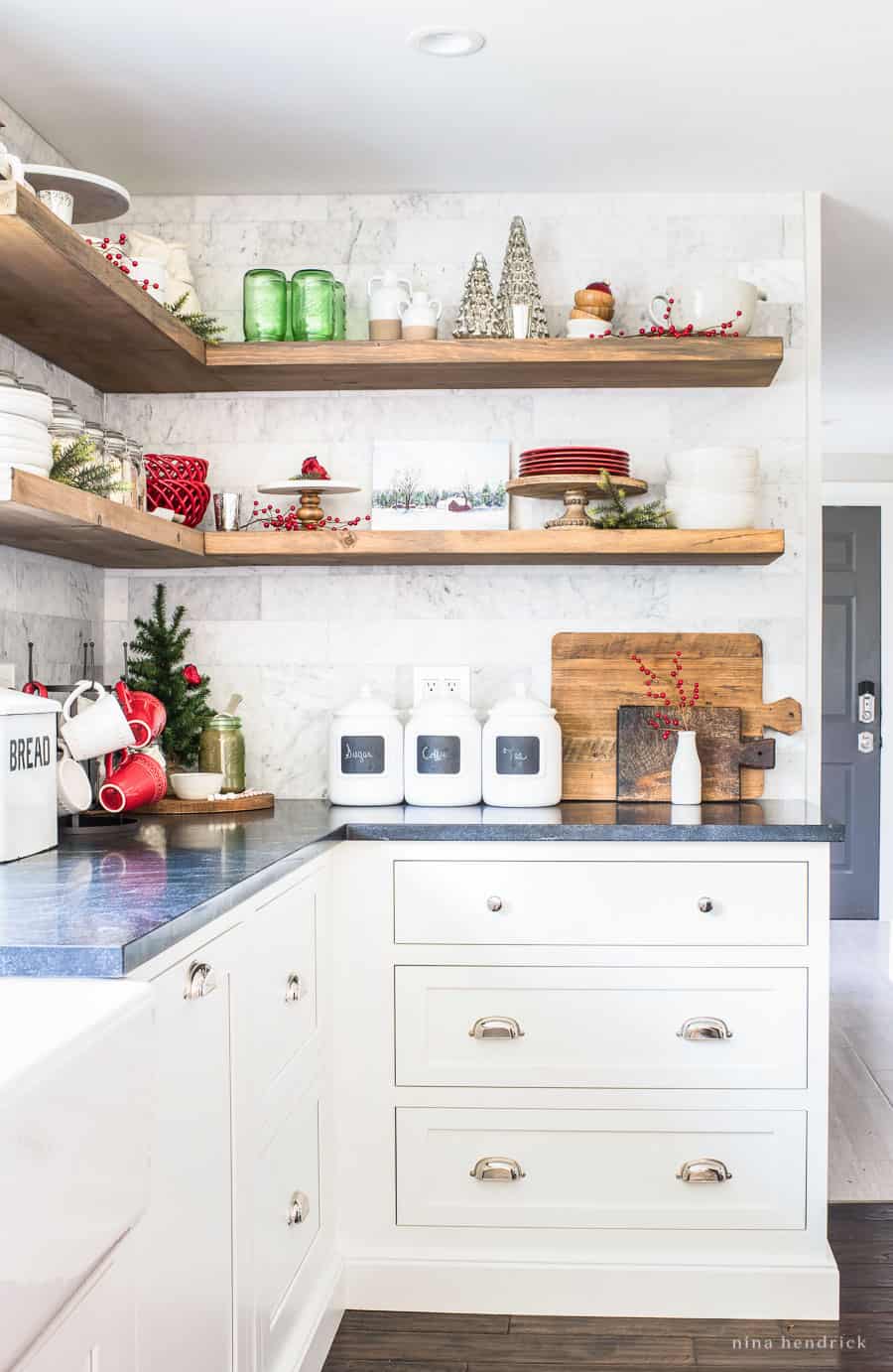 Rustic Kitchen Christmas Decorating Ideas
Replace some of your everyday dishes with brightly colored glass and ceramic accent pieces in red and green for a seasonal pop of color. Sprigs of holly berries are inexpensive and look delicate and cheerful anywhere you put them.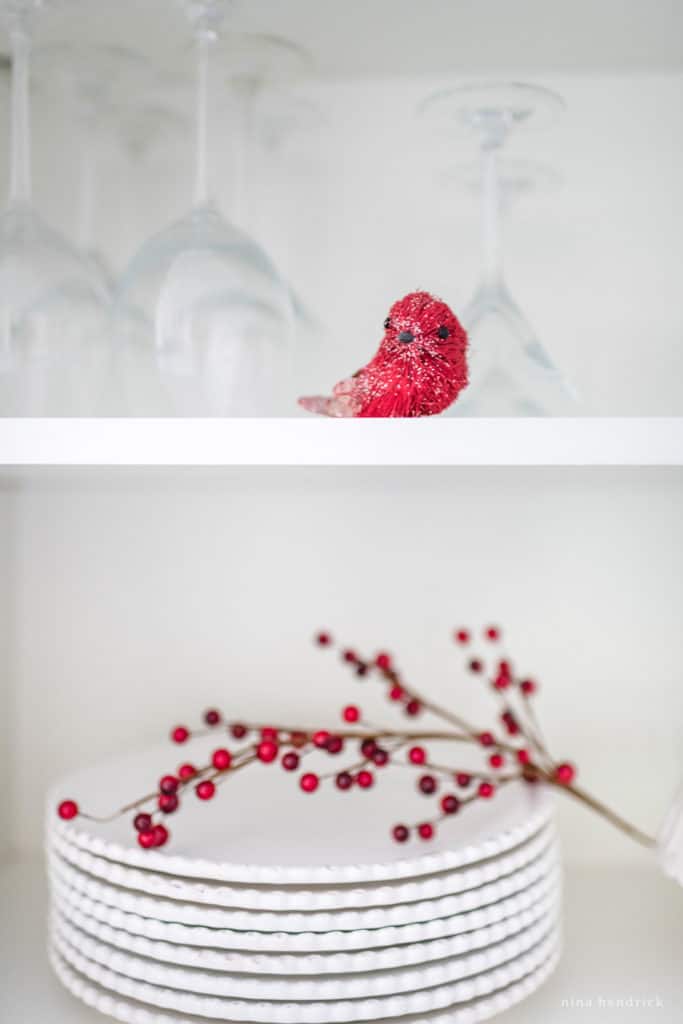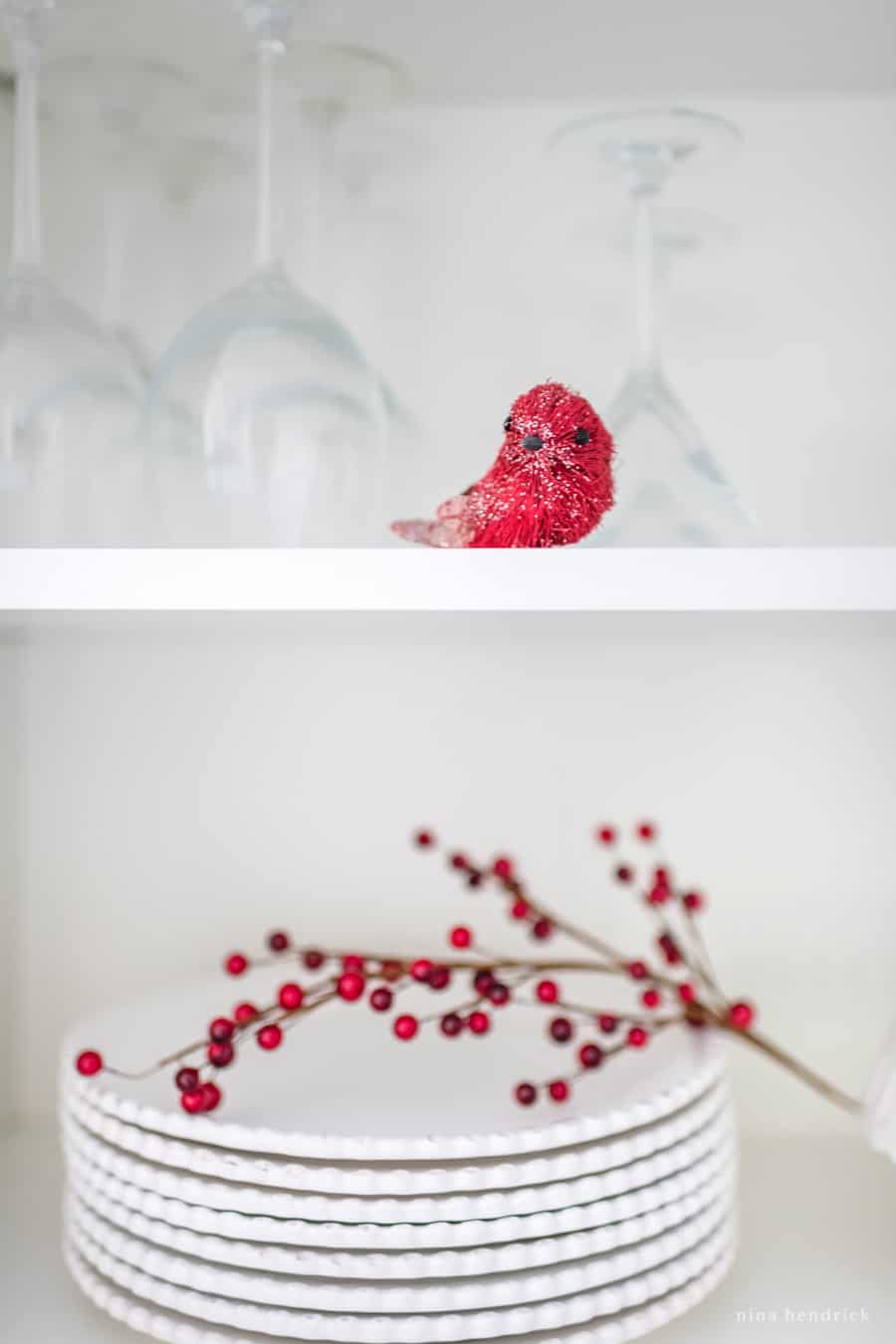 For a whimsical touch, I like to perch little red bird figurines here and there. The contrast of the white berries and little bird against the white gives an almost Scandinavian feel.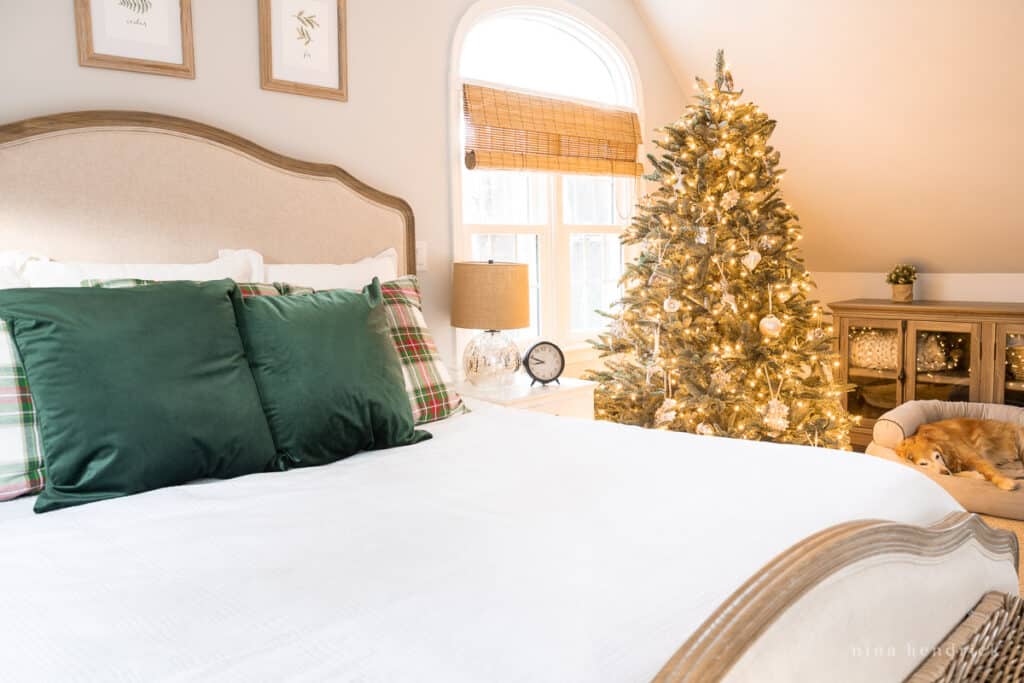 Rustic Christmas Decorating Ideas in the Bedroom
A small grouping of framed pine prints (get access to them at the end of this post!) makes for an elegant, sophisticated wall display that can be left in place long after Christmas. Additional throw pillows in deep forest green and red and green plaid bring a seasonal look to the bed.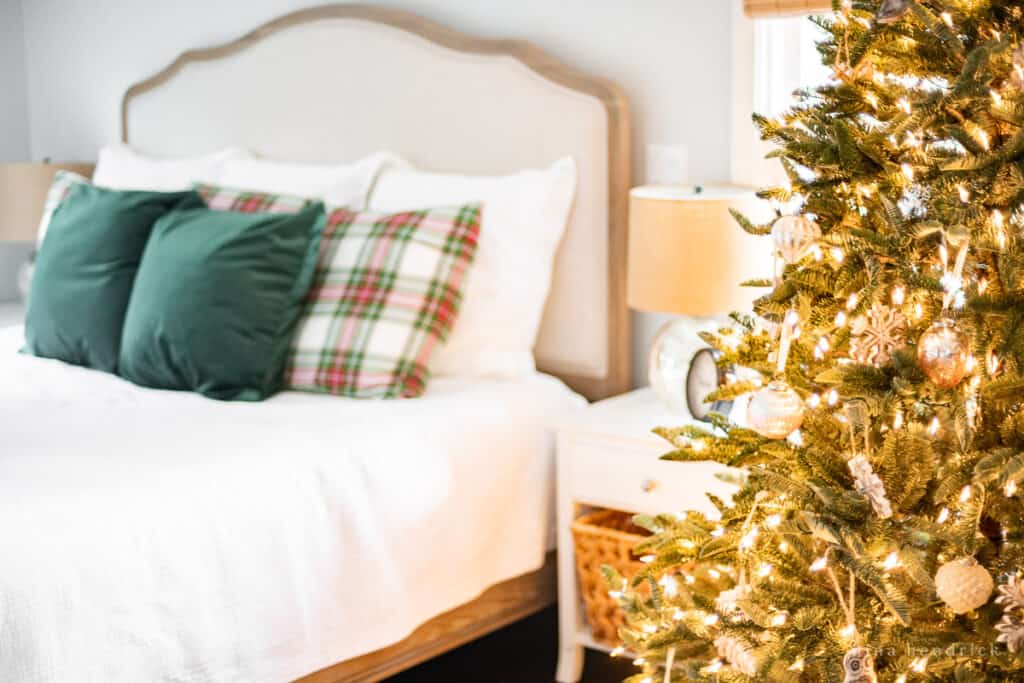 A neutral color scheme gives this rustic Christmas tree a quiet, understated feel, with large mercury glass, frosted white, and oversized whitewashed wooden ornaments.
Rustic Christmas Decorations In the Foyer
Like the mudroom, natural elements feel right at home in the foyer, a transitional space between indoor and outdoor living environments.
Fill the room with the fresh scent of pine for a nostalgic holiday atmosphere. Our sense of smell can be a powerful trigger for memories of past holiday magic. Start with a gorgeous evergreen wreath on the front door.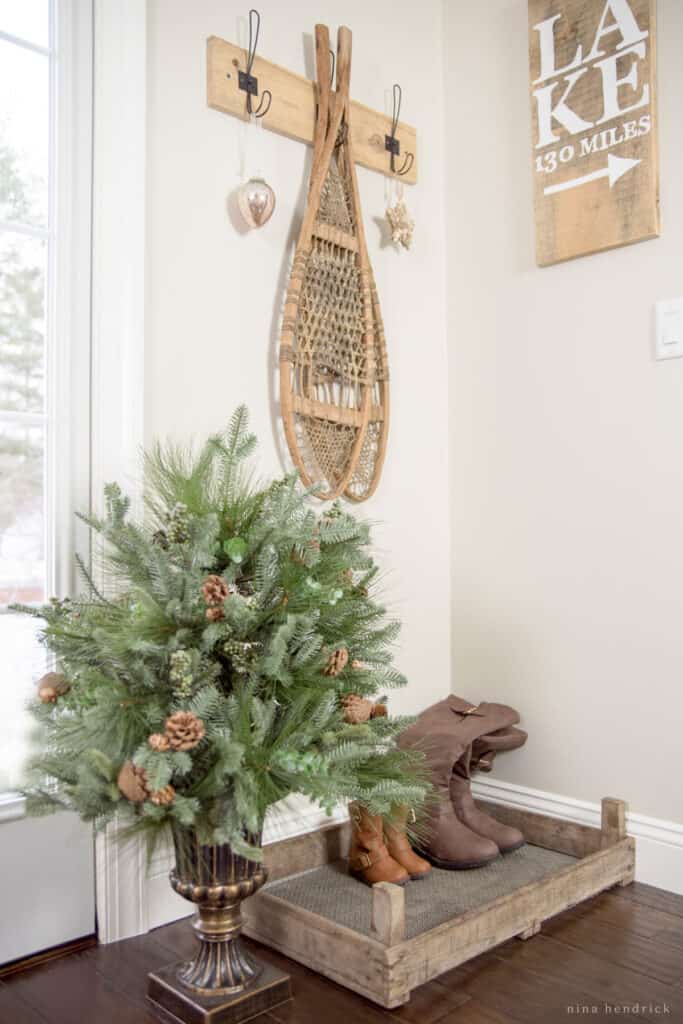 If you're using artificial greenery, burn a few pine-scented candles or use pine-scented wax warmers for an easy enhancement.
You can frame the front door with two woodland-inspired potted artificial trees indoors or out. I love this idea especially for if you live in an apartment or if you don't have a porch to decorate.
A Silent Night Entryway Vignette
Use your entryway table to create a holiday vignette. Mine features a driftwood nativity scene with a small fir tree, some forest greenery, and pillar candles on rustic wooden candle sticks. A handmade sign mounted over the wall mirror has a verse from the Christmas song, Silent Night: ''All is calm, all is bright.'' The North Star is centered right over the manger.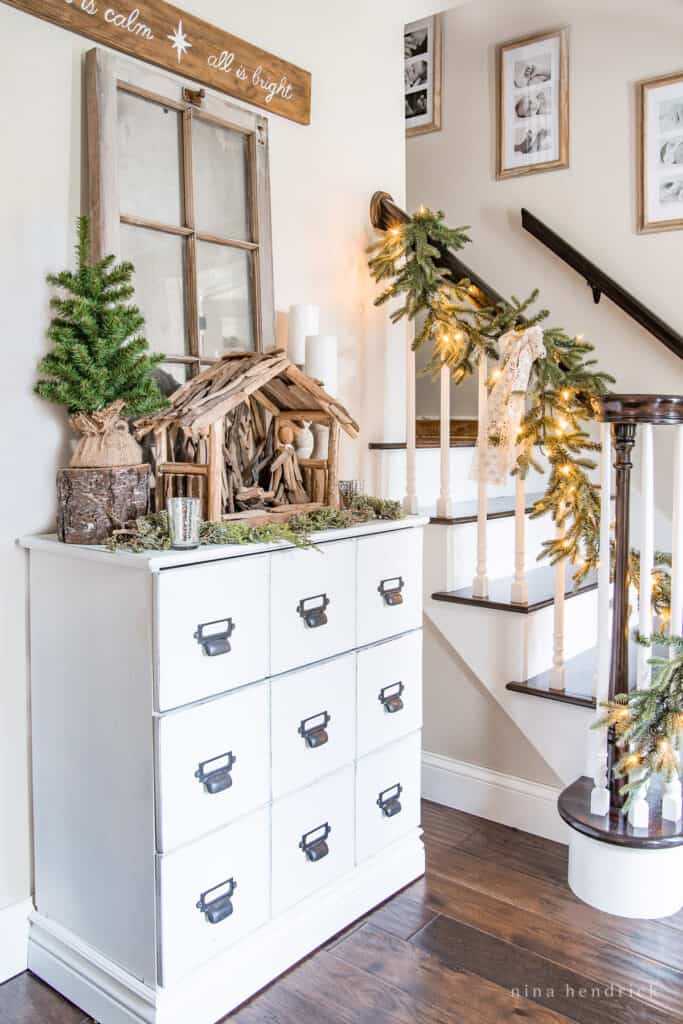 If you celebrate Hanukkah, replace the nativity scene with a menorah. If you prefer something nonreligious, a Christmas Village or gingerbread house makes a lovely centerpiece for a holiday vignette.
Now It's Your Turn to Decorate
I hope these rustic Christmas decor ideas have inspired you to sprinkle some holiday cheer into your home. It's a great way to spend time with your family and create treasured holiday memories.
Want to grab some free Christmas printables to get you started? Sign up below for access to our free printables library, which has a bunch of decorating prints for you to download!
P.S. Are you decorating for a rustic Christmas this year? Share it on your Instagram — and tag me @ninahendrickhome so I can see your version!