Planning a rustic Christmas theme this year? This rustic Christmas tree includes natural decorations like woodland ornaments and vintage lace.
Rustic Christmas Tree decorations bring a magical, homey feel to the holiday season. They are inspired by nature, and feature natural materials such as pine cones, twigs, berries, and other woodland elements. Woodland Christmas tree decorations are perfect for those who love the outdoors and looking to add a little bit of rustic charm to their home. They're also great for people who want to create a unique, one-of-a-kind Christmas tree.
From traditional, to modern, to whimsical, to farmhouse, there are so many styles of rustic Christmas tree decorations to choose from. Whether you're looking for something classic or something a little more creative, there's sure to be an idea in the post below to fit your holiday décor. You can see more ideas from this rustic woodland theme here!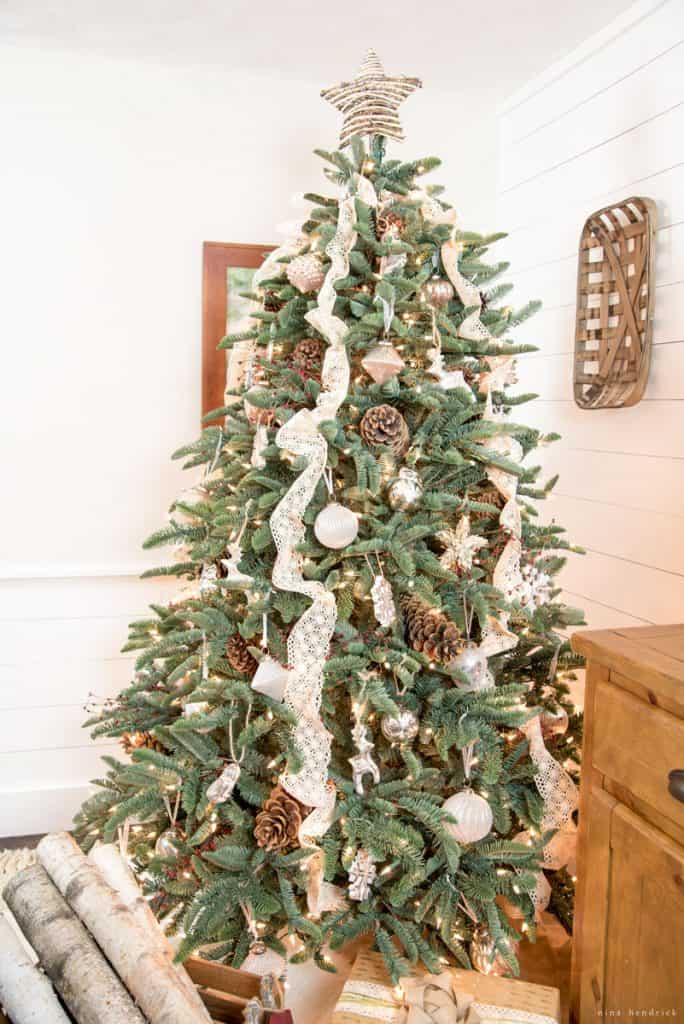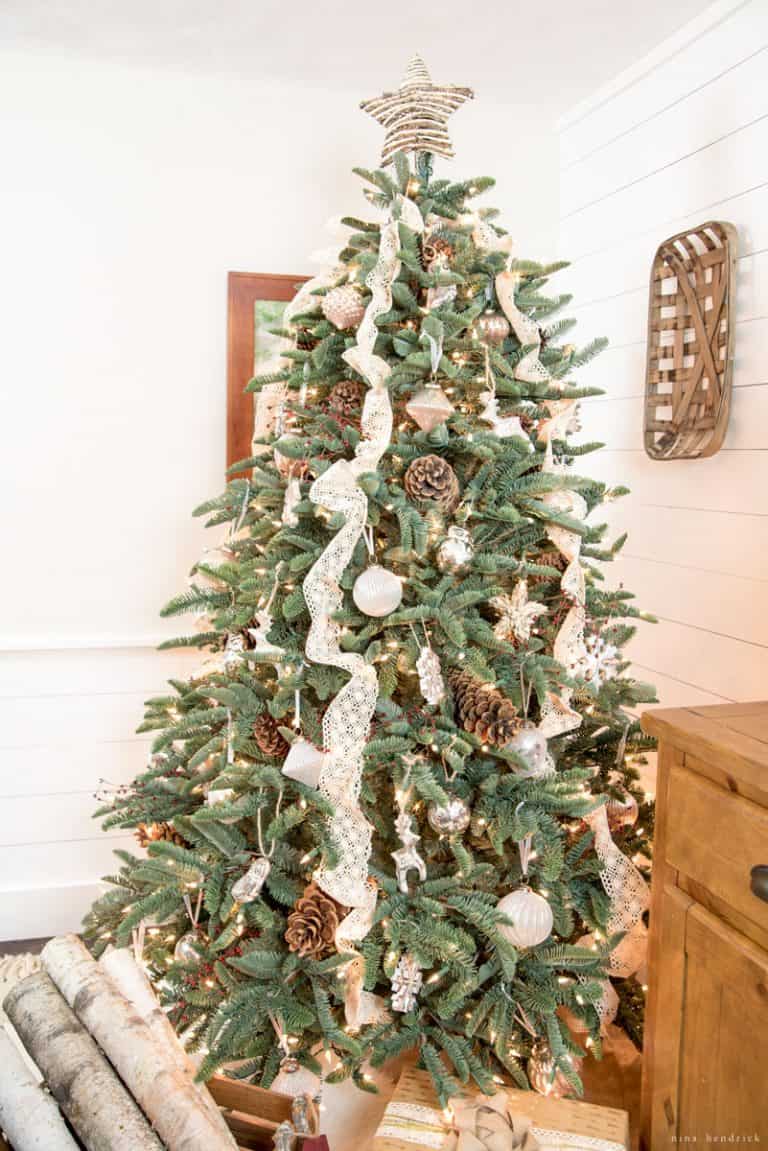 Rustic Christmas Tree Decorations
Rustic Christmas tree decorations bring a warm and inviting feel to any home during the holiday season. A rustic Christmas tree is a perfect way to celebrate the holidays with a nod to the past. Rustic Christmas trees are typically decorated with natural objects such as pine cones, dried flowers, wood slices, and burlap ribbon. They feature neutral colors and organic textures that give off a warm and inviting feeling. Rustic Christmas trees also bring a unique and traditional feel to any home and are perfect for those who prefer a more simple and classic look to their holiday decor.
The holiday season is upon us and there is no better way to get into the festive spirit than by transforming a room into an enchanted forest. My decor theme this year is inspired by Robert Frost's classic poem, "Stopping by Woods on a Snowy Evening". I created a winter wonderland, and I added a woodland rustic Christmas tree to my dining room. This post will provide a few ideas on how to incorporate this theme into your Christmas tree decorations.
This post contains affiliate links, which means I may get a small commission (at no extra cost to you) if you shop my link. Please see my disclosure if you'd like more info!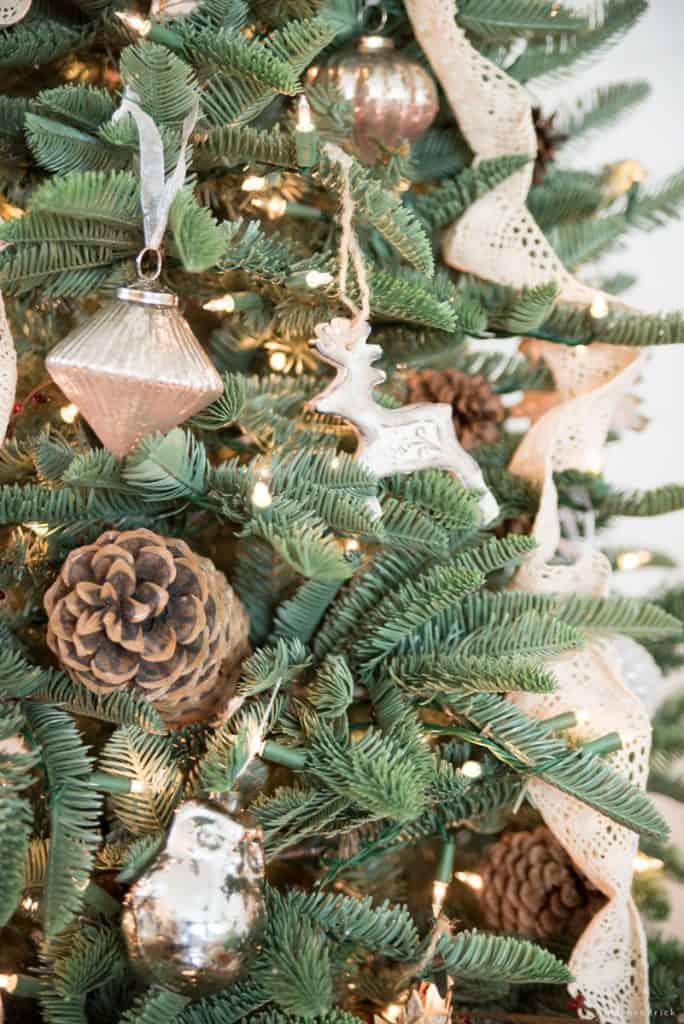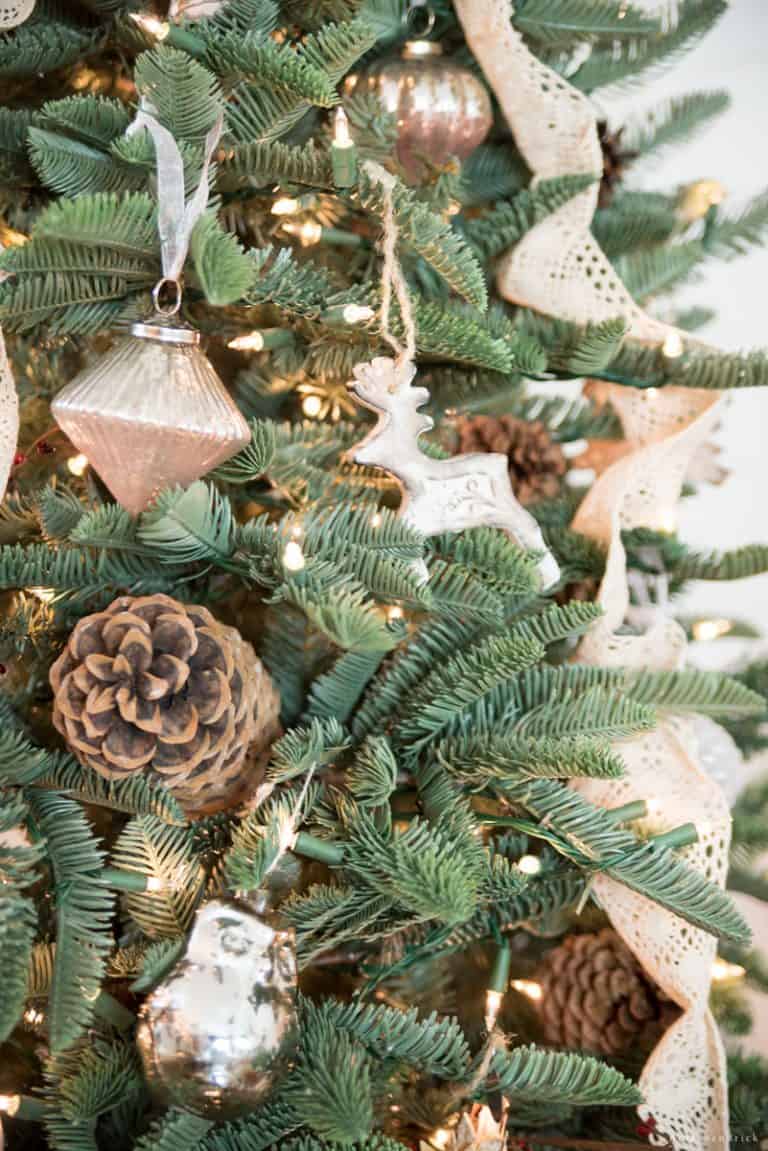 How do you decorate a rustic Christmas tree?
For a rustic Christmas tree you can decorate with natural elements: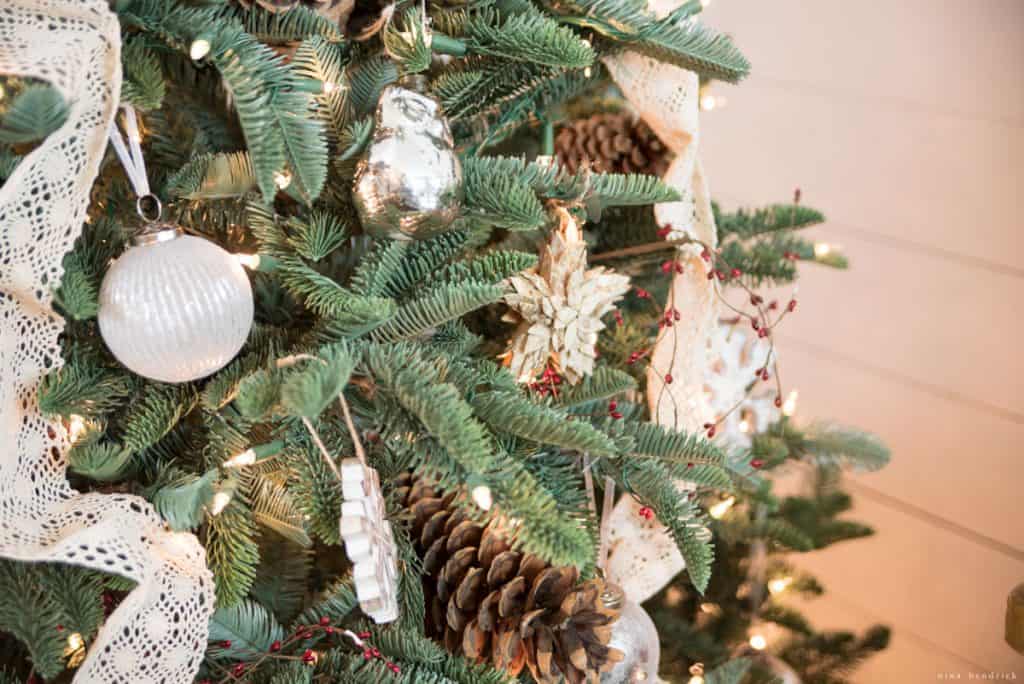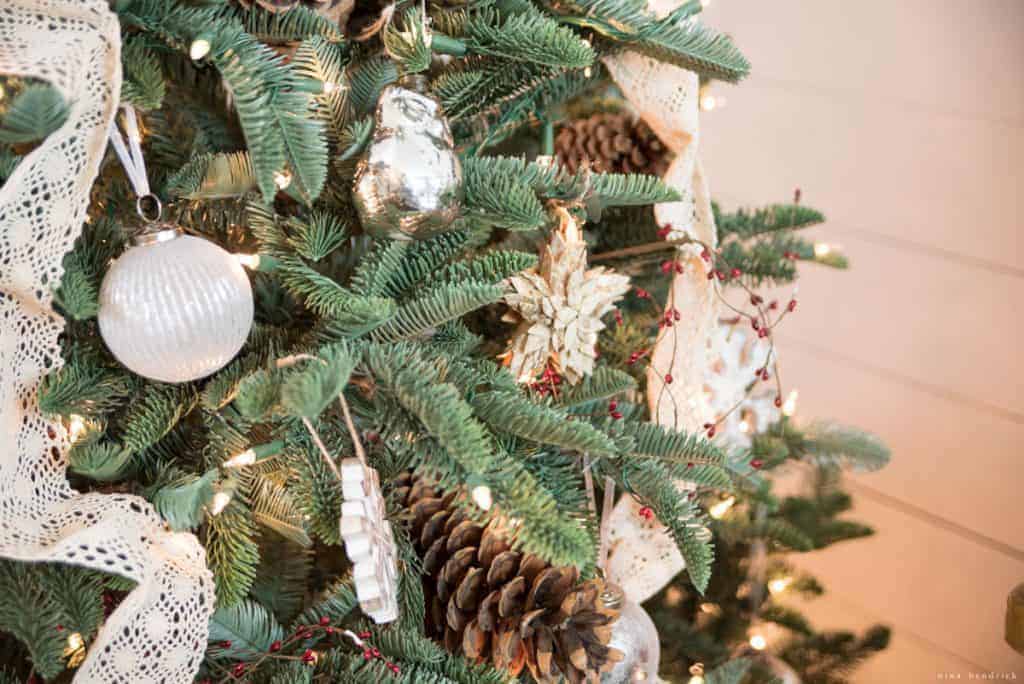 Step One: Choose a Tree
The best way to start is by finding a tree that is perfect for the style you are going for. For a more traditional rustic look, choose a real tree with branches that have a natural look and feel. Choose a fir, pine, or spruce tree for the best effect. It is important to make sure that the tree is fresh, so it looks and smells great. You should also consider the size of the tree, as it should not be too big for the space you have.
If you're looking for a convenient way to bring the holiday cheer into your home, a realistic looking faux tree is a great option. Not only are faux trees hassle-free and easy to set up, but they can also be used year after year, giving you a beautiful tree every December without needing to go through the same process of shopping for and setting up a real one. That's what I've used for this post — this tree is very realistic looking, but without the maintenance of a real tree. The exact one is no longer sold, but here's a close match!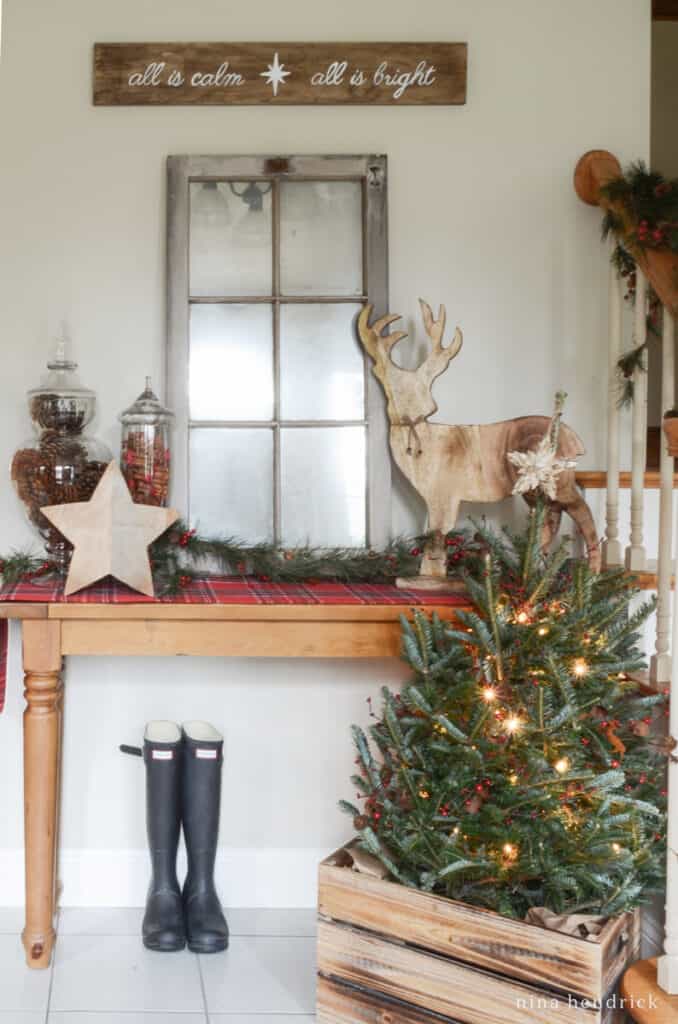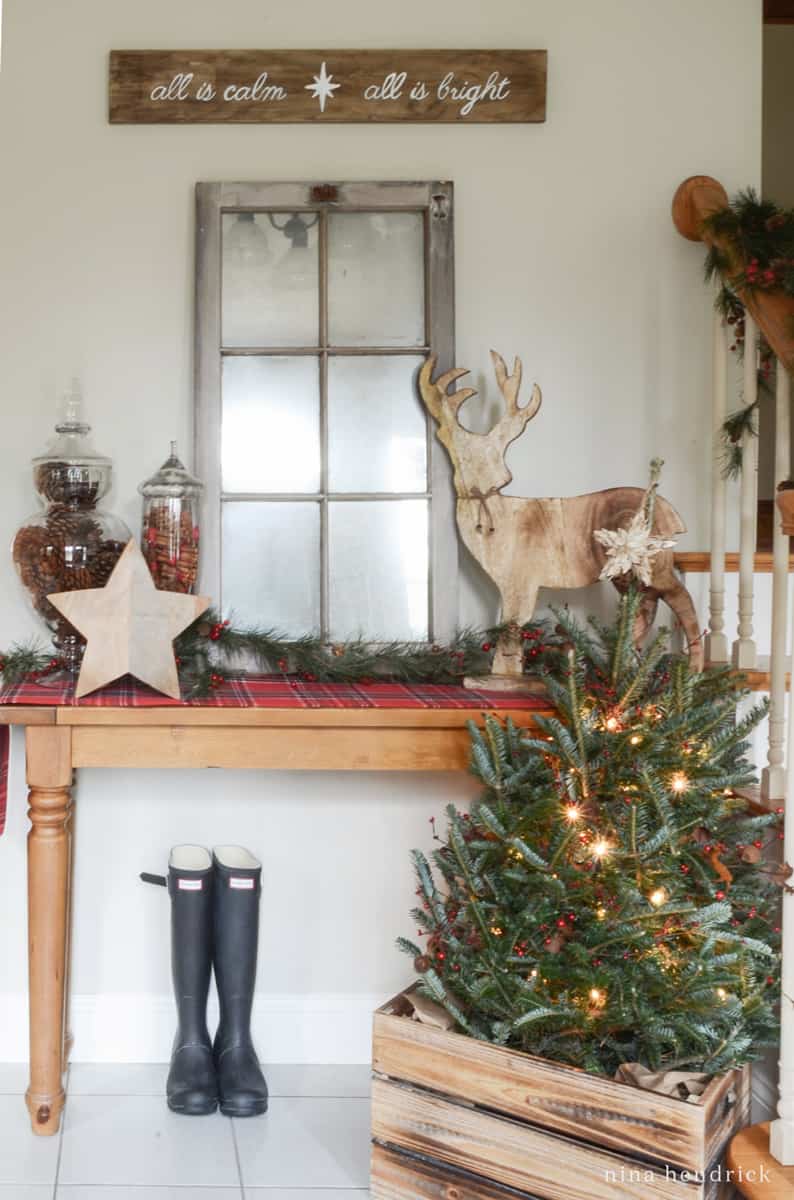 Small Rustic Christmas Tree
If you want to bring the farmhouse aesthetic into your home this holiday season, but don't have a lot of room to work with, a small rustic Christmas tree (either real or faux!) is the perfect option. Not only is it a great choice for small dwellings like apartments and condos, but it can also serve as a companion to a bigger tree if you do have more space. Furthermore, these types of trees are very affordable and can be easily decorated to suit the existing decor.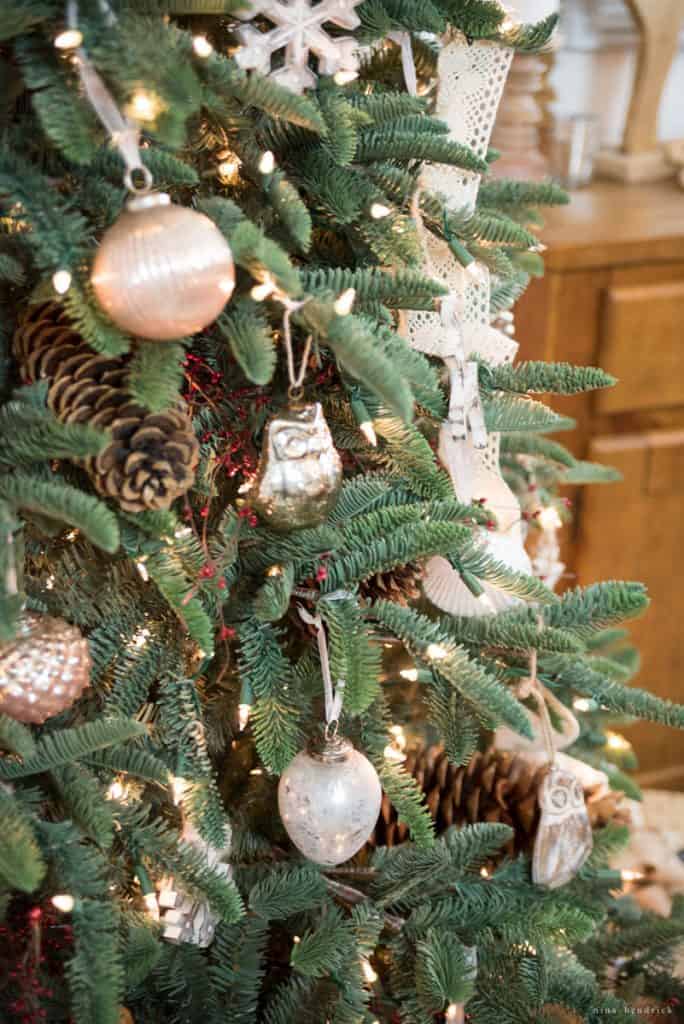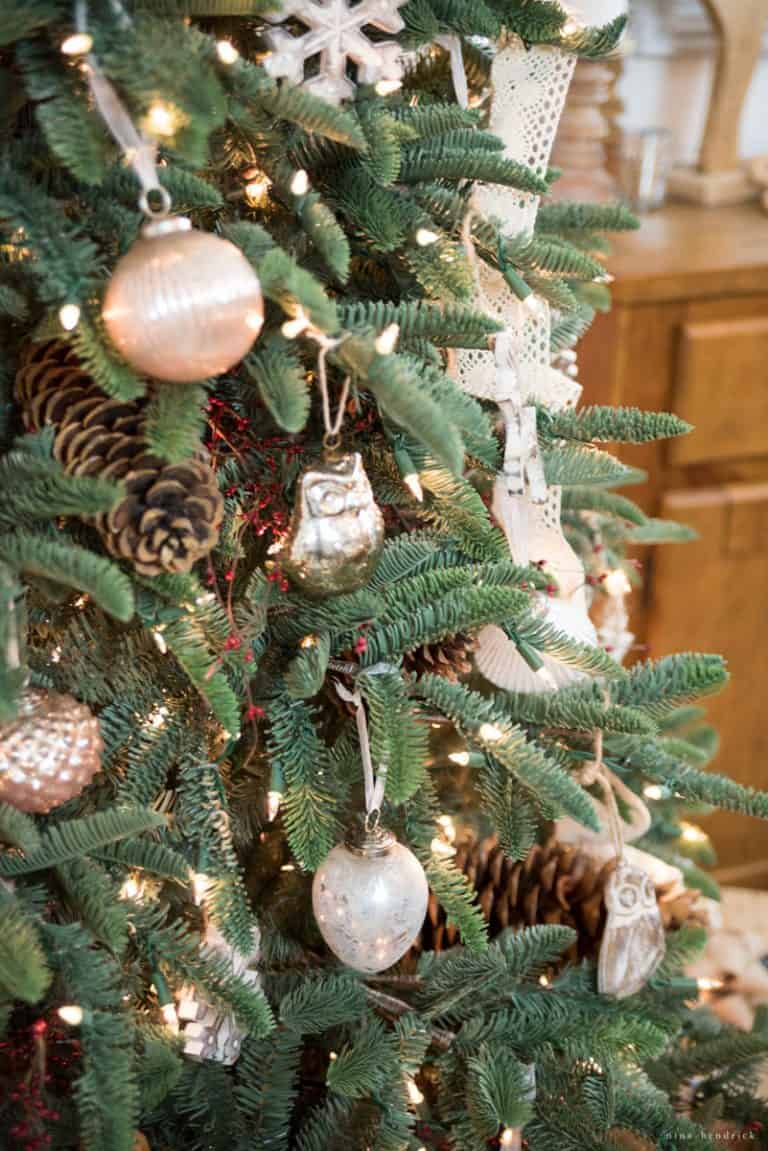 Step Two: Decorate the Tree
Once you've chosen your tree, it's time to decorate it. Begin with strings of twinkling lights – choose a color theme for the lights and wrap them around the tree, careful not to tangle the wires. Next, add ornaments – rustic ornaments made from wood, metal, and burlap can be perfect for a rustic Christmas tree. Hang them in different sizes and shapes, and layer on the sparkle with glass ornaments. Choose items that reflect a rustic style like woodsy ornaments, burlap ribbon, twigs and red berries. Adorn the bottom with a rustic Christmas tree skirt made from cozy materials.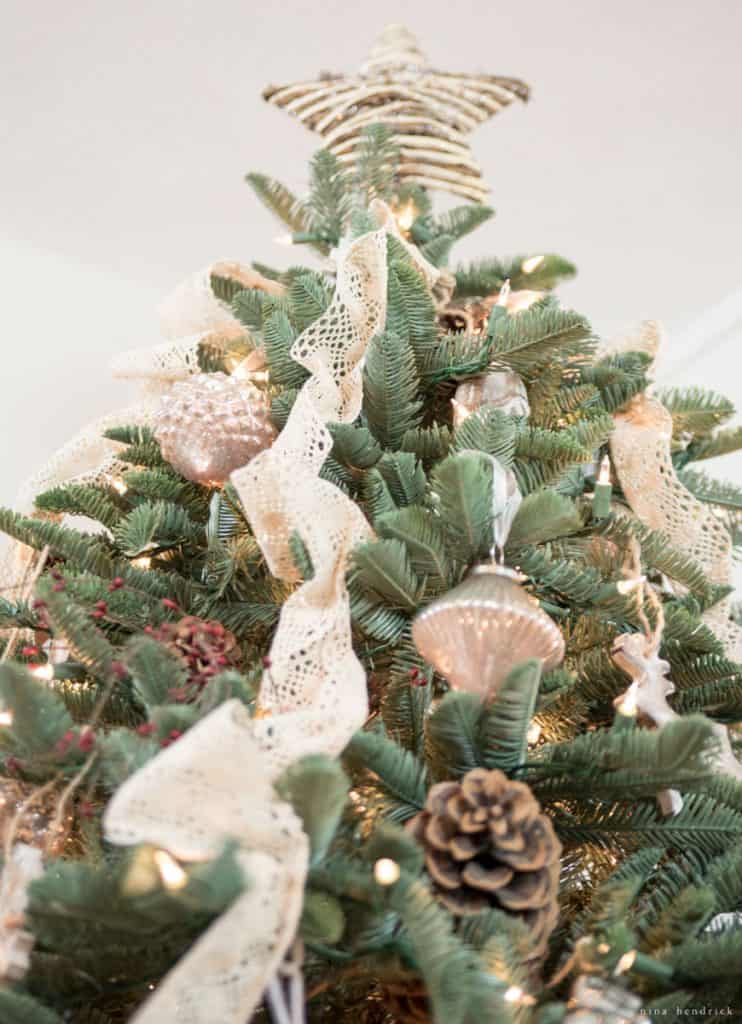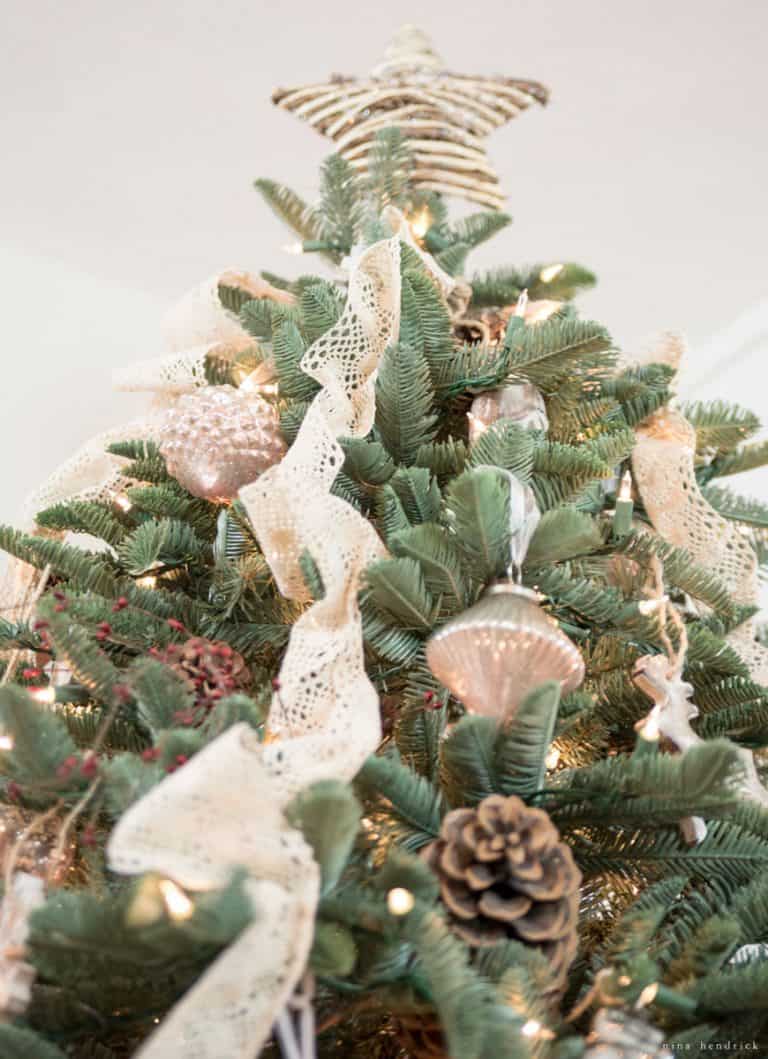 Step Three: Add a Special Touch
To add a special touch to your rustic Christmas tree, hang a few pieces of handmade art such as handmade felt ornaments, a wooden ornament, or a handmade banner. This will give the tree a unique and personal touch. Finally, don't forget to add a few presents underneath the tree for that special wow factor.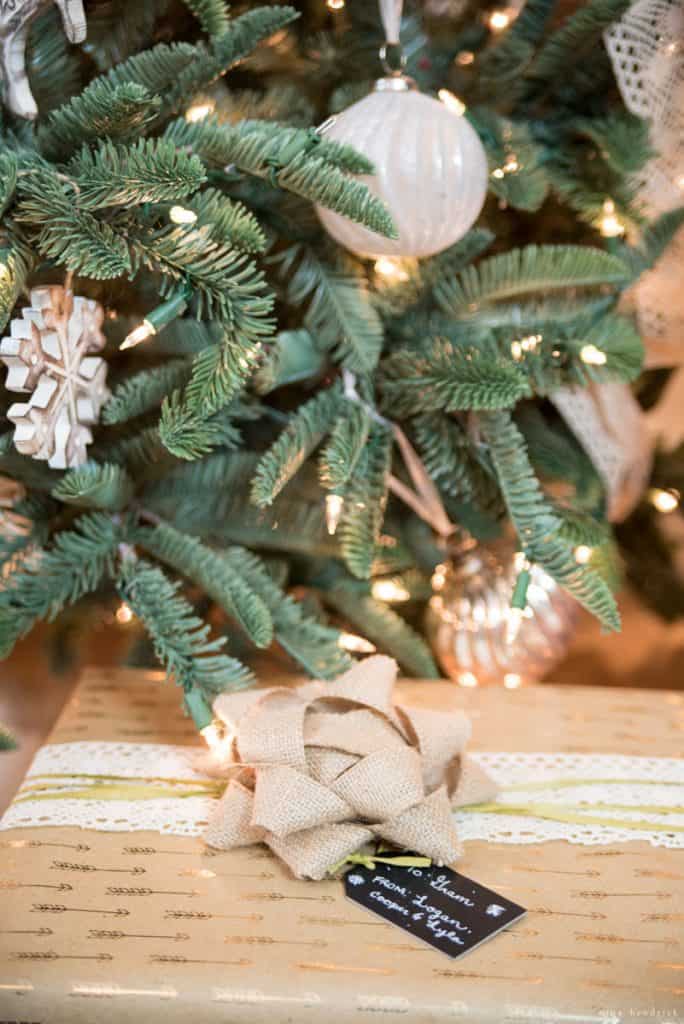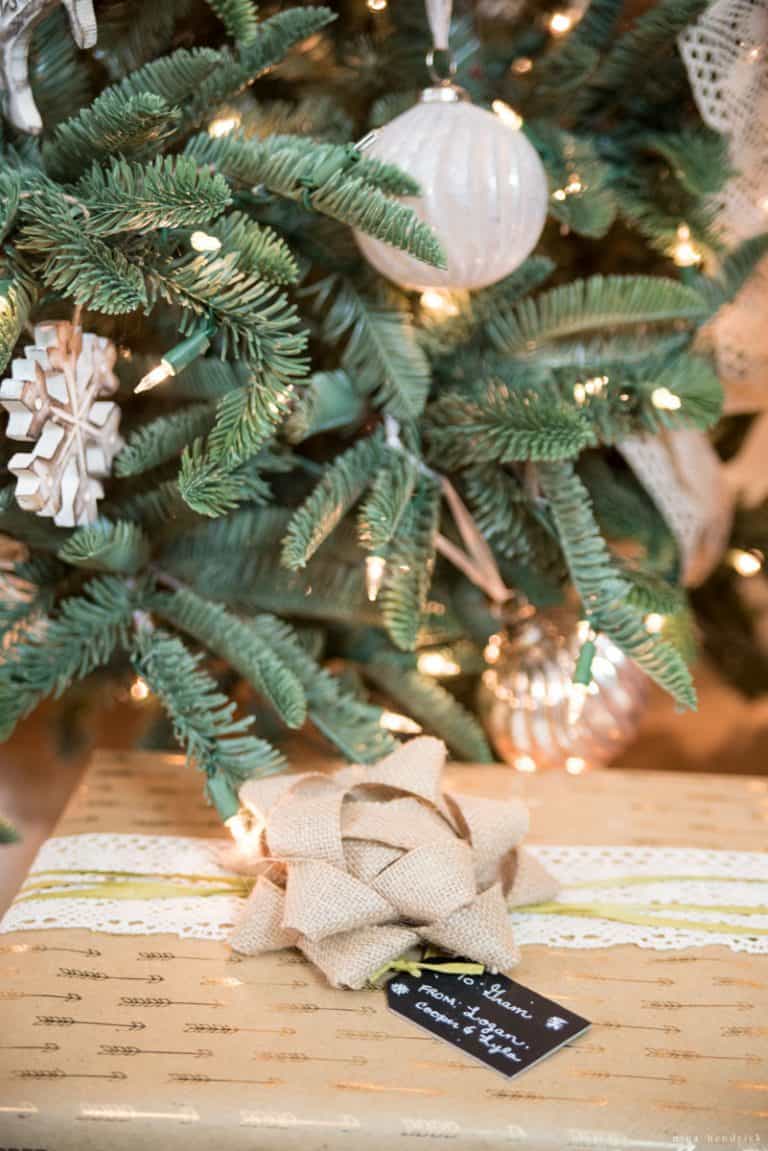 Step Four: Enjoy Your Rustic Christmas Tree
Once you've finished decorating your rustic Christmas tree, it's time to enjoy it. Light the candles and turn on the Christmas lights. Enjoy the beauty of the tree and the atmosphere it creates!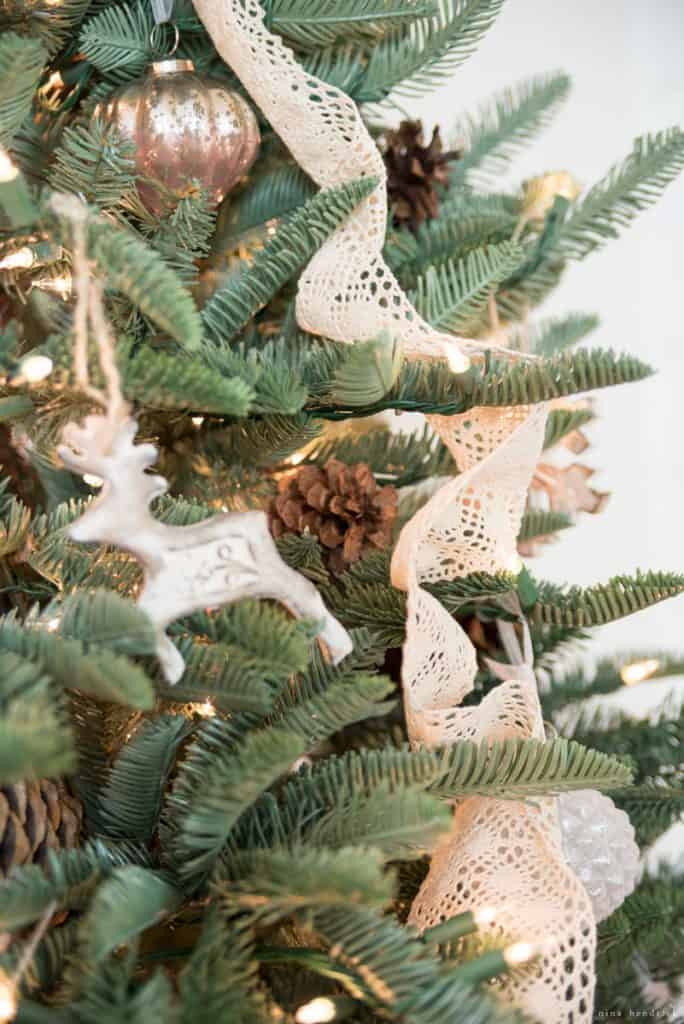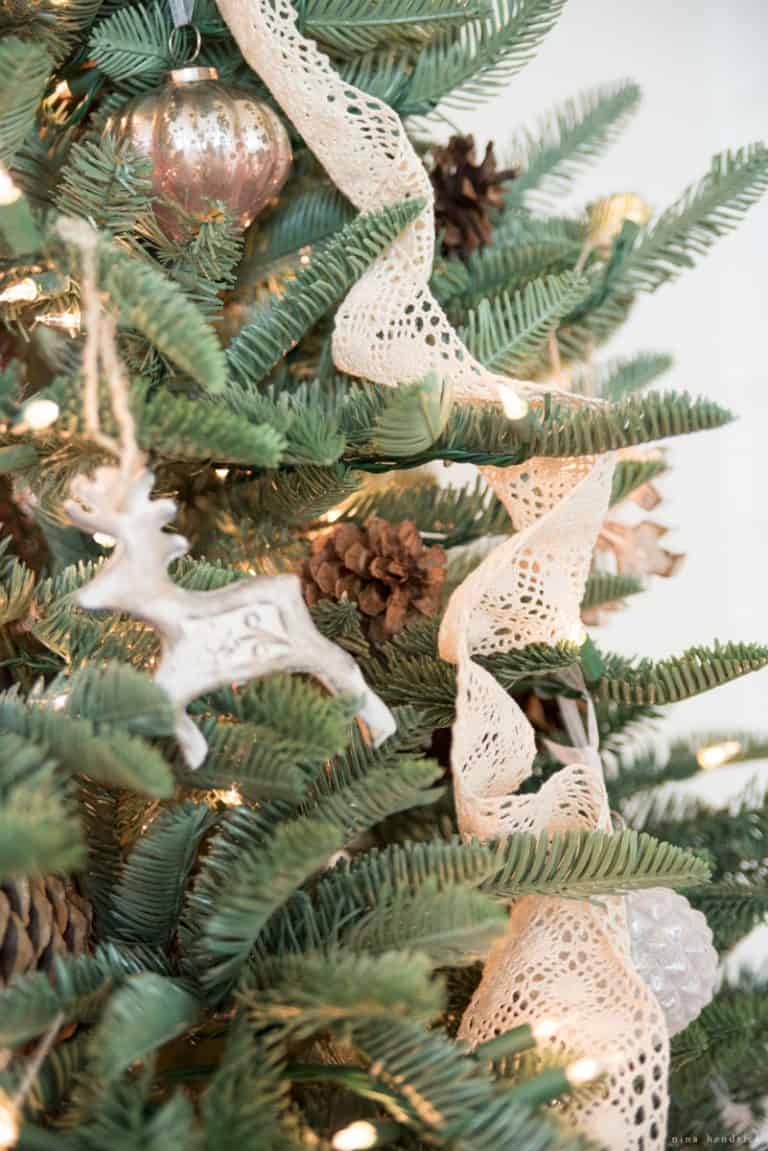 You May Not Get it Right the First Time
Confession: this is take number two of the same Christmas tree. Have you ever been in a position where you decorate something for your home and it just doesn't match? I gold accents scattered throughout the tree that I thought would bring a festive touch, but it ended up being too garish and didn't quite fit in with the rest of the room. So I decided to go back to the drawing board and redo the same tree. This time though, I was more careful to select just rustic and nature-inspired accents that would fit in with the rest of the room. Instead of the gold, I added this vintage-inspired lace.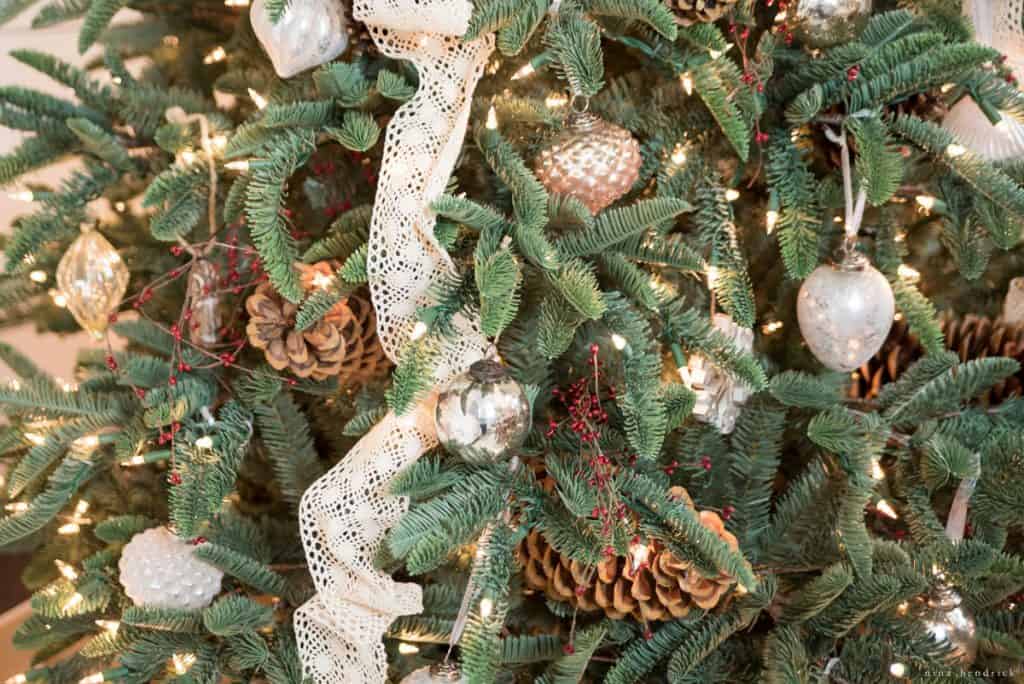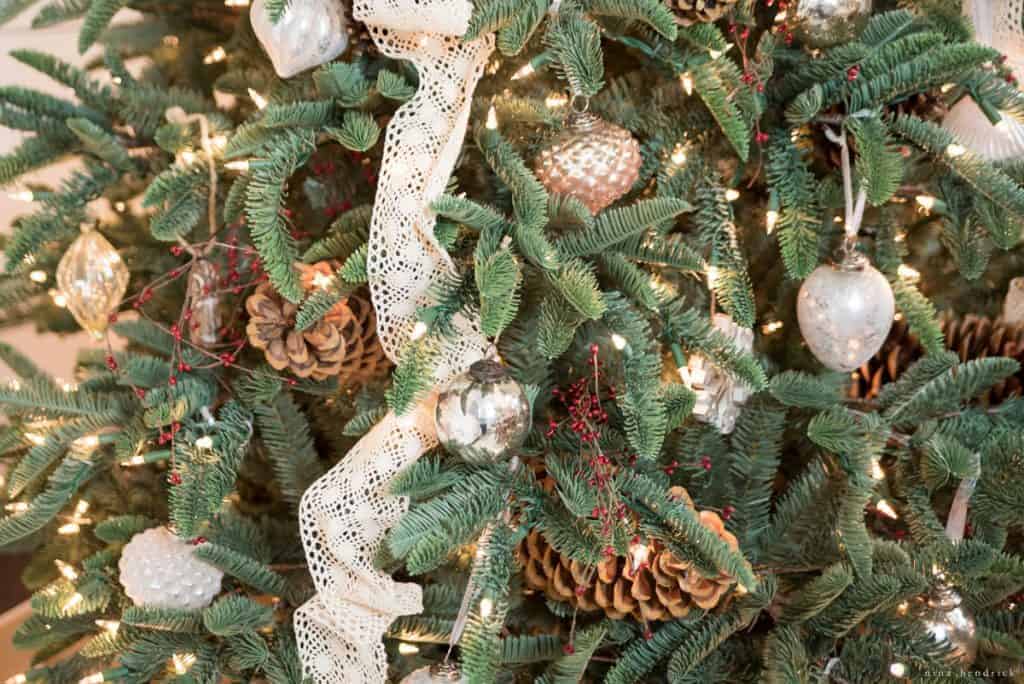 I am so pleased with the combination of the classic mercury, the whitewashed rustic ornaments, the natural pinecones, and the vintage lace for this woodland Christmas tree. The pops of the red berries are really bringing in the hint of Christmas color I was missing.
Rustic Christmas Decorating Ideas Around the Dining Room
To complement the rustic Christmas tree, I added woodland decor all around the dining room. You can see more of the features of this space in this blog post!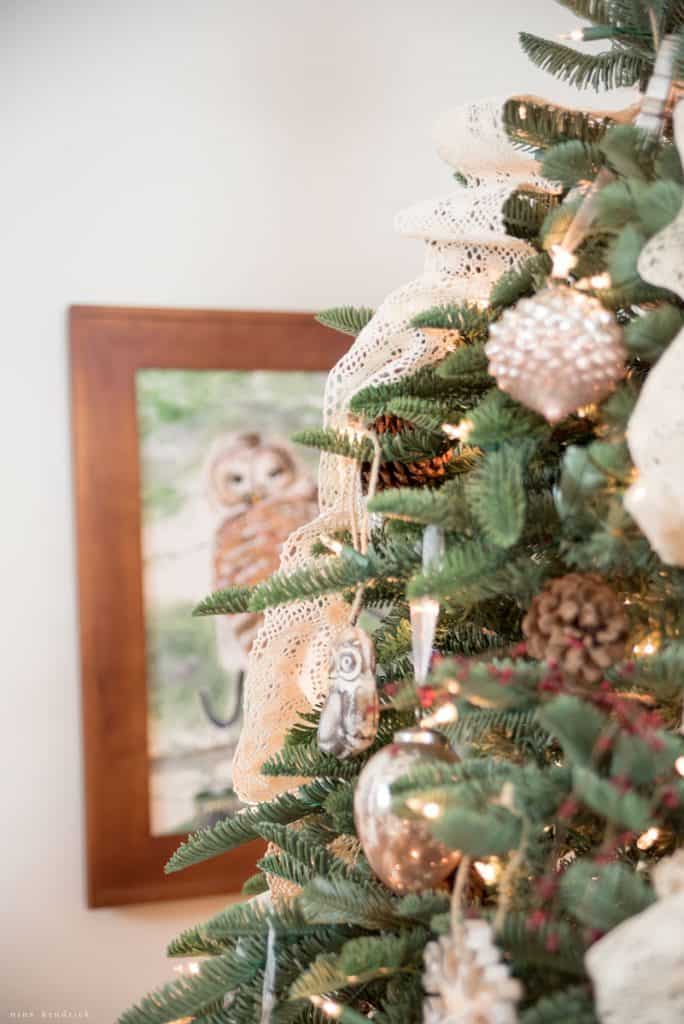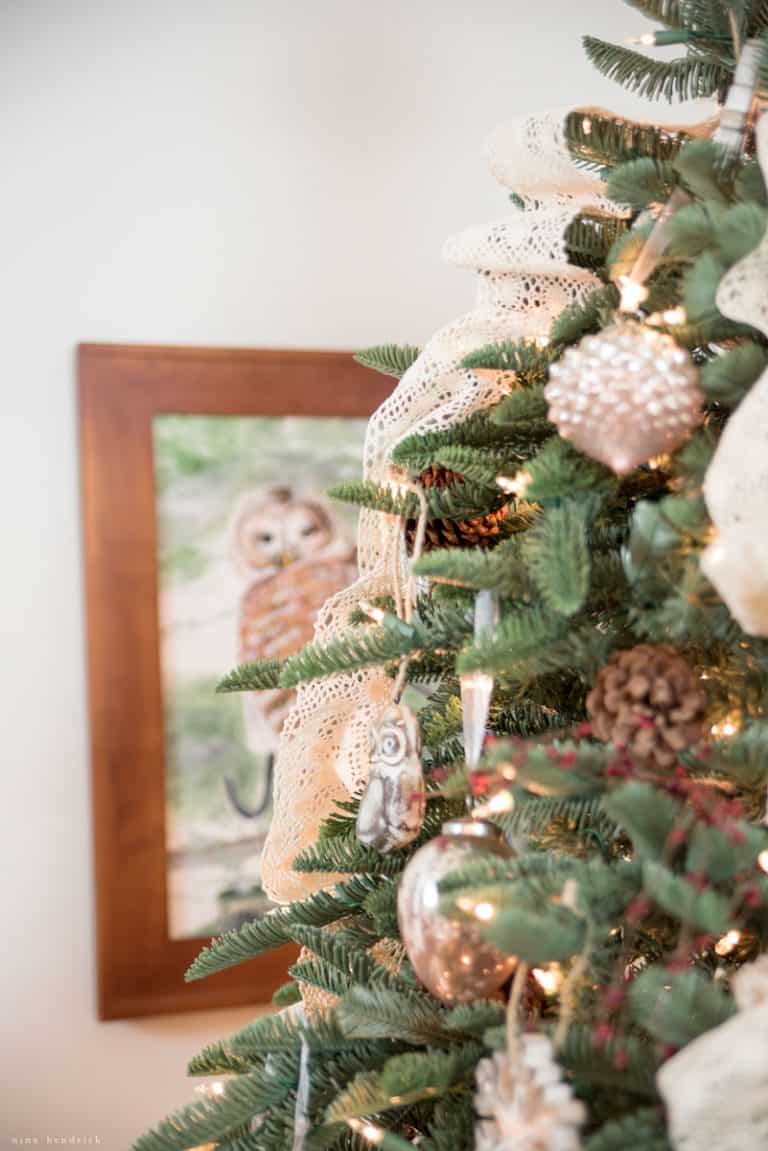 I swapped out the dining room art for winter woodland themed paintings by my grandfather. I love owls, and this one was sitting on his bird feeder a few winters ago. He painted it and gave it to me as a Christmas gift.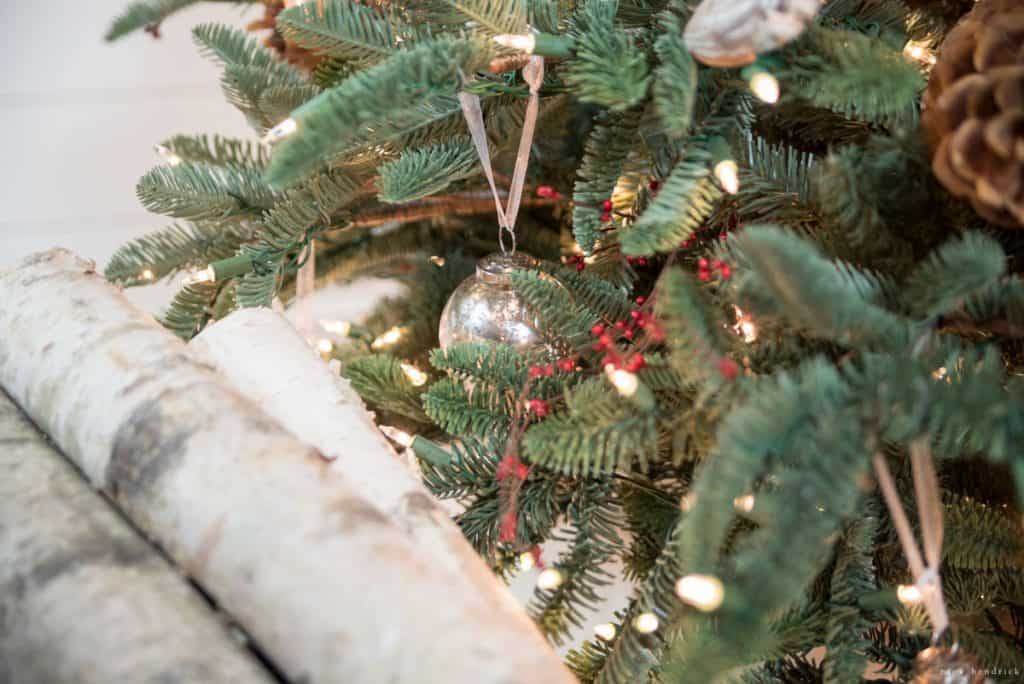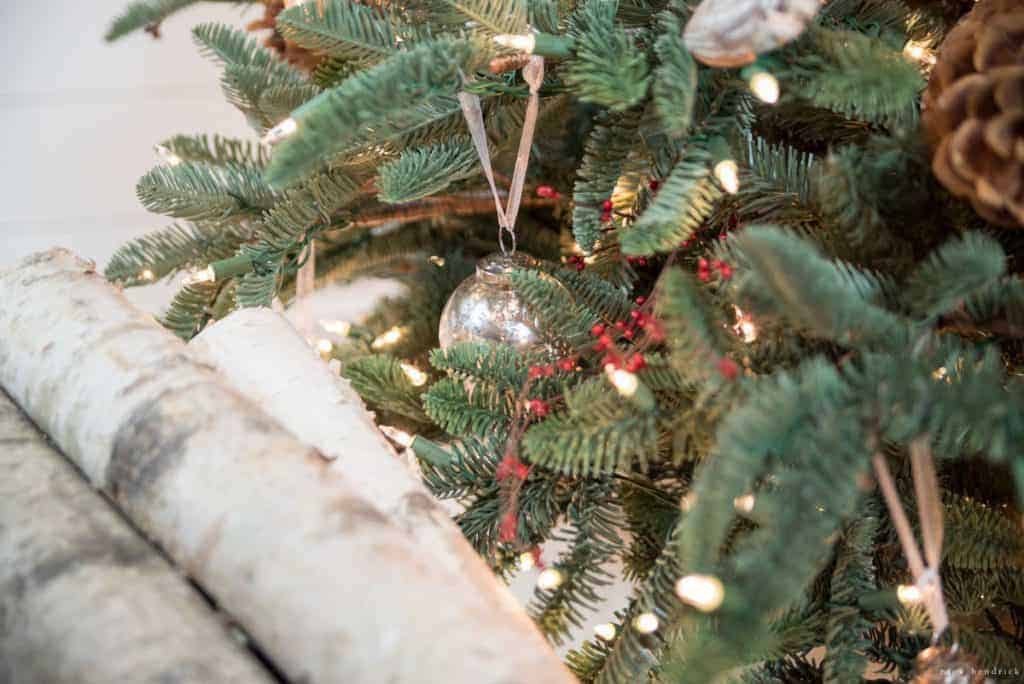 I was fortunate enough to receive truckloads of birch from my dad, who is an arborist, and I incorporated it into my Christmas decorations this year. Birch is such a beautiful, rustic material and I'm glad I was able to bring it into my decor this season.
The paintings along with the birch logs are a great way to feel connected to my family, even though they don't live close by.
The rustic Christmas decor really brought the room together and made it seem like a cozy winter wonderland. I especially loved the rustic Christmas tree in the corner, and the lights that twinkled when the sun went down. It was the perfect way to enjoy the holiday season!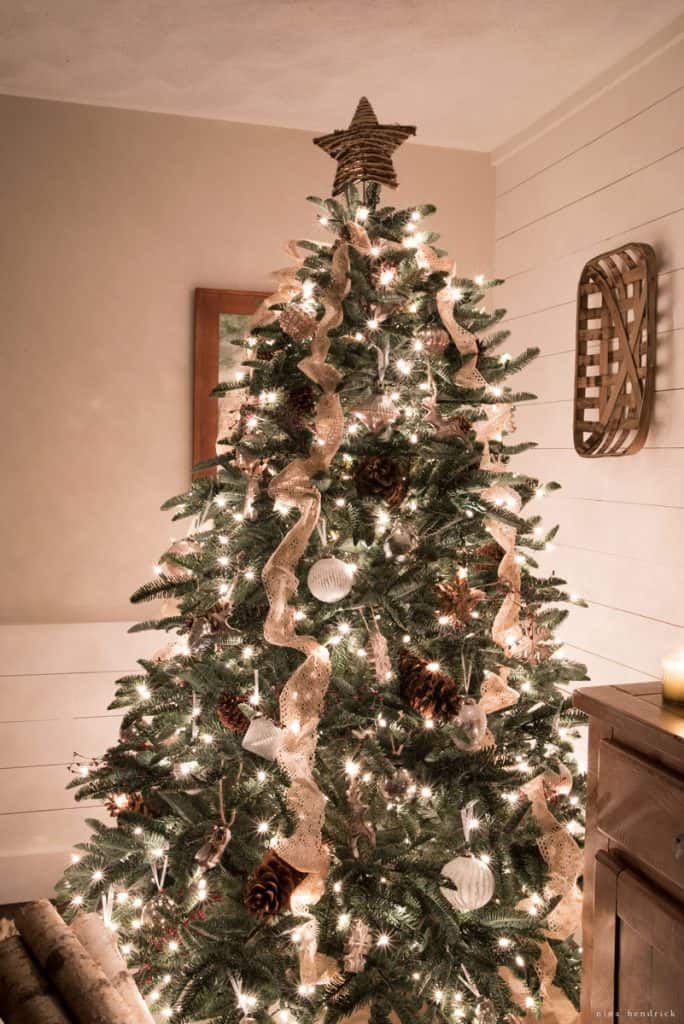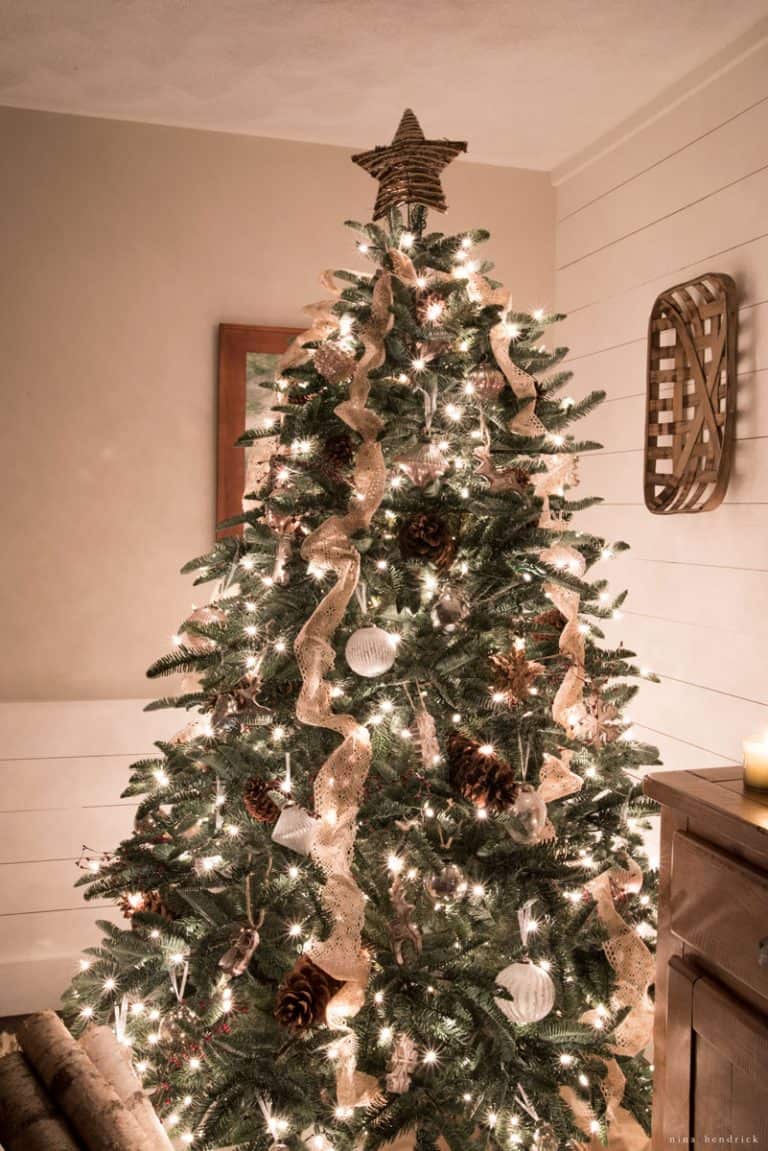 Woodland and Rustic Christmas Tree Decorating Ideas
The rustic Christmas tree is a timeless holiday tradition that brings a warm, cozy atmosphere to any home. Not only is it a wonderful way to decorate for the season, but it also brings a unique, natural style to your home. Whether you choose to go with a traditional evergreen or opt for a more unique variety, a rustic Christmas tree is sure to bring a touch of nature into your home this holiday season.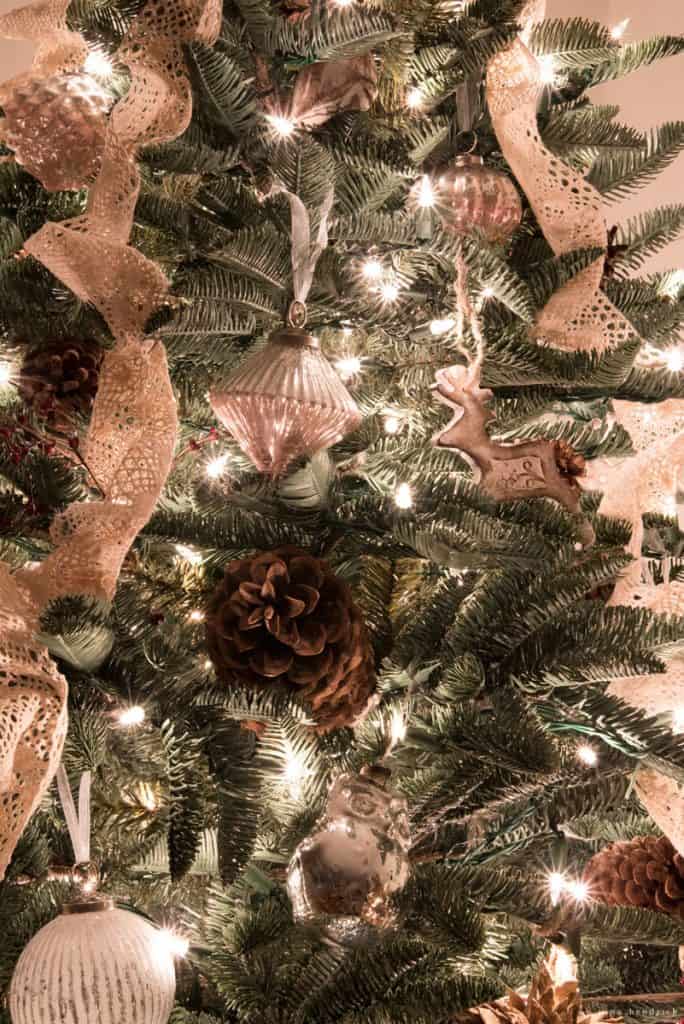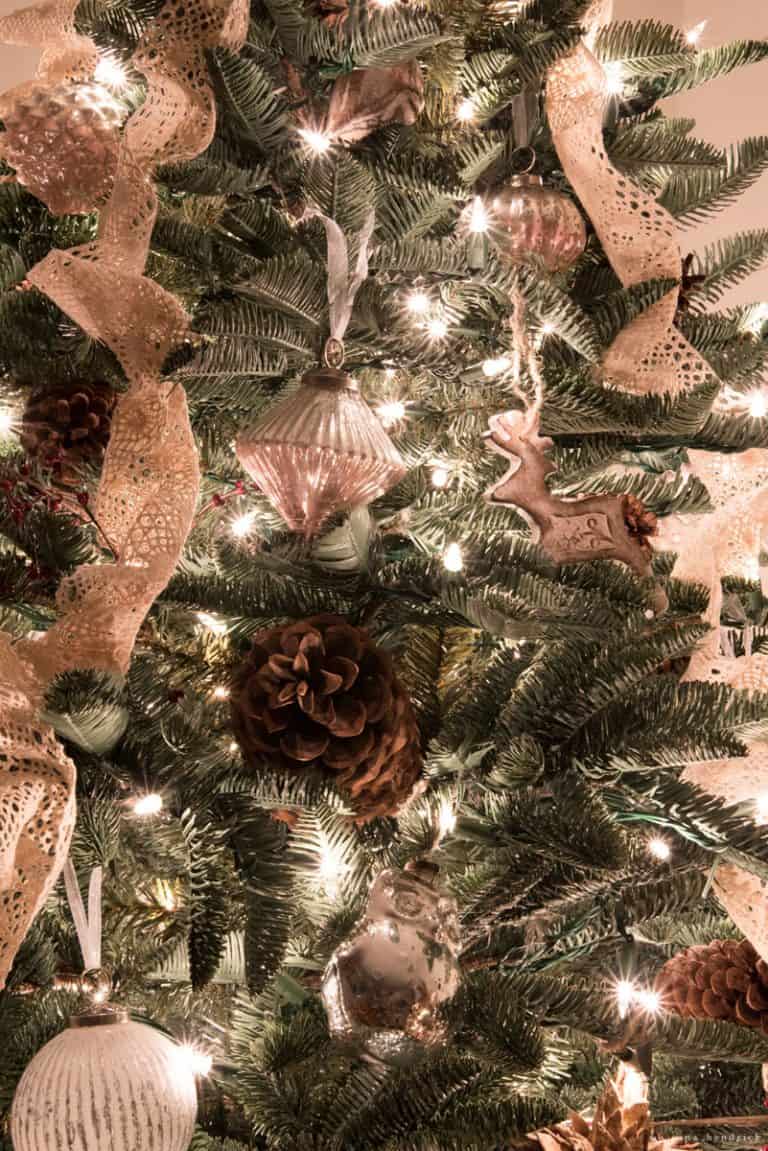 Are you decorating with a rustic or woodland theme this Christmas? Make sure to tag me on Instagram @ninahendrickhome and share!