This Classic Meets Modern Small Bathroom Makeover brings big style to small space with an exposed pipe shower and a herringbone tile floor.
Without further ado, today I'm sharing the details of our Classic Meets Modern Small Bathroom Makeover! This small 6×8′ bathroom serves double duty as a kids' and guest bath, so I came up with a design plan that could function well for both purposes. You can see the design plan here!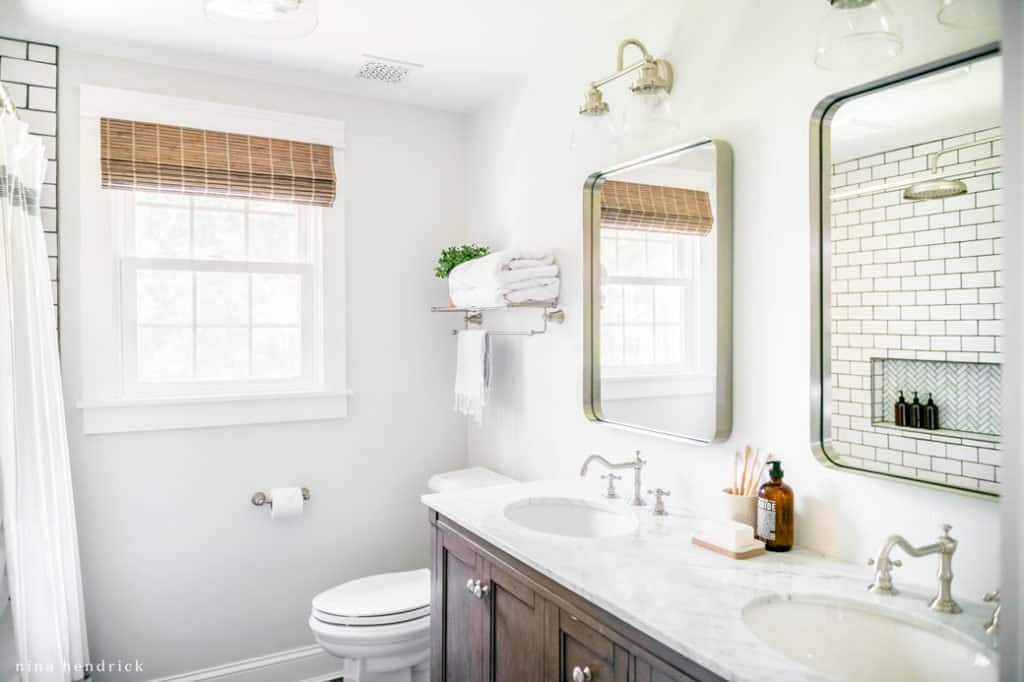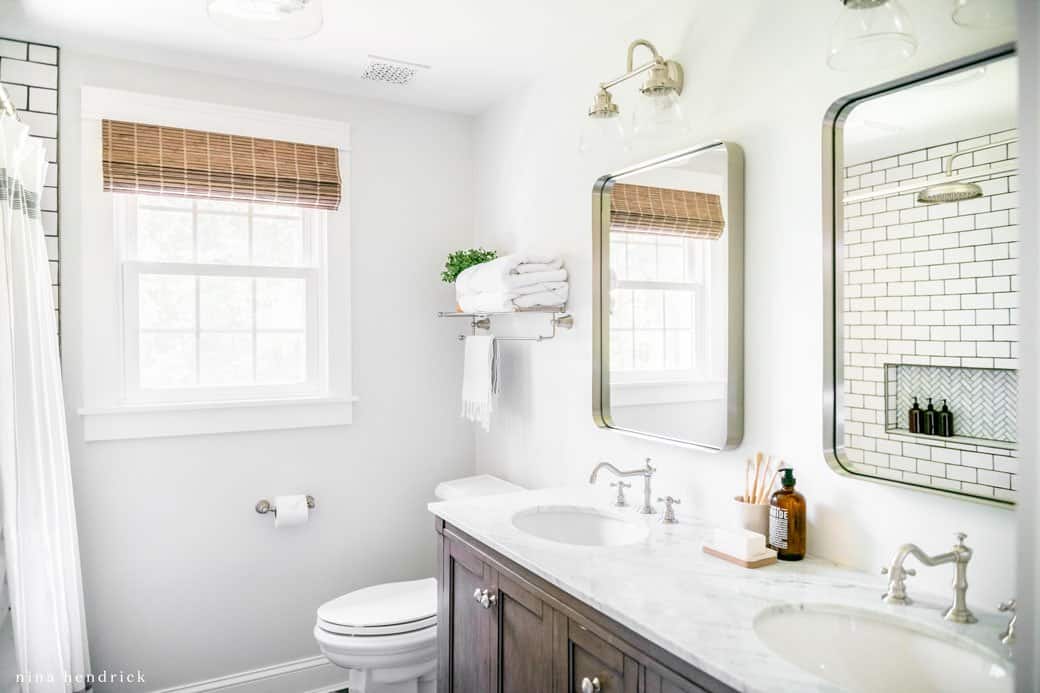 Classic Meets Modern Bathroom Makeover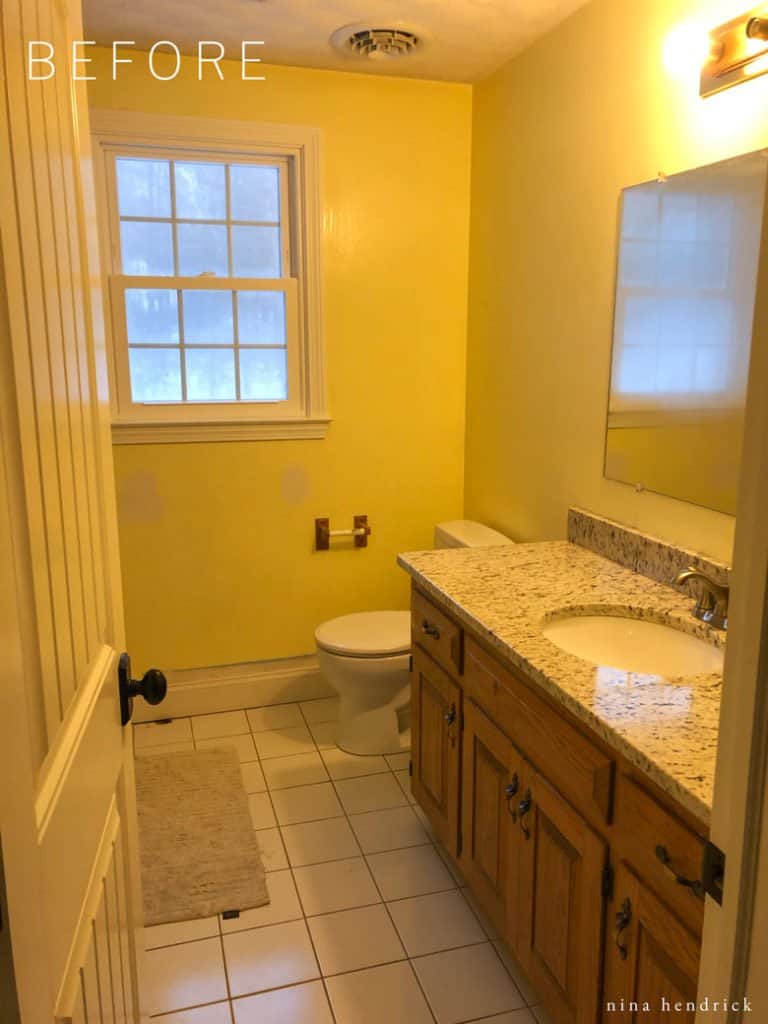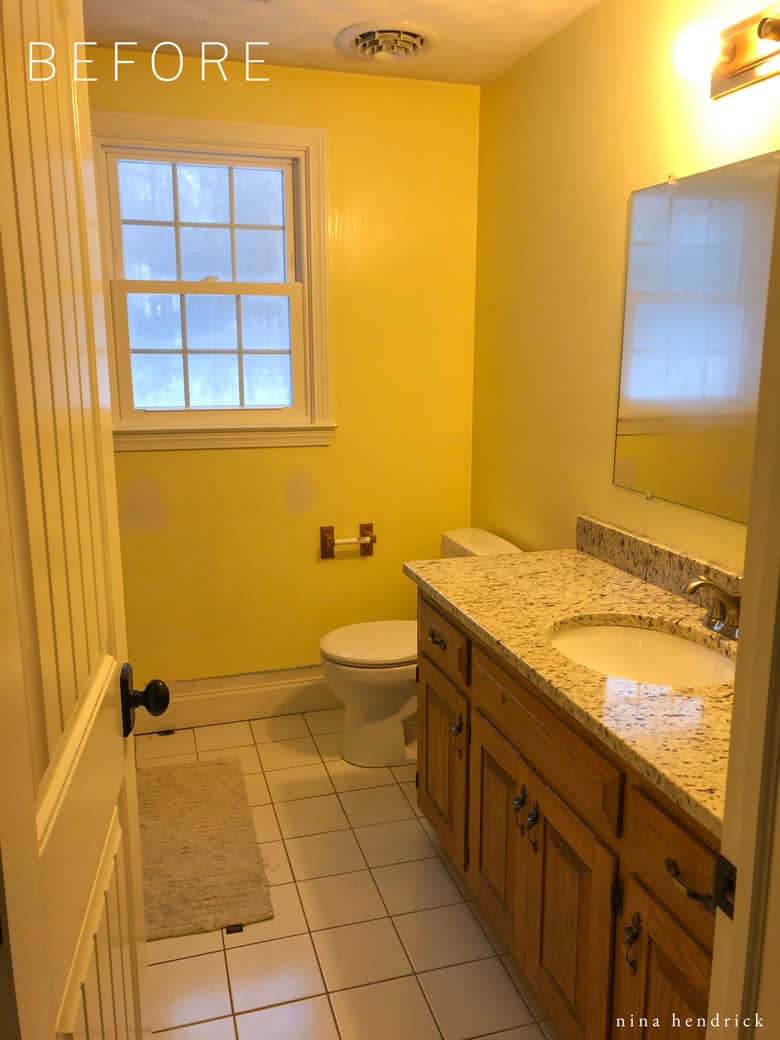 Originally, this bathroom was fairly builder basic and what I considered one of the "least needy" rooms in the house. It wasn't great, but it wasn't terrible, and overall it was functional. There were a few snafus over the years… namely the time Cooper put all of his bath toys in the potty and flushed. Since the tile was missing a lot of grout, water leaked through the floor, and we were left with some lovely water stains on our kitchen ceiling that resisted paint. In the past year, it took us a little while to notice that those water stains were mysteriously growing.
After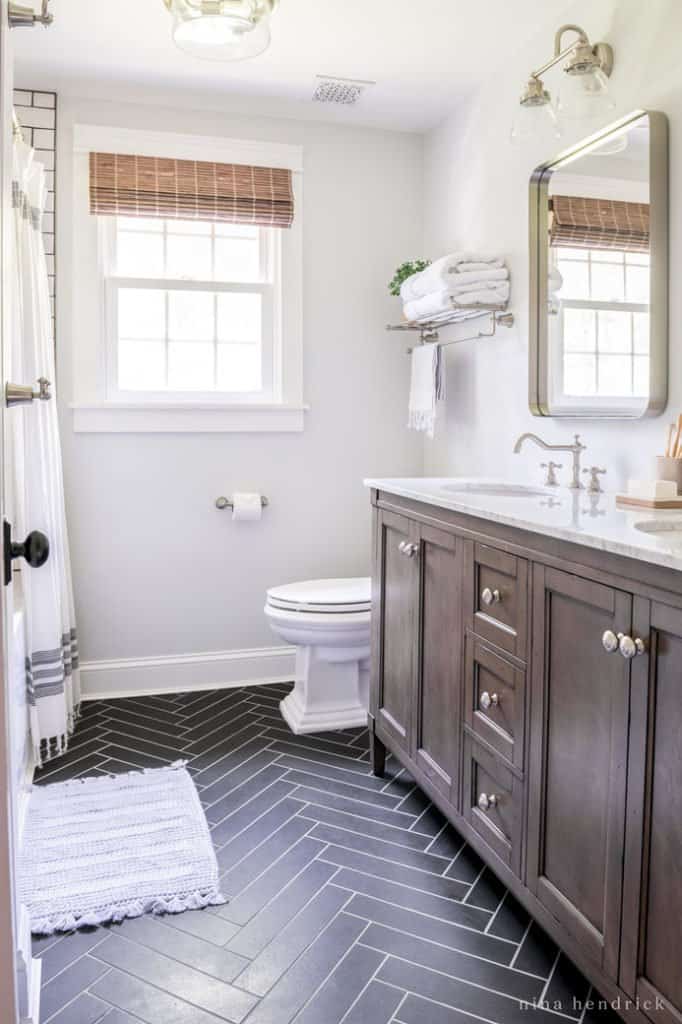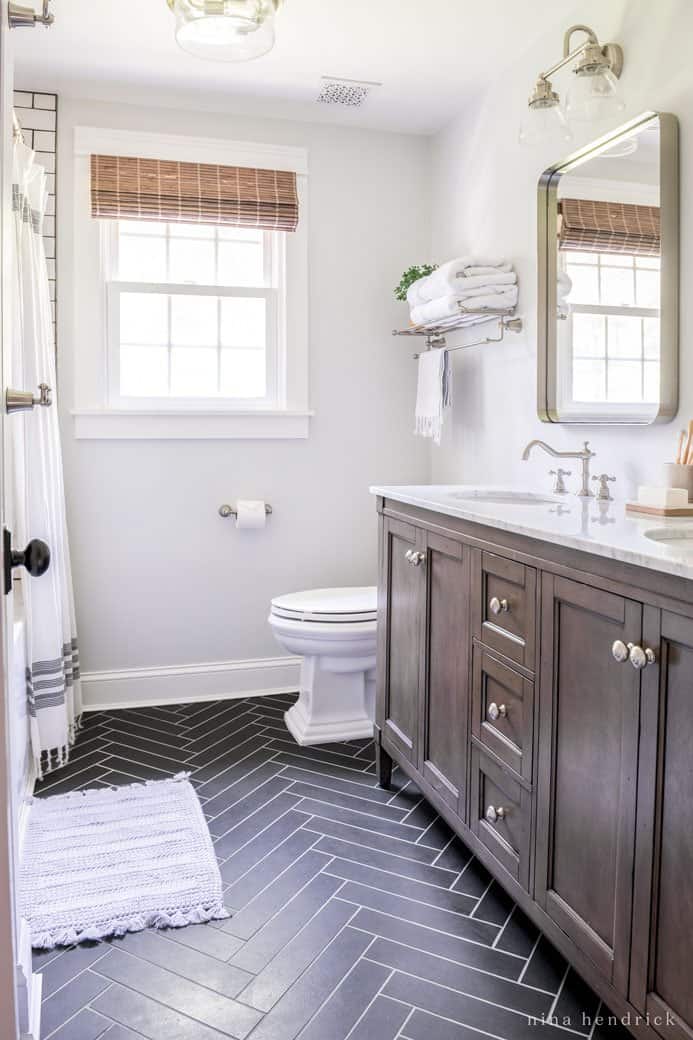 It turns out the thirty-year-old plumbing had some issues. I could make some corny jokes here about my upcoming thirtieth birthday in September and things falling apart, but I'll spare you.
We had planned on remodeling the kitchen this year, and we wanted to make sure that our new ceiling and cabinets would be safe from water leaks, so we knew we needed to tackle this project first both from a plumbing and aesthetic perspective.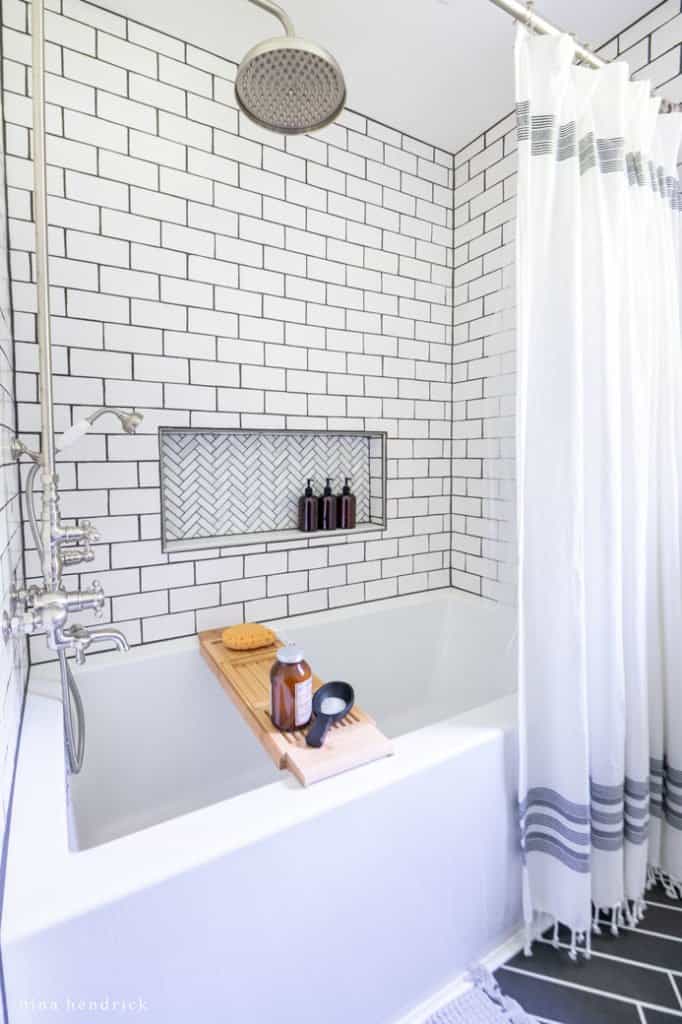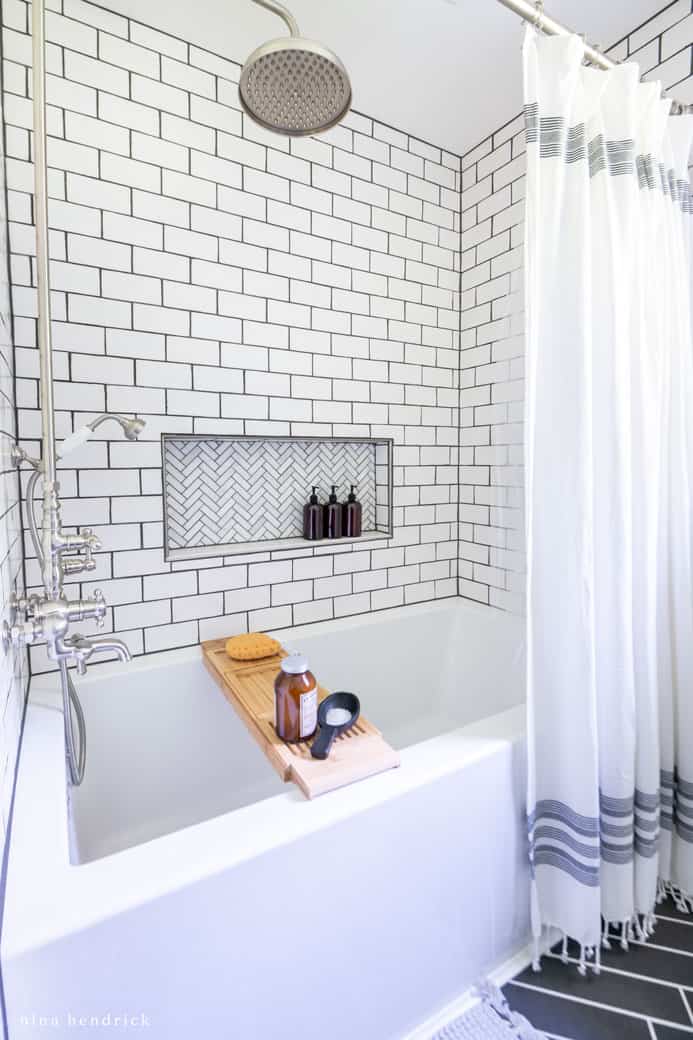 DIYing a Small Bathroom Makeover
I'm not going to lie, guys, this project almost broke us. That sounds super dramatic, but it's true. There were two main factors that stretched our DIY limits: handmade Spanish subway tiles and herringbone floors.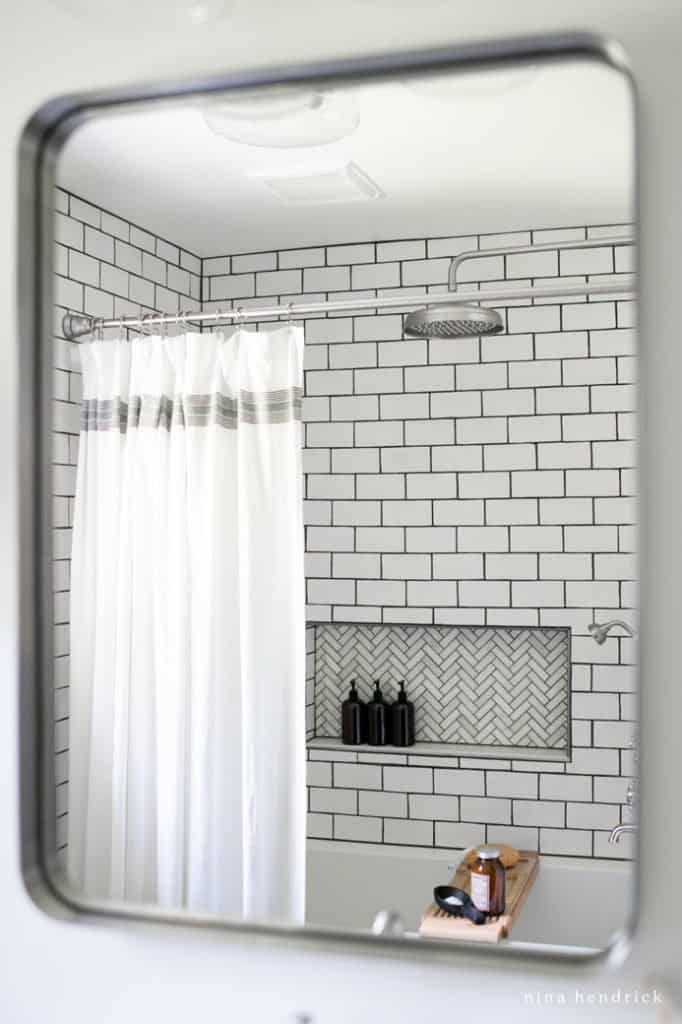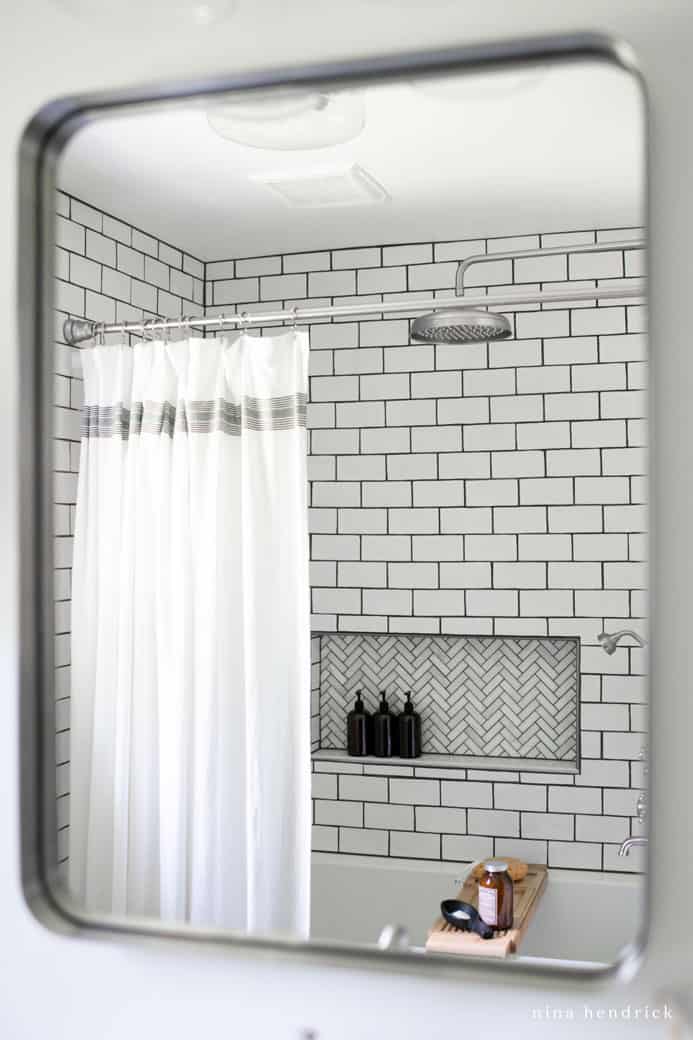 We decided to DIY this project for the usual reason: to save money. I already mentioned we were planning to redo the kitchen this year. We also found out partway through we'd need to replace all of our exterior siding this summer (another story for another day). With those big-ticket items on the horizon, we thought it would be smarter financially to tackle this particular project ourselves.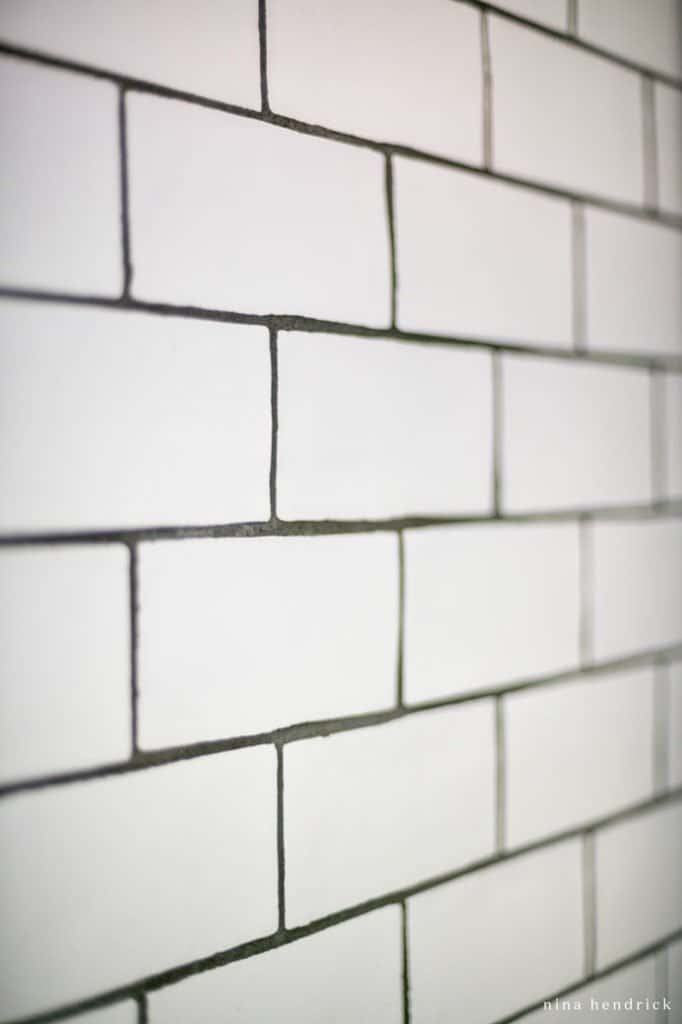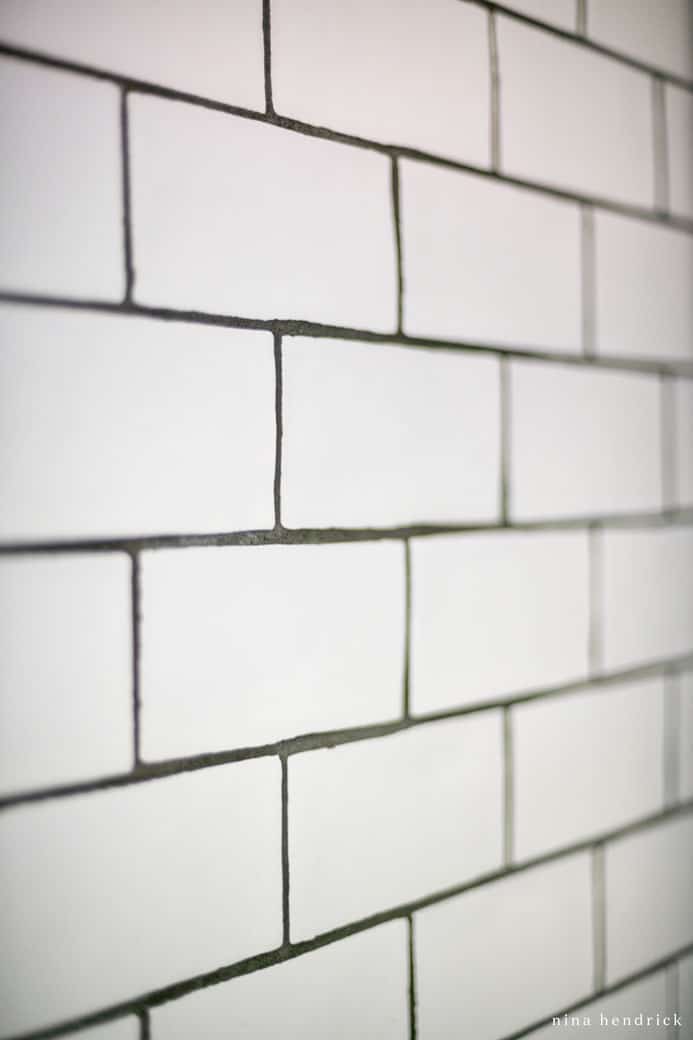 We have done tile in the past, but we have not done tile like this. The handmade subway tiles are beautiful, but there isn't really a straight edge to be found on them. We used a laser level to try to stay as level as possible, but progress was slow. It took us several days to tile the shower. I would highly recommend hiring out the project if you choose to use these tiles. Don't get me wrong, I'm so happy with how they came out, but I would not DIY them again.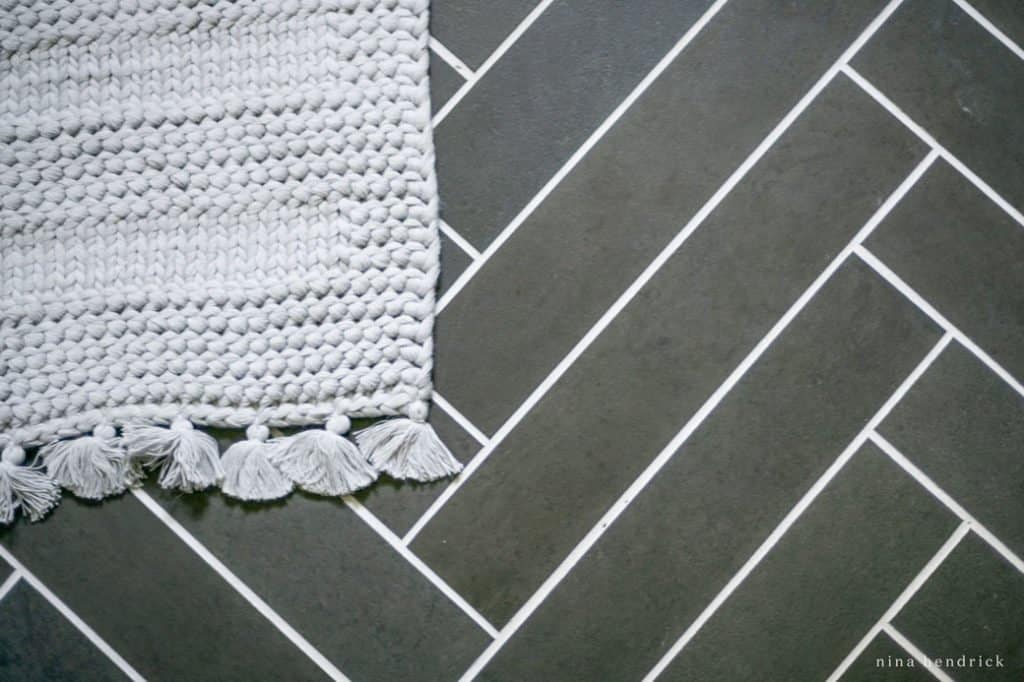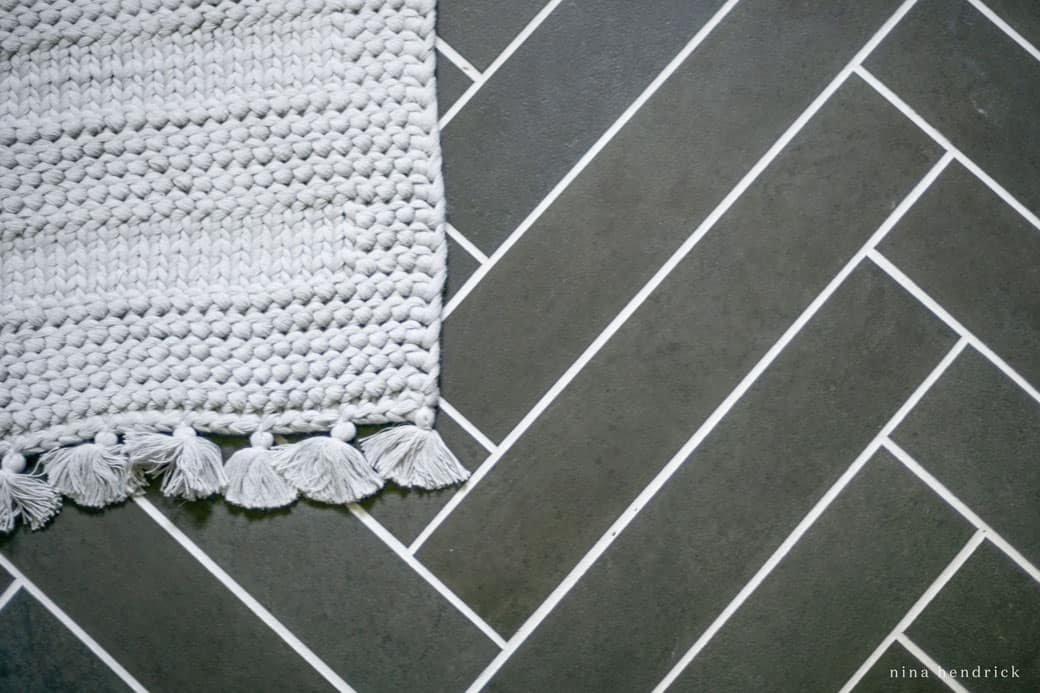 I would second this recommendation with the herringbone tile floor. It looks beautiful, but it was a struggle to get it done. We had to replace several tiles after the fact. If you aren't an advanced DIYer with plenty of tiling experience, I think a professional would be a better choice for this one!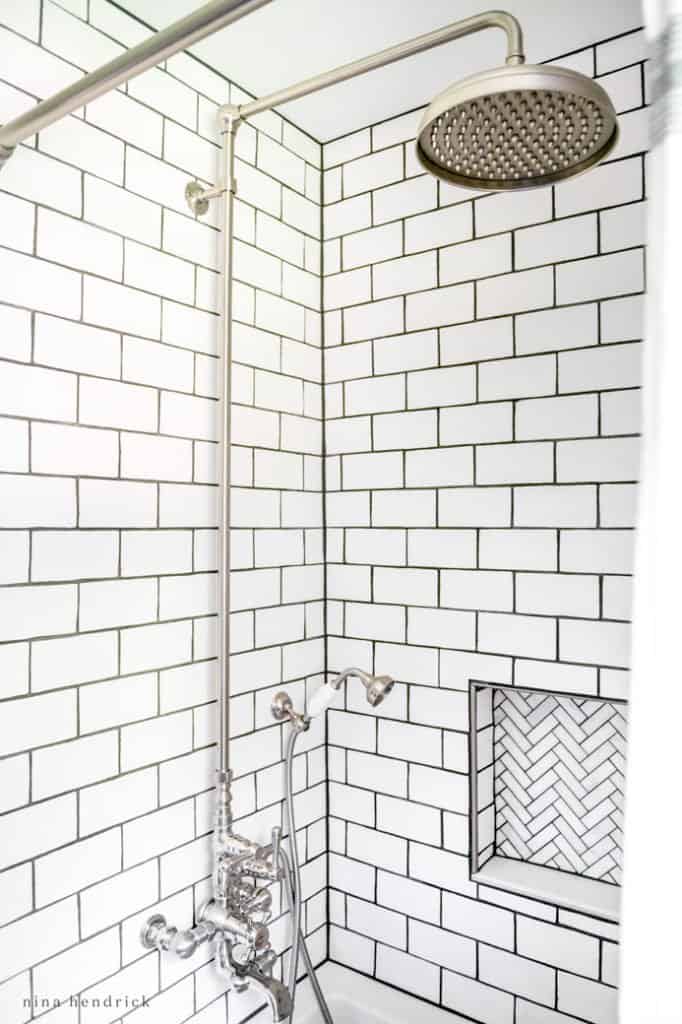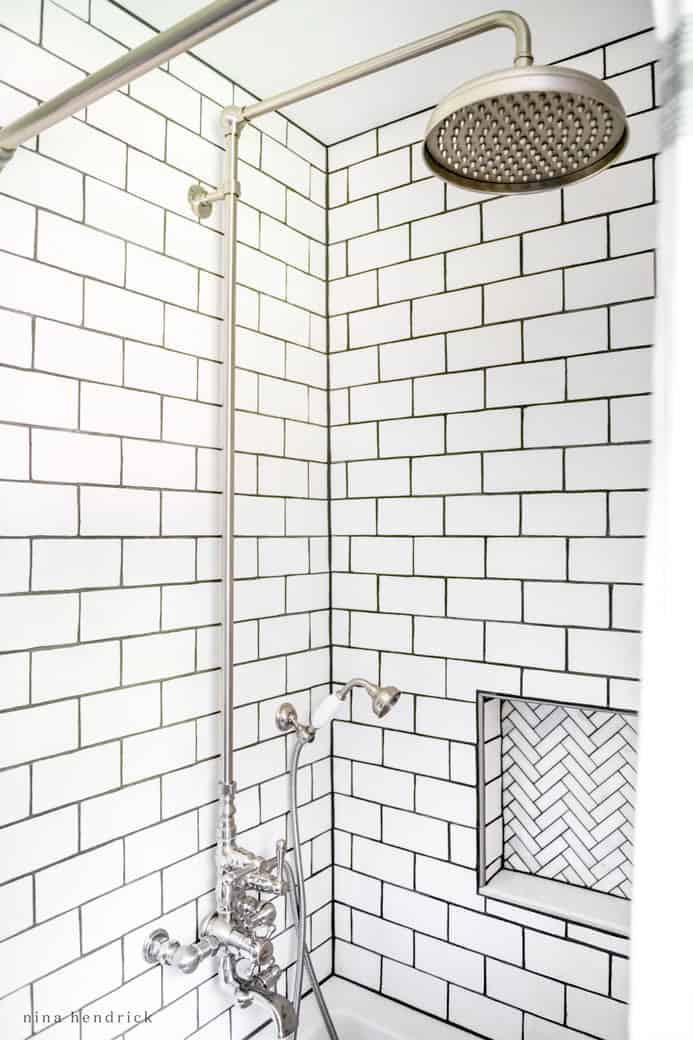 Classic Meets Modern Small Bathroom Makeover Design Plan
Now on to the fun details: how the design for this Classic Meets Modern Bathroom Makeover came together! I truly think this exposed pipe shower makes the room. It is so pretty and gives the shower an almost vintage touch.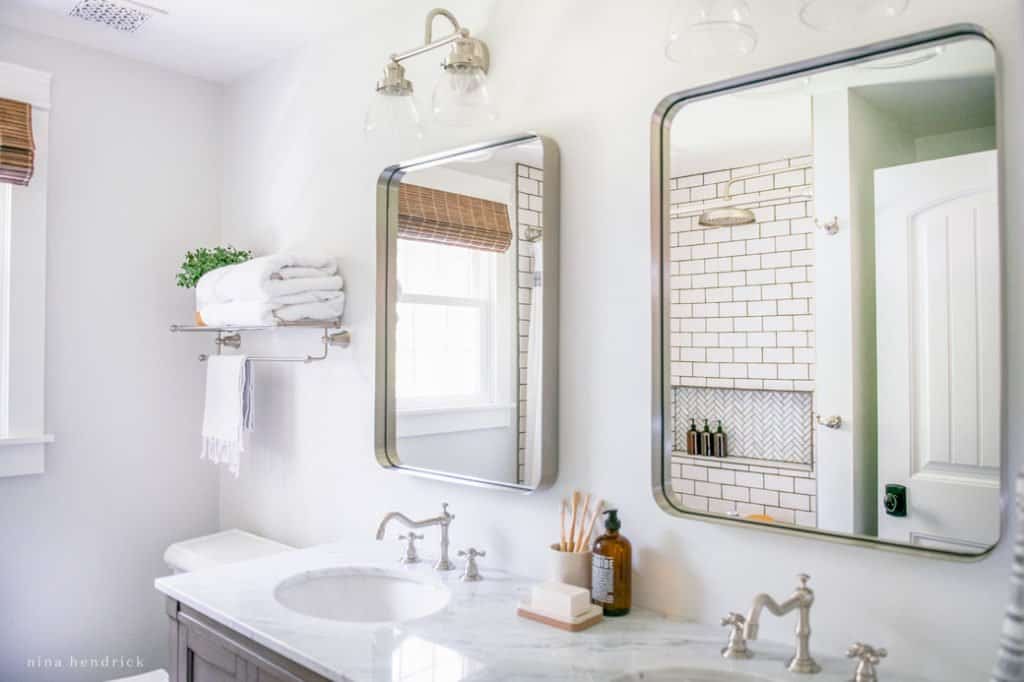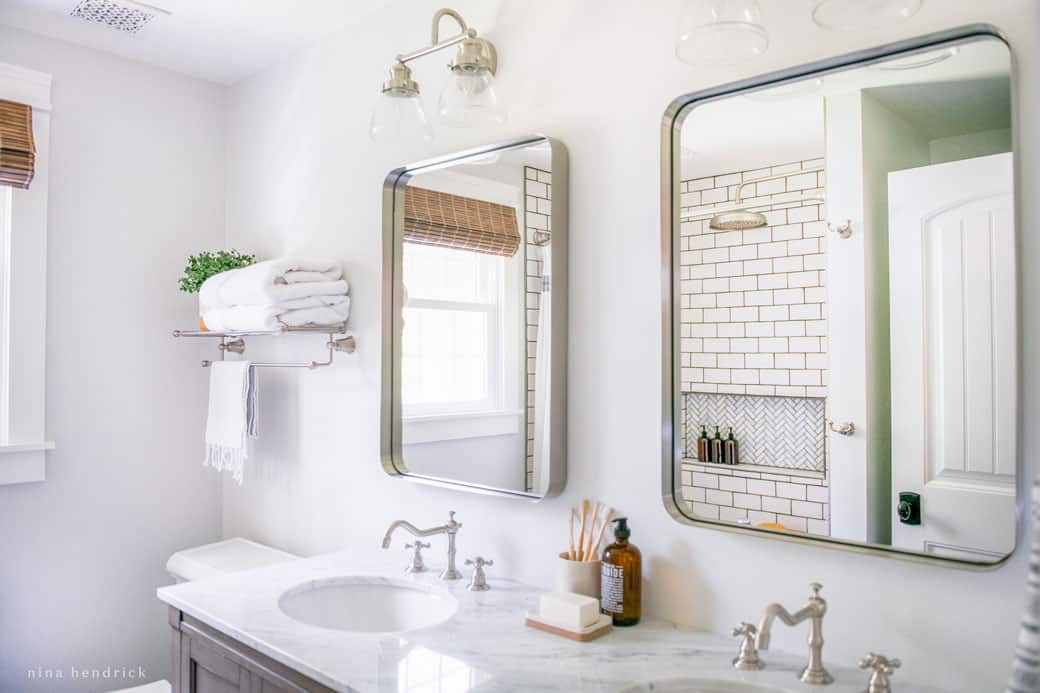 I decided to go with brushed nickel for all of the fixtures rather than going dark or mixing metals. I wanted this small bathroom makeover to feel very timeless. The mirrors are simple and a little more modern than my usual choices, but I think they work perfectly in this room.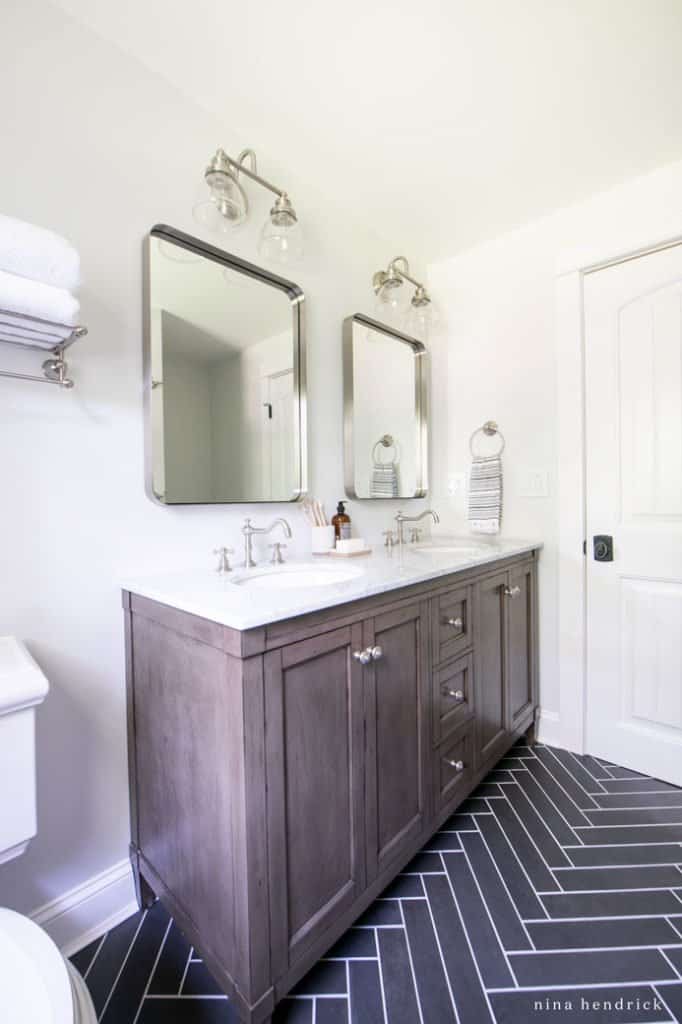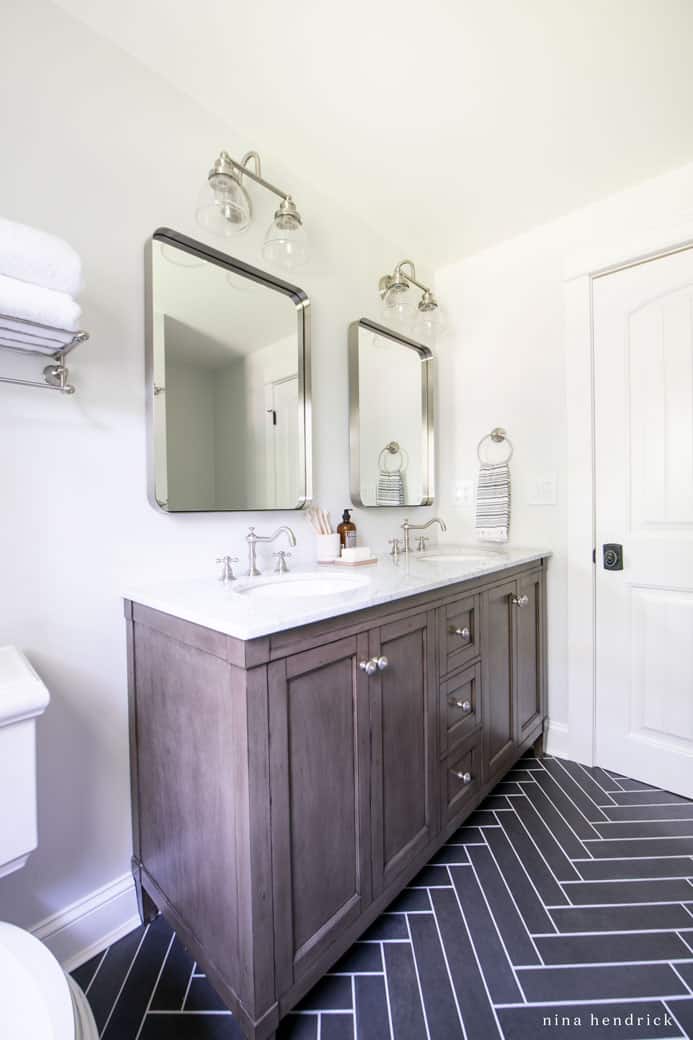 I think the goal I mentioned in the design post of adding slightly more masculine touches in this space for our two sons was accomplished. While I plan to do a lot of marble and white in our master bath, I was able to make some out-of-the-box choices for this small bathroom makeover. However, the other colors and finishes that are so prominent in our home are featured, which allows it to all tie together.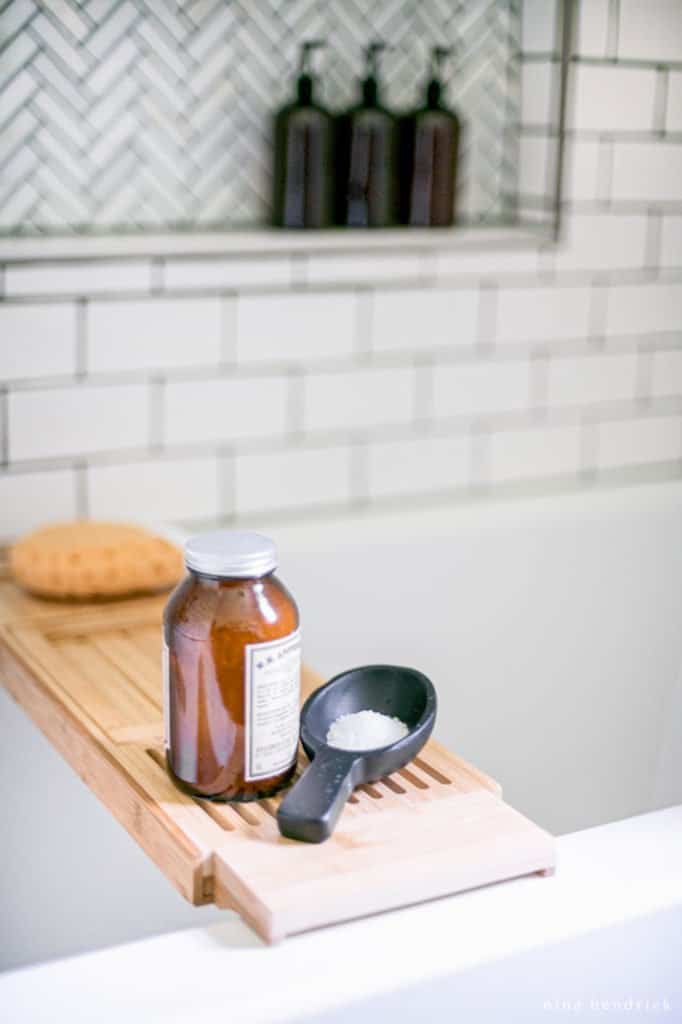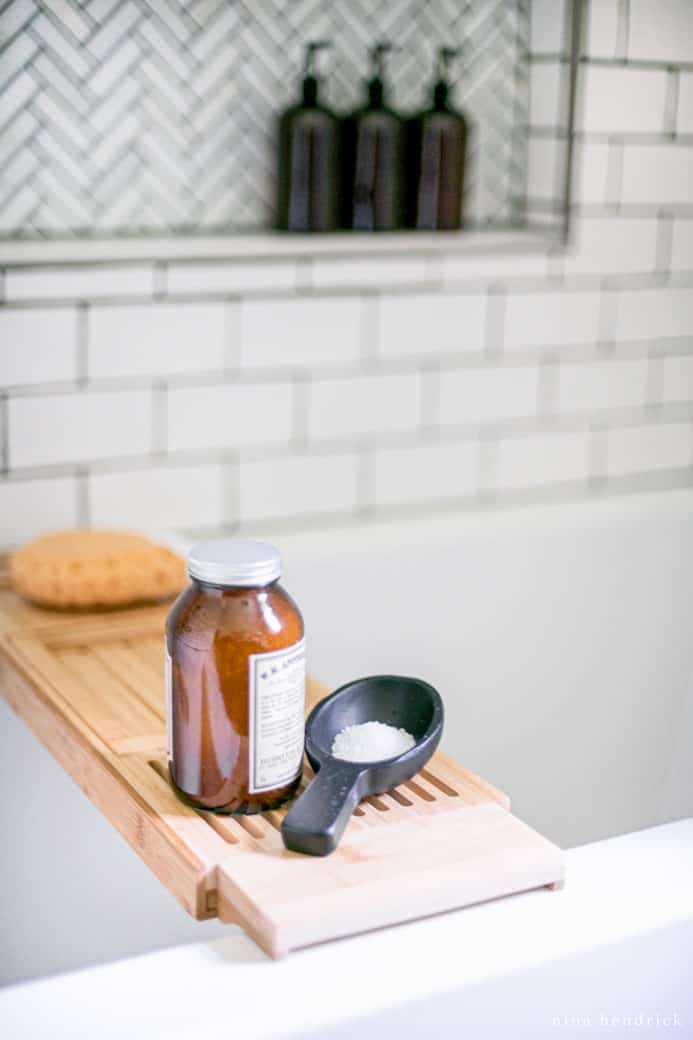 With accessories, there are still classic but casual touches to make guests feel welcome. As an aside, the "amber" bottles in the shower are plastic for safety. Don't they look great though?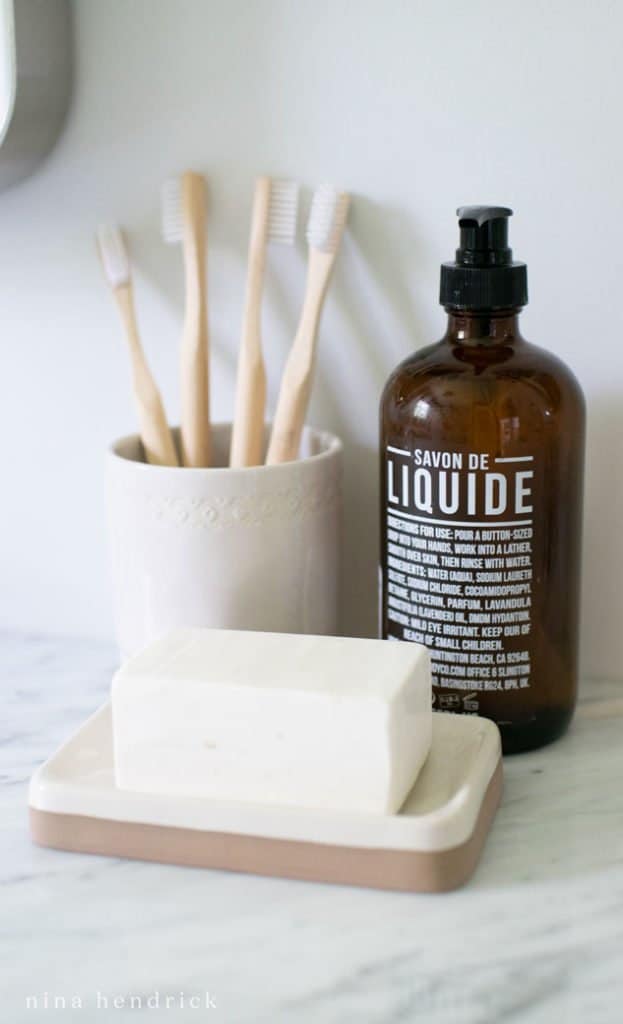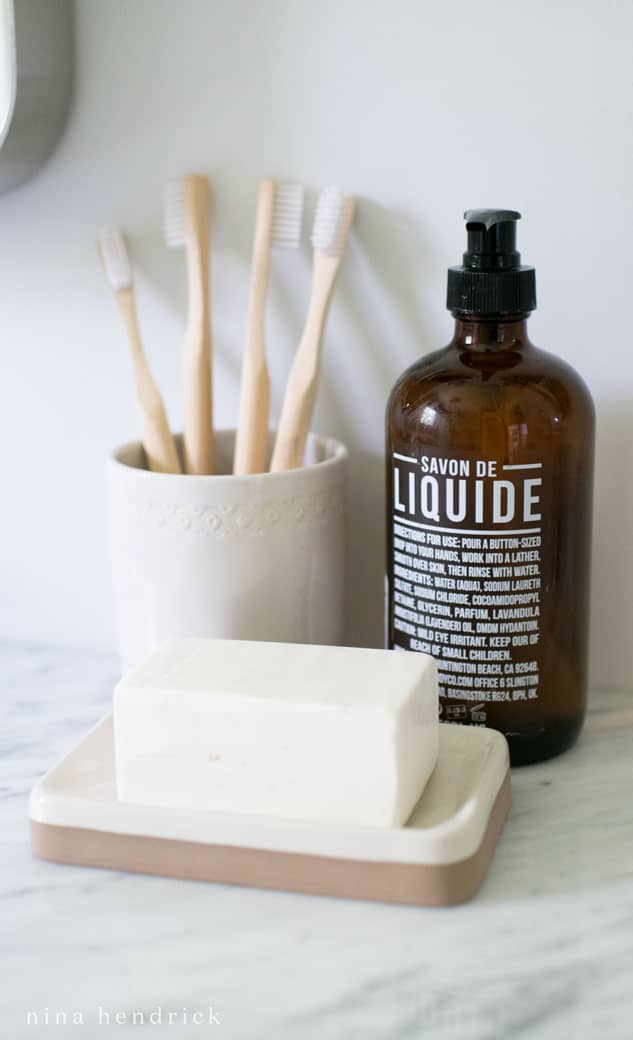 All in all, we are super happy with this space (particularly now that the DIY aspect is finished). We are quickly approaching the finish line in renovating our entire home. It's always so gratifying to look back on how far we've come!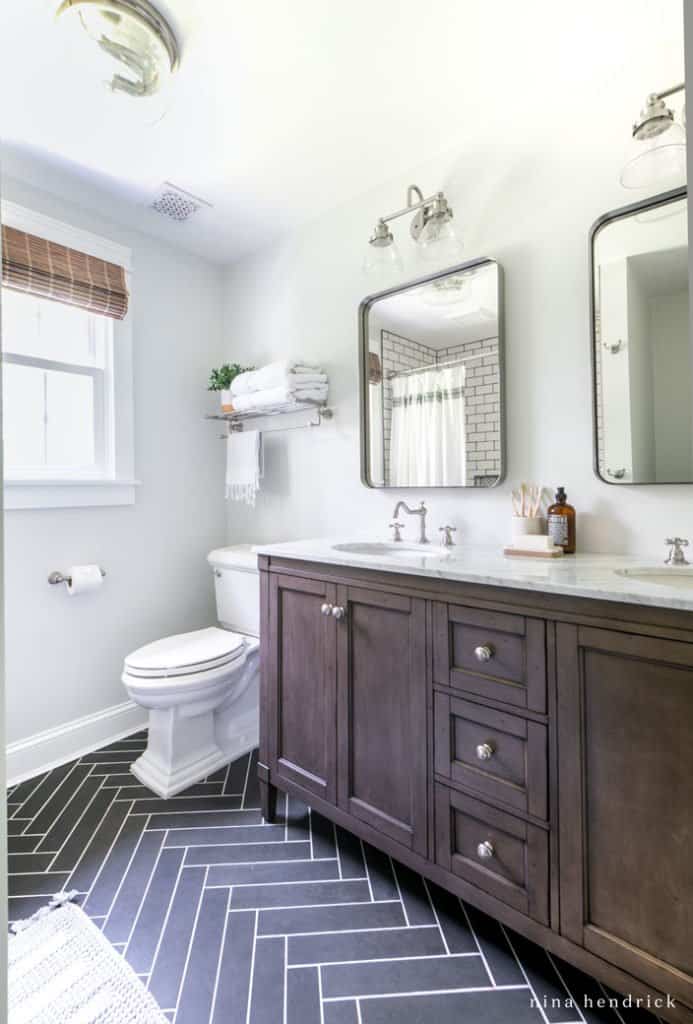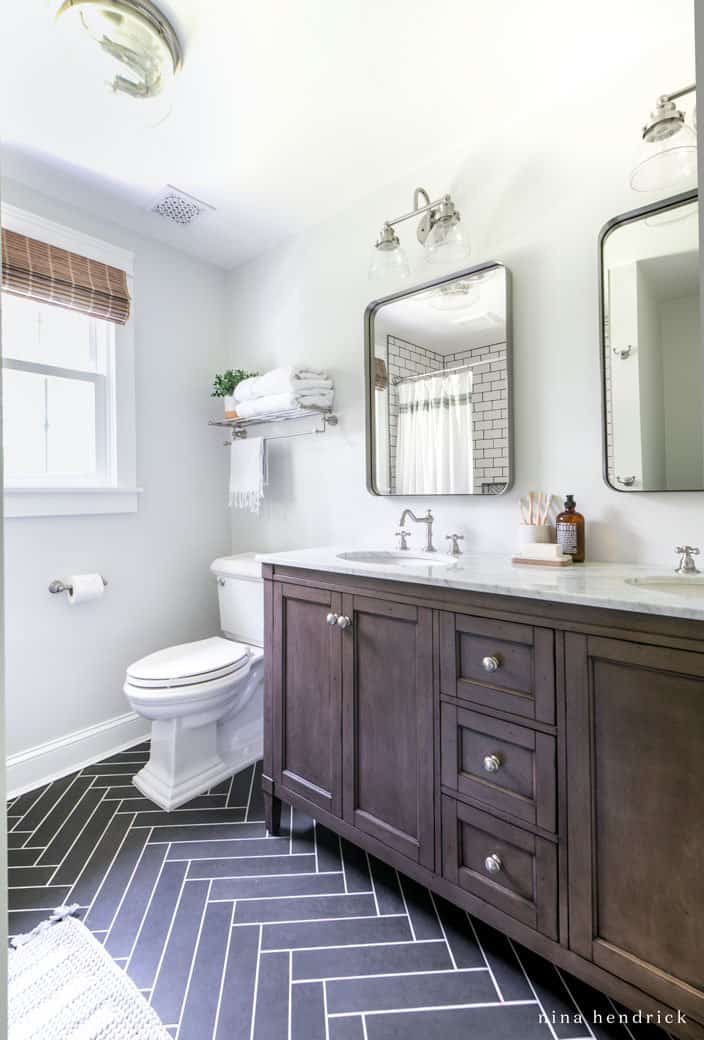 I'll be following up with the updated linen closet eventually. Since we've now moved on to working in the kitchen, there was an unfortunate duct situation that had to come straight up through. More on that another time!
Classic Meets Modern Small Bathroom Makeover Source List
Paint Color: Benjamin Moore Paper White OC-55
Ceiling, Trim, & Door: Benjamin Moore Simply White
Vanity: Home Decorators Collection
Vanity Hardware
Soaking Tub: Kohler
Driftwood Bamboo Shade
Handmade Subway Tile
Herringbone Marble Tiles (Niche)
Niche Marble Shelf
Grout Color: Mapei Charcoal
Towel Ring
Vanity Lights
Overhead Light
Commode: Kohler
Paper Holder
Floor Tile
Grout Color: Mapei Warm Gray
Mirrors
Faucet: Similar
Exposed Pipe Rain Shower
Bath Mat: Serena & Lily
Shower Curtain
Towel Shelf
Amber Plastic Bottles
Shower Curtain Rod
Guest Toothbrushes
Similar Tub Tray
Scoops
Soap Dish
Toothbrush Tumbler
Other Small Accessories & Towels: Homegoods

Pin It for Later