See the inspiration behind a Classic meets Modern Bathroom Design. This space features herringbone floor tiles, artisan subway tile walls, clean modern lines, and vintage fixtures.
Our latest project is a room that was one of the "least needy" in a house full of very needy rooms (and children). As a result, we changed very little from the time that we moved in. That's not to say that it was pretty or ideal, but it was functional. This project is our Kids/Guest Bathroom. Update: you can see the final room makeover here!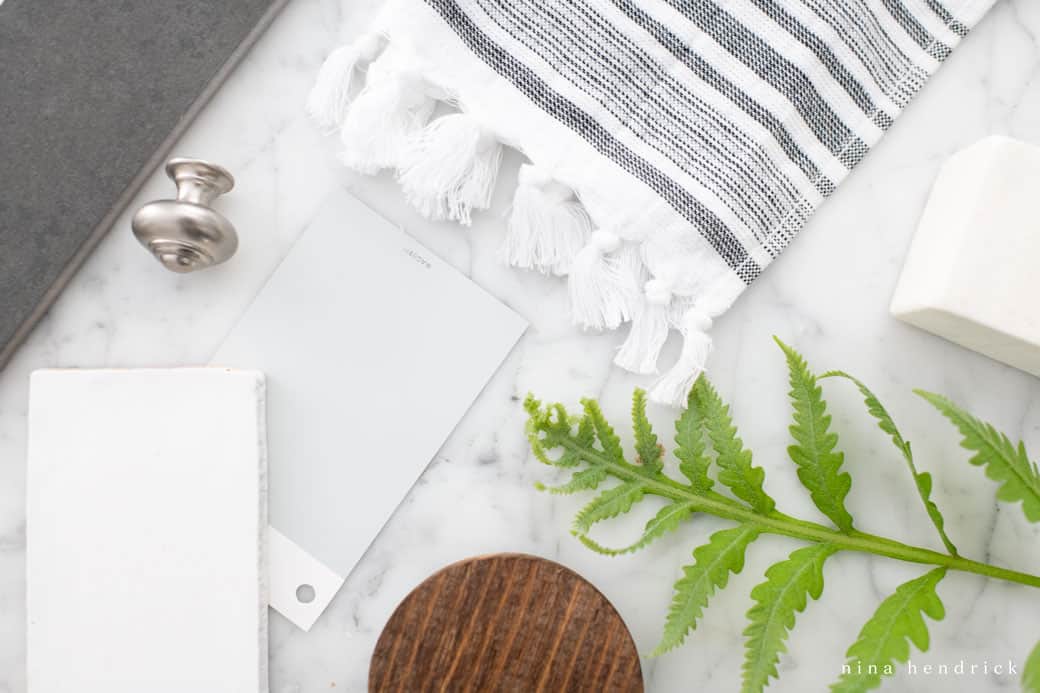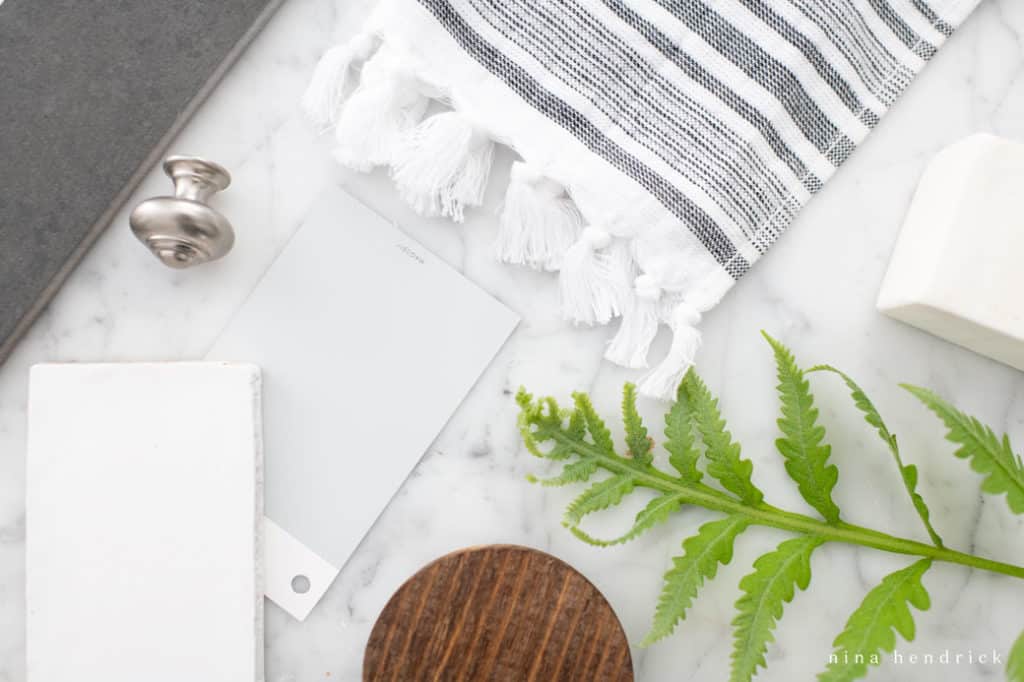 Classic Meets Modern Bathroom Design Plan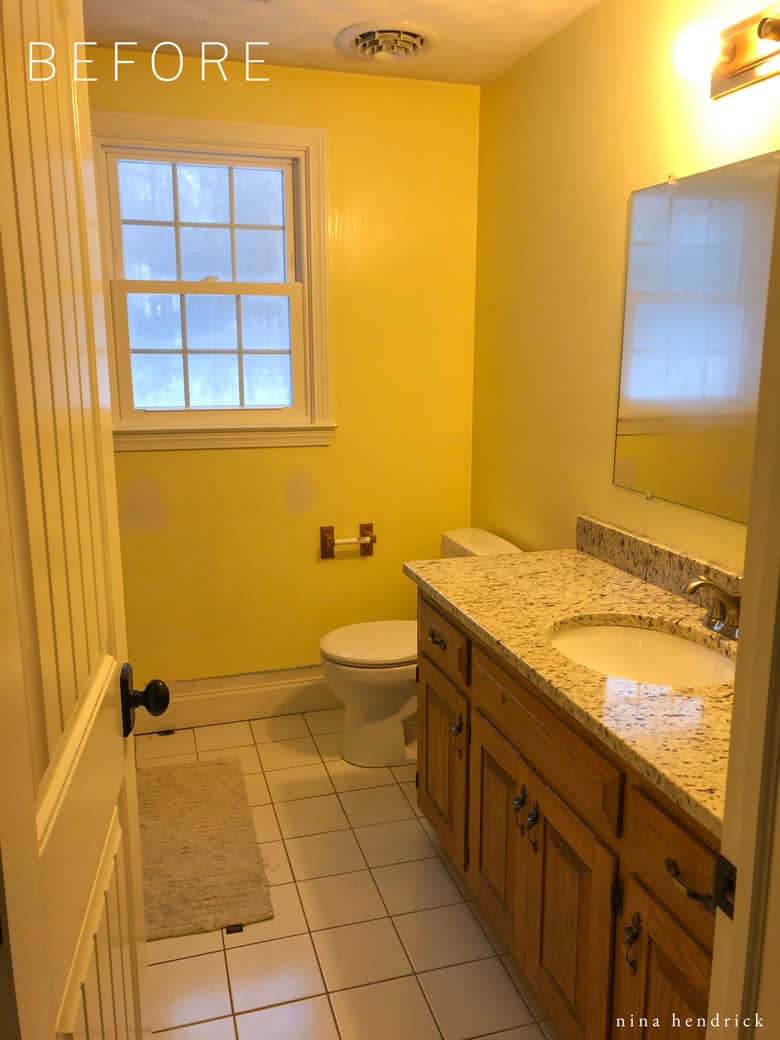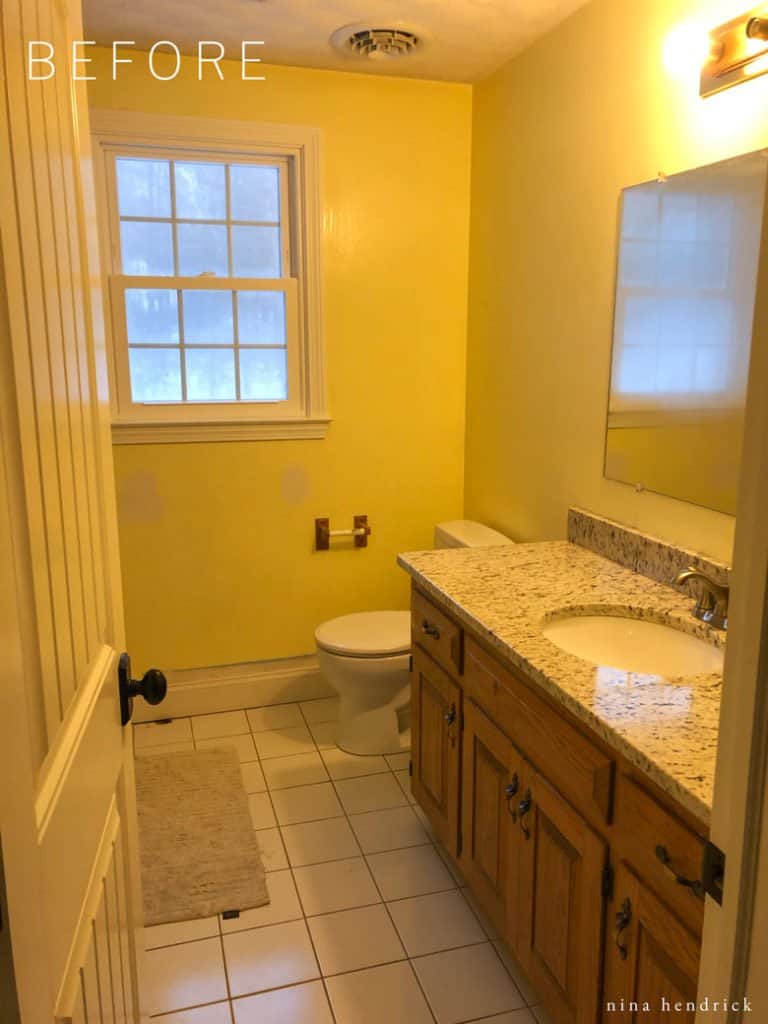 The Kids'/Guest Bathroom Before
Like the rest of our 1980s colonial when we moved in, this bathroom was builder-basic and painted yellow. It featured cracked white floor tiles and only one sink (for our three children) in a long vanity. The white shower tub was plain but functional. Behind the door was an awkward closet with a door that always got smashed by the main bathroom door.
The room had one of those frameless mirrors that are so popular in the 80s and 90s houses and a "glam" (ha) exposed bulb vanity light fixture (with missing bulbs).
I will acknowledge that I didn't expend much energy or money in improving this room, even though I could have given it a coat of paint or painted the vanity. We always planned on "getting to it". However, I felt like I blinked and almost seven years had already passed.
This past winter we decided the time had come to finally tackle the space, and we began picking away at the project. We steal a weekend day here and there to work on our projects. I suspect that's the reality for many of you as well! For example, we began this project in January and finished it in April. I've been writing the posts as we go, but now I'm telling the story all at once. For real-time project sneak peeks, you can always check out my Instagram stories!
Classic Meets Modern Bathroom Design Plan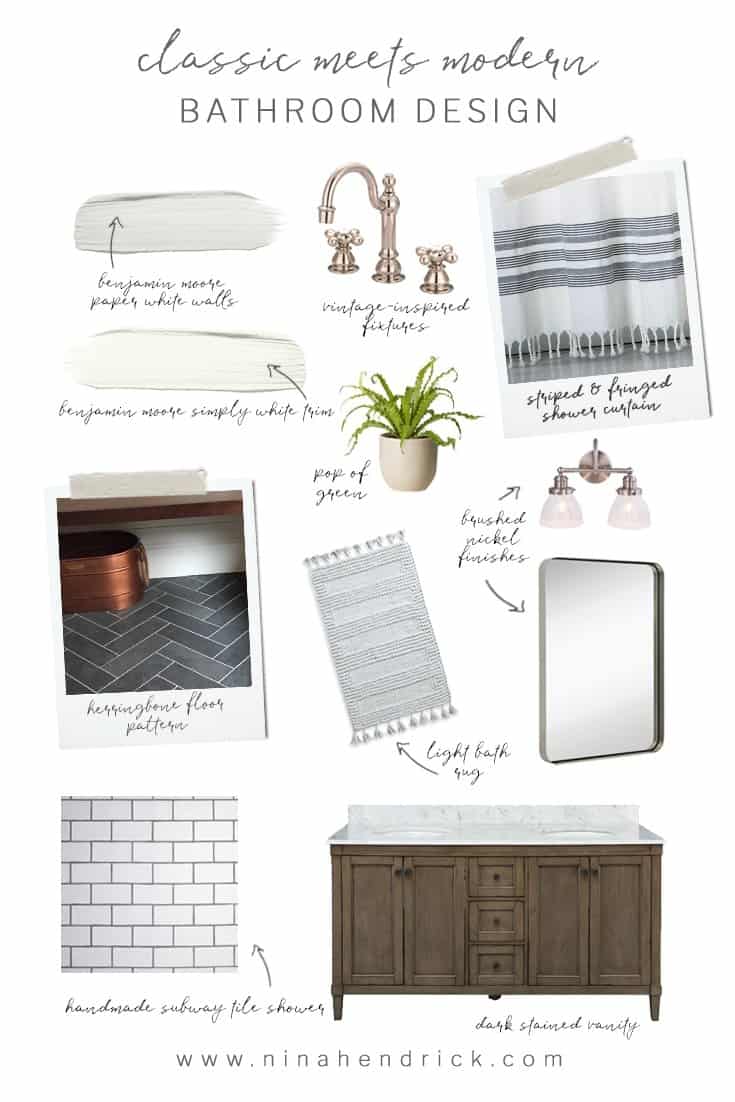 The goal of this project was not just adding style to this dated bathroom, but also designing a space that would be versatile enough for our three kids and occasional guests.
The resulting plan has touches of elegance and whimsy in equal measure. There are plenty of clean, modern lines to balance out the vintage-inspired fixtures.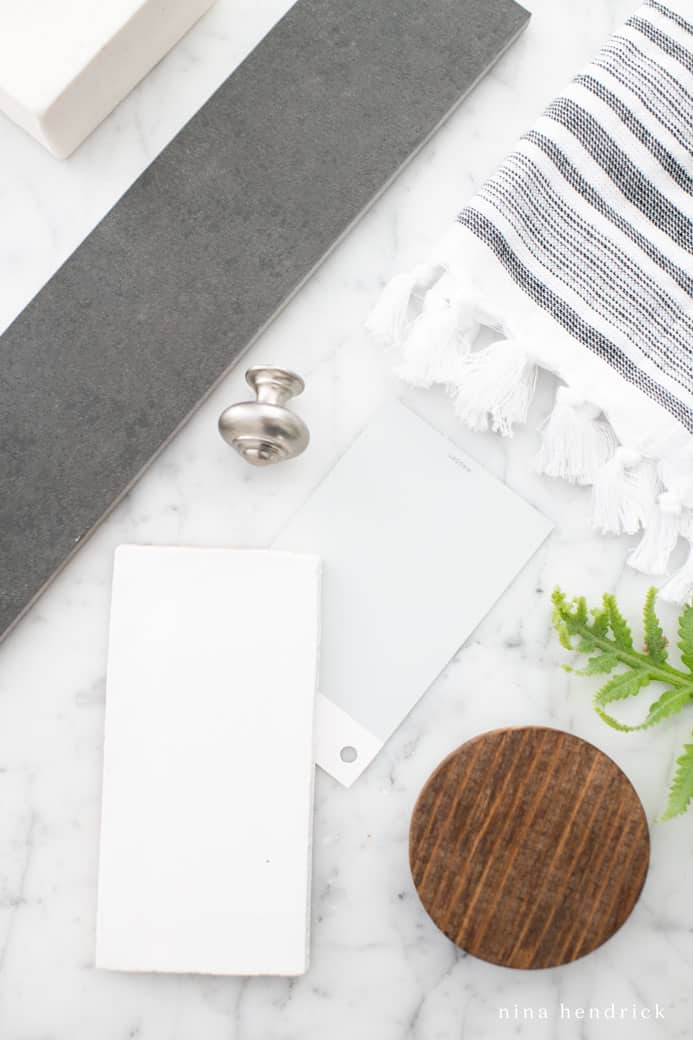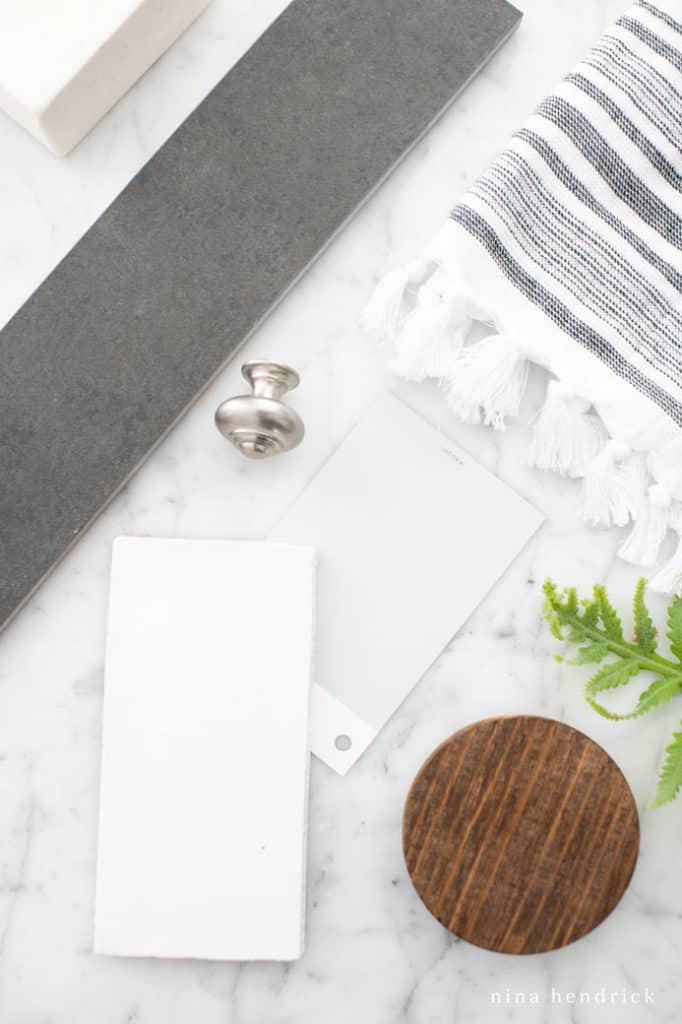 Durable Finishes
With the dual-purpose of kids and guests in mind, I wanted to choose finishes that felt luxurious but were also durable. I also wanted to stay within the realm of our whole house color scheme so that the bathroom would tie in with the rest of our home.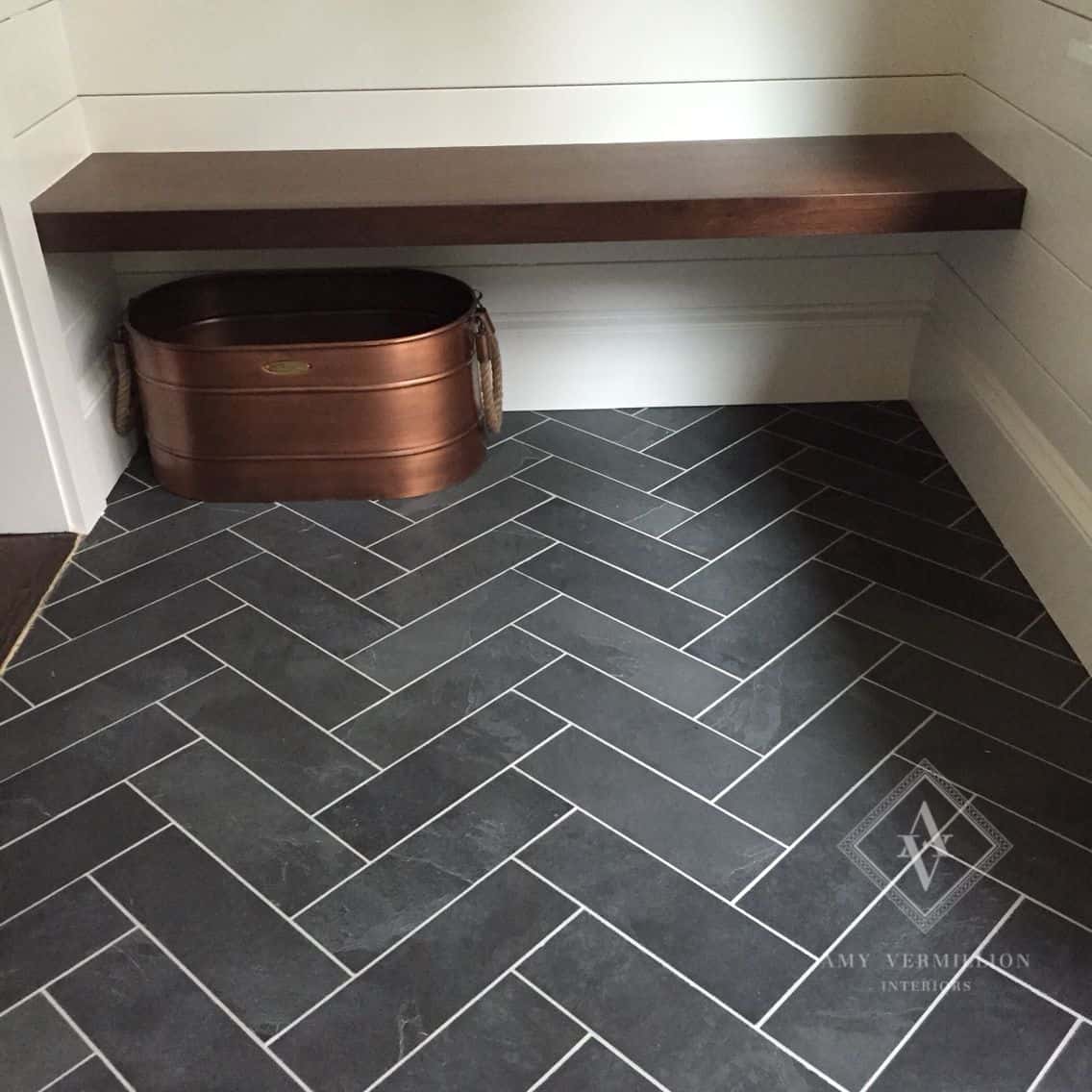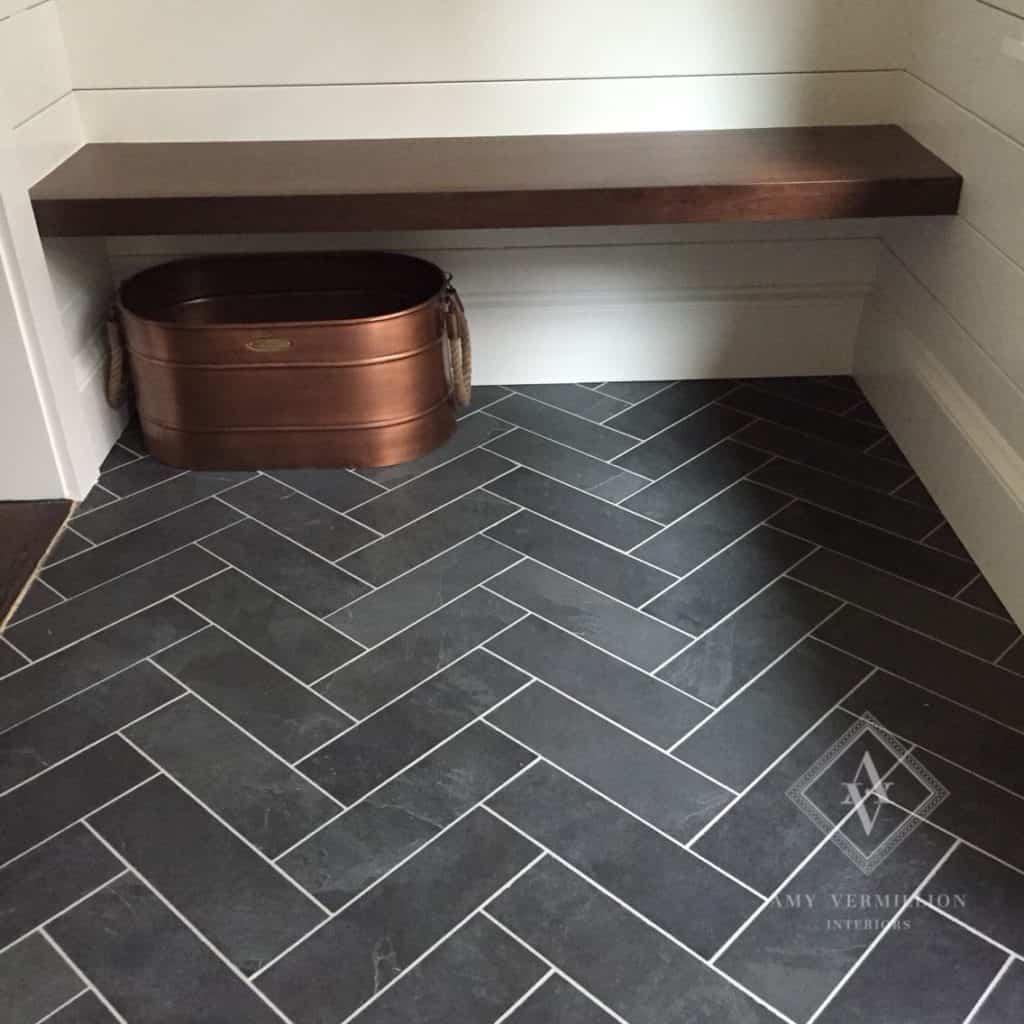 I fell in love with this slate herringbone floor by Amy Vermillion. To get a similar look, I sourced a slate-look 3 x 15″ charcoal porcelain tile. Although I know slate can be sealed, I thought porcelain may be a better choice for a kid-friendly bathroom.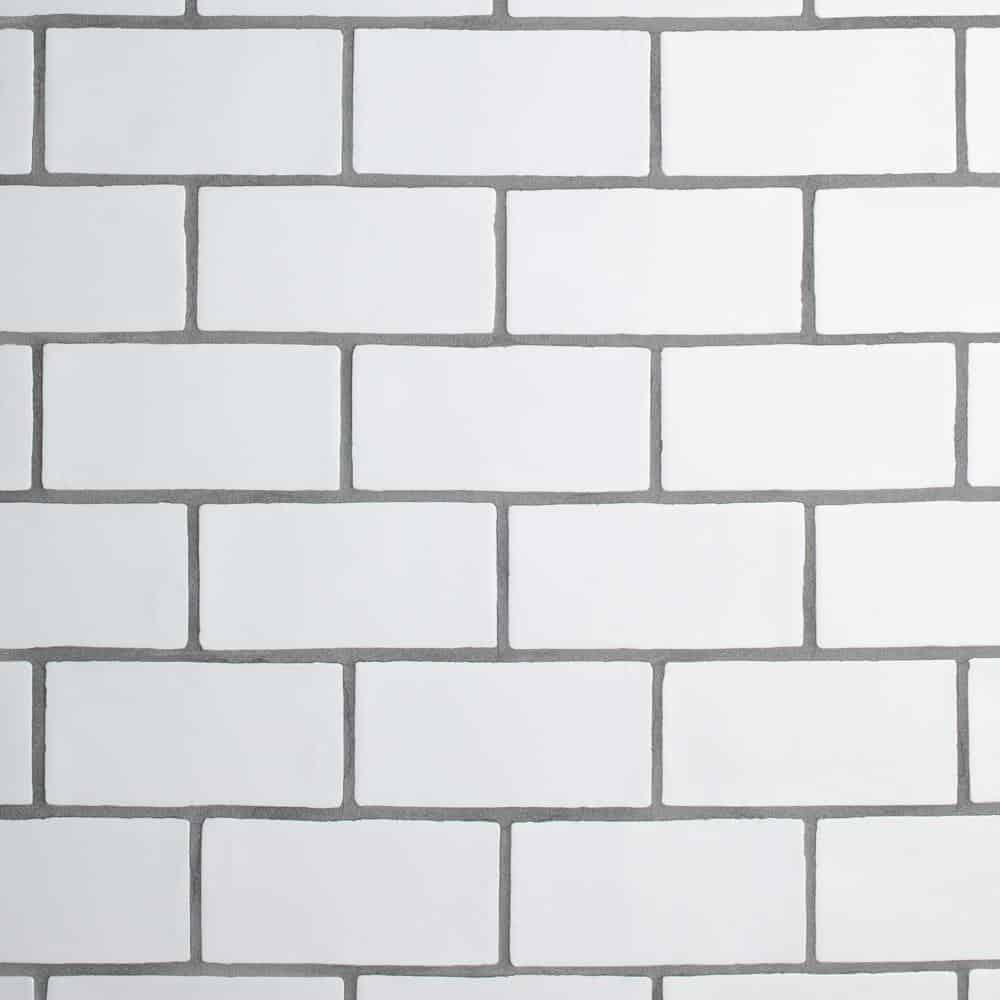 I also found this handmade-look matte subway tile for the shower. I thought the uneven edges were a bit different (although those edges did make it extremely difficult to install. More on that in another post!). We wanted something a little more interesting than plain subway tile, but still simple and easy to clean.
Modern(ish) Touches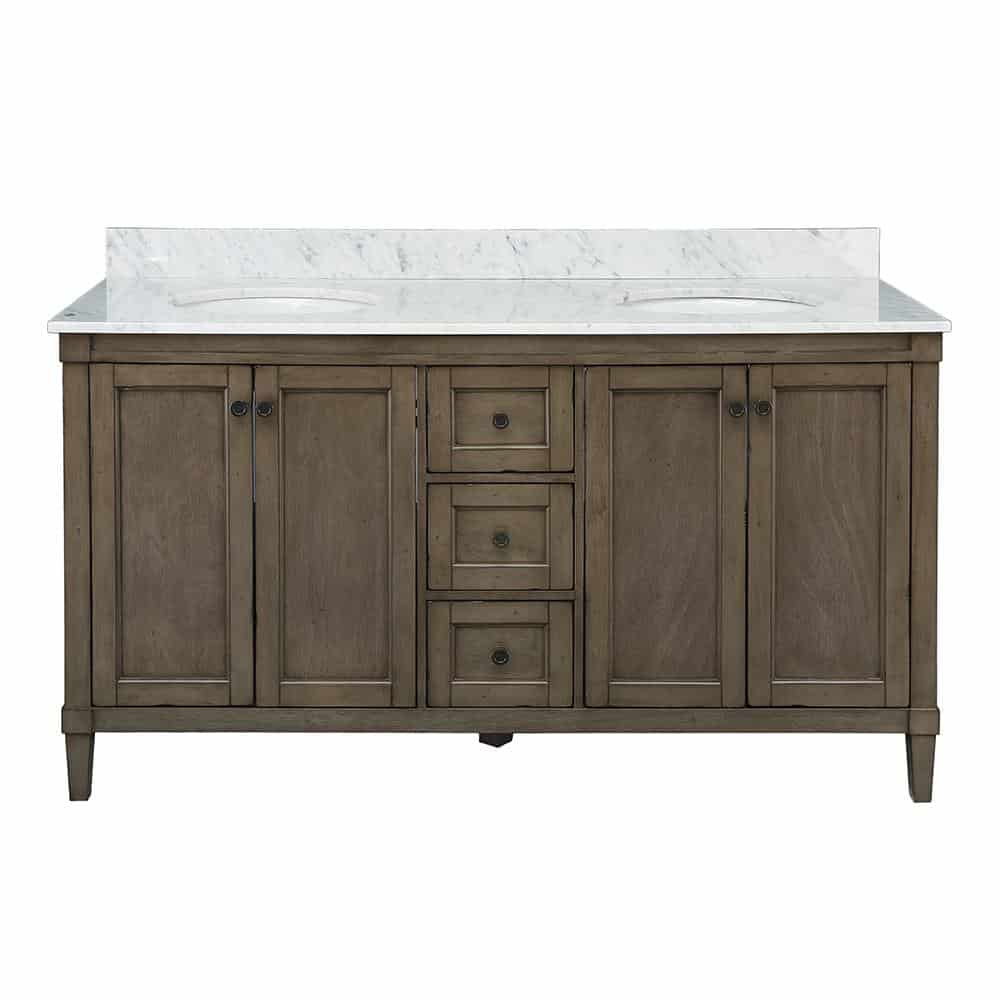 Adding a second sink was a no-brainer for us. There's still plenty of counter space on this vanity, but now we can expedite the bedtime tooth brushing routine a bit! I chose a darker wood color to tie in with our downstairs floors. It also gives the room a slight masculine accent for our two boys. The vanity has cleaner lines than choices I've made in the past, but I think it really works with the rest of this room and our overall home.
I also went in a more modern direction with the mirrors. Since the faucets and lights are a bit more vintage-inspired, I thought it would be best to break it up with a simple and clean mirror.
Textural Accents
For accents, I chose items that would add texture and a bit of interest. Accents are the primary way I brought a feeling of luxury into the space for guests.
Shop the Classic meets Modern Bathroom Design Plan

I'm really excited to share how this room came together! It's one of my favorites so far. Stay tuned!
Pin It for Later