Are you having a hard time figuring out the perfect rug sizes for your space? Check out this easy area rug size guide!
A rug is the quintessential comfort piece that makes your decor feel soft and cozy. Rugs are not only pretty to look at, but they also serve the function of absorbing noise, protecting hard flooring, and creating traction for foot traffic.
Big furniture pieces like couches and beds have largely trended away from busy prints, so typically we're seeing solid colors in these pieces. The area rug, which is often the largest decor item in the room, can add large-scale patterning to a mostly solid colored space. A beautiful hand-woven rug can tie together all the different colors of your room's design, or sometimes it's your starting point – the inspiration upon which you base the whole decor color scheme. It's so fun to pull out colors from your rug and incorporate them into the room!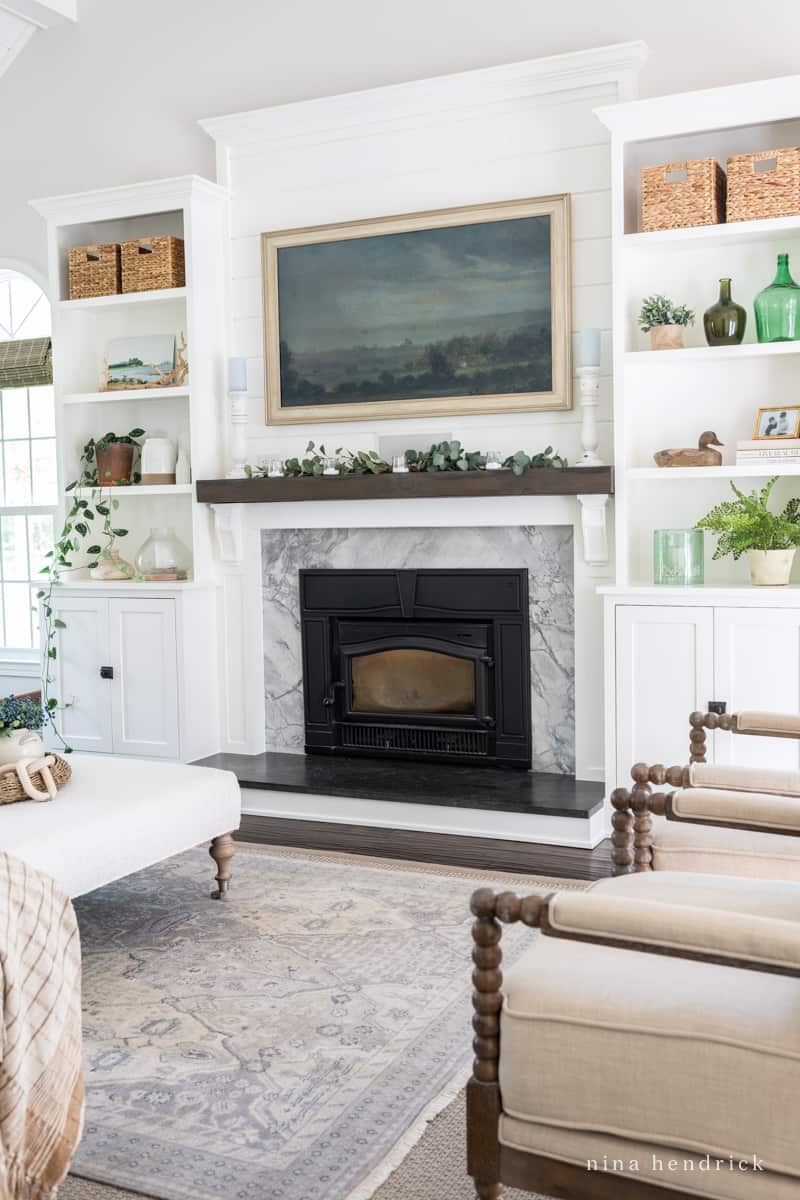 Sources: Custom Sisal Rug | Hand Knotted Smaller Rug
A stunning rug can add a burst of energy or calming comfort to the room. An exotic patterned rug feels adventurous, as if it's transporting you to a far-away land! A cushy shag rug is like landing on a silky sweater with every step you take. Big or small, distressed or fluffy, Bohemian or traditional, there's a flavor of rug for every person's taste.
But because there are so many options out there, it's easy to get overwhelmed. As fun as it is to browse through the rug section, sometimes you feel stuck not knowing where to start. I wanted to create something to give you tools for the first and most important step:
Figuring out what size rug you need!
In this area rug size guide, you'll learn when a 9×12', 8×10', or a 6×9' rug, would best suit your space. I'll teach you the proper way to layer rugs, which height of pile is the best for your room, and even how to style some less common rug shapes and sizes.
So grab your favorite iced coffee, and find somewhere soft to curl up. The tips from this area rug size guide are about to open your eyes to… a whole new world! ✨(⬅️ Let me know in the comments if you get that reference. 😉)
This post contains affiliate links, which means I may get a small commission (at no extra cost to you) if you shop my link. Please see my disclosure if you'd like more info!
Rug Size Overview – How Do You Size a Rug to a Room?
How big is too big? How small is too small? When it comes to knowing what size area rug to buy, sometimes it's not just instinctual. But I've learned some tried-and-true tips over the years that really take the guesswork out of selecting the correct size. It's important to get it right the first time if you can, because it's not the easiest thing to ship an area rug back to its sender! To find what best suits your room, you'll need your tape measurer handy.
You don't want a rug that's too big.
When it comes to rugs, too big of a size will look awkward and untidy. If a rug is so big that it's touching wall to wall in the room, it doesn't flatter your space! Think of when you put on an item of clothing that is bagging off of you because it's 2-3 sizes too big, (and not in a trendy way! 😉). It makes you feel sloppy. It's the same concept with rugs. Generally if your space is in between sizes, it's best to size up, but you'll want to stay cognizant of not going too big. Too big of a rug will swallow the room, and actually make it look smaller.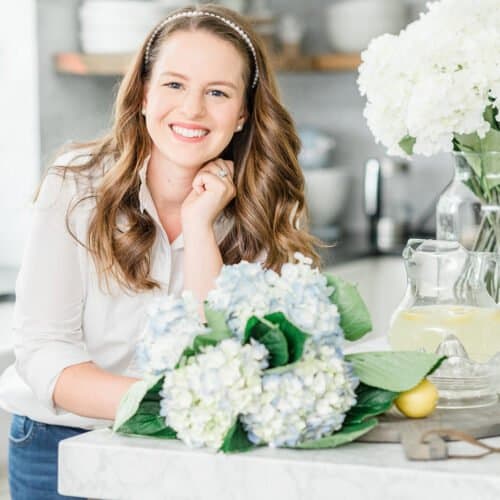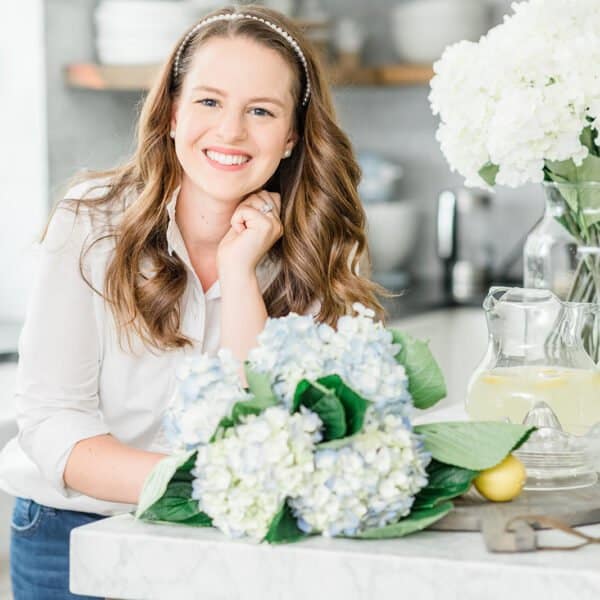 Tip from Nina: For a sharp designer look, I recommend making sure there's approximately 8-12" of a bare floor perimeter surrounding the outer edges of your rug. Following this guideline will ensure that you don't end up with a rug that's too big for your space.
You don't want a rug that's too small, either.
On the other hand, a rug that's too small will make the space look disconnected and imbalanced. The right size rug has an anchoring effect on the room and its furniture, and not having that sense of groundedness will definitely throw off the feng shui. The last thing you want is a small rectangular rug with nothing on it, creating its own little island in the middle of the room.
Your rug should create an energy of connectivity in the room, by having the legs of key furniture pieces holding it down. This will facilitate cozy vibes and fun conversation!
To keep the space feeling grounded, have at least one set of legs from each main furniture piece on your rug.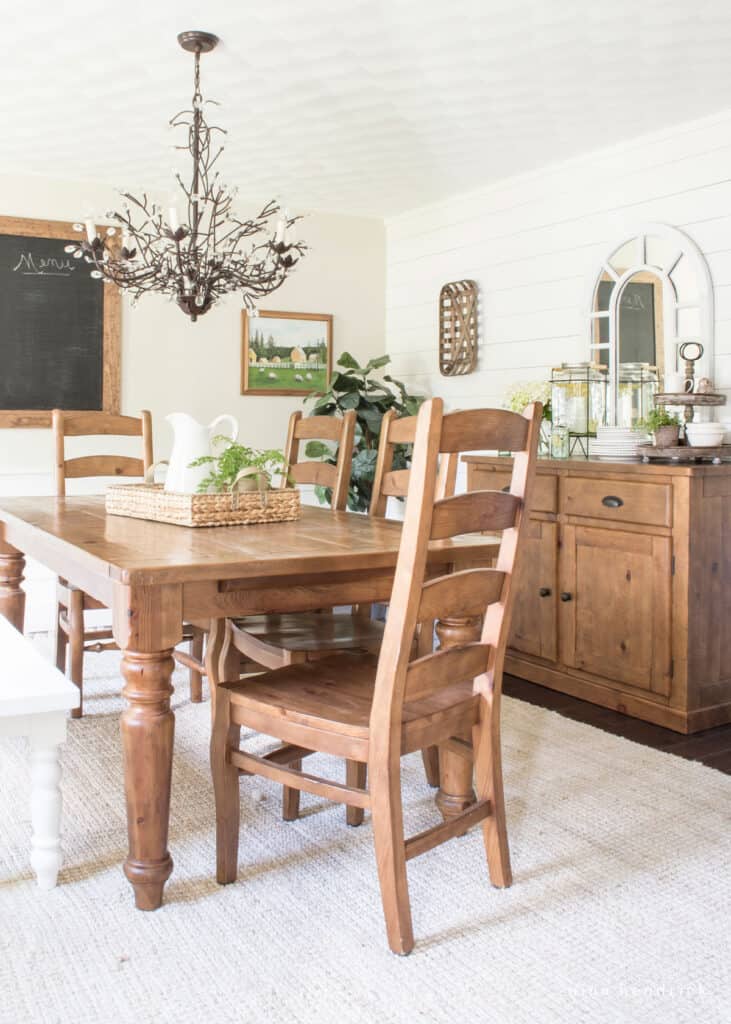 Sources: Rug Source | More Dining Room Sources
Pick a rug size that's just right.
When your rug is just the right size, it should be right there for you to step on when standing up from large furniture pieces. When you stand up from the couch, you want your feet to have a comfy rug to step on. And when your alarm clock goes off in the morning, it makes it a little easier to roll out of bed when you know your feet are about to sink into something soft and cozy!
Rug Size Recap:
Wall to wall rug = ❌
Island in the middle rug = ❌
Rug anchored by legs of main furniture pieces = ✅
Rug that leaves 8-12" of bare floor around its edges = ✅
Now that we've covered the basics, read on to learn more details about the specifics with rug sizing in the bedroom, living room, and dining room.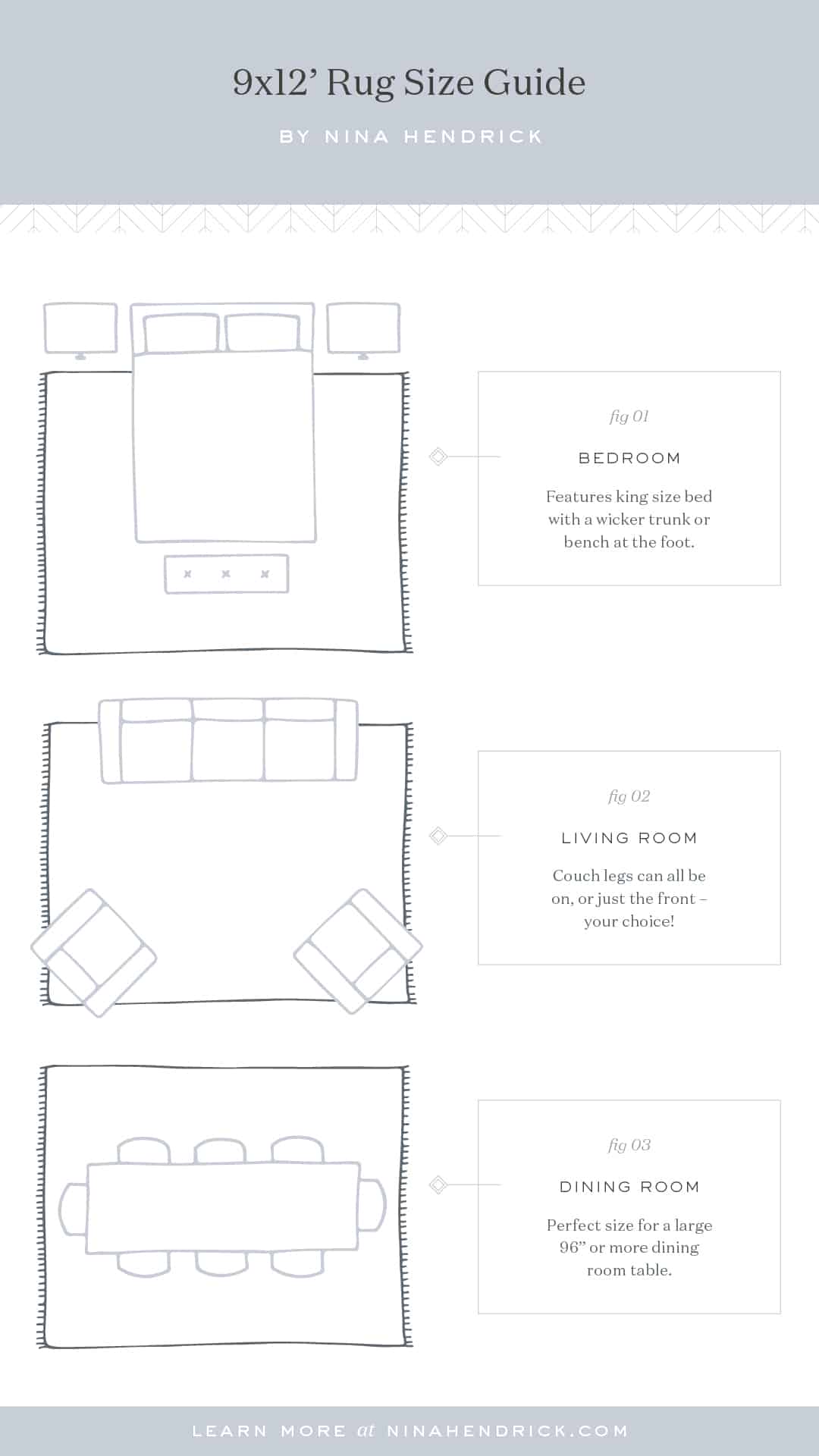 9×12' Area Rug Size Guide
A 9×12' area rug is the biggest size rug out of the most commonly used sizes. This size is most likely going to be the best choice for your largest scale room. Large rugs fit well with a king bed, large dining room tables, and full-size sofas that allow the whole family to snuggle together.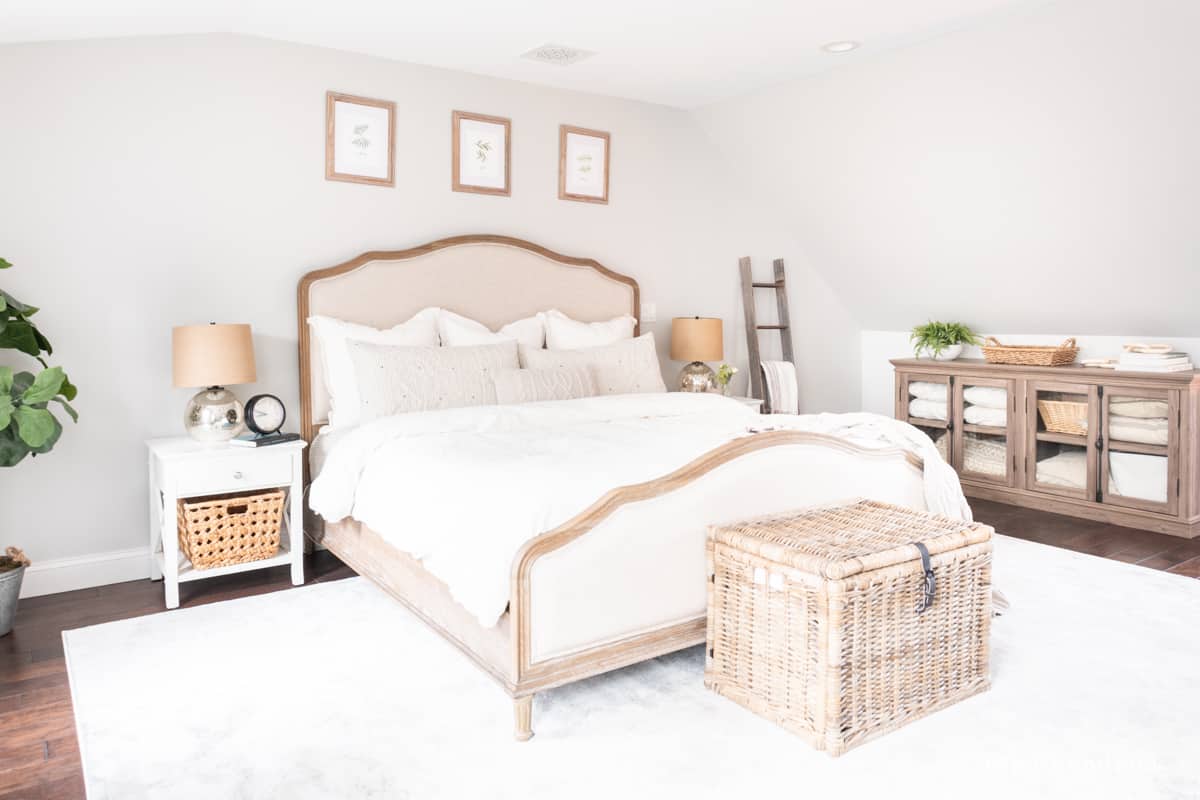 Sources: Rug Source | More Primary Bedroom Sources
In the Bedroom
When placing a rug in the bedroom, it looks best to not have your nightstand legs on the rug. You'll want to measure that you have approximately 8" from the front legs of your nightstand to the start of your rug. In a room befitting a 9×12' rug, you'll have room to put a decor piece at the foot of your bed. This could be a bench, a settee, or a wicker storage trunk like the one in my diagram.
Be sure and place your large 9×12' rug with the long way running horizontally under the bed. So if you're standing at the foot of your bed, facing it straight on, the rug should be running long ways horizontally from that angle. Even though your nightstands aren't standing directly on the rug, a 9×12' almost gives the illusion that they are. Depending on the length of your nightstands, the rug will most likely stretch parallel to the nightstands' outer edges. See my diagram below for an easy-to-understand visual!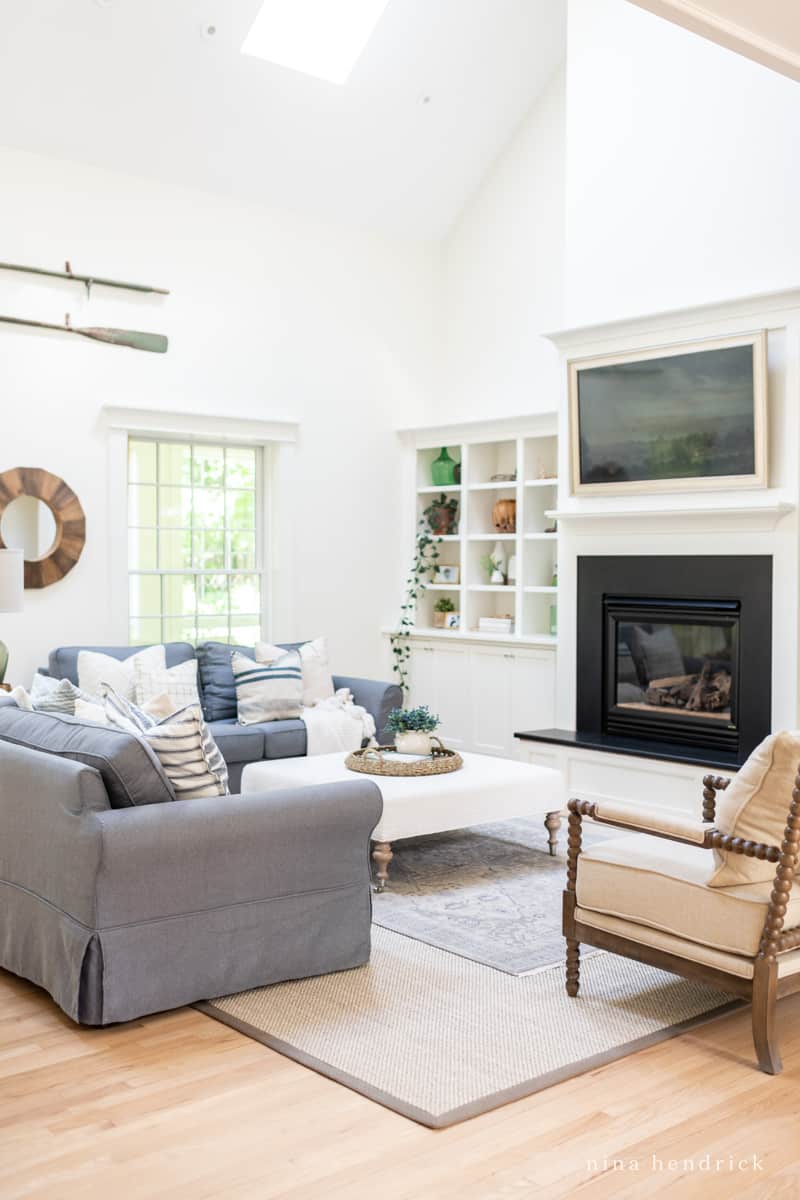 Sources: Wool Sisal Rug 9×12′ Gray | Hand Knotted Smaller Rug
In the Living Room
If you've selected 9×12' for your living room rug size, you've got a couple options for how to station the furniture on top. You can have all the legs of your couch on the rug, or just its front legs. But I always recommend having at least the front legs on the rug so that they're anchoring it down!
With a 9×12' rug, I also recommend having the front and back legs of your accent chairs on the rug. With this rug being so large, you don't want your furniture to be too spread out, or people will feel too far away from each other when sitting together. You don't want guests feeling like they have to yell across the room to conversate!
In the Dining Room
If you've got a dining table that's 96" long or more, then a 9×12' rug will most likely be the most appropriate fit. This size table typically seats 8 people. As you can see in the diagram above, all 8 chairs have their front and back legs on the dining room rug with ample room to spare around the seating area.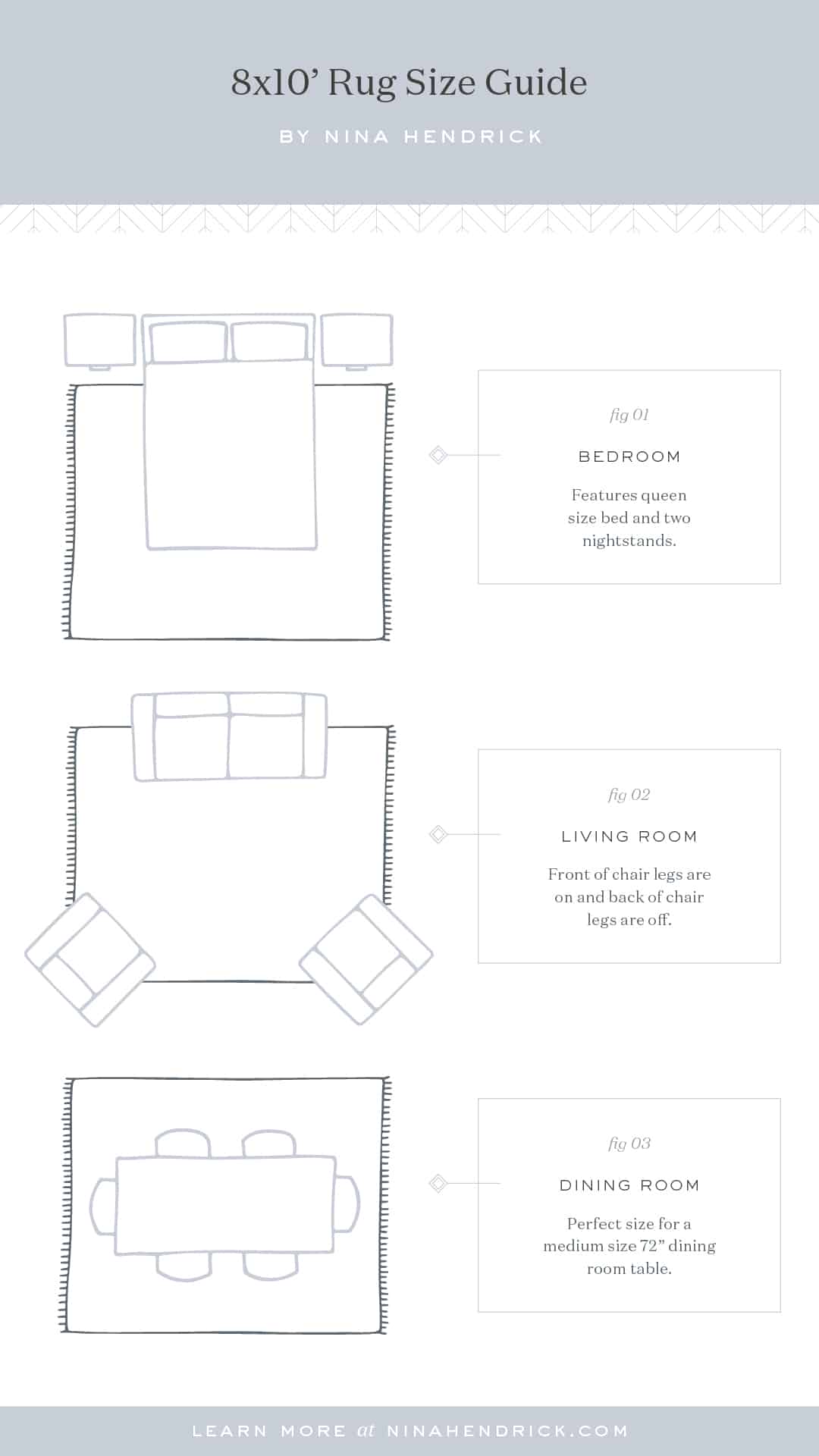 8×10' Area Rug Size Guide
I like to call 8×10' rugs the mid-size rugs of the bunch. They really shine in those spaces that aren't overly big, but aren't tight quarters either. If you decide that you prefer the look in your living room of just the front legs of the couch on the rug, then this size may be your best bet. It's also ideal for a queen size bed, and a standard 6 person dining room table.
As with every rug, for that crisp, professionally designed look, I recommend leaving at least 8-12" of a bare floor perimeter around the edges of your 8×10' rug.
In the Bedroom
When using an 8×10' as your bedroom rug size, you'll want to follow the same rules as with the larger 9×12' rug. It looks best to not have your nightstand legs on the rug. You'll want to measure that you have at least 8" from the front legs of your nightstand to the start of your rug.
You'll notice in my diagram that the sides of the rug may not quite reach (parallel) past the outer edges of your nightstands. You also won't have ideal space for a decor piece at the foot of your queen size bed with an 8×10' rug. So, no storage trunk pictured!
As with every bedroom rug, be sure and place it with the longest way running horizontally under the bed.
In the Living Room
With an 8×10' as your living room rug size, you'll have room to put only the front legs of your couch and chairs on the rug. All sets of back legs will be off of the rug. This will create a spacious, yet intimate seating distance for these furniture pieces.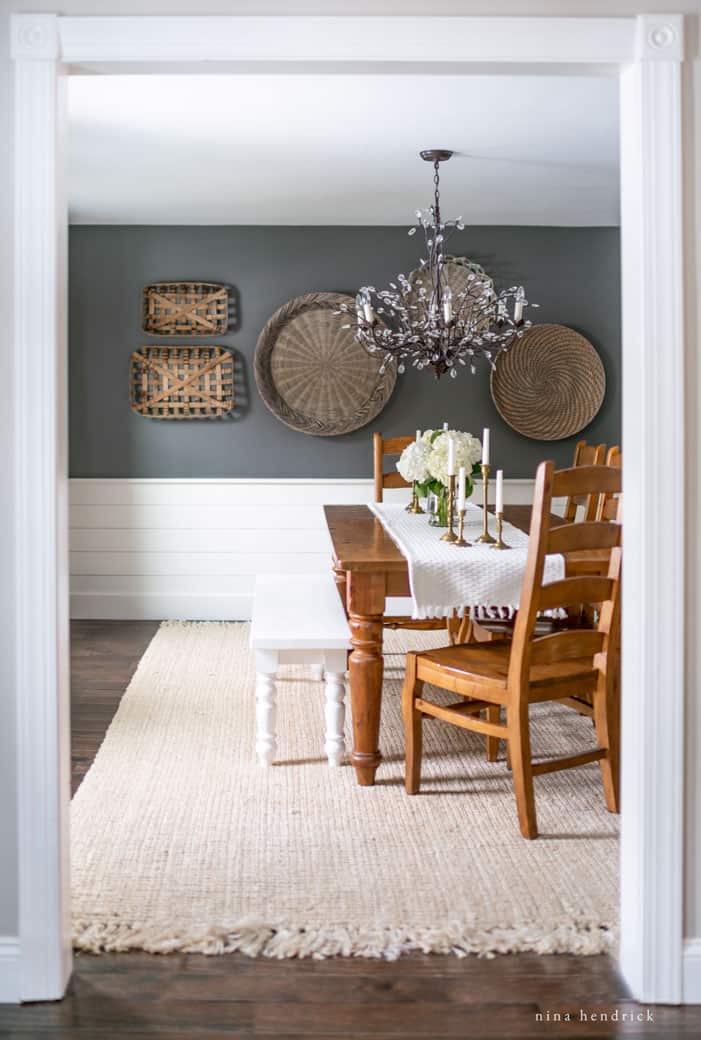 Sources: Rug Source | More Dining Room Sources
In the Dining Room
An 8×10' rug is perfect for a 72" dining room table. With this medium size table, all the legs of each chair will fit comfortably on this mid-size rug. This is the size rug that I have in my own dining area.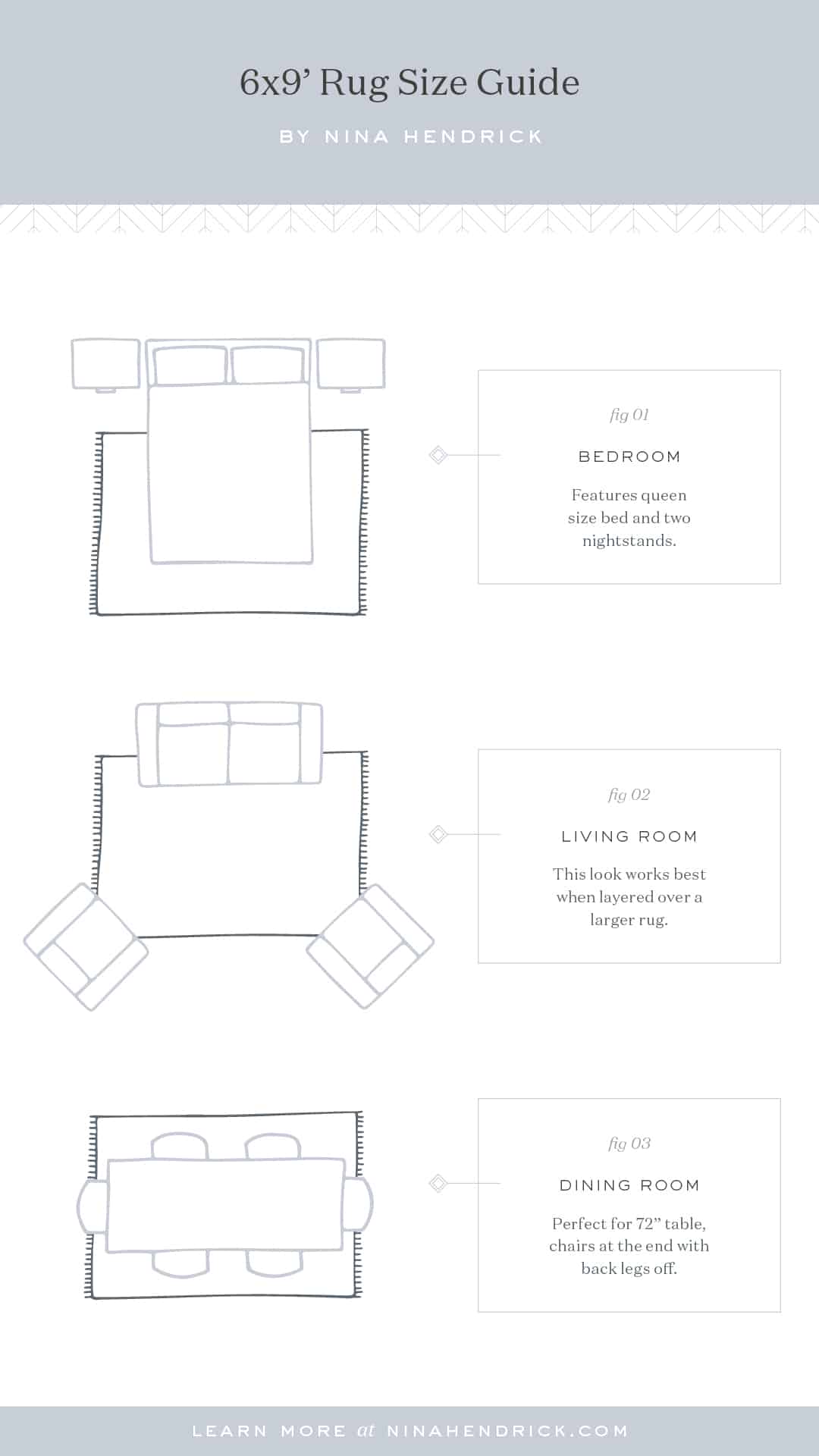 6×9' Area Rug Size Guide
This smaller size rug will work great in spaces that are more compact. Perhaps a small-scale Manhattan apartment, or a 1920's tudor home with extraordinarily narrow rooms.
Take a close look at my diagrams and read my descriptions below, to see how to adjust the placement of your 6×9' rug and the main furniture pieces it's anchoring.
In the Bedroom
You can use a 6×9' rug in a bedroom with a queen bed or smaller. But what you'll notice in comparison with the larger size rugs, is that this one needs to be scooted down several more inches away from the nightstands. Note the bigger distance between the front legs of the nightstands and the top edge of the rug. Under a queen bed, the rug should stop short at about ⅔ of the space beneath your bed.
A good gauge is to aim for around the same measurement from all sides of the bed to the outer edge of the rug – so the amount of rug showing on the left side of the bed, the right side of the bed, and beyond the foot of the bed should be pretty close to the same.
In the Living Room
A 6×9' rug will go best in a living room that's tight on space. With this rug size, you'll only put the front legs of your couch onto the rug. Your chairs will either have just their front legs on, or they may only be able to straddle the corners of the rug. Test this layout (or mark it out in painter's tape). You'll know which is best by seeing if the furniture feels too cramped with all front legs on.
Now, sometimes your living room isn't small, but you just happen to fall in love with a uniquely patterned 6×9' rug. If that's the case, then consider layering the 6×9' on top of a bigger rug that's a more appropriate size for your space. The layered look is trending, but it's also super functional; giving you the best of both worlds. And personally, I adore it. Read ahead for more on rug layering!
In the Dining Room
This size rug will work great with a 72" table that sits up to 6 people. Both of the end chairs' back legs will be off of the rug.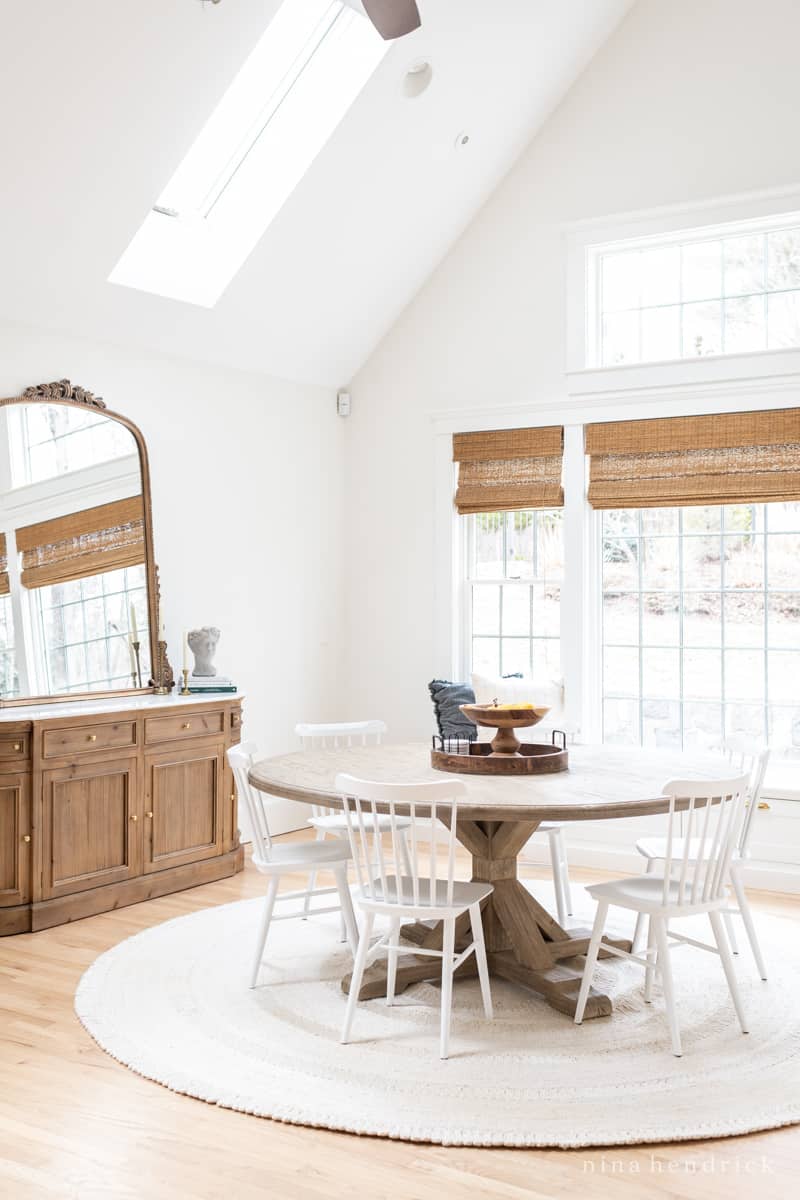 Other Rug Sizes and Shapes
Small Rugs
Rugs also come in smaller sizes such as 2×3′ and 3×5′. Smaller rugs work perfectly in entryways and mudrooms, or even on a front porch as a welcome mat if it's an indoor/outdoor rug. You can also place a small rug in front of the sink or use it as a kitchen rug near your stove.
Round Rugs
In the breakfast nook of our new home, I went with a round rug below the round table. The room is square, so I liked the proportions of a round table best. Rather than go with a square or rectangle rug (see below — both are valid rug shapes with a round table!), I decided I liked the round look best.
Can I have a square or rectangle rug under a round table?
Yes! As long as there are at 24-36″ around the table for chairs, you can use any shape below a round table.
Square Rugs
Square rugs can be a little trickier to find, but they do exist. They are great for perfectly square rooms, like the breakfast nook I just mentioned, when you want to maximize your furniture layout without the rug appearing out of place. One option for a square rug is to order it custom.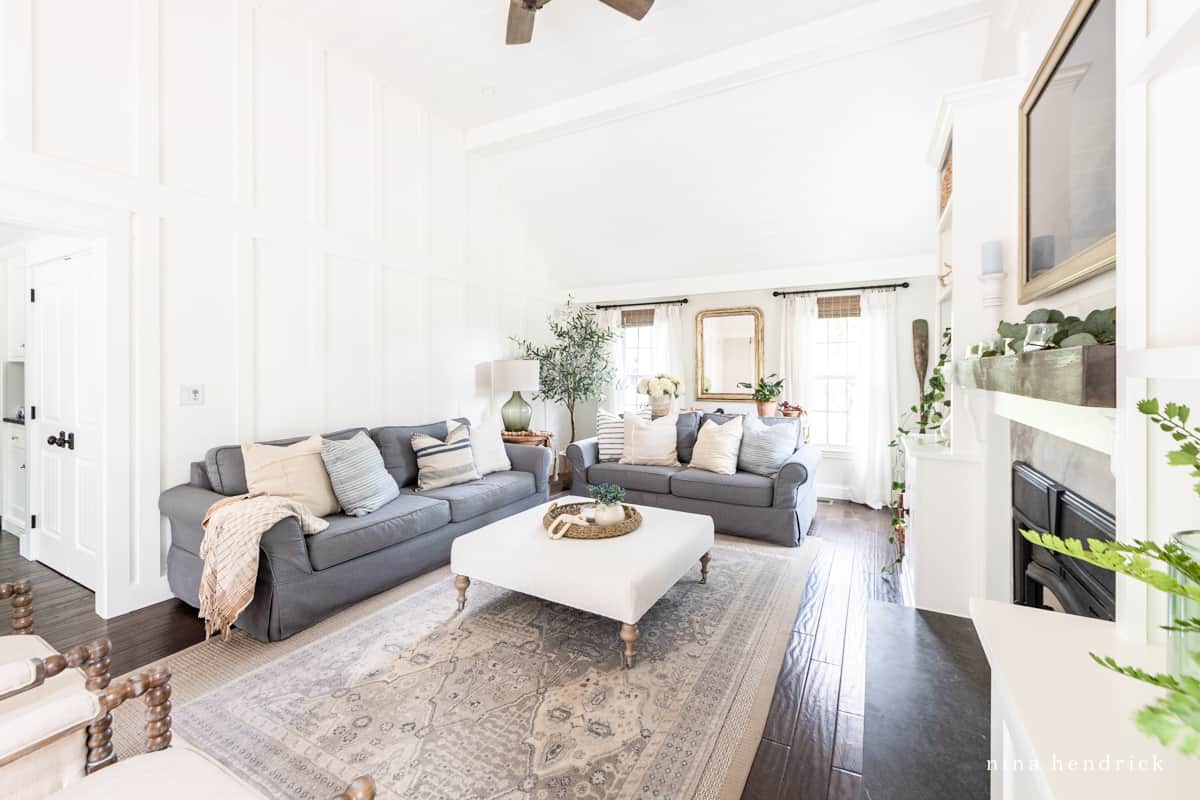 Sources: Custom Sisal Rug | Hand Knotted Smaller Rug
Custom Rugs
Sometimes the dimensions of a room are odd and it makes more sense to order a rug with a custom length and/or width. In our previous home, the family room was 24×13′, and the doorway and fireplace location made it difficult to choose a rug size and furniture layout. A 9×12′ felt wide but also short in length, so instead I opted to go with a custom 8×14′ sisal rug and layer a more typical 6×9′ rug over it.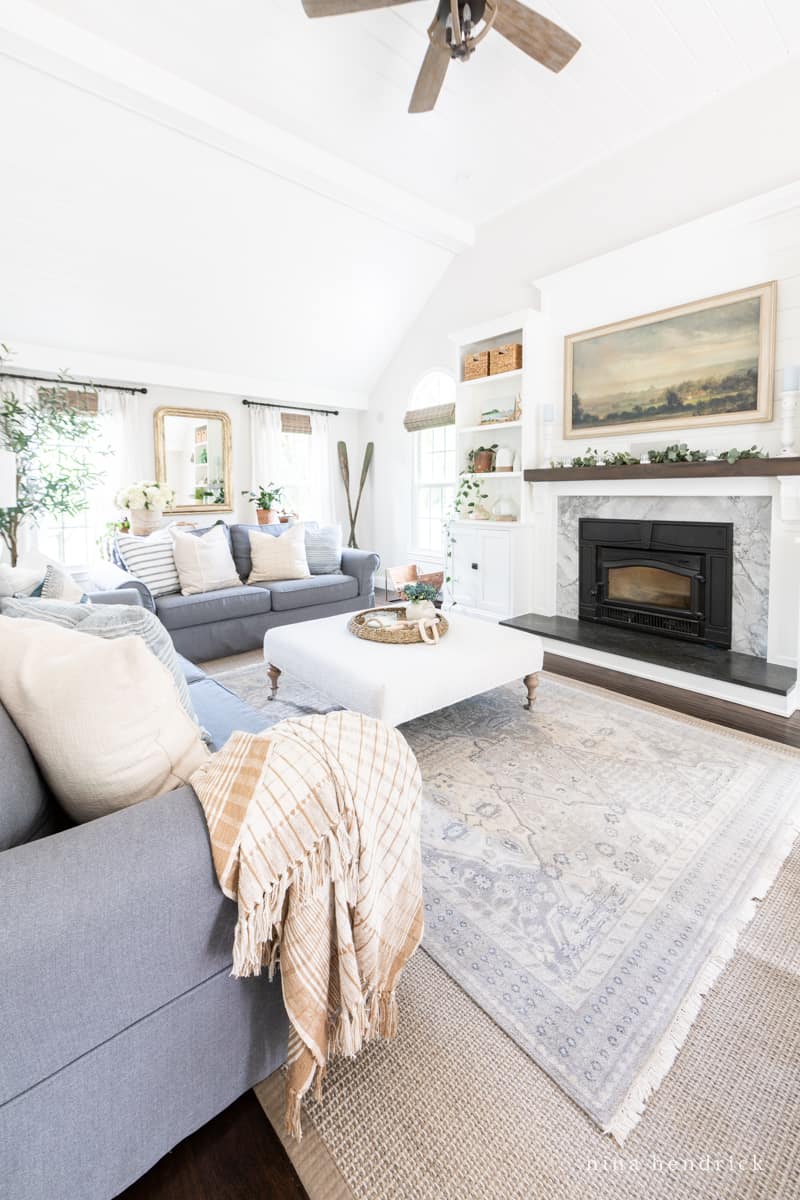 Sources: Custom Sisal Rug | Hand Knotted Smaller Rug
The Easiest Way to Layer Area Rugs
Now that you have a solid understanding of appropriate rug sizes for each space from this guide, let's talk about layering rugs. My fave! 👏👏
What's the only thing better than picking out 1 gorgeous rug for your space…? Picking out 2!
Personally, I'm a huge fan of this look, as I think it adds so much depth to the overall design of your space.
The trick to layering rugs in a way that looks clean to the eye, is to keep the bottom layer a solid neutral, and feature a more decorative rug on top. Most commonly, you see sisal rugs as the bottom layer. That's what I chose for my living room!
Layering Guidelines
All you'll need to do is follow the area rug size guides featured in this post, and apply it to the base layer rug. The top layer rug will simply be one size down from the base layer rug. And it's truly as easy as that!
For example, in my family room we have a bottom layer rug that's basically an 8×10'. (I say "basically" because I actually had to order it custom-sized due to our really funky living room dimensions.) The top decorative rug is a 6×9'.
You can check out my layered rugs in this post showing our family room makeover!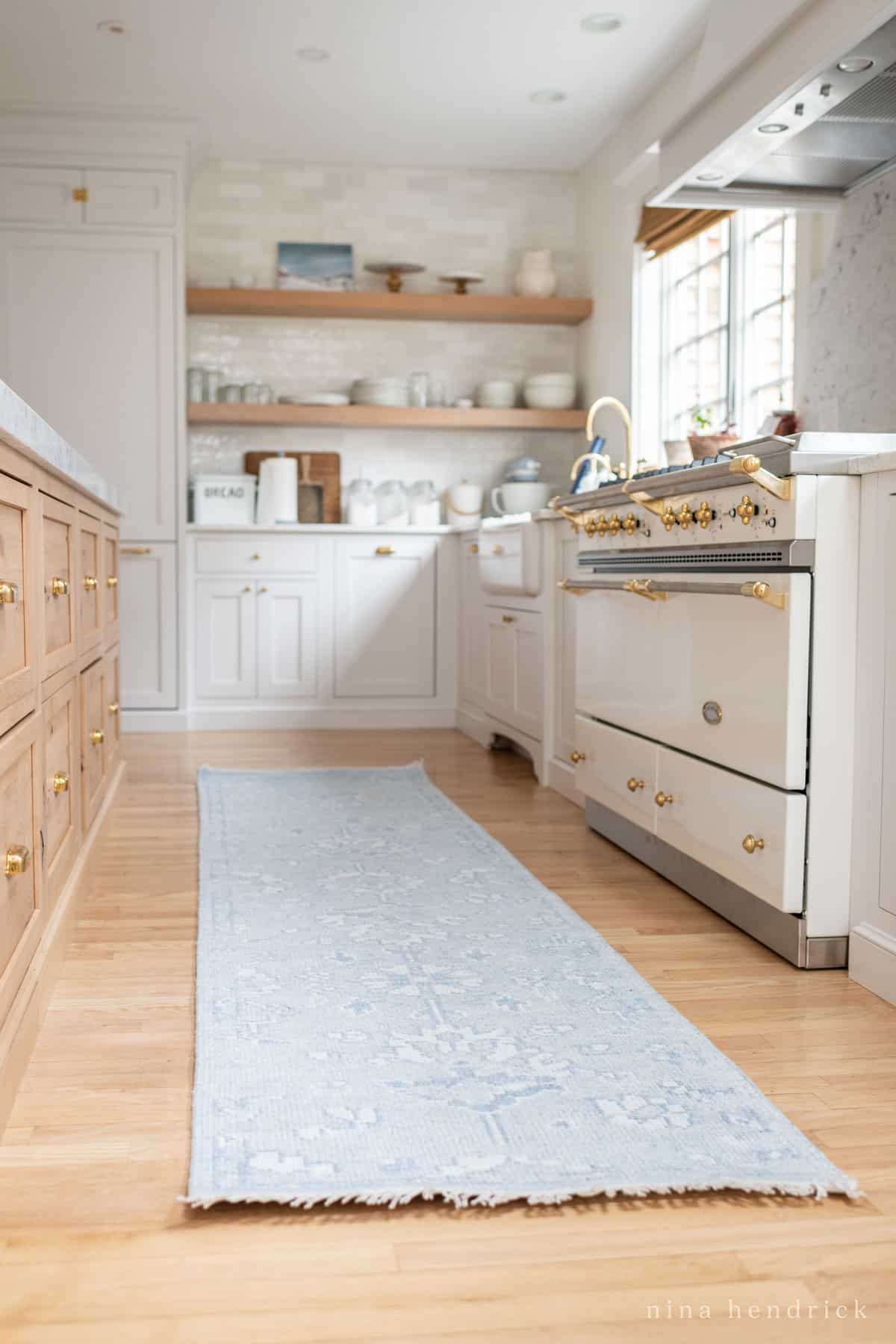 When to Use a Runner Rug
There are many spaces in your home that typically feature a runner rug, but sometimes runners can be a creative solution to tricky design scenarios. We all know runners are the perfect a hallway rug, entryways, and kitchen walkways, but here's a list of unexpected times that a runner may end up coming in clutch:
In front of a desk that is pushed against the wall
On one side of the bed, when the other side is pushed to the wall
At the foot of a bed that's in a corner
Inside a bedroom's walk-in closet
Inside the laundry room
Inside the pantry
Choosing a Rug Pad
Rug pads provide an extra layer of cushion and comfort below the rug, helping to make it more comfortable for your feet. In addition, the pad can also help to keep your rug in place, preventing it from sliding or bunching up.
For a full rug pad that supports your entire rug, you'll want to measure the length and width of your rug. Truly measure, and don't assume it's exactly 8×10′, because that's rarely the case. Don't count tassels in your measurement, only the body of the rug. After you get your measurement, subtract 2″ from each dimension.
You can also get non-slip grips to place on the corners of your rug. This works especially well for smaller rugs and runners.
Low Pile Rugs Vs. High Pile Rugs – Which One is Best?
When it comes to the pile of your rug, different pile heights serve different purposes. High pile is great because it's nice and cushy on your feet, but low pile is more hypoallergenic and easier to clean.
They both have a place in your home, and it ultimately comes down to personal preference, but this is what I recommend.
Stick to low pile for areas like the kitchen that are in close proximity to food and drink.
Go with a cushier high pile in the bedroom for a comforting feel that helps you wind down for sleep.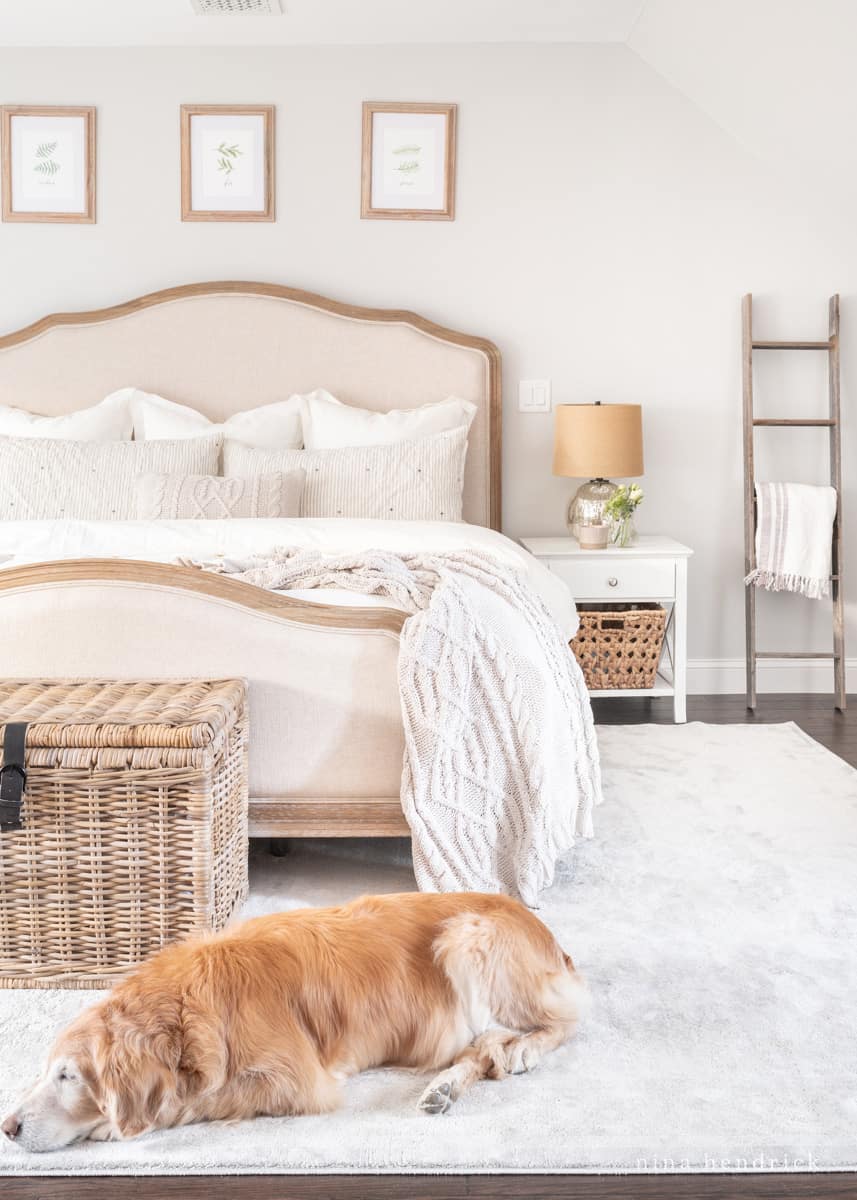 Sources: Rug Source | More Primary Bedroom Sources
Nothing Beats the Coziness of an Area Rug
I've always loved rugs because they really help to make a space feel both cozy and complete. To me, they provide a year 'round comfort that makes the house feel like home. My hope is that this rug size guide helps you to pick the perfect area rug for your space!
If you thought this rug size guide was helpful, go ahead and bookmark it by clicking on the bottom right heart or by saving to Pinterest! That way, you can refer back to it anytime you need a rug size reference.
Check out my IG @ninahendrickhome, for more pics and videos of the rugs in my home!
Happy rug styling, and stay cozy, friends! 😊
Shop my Favorite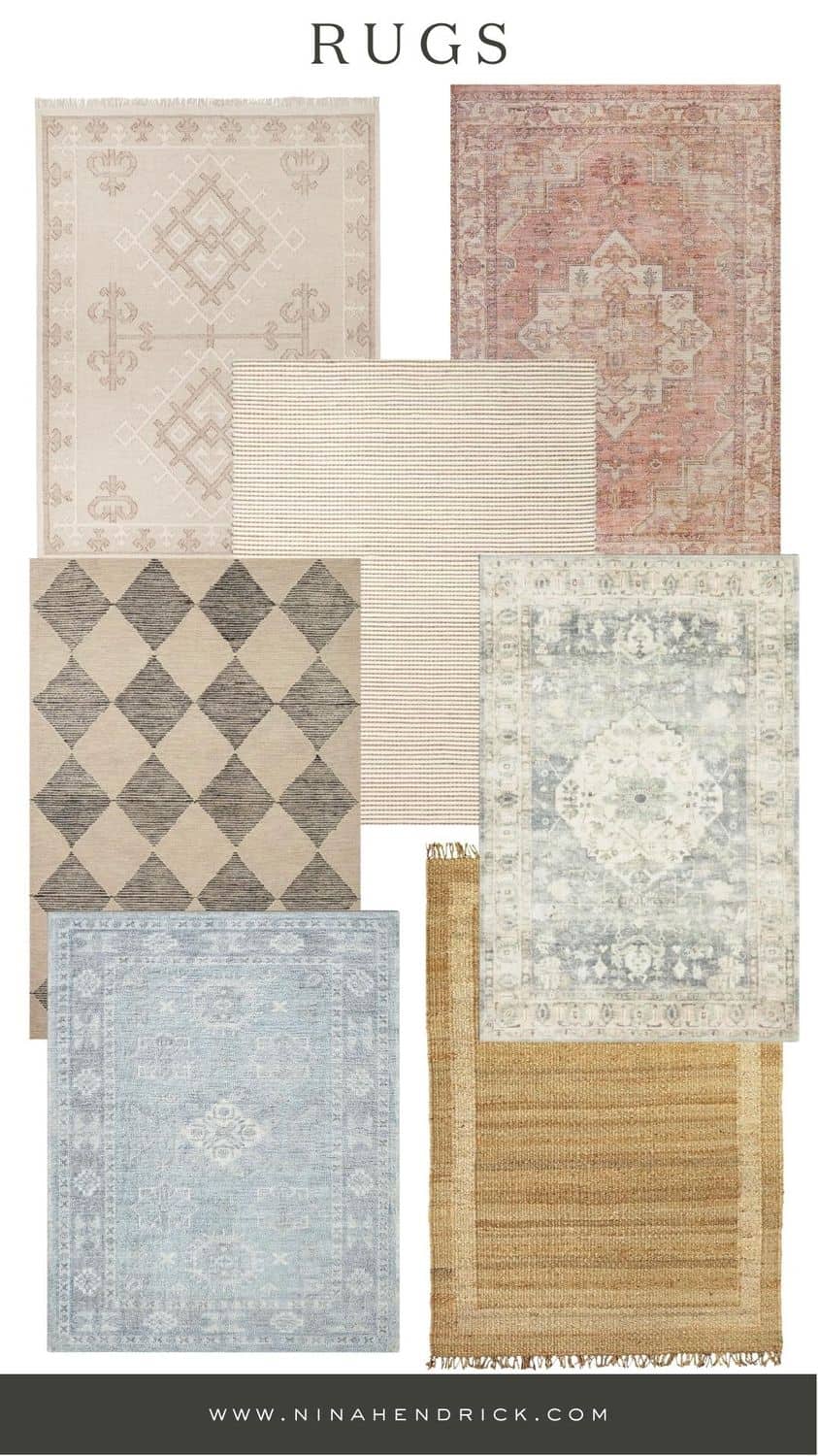 Kilim Style Rug | Chunky Beige Area Rug | Faded Red Printed Rug | Harlequin Pattern Jute Rug
Gray Patterned Rug | Sky Blue Rug | Jute Border Rug