Ta
Hey there! It feels like it's been a long time since I've brought you a DIY tutorial, and now I have quite a few in the pipeline! Today I'm going to show you how we built this beautiful DIY Farmhouse Table using mostly 2x8s. This was a project for my parents house (it was actually my Mom's birthday gift- her birthday was in April and we finally dropped this off a few weeks ago. Oops!). We needed a bigger place to seat our growing family for holiday dinners, and this table can comfortably seat 8- and we think we can push it to 10+ by moving the chairs and pulling up a bench to one side.
This post contains affiliate links. You can read more about my policies here.
This table was very simple and easy to build, and I love the style of it! It seems amazing to me that we were able to create something so similar to our own Pottery Barn dining room table (which was a BIG splurge for us back when we got married and bought our first home). If we had known then what we know now we would have saved our money! We are now planning on adding a DIY one to our own breakfast nook (update: see it here!). Here's how we made it: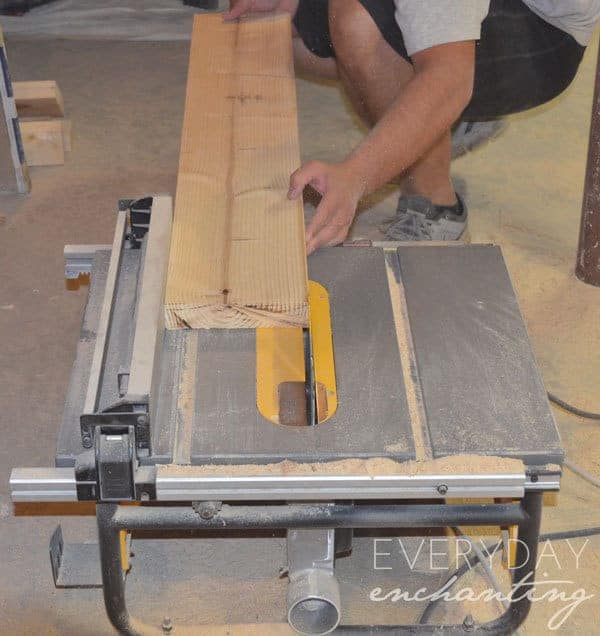 Our first step was to square off the 2x8s using our table saw, so that they would be able to sit flush. We cut 8 total (6 for the middle, and then one on each end) and trimmed them down to the correct size using the compound miter saw.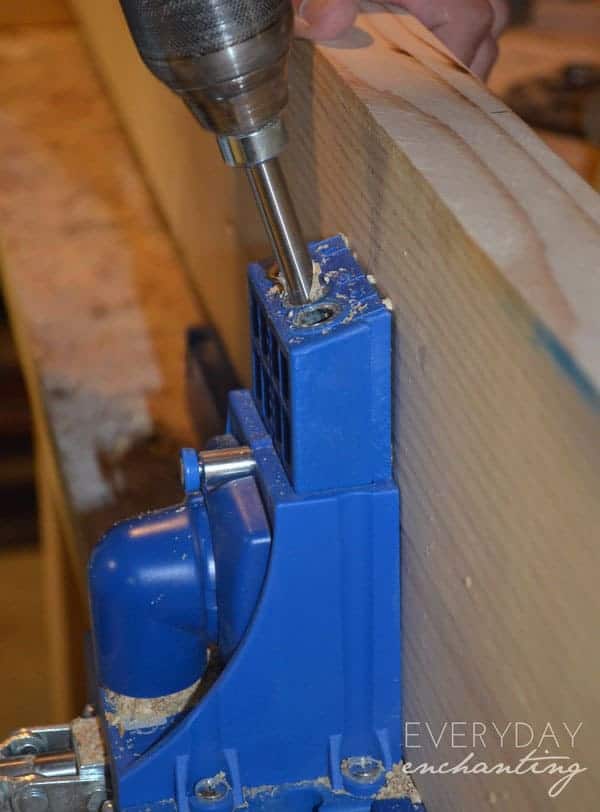 Next we determined the best side of each board to show as the tabletop. Then we created evenly spaced pocket holes on the bottom of the boards using our Kreg K5 Pocket-Hole Jig.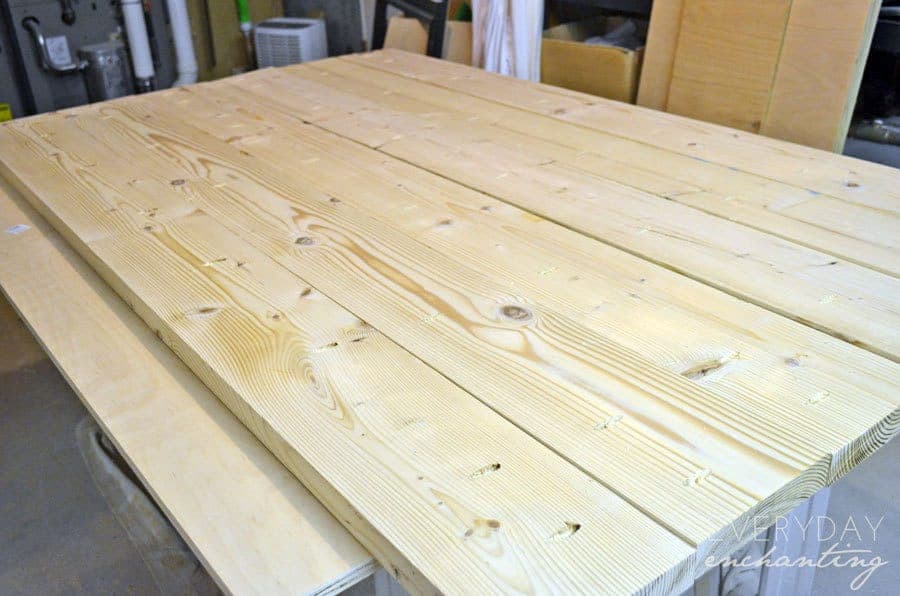 We laid them all out based on knots and grain patterns we liked.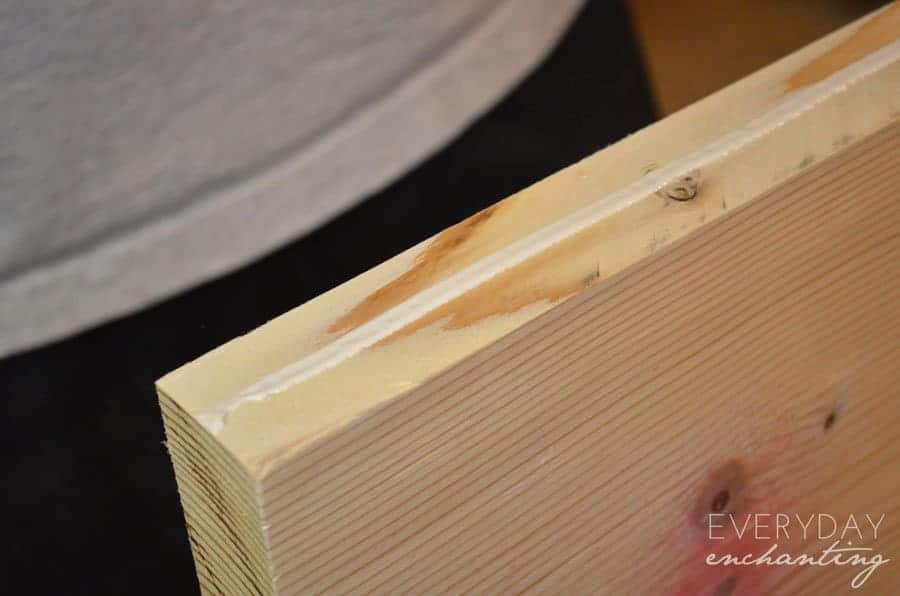 Then we began to glue the boards together.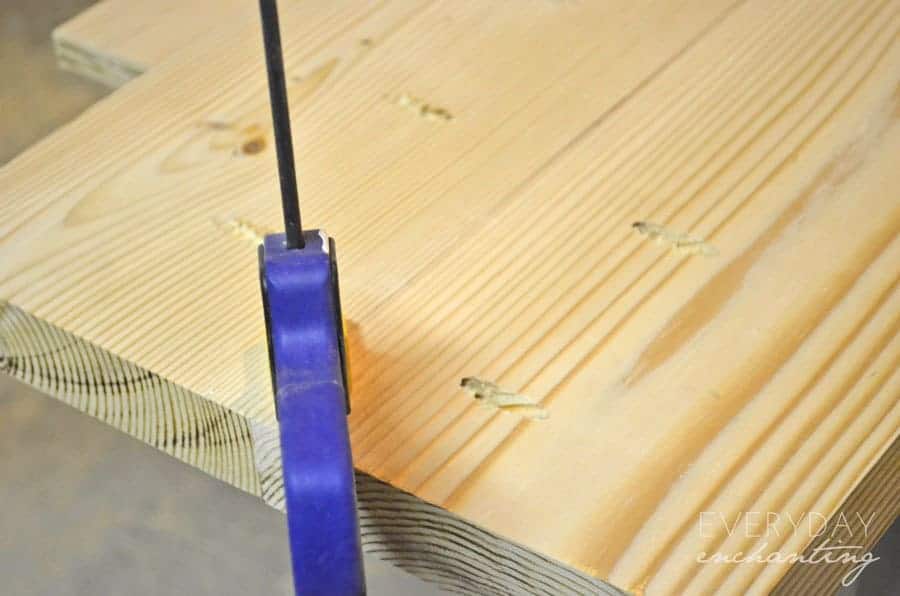 We used clamps to make sure the boards joined as flush as possible.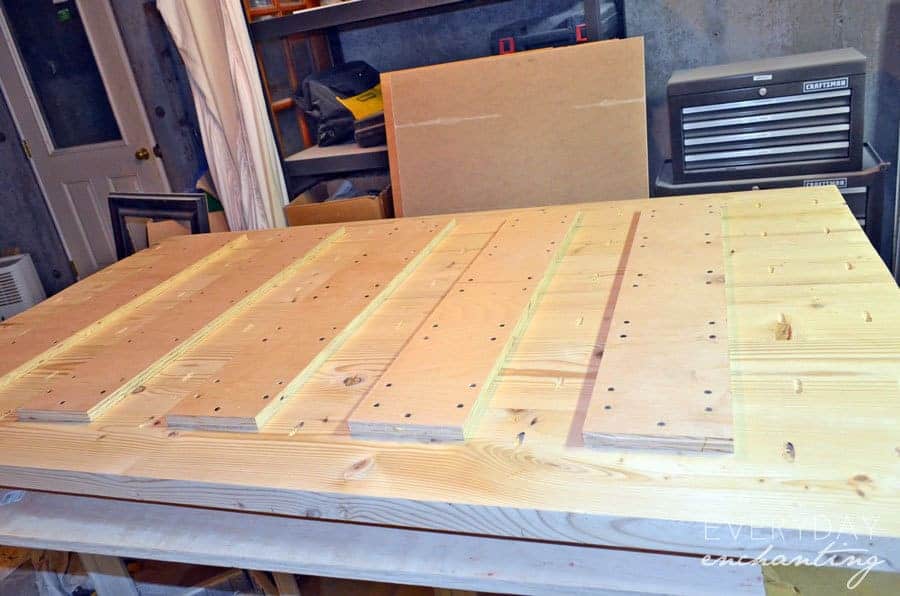 We used the pocket hole screws as well as adding some extra boards for support to make sure the planks dried as tightly together as possible.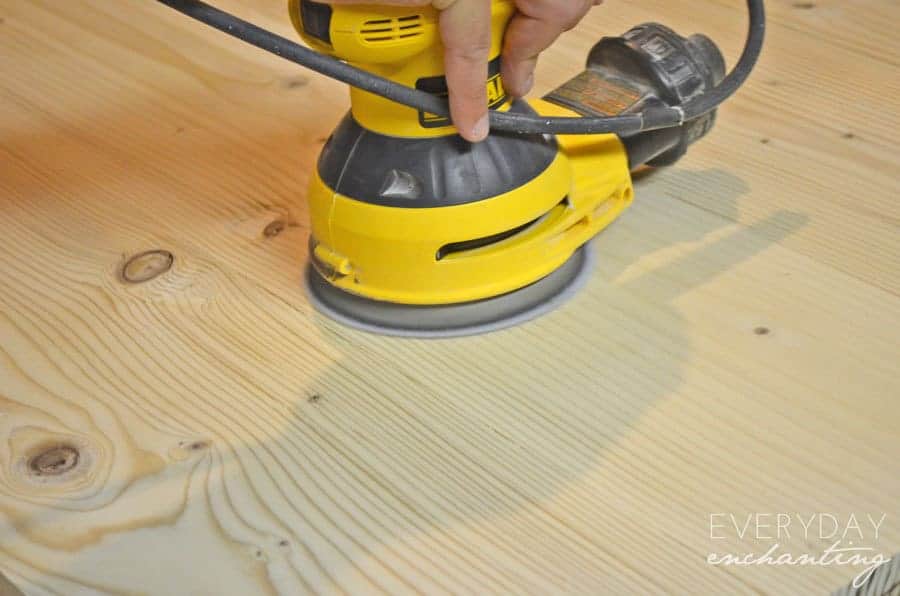 Next came the sanding! And there was definitely a lot of it. We started with 60 grit, and worked away at the boards until we had them silky and smooth using 22o grit. We added the two end boards and followed the same steps I just mentioned, pocket holes, glue, clamps and sanding.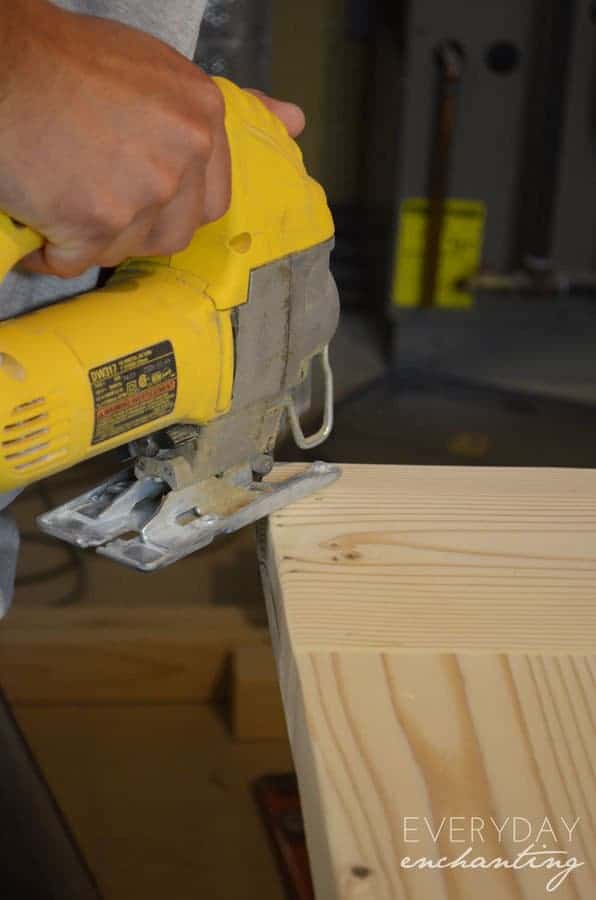 We used a jig saw to round off the corner of the table, and sanded all of the edges of the table to soften them. We knew my Mom would appreciate the somewhat softer edges with all of the kiddos running around!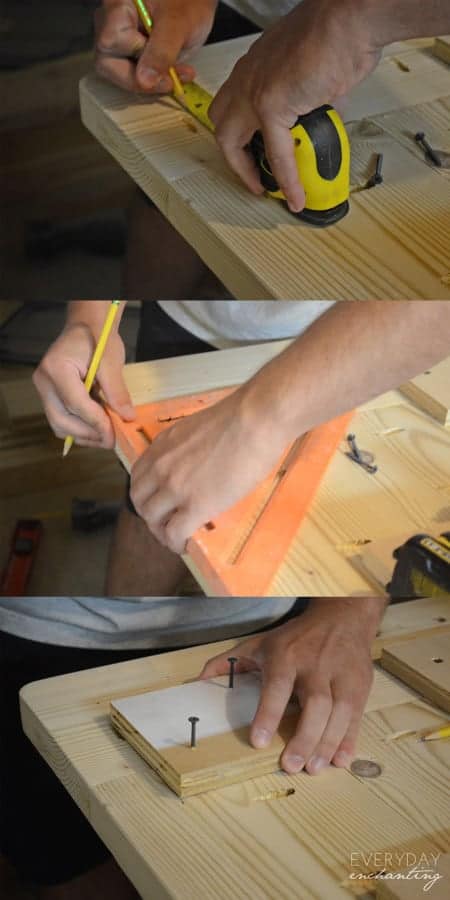 We determined where the apron and legs would be located based on measurements of our own dining room table and a spacer block the same size as the top of the legs. To attach the 2x4s for the apron, we used glue and more pocket holes going into the bottom of the table.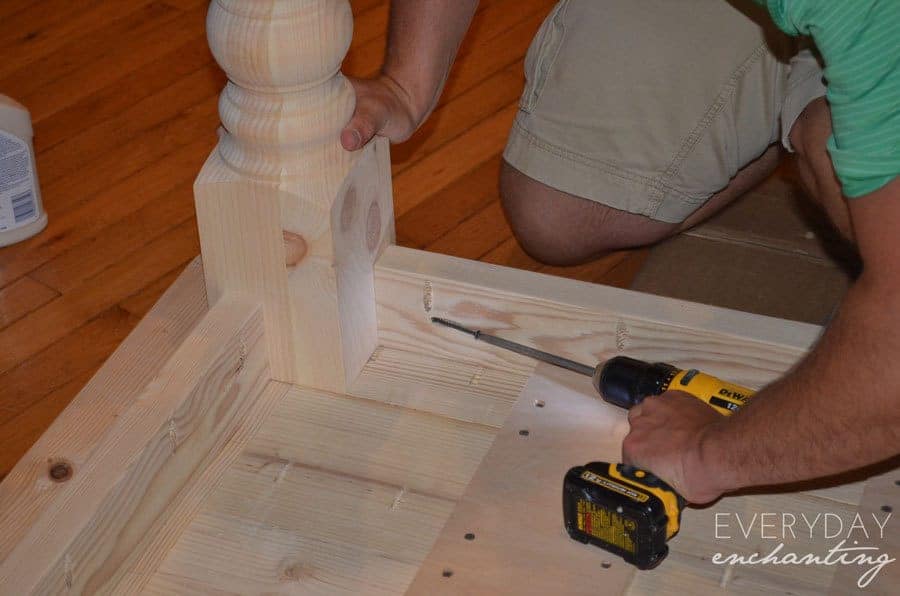 We attached the gorgeous Husky Table Legs from Osborne Wood Products using wood glue and pocket screws. I absolutely love how chunky and solid these legs are. Very fitting for such a robust table! We used the soft maple, but the knotty pine would have looked great with the fir 2x8s.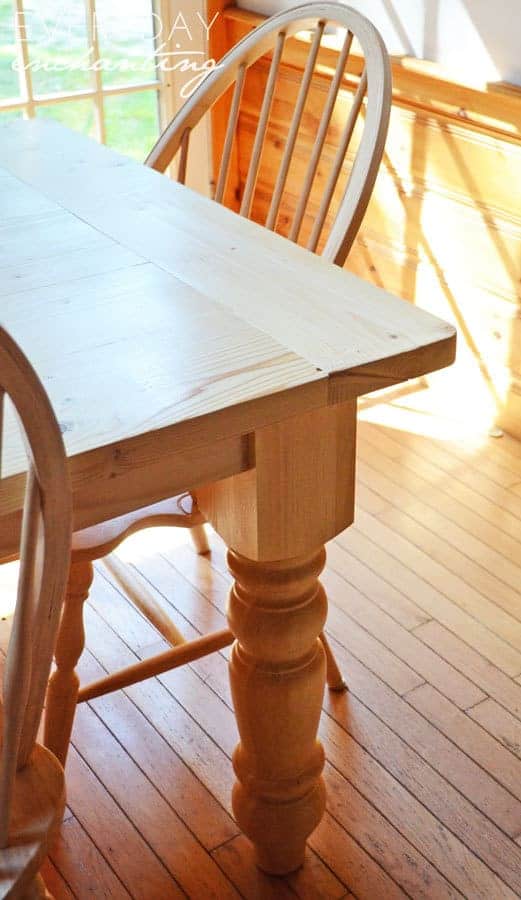 My parents like natural (unstained) wood, so we simply added several coats of polyacrylic. The table will eventually darken and age, but will meanwhile be protected from spills!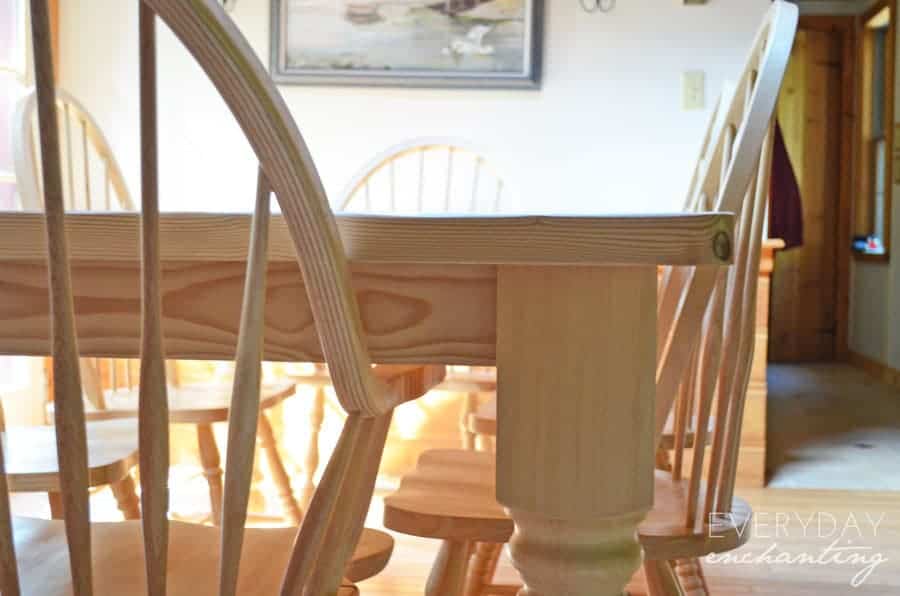 I love the grain and knots that are already showing through! It works perfectly with their country-style home!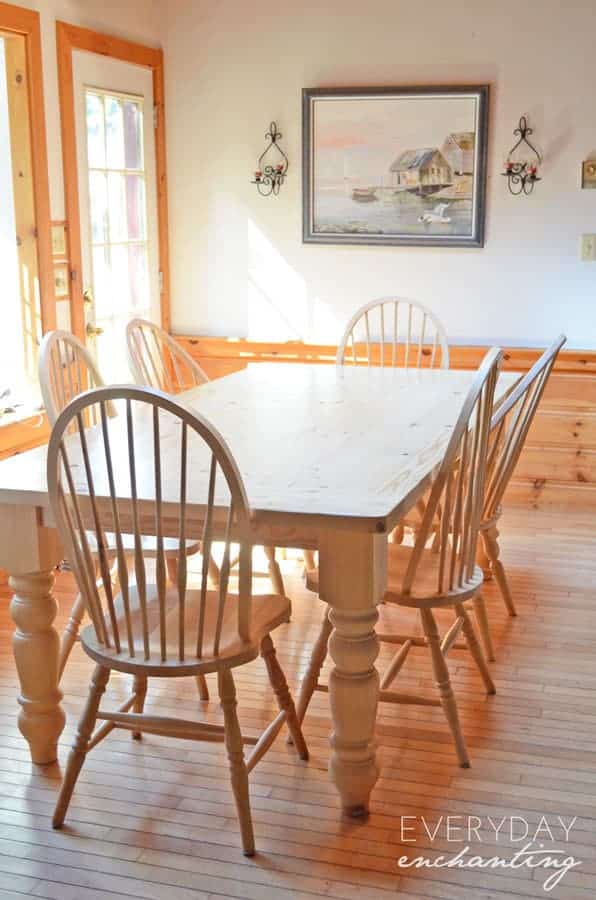 For similar project plans, you can check out these from Ana White. It's a very similar design, we simply made it bigger and added the perpendicular boards at the ends.
Sources:
Table Legs: Soft Maple (but you can also use the knotty pine) Husky Table Legs from Osborne Wood Products
Table Top: 8 standard 2x8s
Table Apron: 3 standard 2x4s
Finish: Minwax Satin Polycrylic
Final Table Measurements: 80″ (long) x 42″ (wide) x 30″(tall)
Other DIY Builds