How To Cover Your Brick Fireplace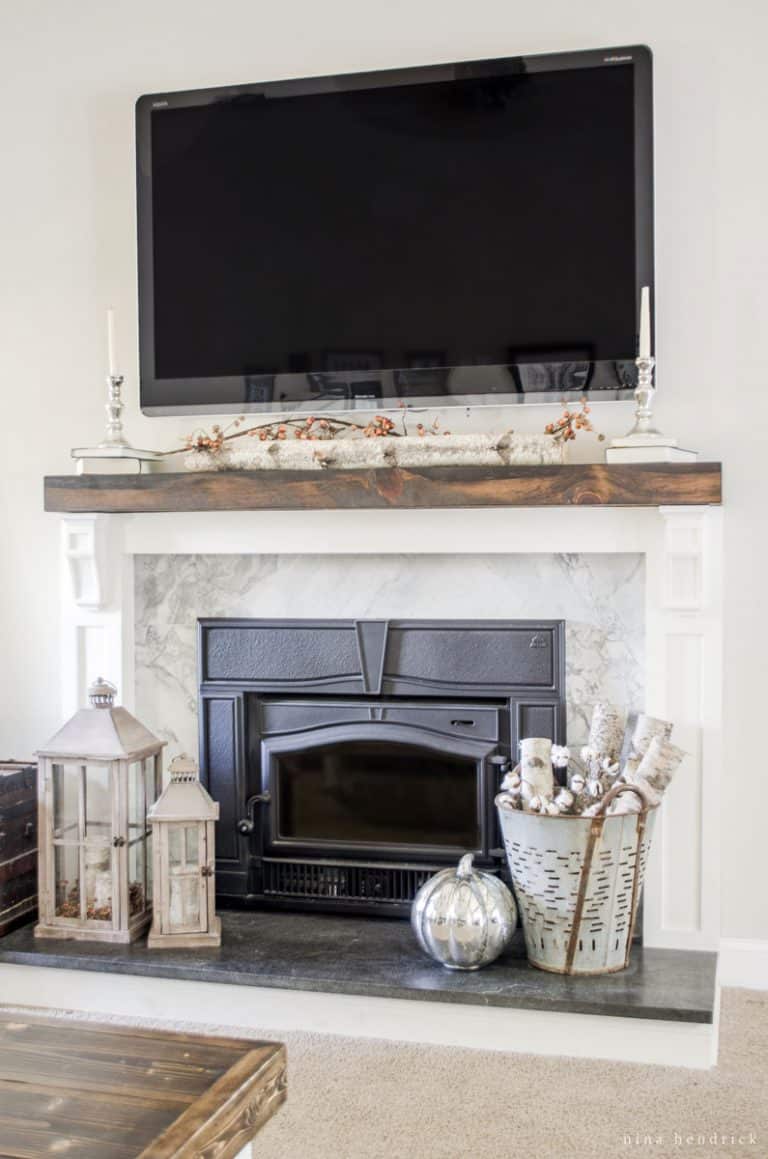 Learn how to cover your brick fireplace to transform it from dated to modern farmhouse style with stone, painted wood, and a solid rustic pine mantel.


Hello! It feels so good to have another project checked off the list (at least partially)! Today I'm sharing how we covered up our brick fireplace, step by step.
Now, as with any of our home improvement projects, I know there are going to be plenty of people who prefer the original and can't figure out why we would want to cover it up. And that is perfectly fine! But we love white trim, rustic wood, and stone- we simply aren't brick people. Our update fits in with the changes we've made in the rest of the home and is so much more our style.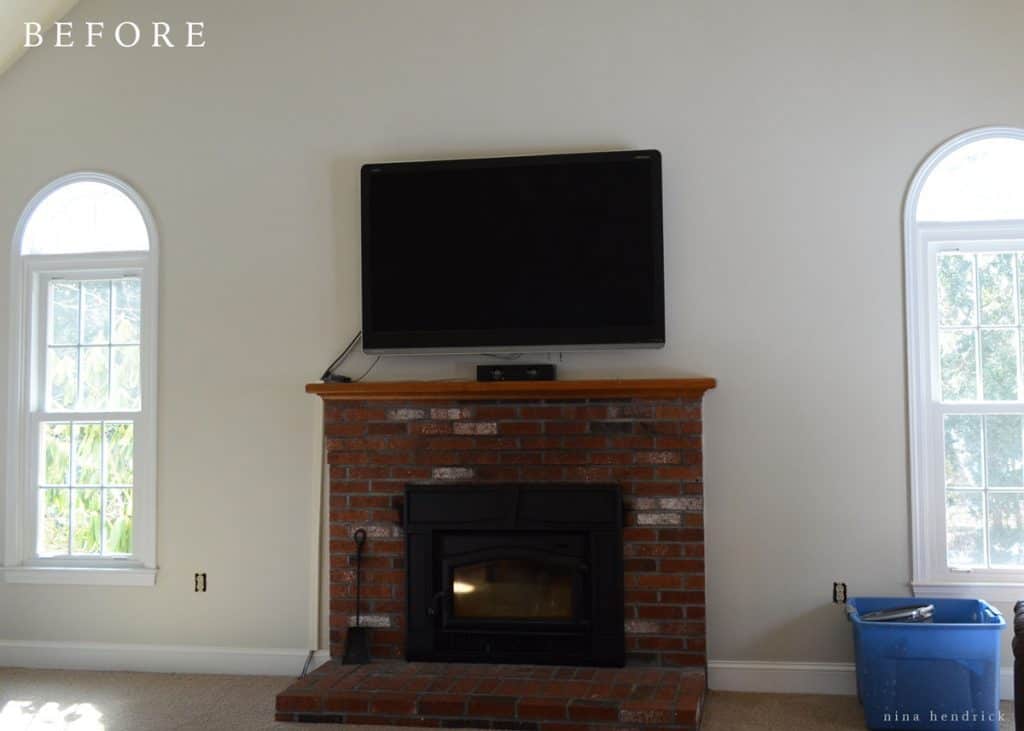 It was a classic brick fireplace, and it certainly wasn't horrible, especially once the walls were no longer dingy yellow. However, it simply wasn't what we had in mind for our space. Challenges included the stained brick and the staggered top courses. We also knew we wanted something different for a mantel. As a result, we got to work creating a lovely fireplace that compliments the rest of our home.
How To Cover Your Brick Fireplace
This project came with its challenges. It's hard to tell straight-on, but the brick was staggered at the top, and we were looking for a more simple design.

Demolition
Cue the demo.


We made a big mess and removed the top courses only. We used a combination of a crowbar, chisel, sledgehammer, and a regular hammer. I love demo!

This is what we were left with.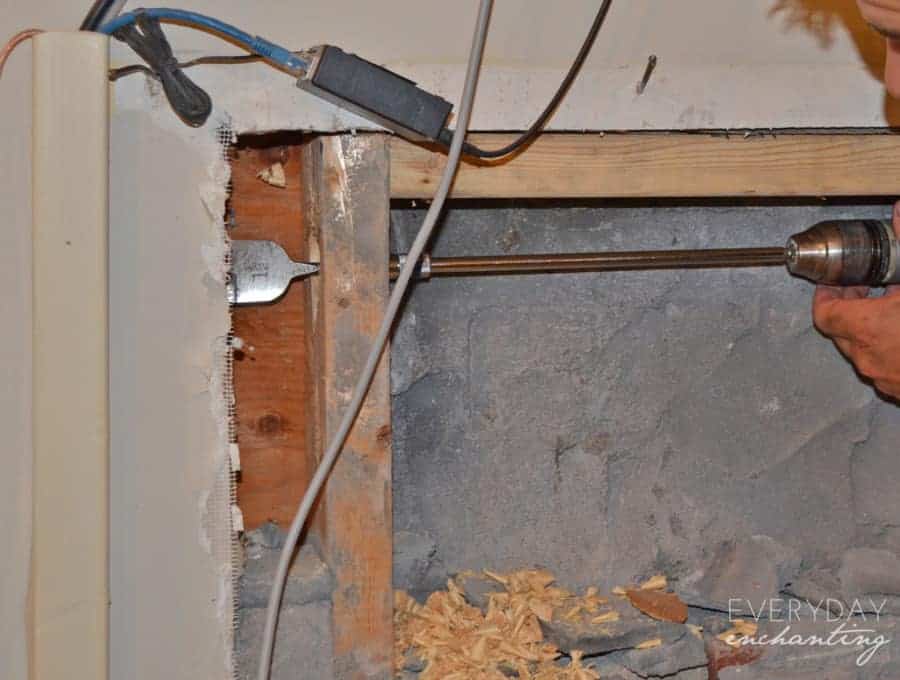 We took advantage of the giant gaping hole in the wall to create a tunnel for the ugly TV wires, so they would no longer be exposed, although we decided to run them through at a later time.
Building it Back Up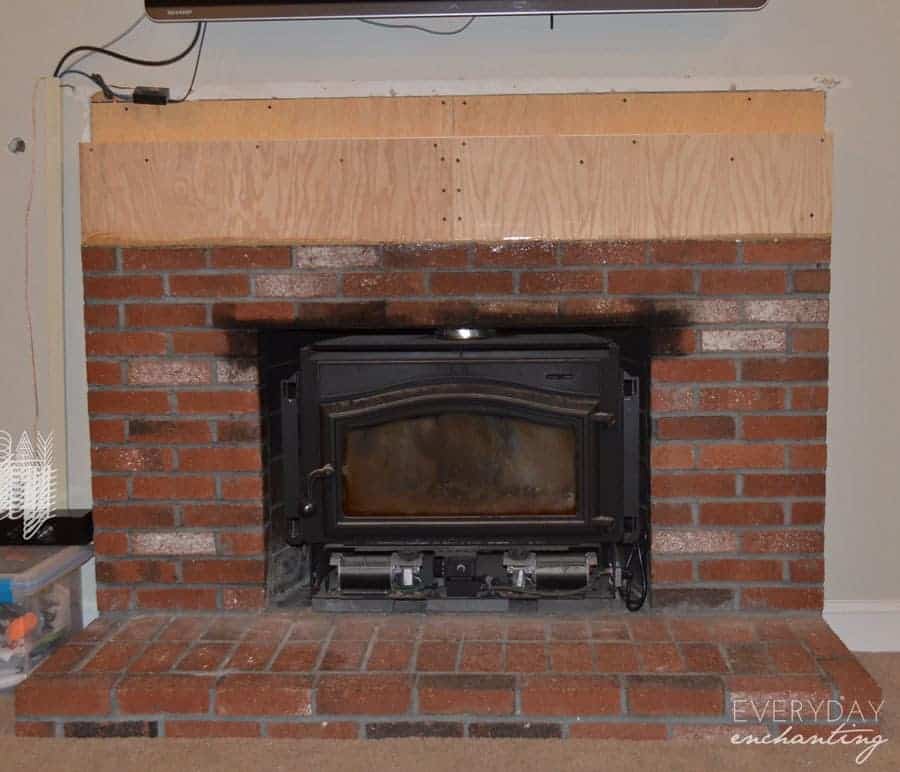 Mack built a box out of scrap plywood and attached it to the brick using construction adhesive. Now the fireplace was flush and ready for stone!
The Stone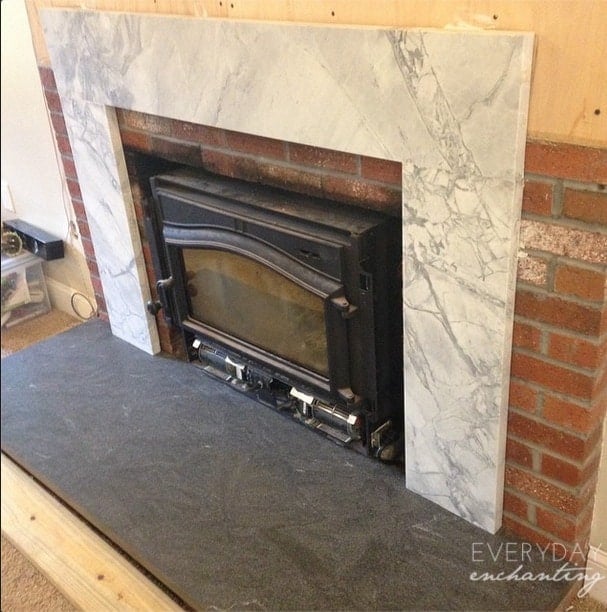 We were able to barter our old lawn tractor for Super White Quartzite and Jet Mist Granite slabs & installation. I had been prepared to do tile, so it was a nice surprise to have something higher-end! Really, this is mimicking the Carrera and Soapstone I had truly wished for. However, both of those stones are soft, so we instead opted for these more solid and durable choices.
The Surround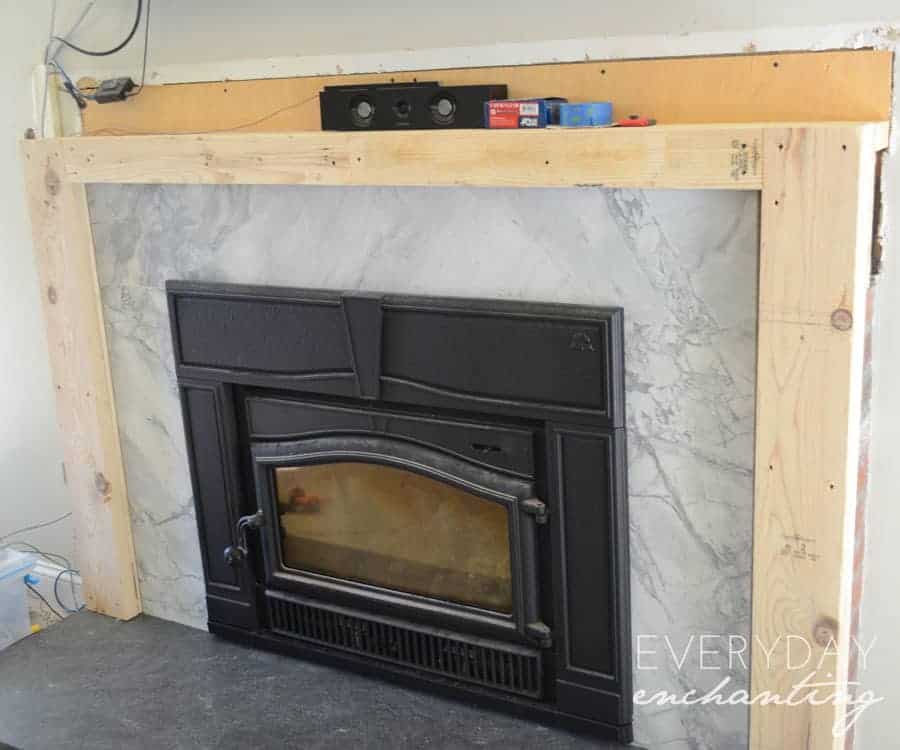 After the stone install, we used construction adhesive to adhere 2x6s to the two sides and a 2×4 to the top of the brick. This would act as a nailer for the trim boards.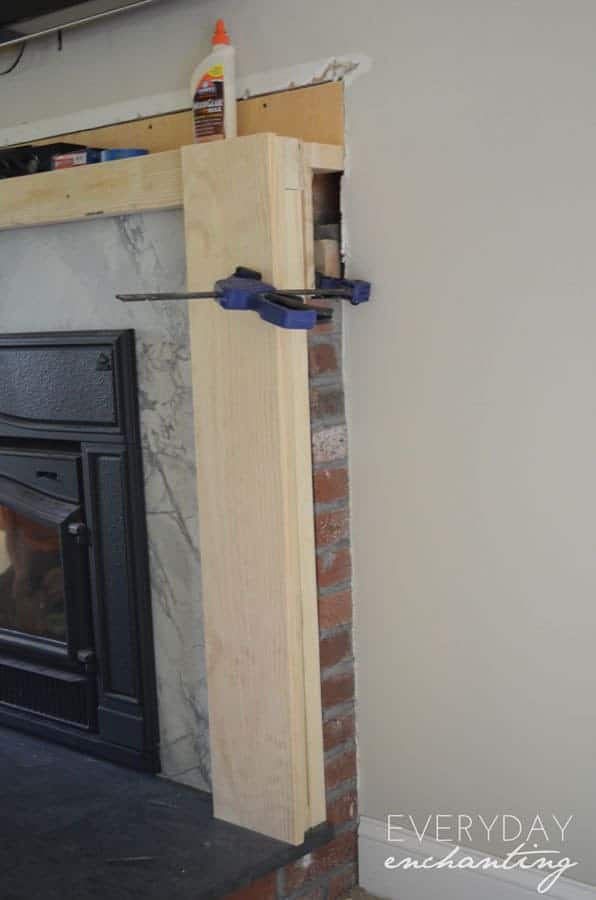 Because of our staggered brick and the resulting demo, we were able to capitalize off of the gap to use clamps. They gave an extra layer of stability to the glue and nails we used to attach the first trim boards to the 2x6s.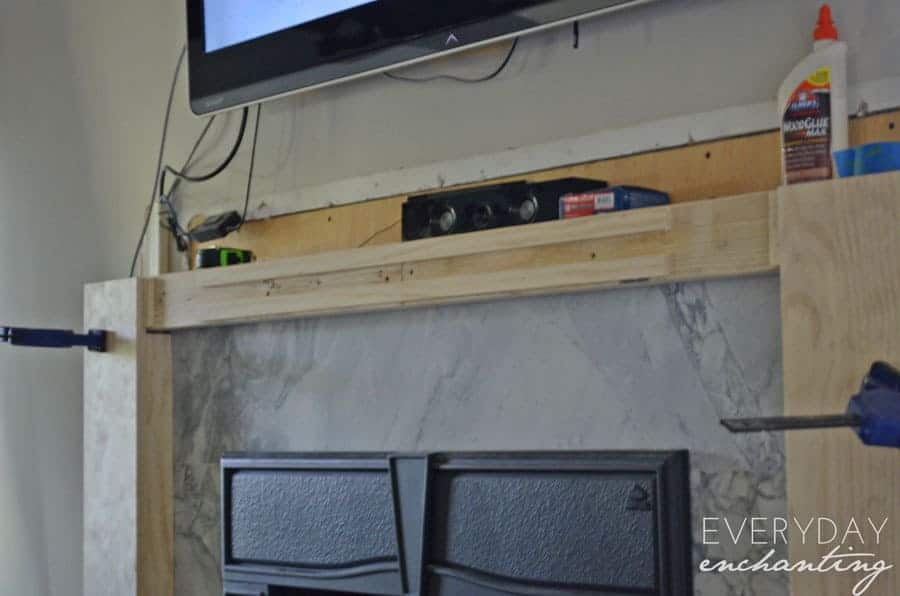 Because the top board wasn't going to have any detail, we used spacers behind the trim to ensure that the top board would be flush with the eventual detail boards.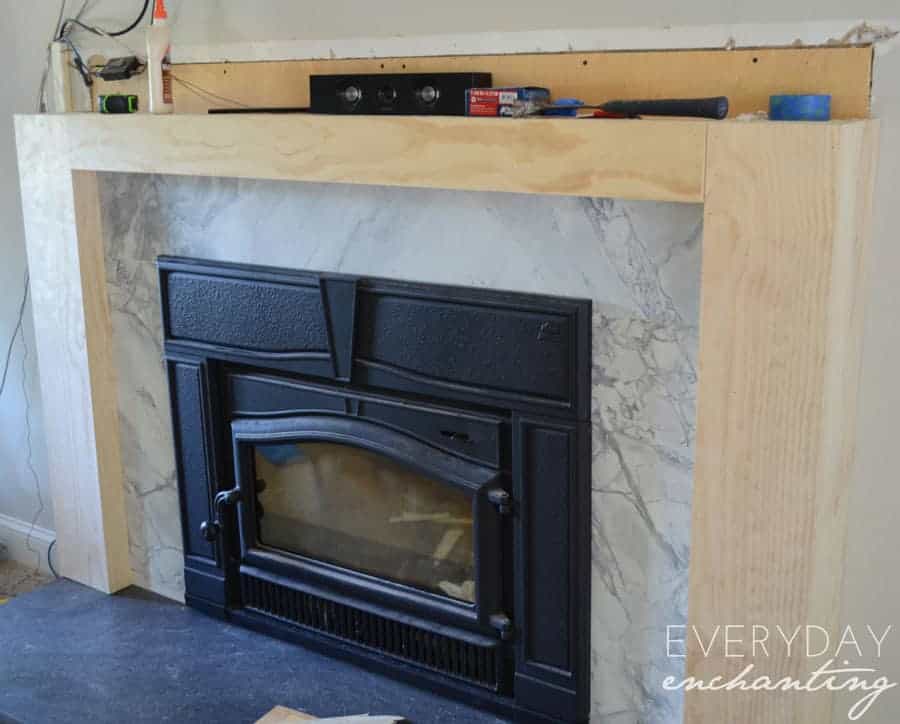 In this picture, you can see how the top trim board comes out slightly further than the side boards.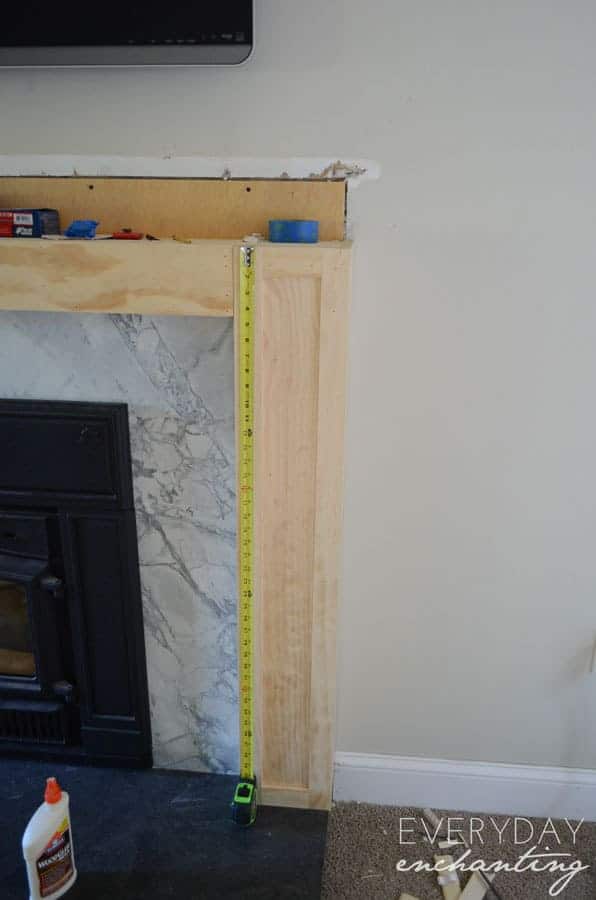 But now it is flush with the detail boards!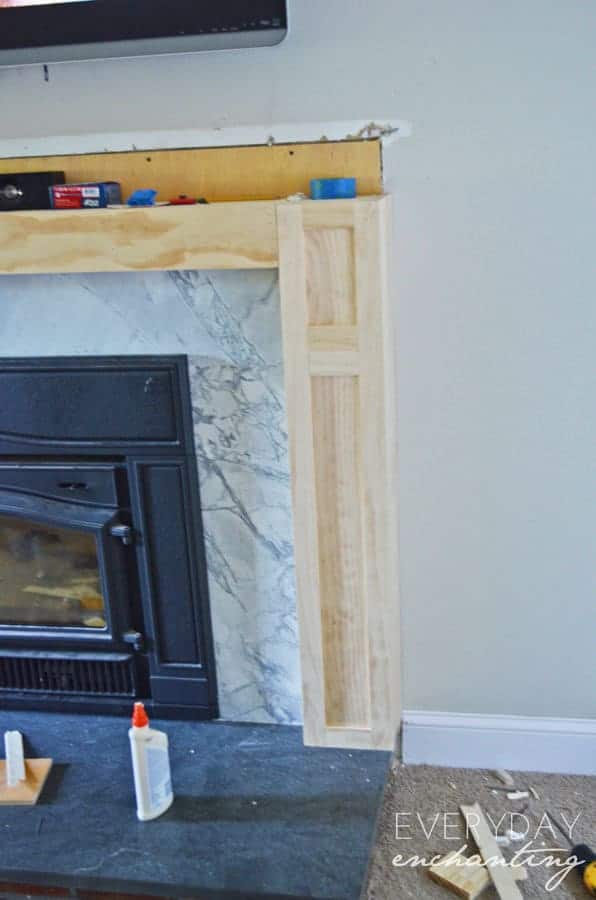 We used extremely thin pieces of pine to create the boxes. We adhered them using wood glue and small finish nails.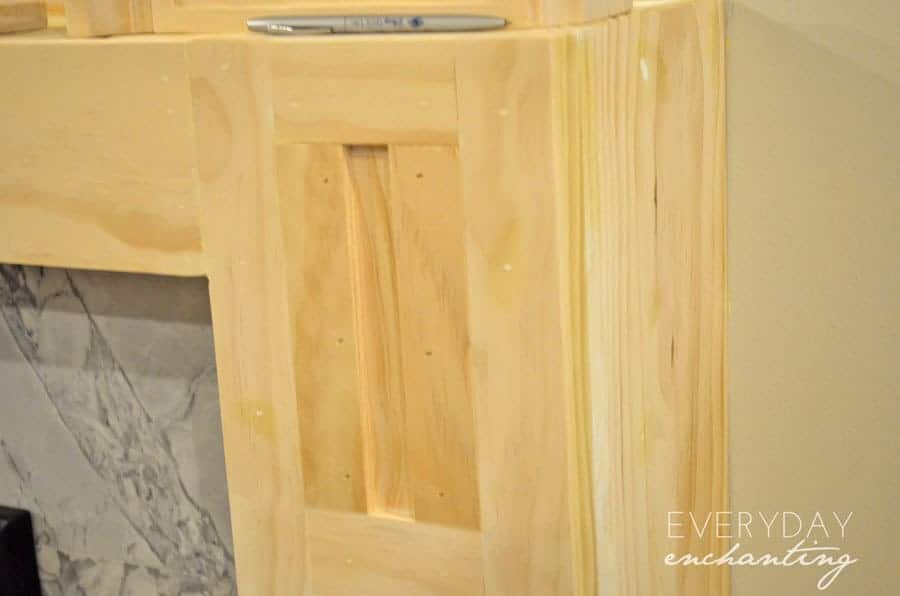 We filled in the top area to make a flat base for the corbels.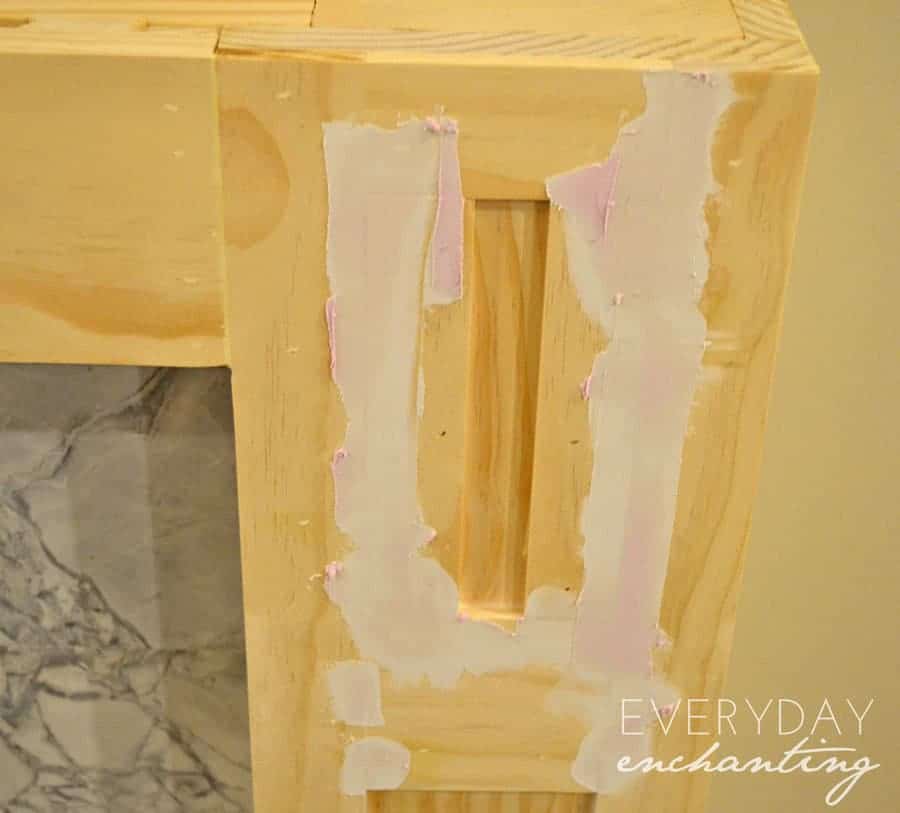 Putty and sanding eliminated any cracks or gaps between the trim pieces.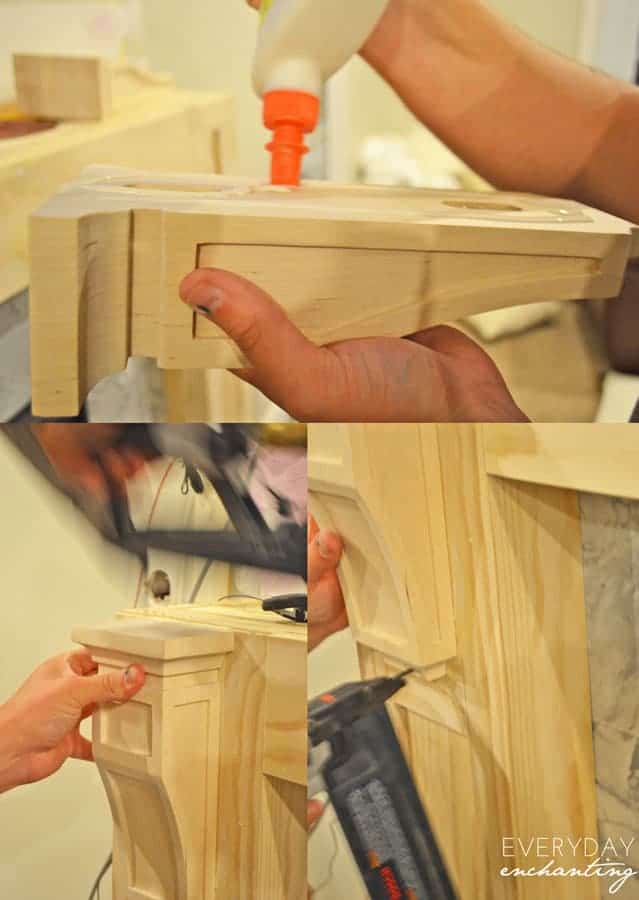 This post contains affiliate links for your convenience. Please see my disclosures here for more information.
These beauties are the Barcelona Mission Corbels from Osborne Wood Products. They are made from soft maple, which is durable, but blends nicely with pine, and gives an extremely smooth paint finish.
Painting the Surround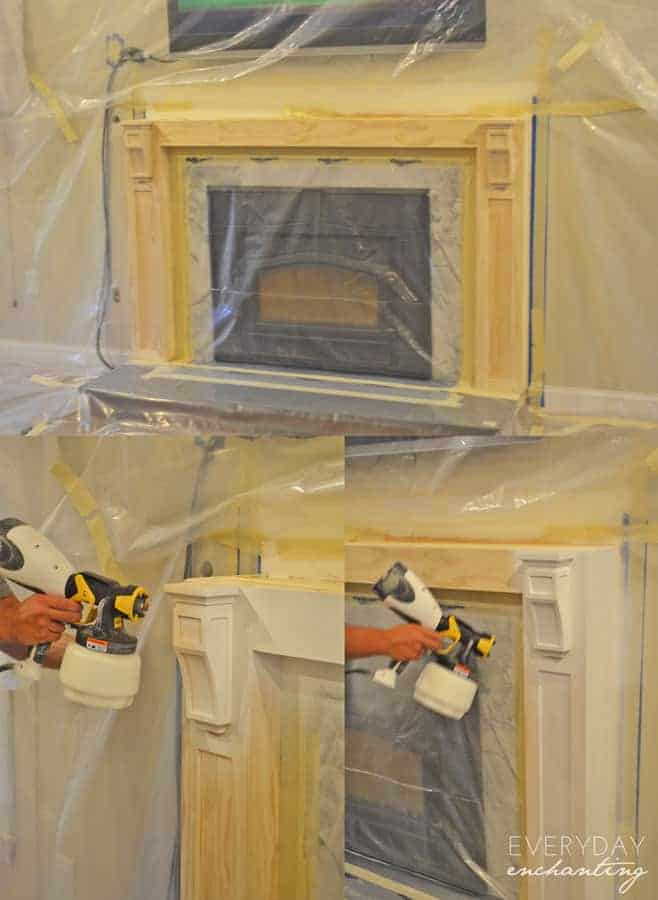 We used our paint sprayer to give the fireplace a nice smooth finish. I could have never gotten the results we did with a brush! You can read more about our paint spraying technique here. You will notice that we were very careful to mask everything off- especially the TV! There was no drips or overspray. We used Benjamin Moore Aura Paint + Primer in Simply White Semi-Gloss.
The Rustic Solid Pine Mantel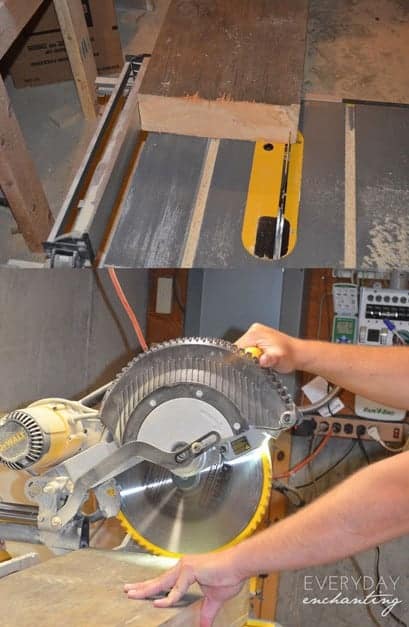 Next up was the mantel. The mantel is a solid piece of milled pine that was actually a tree my dad cut down. His friend Bernie mills wood using a manual sawmill. Mack trimmed it to a rough size (about 6″ extra) using the chainsaw, and then we carried it downstairs and trimmed it square using the table saw and compound miter saw.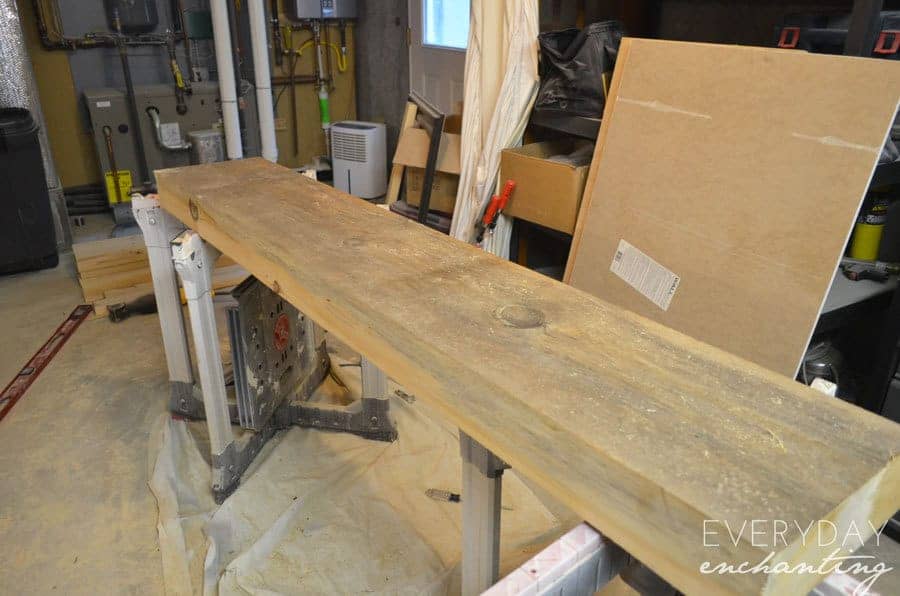 Here's the unfinished piece- gorgeous. I had a moment where I wanted to just poly it and leave it natural- but ultimately there was a lot of damage to the patina and it needed to be sanded anyway.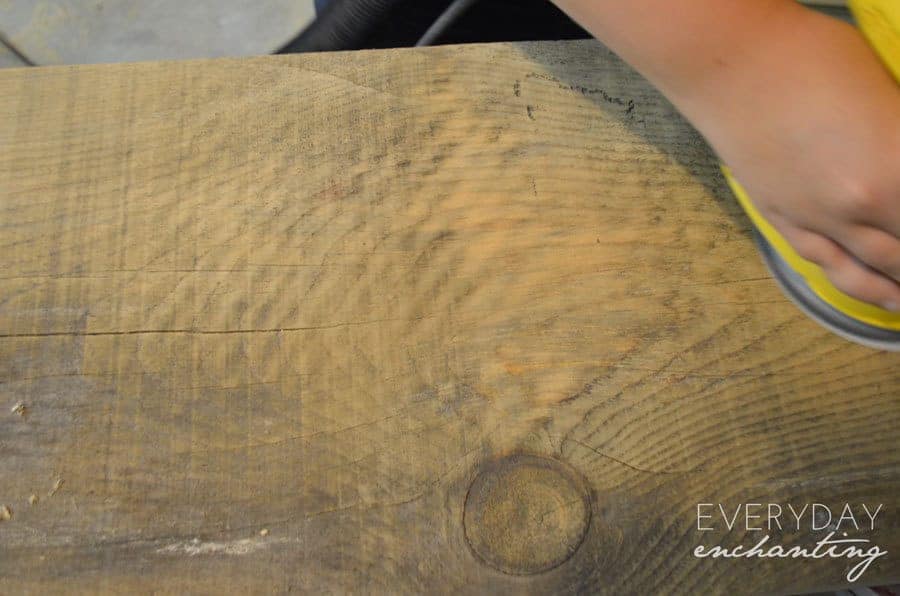 Even sanding it didn't strip its natural character. It took a LOT of sanding. We started with 60 grit and worked our way up to 220- then it was as smooth as silk.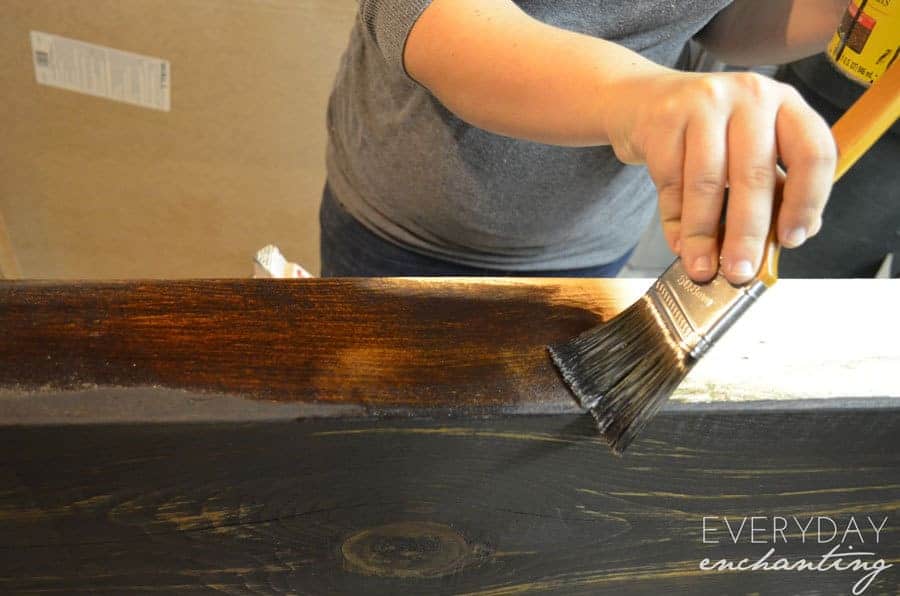 I stained it using Minwax Dark Walnut. It took a few coats, especially since my before-mentioned "character" didn't take the stain well. Ultimately, I loved the variation from the knots and grains! As it dried, they darkened beautifully.
Hiding the TV Wires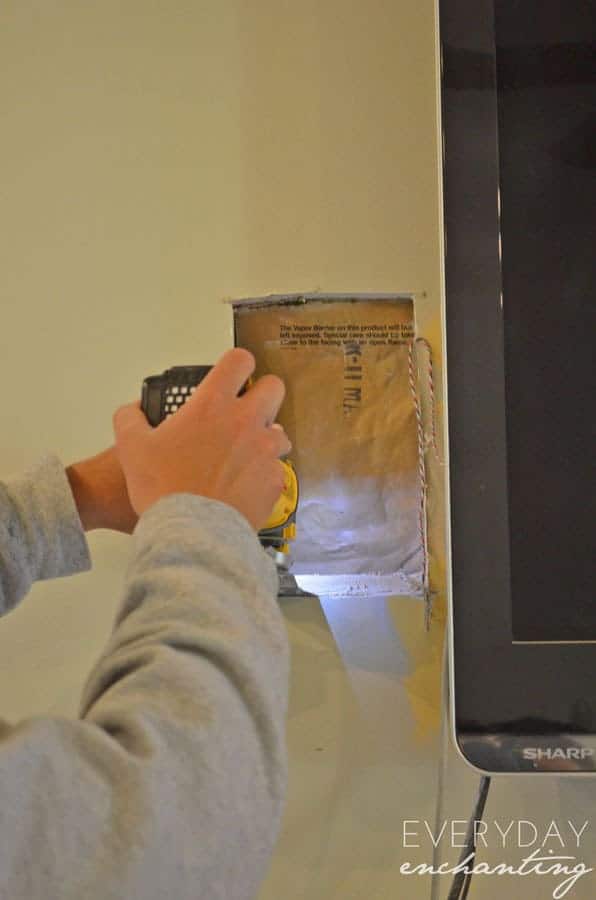 Since posting the reveal we've had a lot of questions about what we did with the TV wires. Since it was a two-person job (and very frustrating) I wasn't able to photograph the steps. But here's an explanation of what we did. I mentioned above that we took advantage of the demo-ed fireplace and wall to drill through some studs- at that time we ran a simple string through and pulled it out of a hole in the bottom of the wall.
The photo above is actually behind the TV now (the TV is on a sliding mount) and is a simple outlet and hole for the cords. That is where the other end of the string came out. long story short, we used the string to pull the wires through the wall. We kept tieing a new string at the end before it disappeared into the wall, and that would guide the next set of wires through. I hope that makes sense! It's a challenging task, but also even more challenging to explain!
The Results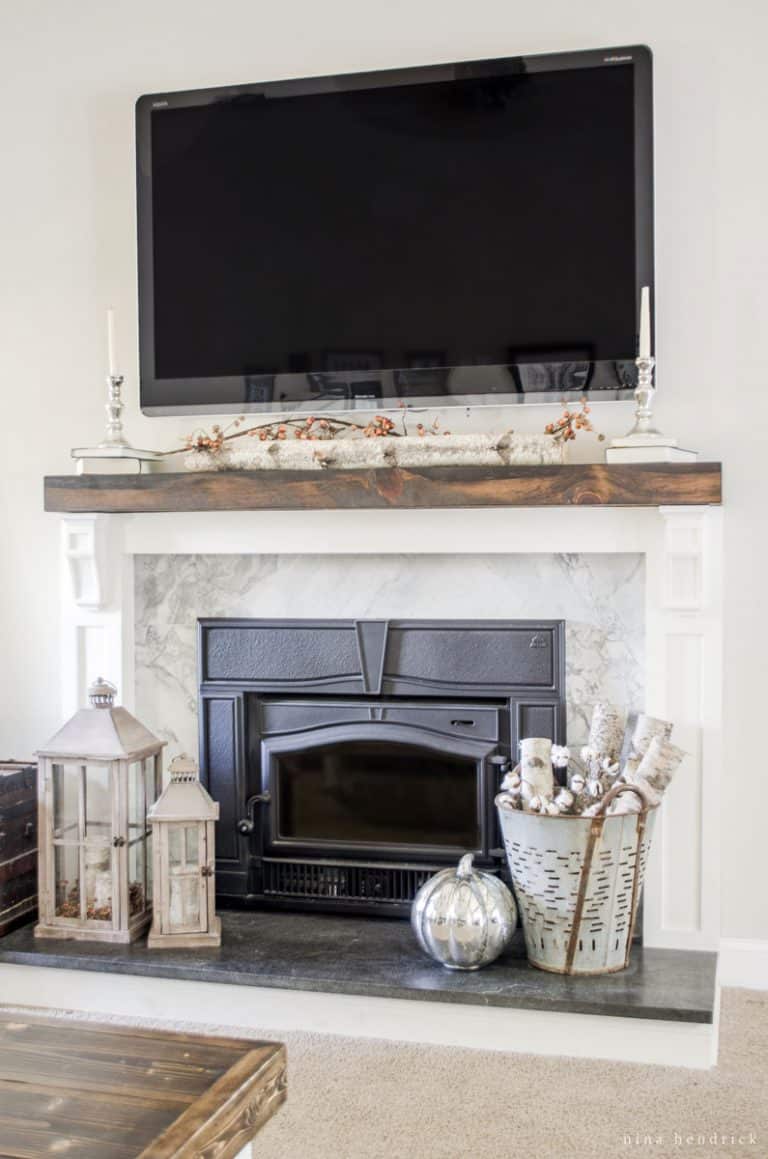 And here is the final result! The mantel is anchored for now with two very long rustic screws. We didn't want to permanently attach it since it may need to come down when we move on to Phase 2 (the surrounding built-ins and TV enclosure). We are so pleased with the new fireplace, and it fits in beautifully with the rest of our home!
Family Room Paint Color:


Fireplace Surround: