Embrace autumn with these stunning fall mantel decor ideas! From pumpkins to candles, discover the perfect blend of rustic charm and cozy vibes.
As the leaves start to fall and the air gets a chill, it's the perfect time to bring a bit of that autumn magic into our homes. And hey, why not start with the fireplace mantel? Creating a fall mantel display in your living room can really set the whole vibe for your home! Let's spruce up your space with some fall mantel decor. Think warm colors, cool textures, and, of course, all the pumpkins, leaves, and gourds you can find!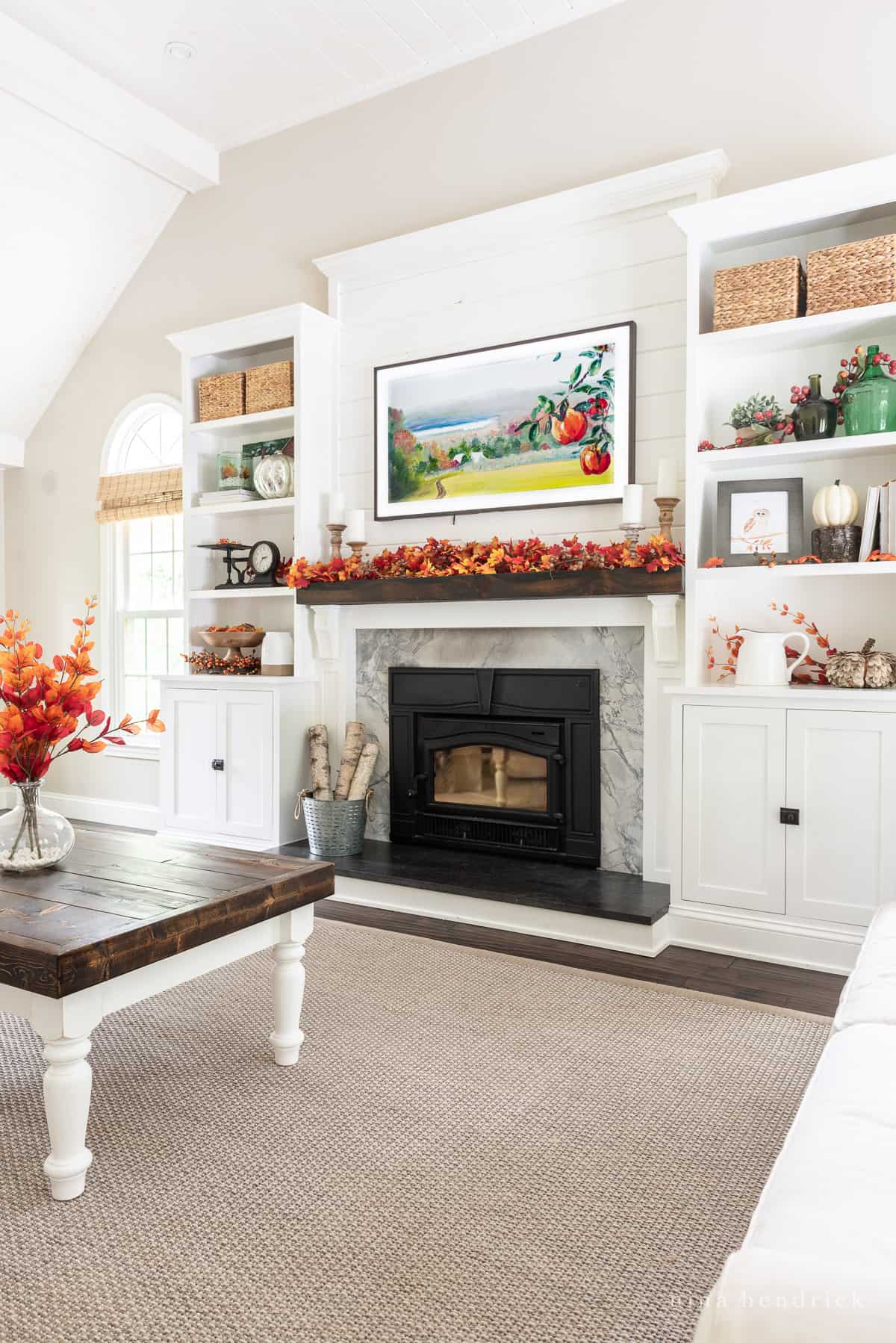 Stunning Fall Mantel Decor Ideas to Spice Up Your Home
This post contains affiliate links, which means I may get a small commission (at no extra cost to you) if you shop my link. Please see my disclosure if you'd like more info!
Styling Tips for All Mantels
Big or small, chunky or slim, every mantel has its own character and deserves its fall glow-up. If you're blessed with one of those wider mantels, go all out and layer up with textures, colors, and all the fall flair. But hey, if you're working with a narrower space, don't sweat it! A simpler, minimalistic touch can be just as striking. Think simple candlesticks chilling at each end or a cute row of small pumpkins lined up for a parade. It's all about embracing that simple fall mantel decor and making it shine.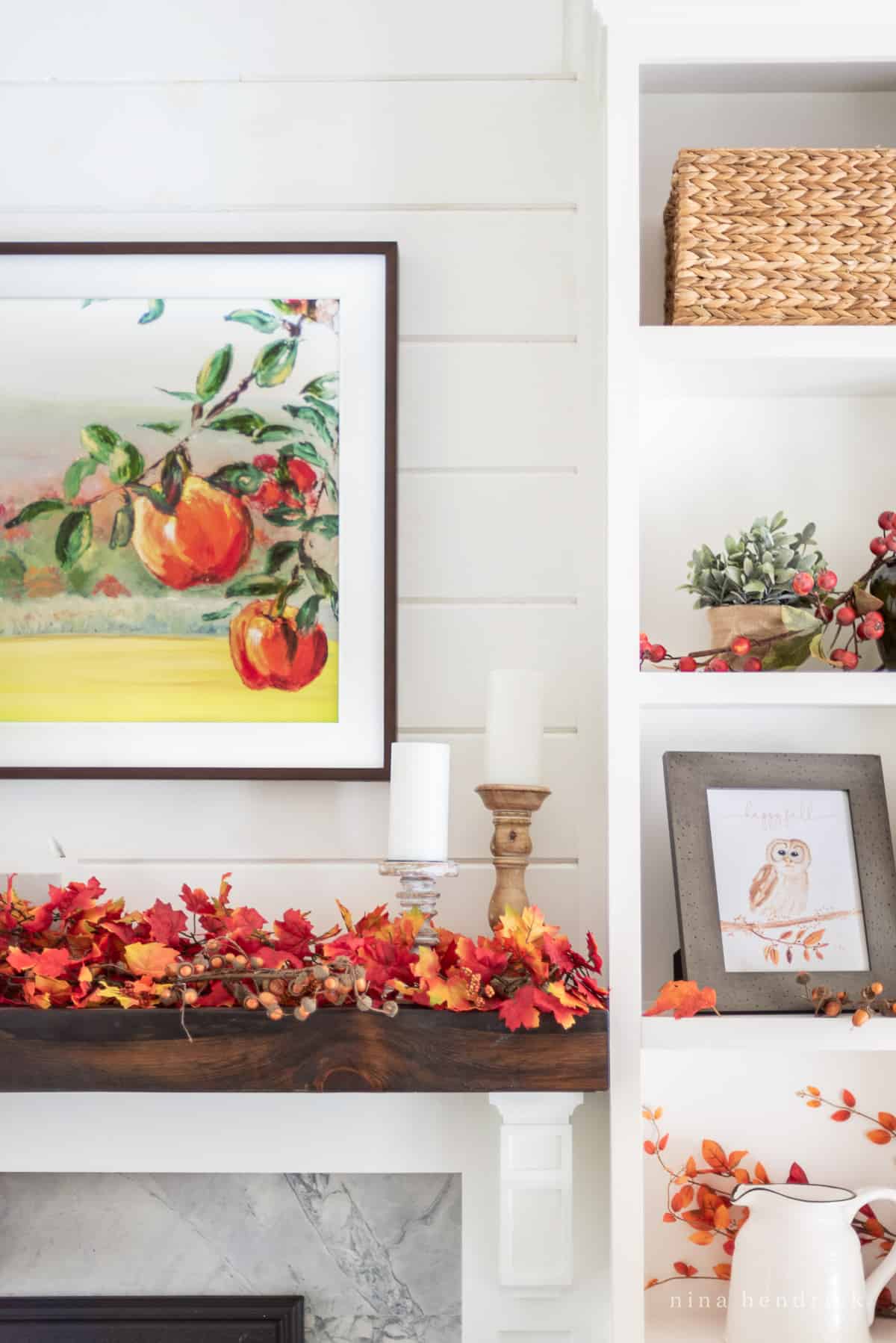 Choosing a Color and Theme
Let's chat colors and themes – it's like dressing up your mantel in its favorite autumn outfit.
First off, think cozy and warm. Imagine the colors you see as you're sipping your warm autumn beverage and watching the leaves change. Rich oranges, deep reds, and lovely golden yellows are always a win.
You can also go with calm, soothing neutral tones for your fireplace decor. Think soft beiges, creamy whites, and gentle grays. These hues can create a serene and sophisticated vibe while still evoking the essence of fall. Pair these neutrals with natural wood elements or white pumpkins to keep it seasonal yet understated. It's like a whisper of autumn, adding elegance without overwhelming the space.
When it comes to themes, think of a theme as your mantel's storyline. Maybe you want to take everyone on a "Harvest Journey" or dance through a cascade of "Autumn Leaves".
And, hey, don't shy away from mixing it up! Some velvety textures here, a touch of metallic sparkle there, and you've got a mantel that's equal parts chic and festive. Just remember, balance is key. Mix those glitzy pieces with some down-to-earth, natural elements. Trust me, it's like a match made in fall heaven.
Harvest Bounty: Pumpkins
Alright, let's talk about the fall superstar: pumpkins! Whether you're team classic orange pumpkins or you've got a soft spot for those chic cream whites and greens, there's no denying the pumpkin's place in fall mantel decor. Mix up those sizes and colors for a display that's as unique as you. And if you're working with a narrow mantel, keep it simple: a row of petite pumpkins can make just as much of a statement.
Want to showcase those pumpkins a bit more? Elevate a few! Pop them on candle holders, wooden crates, or even a stack of old books.
Oh, and here's a little pro tip: carve out one of those pumpkins and use it as a vase! Put in some fall leaves and fresh flowers, and you've got yourself a unique centerpiece. Fresh flowers + pumpkins = fall decor magic!
Pumpkins aren't just for pie, my friends. They're versatile, fun, and oh-so-fall! So, grab those pumpkins, give them a stage on your mantel, and let the autumn vibes roll!
The Magic of Faux Pumpkins: All the Charm with None of the Spoil
Real pumpkins not your thing? No worries! Faux pumpkins come to the rescue. They're just as cute, last forever, and there's no mess. It's a win-win-win!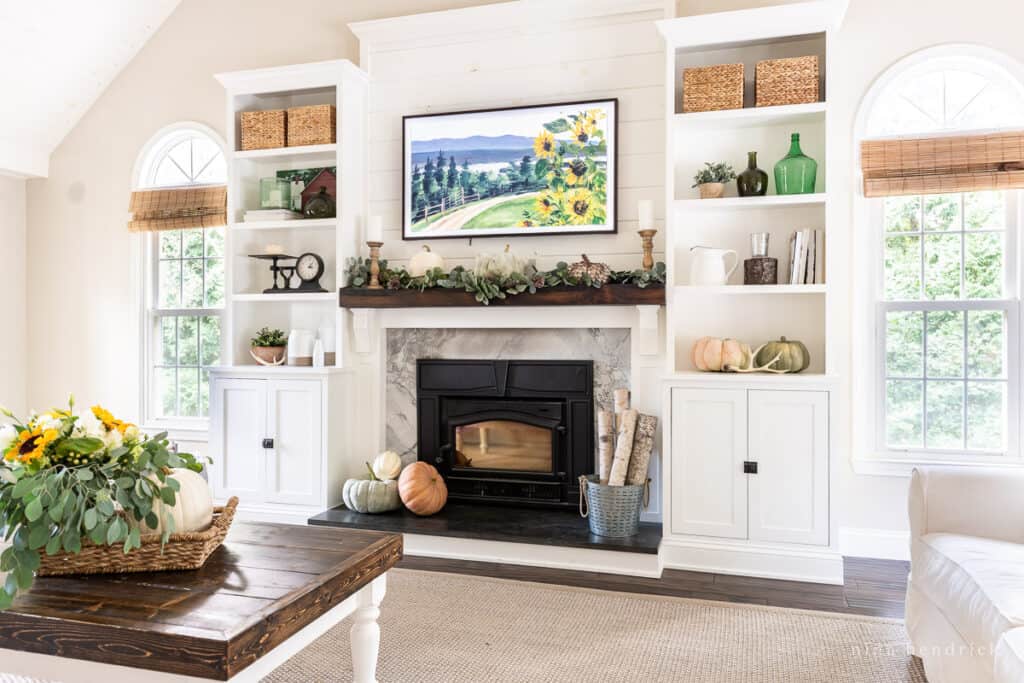 Natural Elements: Fall Florals, Leaves & Branches
Nature's fall showcase isn't just about pumpkins. Those gorgeous leaves and whimsical branches? Mantel gold. Birch, willow, or branches from your own backyard can add that rustic charm we all crave this time of year. Throw in some pampas grass or ferns, and you've got a texture party going on.
And flowers? Oh, they're the unsung heroes of fall. Swap out those summer blooms for deep reds, oranges, and purples. Pair them with some dried leaves, and your mantel's looking like a fall postcard.
And if the real deal isn't up your alley, faux greenery and florals have come a long way. From silky artificial garland to eerily lifelike fake flowers, there's no shame in taking a shortcut, especially if it means your mantel stays lush all season long (with zero maintenance!).
So, roll up those sleeves and start playing. Mix and match, layer, intertwine, and let your imagination run wild. After all, Mother Nature is quite the artist, and she's given us a treasure trove of elements to get inspired by during the fall season.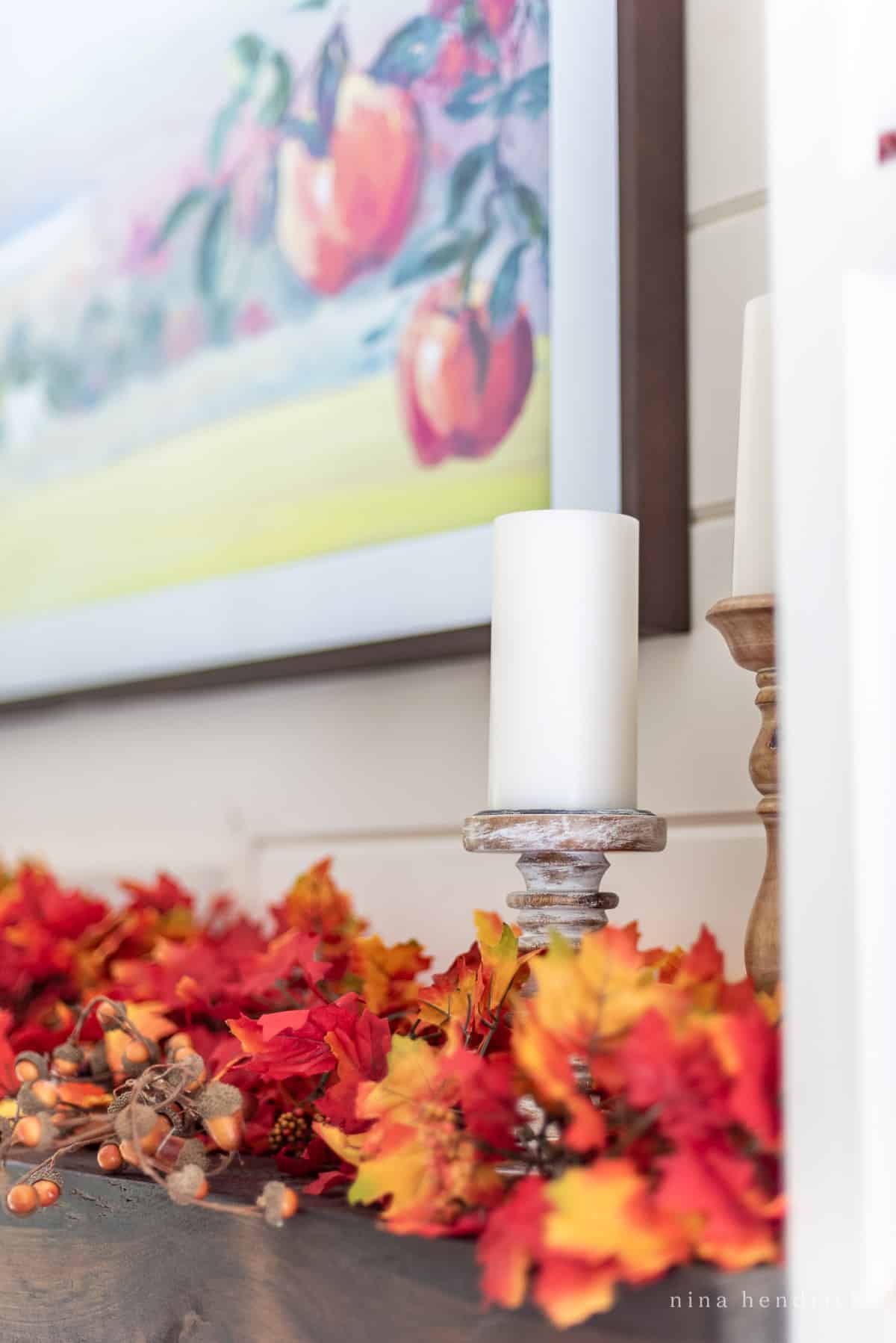 Glow it Up: Candles & Lights
There's something undeniably magical about the flicker of a candle and the warm glow of the fireplace. Imagine cozying up to that on a crisp fall evening! Start with those creamy, dreamy pillar candles – you know, the ones in shades of ivory and vanilla. Pop them at different heights (the more variety, the better!) and for an added touch of modern glam, place them on mirrors. Instant glow-up!
But wait, there's more. How about tossing in some lanterns? They bring that rustic farmhouse style charm and make everything feel a tad more enchanting. And don't even get me started on votives. Tucked amidst your décor, they're like little twinkling stars right there on your mantel.
But for the real magic? Fairy lights. Drape them, wrap them, let them cascade – they're like a sprinkle of pixie dust for a whimsical touch.
Now, tuck in some seasonal faves like pinecones or autumn leaves around your candles and lights. And there you have it, a mantel that's not just lit, but lit in all the best fall ways!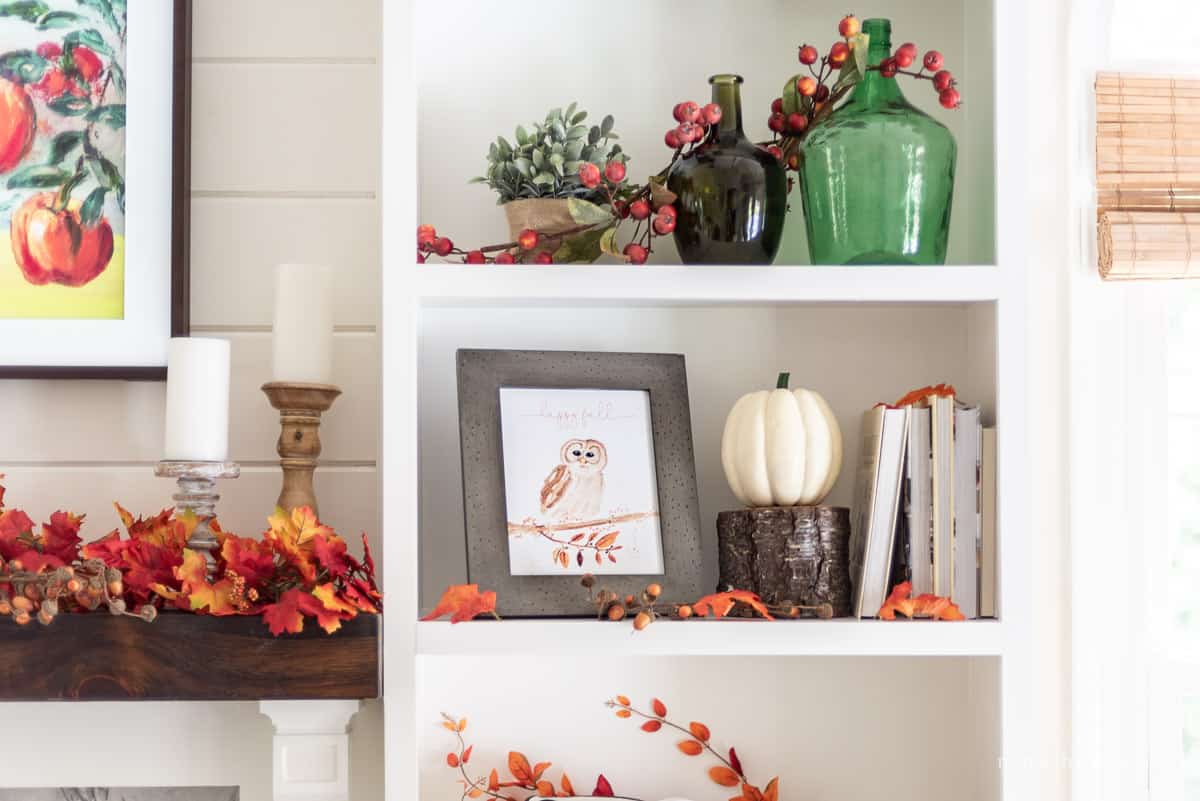 Seasonal Decorative Accents & Artwork
Now, aside from your typical festive fare, your mantel deserves some extra special attention. Rustic baskets? Absolutely. Woven textures and other natural materials? Yes, please. But here's the real kicker: Want a super easy and stylish upgrade? Check out my free fall printables — a little gift from me to you. Perfect for framing or even just casually leaning against the wall for that relaxed vibe. And for all my tech-savvy decorators with a Samsung Frame TV, I've got a treat! Dive into the subscriber-only file library to grab some exclusive fall-themed Frame TV artwork. It's like adding the cherry on top, but for your mantel!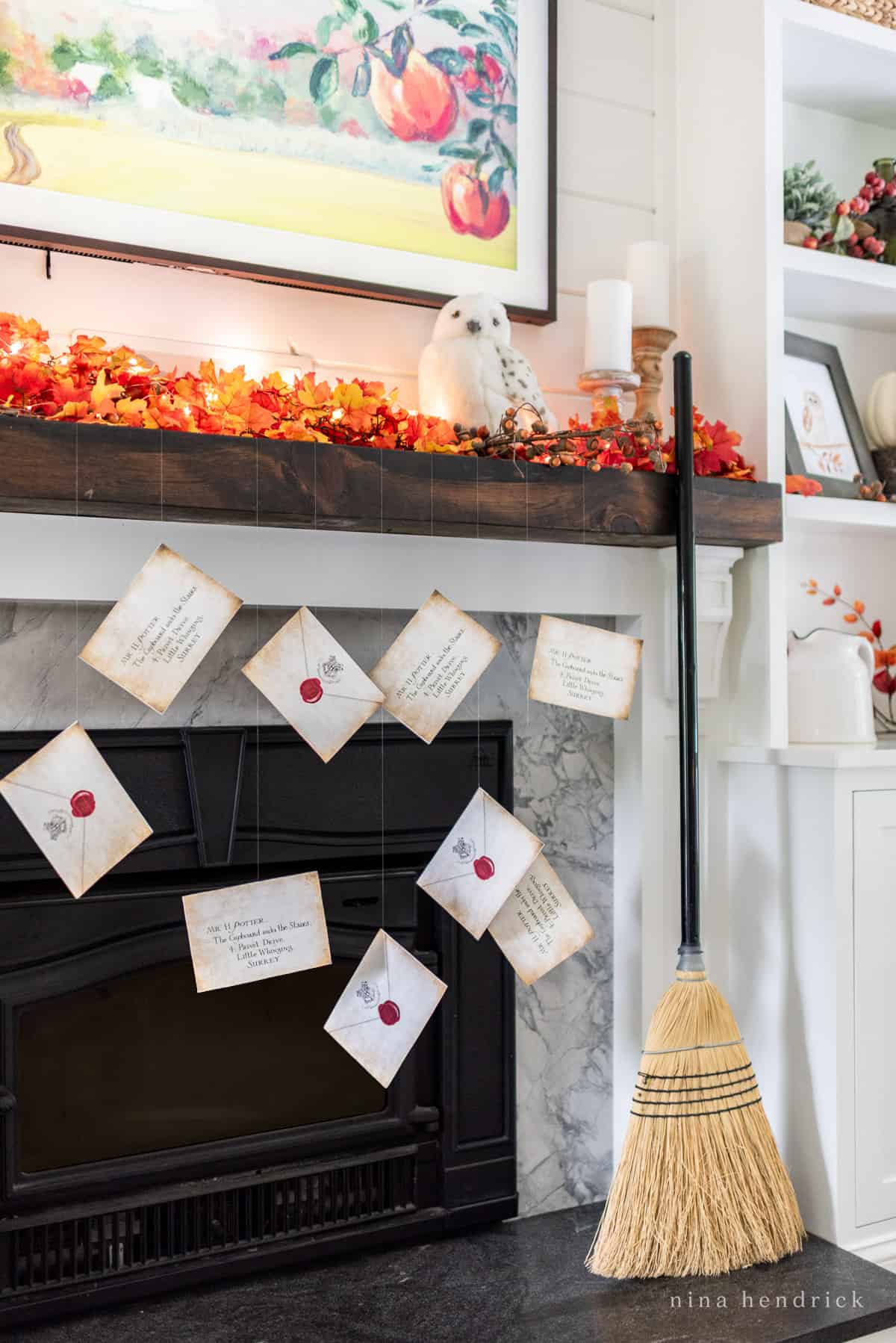 Halloween & Thanksgiving Swaps
Once you've nailed that gorgeous fall look on your mantel, switching it up for Halloween and Thanksgiving is a total breeze.
Let's get a little magical for a sec: if you're a Potterhead (like me 🤓), how about floating some free printable Hogwarts letters across the mantel? Pop in a broomstick and a sweet Hedwig and, voila, you're all set for a magical Halloween night!
As for Thanksgiving? Just swap out those witchy vibes for some rustic, gratitude-filled touches, like a "Give Thanks" garland. It's all about getting creative and having some fun with the festive vibes!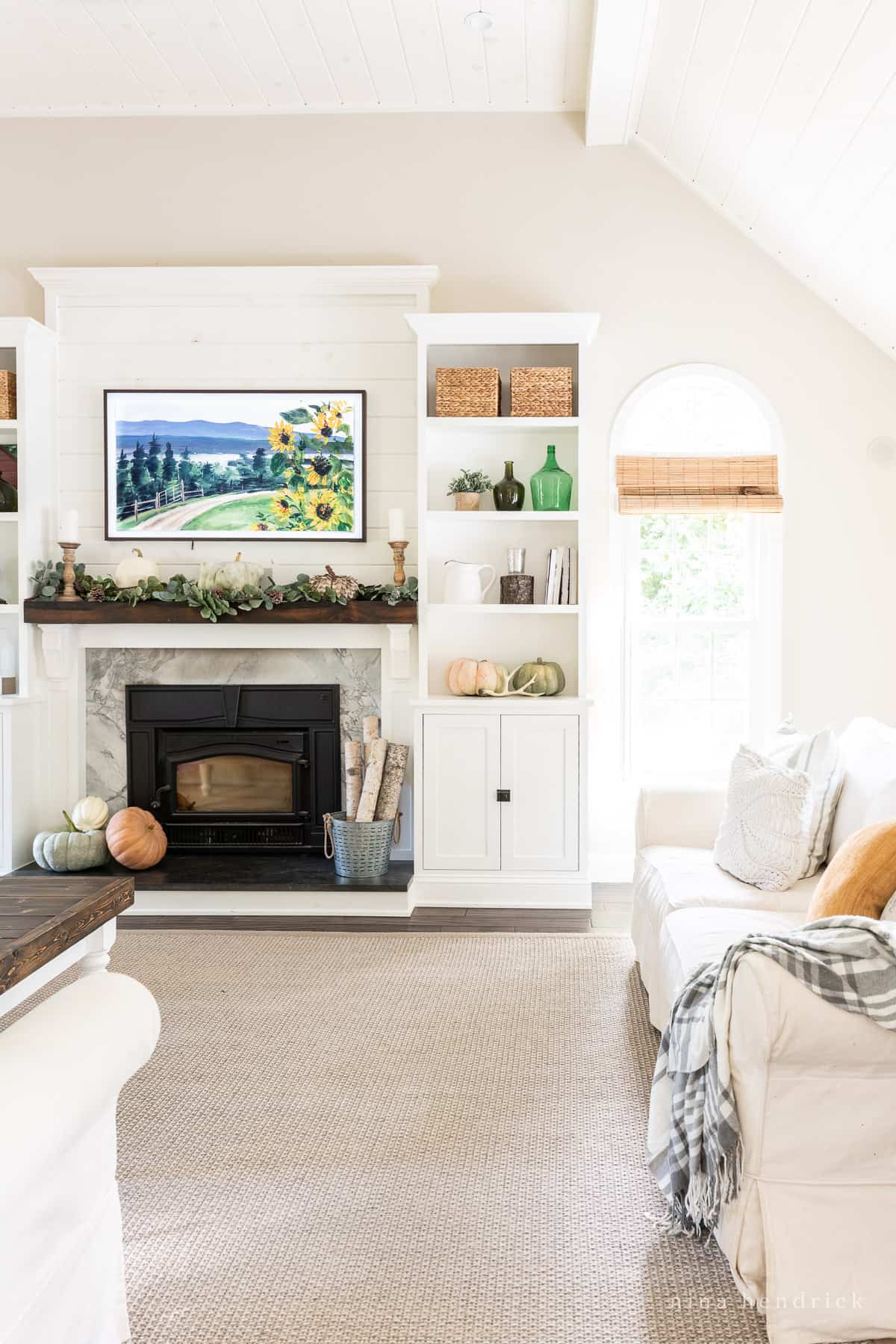 Now we've covered a bounty of fall mantel decor ideas to transition your home through the season and beyond! Whether it's integrating the radiant colors of fall foliage, embracing the rustic charm of pumpkins and gourds, or creating a serene candlelit ambience, your mantel will be the main focal point of warmth and coziness. Just imagine relaxing in your living space, savoring a hot cup of apple cider, and enjoying the atmosphere you've created!
I'd absolutely love to see how you've transformed your mantels! 🍂 Why not join our free online decorating community? It's a friendly space where decor enthusiasts share their creative ideas, stunning photos, and helpful tips. Click here to join and start sharing your beautiful fall mantel transformations and gain inspiration from other like-minded decor lovers. Can't wait to welcome you and see your spectacular designs!