How to Transform Your Space into a Well-functioning Home Bar Area that's Curated to Your Taste
This guide has all the home bar ideas you need to make your next gathering special with the perfect home bar area . Discover the best modern and classic home bar ideas, as well as some useful tips and DIY advice to make your bar area one-of-a-kind.
Whether you're looking to build a home bar from the ground up, or transform an overlooked space into the bar of your dreams, these home bar ideas will help you get started. From different decor styles, to which alcohols to keep stocked, I'll cover all the home bar essentials. You'll even learn how to craft a bar area out of a single bookcase shelf.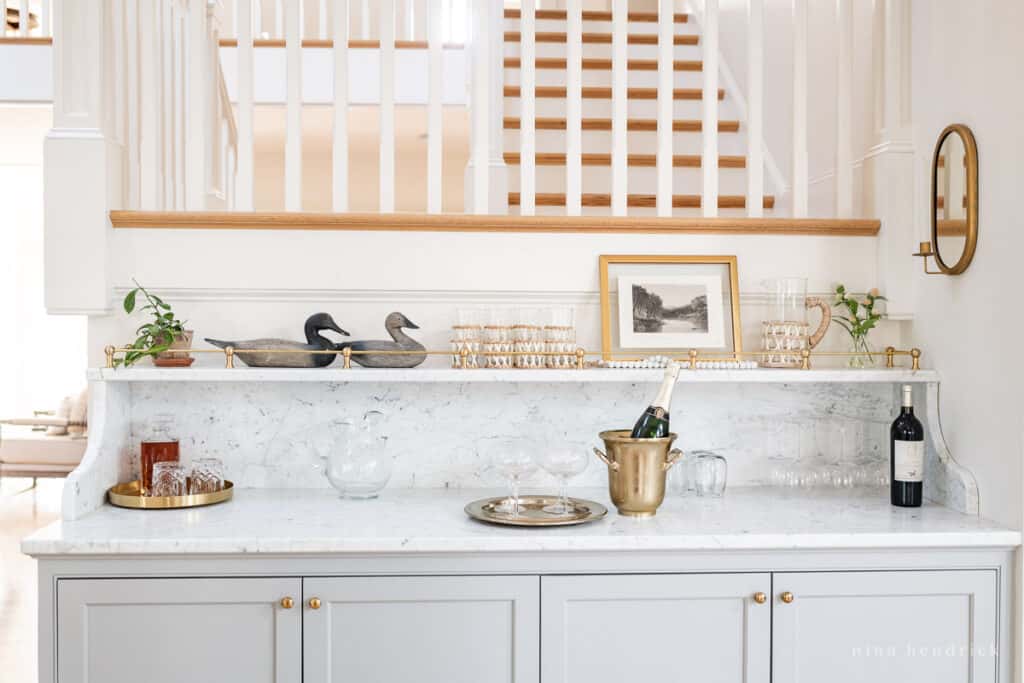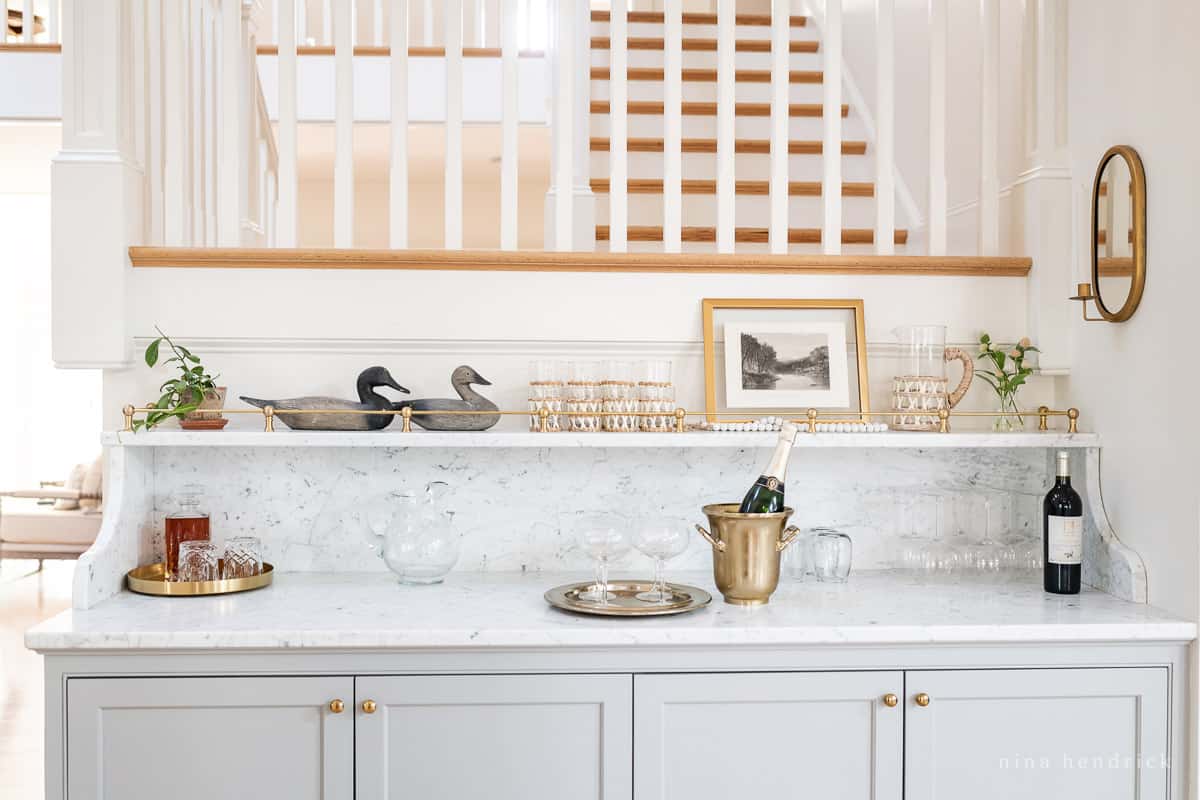 This post contains affiliate links, which means I may get a small commission (at no extra cost to you) if you shop my link. Please see my disclosure if you'd like more info!
I like to think of a bar as adding soul to the home. The gesture of offering to make someone a drink is steeped in generosity, warmth, and connection. The bar is the facilitator of walls coming down and deep conversations you remember forever. It invites you to kick off your shoes and stay for a while; to let loose and have a little fun. It can offer you respite from a long day, or transport you to the other side of the globe. (Chardonnay from the south of France, anyone?). It's there to escalate every celebration, and comfort every loss. The kitchen may be the heart of the home, but the bar is the ever-attuning host.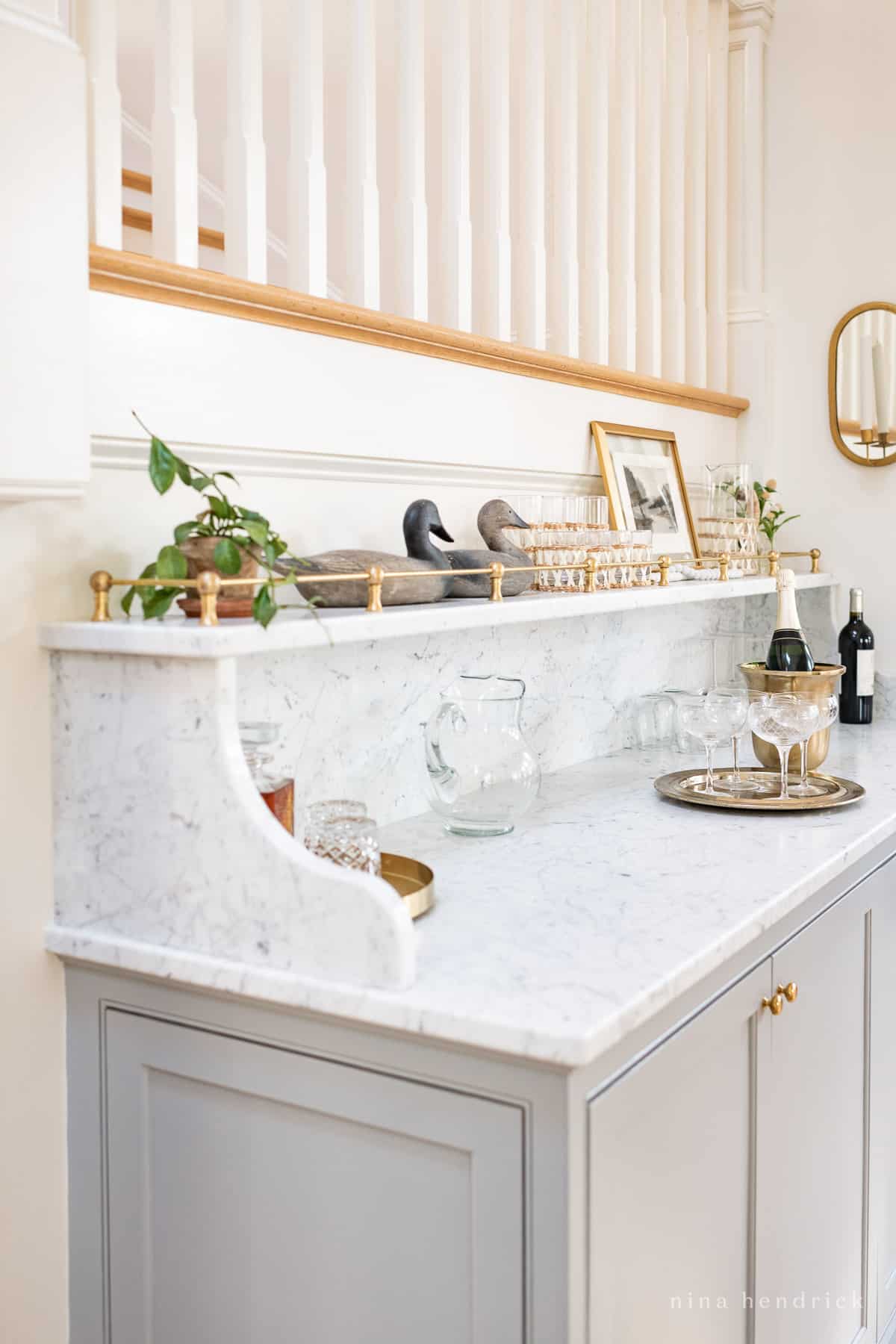 That's why I was SO excited to create our home bar as one of my very first projects in our new house! Our bar is located on the main floor, just off of our kitchen. But when we first moved in, it was an awkward built-in cabinet space near the back of our stairs that was going unused. I decided to transform this wasted space into something we would love.
And voila! Our perfect home bar built-in was born.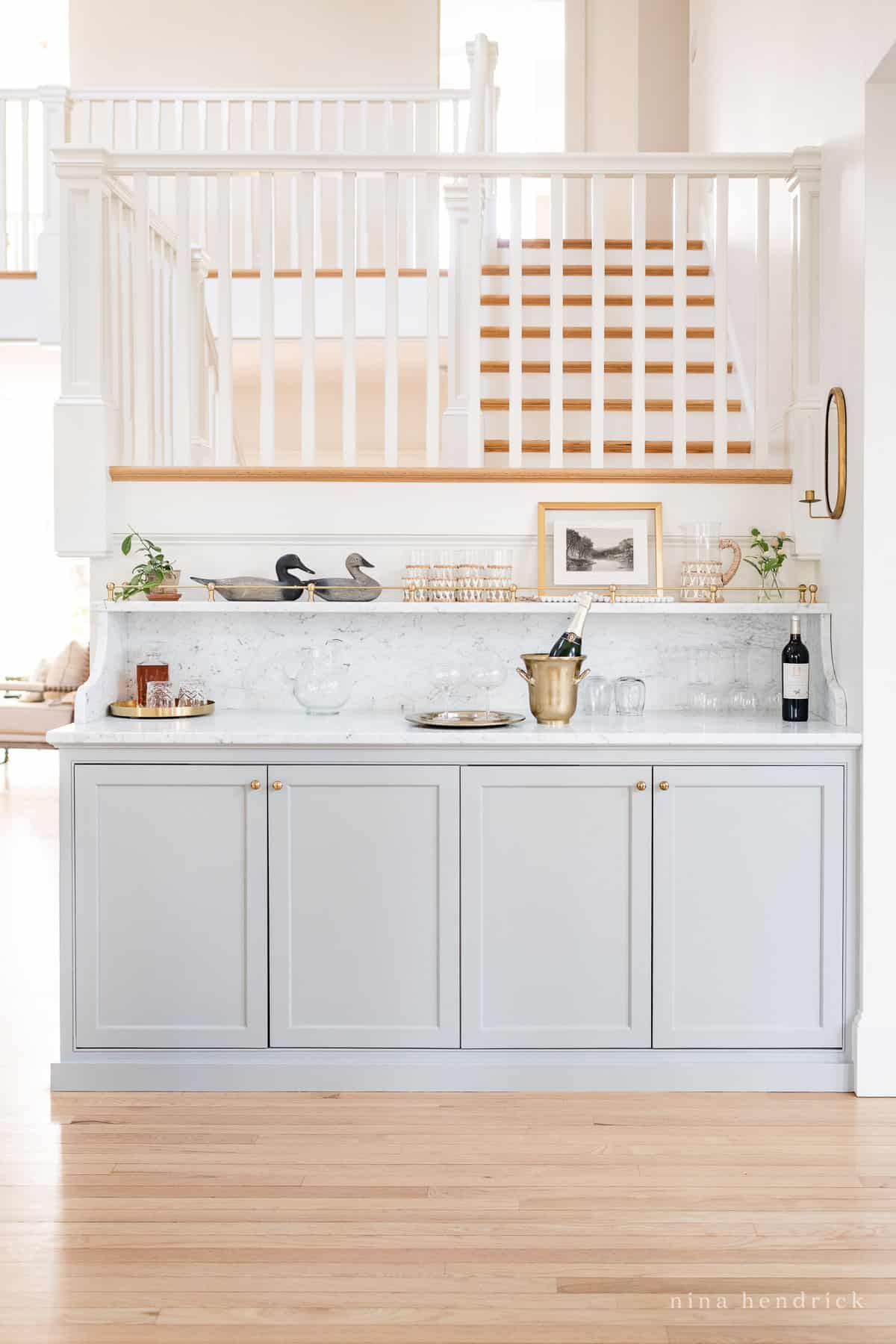 My Home Bar Built-In
I found myself drawn to vintage-inspired designs, and wanted to go in that direction. First, I added a classic marble countertop and backsplash. I knew I needed a stone to balance out the painted cabinetry, and marble coordinated seamlessly.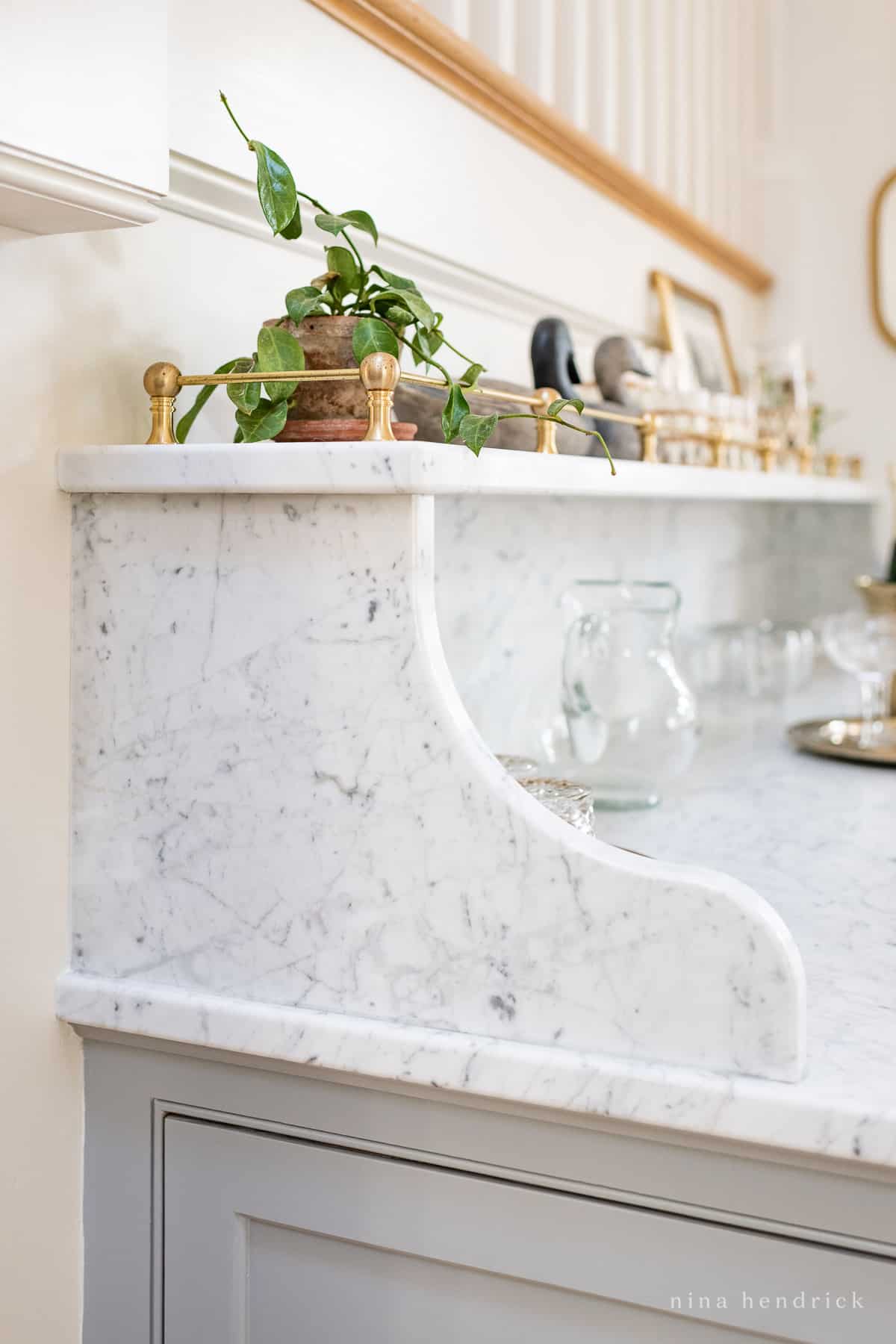 I wanted to make this bar built-in feel like its own special area, separate from the kitchen, so I added decorative marble corbels to each side. They contain the space and give an elevated touch. The gap above the built-in felt unbalanced, so we installed the marble shelf that caps the corbels. The finishing touch is a brass gallery rail we put along the shelf, which protects decor and glassware from sliding off. This bar feels timeless and beautiful, yet simple and functional, and I absolutely love the finished result!
Built-In Bar Area Source List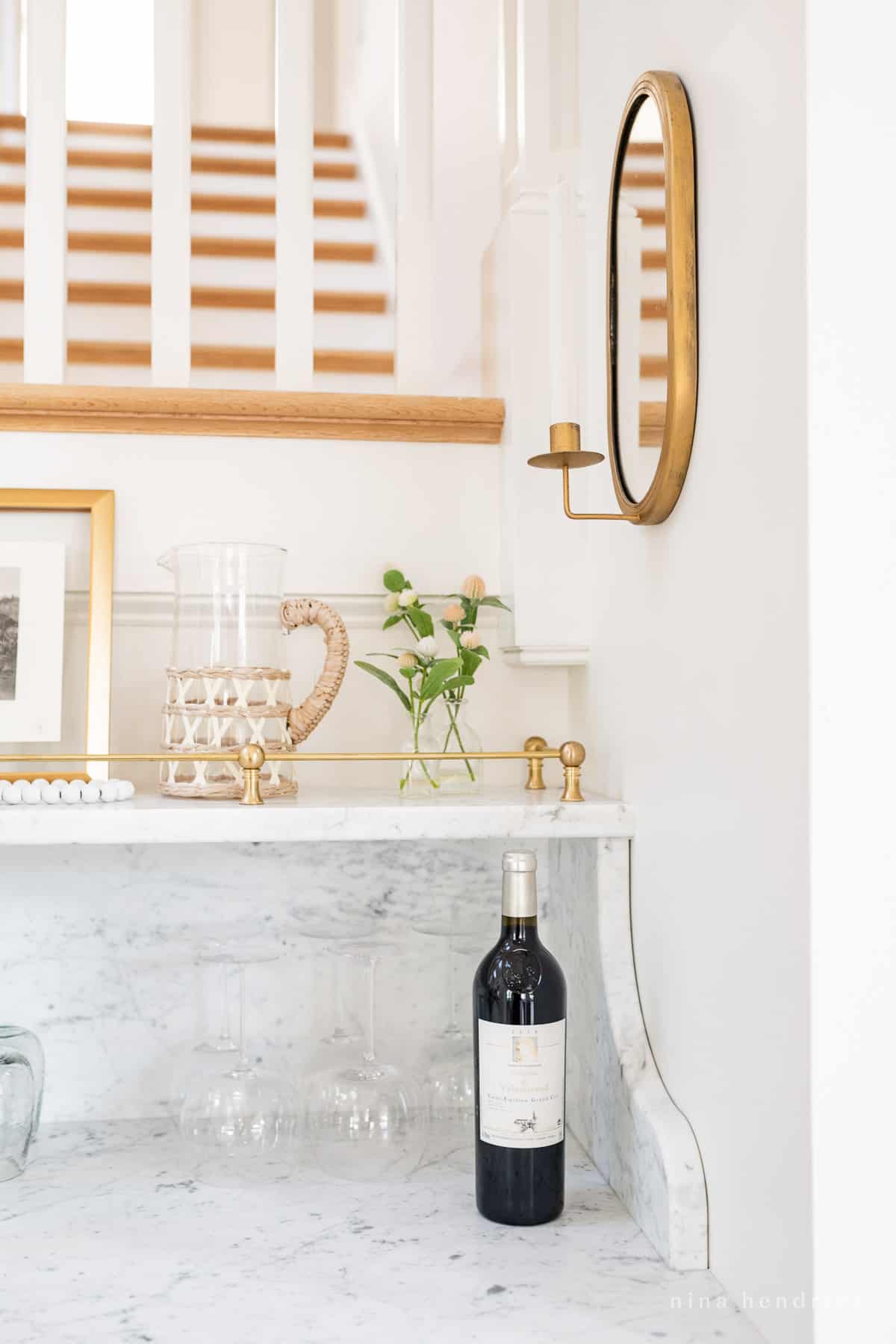 The Basic Elements Every Bar Needs to Function
There's a pretty big range of design elements among home bars. From a fully functioning bar, to a bar cart, it really depends on what you desire and what's feasible. Keeping that in mind, there are some core elements that every bar should have.
A flat area to set or store liquor bottles
Countertop space in close proximity for pouring and mixing drinks
A place to house bartending tools
A place for an ice bucket
That's it! There are many creative solutions to addressing these elements, no matter your style or budget. So, let your imagination flow, and remember – the only rule is that you love the end result!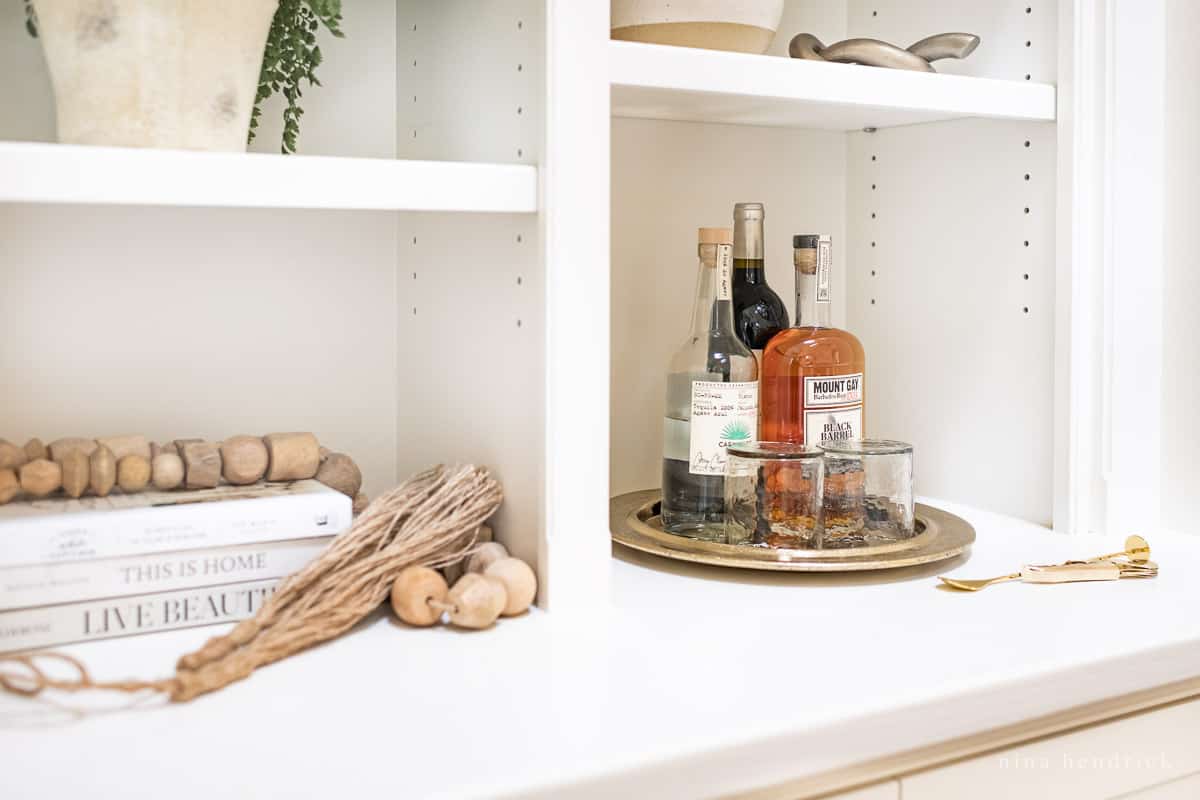 Where Should You Create a Bar in Your Home?
While there's no absolute right or wrong location for the bar in your home, there are a few important factors to consider:
Use a space conducive to serving drinks.
This is why many bars are close to the kitchen area. Realistically, spills are going to happen, so having the bar close to an area that's already designated for preparing food makes sense. Also, you'll want to keep your bar freshly stocked, so it's helpful to have a short transport distance from the kitchen to the bar.
Avoid carpeted areas, rooms that need more privacy, like bedrooms, and rooms that could present sanitation concerns, like bathrooms. Rule of thumb: If you wouldn't want someone to walk through the space carrying a drink, then it's not a good location for a bar.
Consider a spot that's tucked away.
If you're building or renovating, and prefer a bar that's less visible, consider a butler's pantry design. This can still be just off the kitchen, but in its own closed-off spot. This sends the signal that it's an area reserved just for the adults, as well as creating a little mystery and fun for your guests. It's a great place to share a secret or an inside joke! But just because it's tucked away, doesn't have to mean skimping on design. I've come across some truly STUNNING butler's pantry built-in bar designs!
Decide if you're going for casual or fancy.
If you're wanting a relaxed and casual bar, a popular location is the basement. A finished basement allows you to take more creative liberties, because it's less visible than the rest of your home. It also most likely has more space to work with, so that gives you more options for design.
If you're wanting a fancier look, then keep to the main level. It usually houses the formal rooms of your home. This will ensure that your dressed-up bar doesn't look out of place in too casual of a setting.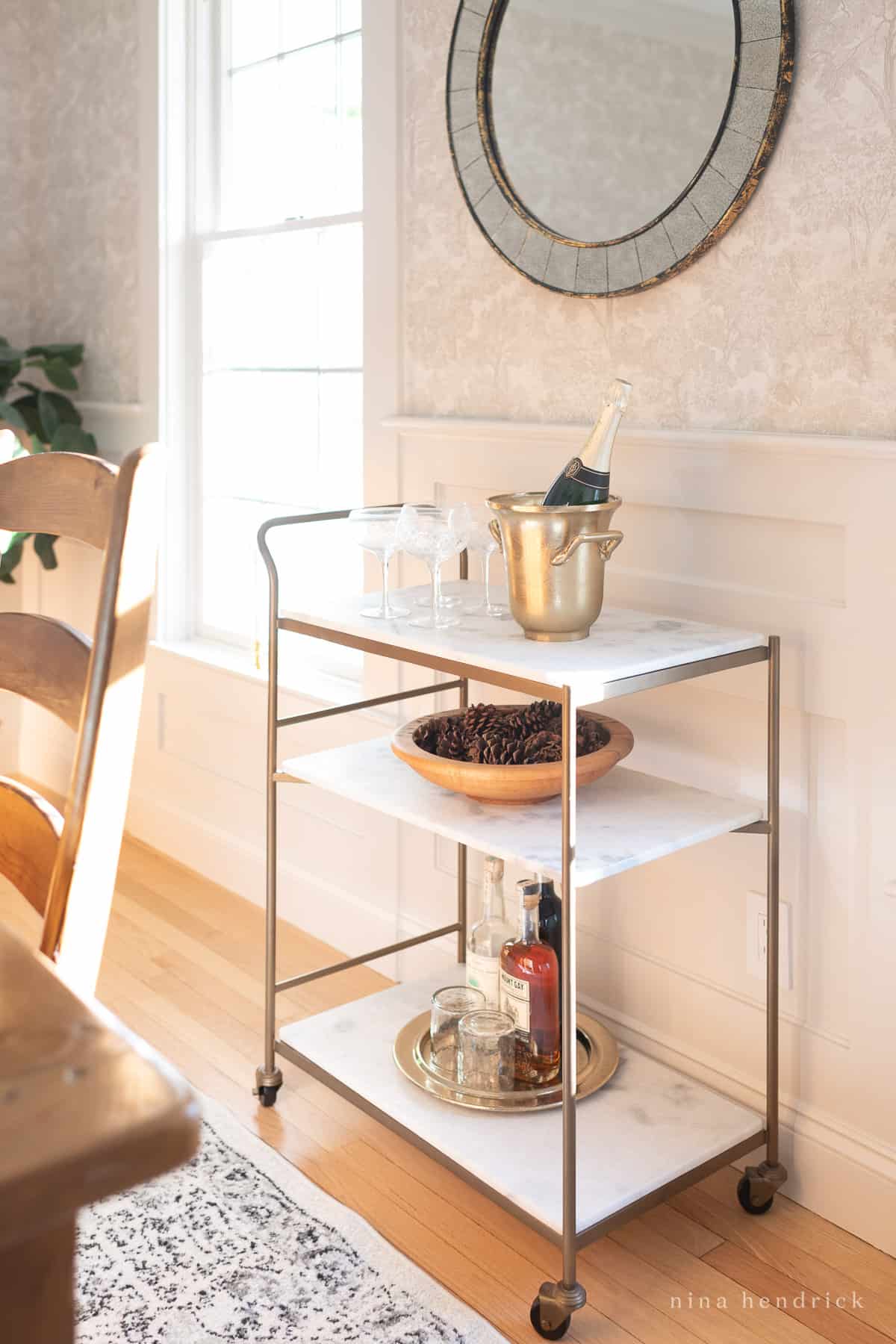 If a built-in space won't work, use a bar cart.
If installing a full bar is not the best option for your home, and you want flexibility, bar carts are the perfect solution! Pick one that fits the style of your home and display a curation of your favorite alcohols, glassware, and linen napkins. If you have space, don't forget an ice bucket, and cocktail mixing tools. You can pull a bar cart just about anywhere, but if you're looking for a permanent place to park it, start with the dining room, sun room, or living room. If you want to keep things simple, stick to customizing the cart for each occasion you'll be using it, only including the essentials needed for the alcohol on the menu that evening.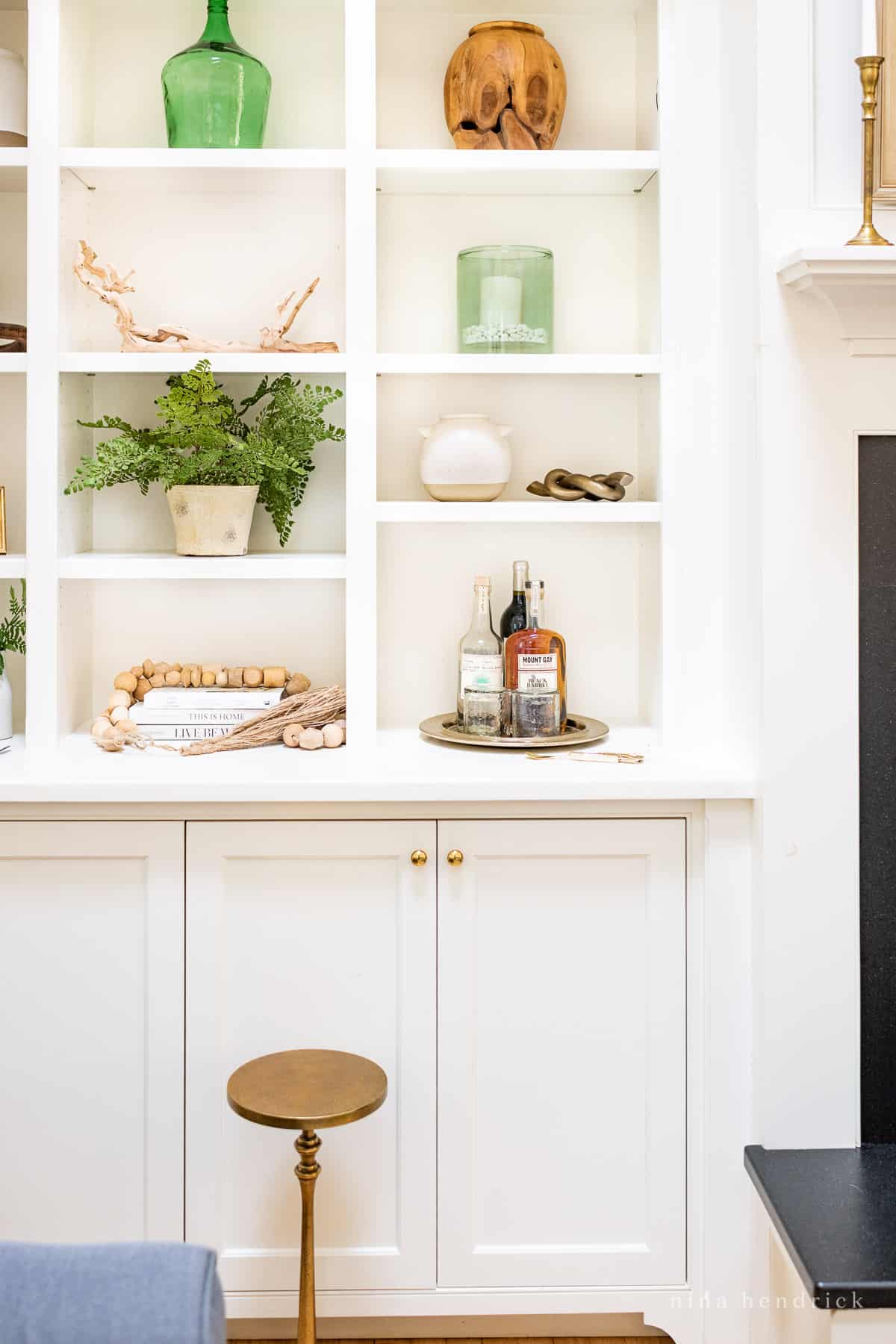 Get creative by turning unique spaces of your home into a bar.
Creating your bar doesn't have to mean demolition and renovation. There are many unconventional solutions to crafting a bar from the cozy nooks of your home. You just have to get a bit creative. You can make use of an unused cabinet space like I did, or simply use the middle shelf of a built-in bookcase.
Another idea is to use a table as a home bar cabinet.
Side tables, entryway consoles, buffets, and accent chests, all get the job done beautifully and with character. You could even use a wall mirror that has an attached shelf with railing to house your liquor
bottles. Just make sure to hang it where there's countertop space nearby for pouring and mixing.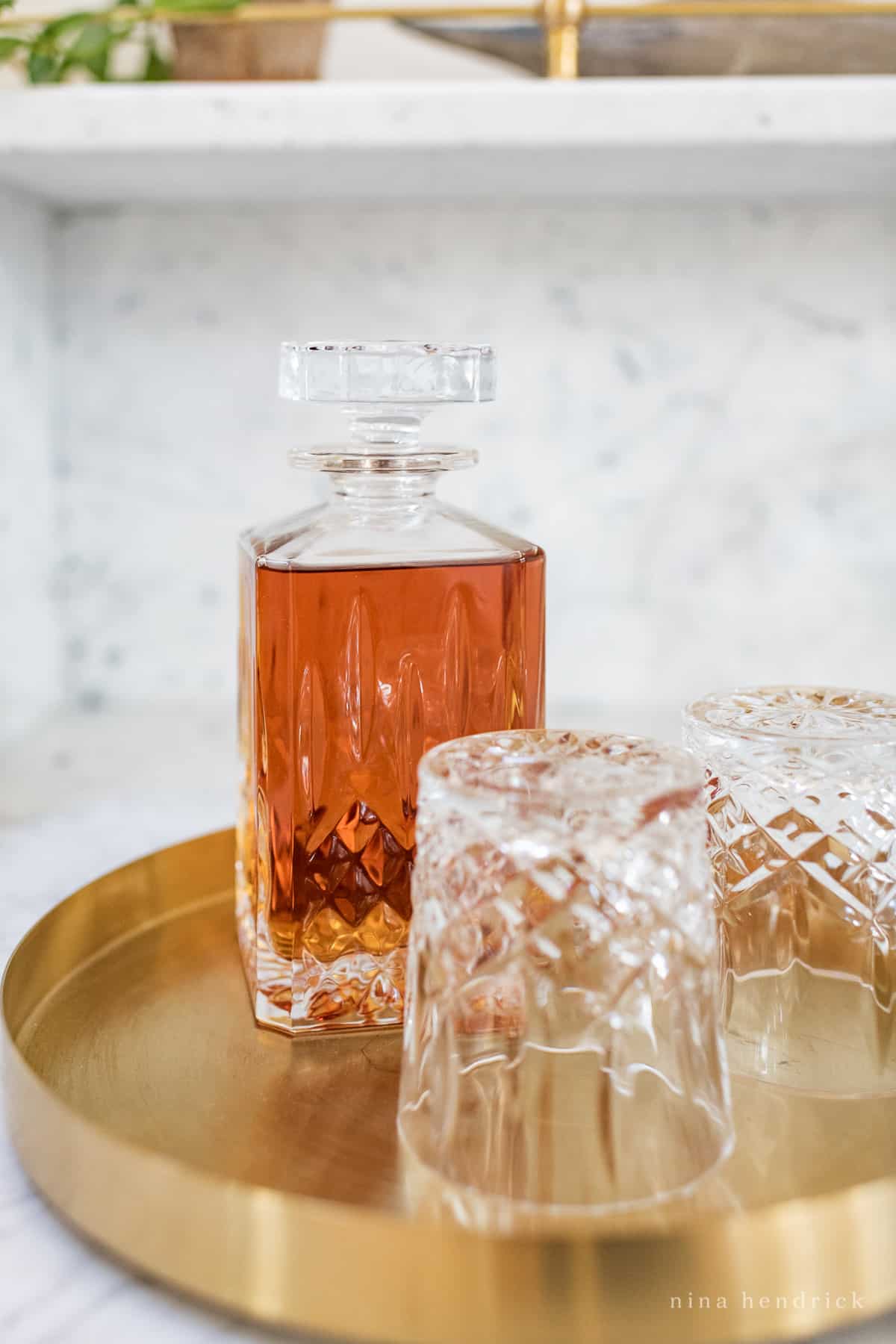 Home Bar Essentials – What You Need to Get Started
I've put together a list of some basics to stock your new bar. These will provide your guests with great options and keep them well-served.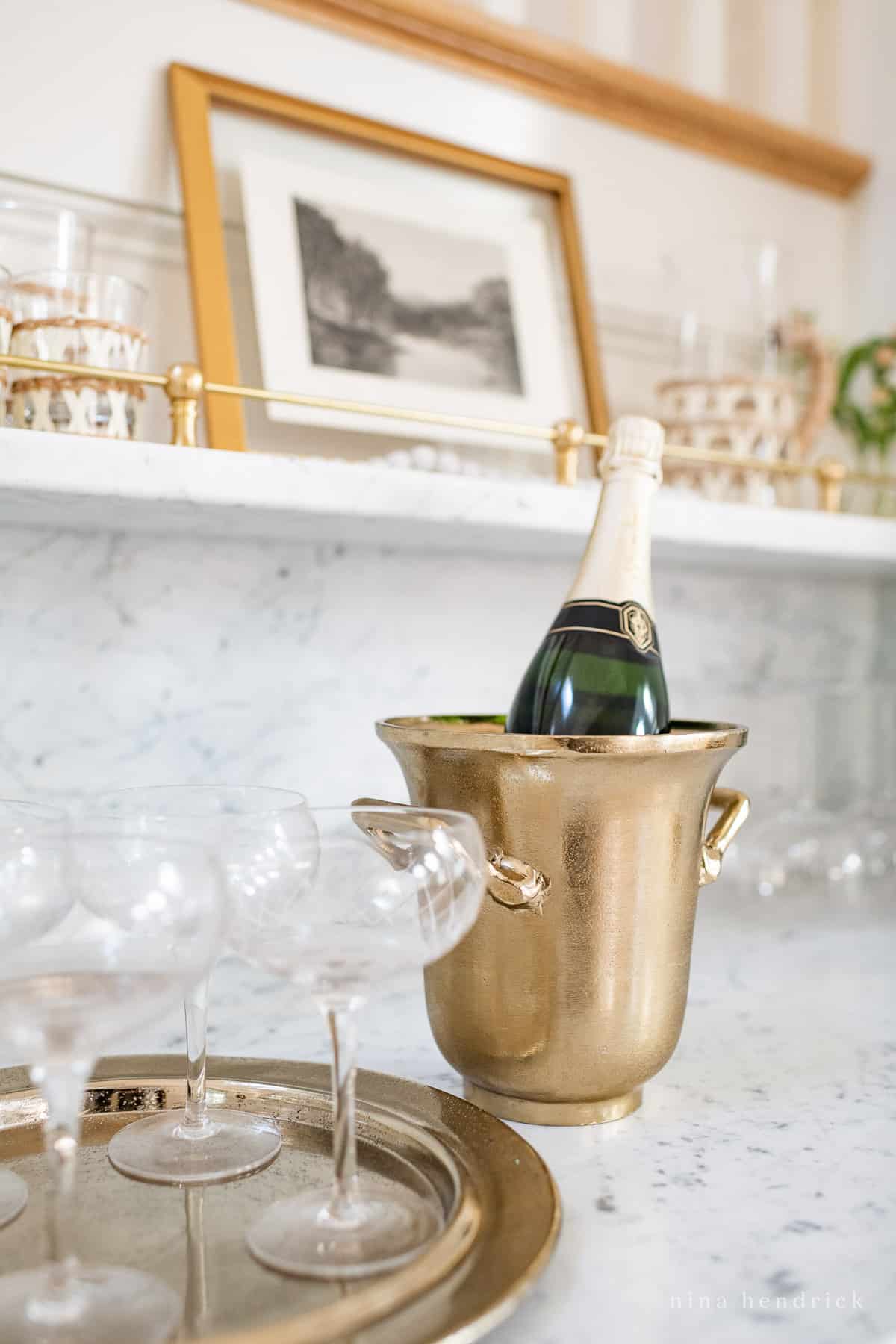 Ice bucket and ice
Whether you have an ice maker as a part of your bar or not, an ice bucket is a must-have. And don't forget to have plenty of ice on hand! If you're planning to set up a New Year's Eve vignette, displaying your bubbly on ice adds a festive touch of glamor.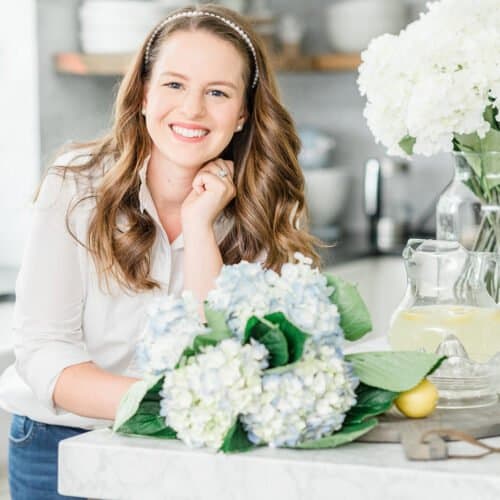 Tip from Nina: If you don't have an actual ice bucket, improvise with a wide-rimmed glass vase, like I did here!
My Favorite Drink Recipe to Use for Big Gatherings
Now, I can't talk about drink ingredients without sharing one of my all-time favorite drink recipes – my traditional red sangria! Normally you equate sangria with summertime, but I make this drink year-round. It's so perfect for big holiday gatherings, and the colors go with the season's festivities beautifully. I would love to know what you think about it, and if it's a hit at your next party! You can check out more of my favorite cocktail recipes here.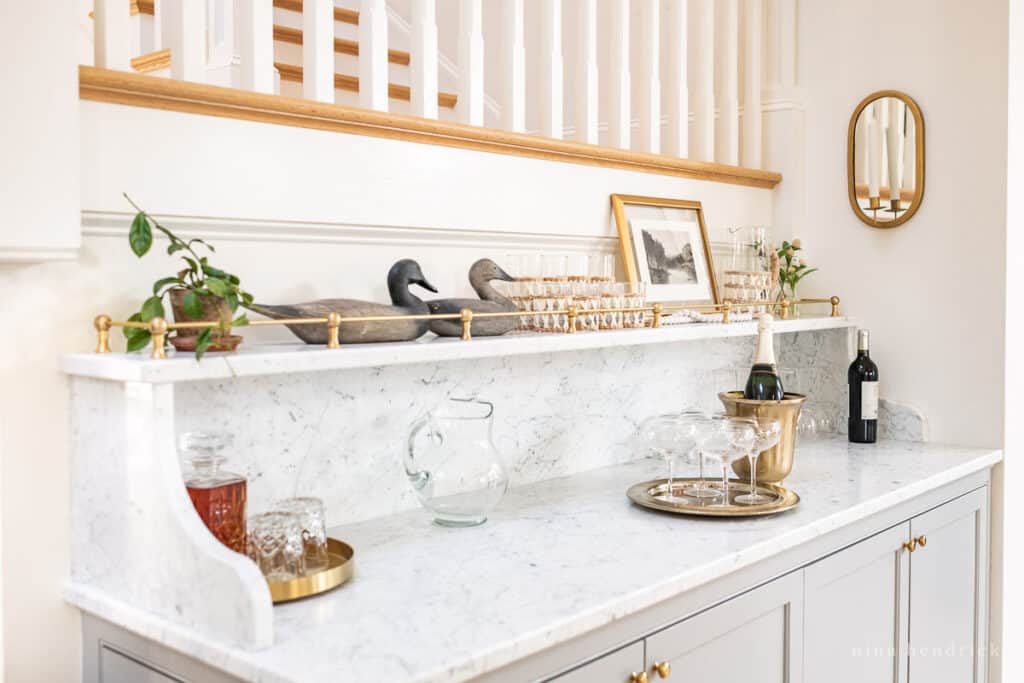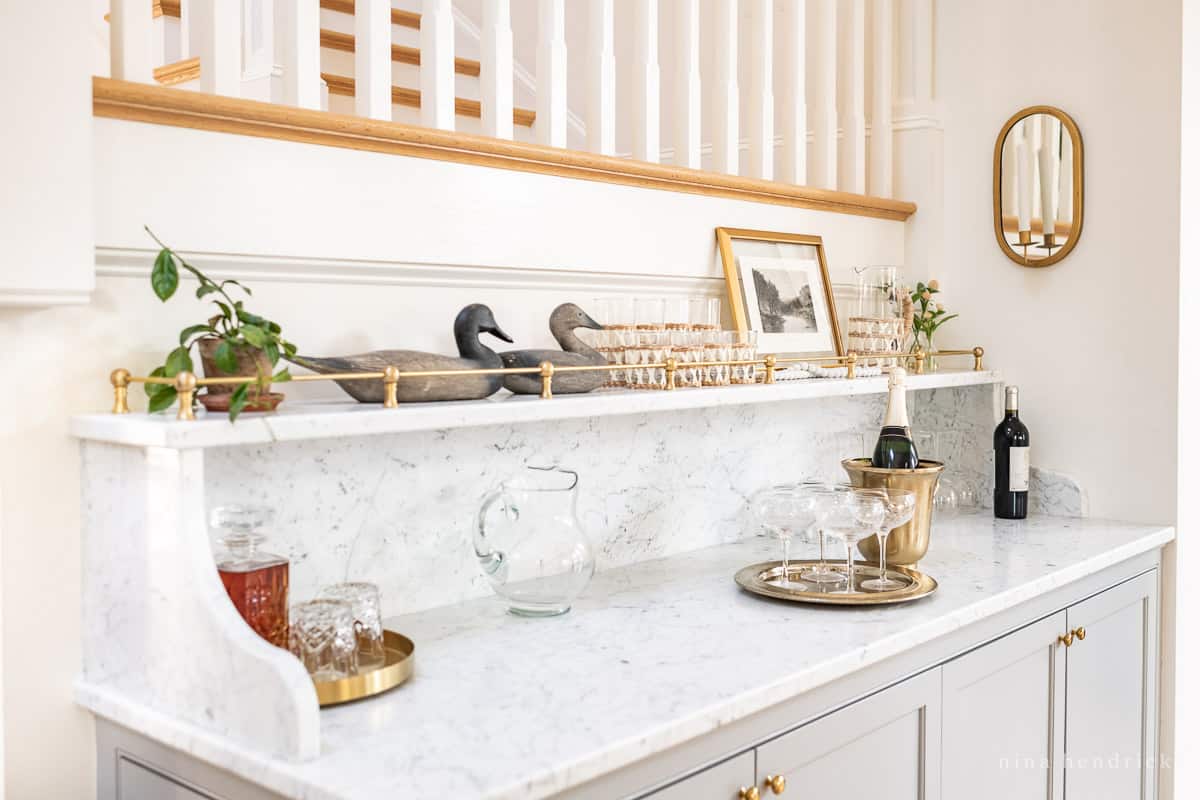 Home Bar Décor – How to Make Your Bar Area Look Good
The way to truly make your home bar look good is to keep with a cohesive décor style. You'll also want to take into consideration the décor you already have in place, so that your bar fits in seamlessly with the rest of your home. A brightly colored Moroccan tile backsplash may be a little too loud if the rest of your home is a calming, minimalist, neutral vibe! However, your bar doesn't have to be completely matchy-matchy with your current decor, it just needs to coordinate.
I'll give you some examples:
Luxe Vintage Home Bar Ideas
This is the style that inspired my home bar. A luxe vintage style coordinates nicely with traditional, colonial, transitional, and mid-century modern home décor. Keep things simple like I did, or make it as glam as you want!
The following are some ideas to help you pull off this look:
Brass accents
Velvet seating (if your bar calls for barstools/seating)
Glass and mirror accents
Round, art deco light fixtures
Marble
Rich colors
Personal heirloom touches
Rustic Home Bar Ideas
Just like a dry white wine balances out water-loving fish, a rustic bar can actually balance out modern décor, when the rustic elements are more subtle. (You wouldn't want a log cabin themed bar in a stark white house full of modern opulence!) Other décor styles that coordinate well with rustic are primitive, traditional, industrial, Bohemian, modern farmhouse, and coastal.
Here are some rustic design elements to get your wheels turning:
Wood tones
Rugged and raw finishes
Dark colors like black, brown, and beige
Natural stone
Natural fibers like jute
Leather and suede textiles
Wrought iron
Modern Home Bar Ideas
Modern pairs well with industrial, rustic, mid-century modern, transitional, retro, minimalist, and contemporary. If you've been itching for more modern elements in your home, but have been playing it safe, your home bar provides the chance for you to test it out.
Below are some modern design characteristics for your bar:
Clean, straight lines
Geometric shapes
Industrial piping
Floating shelves
Minimal items sitting on countertop
Open layout
Monochromatic color scheme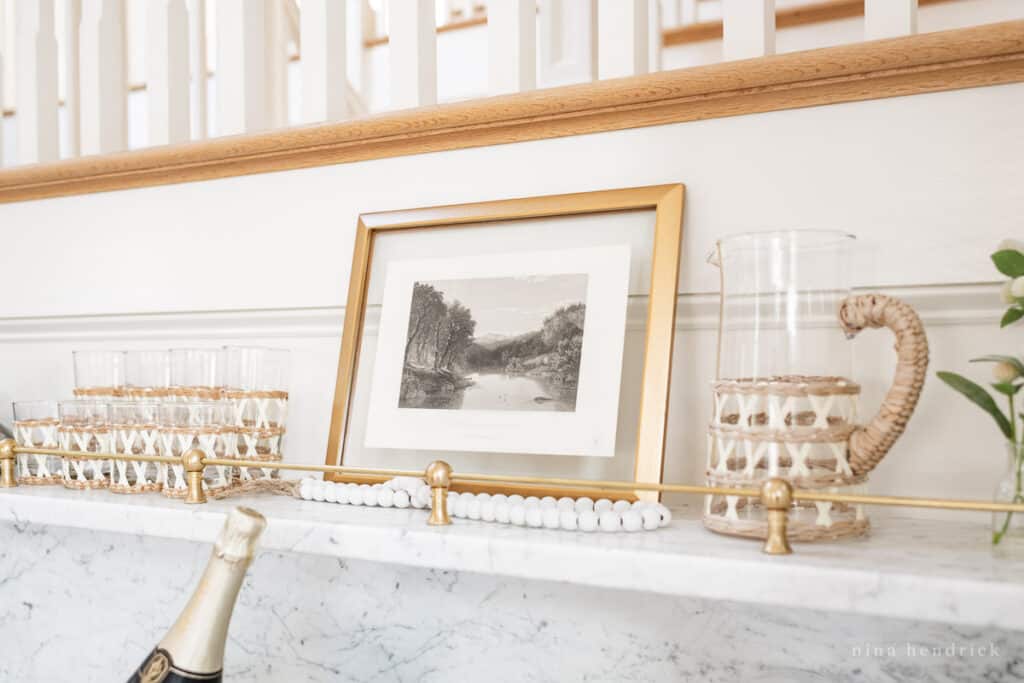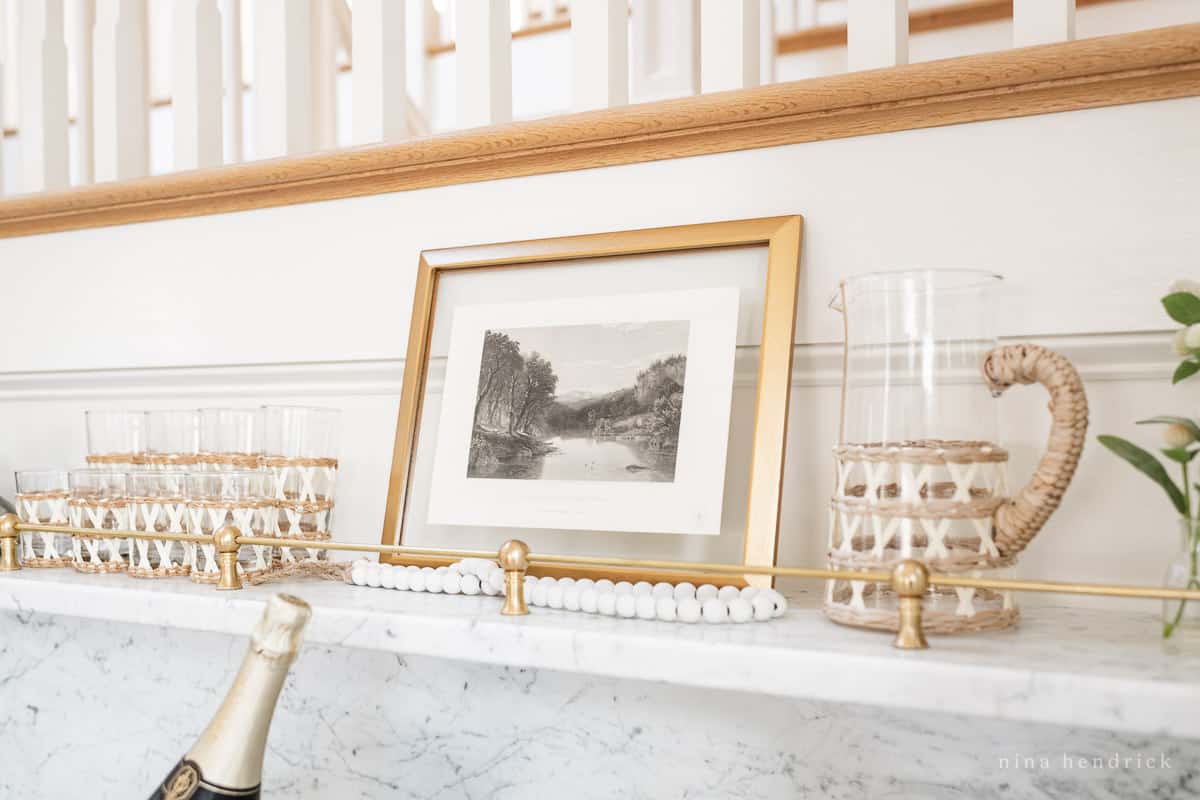 Fun Ideas to Make Your Home Bar Area Stand Out
Display Sentimental Objects
A great way to make your home bar stand out is to personalize it. Add meaningful touches that signify precious memories, people, travels, accomplishments, or symbolism that inspires you. This infuses your unique energy into the space.
Not only do pieces like these create stimulating visual interest, but they also serve as fantastic conversation starters! Guests will love to ask you how you came by that gorgeous hand-blown glass vase, (your honeymoon in Italy), or your vintage whiskey glasses (they were your grandfather's). Just keep in mind that any personal touches you include should be ok getting wet. After all, making drinks includes spills and splashes!
Incorporate Metals to Add Shine
A favorite tip of mine is to include a metal piece for some shine. Whether it's a sink faucet, shelf railing (like mine), a copper ice bucket, or a silver tray, it helps balance out wood cabinetry and really elevates the space. I like to think of it as adding jewelry to an outfit. It's the finishing touch that adds polish and sparkle!
Go For Colors You Love But Have Always Been Scared to Try
Your home bar is the perfect opportunity to experiment with colors that you don't want to use in your larger living spaces. Break out of your neutral comfort zone, and go for more saturation. Because your bar is a smaller space, it won't overwhelm the rest of your home, and if you try something and don't like it, it's less of a financial burden to fix.
Instead of white cabinets, opt for a muted sage. Or maybe instead of extending your hardwood floors into the bar area, go with a black and white tile. Perhaps instead of marble countertops, you opt for a rustic driftwood or a modern black speckled quartz to illuminate your brushed brass sink faucet.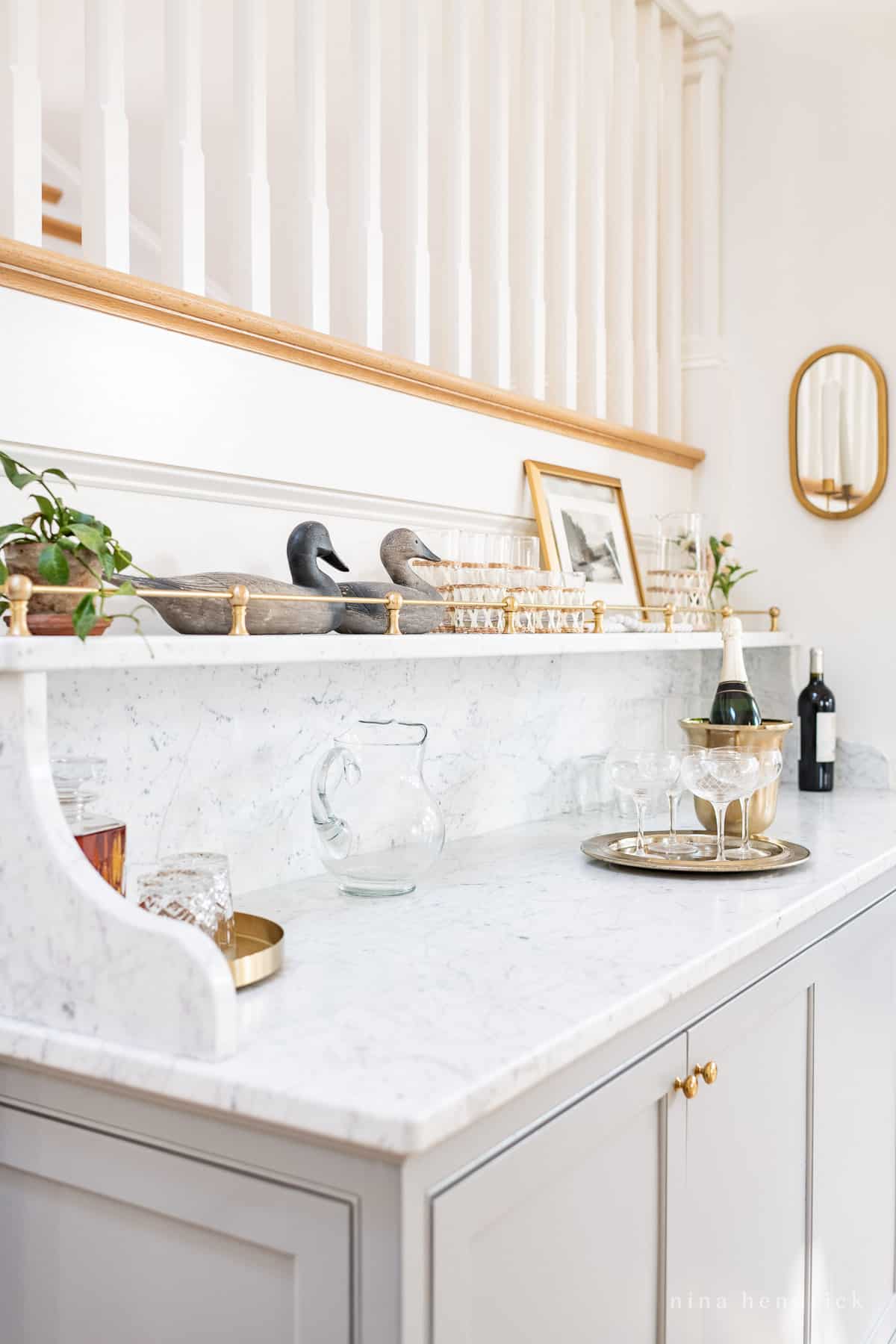 Let's Make a Toast to Your New Home Bar!
I hope these home bar ideas brought you inspiration and direction, so that you can get to work tackling this project with confidence. I would love to hear in the comments below which elements resonated with you, and which ones you're excited to try!
Be sure you're following me on IG @ninahendrickhome. Check out my house updates in stories, and my tip-filled reels! I even still post to the grid every once and a while. :)
A home bar area will add warmth and connection to every occasion. It can provide a cocktail hour before dinner, or a nightcap after all the dishes have been put away. Hosting the whole extended family for a big holiday gathering? The bar is the confetti, sprinkling everyone with laughter. Girls night? Pink cosmos. Spa day? Cucumber vodka; extra ice. Bridal shower? Cue the mimosas. Your hubby's big day? Hand everyone a signature cocktail named "1988" after the birthday boy's year of birth.
And with that, I'm raising a glass to your new home bar! May it provide you warm memories this season and for many years to come. Cheers, friends!