Glittering New Year's Eve Tablescape
As the clock ticks toward midnight host a glittering gathering with ideas from this New Year's Eve tablescape!
As the year— and the decade— draws to a close, it's the perfect opportunity to gather with friends for a dinner party and bubbly beverages to celebrate the New Year. This New Year's Eve Tablescape is festive and fun while also being deceptively simple to recreate. A few glittery touches transform your Christmas décor to New Year's Eve. You can see tablescape ideas for every season here and more New Year's Eve inspiration at the bottom of this post!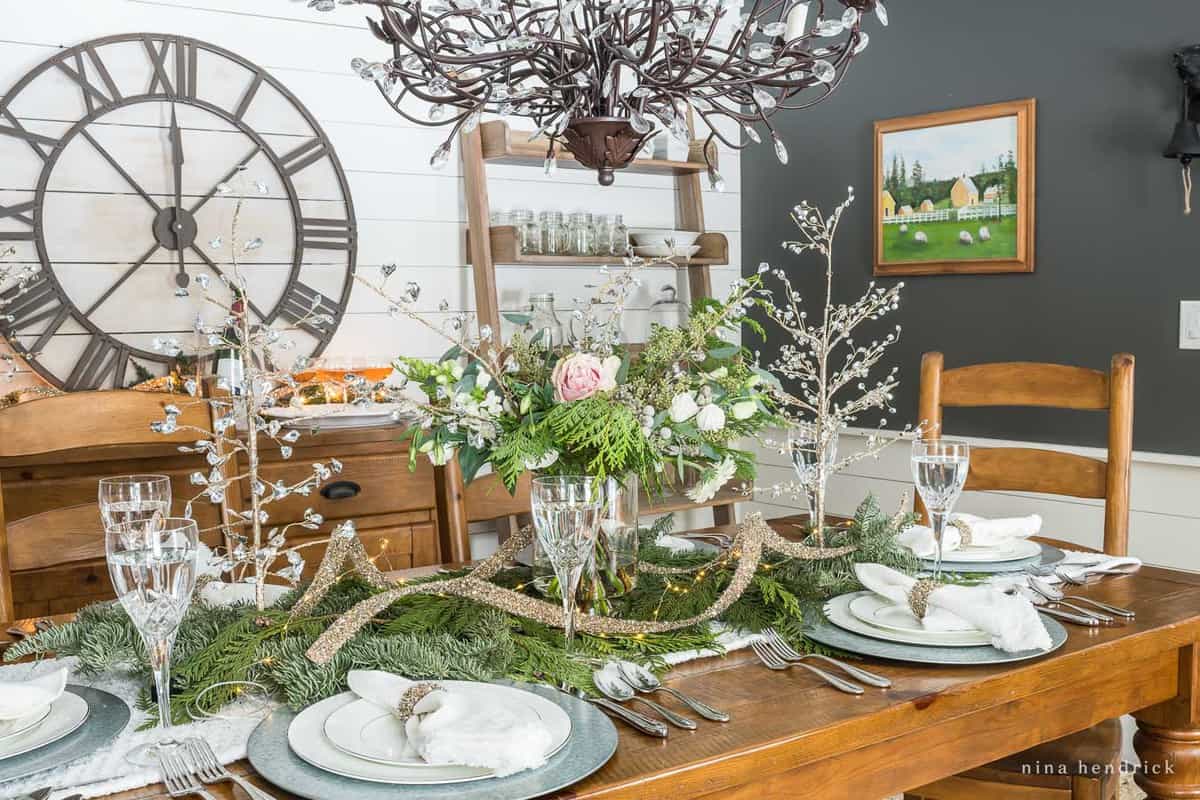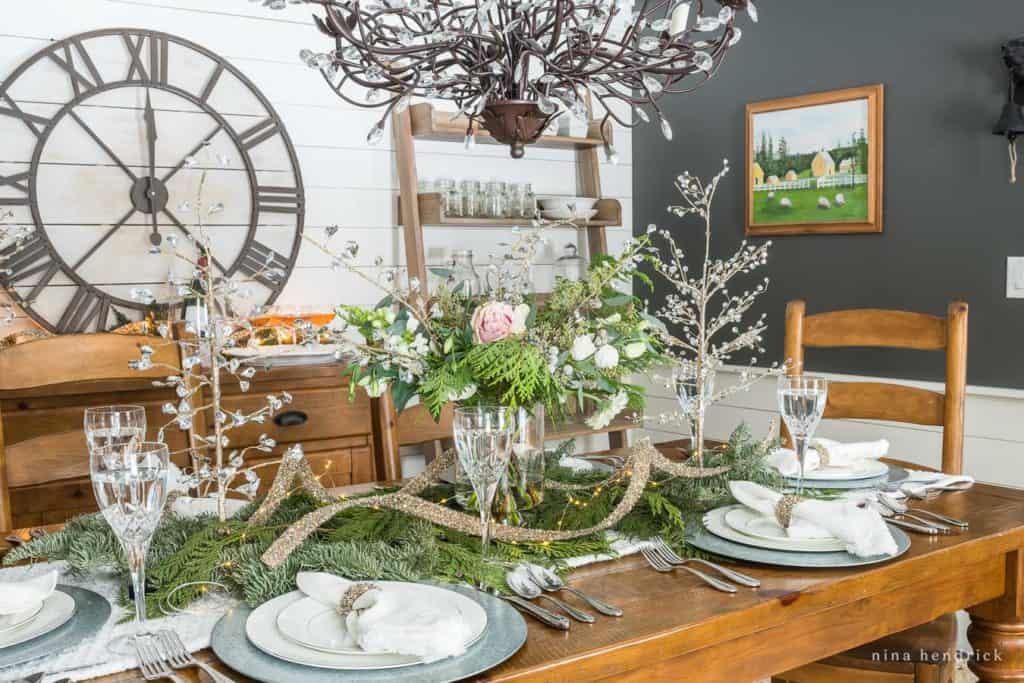 New Year's Eve Tablescape
Ever since I bought this oversized clock a few years ago, I've had this idea that it needed to be a part of a New Year's Eve vignette. Creating this tablescape inspiration was the perfect opportunity!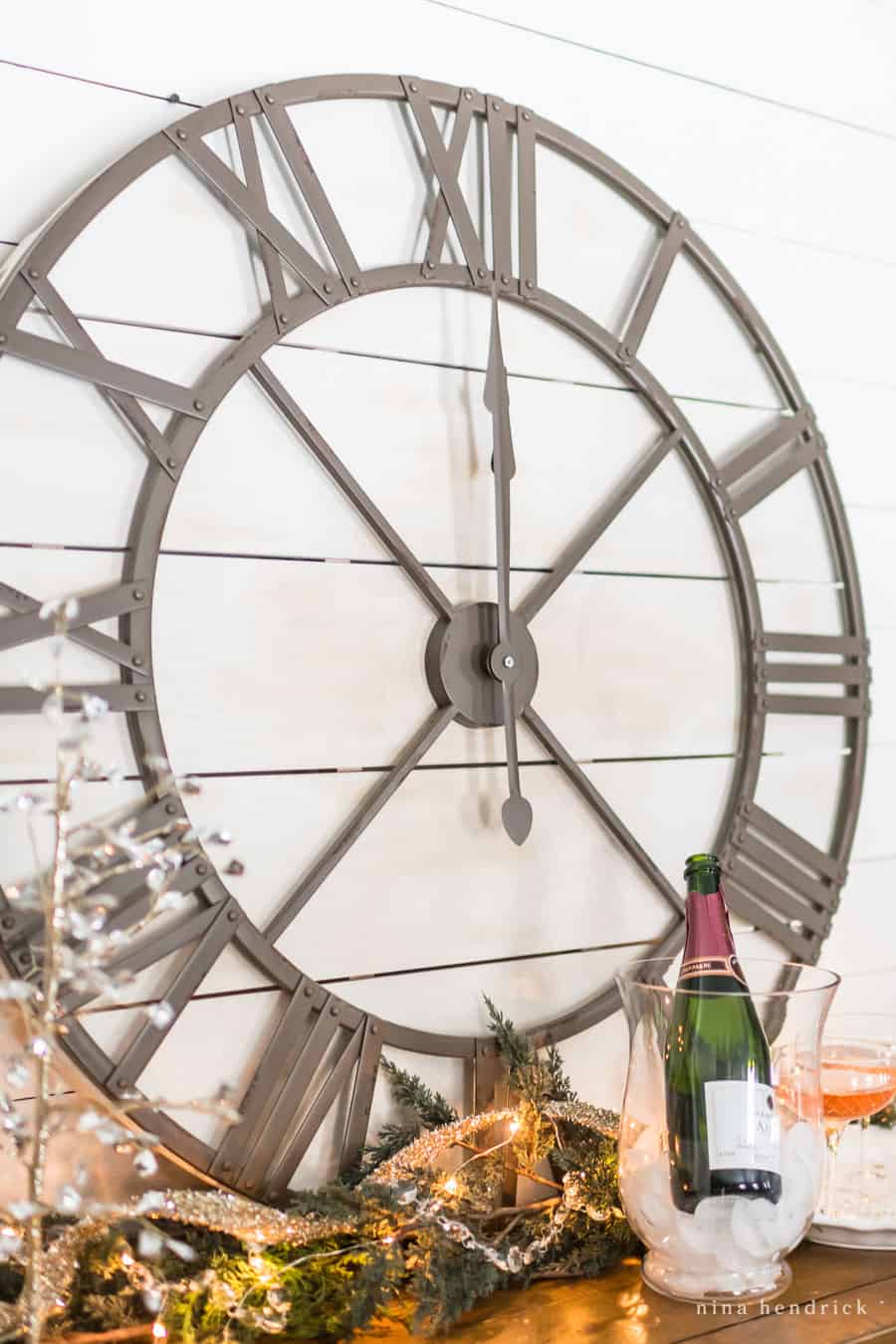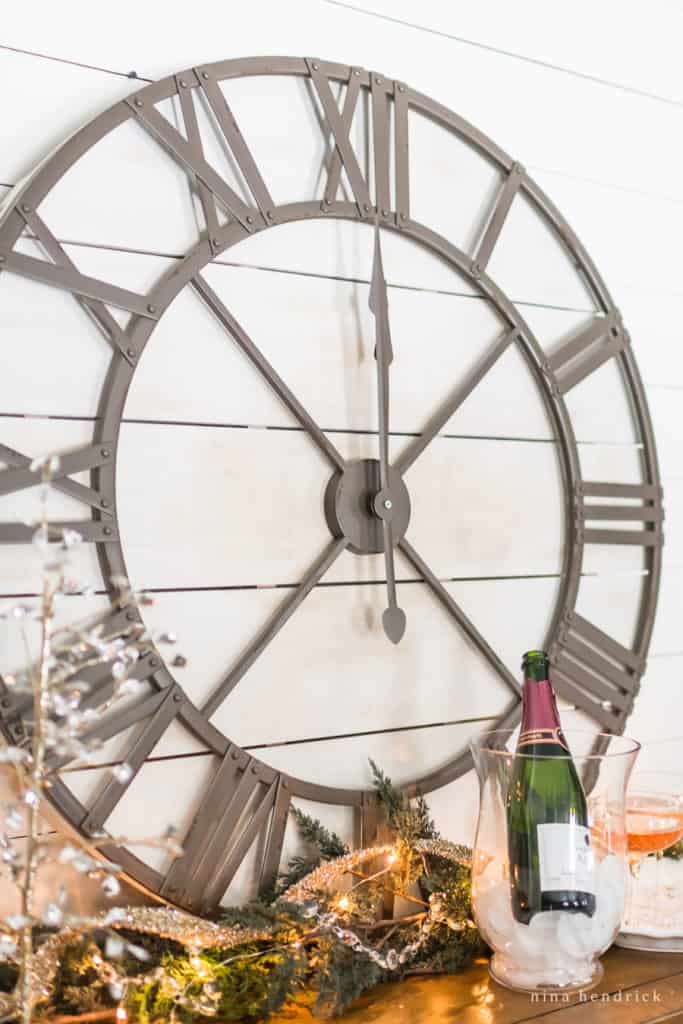 I'm often asked for a source, but I want to give you full disclosure— it doesn't work. It's the second one from the company and it did the same thing— it worked for a couple of days and then stopped. I've tried replacing the motor to one from another company to no avail. It seems like the hands are too heavy. However, it was the perfect prop to be frozen in time just before the hand strikes midnight! I've linked some similar clocks below (although I haven't owned them, so check the reviews!).
The Details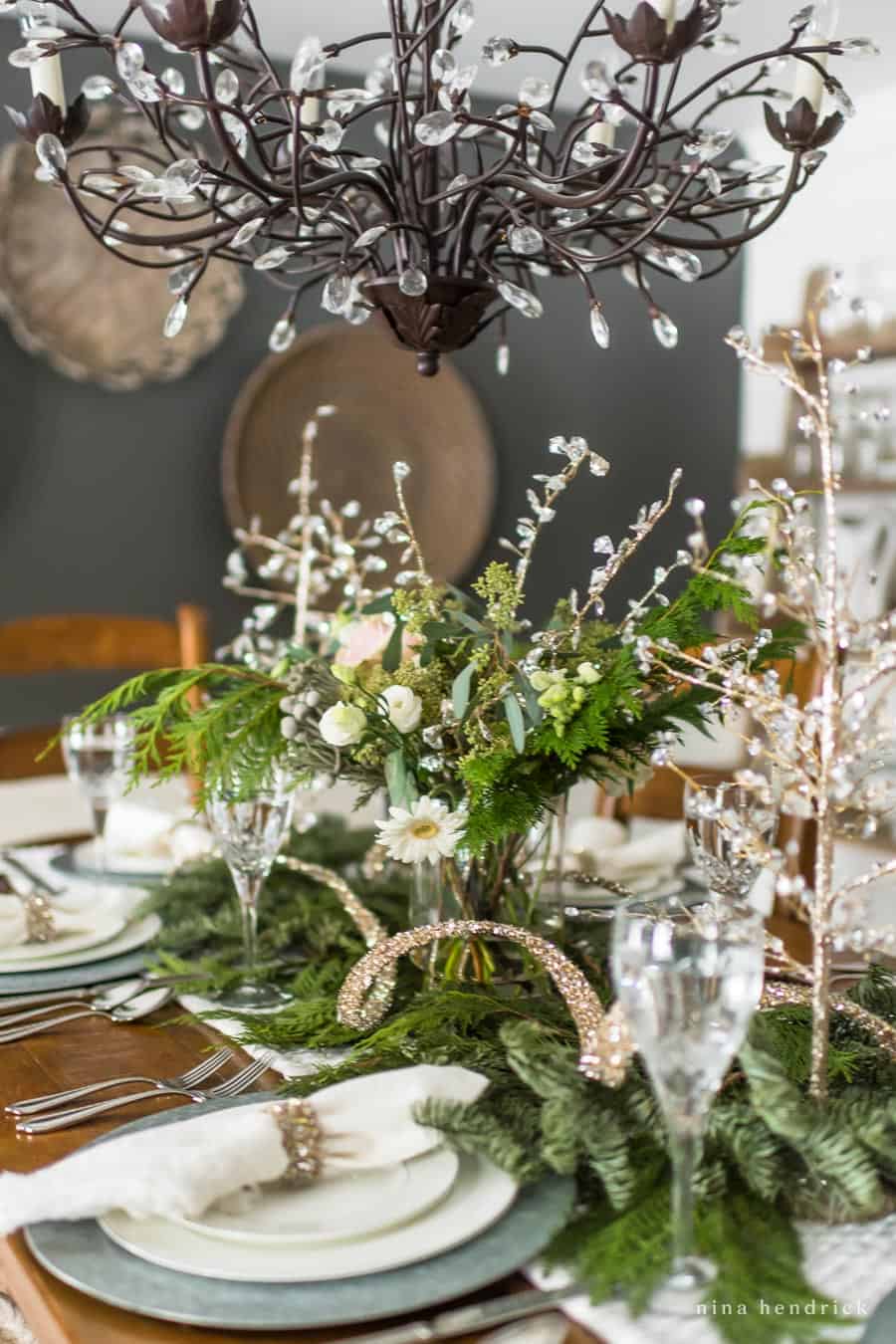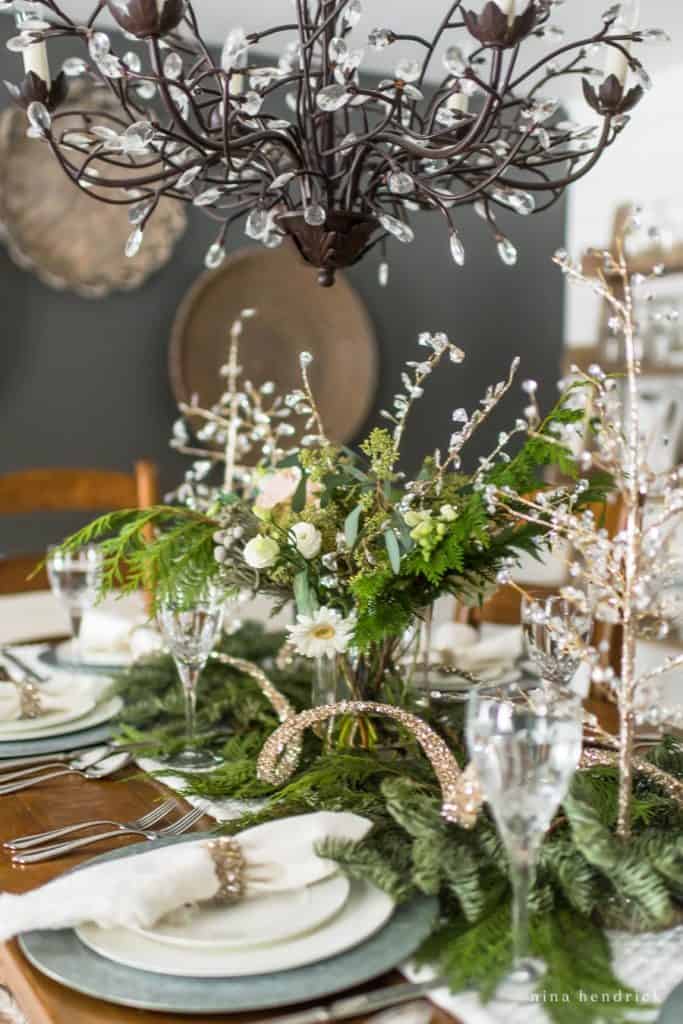 I wanted this tablescape to feel a bit fancy but also whimsical and fun. I cut lengths of glittered ribbon and added it atop the evergreens (fresh cedar and fir) that already made up the centerpiece.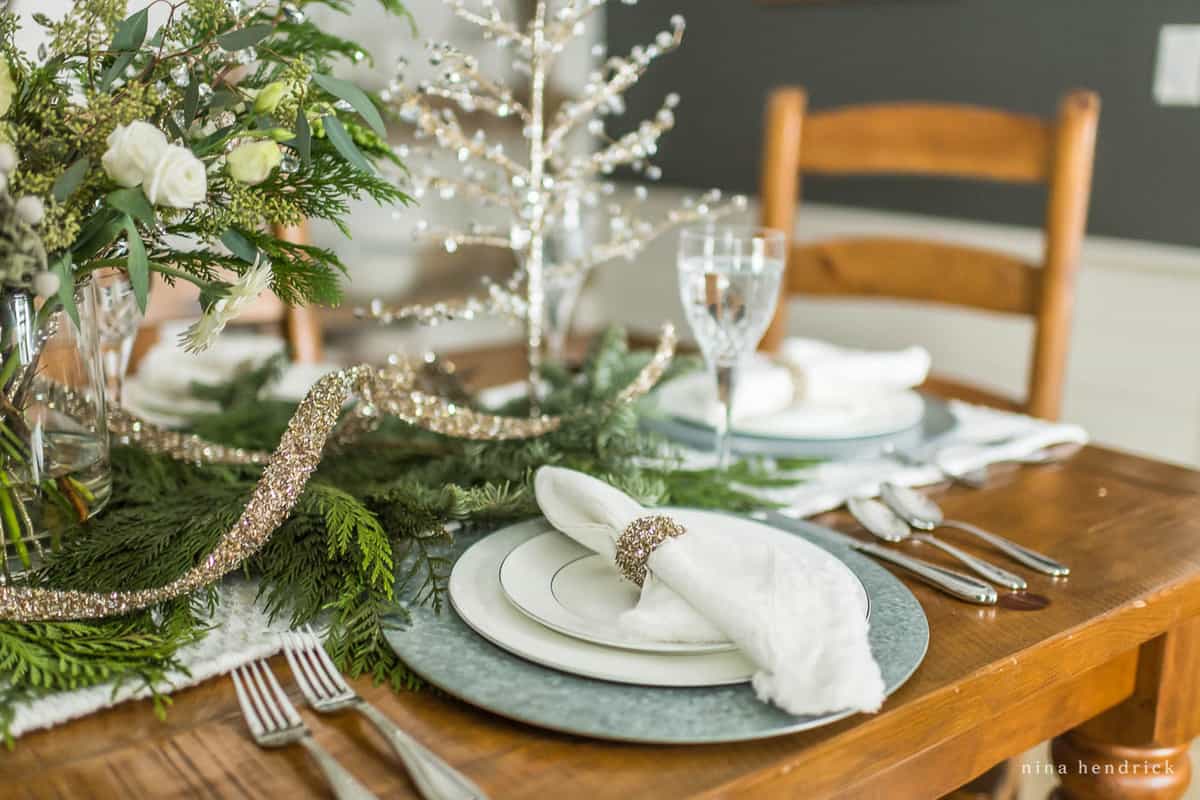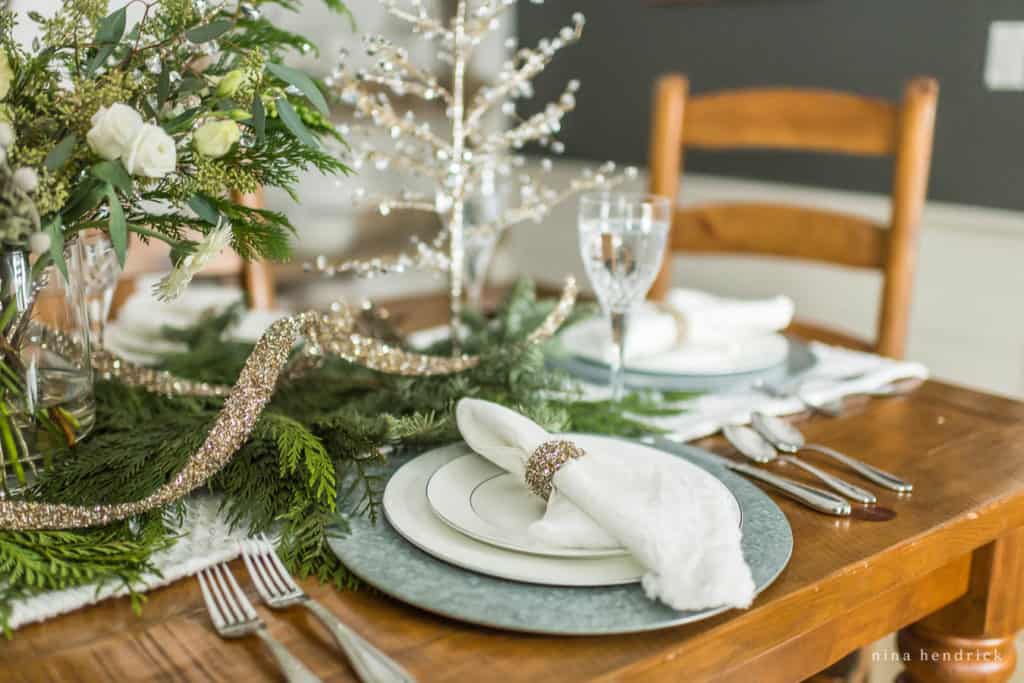 I actually brought out our wedding china for this tablescape, which hasn't seen the light of day in much too long. I forget how much I love it. It's difficult to tell from far away, but it's a white on white embossed pattern with silver edges. It's very timeless! The plot here is that if you have fancy china, there's no reason for it to sit hidden away. Use it! Even if it's for an informal and fun gathering.
A couple of glittery accents went a long way in this New Year's Eve tablescape. I added jeweled trees and branches here and there for a bit of glamor.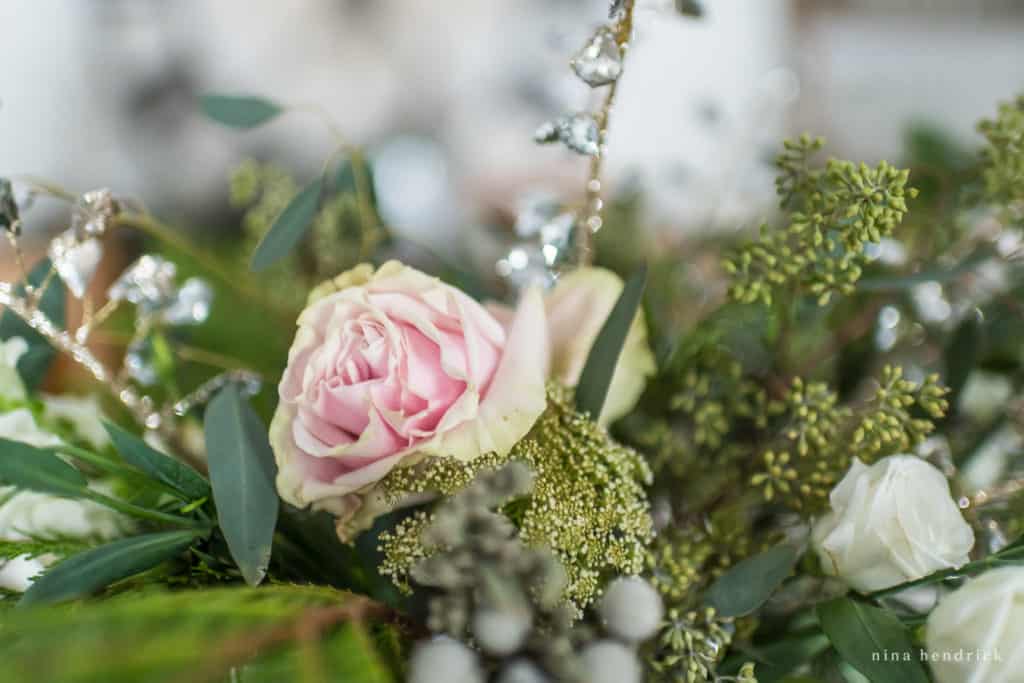 I actually grabbed this bouquet at the store as I was buying the champagne (side note: genius marketing move to sell flowers in a wine store). It was so pretty and had evergreens already included. I simply tucked in a few jeweled branches.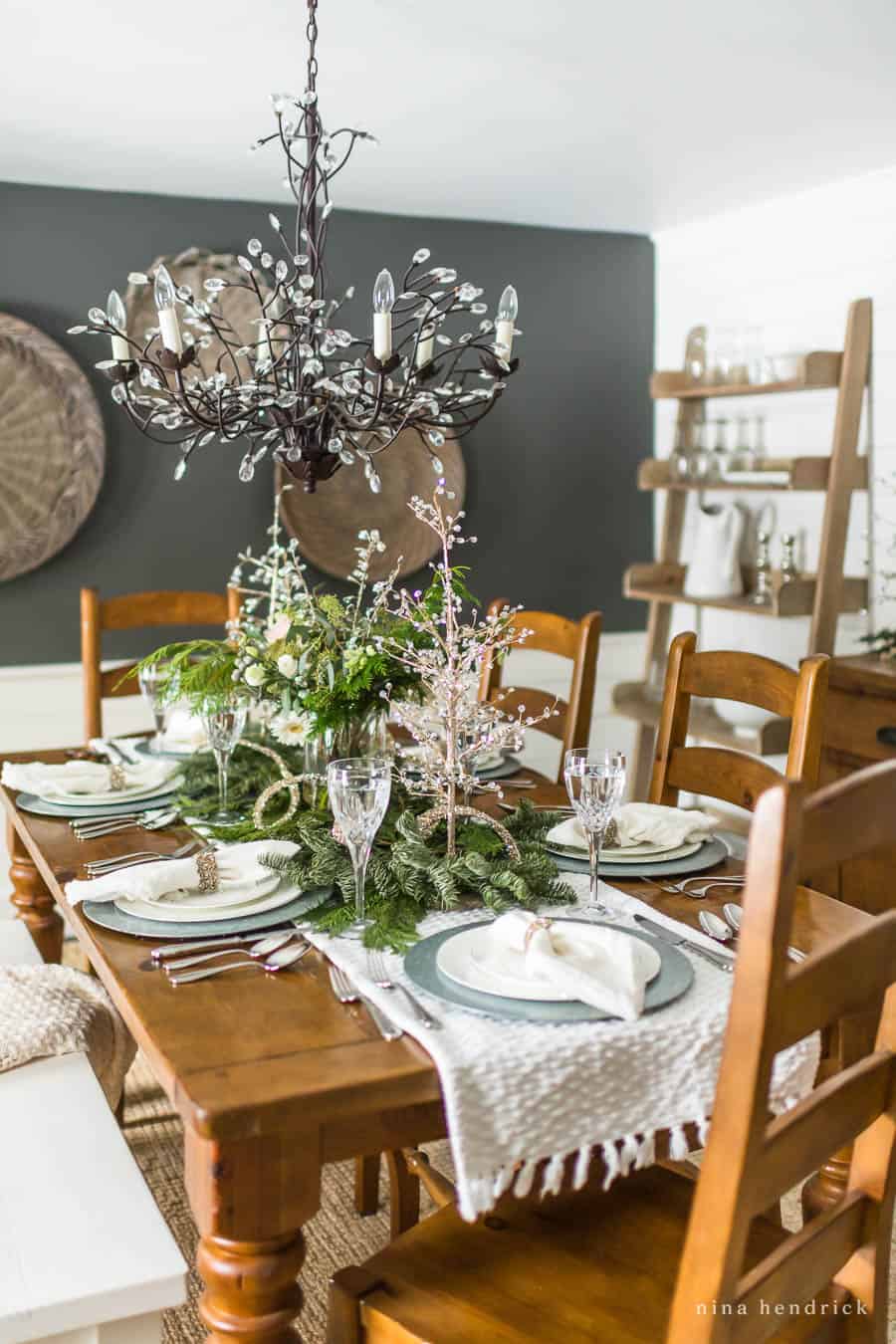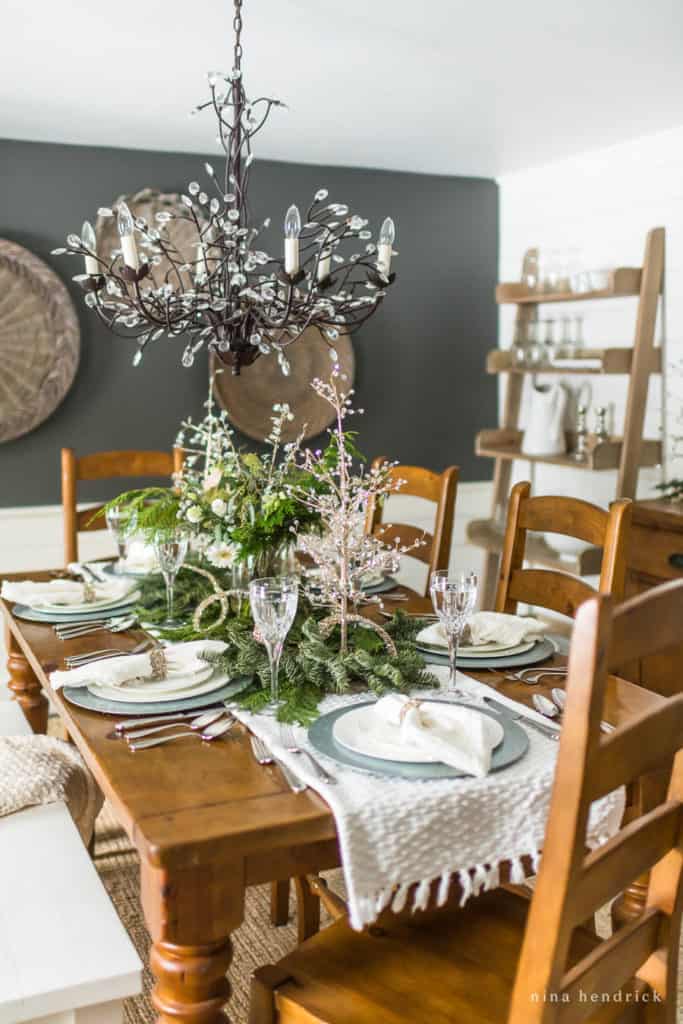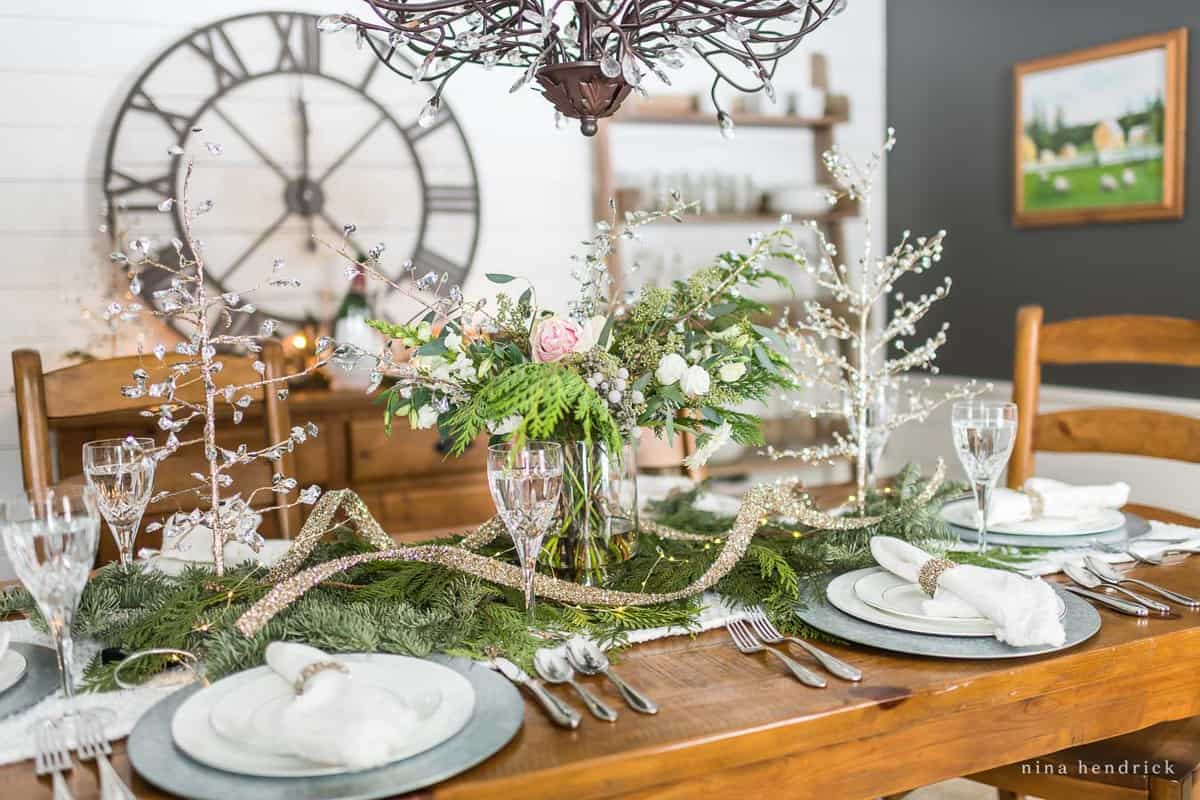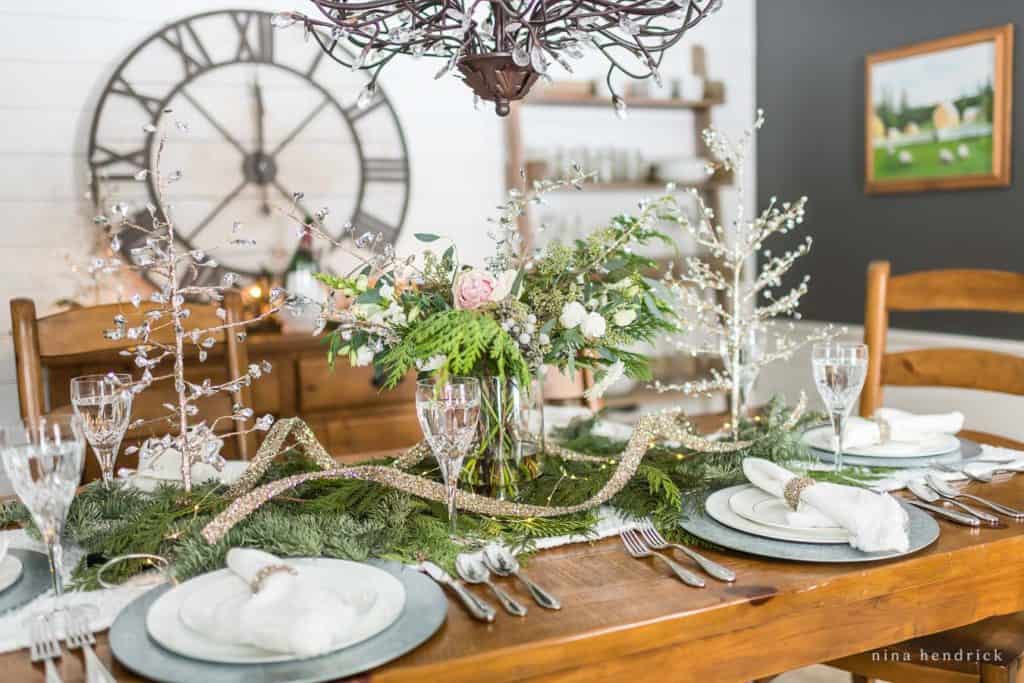 Overall the table has such a pretty atmosphere of winter and joy. We're planning to have dinner in here to enjoy it!
New Year's Eve Vignette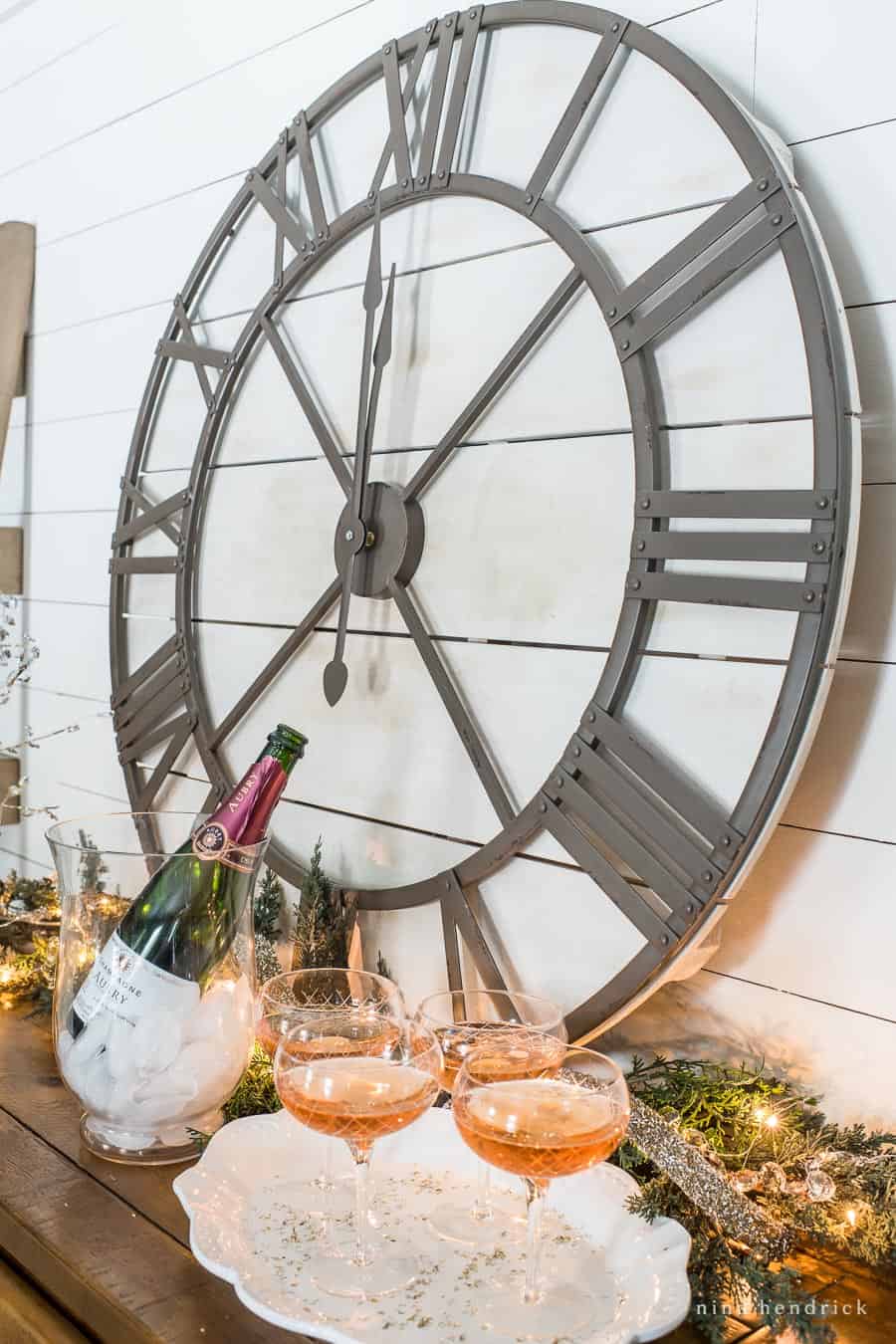 I set up the sideboard with more greens, jewels, and ribbon, but the true star of the show (aside from the clock) was this Rosé champagne. I didn't even realize that was what it was until we got home.
Combined with the pink roses in the centerpiece, I loved that element of blush sprinkled throughout the room. Overall, it perfectly tied both areas together!
I hope you enjoyed this inspiration. Let me know @ninahendrickhome if you recreate it for your own celebration. HAPPY NEW YEAR!
Shop this Post

New Year's Eve Tablescape Ideas

Rooms for Rent | Willow Street Interiors | Nick + Alicia | Nina Hendrick

Ella Claire & Co. | Zevy Joy | Just Destiny | Shades of Blue Interiors

Modern Glam | The Happy Housie | Wildflower Home