As the clock ticks toward midnight, host a glittering gathering with these New Year's Eve tablescape ideas!
The new year is just around the corner, and it's the perfect opportunity to gather with friends for a dinner party and bubbly beverages to celebrate. If you're looking to create an unforgettable evening to kick off the new year, then a glamorous tablescape is a must. This New Year's Eve Tablescape is festive and fun while also being deceptively simple to recreate. A few glittery touches transform your Christmas décor to New Year's Eve. Read on for tips on how to create a glitzy and glamorous tablescape for your New Year's Eve celebration. You can see another winter tablescape here that can be modified for New Year's Eve!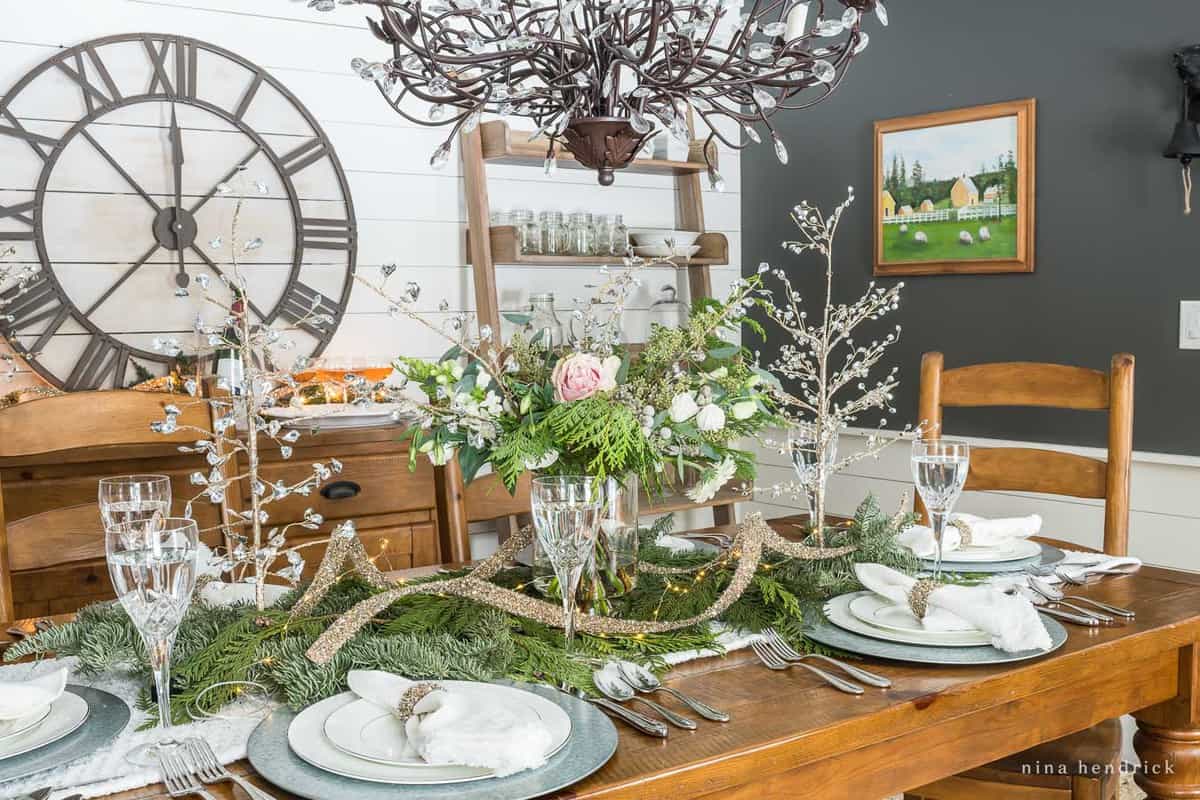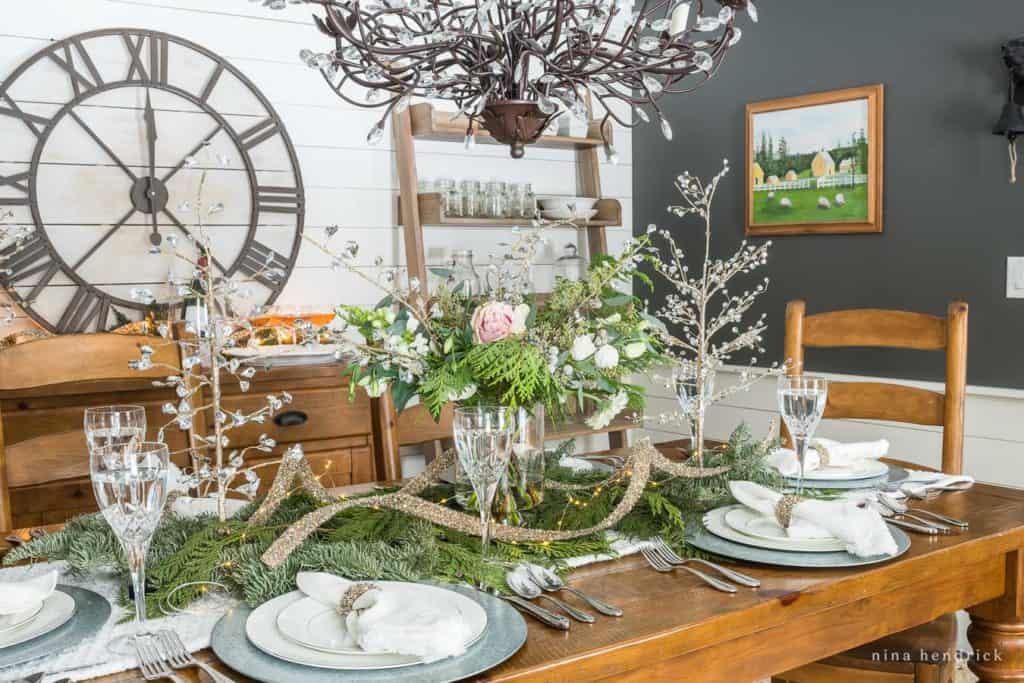 New Year's Eve Tablescape Ideas
For a festive tablescape, consider adding a few glittery touches such as a metallic tablecloth, a few sparkly ornaments, or shimmery ribbon. Place candles around the table for a cozy atmosphere and add some glamorous touches with silver or gold chargers and coordinating placemats. Use colorful dishes to create a cohesive look and top them with personalized place cards for each guest. Create a signature cocktail for your event, and have it ready to serve when guests walk in the door for a welcoming touch to get the party started. Finish the look with a few festive decorations, such as a small New Year's Eve banner or noisemakers. Whether you're hosting a large gathering or a small get-together, read on to find some great ideas for your New Year's Eve tablescape that will help make your night one to remember.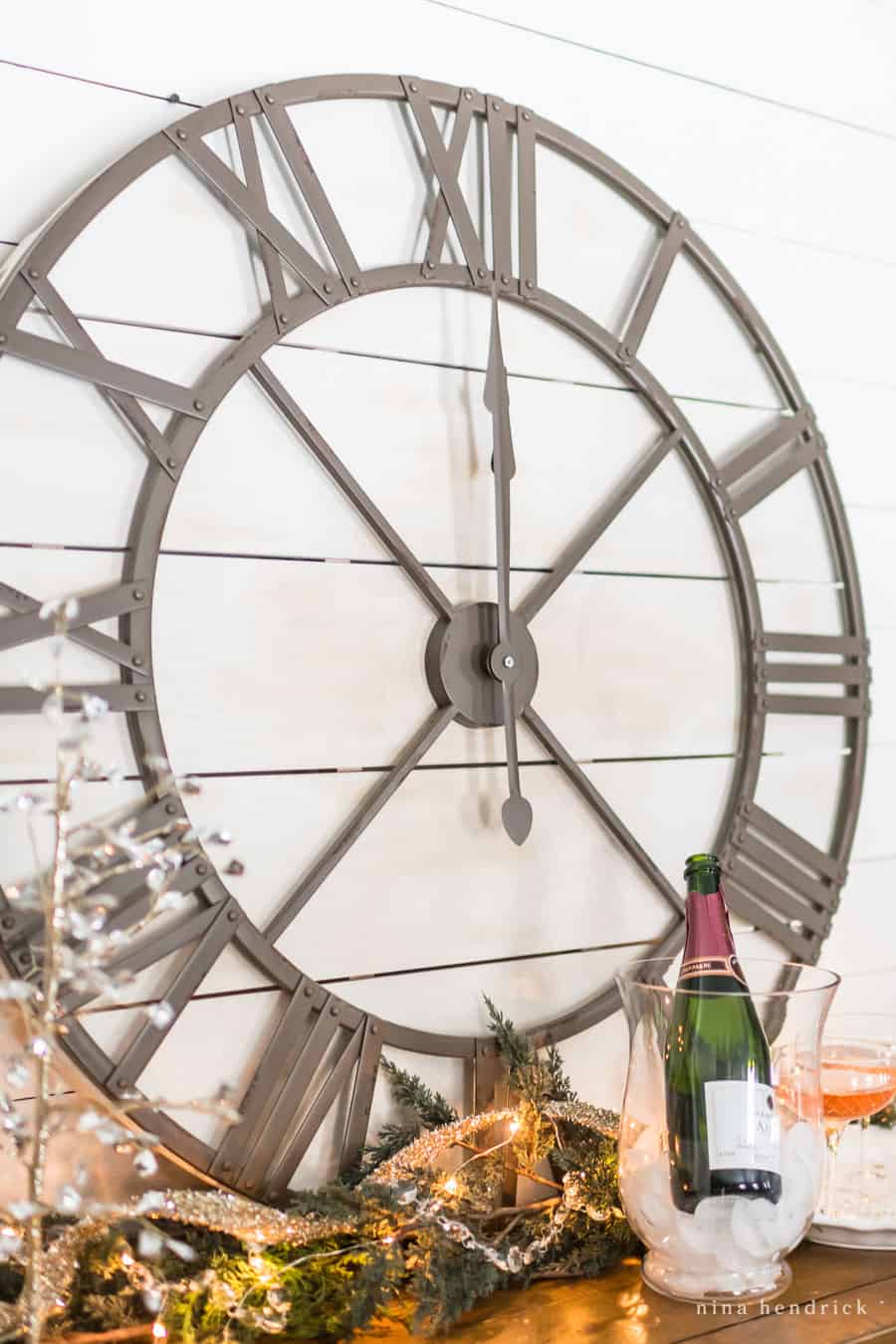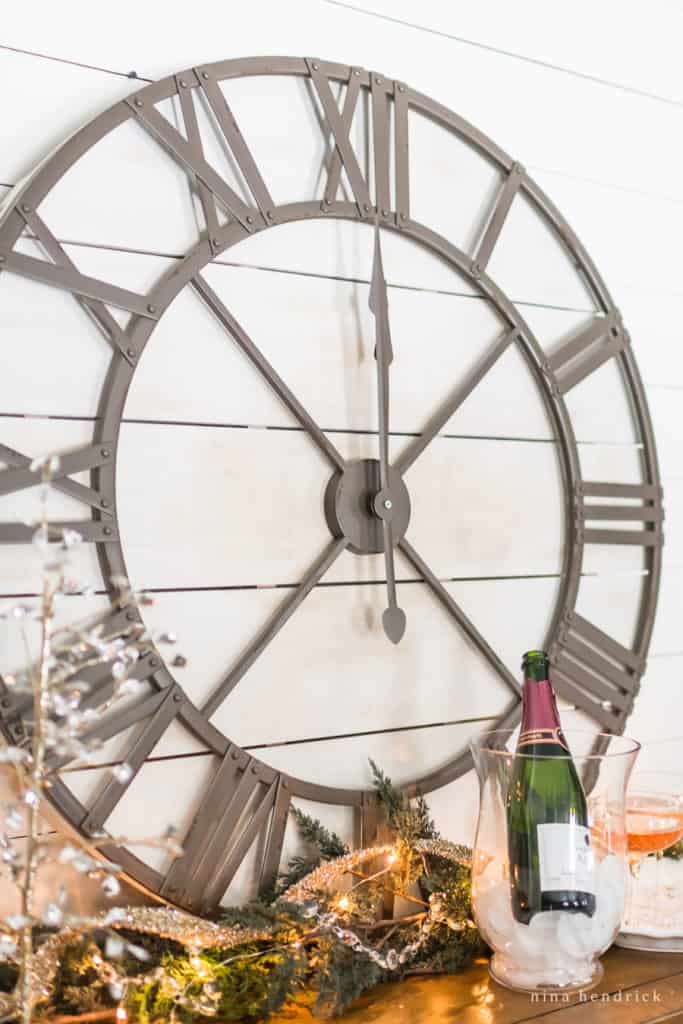 Like other art projects, often a tablescape begins with inspiration. For this New Year's Eve Tablescape, my initial inspiration was a giant clock. Ever since I bought this oversized clock a few years ago, I've had this idea that it needed to be a part of a New Year's Eve vignette and that it would make the perfect backdrop as we counted down to midnight.
I'm often asked for a source, but I want to give you full disclosure — it doesn't work. It's the second one from the company and it did the same thing — it worked for a couple of days and then stopped. I've tried replacing the motor to one from another company to no avail. It seems like the hands are too heavy. However, it was the perfect prop to be frozen in time just before the hand strikes midnight! I've linked some similar clocks below (although I haven't owned them, so check the reviews!).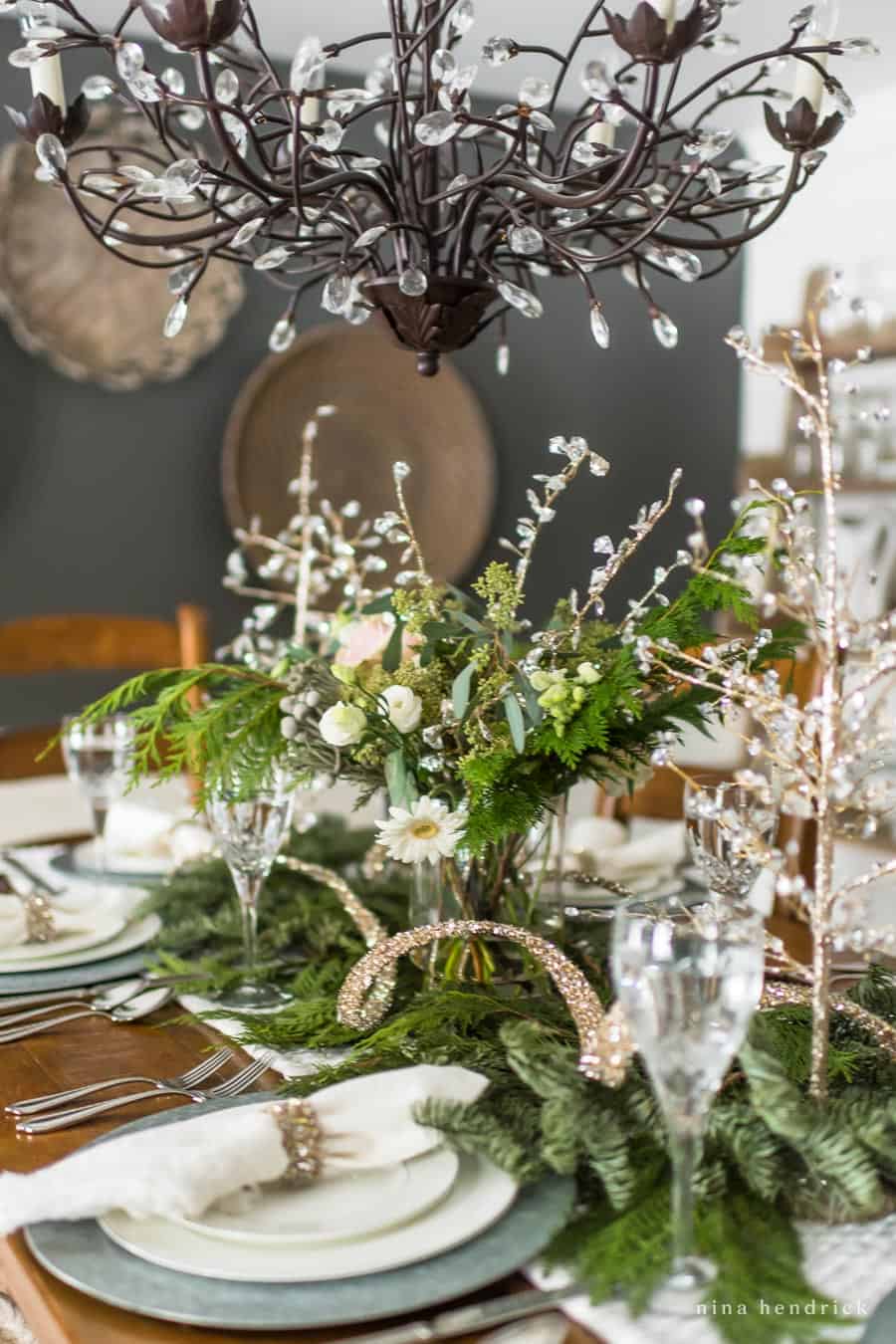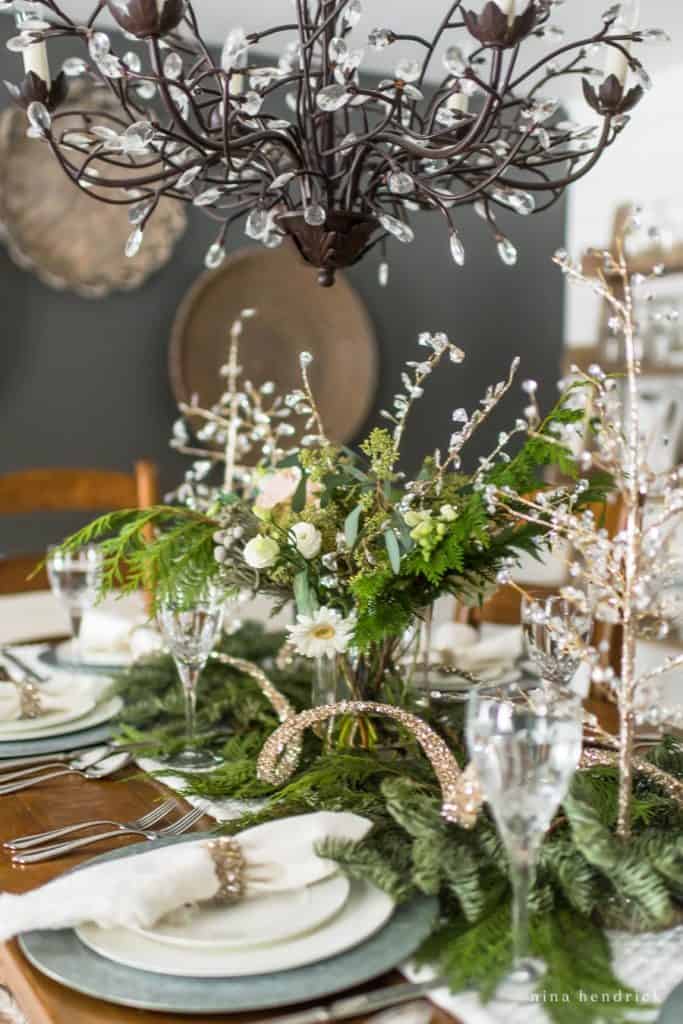 How to Style a Gorgeous New Year's Eve Centerpiece
As I shared in my Tablescapes 101 post, the easiest way to set a beautiful table without getting overwhelmed is to break it up into smaller steps. I always recommend beginning with centerpieces and going from there. Start by laying down a white or silver runner. Of course, you can choose any color you wish, but if you're in doubt, I always recommend a neutral. This will be the perfect foundation for your centerpiece.
My centerpiece was already intact from Christmas. If you've already created a Christmas tablescape, you don't have to reinvent the wheel to create a New Year's Eve tablescape. (Side note: you can see my inspiration for creating Christmas tablescapes here!) At the end of December, you can simple build off of what you already have, and add touches specific to the holiday. Of course, in the case of New Year's Eve, that typically means glitter and glitz! It's a great way to get more mileage out of the tablescapes you create for your holiday celebrations.
I wanted this tablescape to feel a bit fancy but also whimsical, fabulous, and fun. I cut lengths of glittered ribbon and added it atop the evergreens (fresh cedar and fir) and LED twinkle lights that already made up the centerpiece from Christmas.
A couple of glittery accents went a long way in this New Year's Eve tablescape. I added jeweled trees and branches here and there for a bit of glamor. The jeweled trees reminded me of the ice after a winter storm. They are so lovely as they catch the light and shimmer!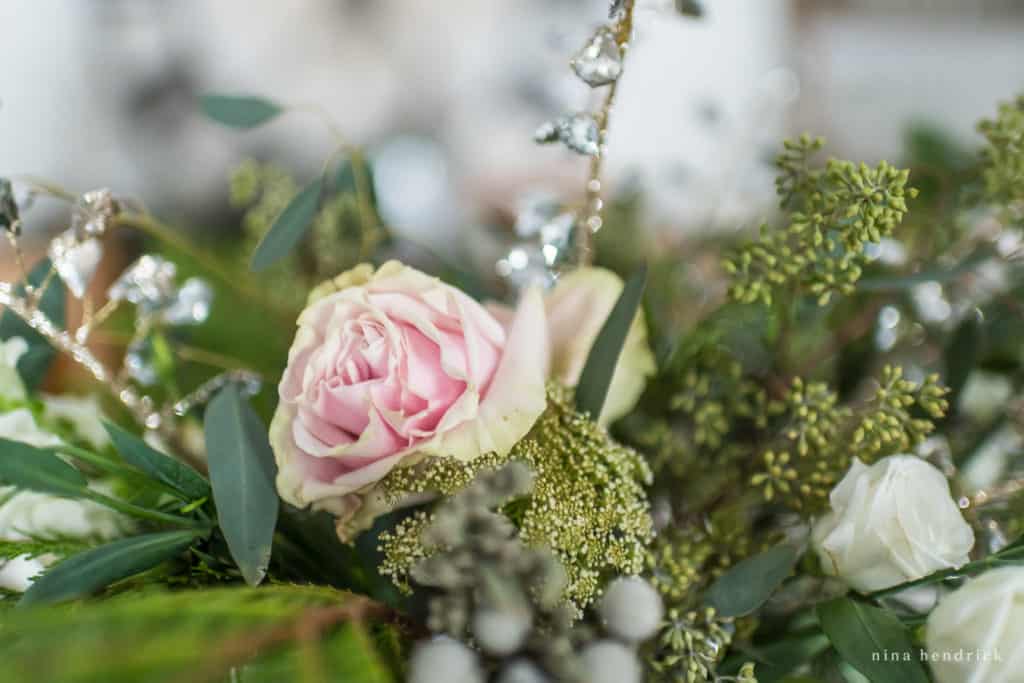 I grabbed this bouquet of pink roses with white and green accents at the store as I was buying the champagne (side note: genius marketing move to sell artisan flowers in a fancy wine store). It was so pretty and had evergreens already included. I simply tucked in a few jeweled branches.
Here are a few other ideas for centerpiece table decorations:
Fill a bowl or vase in the center with festive ornaments and colorful confetti to bring in the holiday spirit.
Add a few crystal votive or candle holders to add a bit of sparkle. (LED candles are a safe choice!)
Set out a few fun party favors for your guests to enjoy before the clock strikes midnight.
Finish the look with a few champagne flutes and a bottle of bubbly to toast the New Year!
With all of these decorations, your New Year's Eve tablescape will be sure to impress!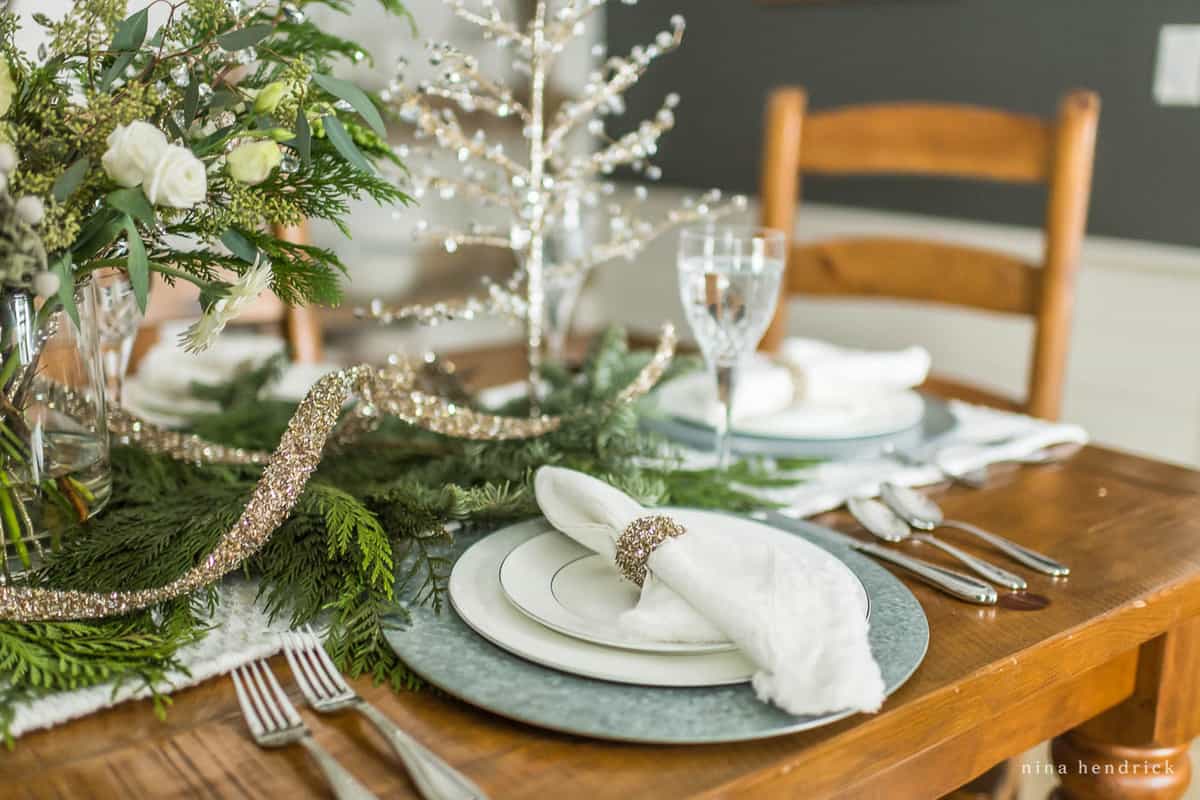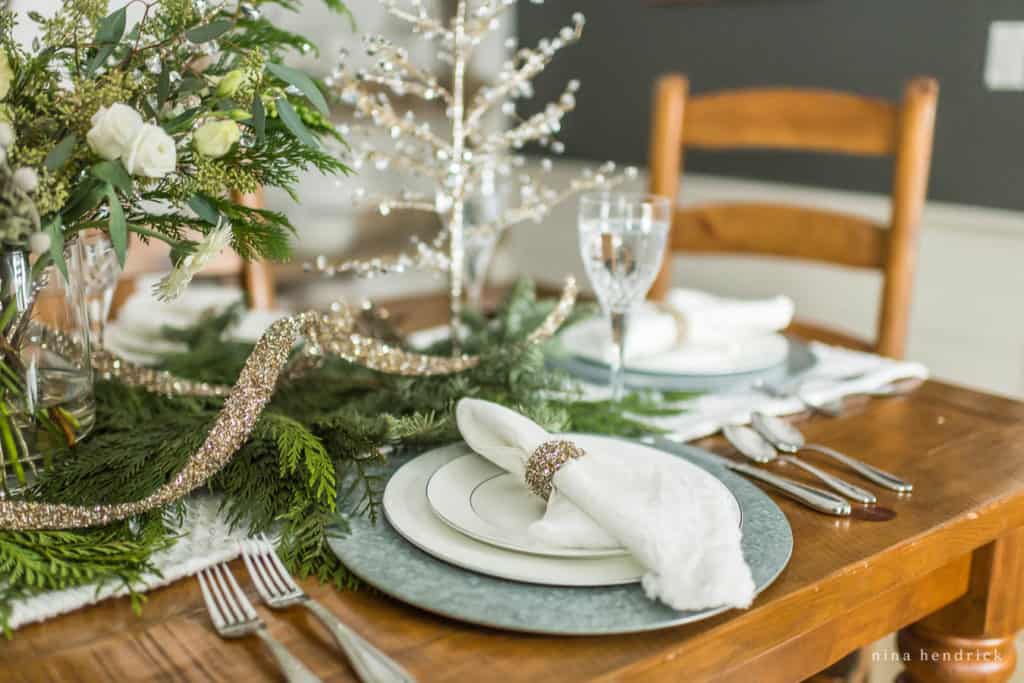 An Elegant Table Setting for New Year's Eve
After you've completed your centerpiece, move on to your place settings to create a personal touch for each guest. You'll need to choose chargers, plates, glassware, silverware and napkins for this step. Make sure your chosen colors carry throughout the table.
I actually brought out our wedding china for this tablescape, which hasn't seen the light of day in much too long. I forget how much I love it. It's difficult to tell from far away, but it's a white on white embossed pattern with silver edges. It's very timeless! The plot here is that if you have fancy china, there's no reason for it to sit hidden away. Use it! Even if it's for an informal and fun gathering.
My chosen stemware for the place settings were also a classic from our wedding — my trusty Waterford goblets. I always recommend having a capsule wardrobe of entertaining essentials you can entertain with again and again! The silver chargers and polished silverware finished the place settings.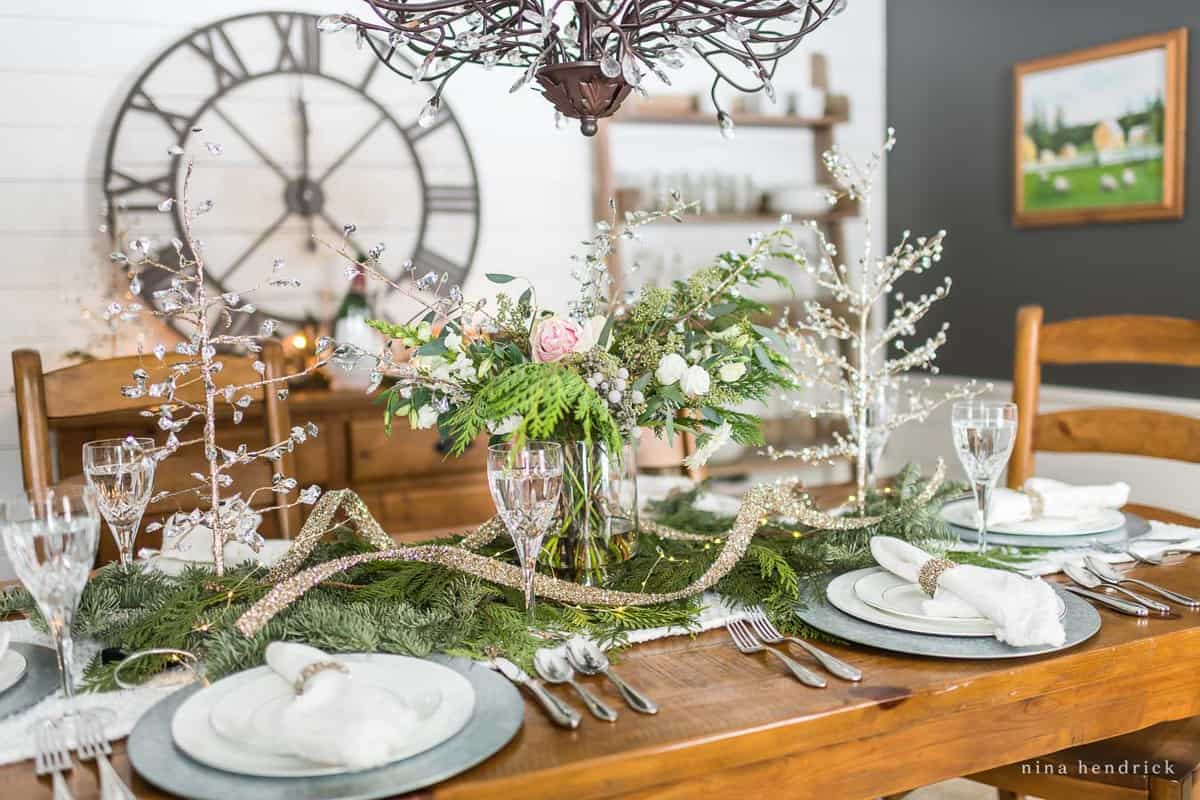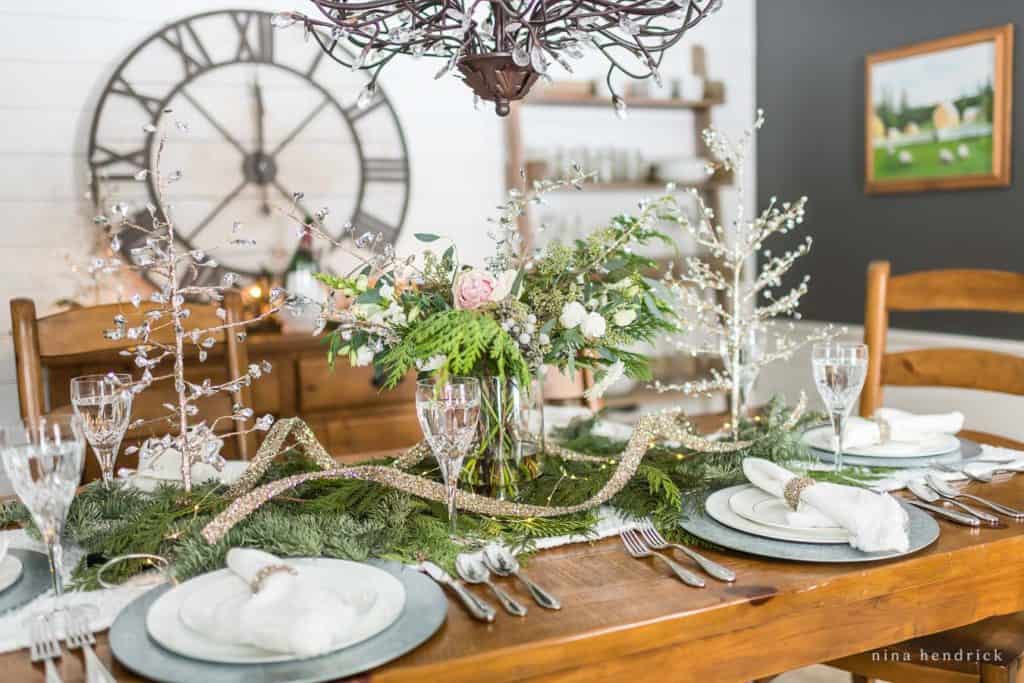 All in all, the New Year's Eve tablescape was a classic and elegant look with a hint of festive whimsy. It's a great way to ring in the New Year with style!
More Table Setting Ideas for New Year's Eve
For an elegant New Year's Eve look, try gold-rimmed plates on a white charger. Top with a glass goblet and gold flatware. Place a white napkin inside the glass and tie a gold ribbon around the stem.
Although I didn't include place cards at this table, you can always add your own personal touch and use them! Write your guests' names with your best calligraphy, or print them out.
As the clock strikes midnight on New Year's Eve, the sound of joyous celebration fills the air! What better way to join in the festivities than by adding a few party favors or noise makers to each place setting? Not only are they a great way to get everyone involved in the celebration, but they also make for a cute and festive addition to your decor.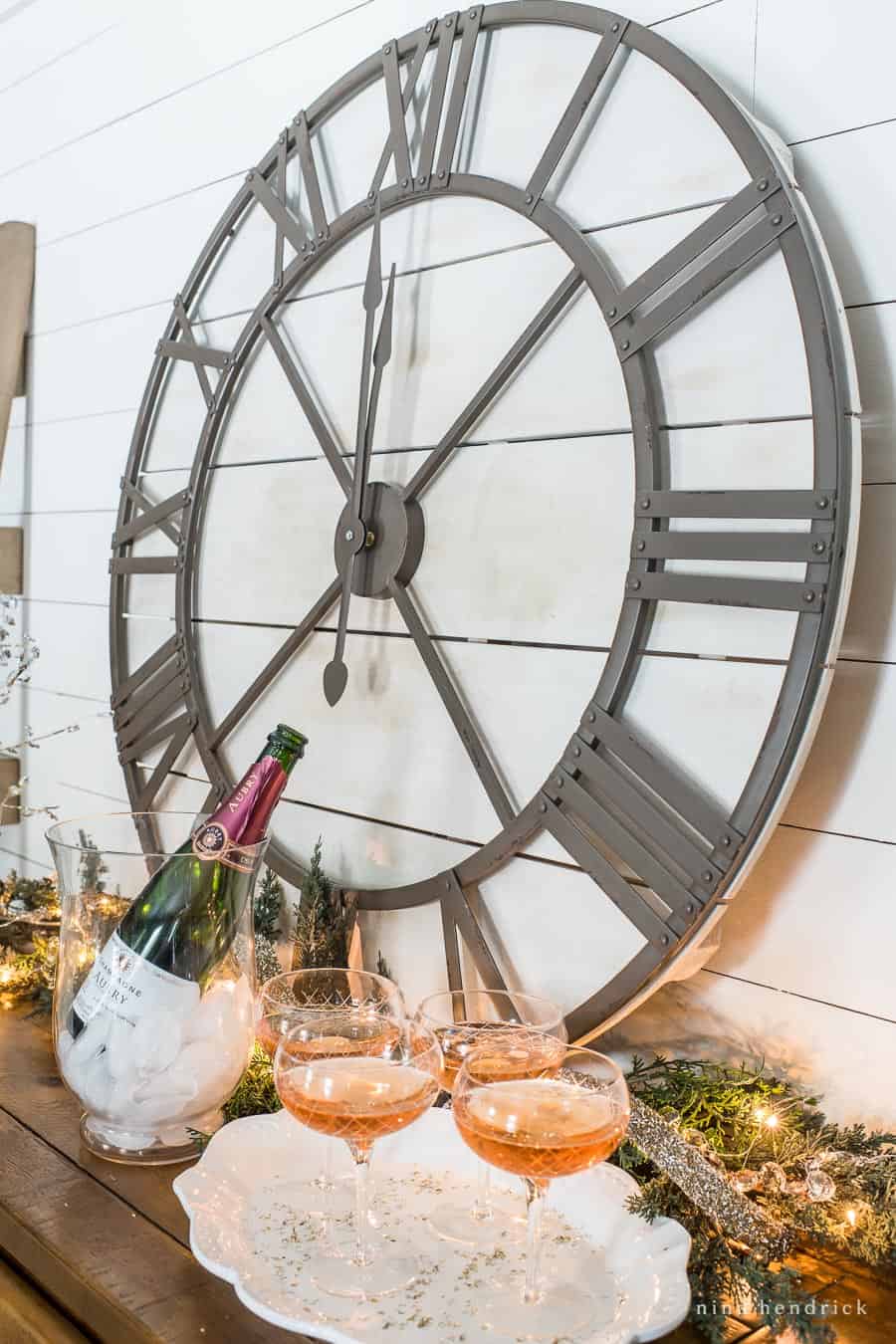 Decorating a New Year's Eve Vignette
The clock was the star of the show in the New Year's Eve vignette. I set up the sideboard with more greens, jewels, and ribbon. I placed a few coupe champagne flutes, and the bottle of Rosé bubbly on the table, and we were ready to celebrate! The Rosé champagne actually doubled as decor, playing off of the pink roses in the centerpiece. I loved that element of blush sprinkled throughout the room. Overall, it perfectly tied both areas together!
Although this display perfectly rounded out the New Year's Eve tablescape, I believe it could also stand on its own as a decorating idea for a smaller and more casual event. You could also set it up as a small bar area and incorporate some of these other cocktail ideas!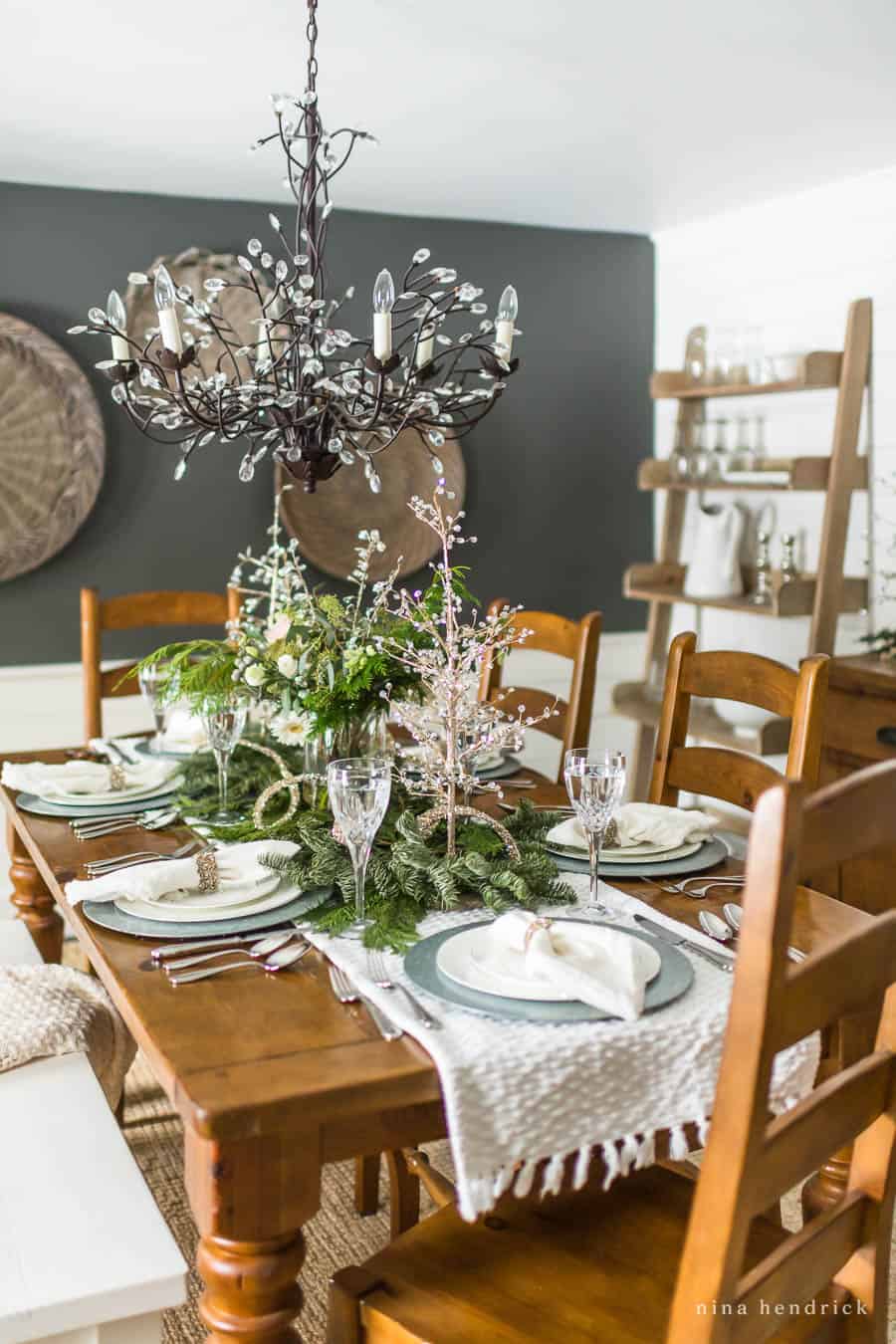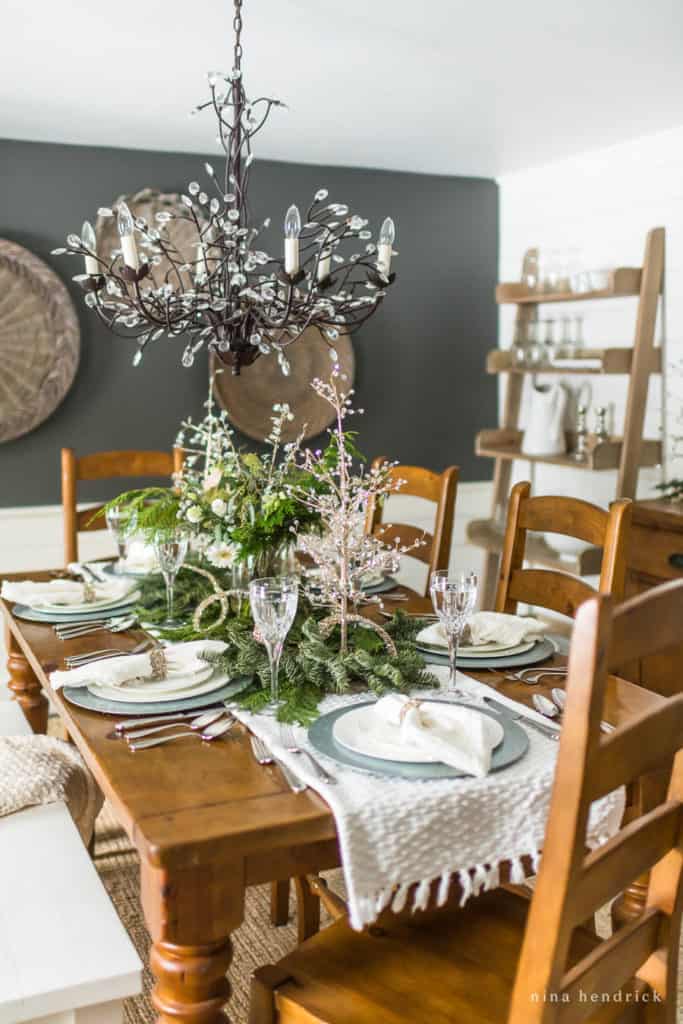 I hope you enjoyed these New Year's Eve tablescape ideas. A tablescape with a sideboard display is great way to decorate for the holiday and add some festive cheer to your home. I love how the silver, white and gold colors come together to give a sophisticated and elegant feel while still being festive. The candlelight adds a romantic feel, while the champagne glasses, metallic confetti and star decorations give it a fun and celebratory vibe. Whether you're hosting a small gathering or a big bash, a glittering tablescape is sure to make your New Year's Eve party extra special and memorable! Let me know @ninahendrickhome if you recreate it for your own celebration. HAPPY NEW YEAR!