Are you overwhelmed and surrounded by clutter? Here are my easy steps and a fail-proof, repeatable system for home organization that lasts!
Organizing your home can be a daunting task, but with the right mindset and some useful tips and tricks, it doesn't have to be! Home organization can help create a relaxed, peaceful, and productive environment by sorting, decluttering, and storing items in an orderly manner. It can also help to reduce stress and make it easier to focus on the things that matter.
We all know an organized home is important. Not only does a tidy pantry look lovely, but clutter-free spaces feel better. We're striving toward it, but it can definitely be overwhelming. So let's do my favorite thing: break it down into bite-sized pieces and tackle the project one space and one task at ta ime.
There are a variety of strategies to incorporating organizing ideas into your home, such as using containers and baskets to store items, making use of vertical space, and hiding items within decorative objects in plain sight. With some effort, home organization can turn a cluttered environment into a place that is conducive to productivity, and more importantly — peace! In this blog post, I'll provide you with some great ideas to get you started, so you can make organizing your home a breeze. After we're done here, you won't feel overwhelmed or confused on where to begin. So take a deep breath, and let's get organized!
This post contains affiliate links, which means I may get a small commission (at no extra cost to you) if you shop my link. Please see my disclosure if you'd like more info!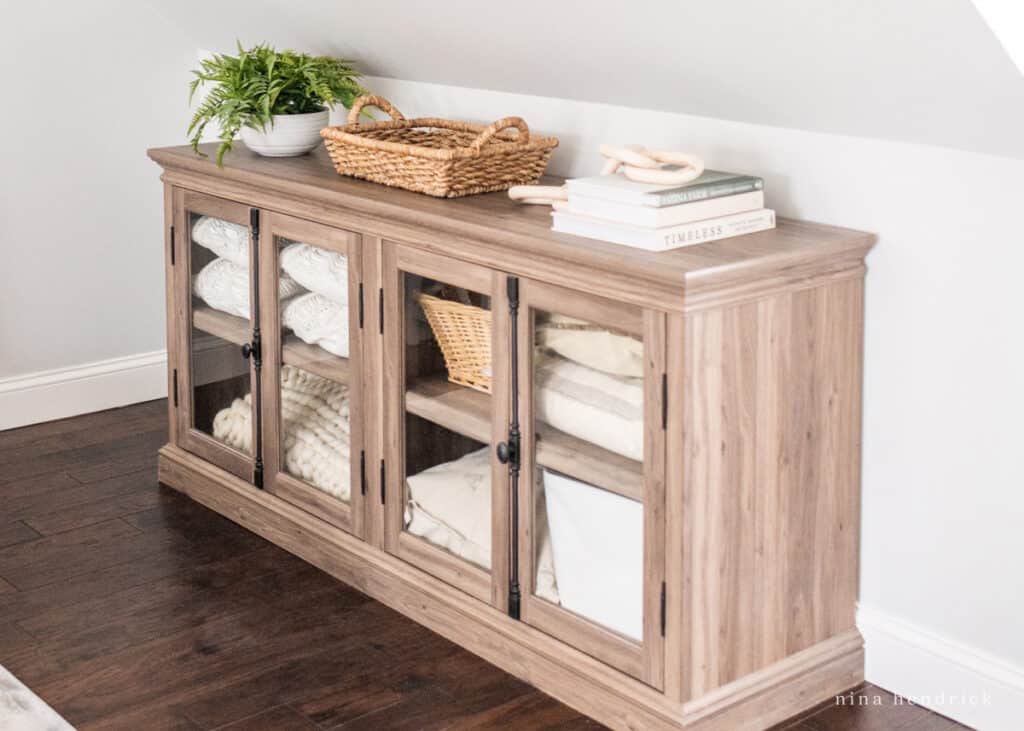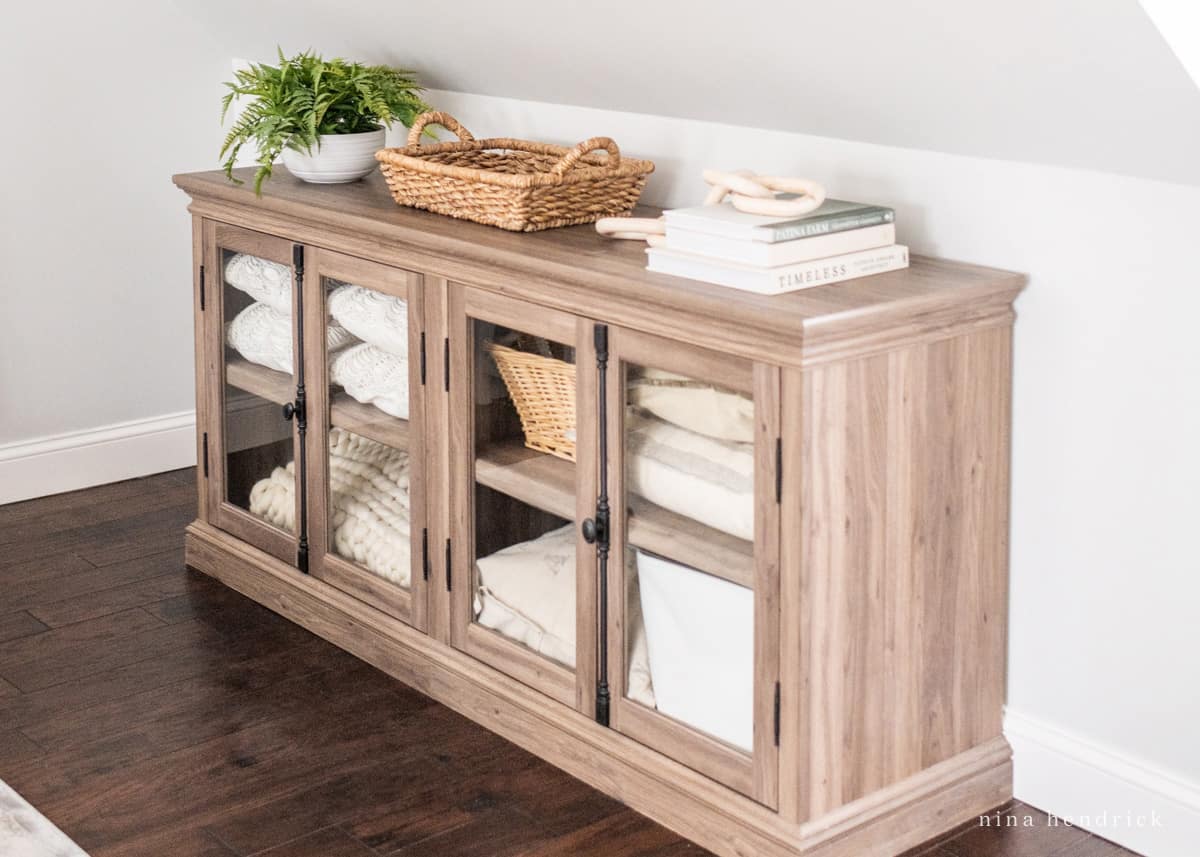 How Do I Organize My Home?
There are quite a few steps that need to happen before you begin a home organization project. So before you jump in, grab a piece of paper and a pen and begin to work through the steps below!
To start organizing your home, you need a plan. Begin by making a list of the areas of your home that need to be organized.
Next, decide which areas are the most important and prioritize your tasks. Create a timeline of the overall project and decide how much time you will dedicate to each space.
Consider setting a series of smaller goals, such as decluttering a single room, or organizing one area at a time. Break up those goals into smaller, manageable steps. Once you have a plan, set aside a specific amount of time each day to focus on organizing.
Once you have a plan, start by purging items you no longer need or use. Donate, recycle, or throw away anything that no longer serves a purpose.
When you've decided on the items to keep, it's time to organize them. Consider what materials you need to effectively store the items, such as bins, baskets, and shelves. Labelling each container will ensure that everything has its place. Remember that this step should come after you have already decluttered – many people make the mistake of buying storage solutions before they know what they need, leading to unnecessary expense.
Create designated storage areas for each item. This can range from labeling bins to setting up shelves and drawers. Having a place for everything will help you keep your home neat and organized.
Finally, add a few decorative touches to your space to make it feel like home. Hang artwork, add plants, or choose furniture that fits your style. With a little planning and effort, you can have a home that is both functional and aesthetically pleasing.
It's important to also remember to reward yourself for reaching milestones. If you enjoy decorating, step 7 may be your reward!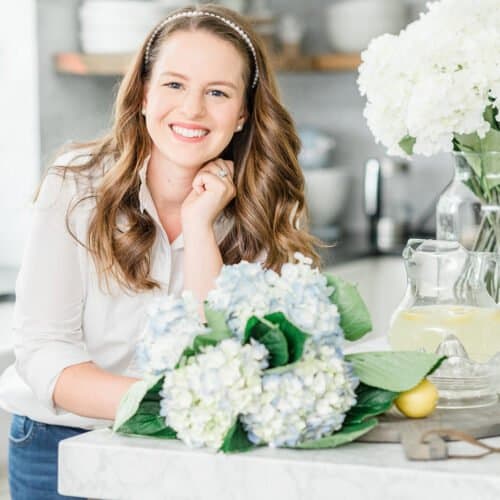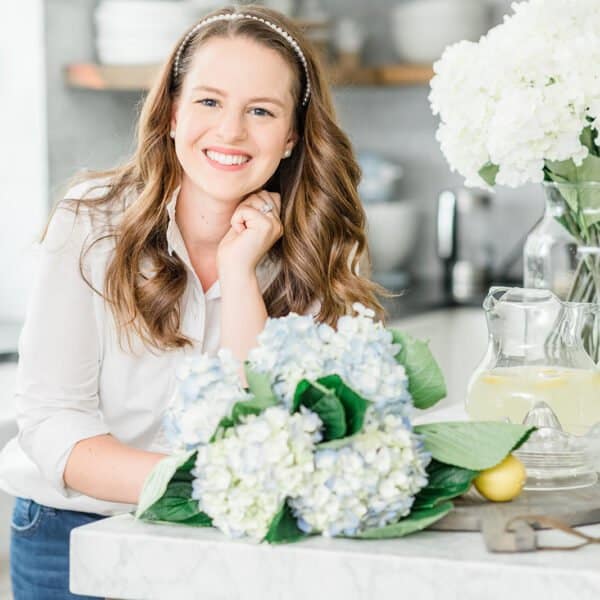 Tip from Nina: Make sure to set realistic expectations for your home organization project and take into account any other commitments you may have.
With a little planning and dedication, you can make your home organized and stress-free.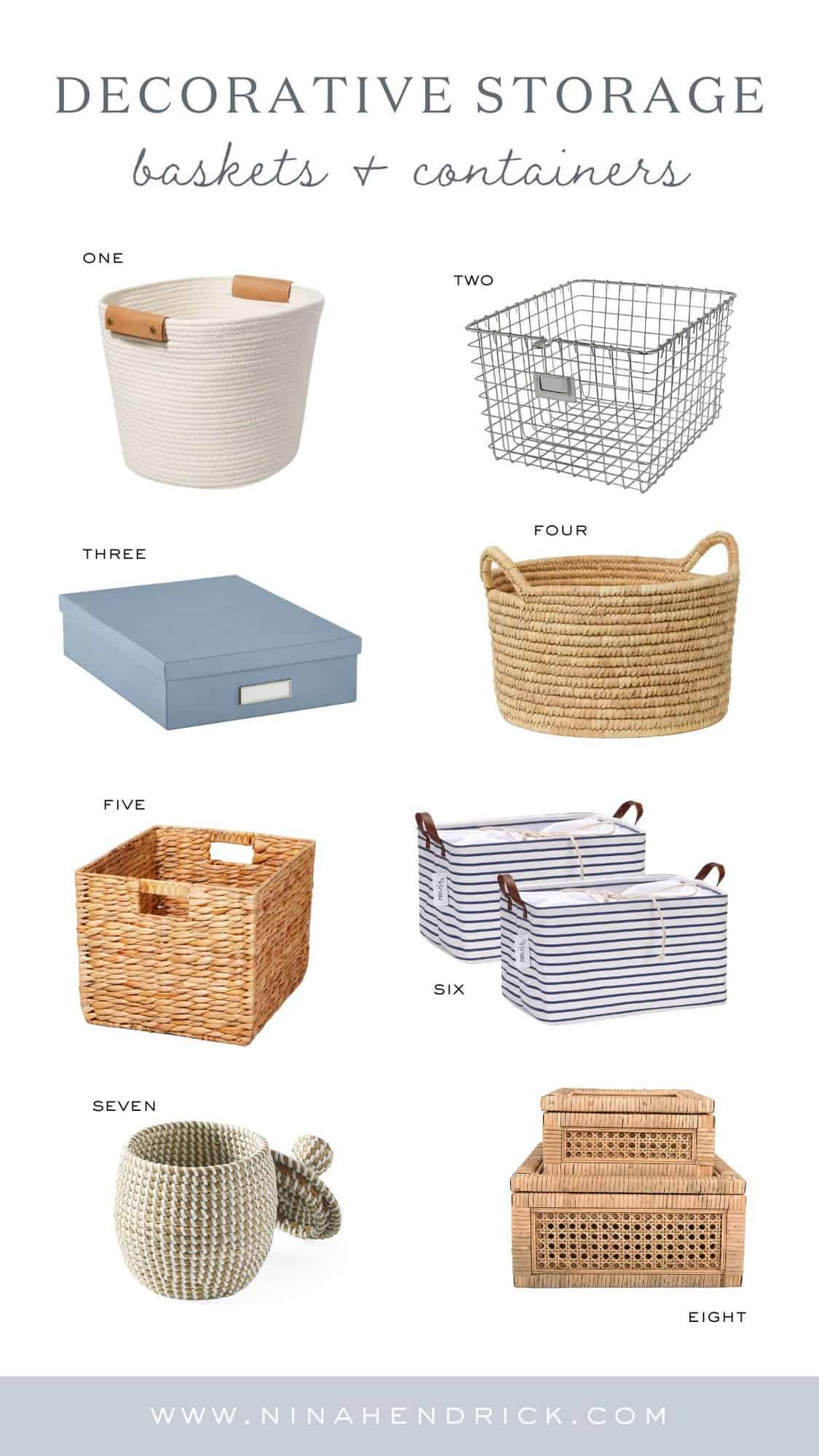 Our Favorite Home Organization Containers
After you've decluttered, it's important to choose the right storage containers to organize your items. Whether you're looking to store items in your kitchen, bathroom, home office, or any other room in your home, the right containers can help make your home organization journey a success!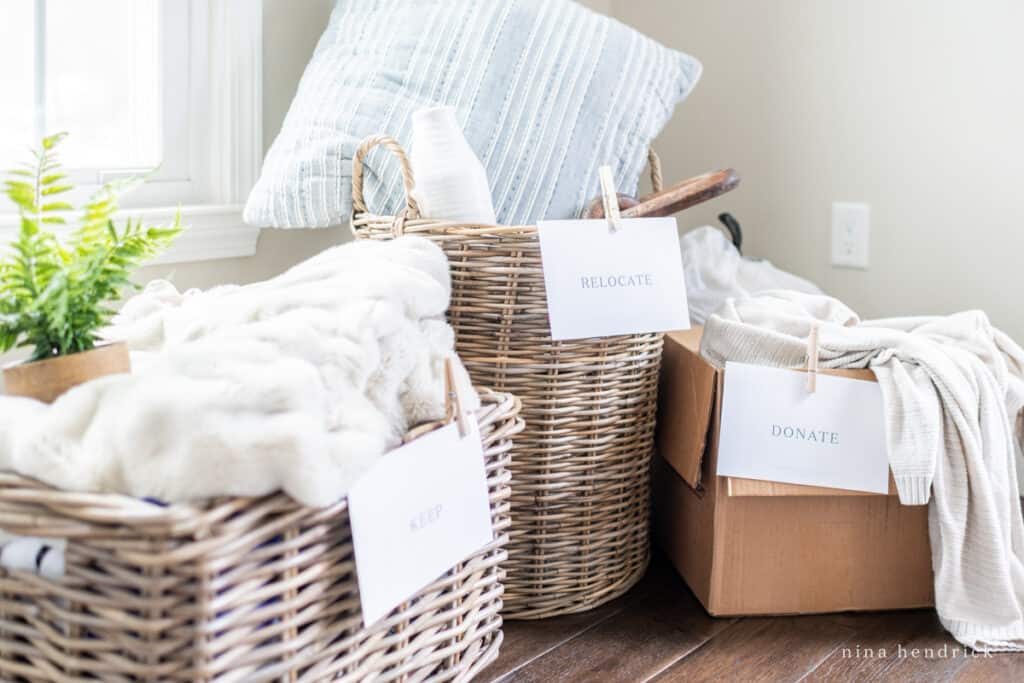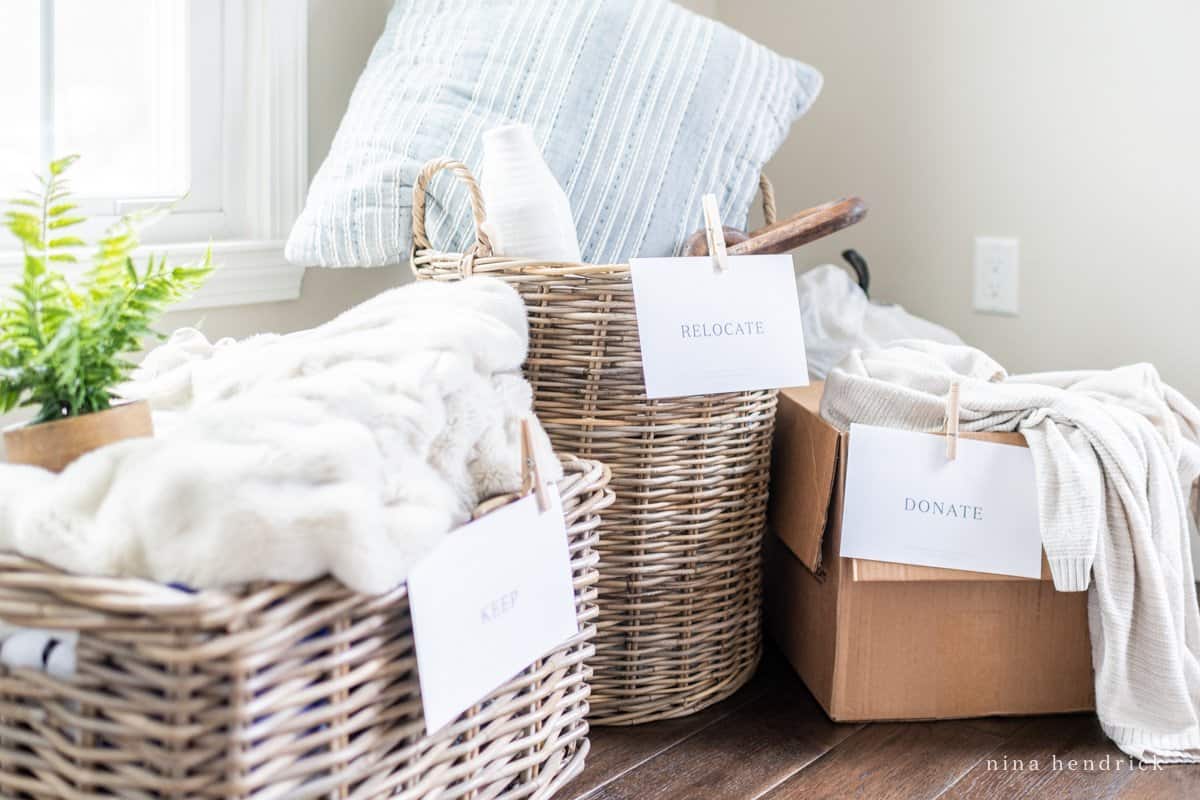 How do I organize my home when we're overwhelmed by stuff?
Decluttering is the biggest key to home organization. Start by sorting through all of your items and deciding what you want to keep and what you want to get rid of. Donate, recycle, or throw away anything that doesn't serve a purpose in your home. You can read my post here that talks more about the decluttering process!
We all have a tendency to accumulate items over time, and it can be hard to let go of sentimental objects or things we think we might need in the future. However, decluttering your home or workspace can be an important part of improving your mental health, improving productivity, and achieving a greater sense of peace in your space. By focusing on the concept of less is more, you can make simple changes that will help you feel happier with the environment you live and work in!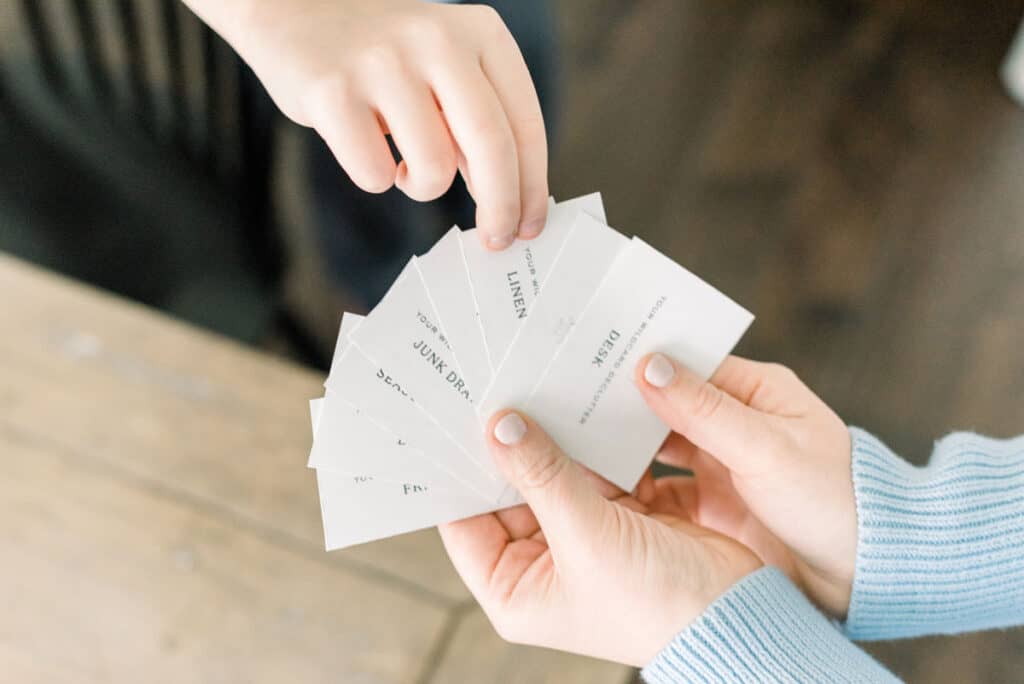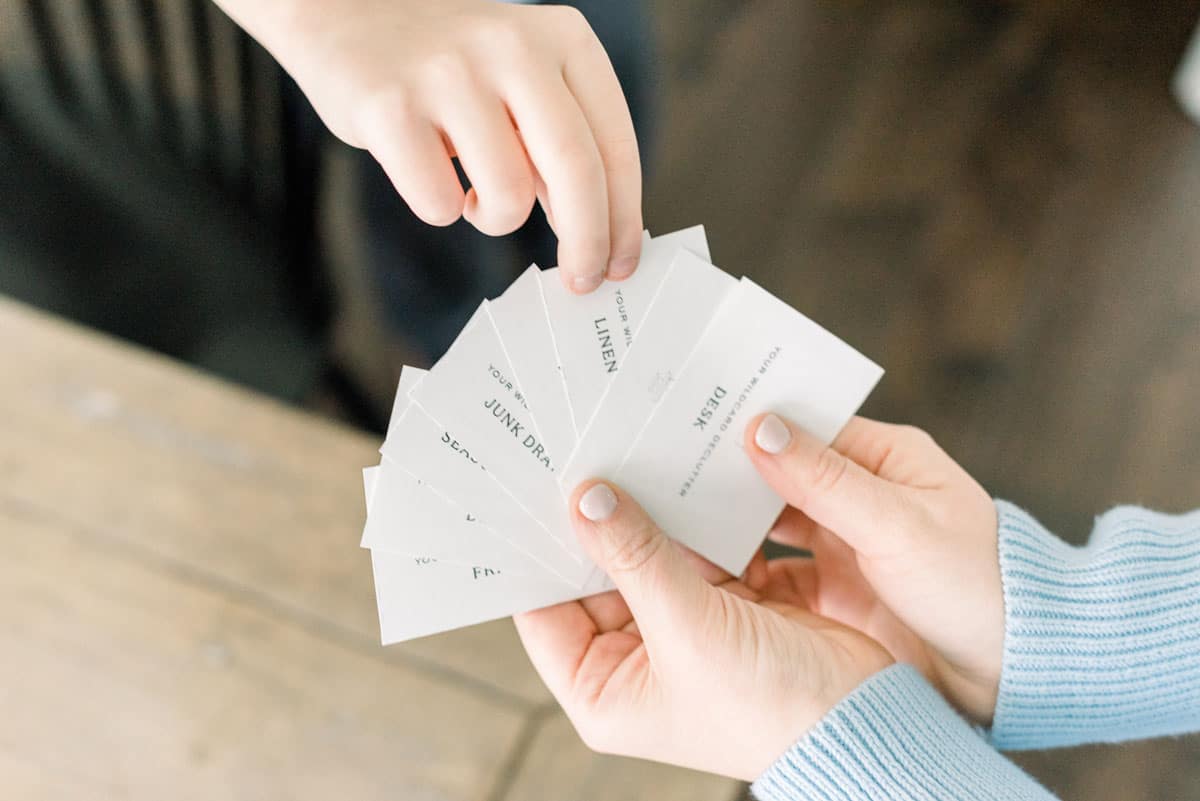 Create a Home Organization Routine
When it comes to keeping your home organized, it is easy to think of it as a one-time job and never need to think about it again. However, the reality is that maintaining your home organization over time by creating a routine is essential for having a well-run home.
Assign everyone in the family an area of the home for their items, and set expectations for how often these items should be cleaned up, put away, decluttered, and/or organized.
One of my favorite things to do with the kids is use the "wild cards" from my Declutter all of the Things course. We shuffle the deck and pick a space to decluttter at random!
It's crucial to make sure that the items you use often are stored in a place that is easy to access. If it's too difficult to put your system into practice, it won't work. To make sure that your organization is successful, keep it as simple as possible.
Finally, make sure to pick up and put away items in common areas regularly to keep your home organized. Small steps add up and a few minutes of tidying a day can go a long way! With a little bit of effort and consistency, you can keep your home looking neat and organized for the long-term.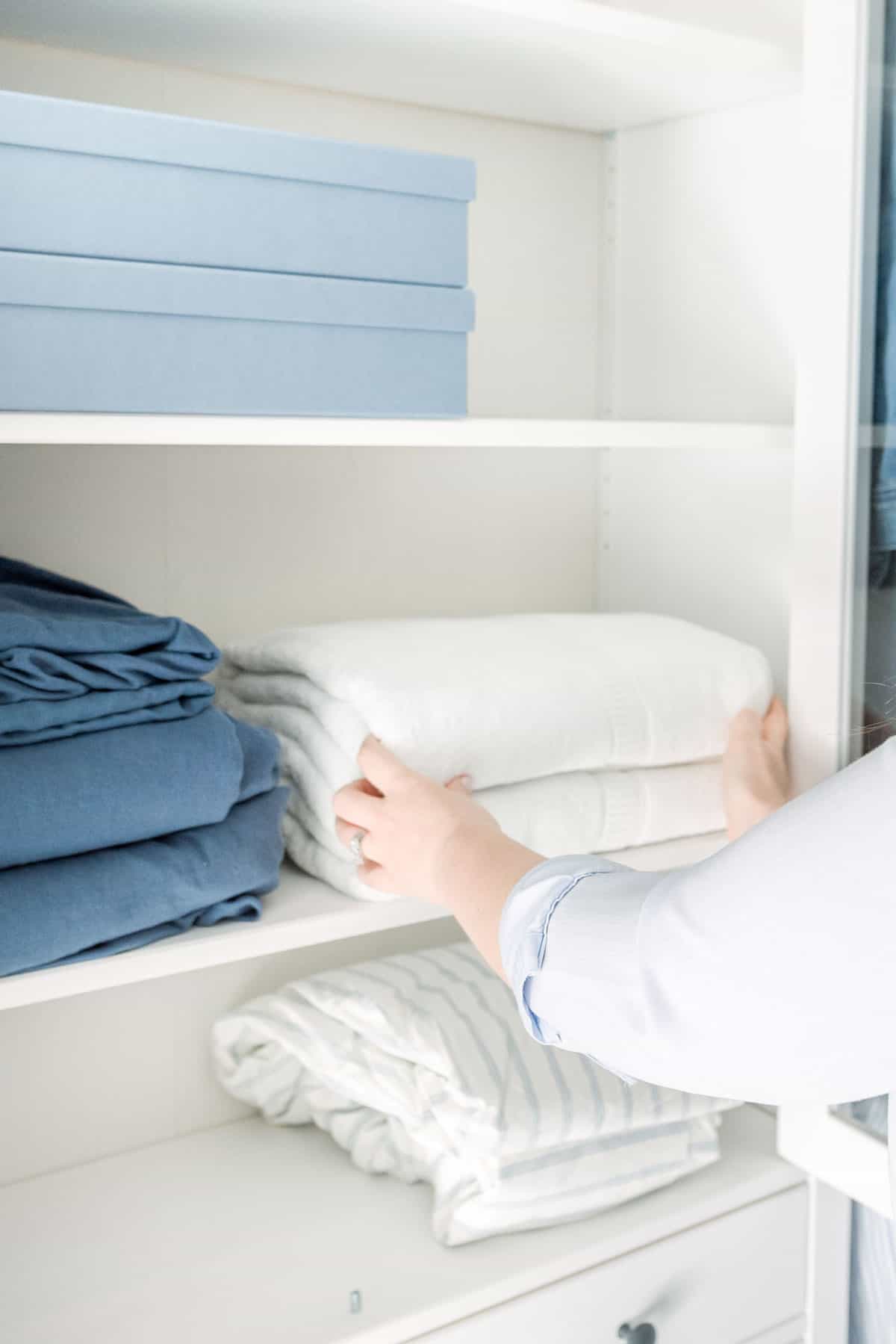 Easy Home Organization Ideas for Every Room
Having an organized home can make a huge difference in your day-to-day life. It can make it easier to find items when you need them and can even help to reduce stress levels by decluttering your space. From the kitchen to the bedroom, these easy home organization ideas can be implemented in every room of your house to help you make the most of your living space.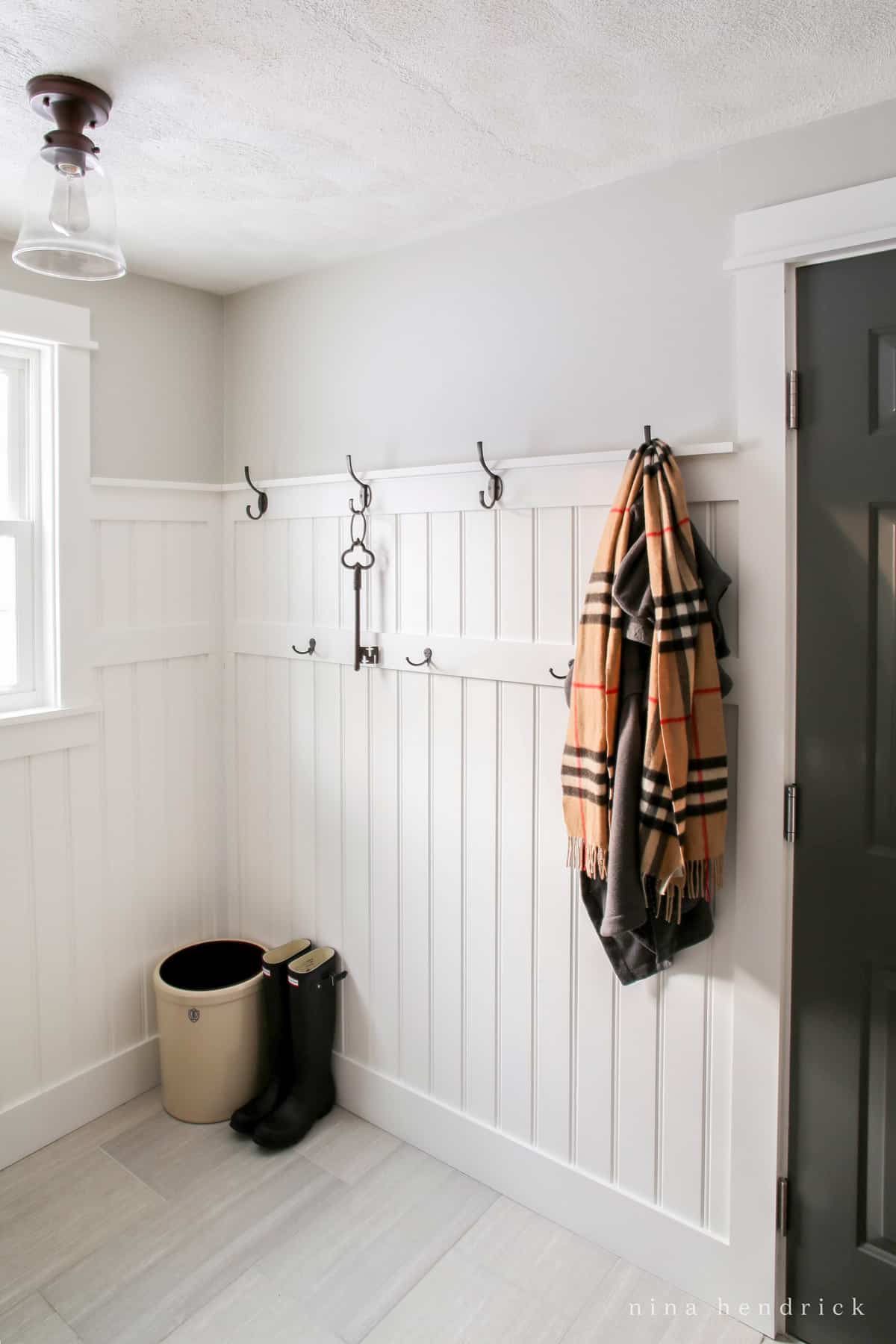 Entryway
The entryway is the first thing that people see when they enter a home, so an organized entryway will help to create a welcoming atmosphere and keep clutter to a minimum.
Make sure the basics are covered, such as hooks to hang coats and bags.
Boot trays provide a place for guests to leave their shoes, so they don't have to worry about tracking dirt into the home. It also keeps the entryway clutter-free and helps to define the space.
If you're remodeling, consider installing shelves, storage compartments, or drawers.
Installing a bench or seating area can also help to create a cozy atmosphere and provide a convenient place to put on shoes.
A console table can provide a great spot for keys and mail by the entrance.
Finally, add a few decorative items that double as practical, like a mirror for checking makeup before going out the door and a rug for wiping feet.
With the right organization solutions, you can easily transform your entryway into a beautiful and inviting space.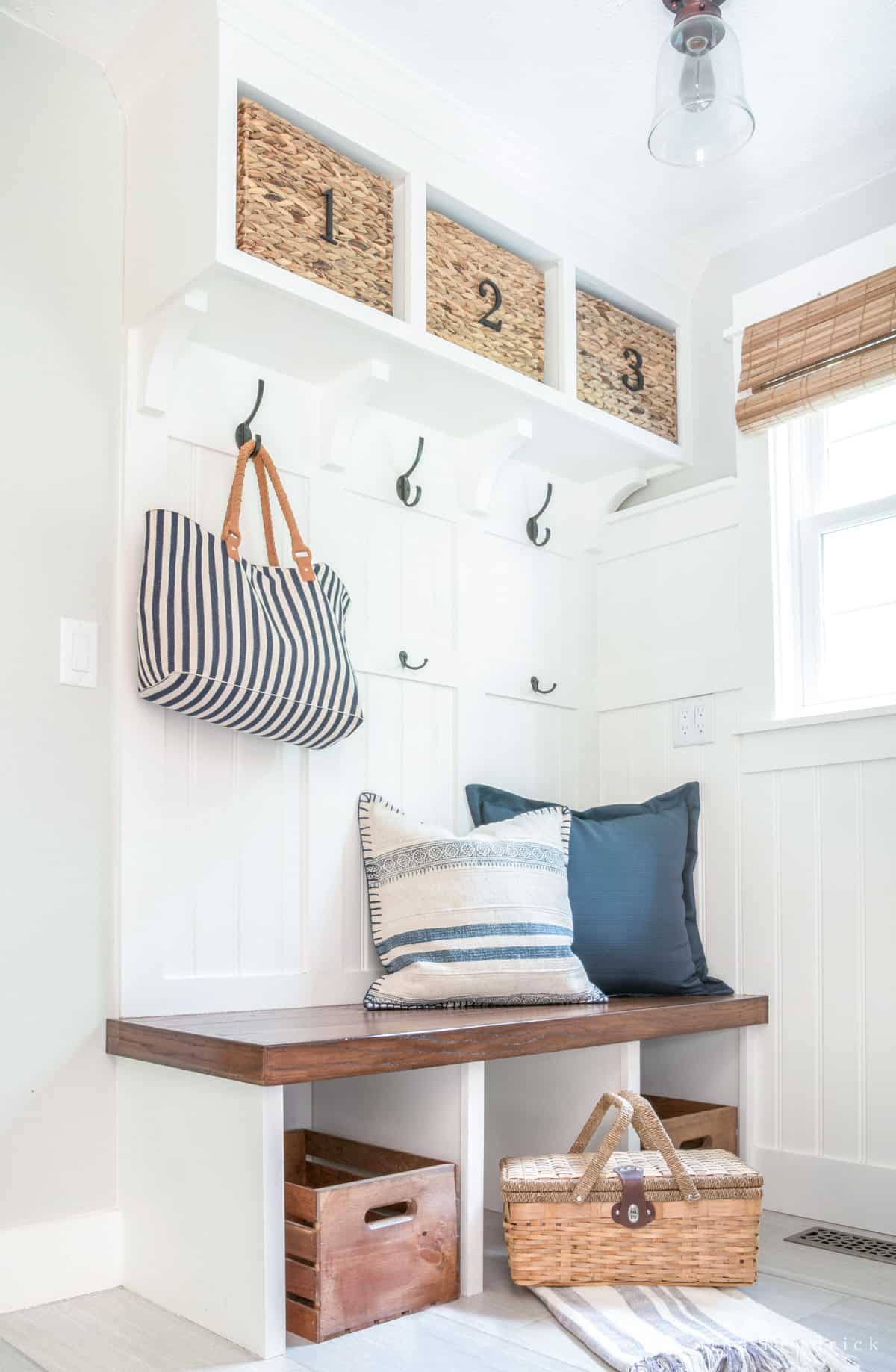 Mudroom Organization
The mudroom may be the same space as the entryway, or it may be separate. It's designed to provide a space where family members can easily transition from the outdoors to the indoors and stores cold and wet items, such as coats and boots. It also serves to keep the home clean by helping keep muddy and wet items contained in one space.
If you're remodeling, install lockers or storage compartments for storing kids' backpacks, snow gear, and/or sports equipment.
Add a drying rack on the wall for hanging wet clothes from the snow and rain.
Place a small basket for each family member to keep their items organized.
Place an indoor-outdoor rug near the door to catch dirt and moisture.
Finally, add a few baskets for putting away umbrellas and other outdoor items.
With proper organization and storage solutions, a mudroom can help keep a home clean, organized, and clutter-free.
Dining Room Organization
I don't know about you, but I find that the dining room can become a catchall for categories of items that don't belong in the space. Start by decluttering the room and removing items that don't belong.
Add a sideboard or buffet to store extra dishes or table linens.
Install built-ins with drawers to store napkins, flatware, and table linens.
Add a decorative box or basket to store napkin rings and other dining accessories.
Add open shelving for serving dishes or a collection of items like candlesticks or pottery.
Use a bar cart to organize spirits and glassware.
Store extra chairs in the basement, attic, or garage when not in use.
With a few changes, your dining room will be a welcoming and organized space for friends and family to gather.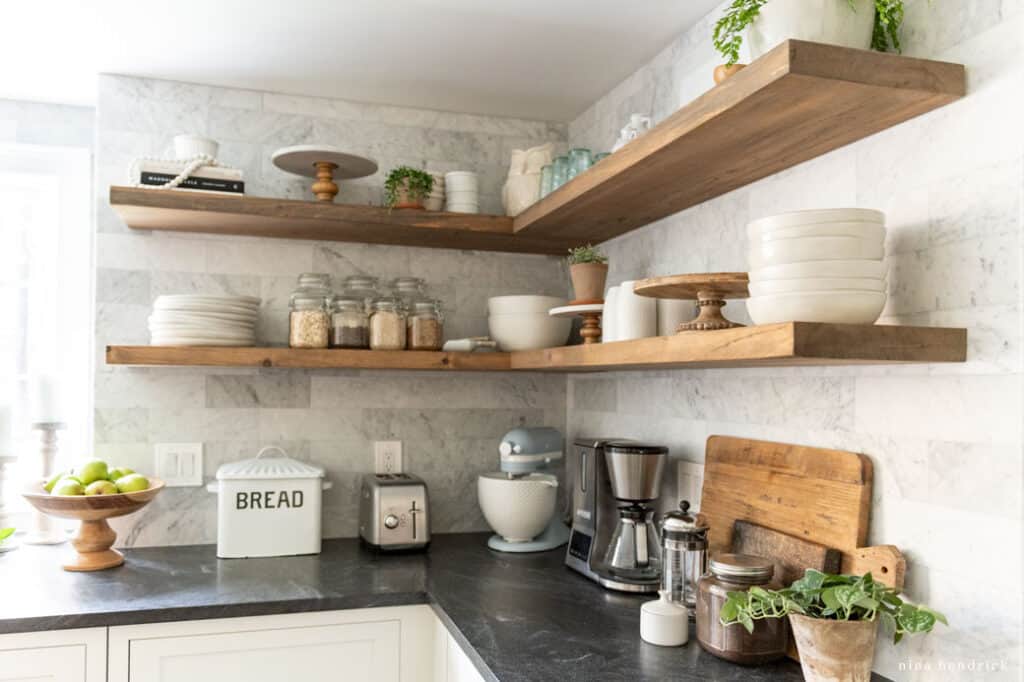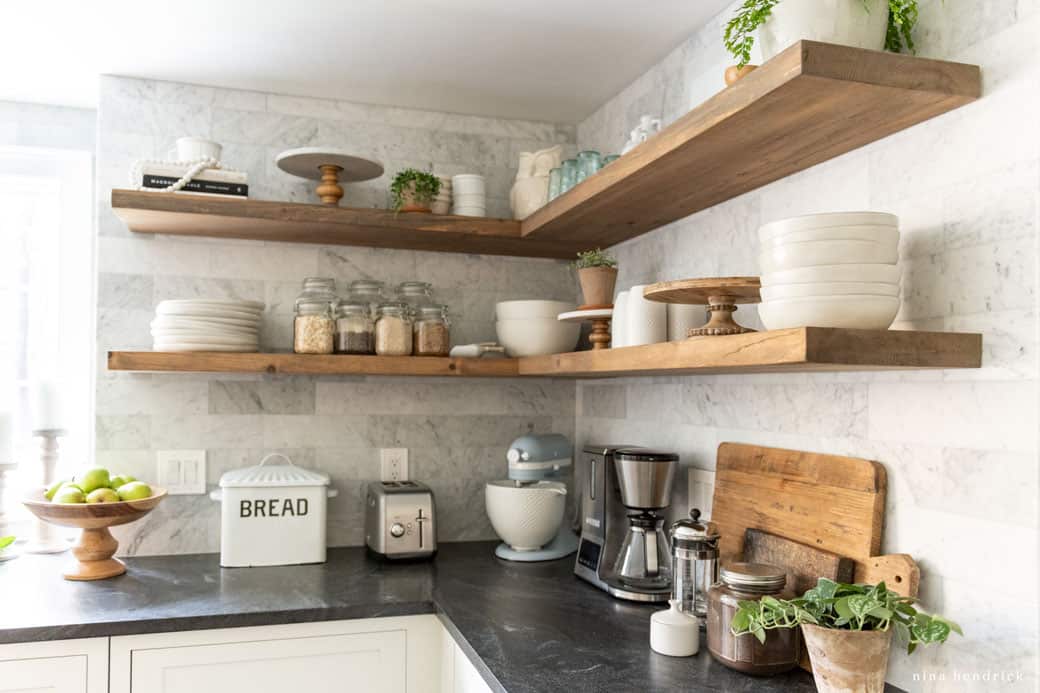 Kitchen Organizing Ideas
Organizing your kitchen can be a daunting task, but there are a few simple strategies you can use to get you started.
Start by removing everything from your counters, shelves, cabinets, and drawers and sorting out what is needed and what can be donated or thrown away.
Once everything is sorted, try to group similar items together and store them in separate containers and drawers. Assign a place for each category of items and make sure everyone in the house knows where it goes.
If you're short on counter space, invest in a kitchen cart or shelving to store items such as appliances, cookbooks, and extra pantry items.
If you need a space-saving idea for a small kitchen, consider hanging pots and pans on a rack from the ceiling. This will save you counter space and allow you to arrange the items in a visually pleasing way.
With a few simple steps, you can make your kitchen a more functional space and enjoy your time spent there.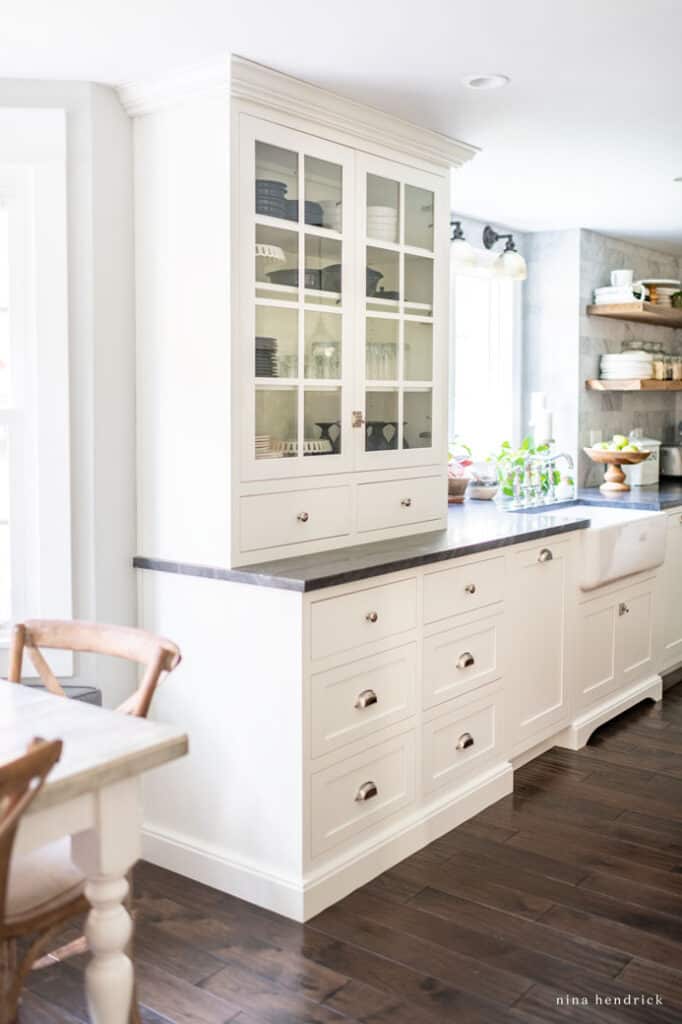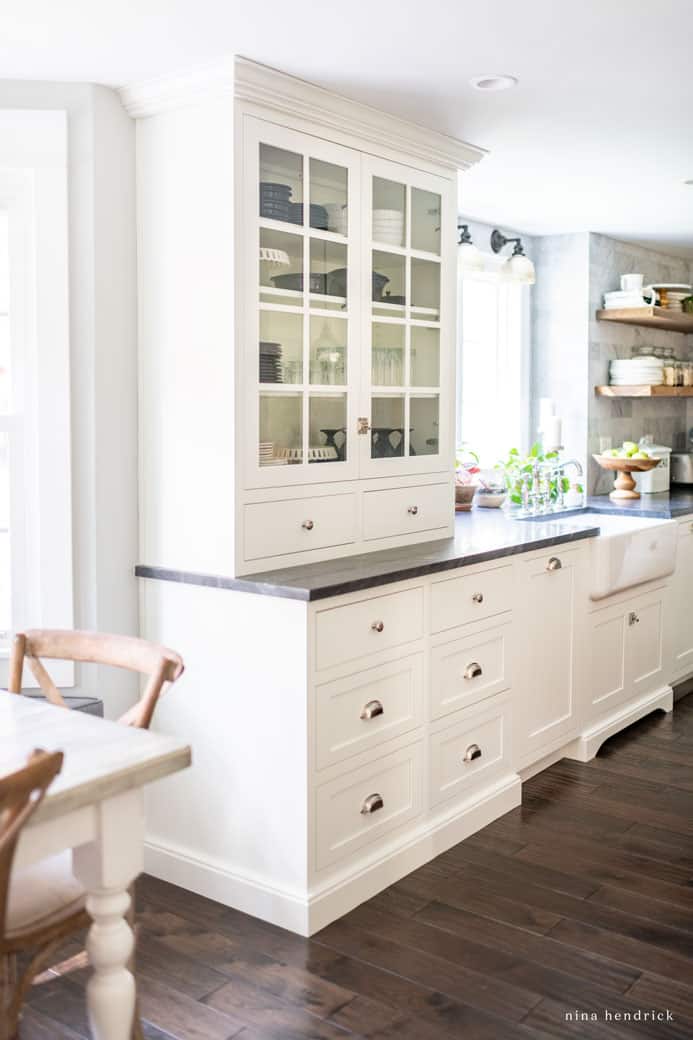 Organizing Kitchen Cabinets
By organizing the kitchen cabinets and drawers in an efficient way, you can create plenty of room to store items that you use every day.
Utilize the back of cupboard doors with hooks or shelves to hang items like pot lids, measuring cups, and other small items.
You can also invest in some stackable shelves or drawers to make the most of the available space. This can be used to store all of your cooking essentials such as spices, oils, and sauces.
You can also utilize baskets and bins to store items that don't need to be seen in order to add more items to the cabinets. Be sure to label all your home organization containers so that you can easily find what you need.
Cutting boards can be stored in a kitchen drawer, on a counter top or vertically in a divided cupboard. They can also be hung on a wall. When storing cutting boards, it is best to keep them in a dry, cool place.
Organizing your kitchen cabinets can help you create a kitchen that is both organized and efficient.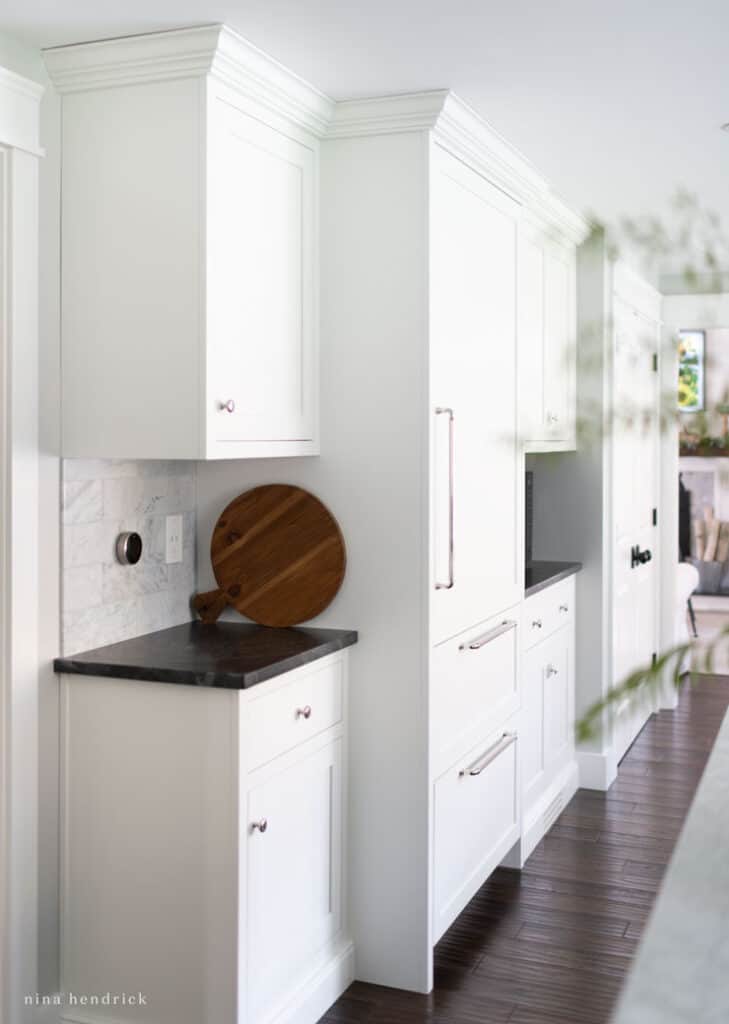 Refrigerator Organization Ideas
Refrigerator Organization can help prevent food waste and make it easier to find what you need when you need it. A well-organized refrigerator will also help to keep food fresher for longer.
Group items together in the refrigerator according to their use or expiration date.
Keep the refrigerator clean and free of clutter to ensure that the temperature is consistent and food stays fresh.
Take stock of your fridge contents on a regular basis and throw out expired items.
Place items in clear, labeled containers for easy retrieval and stack items to maximize space.
Use separate drawers for items that need to be kept cold, such as cheeses, meats, and eggs.
Following these simple tips can help ensure that your refrigerator is always organized and efficient and even help you save money on groceries by wasting less food.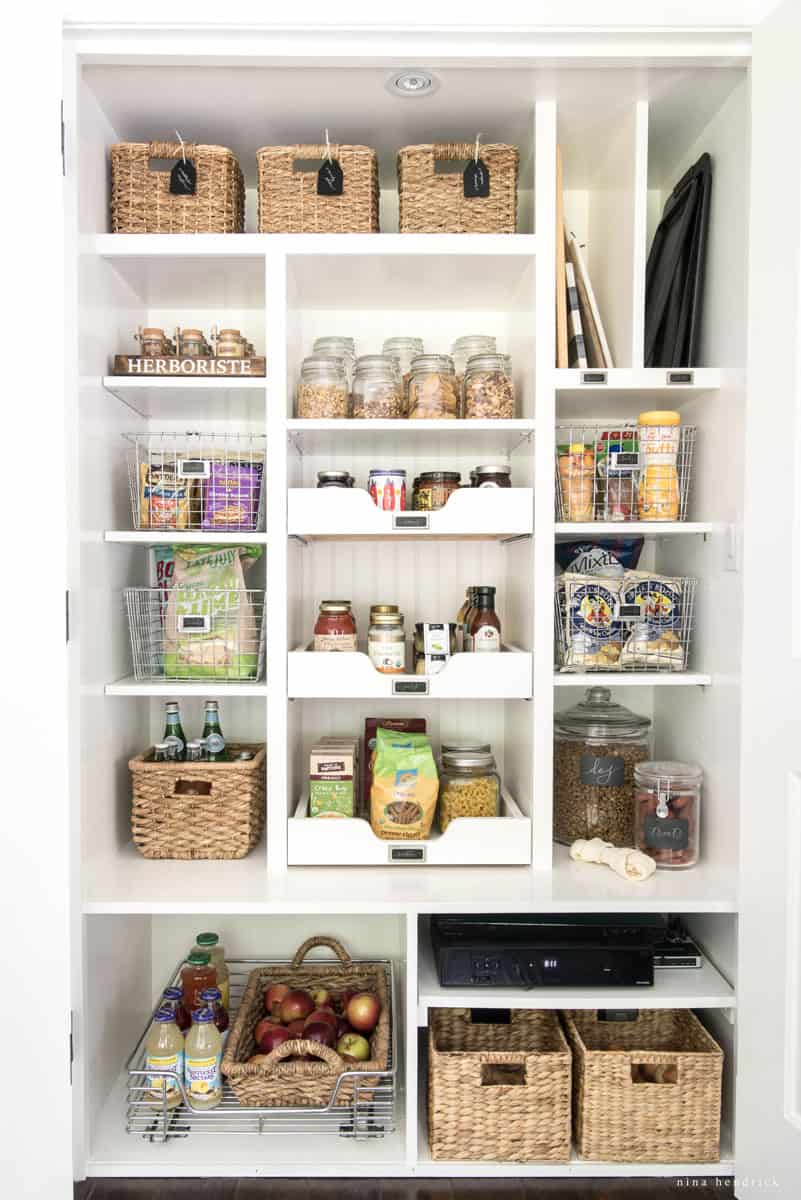 Pantry
By organizing your pantry, you can make meal planning and grocery shopping a breeze. Doing so also helps you save both time and money and decreases food waste, as you won't be buying items you already have. Additionally, decluttering your pantry can help you stay on top of expiration dates and get rid of any items that may have gone bad.
Start by taking everything out of the pantry, sorting it into categories and then discarding any expired items.
Once everything is sorted, create a system for how you want to store items in the pantry.
Try to group items together by category and store similar items together.
Label shelves or containers with the categories you've created to help you quickly find what you need.
If possible, consider installing slide-out drawers so you can more easily access items stored deep in the pantry.
Finally, keep items in clear containers or on shelves where you can easily see them. This will help you know what you have and make sure nothing gets lost in the back of the pantry.
Revisit the process every few months to make sure that you're keeping up with your pantry organization system. With a little bit of effort and organization, you can easily keep your pantry tidy and organized.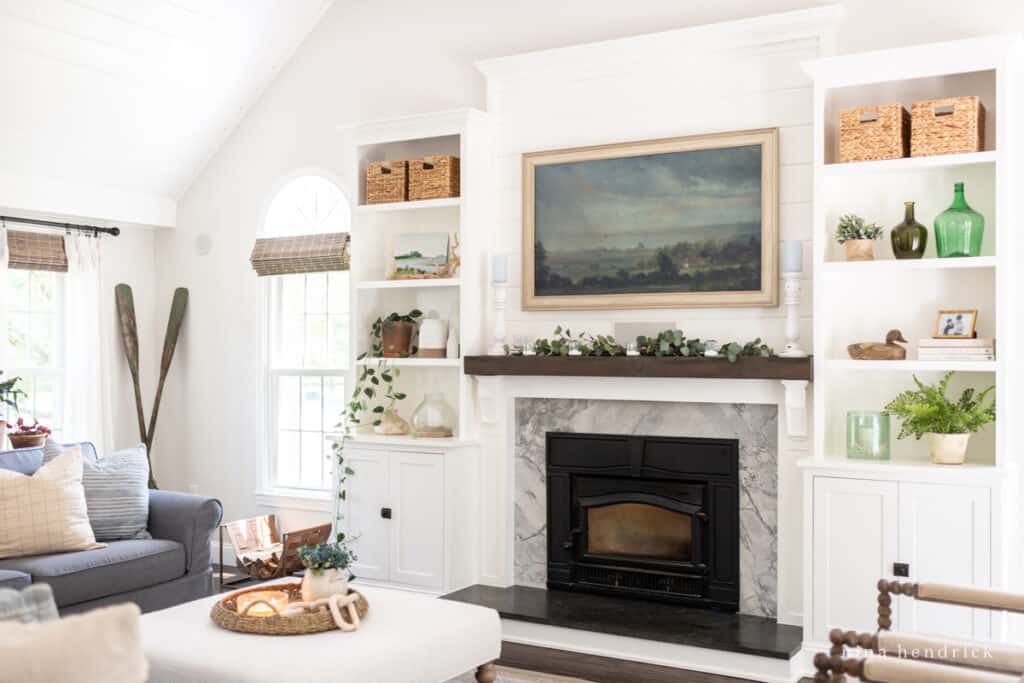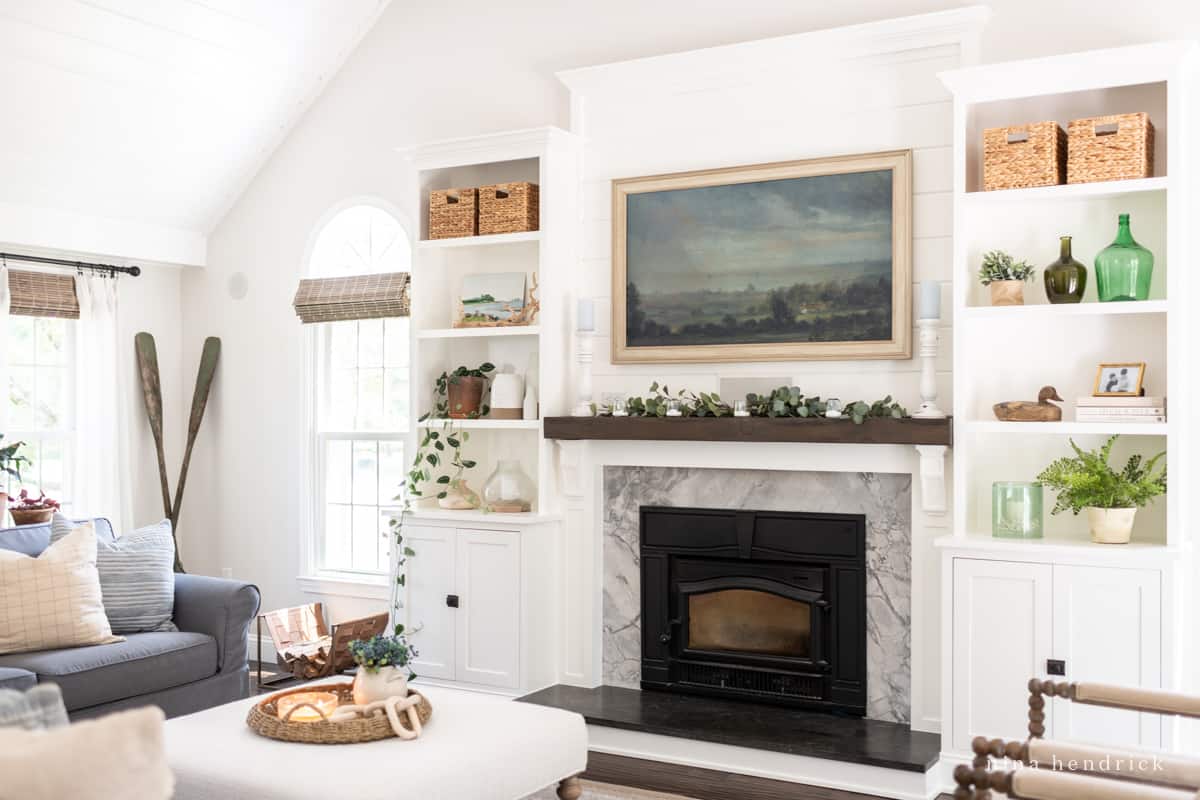 Living Room Storage
Whether you have a small or large living room, you can take advantage of various home organization solutions to maximize the space. Before decorating, you need to make sure everything has a place.
Shelves, cabinets, drawers, and baskets are great options for storing items and keeping them out of sight.
Additionally, if you have limited space, a storage ottoman or wicker trunk can provide extra storage while adding functionality as an extra seating area.
You can add a basket on top of the ottoman to help it store books and other items and easily lift it out of the way when seating is needed.
For larger living spaces, you may want to consider adding a built-in bookcase or armoire to provide extra storage.
A built-in can store board games, extra decor, and candles.
A hollow faux-book can store the TV remote and other electronics.
With the right storage solutions, you can ensure your living room remains organized and clutter-free.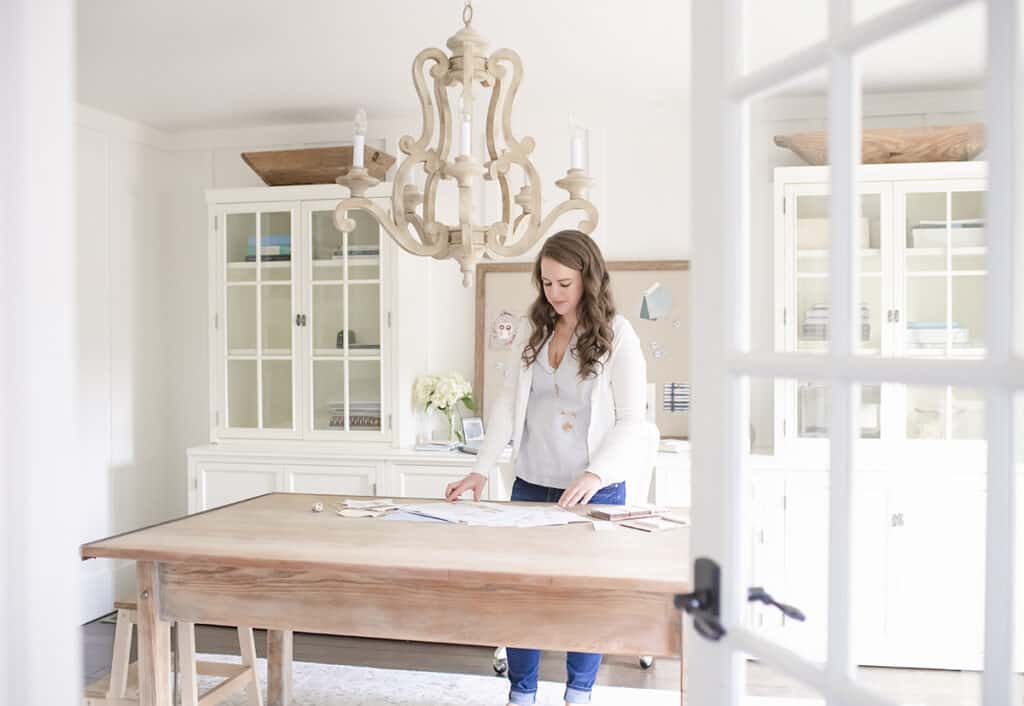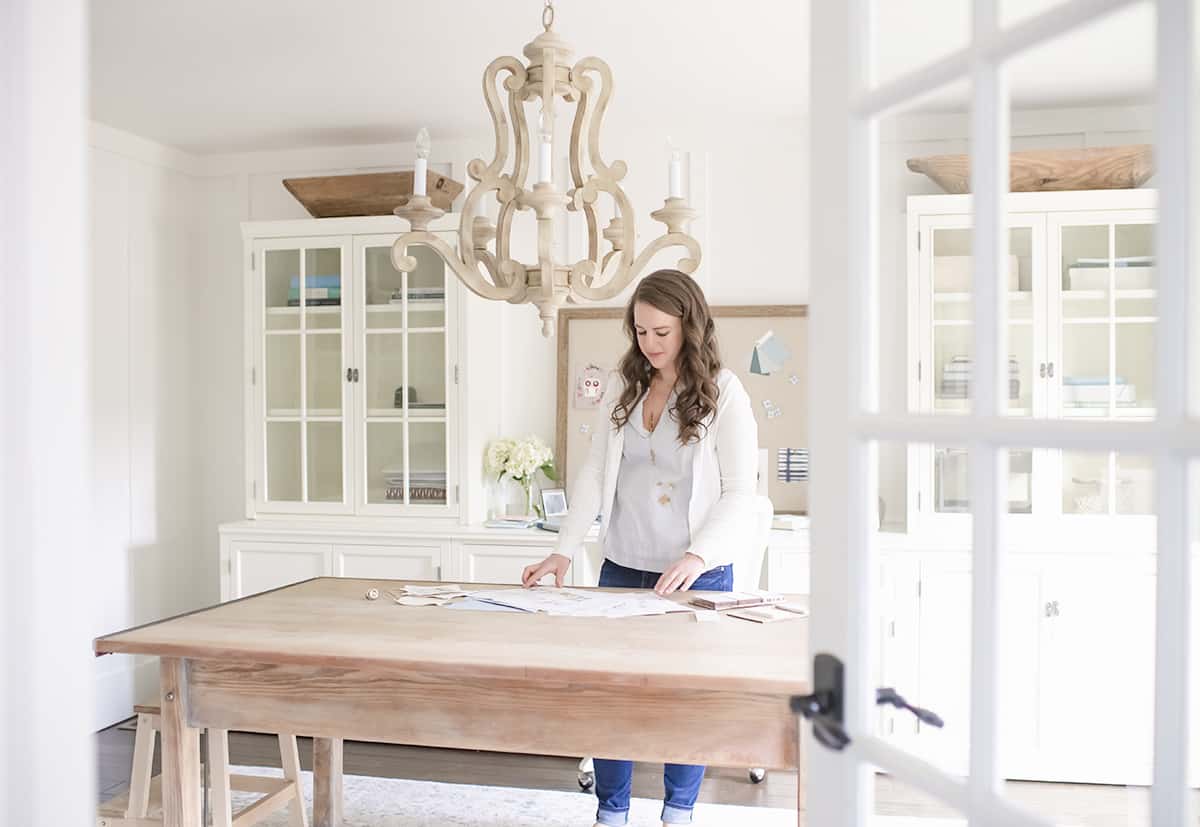 Home Office Organization
Especially if you're working from home, organizing your office is imperative for productivity. With the right set up, you can ensure that all of your documents, supplies, and other materials are neatly stored away and easily accessible.
Having the right filing system in place is key to help you stay on top of important tasks and ensure you don't miss any deadlines. Invest in a filing cabinet, preferably one with drawers to keep your paperwork organized and out of the way. Label your files and folders with the corresponding project or task for easy access.
Take time to declutter your desk and workspace. Keeping it minimal and free of clutter will help reduce distractions and help you stay focused on the task at hand.
Although you don't want your desktop cluttered, it can be helpful to keep your most often used items right within reach.
Incorporate home organization containers that will help keep all of your supplies in one place. Linen document boxes work great for this!
It's important to maintain a regular cleaning schedule to ensure that your home office environment remains organized.
With effort and dedication to revisiting your system occasionally, maintaining an organized home office will help you stay focused and organized while you work.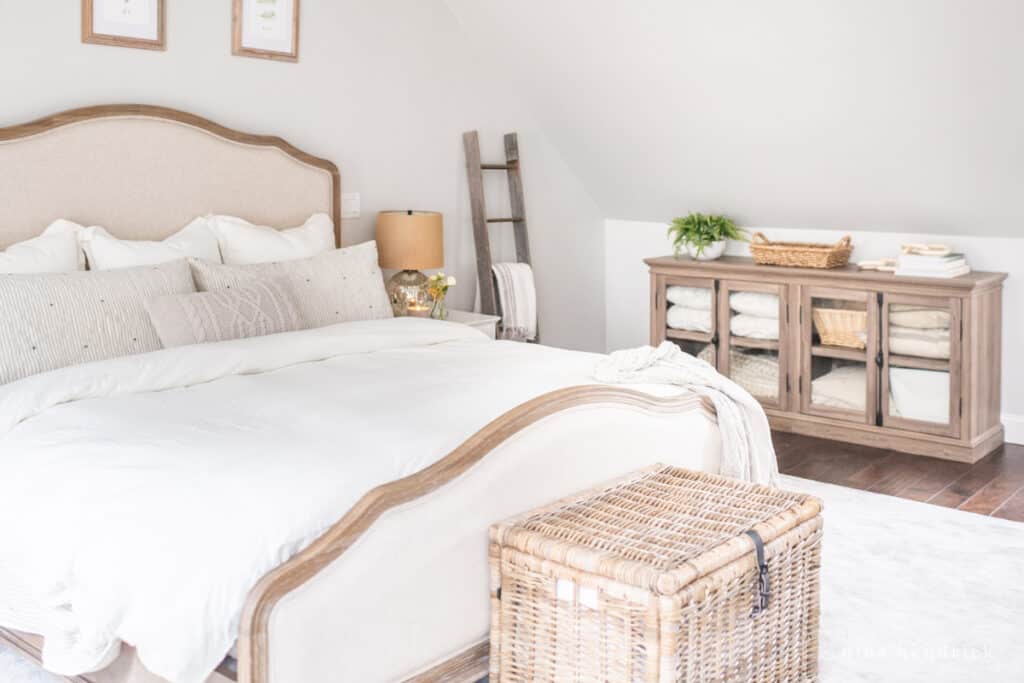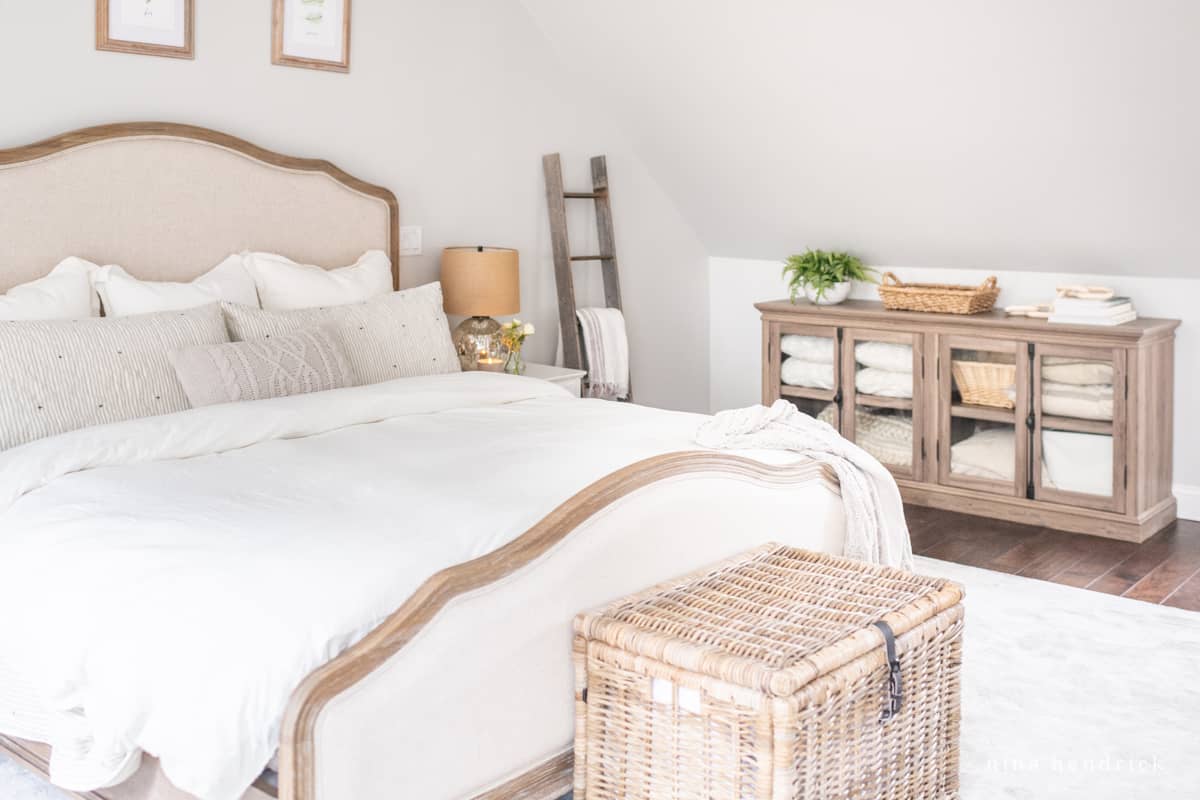 Bedroom Organization
Since the bedroom is the place we rest, it's important to keep it free from clutter to create the most relaxing environment possible.
Utilize items such dressers, a wicker trunk, or cedar chest to maximize the storage in your bedroom.
Use under-bed storage containers to store items that are not needed on a daily basis, such as off-season bedding and blankets.
Make sure to designate specific drawers for different categories of clothes, and fold vertically to save on space.
Add hampers for keeping dirty clothes off the floor.
Keep your nightstand free from clutter and corral unsightly cords.
Bedroom organization doesn't have to be complicated, but it will help you keep your bedroom looking neat and inviting.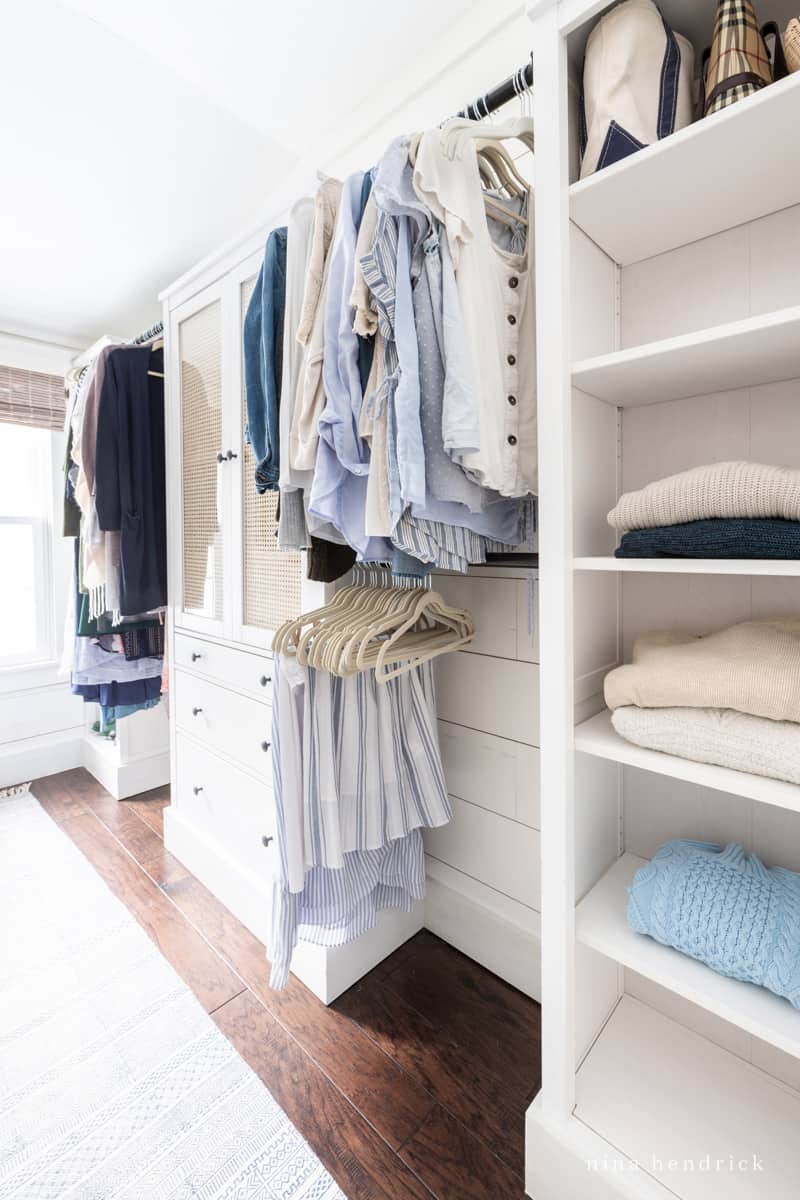 Closet Organization
Having a cluttered closet can be a source of stress and frustration. It can be hard to find the right outfit for the day or store items you need for a special occasion. Fortunately, there are lots of great closet organization ideas to help get your closet in order. 
Organizing your closet starts with removing all items from your closet and sorting them into categories. It's also a great opportunity to declutter and give away clothes that no longer fit or that you no longer like the style of.
You can then store items you use frequently in easy-to-reach locations and store items you use less often in higher or lower shelves.
You can use closet dividers or boxes to help organize categories of items.
If you're considering a remodel, closet companies often send out professional organizers to help you design drawers and shelves to create more storage space.
If you don't have a large closet, consider a door-mounted rack for shoe storage.
Finally, use space-saving hangers and hooks to keep items neat and tidy.
With a little bit of effort, you can make your closet an organized and stress-free environment. You can see my closet makeover here and my daughter's organized closet here!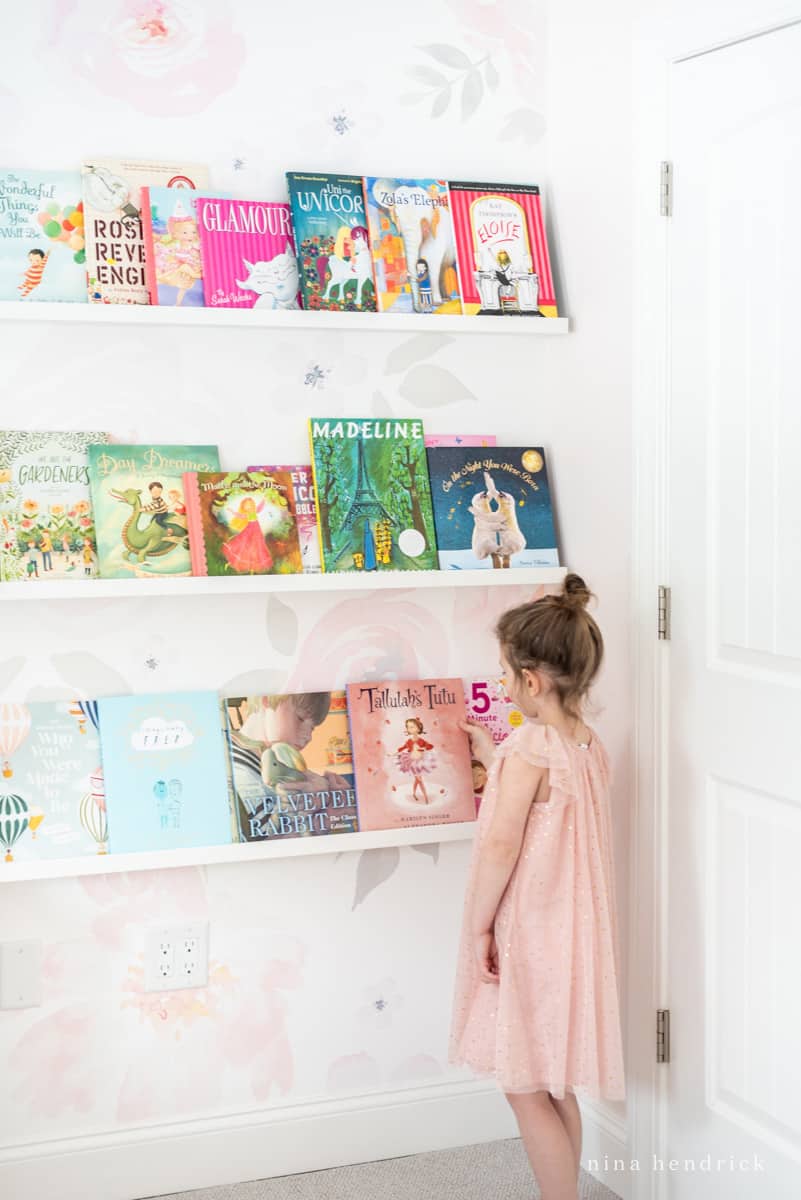 Kids Room and Playroom Organization
For kids' rooms, it's important to designate certain areas for different activities like studying, playing, and sleeping. A designated playroom is also a great way to keep toys out of everyday living spaces, off the floor, and organized within reach.
Investing in bins and storage solutions can help create a neat, organized, and safe space for kids to play and grow.
Labeling shelves and bins can also help kids learn to put items away themselves after playtime.
Dedicating a wall or area of the room to art supplies or crafts can give kids an organized space to explore their creativity.
If there is limited space, hanging shelves or wall-mounted organizers can also create more room for items that can't be stored in bins.
A ledge installed low on the wall can help kids see their books and keep them neatly organized.
In kids' closets, install a hanging rod low so that clothing is within reach and they can get ready (or put clothes away!) independently.
Finally, it's important to have a routine for organizing so that the room stays neat and clutter-free.
With consistency and by teaching routines, you'll have a neat and organized kids room that will be a joy for your children.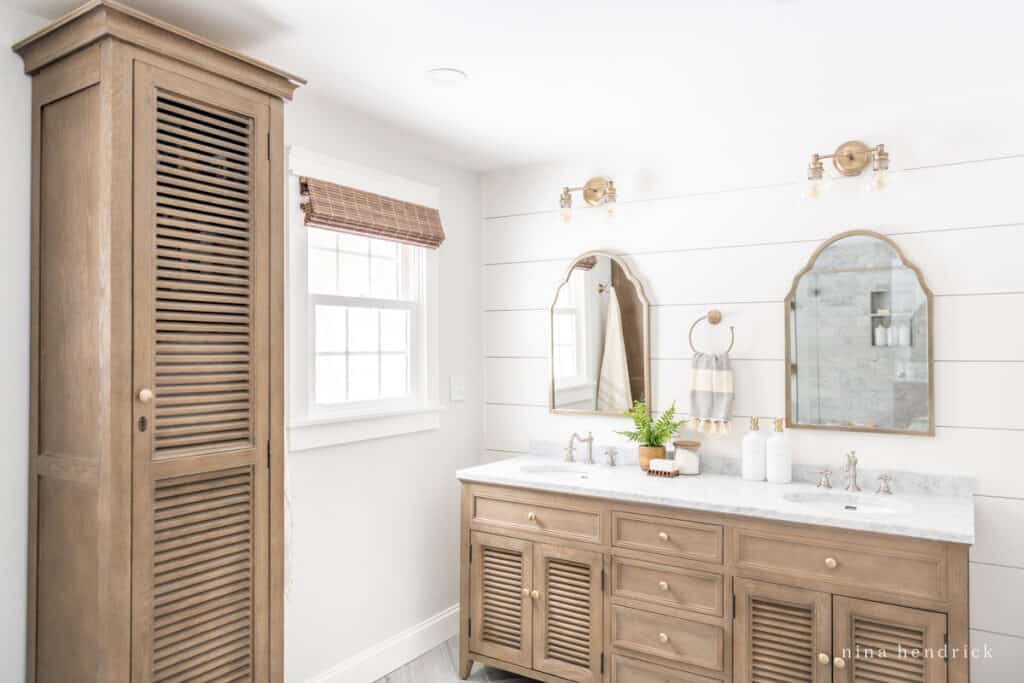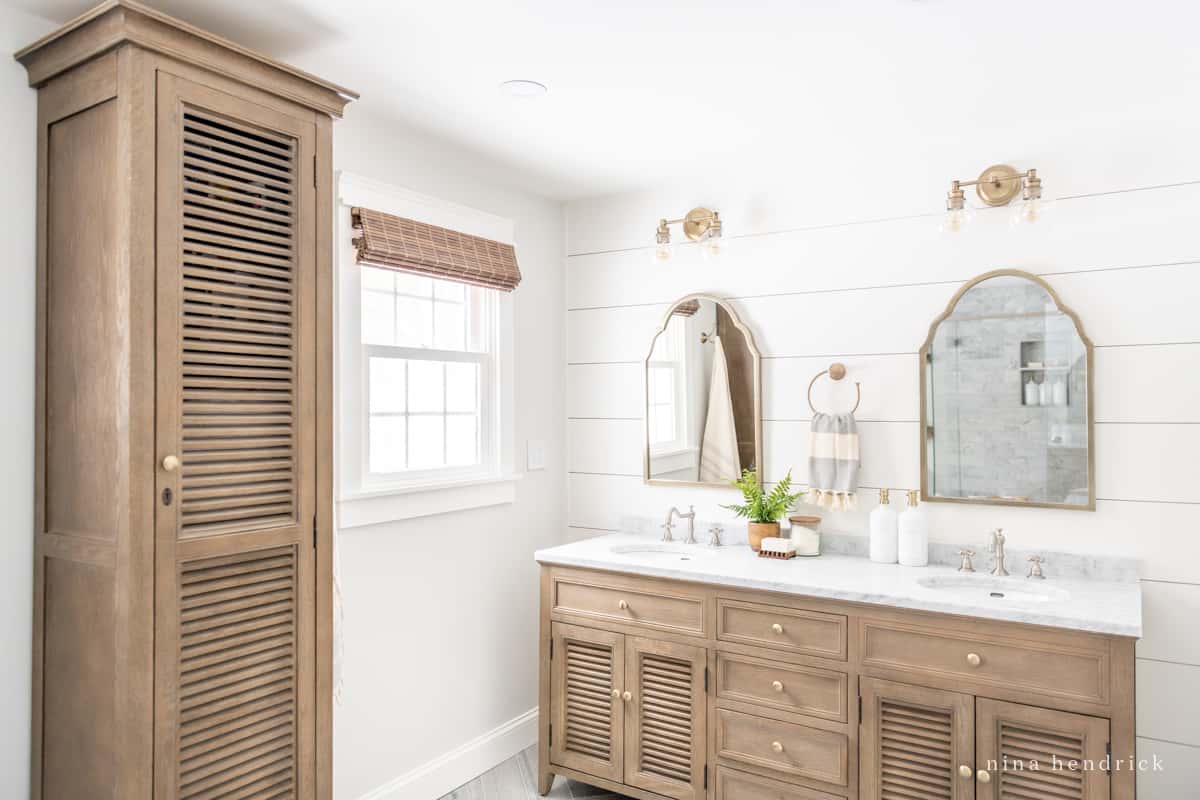 Bathroom Organization
Bathroom organization can help make the most of your space and make it easier to find everything when you need it. The bathroom is a place that's easily overtaken with clutter like expired or forgotten toiletries (Anyone else buy too many moisturizers?).
Start by removing everything from the bathroom and sorting it into categories. Put like items together, such as towels, toiletries, and cleaning supplies. Then, find storage solutions that fit your space and the items you want to store.
Baskets and bins are great for storing items out of sight.
Use hooks to hang towels and robes.
Incorporate a shower caddy or shower soap dispenser that's installed with suction cups.
Install shelves to store items like towels and extra soap or toilet paper. They can be cleverly hidden within decorative objects, like lidded canisters.
Add divided organizers to drawers for toothpaste, floss, and other personal care items.
If you're short on storage, consider installing an organizer to the back of your door for shampoo and other items (a shoe organizer works great for this!).
Willing to tackle some DIY? You can install a shallow medicine cabinet recessed between the studs. It's the perfect depth for storing small items.
With some creative thinking and organization, you can make the most of the space in your bathroom!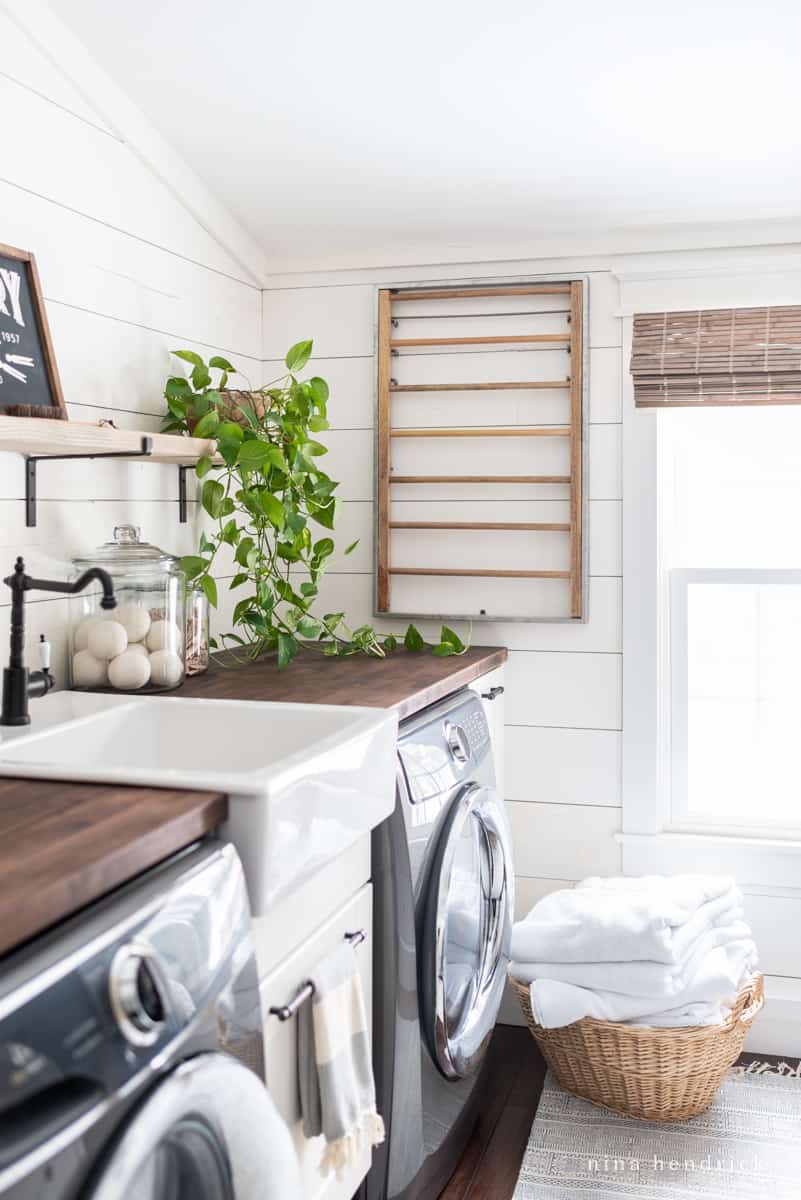 Laundry Room Organizing Ideas
If you're looking for ways to make the most of your laundry room, there are a variety of storage and organization solutions to help you keep it neat and orderly.
Shelves and clear glass jars are great for storing detergent, fabric softener, and other supplies.
Have a hamper for each family member to keep laundry from mixing and becoming overwhelming.
Clear plastic containers are ideal for lint rollers, starching supplies, and other miscellaneous items.
Wall racks are perfect for drying sweaters and delicates, saving you time and energy.
Taking the time to plan out a laundry room organization system will help you create an efficient, organized, and attractive space.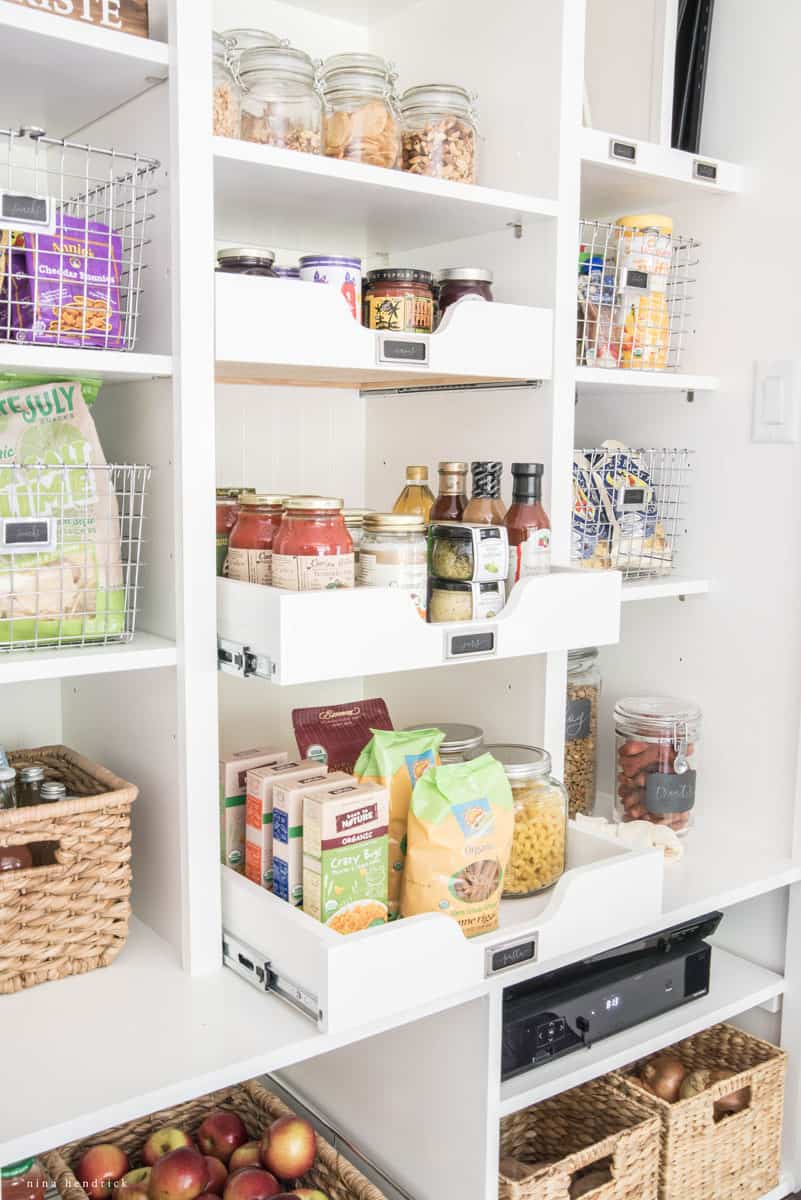 I hope the home organization ideas and tips in this blog post have been helpful! When you tackle your organizing project, make sure to tag me @ninahendrickhome and show me your hard work. When you organize your home, it not only helps you save time and resources, but also decreases stress and gives you a sense of accomplishment. With just a few simple steps and some consistency, you can create a comfortable and meaningful home that can significantly improve your daily life.