How to Decorate with a TV Above Your Mantel
Wondering how to decorate with a TV above your mantel? It's a common decorating dilemma, but luckily there are some solutions that can make everyone happy!
"How do you decorate with a TV above your mantel?" Have you ever wondered this? If so, you're not alone.
I know that this is a common decorating dilemma, and it's one that I've faced myself. Not only does it limit the height of what you can place on your mantel, but sometimes you have to deal with the added dilemma of wires hanging down and the practical reality of needing your TV and remote to be able to function.
Decorating with a TV Over a Mantel
explore by room
Like I always say, we're decorating for real life here, and in real life people gather around the TV. I'm going to share my favorite ideas for prettying this space up so that everybody's happy on your next family movie night!
Tara reached out to me and asked what my thoughts were about how to decorate when your TV is above your mantel. She said the following: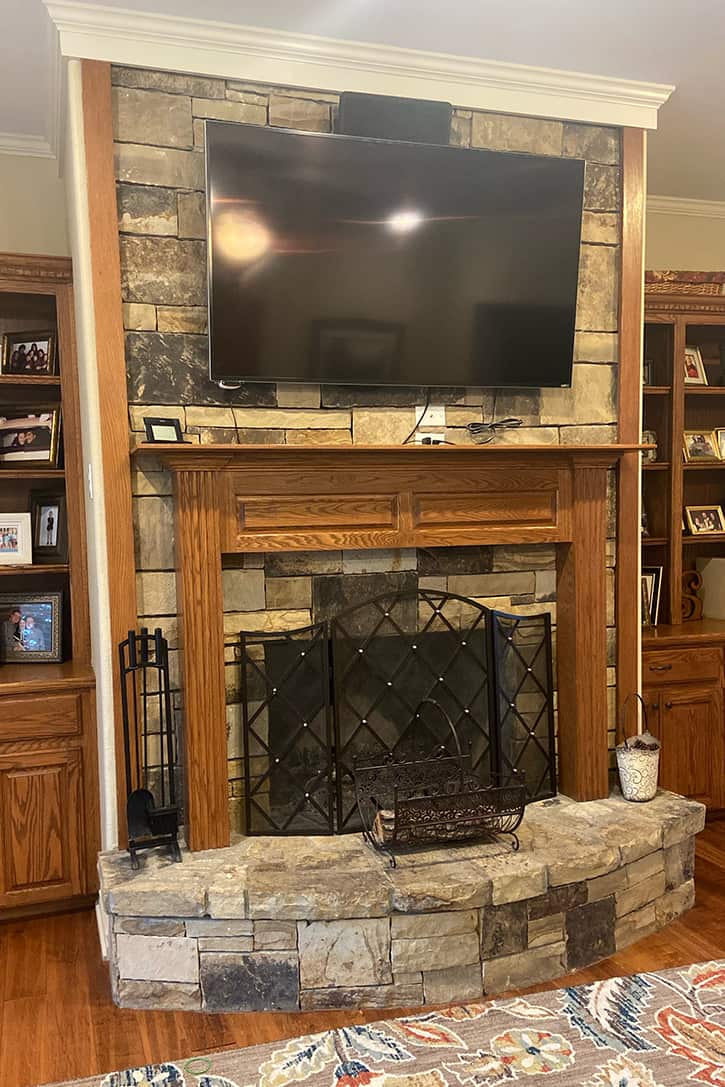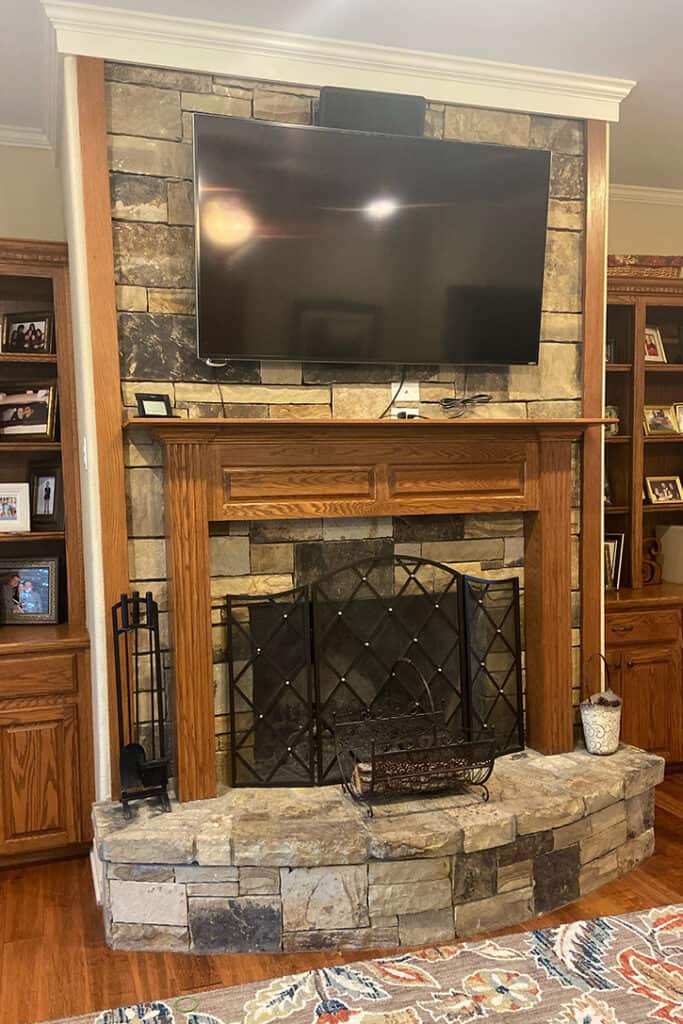 Hi, Nina I'm Tara. I'd love your design advice for my fireplace mantel. I have a stone faced fireplace and hearth with a five and a half foot wide mantel with recessed bookshelves on either side.

It's really the focal point of the main living area of my home. I have about nine inches of space between the bottom of my TV and the top of my fireplace mantel. And that height can't be adjusted because of the way that the TV was mounted on the wall. Unfortunately, I also have a couple of plugs and a cord in that space, but they're just really unsightly.

During the holidays, I typically have that area decorated with greenery and lights and ribbon, and it looks really festive and beautiful. And we pretty much hate to take down our Christmas decorations because that area just looks naked and bare all the rest of the year.

I only have that nine inches of space and I need something that's not too tall or that's going to interfere with the use of the remote controls, but at the same time, it's something that will cover up those plugs and cords that I don't like to look at.

I hope you have some great ideas for what I can do to make my mantel look beautiful all year long and not just at the holidays. I look forward to hearing your ideas and thank you so much.
Why have a TV above your mantel?
Like Tara, many people have little choice because the fireplace is the focal point in the room and the only place that you can arrange furniture around logically. Newer homes even come with the wiring in place above the mantel, so that's really your only option for where to place your TV. Some people choose it, because that's where the family gathers.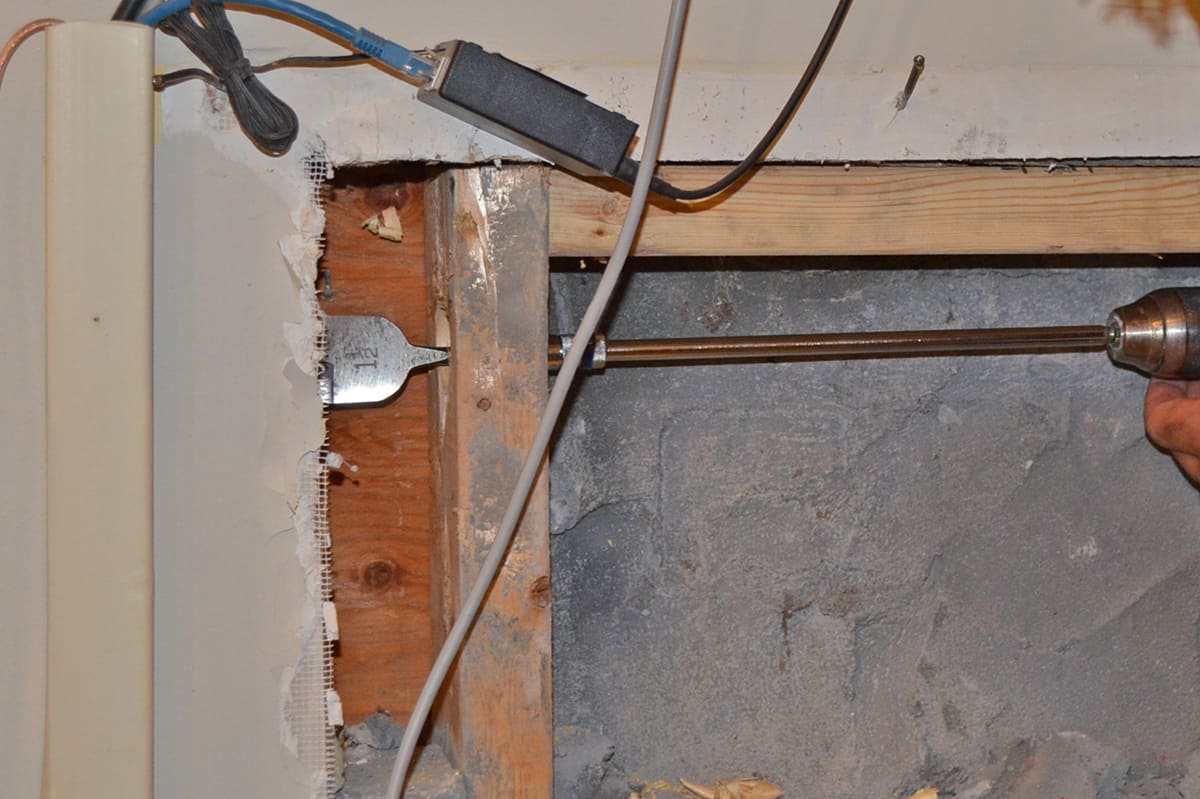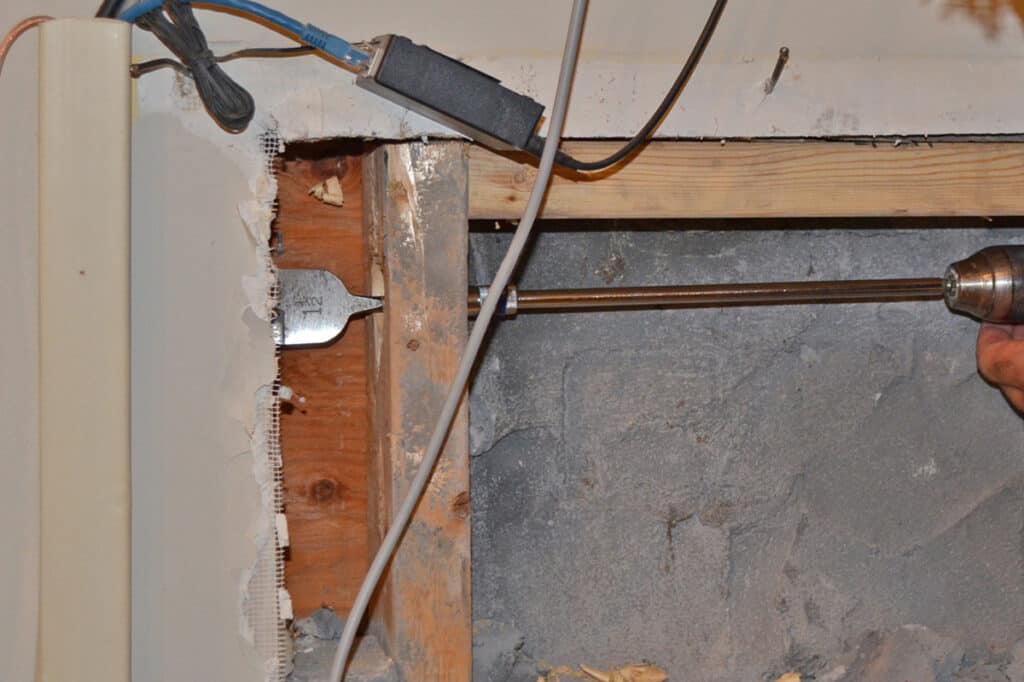 Interestingly, I guess my own home technically falls into that second category. Our own family room wasn't originally set up this way, and we went to great lengths to put the TV there. And when I say "we" what I mean is my husband Mack went through great lengths. I lost the battle. I honestly don't watch TV and I was completely fine with not having one at all in order to avoid this decorating dilemma. But it was important to him and my kids, so I assisted as he rerouted cables through the wall, put in a new outlet, researched remote DVD receivers, you name it.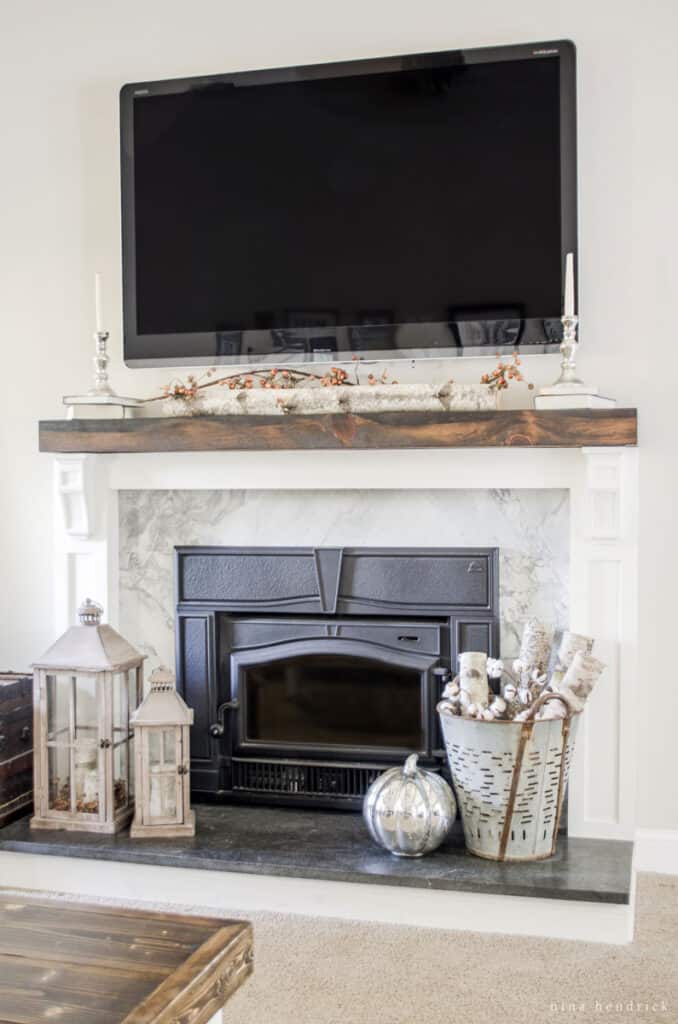 After it was up on the wall, I wasn't super thrilled. It was a giant black box above our mantel. Then, when we worked super hard to update our fireplace and add built-ins, I was even less thrilled by the giant box.
So what exactly are the options for how to make it prettier?
Obviously, there's going to be some variation depending on your budget. Luckily, I have some solutions at various price points to share with you today.
The first is the most simple and can be done on a tighter budget.
This post contains affiliate links, which means I may get a small commission (at no extra cost to you) if you shop my link. Please see my disclosure if you'd like more info!
I'll use Tara's mantel as an example here. Before we ultimately rerouted the wiring into the wall, I did exactly what she mentioned and used a garland to hide the wires.
Hide Cords with a Leafy Garland
Luckily, garlands aren't limited to Christmas, and you can choose a garland with a year-round friendly foliage like eucalyptus or olives. I'd recommend two 6' garlands for a thicker and fuller look. It should provide fullness but not fill the whole space below the TV so that remotes will still function. You can offset the garland so that some greenery drapes down each side.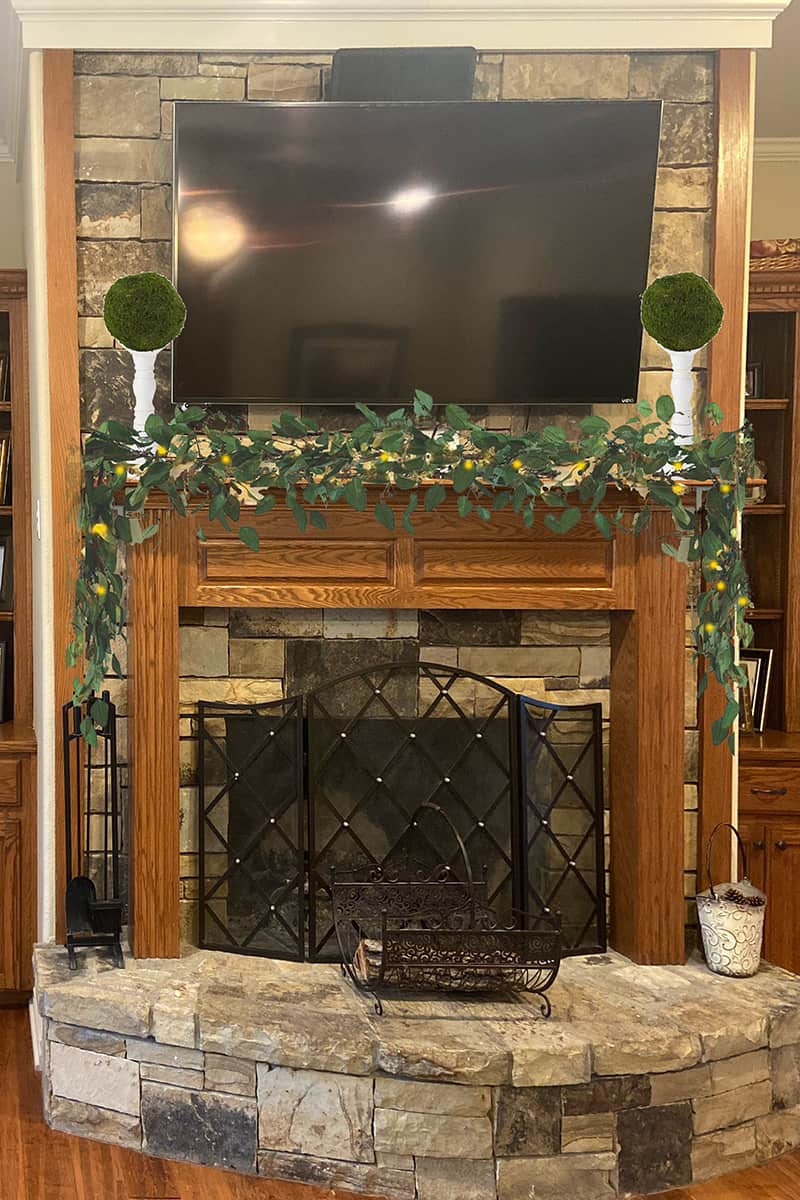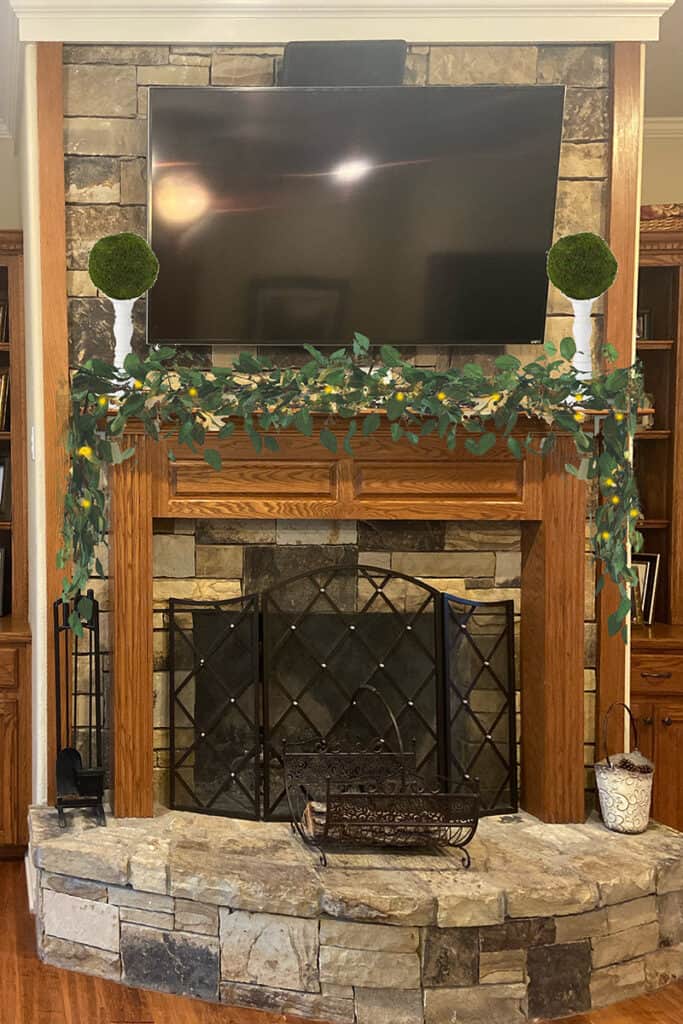 Tara, I actually found a source for a garland that has LED lights so that you can enjoy twinkle lights year round if you want, there's no reason you just have to enjoy pretty lights during the Christmas season! The lights in this particular garland are subtle, so you can't tell it has lights when they're turned off. I'll drop that source in the description below!
On either side of the TV, it's the perfect spot for some topiaries to provide balance. You can make these very easily with a tall candle holder and a moss or boxwood ball, all of which are commonly available at the craft store. Or, if you aren't interested in DIYing, you can purchase a faux potted topiary with a narrow pot at the bottom to fit on a shallow mantel.
I created this quick mockup to show you what it could look like! Overall, it's a design that you can set and forget, but may be able to bring a bit of enjoyment to your family along the way.
Balance the TV With Two Sconces or Topiaries
Another option for balancing things out is to add sconces on either side of the TV. Rather than having to worry about wiring, if the sconce shade is a solid color, you can easily hide a battery LED puck light for an ambient glow.
A TV That Looks Like a Painting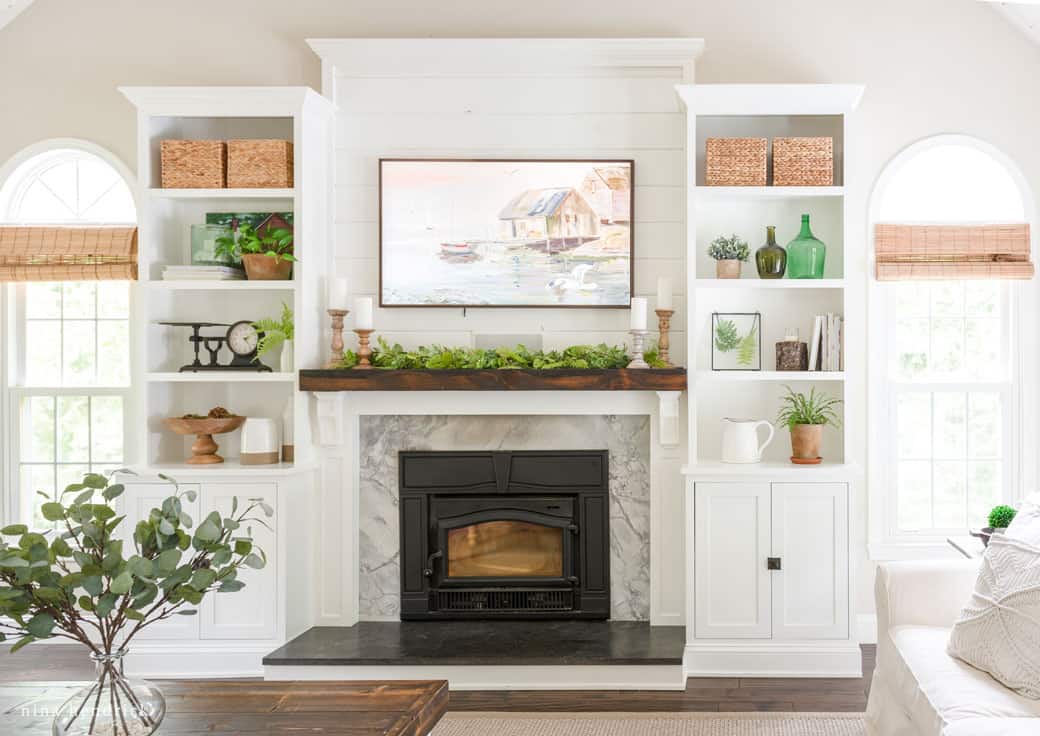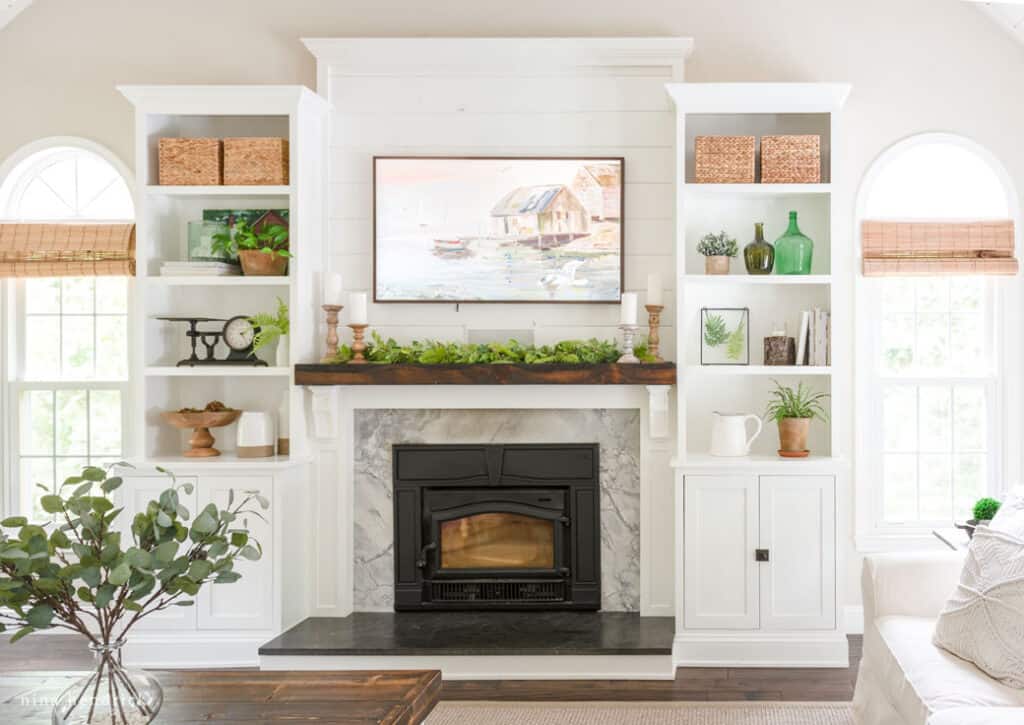 Now, my final tip for decorating with a TV above your mantel is a bigger ticket item, but it's one that I consider well worth the investment. When the Frame TV came out, I was one of the first ones in line. If you aren't familiar with it, it's a TV that looks like artwork when it's turned off. You can upload any painting or picture to it. I plan to do an in-depth review another day, but we recently added a custom frame to ours and it made it look even more realistic. And in spite of being an early version of the Frame that they've since updated, we still absolutely love it. Now we have the best of both worlds.
Even if you aren't ready or able to invest in that particular TV, many modern smart TVs feature the ability to show artwork now. And there are a bunch of creative DIYers out there who are adding custom frames to regular TVs. So those are some options to explore as well.
Tara, I hope that this sparked inspiration for decorating around your TV above your mantel and also for anyone else watching who may face that same dilemma. As a side note, if you're interested in having me address a dilemma like this for you, you can DM me and share a photo of your space on Instagram at @ninahendrickhome and you may just be featured in an upcoming video.