Having trouble decorating around a mantel with a TV? Get 10 mantel decor ideas and tips to make it work when your tv needs to go above your mantel! This guide will help you find the perfect balance between style and functionality, so you can enjoy your fireplace, AND your tv, without compromising on aesthetics.
Have you ever wondered how to style a TV over a fireplace? If so, you're not alone! Decorating a mantel with a TV can be a tricky and challenging task. Not only must you think about how it will look aesthetically, but you also need to ensure that the television is placed correctly and that it will work in the overall space. Wires and the practicality of needing the TV and remote receiver to be accessible can add to the difficulty.
This post contains affiliate links, which means I may get a small commission (at no extra cost to you) if you shop my link. Please see my disclosure if you'd like more info!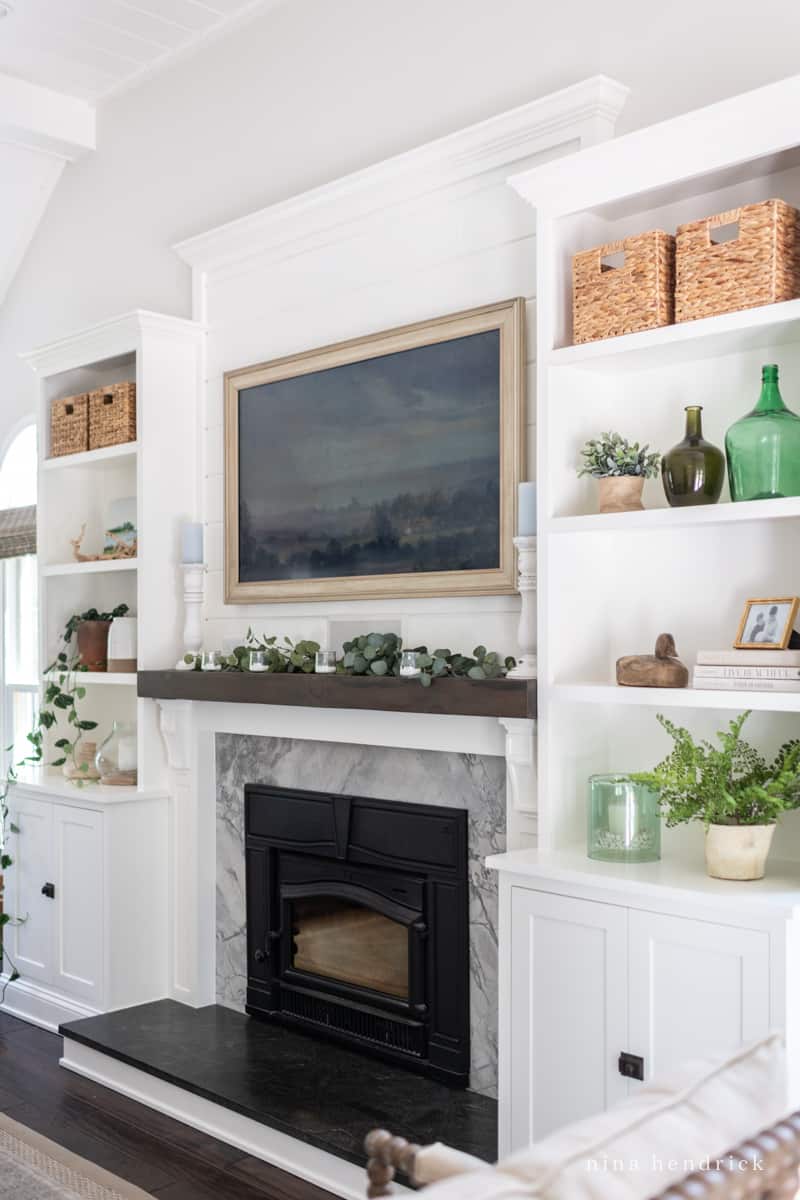 But don't panic! You can have a fabulous mantel and TV setup that you can be proud of. Read on for my top mantel decoration tips for styling around a TV. In this article, I'll share my favorite ideas on how to make this area look amazing in time for your next family movie night.
How to Decorate a Mantel with a TV
Consider the scale of the room and the size of the TV. You want to make sure the TV does not overpower the room or look too small. More on this in the FAQs!
Choose a style of mantel that compliments the style of the TV. For example, if the TV is modern, choose a contemporary mantel design.
When hanging the TV, make sure it is at a comfortable level when sitting on the sofa.
Another great option is to place the TV on a swivel or lowering mount, so you can easily adjust the viewing angle.
Why have a TV above your mantel?
Having a TV above the mantel is often the only logical choice for many people, as the fireplace is traditionally the focal point of any room. Nowadays, many homes come pre-wired above the mantel, making it the most convenient place to install a TV. Additionally, many people choose to place the TV above the mantel because it is typically the gathering place for the family.
When we first set up our family room, the TV wasn't above the mantel. To make it happen, my husband Mack really had to put in some effort. Personally, I'm not a big TV watcher and would have been happy not having one in the room, but for my family's sake, I helped where I could. I assisted with cable routing, finding new outlets, and researching remote DVD receivers. Thankfully, modern smart TVs have made the process less complicated — now all you need is a power socket and a Wi-Fi connection!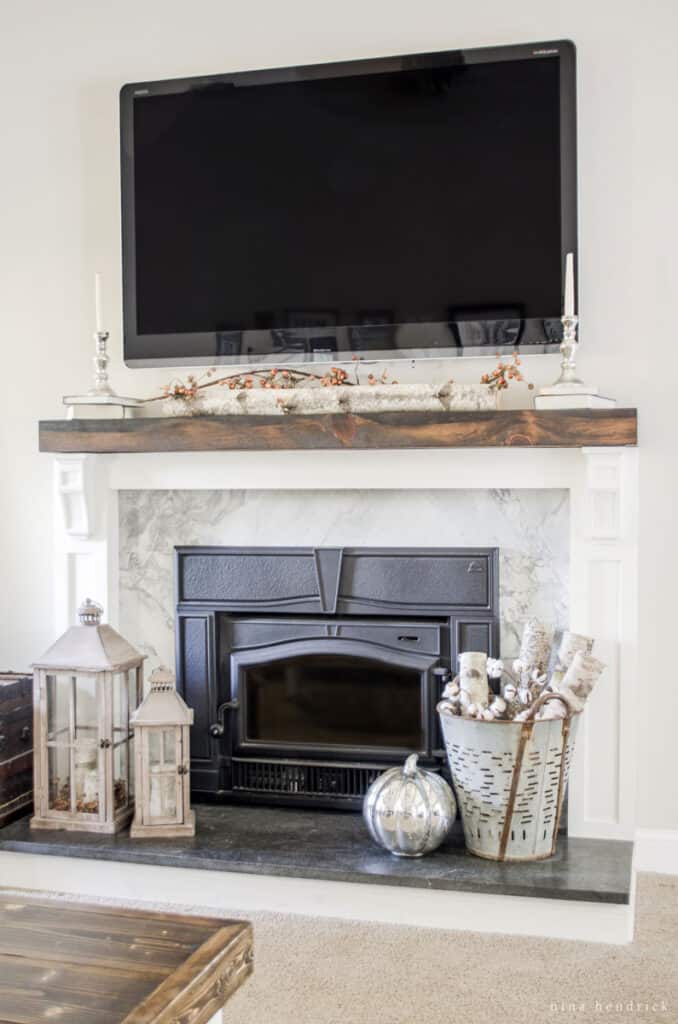 I was not too pleased when a huge black box was hung above our mantel. Years down the line, when we made a great effort to upgrade our fireplace and include built-ins, my distaste for the bulky rectangle only grew. So began my journey to minimize it!
10 Mantel Decor Ideas with a TV
So what exactly are the options for how to make it prettier when you're decorating your mantel with a tv above it? Well, there's going to be varying solutions depending on your budget. Luckily, I have some decor ideas at various price points to share with you today for making your TV above your mantel look like it belongs.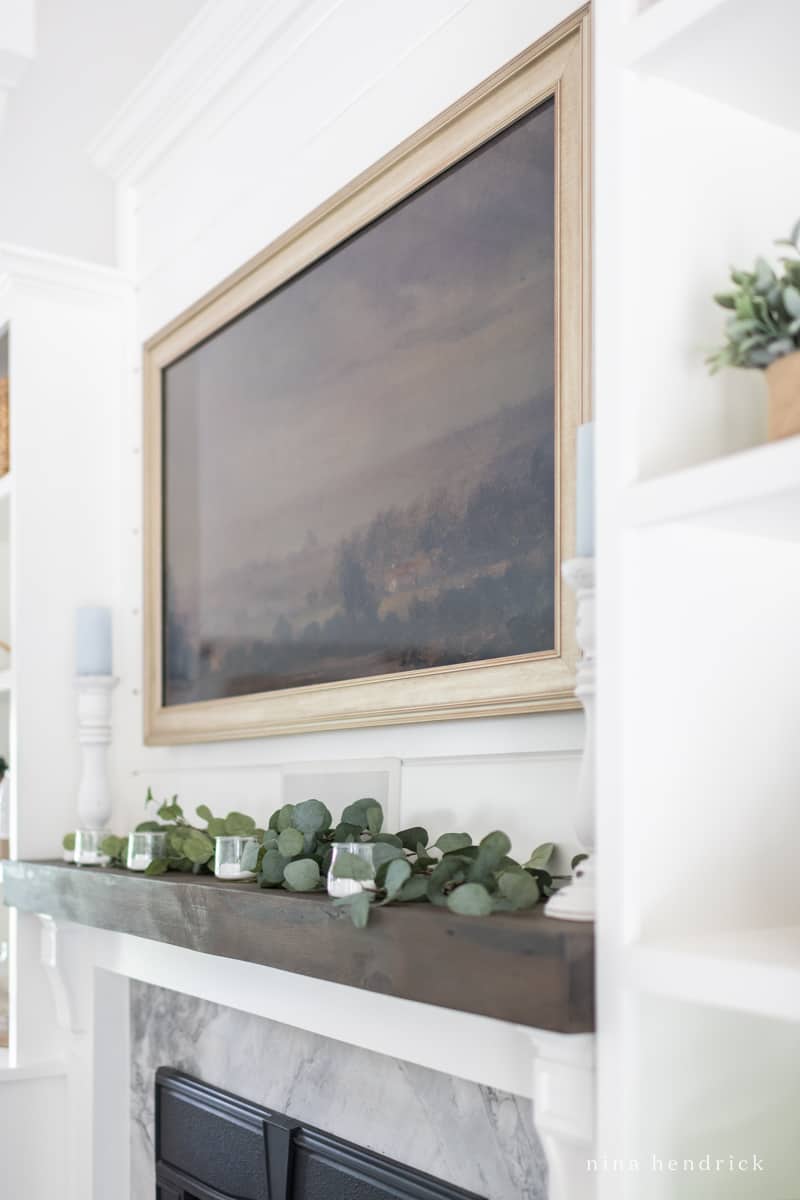 1. Hide TV Cords and Boxes with a Leafy Garland
One way to decorate around the TV is to use a leafy garland. This can help to conceal any cords, boxes, and other unsightly elements, while adding a touch of greenery to the area.
As an alternative, you can add a wireless streaming device to access your favorite streaming apps, but that isn't always an option. When you're stuck with wires, garland is a perfect solution!
Luckily, garlands aren't limited to Christmas, and you can choose a garland with a year-round friendly foliage like eucalyptus or olives. I'd recommend two 6' garlands for a thicker and fuller look. It should provide fullness but not fill the entire space below the TV, so that remotes will still function. You can offset the garland so that some greenery drapes down each side.
Shop garlands
2. Flank the TV With Two Wall Sconces
An option for balancing things out is to add sconces on either side of the TV. Rather than having to worry about wiring, if the sconce shade is a solid color, you can easily hide a battery LED puck light for an ambient glow.
They even have sconces that are completely battery operated and you can turn on and off from a remote!
Shop battery-Powered Sconces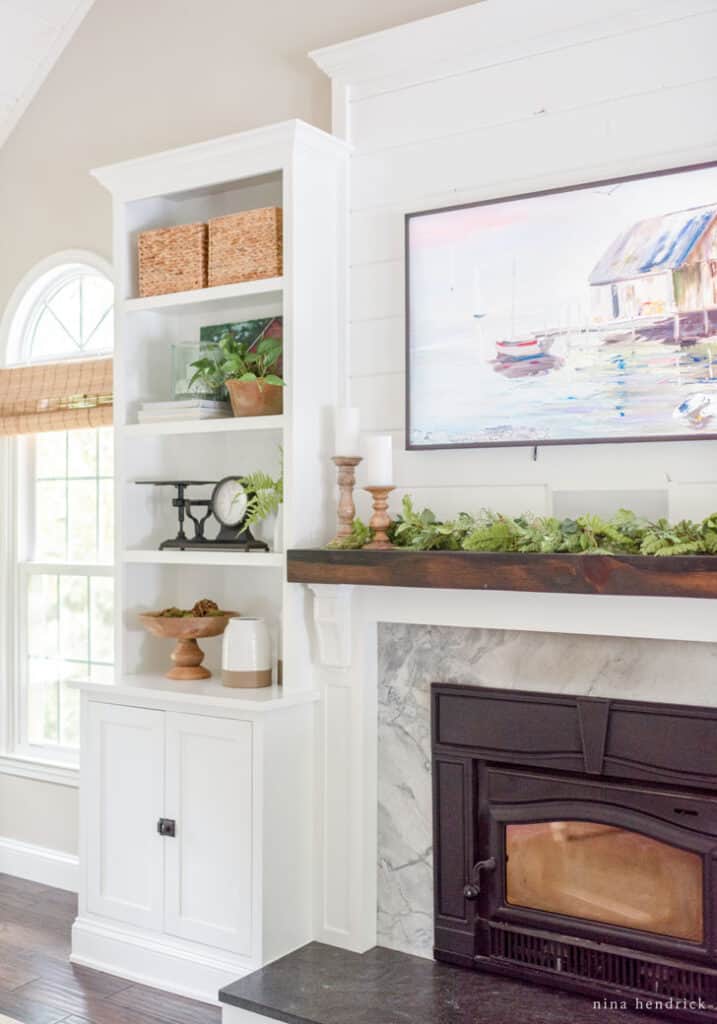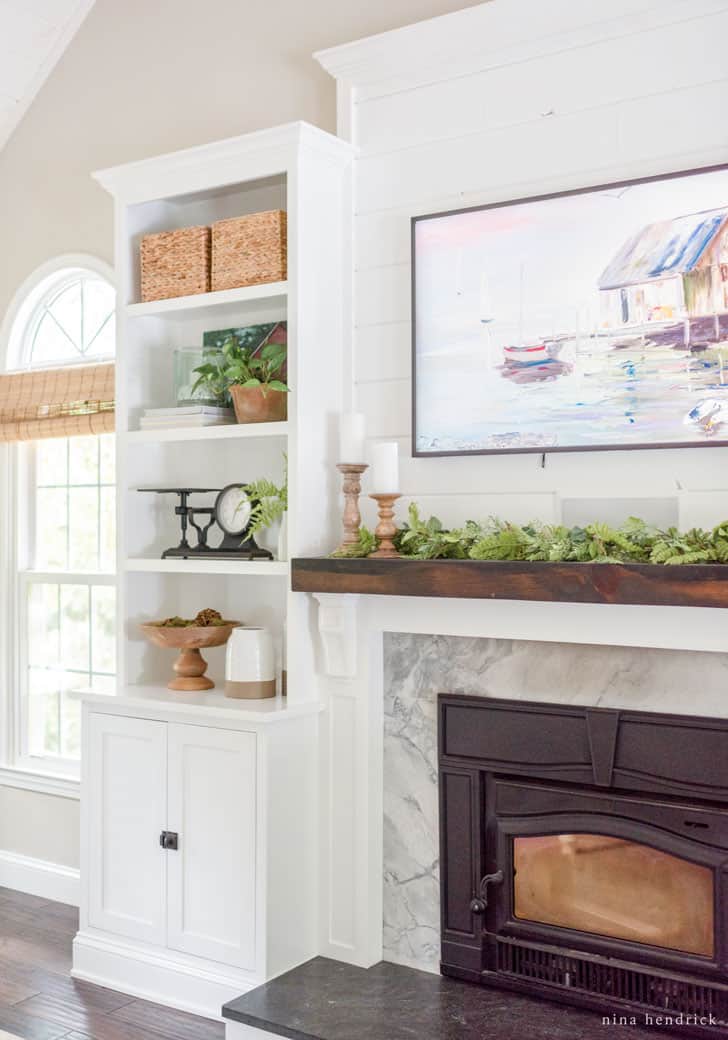 3. Create a Balanced Design with Topiaries or Candle Holders Flanking Your Mantel
If you don't have enough space on either side of your TV for hanging sconces, instead you can create balance using topiaries or candle holders.
Adding a topiary to each end of your mantel will create visual interest and draw your eye away from the TV when you're looking at the overall design. Place the topiaries far enough away from the TV so that they don't block the view.
Shop topiaries
You can use the same strategy with candle holders. Group candlesticks or lanterns together on one side of the mantel, balancing the design with an item like a topiary or a vase on the other side. The TV can remain the center of attention while the other décor pieces help to frame it and make it look intentional.
Shop Candle holders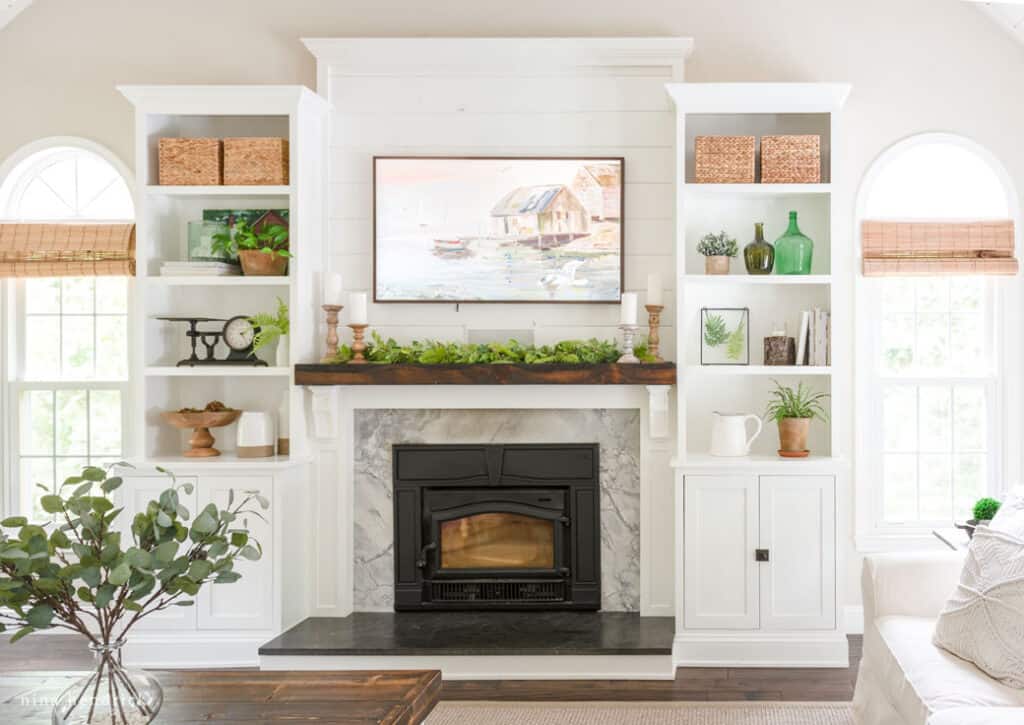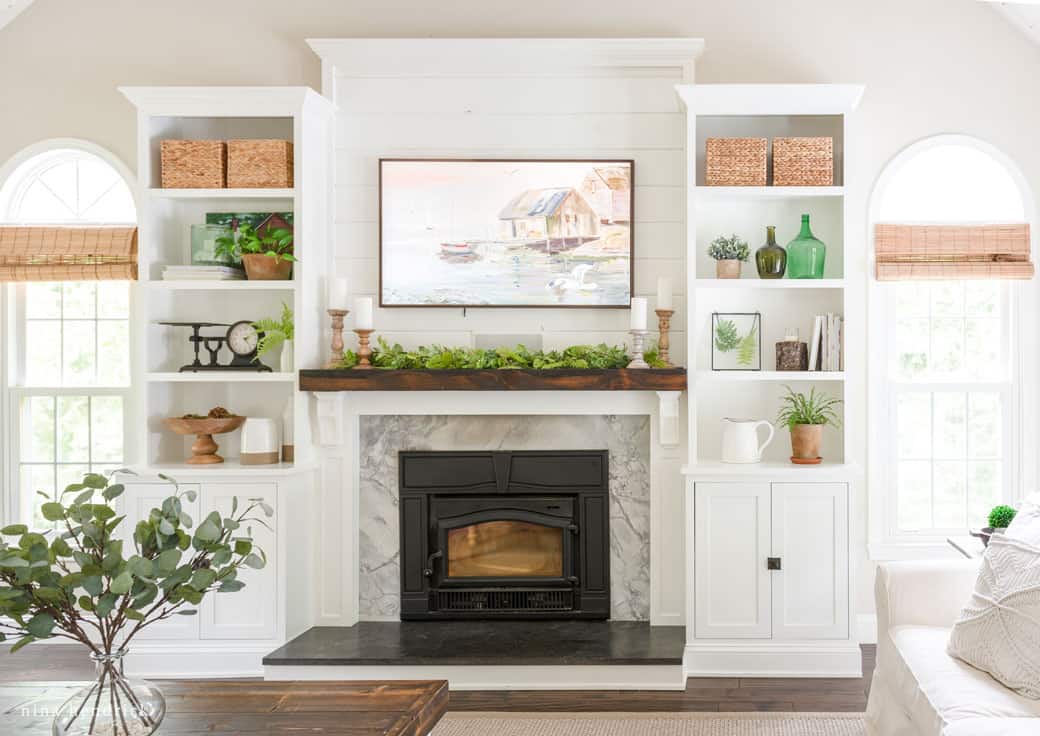 4. Use Varying Heights of Decor to Create a Cohesive Mantel Display
To ensure your mantel looks balanced, it's important to incorporate items of varying sizes and shapes. Position the tallest item at the back of the mantel and gradually decrease the heights of the items as you move forward. Utilize books, candlesticks, and other decorative items to create a layered look.
5. Decorate Your Hearth for more Visual Balance
If you have a TV above your mantel, a strategy for balancing out the overall design is to add decor to your hearth below to draw the eye down and away from the tv. You can add something like a bucket of logs or a basket with blankets and pillows, or something practical like fireplace tools. Just remember to move any flammable items before using your fireplace!
Hearth decor
6. Create a Gallery Wall Surrounding the TV
Creating a unique gallery wall around your TV is a great decor idea if you have a blank wall area above your mantel. For the best effect, use symmetry and a variety of sizes and shapes of frames to hang your artwork, photos, and other items. Make sure the TV stands out as the main focal point and incorporate colors, textures, and materials that coordinate with the overall design of the mantel for a truly one-of-a-kind look.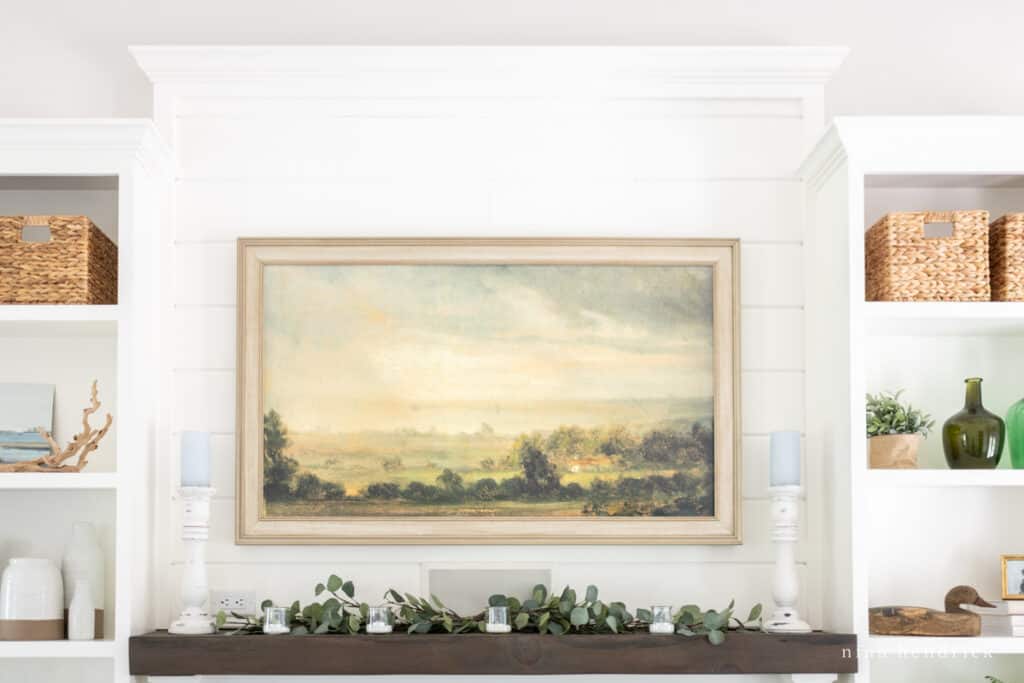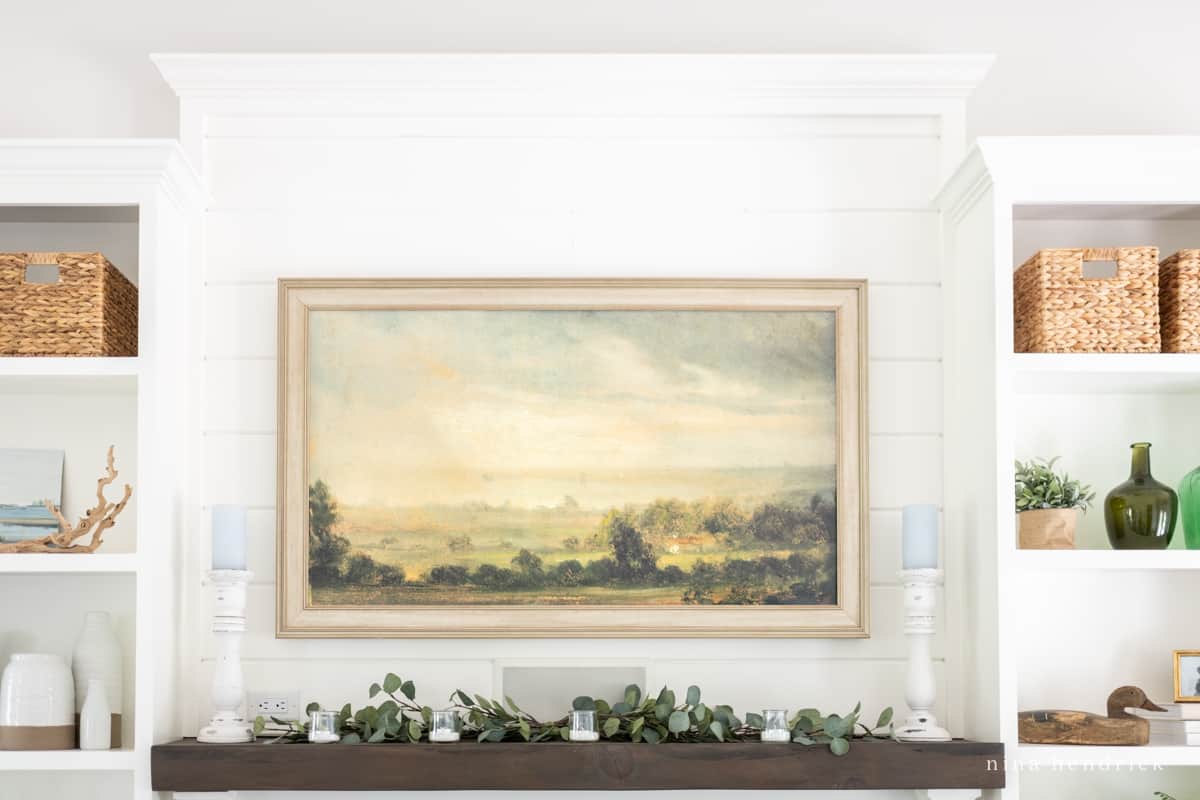 7. Install a TV Above Your Mantel That Looks Like a Painting
If you are looking for a next-level way to decorate your mantel with a TV, then I recommend looking into the Frame TV. This TV looks like artwork when it's turned off and you can upload any painting or picture to it. I have one and added a custom frame to it, which made it look even more realistic.
Even if you aren't ready to invest in the Frame TV, there are creative DIYers out there who are adding artwork and custom frames to regular TVs. These are some options to explore if you are looking for decor ideas for your mantel with a TV.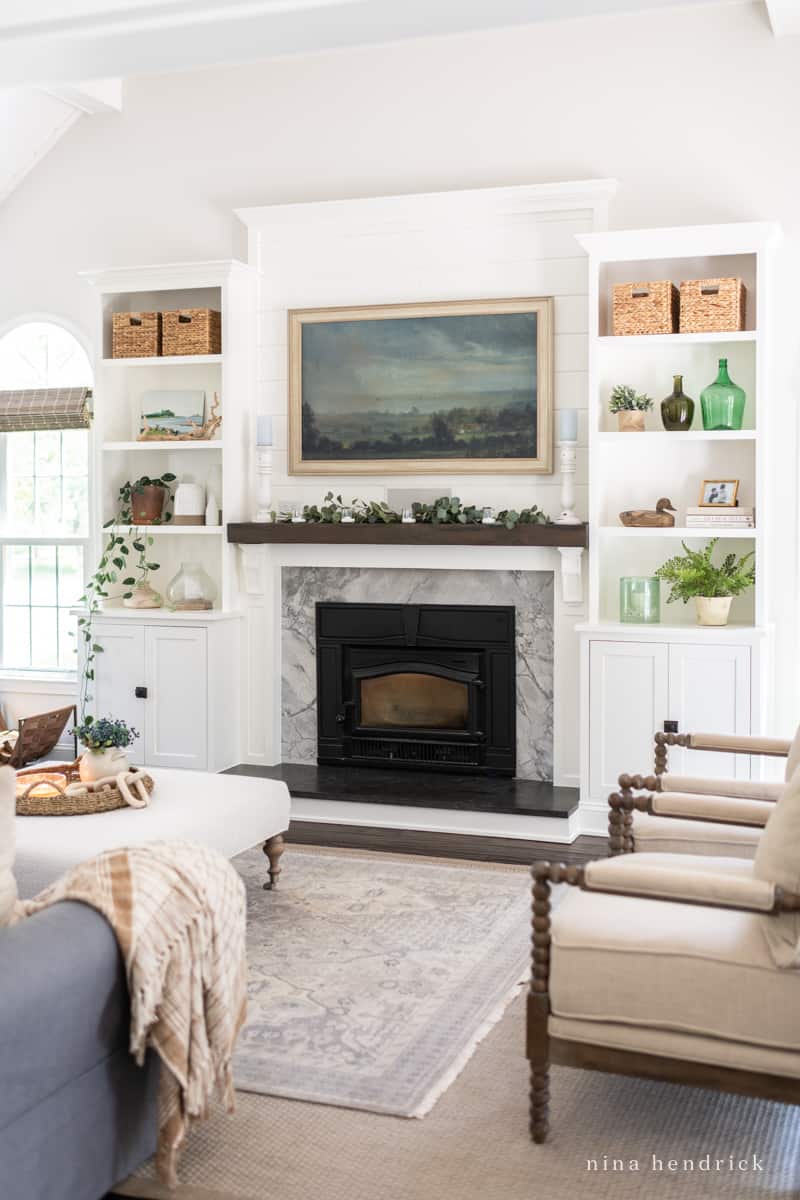 8. Balance the TV with Built-Ins or Shelves on Each Side
You could balance the look of a TV above a mantel by incorporating shelves or built-ins for decor on either side of the fireplace. This will create a symmetrical look that is pleasing to the eye. You can use the shelves to display books, art, or other decorative items to keep the look interesting. Even if built-ins aren't in your budget, something as simple as a series of floating shelves can make a huge difference.
9. Take a Minimalist Approach
Rather than trying to decorate your mantel around your TV to the max, consider a minimalist decorating approach instead. This approach can create a look that is more modern and streamlined. Use a neutral color palette and choose only a few clean-lined pieces. Be sure to leave plenty of room around the TV so that you can see clearly it.
10. Update the Rest of Your Fireplace with Paint
Updating the rest of the fireplace with paint can help create a cohesive look. Choosing a paint color for the backdrop that matches the color of your TV will help it blend into the background when not in use. If you have built-ins, painting the backs to match the color of the TV can also help to create a unified look.
FAQs About Mantel Decorating with a TV
Creating an eye-catching focal point in your living room with a mantel and TV combination is easy with these 10 decor ideas and tips. With a little creativity, you can create a beautiful display that complements your space and brings out the best of your TV!