This is a sponsored conversation written by me on behalf of Delta Faucet. The opinions and text are all mine.
Delta® Faucet One Pan Challenge | Get the details of how I created three meals in one day with just one dish and powered off the messes in between with the Delta® Foundry Pull Down Kitchen Faucet with ShieldSpray™ Technology.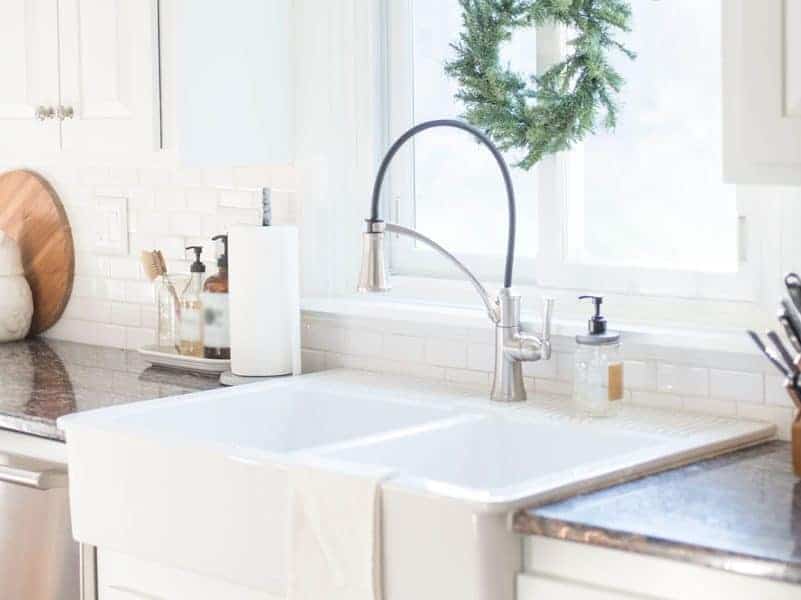 Don't you love when a home fixture serves to make your life just a bit better? I'm excited to introduce you to a new advancement that has done just that for me.
Earlier this fall I was lucky enough to be invited by Delta® Faucet on a whirlwind trip to New York City for The ShieldSpray™ Experience at Food52's test kitchen. It was such a fun experience, and I loved the homelike atmosphere that the founders Amanda and Merrill created for their workspace.
They shared some simple but delicious recipes from their book A New Way to Dinner, which they kindly gifted us, and we were able to see a demonstration of Delta's new ShieldSpray Technology and try it out both the recipes and the faucet during cleanup.
Once I was back at home, I received my very own faucet. I chose the Delta® Foundry Pull Down Kitchen Faucet with ShieldSpray Technology. It has a more industrial look than my past fixture choices, but as my decor evolves these are the sort of interesting details I'm really enjoying.
Delta invited me to take what I learned from Amanda and Merrill and conquer a ShieldSpray Challenge. My mission was to cook 3 different dishes- breakfast, lunch and dinner- using only one pan. In between meals I could use the faucet to power off the messes. I chose my favorite aluminum sheet pan. I knew that if anything was up for the job, it was this versatile piece!
We started with breakfast. Making breakfast in the oven took some thought, but I saw in A New Way to Dinner that you can cook bacon in the oven. That sparked inspiration, and I created a simple breakfast bake. I spread out frozen shredded potatoes and topped them with bacon slices.
I cooked in the oven at 425 degrees. The bacon fat crisped the hash browns perfectly! After 20 minutes, I cracked a few eggs right on top and put them back in to bake.
The breakfast bake got rave reviews from my family. We decided that this was our new way of cooking bacon!
I cleaned off the pan and put the ShieldSpray to work. The jet in the center powers off the grease while the water shield (that neat looking bubble) contains the splatter and aids in cleaning. It made cleanup easy, but admittedly the pan hadn't been that dirty from this meal. My later recipes would really put the challenge to the test!
Next up was lunch, and I recreated one of the recipes that Amanda and Merrill taught us at the ShieldSpray Experience (also featured in their cookbook), Pinwheels. My kids have simple taste, so I decided to create Pepperoni Pizza Pinwheels. I rolled out the puff pastry on some wax paper right on the pan, spread out some pizza sauce, cheese, spices, and pepperoni. Then I rolled it up as tight as possible and put it in the refrigerator. After it set, I cut it up into thin slices which I spread out on the pan. They were ready for cooking!
Oh, my. The kids LOVED these. They were gone in a blink. It's completely understandable- pepperoni pizza in flaky dough. What's not to love?
There was a bit of baked-on crust on the pan afterward, so I soaked it for a couple of minutes. After, the ShieldSpray quickly took on the job with great success and blasted away the baked-on mess.
Dinner was the meal that I knew would really put the faucet to the test. I found a recipe for Blistered Cherry Tomatoes in A New Way to Dinner. I knew they would be a perfect companion to my baked Chicken Pesto. I also knew from past experience that the pan would be pretty rough afterward, namely because of the mozzarella cheese that I sprinkle on.
This was yet another meal my family loved. I conquered a second challenge in this effort, finding three meals my family will actually eat! Now that is a miracle by itself.
This was the last and biggest challenge for the faucet, and with a little help from soaking and scrubbing, it took it on with less time and none of the usual overspray that I encounter during a tough dish-cleaning task. I was so happily impressed by this innovative technology!
I created a fun video detailing the challenge! You can see the faucet in action and a whole day worth of cooking these delicious recipes condensed into just a couple of minutes!
I'd like to extend a big thank you to
Delta
Faucet for inviting me on this trip and to take on this exciting challenge! Also to Amanda and Merrill and all of their team at
Food52
for being so welcoming and for sharing such great recipes that my family will continue to enjoy.