Updated 7/20/16 to reflect shipping costs. 
As far as home decor is concerned, I have pretty much always had expensive taste on a tight budget. I think that is a common reason a lot of blogs start- people try to find creative ways to get the look they like for less!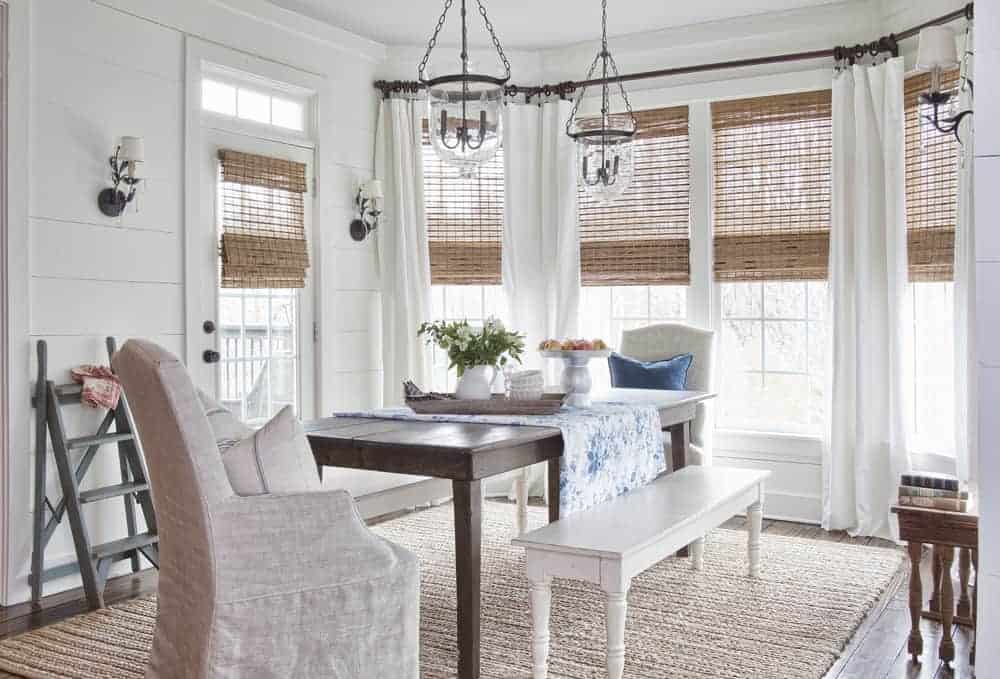 Window treatments are one of those hidden costs in home decor. I feel like you never anticipate quite how much they will add up to. You can end up spending hundreds and even thousands for a single window.
For example, the simple farmhouse style window treatment I love in the photo above comes out at $199 per window with Pottery Barn hardware & cotton drapes with bamboo roman shades (versus the more budget friendly roller shades I use). You can easily double and triple that with decorative finials, more expensive drape fabrics, and custom sized blinds.
Here's my much more affordable version:
I don't know about you, but I find $46.91 a window a whole lot more affordable than $200 for a very similar look! That is not as low of a price as this post originally reflected since so many of you correctly pointed out that IKEA's shipping cost is considerable.
After some searching, I was able to find the exact same curtains on Amazon. Although they are more expensive than IKEA's listed price, you will still save money versus the cost of ordering the curtains and paying to ship from IKEA (assuming you have Amazon Prime). If you are lucky and happen to live near an IKEA, you can actually save by making the short drive to only pay $9.99.
I'd also like to point out the important distinction that these are not the "cheapest window treatments ever". When I purchased the window treatments for the living room, I had a few factors in mind: aesthetics, quality, and price. I feel that my choices are a balance of the three.
As far as quality goes, I have been really happy with these treatments, particularly the panels. We've had them for almost two years, and they function well. The roller shades are not as high quality as the roman shade version, but we don't find that we have to open and close them very often. If it were a room where I planned to open and close them regularly, I would opt for the upgrade.
One piece of advice that I would give is to skip the finials, unless you really love the look. They add quite a bit of money to the project, and I don't love them in this particular room (if you love them and are interested in purchasing them from me, shoot me an email at ninahendrickdesign at gmail dot com for more details!).
Sources: Faux Fig Tree- Homegoods / 5 Gallon Crock*
As I've mentioned before, this room is a big challenge for me. Since we moved in I just can't seem to get it right, but I finally feel like I can envision it! I think that simply painting the ceiling (it's painted pale yellow from the former homeowners) will go a long way toward freshening up the room. We also already have the hardwood flooring for the room, it's just a matter of relocating everything to install it. I will be updating at some point soon with (another) family room inspiration post.
Love this post? Pin it for later!
Stylish Budget Window Treatments
Join the Weekly Newsletter
Subscribe to get our latest content by email and access to our File Library. Download organizing and home decor printables FREE!
Nina is the owner & designer of Nina Hendrick Design Company and the Nina Hendrick blog. Along with her husband Mack, she is chronicling the journey of transforming their builder-grade 80s colonial into a modern day farmhouse. Nina and Mack live in the suburbs of Boston with their three children and golden retriever Lucy.