After a couple of weeks of trying to find time for those pesky "finishing touches", I finally give you… our DIY Powder Room Makeover! This project has been a year in the making, I went crazy and primed over the orange/gold walls last spring. This project was kind of pushed aside to finish the kitchen, which ended up being a good thing- we went in a completely different direction from our original plan!
If you've been following me on Instagram, you may have seen some fun sneak peeks of the room- and of me doing my first solo tiling project. If not… what are you waiting for?! ;) I conquered the tile saw, and I am now a little obsessed. I'm looking for things to tile… I know, you probably want me to just get to the photos already! Here's a side by side before & after. The terra-cotta colored floor tile was cracked, and the vanity was rotting from an old leak. We ripped out the baseboard heater, so the trim needed replacing. The paint color was a little too bold for my tastes. The light fixture was dated, and the room originally had gold/chrome combo accessories which I removed before this photo was taken.
We added a board and batten treatment (painted BM Simply White with the paint sprayer), with a tile border. The walls are painted Benjamin Moore's Wickham Gray, which I love. Depending on the light it can be gray, blue, or green- which is so nice! The basket on the back of the toilet is from Homegoods. The toilet paper holder and candles are from Target.
We built a knock-off of the Pottery Barn Newport Console and recycled the existing granite countertop. I found the basket (almost the same dimensions of the Newport Basket, but 1/4 the price!) last week at Homegoods. The apothecary jar and white pitcher are also from Homegoods, but were purchased a long time ago. The pivoting mirror is from Lowes, and the towel ring is from Target.
This beautiful painting provided inspiration for the whole room. It was done by my grandfather (who has a gallery in Sanbornville, NH) of the beach in Ogunquit, Maine that he and my Gramma used to bring us to when we were little. I absolutely love Ogunquit, and our beach trips were such fun memories. I also happen to love the soft colors of this painting, so I tried to carry them out through the room without making it too coastal. I have many of my grandfather's paintings throughout my house- and you can catch a peek of them in the tour of our former home. I will definitely be sharing more in this house, as they play a major role in our decor!
Another view of the vanity. I learned the challenges of photographing a very small room during this project. The room measures 5'x7′. You can read about the building of the vanity here!
This shelf was one of the shelves from our breakfast nook that was displaced by our DIY cafe shelves. I love it here! I used items I had on hand to decorate it, but I am on the hunt for some colorful antique bottles.
This is our beadboard ceiling treatment. This room had the same seashell textured ceiling that the rest of the house has. I've mentioned before that it absorbs a lot of light and never looks quite clean. This beadboard ceiling solved this issue in this particular room, and we love how reflective it is! We aren't sure that we will be doing beadboard in every room, although I think it works well for the bathrooms (I'm thinking white planked ceilings in the larger rooms.) You can read a how-to on how we made this ceiling here!
It was a lucky happenstance that the forsythia in our yard started to bloom just as I needed fresh flowers for these photos. I think it looks perfect in this room! This was exactly what I imagined, and I love seeing it pulled together.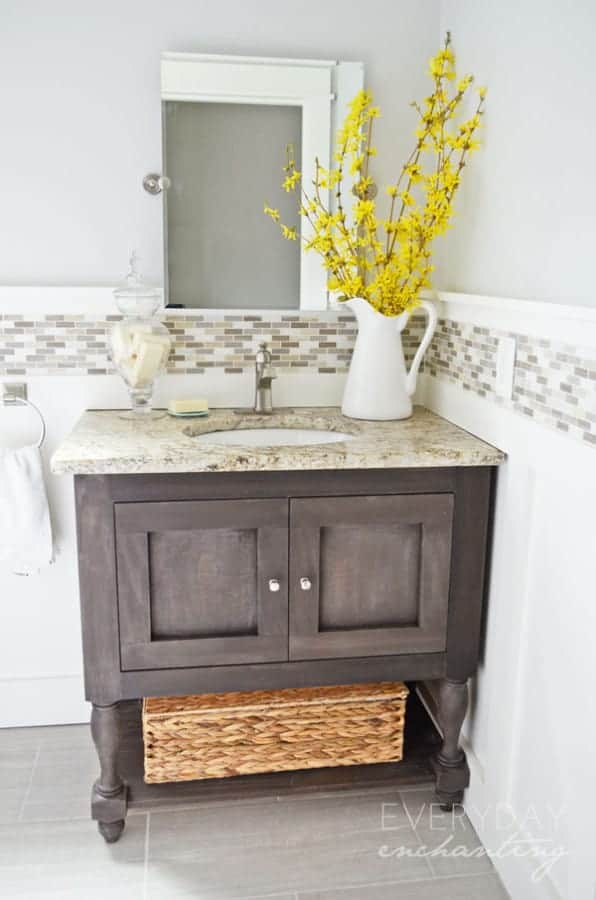 Who would have thought that my new favorite room would be the smallest in our home? :) Of course, I say that every time we do a remodel. Believe it or not, we've already got a few new projects in the works! I will be sharing the rest of the tutorials for this project this week, and then I will be sharing some inspiration for the other projects we've been talking about!

DIY Powder Room Supplies Reference
Mirror: Lowes
Roman Shade: Lowes
Pitcher, Apothecary Jar, Bakets: Homegoods
Candles, Towel Bars, Paper Holder: Target
Floor Tile: Leonia Silver Glazed Porcelain Tile – Lowes
Tile Border: Arctic Storm Honed Marble Mosaic- Home Depot
More Powder Room Posts
[catablog_gallery id="4087″ template= "gallery"]
Linking up to these blogs: Liz Marie Blog, Sunday Soiree, Remodelaholic, Huckleberry Love, Inspire Me Monday, Between Naps on the Porch, Home Stories A to Z, The Everyday Home, A Bowl Full of Lemons, DIY Showoff, Hit Me With Your Best Shot, Centerpiece Wednesday, The Inspiration Gallery, Tatertots and Jello
Join the Weekly Newsletter
Subscribe to get our latest content by email and access to our File Library. Download organizing and home decor printables FREE!
Nina is the owner & designer of Nina Hendrick Design Company and the Nina Hendrick blog. Along with her husband Mack, she is chronicling the journey of transforming their builder-grade 80s colonial into a modern day farmhouse. Nina and Mack live in the suburbs of Boston with their three children and golden retriever Lucy.