DIY Planked Wall Treatment Tutorial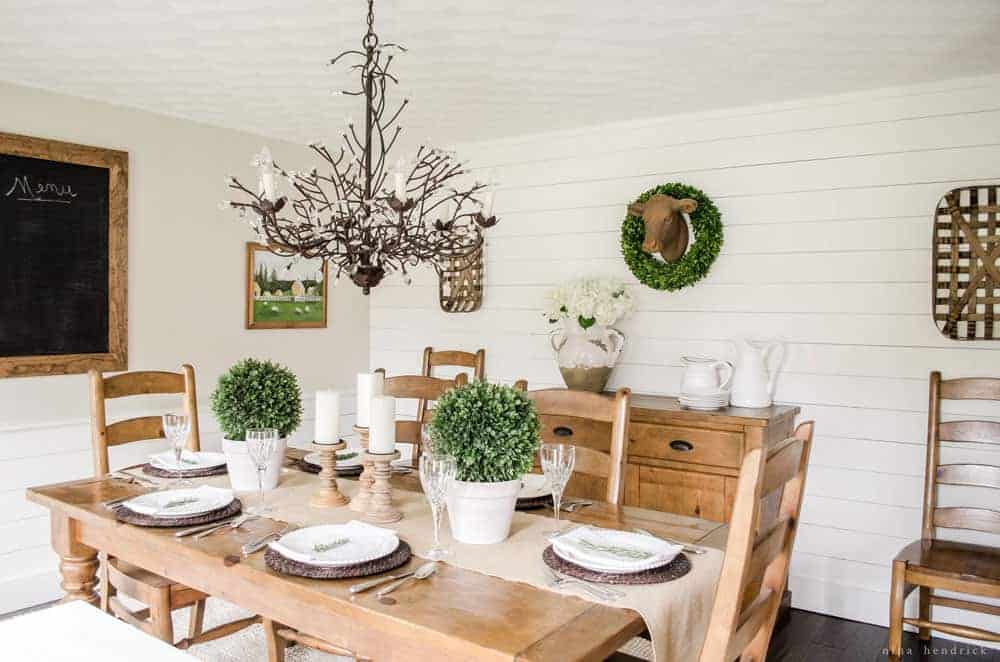 As promised, today I'm finally going to share the details about our Dining Room DIY Planked Wall Treatment!
While planning this post, I felt compelled to include the following:
Photo Sources top right HGTV & middle right Decorpad (the rest are mine)
Most people who have asked questions have mentioned my "shiplap". I know it's a buzzy term right now because of Fixer Upper, but it seems like it has become a broad decor term to describe any and all planked wall treatments (I've even seen beadboard described as shiplap!). I personally didn't want to call this a shiplap tutorial, because I feel like that's misleading- I would hate for someone to think that they had shiplap, when in actuality it was not!
This is the easy (and cheaper) lookalike version. What we used are simply planks- thin plywood cut down into strips. This was what we started with: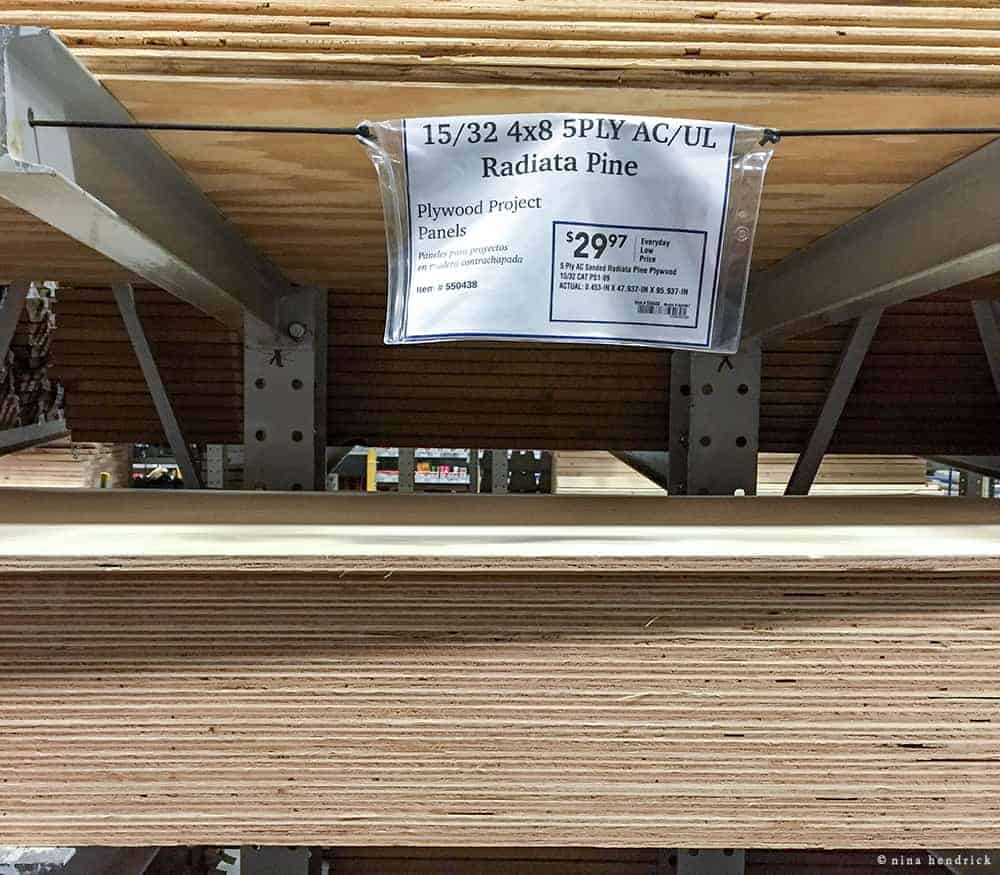 Since this is an item that you will obviously be buying in person and not online, I thought an actual photo with an item number would be useful. This was located with the subflooring in the lumber section of Lowes. It was a step up from the really rough-looking subfloor pine. We checked each piece to make sure it wasn't TOO rough. We had calculated that we needed 7-8 of these for our project (one full wall that is 13.5 x 7.5′ and then 1/3 of the other walls at the same dimensions, plus a bit left over)
Next we brought the plywood to Mack's work, where he was able to cut them down using a panel saw. They can also do this at the home improvement store for you, but they were busy and we had access to one- so we chose to do it ourselves. Cutting down the plywood would make them easier to maneuver and run through our table and compound miter saws at home. I didn't photograph this next step, but we ripped those pieces to 5 1/4″ using the table saw once we got home (which is the size of a standard 1×6″ shiplap, to further mimic the look).
We started at the top of the wall, and made sure to level out the board. We knew we would be adding a piece of trim to cover whatever gap was left over at the top.
We used a quarter as a spacer, which is a tip I had seen everywhere. We wanted to leave only a very tiny gap because we weren't taking the time to prime the wall. If you have a nice white wall behind your planks and want a larger gap, I have heard you can use tile spacers as well!
We made sure to stagger the seams so we didn't have lines running up the walls. We definitely wanted variety.
The tutorial didn't really photograph well (we were doing this on a dark late afternoon last November, in a hurry, and I used my iPhone), but Mack had drawn pencil lines to mark the studs. He then used his nail gun to attach the boards to the wall.
After that it was basically a lot of repetition. We made the cuts to length with the table saw on the ends, and made sure to use the leftover pieces to start the next row. It helped to add variation to the seams.
Then came a lot of nail hole filling. Mack proposed this project shortly before Thanksgiving- so this was in the wee hours of the morning by the time we finished.
Can you tell we were tired? 1:00 am sanding.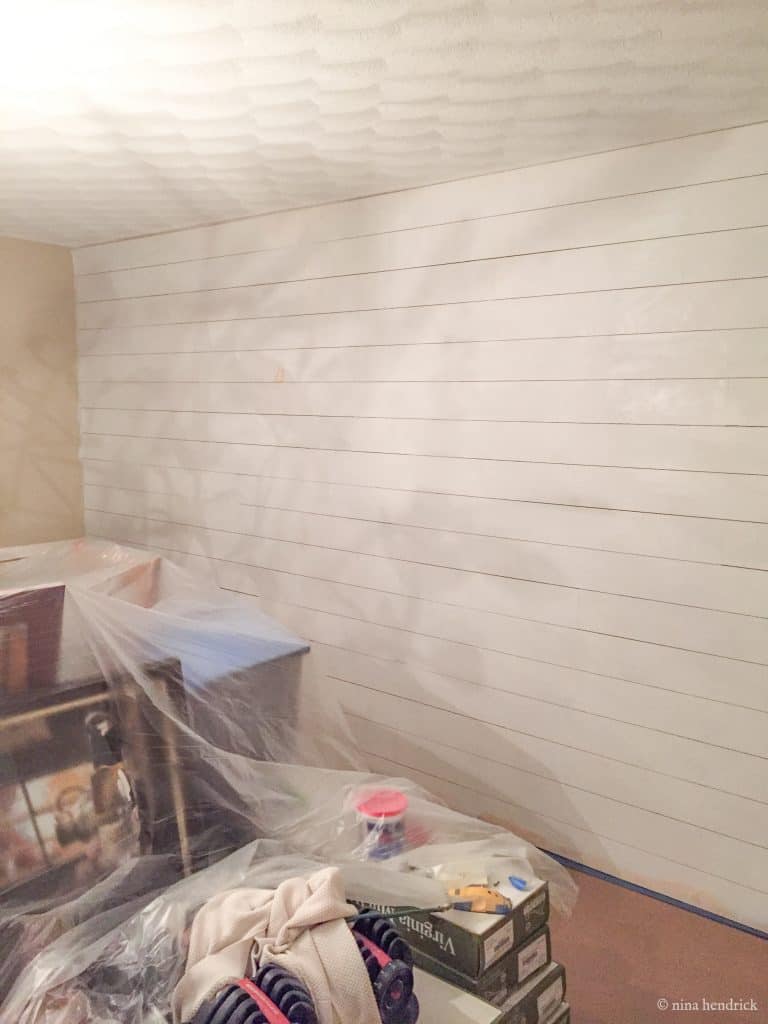 Then we primed with latex-based primer. I was okay with knots showing through, but if you aren't I would recommend Kilz original oil-based primer. For paint, I decided to go with an eggshell finish- I didn't want any kind of reflection, so semi gloss or even satin didn't seem to be the right fit.
As I mentioned, we really had to buckle down and get this done before we hosted our families for Thanksgiving. I didn't photograph the half wall treatment step-by-step (or, I guess you'd call it a 1/3 wall treatment, truly) but the overall process was the same. We started from the top again, so that the planks would be lined up in the corners, and went as close as we could get to the standard 32 inches for chair rail height. For the top rail, we used 1×2″ pine boards, and mitered them at 45 degrees at the windows and doorway. The baseboards are 1x6s. We also hid the gap at the top of the planked wall with a 1×2″ board.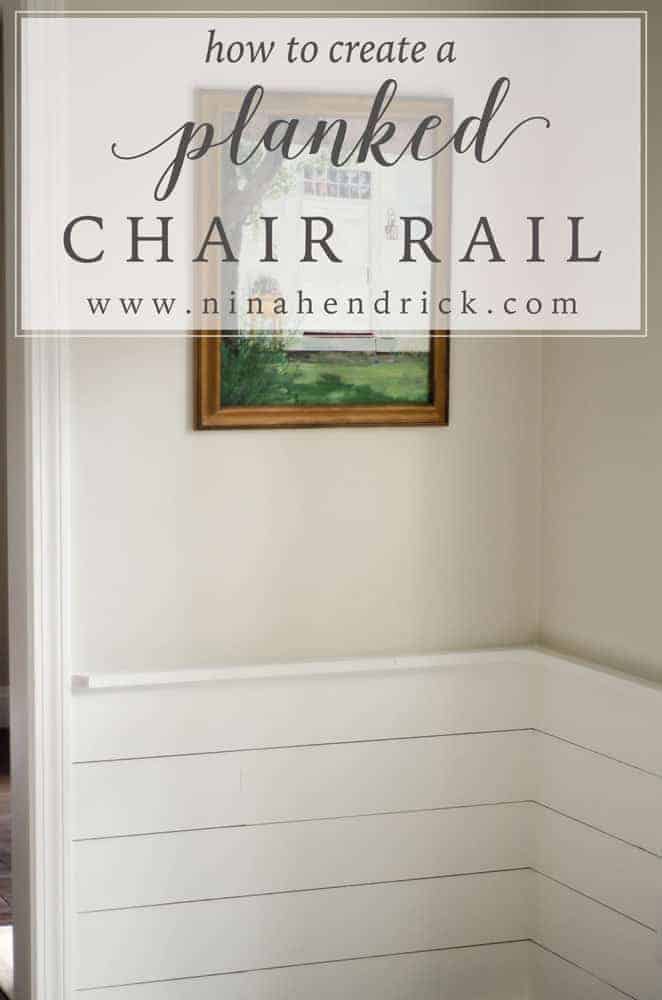 I love the look of the one large planked wall, along with the three chair rail walls. It gives it the perfect balance of farmhouse and traditional to fit the overall style of this home. To finish up this room, I'd love to install tongue and groove on the ceiling. Does anyone have any experience with mixing this style of planks with tongue and groove? How does it look?
I think that just about covers it. Please let me know in the comments if I missed any details, and I will make sure to answer!