One Room Challenge: Week Three
Learn how to mix bathroom tile like a pro with these three easy tips for implementing a cohesive but interesting design for your space.
When it comes to bathrooms, I know that one of the main challenges is how to mix bathroom tile types in a way that isn't too boring or matchy-matchy. On the other hand, the tile patterns and colors shouldn't be so wild that they clash.
How to Mix Bathroom Tile Like a Pro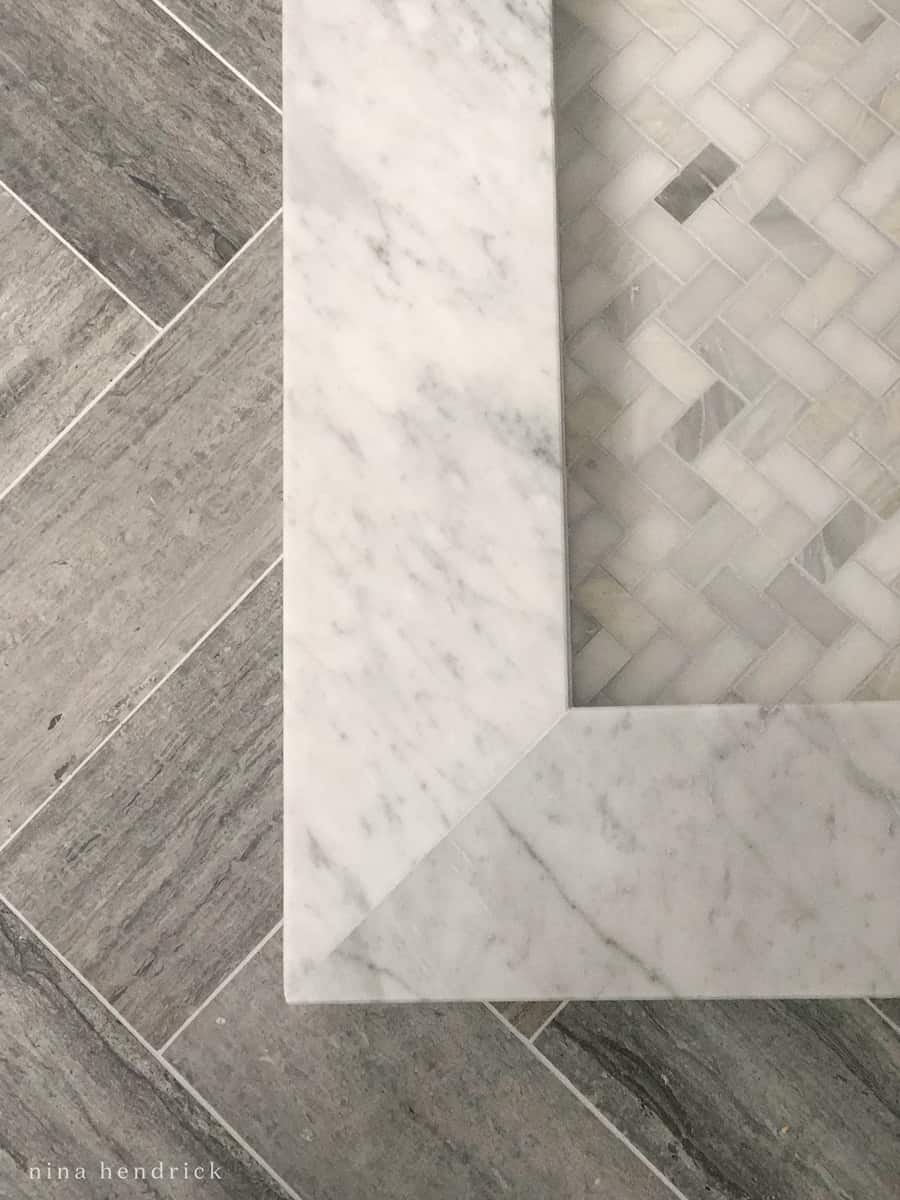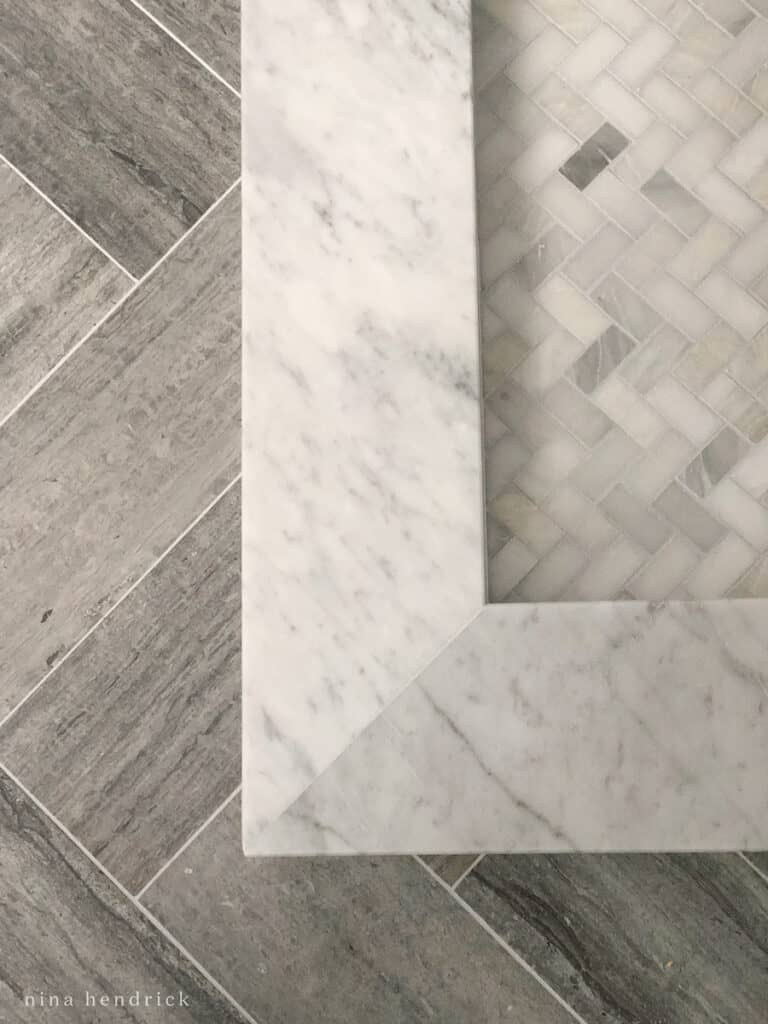 I have some tried-and-true strategies for mixing bathroom tiles that I'm happy to share with you today for week three of the One Room Challenge! If you missed the first two posts about our primary bathroom project, you can see the project plans here and catch the mood board at this post. You can also see our kids'/guest bath makeover here!
When it came time to choose tile for our primary bathroom project, I knew I wanted to keep the space fairly classic. As a result, I went with tile choices that all played off of the cool neutrality of Carrara marble. It's not exactly an earth-shattering choice, but it's one I haven't wavered from wanting since I first dreamed of a bathroom remodel when buying this house in 2012. I also know that with Carrara being so popular, my tips for choosing a coordinating-but-not-the-same companion tile may be helpful to you!
This post contains affiliate links, which means I may get a small commission (at no extra cost to you) if you shop my link. Please see my disclosure if you'd like more info!
Tip One: Choose a Base Stone Theme for Your Tile


As I mentioned, my base theme for this project was Cararra. When mixing tile for a bathroom, I always recommend choosing one stone type as your jumping-off point.
I began with the same 4×12″ honed Carrara subway tile that we used for our kitchen backsplash. I knew that I loved the timeless and traditional look in our kitchen and that I wanted to carry the same into the bathroom. I decided that all solid surfaces— the thresholds, shelves for the shower niche, and vanity countertop— would also all be mostly white Carrara marble.
Tip Two: Pick a Secondary Tile Color from the Stone
The floor was when I knew I needed to change course a bit. Mack doesn't usually have a ton of "asks" whenever I'm designing a room in our home, but he asked that I not do a white marble floor. So I began to search for an alternative that still tied in with the marble everywhere else.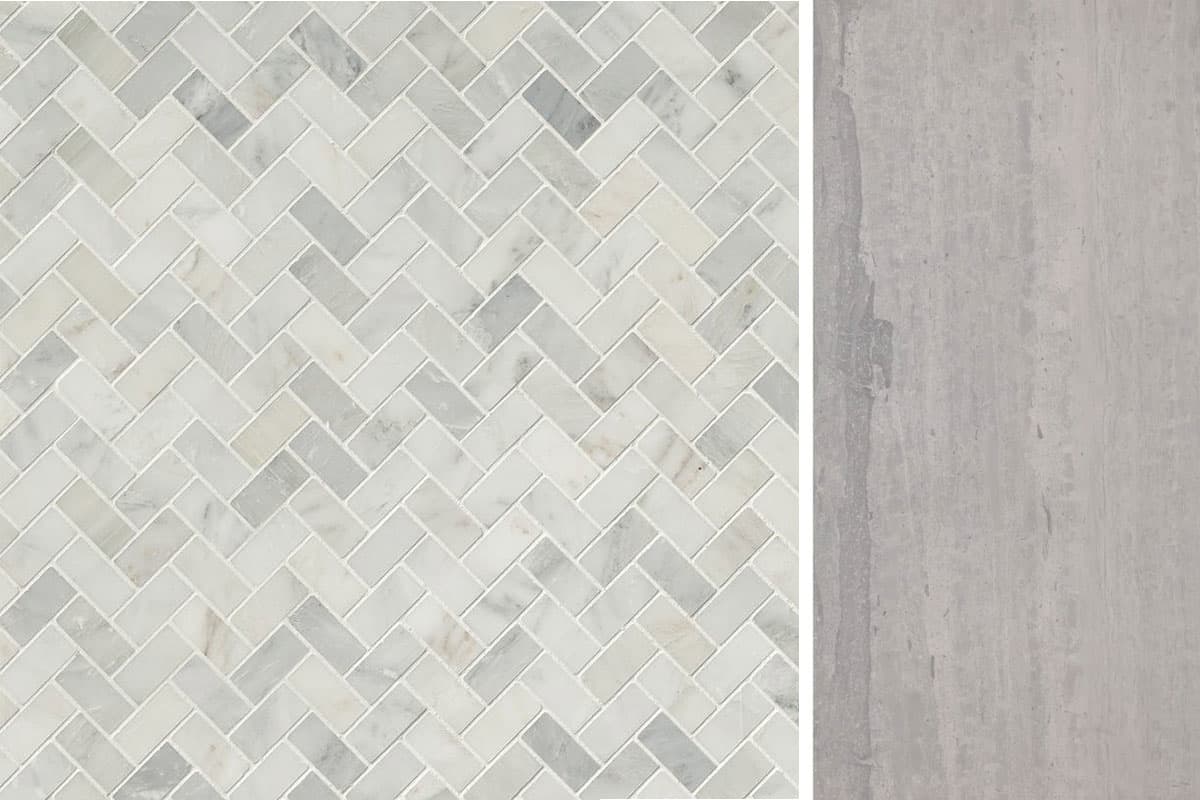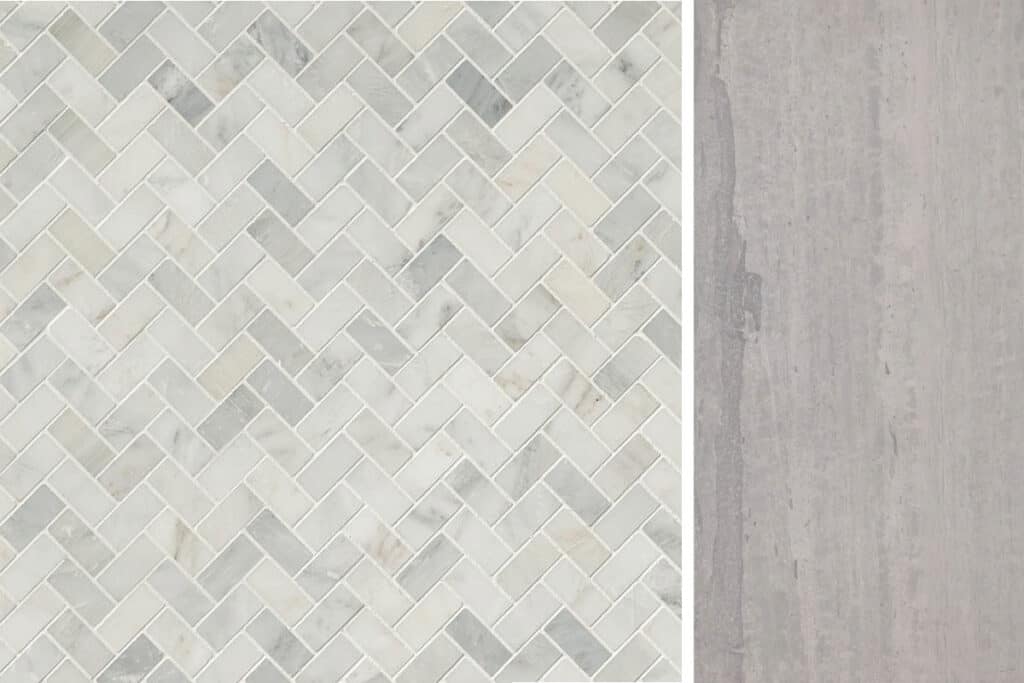 Essentially, what I did here was to pull a secondary color from the main stone type. Not the dominant color of white, but rather a medium gray that was present in the veining of the marble. I also noticed that there were darker gray pieces mixed in the small herringbone shower floor tile.
I loved the slate-look tile that we used in the kids' bathroom, but it was too dark. I also loved the lighter large 12×24″ tiles we used for our mudroom and powder room downstairs, but the tiles were bigger than I wanted in this space. In the end, I landed on a hybrid. I decided on a "concrete-look tile" in a similar light gray tile color and texture to downstairs but to have it installed in the same herringbone pattern as the kids'/guest bath.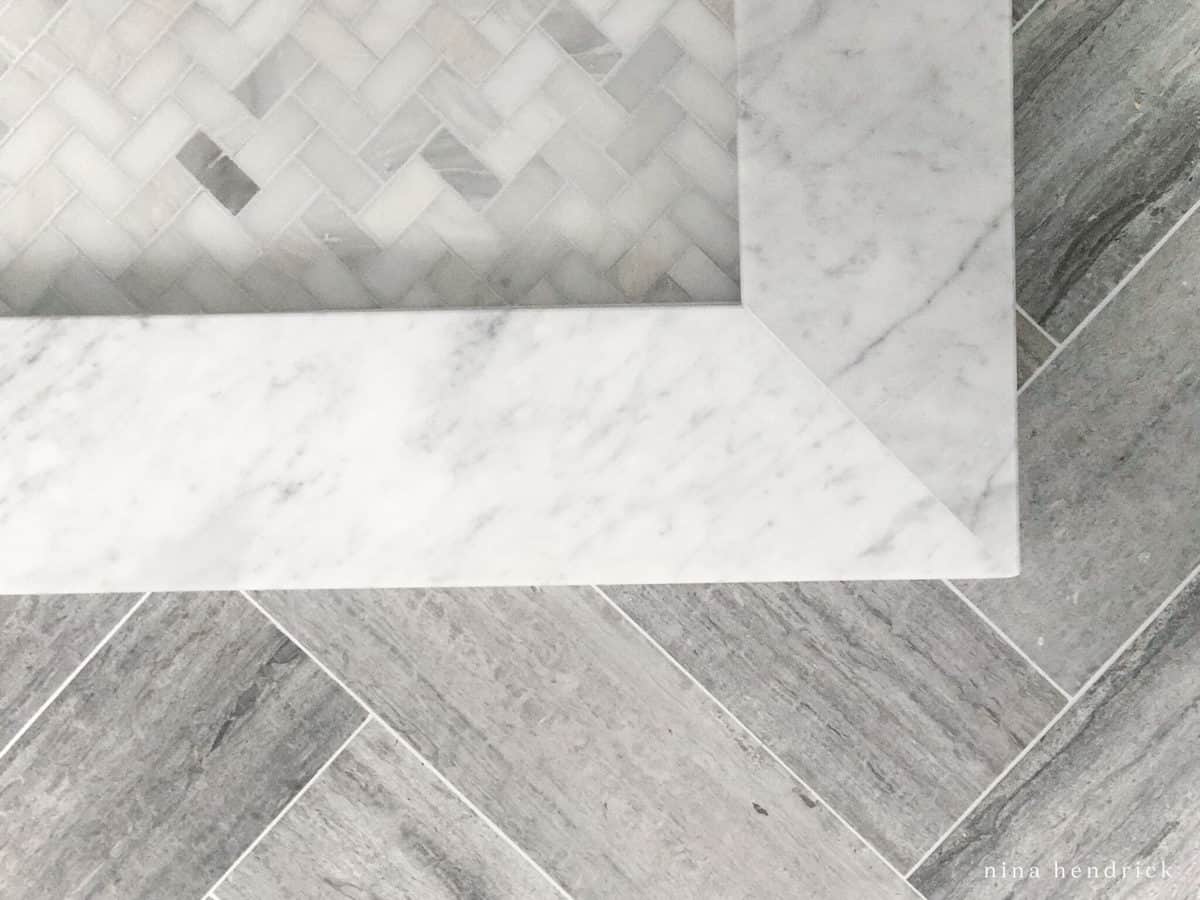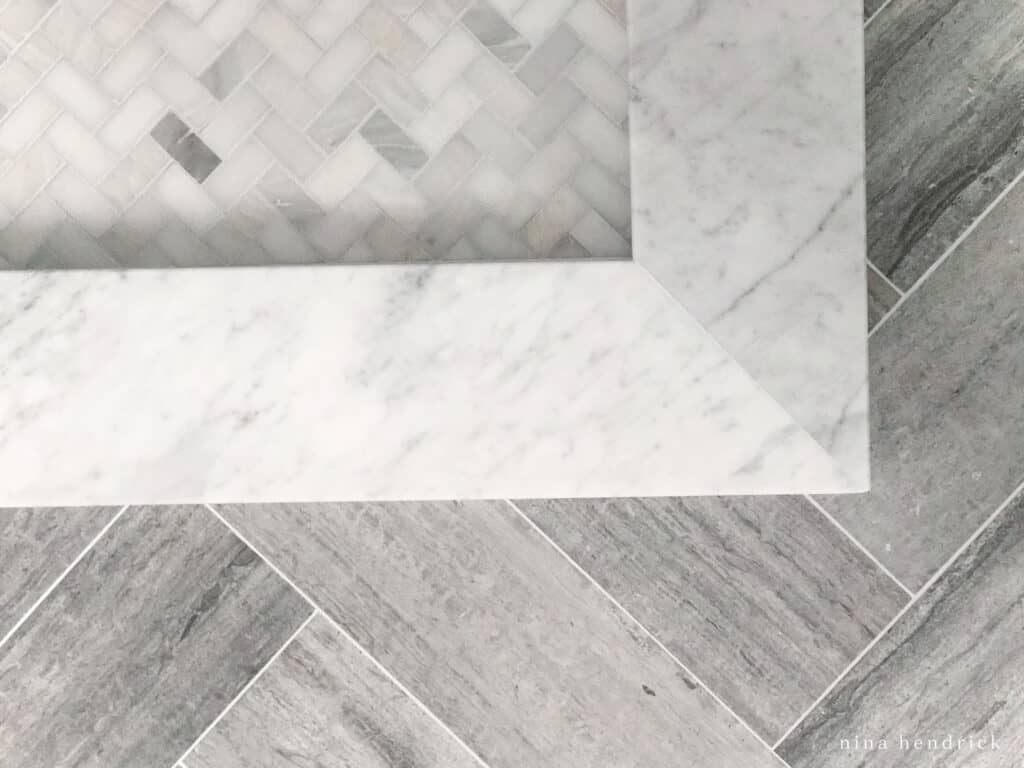 Tip Three: Choose a Repeating Pattern
When you're trying to figure out how to mix bathroom tile, I highly recommend choosing a repeating pattern for your different tile types.
The herringbone pattern is a key theme repeated in various places throughout our home. I thought that Repeating the pattern within this bathroom would be important as a final touch tying everything together.
Overall, I hope that these tips will help you create a mixed bathroom tile design that is cohesive but still varied enough to be interesting.
The Status of our Primary Bathroom Project, Week 3
Unfortunately, there was a miscommunication with our tile installers (we can blame it on social distancing— it was too late to really change it without affecting the entire timeline of the project by the time I got to see it) and the small herringbone tile pattern wasn't repeated in the back of the niche like it was supposed to be.
However, continuing the subway tile doesn't look bad. It just would have been an additional layer of continuity to bring in the small herringbone for the niche.
Additionally, we ran out of floor tile. Ugh. I accounted for extra, but herringbone has a ton of waste, so even my overage wasn't enough. My tip: if you're doing a herringbone tile pattern, add extra to your extra. I had a bit of a panic because I couldn't order more— it said it was no longer sold… but I called a local showroom and they were kindly able to track down the couple of boxes we need and expedite them to me. So we should be able to wrap up the tile next week.
The shower door is going to be the next hurdle. Finding someone with availability to measure for our shower glass and then hopefully get it here in a timely manner has proven to be a challenge. Renovating during 2020 isn't for the faint of heart.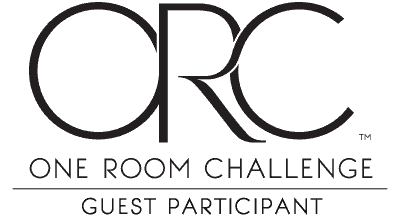 pin it for later