Add instant style and sophistication to your interiors with these expert wall molding ideas! Our easy-to-understand wall molding ideas guide will help you choose the perfect wall treatment to bring more character to your space.
If you've been keeping up with me over the years, you've probably noticed a certain architectural element I'm really into incorportating in my interior design – wall molding!
Wall molding (or wall moulding, as it's more classically known) is my go-to when designing a remodel. Is your room feeling a little bland? Wanting to dress it up a smidge? Up the elegance or trend factor while adding lots of value? If yes, then you might want to consider incorporating decorative wall molding.
Wall molding brings so much character to a room because it helps build a classic look. Not only does it create added texture, depth, and visual interest, but in a word – it just makes the room feel more special.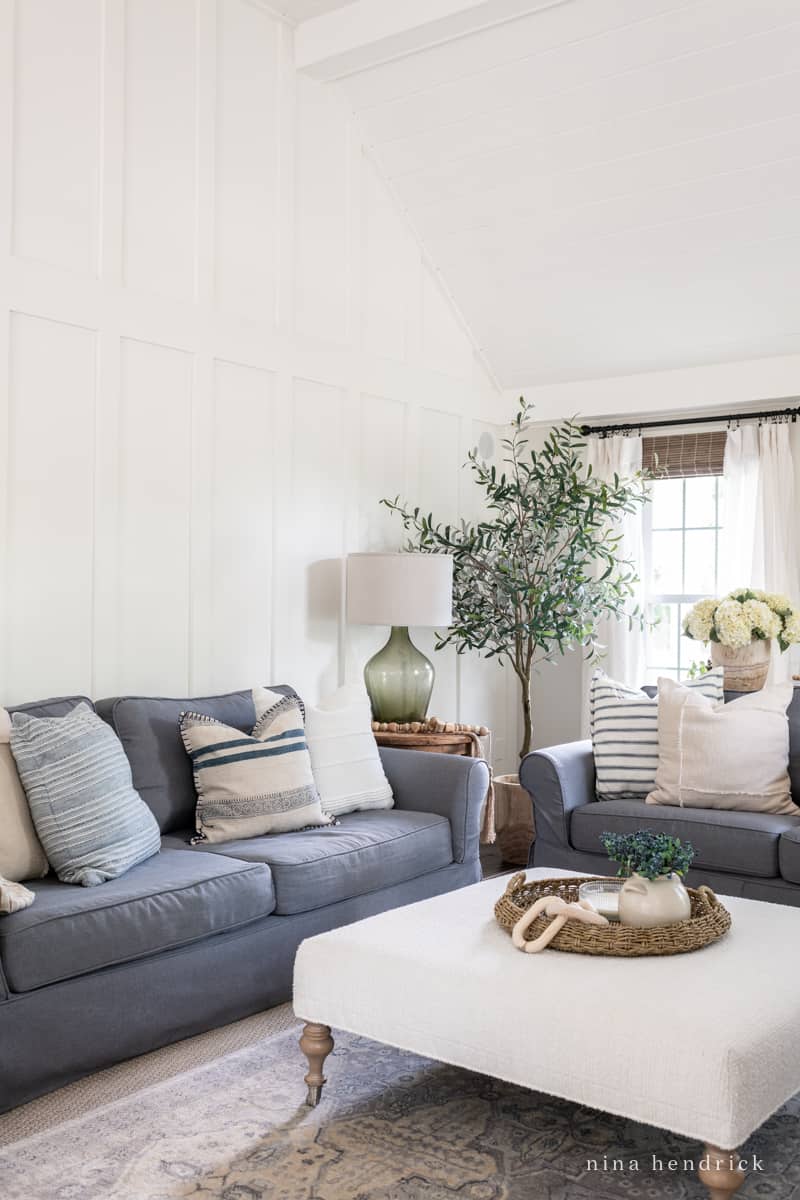 I've successfully installed many 'a wall molding in my day, and it's the number one shared element in projects over my years of renovating. You could say I'm a little obsessed! 😍
So I've decided to create an expert guide full of my favorite decorative wall molding ideas for you.
This guide includes an easy-to-understand breakdown of the terminology, a list of my favorite types of wall molding and examples of how to use them, plus my tips for DIY installing as well as links to full tutorials!
But first things first…what exactly is wall molding?
What is Wall Molding?
Wall molding is a permanent, projecting architectural pattern on a wall. (Try saying that 10x fast!) Some wall molding serves as protection for the wall, but most are purely decorative.
Ever walked into a dining room and noticed it has a raised square pattern on the bottom half of the wall? That raised pattern is wall molding!
What do you use for wall molding?
Wall molding is usually made from polyurethane, MDF, or wood.
While real wood trim is durable, some other materials have the advantage of being water resistant. If you shop around at the big chain home improvement stores, you will mostly find polyurethane wall molding.
What is the difference between trim and molding?
While some use the terms "wall molding" and "wall trim" interchangeably, there is a bit of a distinction.
Wall or decorative trim describes the edging around doorways, windows, floors, and ceilings. It typically functions to cover jointed areas and seal water out, while also expressing the style of the room.
Wall molding is a raised repeating pattern either added to the whole wall or a portion of the wall. It tends to serve less for functionality, and more for decorative purposes.
Both molding and trim add depth and sophisticated finish to your walls.
Some types of trim include:
Baseboard – Where wall meets flooring
Crown molding – Where wall meets ceiling
Casing – Surrounds doorways and window perimeters
Different Types of Wall Molding
Wall moldings ideas have been popular in design for centuries, but the last decade has played host to a full-on wall molding renaissance!
What is decorative molding on walls called?
There are too many fabulous types of wall trim moulding styles to cover them all here, but I hope to give you an overview of a few popular ones that I adore.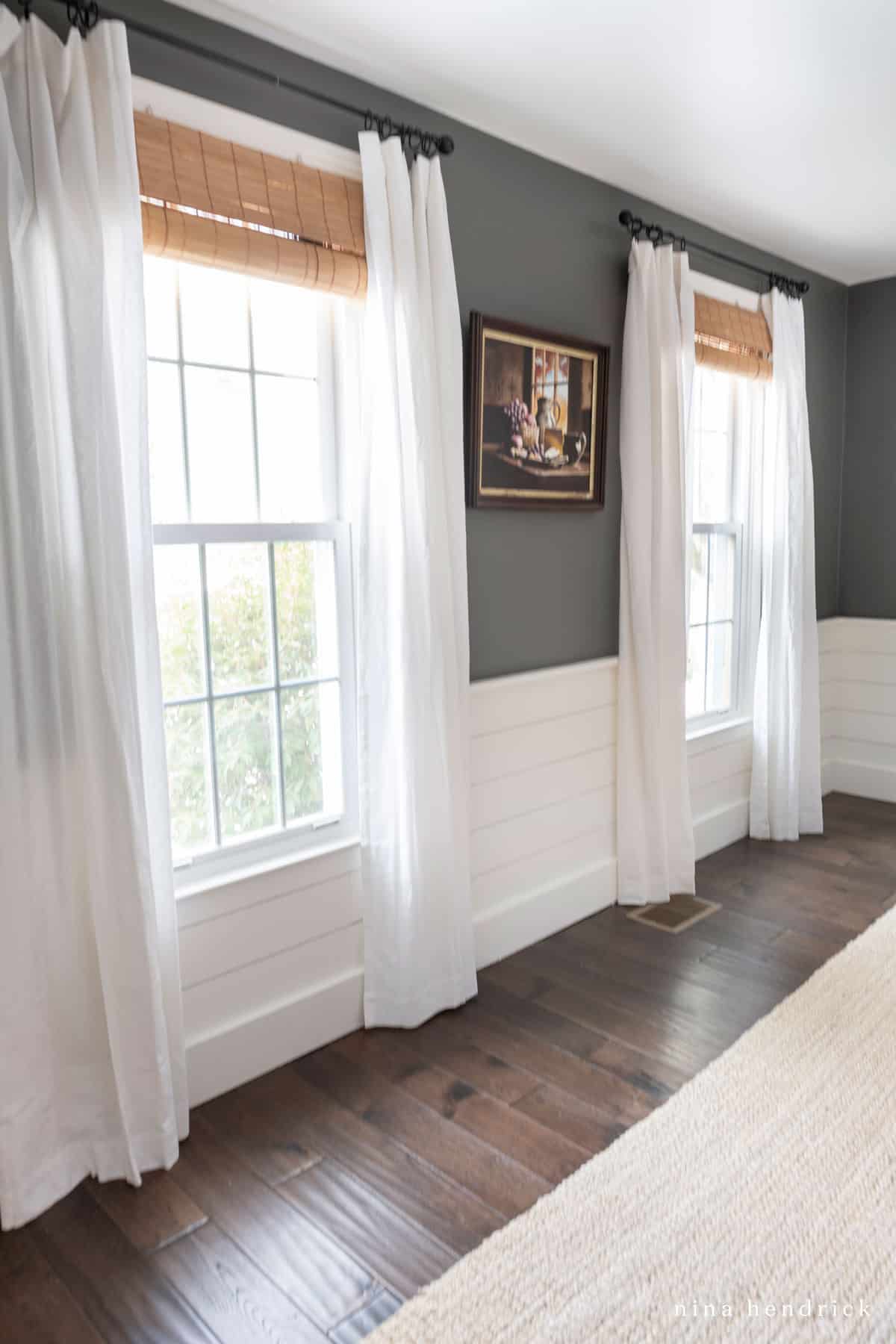 Chair Rail
Chair rail molding refers to a trim that goes all the way around the middle of the wall. It's typically about chair height, and its purpose is to protect the wall from the damage of chairs bumping and scooting against it. Hence the name. This is why it's so common to see a chair rail trim in dining rooms.
Chair railing can be used alone, but most of the time it's paired with a wainscoting on the bottom half of the wall. Read on to learn more about that!
Wainscoting
Wainscoting, pronounced like "wayne's coating", is essentially defined as paneling on the lower half or third of a wall. It's typically underneath chair rail trim, and it also helps to prevent scuffs on the wall. Virtually any type of wall molding can be used in a wainscot fashion.
Some of my Favorite Molding Ideas for Walls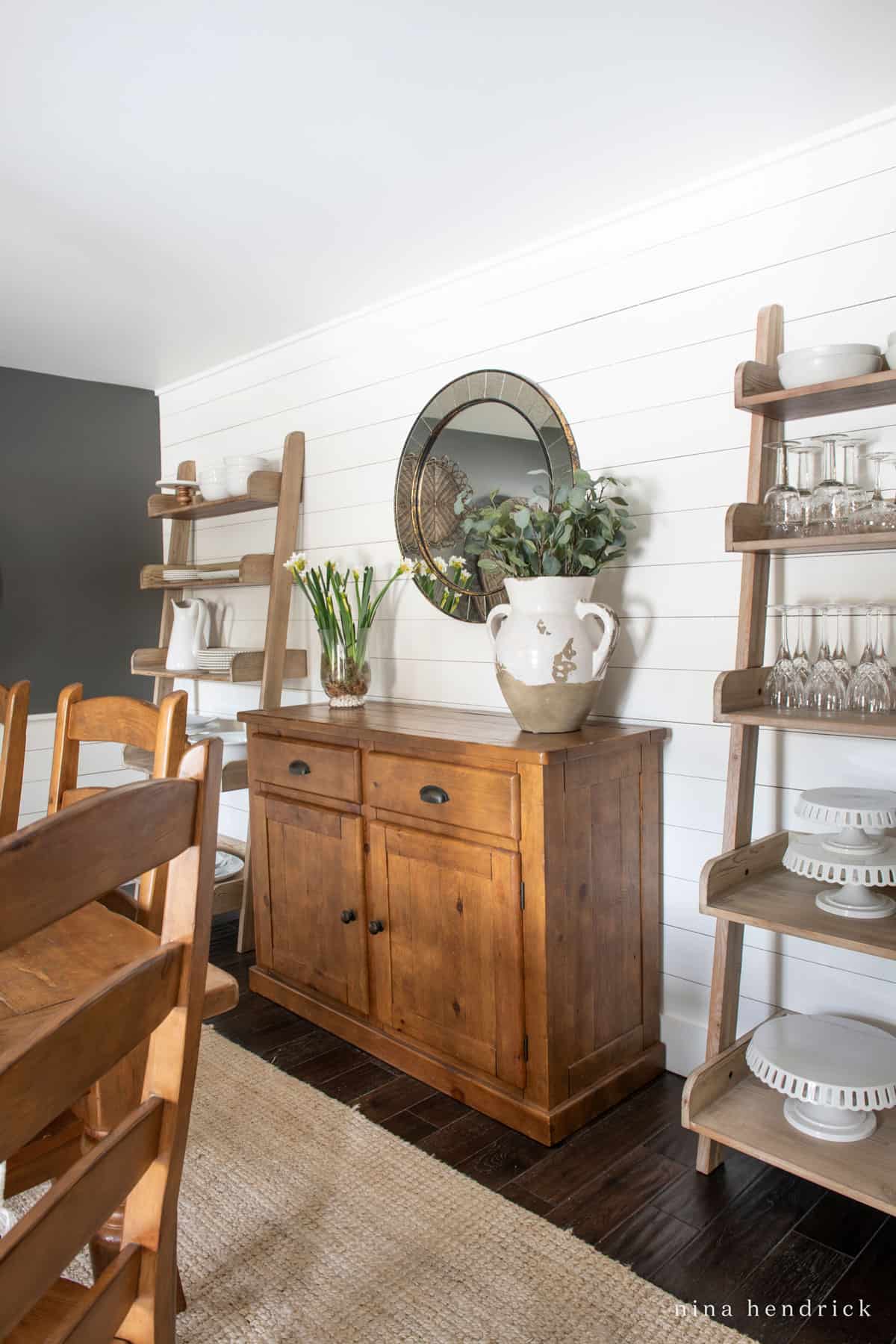 Planked Walls/Shiplap
Pairs well with: Farmhouse, Coastal, Rustic, Cottage, Vintage
Design tip: Get the shiplap look for less by installing planked walls instead! (tutorial link below)
After the start of the show Fixer Upper, the home design world and anyone on its periphery, got shiplap put on their radar, compliments of Joanna Gaines!
Because of its rustic feel, shiplap is super popular among lovers of both farmhouse and coastal decor. (Raising my hand!) And with its nautical origins, it's no wonder. Shiplap was originally used as the outer siding of ships, because the overlapping wood planks created a water tight seal.
True shiplap means that each wood plank has a groove on the top and bottom, which allows the boards to overlap and fit together like a puzzle piece.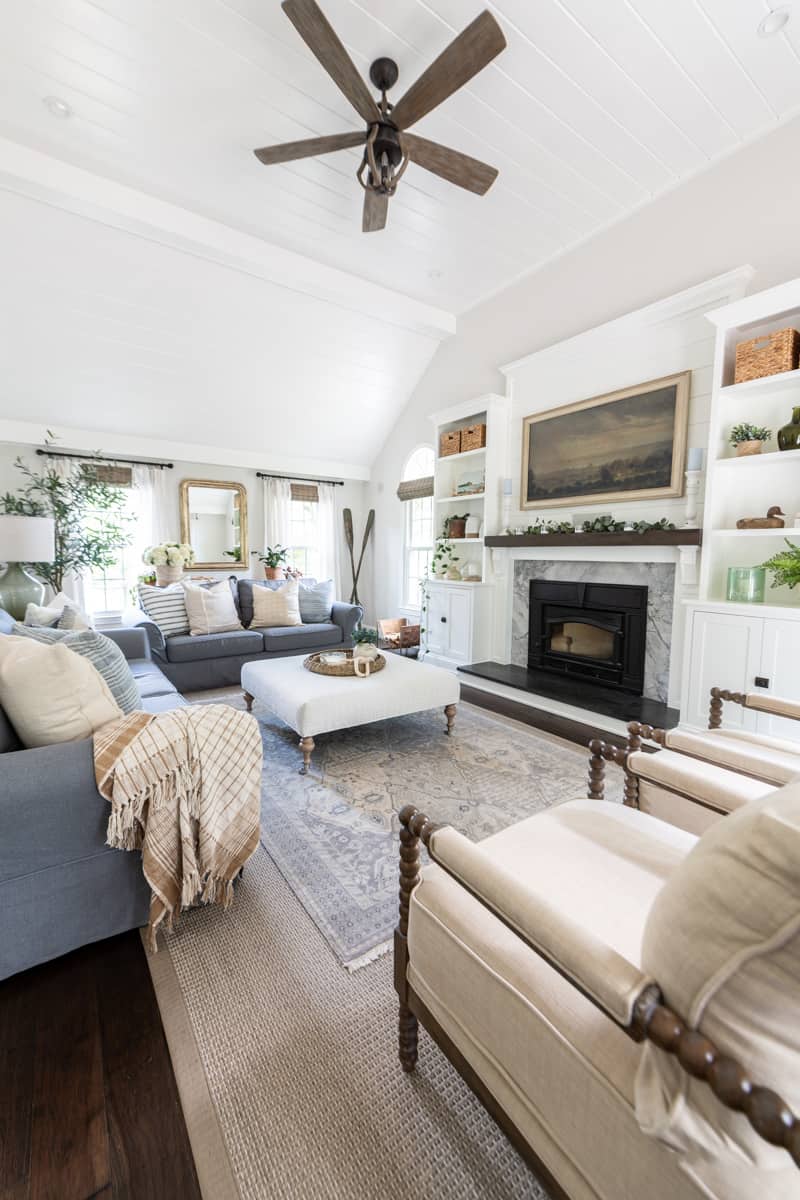 Tongue-and-groove boards have a slight interlock and beveled edge, like in our former home's living room ceiling.
In our previous home, we decided we wanted to try planked wall molding. Our home's style had lots of coastal elements, so this look was a perfect fit. As an added bonus, a full wall treatment like wood slats will cover a ton of imperfections!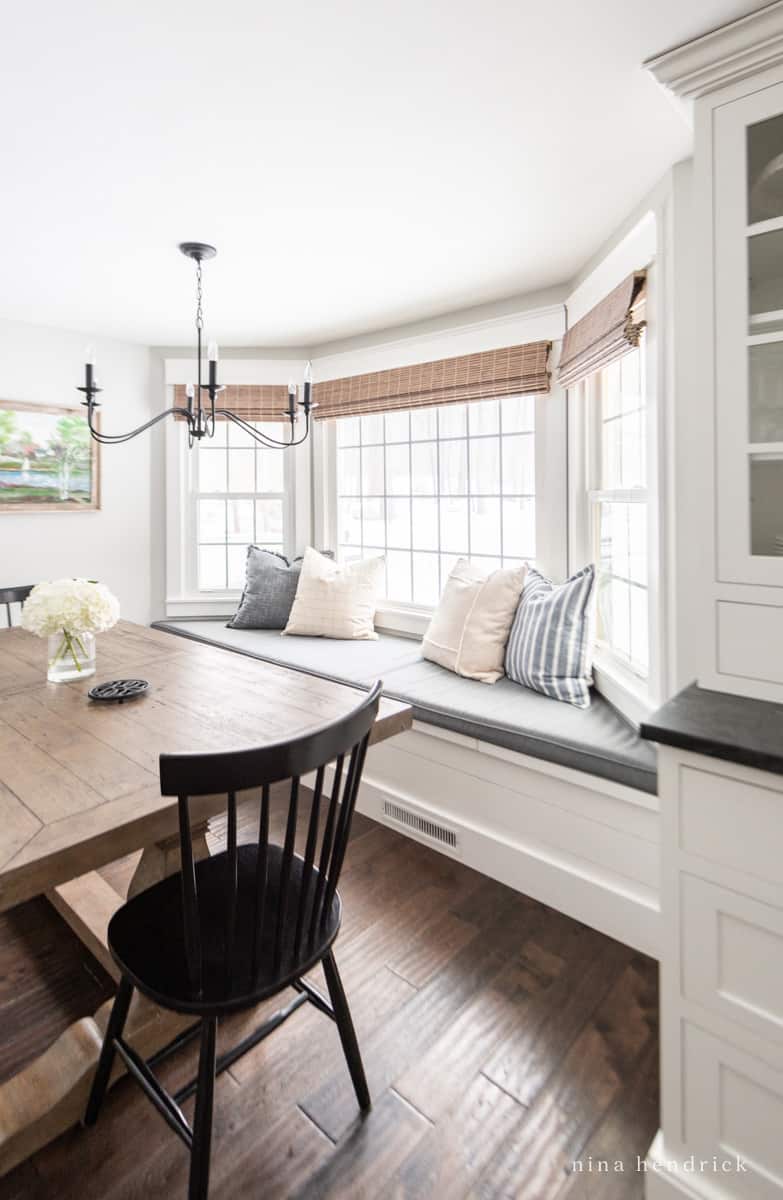 And after we initially learned a cheap and easy way to create planked walls ourselves, we were able to repeat it several times! It even acted as an accent in spaces like the front of our breakfast nook bench.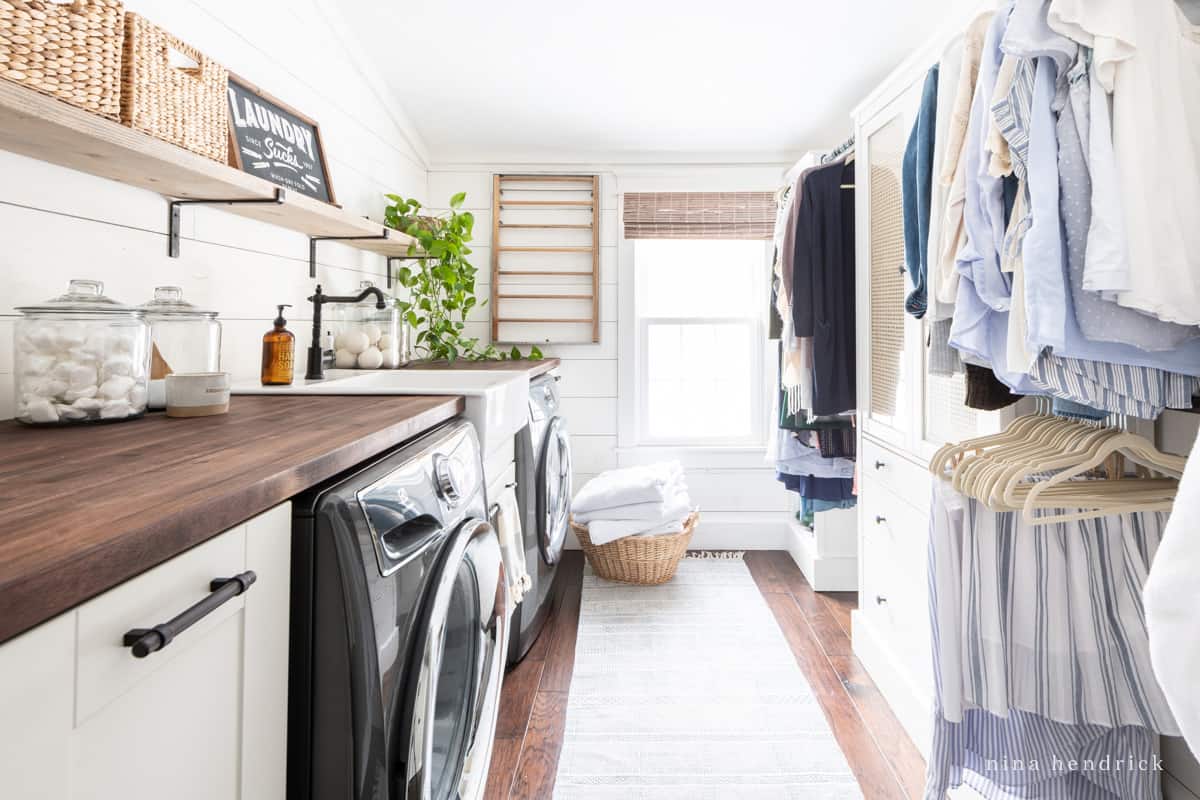 We installed planked walls again as part of our laundry room makeover, (don't judge me for my embarrassing design mistakes in this one! 😆), as well as to the front of our breakfast nook's bay window seat for the perfect added touch to that cozy area.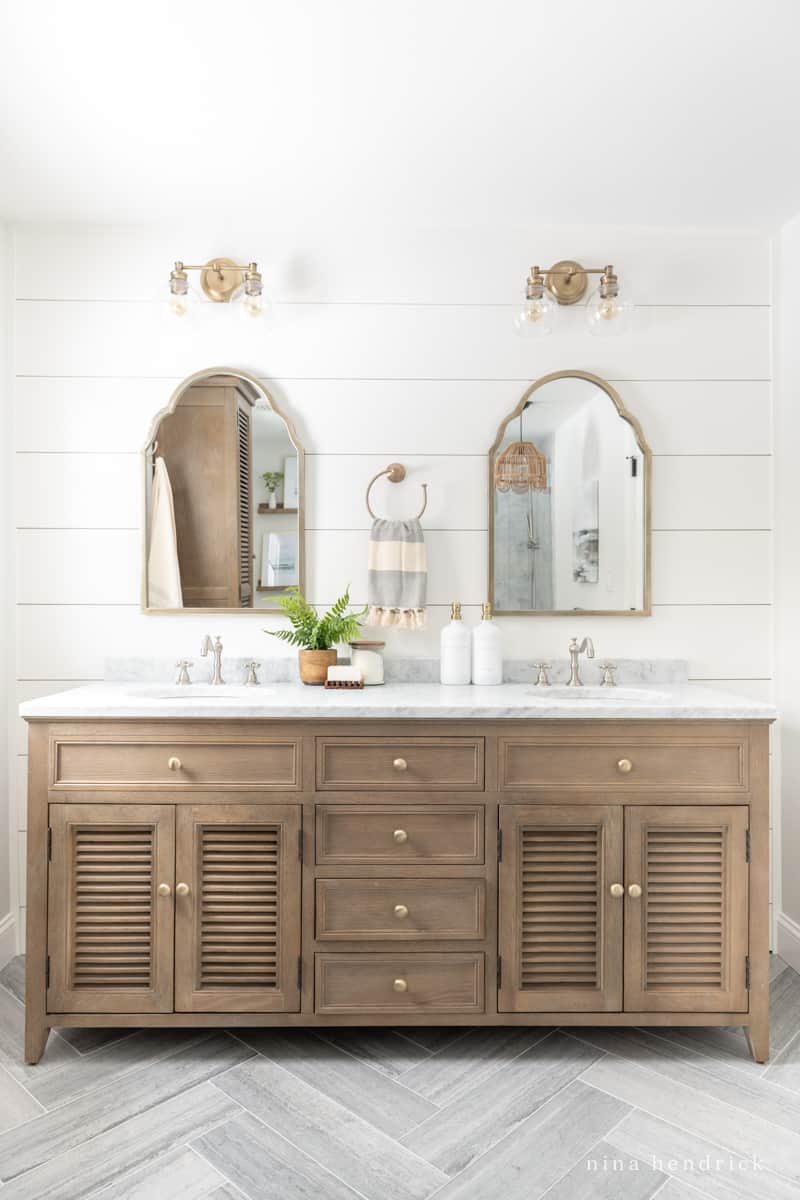 Want the shiplap look, but need it to function in a space with lots of moisture? Look no further than this tutorial where I teach you how to do a DIY install of waterproof PVC faux shiplap accent wall in your bathroom!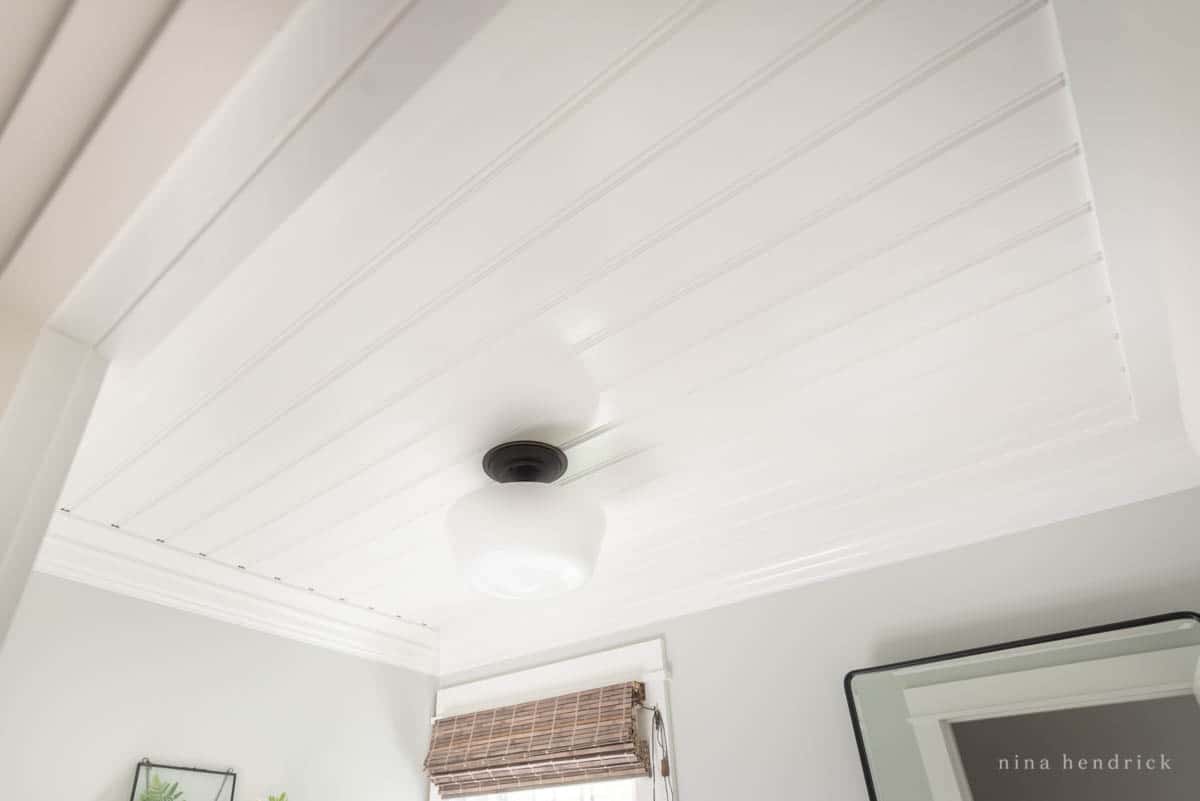 Beadboard
Pairs well with: Coastal, Cottage, Traditional
Design tip: Use beadboard to cover outdated ceilings, like those with popcorn texture!
Beadboard is a common wall molding that you've likely seen or used before. It's a narrow vertical paneling that has a small curved ridge known as "beads" in between each panel. I love beadboard for its clean look and versatility. It pairs perfectly with cottage, coastal, and traditional decor styles.
One of our most popular projects to date is our powder room ceiling! It only took 1 sheet of beadboard and was so quick to install. Then Mack and I made it even easier by coming up with our own install crutch so that we didn't have to hold the beadboard overhead during the install.
Installing this beadboard over our stained, textured ceiling rolled back the clock on our powder room about 15 years. I wish every easy house project produced that big of a result!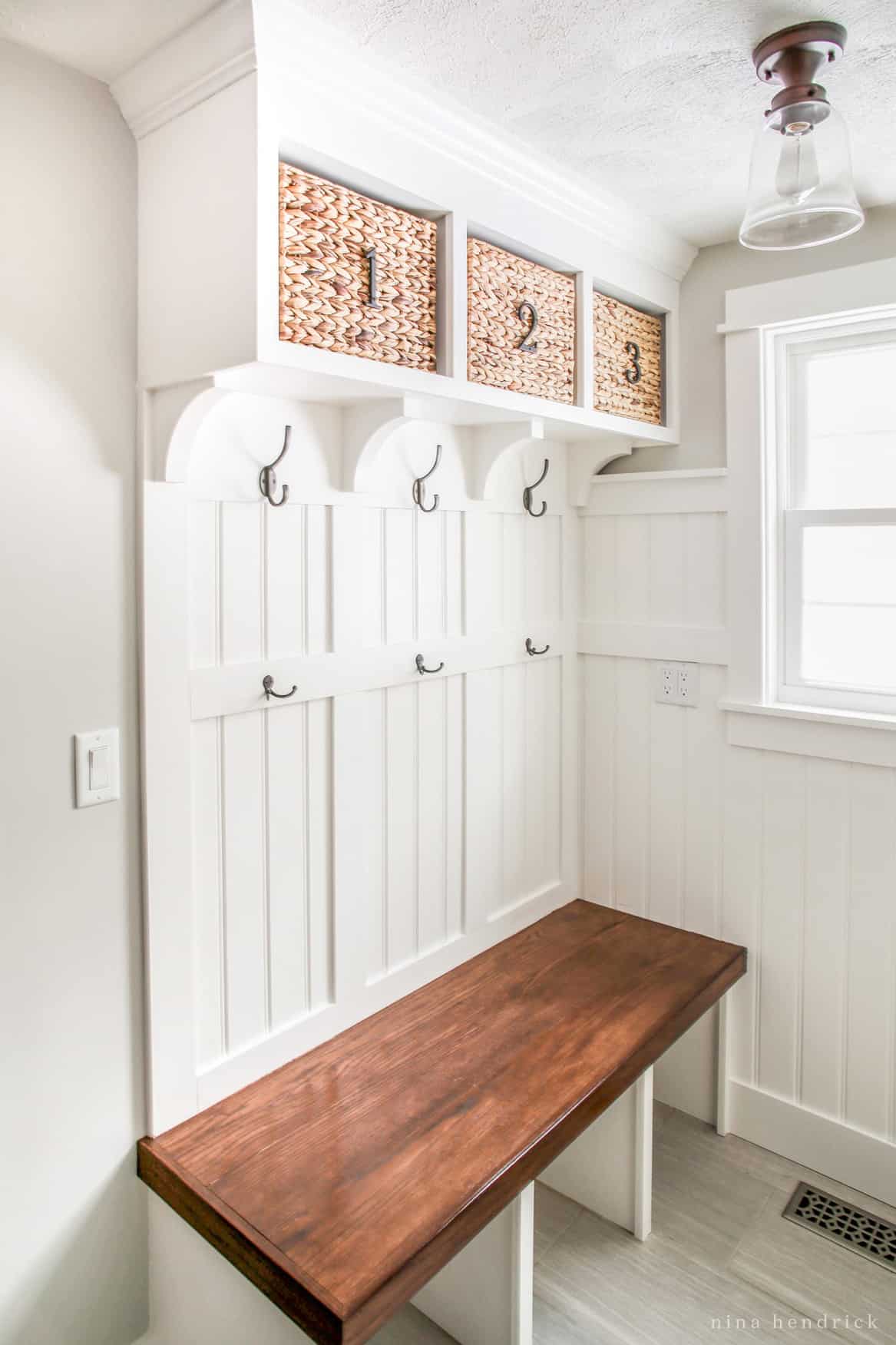 We've installed beadboard several times throughout our home, but my absolute #1 favorite beadboard install would have to be the mudroom, where we combined beadboard with board and batten. It gave us a beautiful designer look and an easy way to install coat hooks.
I'm so happy with the end result!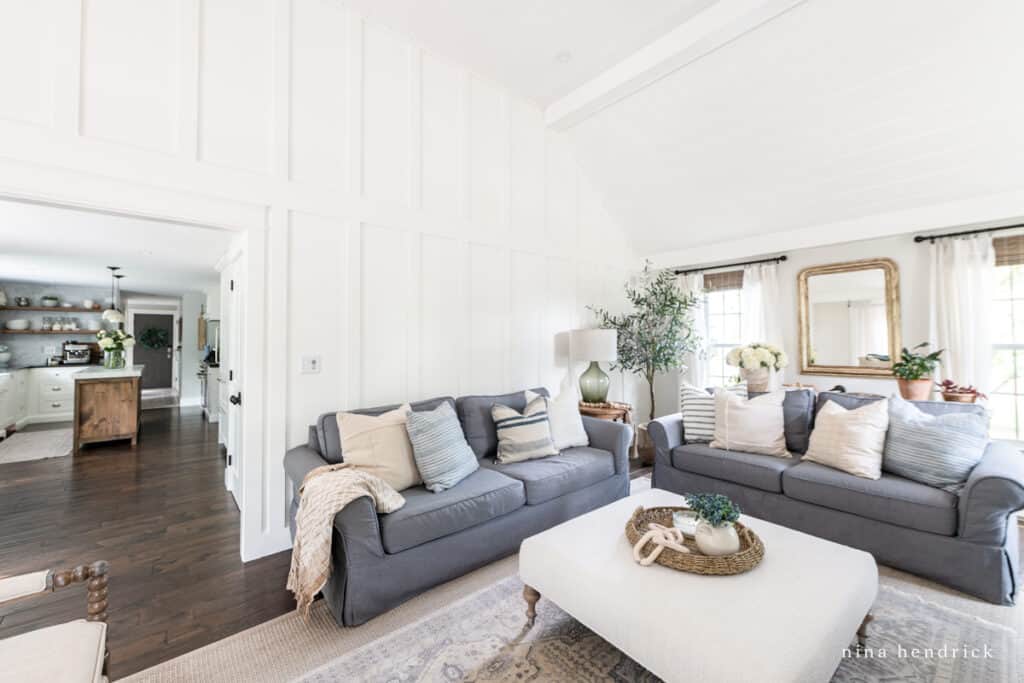 Board and Batten
Pairs well with: Traditional, Colonial, Modern Farmhouse
Design tip: Don't limit yourself to using board and batten as wainscoting. Think outside the box by doing a full wall or mixing it with another wall molding, like beadboard, to create new shapes and patterns.
Board and batten consists of vertical and horizontal panels. The vertical panels are the "boards", while the horizontal panels are the "battens". Sometimes, the battens cross over the boards, and sometimes they just serve as a top and bottom border to the boards.
Board and Batten is a very popular type of wainscoting, but like all wall moldings, it can also be used to cover the whole wall. It's trendy, yet classic, and compliments a range of decor styles.
I really love this look!
Which is why I decided to include a full wall of board and batten that stretches up to our cathedral ceiling as part of our big family room makeover! It really added such grandiosity to that room, and I'm still so in love with how it turned out!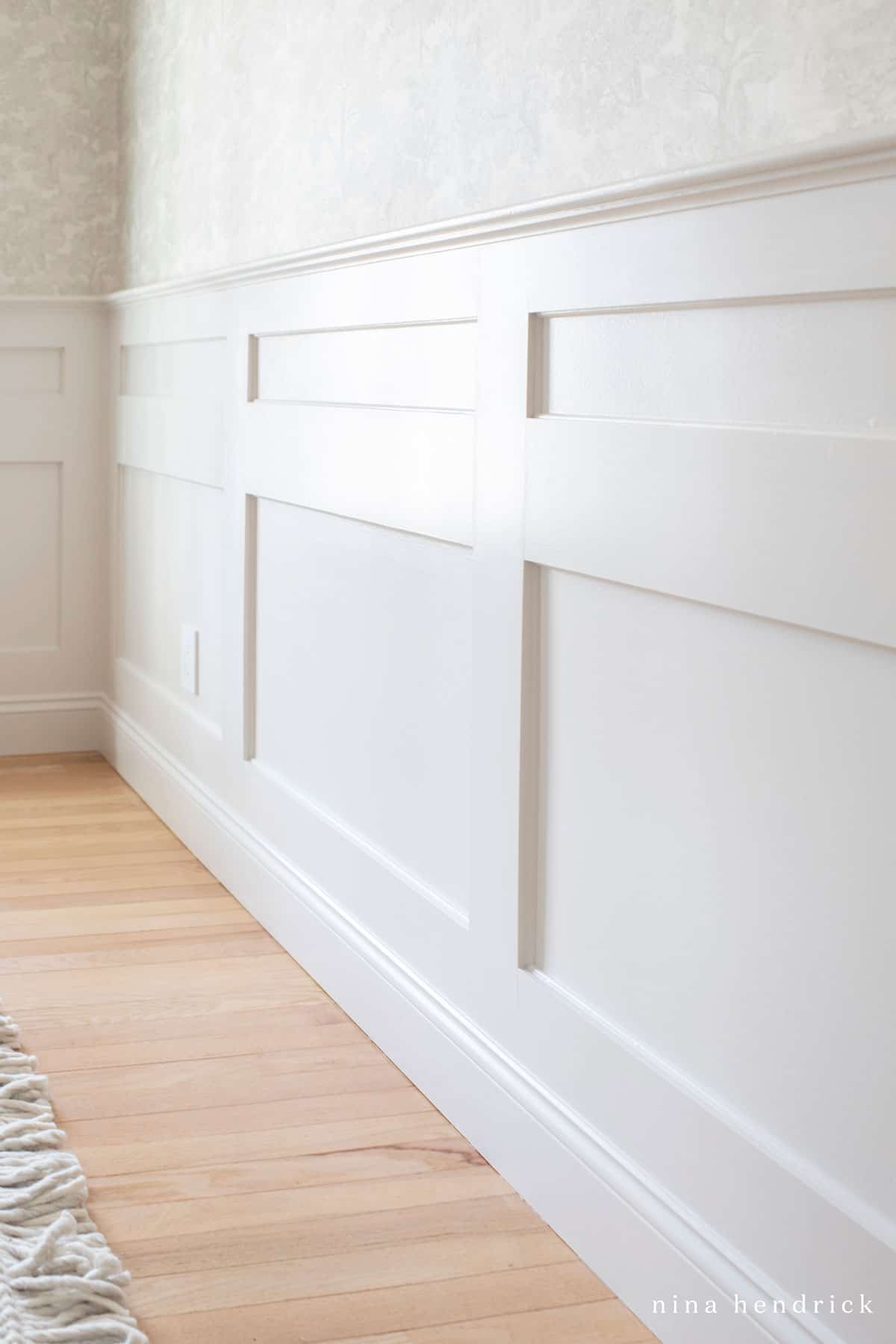 When we moved into our new home, the dining room had a unique board and batten wainscoting that I'd never seen before. When we installed the wallpaper, I posted a pic of it in my IG stories and stated that I would probably be changing it. But then many of my followers responded, "Why?? Don't do it!"
It made me appreciate its uniqueness, and now…I'm kinda looking at it with heart eyes!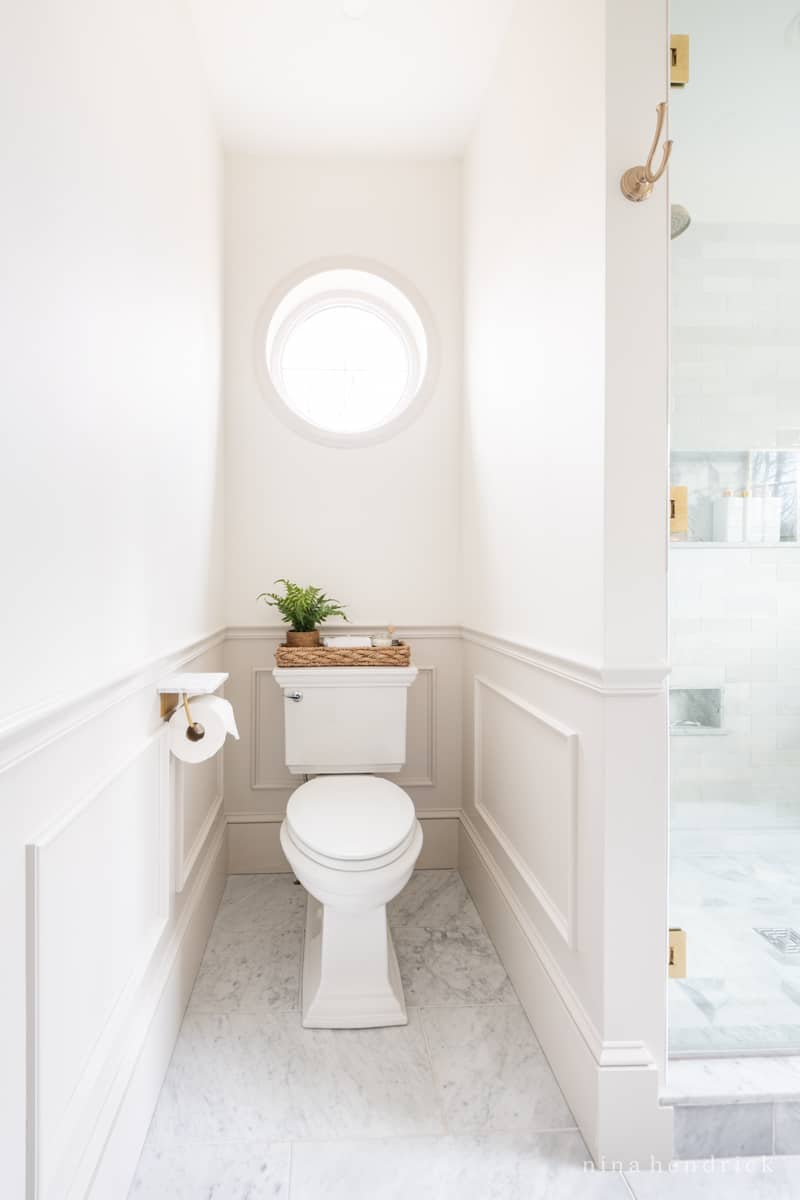 Picture Frame
Pairs well with: French Country, Glam, Classic Traditional, Transitional
Design tip: Go with a narrow vertical box shape if you're needing to create the illusion of heightened ceilings!
All wall molding has an elevated feel, but something about picture frame molding feels a little extra fancy to me. It will take your space to a whole new level of refinement.
It gets its name because that's exactly what it looks like – the shape of a repeating picture frame pattern. This molding can be either square, rectangular, or a pattern that combines both.
Picture frame was a molding that I'd been wanting to try out for a long time. Our new home's primary bathroom remodel ended up being the perfect opportunity! Here we installed chair railing with picture frame wainscoting underneath.
I'm so happy with the results that sometimes I walk in there just to stare at it, haha! 😍
Mixing Wall Molding Styles
Design Tip: Fully map out your planned design with thin blue painter's tape on the wall to help get a visual for the right shapes and scale!
You can also mix board and batten molding with other design elements. I enjoy getting creative with design this way, and ending up with refreshing looks that are outside of the norm.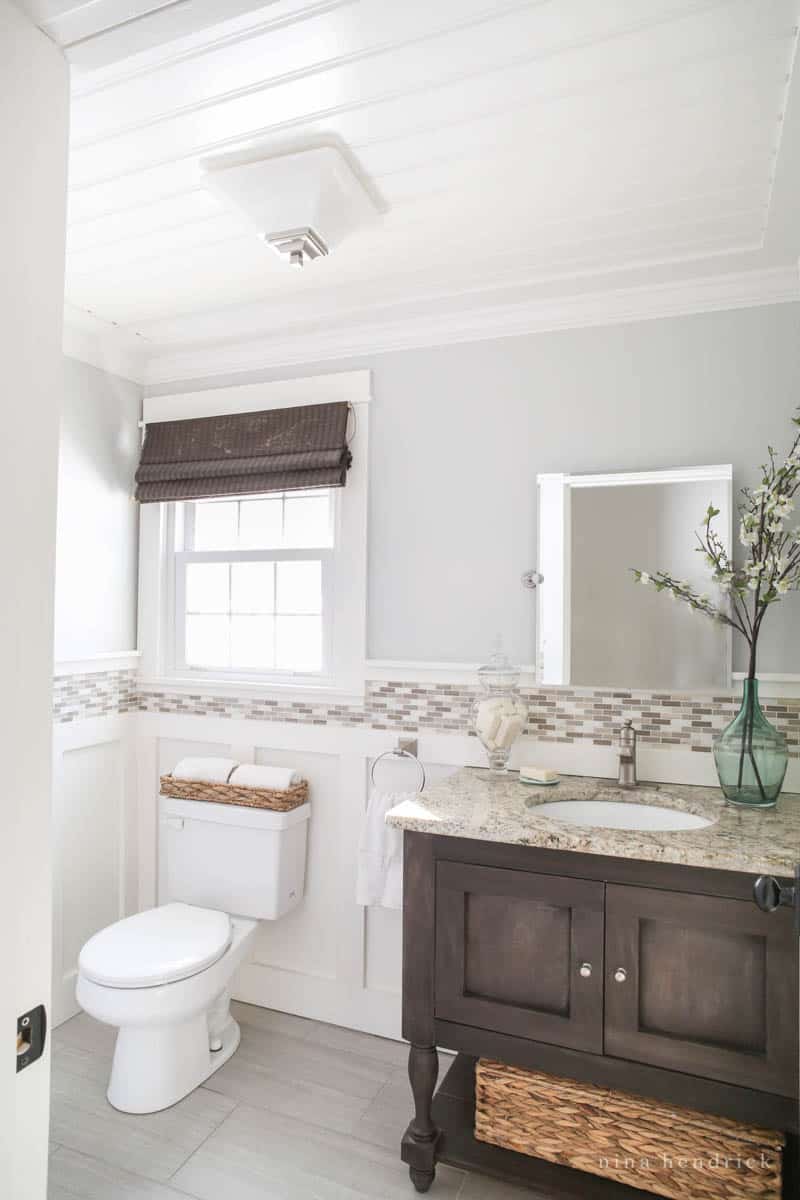 In our powder room makeover, we used board and batten wainscoting with a tile border underneath the chair rail trim.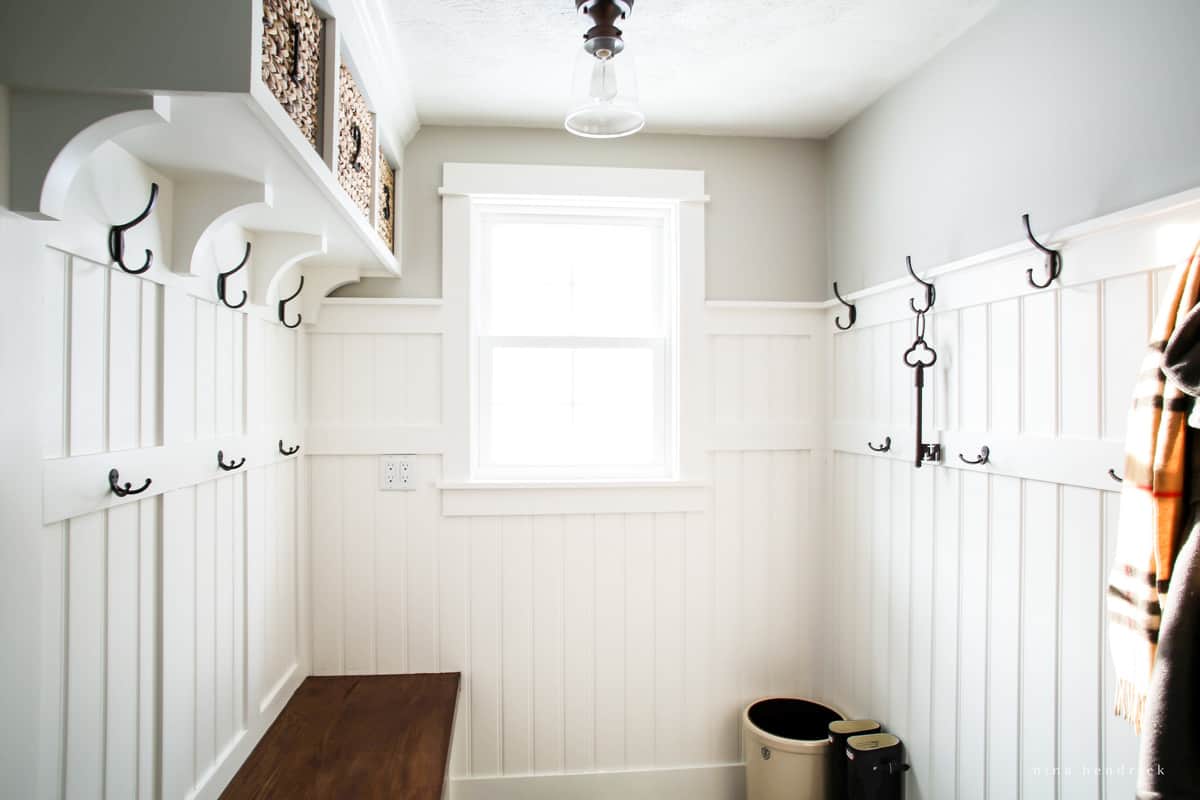 And in our mudroom makeover, we used beadboard with a board and batten overlay for a fun mix of these two wall moldings!
Mixing wall moldings was an excellent way to achieve our design goals in both of these rooms. They provided solutions that added functionality while helping tie together each room's decor.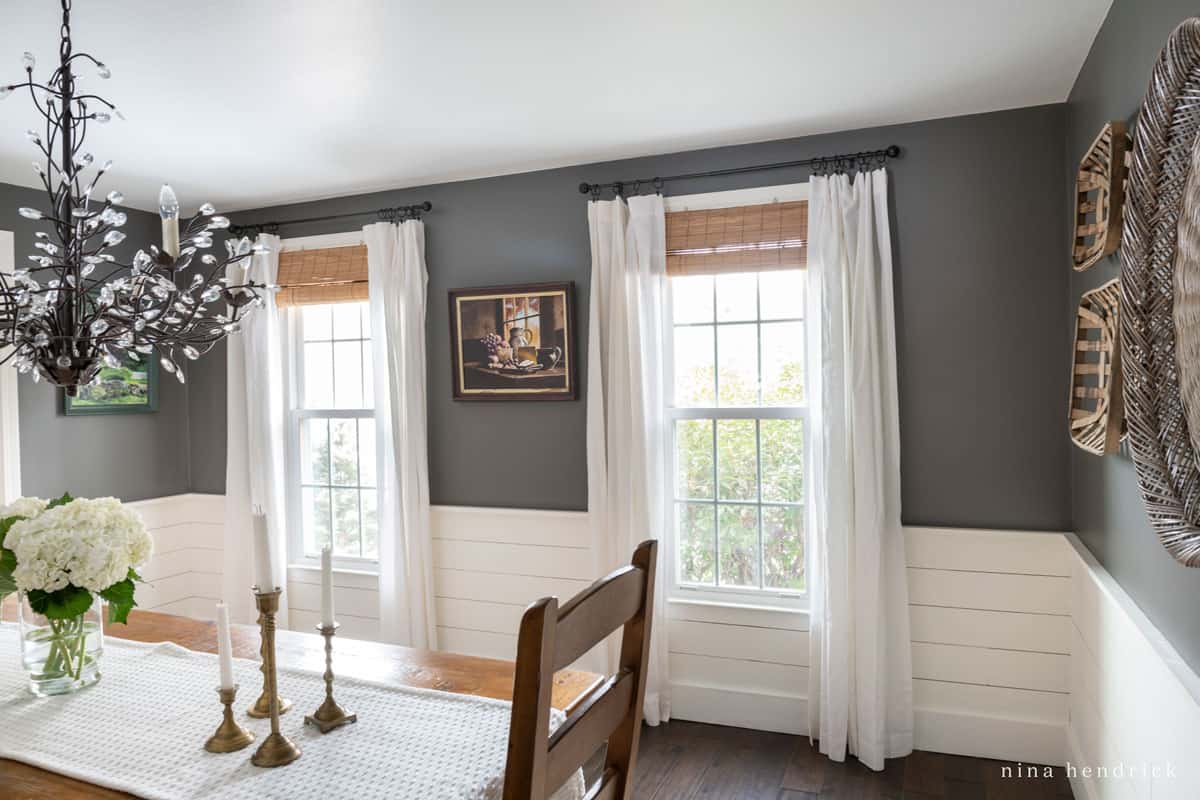 Put Your Wall Molding Ideas into Action
I hope these molding on walls ideas give you a better understanding of the beautiful possibilities of wall molding. If it was helpful, go ahead and bookmark it, so you can keep it as your wall molding guide.
Let's connect further! Join me inside the Nina Hendrick Home Community and hop on our latest decor challenge.
Can't wait to see you there!