From clever shelves to trendy containers, this blog will show you the best bathroom storage ideas to maximize your space and keep away clutter, without sacrificing style.
There are a lot of bathroom storage hacks out there. But can I be honest for a moment? Not all of them fit in with an elevated design! And if you're like me, no matter how brilliant the hack is, if it doesn't match the look I'm going for, I won't be happy with it in the long run. When we finished our latest bathroom remodel, I knew I needed storage that complemented our new space.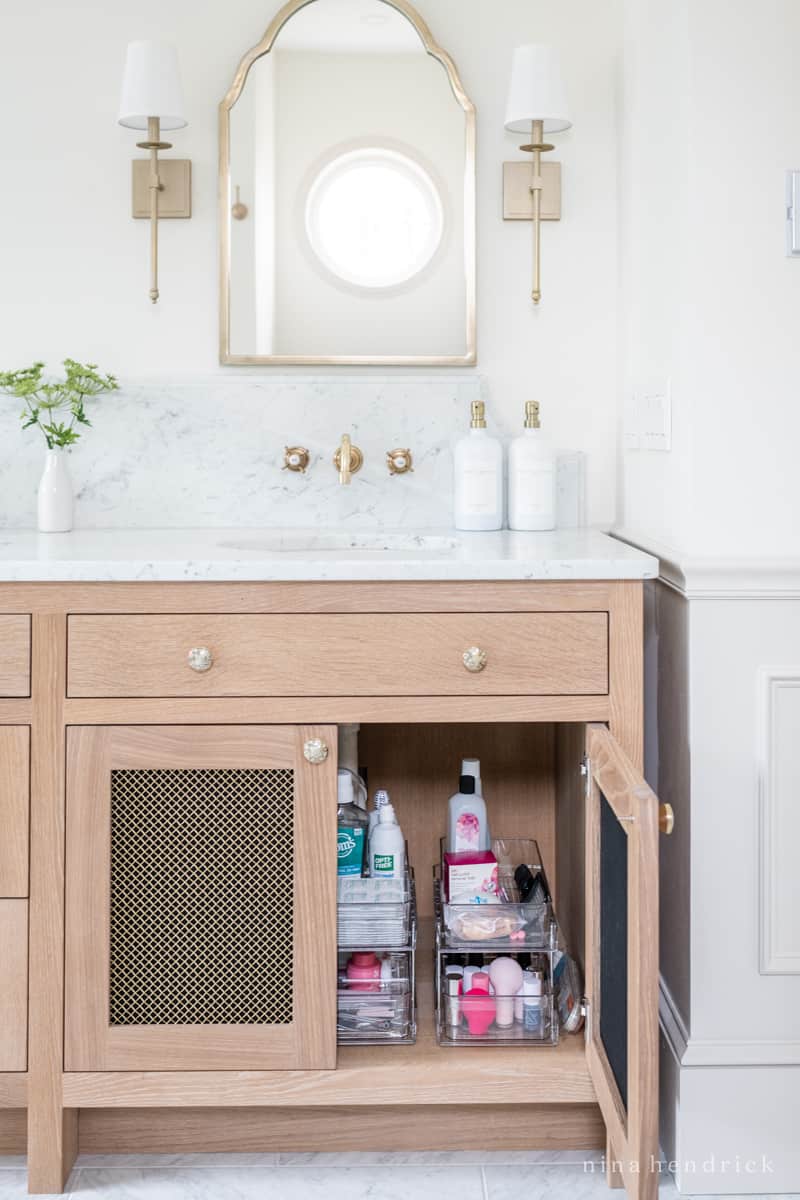 That's why I've decided to share my favorite bathroom storage ideas. They'll keep your bathroom organized while still maintaining your favorite aesthetic! I've divided everything into 5 main tips so you can easily read through each one, or skip right to the one you need.  
After implementing the items on this list, you can say goodbye to the quirky, college DIY storage solutions that just aren't working for you anymore, and hello to the dreamy, organized, spa-like bathroom of your dreams. I'll show you how to achieve function and beauty, so your space can feel like a luxurious vacation, sans the vacation price tag!
Looking for bathroom design ideas? Check out my round-up post here!  
This post contains affiliate links, which means I may get a small commission (at no extra cost to you) if you shop my link. Please see my disclosure if you'd like more info!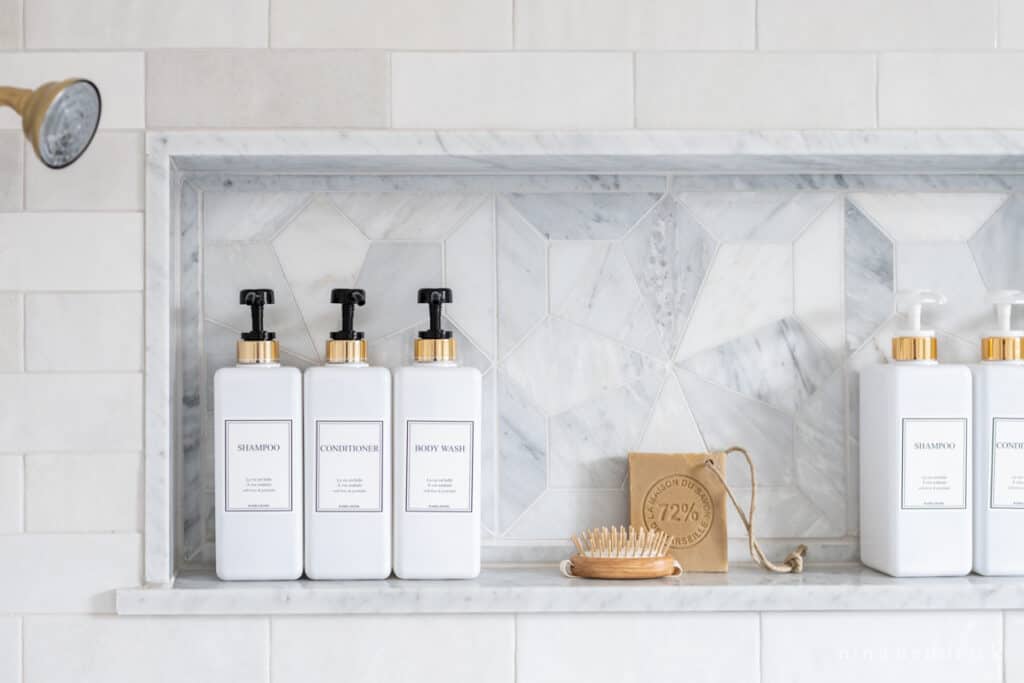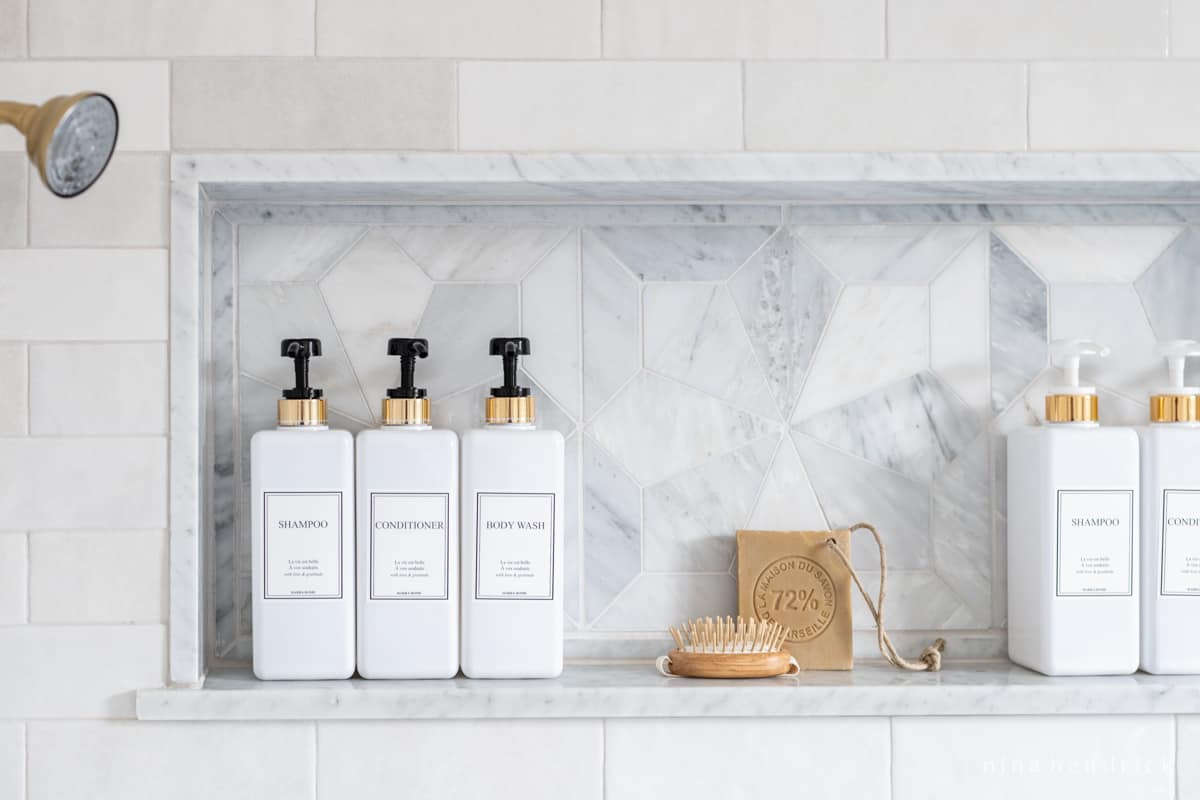 1. Yearly Declutter
How do you organize bathroom clutter?
In a word – YOU DON'T. You throw it away!  
When getting your bathroom organized, it's important to start with a clean slate. You don't need to throw away everything that's causing clutter, but if you're struggling with an overload of bathroom toiletries, chances are, it's time for a fresh clean out. I recommend doing this at least once a year. I love to start by taking everything out. Under the sink, the drawers, and any other storage area should be a totally empty blank slate once you're done. It makes a temporary mess, but the end result is worth it!
Then, using your bathroom trash can, or a large trash bag, (depending on how long it's been since your last declutter!) get rid of the items you no longer need. Out with the old, expired, and seldom used. Don't forget to purge all those hotel samples you've collected, because let's face it – when are you going to get around to using those? Probably never. ;)
And speaking of the toiletries you never use, you'll probably come across some full size products that are new, still good, and valuable, but they've been sitting unmoved underneath your sink collecting dust. Instead of throwing these away, offer them to your house guests by putting them in a basket under the sink of your guest bathroom.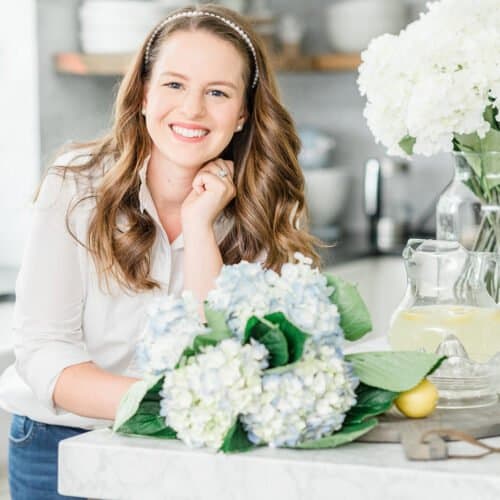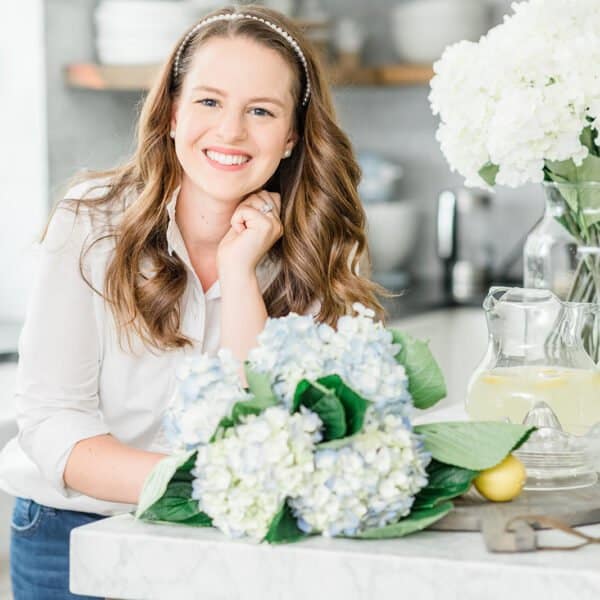 Tip from Nina: When it comes to bathroom toiletries, follow this rule of thumb: If you haven't used it in a year, it needs a new home!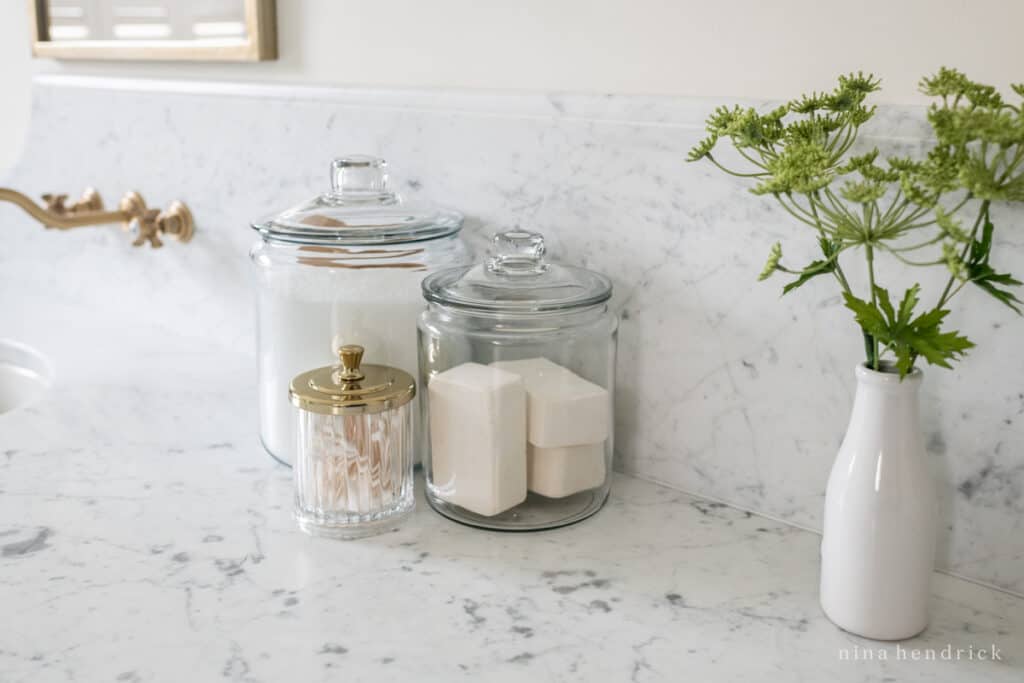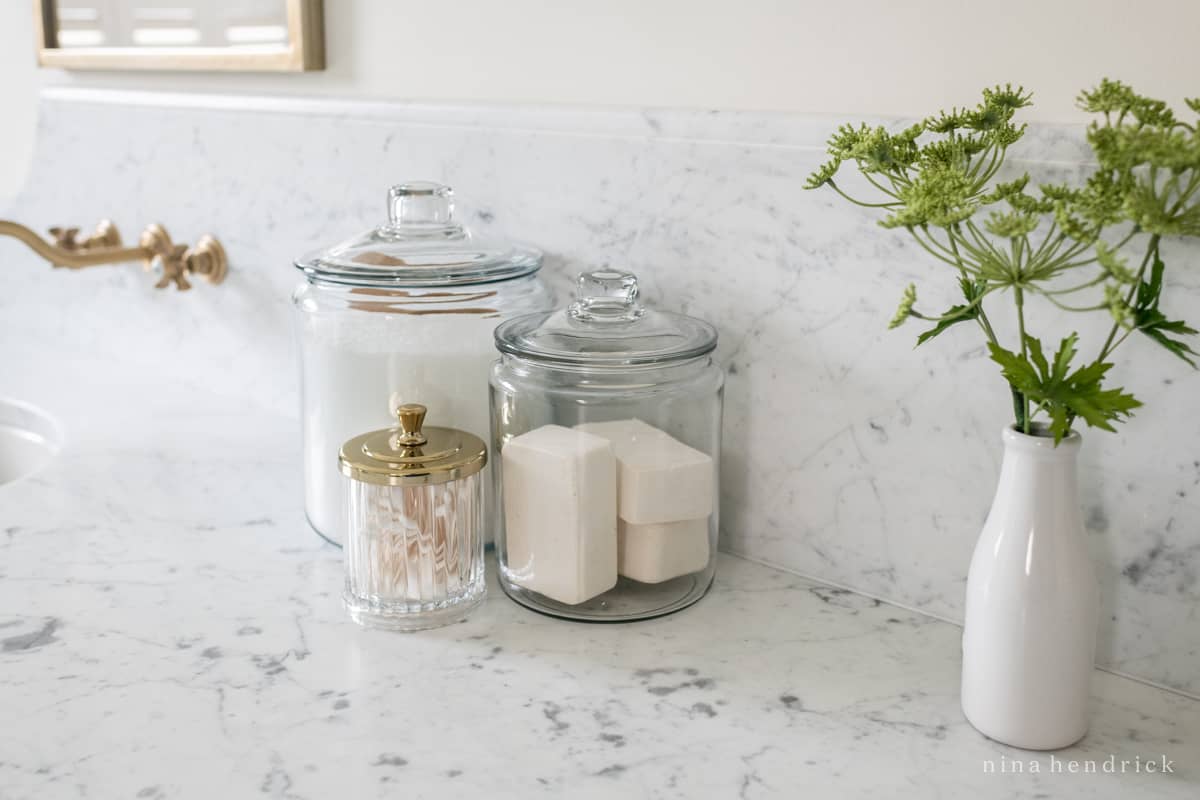 2. Separate by Categories & Create Zones
How do I organize too many toiletries?
Now that you've taken everything out, purged all the items you don't use, and your bathroom storage areas are empty, it's time to create some solid categories and zones for your toiletries. When your stuff is nice and organized, it saves you space. Not only can you find things faster and easier, (without losing a couple of minutes off your life!) but when you're NOT constantly stirring things around looking for a particular item, your products stay in a more compact storage position. Not to mention, they stay in better condition! All that stirring around rubs off labels and can induce product leakage.
You'll want to group like products together, so that you can save your sanity when performing your bathroom routine everyday. This will ensure you know right where to find what you need, when you need it!
Here's a helpful list of toiletry categories to get you started:
HAIR
This category can actually be divided into several subcategories, if need be.
Organize all of your hair things into the following subcategories:
Tools – blow dryer, straightener, curling irons, curlers, rollers
Brushes & combs
Hair holders – bands, scrunchies, bobby pins, hair claws, hair ties, barrettes, ribbons, & headbands (unless you display headbands in your closet like we do!)
Products – hairspray, dry shampoo, volumizers, gels & serums
TEETH
This category will include toothbrushes, floss, retainers, (can't let your suffering through braces be in vain, ha) pickers, & teeth whitening.
SKINCARE
For me, skincare includes all the products I regularly use on my face, because I store body products in a separate zone. So skincare will be my face wash, facial creams, serums, & makeup remover.
MAKEUP
This one can also be divided into subcategories:
Face
Eyes
Lips
Makeup brushes
BODY
This is a fun category, because of all the smell-good lotions!
Include any product you slather on your skin – lotions, creams, body splashes, sunscreen, & self-tanner. You can also group in body wash, soap, shampoo & conditioner (which are technically hair products, but it may make more sense to put all shower products together), if you have the space to stockpile. If not, either don't stockpile and put those freshly purchased items straight in your shower, or store your stockpile in a linen closet.
You could also group perfumes in with this one, if you don't have those sitting atop your countertop or bedroom dresser.
NAILS
For me, this is always a smaller category. This includes nail clippers, files, nail polish, and nail polish remover. People who really focus on nails may also have cuticle oil, nail glue, and at-home powder dip/gel sets. (Here's to wishing my nails looked as good as theirs!)
MISCELLANEOUS
Where are all my contact-wearing friends? Usually if you wear contacts, that just consists of 3 things: contact case, solution, and your new contacts. You can group these in wherever is most convenient for you. Just make sure they're somewhere handy since you use them everyday! You can also put your glasses in with your contact stuff, or store them in your nightstand.
Q-Tips and cotton balls are more miscellaneous bathroom necessities. If you have the counter space, it's convenient to store these right on your bathroom vanity in glass canisters or even mason jars!
Now that you have all of your items grouped together, you're ready to create zones for each grouping. Now comes the really fun part!
In the next few tips, we'll go over some of my FAVORITE ways you can organize your bathroom toiletry categories!
3. Follow the Trends that Make Organization Fun
How can I maximize my bathroom storage?
Now for the pretty part!!
For me, this is the reward. All of that cleaning out and grouping into categories is hard work. But it feels so good to get it done. And now you have the anticipated reward of getting to utilize fun containers and clever storage solutions.
Below are some of the bathroom storage ideas that I'm really loving right now! These will keep your bathrooms looking clean and beautifully organized.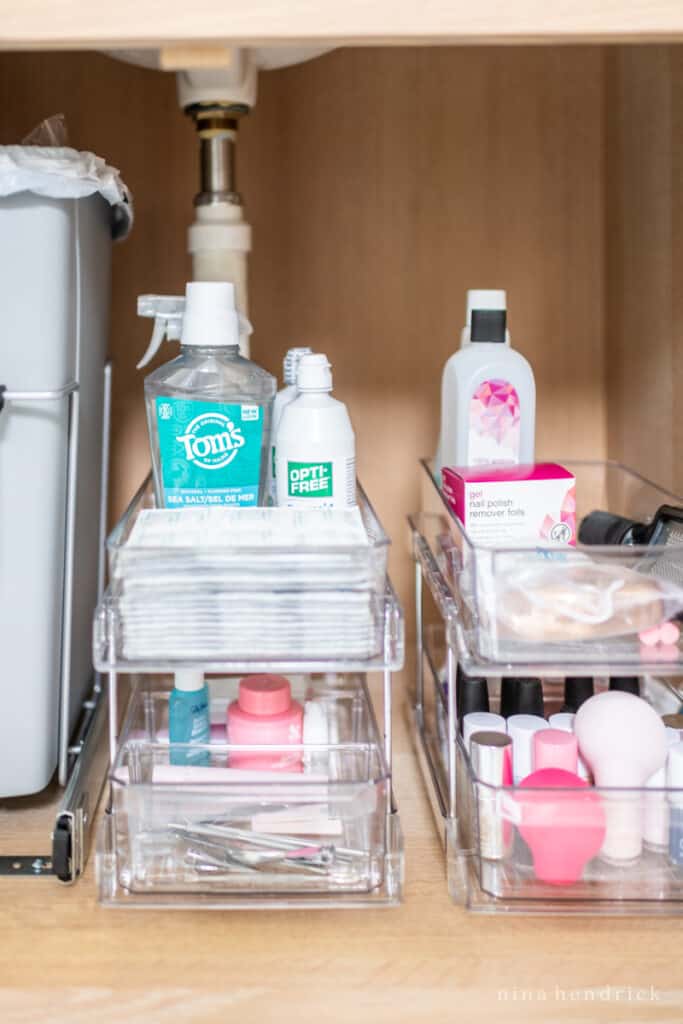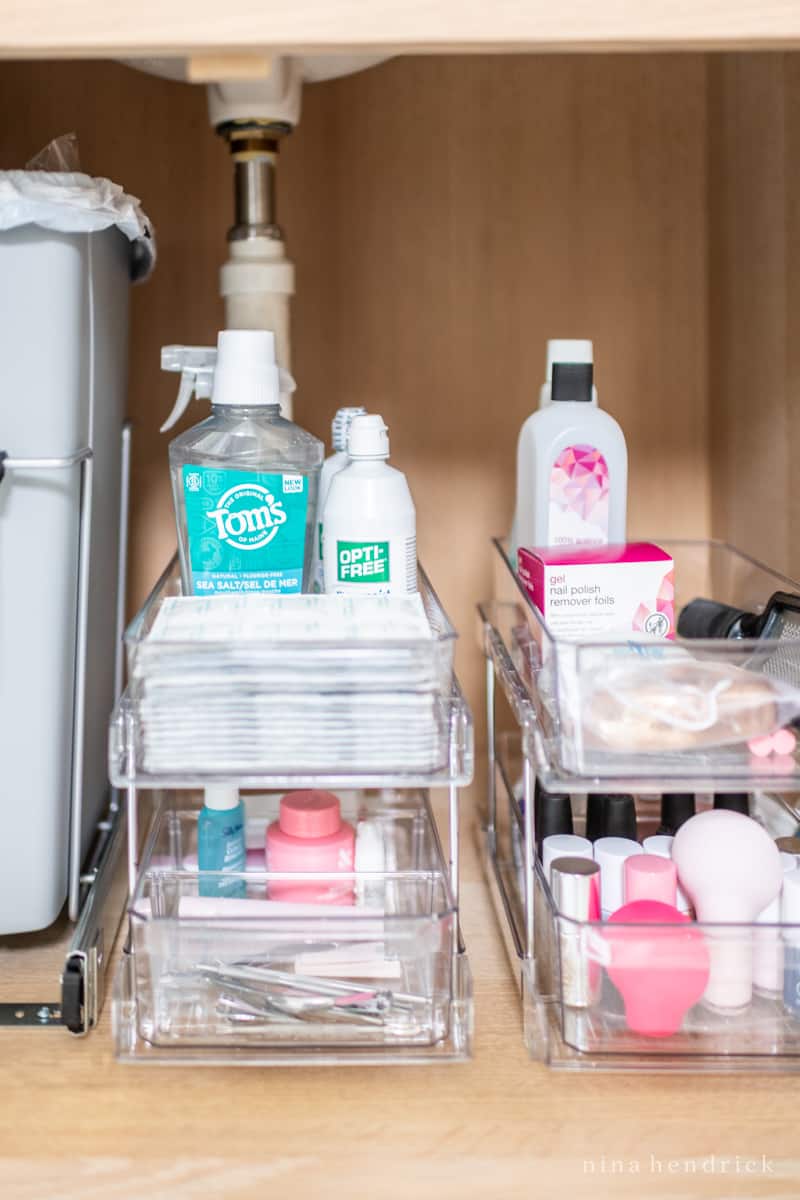 CLEAR ACRYLIC STORAGE CONTAINERS and Bins
Once you've gotten your toiletries cleaned out and organized into categories, it's time to put them into some cute containers!
What kind of storage container am I L.O.V.I.N.G. right now? Two words – clear acrylic!
Clear acrylic containers are not new as far as bathroom cabinet storage ideas go, but with influencers and designers putting extra emphasis on them as go-to organizing tools, the makers of these products have upped their game. In other words, the ones you'll find online today are not your Mom's same acrylic containers!
I really love these 2-tier clear organizers that I selected for our bathroom! I highly recommend investing in 2 or 3 tiers if your bathroom under sink space allows it. It's a great way to create extra storage space out of thin air!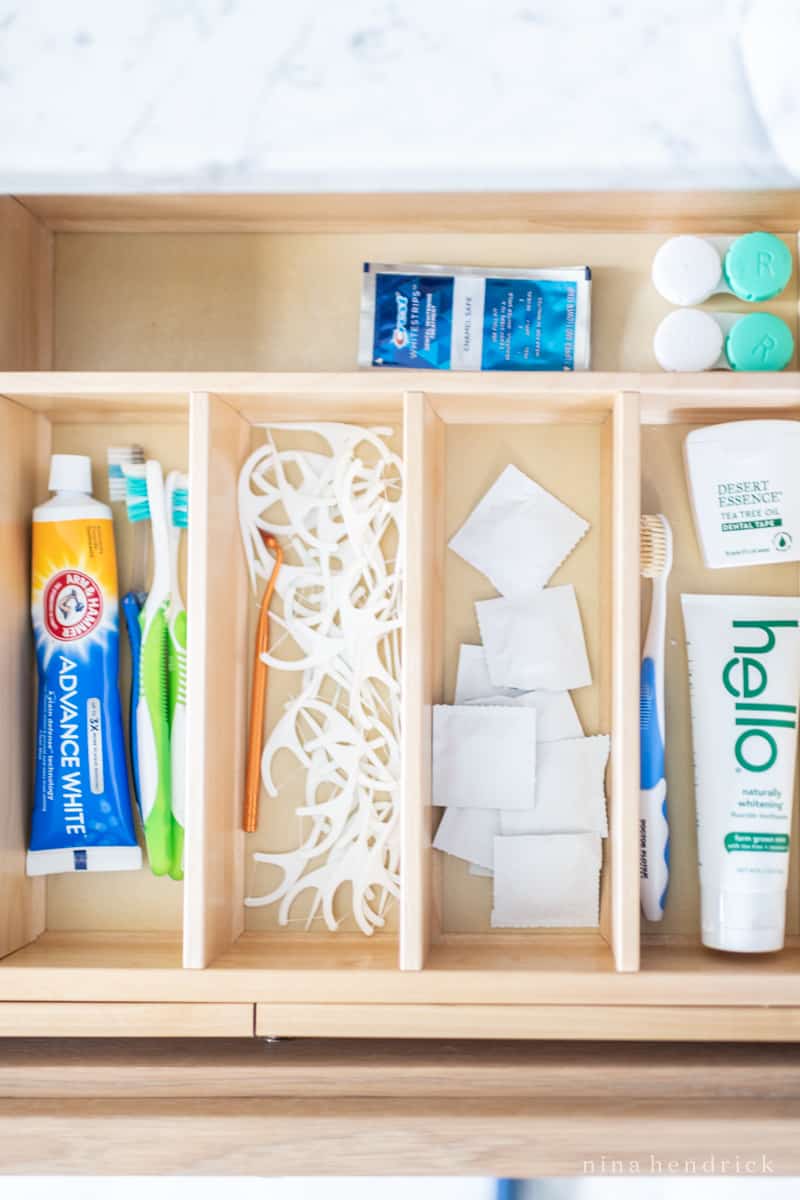 EXPANDABLE DRAWER DIVIDERS
Expandable drawer organizers are a must-have for your bathroom drawers. Especially for your shallow drawers that house all the small objects, these simple organizers make all the difference! For items that need to lay flat and horizontally, drawer dividers will keep them from sliding around and mixing up. I love the way it looks when you pull open the drawer, and see all your stuff perfectly divided.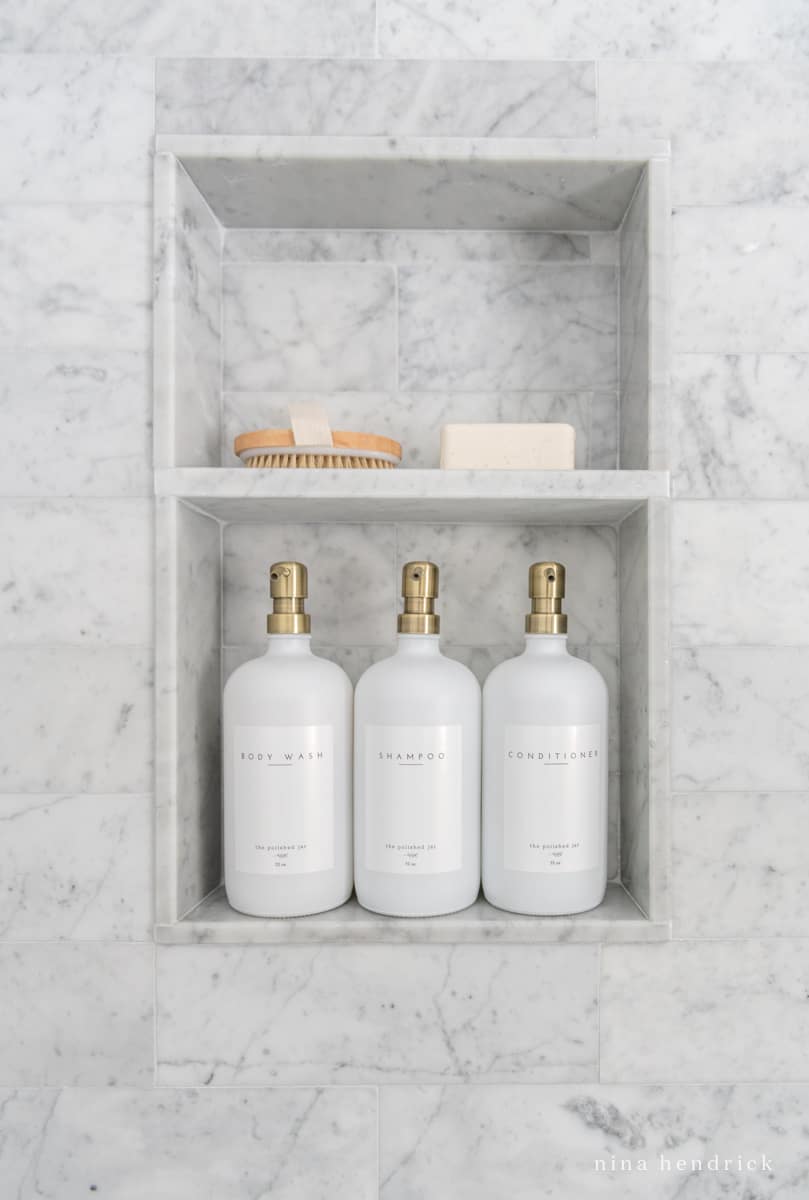 DECANTING SOAP
One of the ways I keep my bathrooms looking super neat and tidy is by decanting soap. I promise, once you try this, you won't go back! It truly makes such a difference in the appearance of the room. Even though there are lots of nice, off-the-shelf soap bottles out there, your favorite soap's original bottle may not match the aesthetic of your bathroom. Does that mean you have to sacrifice one or the other? No! You can just purchase some refillable bottles that match your decor, and start decanting.
I love to decant all the main products we use – body wash, hand soap, shampoo, and conditioner. It's one of my best secrets for getting that really sharp, professionally designed, bathroom decor look. When your eyes scan the room and you see beautiful bottles that blend in with your decor, not only does it look more elevated, but it gives the appearance of extra tidiness.
Want to decant soap and shampoo in your kids' bathroom? Check out our kids' bathroom makeover, where I used these clever, shatter-proof bottles! They look just like amber-colored glass, but are actually made of plastic!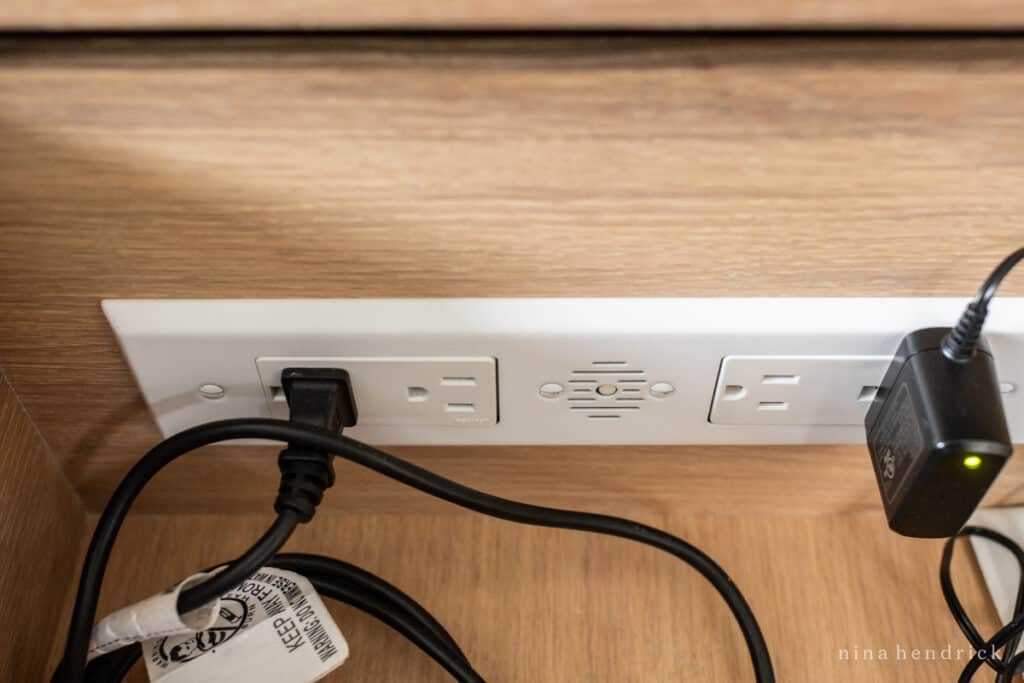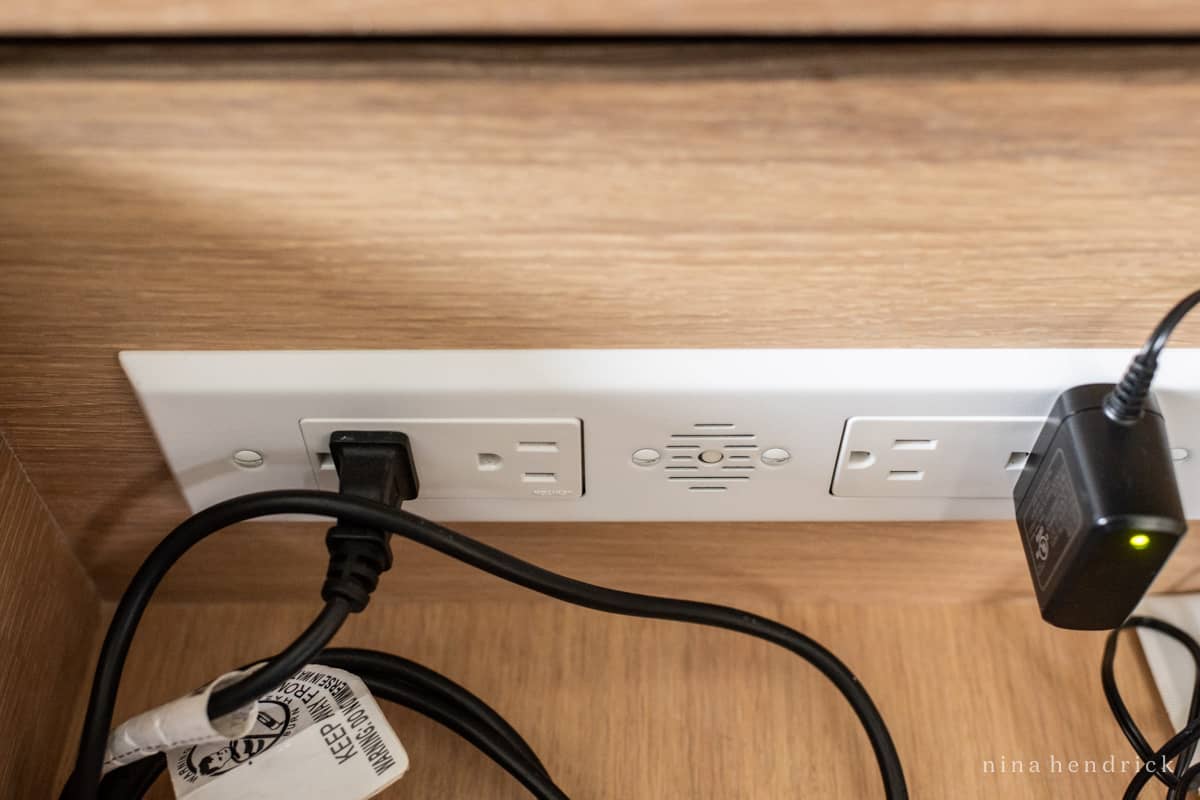 INSIDE DRAWER OUTLETS
This one is so exciting! We designed our new vanity with outlets inside the middle drawer. Having an outlet inside your bathroom drawer feels like a luxurious feature, and comes in handy for more than you would think. Used to, I would always charge my phone on the bathroom countertop. Now I can conveniently charge it inside my drawer and keep my bathroom countertops clutter-free. It's also a great way for my husband to charge his shavers and trimmers. You can use it to charge electric toothbrushes, watches, fitbits, or facial tools, while they all stay neatly tucked away in a drawer. If you do your hair in the bathroom, it's also a convenient place to plug in your hair tools (just make sure to let them cool before you store them again!)
No more device and cord clutter on the countertops!
4. Small Bathroom Storage Ideas
How do you maximize space in a small bathroom?
Small bathroom spaces can be tricky to navigate, but with a little creativity you can find storage options that make the most of your space while remaining aesthetically pleasing. Here are a few of my favorite small bathroom hacks: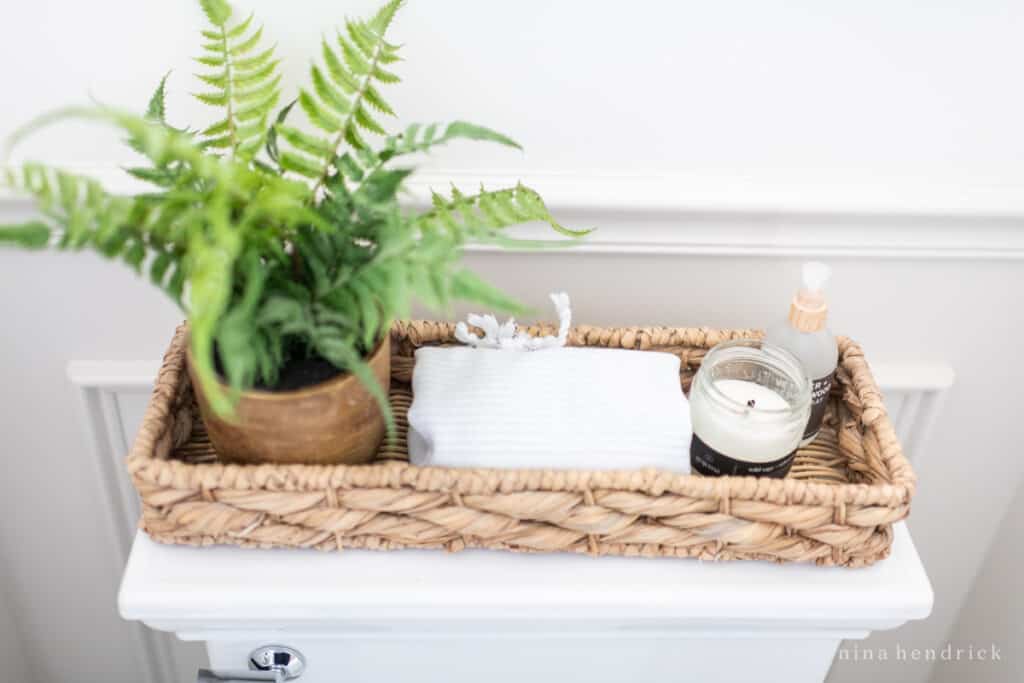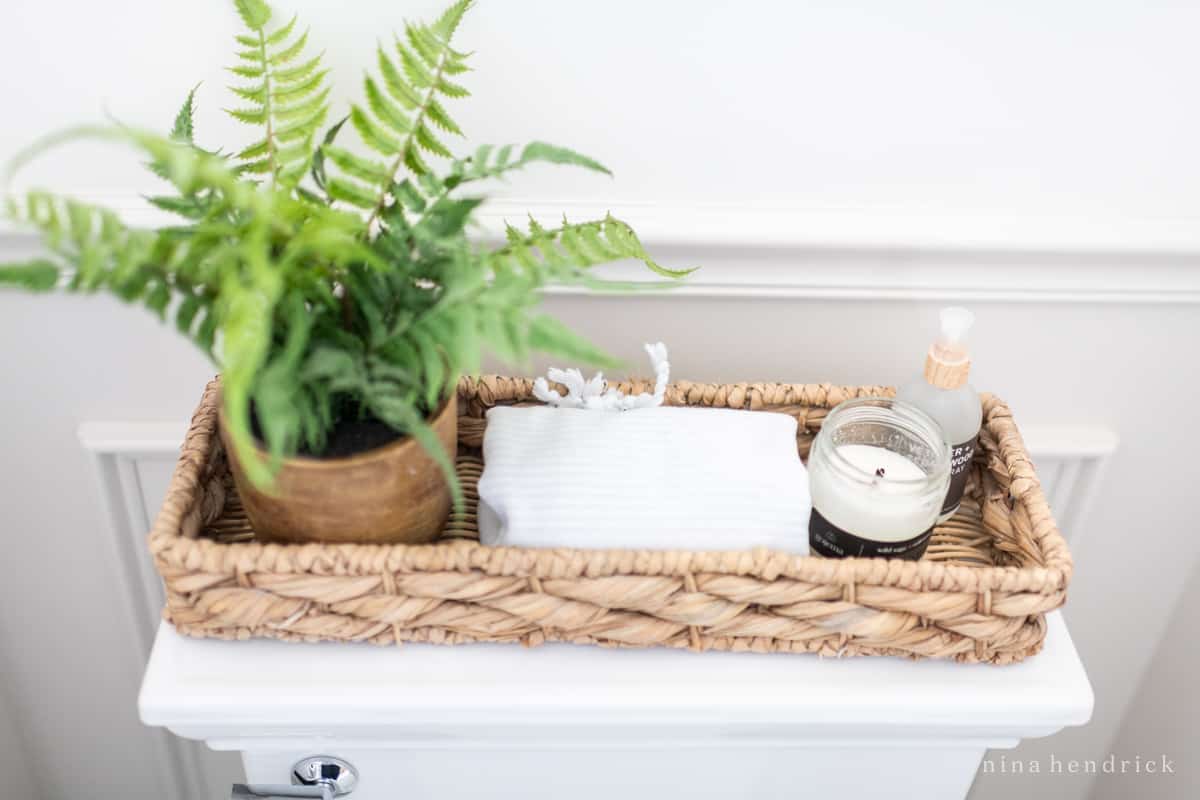 PUT A BASKET BEHIND THE TOILET
When it comes to small bathrooms, this is a tried and true one for me. Seagrass baskets are all throughout my home, as they're a big part of my New England coastal aesthetic. A nice-looking seagrass basket behind the toilet creates storage in style, and makes use of this otherwise wasted space. You can fill this basket with bathroom essentials like hand towels, toilet paper rolls, or room spray. Take a peek at what I put inside mine after our DIY powder room makeover!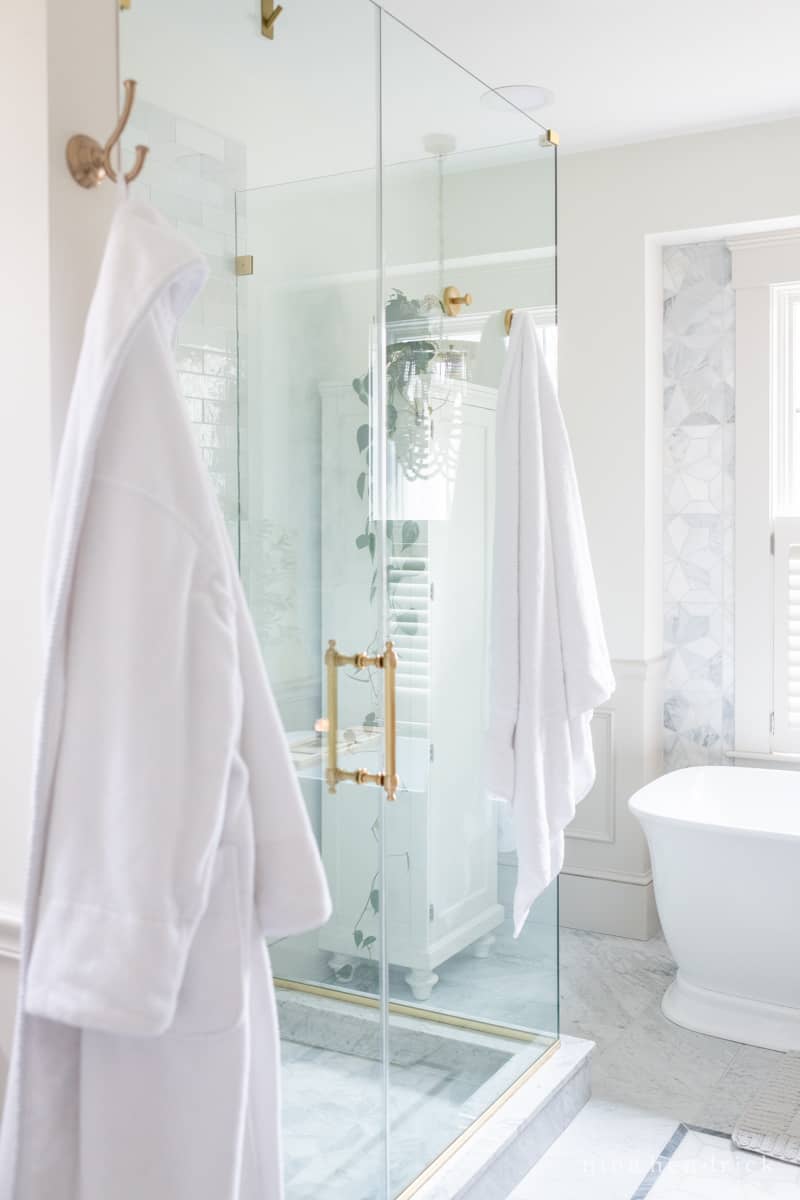 USE WALL HOOKS INSTEAD OF A TOWEL RACK
When you have a small bathroom, you don't always have enough wall space for a long horizontal towel rack. It can make your space feel even more crunched and awkward to have to reach over the toilet to hang your towel or dry your hands. So I prefer wall hooks to hang towels instead! You can install these on the wall near the shower, or on the back of the bathroom door.
Sure, it doesn't quite give you that same pressed rectangular hanging towel look, but in small bathrooms, you need to prioritize function to make the most of your space. Also, it's much more efficient. You can throw a towel over a hook in about 2 seconds flat!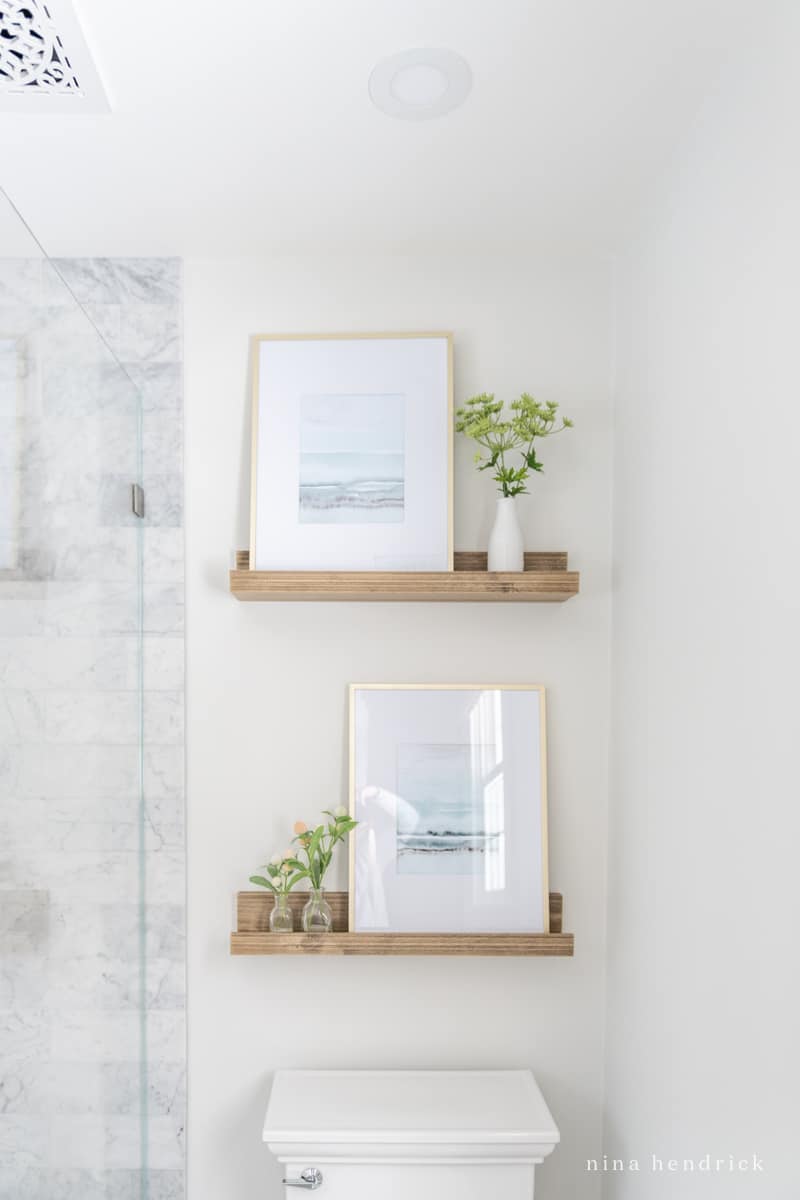 HANG SHELVES BEHIND THE TOILET
Hanging shelves on the wall behind the toilet is perfect if your bathroom's a small space. Everyone wants the option to put at least a couple of purely decorative pieces in their bathroom, but if your countertop space is small, you may not have enough room. Installing shelves above the toilet will create the surface area you need to display some decor items without impeding on the room's functionality.
See how I styled my behind the toilet shelves here, in our beautiful primary bathroom remodel!
5. Bring in Extra Storage
How do you store things in a bathroom with no storage?
Unless you've built your house from the ground up, it's common to lack storage in your bathroom. Some bathroom remodels still don't allow the storage you really need, due to quirky floor plans that can only be helped so much. In these cases, a good solution is to bring in additional storage. There are many different hacks for doing this, but I'd like to share a couple that I find especially aesthetically pleasing.
Read on to learn about two of my favorite bathroom towel storage ideas, for bathrooms that need significant additional storage.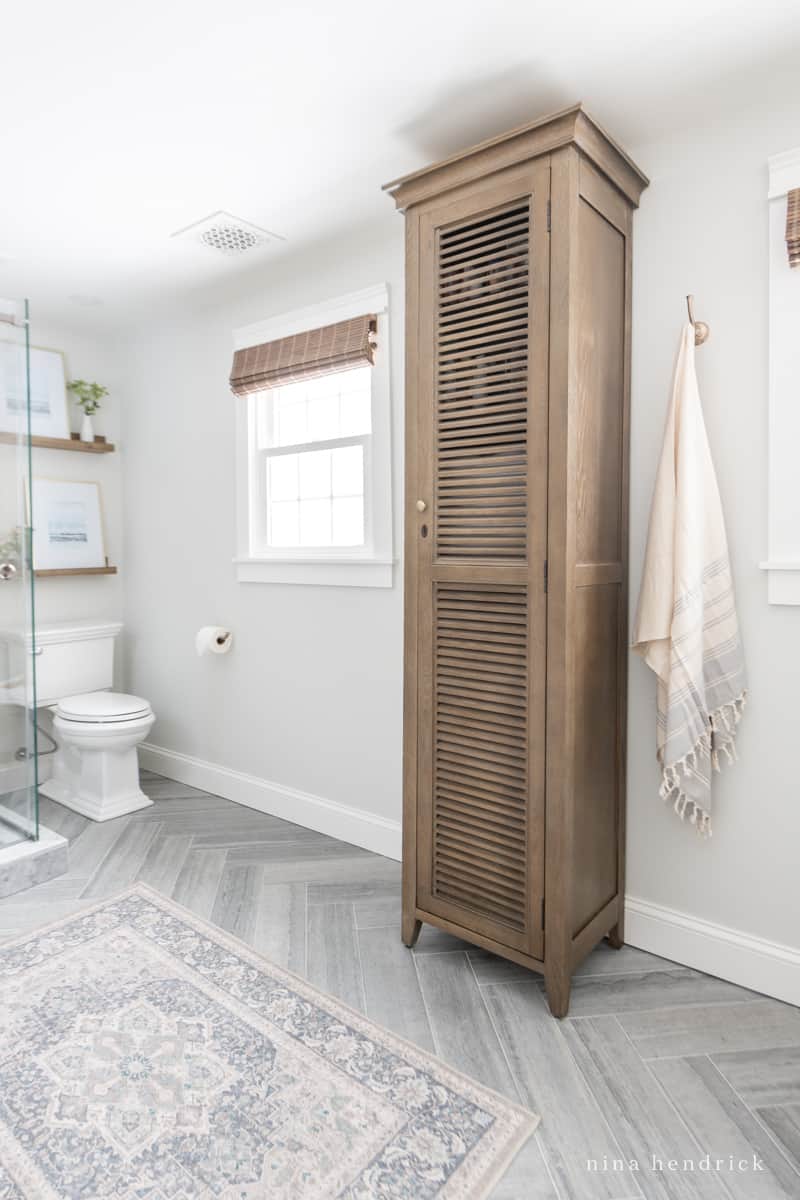 Storage towers
If, like us, you run into your bathroom floor plan not allowing for a linen closet, a storage tower is a solution I highly recommend! When we remodeled our primary bathroom, we had to totally take out the existing linen closet. It was the right move, and it opened up the room in a big way. However, we were left needing a place to put towels, washcloths, and extra soaps. Our solution was to bring in a beautiful storage tower!
It gave us back the storage we needed, while taking up less floor space than the original linen closet. I love the look of this piece, which makes it an all around win-win!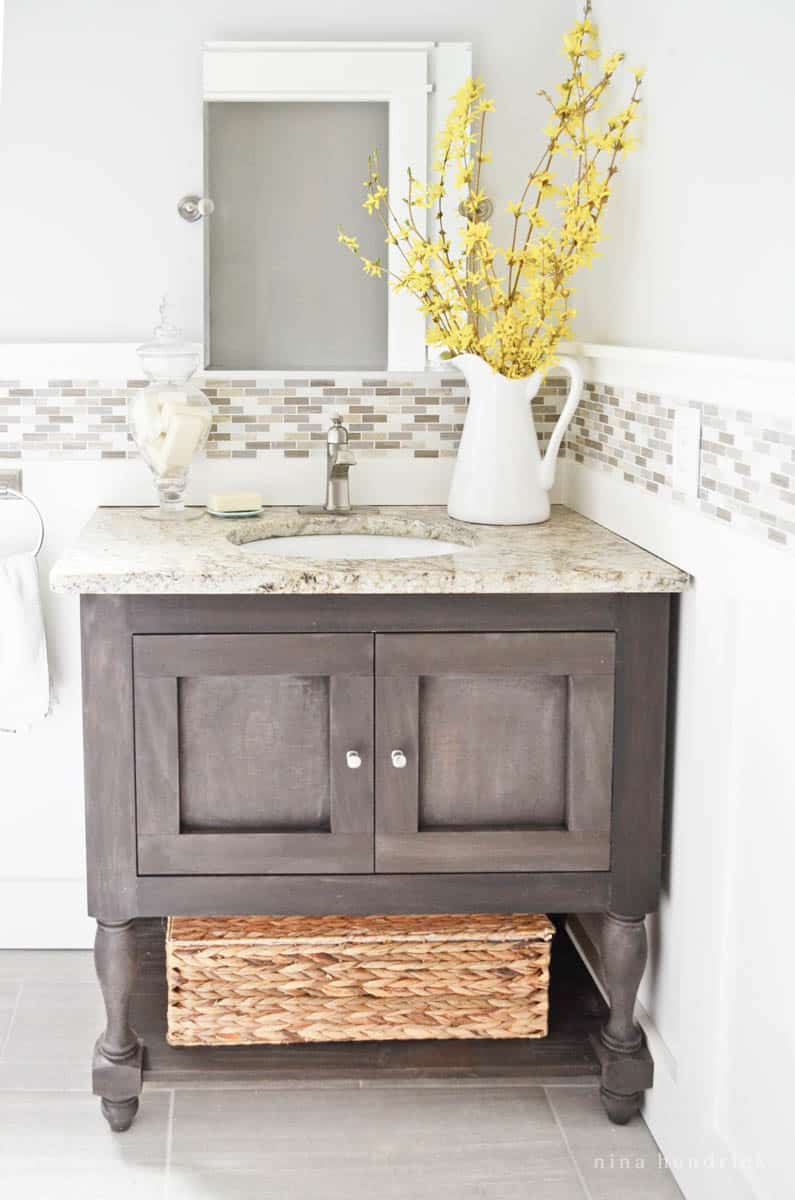 Put a basket under the sink vanity
This is another classic and beautiful way to create enough storage for your bathroom. Not every bathroom will allow this, but if yours does, it's a fantastic option. You can either do 1 large basket, or 2 medium sized baskets. Take measurements of the space prior to picking out your basket(s) to make sure you achieve the perfect fit. This goes a long way in keeping the look crisp and tailored.
You can pick an open basket, or one with a lid like this one, from our powder room makeover!
This is my favorite solution out of all the under the bathroom sink storage ideas!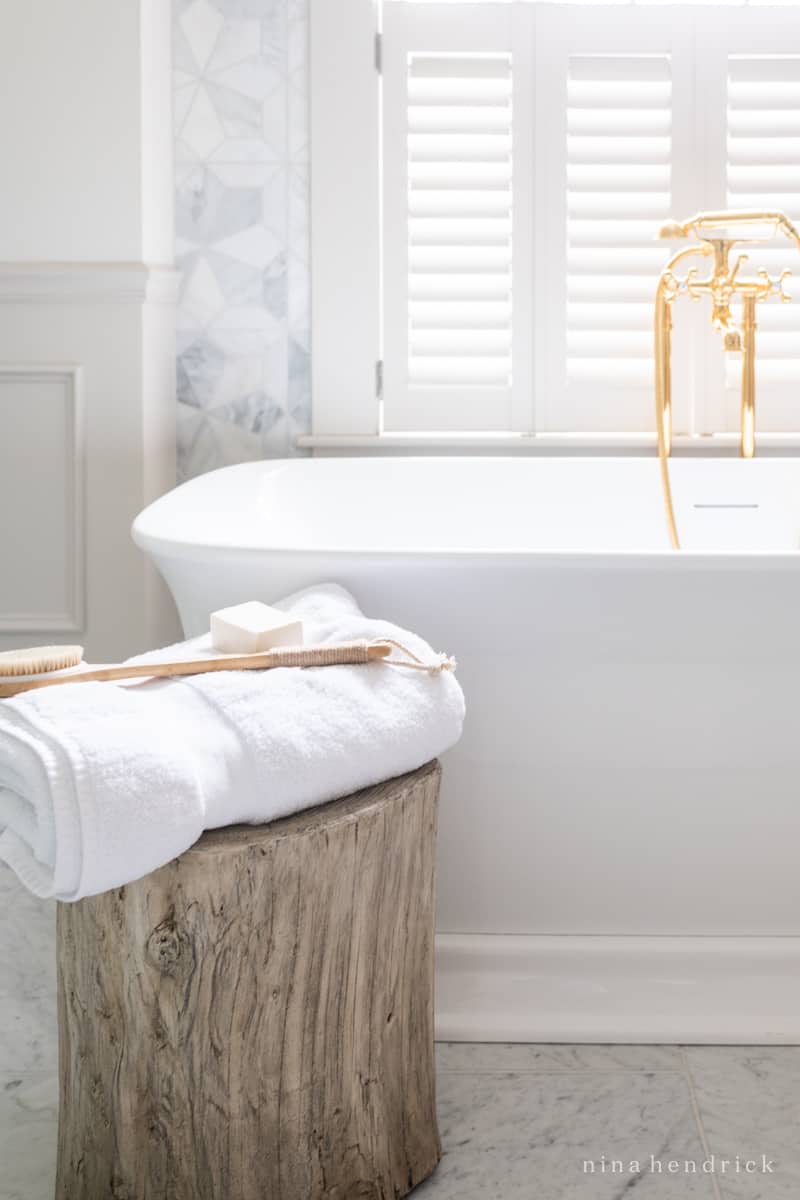 Time for the Spa – (A.K.A. Your Bathroom)
I hope you've enjoyed reading about my bathroom storage ideas, and viewing the pictures from my 4 bathroom makeovers. I'm confident if you follow these tips, you'll come out the other side with a bathroom you adore!
Achieving bathroom organization that is functional and stylish doesn't have to be the impossible task that you'd think. It doesn't have to mean a year-long renovation, or spending your first born's college fund either.
With a little elbow grease, and a few simple swaps or upgrades, you can have a vacation-esque bathroom faster than you can pour a sparkling Pellegrino over ice. ;)
Follow me on IG @ninahendrickhome to see all of my new home renovations as they happen in real time, and tag me in all of your clever and beautiful bathroom storage pics!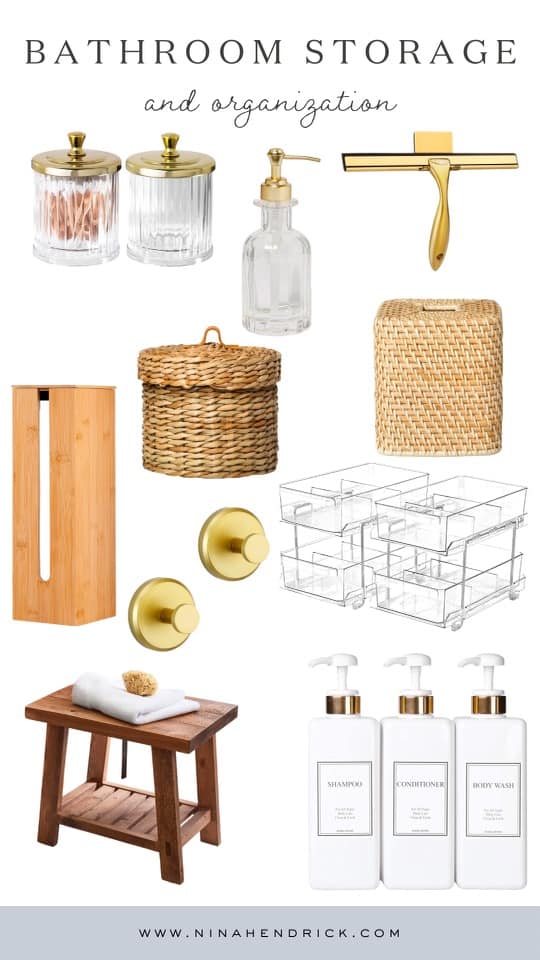 Cannisters | Gold Bottle | Squeegee | Toilet Paper Stand | Round Basket | Tissue Cover
Gold Suction Hooks | Acrylic Tiered Drawers | Shower Bench | Soap Bottles