Find inspiration for your next bathroom remodel with these creative and stylish bathroom design ideas. From modern to rustic, we have all the ideas you need to create a beautiful and functional bathroom.
Are you looking for some fresh ideas to remodel your bathroom? Whether you want to remodel the entire space or just add a few touches to update it, the possibilities for bathroom design ideas are endless. From selecting the perfect finishes to choosing the best tile, you can create a look that is both functional and stylish.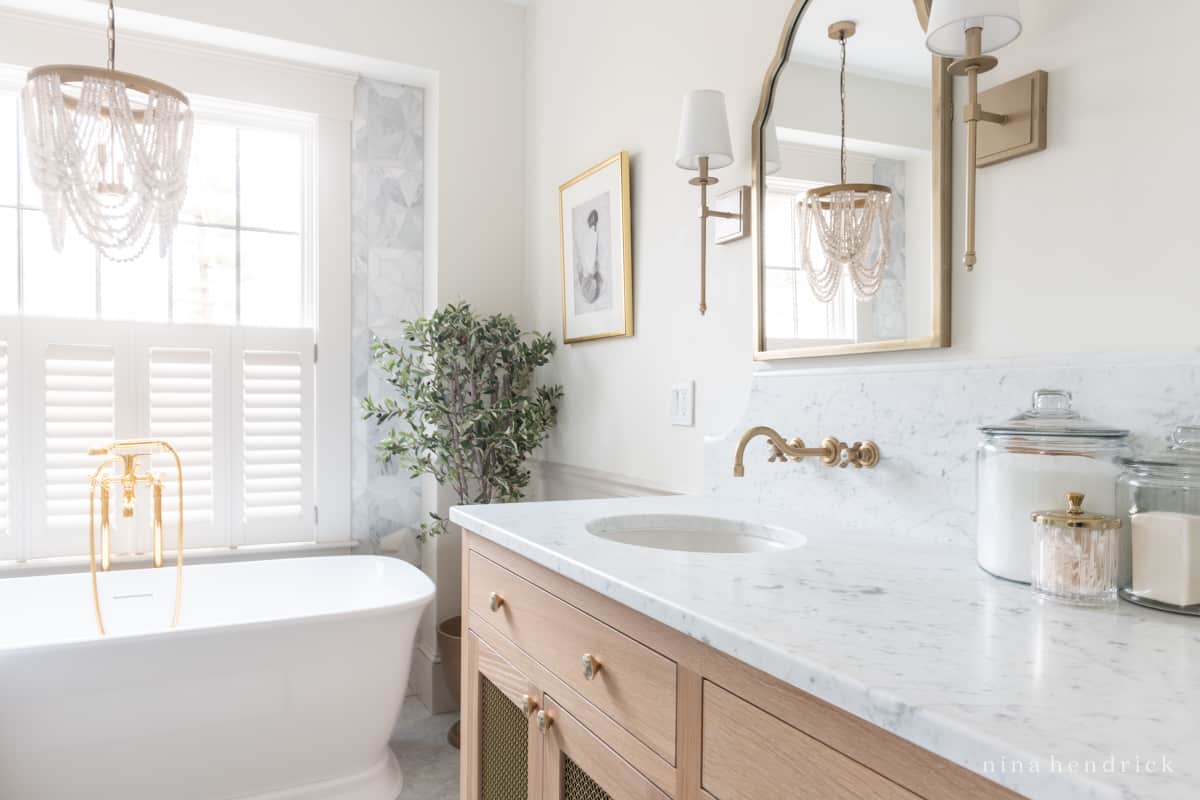 After spending countless hours researching and brainstorming ideas for two back-to-back primary bathroom remodels — one in our old home and one in our new — I'm here to share my insights. In this blog post, I'll discuss some of the hottest trends in bathroom design and how I put them into practice. I hope this overview of the options available will help you create the ideal plan for your own renovations quickly and with ease!
This post contains affiliate links, which means I may get a small commission (at no extra cost to you) if you shop my link. Please see my disclosure if you'd like more info!
What are the Top Trends In Bathroom Design & Renovations for 2023?
With so many great design options available, it can be difficult to decide which bathroom design ideas to pursue. Here are some of my favorites, and I'll continue to monitor and update this section to make sure I'm sharing the latest trends!
Arches
A trend I'm seeing all over the place is arched elements in bathrooms, such as an arched opening to a walk-in shower alcove, or an arched tile alcove behind a freestanding tub.
Putting it into Practice: Arched Mirror
For a simple way to bring this trend into your bathroom without doing major structural work, consider an arched mirror for your vanity or behind your tub.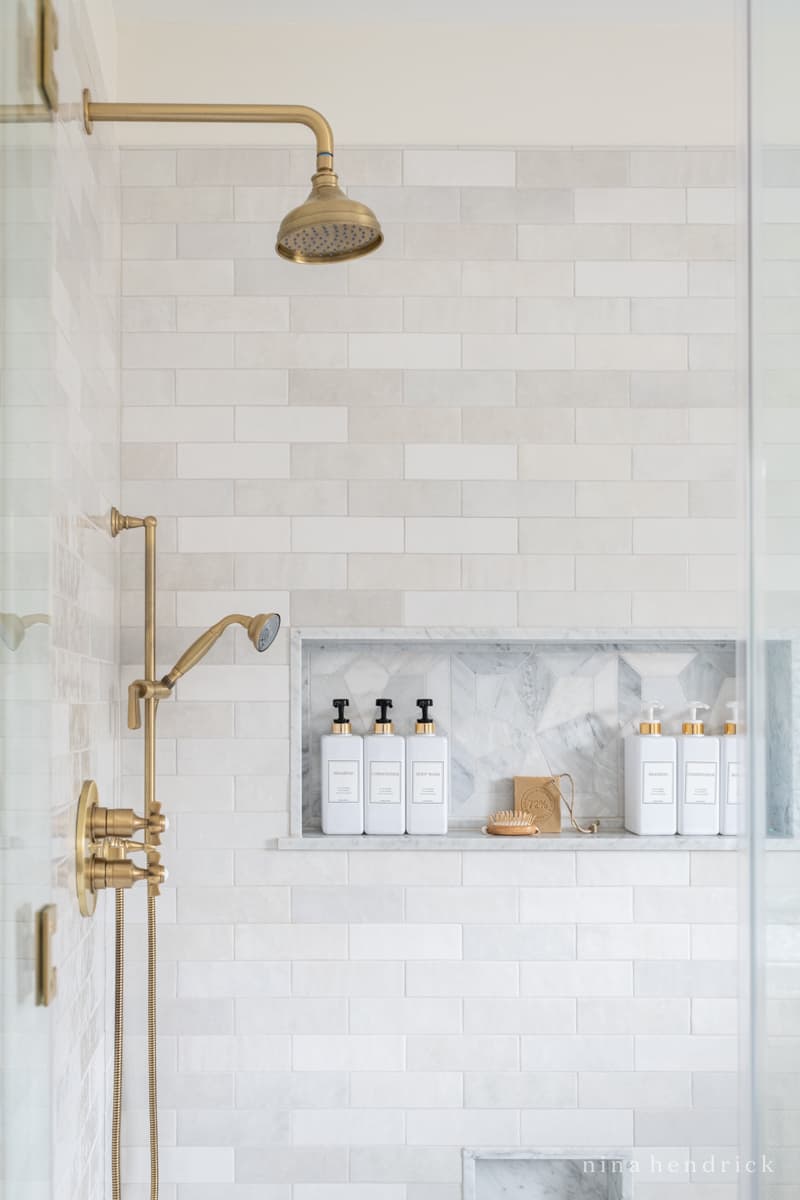 Zellige Tile
Zellige tile is a great option that's popping up everywhere. This type of tile is a traditional Moroccan tile that has been used for centuries in Moroccan homes, so it's not exactly a new trend, but it's one that is growing in popularity in North America. It's glazed, hand-painted and has an almost mosaic-like appearance. It comes in a variety of colors, from deep blues to bright pinks and creams, and creates a unique and visually exciting look. Zellige tile is great for creating a spa-like atmosphere in the bathroom, and is perfect for adding texture and interest to walls and floors. It is also very easy to clean and maintain, making it ideal for bathrooms that get a lot of use.
Putting it into Practice: Cloe Tile from Bedrosians
I've used this tile in several of my projects now and I love the variation and the way it almost seems to glitter in different light. Whether you go for a classic subway pattern or the more modern square tiles, you can't go wrong with this choice!
Paned Shower Glass
If you're looking to give your bathroom a modern and stylish upgrade, glass shower enclosures with a grid-like or windowpane steel overlay are the perfect choice. This is an increasingly popular trend that has been gaining traction over the past few years and makes a great design statement.
The combination of the glass and metal creates a modern look that can be customized to fit any size bathroom. The steel, which is typically in a matte black finish, creates a chic contrast to the glass and can be used to outline the entire shower or just the top.
Putting it into Practice: Paned Shower Glass Panel
If you're working within standard dimensions for your shower project, you may be able to save on costs by purchasing a pre-made paned glass panel like this one.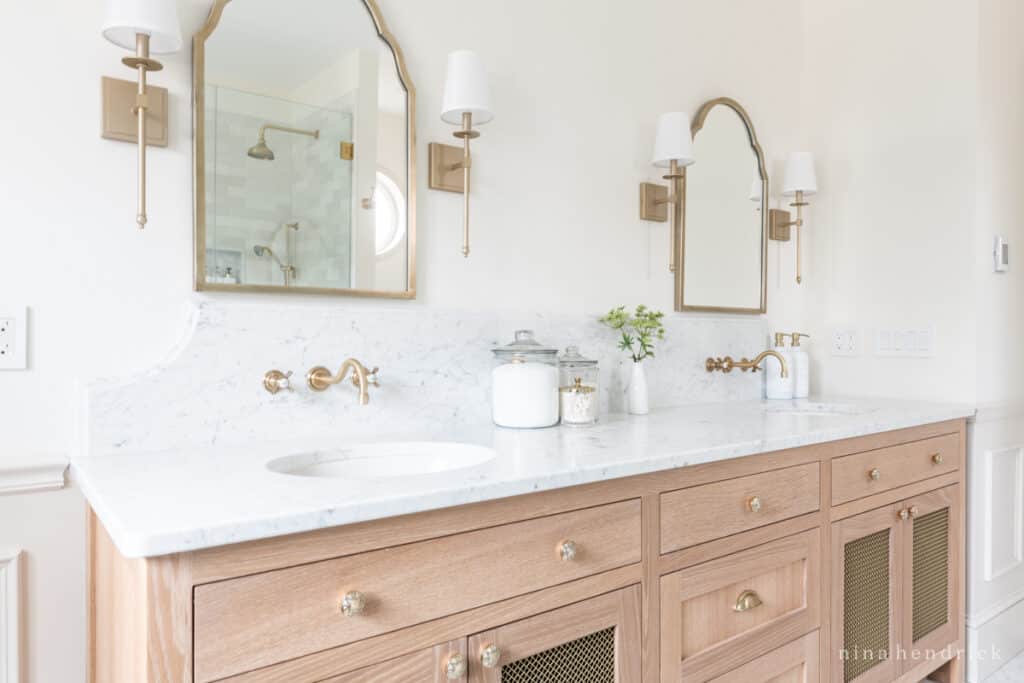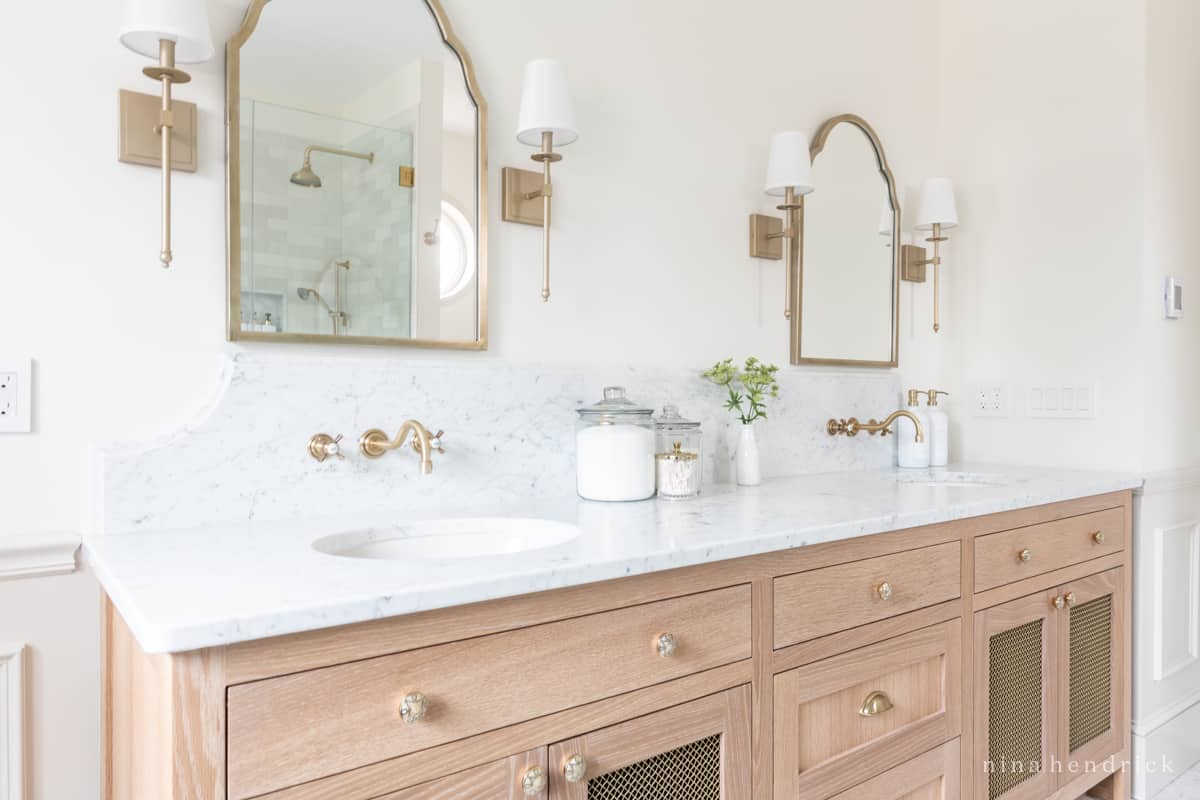 Natural Materials
This one may not be so much of a trend as a perennial favorite. Natural materials such as wood, stone, and marble are always popular in modern bathroom design. They bring a sense of warmth, texture, and style to a bathroom remodel and can be used for vanity tops, flooring, walls, and accents. Plus, they are easy to clean and are relatively low-maintenance. Natural materials can also be mixed and matched to create a unique and personalized look. For example, you could pair a marble vanity top with wooden cabinets, or a stone wall with a marble countertop. The possibilities are endless.
Putting it into Practice: Warm Wood Vanity
This vanity featuring warm wood, a marble countertop and cane door details is the perfect choice for brining a natural accent into your space.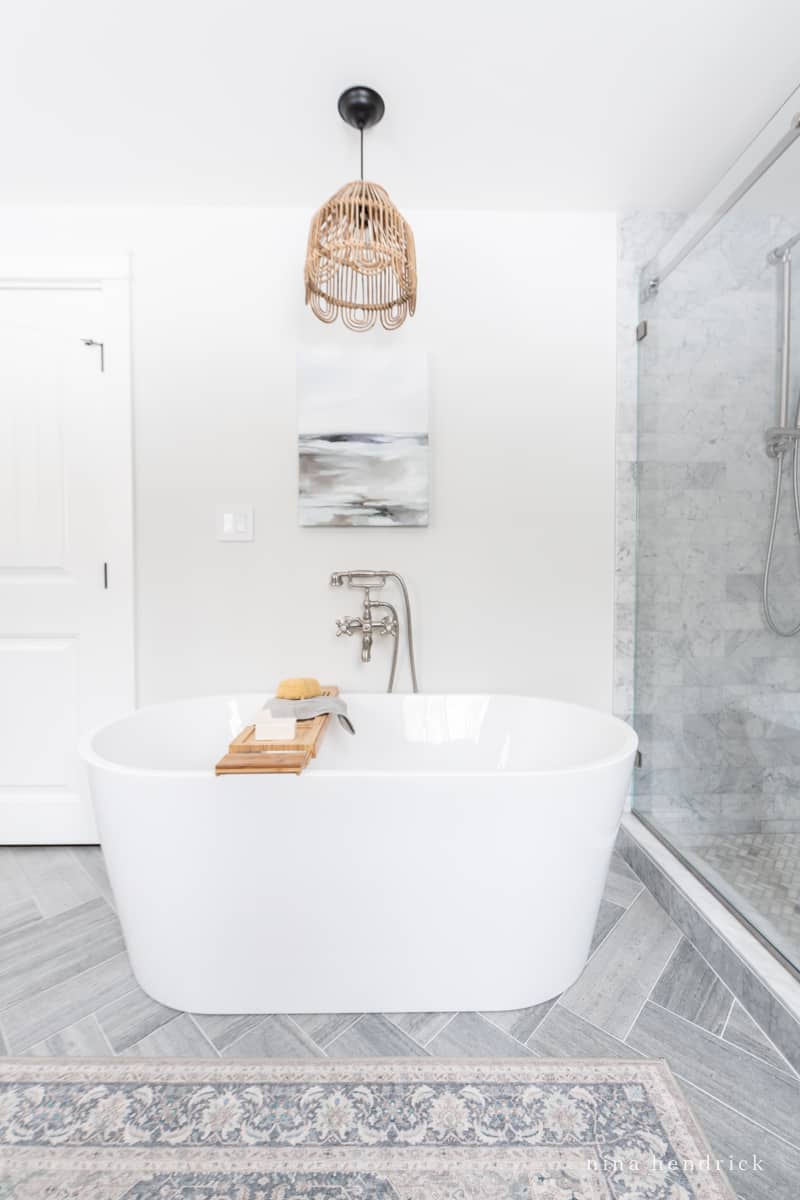 Freestanding Tubs
The traditional built-in jacuzzi may be a thing of the past, but that doesn't mean you can't give your bathroom a spa-inspired feel! Freestanding tubs are an excellent way to do just that. With a range of sizes, shapes, and styles to choose from, you can find the perfect fit for your bathroom. Not only are they stylish and chic, they are also incredibly durable and easy to maintain, making them an ideal choice for busy households. A freestanding tub is a great way to add a touch of luxury to a bathroom. They come in a variety of shapes, sizes, and styles, so you can find the perfect one for your bathroom.
Putting it into Practice: Freestanding Tub
This is the freestanding tub that I chose for the primary bathroom in our current home. It's spacious, comfortable, and has beautiful detailing around the base!
Open Showers
Open showers or curbless showers are growing in popularity as an accessibility-friendly bathroom design choice. Since these showers have no glass or shower curtain and no curb, they're perfect for a wheelchair or for those have difficulty with the challenges that a classic shower design may provide.
Open showers are also a great way to create a modern and airy feel in a bathroom. Typically this is accomplished by creating a fully "wet" bathroom with a floor drain. Open showers are a great option for small bathrooms, as they don't take up as much space.
Smart Bathroom Technology
Smart bathroom technology is becoming increasingly popular in bathrooms. Smart showers, sinks, and even toilet seats can be programmed to suit your needs and preferences. There are vent fans that include bluetooth speakers and scent diffusers that can be programmed by app to release scent during your morning routine.
In our recent bathroom remodel, we added a heated floor with a smart thermostat that keeps the floor toasty. Smart technology is a great way to make your bathroom more efficient and convenient!
Putting it into Practice: Broan NuTone Vent Fan with Bluetooth Speaker & LED Light
Gone are the days of the ugly, boxy vent fan. This multi-purpose fan features a sleek design and can help you create an entire mood in your bathroom, from a relaxing spa to an energizing cold plunge.
What do you think of these trends? Did I miss any? Let me know in the comments!
Key Elements to Consider When Designing a Bathroom
Planning a Smart Bathroom Layout
When deciding on a bathroom design, there are several important considerations to keep in mind. First and foremost, ensure that the space is suitable for all activities that will take place in the bathroom, including movement, storage, and use of fixtures. Depending on how many people will be using the bathroom, and the frequency of use, this can help determine the size and layout of the space. We're always designing for life first and then style comes second!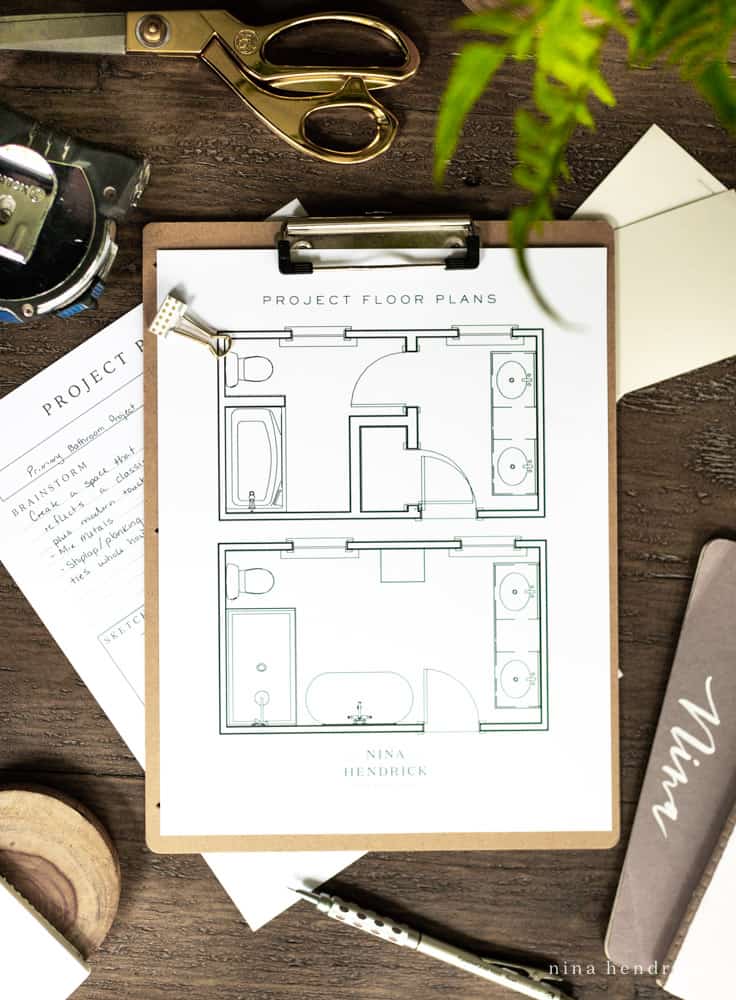 In our previous home, we had a primary bathroom that was divided into two rooms with a large linen closet built into the wall. It resulted in two spaces with limited functionality. It was a no-brainer to knock down the wall to create one larger space. This even allowed us to add a freestanding tub, which helped with our home's resale value.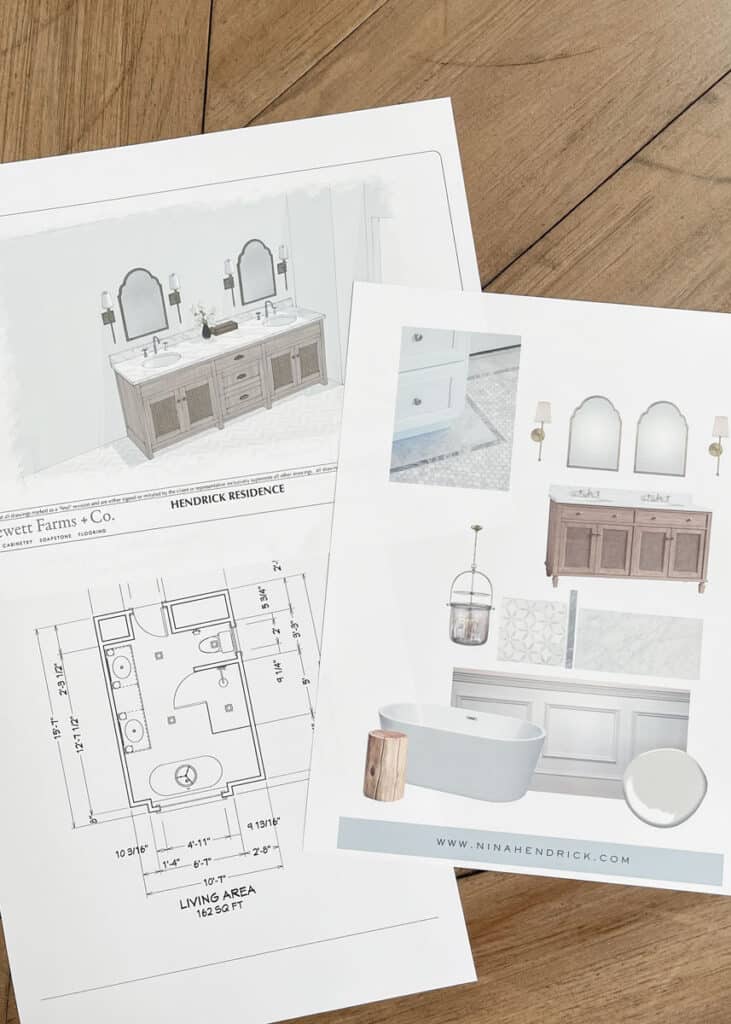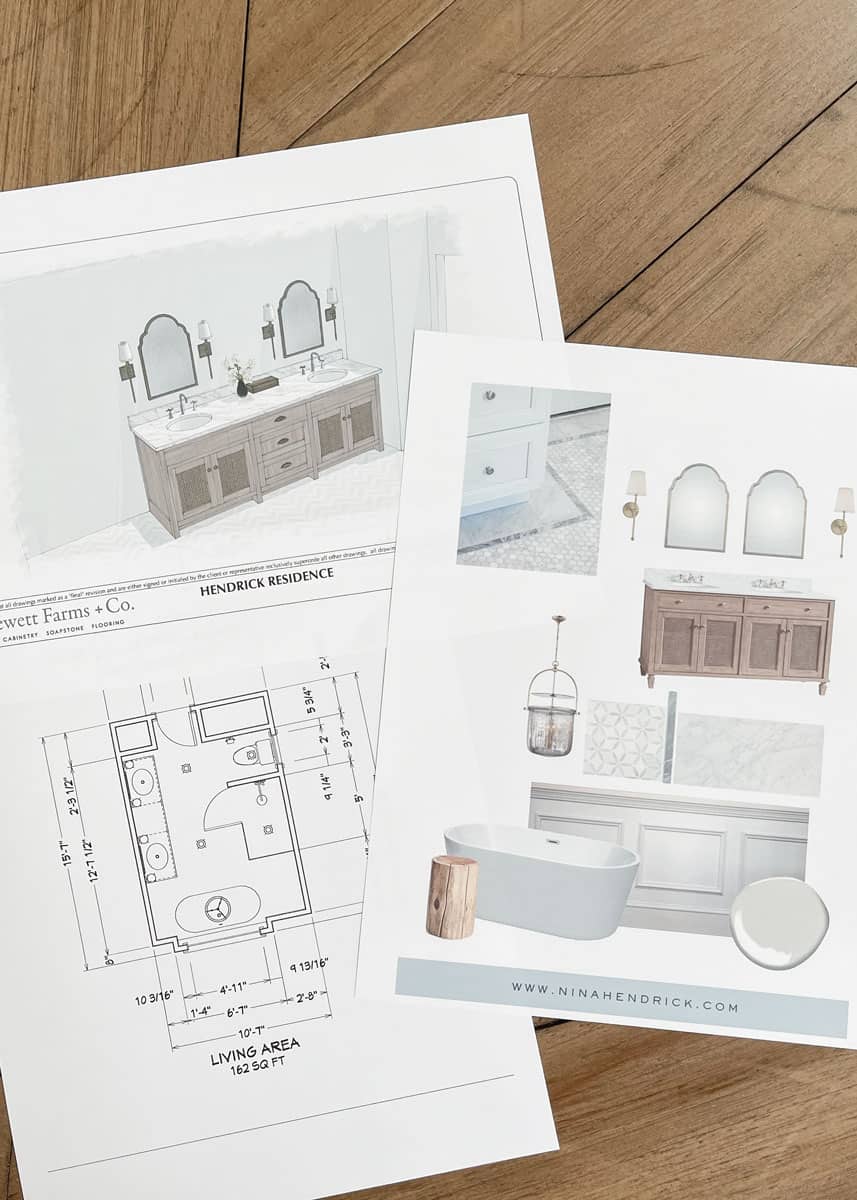 In our New Hampshire cape, our bathroom was divided into a main space and water closet with a tiny capsule shower and a broken jacuzzi tub that took up half of the room. We sacrificed the water closet to be able to expand the size of the shower and replaced the giant tub with a smaller freestanding bathtub. The changes in the floor plan helped the space feel more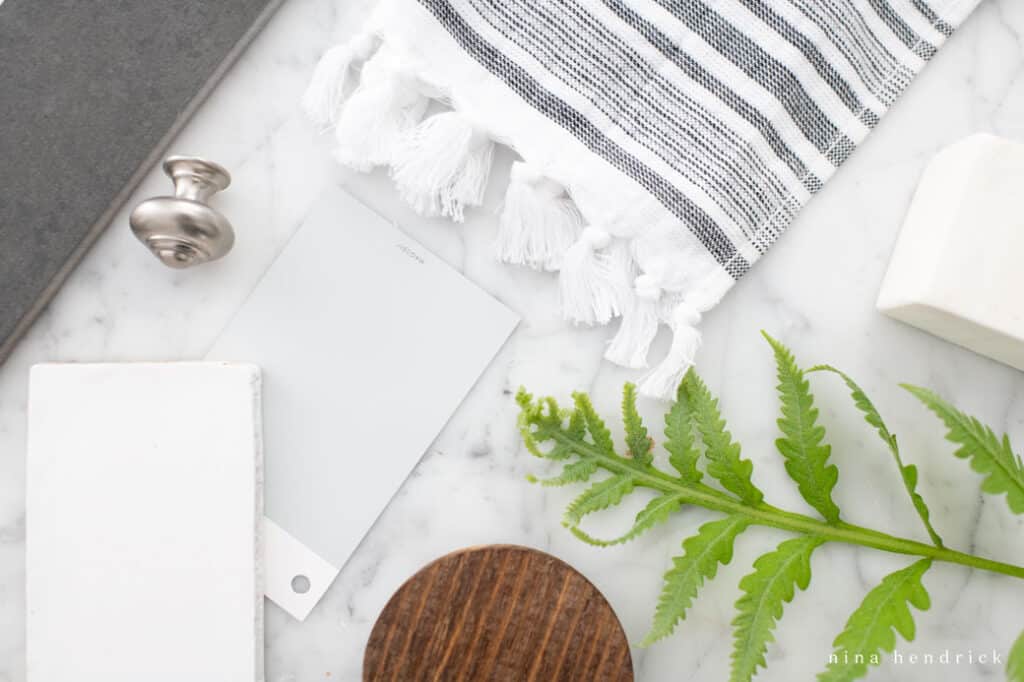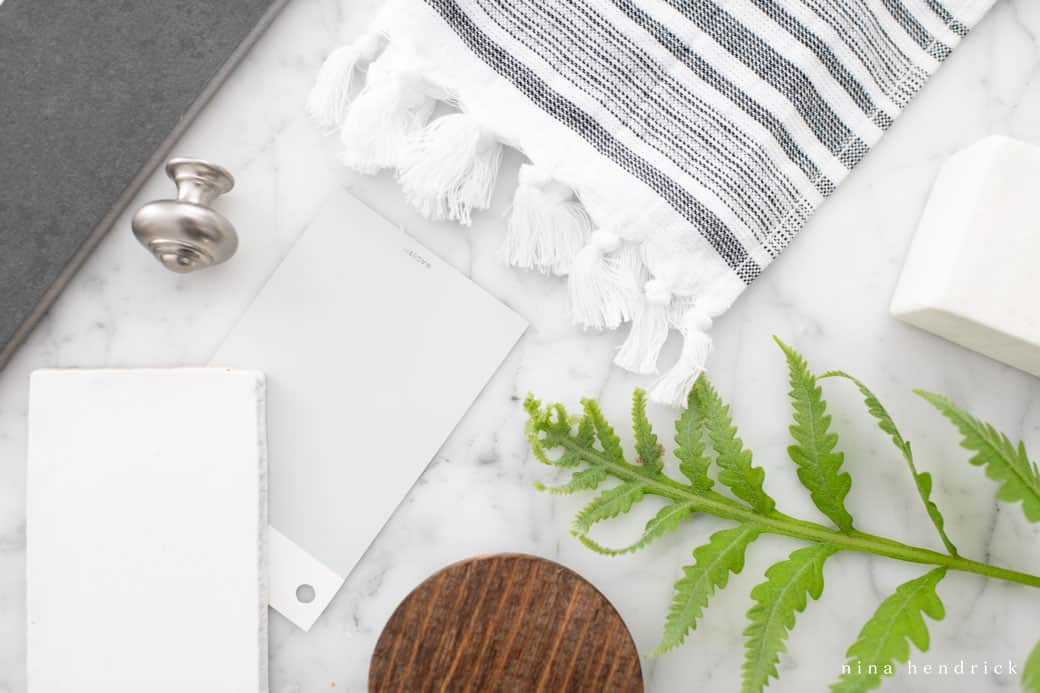 Materials Choices
When it comes to adding materials to the bathroom, natural materials like wood, stone, and glass can add a unique touch to the design. It's important to factor in the overall design and aesthetics to ensure the bathroom looks great and functions well. With these considerations, it's possible to create a bathroom that looks great and is comfortable to use.
Fixtures
When it comes to bathroom design, the fixtures and fittings are an integral part of the overall look. Making the right selections for your bathroom can be tricky, so it is important to consider a few factors.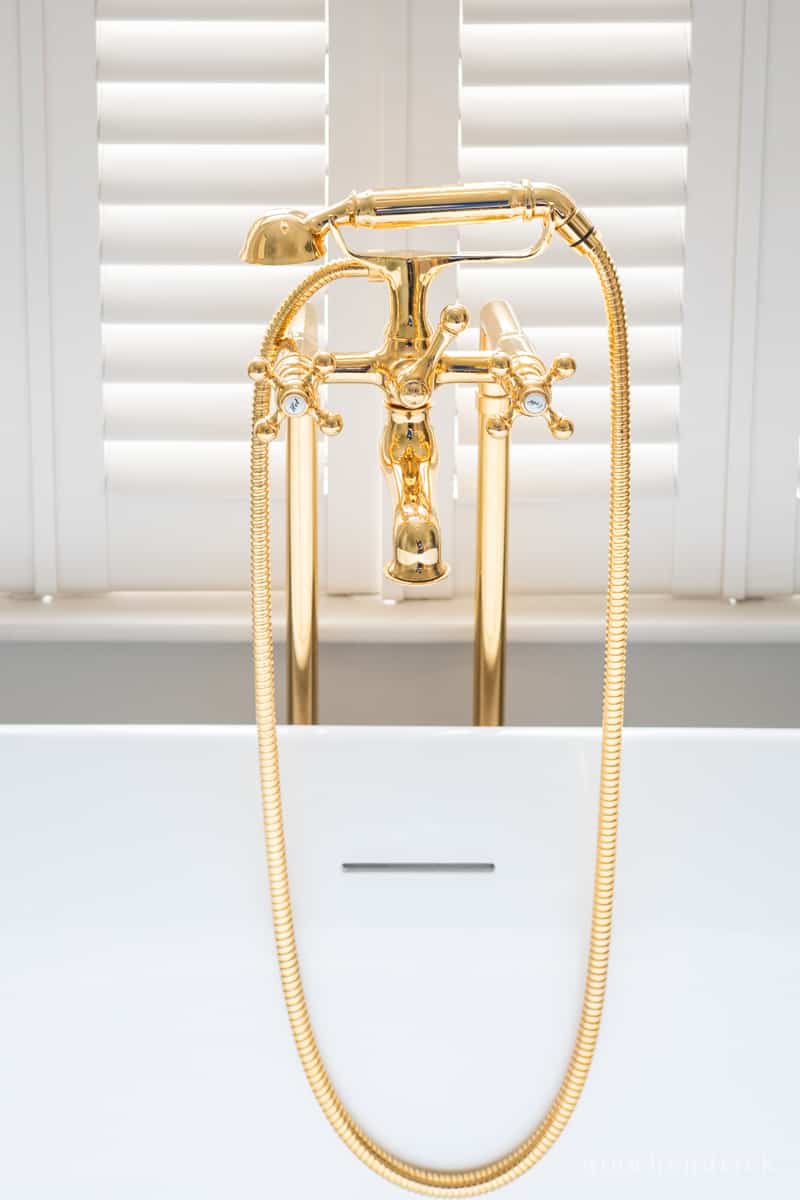 What Should I Consider When Selecting the Right Fixtures for My Bathroom?
First, choose a style that matches your overall bathroom design. A modern bathroom should have modern fixtures, while a traditional bathroom should have traditional choices.
Consider the size and shape of the space and make sure the options will fit.
Think about the materials used, as this can impact the longevity of the product.
Pay attention to the details, such as the type of faucet handles, the style of the shower head, and the color of the grout.
Maintenance and cleaning requirements should also be taken into account.
Furthermore, consider the cost and stay within your budget.
Pay attention to the safety and accessibility features and make sure they meet your needs.
Look for fixtures with a good warranty to protect your investment.
Finally, think about any special features you want included, such as water-saving features, LED lighting, etc.
Taking the time to consider these factors will ensure that you choose the best fixtures for your bathroom.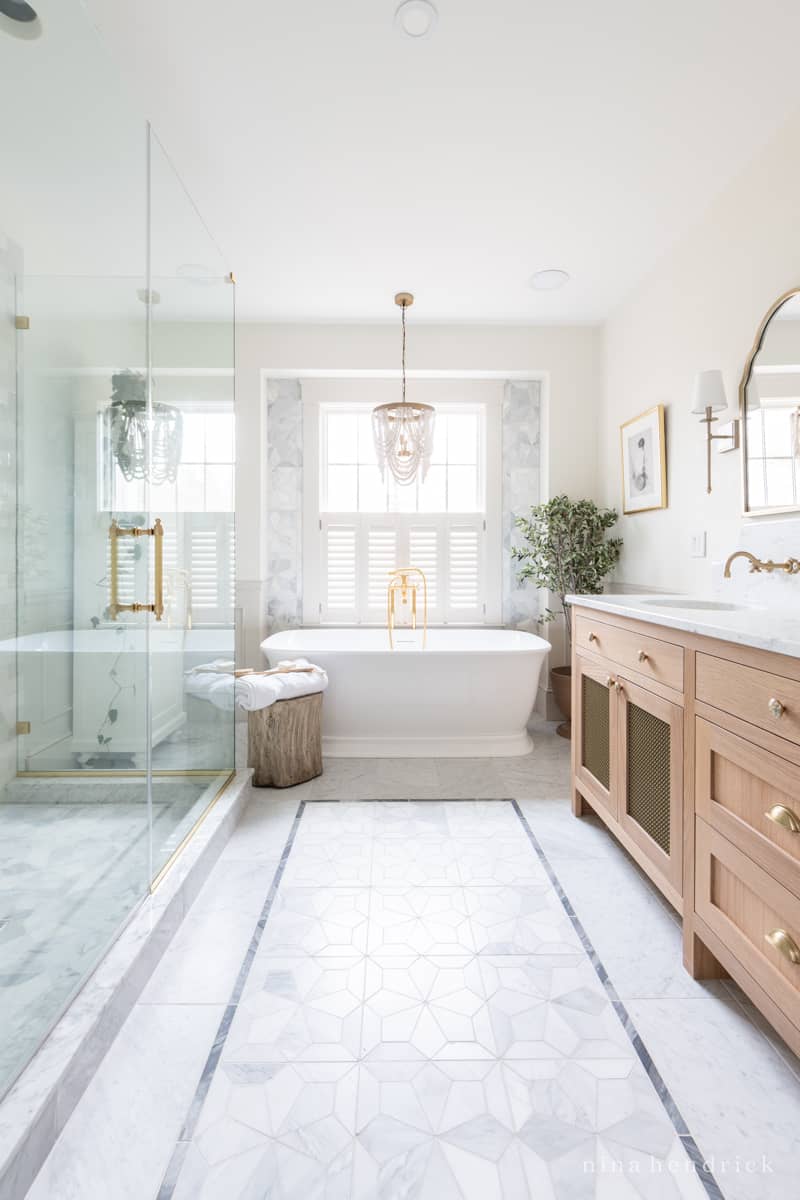 Bathroom Tile Ideas
Tile Materials
When it comes to a timeless and classic choice, I'm always going to recommend marble tiles. Marble is a finish I've used over and over again in my bathrooms and it never goes out of style. However, if you're nervous about white tile or want to use a stone other than marble for your floor tiles, there are countless options beyond marble that you can use in your space. See my guide to mixing and matching bathroom tiles here!
I already talked about zellige tile above and a similar look that I love is glazed brick. This comes in many colors across the spectrum and can be mixed and matched to create interesting patterns and designs.
Natural stone tile, like granite or slate, comes in a variety of colors and textures, so you can find the perfect look for your bathroom.
Porcelain is a popular material choice for tile and the options are really limitless.
Concrete tile is an interesting choice that pairs naturally with industrial designs, but also worked perfectly as a floor tile to compliment the marble in our colonial bathroom makeover.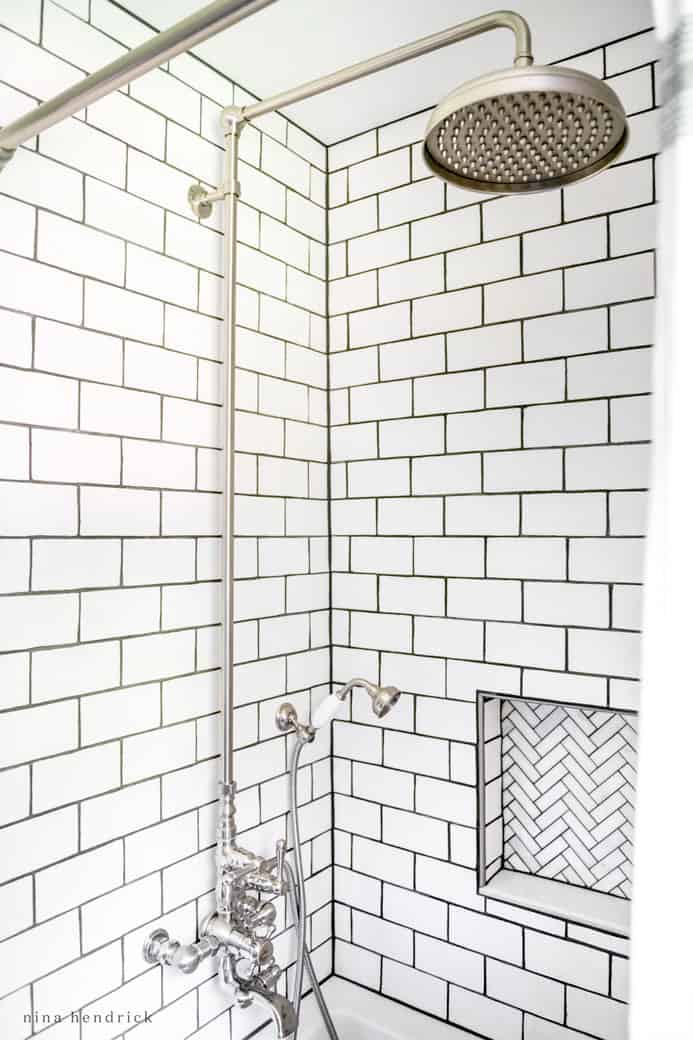 Tile Patterns
Subway tile is an iconic look that can instantly give your bathroom a classic charm.
A herringbone tile pattern is a arrow-shaped pattern with staggered, repeating tiles that are long and narrow.
Mosaic tile is a great way to add a unique and eye-catching look to your bathroom.
Hexagon tile is a classic staple in bathroom design and comes in many sizes and colors.
Penny tile is a classic look that adds a one-of-a-kind touch to any bathroom. Black and white penny tile is a traditional powder bathroom choice!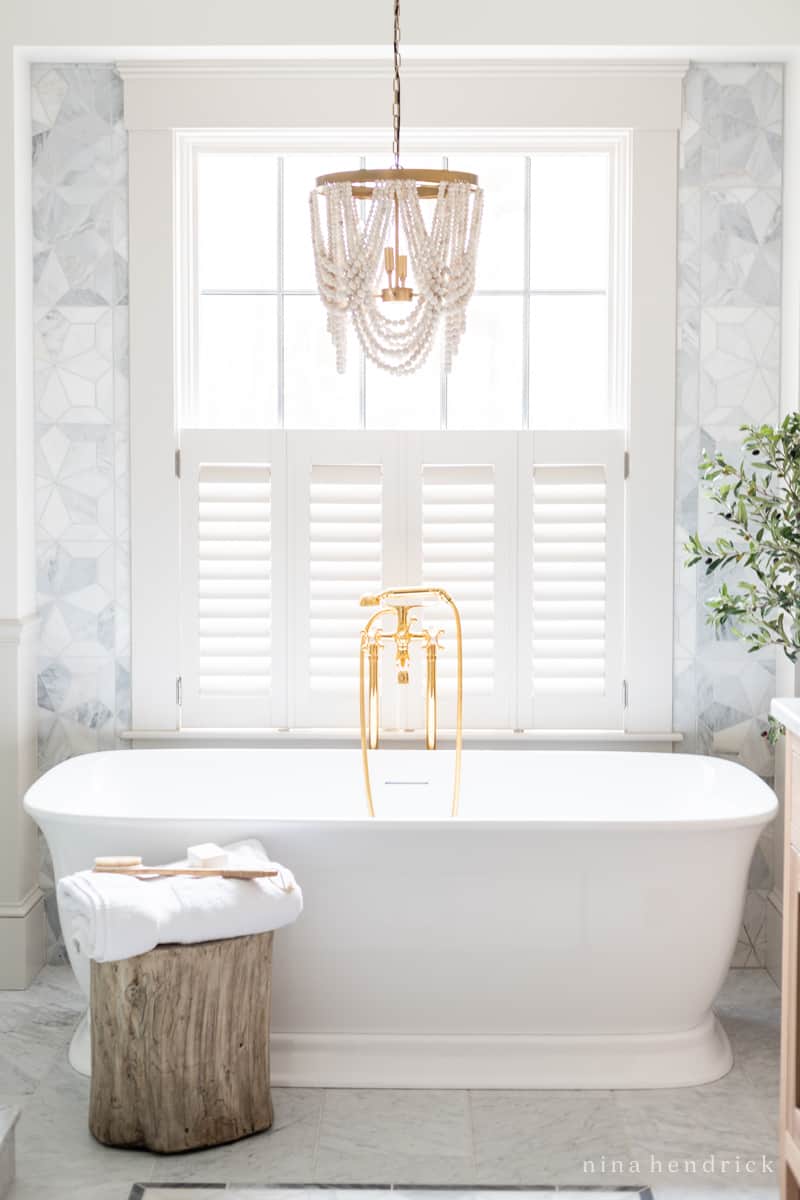 Tile Accent Wall
In our New Hampshire cape, our bathroom included a window bump out that seemed like the perfect opportunity for an added design feature. I carried the tile from the floor medallion, shower floor, and shower niche to the wall for a tile accent wall.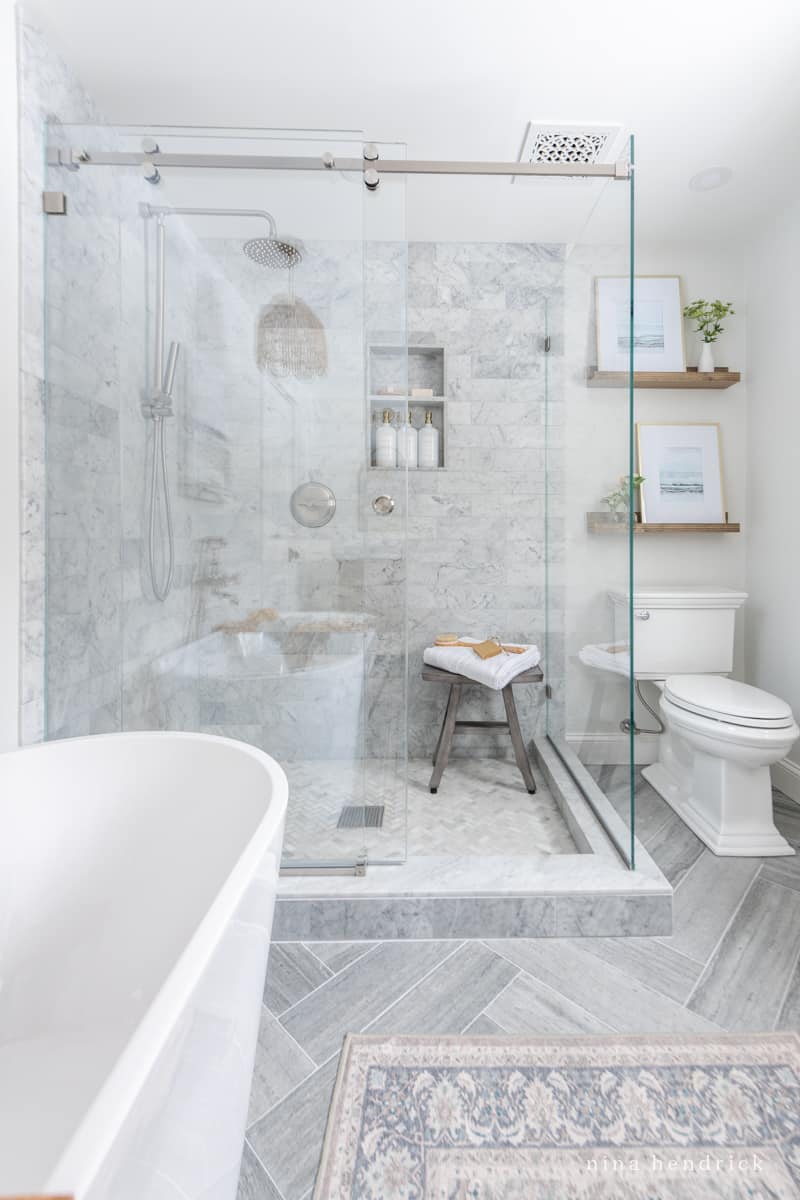 Glass Shower Ideas
Glass showers are a beautiful and modern way to update the look of your bathroom. They provide a sleek and contemporary feel and can make your bathroom look bigger and brighter. There are a variety of glass shower designs to choose from, such as frameless, sliding doors, and corner showers. With glass showers, you can also add tile or stone accents for a unique and personal touch. For a luxurious look, you can add a built-in bench or a rainfall shower head. Glass showers are low maintenance and easy to clean, making them a great choice for any bathroom.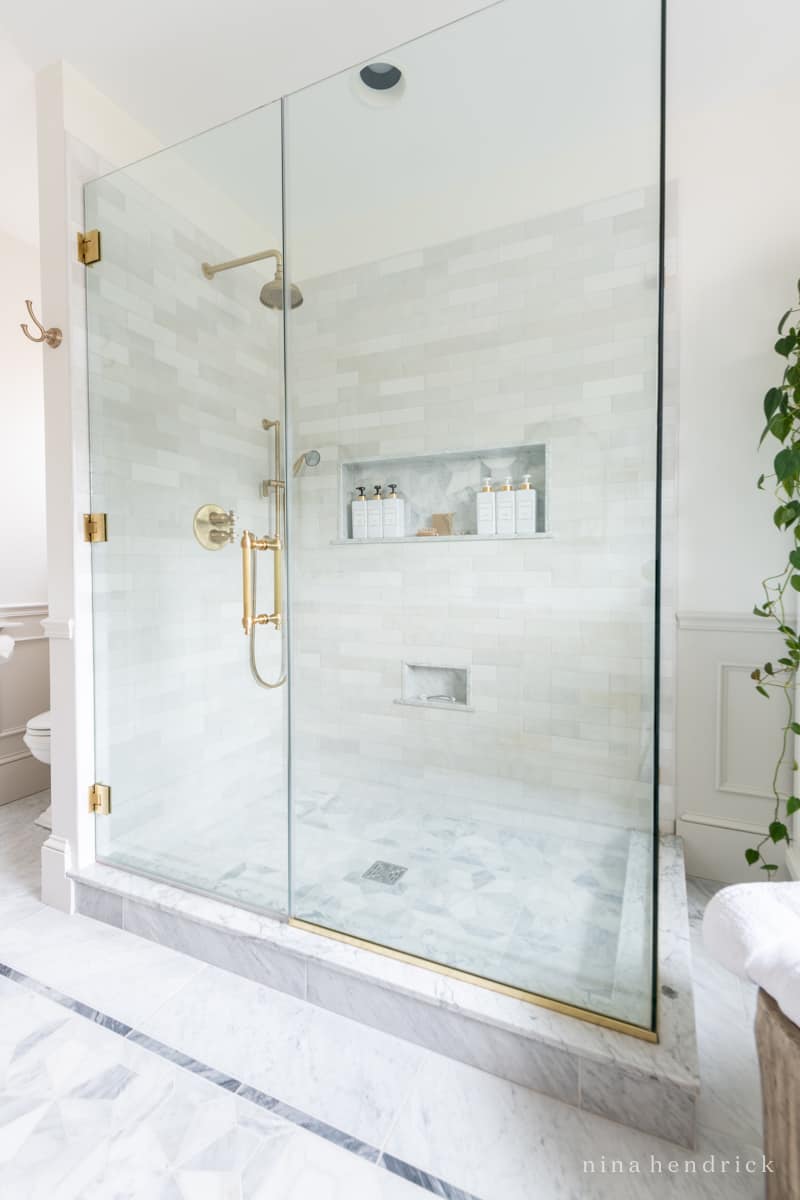 We've now had glass shower enclosures installed in both of our main bathroom remodels. Here are a few quick choices I made when designing these showers, and for more details there's going to be a more in-depth post.
I opted not to upgrade to the clear (low iron) glass. The cost difference didn't appear to be worth it!
I also didn't add any of the pre-drilled hooks in the glass. Instead, I purchased suction cup hooks from Amazon that work great.
I went with clips for connecting the panels of the shower, but opted to skip this upgrade to save money along the bottom border of the glass.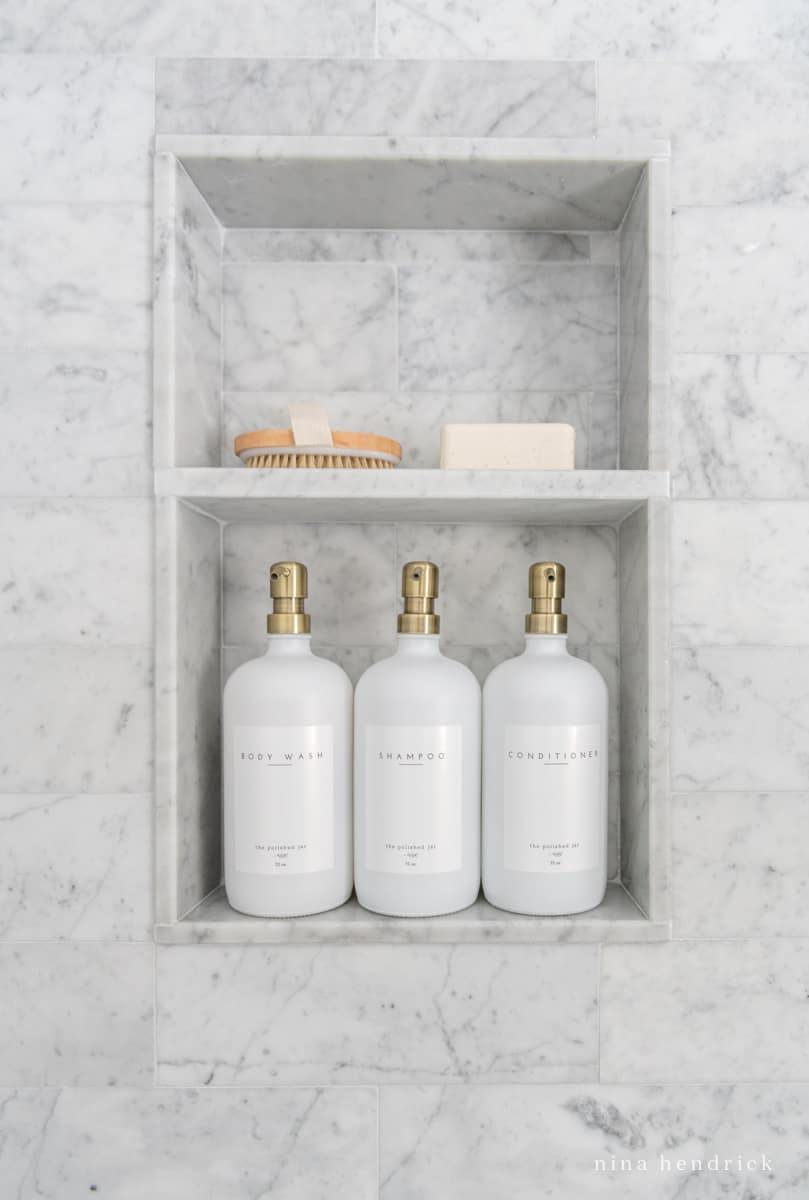 Shower Soap Niches
With a range of sizes and shapes, you can create the perfect niche for your bathroom space. Whether you're looking for a place to store all your toiletries, or just a place to display a few decorative items, a shower niche can be the perfect addition to your bathroom design.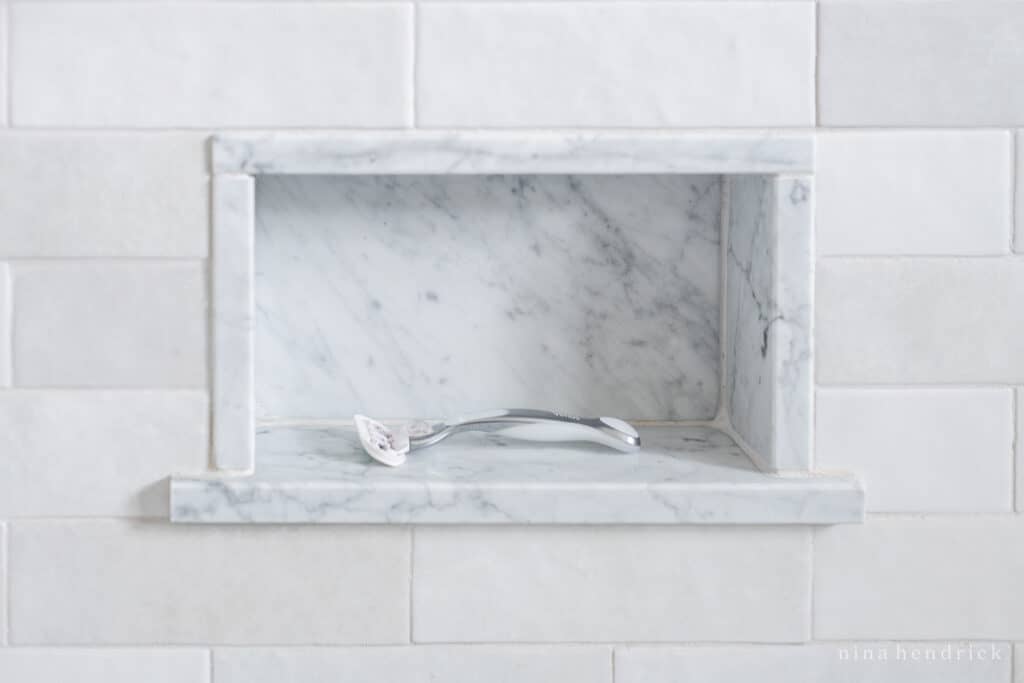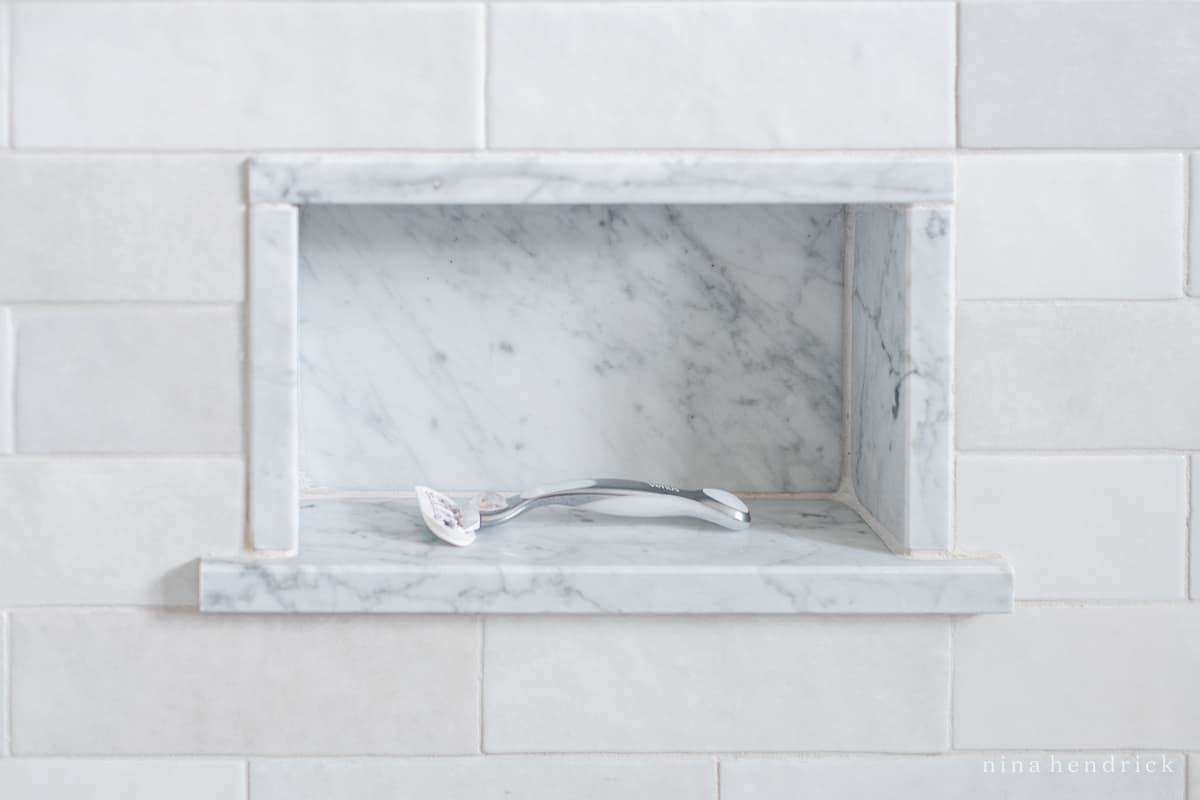 Shaving Niche
A shaving niche is a small cubby built-in to your shower that gives you a spot to rest your foot while you're shaving your legs. It also serves as the perfect place to store your razor.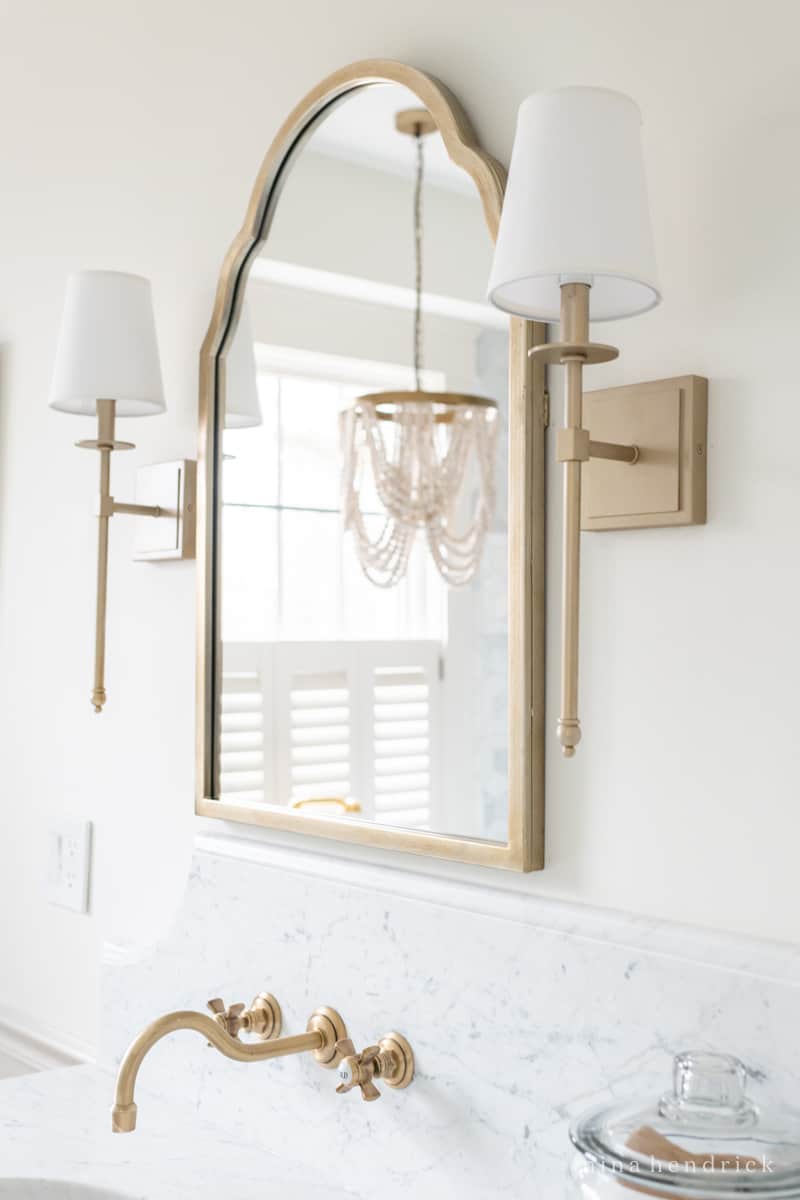 Bathroom Lighting Ideas
To create a warm and inviting atmosphere, install a chandelier over the bath tub. Just make sure to check your local codes for the appropriate clearances.
To illuminate the bathroom without taking up too much space, use recessed lighting.
For a more eye-catching effect, use a combination of overhead lighting and wall sconces.
A dimmer switch can be installed to control the level of light in the room.
Natural light can be incorporated into the design by installing a skylight or window.
For a statement piece, consider a modern pendant light over the vanity area.
To make the room more functional and stylish, install a vanity mirror with built-in lighting.
Lastly, for a romantic and relaxing atmosphere, add a few candle sconces.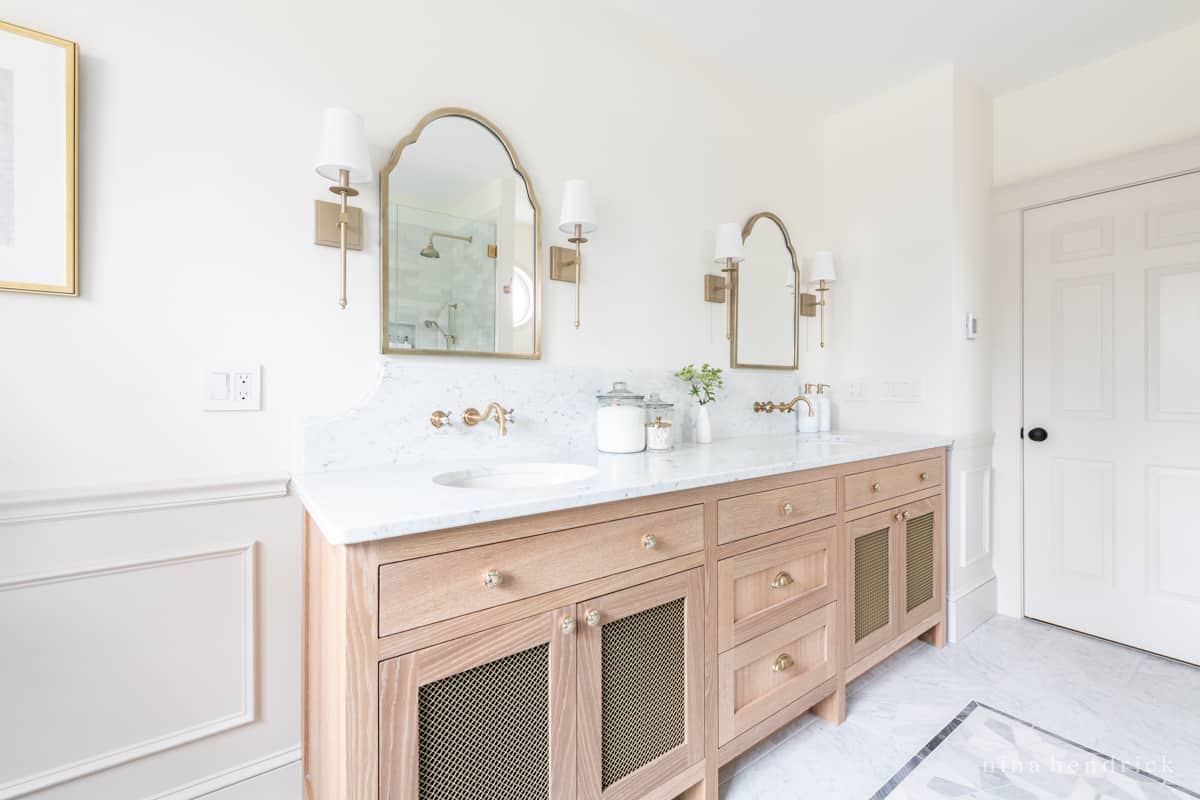 Bathroom Vanity Ideas
When it comes to designing your bathroom, the vanity plays a key role in the overall look and feel of the space. There are many different options available ranging from timeless classics to modern, daring designs, so it's important to carefully consider your options to find the perfect fit for your home. To get you started, here are some bathroom design ideas to consider when selecting a vanity.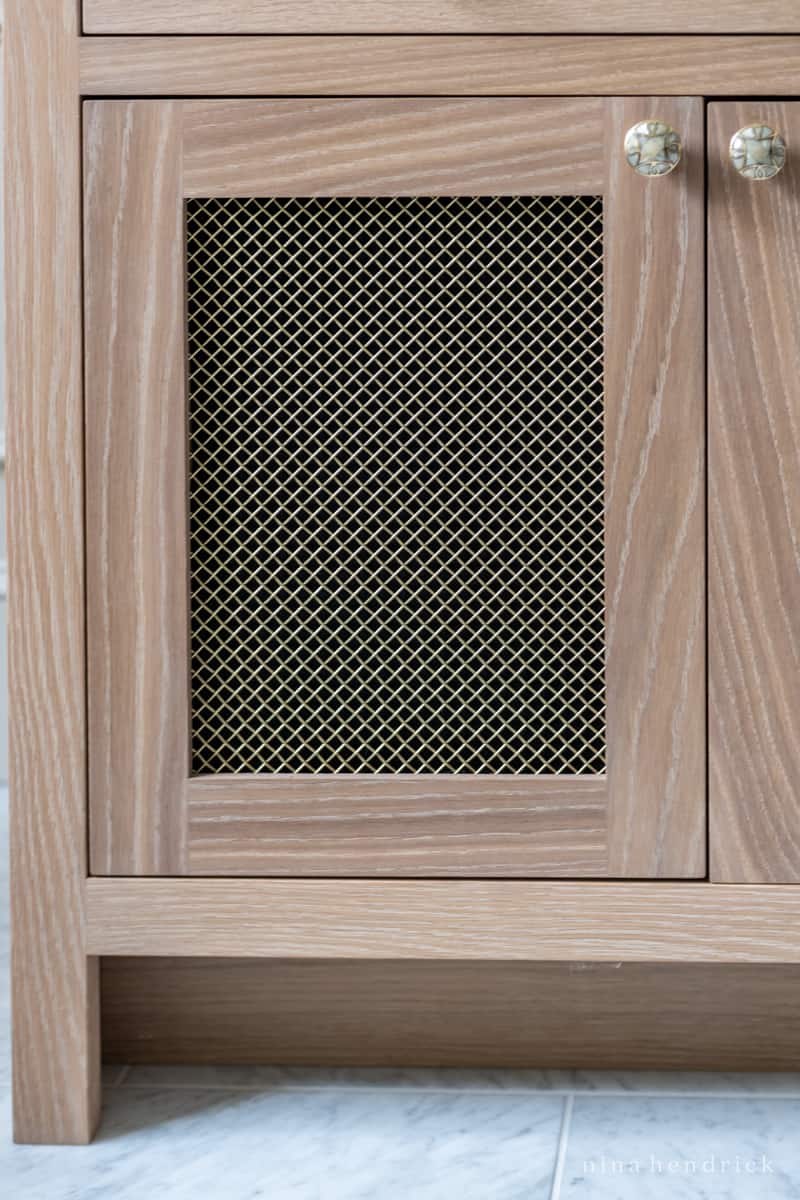 Vanity Door Panel Detail
Think beyond the basic flat panel on your vanity doors and consider adding some sort of detail like caning, fluting, or a mesh panel. In the primary bathroom makeover at our New Hampshire cape, I designed a custom double vanity with a brass mesh panel and black speaker fabric to provide some privacy as to the cabinet's contents (mostly to hide the less-than-pretty slide out trash can!).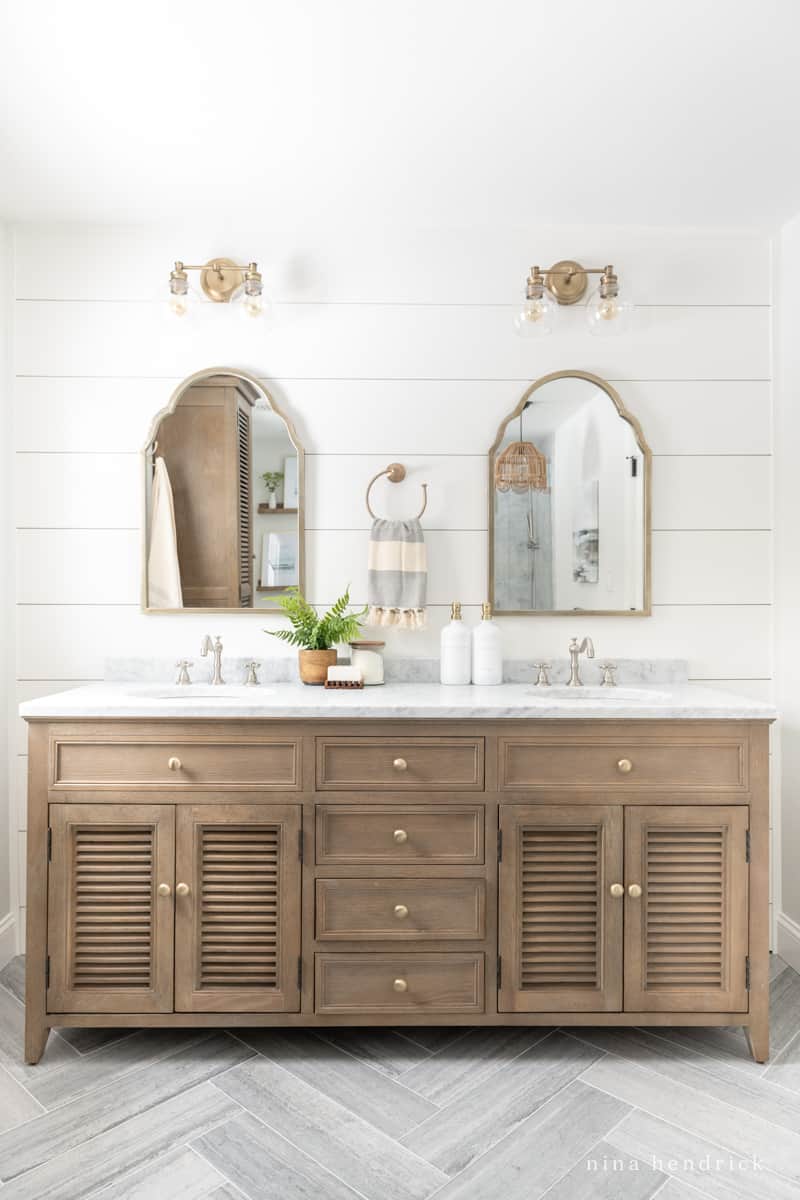 Wood Vanities
For a cozy, natural feel, incorporate a rustic wood vanity. This beautiful design will bring a warm, inviting atmosphere to your bathroom. I love using a wood vanity and then repeating that natural shade in other spaces in the room, such as open shelves or a faux-stump stand near the tub.
Painted Vanity
For a classic look, incorporate a timeless white vanity. This design will never go out of style and can easily be updated with new hardware or even new paint to give it a modern twist. If you're looking for something more vibrant, choose a bright and bold color.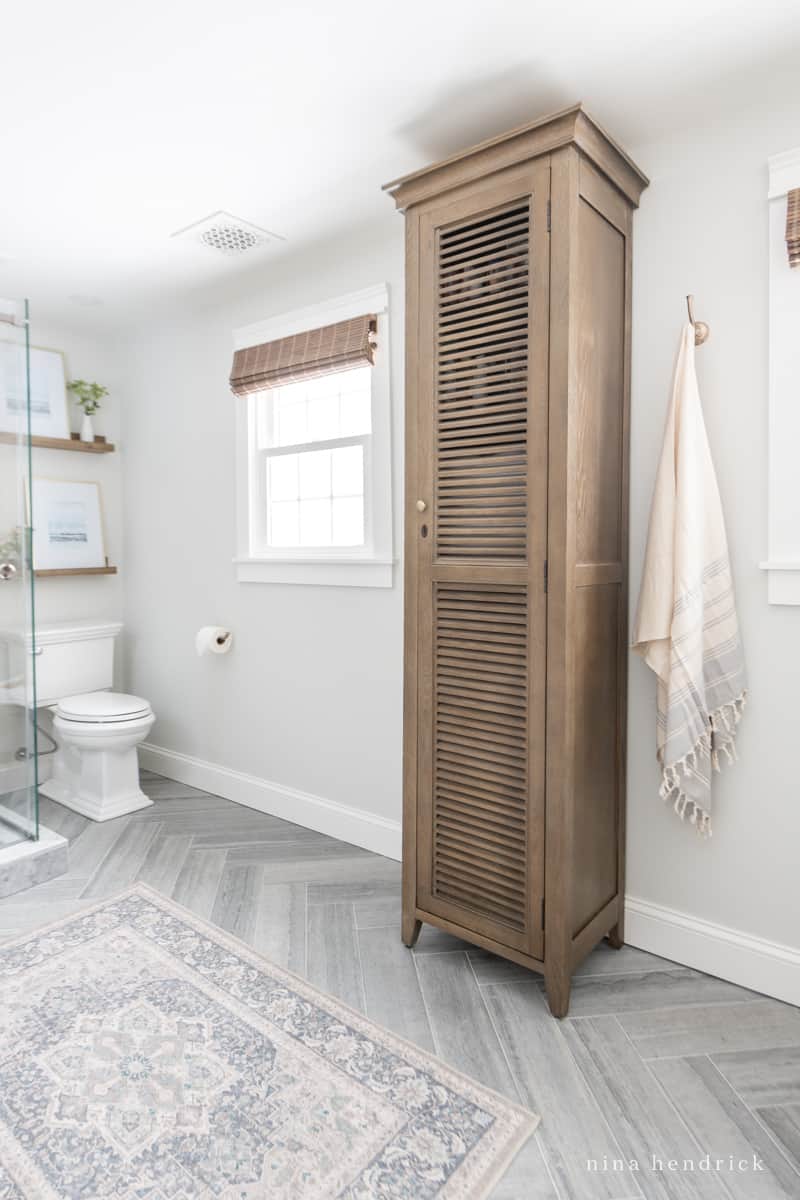 Bathroom Storage Ideas
The bathroom is an important part of any home and it's important to make the most of the space you have available. There are many design ideas that can help you maximize your bathroom's storage and make it look great.
One of the best ways to make the most of the space you have is to utilize the space under your sink. Add some cabinets and drawers to use for extra storage.
Storage towers are also great for items you don't use every day, such as extra toilet paper and shampoo.
Hang baskets from the wall or from the back of the door to store items like towels and other toiletries.
Adding cabinets or shelves above the toilet is also a great way to store toiletries, towels, and other items.
In the shower, a shower caddy is a great way to store shampoo, soap, and other items you need.
A towel rack or hooks is also a great addition to hang towels and keep them off the floor.
A medicine cabinet is also a great way to store items like medication, cosmetics, and other items.
These ideas can help you maximize your storage space and create a beautiful and functional bathroom. For more bathroom storage ideas, check out this post!
Bathroom Design Ideas and Inspiration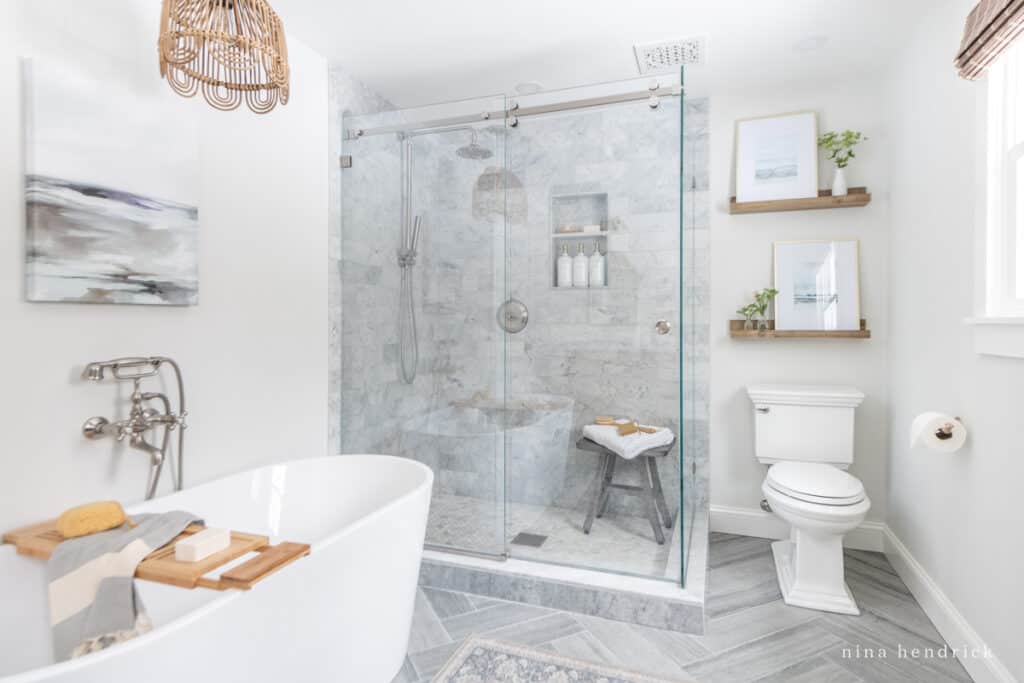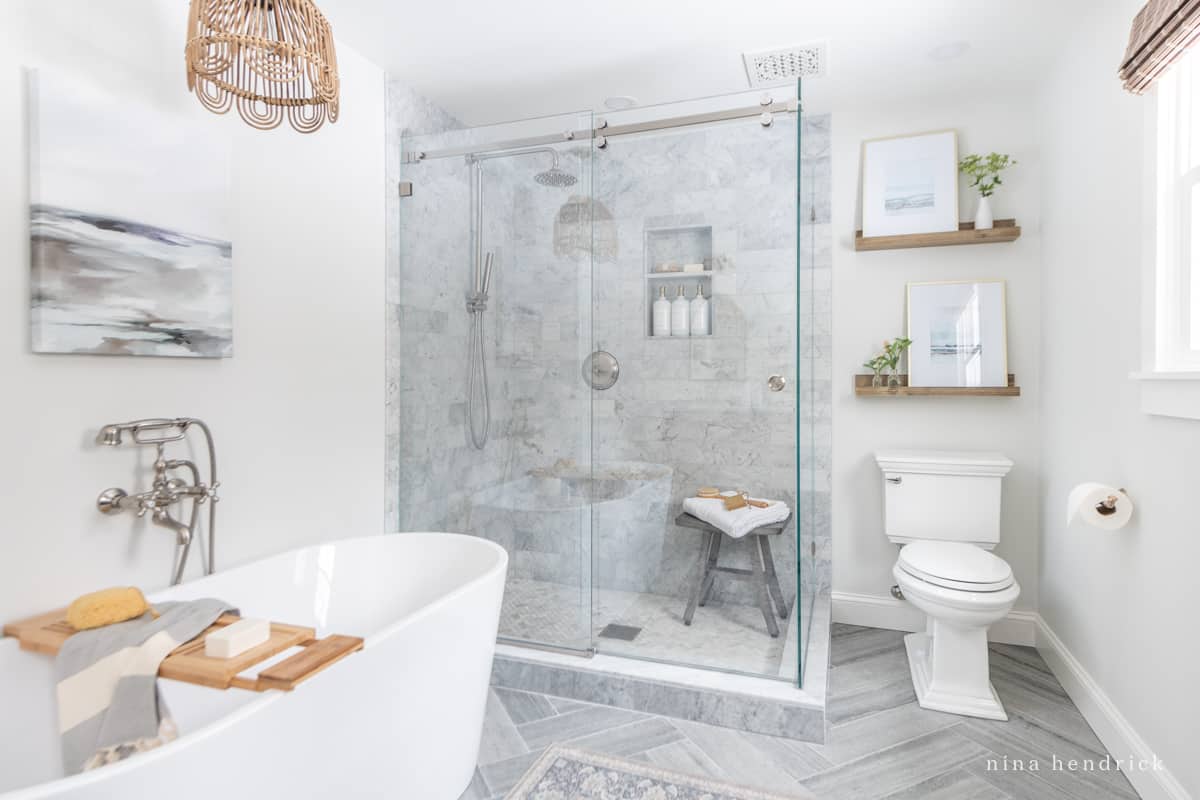 Coastal Bathroom Design Ideas
Are you looking to create a beachy, calming atmosphere in your bathroom? If so, there are a number of design ideas that can help you achieve the perfect oasis.
Incorporate natural elements like driftwood, shells, and coral to give your bathroom a coastal feel.
Choose calming colors like blues, greens, and whites to create a soothing ambience.
Nautical-inspired accents like rope and anchors will add to the beachy vibe.
Utilize bright, airy fabrics like cotton and linen to create a light, airy feel.
Hang mirrors in interesting shapes and sizes to add a unique touch to your bathroom.
Bring in natural light and ventilation with large windows and ceiling fans.
Incorporate pieces with interesting textures and patterns for a fun, eclectic look.
Finally, add a touch of whimsy with vibrant prints or artwork featuring beach scenes.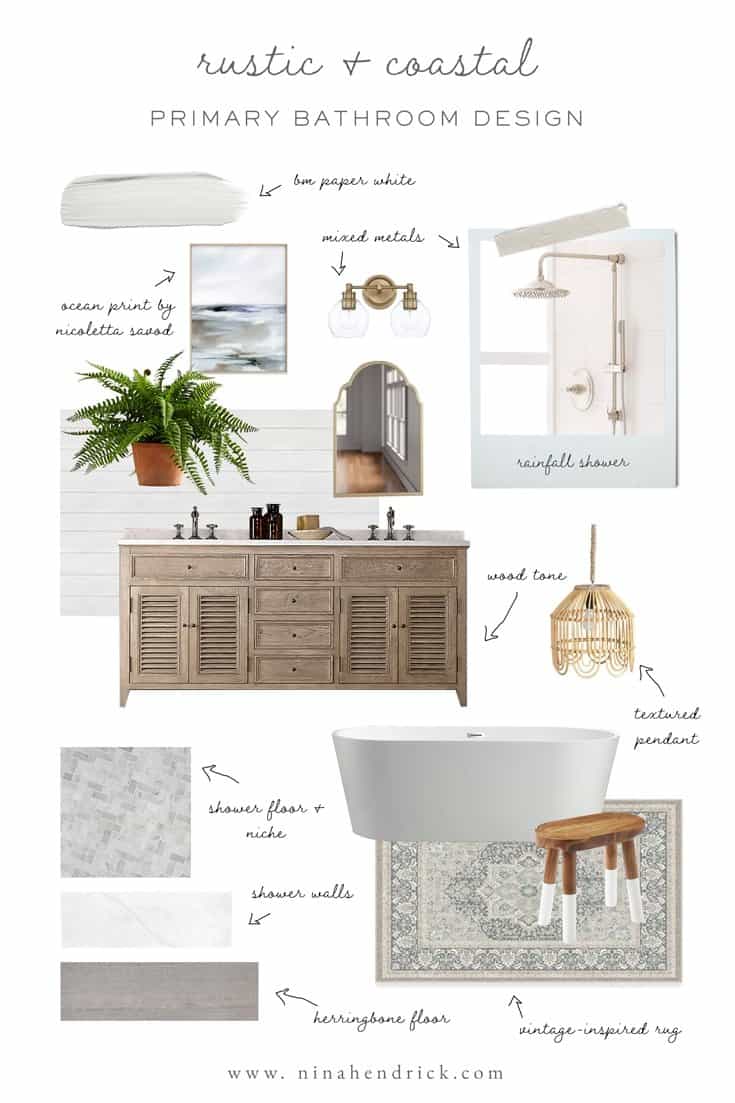 Paint Color: Benjamin Moore Paper White | Ocean Print | Vanity Light | Shower System (similar) | Faux Boston Fern | Mirror | Vanity (similar) | Rattan Pendant | Small Marble Herringbone Tile | Cement-Look Tile | Cararra Wall Tiles | Tub | Rug | Stool
With these design ideas, you can create the perfect coastal retreat in your bathroom.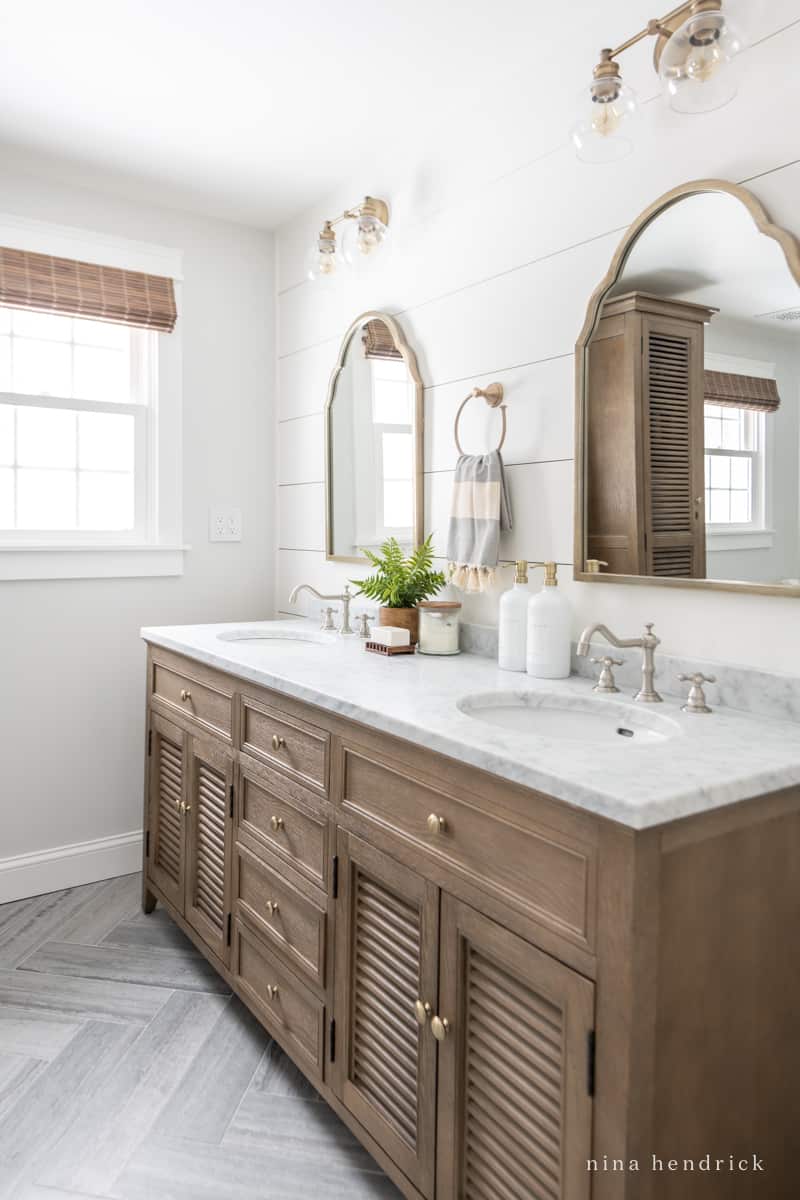 Cottage Bathroom Design Ideas
Creating a beautiful and inviting cottage bathroom requires careful consideration of design elements.
One of the best ways to achieve a cozy, cottage-like atmosphere is to include a freestanding bathtub. This timeless addition will give the room a traditional feel, while also providing a luxurious spot to relax.
To open up the space and create a bright, airy feeling, utilize white fixtures and walls.
Natural materials such as wood, stone, and tile will bring warmth and texture to the room.
Subtle pattern can be added with wallpaper, rugs, and curtains to add visual interest and charm.
Wicker or rattan baskets, shelves, and furniture can be used to bring a cozy, beach-cottage feel.
Wall sconces will provide task lighting and a touch of elegance.
To add a touch of rustic charm, incorporate a vintage mirror, wooden beams, and antique fixtures.
Finally, a skylight or window will bring in natural light and create the illusion of a larger space.
With these bathroom design ideas, you can create a charming and inviting room that will be a pleasure to use.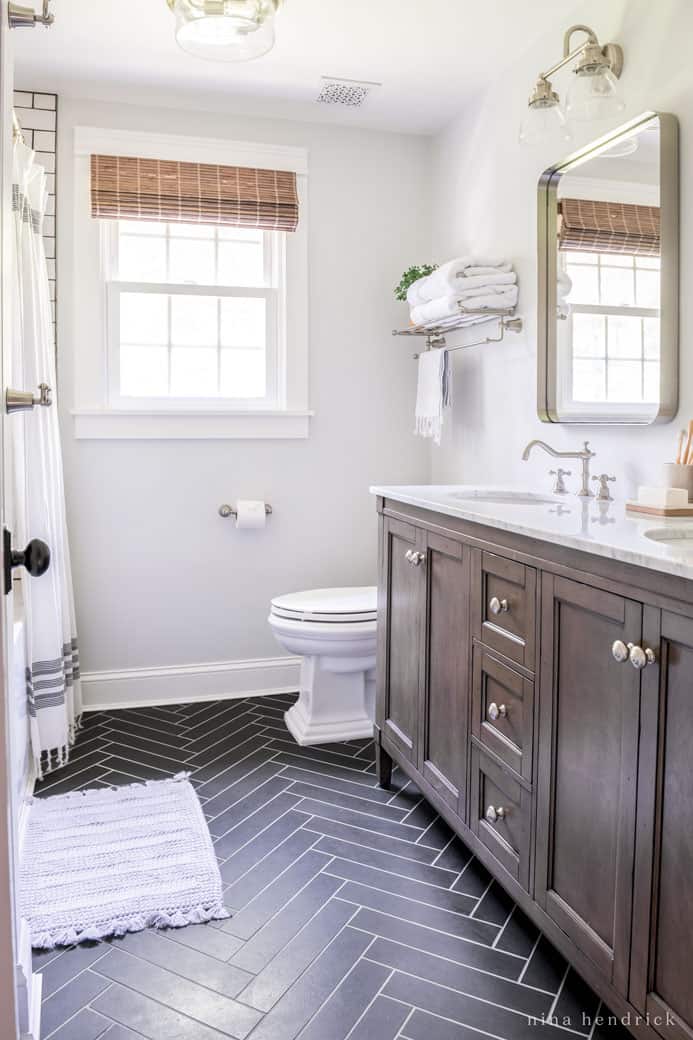 Modern Bathroom Design Ideas
When it comes to creating the perfect bathroom design, there are plenty of ideas to choose from.
To make your bathroom look modern and elegant, incorporate sleek fixtures and floating vanity cabinets.
A monochromatic color palette is a great way to keep the modern look without going too bold.
Quartz, marble, and glass tiles are luxurious materials that will make your bathroom look high-end.
Take advantage of natural light sources to give the room a bright and airy atmosphere.
Natural elements like wood, stone, and plants will add a cozy and inviting atmosphere.
For a touch of glamour, introduce bold colors with modern art and accessories, or add gold and brass fixtures.
Maximize your space by incorporating smart storage solutions like built-in shelving and drawers.
To create a spa-like atmosphere, invest in a tub and rainfall showerhead.
Finally, make sure to invest in energy-efficient fixtures and appliances to help reduce your carbon footprint and save on energy costs.
In our kids' and guest bathroom makeover I chose more modern, clean lines and finishes and mixed them with classic choices to help the room feel timeless.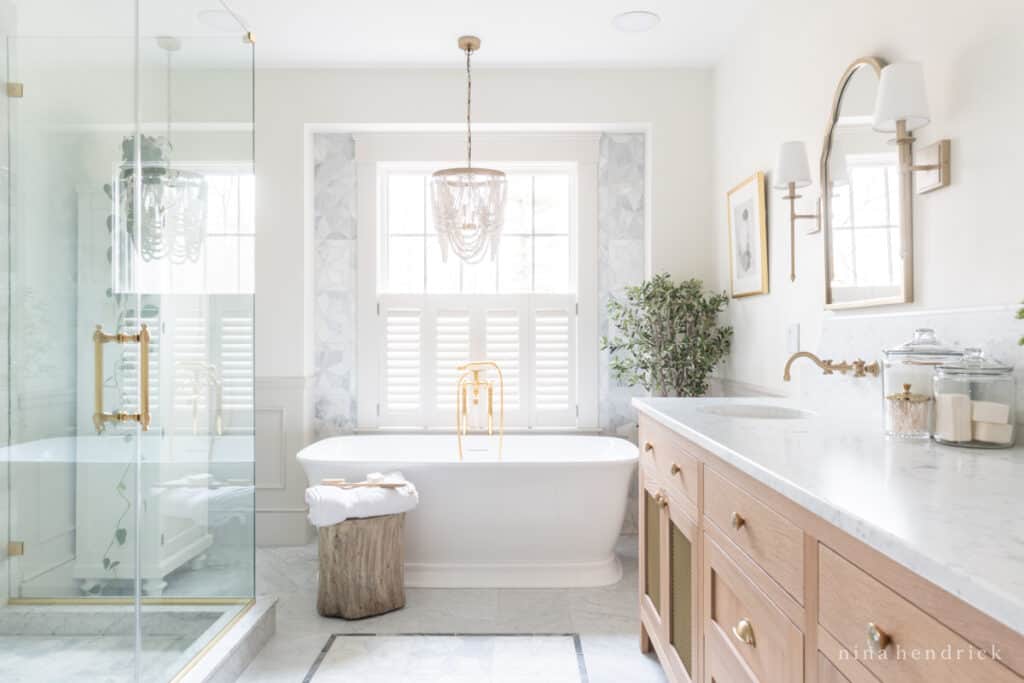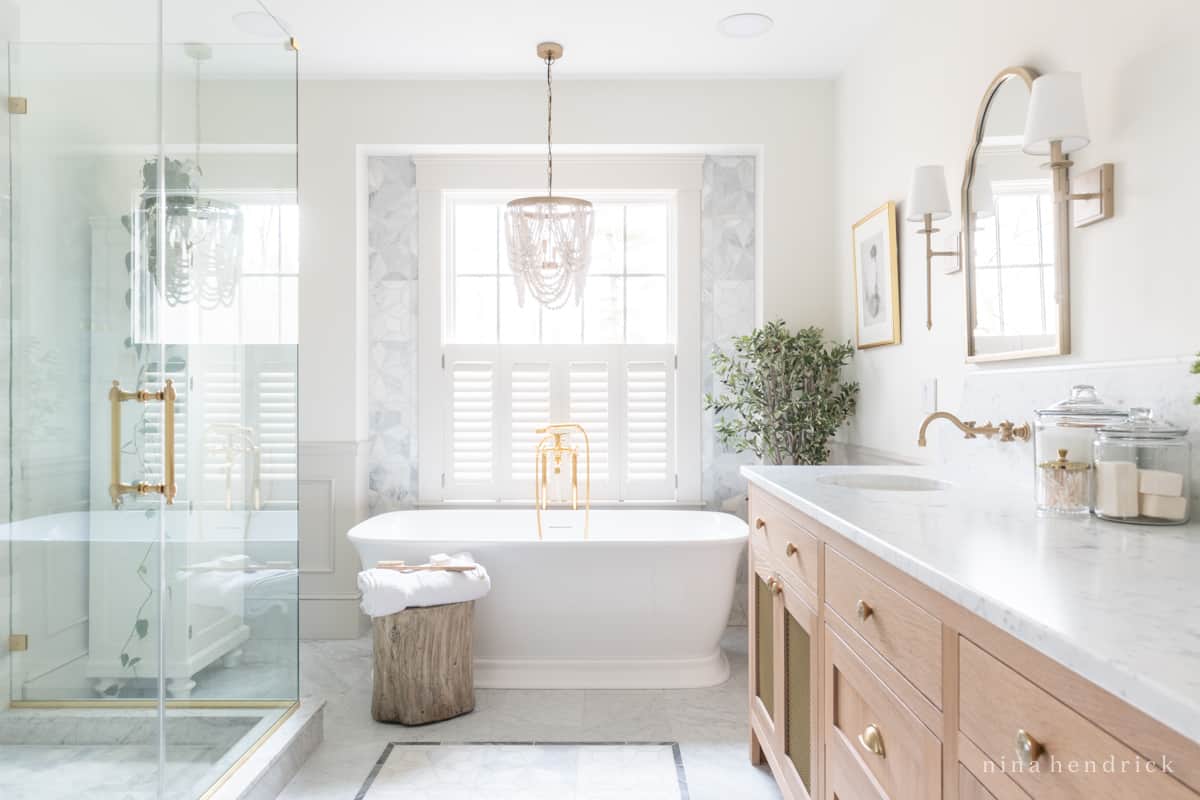 Timeless Bathroom Design Ideas
When it comes to designing a timeless bathroom, there are some key elements to keep in mind.
Incorporating classic elements such as clawfoot tubs, pedestal sinks, and vintage fixtures can add a timeless feel to any bathroom.
When it comes to color, neutral shades such as white, gray, and beige are ideal, as they'll never go out of style.
Natural materials such as wood and stone can also be used to create a timeless look that is both beautiful and functional.
Using timeless shapes and silhouettes rather than trend-based ones will ensure that your bathroom will always look modern.
Texture can also add depth and dimension to a bathroom and create a timeless look, but it's important to not go overboard with too many embellishments and decorations, as this can make a bathroom look dated.
When in doubt, keep it simple for a timeless look that will never go out of style.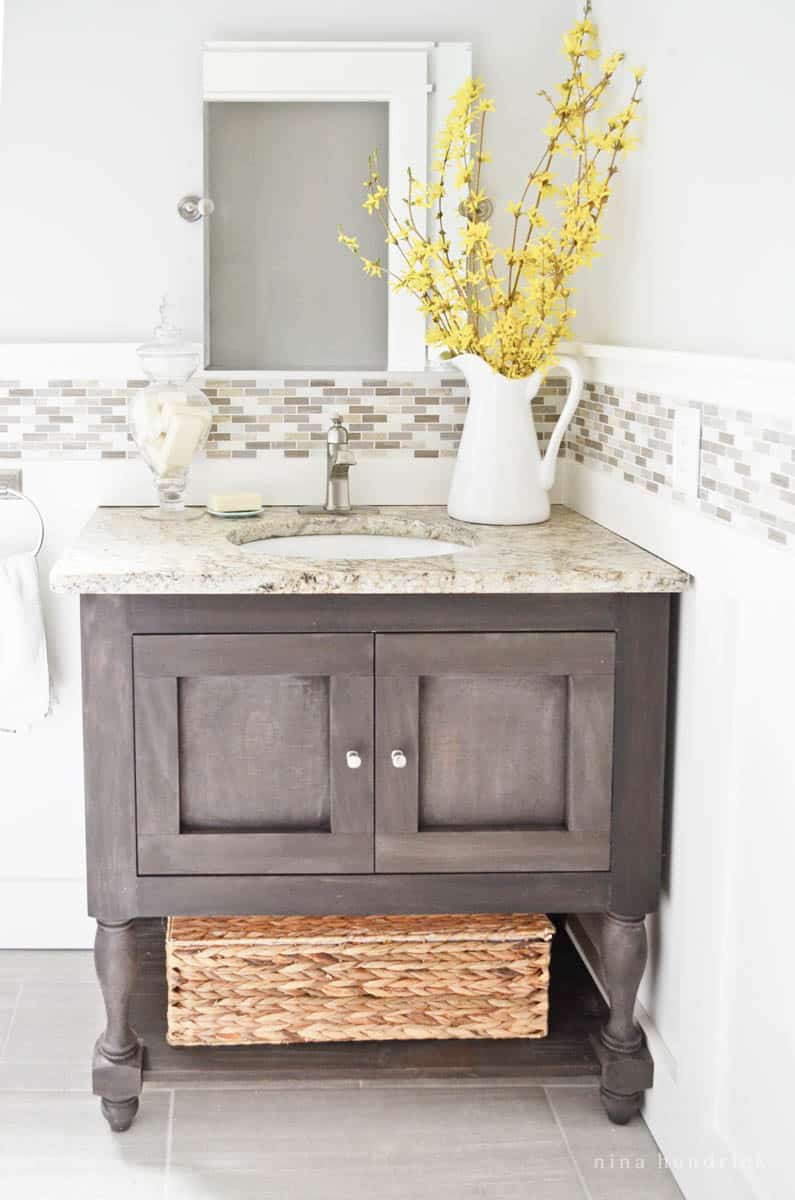 Small Bathroom Design Ideas
Designing for a small bathroom can be a challenge, given the limited space available. Luckily, it's a common challenge that these tips can help you overcome!
Keep the design simple and streamlined, with minimal accessories and fixtures.
For a small powder room, use a bold wallpaper or wall color to make a statement, since you won't have as much flexibility with other elements of the room.
Maximize storage by installing shelving, built-in cabinets, a walk-in shower with a clear glass door, and space-saving fixtures such as a corner sink or wall-mounted toilet.
To create the illusion of a bigger space, use light-colored tiles and wall paint. My favorite bathroom wall paint is Paper White by Benjamin Moore.
Utilize wall space by adding shelves above the sink or toilet to store towels, and don't forget to hang mirrors above the sink.
Finally, embrace natural light by installing a large window or skylight to keep the bathroom well-lit during the day. With these ideas, you'll be able to make the most of your small bathroom.
Taking some time to explore the various options available can help you create a bathroom that is both beautiful and functional. With thoughtful design and careful consideration, you can make sure that your bathroom is a place of comfort and relaxation for years to come.