Looking for inspiration for a bathroom remodel? This Primary Bathroom Makeover features classic, rustic, and coastal touches and blends them all together to create a timeless look.
Whether you're replacing fixtures, adding new amenities, or giving your bathroom a complete overhaul, a bathroom makeover can be a fun and rewarding project. From selecting the right fixtures and finishes, to deciding on a layout and theme, to choosing tile, the tasks can also feel endless and overwhelming.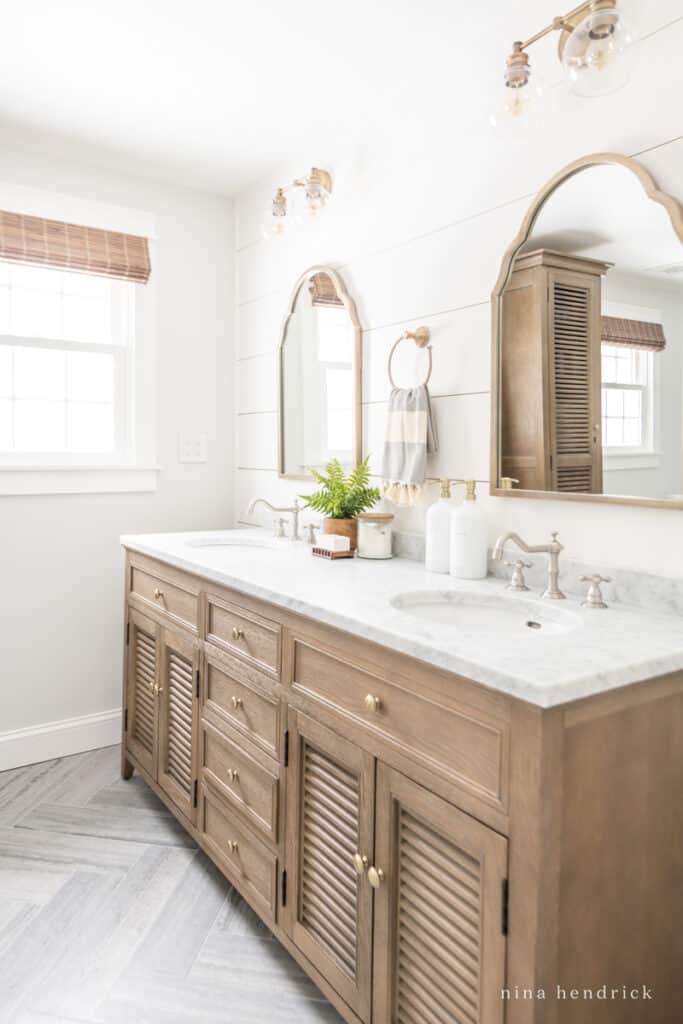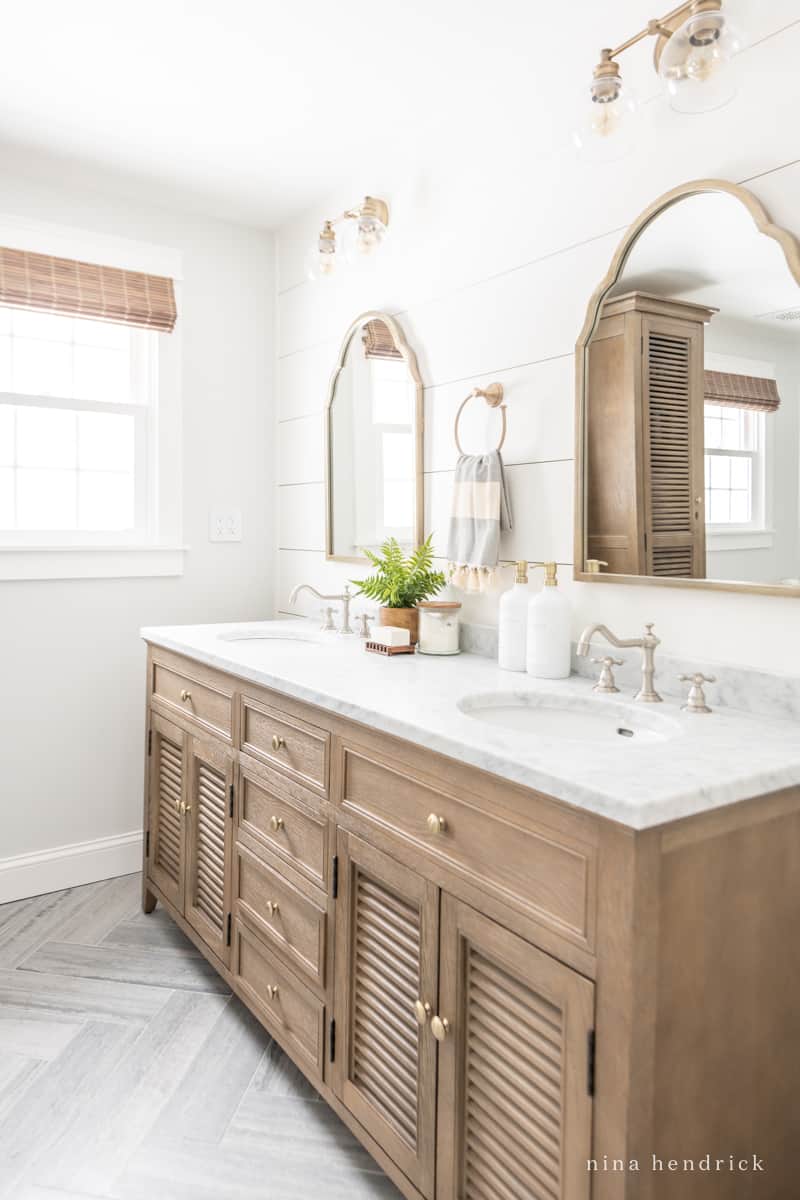 However, with careful planning and consideration, you can create a bathroom that is both beautiful and functional. From the initial design concept to the finishing touches, and even some tips for when things don't go according to plan, this blog post will walk you through the final results from planning and executing a successful bathroom makeover.
This post contains affiliate links, which means I may get a small commission (at no extra cost to you) if you shop my link. Please see my disclosure if you'd like more info!
Primary Bathroom Makeover Project
It's an exciting day now that I can finally reveal the final results for a project that's been in the works here in the Hendrick house for months: our Classic Rustic & Coastal Primary Bathroom Makeover!
I also can't begin to tell you how much I L.O.V.E. our new bathroom! It was well worth the wait. Here's the before.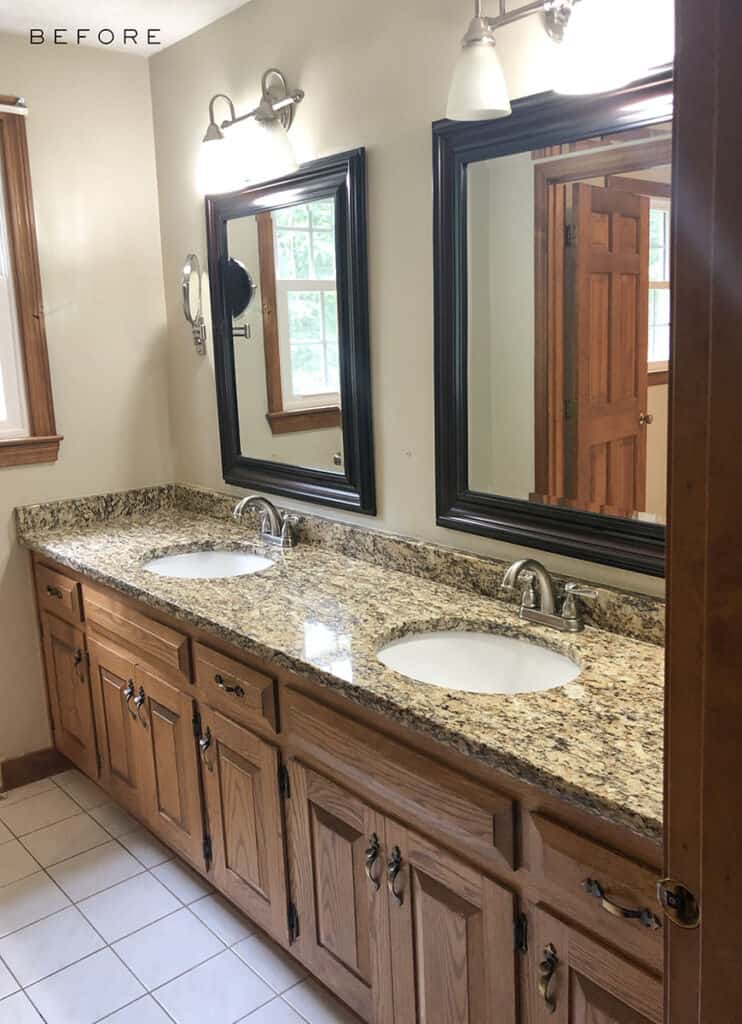 Primary Bathroom Makeover: Before
The old bathroom was extremely dated and beige, as well as having a poor layout by being weirdly divided in two. It was a fairly small bathroom for being the primary, and the middle wall wasted a bunch of space with a crumbling linen closet and doors that hit one another. If you want to see the floor plan changes, plumbing reconfiguration, and more before photos, you can check out this post!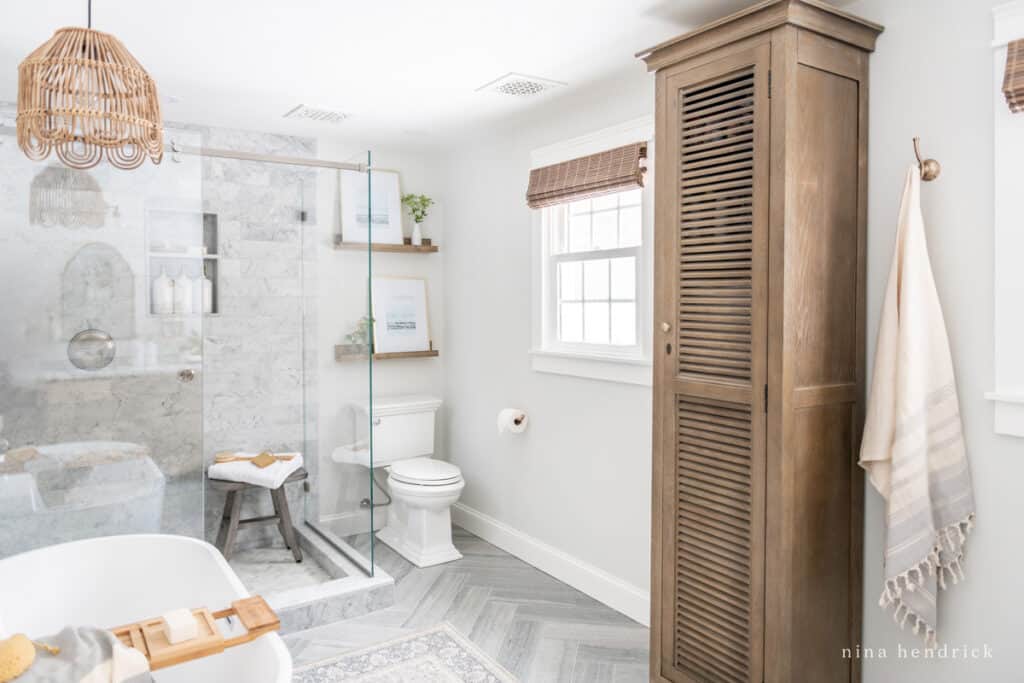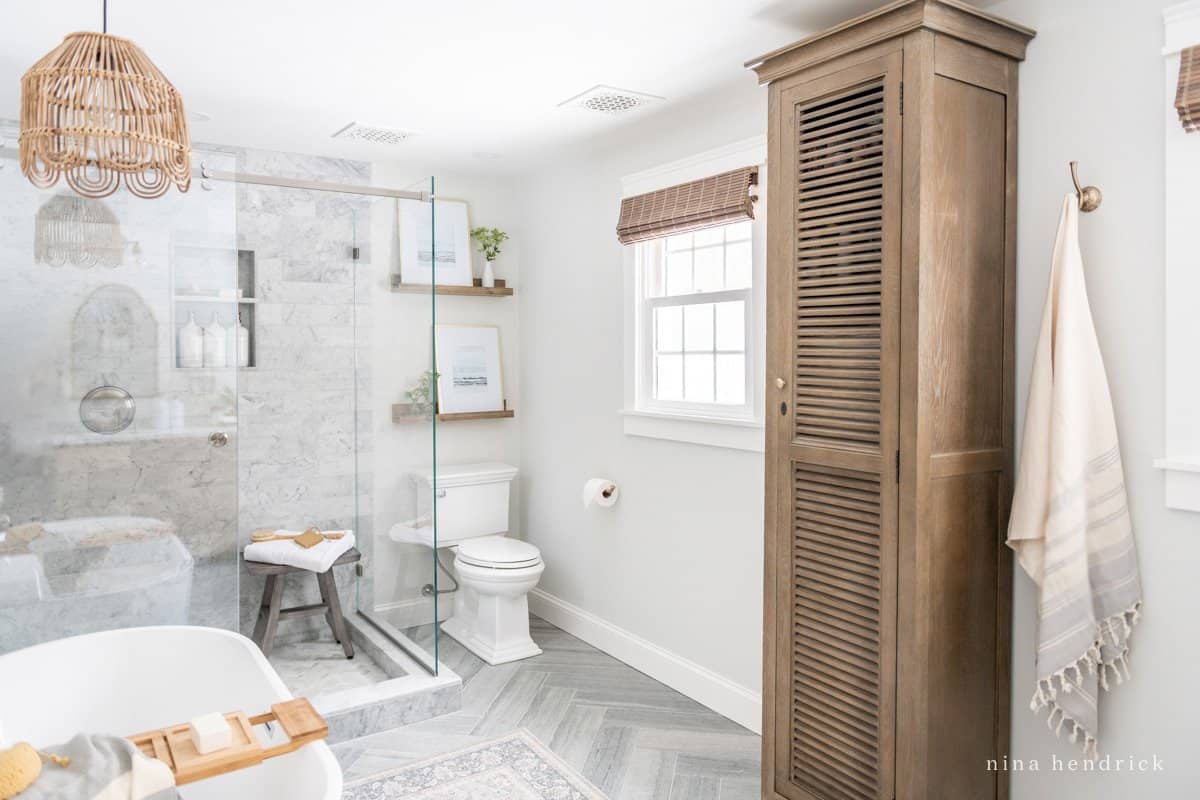 Primary Bathroom Makeover: After
Now, the primary bathroom is the perfect coastal meets rustic retreat with classic finish choices I believe will stand the test of time. As I mentioned in the mood board post, I wanted to capture a coastal New England feeling (inspired by a trip to Bar Harbor) while sticking within the color story of our entire home.
Speaking of colors, the fresh plaster got a nice coat of moisture-resistant Benjamin Moore aura paint in Paperwhite and the planked wall, trim, and ceiling are painted BM Simply White. Both are colors we've used elsewhere in the house, but it's the same combo that we used in our Kids'/Guest bath a couple of years ago. In my opinion, they're the perfect bathroom paint color choices! I knew I wanted fresh, white walls and these have the slightest hint of gray.
This primary bathroom makeover is one of the last major projects we'll complete inside this house, which feels a bit wild to say. However, I'll be completely honest… it's also a major relief! An almost decade-long whole home renovation isn't for the faint of heart, and we're ready to cross the finish line and stop tripping over power tools in random spots around the house.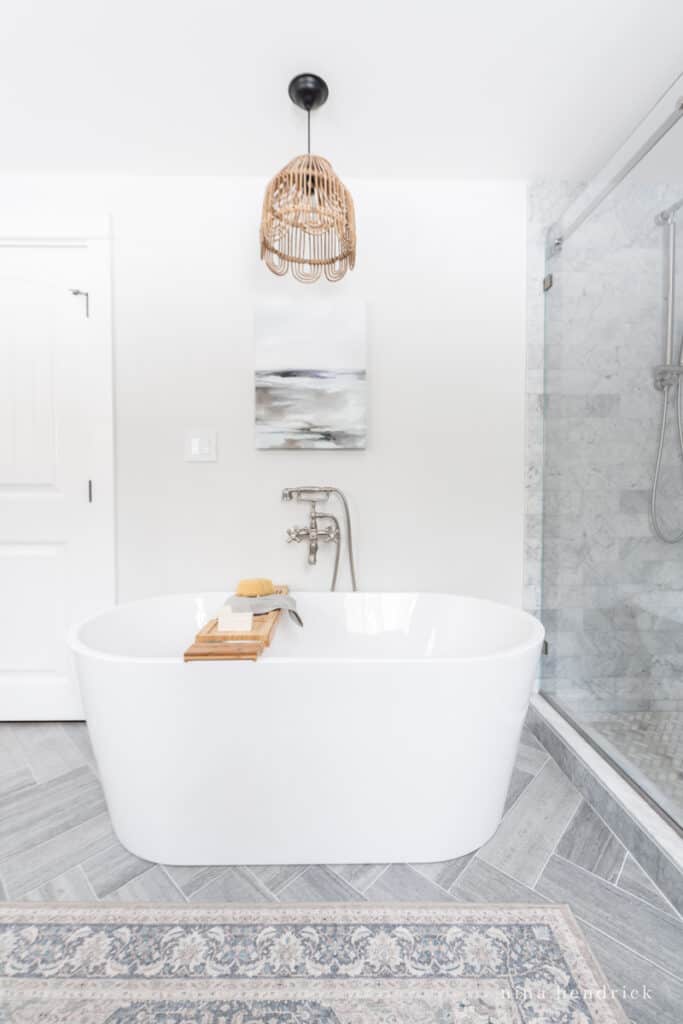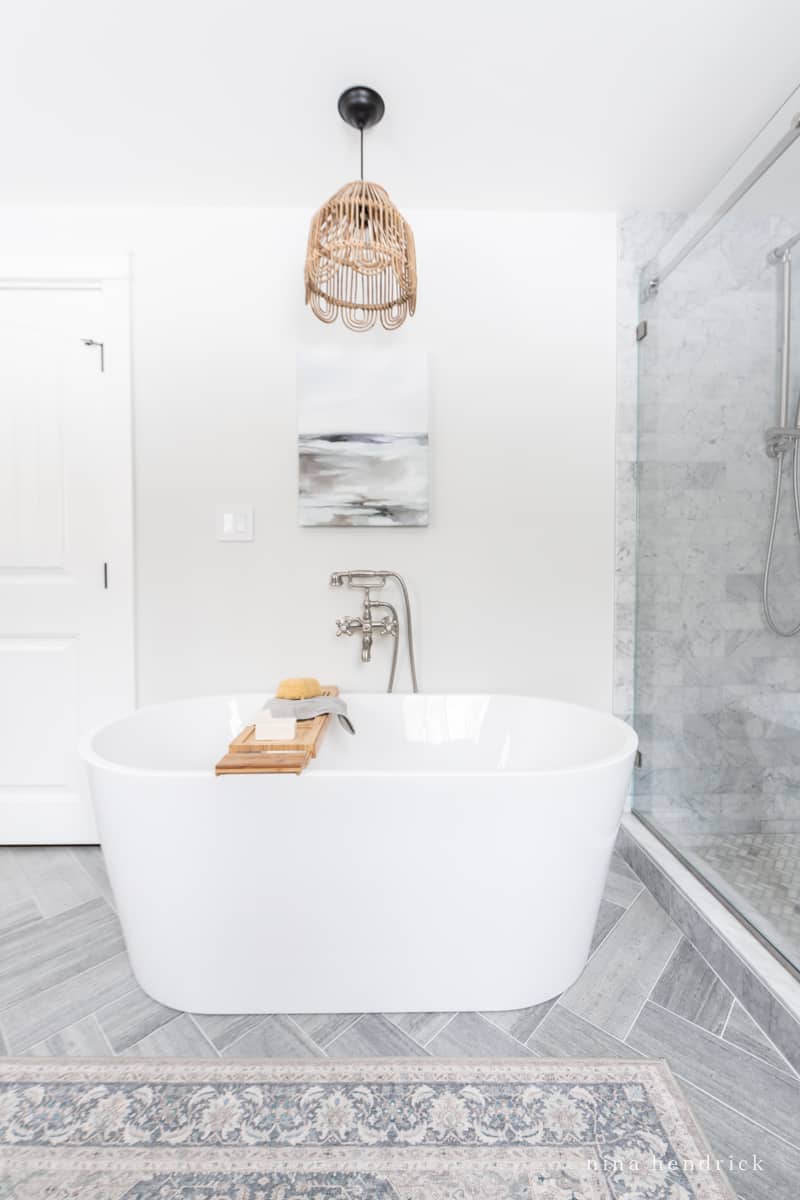 Adding a Freestanding Tub in the Primary Bathroom
The space we saved by knocking down the middle wall allowed us to add this freestanding tub where there was once a linen closet. At first, I was nervous because it wasn't the largest bathtub you could buy, but it also wasn't the smallest. After using it, I now feel reassured that it's a perfect size, and it's such a great addition to this space.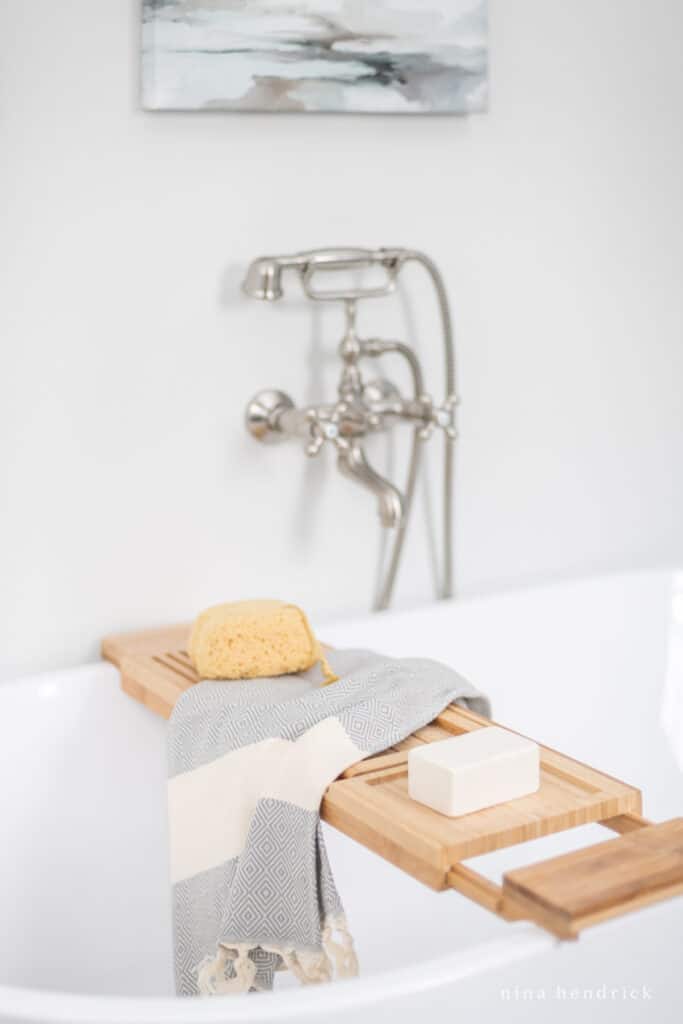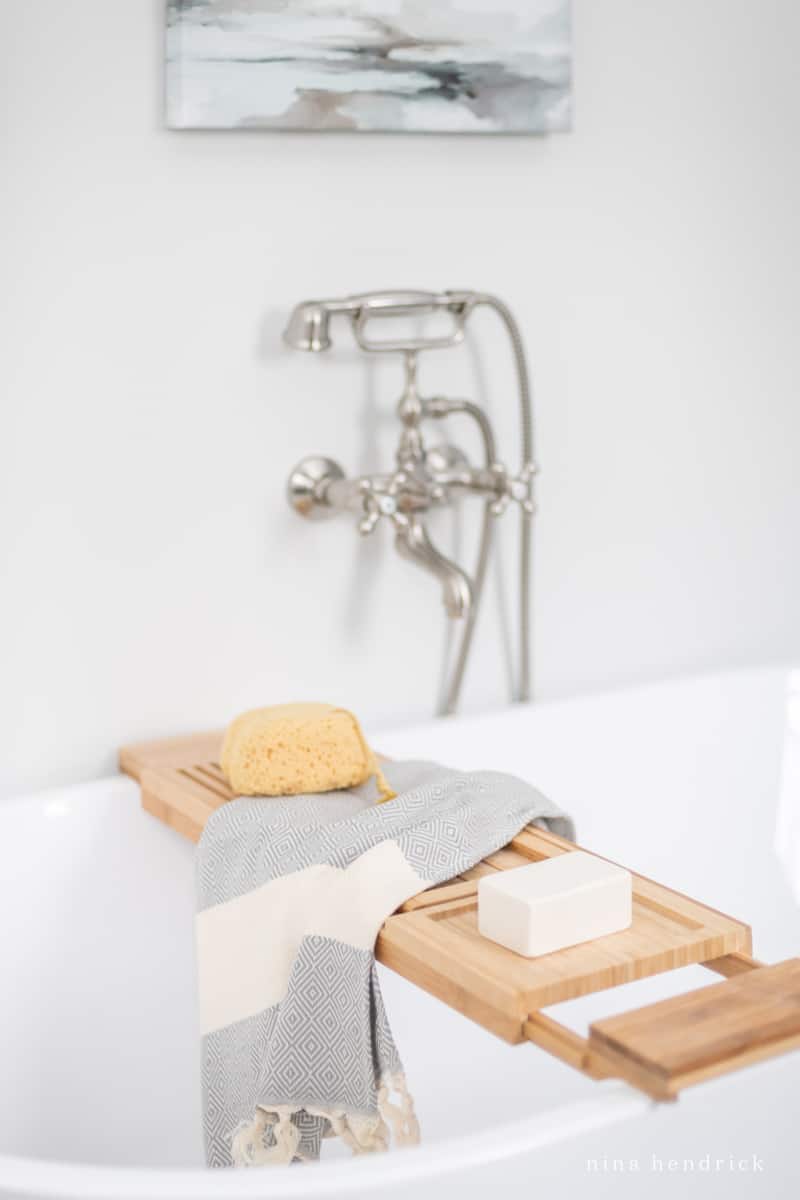 If you're flipping a home or considering selling someday, I recommend adding a tub (if you can). While we rarely do projects with resale in mind, we thought that in this case the choice added to the overall appeal of the house. Plus, I really just love having it!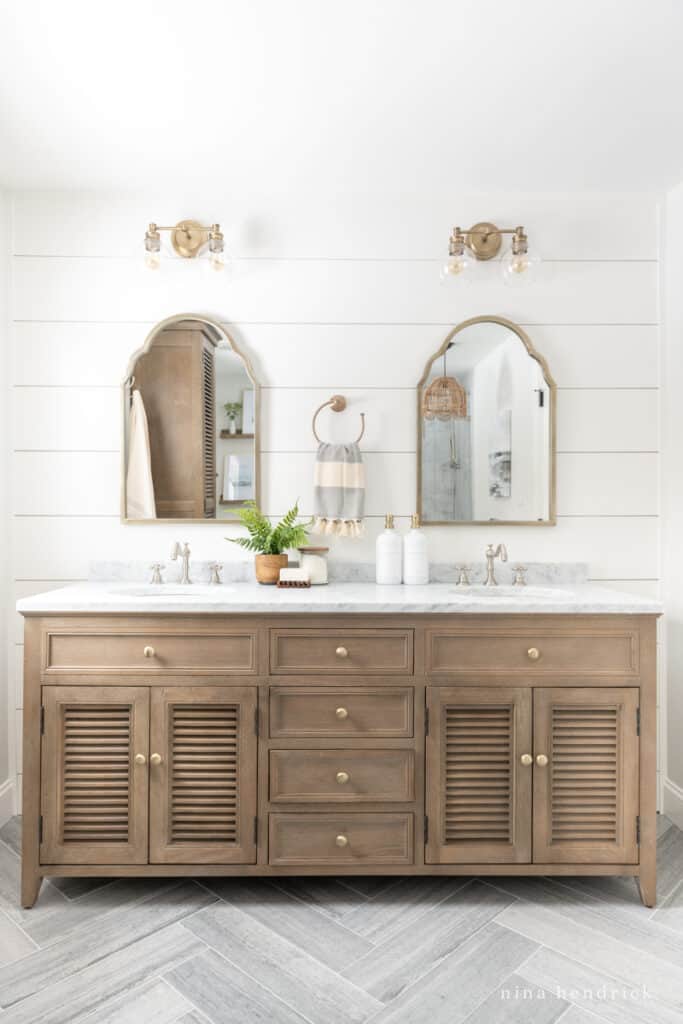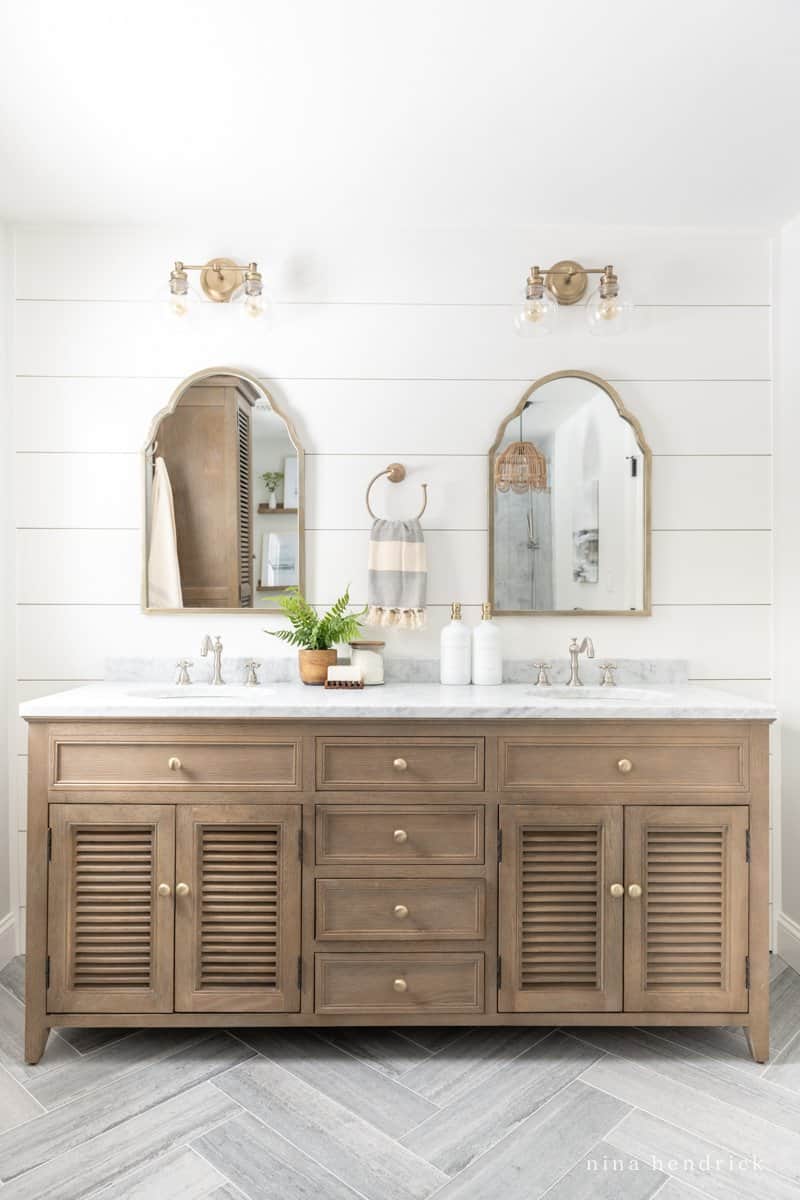 PVC Planked "Shiplap" Wall
One design element that I knew would tie the Primary Bathroom to the other updated rooms in our house — and, bonus, add coastal New England style — was a planked wall. Since this is an area that would get damp from the shower, I decided PVC would be the best material. You can get the tutorial here!
There's a lot of chatter about planked/shiplap walls being "done". I'm going to take a hard stand on this one: I was planking walls before it was trendy, and I'm going to keep on doing it from time-to-time. I believe it's like wainscotting and beadboard and never truly goes out of style, especially when used purposefully and/or in coastal-inspired designs.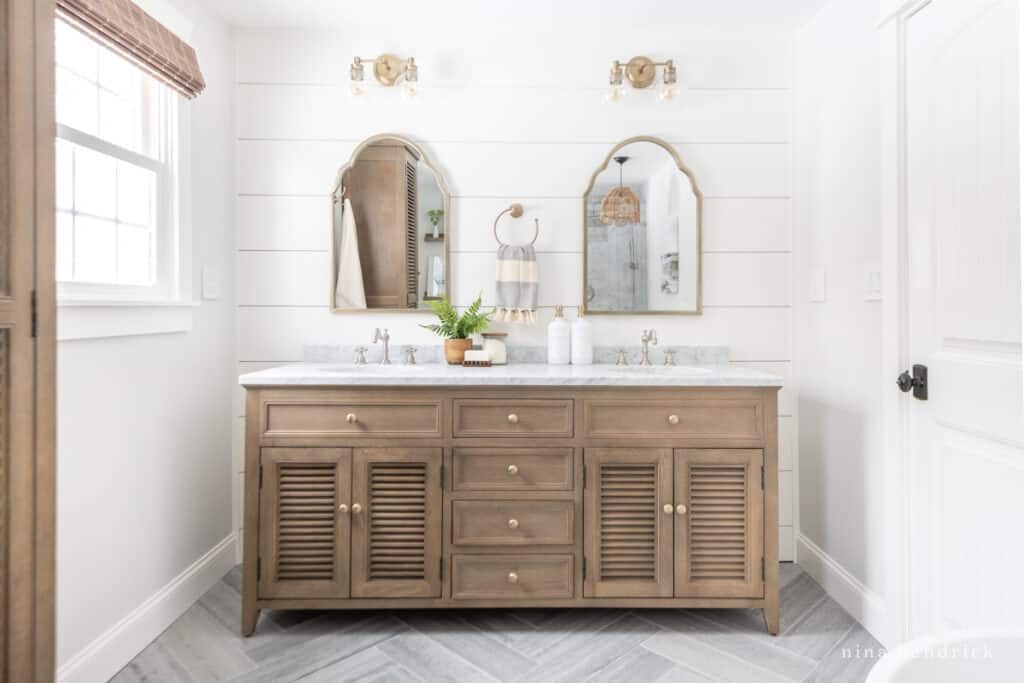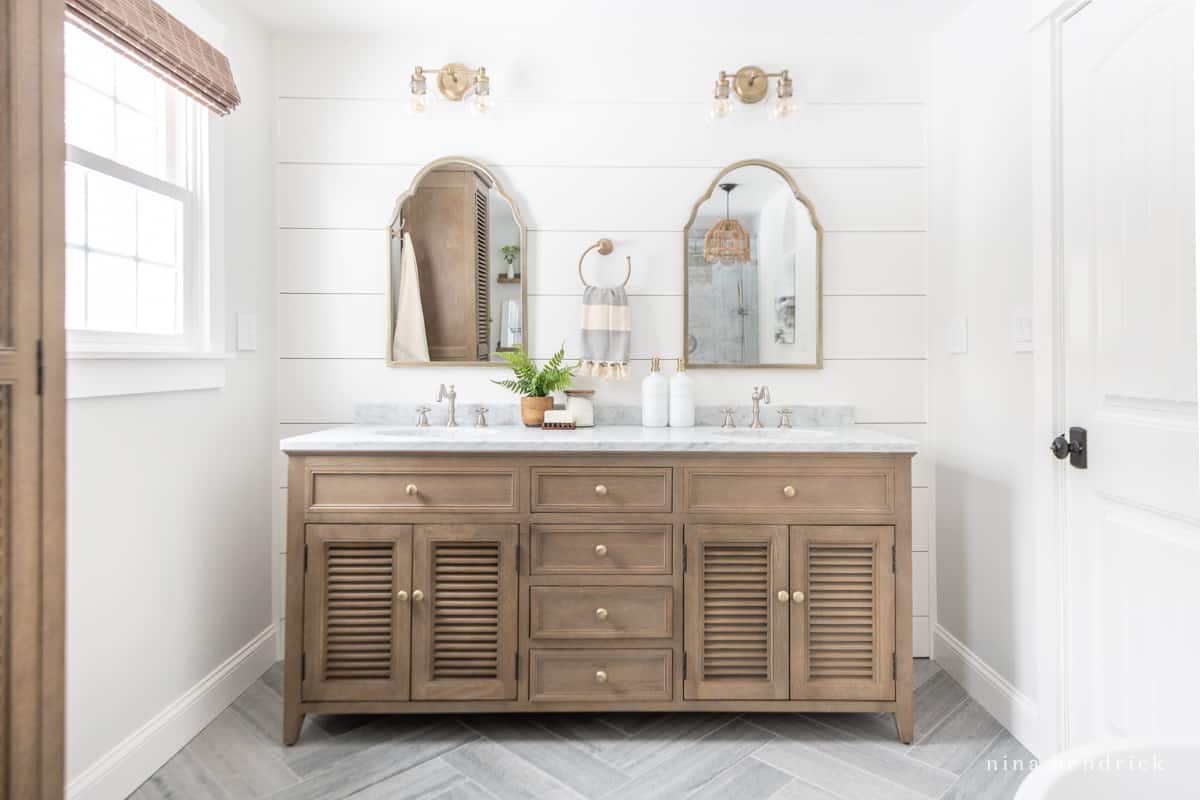 Wall Light Sconces
A design element that didn't go my way was being able to install lights between and beside the mirrors above the vanity. There was enough room to do so, but once it was gutted, we realized that this room had a truly absurd number of studs. It was much easier to leave the existing wiring in place above the mirrors. Call this one a marriage compromise — you win some, you lose some. However, I do like the pretty champagne gold light fixtures and they match the mirrors perfectly (I know they say aged brass— but this particular finish seems to have a lot of names).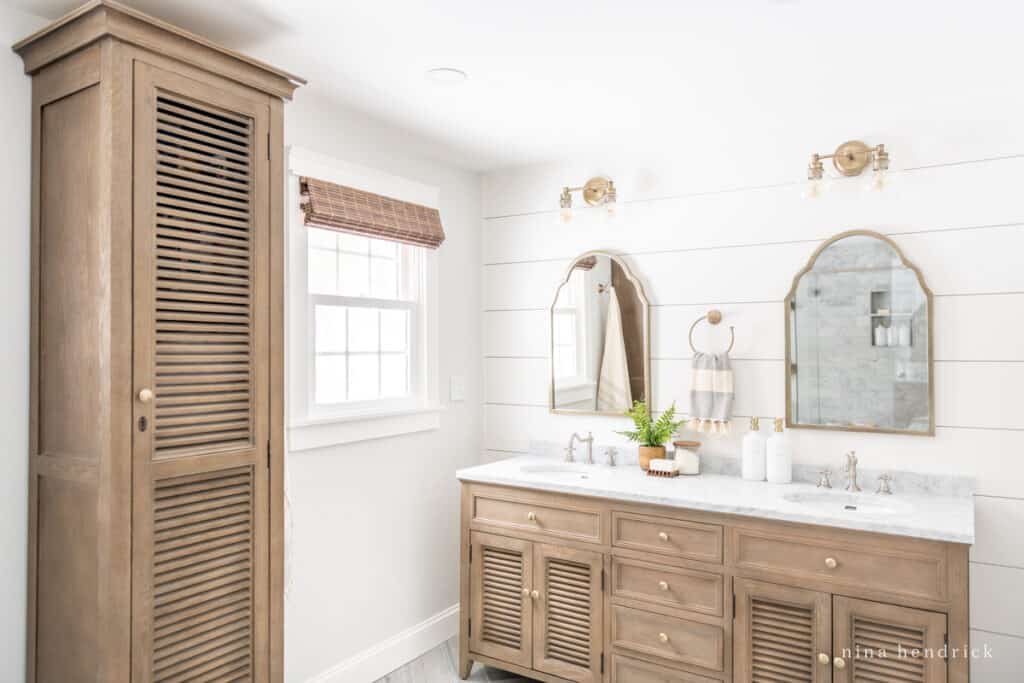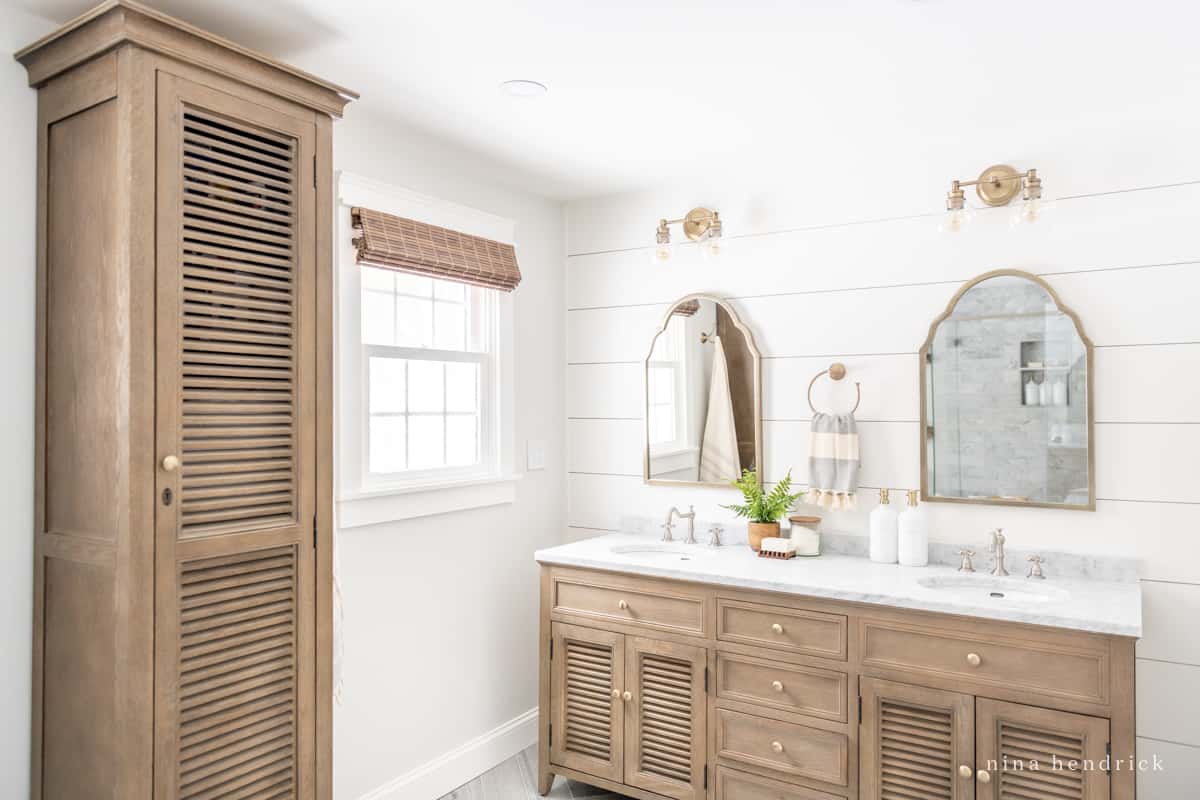 Warm Wood Vanity
The sink vanity and linen cabinet are part of the same Shutter Collection from Restoration Hardware but have since been discontinued. You can get a similar look with this vanity that also includes a Carrara marble counter. I swapped out the hardware with these champagne gold knobs.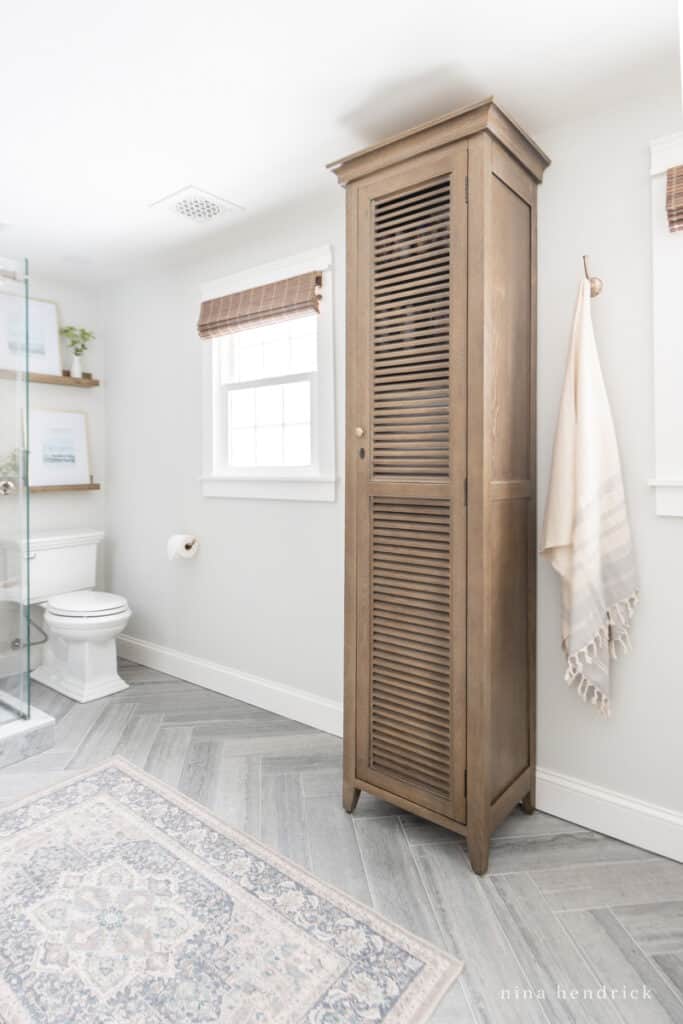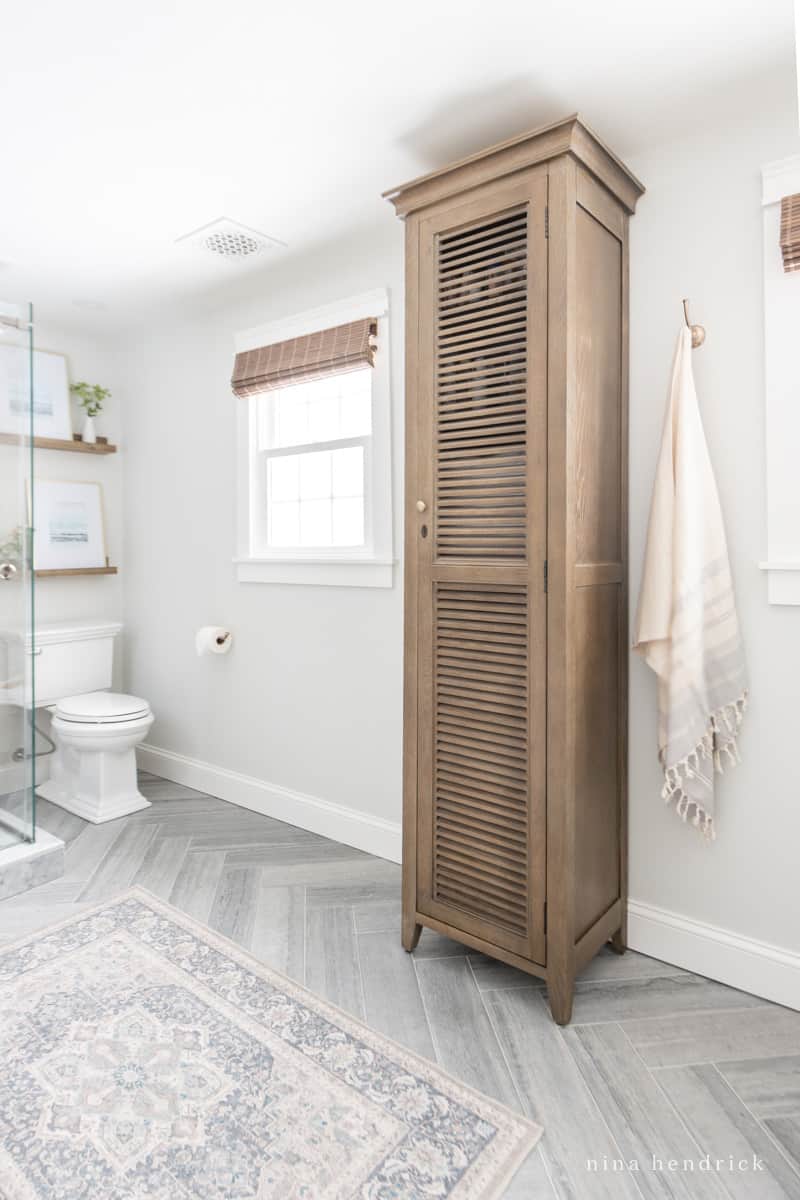 Tall Wood Bathroom Storage Cabinet
As I mentioned earlier, we knocked down a linen closet in the awkward center wall. However, we still needed storage space for towels and extra toiletries. This linen cabinet does the trick perfectly! Again, it's sold out/discontinued, but this linen cabinet would go well with the vanity alternative I shared.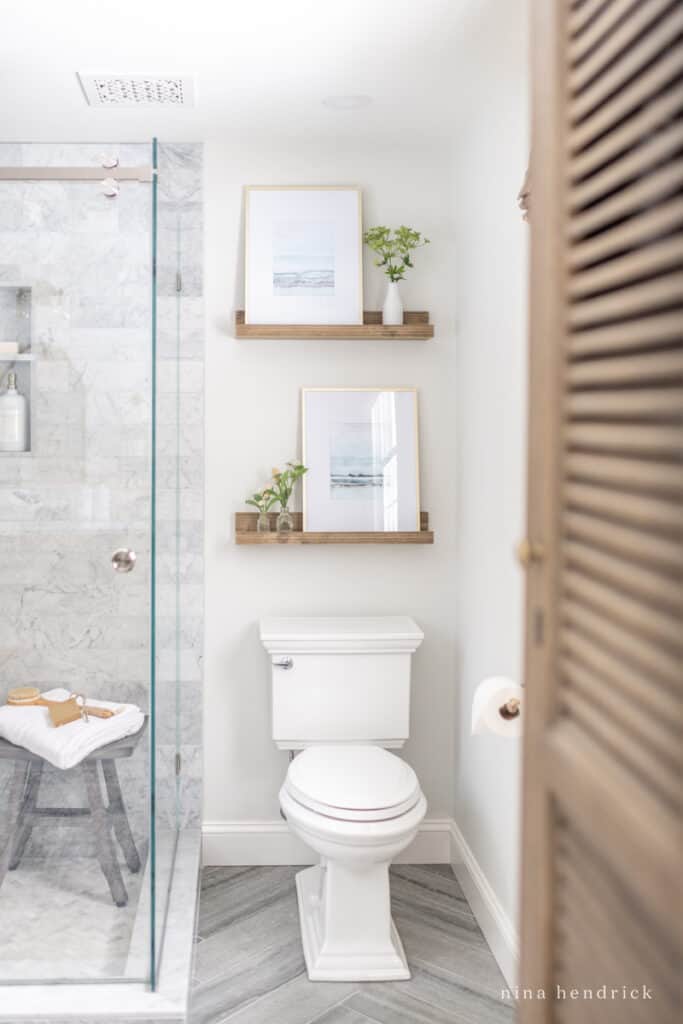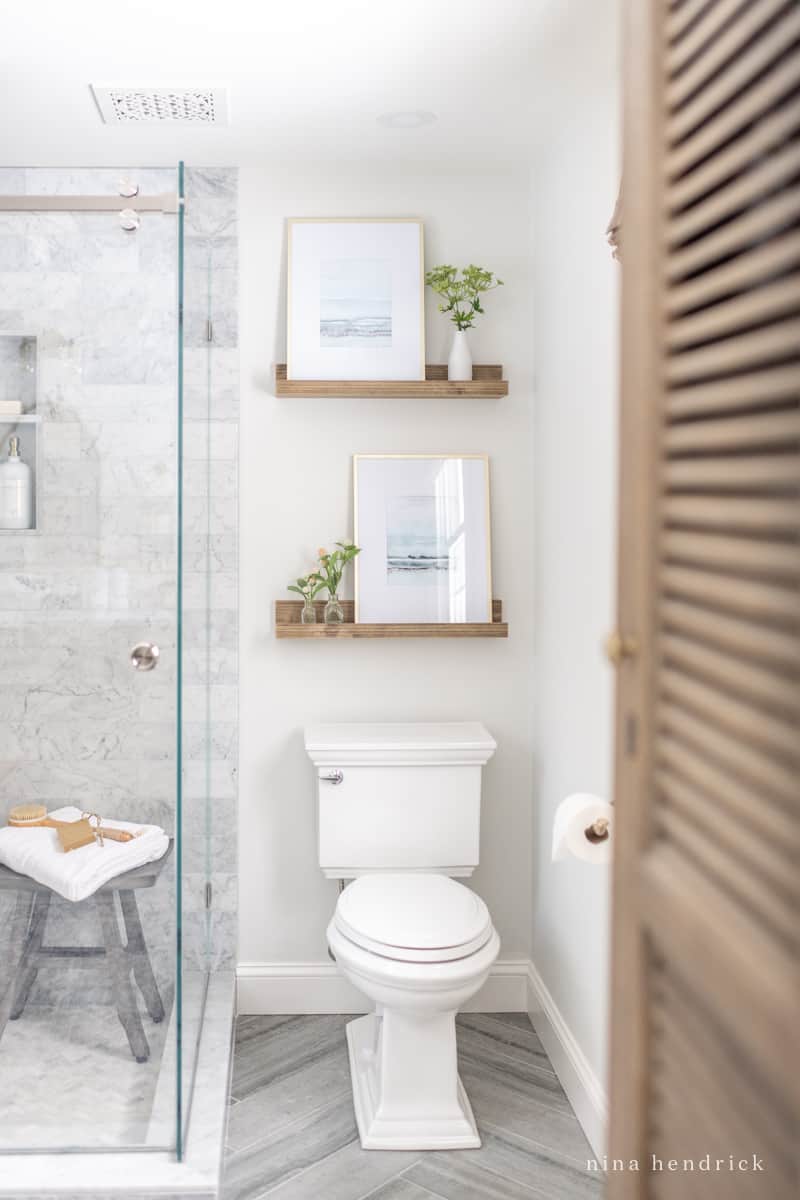 Open Shelving and Decor Ideas Above the Toilet
Our primary bathroom isn't large enough to have a water closet, but we made the best of the situation. I kept the floating shelves above the toilet to the depth of picture ledges (24″ in Seadrift).
The challenge with this shallow shelving was finding pretty decor that would fit! I repurposed a couple of little faux florals from elsewhere in the house. I purchased these abstract coastal printables on Etsy and added them to champagne gold frames. You can read my tips for styling floating shelves here!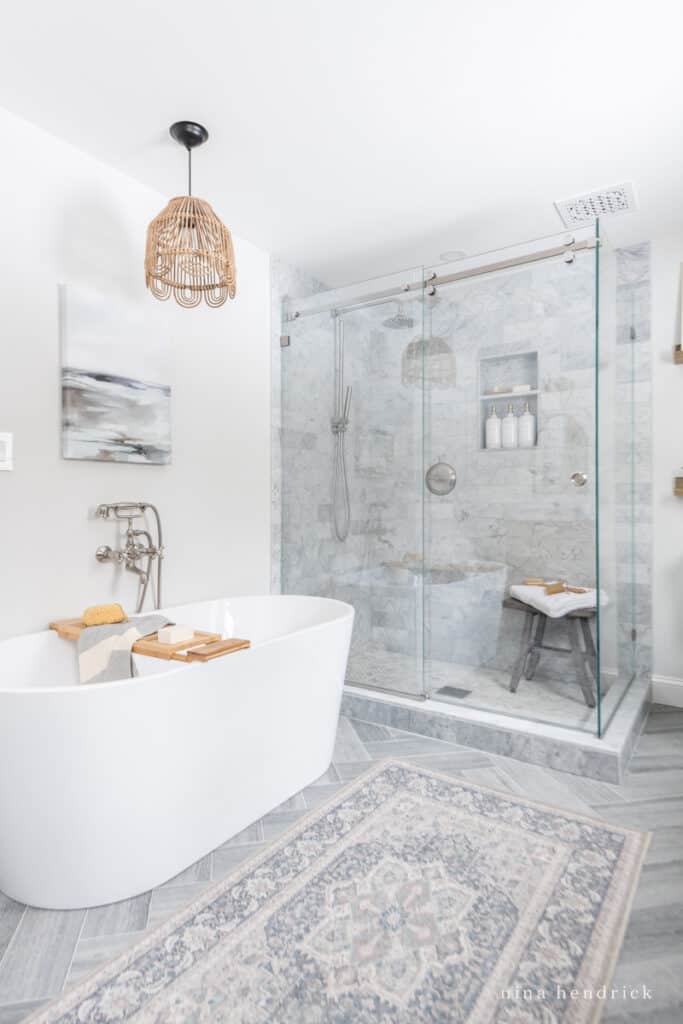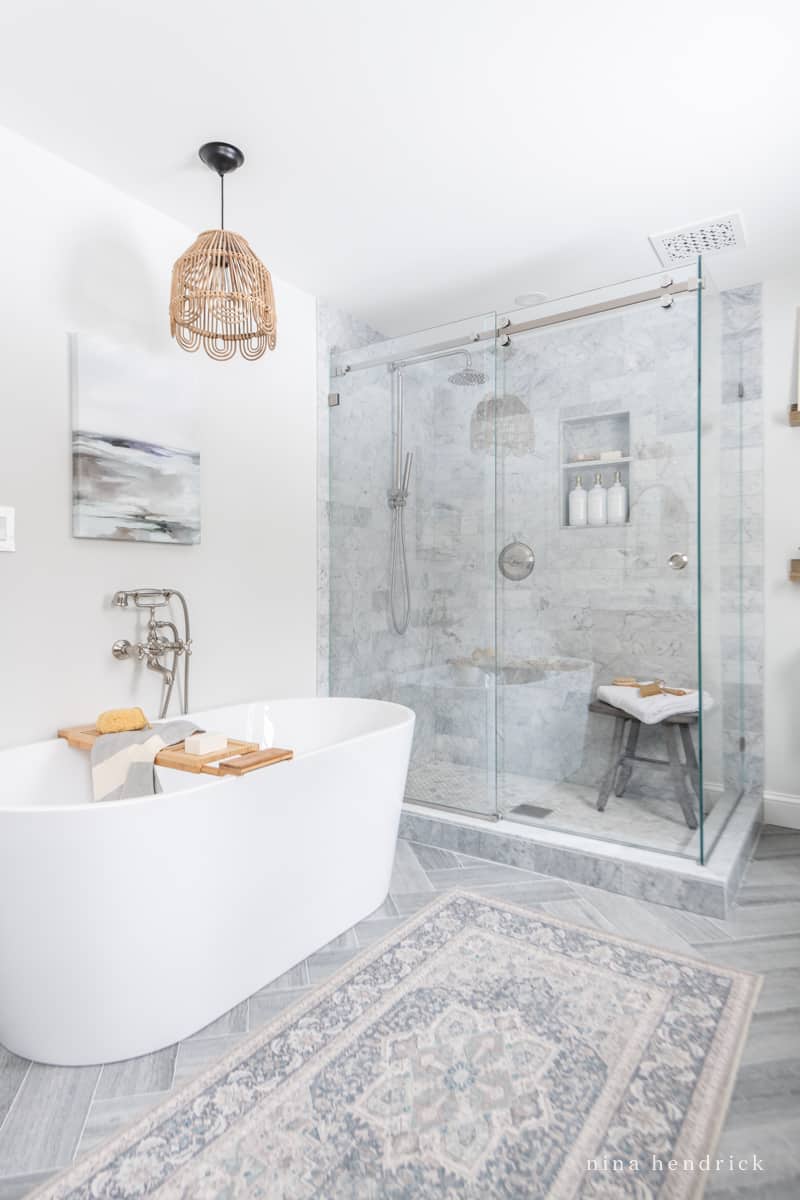 Non-Traditional Bathroom Rug
Instead of a traditional bath mat, I decided to go with this waterproof synthetic rug in 3×5′. It's a great way to add an extra design element to the space, and it's made of PVC so it's easy to clean and maintain. Plus, there are so many different designs and colors available, so it's easy to find something that fits your style.
Herringbone Pattern Floor Concrete-Look Floor Tile
The herringbone floor tile is made from durable porcelain that mimics the look of concrete. The herringbone pattern is not only visually appealing, but the pattern ties in with the other rooms of our home and plays off of the Carrara marble countertops. You can read about how I mix and match tile types here!
Glass Shower Enclosure
The new shower glass enclosure gives a modern, sleek look and allows natural light into the shower. The frameless design creates a clean, open feel that makes the entire bathroom look brighter and more spacious.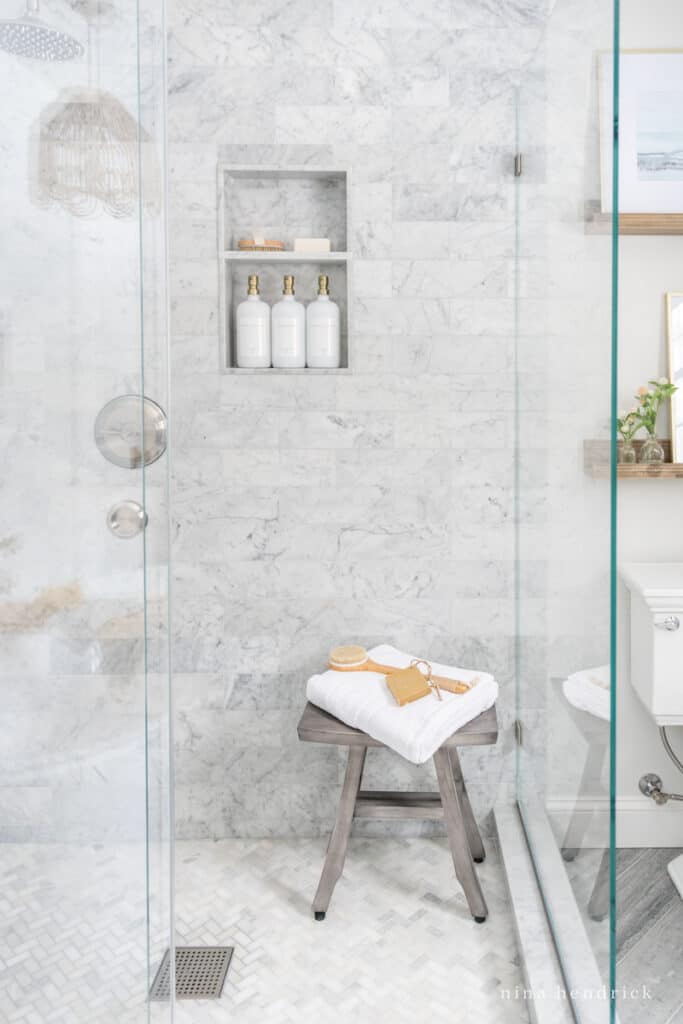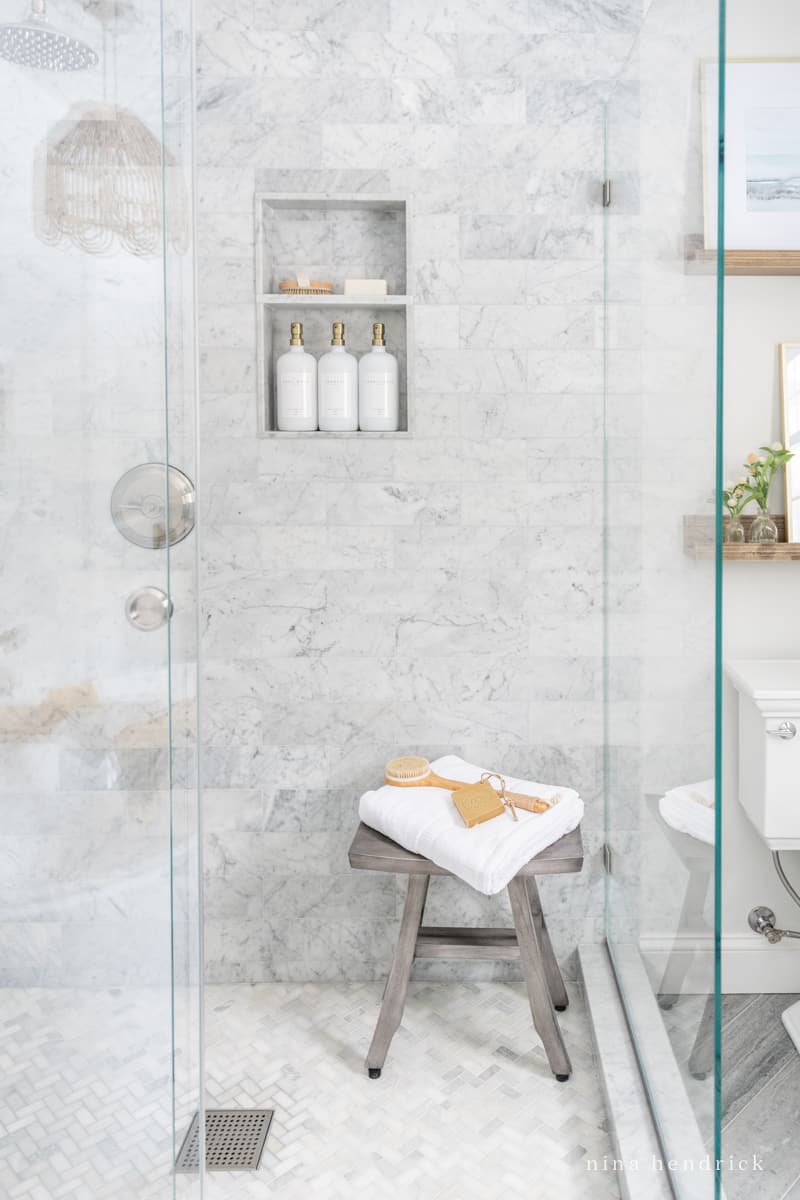 Making choices and approving the design was a definite learning process and ultimately what slowed down our project. I think I'll write a longer post on the topic because we ultimately had to find a workaround due to our expanse of glass, which I think could be helpful to others. In the end, we ended up with the sliding glass door style, and I'm really happy with it!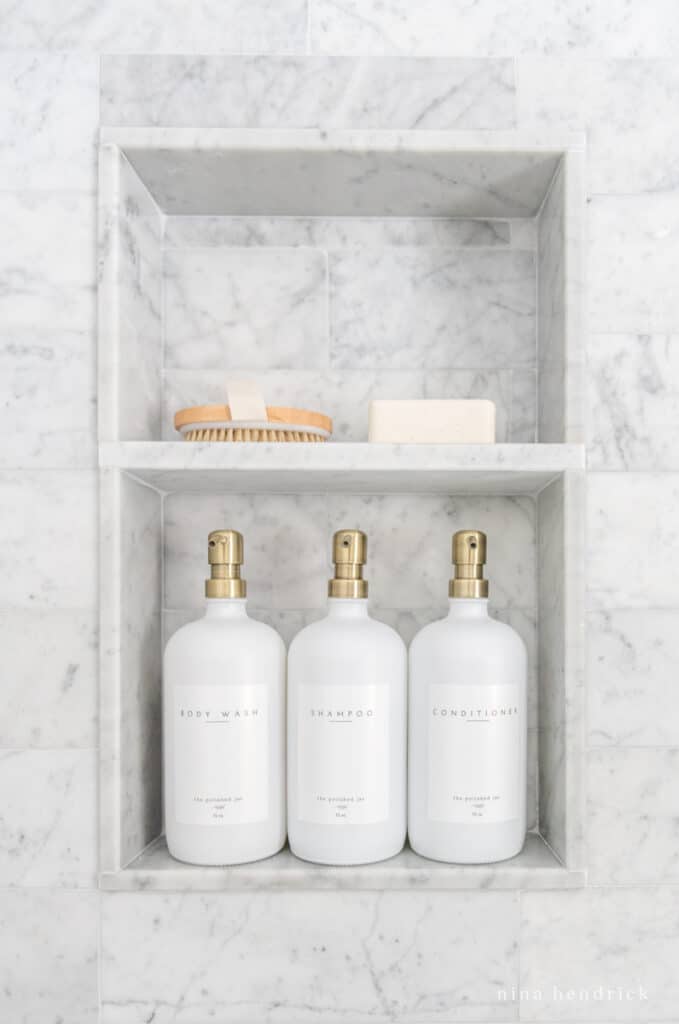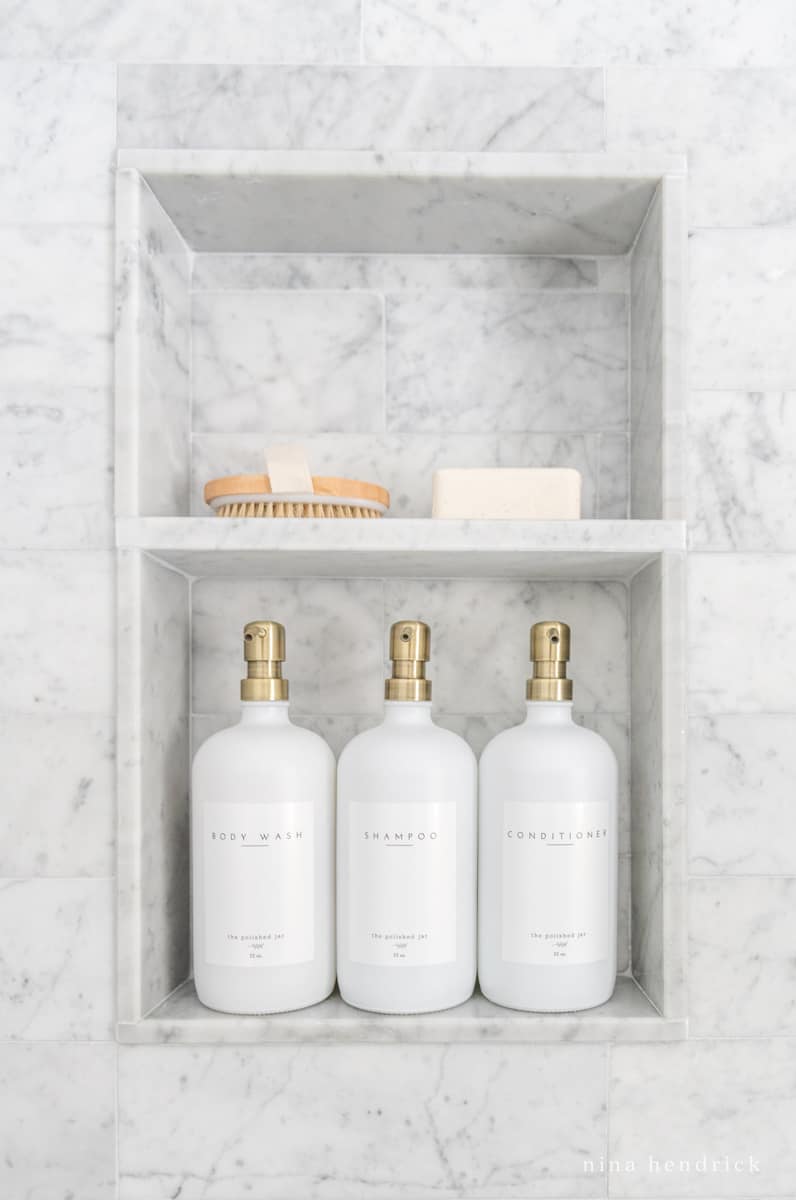 Shower Soap Niche
The shower soap niche was another place where things didn't go quite according to plan, which I'm attributing to a combination of a language barrier with the tile contractor mixed with social distancing during the tiling process. It was originally supposed to feature the small herringbone tile to tie in with the shower floor, but since we were staying away while workers were in the space, it was too late by the time I caught it. Live and learn.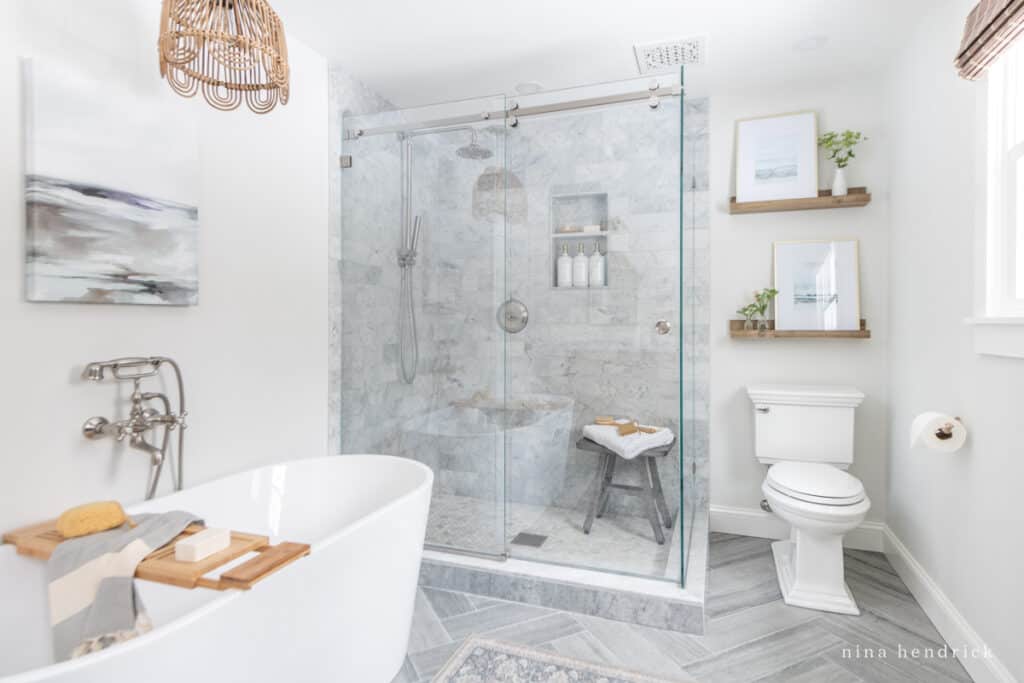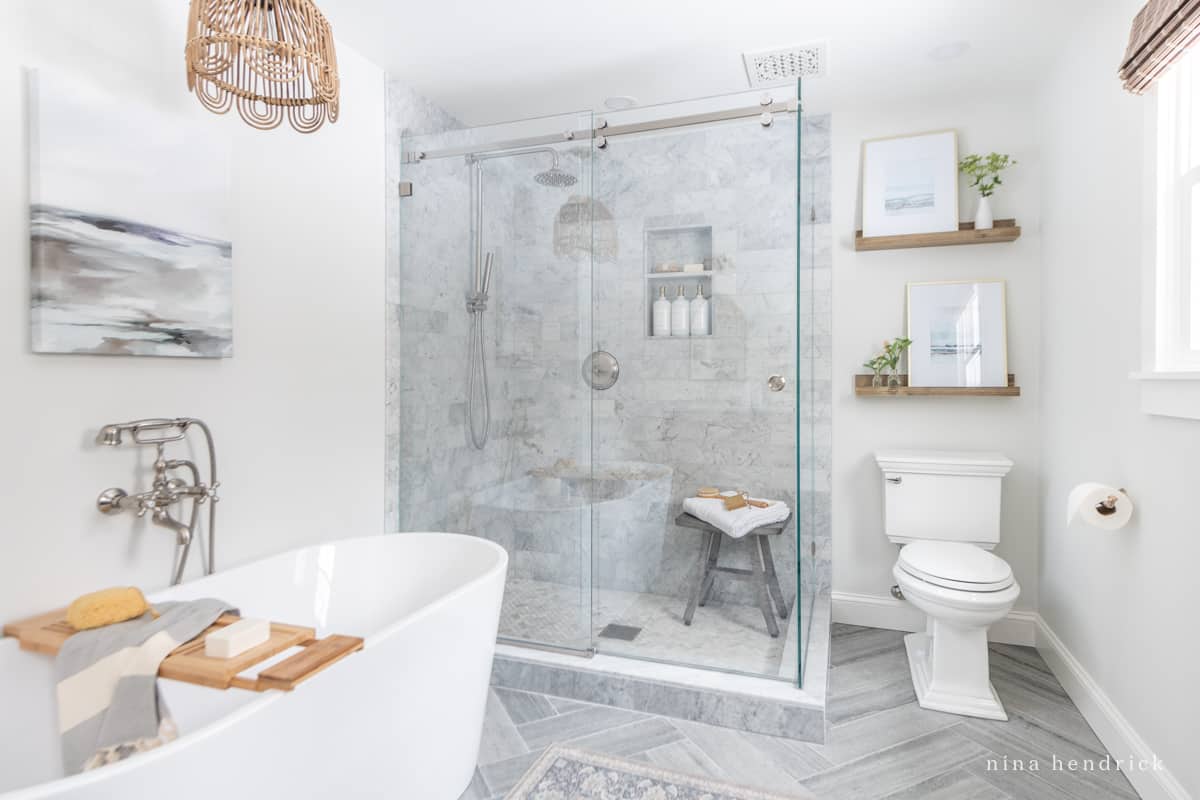 A bathroom makeover can be an exciting and rewarding project. It can transform a tired, outdated bathroom into a beautiful, functional space that you and your family will enjoy for years to come. With the right plan, materials, and guidance, a bathroom makeover can be done on time, efficiently, and cost-effectively. Whether you choose to go all-out and hire a professional or do it yourself, you'll end up with a bathroom that looks and functions like new.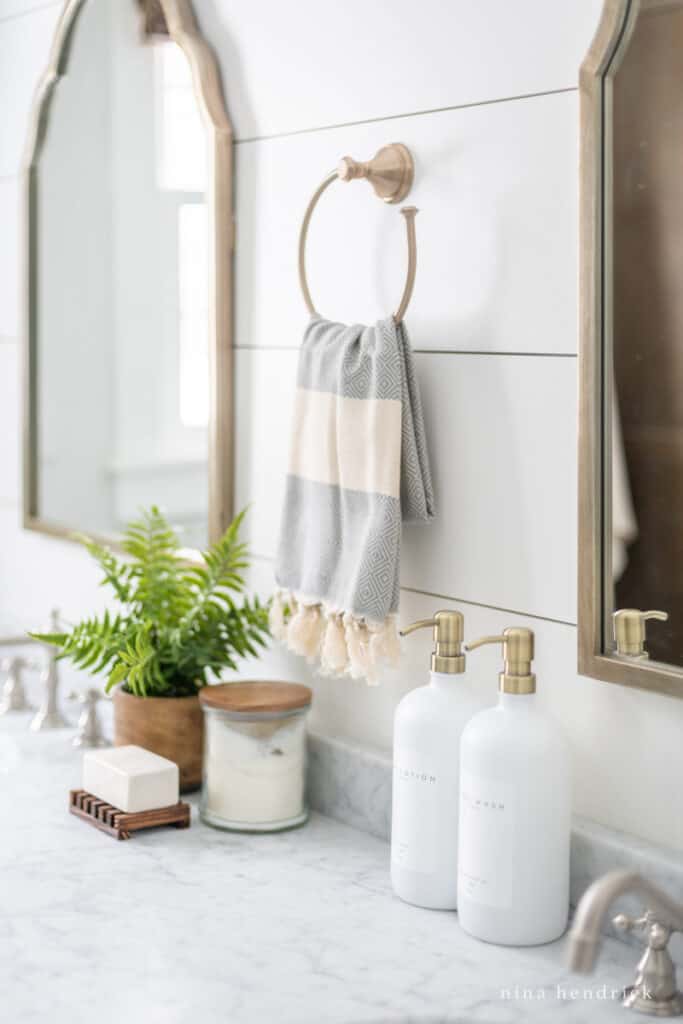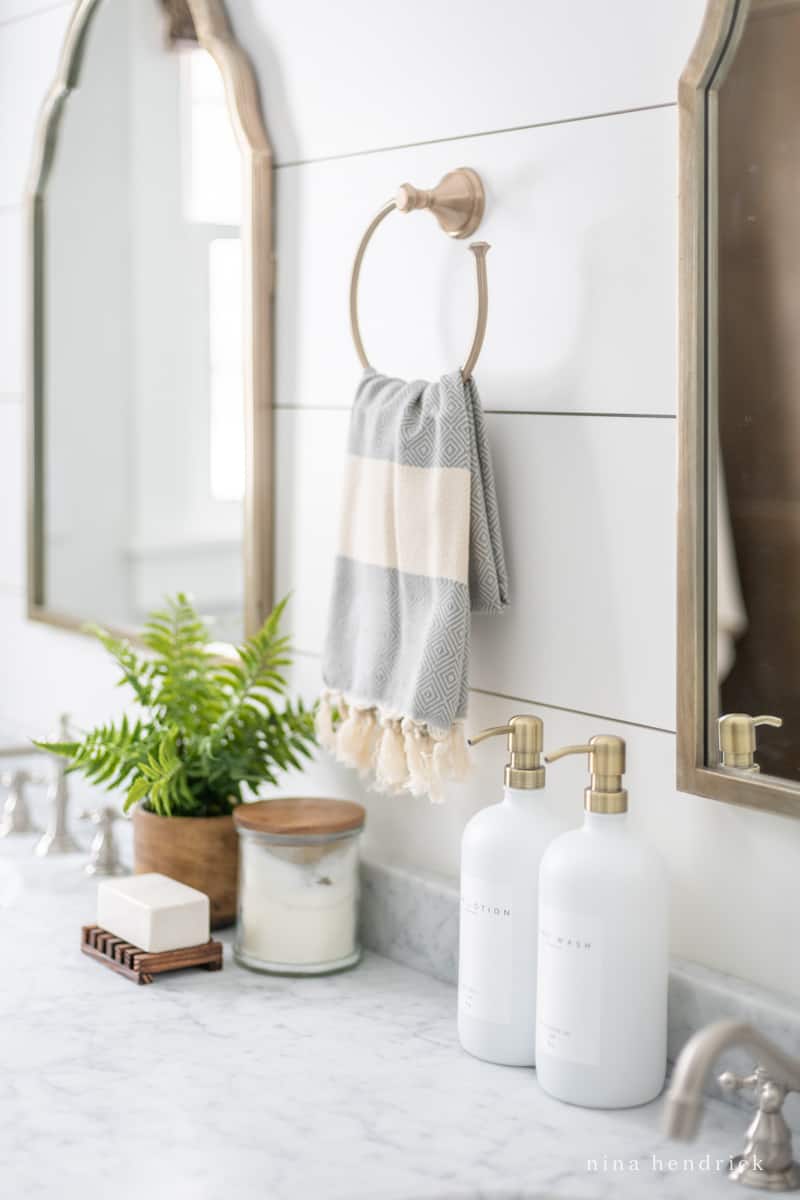 That's a wrap on our Primary Bathroom makeover! The next projects in the space are strictly organizing related, and I'll make sure to link back when the time comes. I'll leave a full source list below. Make sure to follow along on Instagram for behind-the-scenes on our other projects!
Primary Bathroom Makeover Source List
Wall Color — Benjamin Moore Paper White OC-55 in Aura Bath & Spa
Ceiling Color — Benjamin Moore Simply White OC-117 in Aura Bath & Spa
Trim & Plank Color — Benjamin Moore Simply White in Advance Semi-Gloss | Read my post about planking with PVC here!
Vanity, Vanity Top & Linen Cabinet — Restoration Hardware Shutter Collection (Discontinued) Similar Here
Towel Hooks — Champagne Bronze
Large Towel — White-Grey
Vanity Faucets — Brushed Nickel
Vanity & Linen Cabinet Knobs — Similar
Towel Ring — Champagne Bronze
Hand Towel — Grey
Mirrors — Lanesborough
Soap Bottles — White & Gold 32 oz.
Vanity Lights — Aged Brass
Floor Tile — 6×24″ Honed
Bath Rug — 3×5′
Tub — 59″ Freestanding
Tub Faucet — Brushed Nickel
Abstract Canvas — Wrapped Canvas
Rattan Light — Belden
Tub Tray — Hearth & Hand, similar here
Sponge — Pack of 3
Shower Stool — Dark Grey
Shower Floor Tile — Herringbone Pattern 12 x12″ Honed Marble
Shower Wall Tile — 4×12″ Honed Cararra
Shower Ledge/Niche Shelves — Cararra Marble Threshold
Shower Head System — Brushed Nickel (Similar)
Soap Bottles — White & Gold 32 oz.
Scrub Brushes — Set of 2
Favorite White Towels — Bath Sheet Size
Toilet — Kohler
Toilet Paper Holder — Champagne Bronze
Picture Ledges — 24″ Seadrift
Gold Frames — 8×10″
Abstract Watercolor Printables — Etsy
Wood Blinds — 30″ x 48″
Pin It for Later | Primary Bathroom Makeover