Make your holiday dinner extra special this year with these 7 easy tips and tricks for creating a festive Christmas tablescape. From creative centerpieces to table settings and decorations, get creative and make your table look amazing for the holiday season.
A Christmas tablescape is a beautiful way to bring the festive spirit into your home. It is an opportunity to showcase your holiday decorations with a centerpiece and other holiday decorations. The centerpiece is the star of the show and could range from a candle display to a floral arrangement to a centerpiece made with Christmas ornaments and elements. Other decorations could include a tablecloth, napkin rings, placemats, and holiday-themed dinnerware. With the perfect Christmas table, you can create a warm and inviting atmosphere for your dinner guests and create lasting memories. (For more classic holiday decor inspiration, check out this post!)
If you're looking to create your own beautiful and classic Christmas tablescape this year, you've come to the right place! In this post, I'm going to share my classic Christmas tablescape, plus seven tips and tricks so that you can recreate your own amazing holiday table. From choosing the perfect color palette to adding the final touches, I'm going to help you create a stunning and timeless Christmas tablescape that your guests will love. So, let's get started!
This post contains affiliate links, which means I may get a small commission (at no extra cost to you) if you shop my link. Please see my disclosure if you'd like more info!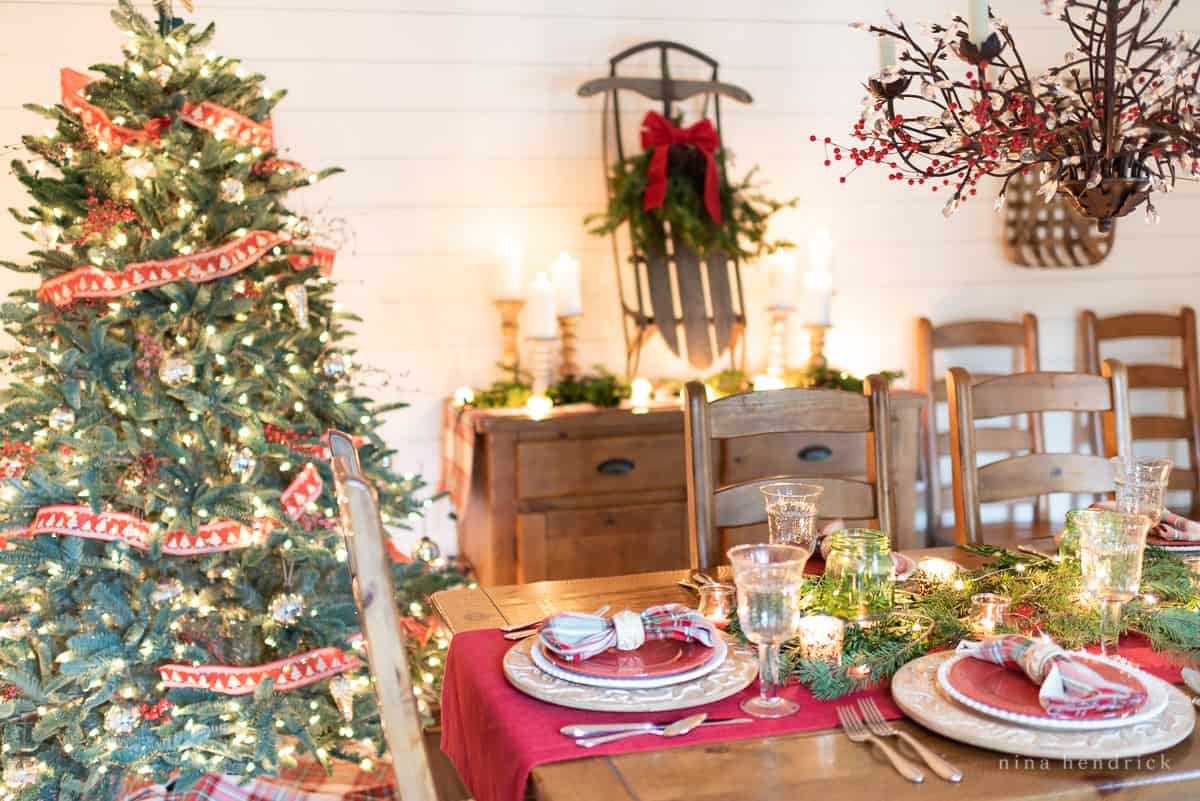 What is a tablescape?
A tablescape is a unique way to decorate a table and add a personal touch to any event or dinner. This trendy concept allows you to express yourself by creating an eye-catching display that is sure to make a statement in your entertaining. From modern minimalism to classic elegance, there's a tablescape for every style. You can read my tablescape basics post here!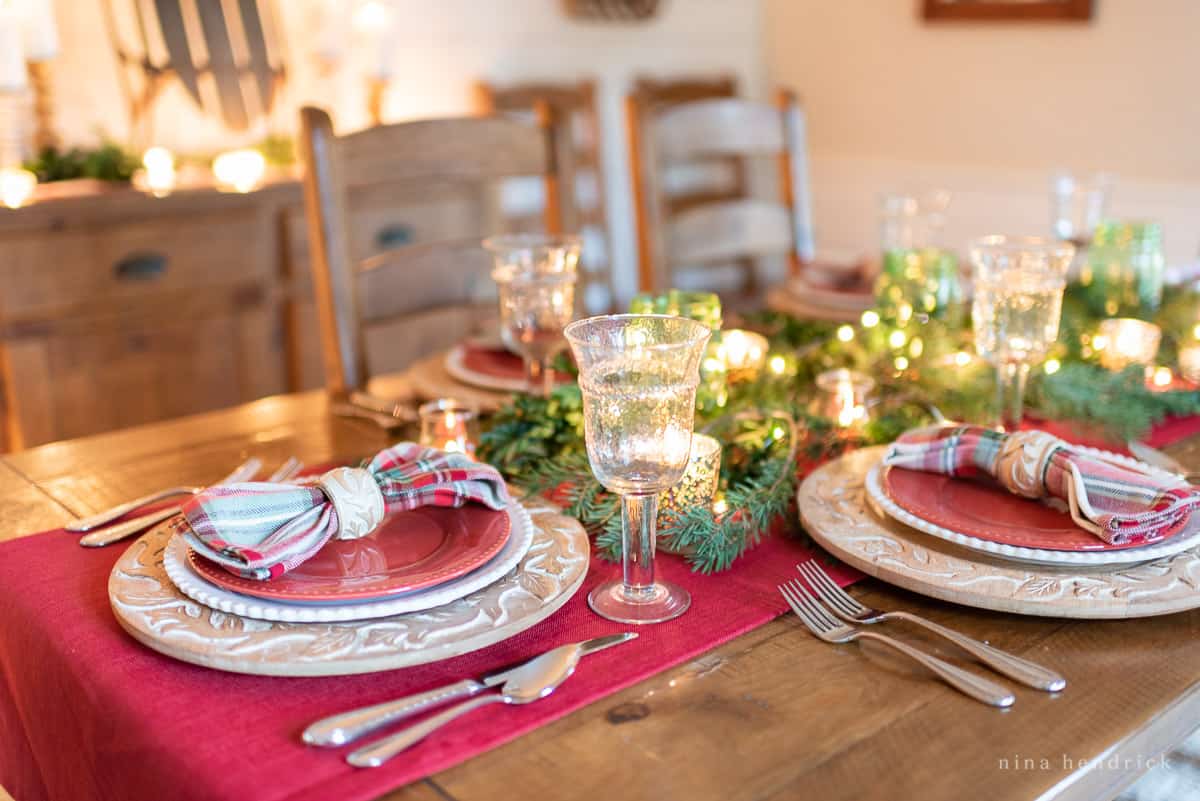 How Do I Decorate My Christmas Table?
A Christmas tablescape should be full of festive colors, textures, and decorations that evoke the holiday spirit. Start by selecting a color palette, such as classic red and green, or try a more modern, monochromatic color scheme. Use holiday-themed tableware, such as dinner plates, bowls, and glasses, and add rustic accents like pine cones, poinsettias, or evergreen sprigs. Place a centerpiece at the center of the table, such as a large bowl of colorful ornaments, an evergreen wreath, or a group of candles. Use table linens and napkins in coordinating colors, and tie it all together with a few small, decorative touches like Christmas garlands, mini trees, and holiday figurines. With the tips below and a little creativity and effort, you can create a beautiful, festive Christmas table to enjoy at your holiday gatherings with family and friends.
The easiest way to create a Christmas tablescape is to break the process down into manageable steps. The first part of the process is to begin with a plan.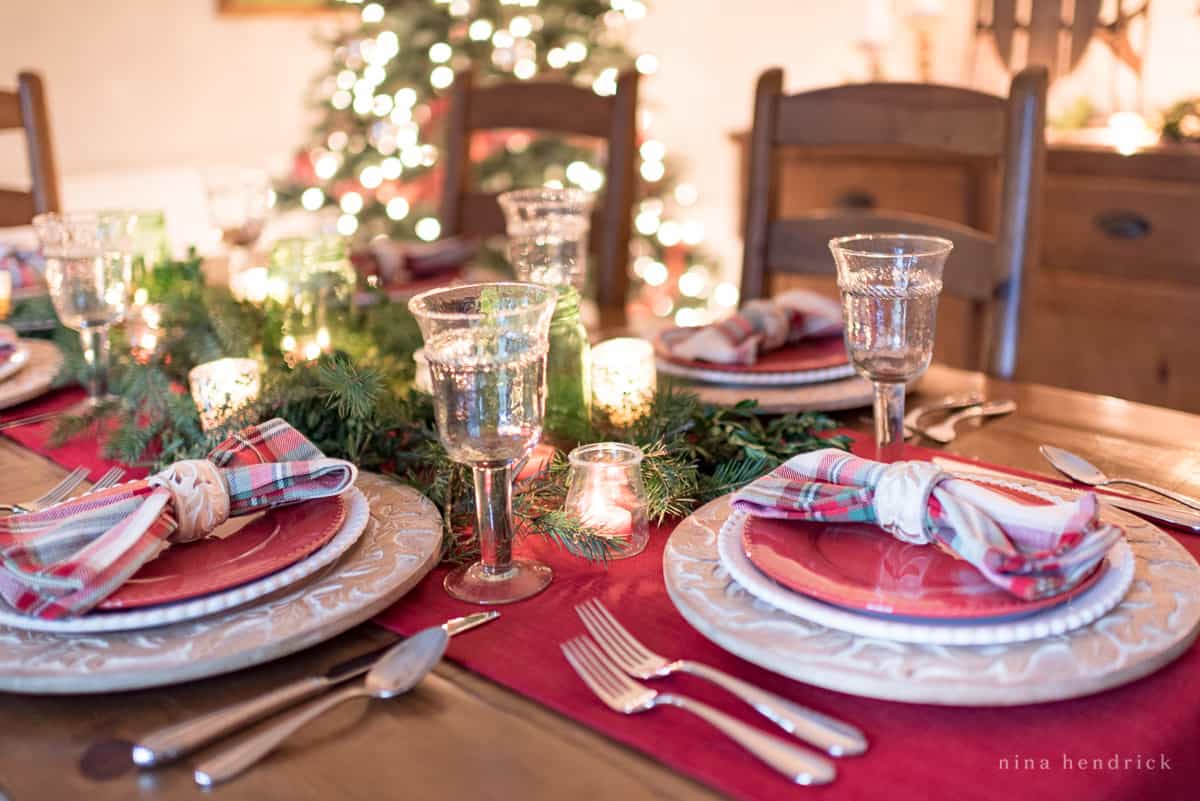 1. Choose a Color Scheme or Theme
Start by selecting a color scheme for your table. You can use traditional Christmas colors such as red, green, and white, like I did here. You can also use a rustic theme, like I did with this Robert Frost-inspired New England tablescape. The sky is really the limit, so you can choose whatever colors or theme fit your style. You can even go for something unexpected, like this blue Christmas tablescape!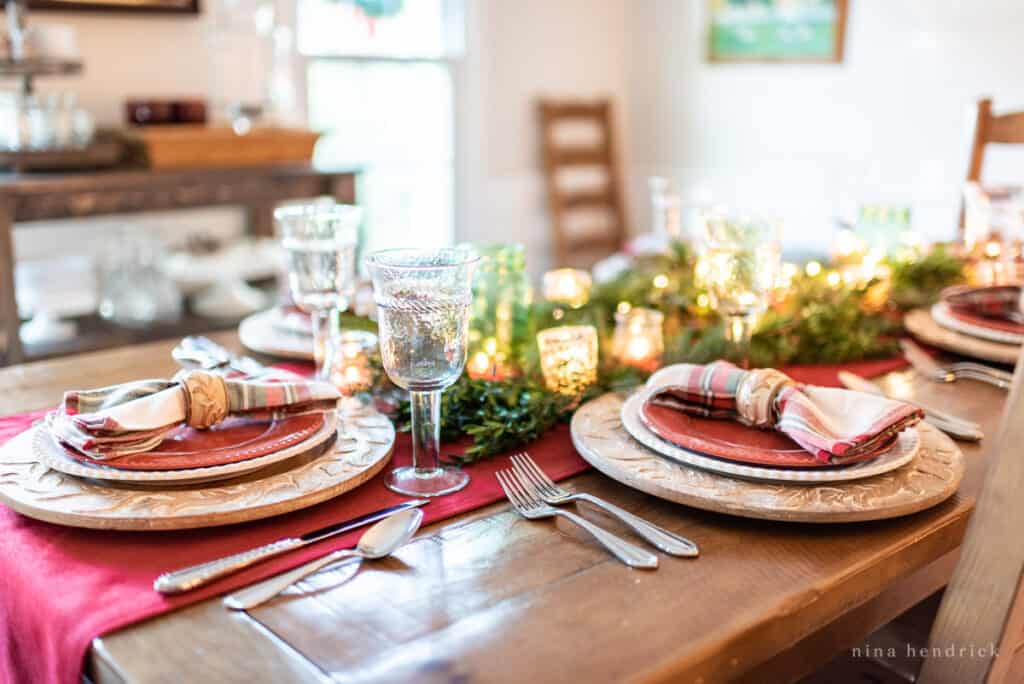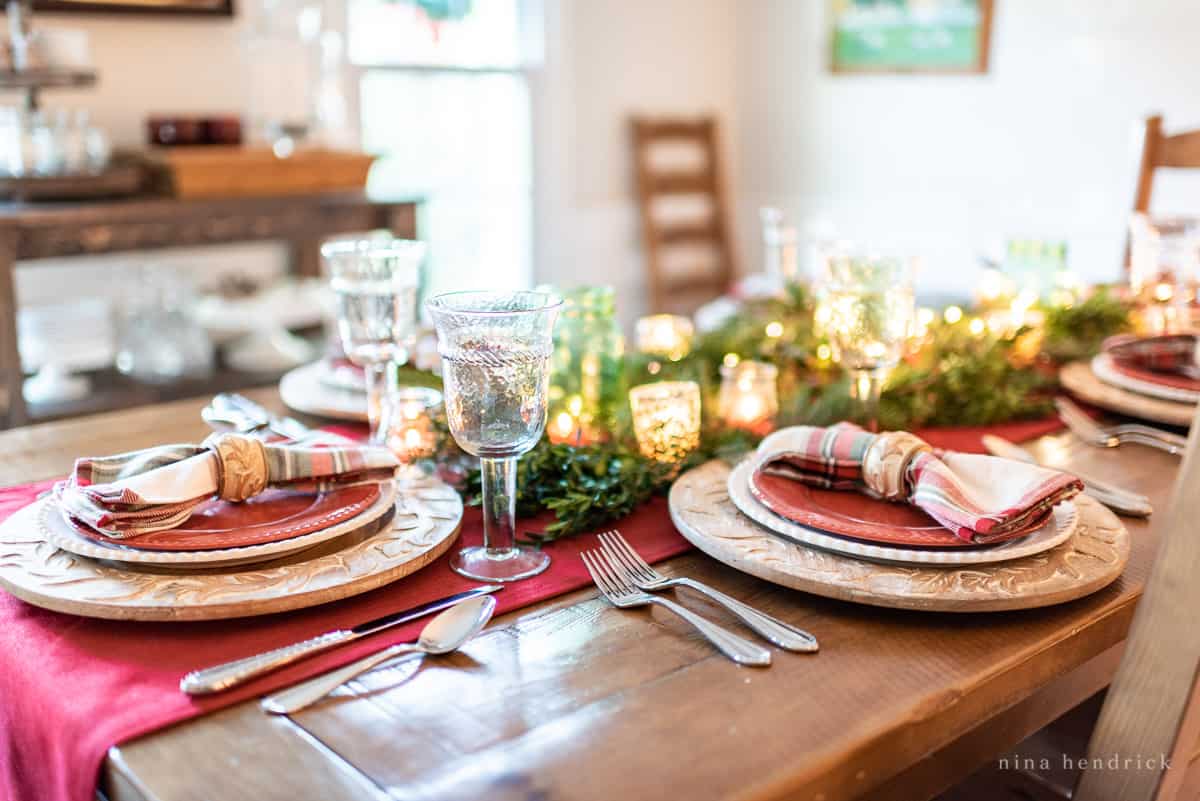 2. Shop for Your Tablescape or Gather Items
Once you have a color scheme or theme in mind, you can start looking for accessories to decorate the table. Some great pieces to add to a Christmas table include tablecloths, place settings, and napkins. You can also include centerpieces like a candle holder, holiday vase, or other decorations. If you are going for a rustic feel, you can even add pine cones and other natural elements. Make your shopping list or search your inventory for items you may be able to repurpose. Have fun with it and use your imagination to create a beautiful and inviting Christmas tablescape.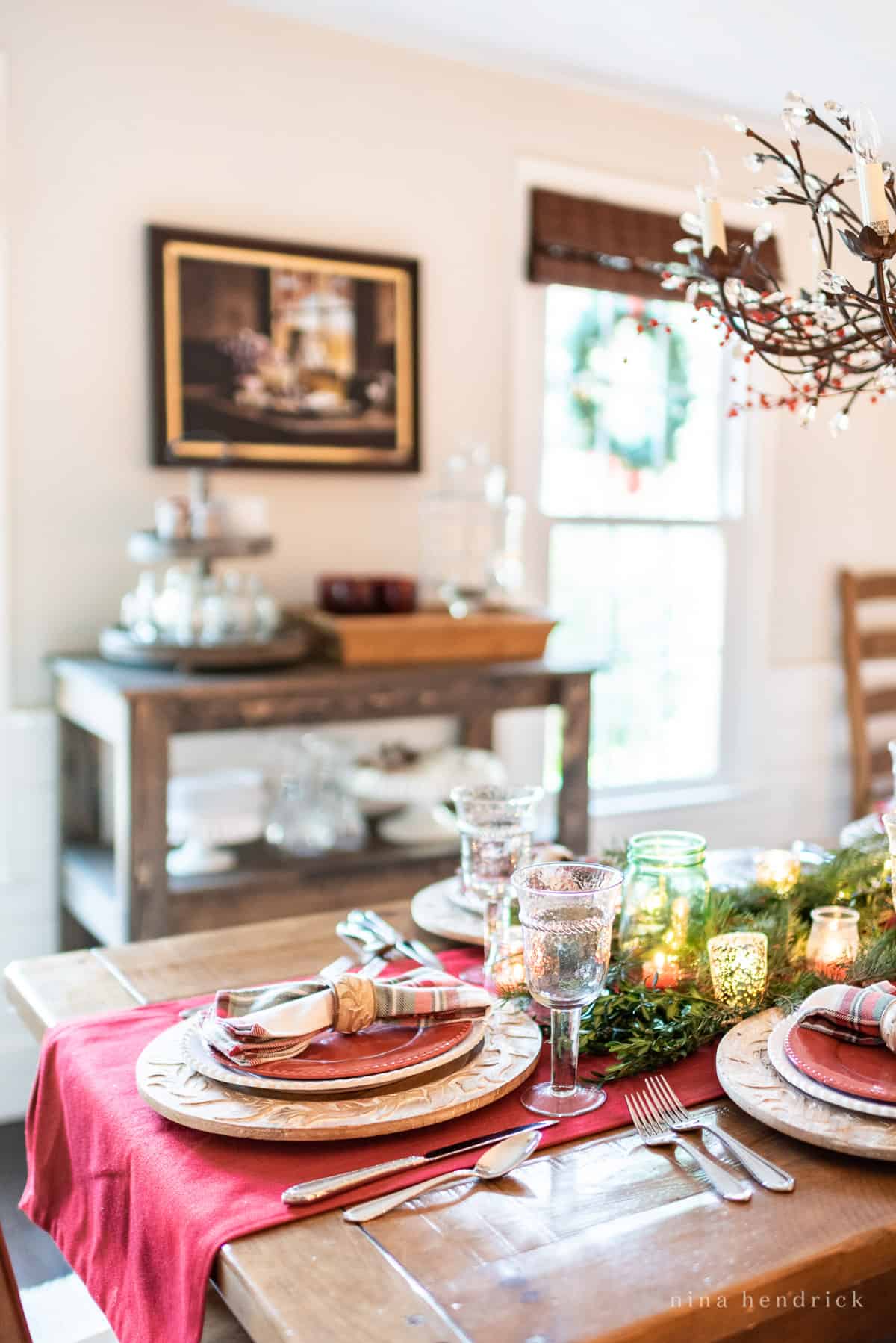 3. Choose a Tablecloth or Runner as the Foundation of Your Christmas Tablescape
The foundation of any Christmas tablescape should be the tablecloth or runner. After cleaning off your table, choose a tablecloth or runner in a cheerful color or pattern, such as a classic red and white plaid or a modern gold and white print. This will act as the backdrop for the rest of your table decorations and will help to set the tone for the rest of the table. Choose a fabric that is easy to clean and is of a good quality, so it can be used for years to come.
You can also think outside the box and use an item like a holiday-themed scarf or throw blanket as a tablescape foundation.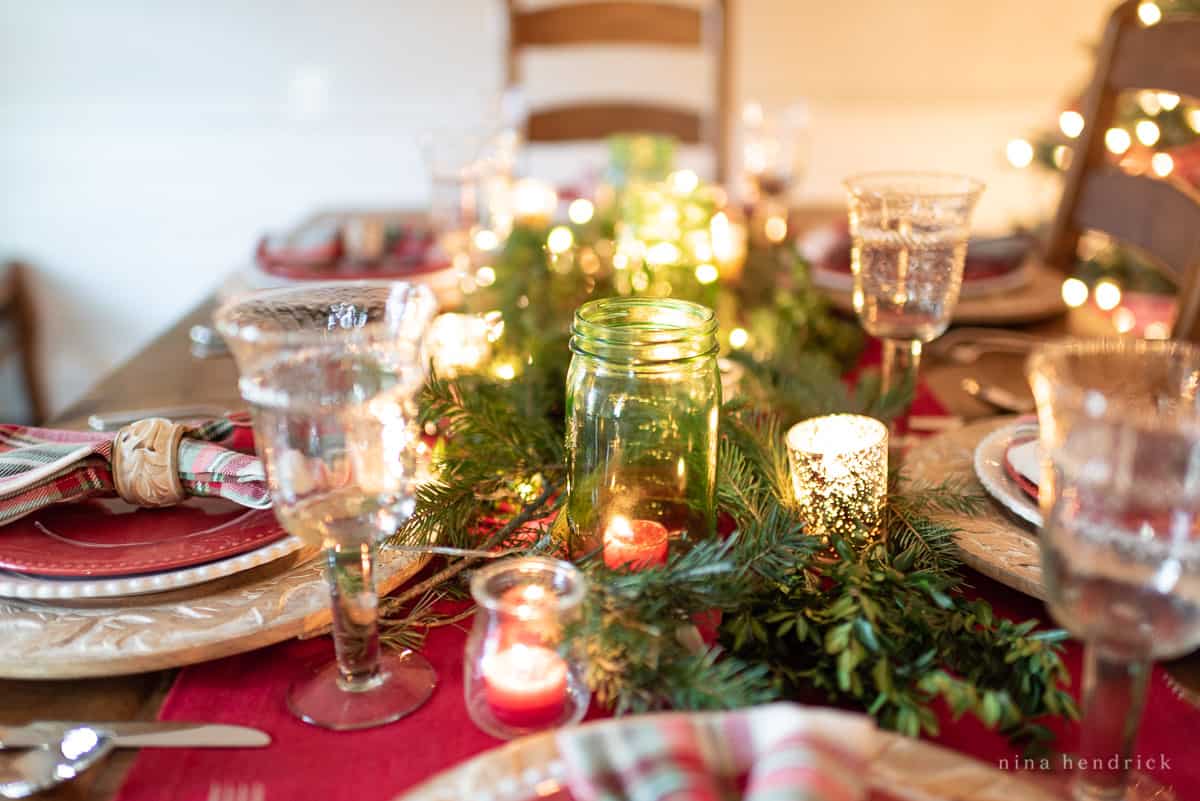 4. Design the Centerpiece for Your Christmas Table Decor
When creating a Christmas tablescape, the centerpiece is the focal point and should be the first element to consider. A great centerpiece for a Christmas table decor can be something simple, like a few candles and ornaments in a wooden bowl, or something more elaborate, like a floral arrangement or an evergreen garland. Whatever you choose, make sure it fits with the overall theme of your table and coordinates with the rest of your decor. With the right centerpiece, your Christmas tablescape design will be complete and ready to enjoy!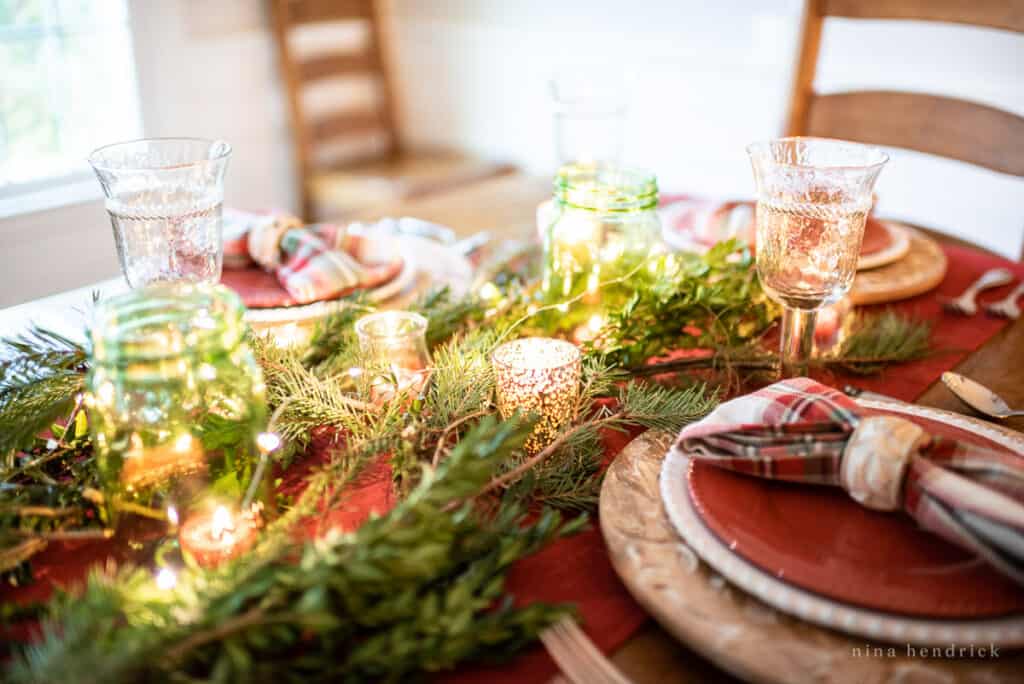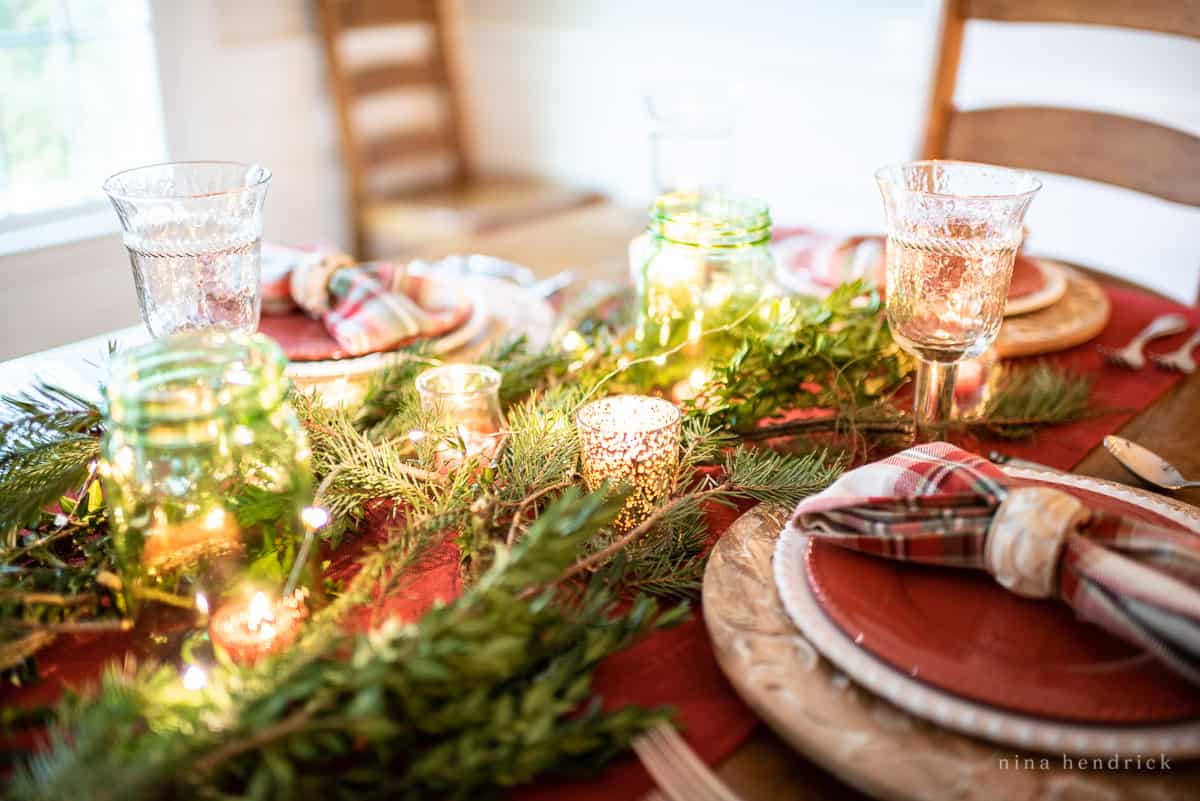 A popular question is "where does the food go?" when you create a more elaborate Christmas tablescape centerpiece. The answer is either to serve your holiday meal buffet-style, or leave strategic areas ready for items like glass hurricanes to be swapped for bowls and other dishes.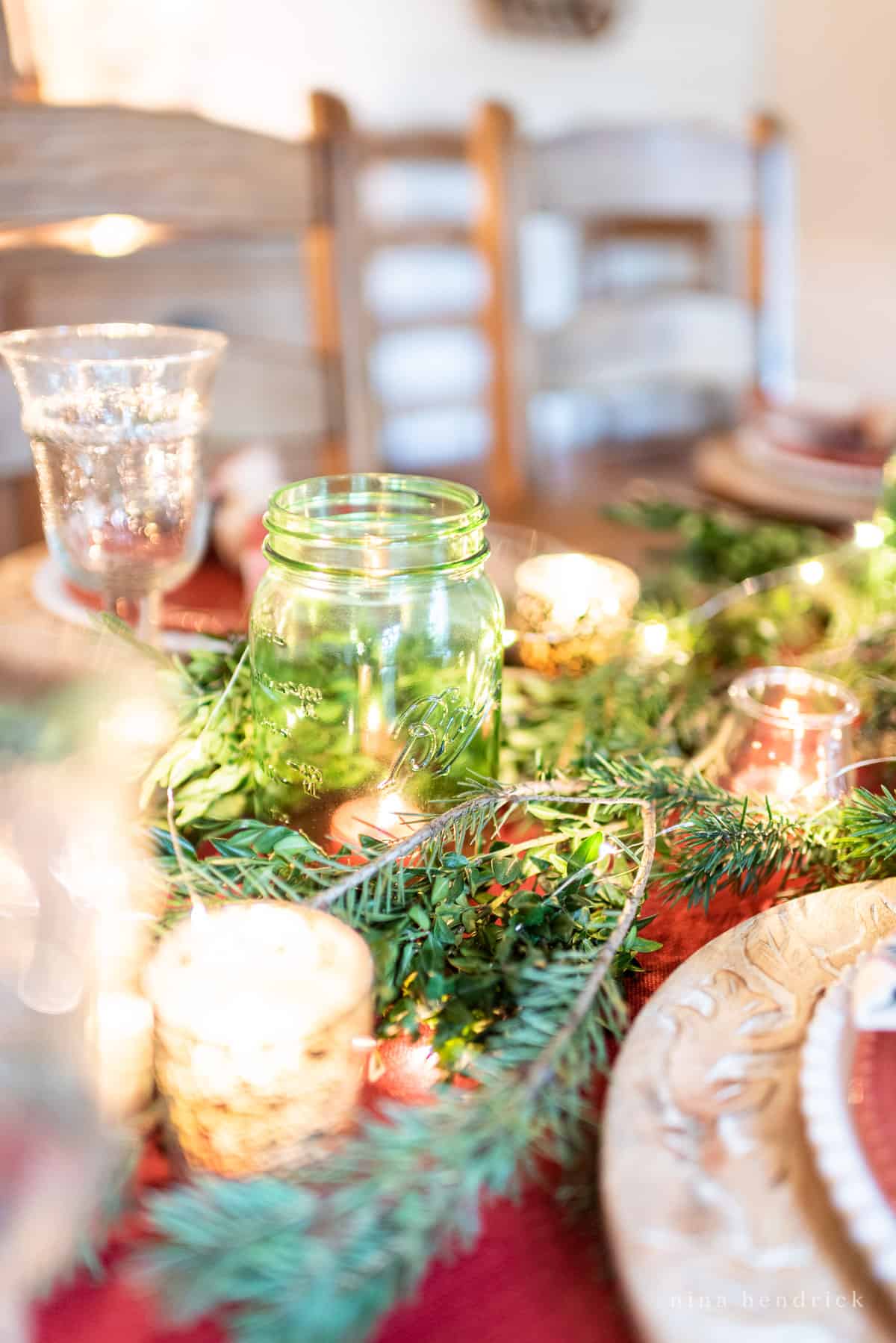 For this tablescape, I began by placing green mason jars, my mercury candles and some small glass yogurt jars in the center of the table. To these, I added a tealight. Battery powered tealights are a handy alternative! I then proceeded to weave greens around the jars, followed by a strand of my LED lights.
Tip: Check the freebie bin in the garden section at your local home improvement store. I was able to grab tree clippings and boxwood for this Christmas tablescape for free!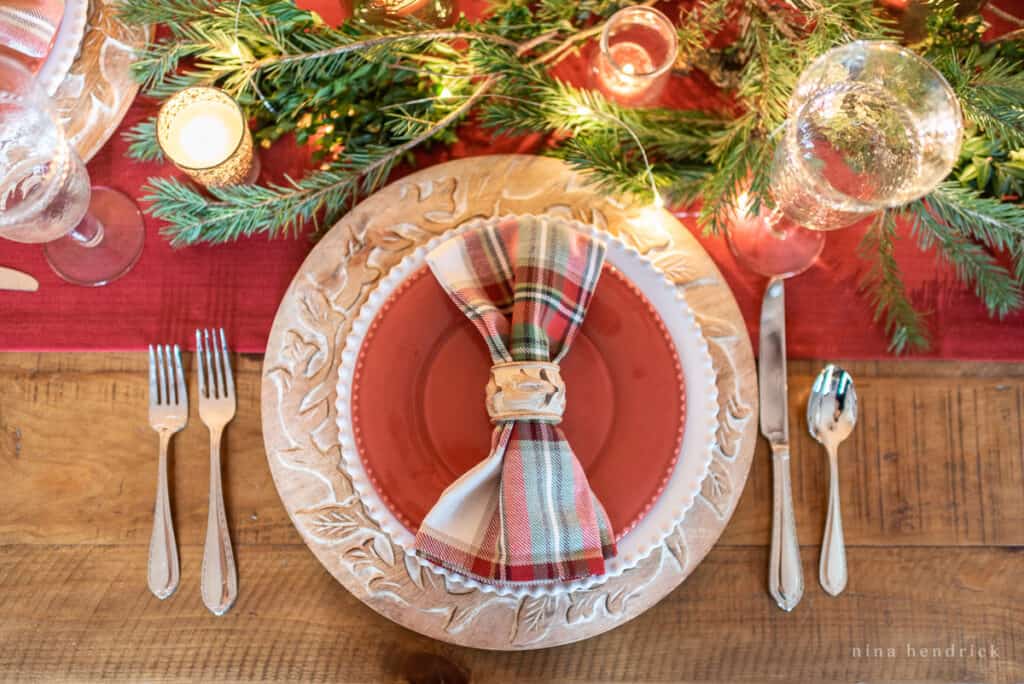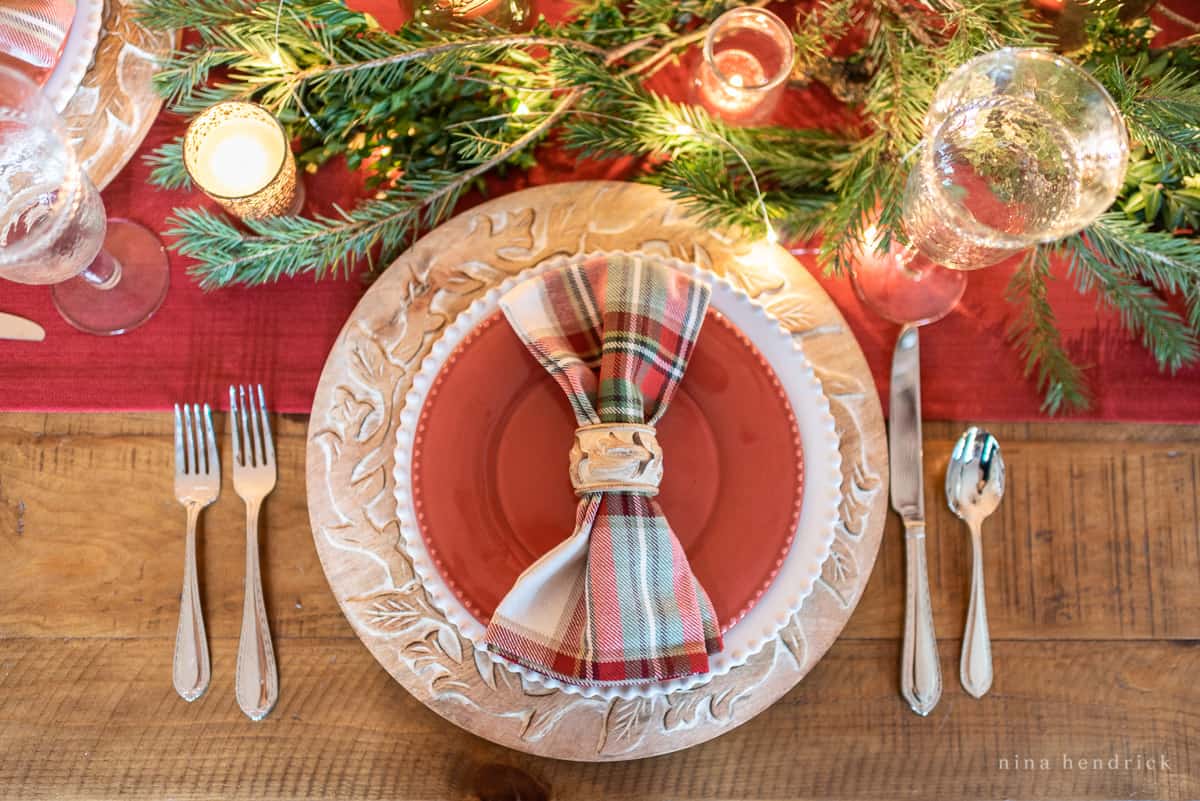 5. Create Place Settings
Place a charger plate at each setting, and then set a plate and silverware to the sides. For this Christmas tablescape, I brought back my favorite chargers and white beaded plates from my entertaining essentials, but I added the red plate for a pop of color.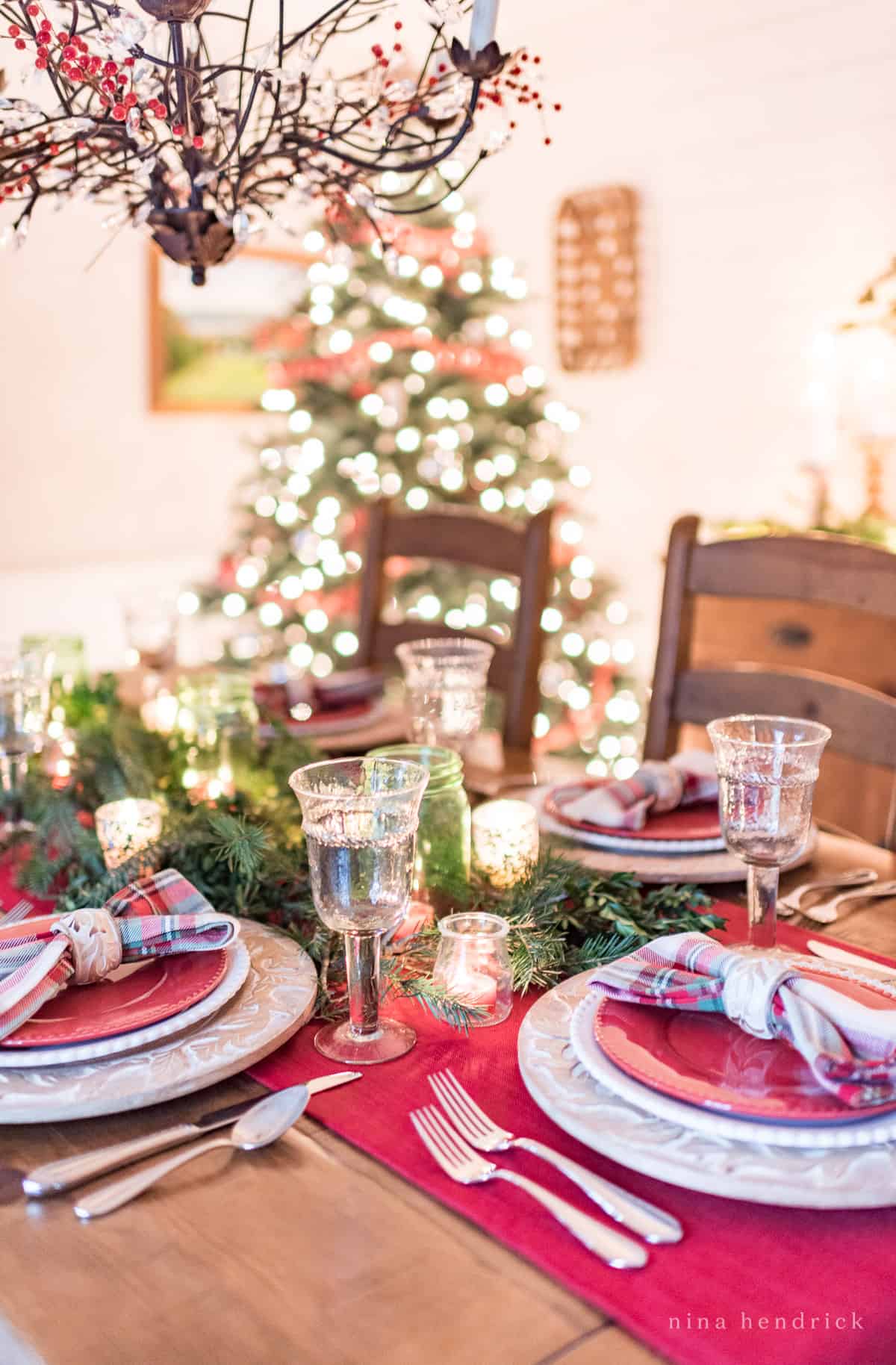 The other items you'll need at your place setting may be specific to your meal, such as a spoon if you're serving soup or multiple drinking glasses if you have wines or a signature holiday cocktail. To each setting, add a holiday-colored cloth napkin. I chose a beautiful plaid napkin and added a napkin ring to give it a more finished look.
6. Add a Personal Touch or Little Gift to Each Place Setting
Adding a personal touch to each place setting at a Christmas tablescape will make everyone feel special and create a memorable experience. Consider adding a small decoration or gift to each place setting to accomplish this. A sprig of evergreen, a tiny ornament, or a mini seasonal figurine are all great options for the decorations. For the gift, a packet of hot chocolate or a box of homemade cookies, a small jar of homemade jam, or a tea towel would all make great options. The decorations and gifts don't have to be expensive or elaborate to be appreciated. The important thing is to make everyone feel special.
7. Enjoy Your Christmas Tablescape with Your Family and Friends
After you've set the table with the beautiful decorations, plates, and tableware, let the guests be the true centerpiece, and celebrate the holiday with your loved ones. Make sure to take pictures of your beautiful table to remember this special moment (and tag me on Instagram @ninahendrickhome if you post them!).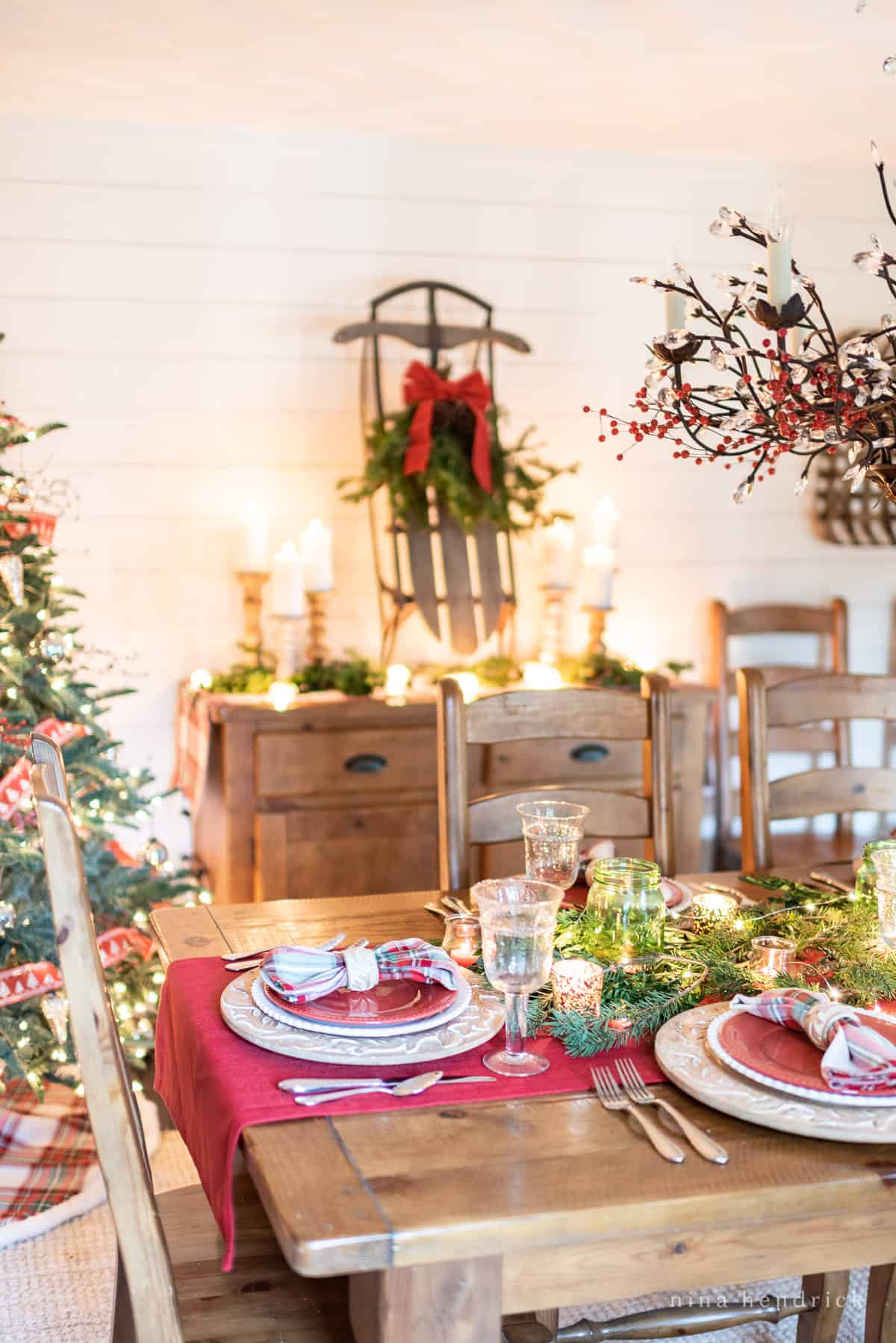 Christmas Tablescape Ideas
I hope that this inspiration has helped you create a beautiful and memorable Christmas tablescape to enjoy with your family and friends. From the perfect centerpiece to the carefully selected place settings, each detail of your tablescape will be sure to add to the magical atmosphere of your holiday gathering. With thoughtful planning, you can create a warm and inviting tablescape that will be sure to add to the joy of celebrating the holiday season with your loved ones. Tablescapes are a great way to bring everyone together to enjoy the holiday spirit — enjoy the time together, and have a wonderful holiday!