Need to find the perfect Christmas brunch ideas to make your holiday gathering special? From decorating to the menu, we've got you covered to make your Christmas brunch a hit.
Christmas is a magical time of year, and there is nothing better than gathering around the table for a delicious Christmas brunch. Whether you are hosting a small family gathering or a large celebration, planning a Christmas brunch is a great way to celebrate the holiday season with friends and family. You can tailor the perfect brunch to fit any budget and taste preferences. From festive decor to tasty treats, this blog post will provide you with all the tips and tricks to help you plan the perfect Christmas brunch. So get out the holiday decorations and prepare to be inspired! Are you looking for more holiday entertaining ideas? You can also host a cookie decorating party!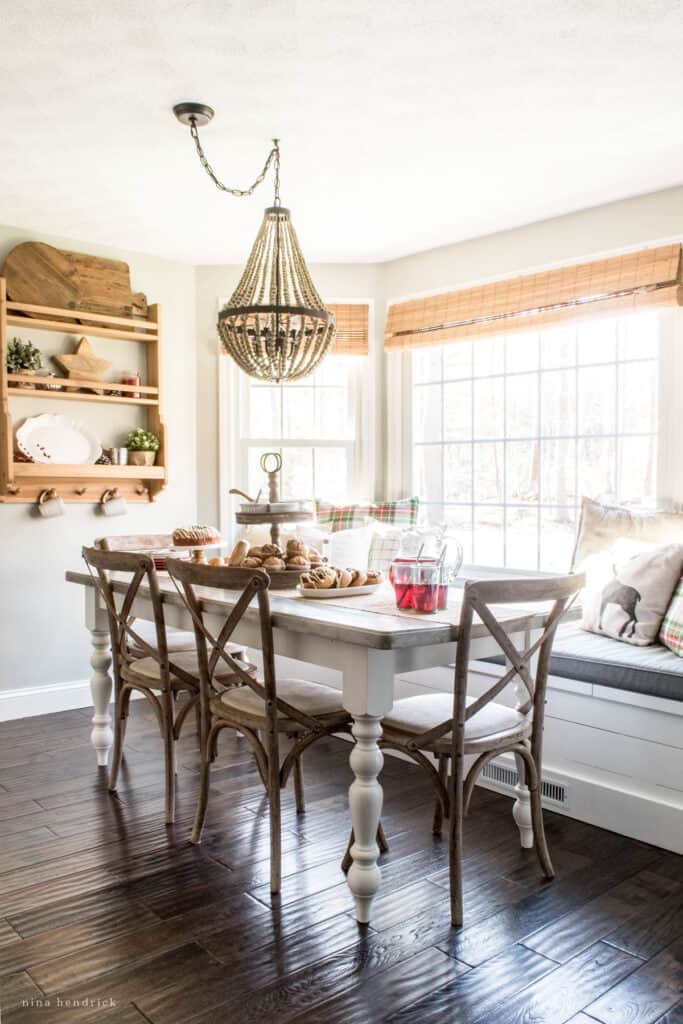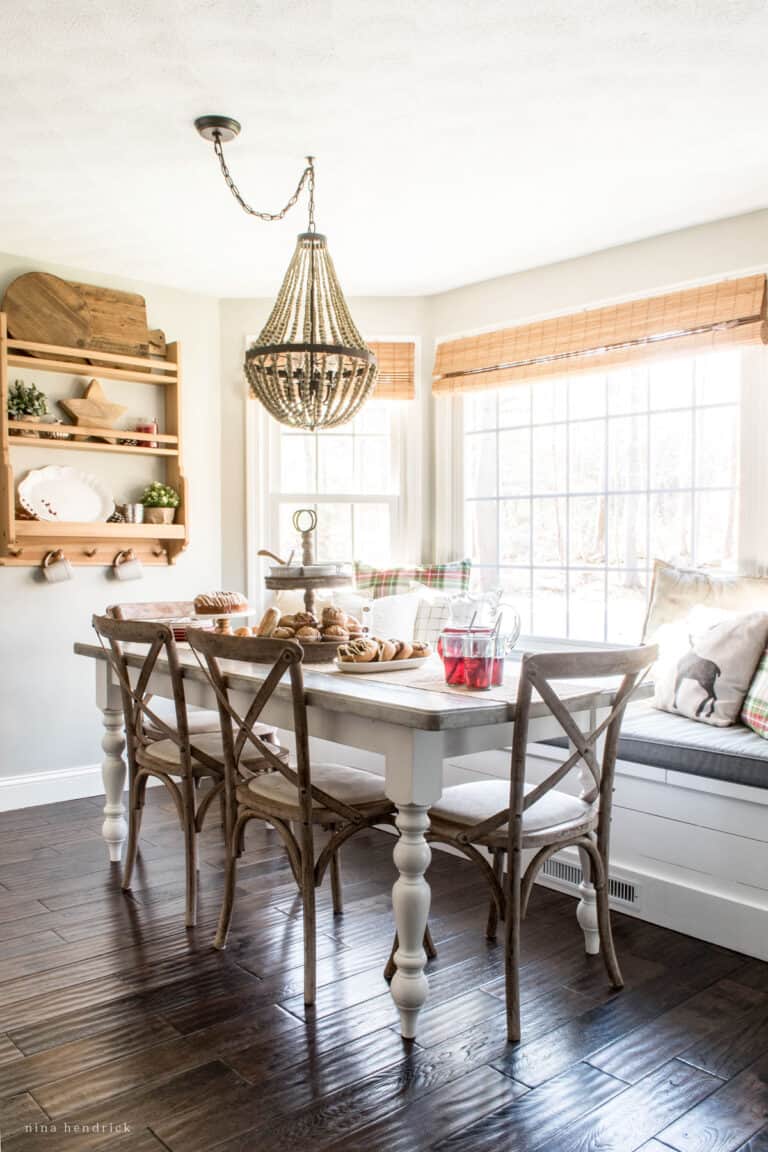 When to Host a Cozy Christmas Brunch
Christmas brunch is a great way to come together with family and friends and enjoy a festive meal. Although it's a popular idea for Christmas morning, you can host a Christmas brunch anytime surrounding the holiday as a fun alternative to a cocktail party.
The traditional brunch includes a variety of dishes, from egg bake and bacon to cinnamon rolls and French toast. To make the day even more special, you can create your own signature cocktails, serve seasonal treats, and play Christmas carols in the background. With a delicious spread and plenty of holiday cheer, you'll have the perfect start to a memorable day! Read on for my favorite ideas and tips.
This post contains affiliate links, which means I may get a small commission (at no extra cost to you) if you shop my link. Please see my disclosure if you'd like more info!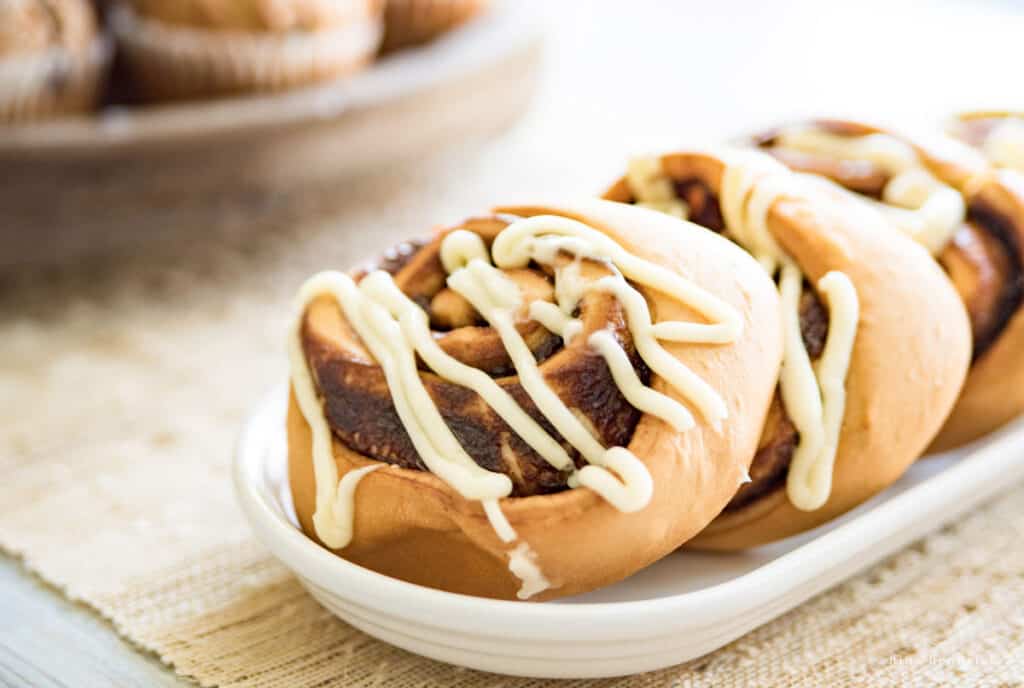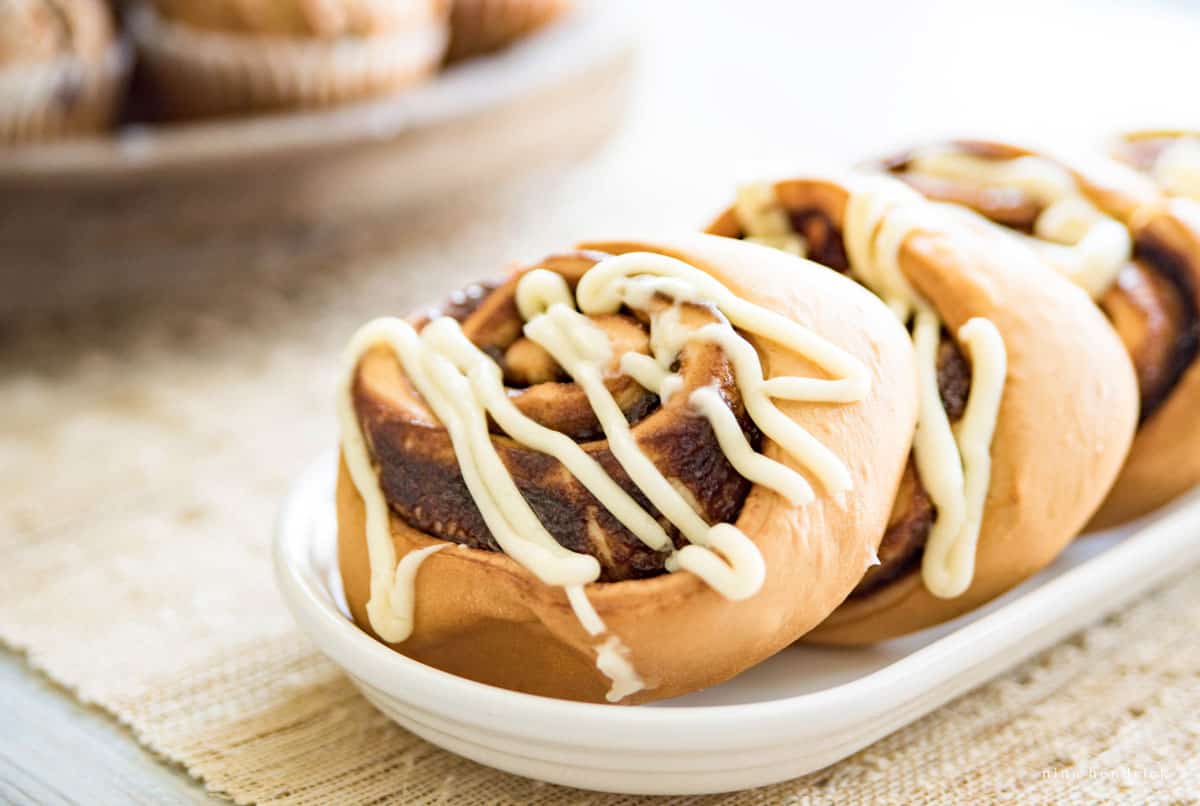 What Should I Serve at a Christmas Brunch?
There are so many delicious and festive brunch dishes to choose from.
Quiche or Frittata: For a main course, a classic quiche or frittata is always a hit.
Casserole: Brunch casseroles are also a great option, as you can make them ahead of time and reheat them quickly before your event begins.
Sweet Mains: For a sweet main dish, pancakes, waffles, cinnamon rolls and French toast are great choices.
Sides: Side dishes such as bacon, sausage, and breakfast potatoes can round out the meal.
Light & Healthy: For something light, fruit salad, yogurt, and granola are healthy and festive alternatives.
Dessert: For a sweet finish, serve a platter of Christmas cookies, brownies, or mini danishes.
A combination of sweet and savory dishes makes for a wonderful mix. No matter what you choose, Christmas brunch is sure to be a hit with your family and friends!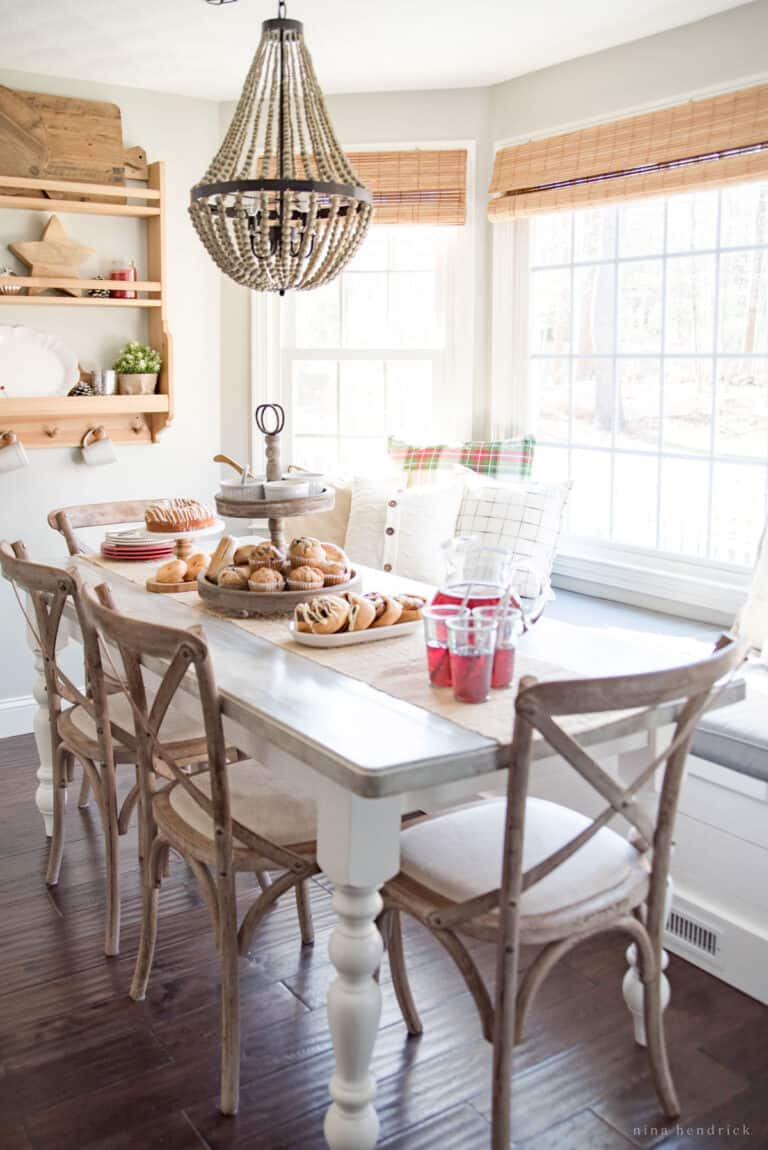 How do I make Christmas Brunch feel extra cozy?
To make the meal special, set the scene by creating a warm and inviting atmosphere with festive decorations, a playlist of Christmas carols, soft blankets, and throw pillows. This encourages your guests to relax and enjoy their food as you gather. With a few simple steps, you can create a cozy and inviting Christmas brunch that your friends and family will love.
How to Host a Cozy Christmas Brunch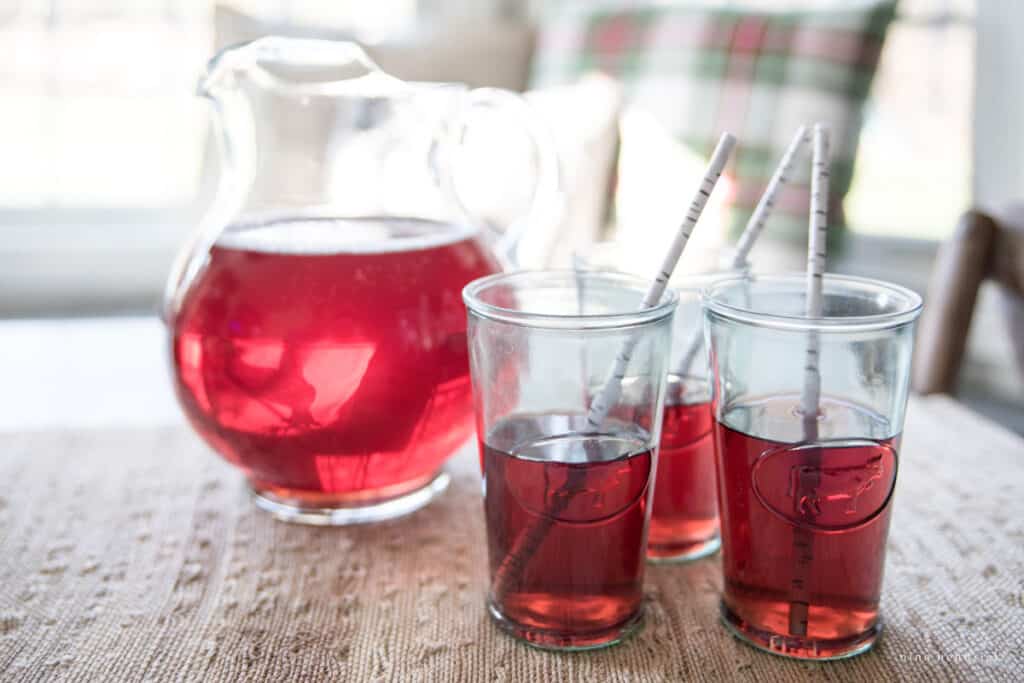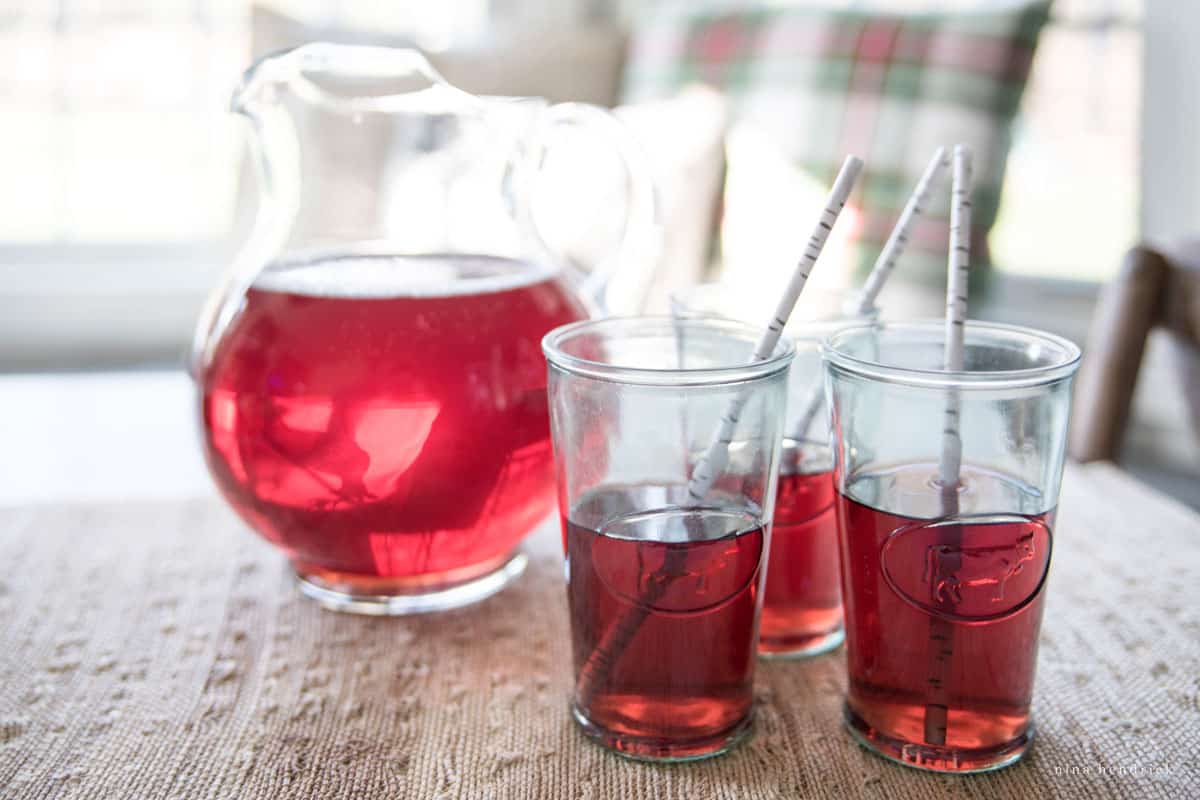 1. Start Off With a Festive Winter Mimosa
To kick off the brunch, I like to serve a festive winter mimosa featuring an assortment of juices, like orange or cranberry juice, and a favorite sparkling wine. You can also add some pomegranate seeds, which are a beautiful touch. For those who aren't interested in indulging, you can also provide some holiday-inspired mocktails like cranberry spritzers or apple cider with cinnamon sticks.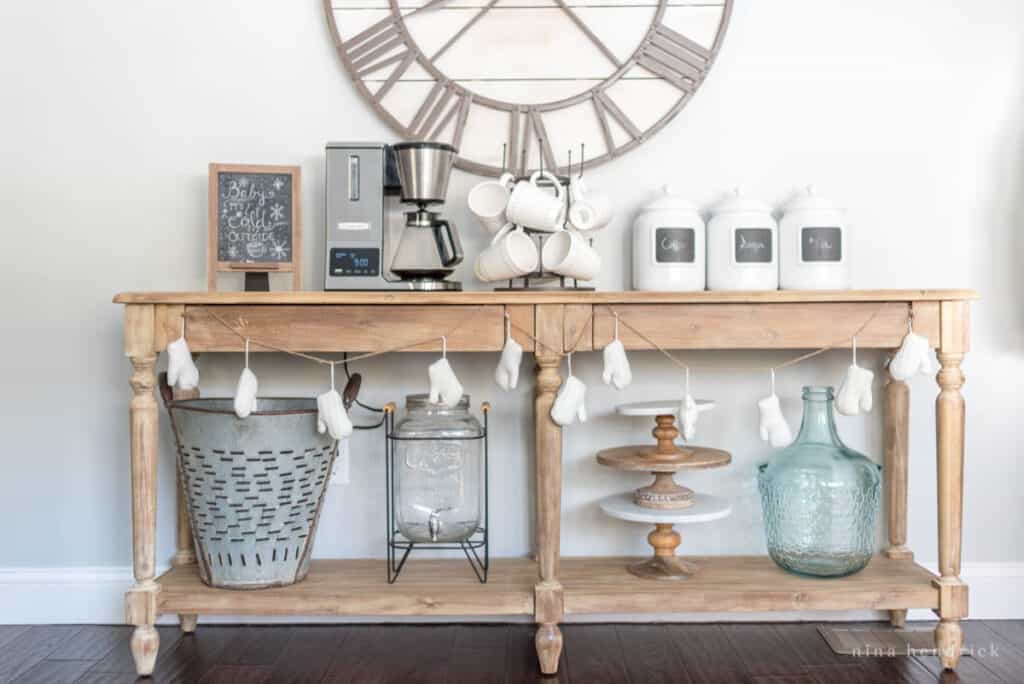 2. Create a Warm Beverage Bar
To add to the festivities, consider setting up a warm beverage bar with a variety of drinks. Many people love their morning warm beverage of choice, and some are at their best when they get their daily dose of caffeine (my hand is raised!). Coffee, tea, hot cocoa, hot toddies and mulled cider are all great options, and can be spiced up with festive additions like cinnamon, nutmeg, and star anise.
Make sure to provide some mugs and festive paper cups too. To complete the coffee area, add a selection of flavored syrups, whipped cream, marshmallows, chocolate chips, sprinkles and other toppings for guests to enjoy. This way, everyone can make the perfect cup of coffee or tea to enjoy while they relax. You can see more of my favorite coffee bar ideas here!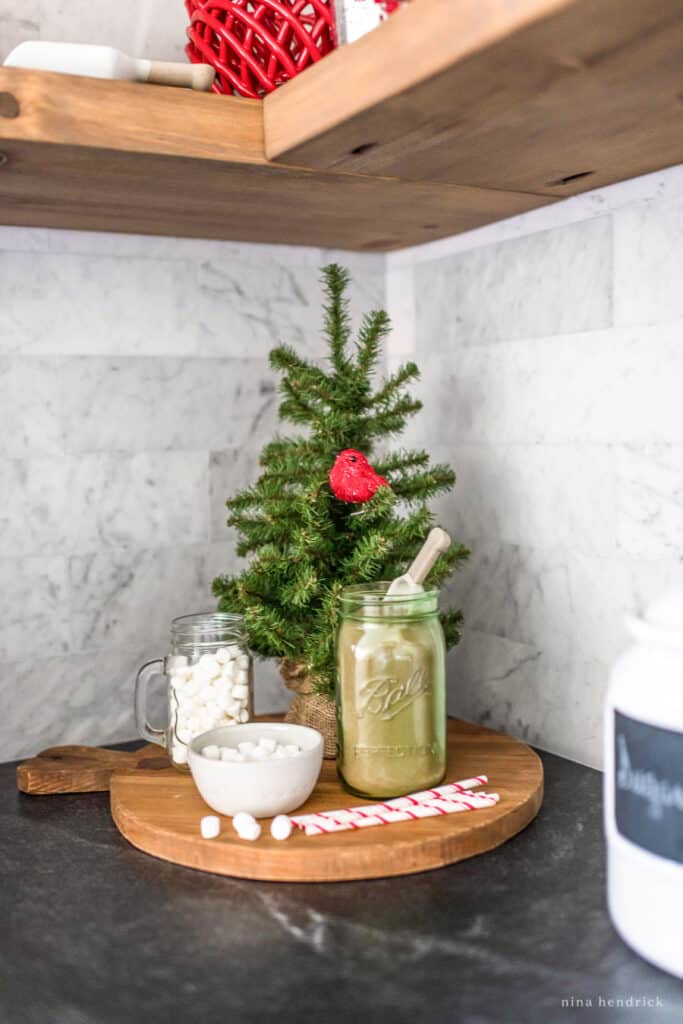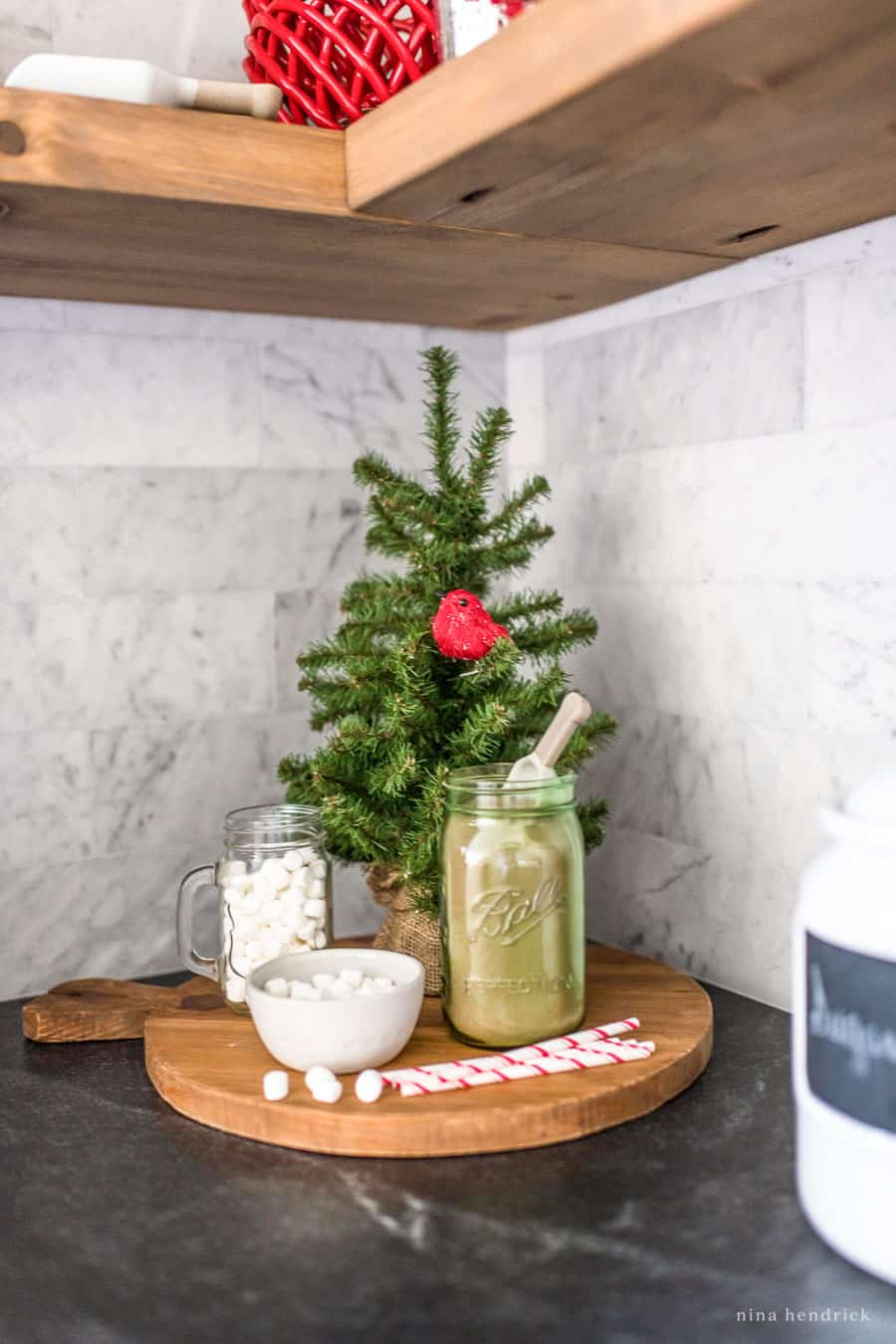 Hot Chocolate Bar
The hot chocolate bar is especially popular with the kids at my Christmas brunch, so it may make sense to have it separate from the coffee station. I like to have a variety of flavors of hot chocolate from the traditional to peppermint, hazelnut, and mocha. You can put out a selection of marshmallows, mini chocolate chips, and crushed candy cane to garnish the drinks. Everyone will love the variety and having their own special drink to enjoy.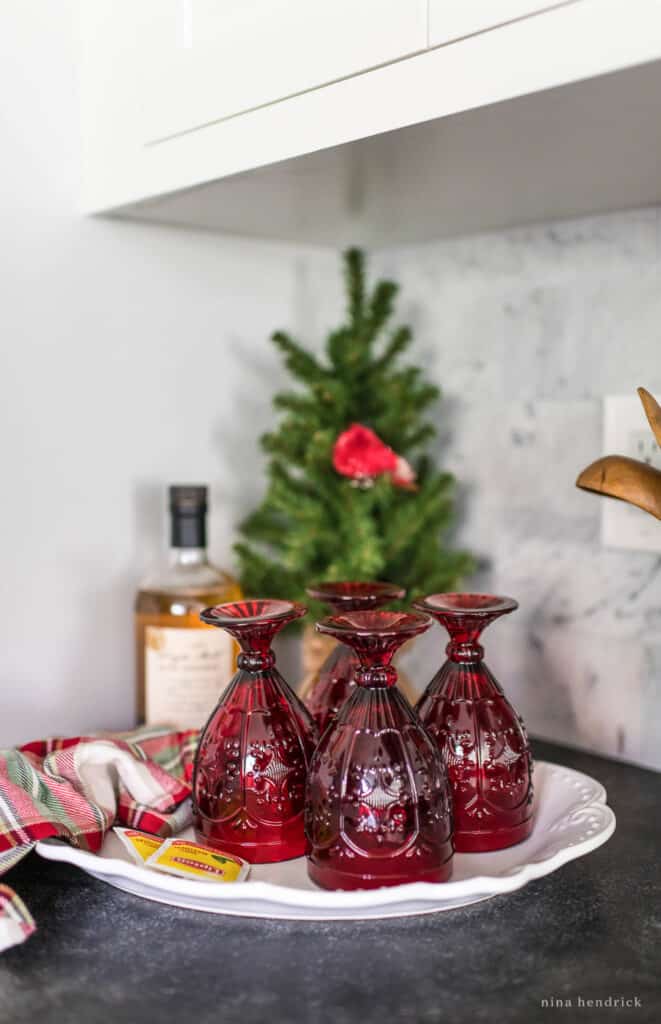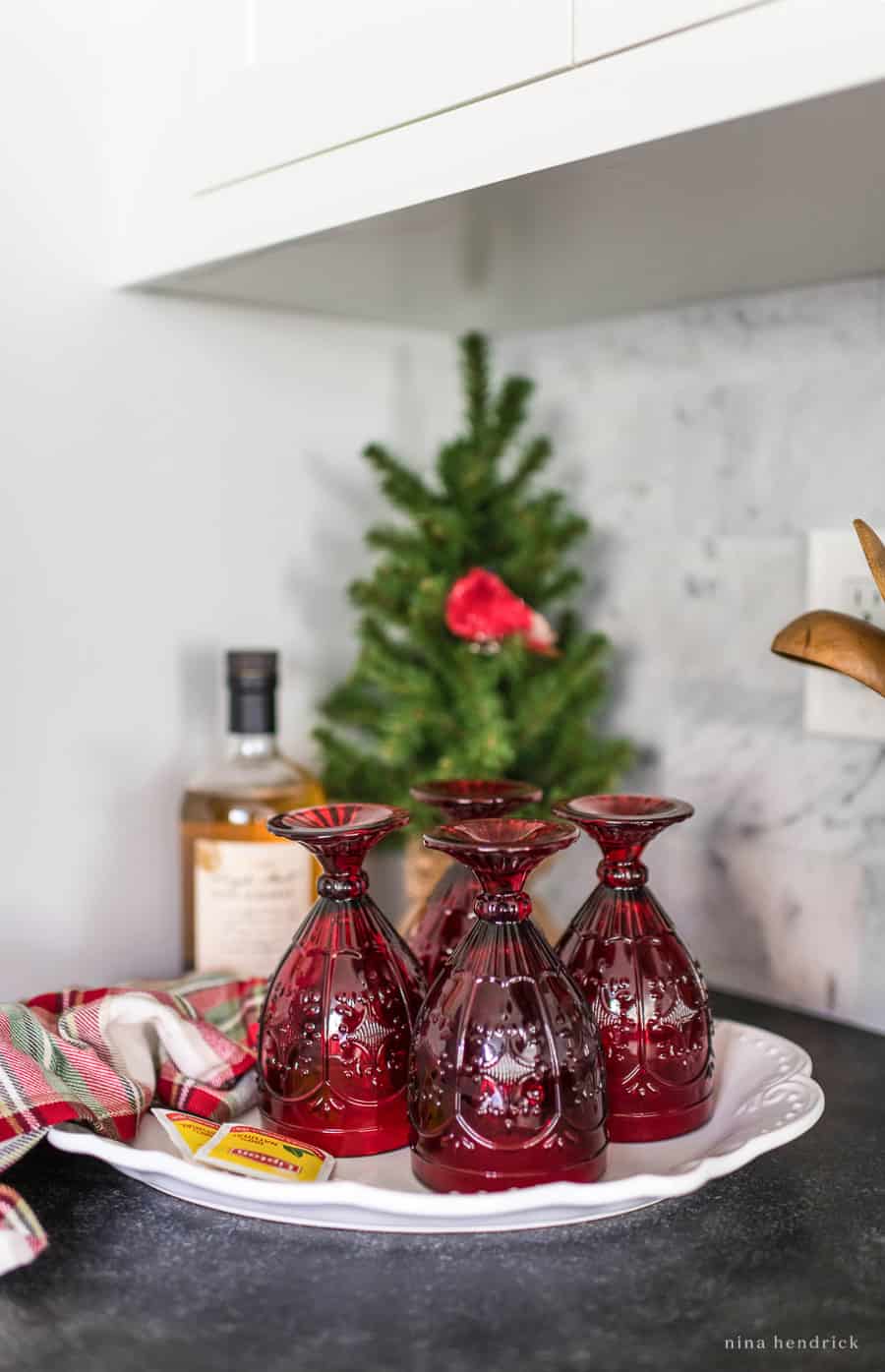 Hot Toddy Tray
A Hot Toddy is a cozy, festive drink that is perfect for the holidays. This warm, spiced drink combines sweet and comforting flavors of orange, cinnamon, nutmeg, and honey, with a hint of whiskey. It's a great way to start off a Christmas morning gathering, or to warm up after a day of winter activities. The mix of flavors makes for a unique and festive take on the classic hot toddy, and is sure to bring everyone some holiday cheer.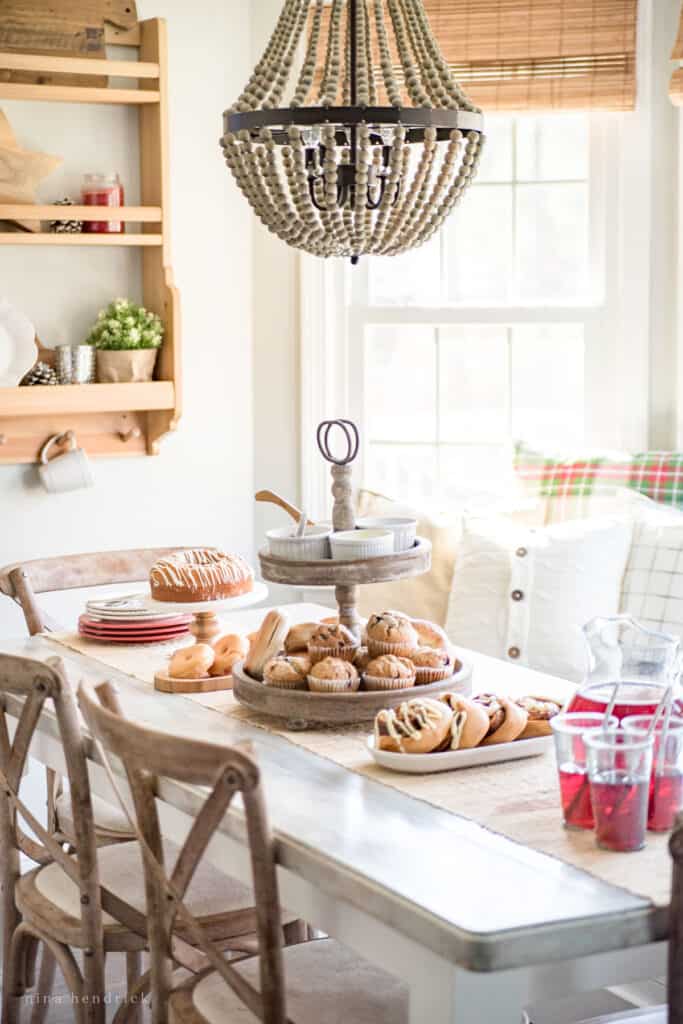 3. Set Up Your Offerings Buffet-Style
I like to keep things informal and set up an array of breakfast foods buffet-style in the breakfast nook. Instead of sitting down for a formal meal, you can encourage people to grab food and coffee and chat while the kids open presents. The buffet style set up allows everyone to get up and move about and enjoy the food at their own pace. It's a great way to mix the old and the new for a holiday celebration.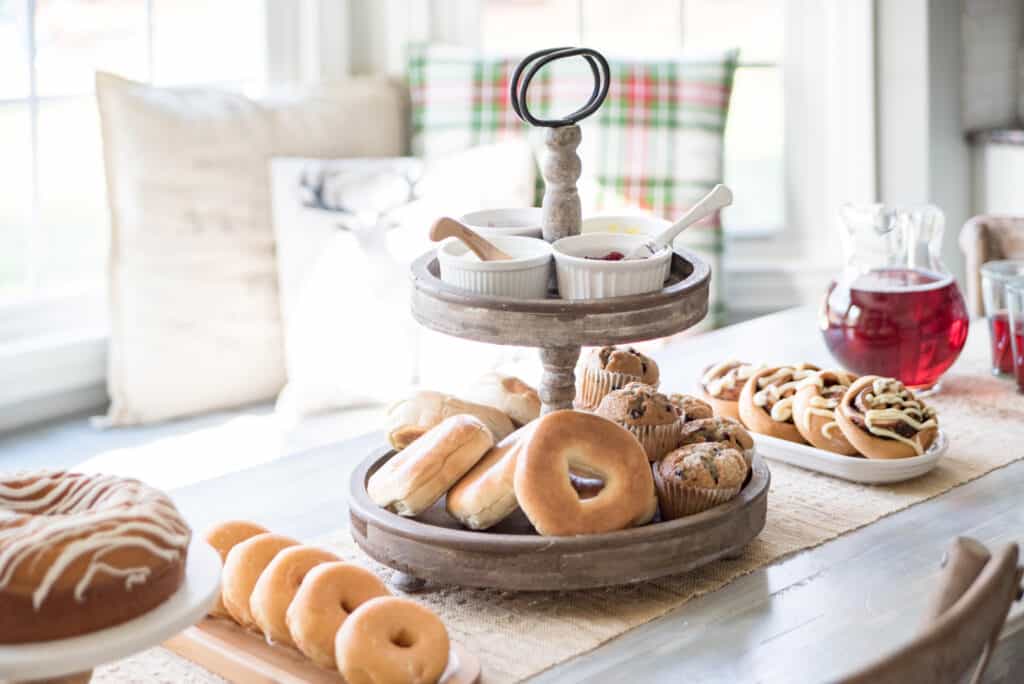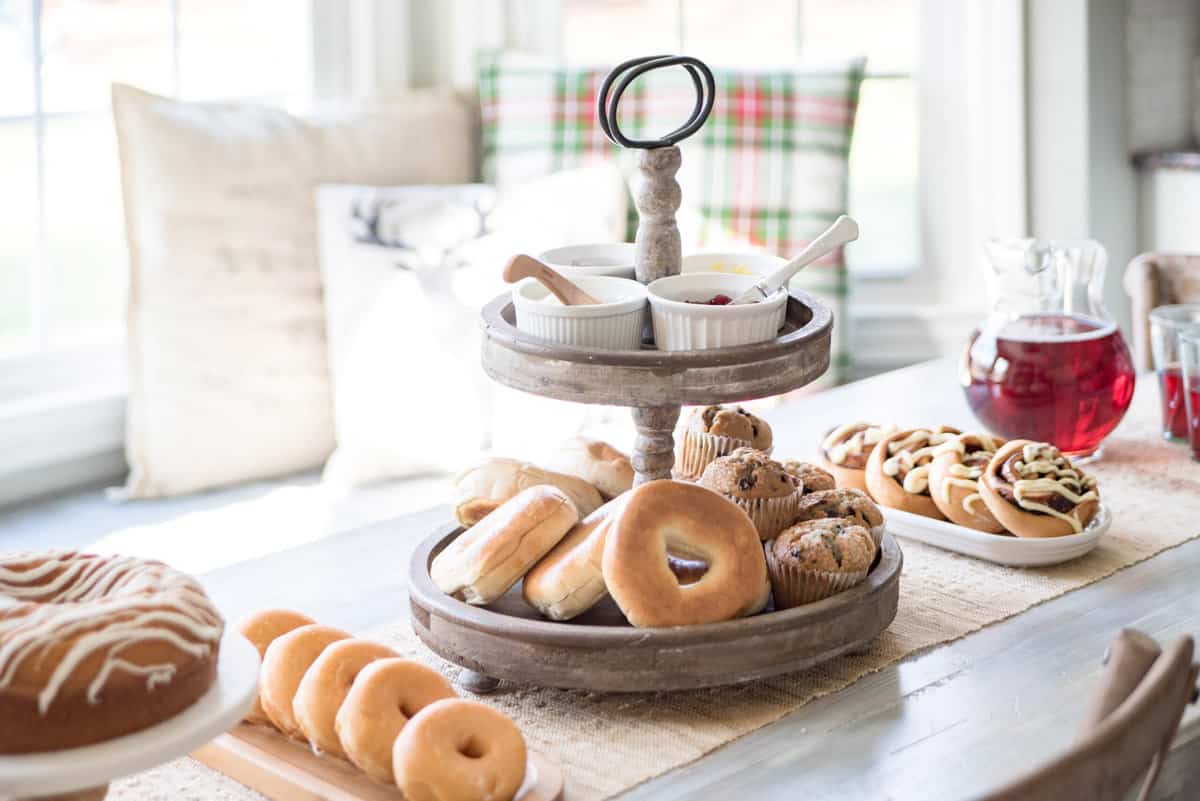 4. Create a Bagel Bar
One fun Christmas brunch idea is to set up a delicious bagel bar. To save space, I love the idea of using a versatile two-tiered tray. On the bottom shelf, you can place an assortment of bagels, including plain, sesame, cinnamon raisin, and garlic.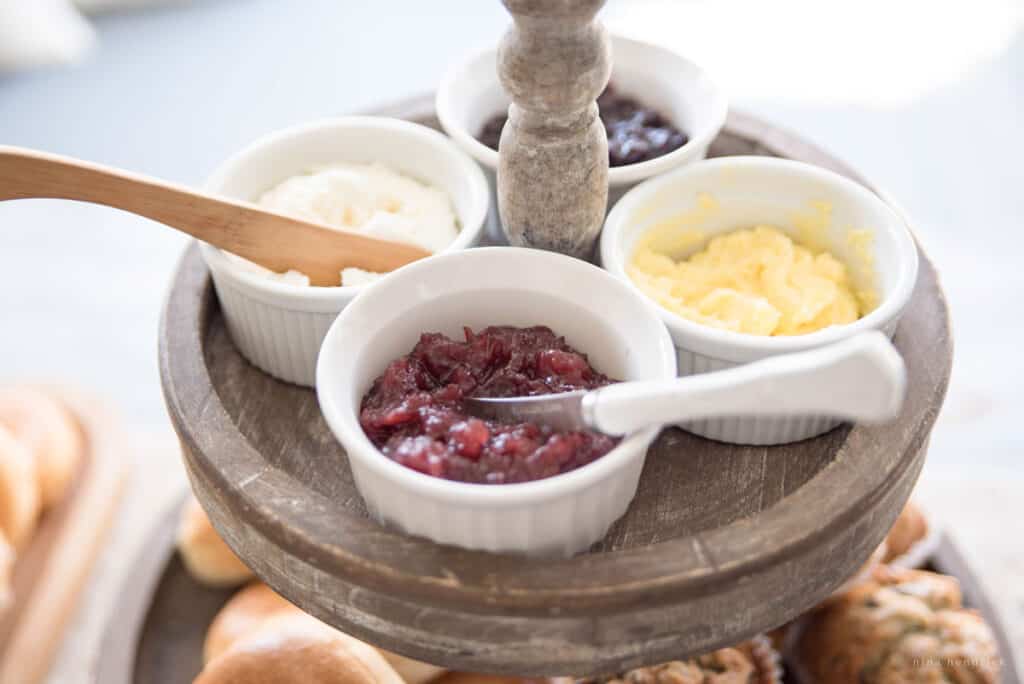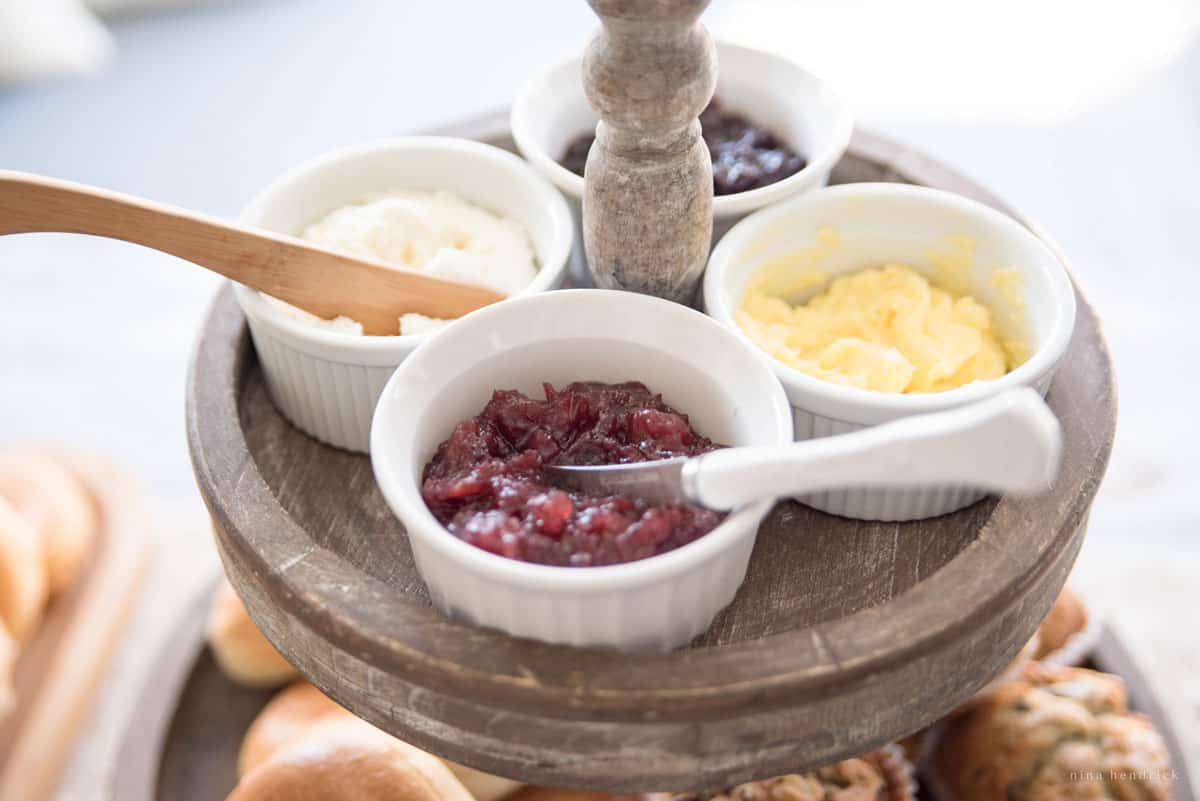 You can fill the top shelf with the delicious accompaniments, such as strawberry jam, raspberry jam, honey, butter, and cream cheese or mascarpone. You could swap the blueberry muffins for some croissants, which are normally a hit and taste delicious with jam. Your guests will enjoy helping themselves to the bagel bar and creating their own unique combinations.
5. Set Up An Activity
For a truly festive Christmas Brunch, open presents in the morning and then later on set out some classic board games, such as Monopoly, Scrabble, and Chess. Add some seasonal music and decorations for an extra-special touch. With a tasty brunch and exciting board games, your Christmas celebration is sure to be a success.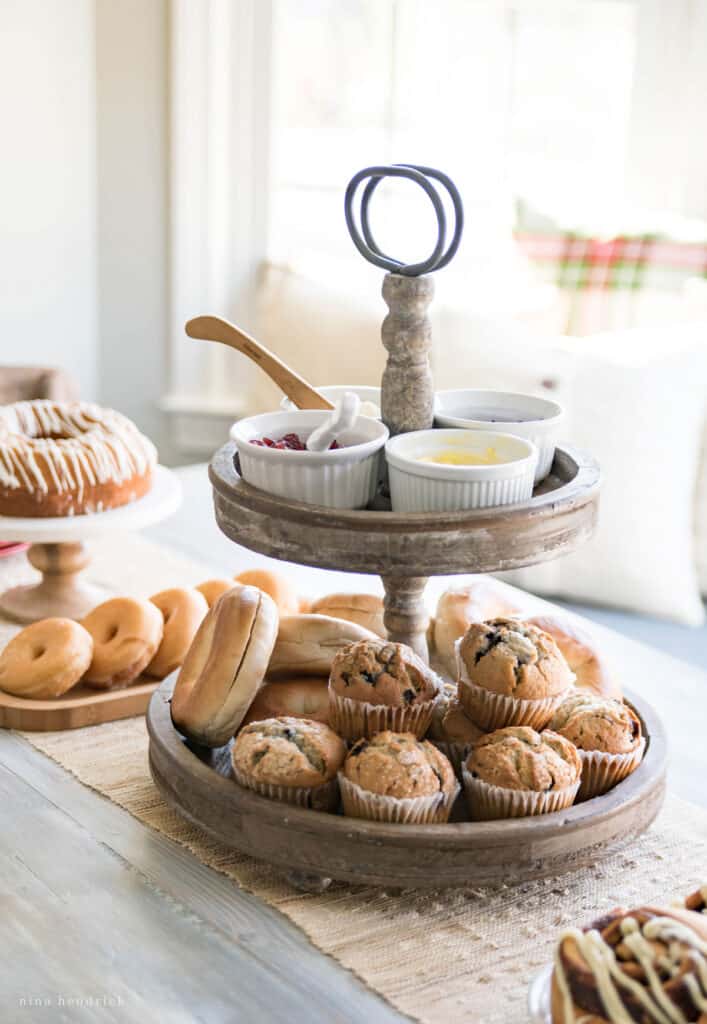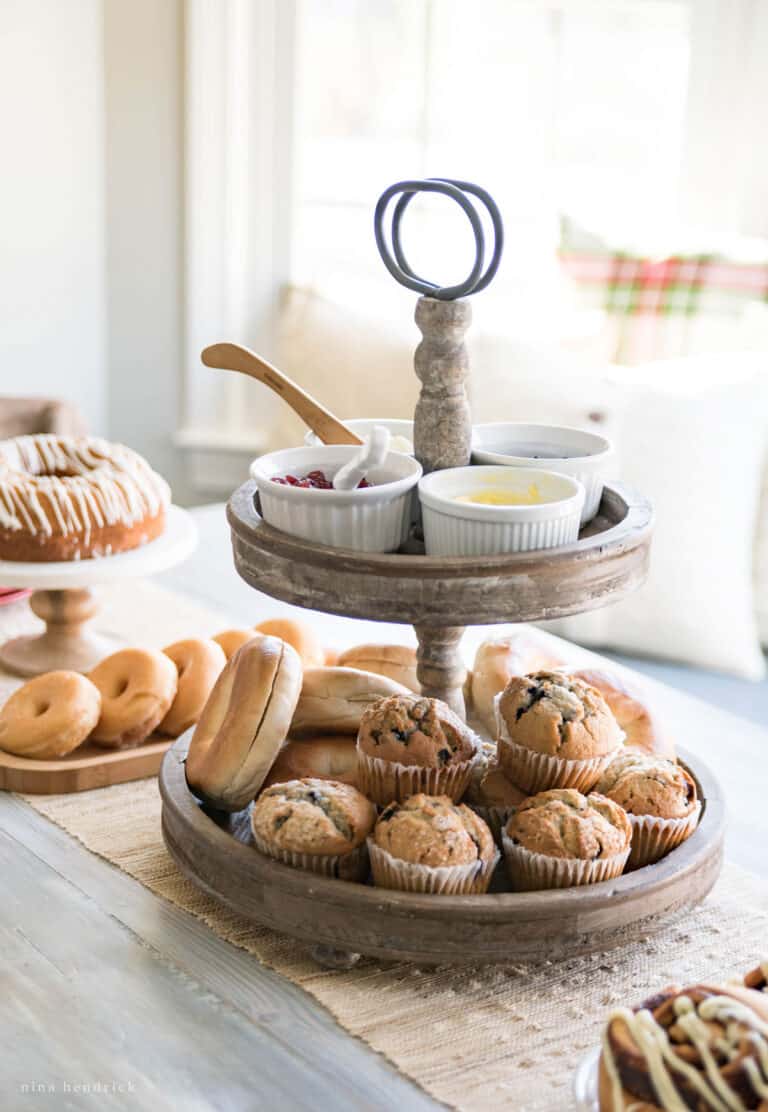 Now it's time to host your own Christmas brunch!
To wrap up, Christmas brunch is a wonderful way to celebrate the season with family and friends. It is a great way to share stories, laughter, and memories. Whether it is a traditional breakfast, a light lunch, or a decadent dessert, a Christmas brunch is sure to provide an enjoyable and memorable experience for everyone. With a little planning and creativity, your Christmas brunch will be an event to remember. Make sure to tag me on Instagram @ninahendrickhome if you decide to serve brunch this Christmas!