Get this free printable cleaning checklist as a quick and handy guide for deep cleaning your entire home for spring cleaning or any day of the year!
If you're looking for a way to keep your home tidy and organized each season, a deep cleaning checklist is a perfect solution. Whether your spring cleaning or tackling the job of deep cleaning in another season, a cleaning checklist helps you stay on track and make sure you don't miss any important tasks. It also helps keep the entire household on the same page when it comes to cleaning tasks. In this blog post, we'll discuss the importance of having a cleaning checklist and provide some practical tips on how to clean your house step-by-step. You can download our free printable Whole House Cleaning Checklist PDF at the bottom of the post!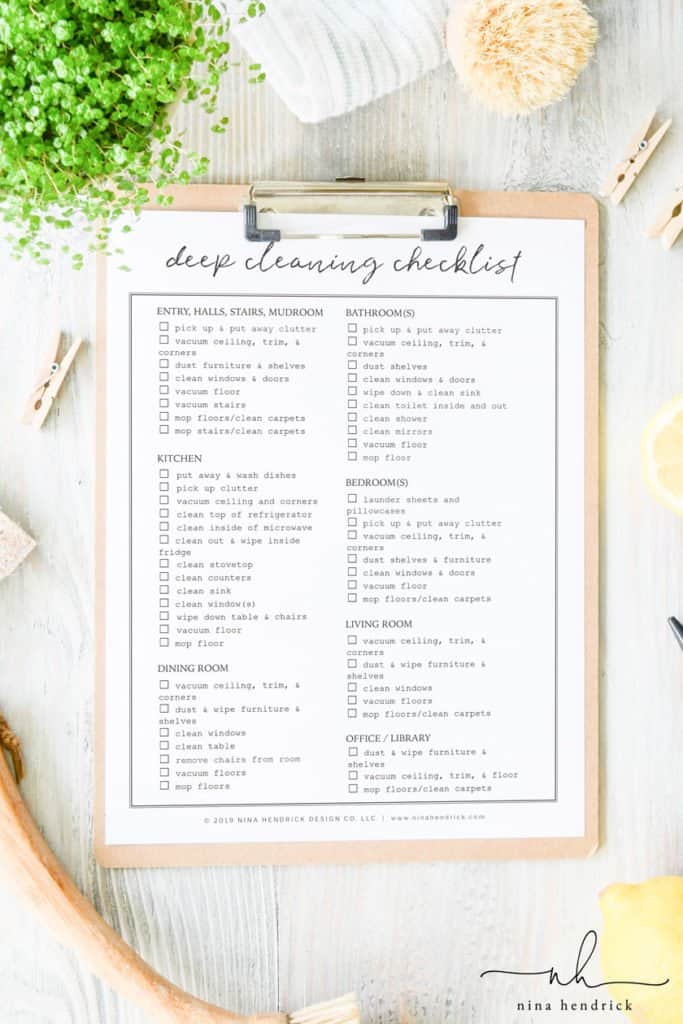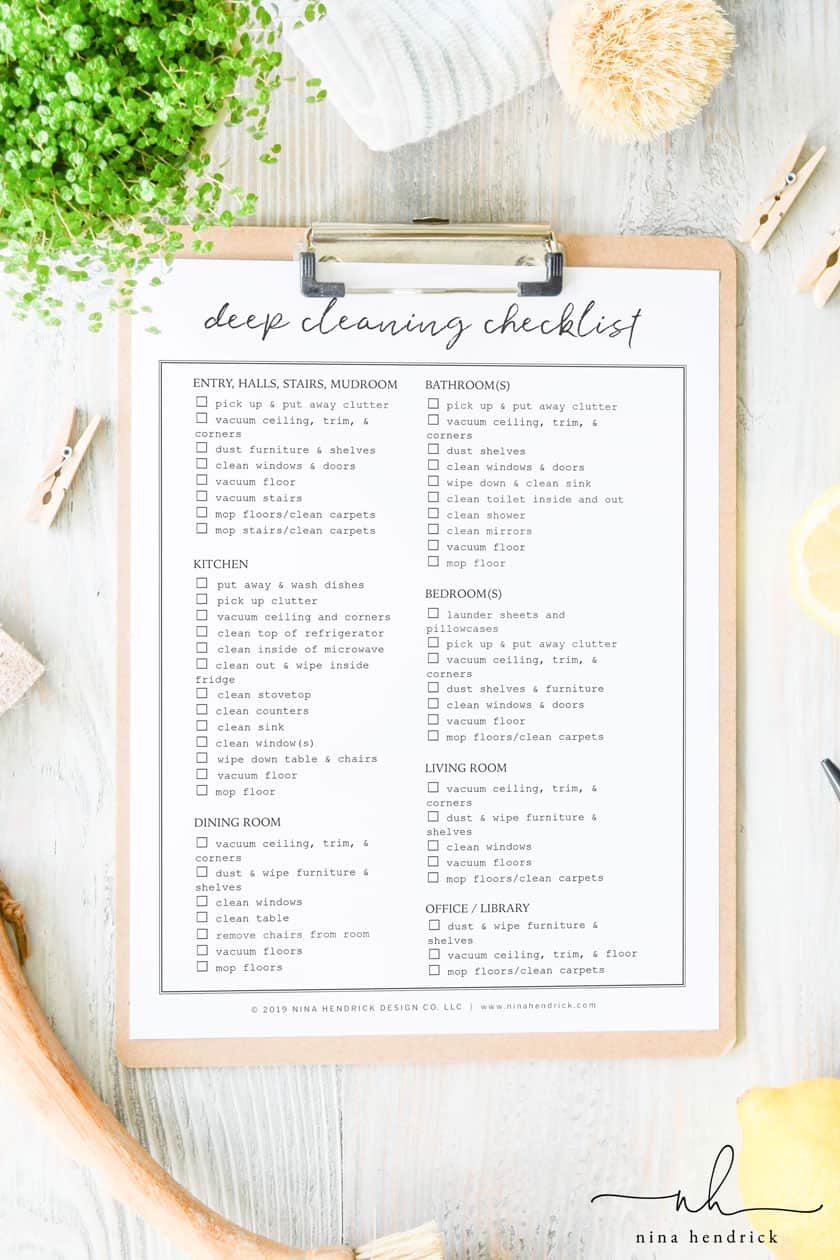 If you are anything like me, my friend, I just bet you are a bit overwhelmed by your house. Clutter happens, and before we know it, stuff is taking over, and the dust just keeps piling up. I hear you loud and clear, and even more to the point, I'm with you! That's why I put together this free printable cleaning checklist. It will help you stay organized as you clean your home room-by-room, top to bottom. Whether it's for spring cleaning or any other time of the year, this cleaning checklist will help motivate you and give you guidance for tackling a whole house deep clean.
This post contains affiliate links, which means I may get a small commission (at no extra cost to you) if you shop my link. Please see my disclosure if you'd like more info!
Where to Start When Cleaning a House
In what order do you deep clean your house?
I don't think the order of where to begin matters as much as finding a plan that you can see through to the end. My recommendation would be to begin in a room that you know you can finish in the time you have available.
Cleaning Method: Room-by-Room or by Task
I find it most effective to clean room by room. I know some people tackle one task at a time and do the whole house. However, for those of us with short attention spans, this method seems to be the most effective. Taking each room one at a time keeps us focused and interested! It can also help you stay on task if you plan on breaking up your cleaning into smaller projects. Deep cleaning takes time, and some of us find we need to take the project in stages!
Decluttering is Likely Your First Step
Before you clean up, the very first thing you need to do is declutter your space. There's no point in cleaning around things when they're covering up more dirt and dust. Decluttering and then creating organizational systems for items that you decide to keep is important for a neat and tidy home.
Start by doing some decluttering to get your house ready for deep cleaning. Go through each room and remove any items that you don't need or haven't used in a while. Find homes for the items that don't belong out on your surfaces. To be clear, you don't necessarily have to go out and spend a bunch of money on fancy organizing supplies for this. In the interest of simply getting it done, you can cut the flaps off of an Amazon box and use it for storage in a closet or under a bathroom sink in the meantime!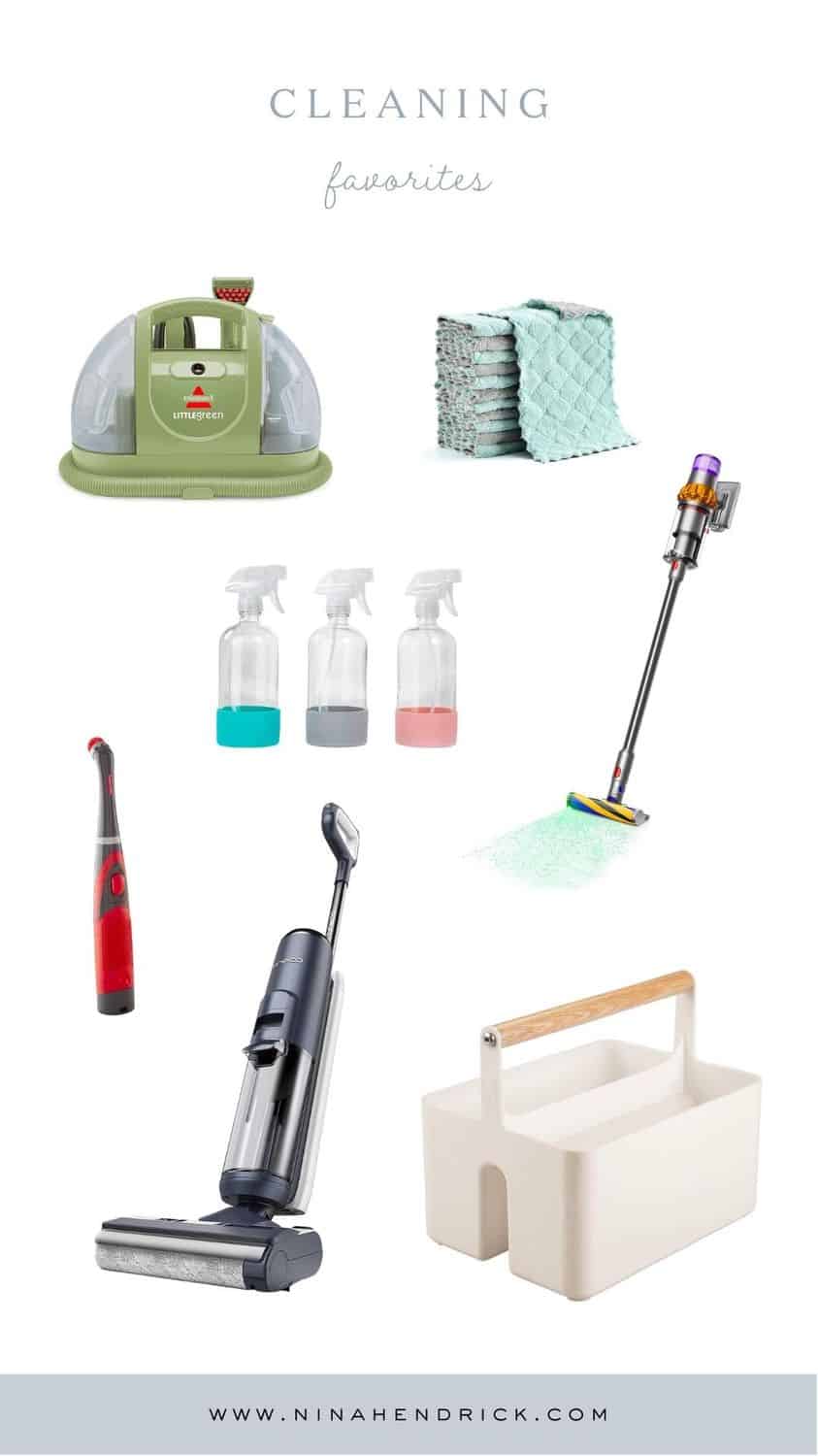 Upholstery Cleaner | Microfiber Cloths | Spray Bottles |
Stick Vacuum | Mini Scrub Brush | Vacuum Mop | Cleaning Caddy
Gather Your Supplies
While decluttering doesn't necessarily require any supplies, cleaning is going to require that you at least get the basics. Here are some items you may want to have on hand as you're preparing to deep clean your home:
broom and dustpan
a mop and bucket
duster
sponge
vacuum
upholstery cleaner
spray bottles if you buy your cleaning supploes in bulk
all-purpose cleaner
wood furniture cleaner or polish
white vinegar
baking soda
window cleaner
toilet bowl cleaner
disinfecting cleaner or bleach for bathrooms
cleaning rags and microfiber cloths
scrubbing brushes
other items specific to a certain material in your home, i.e. stone or stainless steel cleaner
Having these supplies on hand will ensure that your cleaning process is efficient and effective. Make sure to also stock up on plenty of paper towels and trash bags to help make cleaning easier.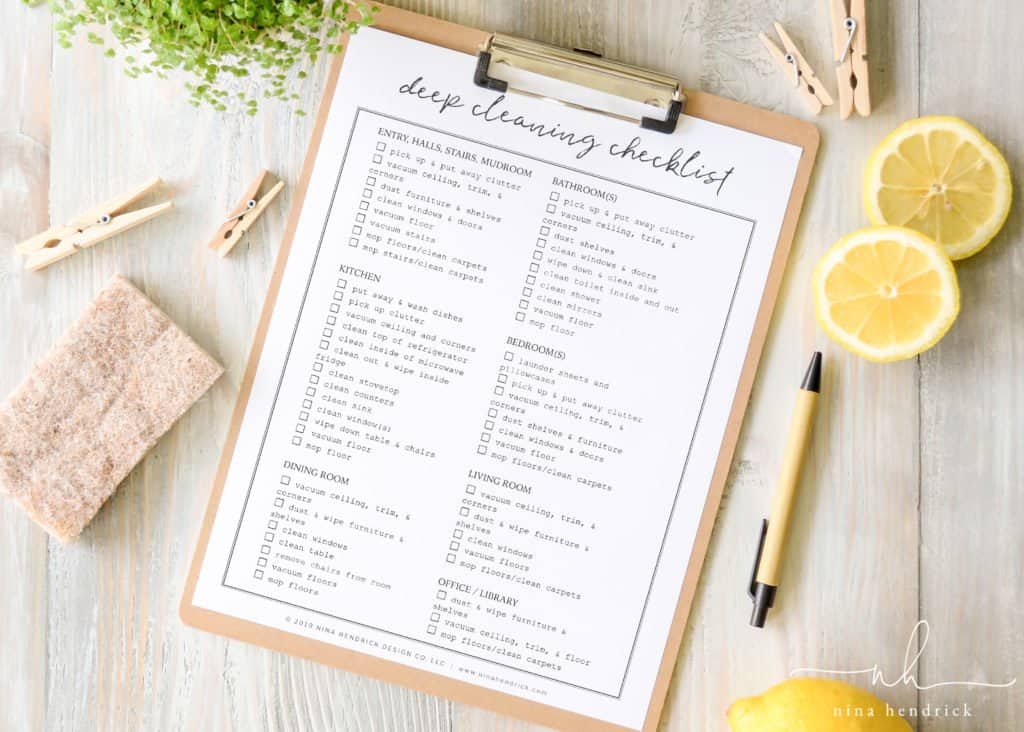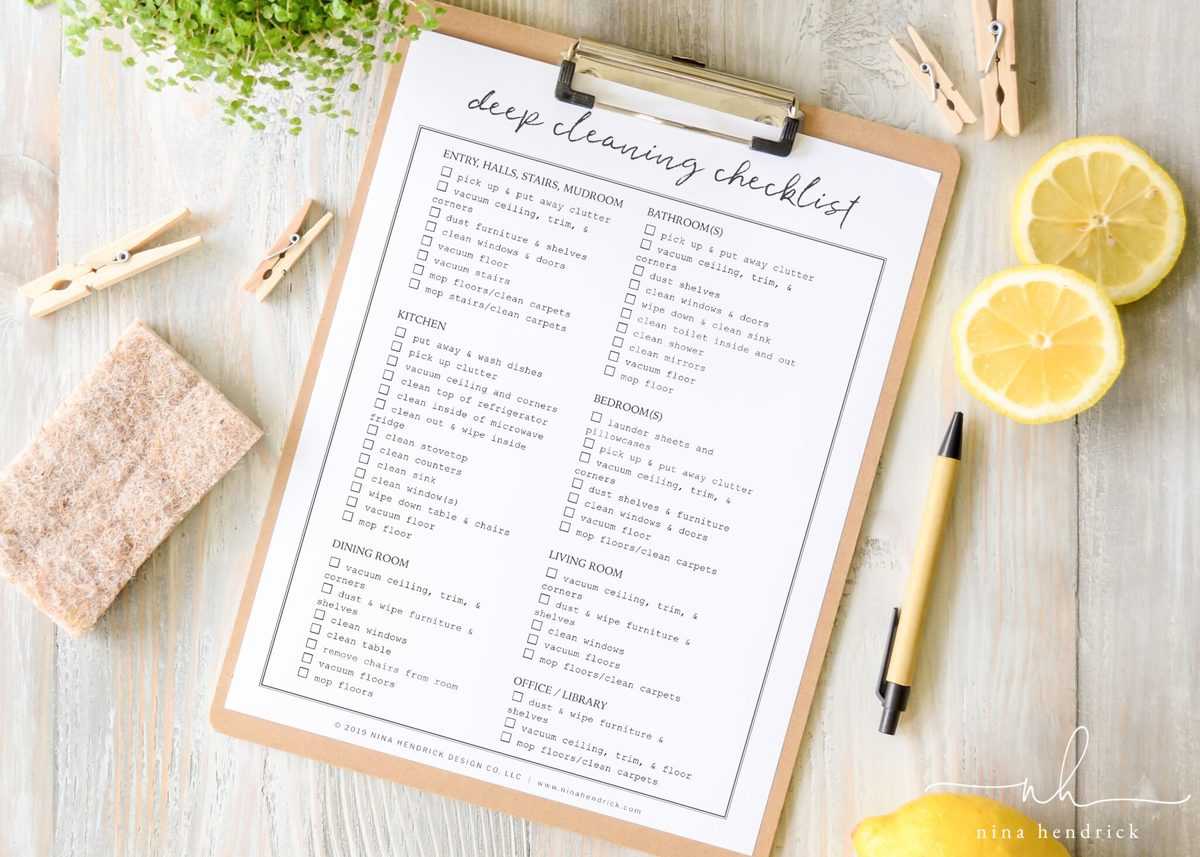 Deep Cleaning May Require Extra Checkboxes
I tried to find a balance between creating a printable cleaning checklist that was both thorough and one-size-fits-all. Your home may have extra needs beyond what's mentioned on the list. Perhaps you have a garage fridge or freezer that needs the expired food to be cleaned out or chair slipcovers that need to be cleaned in your bedroom. Add items in the margins and make notes — the goal is making your home pristine, not making this paper cleaning checklist look picture perfect!
What should a cleaning checklist include?
Overall, deep cleaning means getting to the things that you won't be able to on a daily basis. Here are some examples of things you should include:
wipe down light switches and doorknobs
dustlight fixtures, blinds, air vents, picture frames, and baseboards
replace light bulbs, the batteries in your smoke detector, and the filters in your refrigerator
declutter your pantry of expired food
pour boiling water in your drain to prevent clogs
How often should you deep clean your house?
This will vary depending on your circumstances and home, but a good rule of thumb is to do a deep cleaning seasonally. There's a reason spring cleaning is so popular! Refreshing your home for the new season always feels lovely.
Deep Cleaning Checklist Routine
What is the correct order to clean?
My printable cleaning checklist starts at the top of each room: the ceiling. Then we dust and vacuum anything that may drop dust onto the floor. Clean ceiling fans and dust any shelves. Wipe down surfaces, operating by the same theory. Top to bottom.
The reason? Let's say you clean your floors, then wipe your counter. Well, there's a good chance there will be crumbs on your newly-cleaned floors. No good. There's no use in doing things twice!
The very last step in each room should be mopping the floor (if it's a solid surface, of course!). Start in the furthest corner of the room and mop or vacuum your way out!
Reward Yourself
It can be extra motivating to reward yourself for completing the cleaning checklist. Consider promising yourself something like a candle, a new throw pillow, or self-care like a bubble bath to soothe those sore muscles (because cleaning is a workout!). If the whole family is involved in completing the checklist, you can create a reward like a dinner out or a movie night for motivation.
Also, if you're like me, checking off those boxes is a reward on its own. Anyone else? Just me?
Create a Daily and Weekly Cleaning Schedule
What is a good schedule for house cleaning?
If you don't already have one, use this as your opportunity to create a daily and weekly cleaning routine. While deep cleaning will still be necessary, cleaning between with greater frequency may allow you to limit deep cleaning to once a season.
Daily Cleaning Checklist Example:
Make the beds, smooth duvets and fluff pillows.
Put a load of laundry in the washer, follow up and put it in the dryer, then make sure to fold and put it away in the drawers or closet all within the same day to prevent laundry from stacking up.
Sweep and vacuum floors and carpets or rugs. I love my handheld stick vacuum for daily use!
Put away clutter
Wash dirty dishes or put them in the dishwasher.
Wipe down sink, countertops, microwave, and stove to prevent harder-to-clean build-up.
Squeegee the showers after every use, including glass and tile (this prevents mildew and keeps showergrout looking fresh!)
By doing these steps every day, your home will always be neater. Little steps add up
Weekly Cleaning Checklist:
The best method for staying on top of weekly routines is to designate a day of the week to a specific space to focus on along with your daily cleaning. For example, perhaps one day you clean the kitchen, and one day you clean all the bathrooms in the house, one day you wash all the sheets and duvets, one day you mop the floors, etc.
Download Your Free Printable Cleaning Checklist PDF
Fill out the form below to join our subscriber community. Subscribers receive access to our Free Printables Library, which includes this printable cleaning checklist! Already a subscriber? Login here.
Overall, a cleaning checklist is an invaluable tool for keeping your home neat and organized. It provides a systematic way of making sure all tasks are completed in an orderly and timely manner, and it can help ensure that nothing is overlooked or forgotten. Additionally, it can help to save time, energy, and money in the long run. Finally, cleaning checklists are a great way to stay motivated and on track with your cleaning goals.
I hope that this list is effective at helping you tackle the toughest messes in your home. When you're done, kick up your heels and enjoy a nice beverage of your choice. Clink! That's my virtual cheers to you for a job well done!