10 Ways to Add Character to a White Kitchen | Over the past three years, we've been slowly and surely finding ways to add character to our blank-slate white painted kitchen. Read on to see my tips and tricks for warming up this space!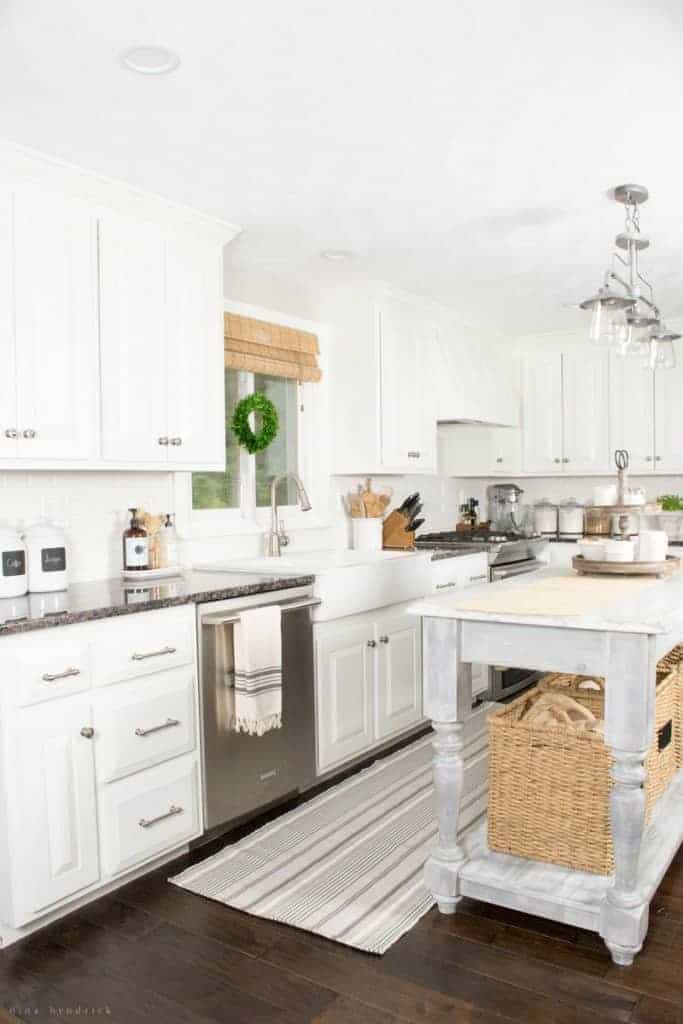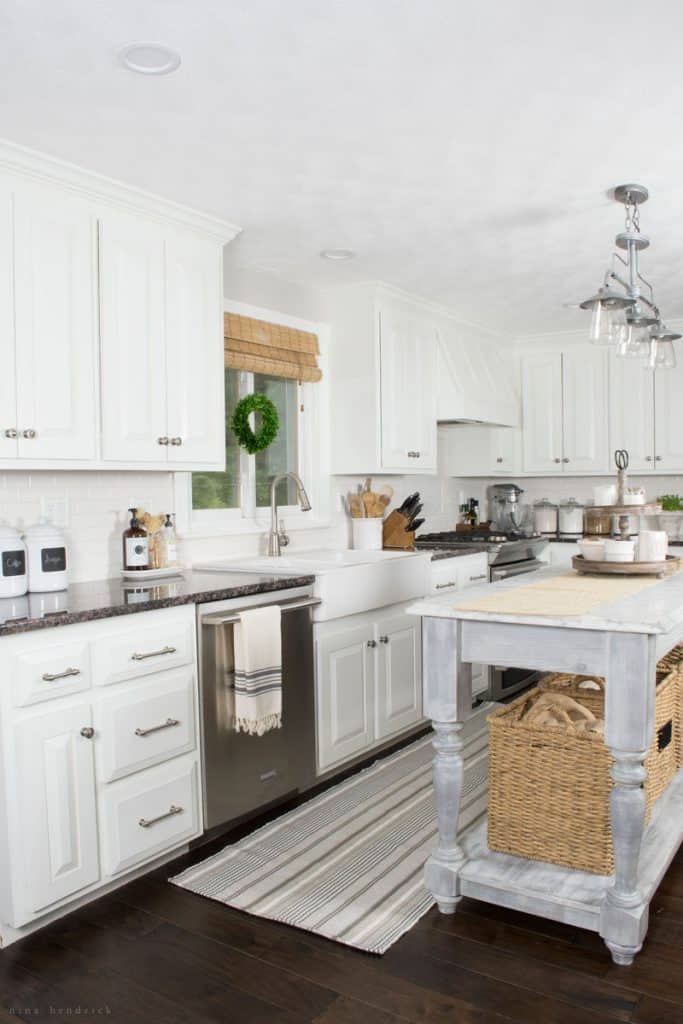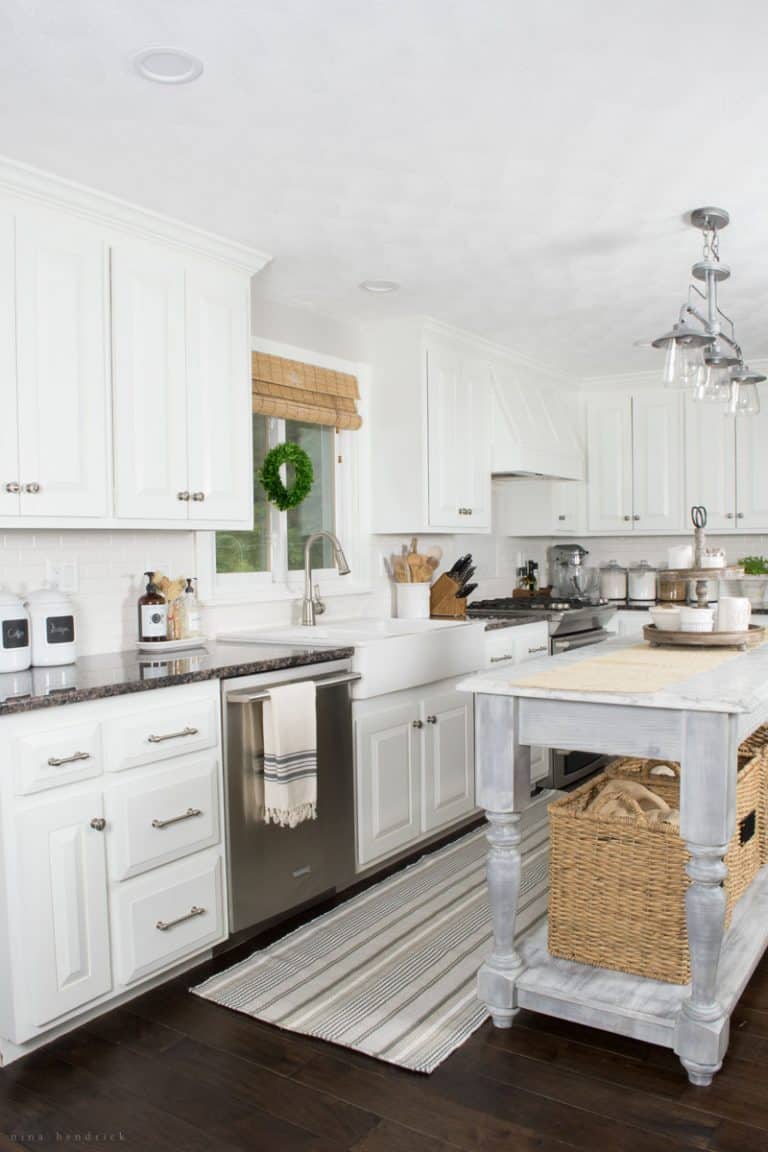 How to Add Character & Warmth to a White Kitchen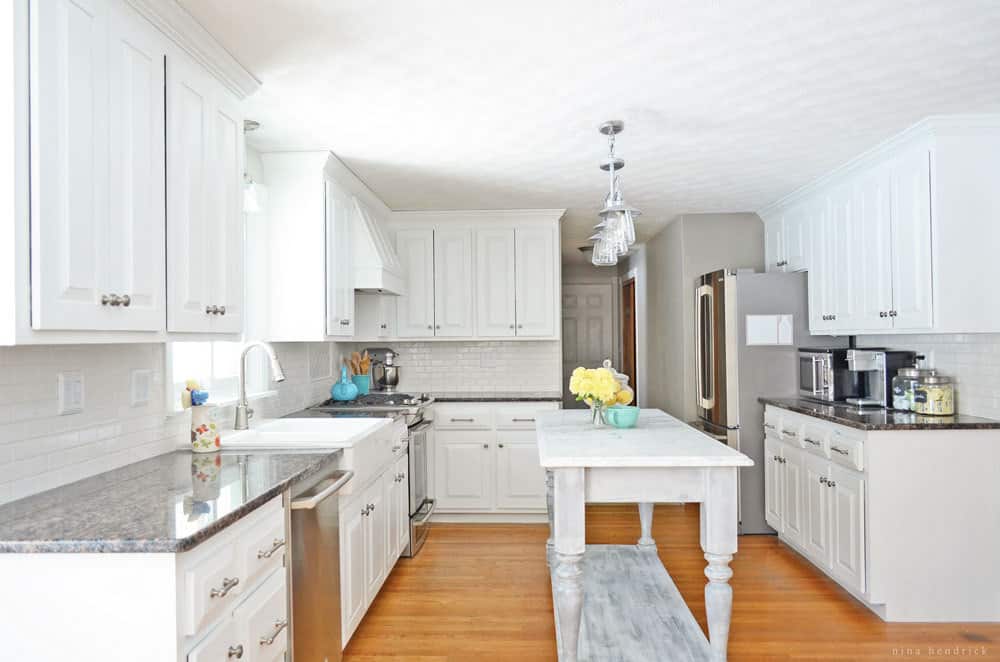 Annie Selke/ Dash & Albert provided me with a lovely rug for this post. However, all opinions are my own. This post also contains affiliate links for your convenience. Please see my disclosures here for more information.
It's almost hard for me to believe that it's been almost three years since we completed our cabinet painting project. When the cabinets were first painted, it was like a huge breath of fresh air. The room felt so much brighter, cleaner and more modern to us. We looked at that part of the process (in the photo above) as phase one and planned to add decor and other elements slowly over time that would soften and add character to the somewhat stark look of the cabinets and other light finishes.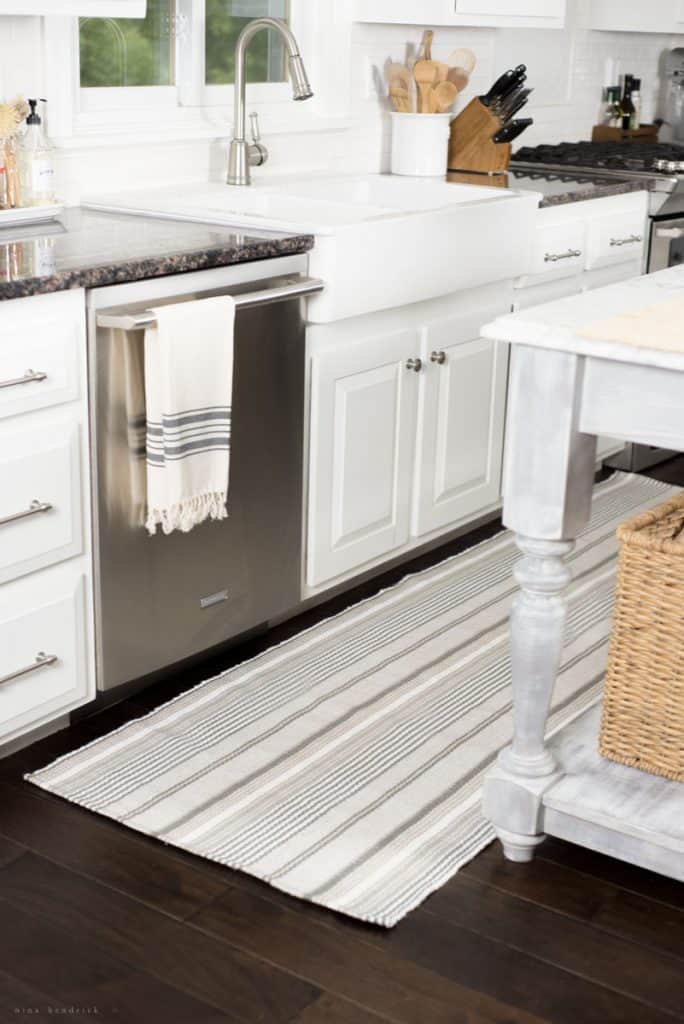 1. A Patterned Runner
This was the inspiration for this post and the addition that sparked the realization that I've never recapped my previous kitchen additions (except for showing them in home tours). I have been searching for a pretty patterned rug for quite a while. This Dash & Albert Gradation Tickling Stripe Runner from Annie Selke was exactly what this spot needed. It's indoor/outdoor, which gives it durability and the ability to be cleaned easily- hugely important in a high-traffic area like the kitchen! It has made doing dishes a little more comfortable and bearable. See all of Dash & Albert's lovely patterns here!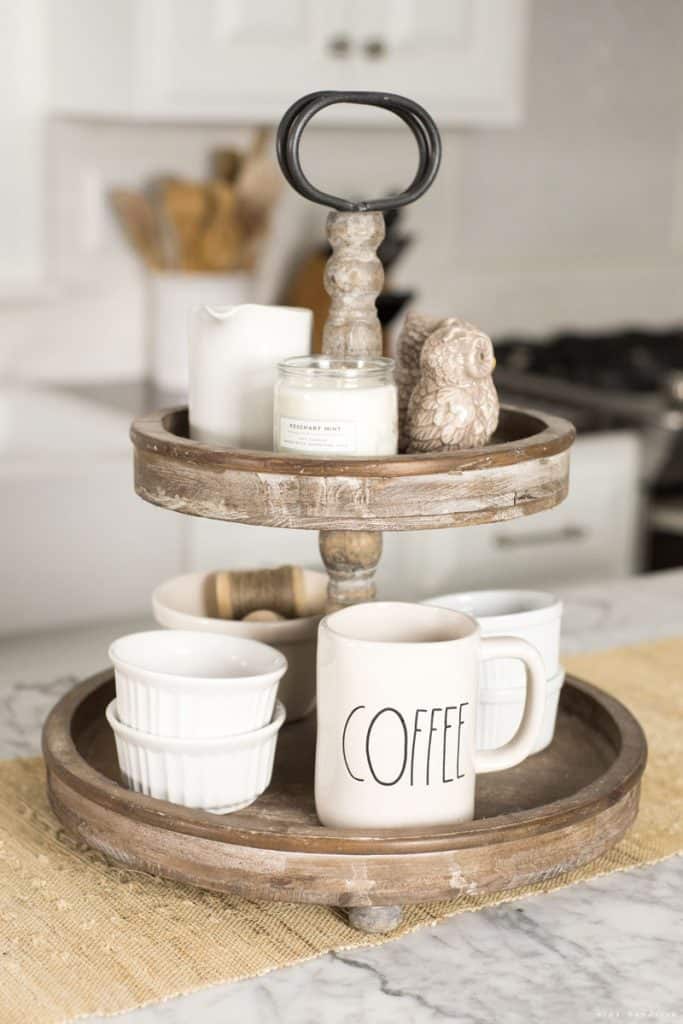 2. Add Wood Accents
One of my favorite, quick ways to add warmth to any room in our home is to use natural wood accents. My tiered tray is one of my most versatile and favorite pieces of all time.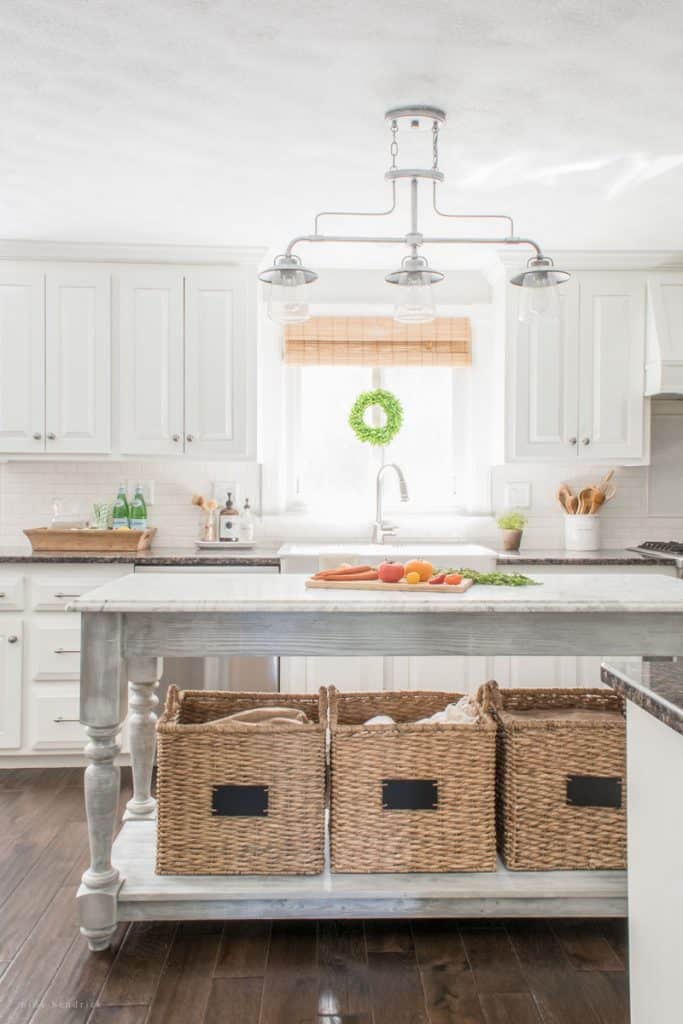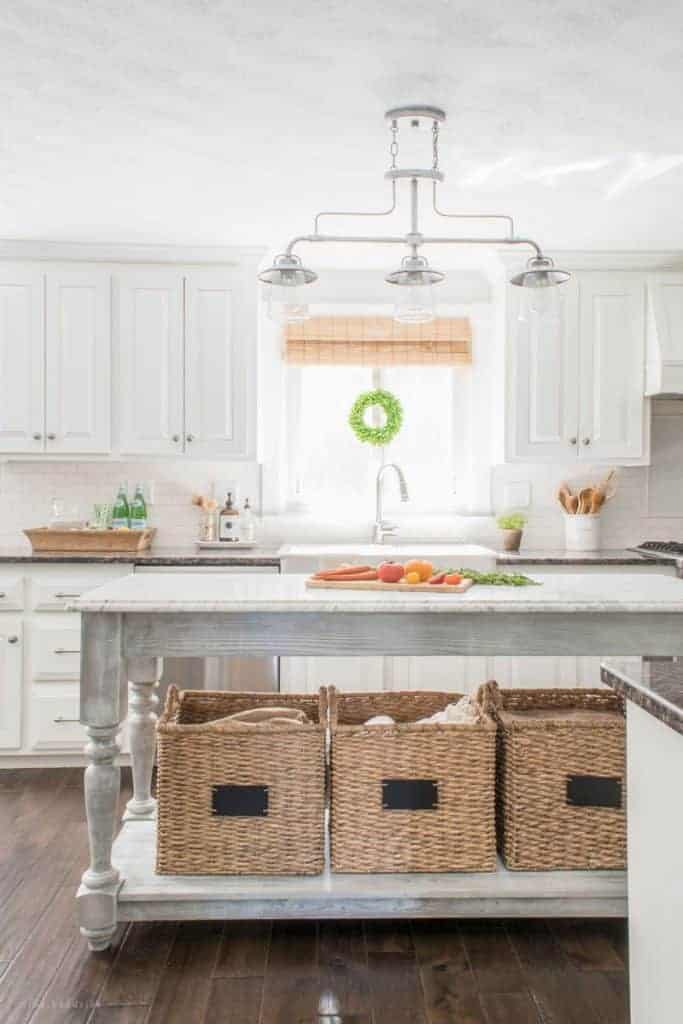 3. Wicker and other Natural Textures
The woven shade above the sink was also an early addition. It perfectly compliments the baskets under the island and adds warmth to the room.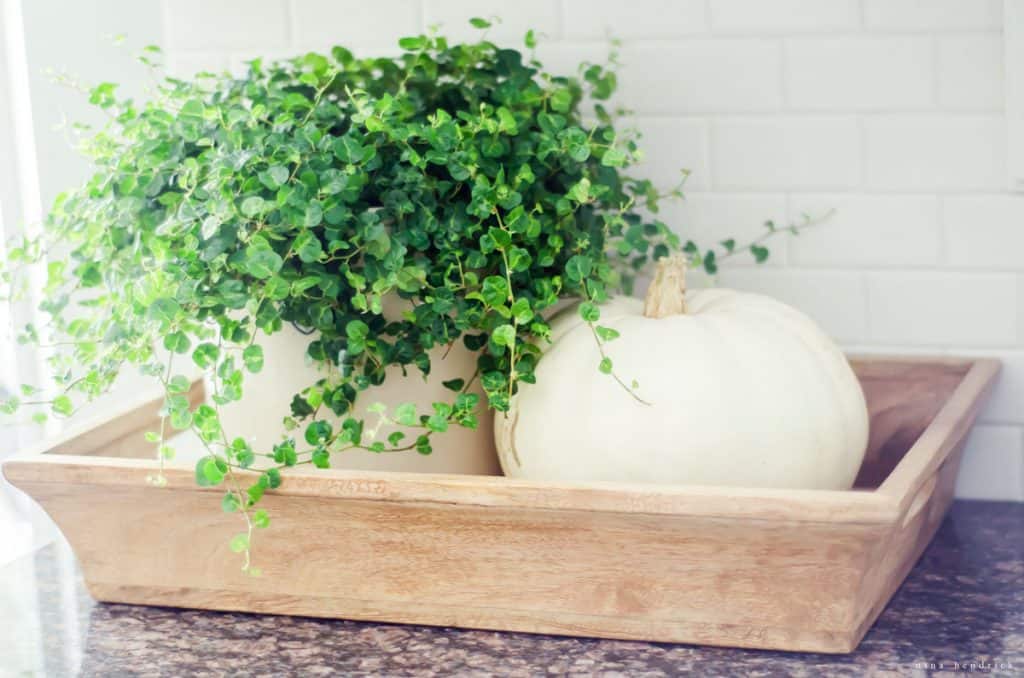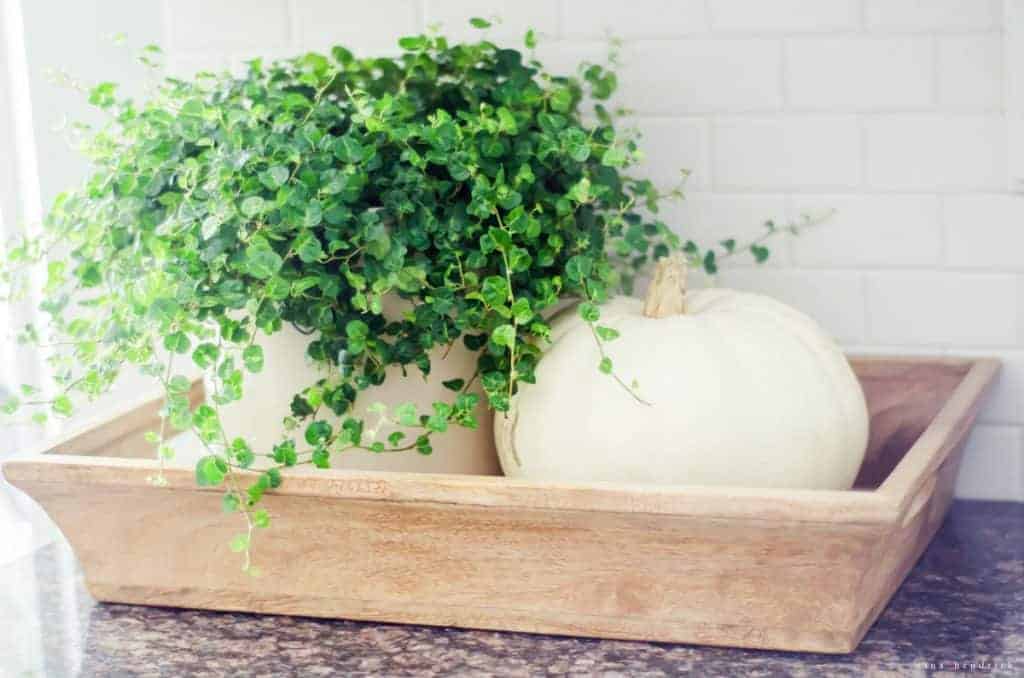 4. Add Greenery
I wish I could be better at keeping plants alive indefinitely. At any given moment, there are plants in the kitchen. However, they die fairly frequently.
5. Bring in Fresh Flowers
Whenever possible, I love how pretty and cheerful fresh flowers look in the room. Although it may seem like an expensive luxury, that doesn't have to be the case. Grocery store flowers have come a long way and you can often find fresh staples like roses and hydrangeas and seasonal flowers year round.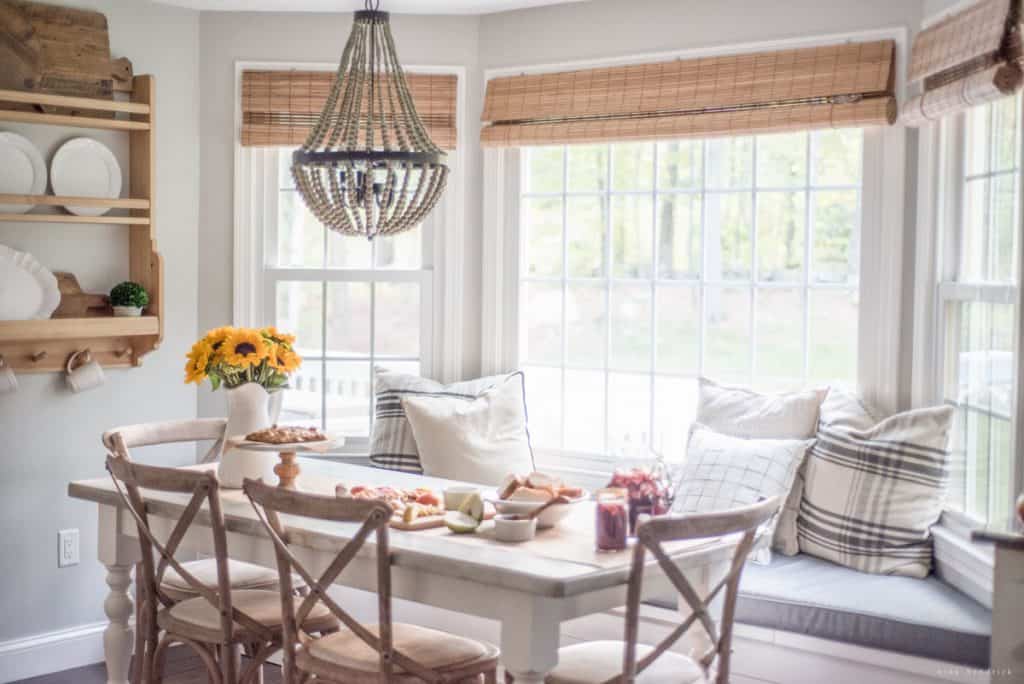 6. Natural and Accent Lighting
People are often surprised to hear that we don't have a ton of natural light in our home. In the afternoon, the breakfast nook pours a ton of light into the kitchen. However, during the rest of the day, we depend on high-quality LED can lights and softer Edison bulbs in decorative fixtures for accent lighting.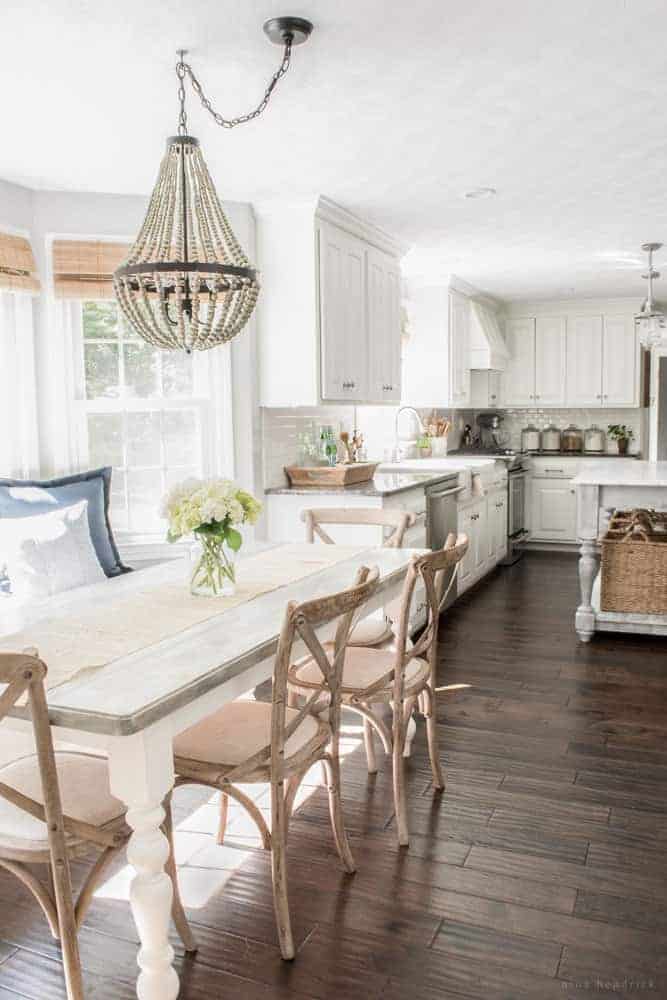 7. A Seating Area
Speaking of the Breakfast Nook, having a seating area in our kitchen is what makes it the heart of our home. From eating meals to doing homework to doing my daily work, this part of the room by far sees the most use. Having a place to gather in our kitchen is what gives it life.
8. Contrast
This photo was taken just after we installed the dark hickory hardwood floors and shows the space where the new rug now sits. When it came to choosing a finish for the floors, I knew that I wanted something that was vastly different from the cabinets. The contrast is very appealing to me!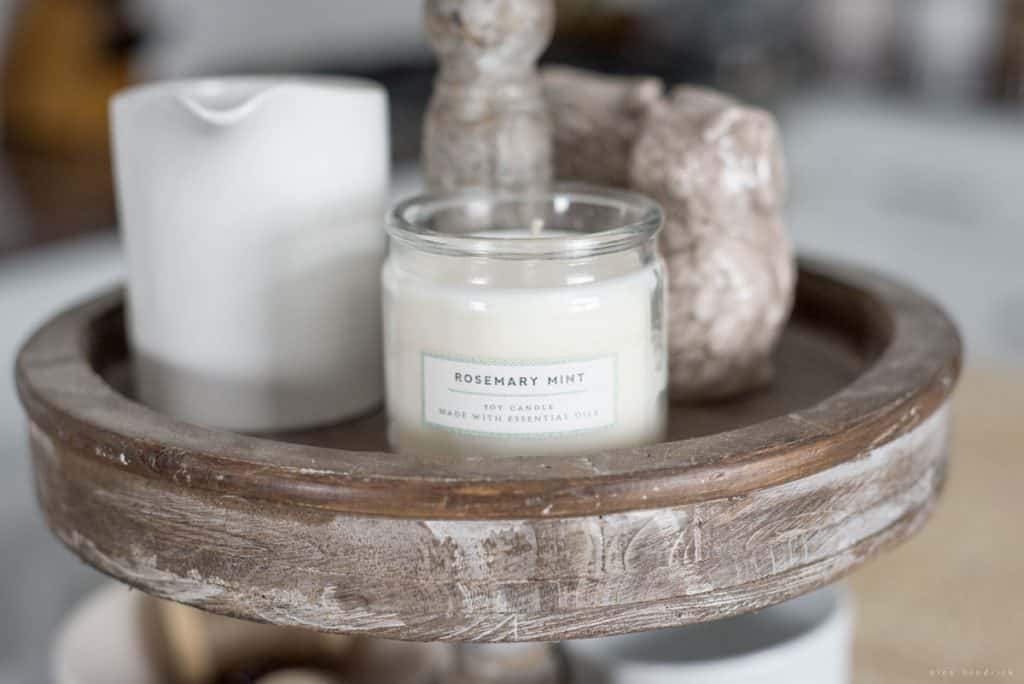 9. Homey Touches
Little things like leaving out some knickknacks and burning a candle also help to add character and warmth to our space. I often say that my goal is not just to create a beautiful home, it's also to create a beautiful place for my family to live and gather. Little things like the smell of a candle or something baking are the intangible things that most definitely help create a sense of home.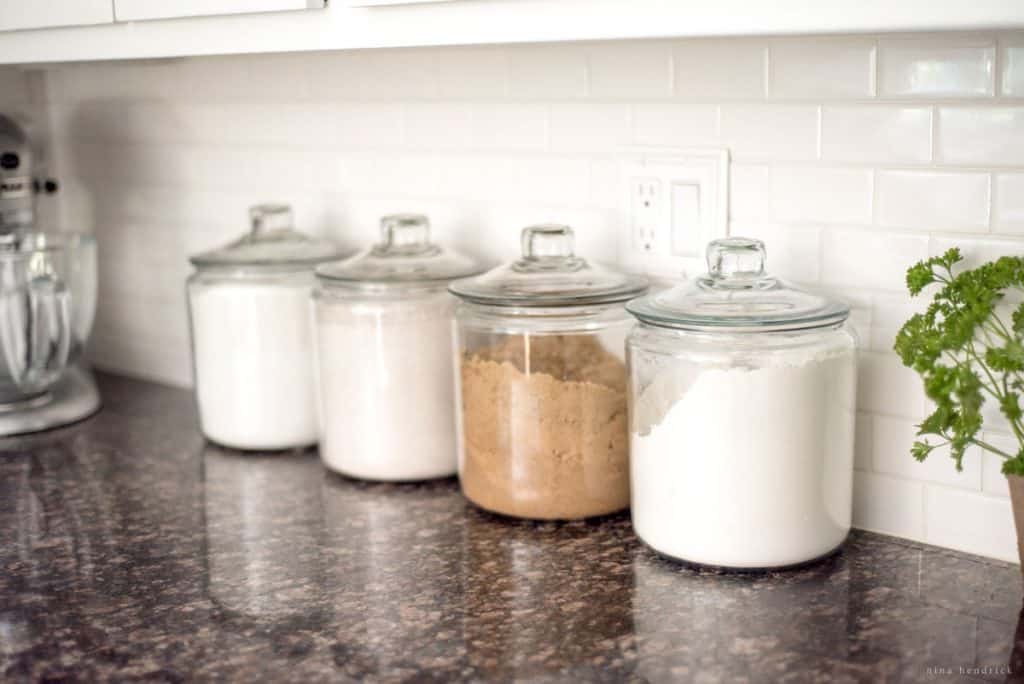 10. Leaving Canisters Out
Similarly, we don't feel the need to completely hide things away. I love keeping my baking canisters on the counter, and I also leave out our bread box. As a result, these touches show that people actually live, eat, play, and work in our home. All in all, that is the kind of authentic character that you can't stage!
Join the Weekly Newsletter
Subscribe to get our latest content by email and access to our File Library. Download organizing and home decor printables FREE!