Learn how to warm up a white kitchen and add character with this helpful guide featuring 10 easy tips and advice to create a cozy atmosphere in your space.
If you're looking to create a cozy and inviting atmosphere in your home, your kitchen is probably high on that list. White kitchens are classic and timeless, but they can often feel cold and sterile. With the right combination of textiles, decor, and furniture, you can make your white kitchen feel more inviting and homey. In this blog post, we'll discuss how to warm up a white kitchen and create a space that's comfortable and relaxing.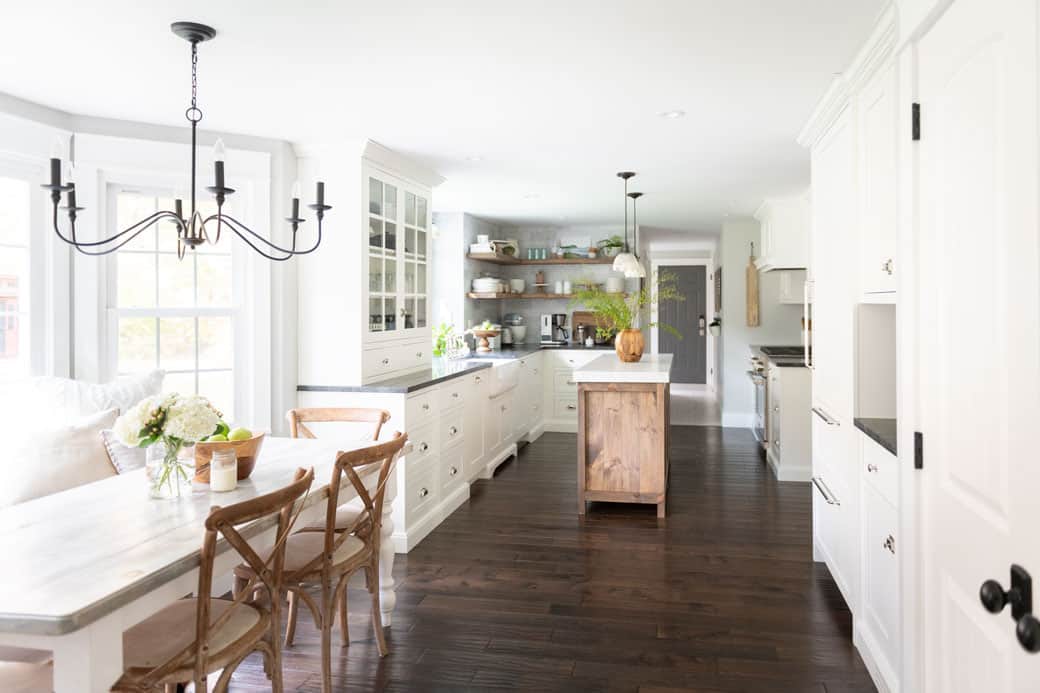 It's hard for me to believe that it's been over a decade since we began our cabinet painting project in our previous home. When the cabinets were first painted, it was like a huge breath of fresh air. The room felt so much brighter, cleaner, and more modern to us. I looked at that stage of the process as a blank canvas and planned to add decor and other elements slowly over time that would soften and add character to the somewhat stark look of the cool white cabinetry and other light finishes.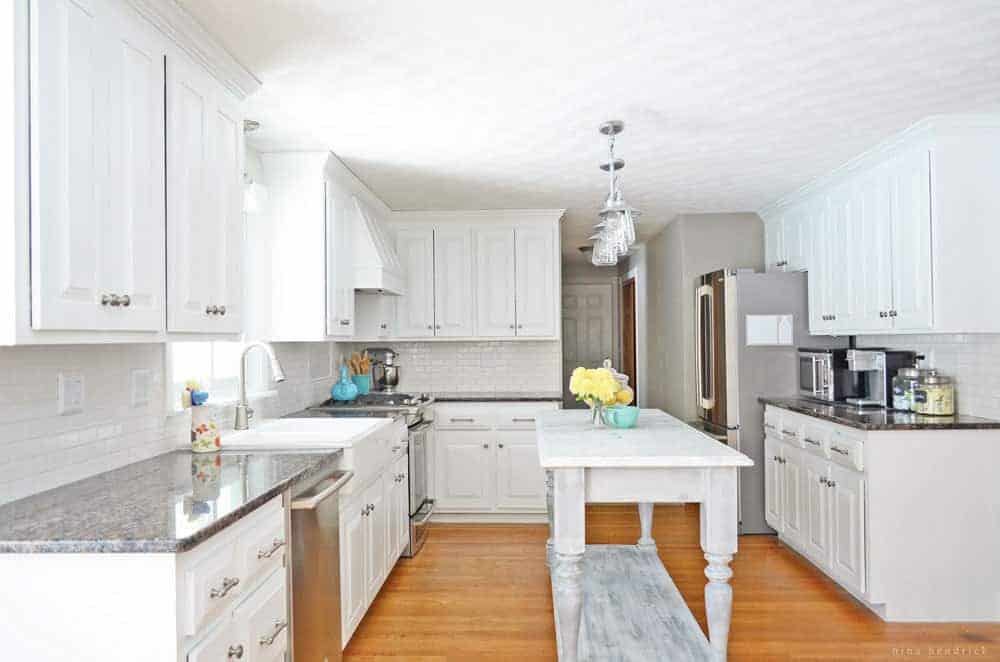 It was during this process that I first learned how to warm up a white kitchen. Through trial-and-error and this slow approach to decorating, I learned what would work best to add character to our space. I then repeated that process when we fully remodeled that kitchen with new warm white cabinets in 2019 and in our new home with our cool white-gray cabinets. Here are some of my favorite tips!
This post contains affiliate links, which means I may get a small commission (at no extra cost to you) if you shop my link. Please see my disclosure if you'd like more info!
How to Warm Up a White Kitchen and Add Character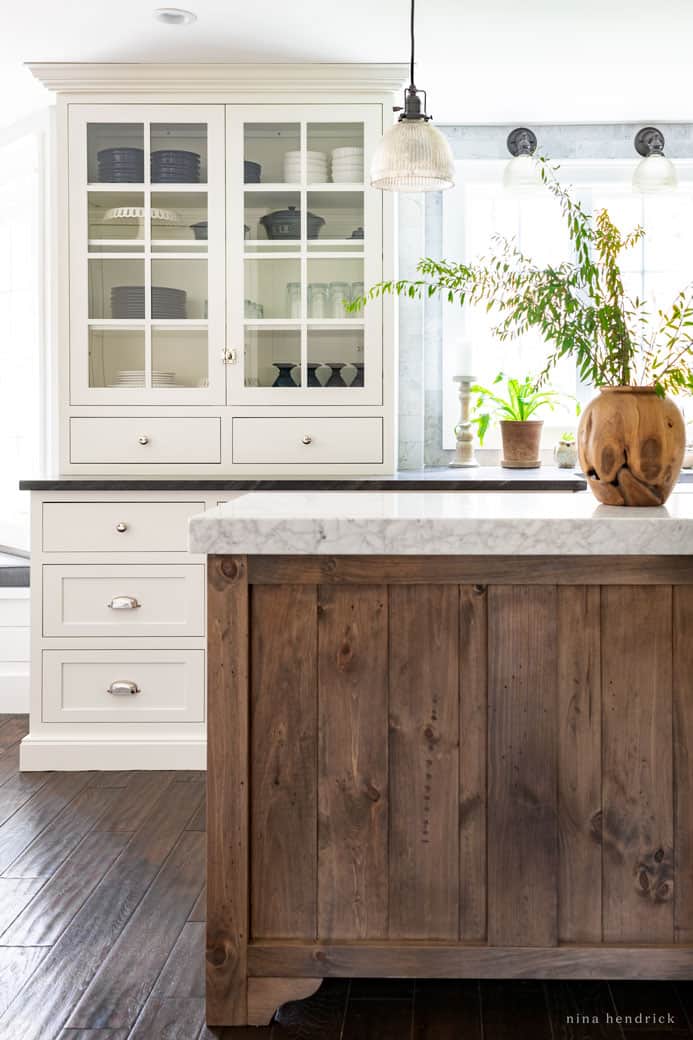 1. Add Wood Accents
One of my favorite, quick ways to add warmth to any room in our home is to use natural wood accents. Adding wood furnishings such as counter stools, shelves, chairs, or even a kitchen island can instantly bring natural warmth and texture to any room. Wood can also be used as an accent piece, such as a wooden bowl or cutting board or a wood-framed mirror. Even adding wood accents in the form of wall art, light fixtures or even accessories can be an easy and effective way to bring warmth to a kitchen.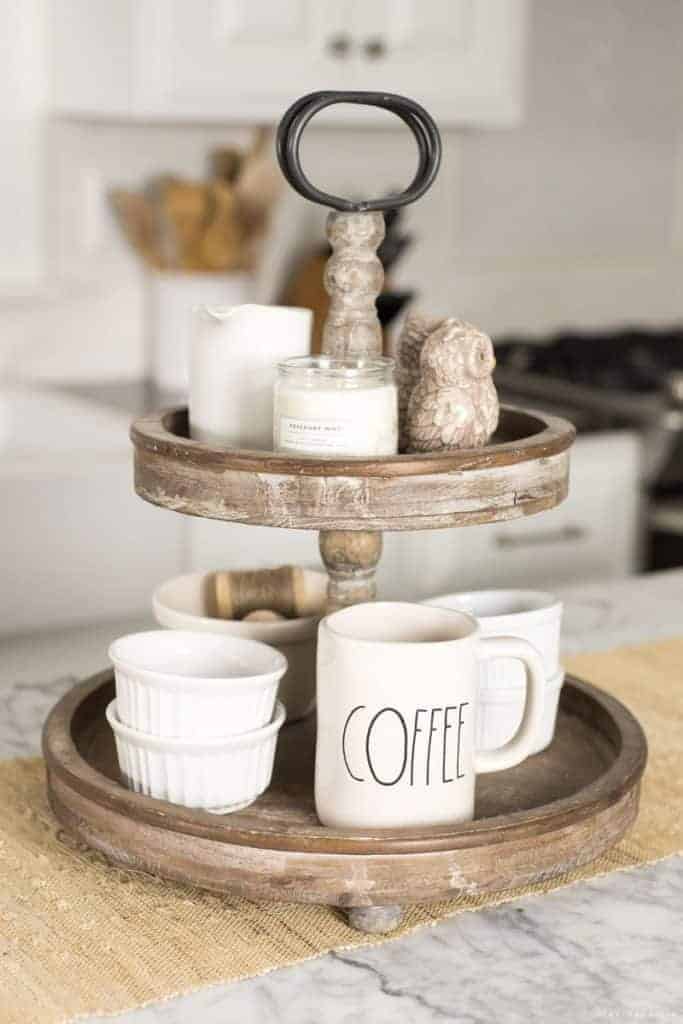 My wooden tiered tray is one of my most versatile and favorite decor pieces of all time. It can be used to display plants, spices, or dishes, and is a great way to add a pop of color and texture to the room. It's also a great way to break up all the white in the room and create an inviting atmosphere.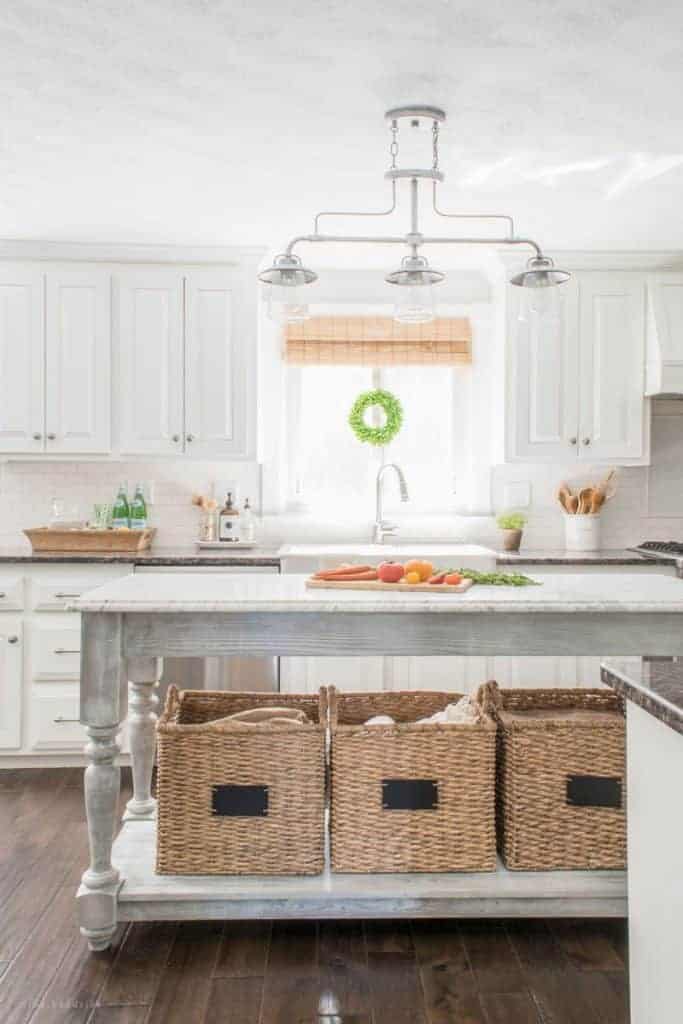 2. Wicker and other Natural Textures
Wicker adds an interesting texture to a kitchen and can be used to warm up a white kitchen space. Wicker baskets or bins can be used to store items on shelves or below a countertop. Woven wicker chairs can be used as dining chairs or for extra seating around the kitchen table. Rattan can be used to make furniture pieces and adds a coastal vibe to a kitchen space. Natural texture pieces like jute rugs, seagrass mats, and other items made of natural materials can be used to layer texture and add warmth to a white kitchen. You can also choose window treatments made from wood or woven materials.
The roman shade above the sink was an early addition to our DIY White Kitchen. It perfectly complimented the baskets under the island and added warmth to the room.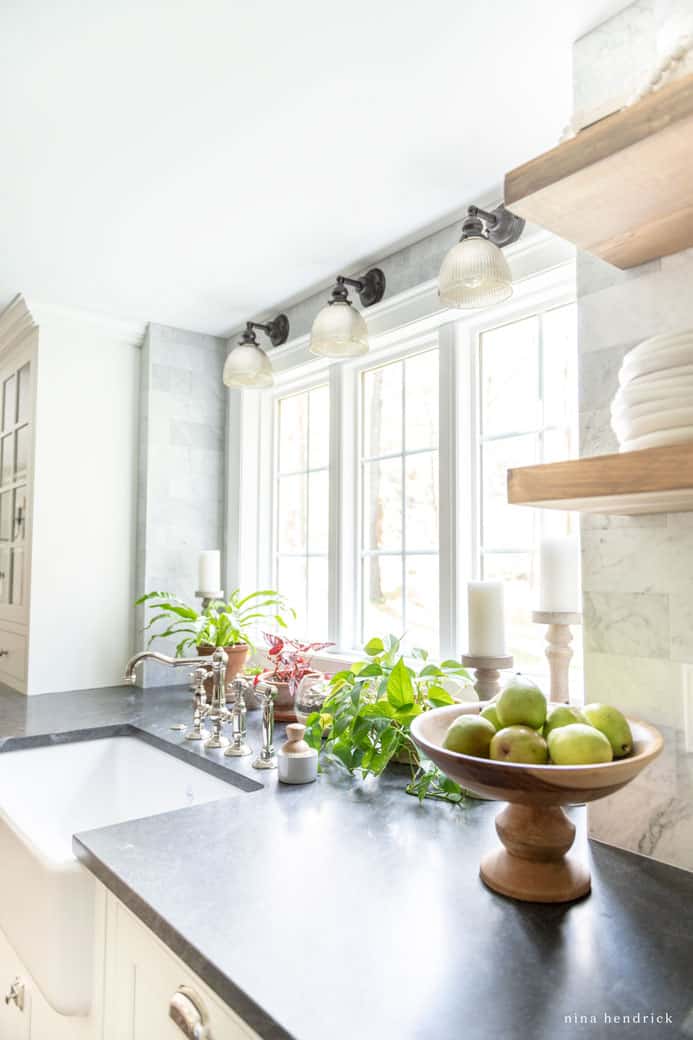 3. Add Greenery
Adding greenery to the kitchen is a great way to bring warmth to a white kitchen. You can add greenery in a variety of ways, from hanging plants to potted plants to even artificial plants if you don't have a green thumb. Adding greenery to the kitchen is not only aesthetically pleasing, but it also helps to filter air pollutants and bring a feeling of calm. Be sure to choose plants that thrive in your light conditions and be careful not to overcrowd the space.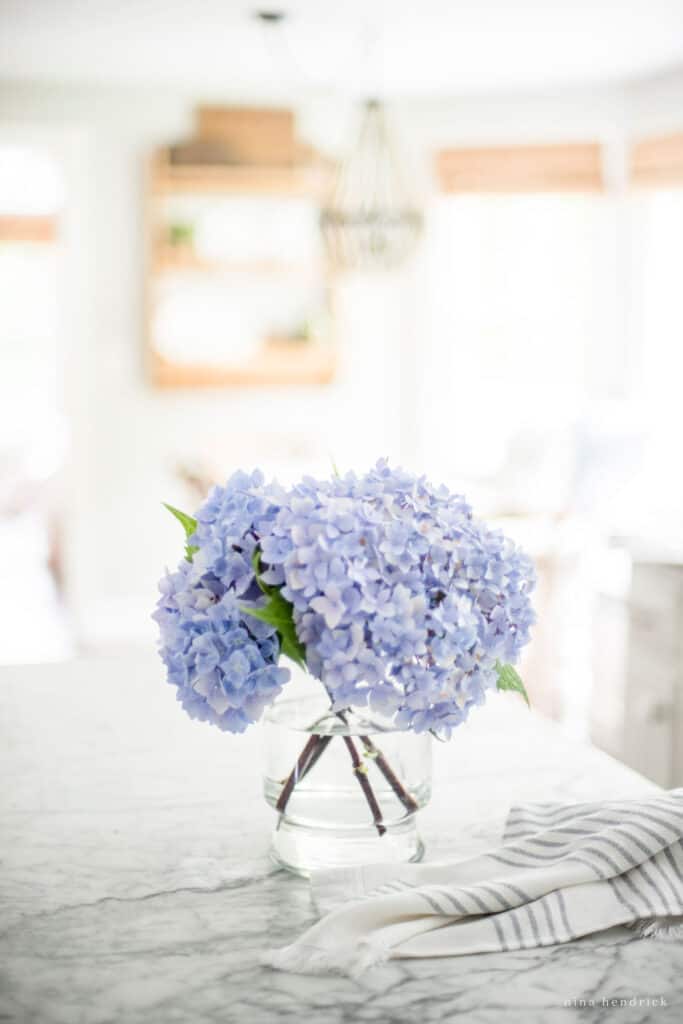 4. Bring in Fresh Flowers
Fresh flowers are a great way to add a splash of color to a white kitchen. Not only do they look beautiful, but they can also add a pleasant aroma to the kitchen. Plus, fresh flowers can make the kitchen appear more inviting and inviting kitchens often lead to more time spent in them.
Although it may seem like an expensive luxury, that doesn't have to be the case. Grocery store flowers have come a long way and you can often find fresh staples like roses and hydrangeas and seasonal flowers year round.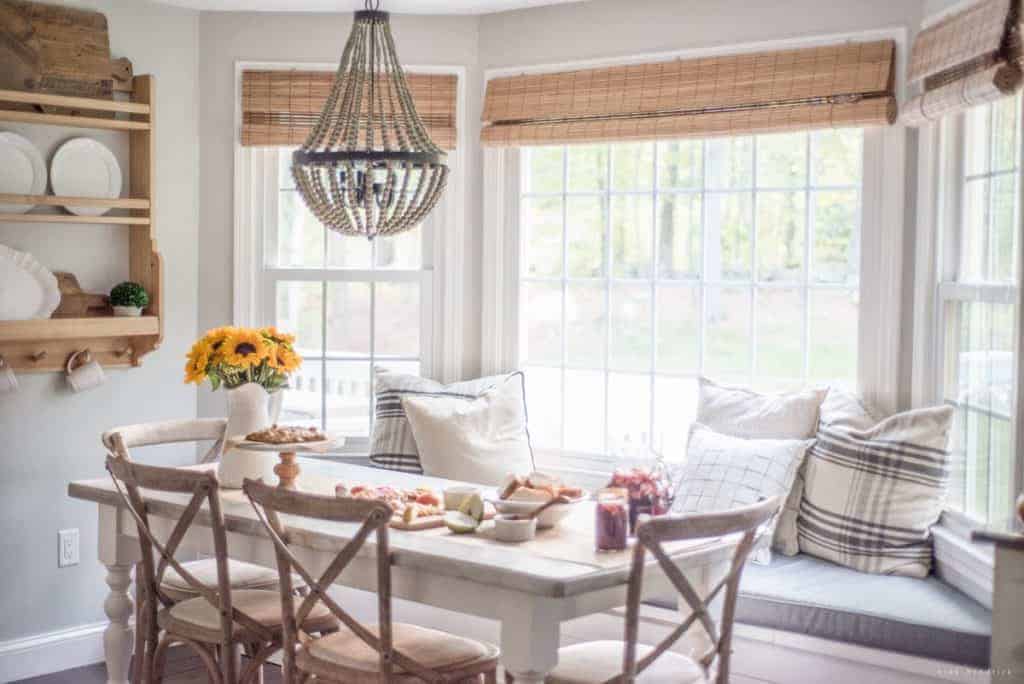 5. Natural and Accent Lighting
Natural and accent lighting can also be used to warm up a neutral color palette. Natural light from windows and skylights can open up the space and make it feel brighter and more inviting. Accent lighting can also be used to highlight certain areas of the kitchen, like countertops or shelves. Additionally, fixtures such as pendant lights and chandeliers can be used to create a cozy atmosphere and add a decorative element to the room. With the right combination of natural and accent lighting, a white kitchen can be transformed into a warm and inviting space.
It often surprised people to hear that we didn't have a ton of natural light in our previous home. In the afternoon, the breakfast nook poured a ton of light into the kitchen. However, during the rest of the day, we depended on high-quality LED lights and softer Edison bulbs in decorative fixtures for accent lighting.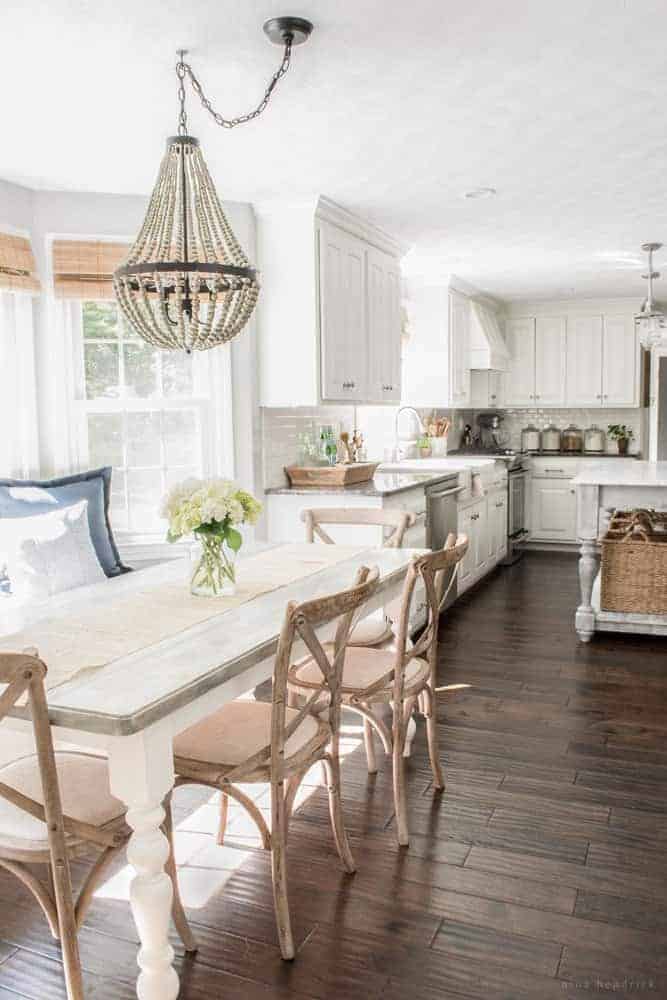 6. A Seating Area
A seating area is a great way to help your kitchen space feel warmer. Consider adding chairs, benches, or stools in warm wood tones or upholstered in washable fabrics to create a cozy nook. Choose a rug that adds color and texture, or even a statement piece of artwork for a focal point. Add a throw blanket or a few colorful pillows to bring color and comfort to the space. The seating area can be a great spot for family meals or for gathering with friends.
Speaking of a nook, the Breakfast Nook in our previous kitchen was the heart of our home. From eating meals to doing homework to doing my daily work, this part of the room by far saw the most use. Having a place to gather in our kitchen is what gives it life.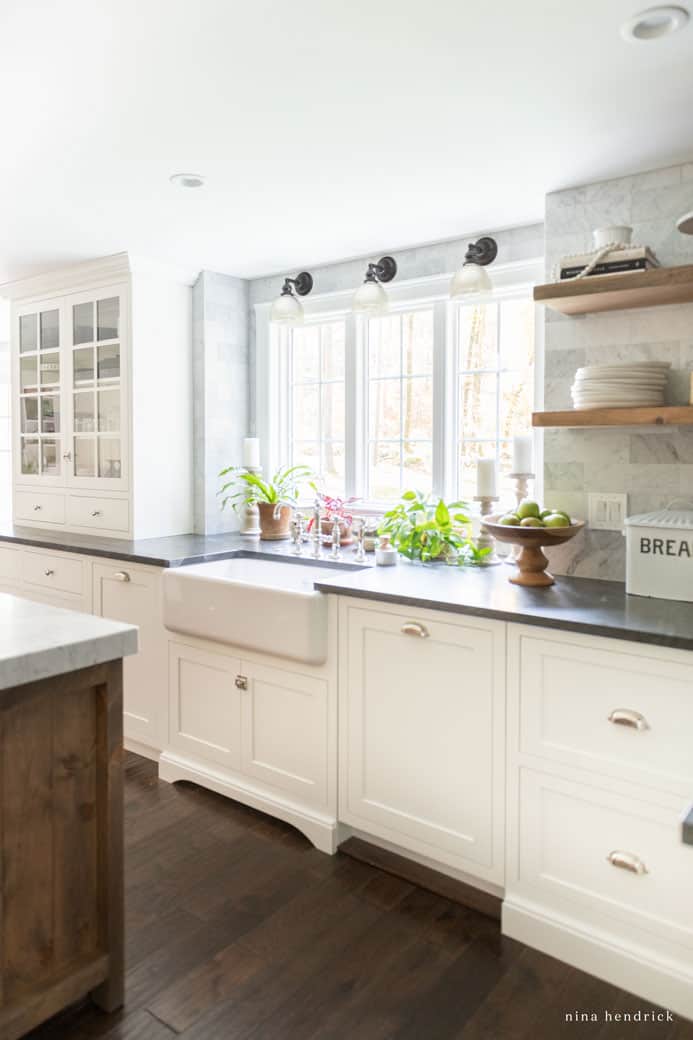 7. Add Contrast with Dark Floors or Countertops
Dark floors or countertops can be a great way to provide contrast and break up the monotony of a white kitchen. Wood floors can provide a warm and inviting feel to the room. A black countertop, especially when paired with white cabinets, can create a modern and stylish look. Darker backsplash tile can also be used to great effect, allowing you to easily add a little bit of contrast and break up the white. No matter which material you choose, adding contrast with dark flooring or countertops can be the perfect way to warm up a white kitchen.
This photo was taken just after we installed the dark hickory hardwood floors in our previous home. When it came to choosing a finish for the floors, I knew that I wanted something that was vastly different from the cabinets. The contrast is very appealing to me! You can read more about our hardwood floors here.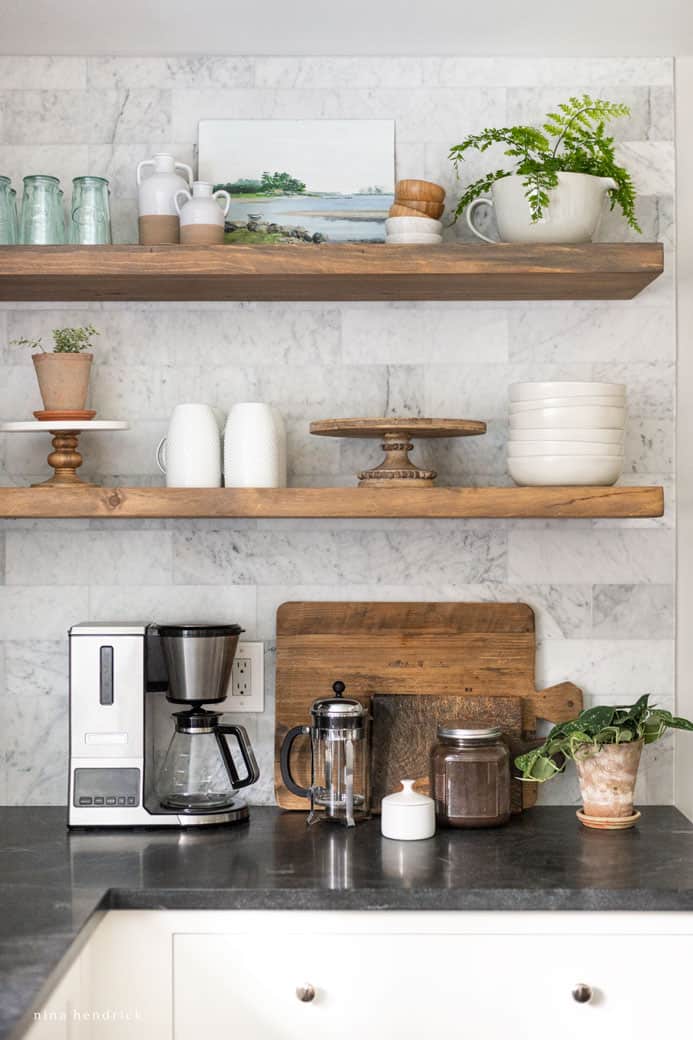 8. Homey Touches
Adding homey touches to your white kitchen can be a great way to make it feel more inviting. Textiles, such as a runner and kitchen towels, are an easy and inexpensive way to add coziness to your space. Wall art and plants can also give your white kitchen a more homey feel. Consider hanging a few framed prints or install open shelves for adding decor. If you want to make a bigger statement, consider adding a splash of color with a bold wallpaper or a statement piece of furniture. Finally, don't forget to add a few small items that give your white kitchen a personal touch, like a few pieces of vintage dishware or a collection of small trinkets.
Little things like leaving out some knickknacks and burning a candle also help to add character and warmth to our space. I often say that my goal is not just to create a beautiful home, it's also to create a beautiful place for my family to live and gather. Little things like the smell of a candle or something baking are the intangible things that most definitely help create a sense of home.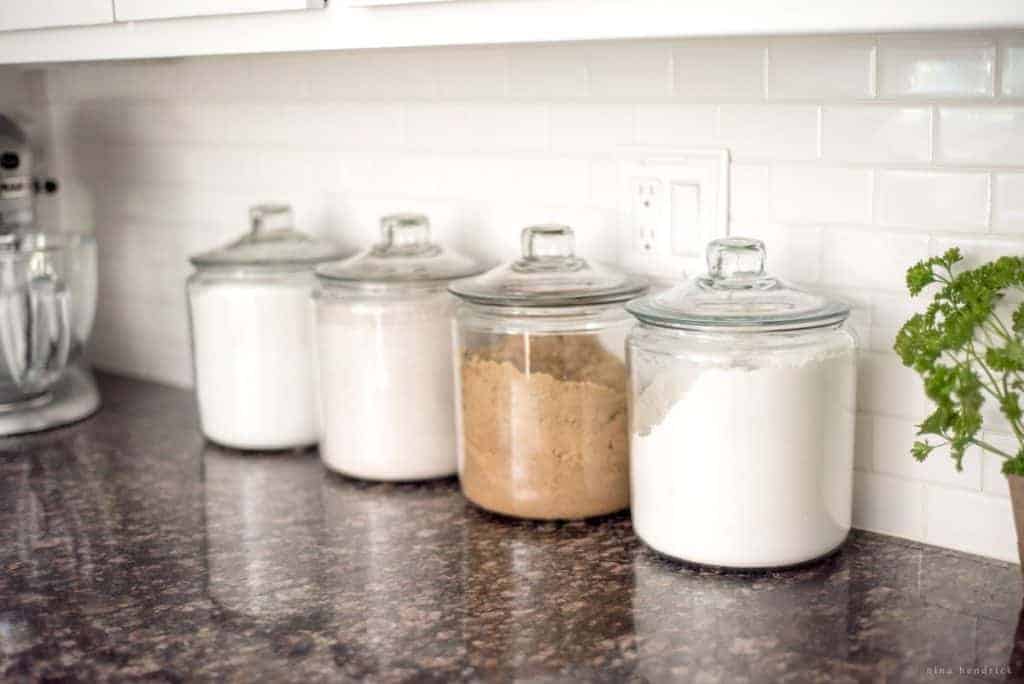 9. Leaving Things Out
I know countertop clutter can irritate some, but one way to add warmth to a white kitchen is to leave out items that show that people live, eat, and work in that space. Canisters filled with baking ingredients on the counter, a breadbox, a bowl of fruit – these touches show that the kitchen is not just a place to prepare meals but a place where people live and gather. By leaving out these items, you can create an authentic and cozy atmosphere that will make your white kitchen feel like home.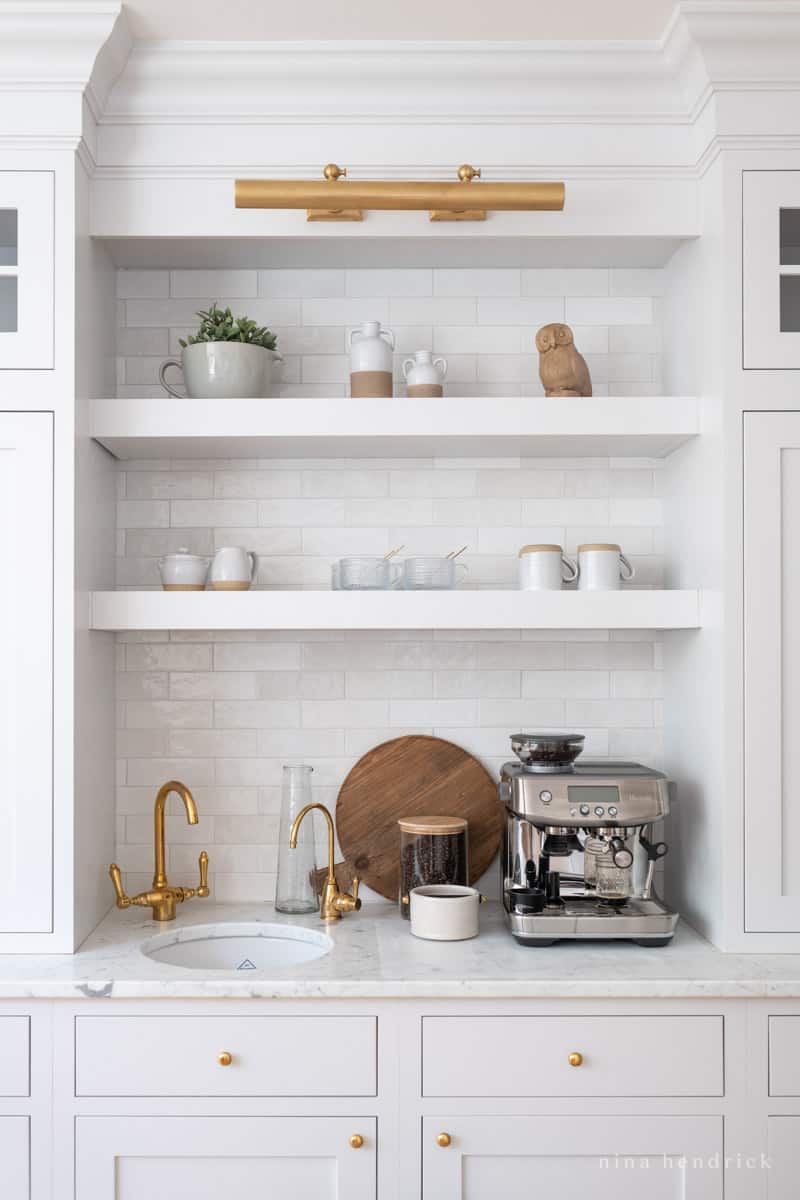 10. Add Warmth with Gold or Brass Hardware
Adding a touch of warmth to a white kitchen can be done through the use of hardware. From drawer pulls to cabinet knobs and even door handles, there are many options to choose from in warm tones. Consider replacing all of the hardware in the kitchen with items that have a warmer finish, such as brass, copper or bronze.
You can also tie into this with little accessories around the room. Gold or brass accents will instantly add a touch of warmth to the overall look and feel of the kitchen.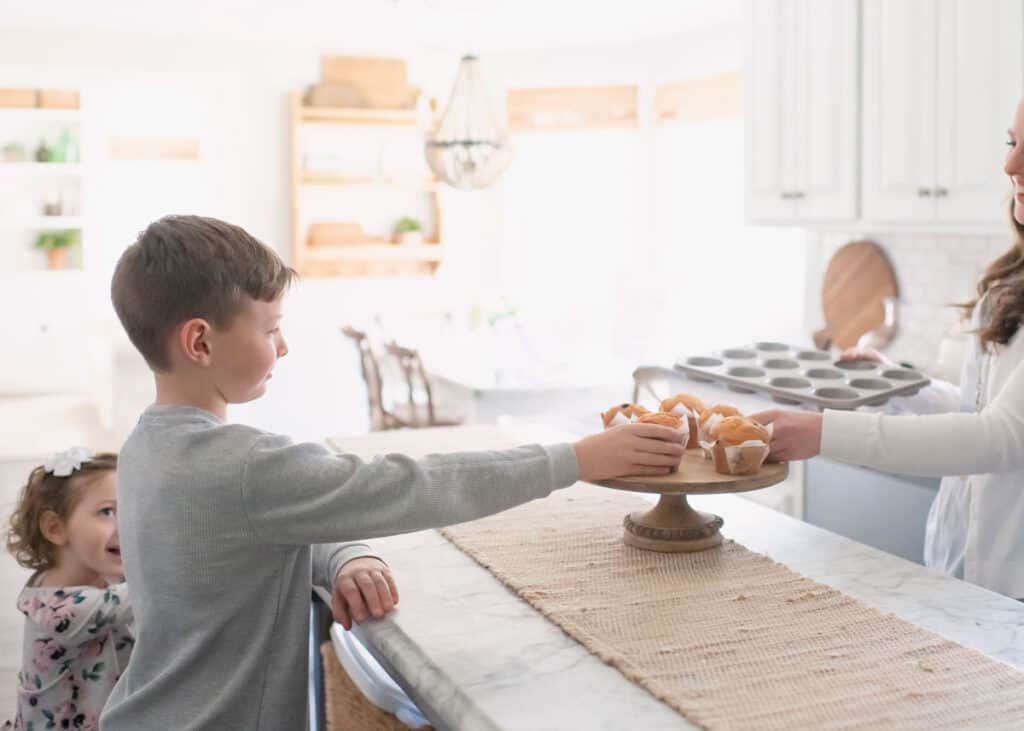 Bonus Tip: Add Family and Friends
As cheesy as it sounds, it's true: the most important aspect of our kitchen is the memories we've made. It's truly the heart of our home and the place where we spend the most time. Although it's intangible, adding those memories will bring unparalleled warmth and character to your room because it's important to you.
Overall, I hope these tips gave you some inspiration for how to warm up a white kitchen! While white may seem like a simple color, this is proof that it can still have tons of personality with the right complements.