Ireland Part 3: The Rock of Cashel
The Rock of Cashel | Our visit to the ancient Rock of Cashel site in Tipperary, Ireland. Tour the beautiful medieval churches and see the beautiful surrounding countryside…
I'm continuing my Ireland series today by sharing our trip to the beautiful Rock of Cashel while we were visiting Tipperary. You can catch Part One here or Part Two here if you are just tuning in!
The Rock of Cashel was a spontaneous trip for us on Easter Sunday. Driving around the corner and seeing it was one of the most stunning moments during the trip. We pulled over, and of course, at that very moment a car decided to pull over on the opposite side of the road, and the occupants got out and blocked my shot. I was a little frustrated! I couldn't have captured the feeling properly anyway- it was one of those heart-in-your-throat moments. There were a few of those on this trip!
Finding the entrance was a bit tricky, but it gave us a chance to explore the cute little village of Cashel a bit. We weren't even positive the site would be open, but we lucked out!
As I mentioned previously, the legend is that the Rock of Cashel is the piece that the Devil bit out of the mountains (Devil's Bit) and spit out. The site was considered sacred even in prehistoric times, but the current structures were built later after the Norman invasion and conversion to Christianity.
We started with a brief tour of the interior. The cross above was called St. Patrick's Cross. It's thought that the King of Munster was converted by St. Patrick at this very site in the 5th century.
This island reminded me of ours!
The ceilings in The Chapel of King Cormac were covered in beautiful 11th-century paintings that they were struggling to keep from deteriorating further.
The crucifix-shaped cathedral was grand and beautiful.
The round tower was the oldest and tallest structure on the site.
Cooper giving perspective.
There was an extensive graveyard with several beautiful Irish High Crosses. I loved the Celtic detail work on the crosses.
The ruins of an old abbey off in the fields.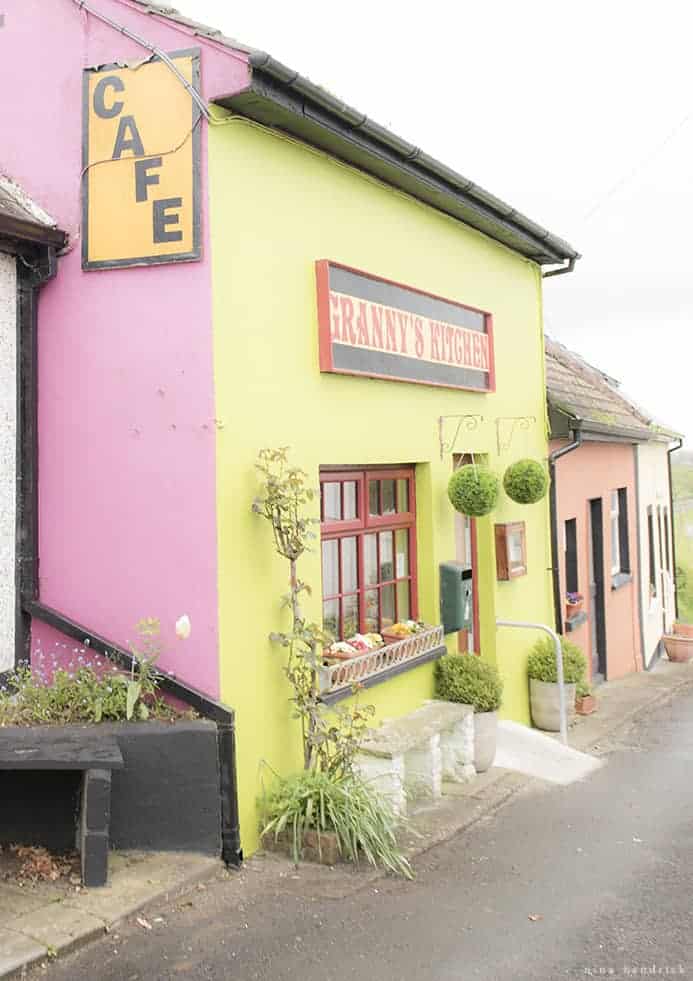 While not quite as historic, I was charmed by this little cafe and side street near the parking area! We got a nice cup of coffee to counteract such a raw and cold Easter.
This little outing was a fun and unexpected part of the trip.