Mudroom Progress & Inspiration
What made us crazy enough to take on two major renovation projects at once?! Well, I really do know the answer already. There are less than three months left before baby girl arrives and progress comes to a halt, and the projects are linked- we really couldn't start one before setting the ball rolling on the others. So, while I'm also decorating for Halloween, there is a lot of demo and construction going on behind the scenes. I had to wipe quite a lot of construction dust away before photographing my Halloween Vignette last week. Any given evening can find us removing wallpaper and hanging drywall, mudding and taping (which we loathe), etc. Each space is really starting to take shape, so I knew it was time for an update!
Master Bedroom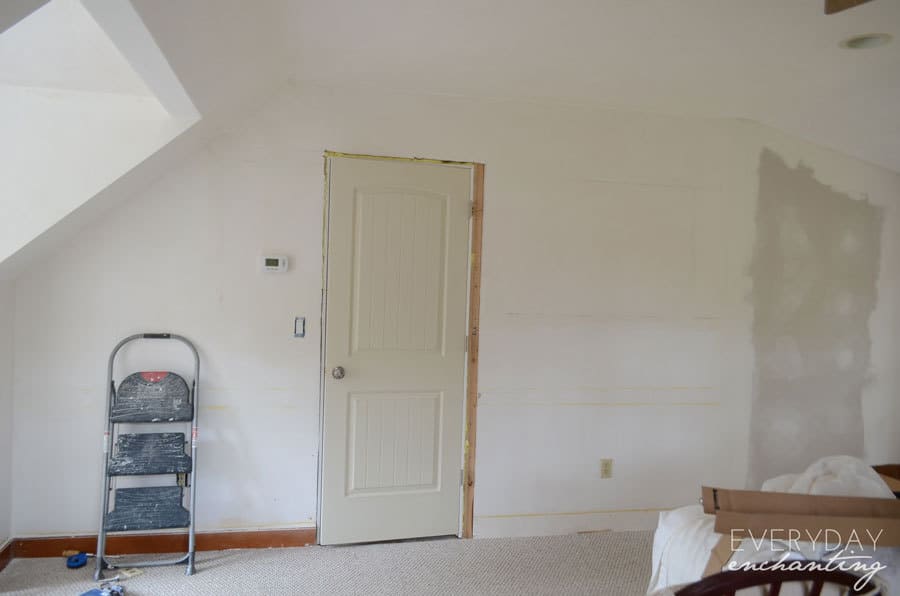 Remember the dark wallpaper? The wallpaper is now about 90% removed- the remaining wallpaper will have to wait until will build the new floor and cover the old stairway before we can reach it. A tutorial on wallpaper removal will be coming your way soon! It is truly a brutal job, but hopefully you can learn from our trial and error.
We also framed in the new doorway and installed the new door.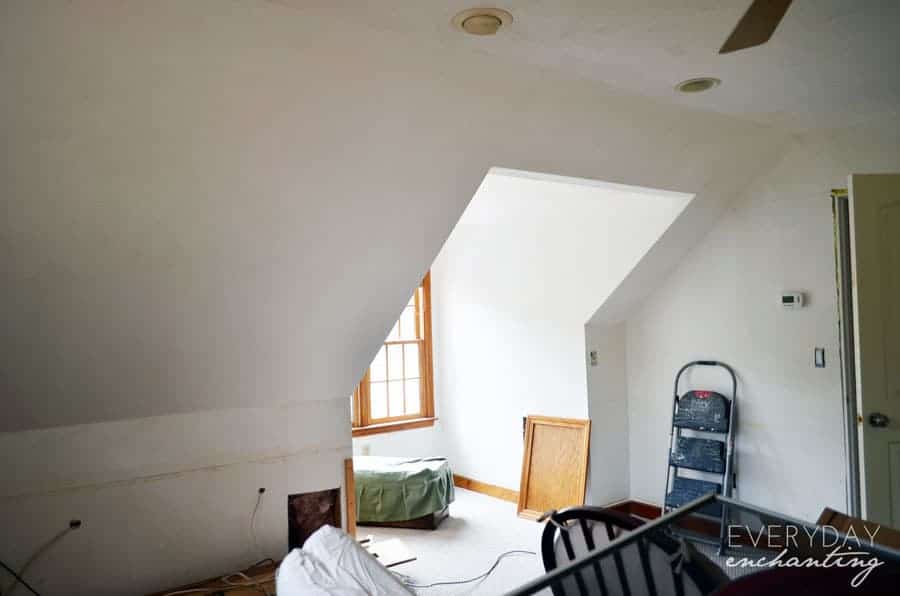 Without the dark wallpaper, we were amazed by how sunny and bright the room is! I plan on painting it BM Wickham Gray, the same changeable gray/blue/green color as the Powder Room. It is such a soothing color, and I think it will go perfectly in the space! We are currently filling in all of the nail holes from the orange/brown chair rail we removed, and then we have to sand and prime the whole room, because the wallpaper removal did do some damage.
You may remember that we also carved out a space for the laundry room. It is now an actual room! We are currently in the process of finishing the walls, which still have some wallpaper that needs to be removed- and of course, lots of mudding, taping and sanding. We have a pocket door waiting to be painted and installed (it's actually framed in, we just have to add the hardware and put it in place). We are actually going to pause that particular project at this point for now, as it's functional- but eventually we will be adding flooring, cabinetry, a countertop, and clothes storage to the opposite wall. For now it will just be the washer/dryer, our rickety clothes hamper, and the reused clothes hanging bar and shelf combo from the old closet. Like every room in this house, we have to turn it into an actual, normal (non-wallpapered) room before we can add the fun extras.
– Master Bedroom
Phase 1:
Remove Wallpaper
Add New Doorway
Prime & Paint
Fix Floor where Staircase was
Remove Trim & Patch Walls
Paint Window Trim
Replace Carpet with Hardwood
Replace Light Fixture
Delete Extra Can Lights
Replace 4 Can Lights with LEDs
Patch Ceiling, Fresh Paint
Mood Board: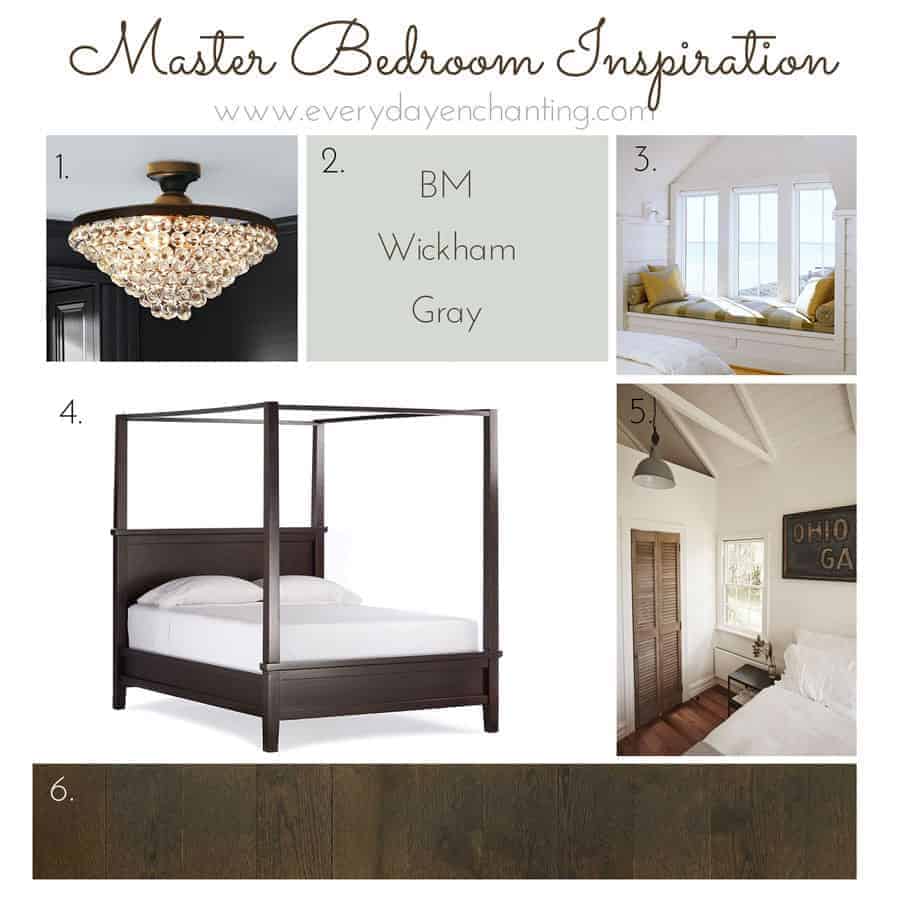 Mudroom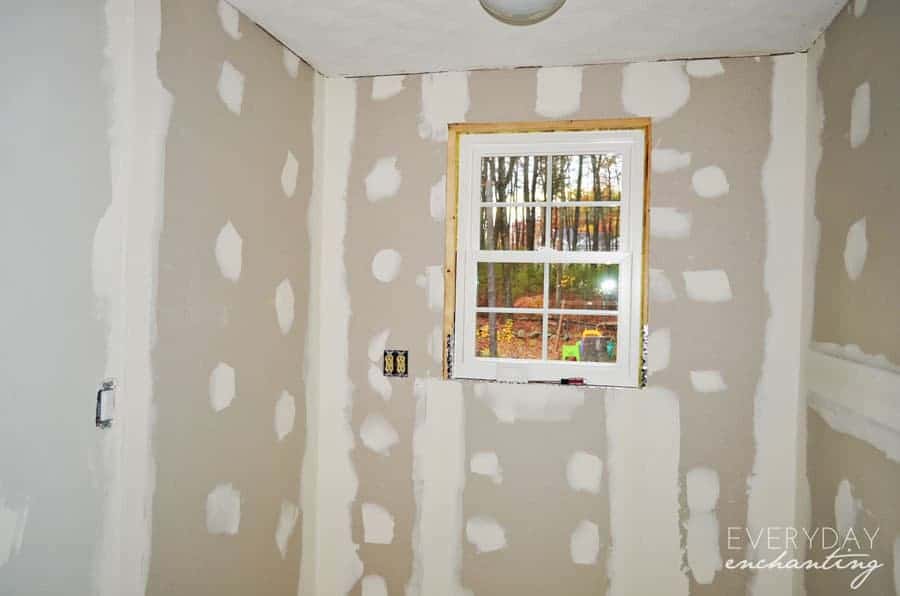 Whenever we get to a point upstairs where we need to take a break, we begin working on the former laundry closet/ future mudroom again. So far we've ripped out the old textured drywall (and very fortunately discovered a potentially catastrophic leak in the wall before it could wreck the powder room.), framed in and added a window, replaced the drywall, and began patching. Our next steps are to paint, add the beadboard 2/3 wall treatment, and then install the tile floor.
– Change Laundry Closet, Hallway, and Utility Closet to Mudroom
Add Window
Demo Former Laundry Closet Area
Replace Drywall 
Patch & Paint
Beadboard & White Paint
Tile
Lockers & Benches
New Utility Closet Doors
New Light & Patch Ceiling
Mood Board: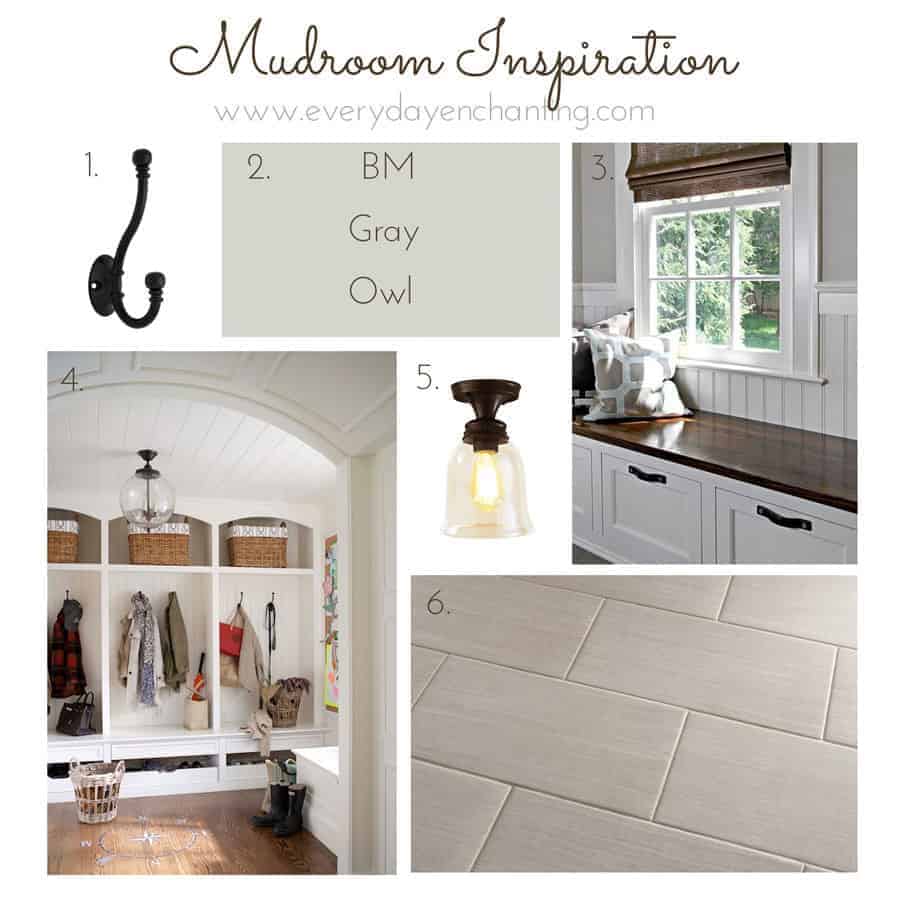 Of course, I have been gathering inspiration for this project… oh, since Pinterest existed (probably even before if I can hunt down my magazine clippings). You can see my full board here (I am more than a little obsessed with the subject), but here are a few highlights that we can actually utilize in our space:
Lockers with a Bench:
Though Mack and I haven't specifically discussed the design yet, the Mudroom will have some sort of locker/bench combo built-in. We actually kind of designed
the pantry
the same way, now that I think about it. Unfortunately space is somewhat limited, so there will probably be three narrow cubbies.
Wall Treatment:
Since the mudroom walls and ceiling currently  have the infamous seashell texture (if you have no idea what I'm talking about, you can see an example of it in the
powder room ceiling post
) we will definitely be covering that up with some sort of panelling rather than replacing a large portion of the drywall. We have discussed both planked walls and floor-to-ceiling beadboard, but we haven't come to a decision yet. I think both would be beautiful, so I will be happy either way!
I am so incredibly excited to get started! Make sure to follow along on Instagram for real-time sneak peeks of the progress!