Considering moving your laundry room upstairs? Learn how we diverted an awkward hallway to create a second-floor laundry room and closet.
Welcome to the room in our home that is focused on my least favorite task… Yes, I'm talking about our laundry room. It's no secret that laundry is a chore that never ends, but I'll admit that having this renovated space makes it a bit more bearable! Here are all the details about how we carved out a second-floor laundry room and my closet from an awkward hallway to what would later become our primary bedroom. If you missed the first laundry room inspiration post, you can catch it here!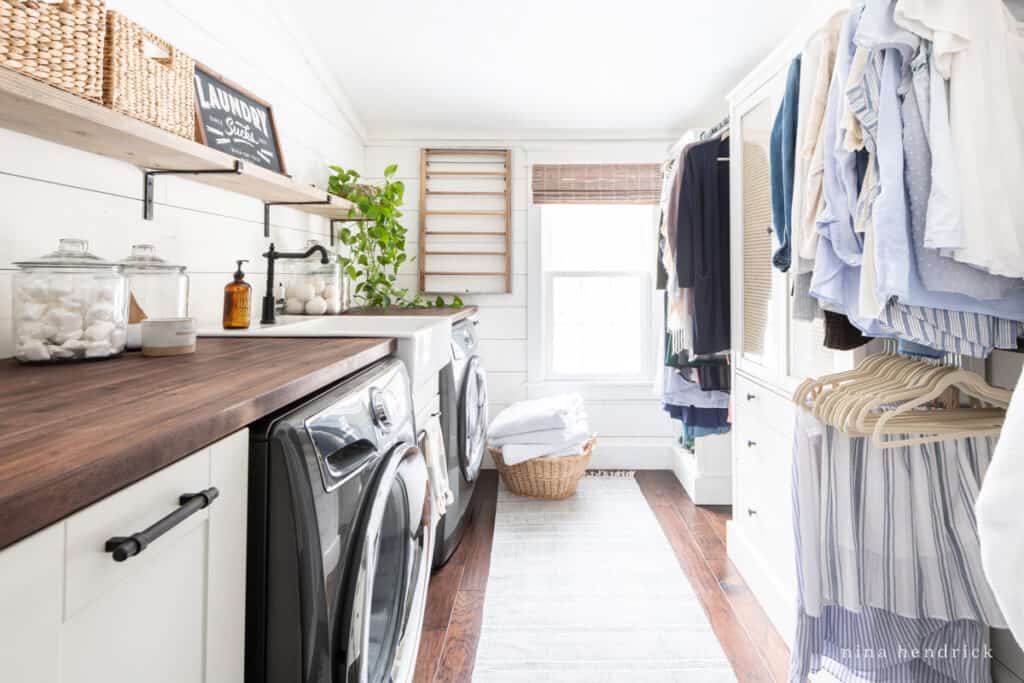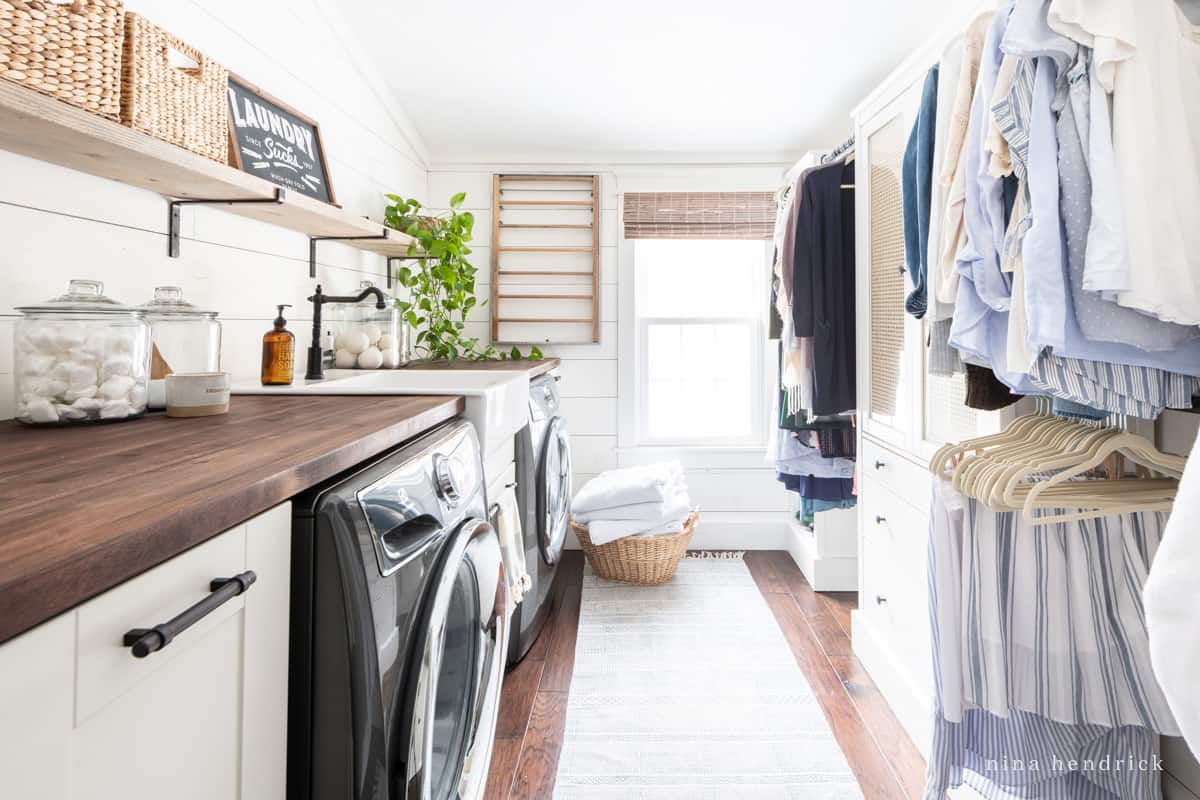 This project was a bit complex because it involved both moving our laundry room upstairs and also reworking our upstairs floor plan to be able to have a second-floor laundry room.
Creating a Second-Floor Laundry Room
Follow along on YouTube!
Before, as in many colonials, the laundry room was tucked into a closet just as you walked in the door from the garage. While I was grateful it wasn't in the basement, it still wasn't the ideal place. All of the kids' snow clothes, coats, boots, backpacks, etc. ended up in the middle of the hallway.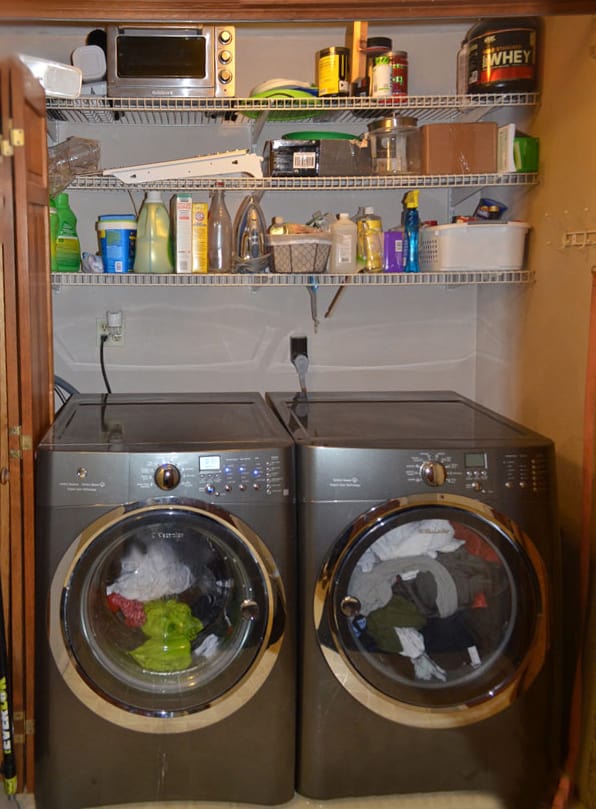 Although the space felt tight with the bifold doors and having our washer and dryer there, the laundry closet was actually quite large. We knew that if we were able to have a second-floor laundry room instead, we could open the space up and create a mudroom. So that's what we did!
Reworking the Upstairs Floor Plan
As far as where we could carve out space for a laundry room upstairs, we had a few ideas. Ultimately, we eyed all of the space above our garage and the awkward hallway that led to what was then a bonus room. Here's the original floorplan.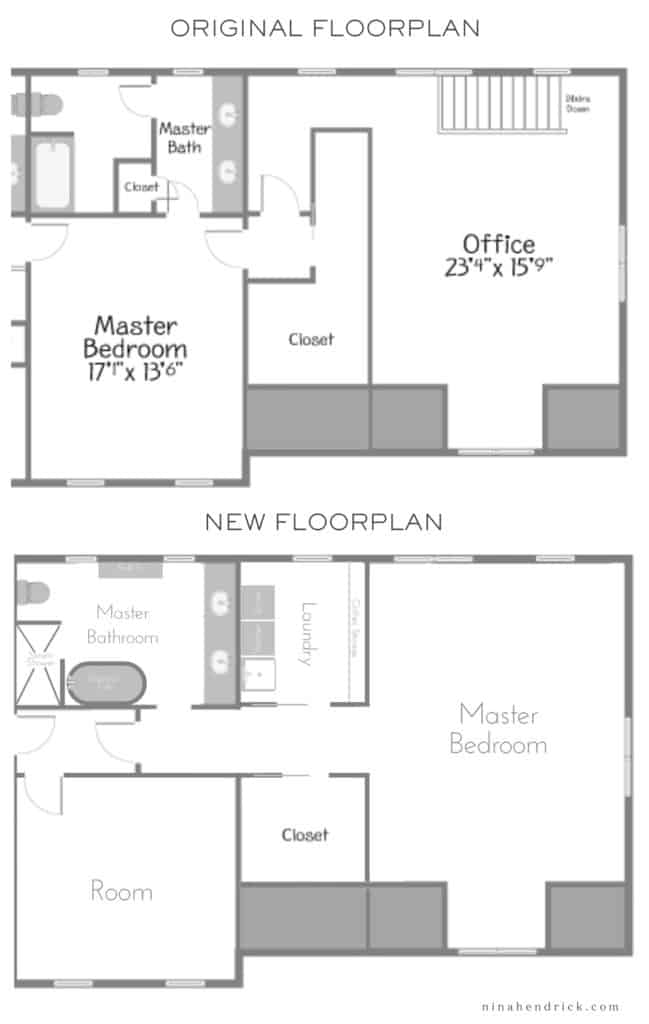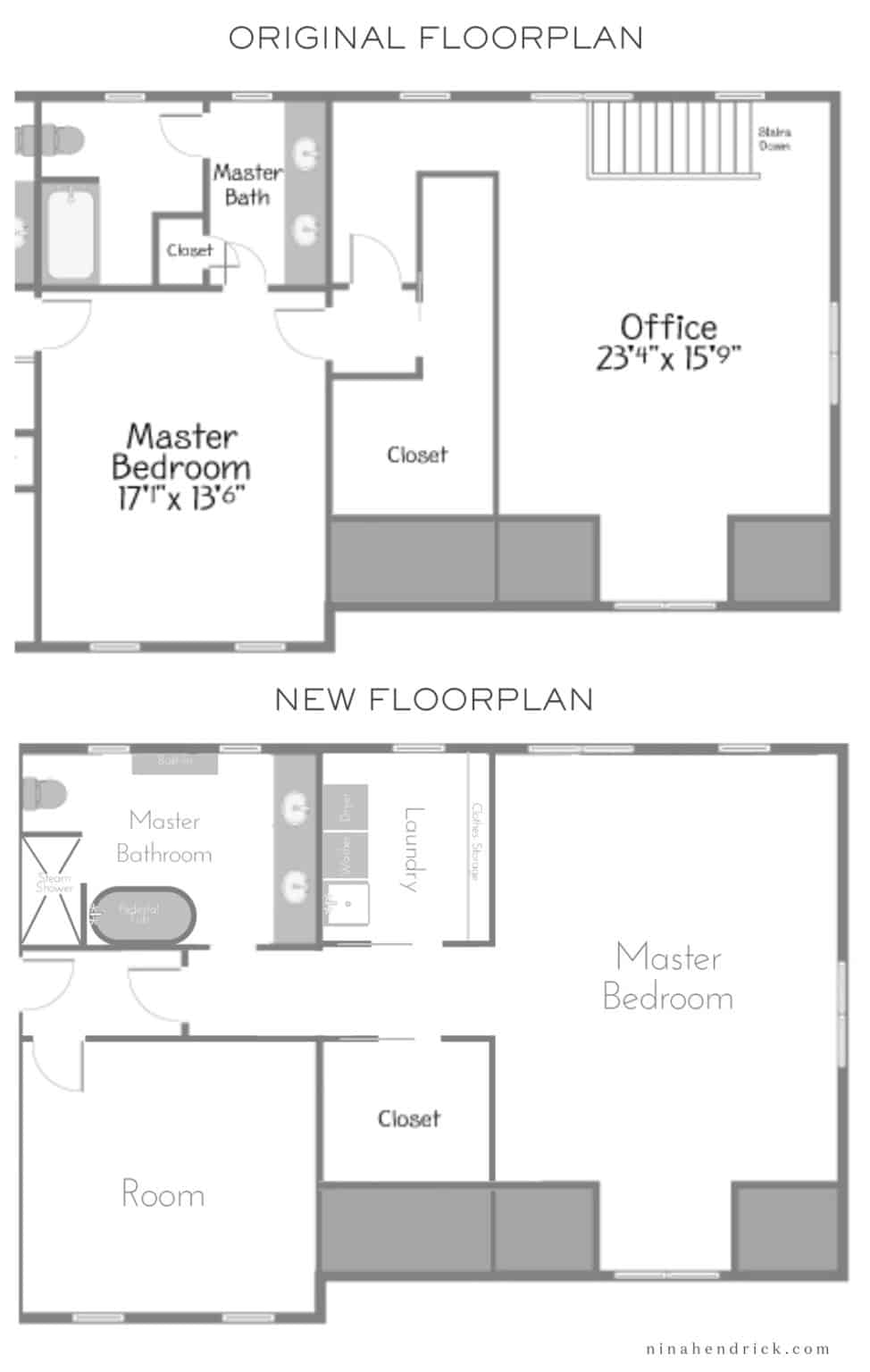 As I'm sure you can see, the original floor plan wasted a lot of space. Plus, it was just an awkward transition into the bonus room, which we knew we wanted to rework into a primary bedroom. By demolishing the old closet and creating a straight hallway into the bonus room, we'd instead have plenty of space for a laundry room that served double-duty as my closet. You can read more of the details of that project here and how we created an entire primary suite from this space.
Although it was a good solution, I did have a couple of reservations about this placement. One was having a room between our bedroom and bathroom. I worried about resale and that it wouldn't "feel" like a primary suite.
However, we offset this by adding a wall and door in the hall to really show the division of the space, which definitely defines it well. Now that we've lived like this for several years, I realize that it wasn't a valid concern because a couple of extra feet that the second-floor laundry room adds between the bedroom and bathroom hasn't been a big deal at all.
Although I had originally proposed changing the layout of our primary bathroom to include the new space and then putting the laundry room where the shower was, there were a couple of reasons why that solution didn't work out. First and most importantly was that the wall dividing the bathroom and what's now the laundry room is the dividing wall between our main house and our garage and is most definitely load-bearing. There was also already a lot of plumbing and electricity in that wall, which worked out great for the new laundry room but would have all had to be moved if we created an archway or some other solution to join the spaces.
Second-Floor Laundry Room Above the Garage
There was also an added benefit to the eventual placement of the laundry room and it has to do with what makes second-floor laundry rooms so "controversial" (although they're a lot more common now than when I introduced this project in 2014). If ever we faced the Washing Machine Flood of Biblical Proportions that so many internet commenters warned us was coming, at least it was only our garage that would be impacted.
So that's indeed how we moved forward. We framed in the new space and added a pocket door, just as planned.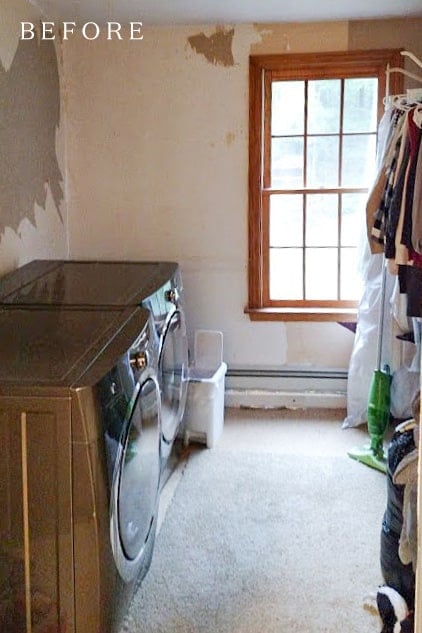 For a couple of years, our new second-floor laundry room looked like this. As you may know, if you've followed along for a while, we've lived in our house through our entire renovation while raising three kiddos and running two businesses. I tell you this because while an Instagram grid or the Home Tour page of this blog shows what seems to be curated spaces, know that it's a whack-a-mole game. For any finished room, there's often another room in the house that looks like this as we chip away at projects.
That wallpaper was stubborn, and I tried in vain to remove it as time allowed. I think it was actually some sort of contact vinyl paper and not true wallpaper because it completely resisted traditional removal methods like steaming or even specialty products.
Adding a Planked Wall Treatment to Our Second-Floor Laundry Room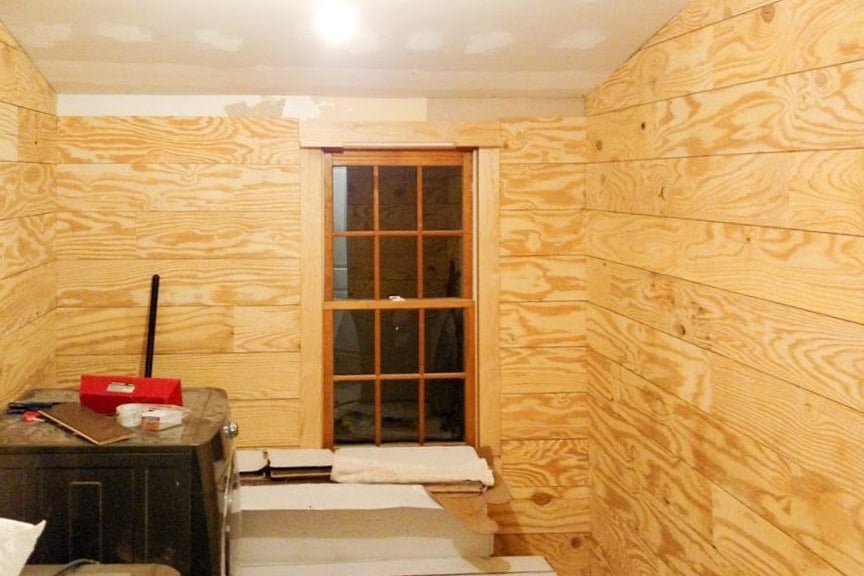 In the end, for this second-floor laundry room project, we just went right over it with the same planked wall treatment we've done elsewhere in our home. We knew we'd be spraying this time around, so we were less concerned about being able to see the wallpaper pattern through the cracks.
Paint Sprayer Tips for Planked Walls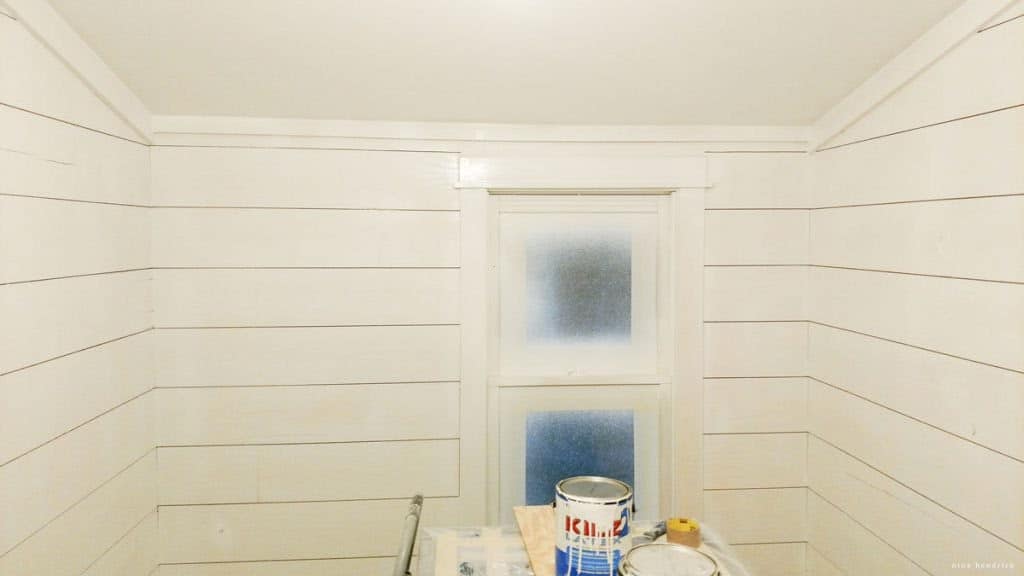 This post contains affiliate links, which means I may get a small commission (at no extra cost to you) if you shop my link. Please see my disclosure if you'd like more info!
Here's a progress shot from the paint spraying process! We recommend a Wagner Sprayer (it's what we used for painting our oak kitchen cabinets). In retrospect, I wish I'd brushed on a different primer. We used the one in the photo because it could be diluted with water and put in the sprayer. I should have instead brushed on a stain-blocking primer, as over the years the tannin from the wood has bled through. For paint, we used and recommend Benjamin Moore Aura in Eggshell (in Simply White). We diluted it about 6% with distilled water for spraying.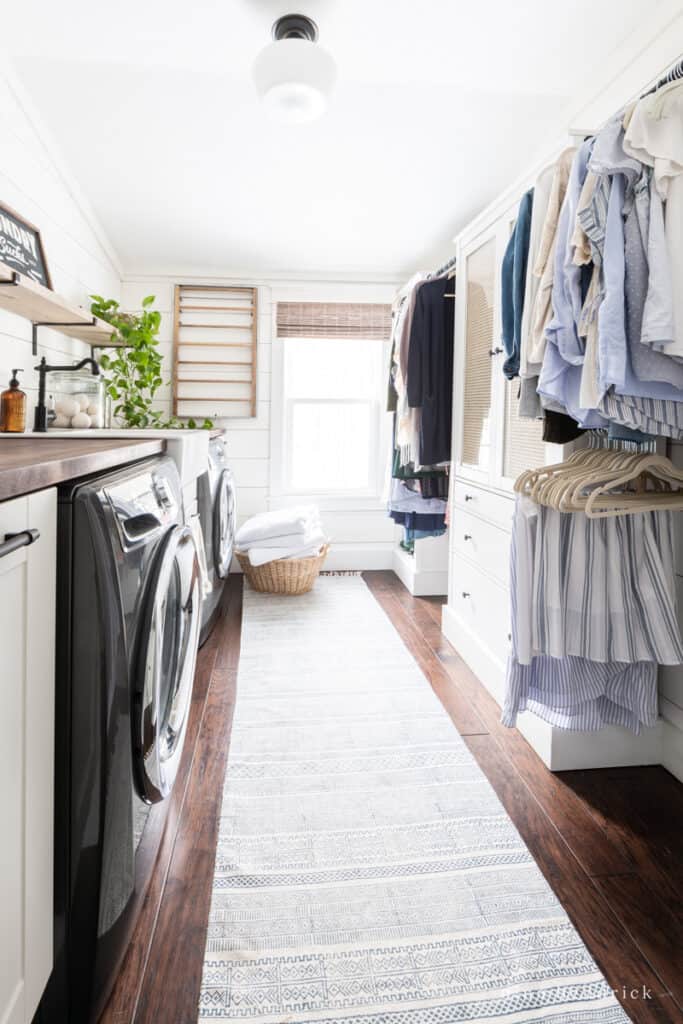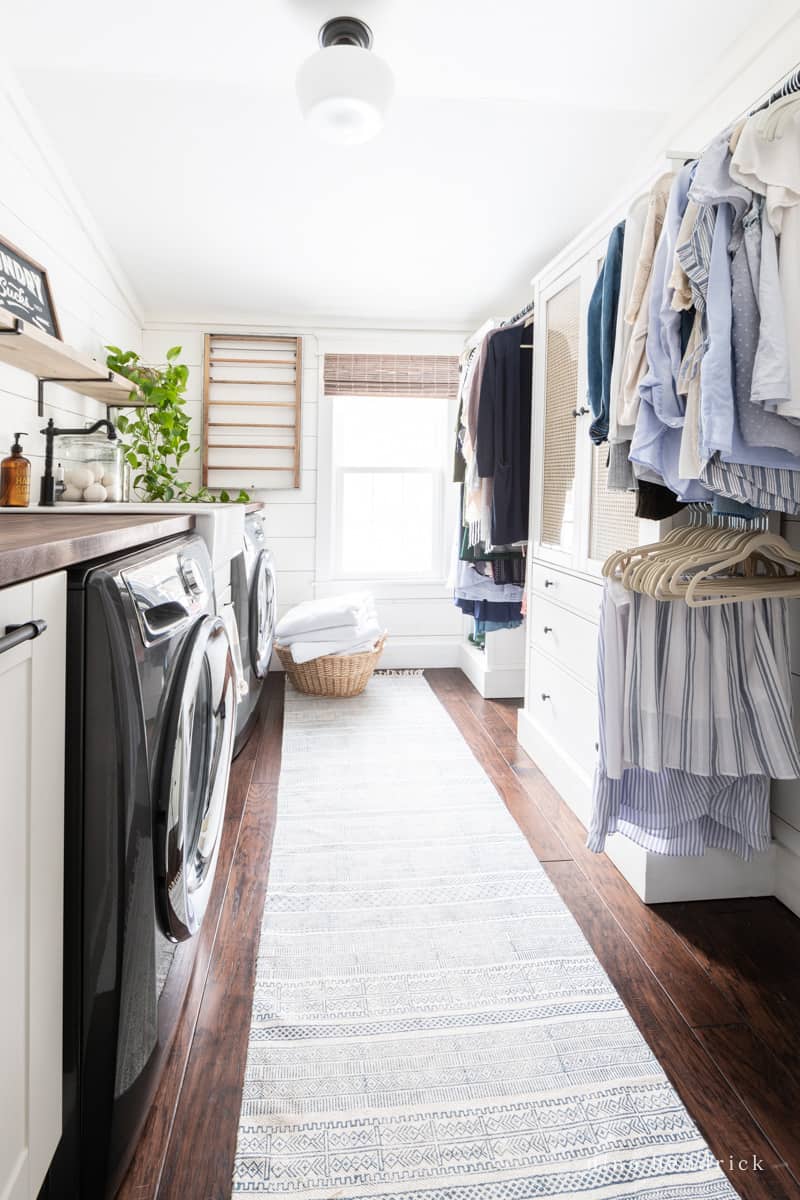 Since this post is already becoming long, from here I'll share specific details about the two sides of the second-floor laundry room space in their own respective posts. You can get the details for the laundry side here and the details for my closet built-ins here.