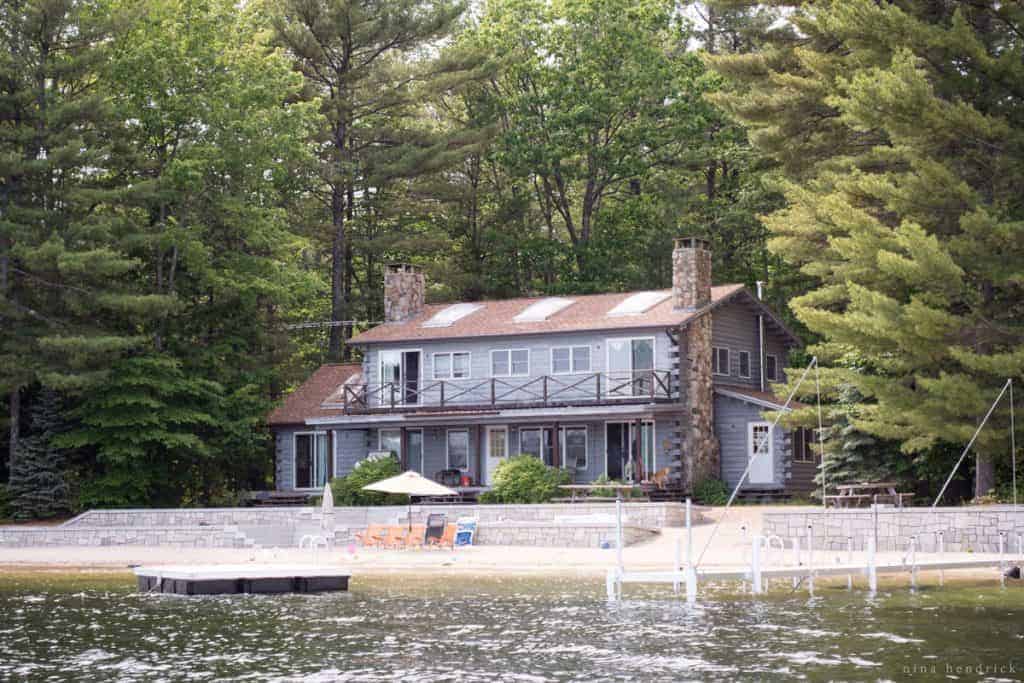 Welcome to Camp! If you're new here, my name is Nina Hendrick, and I have a passion for all things home and design. I created this blog to share our family's story as we transform our 1980s Massachusetts colonial into a modern farmhouse. There's also a big part of our story that largely remains untold each summer, as we make the two and a half hour(on a good day) drive to our Camp in New Hampshire each weekend. I'm so happy to share today as part of the Waterside Home Tour hosted by Table & Hearth– make sure you stop by the other lovely tours at the bottom of the post! Camp has historically been our place to unwind and unplug, so my blogging sometimes takes a backseat. However, last summer I resolved to better chronicle the time spent there, since these days are precious and flashing by all too quickly.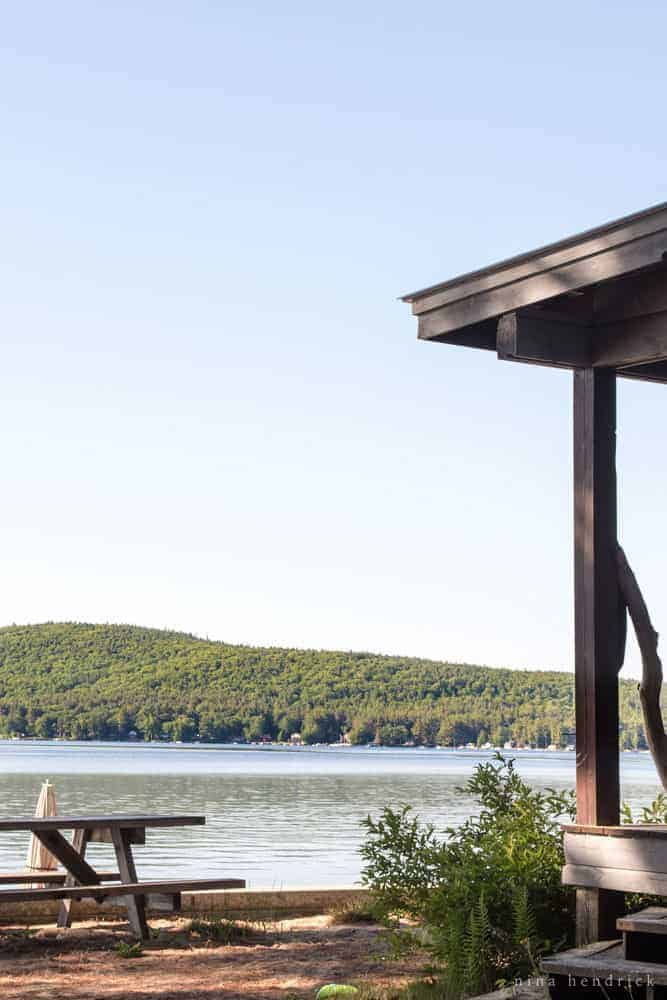 Camp has been in Mack's family for 100 years this summer. Mack's great-grandfather purchased the property and built the first camp. The tradition began of tracing impressive fish directly onto the wall. They mostly caught trout, pike, and sunfish- but there are a few decent bass and even a catfish! The other day Logan asked me if the fish were still alive- I told him I was pretty much positive they weren't, as the earliest ones were caught in 1918.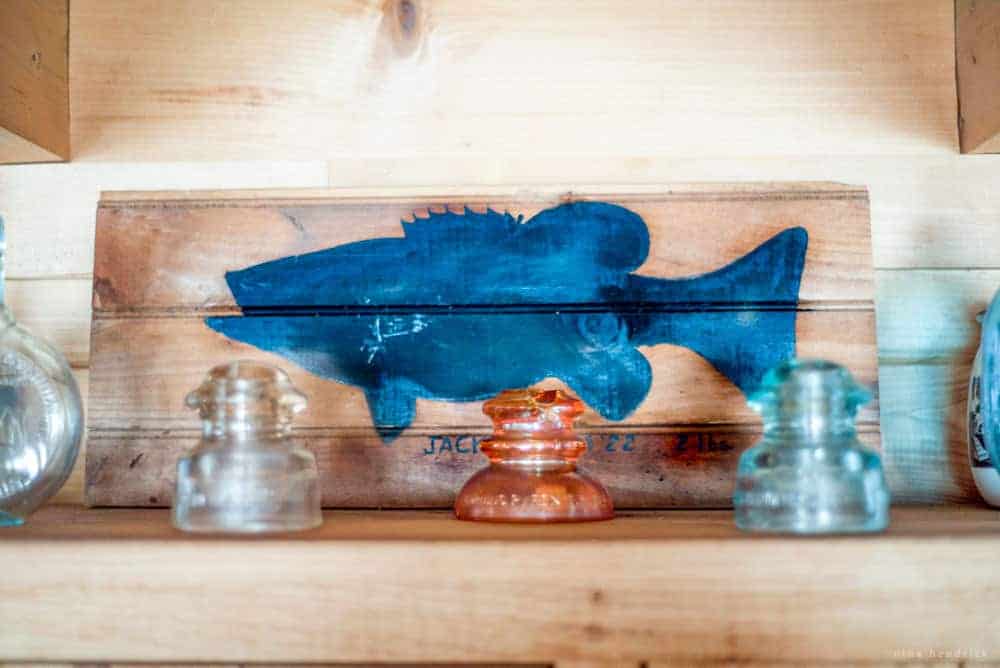 This fish was caught by Mack's grandfather Jack in 1922 when he was about 6 years old. Later, Jack would knock down the original camp and build the camp known as Temiboja. He cut the fish from the original wall and hung them up in his new camp, and began tracing some on his own wall.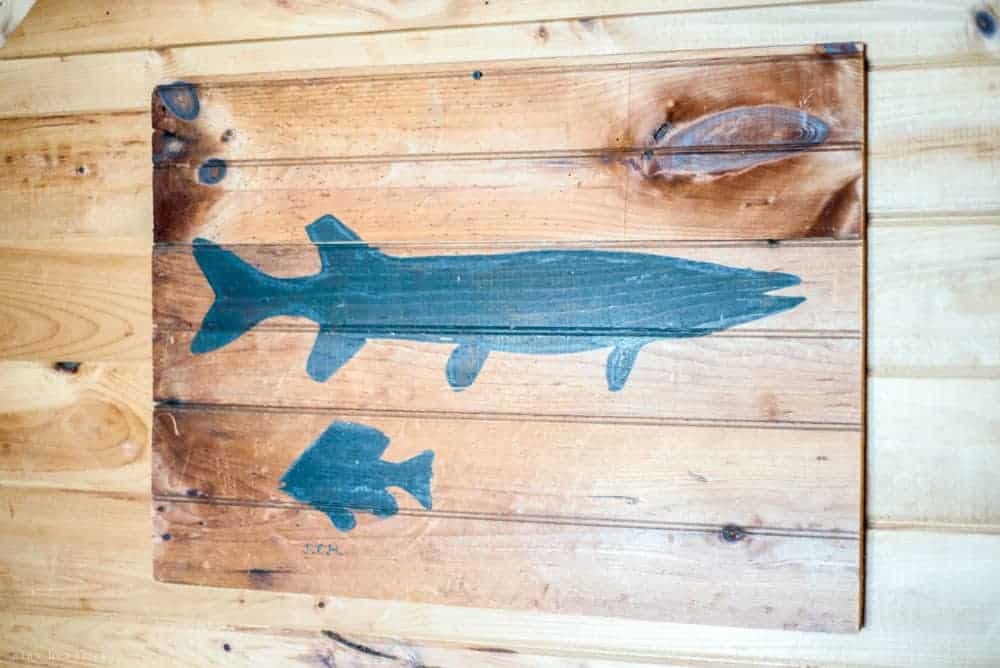 This one was caught by Mack's dad in 1954 when he was also around 6 years old. Mack's father built the current camp, a log cabin. He followed in the tradition of bringing the fish to the next house, and tracing, and Mack has a little fish he caught up on the wall too.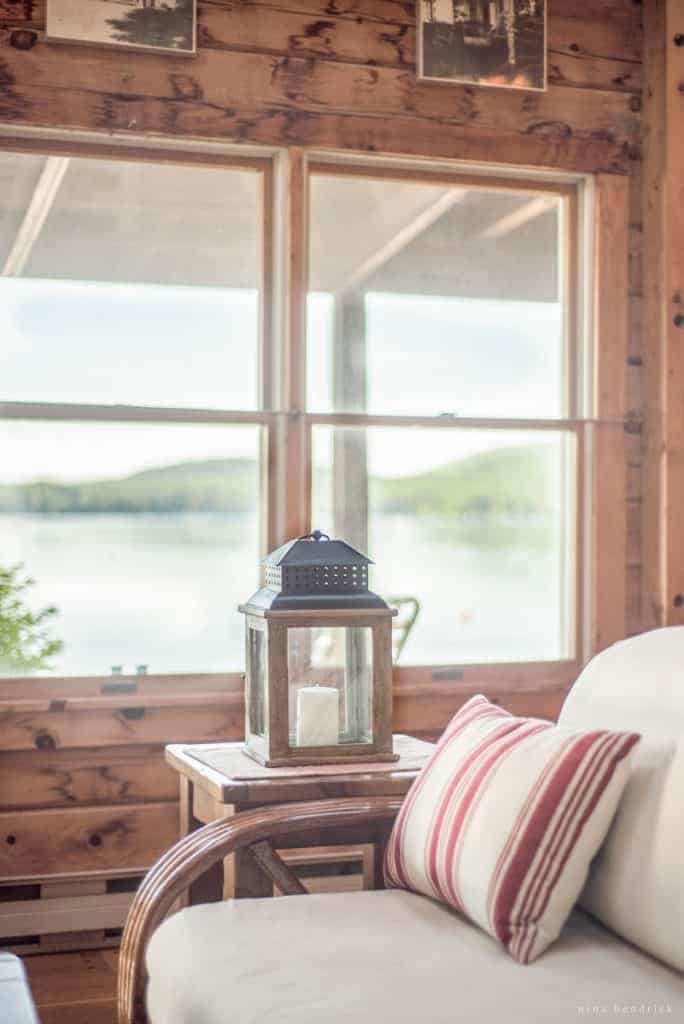 That house was featured by a log cabin magazine back in the late 80s. It still retains much of that original character and decor. Mack's dad has since built a second larger camp next door and generously invited us to use the log cabin. I've been given tentative approval to make some superficial decor updates.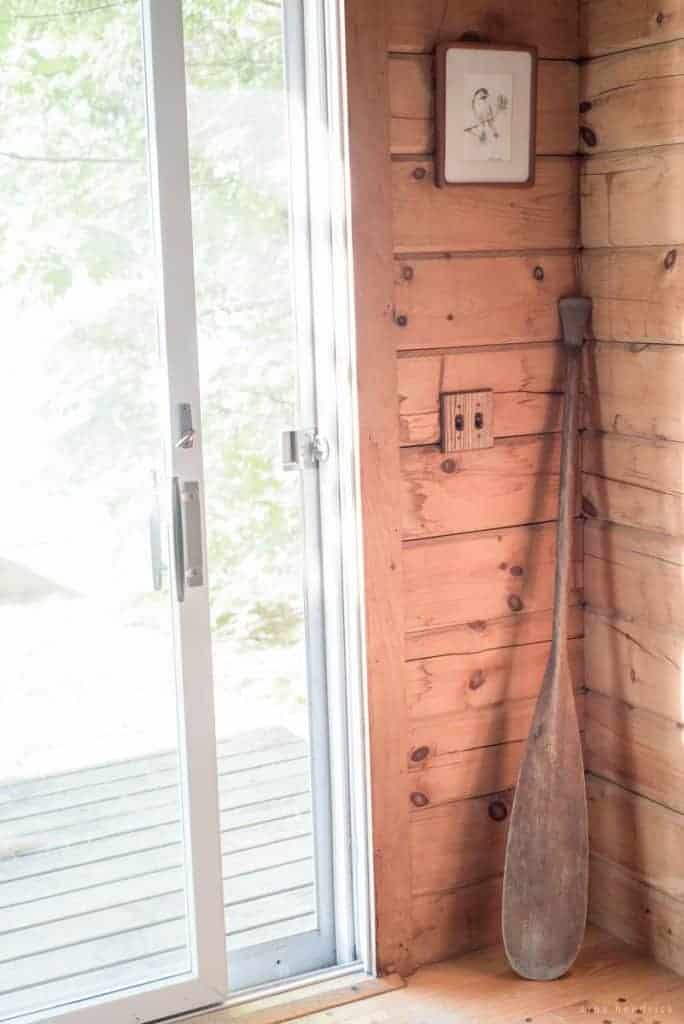 To be honest, I don't know where to begin! Since we're still in the process of decorating and renovating our first house, we definitely don't have the budget to makeover a whole second house. I shared just these little vignettes of the interior because the house is far from my usual style, but the history and heart are so special. If you'd like to see all of the interior in its messy glory, you can visit this post. Truthfully, when it comes to being at Camp, we live outdoors and on the lake.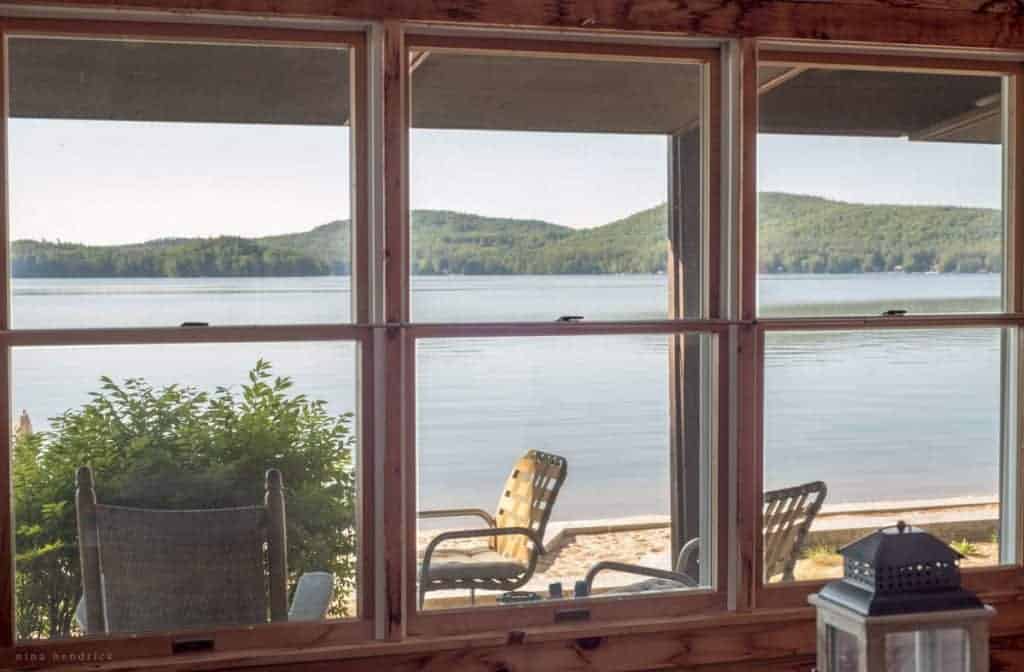 The lake is the foundation for the story of Mack and I. It happens to be located in the town where I grew up. The summer just before I turned seventeen, I was working at the little local grocery store. My friends and I had vowed to have the best summer ever, of course. We had one core little group, and we had known each other forever. That was the way it worked in our town, it was so small that we got bussed in to a big school in the closest city, but we small-town kids mostly stuck together. For the most part, the kids we went to school with thought our town must be horribly boring, because there were no malls or movie theaters- so our group stayed pretty small. We knew better about how fun it could be- there were lakes, woods, and fields- perfect for bonfires and parties. One of my friends had family with a camp on the lake, and he invited us over one night after work for a swim. Some of his lake friends also showed up, and for the first time he combined his two worlds. The timing was perfect, the novelty of a new group added an element of excitement to our summer. It wild and carefree (other than typical silly teenage drama)- just how it should be when you're almost seventeen. By the end of it, something clicked, and Mack and I were a couple. I don't know if we were fundamentally good for one another, or we grew up together (I suspect a combination of both), but I can't imagine how I would have spent my life with anyone else. We balance each other out pretty much perfectly, and the fact that I met him less than three miles from my childhood home seems almost like fate.
Predictably, as the years have passed and we have children of our own, Camp has turned into a family place for us. These days it's all about fishing, swimming, playing on the beach, four-wheeler rides, and boat/jet ski rides.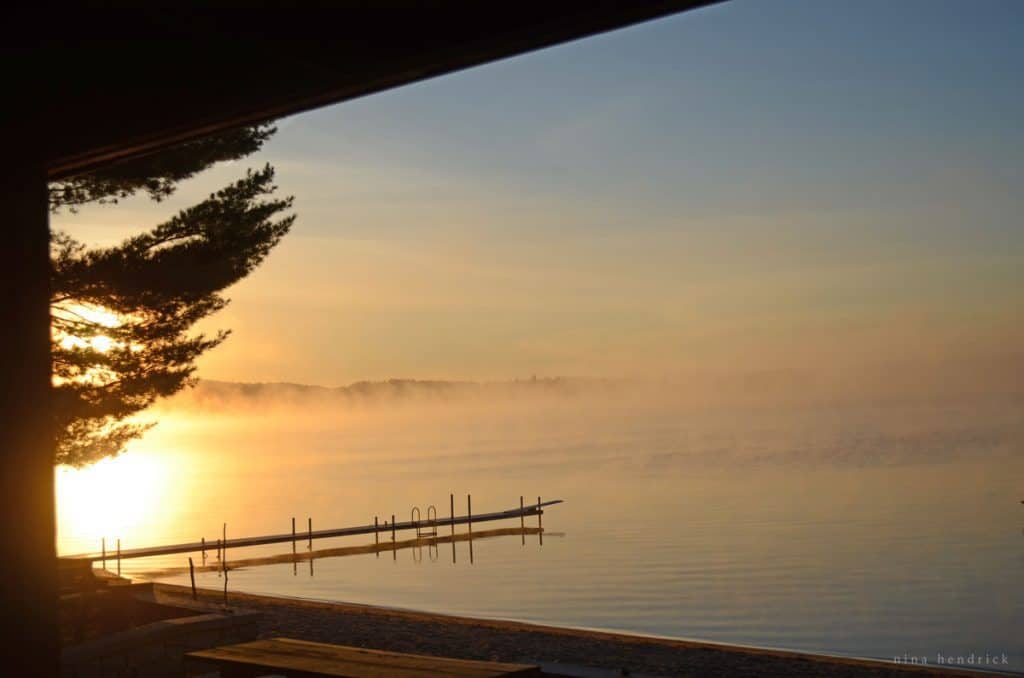 Our days start early, Lyla likes to wake up at 5:00am. The only bonus to that is being able to capture misty morning shots of the lake. Then we have breakfast- the boys love bacon and eggs, whether we eat at Camp or head to the little breakfast joint downtown (where I had my first job as a dishwasher the summer I was 13).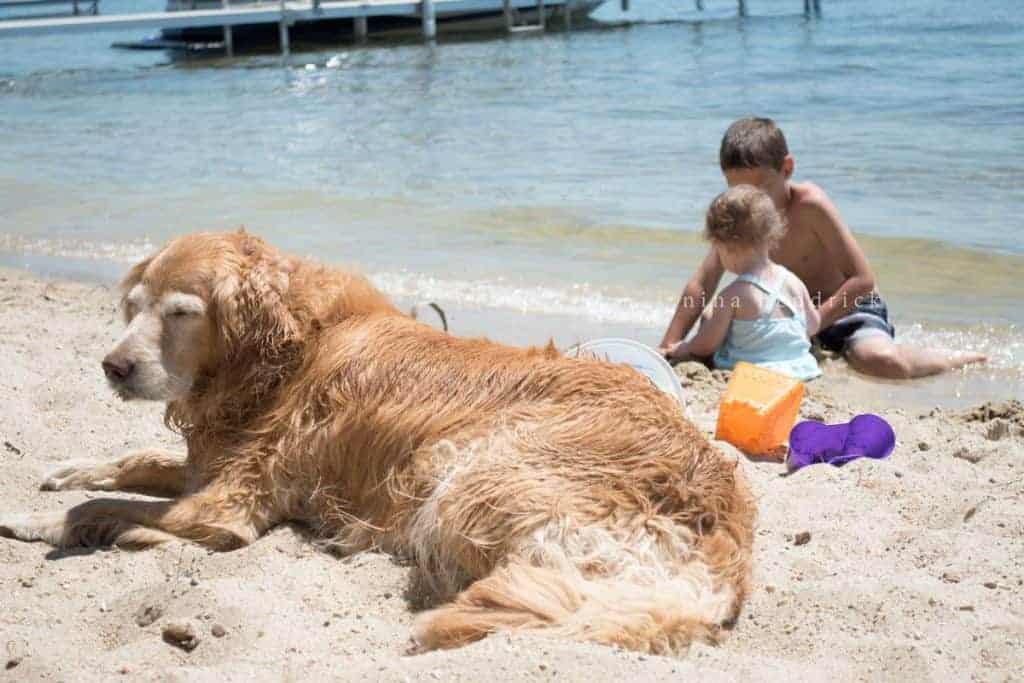 The morning is spent on the beach- building sandcastles, swimming, going back to build more sandcastles, swimming some more- you get the idea.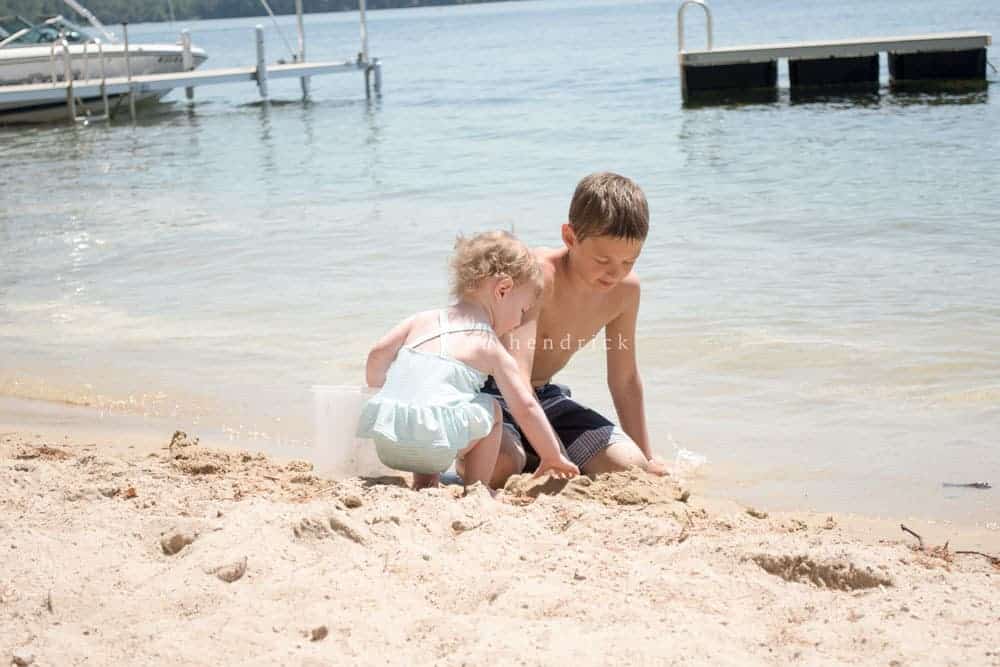 Lyla oversees Logan's sandcastle building efforts. We're finding she often has quite the bossy little personality when he's creating something. Hmmm, no idea where she got that from. ;)
The ducks are a living timeline of our summer. They start out the year as tiny little fluffballs, and by the end of the summer, you can't tell them apart from the mother.
For lunch, we toss some hot dogs and chicken sausages on the grill. Then it's naptime. We all generally take a nap at the lake- being out in the sun can make you sleepy. After that period of time, which lasts a couple of hours, there's either more beach time or the boys play in the woods.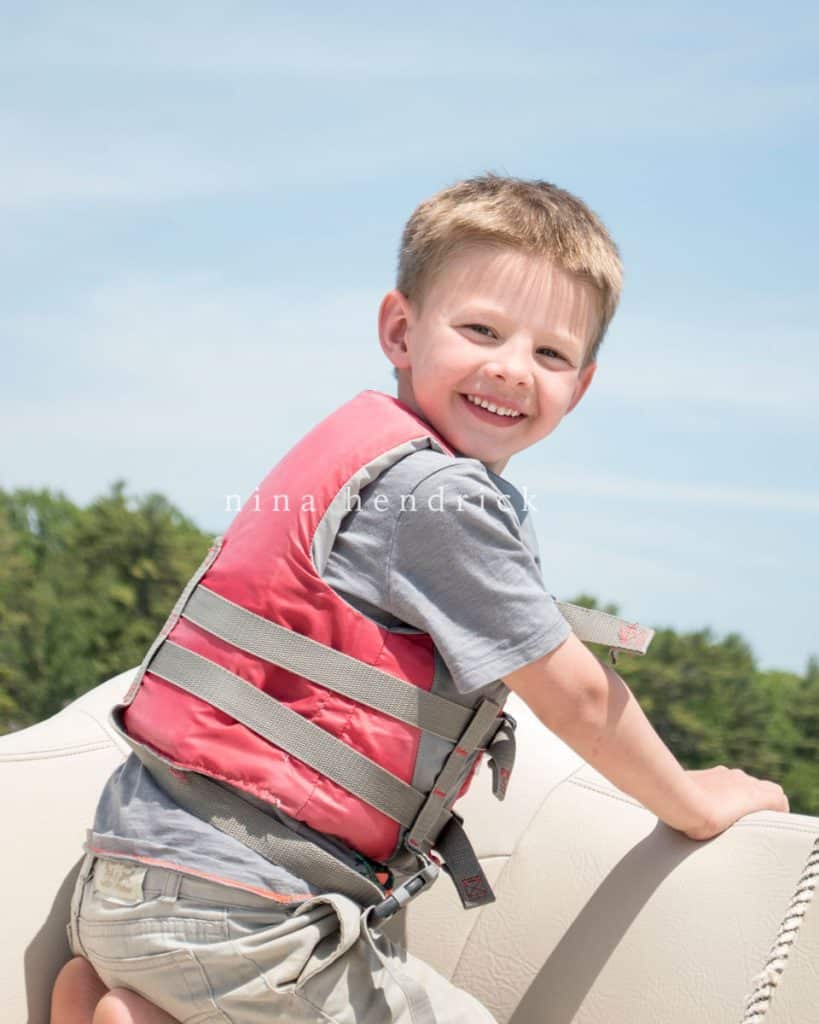 In the early evening, we go for a boat ride. The kids, particularly Cooper, love to go fast!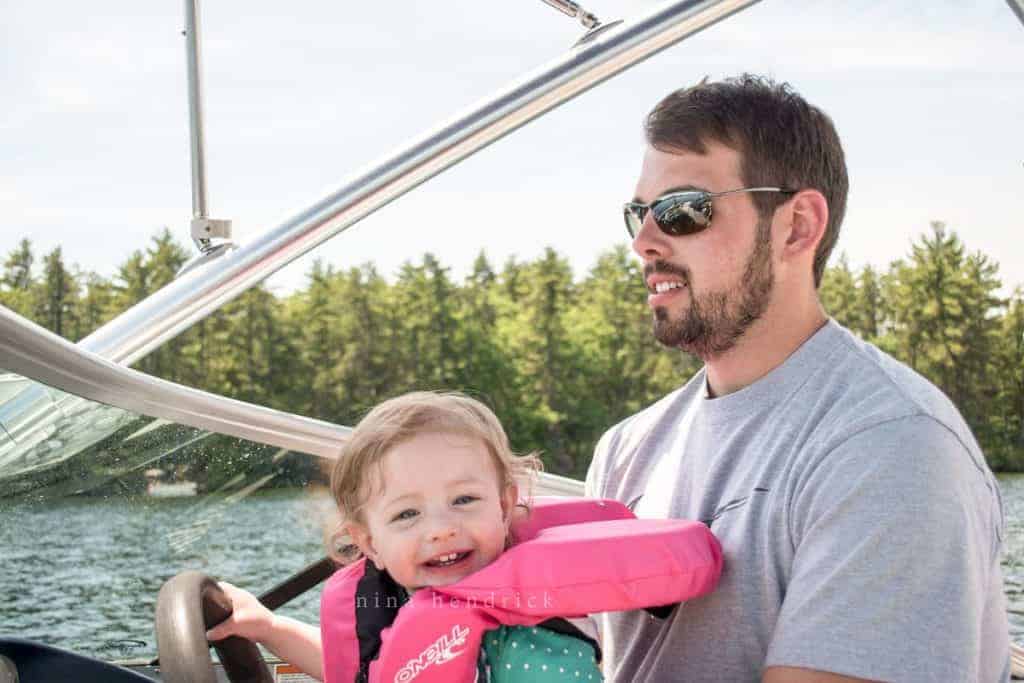 Of course, when we are just cruising Lyla wants to help captain the boat.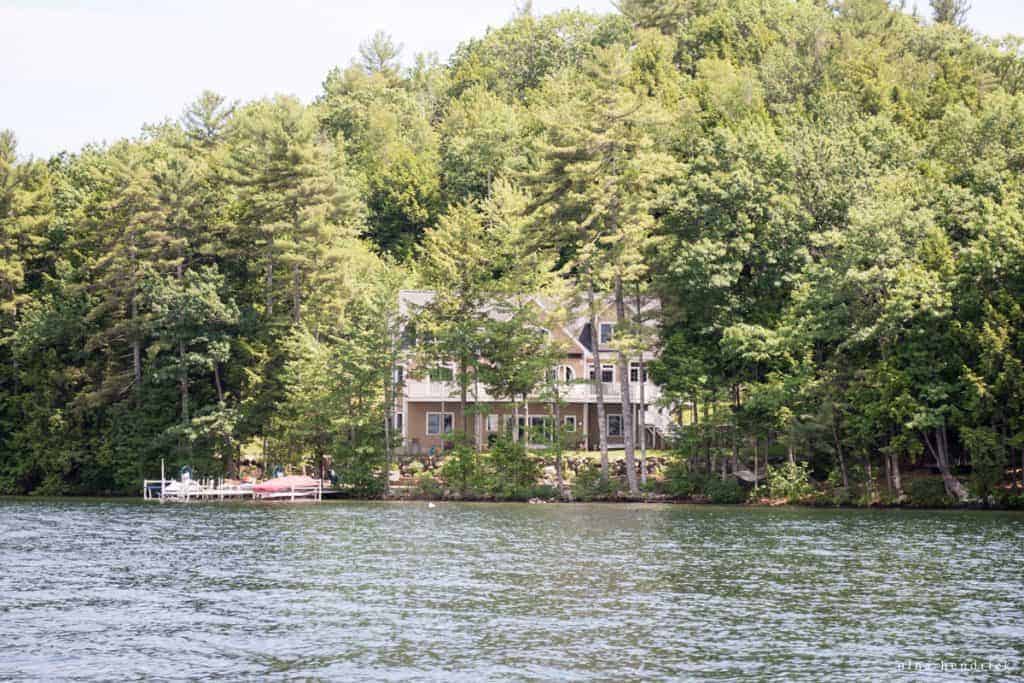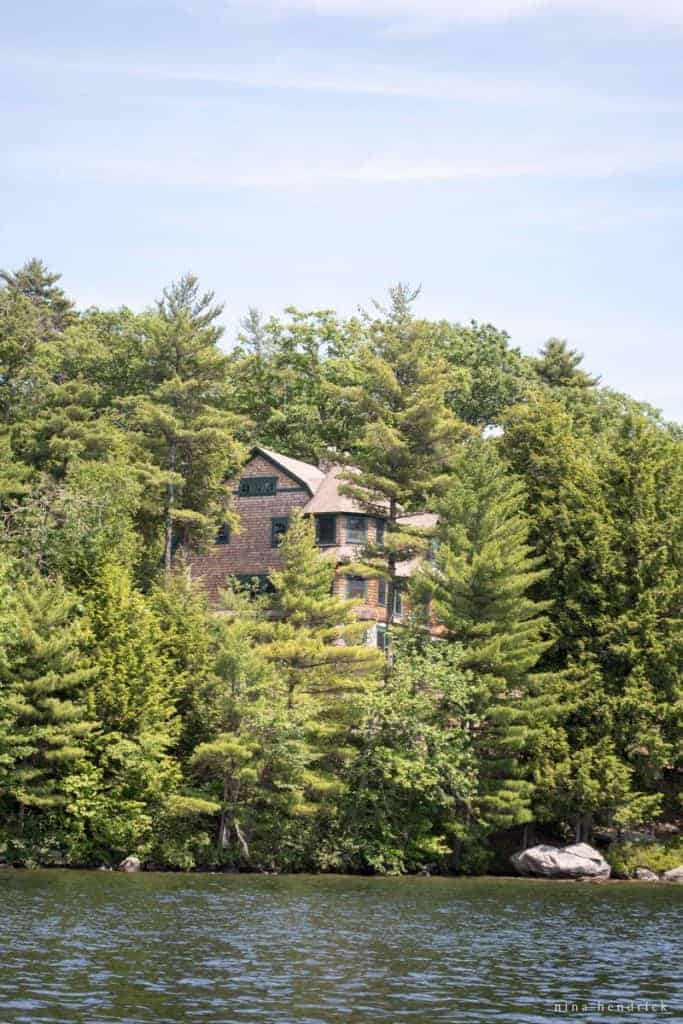 One of my favorite things to do is scope out the shoreline after each new year, and see which houses have been knocked down, and what's being built. The general trend seems to be replacing tiny old camps with much larger Cape Cod-style houses.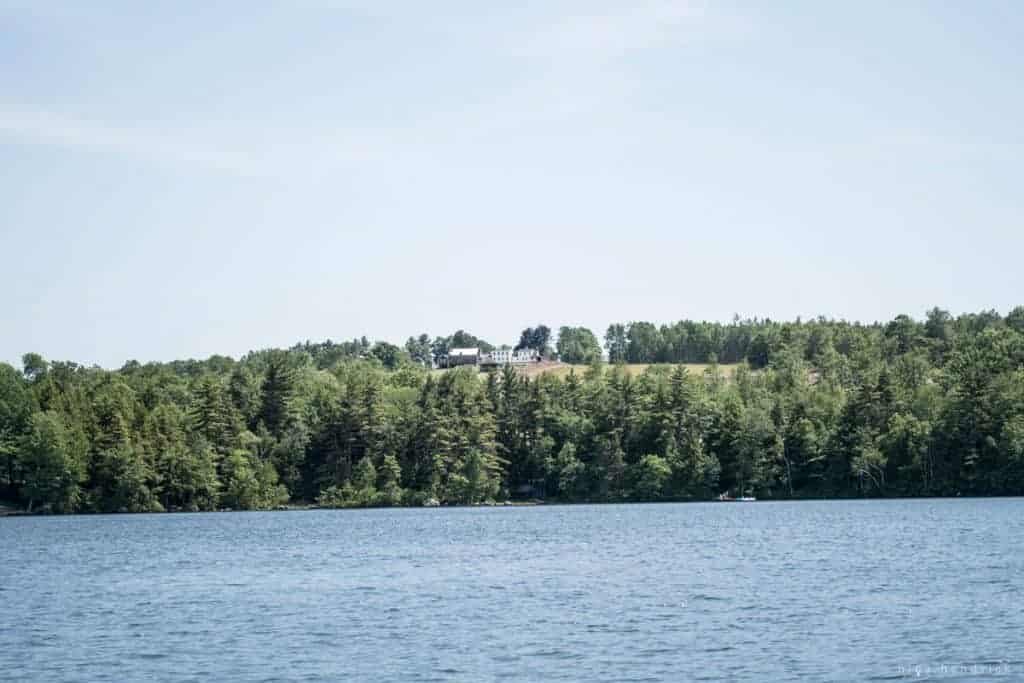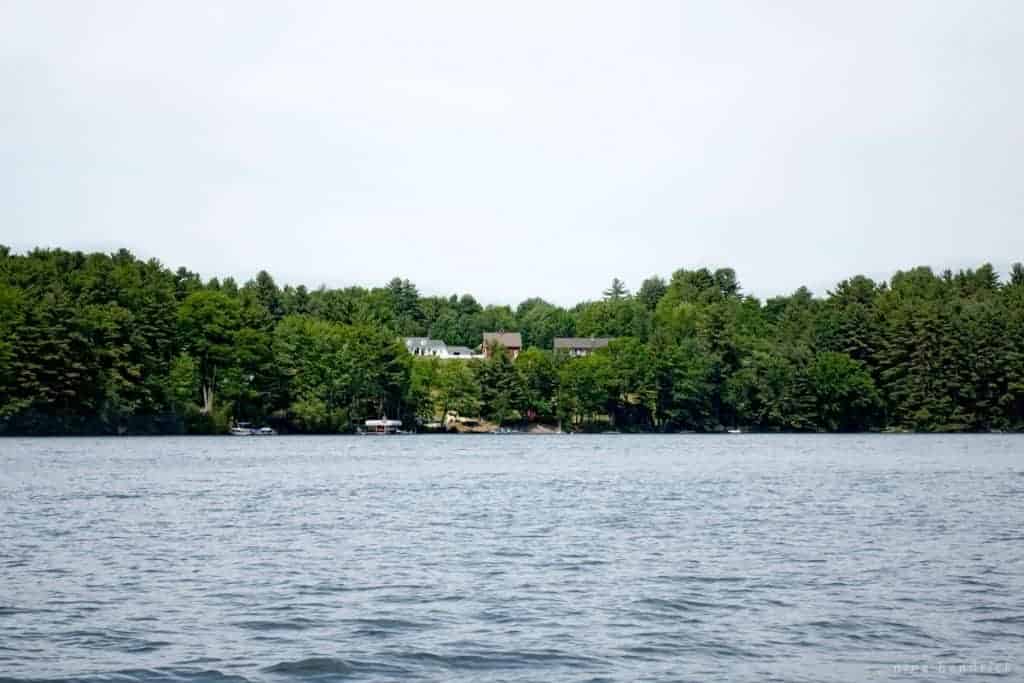 Those are lovely, but my dream homes are the very old (probably 1600/1700s) farmhouses that overlook the lake. In my eyes, they have the best of both worlds. The farmhouse lifestyle I love, with fields… but then a beach and access to the water. Yes, please!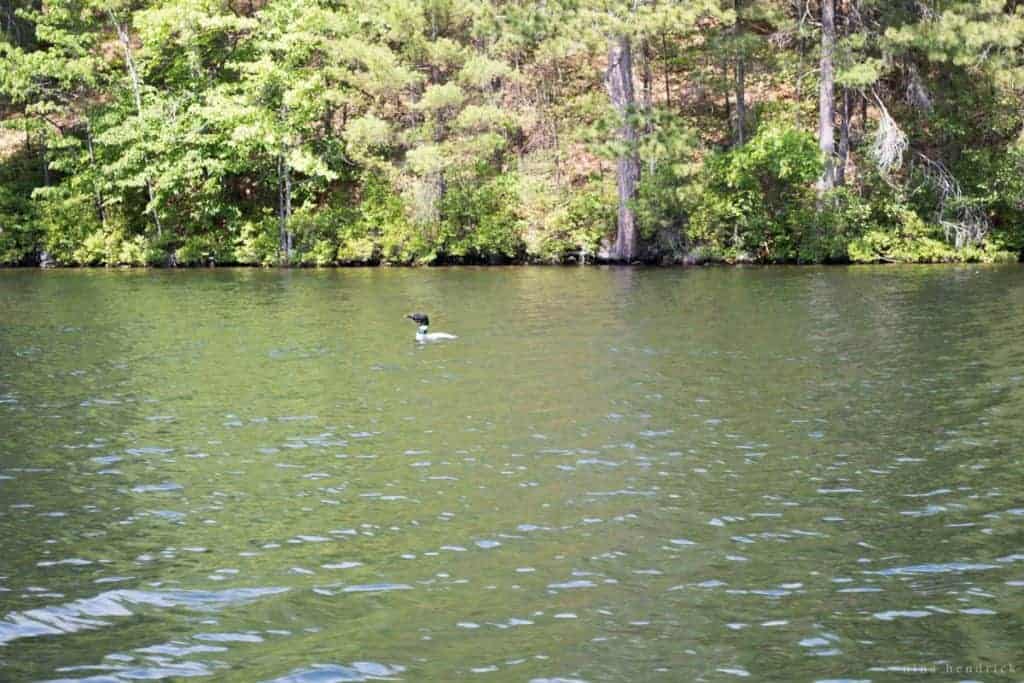 Often we see loons. They are sitting on nests and the babies are slowly hatching right now, so there's a lot of activity. At night their spooky call carries through the air. Logan was afraid when he was a baby, but I find the sound (in combination with the frogs and crickets) to be the most beautiful sound in the world. The kids call it the "Camp Song".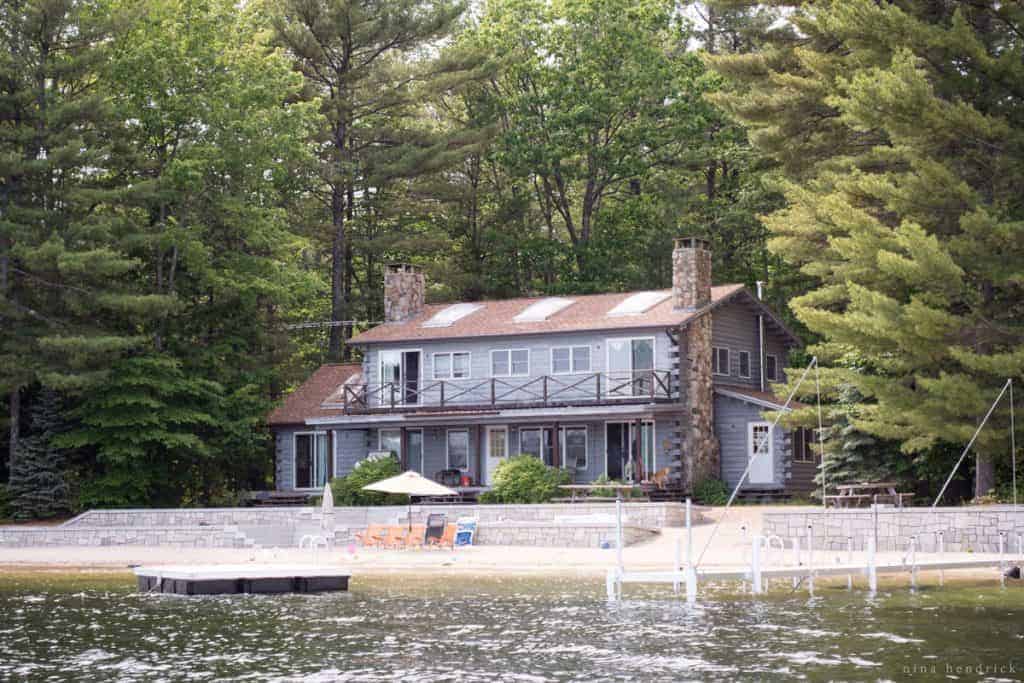 Here's the Camp from the water. What it lacks in interior decor, it more than makes up for in exterior natural beauty. The beach, for one, is my favorite part. The whole place has a ton of potential, and it's so special to all of us.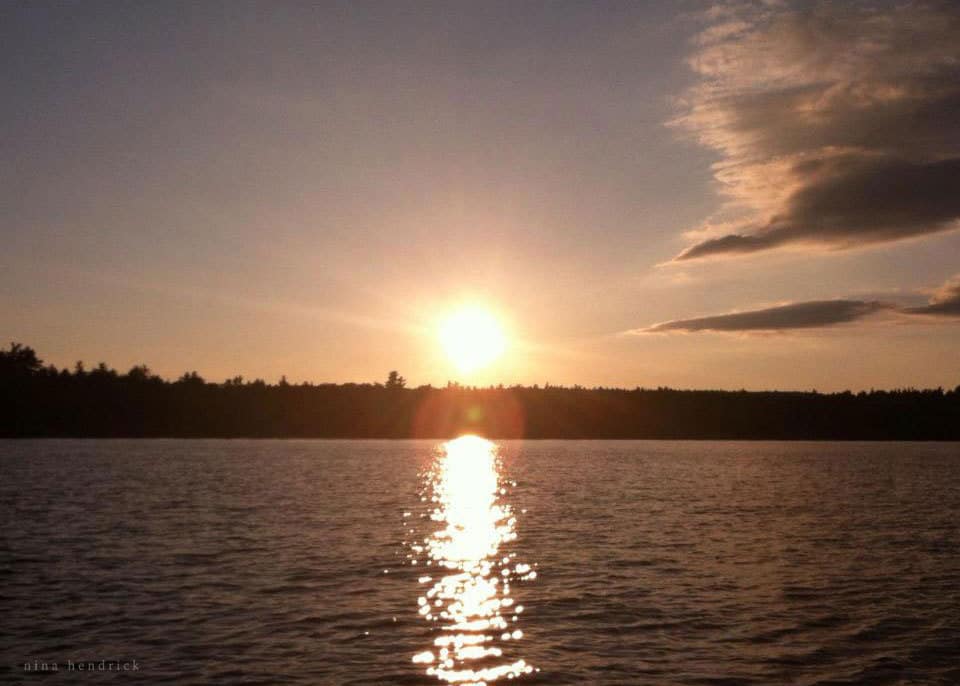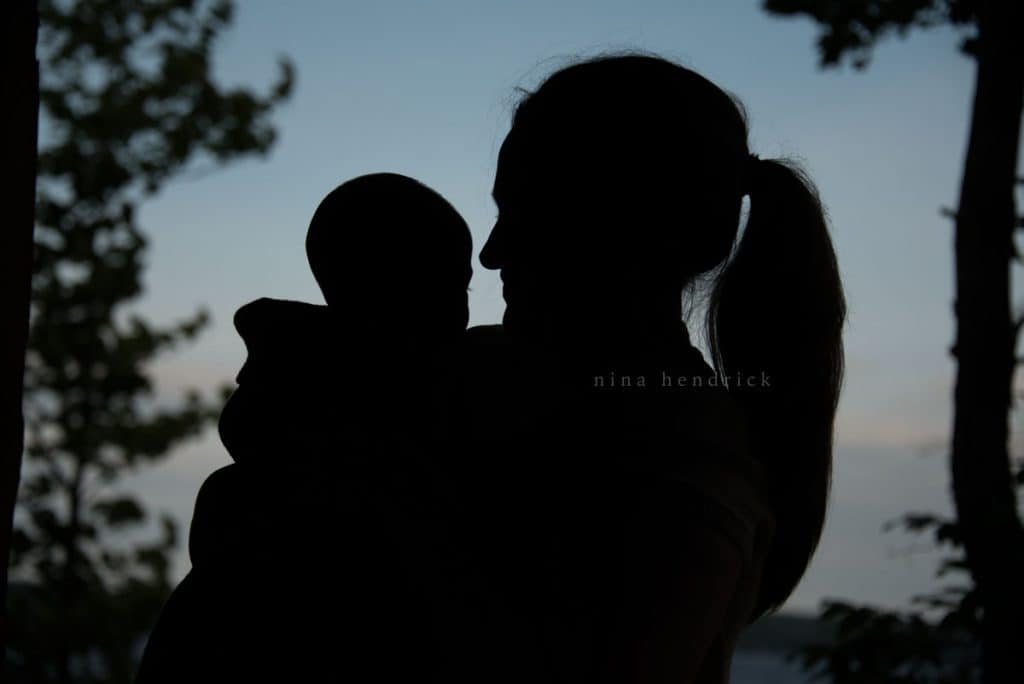 We end the night with dinner and relaxing. Sometimes we have a little fire with S'mores. After the kids are tucked in, Mack and I sit on the porch and enjoy the evening. It's a slower and simpler pace for sure, and we savor every second of it. We feel incredibly lucky to have this place to create memories as a family, and to give our children similar childhood experience to ours. I hope you enjoyed this tour! Thank you so much for visiting.
Monday, June 20
Table & Hearth
The Happy Housie
In My Own Style
The Space Between
DIY Passion
Brian & Kaylor
Wednesday, June 22
Starfish Cottage
Family and the Lake House
What Meegan Makes
Migonis Home
Up to Date Interiors
Friday, June 24
Nina Hendrick
Simple Nature Decor
Shabbyfufu
Slightly Coastal
Setting for Four