Classic Meets Rustic Kitchen Makeover
It's been about four months since we said goodbye to our DIY Painted Kitchen and began to lay the groundwork for this Classic Meets Rustic Kitchen Makeover. In reality, this project has been several years in the making, and it's a bit surreal to have it finished!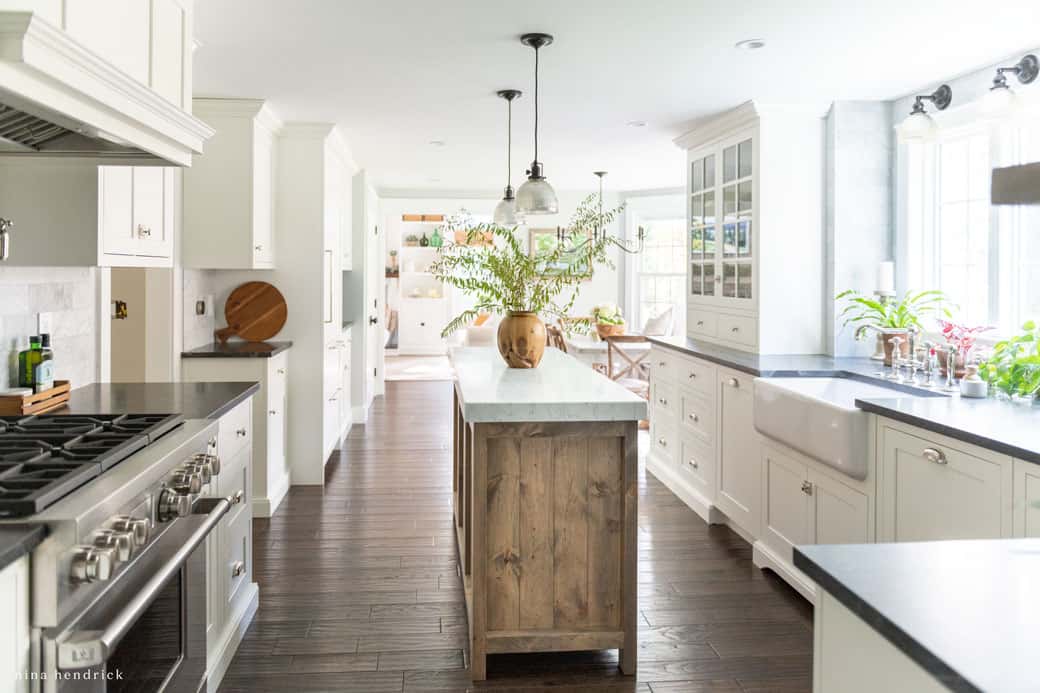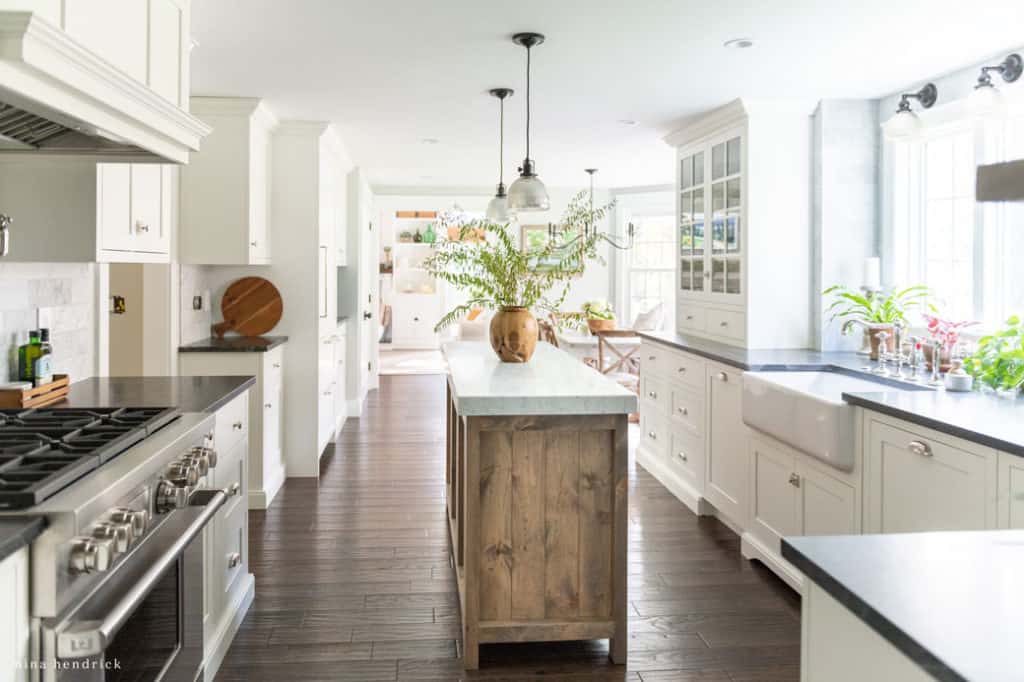 Classic Meets Rustic Kitchen Makeover
This project had highs and lows, successes and pivots. We learned A LOT. Today's post will focus mostly on showing the changes, then I plan to break down specifics (including a full source list!) in future posts and walk you through the project from concept to completion.
First off, I always think it's important to look back on where we began. What a difference!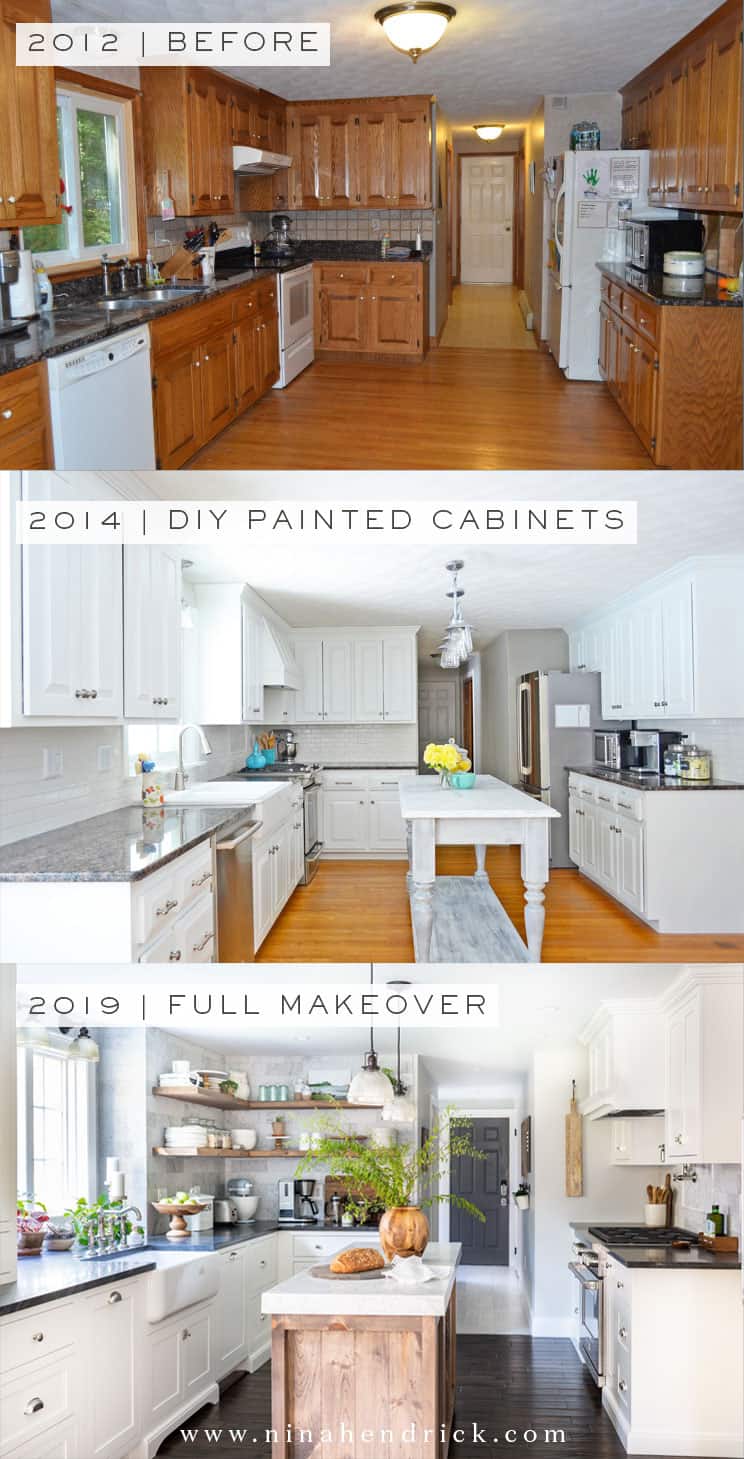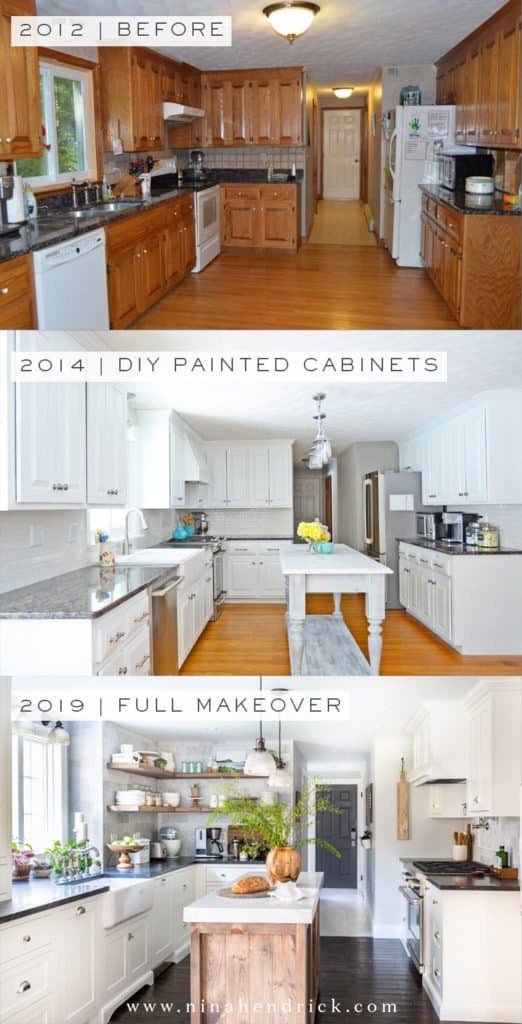 If you haven't visited before, I'll give you a very quick recap. We purchased our home back in 2012 and it was very dated. I was particularly eager to change the orange oak cabinets, but we spent all of our money on buying the house, so I had to come up with an inexpensive solution. I researched and tested options like a crazy person and came up with a process to paint our oak cabinets and hide the grain. The results were beautiful, and the cabinets held up really well for about five years, which gave us time to save up for a full high-end overhaul (you can read the 5-year recap here). Now, here we are!
The Cabinets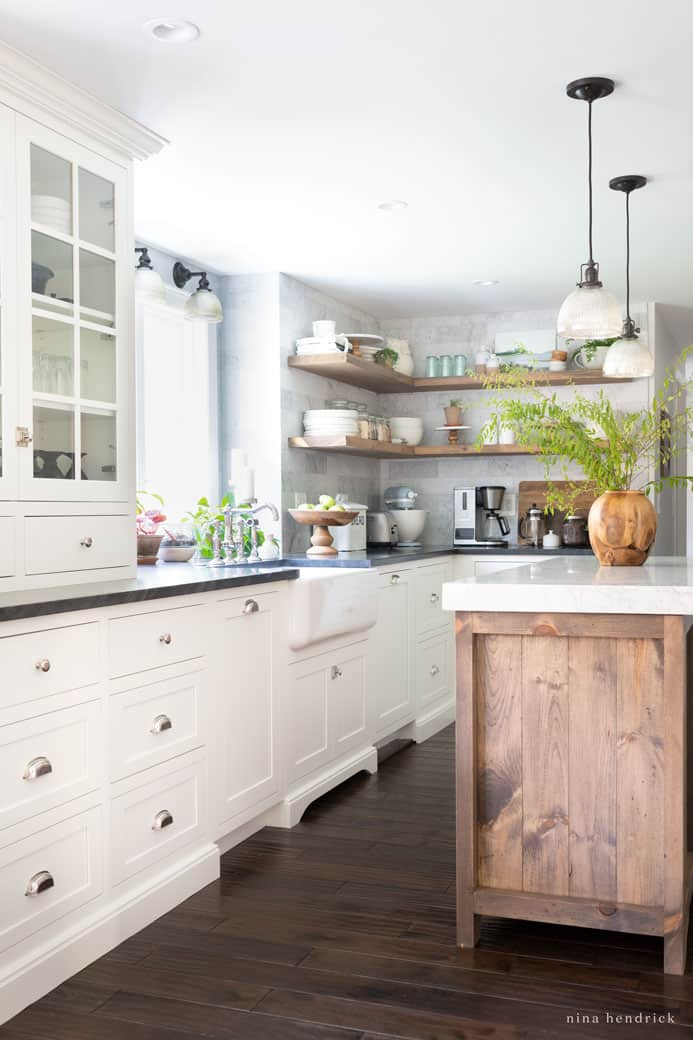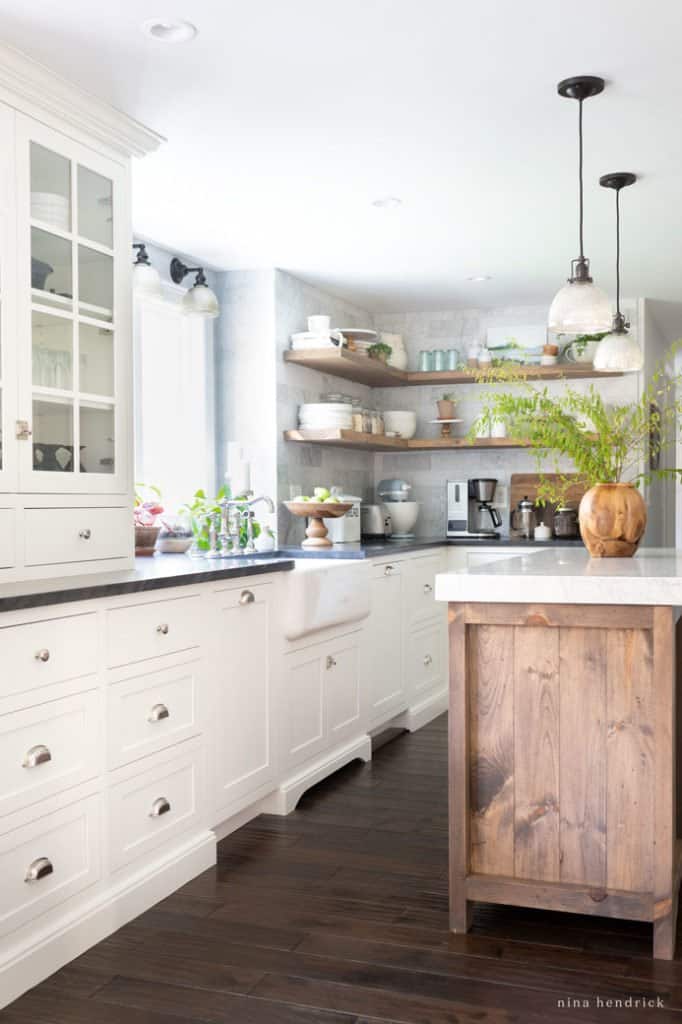 The first thing we should talk about is the cabinets. We went with semi-custom cabinets with a Shaker-style inset door. I chose the closest color they offered to Benjamin Moore Simply White so that they'd match the rest of the trim (this was a major regret for me after the cabinet painting project). They are Shiloh Cabinetry in Polar White. They are a little creamier than the Simply White, but I'm completely fine with that! I actually really appreciate that they read a little warm versus the cooler color we had before.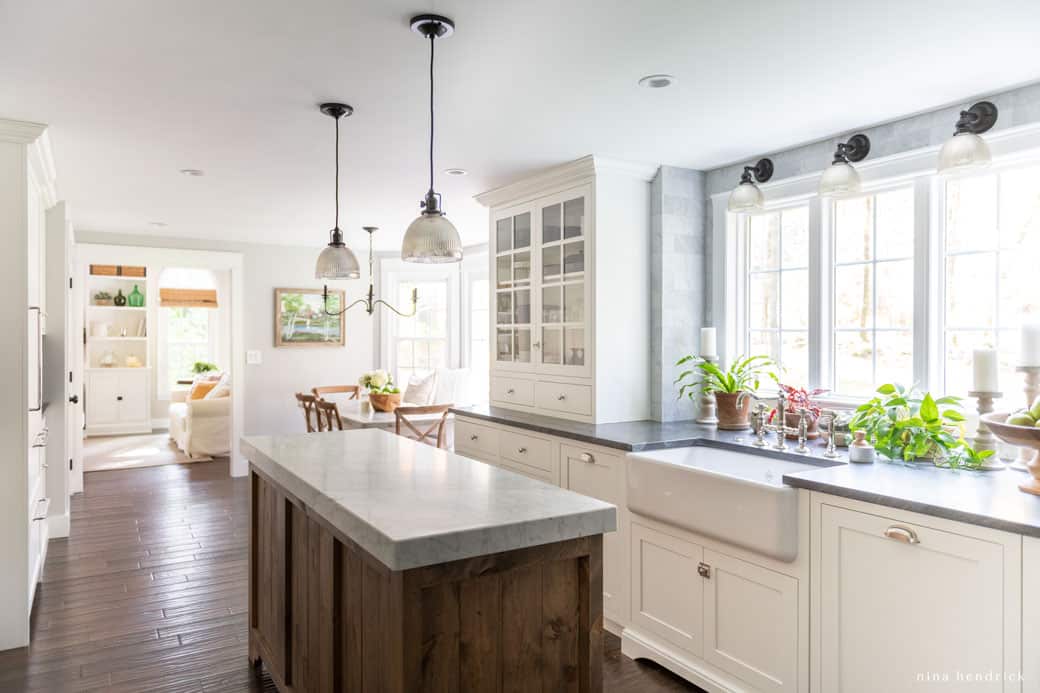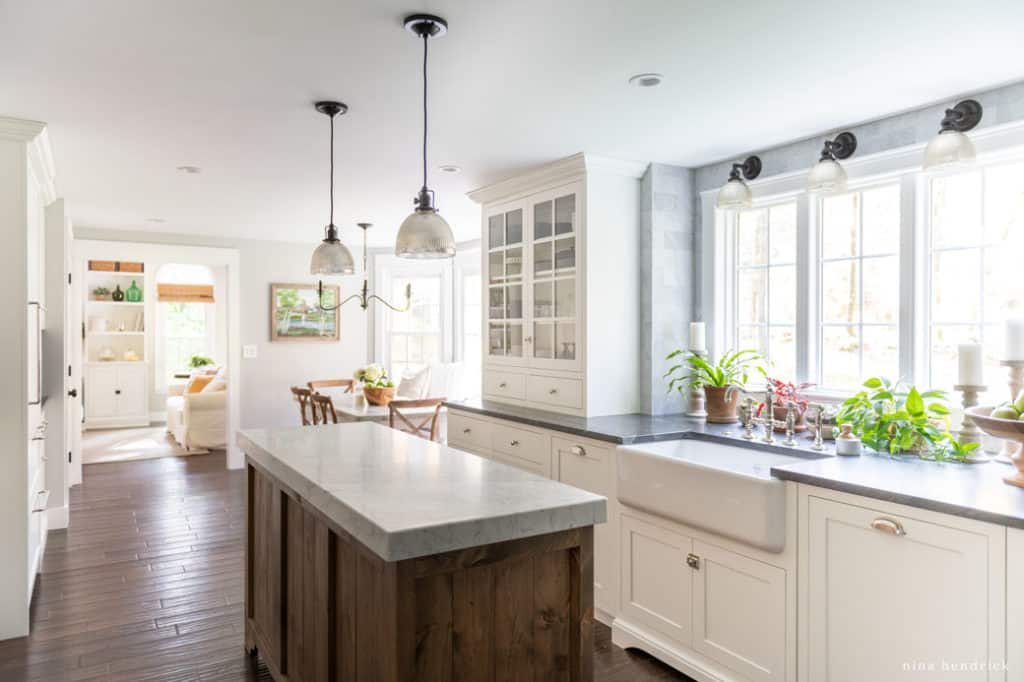 While we're talking paint colors, the main wall color is still Benjamin Moore Gray Owl. Our wall color and floors didn't change, but the textured ceiling is now gone— and the new plaster got a coat of Simply White in eggshell.
The New Layout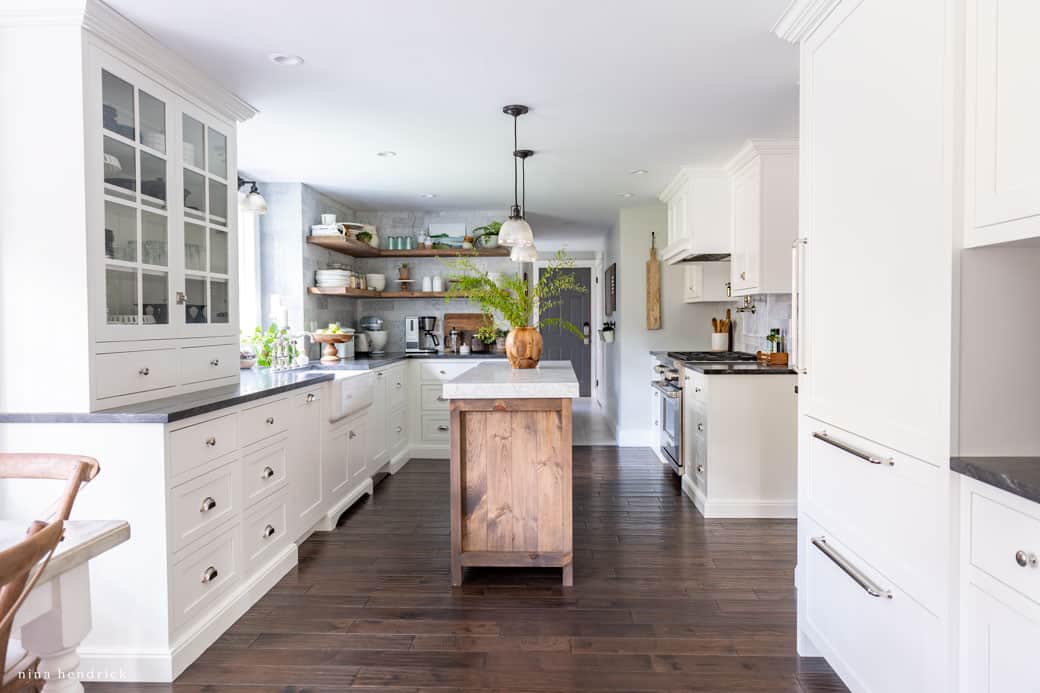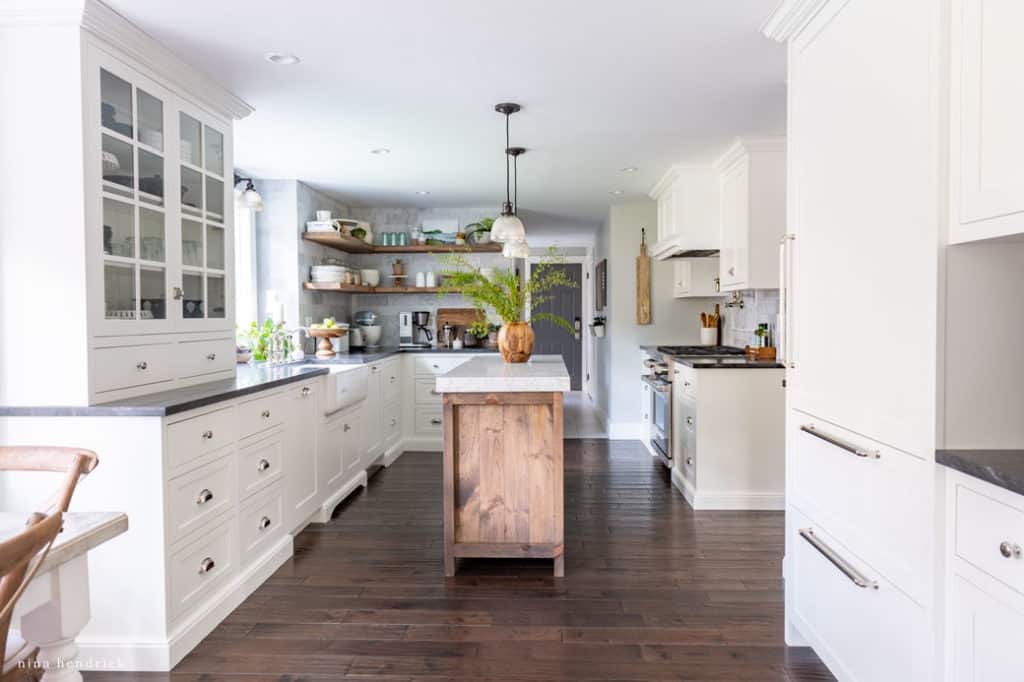 One of the biggest reasons we wanted to fully overhaul the kitchen is that the previous layout really wasn't functioning for our family. We removed the kitchen desk several years ago and covered an extraneous doorway. The resulting area was where we had our coffee bar, but we knew the area had even more potential.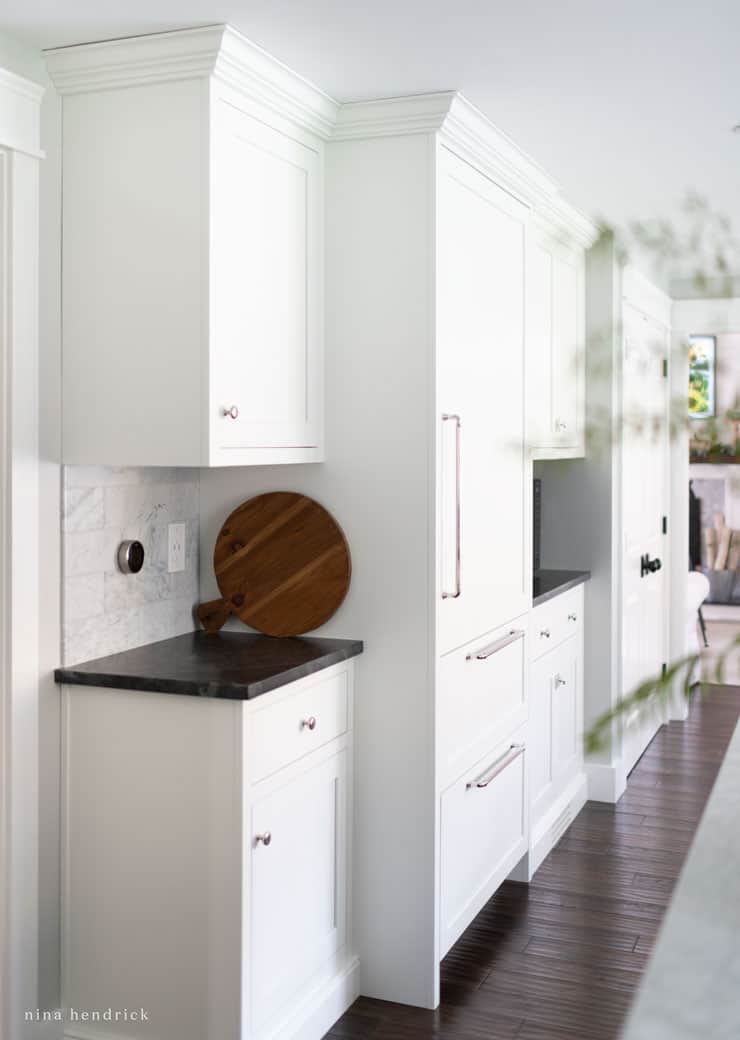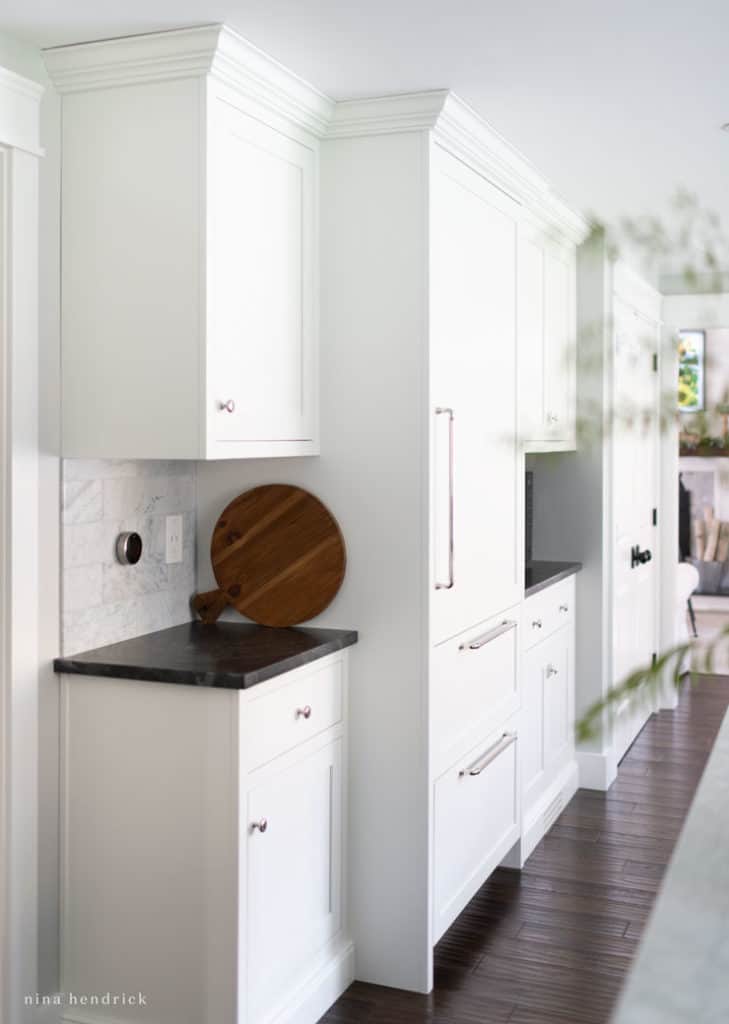 We decided to use the area for a small command center, built-in refrigerator/freezer, and microwave. I'll share the interior of the cabinets another day, but these cabinets have so much storage— and it's all bonus from what we had before.
Hiding Appliances
You have probably noticed from the fridge/freezer above that I went with panel-ready appliances. That was to add to that very homey furniture feel.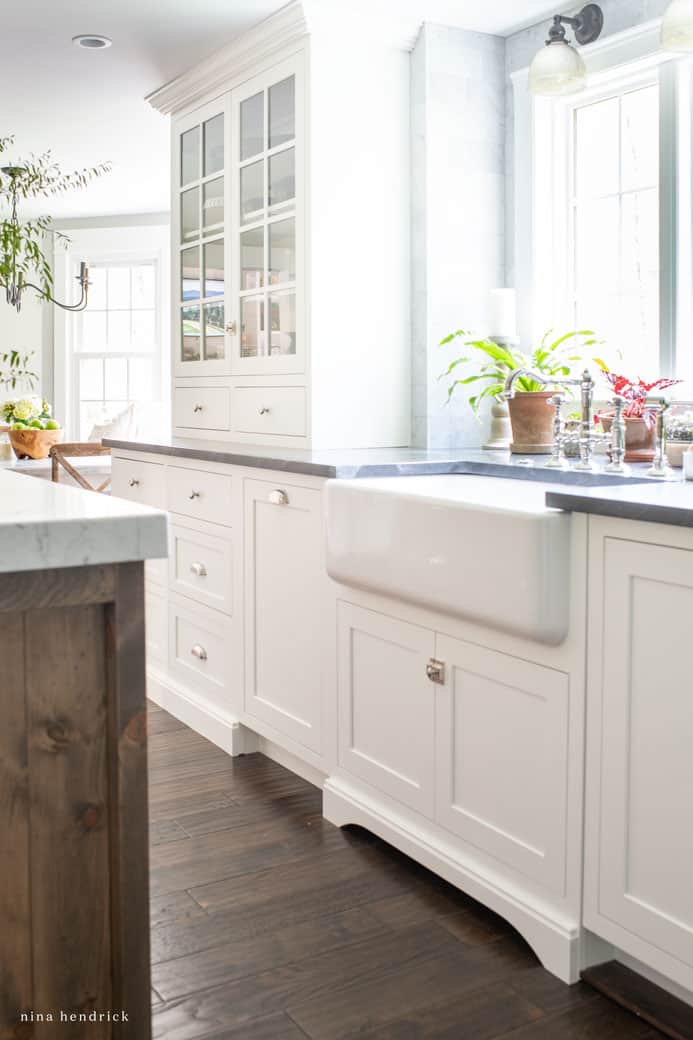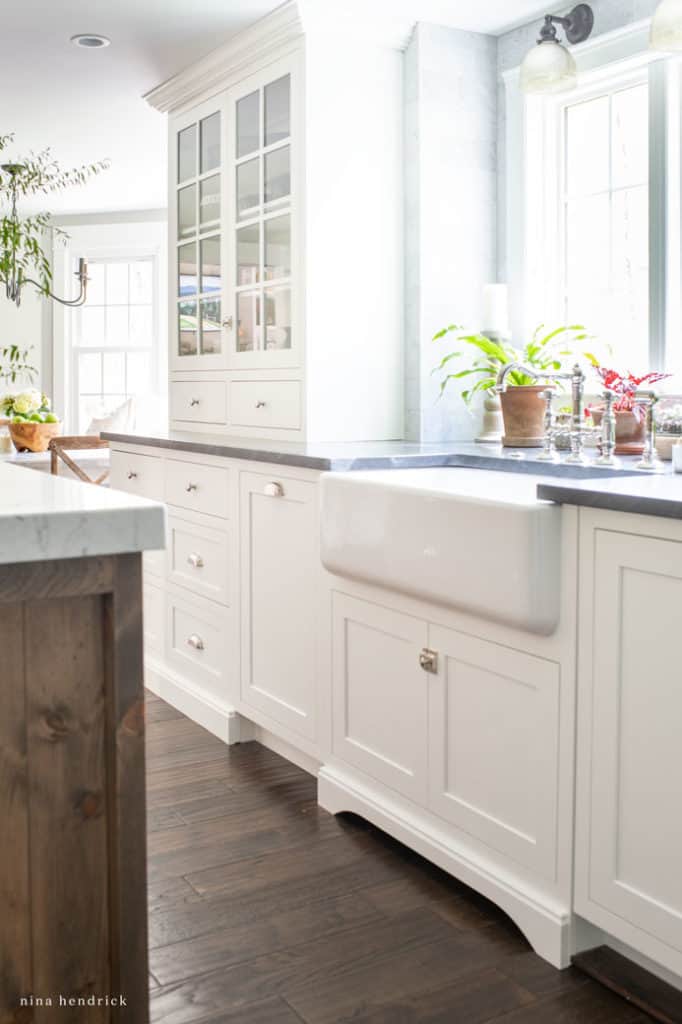 The trash and recycling cans are hidden in the cabinet to the left of the sink and the dishwasher is to the right.
Built-In Hutch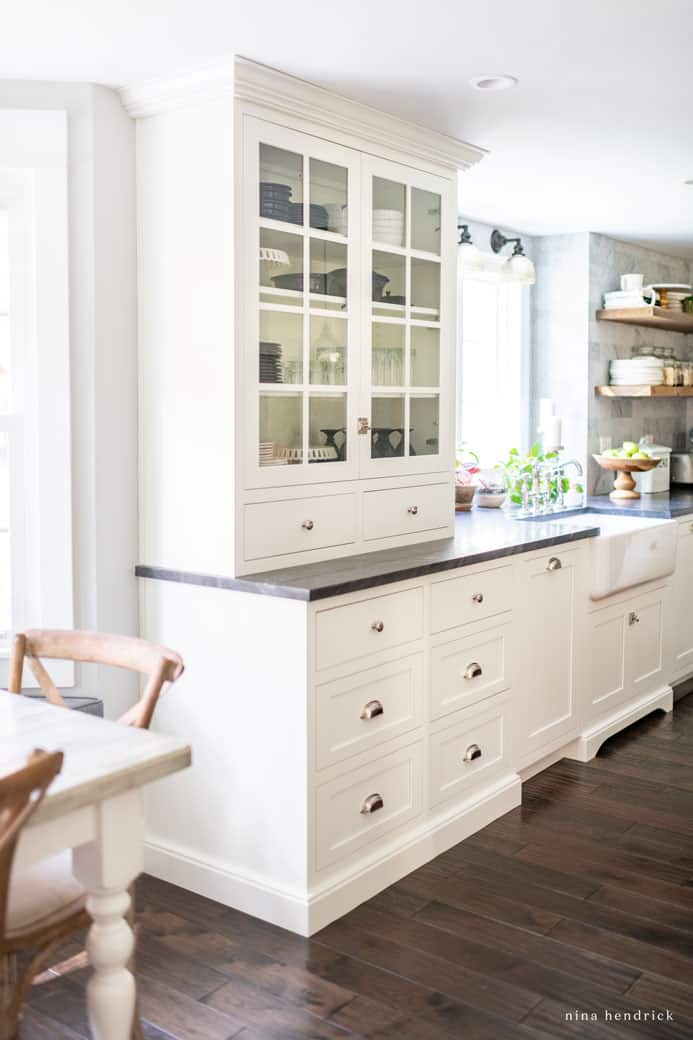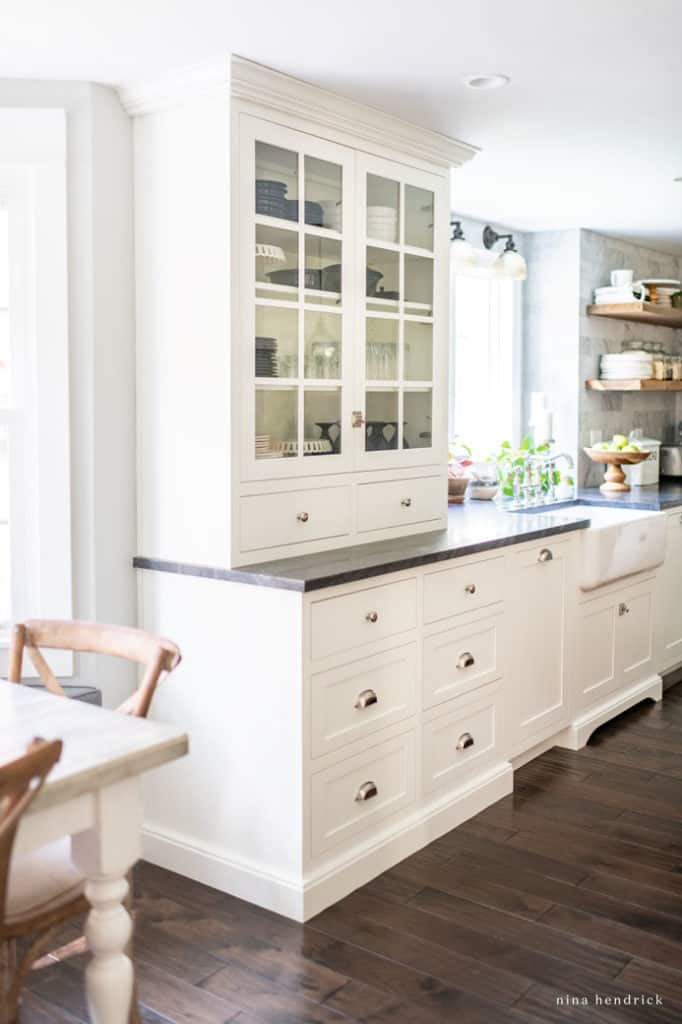 When I envisioned what I wanted this kitchen to be, I pictured it being a collection of furniture versus a bunch of shiny appliances or a bunch of upper and lower cabinets like we had before.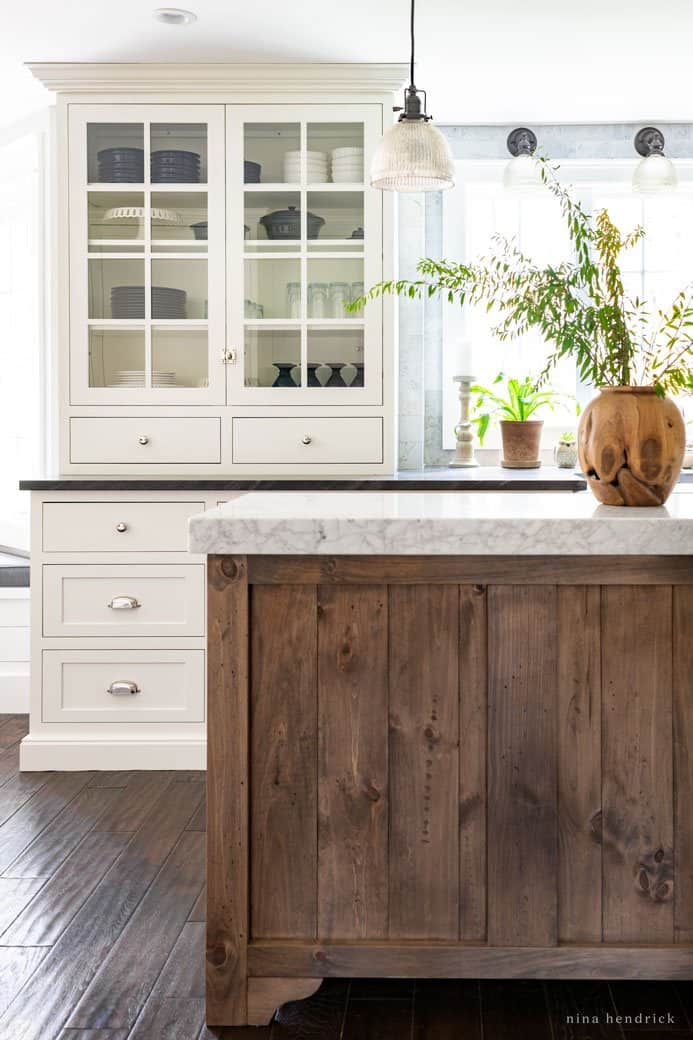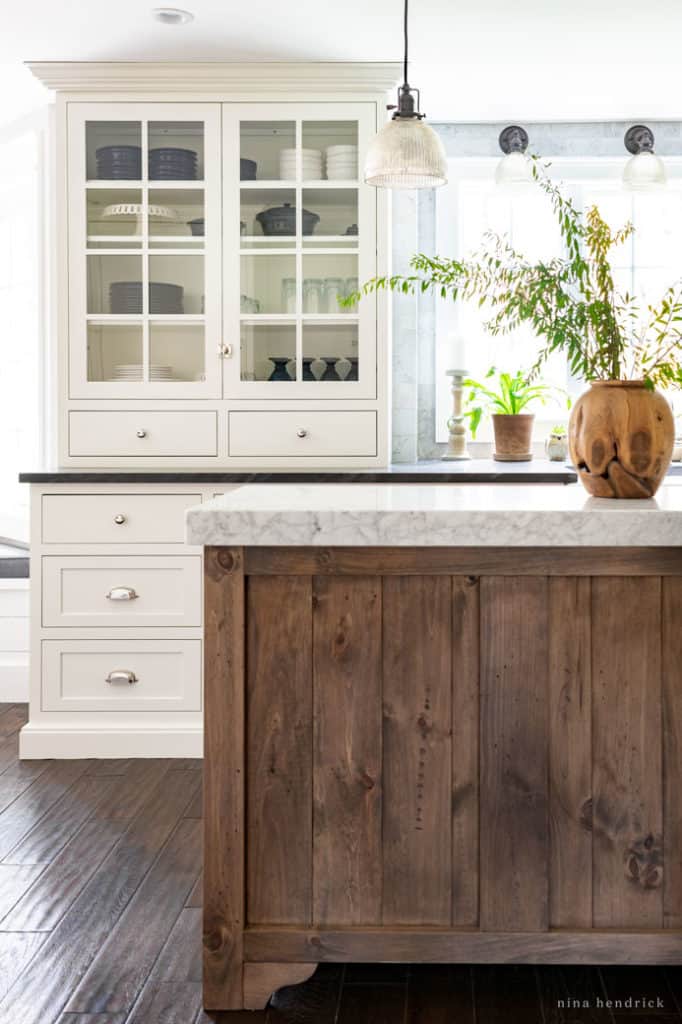 I sketched this hutch out on grid paper over a year ago, and although it definitely took some tweaking along the way, it's pretty darn close to what I had imagined! It stores all of our silverware, linens, and the kids' cups and plates.
The Window Bump Out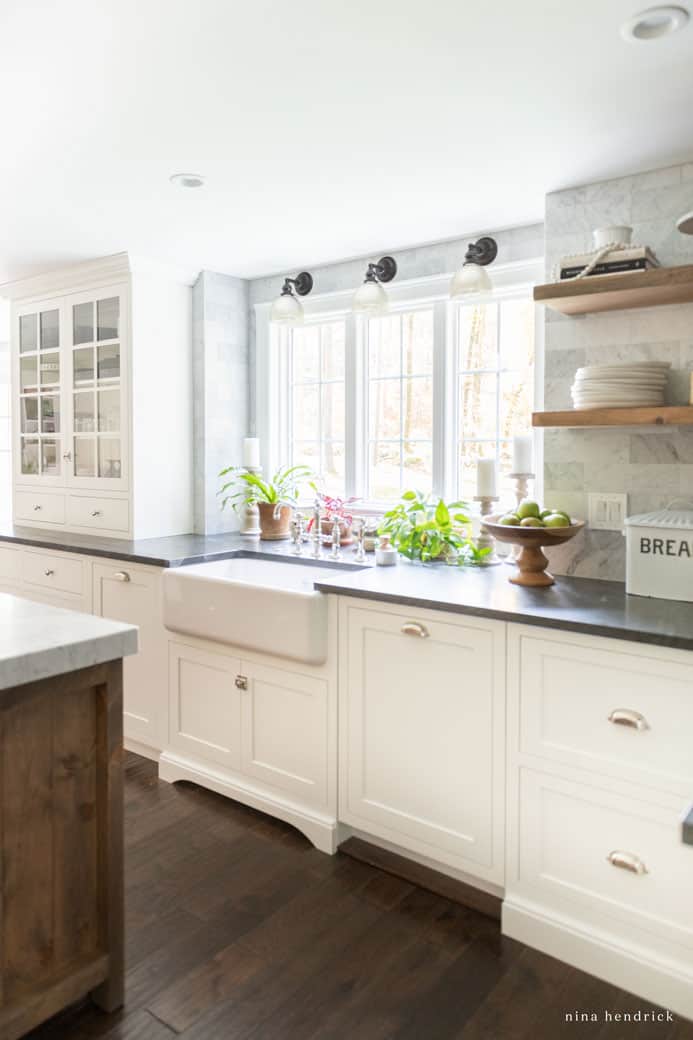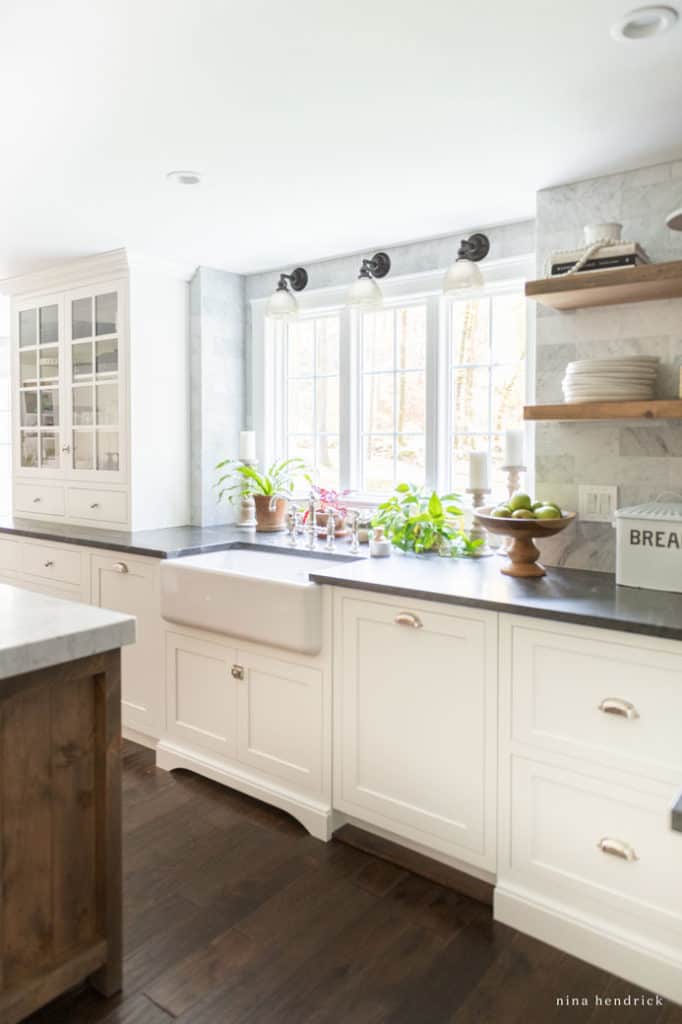 The window bump out was one of the biggest pieces of this project and ultimately domino-ed into the most complications. I'll be talking all about that another day!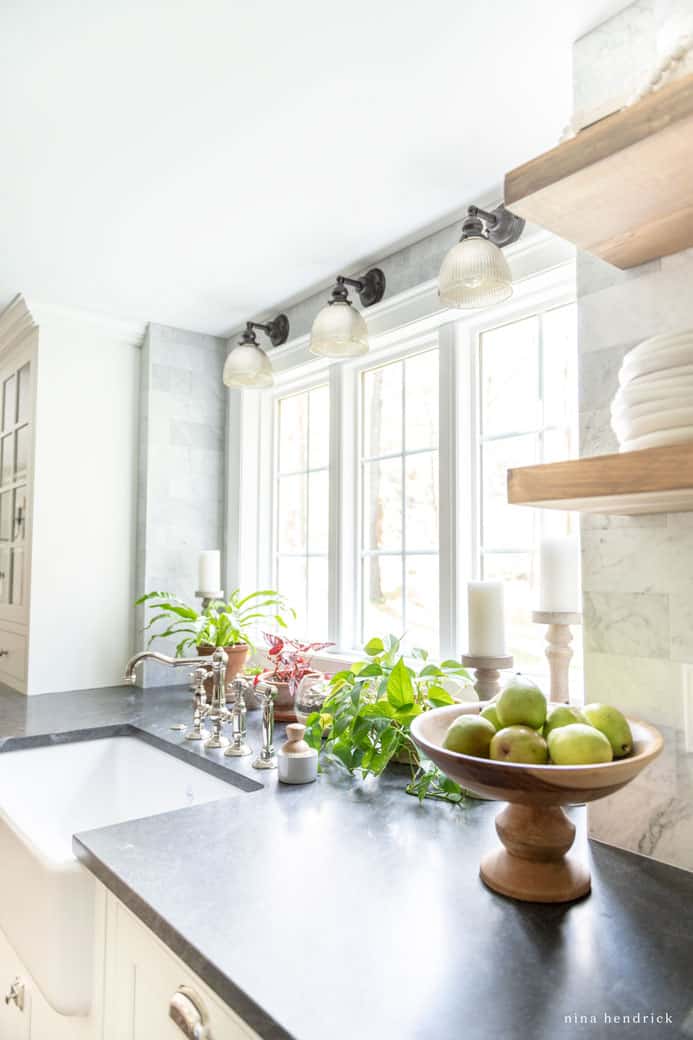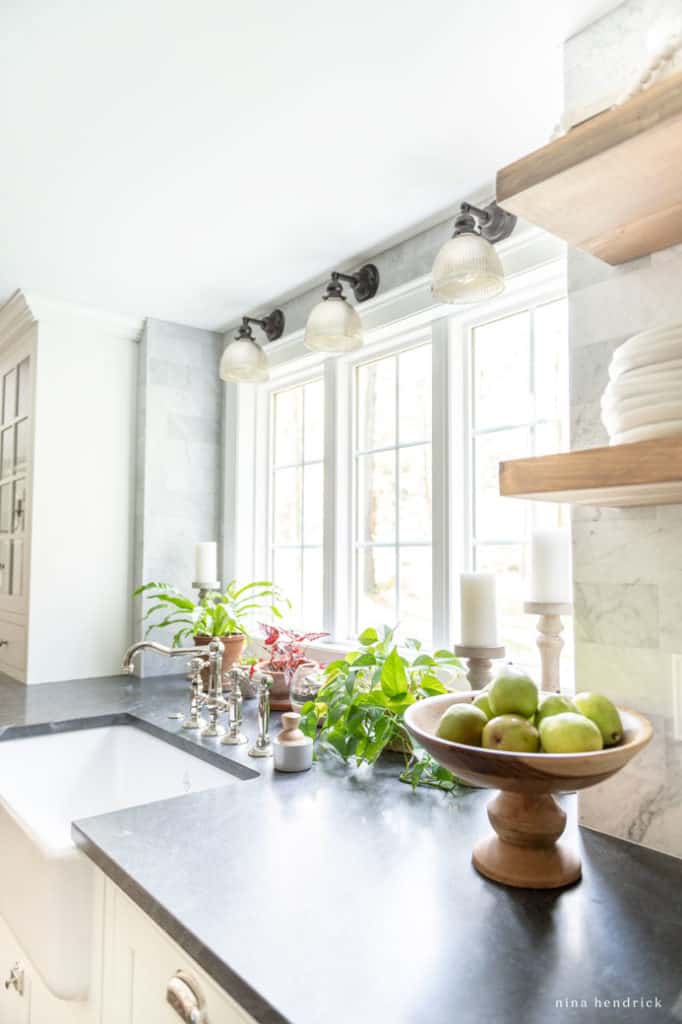 It was worth it, though! I have always wanted more light in this room, and that mission was certainly accomplished. As you can see, my plants are loving it! I'll be doing an entire post on the farmhouse sink and faucet, as well as the choice of polished nickel for one of the finishes!
The Island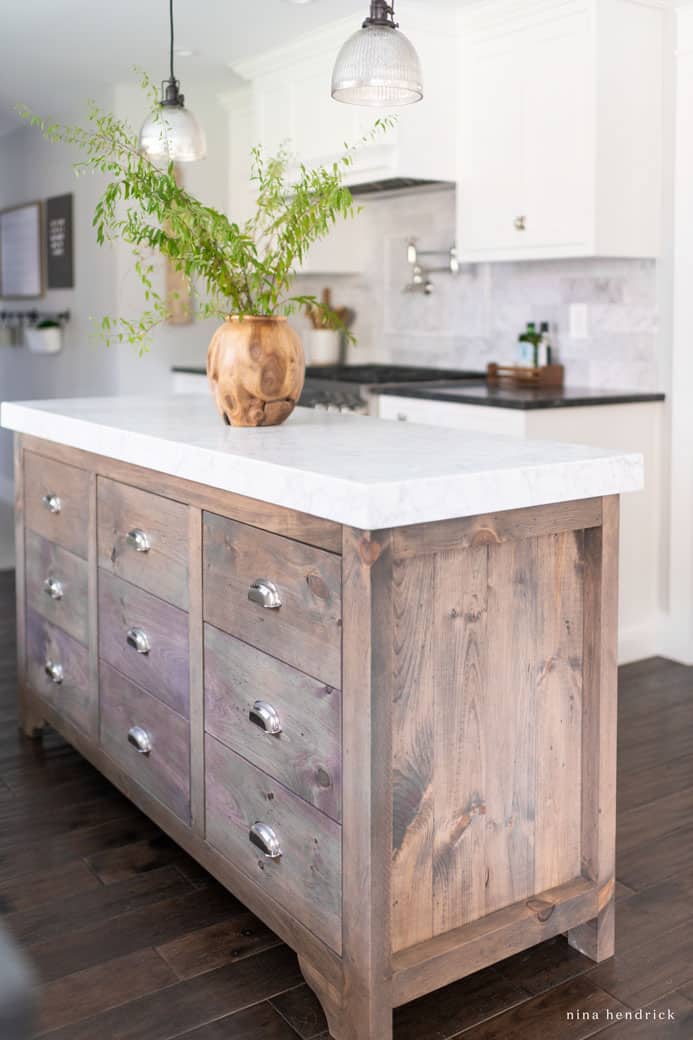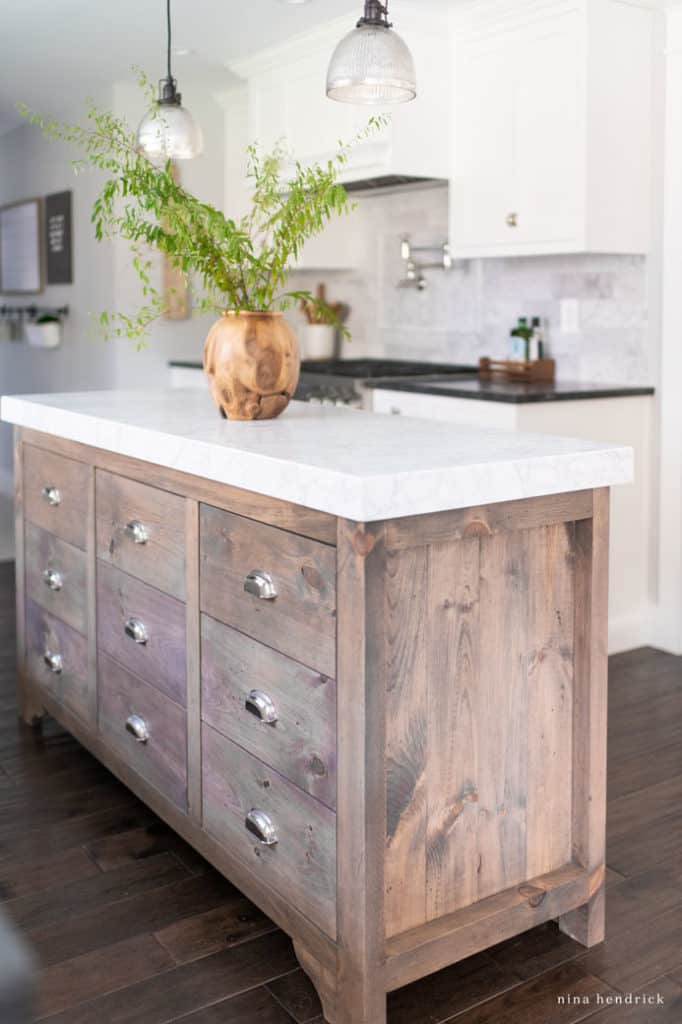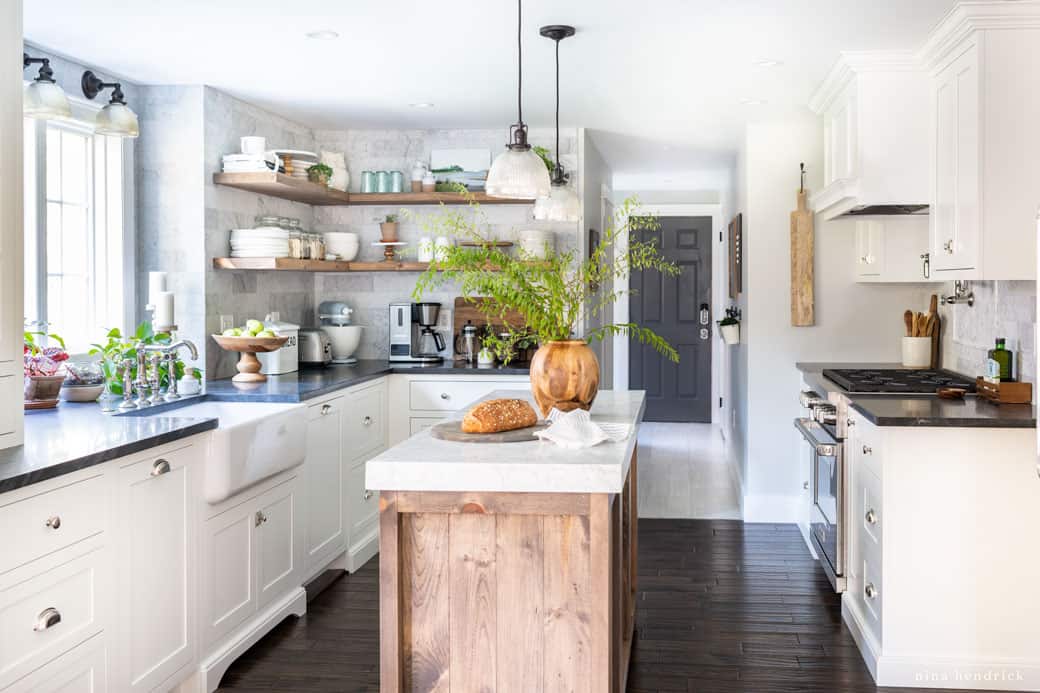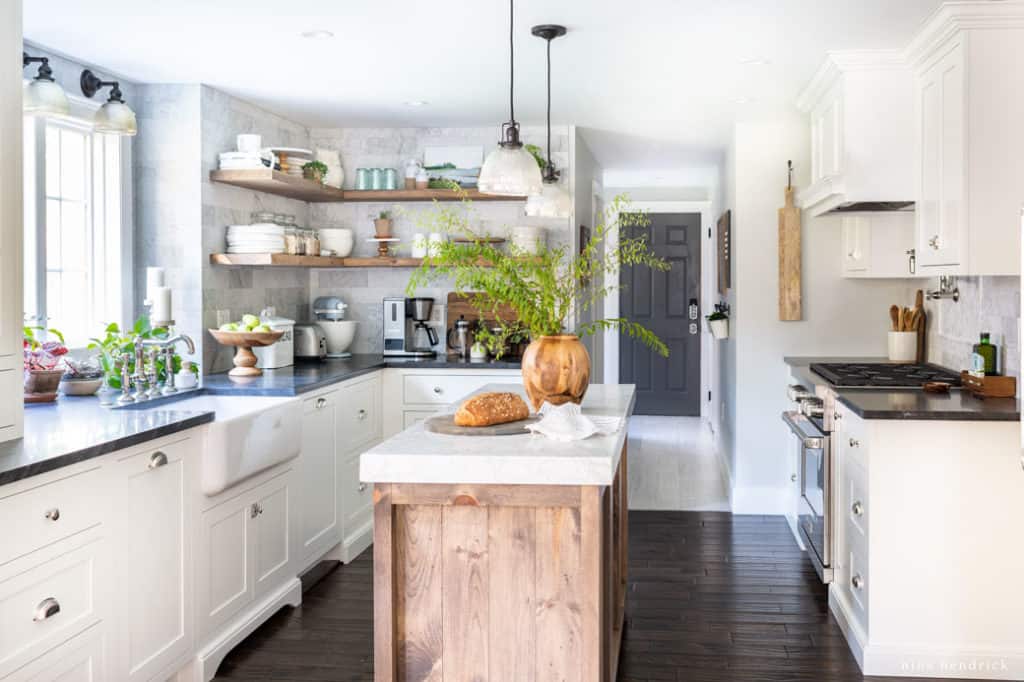 The wood island was another one of my sketches turned dream come true! I worked with this woodworker to design a custom piece. It definitely took some time since he built it by hand, but it was well worth the wait.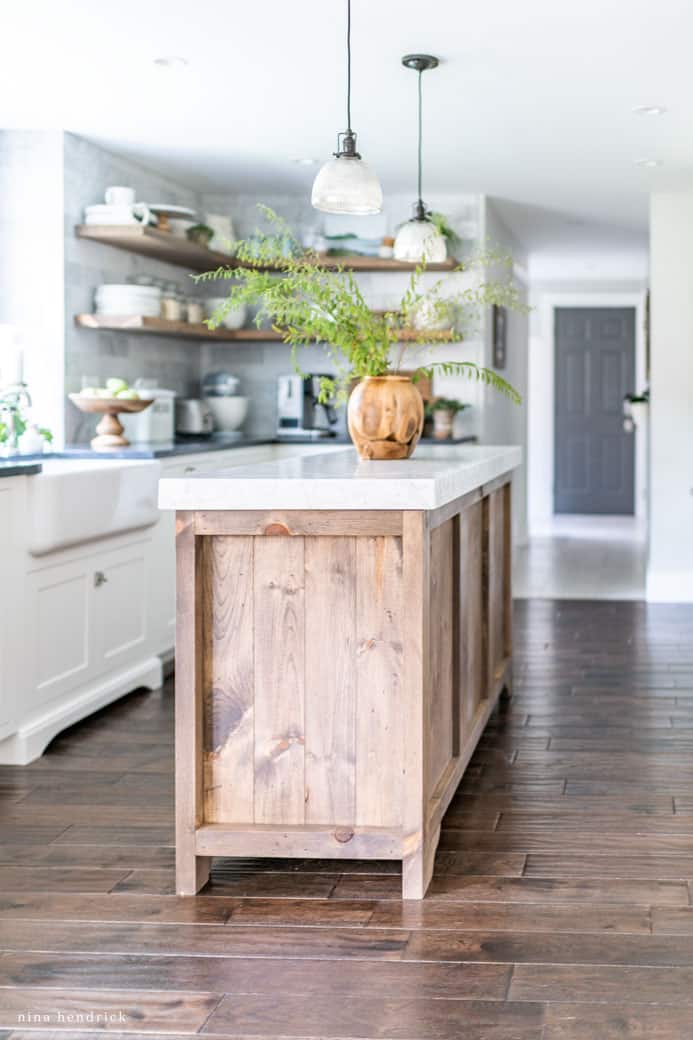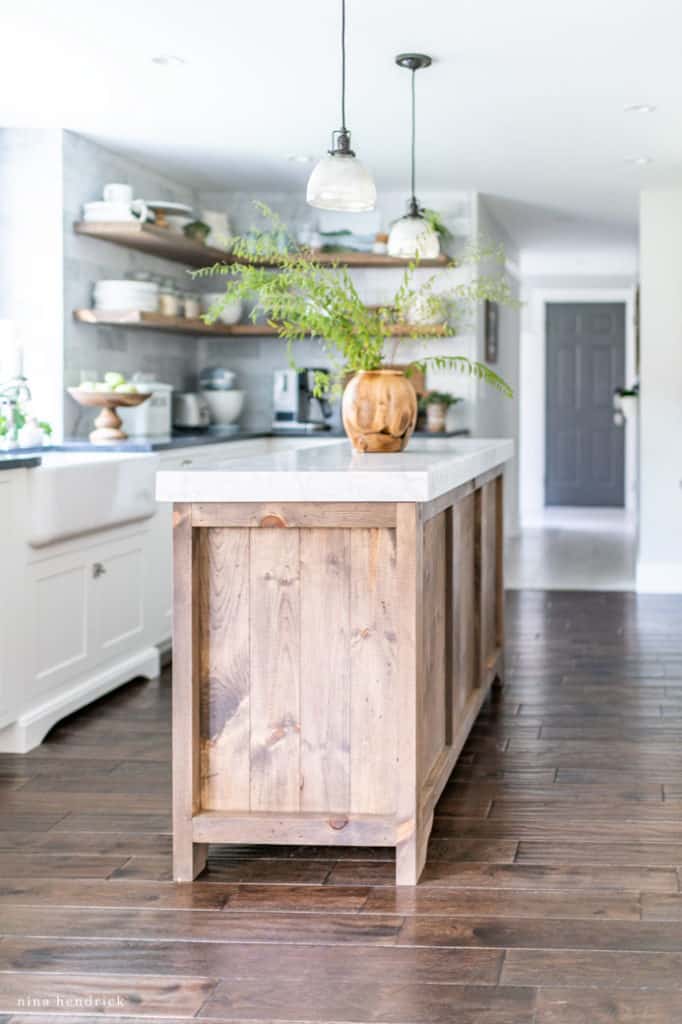 The corbels, in particular, are one of my favorite details! I wanted the feel of an antique shop counter. I also wanted drawers. While I still love the island we had in here before, it was tricky for usable storage. I have plans for it in the future, though!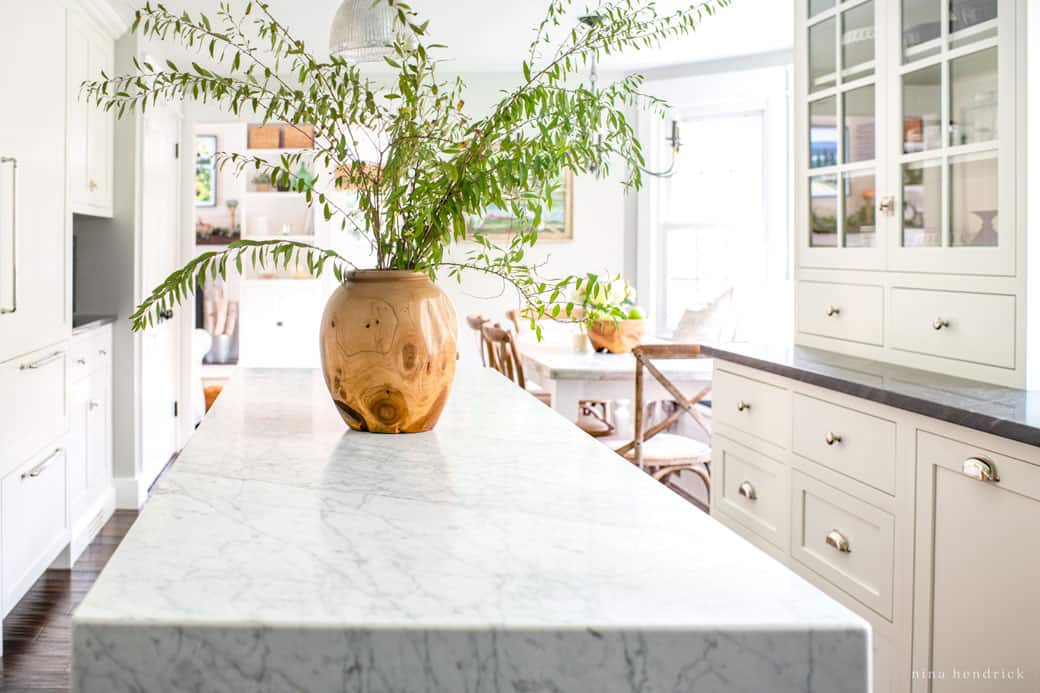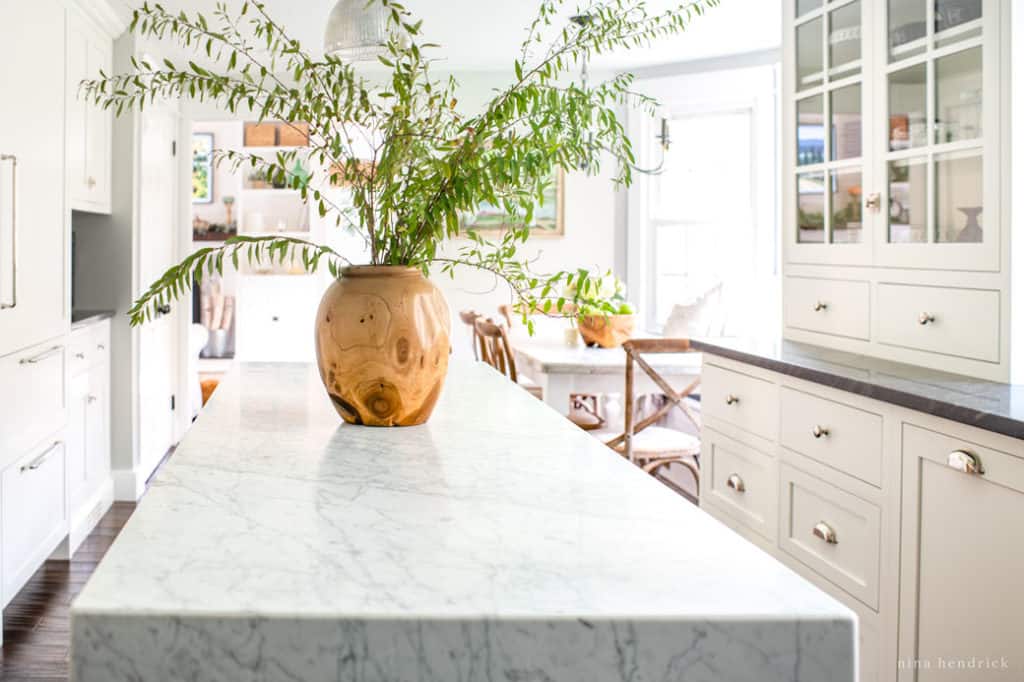 For the top of the island, I went with Super Honed Bianco Carrera Marble. I wanted a really substantial look, again for that antique shop counter feel, so we had them miter an extra piece around the edge for added thickness. They did a beautiful job, you can't see the seams at all!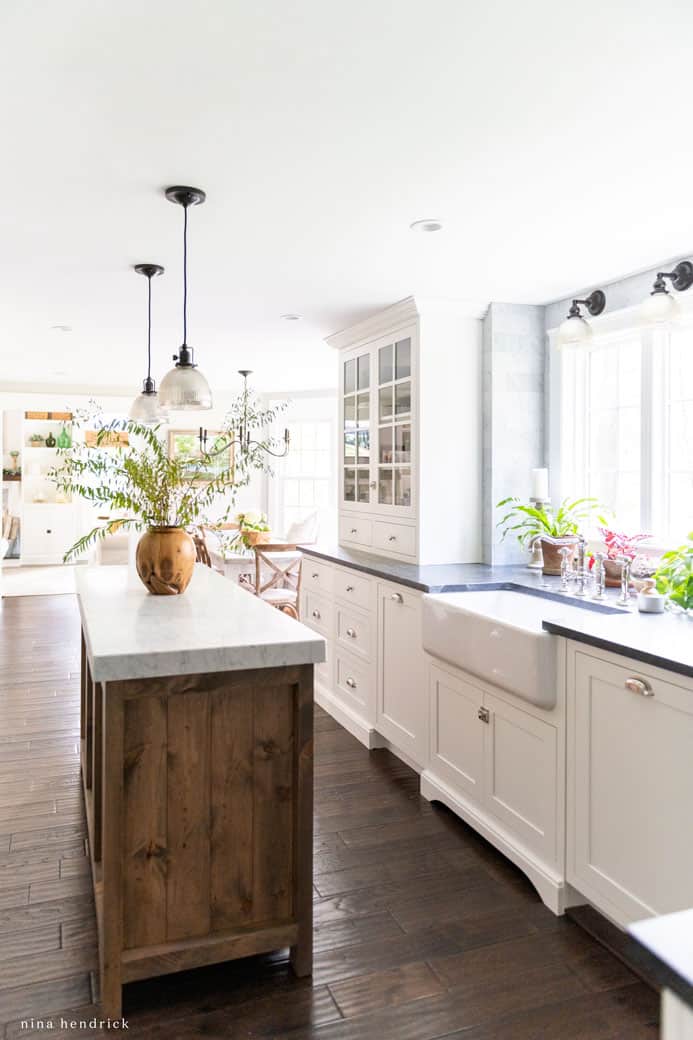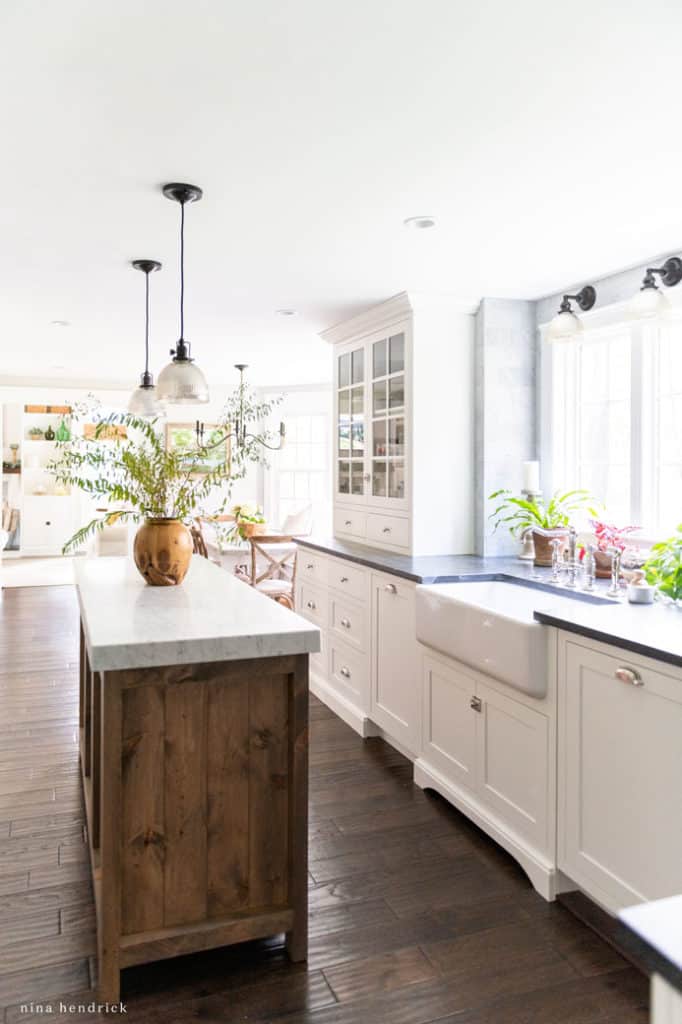 As far as the durability of marble goes, this is not a counter we'll ever sit at, so I'm less concerned than I might have been in that situation. We'll definitely talk countertops another day also since I get a lot of questions about stone types!
The Shelves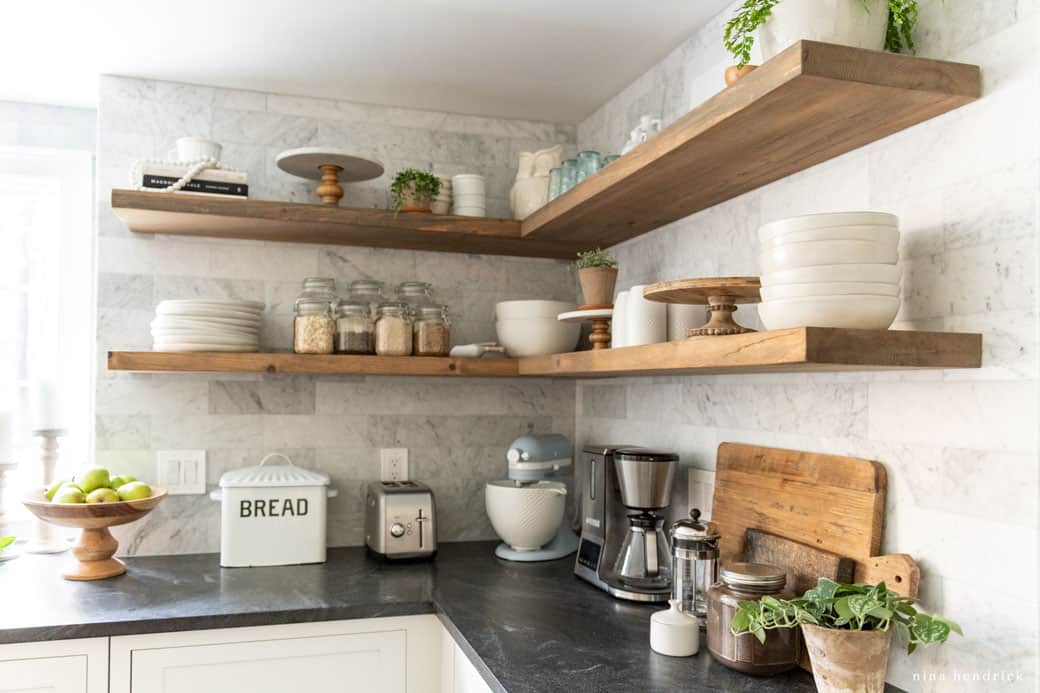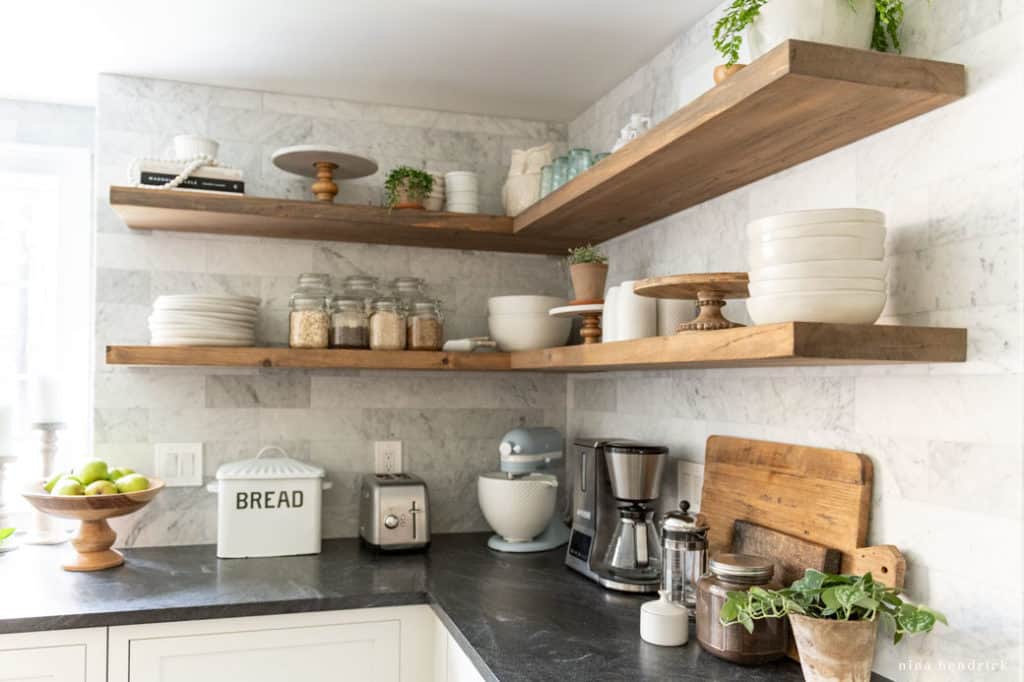 I feel like here is where I should mention that it was really important to me to incorporate warmer wood tones throughout the design. In our previous kitchen I did that with changeable accessories, but this time around I wanted to go bigger.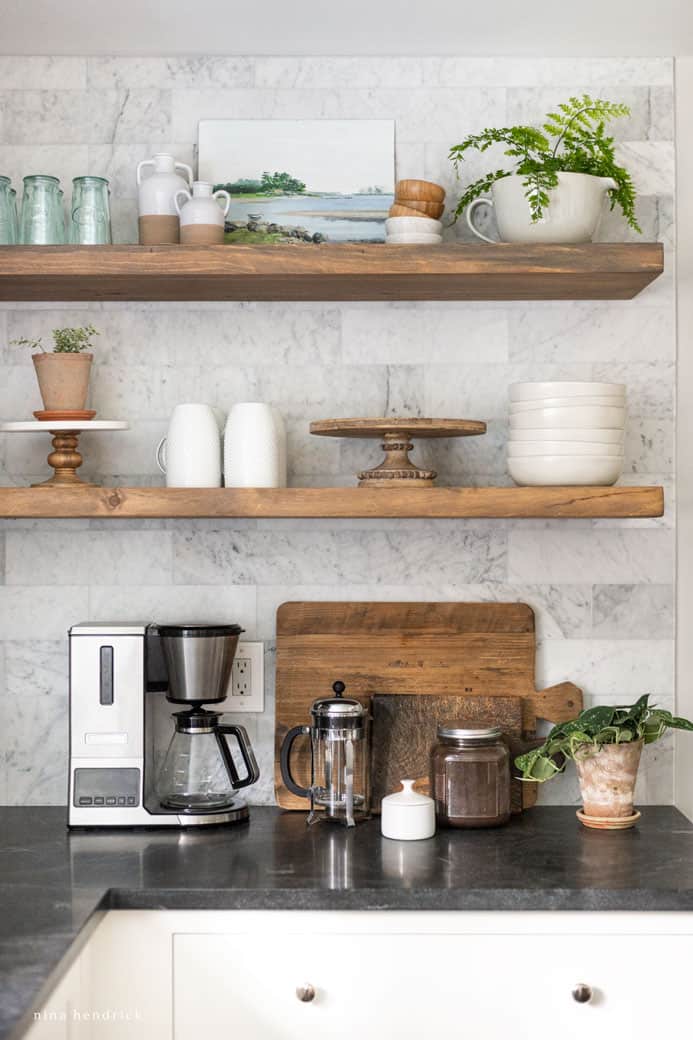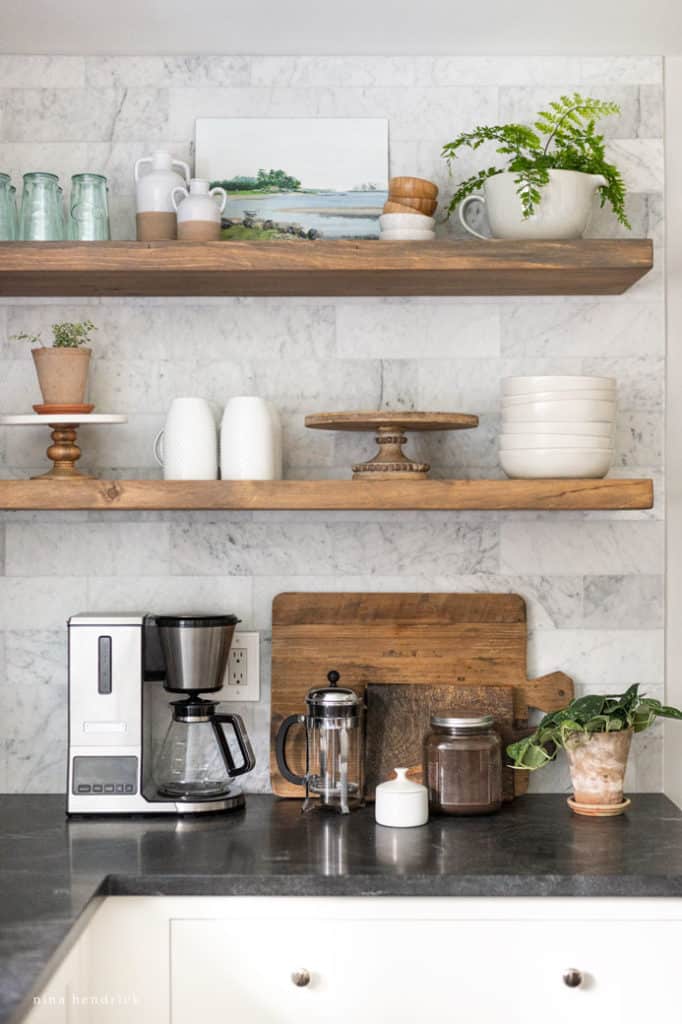 The wood from the shelves was a gift from a family friend and came from my hometown in New Hampshire, so that makes them even more special to me. It would be difficult for me to choose between the island or the shelves for my favorite part of the kitchen!
Honed Jet Mist Granite Countertops and Carrara Marble Backsplash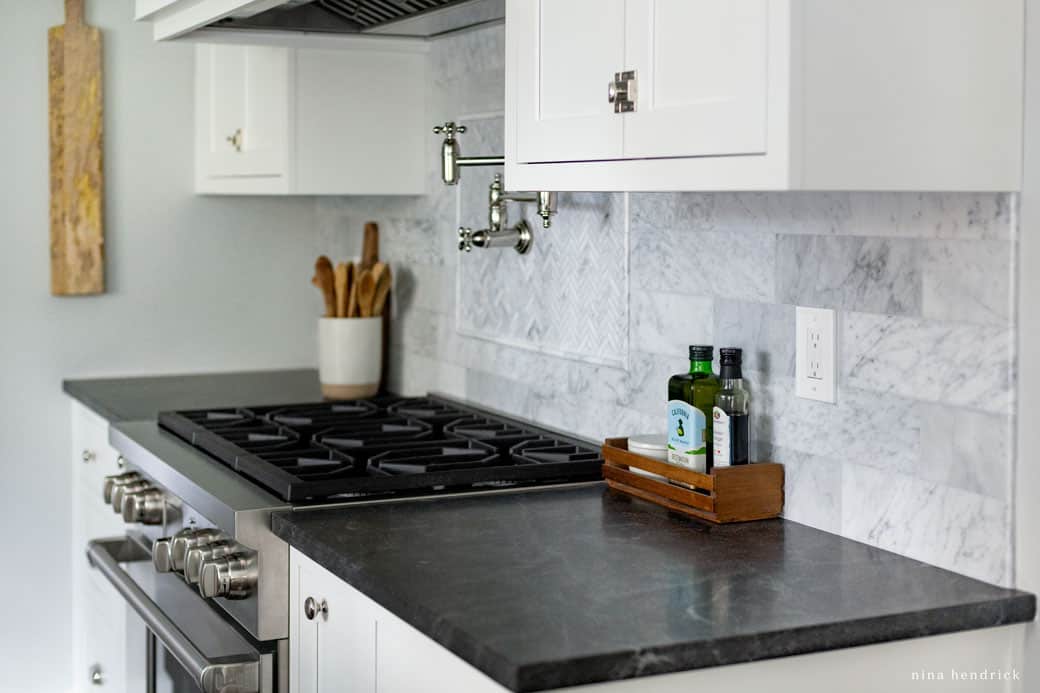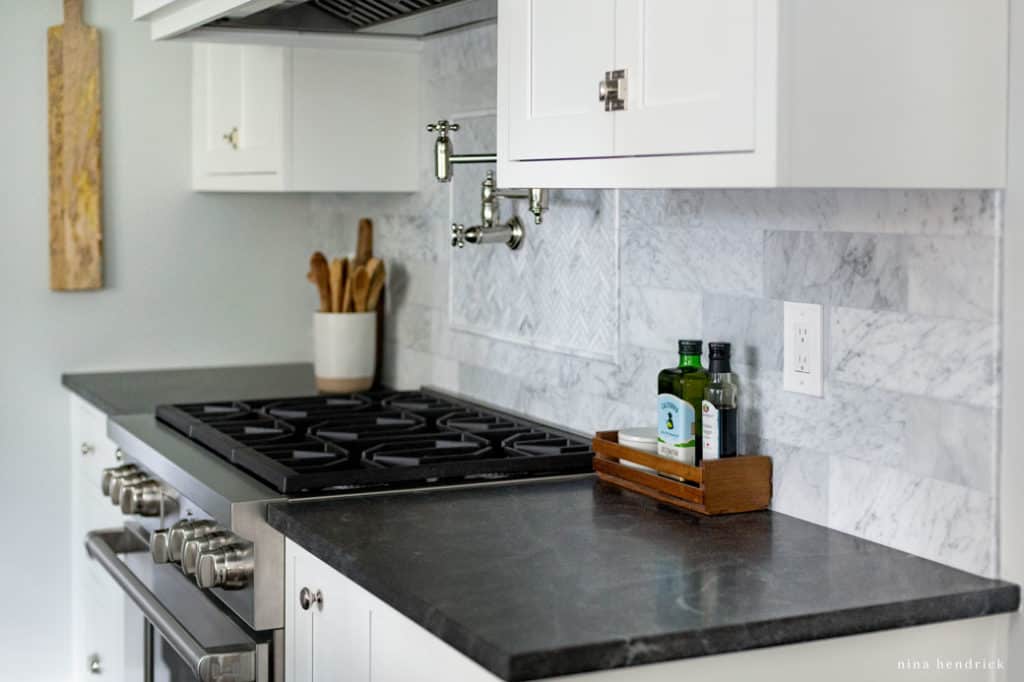 While I mentioned I was willing to take a gamble with the island top being a soft material, I was less willing for the perimeter. I love the look of soapstone, but it was just too risky. I knew from our fireplace project that Jet Mist granite would give me the same look with added durability.
We used 4×12″ Carrara marble tiles for the backsplash, and herringbone for the medallion behind the stove. This was a job we hired out after our experience with the Kids'/Guest Bathroom upstairs. I'm planning on doing a post of what we DIYed vs. hired out for this project, since it was a combination.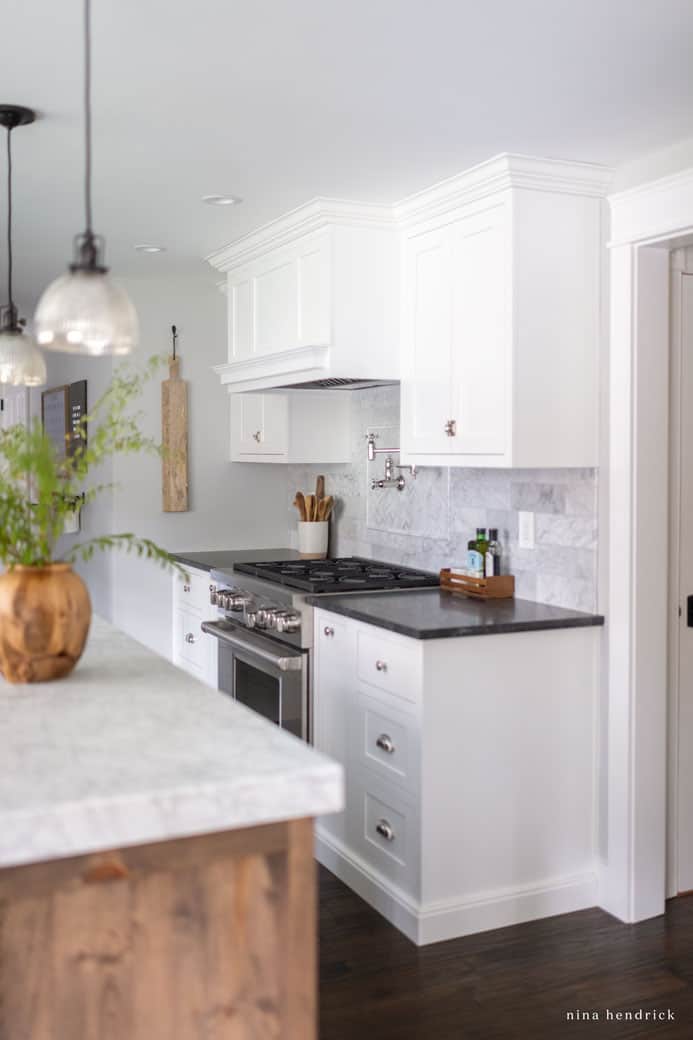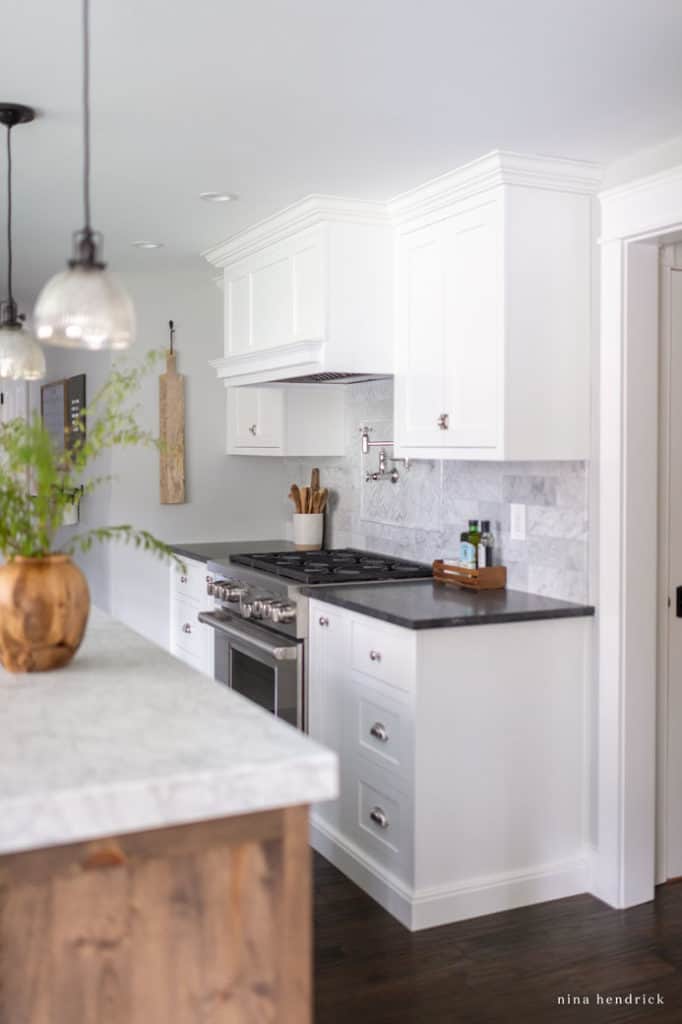 Classic Meets Rustic Kitchen Makeover
Phew, I know that was a lot for one day, and I still have a ton to talk about and many more photos to come! I'll be breaking things down further and giving specific sources in upcoming posts. Stay tuned!