Planning a kitchen makeover? This classic kitchen makeover adds a rustic touch with natural materials and timeless design. Get tips and tricks for creating a warm and inviting atmosphere in your kitchen with wooden accents, vintage-inspired decor, and plenty of charm.
Are you planning a kitchen makeover? We recently wrapped up our latest project, and I set to work creating a resource post to break down all the different decisions I made and sources for the items I chose for our project.
If you've followed me for a while, you know I don't shy away from sharing all the details, tips, and lessons learned along the way. So if you've been daydreaming about a kitchen remodel of your own, or you just love living vicariously, take a peek at our kitchen makeover details in the post below.
This post contains affiliate links, which means I may get a small commission (at no extra cost to you) if you shop my link. Please see my disclosure if you'd like more info!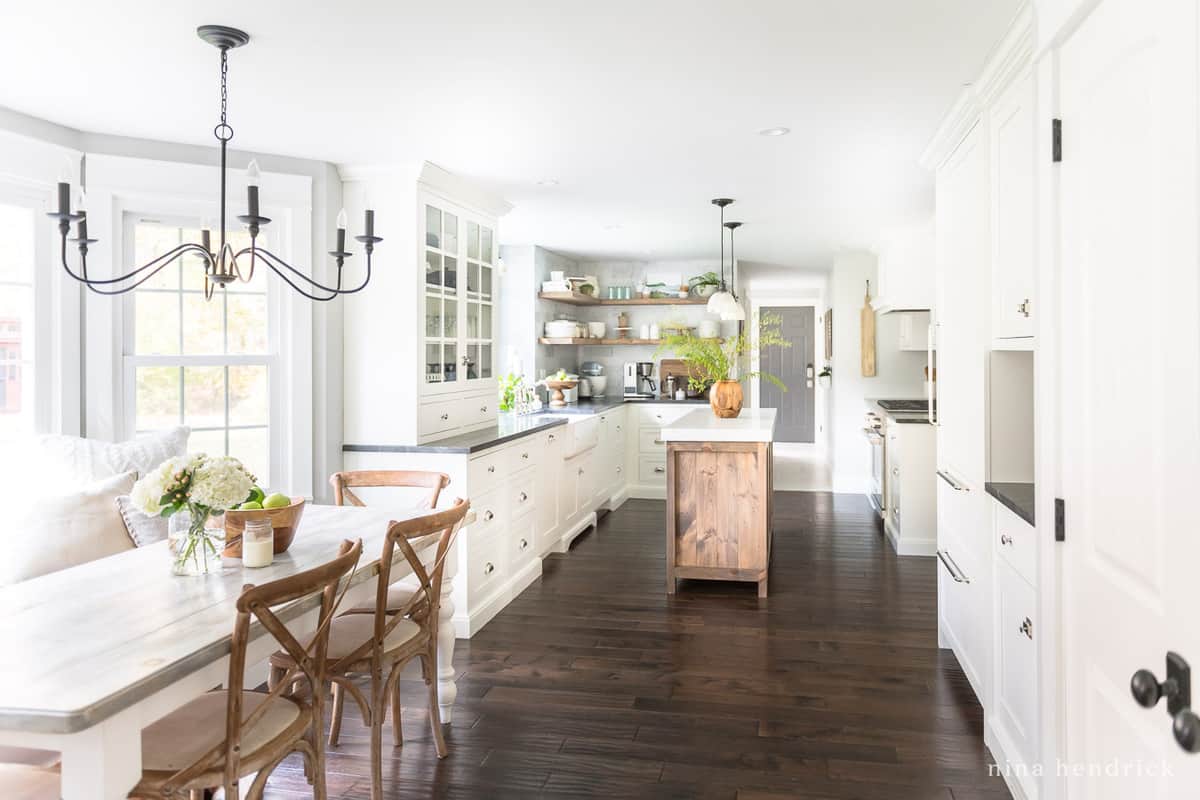 Classic Meets Rustic Kitchen Makeover
Originally published October 25, 2019
It's been about four months since we said goodbye to our DIY Painted Kitchen and began to lay the groundwork for this Classic Meets Rustic Kitchen Makeover. In reality, this project has been several years in the making, and it's surreal to have it finished!
This project had highs and lows, successes and pivots. I learned A LOT. I gathered inspiration for years, and when the time came, I knew exactly what I wanted. However, sometimes it's hard to reconcile what we want with what's in the budget! Throughout this post you'll notice when I reference what I had envisioned with what we ended up with. I know that's a realistic part of most projects and I hope those anecdotes also help you find balance between dreams and reality.
Another difference compared to most of our projects in this house is that this project wasn't a DIY. While Mack tackled parts of it himself, the majority of the project was completed by subcontractors. It's kind of like eating a meal you've cooked yourself versus going out to dinner. While I'm less emotionally invested in the outcome than our DIY projects, I feel so good not having struggled through the doing and I'm able to just enjoy it!
First off, I think it's important to look back on where we began in 2012 and that dated kitchen. What a difference!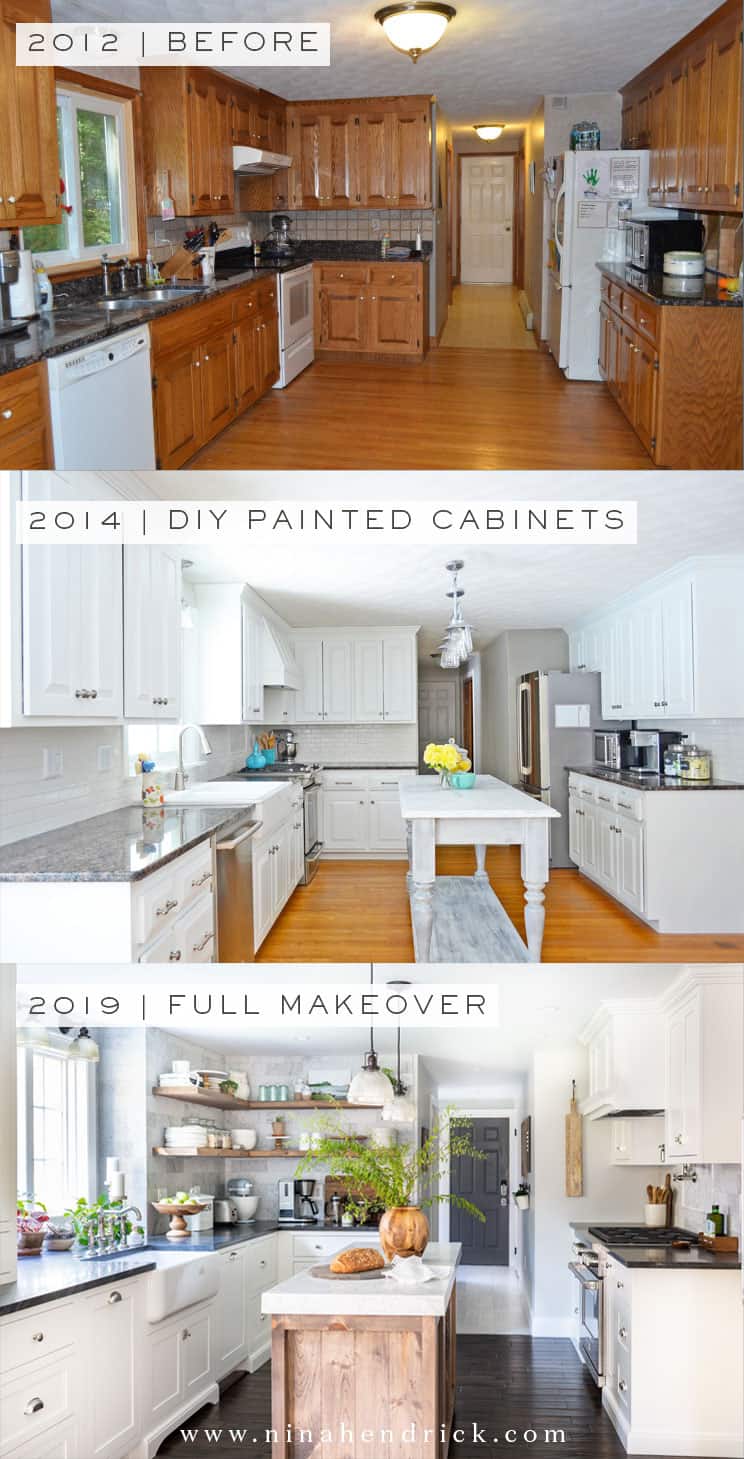 If you haven't visited before, I'll give you a very quick recap. We purchased our home back in 2012 and it was very 80s builder-grade. I was particularly eager to change the orange oak kitchen cabinets, but we spent all of our money on buying the house, so I had to come up with an inexpensive solution. I researched and tested options and came up with a process to paint our oak cabinets and hide the grain. The results were beautiful and the white cabinets breathed new life into the space.
The cabinets held up really well for about five years, which gave us time to save up for this full overhaul (you can read the 5-year recap here). Now, here we are! It's surreal that I was able to fulfill my kitchen dreams with this high-end kitchen makeover.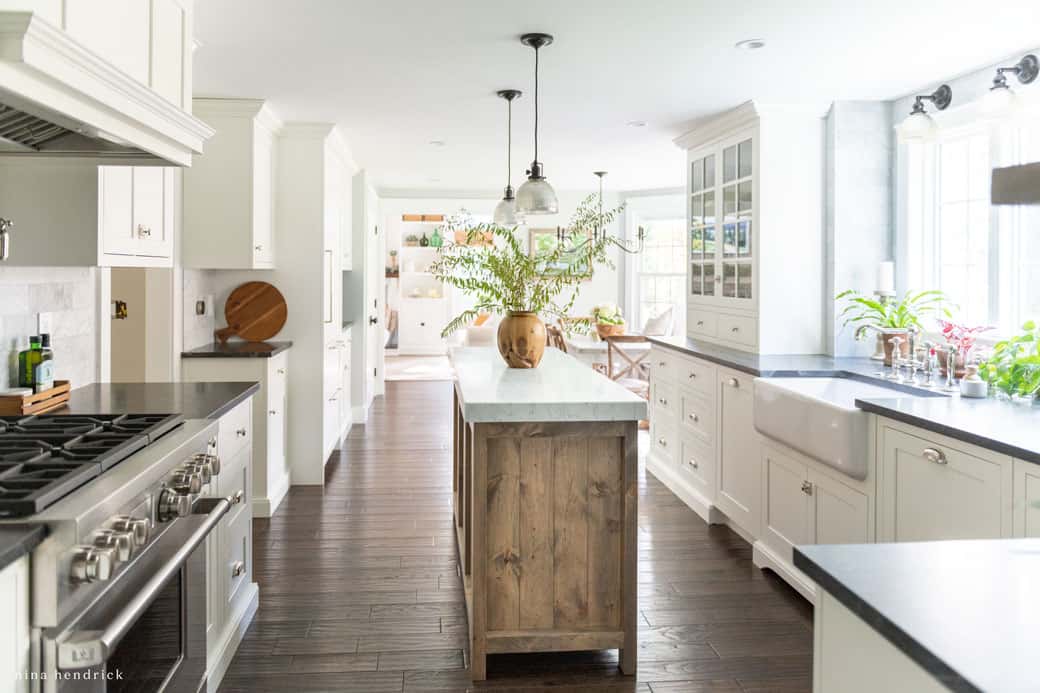 What are the dimensions of your kitchen?
Foremost, I'll answer one of the most common questions I get. Our overall kitchen is long and narrow — It's about 20′ to the pantry and 11.5′ across. The sink wall has about 15′ of cabinets before the breakfast nook begins.
The New Kitchen Layout
One of the biggest reasons we wanted to fully overhaul the kitchen is that the previous layout really wasn't functioning for our family. We removed the kitchen desk several years ago and covered an extraneous doorway. The resulting area was where we had our coffee bar, but we knew the area had even more potential.
We decided to use the area for a small command center, built-in refrigerator/freezer, and microwave. Those cabinets have so much storage— and it's all bonus from what we had before.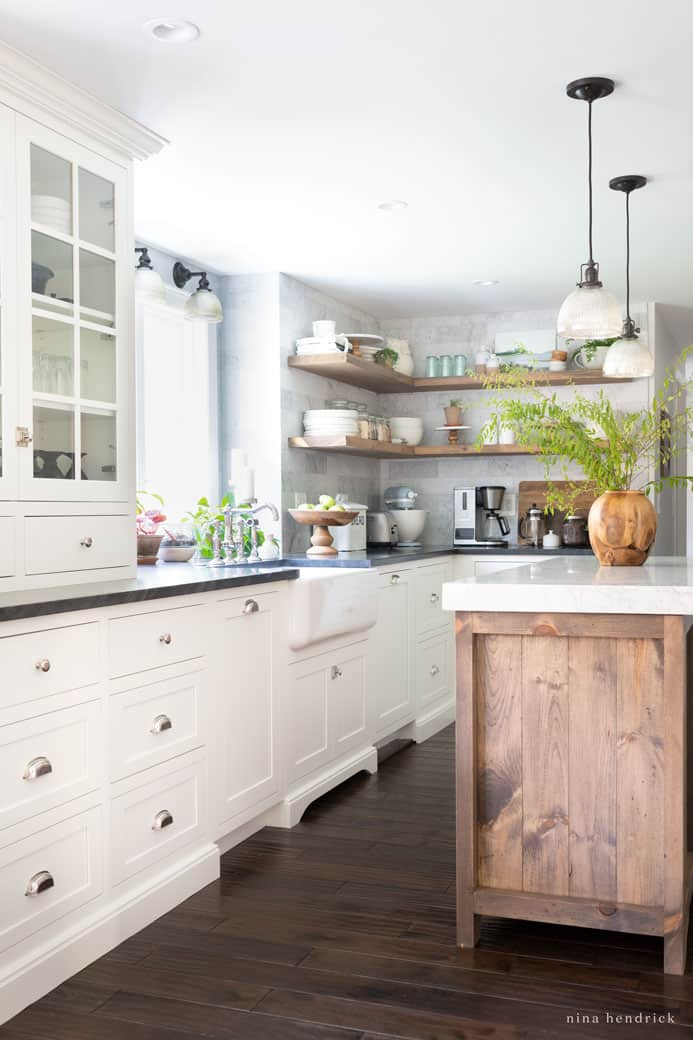 White Kitchen Cabinets
We priced out fully custom built cabinetry, but instead went with semi-custom cabinets for budget reasons. The perimeter white cabinetry, including the hutch and panels for the built-in appliances, are from Shiloh cabinetry. We worked with a local semi-custom kitchen design center.
I chose a Shaker-style inset door with equal rails and stiles. This is an important thing to note: not all shaker cabinets will have the frame be even all the way around. I also should mention that the options were different from what the big box stores carried for the Shiloh brand. I specifically wanted inset Shaker-style cabinets, and they didn't offer an inset door option in any brand in the big home improvement stores. That was what led us to a kitchen design center.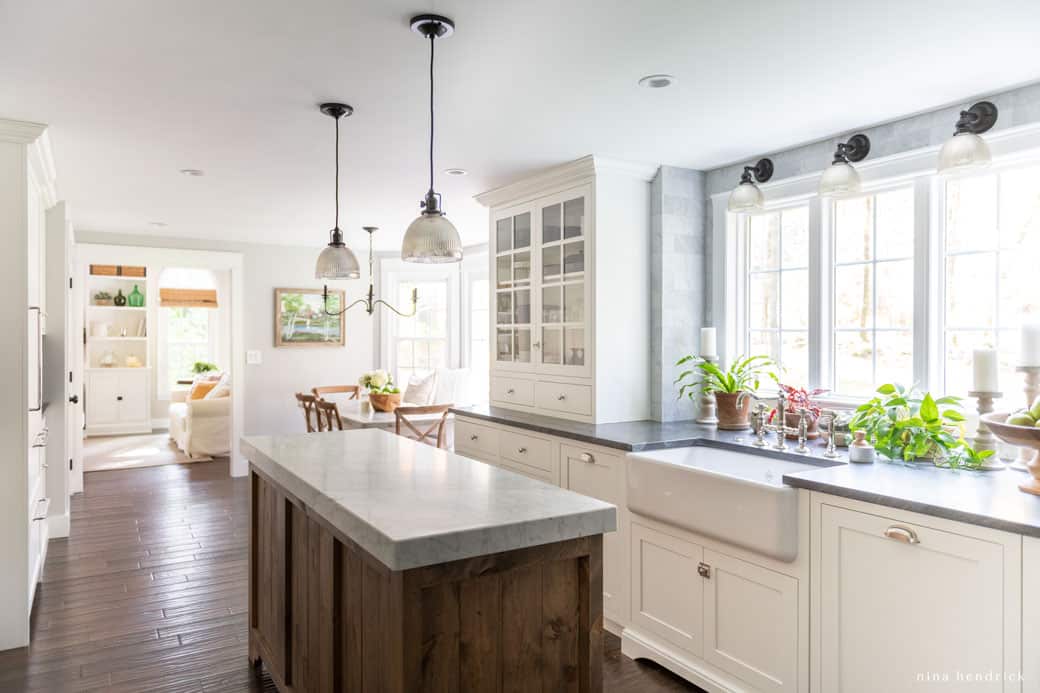 I considered other cabinet colors, but in the end I decided to go with white kitchen cabinets. It's a classic for a reason! The white cabinetry color is Polar White. It's the "whitest" of all of their colors, but still has a slightly creamy look in our home. In the showroom, the color appeared very cool and wasn't my first choice, so it was very important to bring a sample back to your specific space to see how it reacts with your lighting. My tips for choosing paint colors absolutely apply to cabinets as well!
As a side note, my research found that Shiloh's Polar White is not a match to Sherwin Williams Polar White. I ended up sticking with Benjamin Moore Simply White paint for the trim and ceiling because it's also a creamy white (although it's not an exact match) and is the color the rest of the trim was already painted. I'm happy with it, it hasn't bothered me at all that they're different! (Side note: You can see our whole house color palette here!)
While we're on the topic of paint colors, the walls are still Benjamin Moore Gray Owl. I thought about changing them, but why mess with a good thing?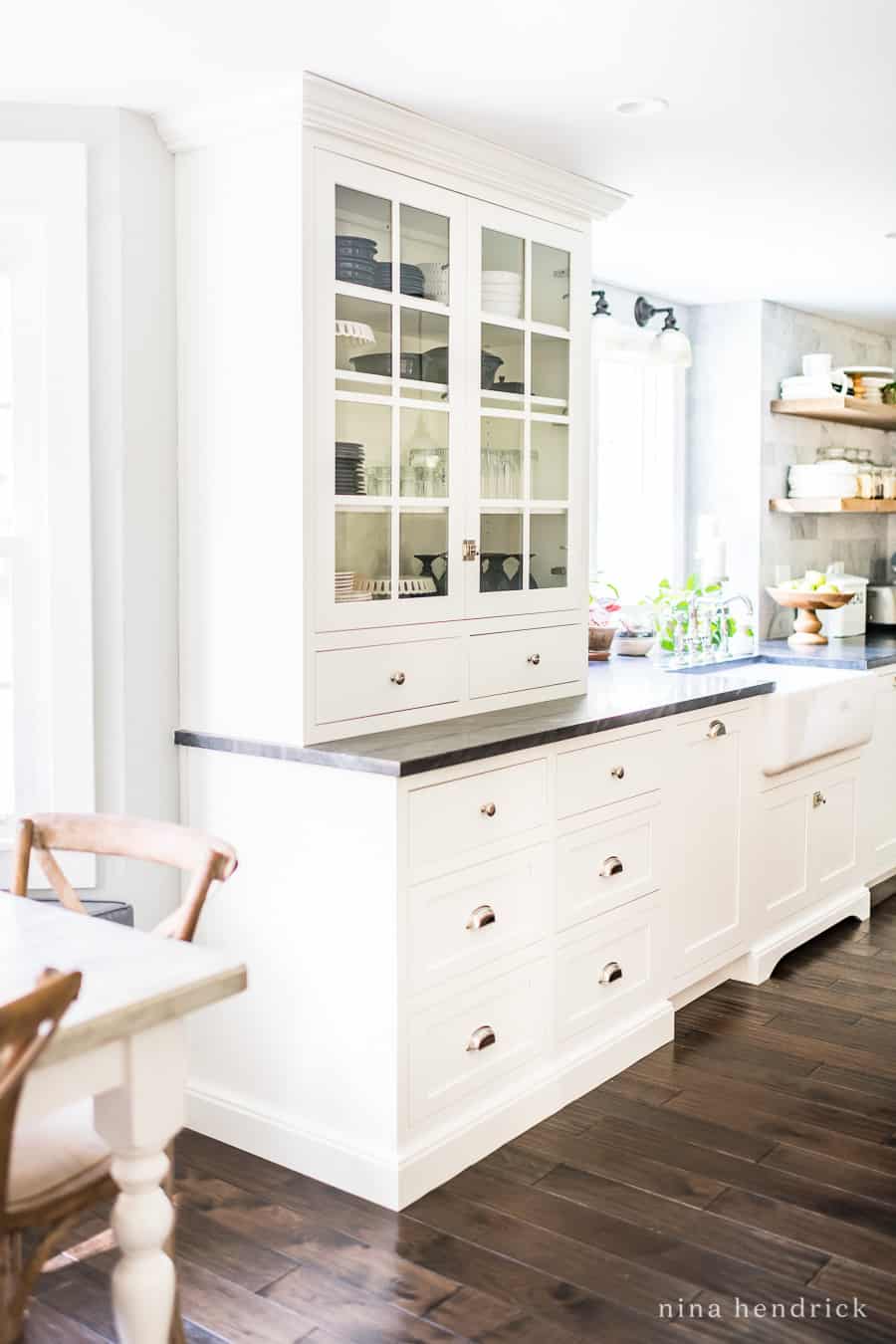 Built-in Hutch with Glass Doors
When I envisioned what I wanted this kitchen to be, I pictured it being a collection of furniture versus a bunch of shiny stainless steel appliances or a bunch of lower cabinets and upper cabinets like we had before.
I loved the concept of a hutch with glass doors that looked almost like a china cabinet. It stores all of our silverware, linens, and the kids' cups and plates.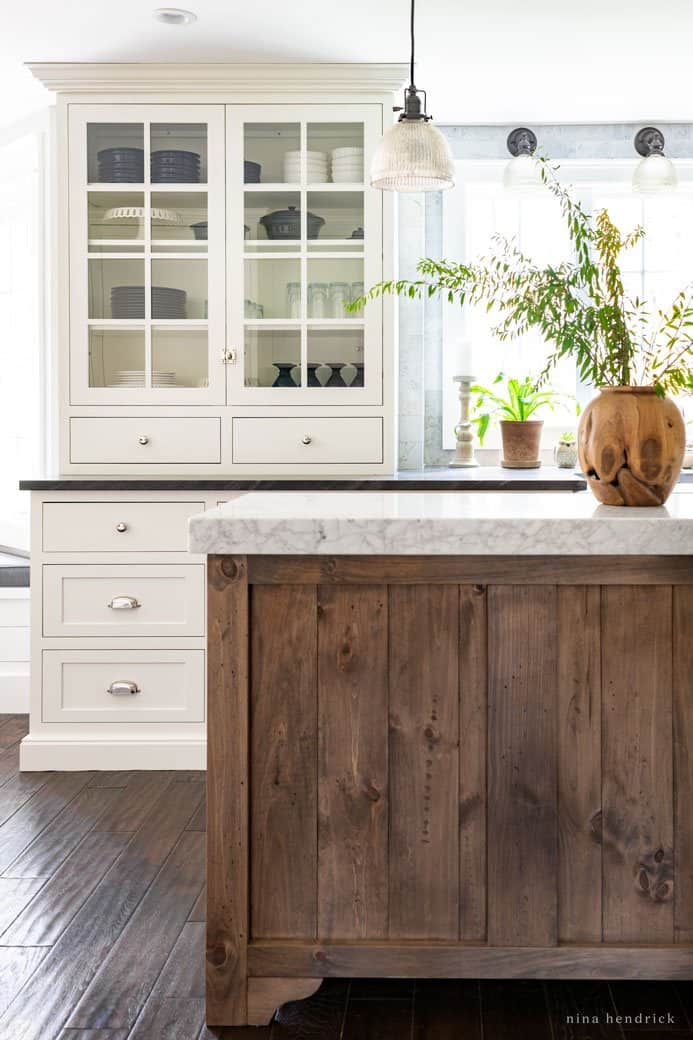 I sketched this hutch out on grid paper over a year ago, and although it definitely took some tweaking along the way, it's pretty darn close to what I had imagined!
I've gotten a lot of questions about where you can buy the hutch. The Shiloh cabinetry workshop custom built it, so I was able to get it to match the cabinets perfectly. This was one of the areas where I splurged for custom. So to directly answer: you'll have to work with your local Shiloh distributor to design something similar.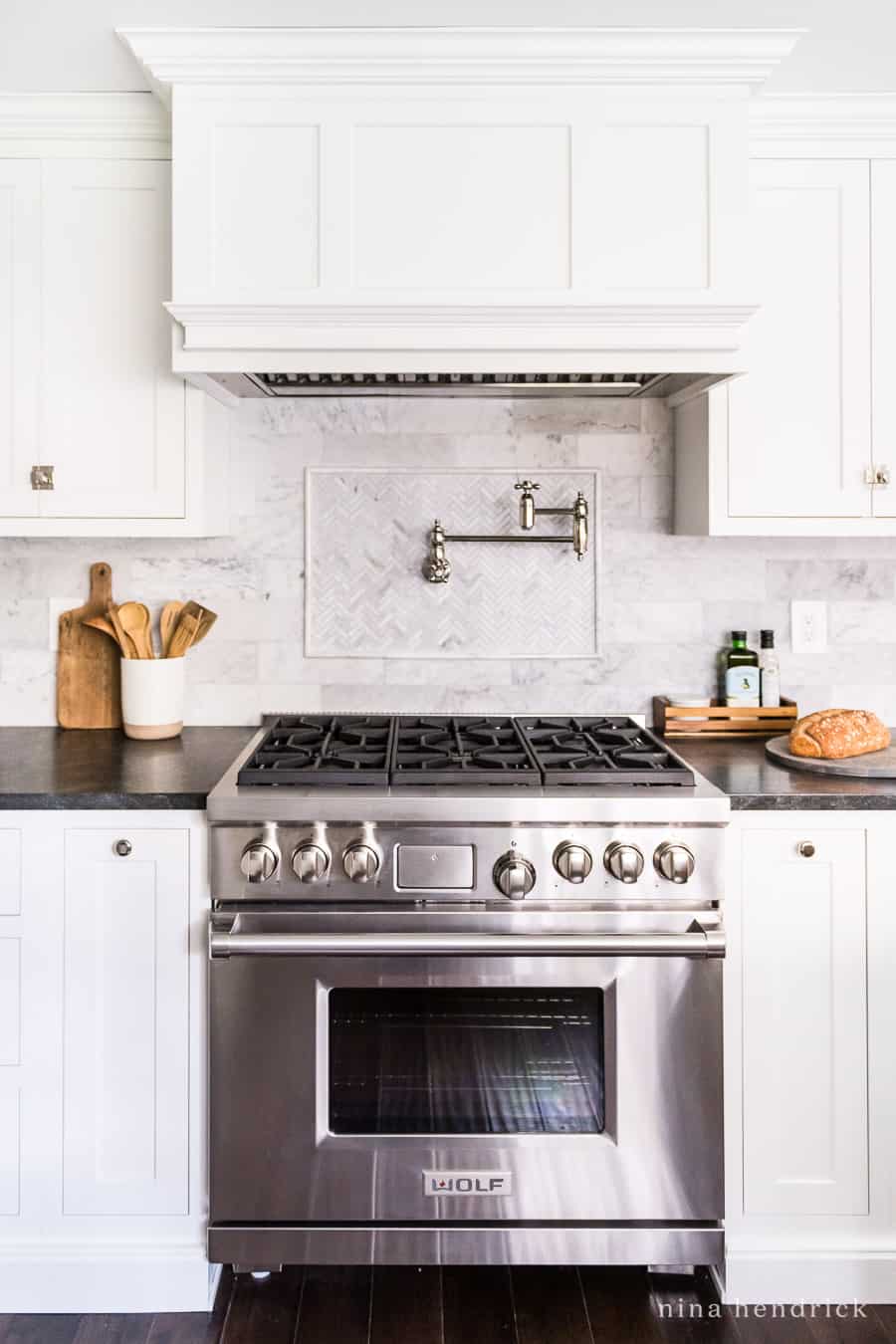 Kitchen Appliances
We went with new appliances that are professional-quality and have really solid warranties. Our range is a 36″ dual fuel propane and electric convection oven model from Wolf. So far, I absolutely love it. I'm excited to put that giant oven to the test with Thanksgiving! I opted for stainless knobs instead of the iconic red because they just didn't fit in with the style of the kitchen.
Our range vent is from Best and is honestly probably way beyond what we even need — I use it on low. We covered it with a range hood to match the cabinets. It's not exactly what I envisioned, but rather than design a custom piece (and add to the cost of the project), I opted to work within the options they had.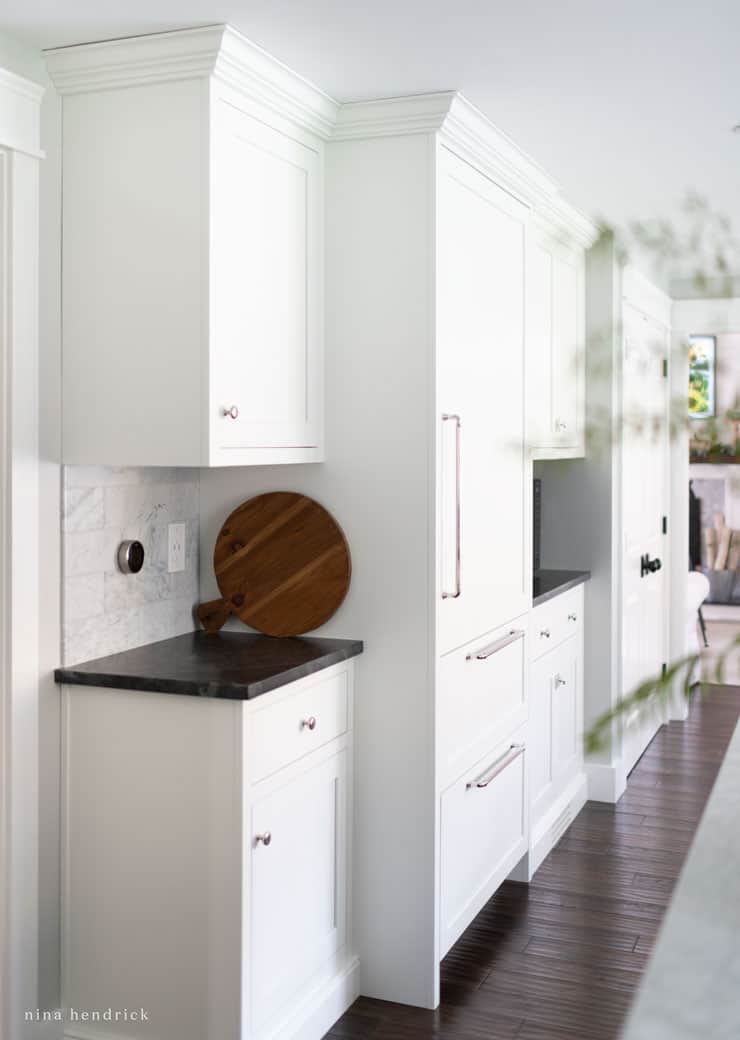 Panel-Ready Refrigerator with Freezer Drawers
Our fridge is from Subzero. Again, it is panel-ready, and has two freezer drawers which I LOVE! We had a freezer drawer before, but it was deep and difficult to keep organized. This system works like a dream.
I'm not linking to any specific models in this kitchen renovation source list because there are so many combos/options and it really is best to visit a showroom and figure out what works for your life and space. For example, having the fridge open from the other side is a different model number.
I would be very hesitant to buy from any of the third-party online sites since the warranties are a big benefit to this type of appliance. We've already got a call in at our local distributor for them to come re-level the stove now that the backsplash threw it off a bit.
We also have a Wolf microwave, which is nice — but really at the end of the day, it's a microwave. It was part of the appliance package, otherwise, I'd say just get any old microwave.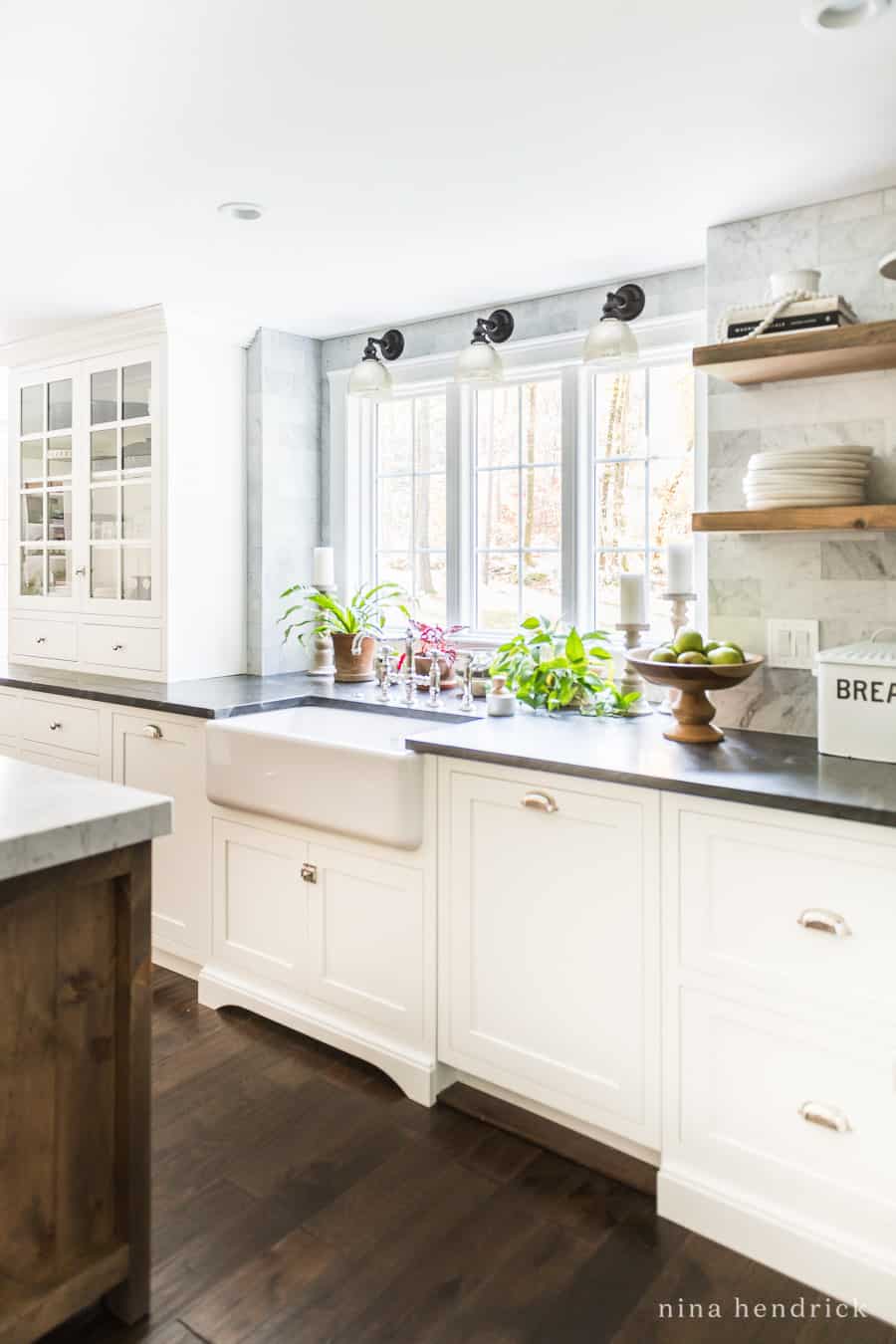 We already had a Bosch dishwasher, since our previous dishwasher was an absolute piece of junk and needed to be replaced before this project. I will say that the panel-ready dishwashers are truly made to work with the panel (duh), but we were in a pickle, so we lived with it for over a year panel-free. It's spring-loaded, so that was a bit scary. Now that the panel is on, it's great!
The trash and recycling cans are hidden in the cabinet to the left of the sink and the dishwasher is to the right.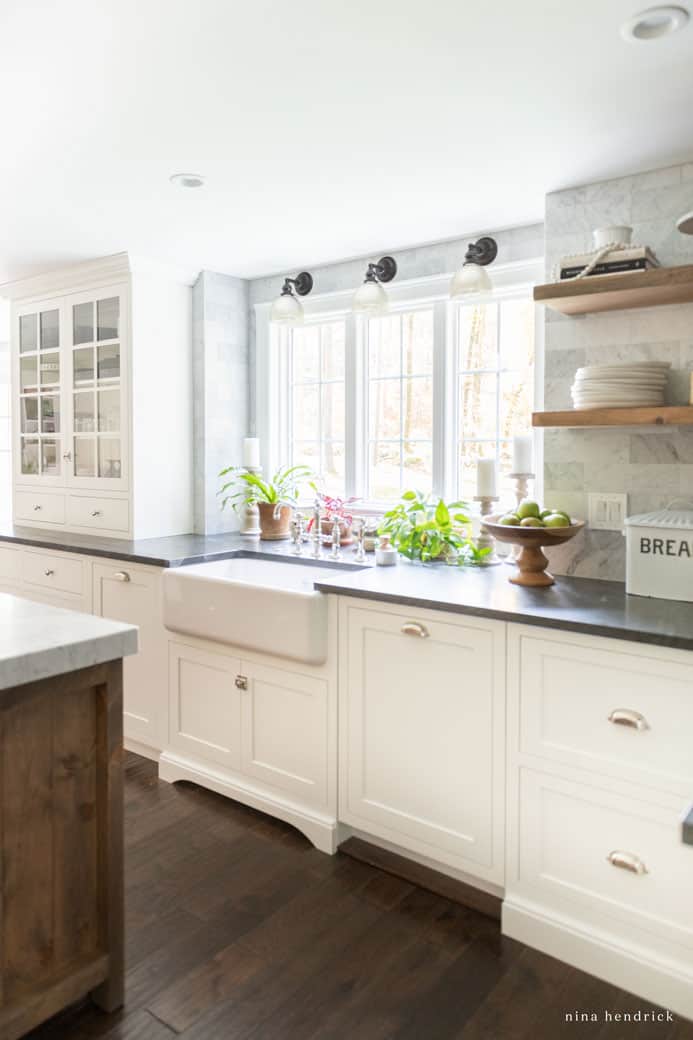 Kitchen Window Bump Out
The window bump out was one of the biggest pieces of this project and ultimately domino-ed into the most complications out of this entire kitchen makeover.
Long story short, the extra support we added to the ceiling joists to extend them for the window bump out made the ducting for the range hood very difficult. To duct it properly, we ended up having to go through one of the new cabinets and up through our brand new kids' bathroom, cutting that tile that we worked so hard on.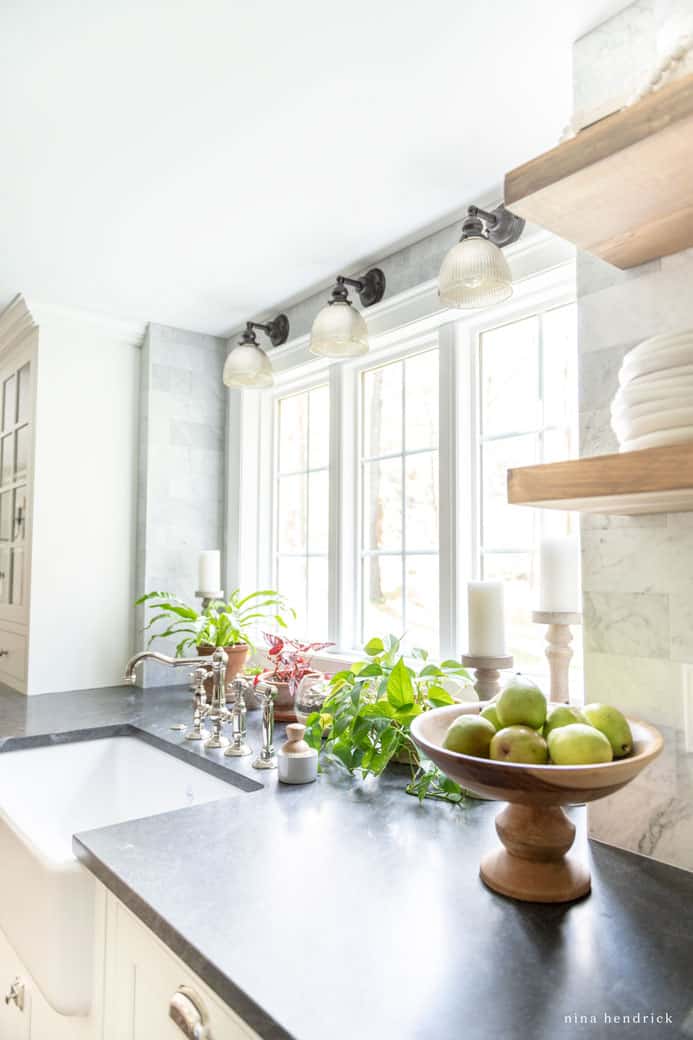 It was worth it, though! I have always wanted more natural light in this room, and that mission was certainly accomplished. As you can see, my plants are loving it!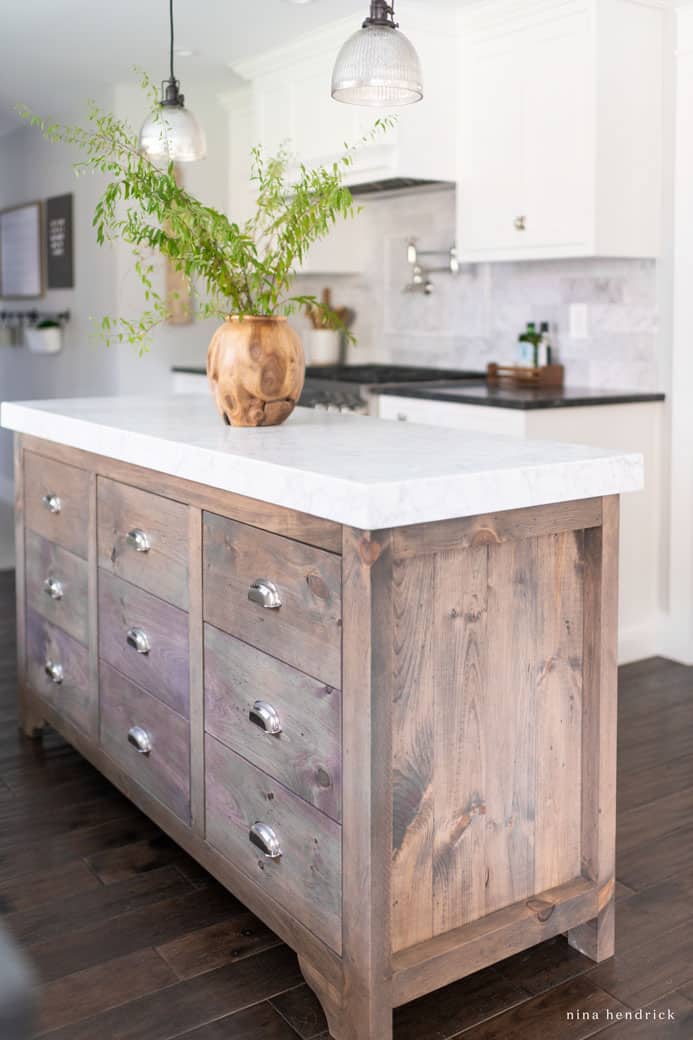 Stained Wood Kitchen Island
Although I love a good white kitchen, I also want to make sure that our kitchen makeover had warmth, character and texture. As a result, I decided to contrast the kitchen island from the cabinets to look like a piece of furniture we found and brought into the space. (Read my top tips for adding warmth to a white kitchen here!)
Our kitchen isn't "technically" wide enough for an island, however, it looked really odd with the open space (plus there's an air return vent in the middle of the floor). Although it looks tight in photos, our dishwasher has plenty of space to open, so that's what matters!
We tried to design an island with semi-custom cabinetry, but I just wasn't happy with the look (or price tag) to achieve our narrow and long dimensions.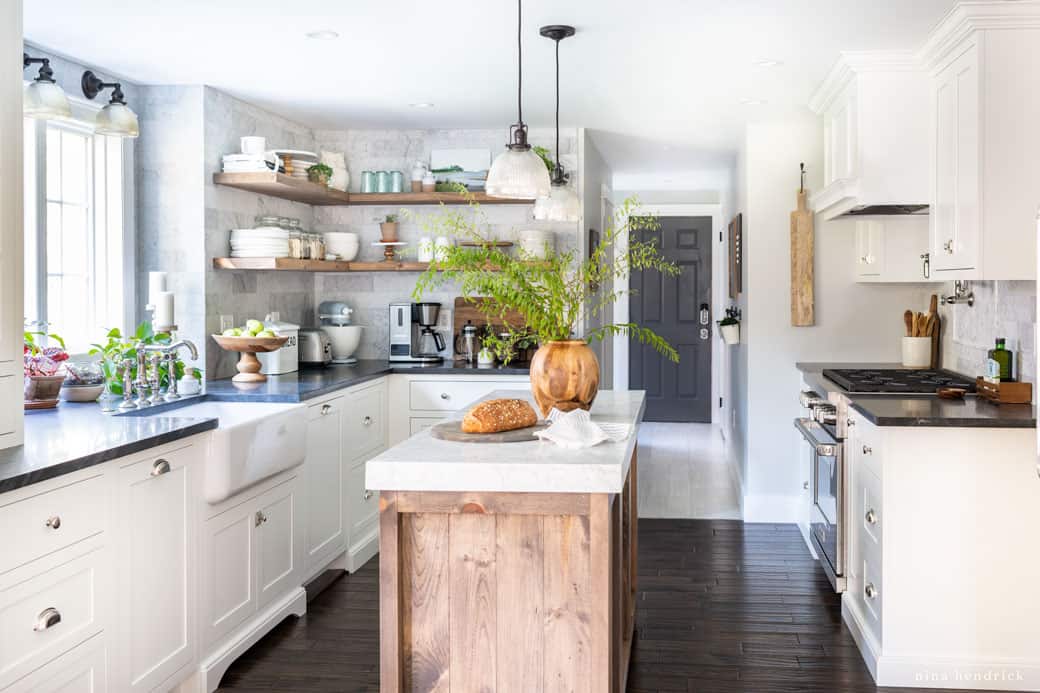 My husband Mack actually originally came across this woodworker on Etsy from one of the islands he had already listed. It was pretty close to my wishlist, but I could see how a couple of tweaks would get it to 100% what I was looking for. I sent him my concept and he was able to bring it to life in a way that made sense with actual woodworking, which I'm certainly no expert on.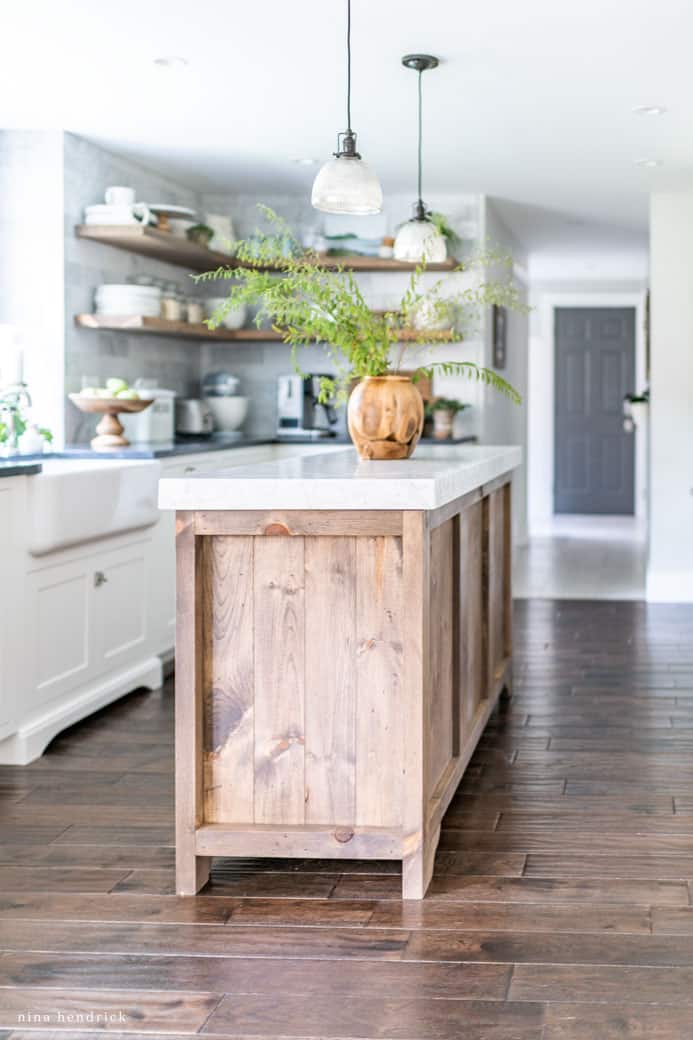 It did take quite a bit of back and forth and then a long waiting period for the island to be built, since he is a one-man show. Shipping took another couple of weeks since the final product was so heavy. However, it was worth the wait! I would just recommend you plan accordingly on it being a process of a few months between communication, building, and freight shipping. Make sure to check in with his availability for more specific timing!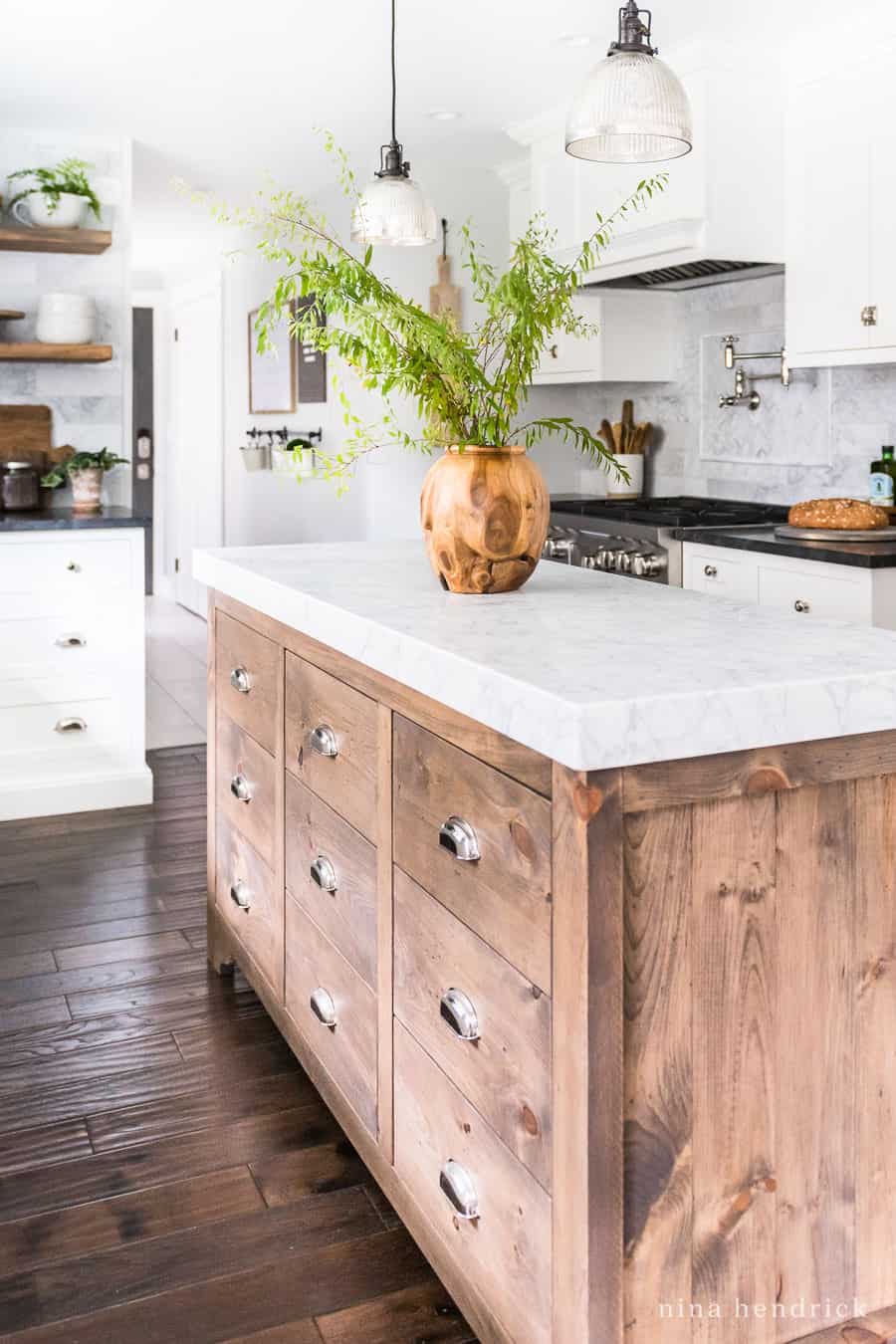 The corbels, in particular, are one of my favorite details! I wanted the feel of an antique shop counter. I also wanted drawers. While I still love the island we had in here before, it was tricky for usable storage. I have plans for it in the future, though!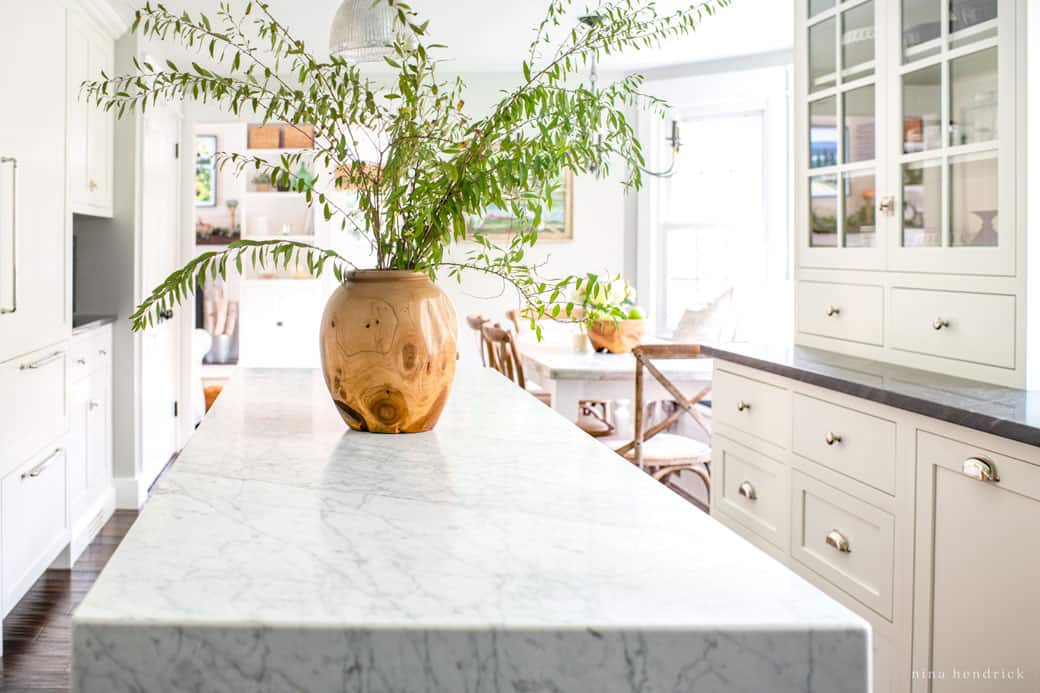 For the island countertop, we went with super honed Bianco Carrera Marble. I wanted a really substantial look, again for that antique shop counter feel, so we had them miter an extra piece around the edge for added thickness. They did a beautiful job, you can't see the seams at all!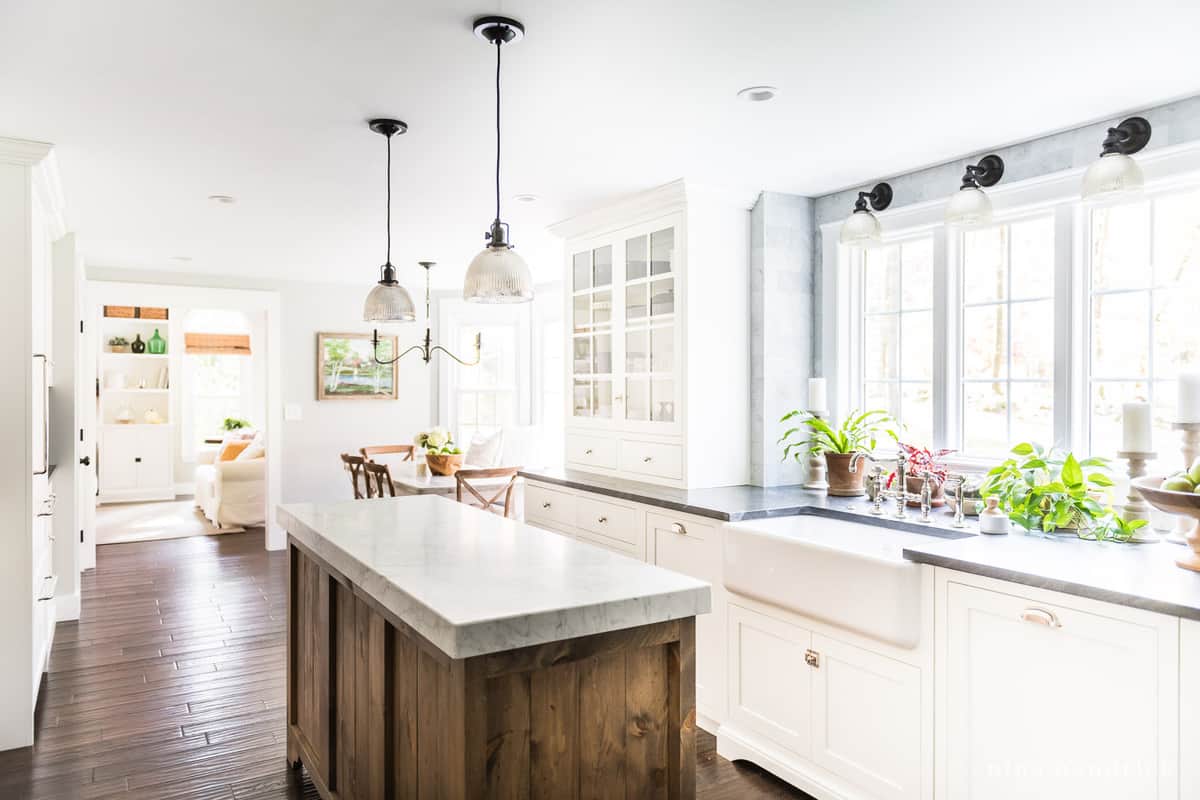 As far as the durability of marble goes, this is not a counter we'll ever sit at, nor will stools fit. I'm less concerned than I might have been in that situation with the kids. We'll definitely talk about countertops another day also since I get a lot of questions about stone types!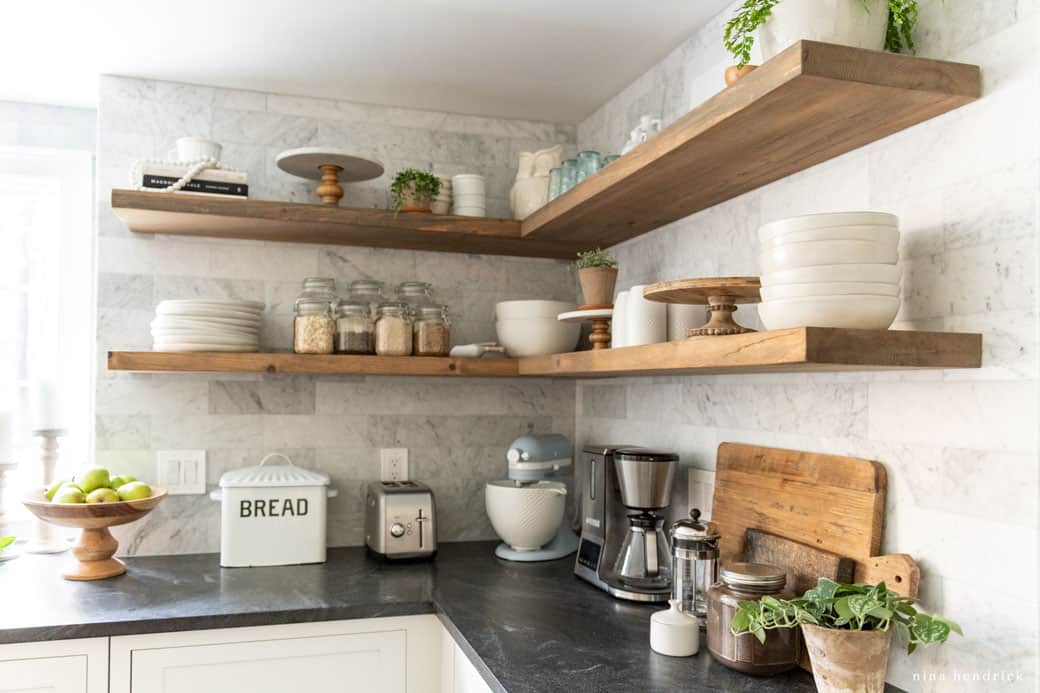 Wood Open Shelving
In this kitchen makeover, I decided early on to forgo some upper cabinets in order to have open shelving that would allow more natural light into the room. I gained so much storage space with the new kitchen cabinets surrounding the refrigerator, so I really wasn't concerned. I decided to store our everyday dishes on the bottom shelf for the easiest accessibility. As for the other decor and accessories, I put together a post about my best tips for styling open shelves here!
The floating shelves were a DIY, but unfortunately they weren't one I was able to chronicle (it absolutely took all of our hands to get these on the wall!). We drilled holes in the back of the wood and used brackets similar to these.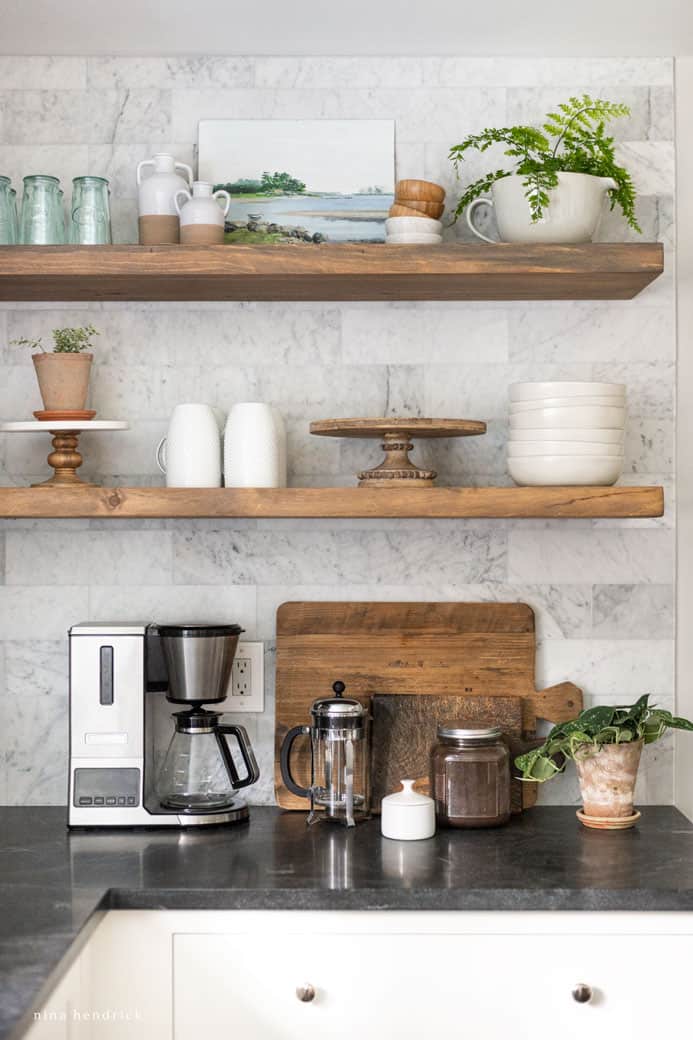 The wood from the shelves was a gift from a family friend and came from my hometown in New Hampshire, so that makes them even more special to me. It would be difficult for me to choose between the island or the shelves for my favorite part of the kitchen!
As I mentioned with the island, it was really important to me to incorporate warmer wood tones throughout this kitchen makeover. The warm stain on the white pine shelves and island is 3/4 Minwax Special Walnut to 1/4 Minwax Classic Gray. NOT to be confused with any other brand… I learned the hard way that stain colors may share exact names, but they are different across brands.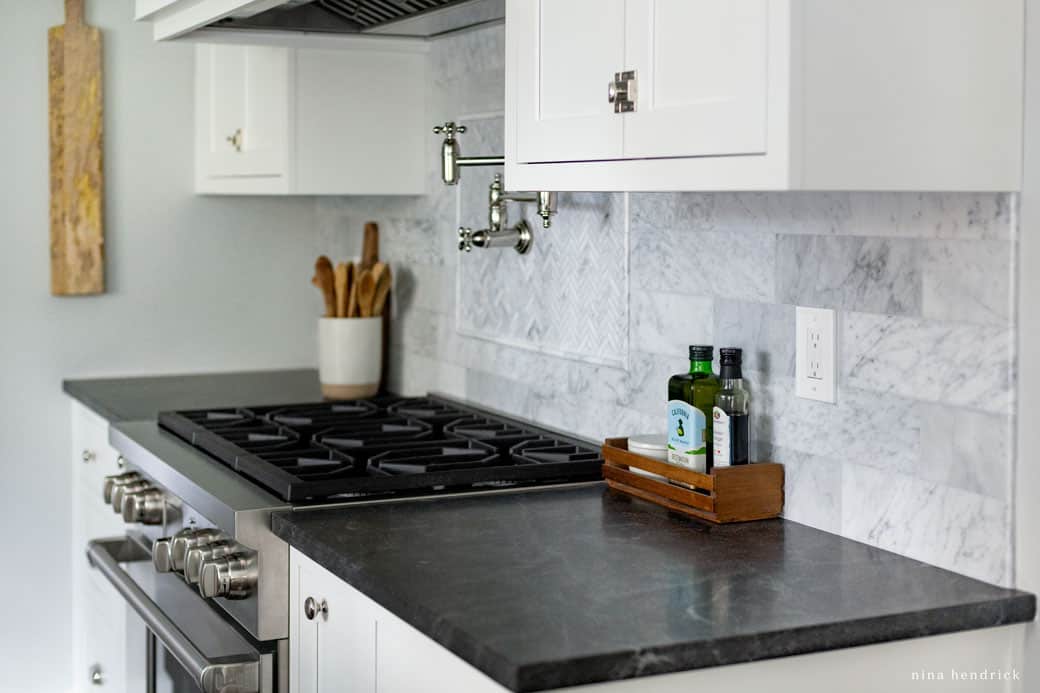 Honed Jet Mist Granite Countertops
While I mentioned I was willing to take a gamble with the island top being a soft material, I was less willing for the perimeter. I love the look of soapstone, but it was just too risky. I knew from our fireplace project that honed Jet Mist granite would give me the same look but is very durable. The edge profile is "pencil".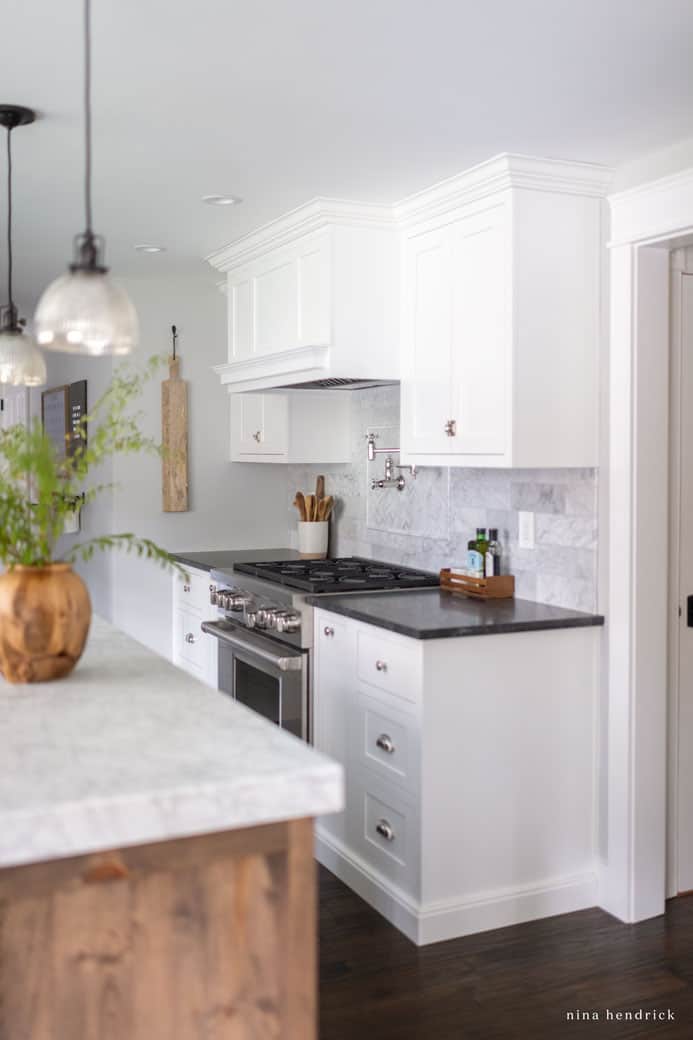 Although it's technically about the same (or possibly even a little less!) it feels like we have so much more counter space after this kitchen makeover.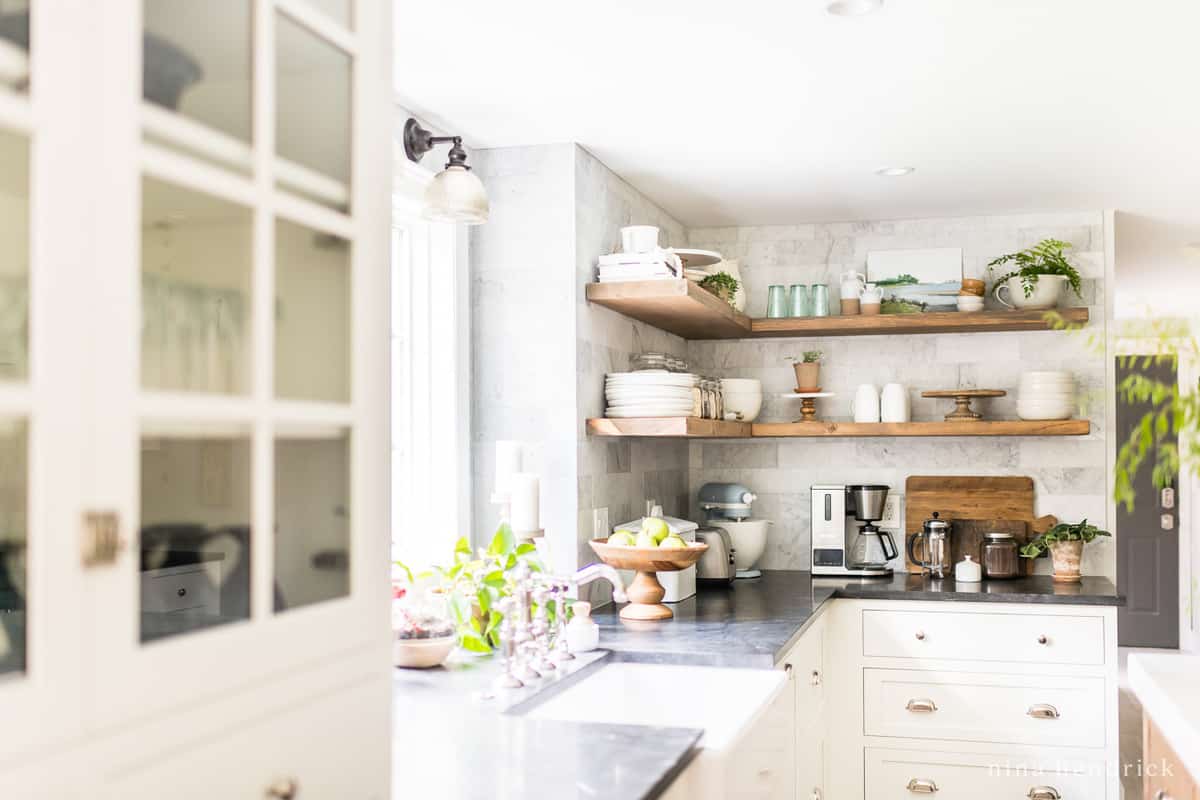 Carrara Marble Subway Tile Backsplash
Our backsplash is 4×12″ honed Carrara marble. It's a bit more gray than the island, but that's okay. The medallion behind the stove is made of this honed herringbone Carrara marble with this border. We hired out this project after the debacle of tiling our bathroom— that was definitely the way to go.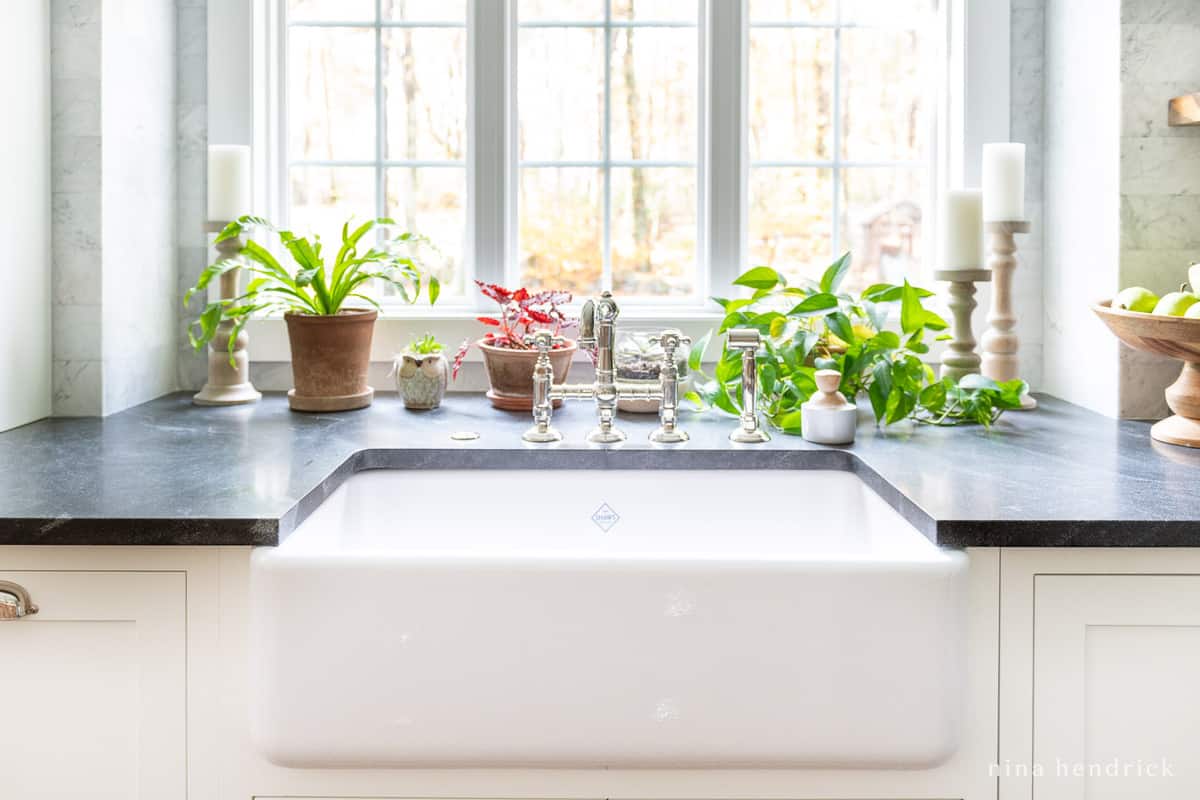 Shaws Farmhouse Sink
Do you like your farmhouse sink?
YES! I love it. I always loved my (no longer sold) IKEA Domsjo as well, but not having a center divider is even better. It's the Shaws Lancaster Farmhouse sink in the 33″ inch size. I'll do an entire post since I know there's a lot of interest in these (and I compared and contrasted a lot of sinks in the process), but I do recommend it.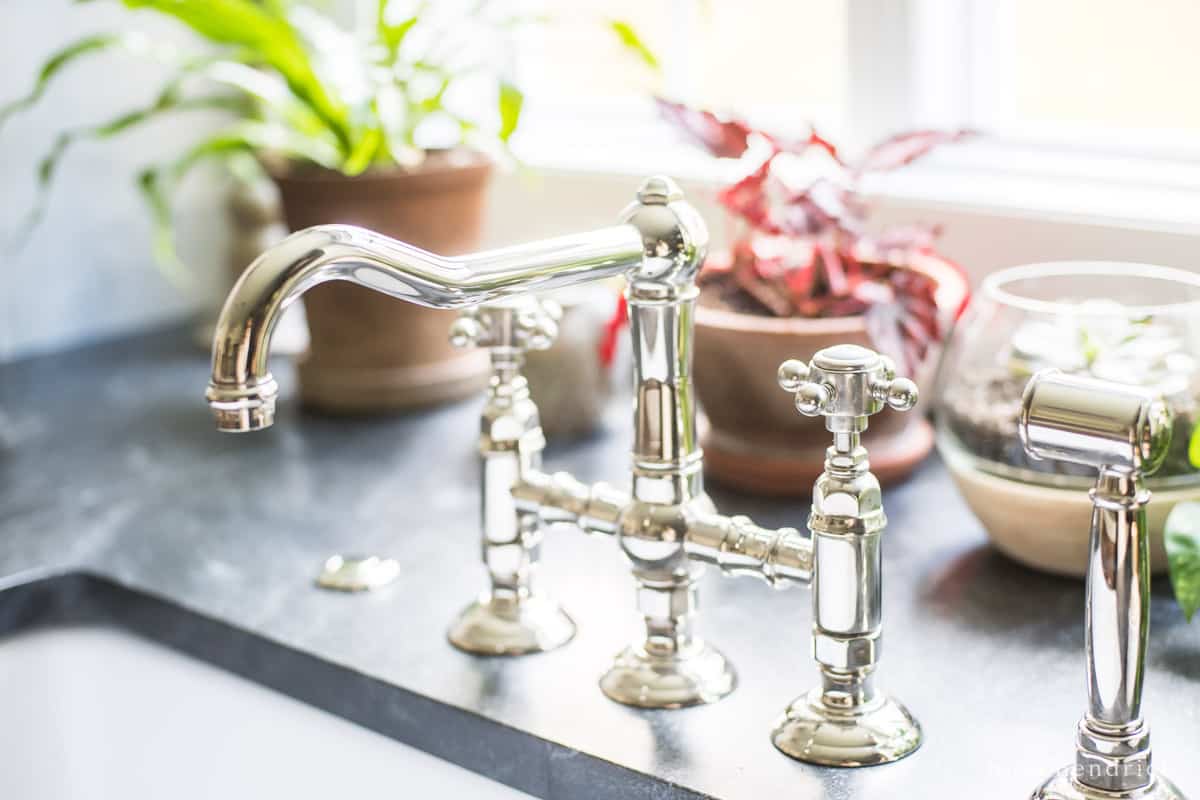 Polished Nickel Hardware & Fixtures
I went with polished nickel for our hardware and fixtures for this kitchen makeover. Unlike chrome, it has a warmer undertone, which works really well. You can read more about mixing metals here!
There are three types of hardware on our cabinets: knobs, cup pulls, and latches. Let me know if you want to hear more about how I made that decision of mixing three types since I feel like I could write a whole post about that alone!
Our bridge faucet and pot filler (similar) are also polished nickel and I'm super happy with them and I love the vintage shape of the fixtures. I'm still trying to remember to use the pot filler! Old habits are hard to break.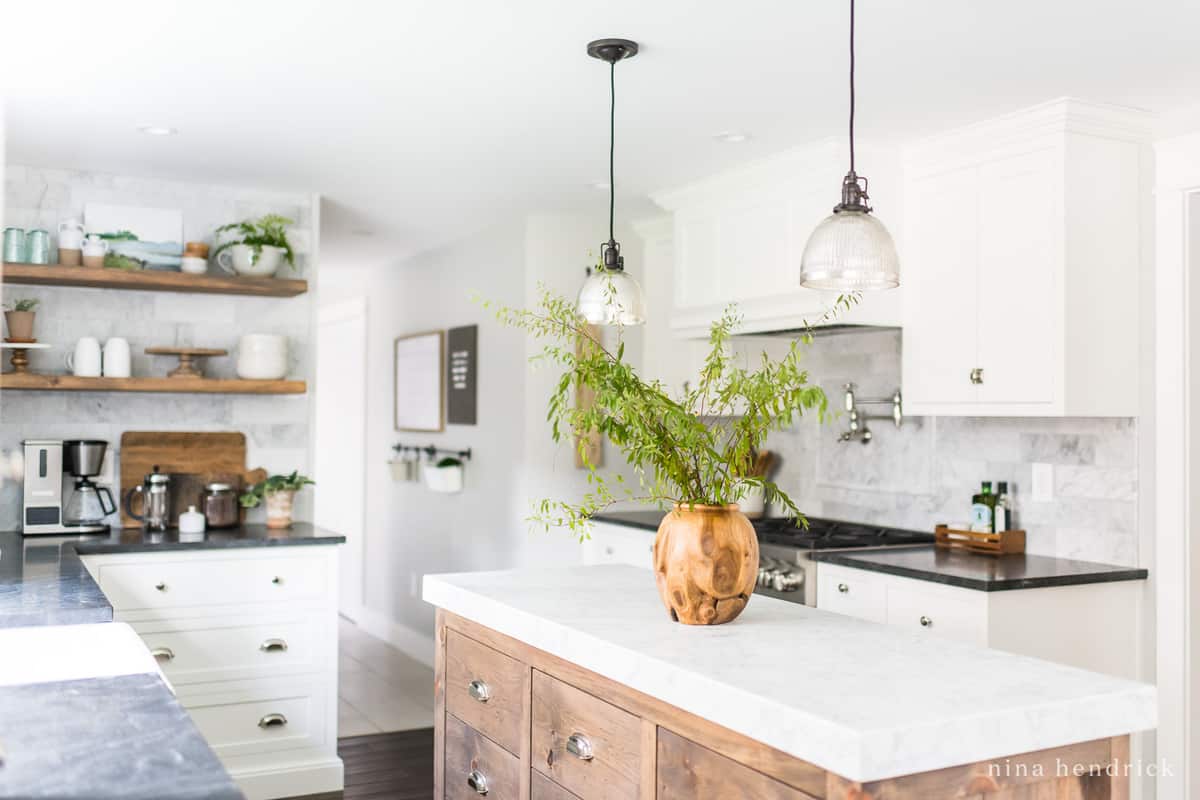 Modern Mercury Sconces and Pendants
These sources have been the most requested of the entire kitchen makeover! I went back and forth on options for sconces and pendants for what felt like forever. I finally decided to mix metals a bit and tied in the shade with our other hardware and fixtures. You can find the sconces here and the pendants here. I also coordinated the chandelier in the dining room to these fixtures.
I hope you enjoyed this thorough look into our kitchen makeover. We really love it, and are so grateful to have a beautiful, functional kitchen to cook and bake in together! If I missed any details, please ask in the comments. Also, I'd love to invite you to follow along with future projects on Instagram!
Classic Kitchen Makeover Source List
It took a little while to compile this kitchen renovation source list as I began researching and shopping for items over a year before the kitchen makeover. Some things have sold out, so I've sourced similar items.
Wall Color — Benjamin Moore Gray Owl
Ceiling Color — Benjamin Moore Simply White in Eggshell
Trim Color — Benjamin Moore Simply White in Semi-Gloss
Cabinets — Shiloh Inset Shaker in Polar White
Hutch — Shiloh Inset Shaker in Polar White
Flooring — Read my dark hardwood floors post here, Similar Hickory Hardwood Sourced Here
Island — Custom from this Woodworker, White Pine
Range — Wolf 36″ Dual-Fuel Range
Refrigerator — Subzero 30″ Panel Ready
Range Vent Hood — Best 36″ Vent Hood
Dishwasher — Bosch Panel Ready
Microwave — Wolf Convection Microwave
Floating Shelves — DIY with a tutorial to come. Stained 3/4 Special Walnut + 1/4 Classic Gray
Backsplash Tile — 4×12″ Honed Carrara
Backsplash Medallion — Honed Carrara Herringbone
Backsplash Medallion Border — Honed Carrara
Grout Color — Mapei Silver Unsanded
Grout Spacing — 1/8″
Island Countertop — Bianco Cararra Super Honed with Mitered Edge
Perimeter Countertop — Jet Mist Honed with Pencil Edge
Drawer Knobs — 1 1/4″ Polished Nickel
Cup Pulls — 3″ Polished Nickel Cup Pulls
Cabinet Latches — 2″ Polished Nickel Matchbox Latch
Fridge & Freezer Pulls — 18″ Polished Nickel
Pot Filler — Kingston Brass Restoration in Polished Nickel (similar)
Bridge Faucet — Rohl Country Kitchen Polished Nickel Bridge Faucet
Farmhouse Sink — Rohl Lancaster 33″ in White
Sconces — Restoration Wall Sconce in Oil Rubbed Bronze
Pendants — Restoration Pendant in Oil Rubbed Bronze