Get inspiration from this simple blue Christmas tablescape. It has a calm, neutral vibe for years when you'd rather keep the seasonal touches subtle.
If you're looking to add a touch of elegance and festive cheer to your Christmas table this year, a simple blue Christmas tablescape is the perfect way to do it.In this blog post, we'll show you how to create a gorgeous blue Christmas tablescape using a few simple decorations. From table runners to centerpieces and more, you'll find all of the tablescape ideas you need to get your table looking festive this holiday season. You can see more of my blue Christmas decorations in this post, along with my kitchen decorated with hints of coastal pale blue here.
Today I'm excited to share a tablescape that may be one of my favorites of all time! I'm joining a group sharing entertaining inspiration hosted by Bre from Rooms for Rent. You can see more tablescape ideas by visiting her post!
At this point, I've featured many tablescapes either on their own or in tours. But as you may already be guessing, this one is different. You can see my favorite tips for creating a Christmas tablescape here!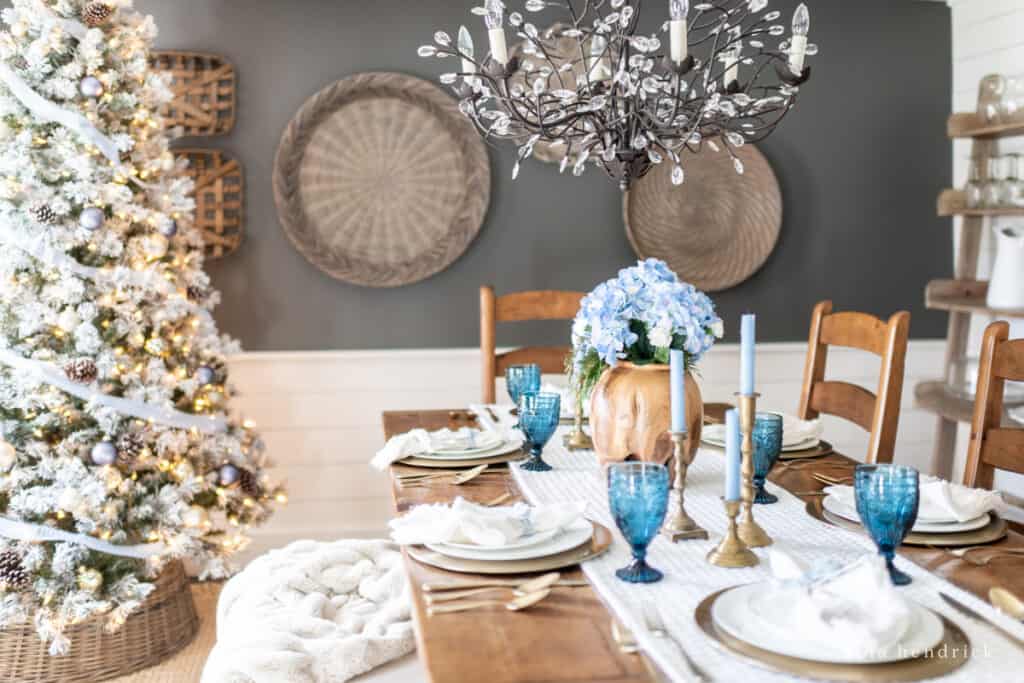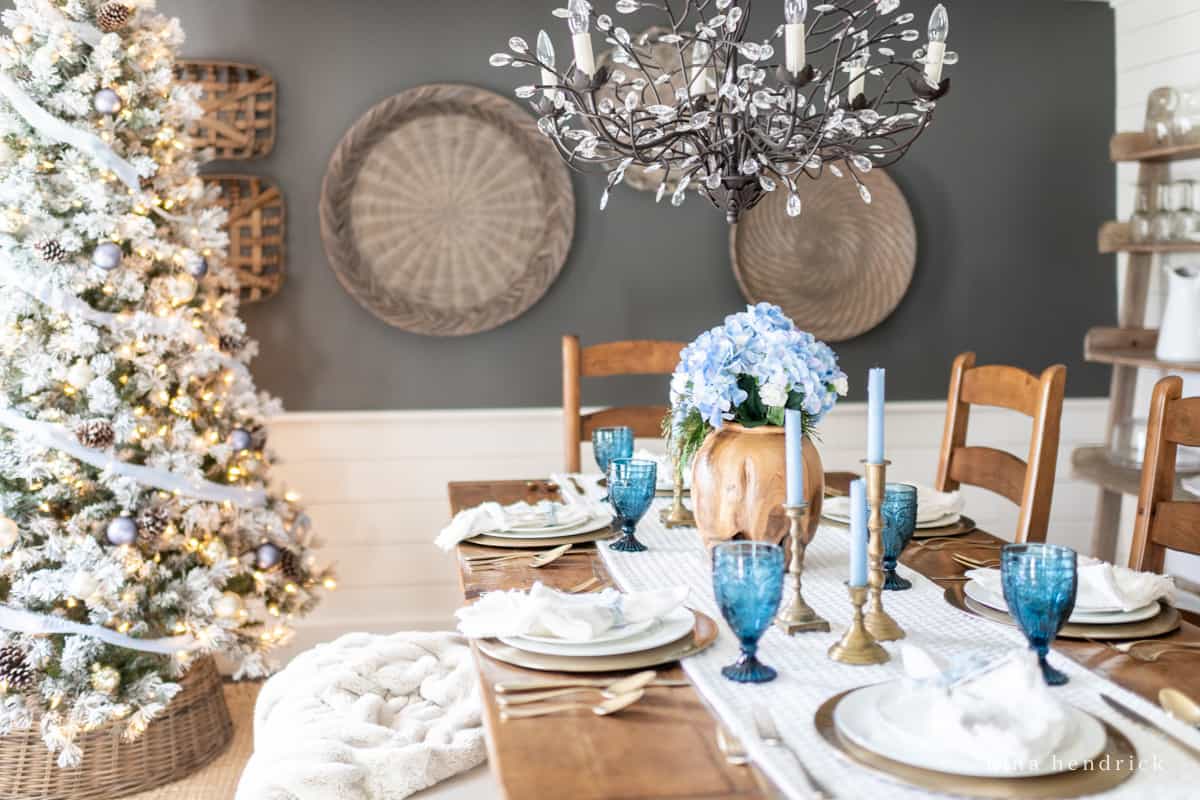 Like the rest of our home's decor this year, I've left the traditional colors behind and opted for a classic French blue and soft whites for this tablescape. While it might not be "Christmassy" in the traditional sense, I'm loving this simple blue Christmas tablescape for a number of reasons that I'm about to share with you!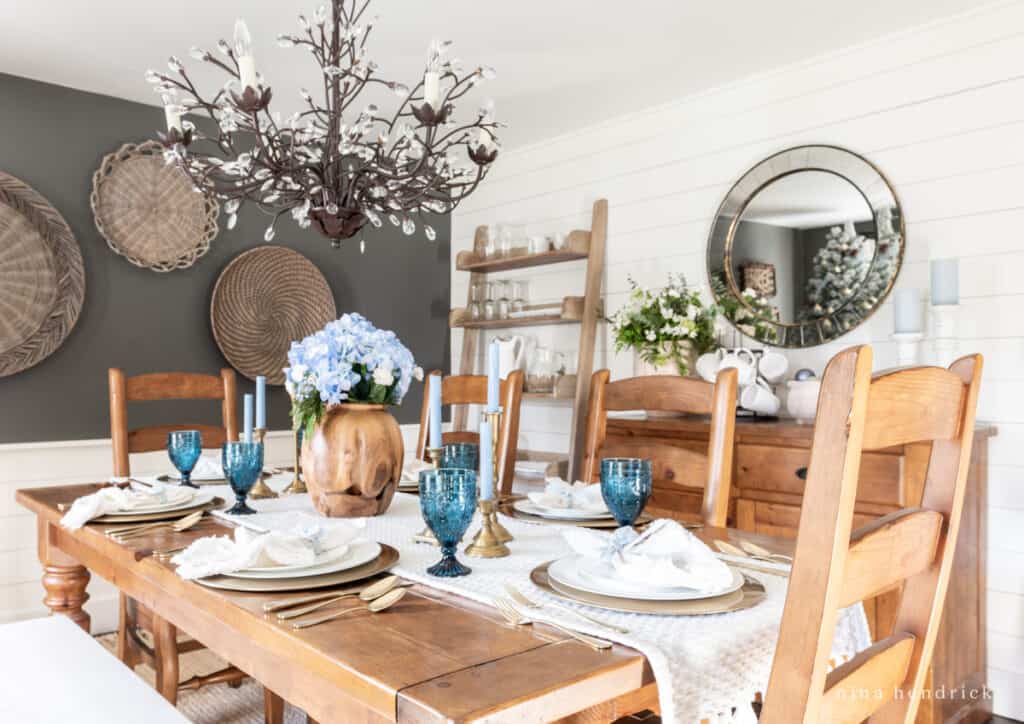 Simple French Blue Christmas Tablescape
A simple French Blue Christmas Tablescape is the perfect way to add a touch of elegance to your holiday season. This tablescape features a classic French blue and white color palette, with gold accents to add a touch of sparkle.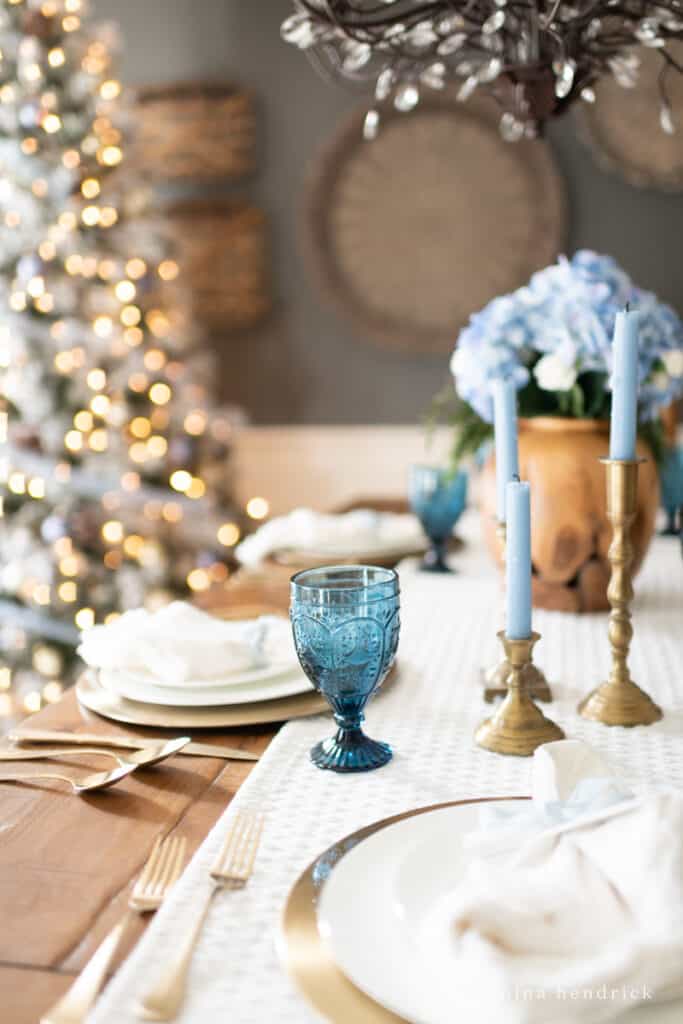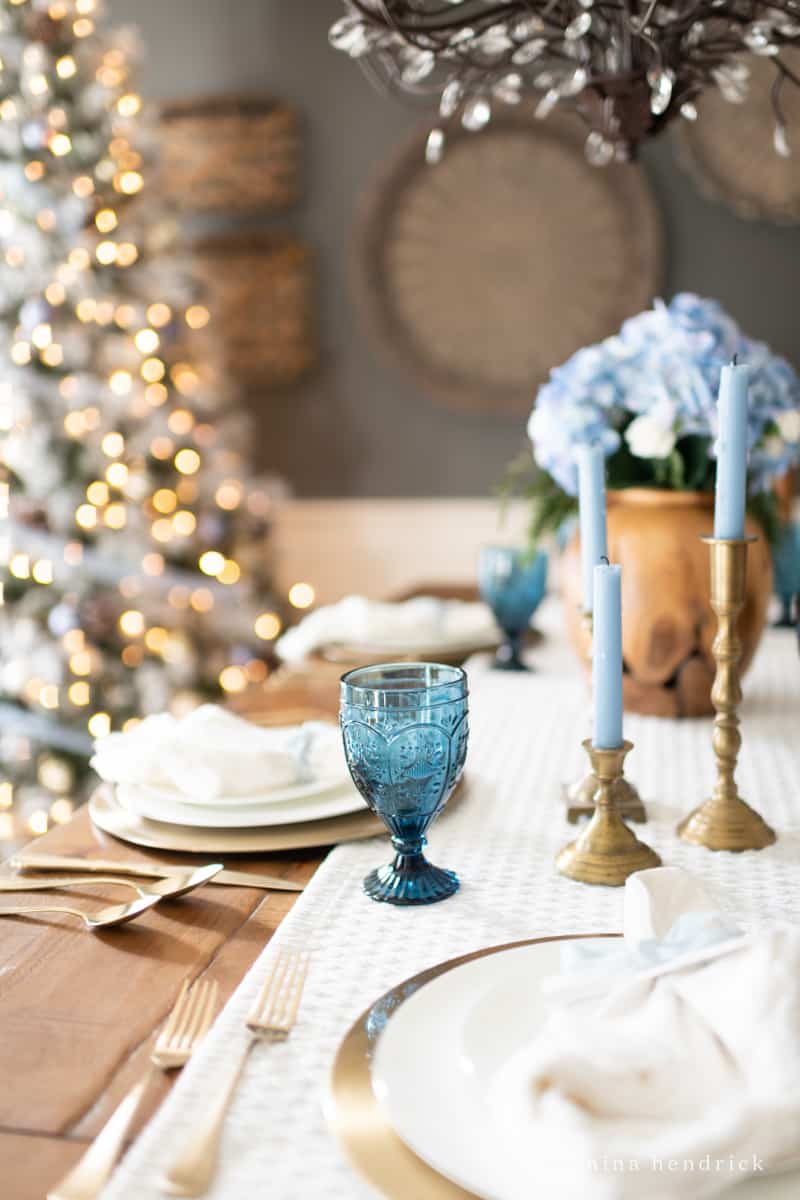 This post contains affiliate links, which means I may get a small commission (at no extra cost to you) if you shop my link. Please see my disclosure if you'd like more info!
Decorate with what Makes You Happy
Bold red and rich green have a soft spot in my heart for sure. But this year, I wanted our home to feel calm and serene. This color palette does exactly that. My advice is always to decorate with what makes you happy, even if it's not what's "typical" or "trendy".
This tablescape has touches of my favorite color in the world— French blue, as well as my favorite flowers — hydrangeas. There are accents of warm gold. While the Christmas aspect is subtle, the glow of Christmas lights from the tree in the background lets you know that it's still about the holiday. Honestly, it may just be my favorite of all time!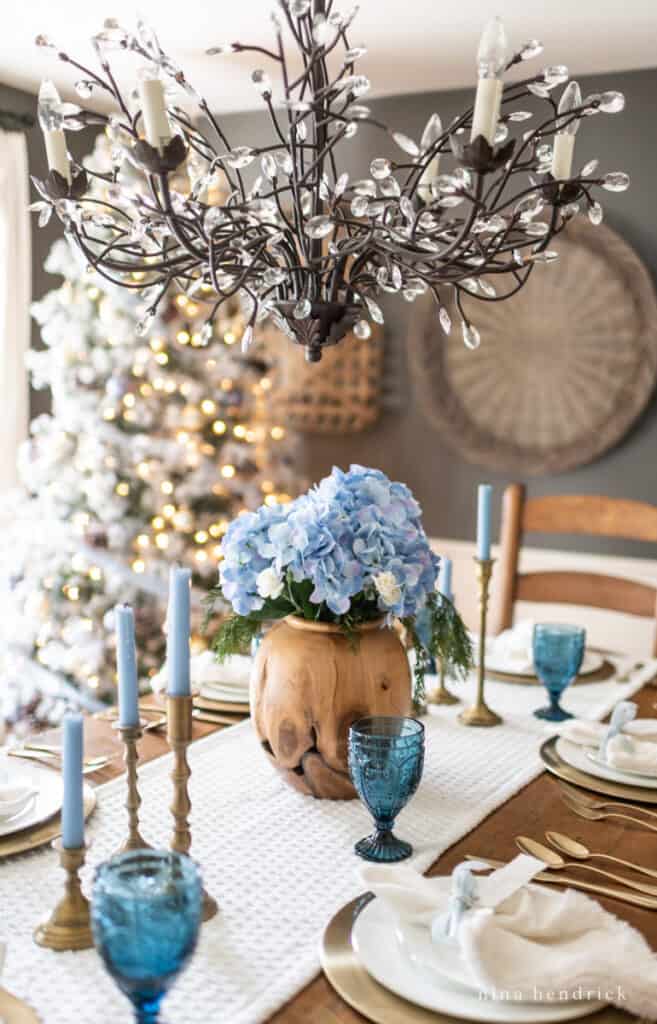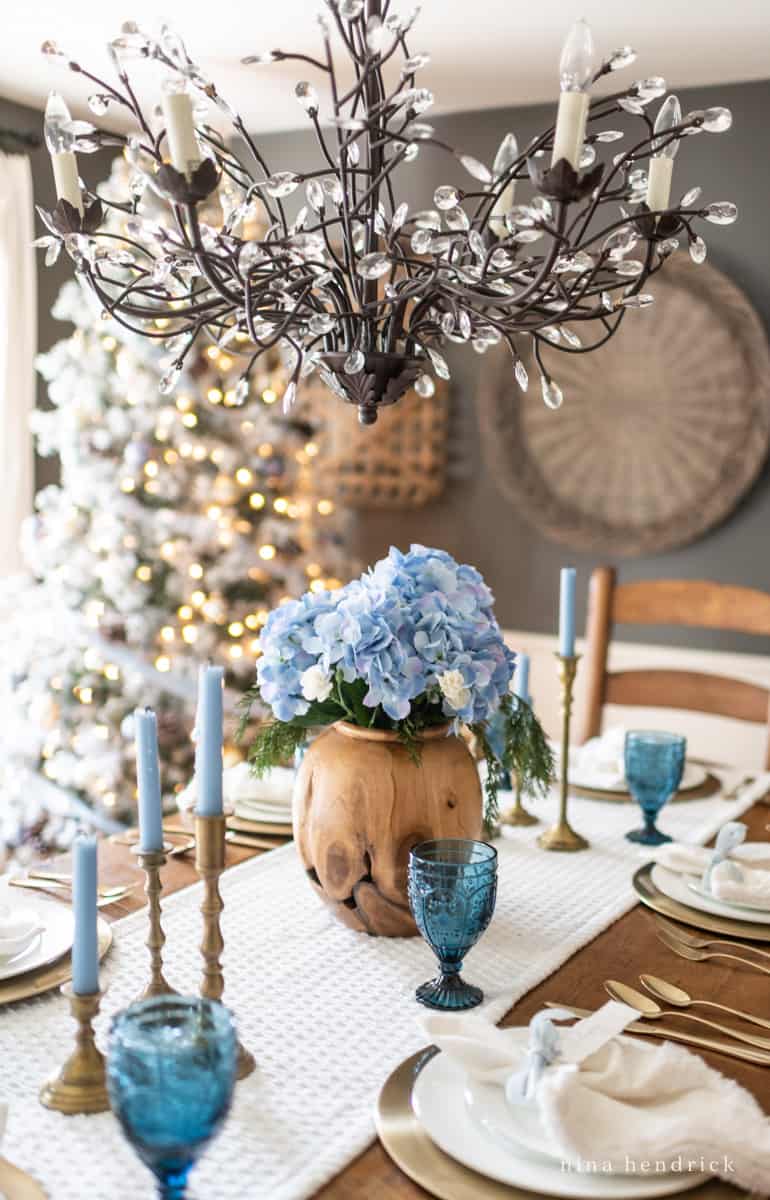 Most years, I have a blast redecorating every single inch of my home at Christmastime. But this year… well, there's already a lot going on. This color scheme allows me to easily transition to a cozy holiday vibe while still leaving much of our daily decor in place. It's especially easy to add blue Christmas decorations to your home if you already go for an everyday neutral vibe in your decor! Blue Christmas decorations are a natural fit for our home, and I can easily utilize items that we already own to create a beautiful tablescape. We can add festive touches, such as white plates, napkins, and a centerpiece, as well as a few Christmas decorations here and there. I can also bring in some texture with a soft throw blanket. It's a simple and affordable way to create a beautiful holiday setup with minimal effort and expense.
French Blue Tablescape Centerpiece
A simple white runner lays the foundation for the tablescape. A wooden vase of blue hydrangeas is the centerpiece of the tablescape. The place settings are a combination of gold and white, with white plates and crystal stemware to complete the look. The table is finished off with a few brass candlesticks to create a peaceful and festive atmosphere.
Keeping it Simple
With the philosophy in place of building on what I already had, I was able to keep this tablescape blissfully simple. I didn't rush out and buy a bunch of new things. With subtle additions like the blue candles, I was able to make items I've had for years — like my brass candlesticks — feel fresh.
A Beautiful Christmas Table Setting with a Hint of Blue
Another favorite aspect of this tablescape is that this color scheme allows our (typically stored away) wedding china to shine front and center. It's really fun to see these dishes showcased and actually being used! And setting the table with such beloved pieces helps the holidays feel really special this year. How often do you bring out your wedding china? I know I haven't nearly enough, and I definitely want that to change in the future.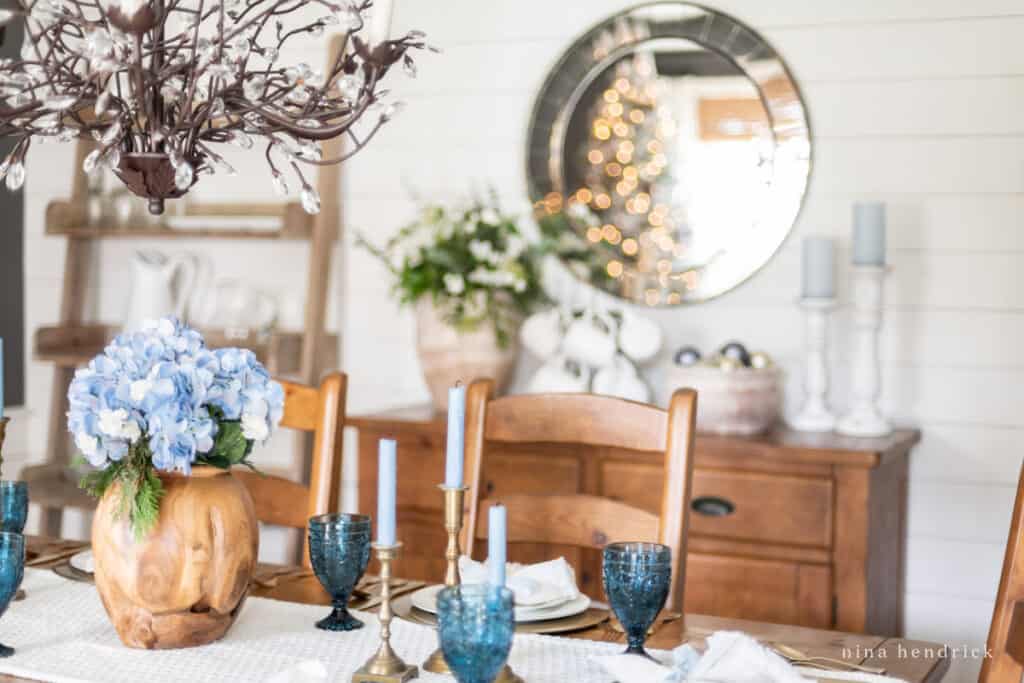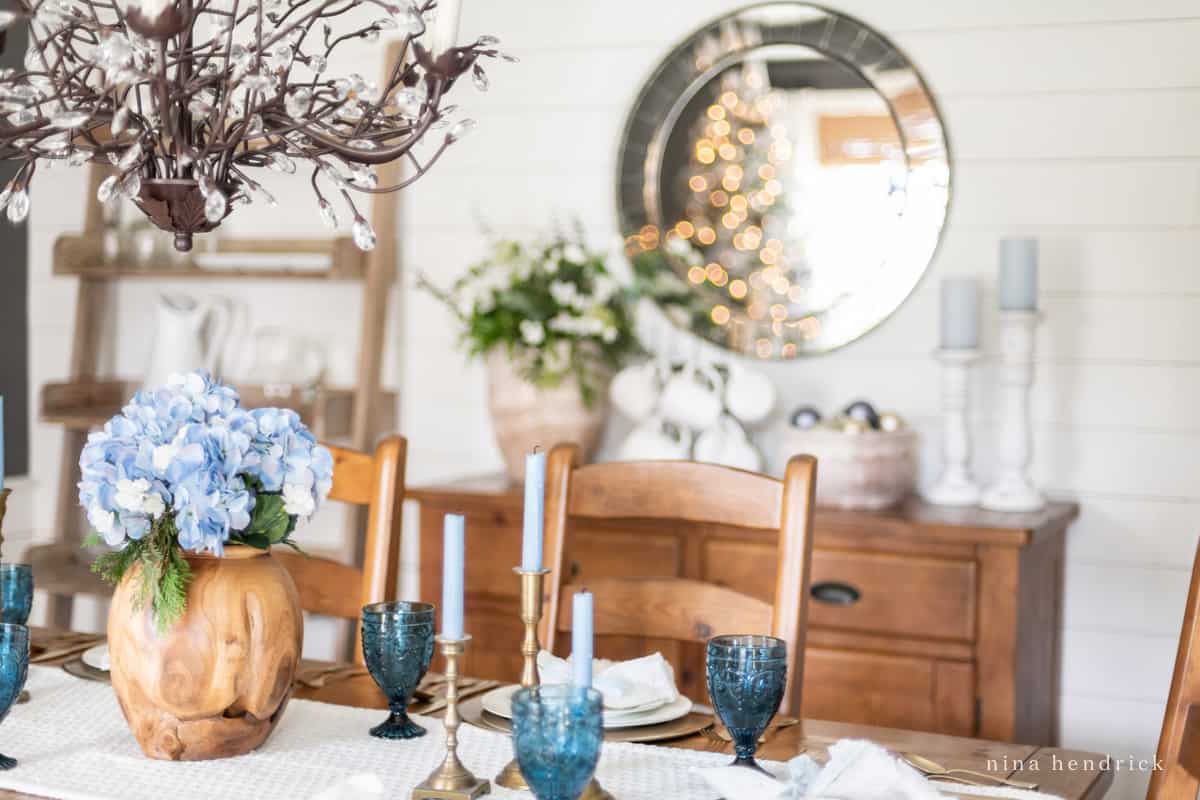 I hope that this non-traditional tablescape has inspired you to make the most of your celebration this year. There can still be a ton of meaning and beauty in a simple gathering (sometimes even more!). A Blue Christmas Tablescape is a great way to make your celebrations feel special and bring a little bit of cheer to your home.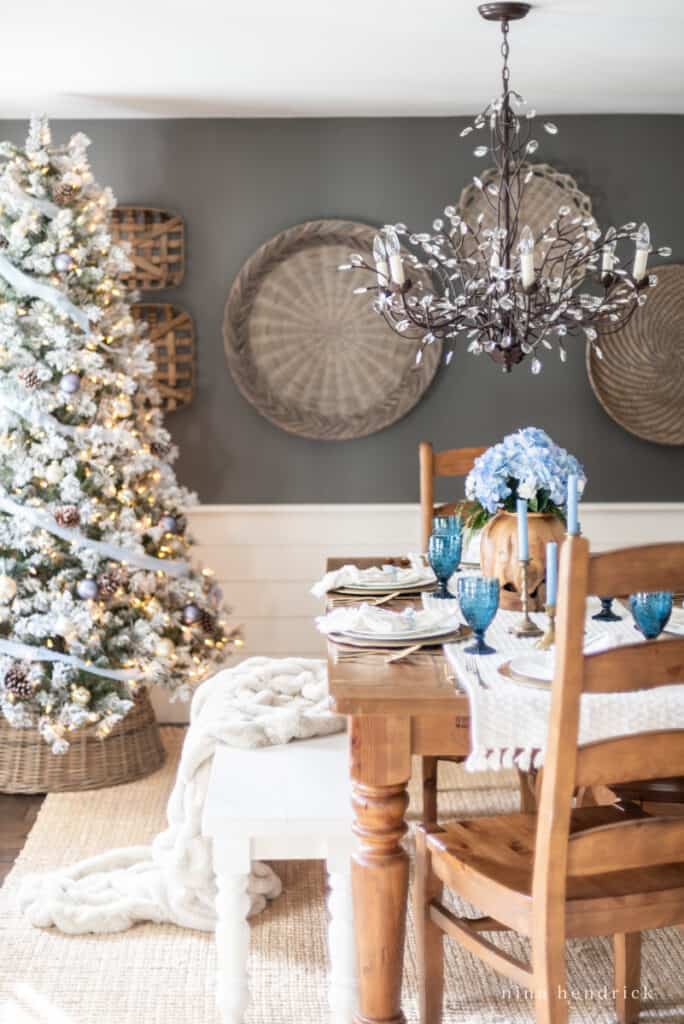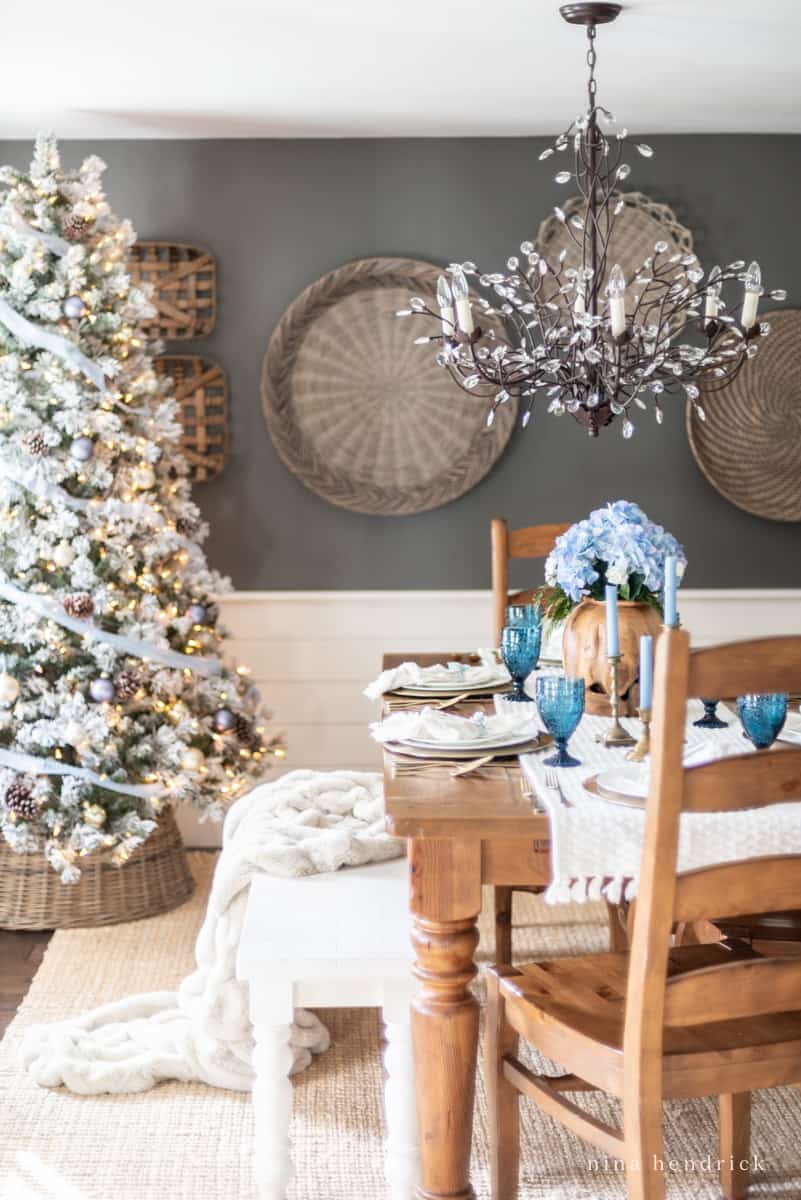 If you decide to take on this project, don't forget to take lots of pictures to document the fun and creative ways that you've decorated your table and tag me on Instagram @ninahendrickhome. With a little bit of effort, you can make everyday special, especially during the holidays!