When it's early on in the holiday season, these simple blue Christmas kitchen decor ideas will help inspire you to gradually make seasonal changes to your home!
Are you looking for a simple yet elegant way to decorate your kitchen for Christmas? Blue is a lovely and calming color to incorporate into your holiday decor. From classic navy and baby blue to icy hues and pastels, there are plenty of options for creating a beautiful blue Christmas kitchen. In this blog post, we'll explore some simple blue Christmas kitchen decor ideas that will help you create a festive and elegant look in your home.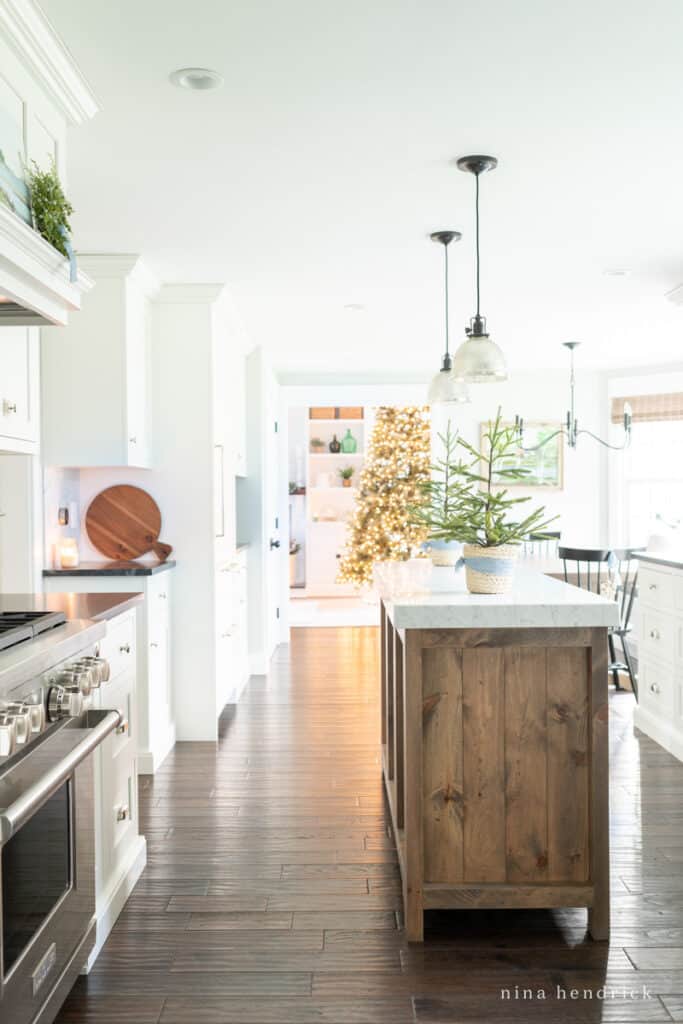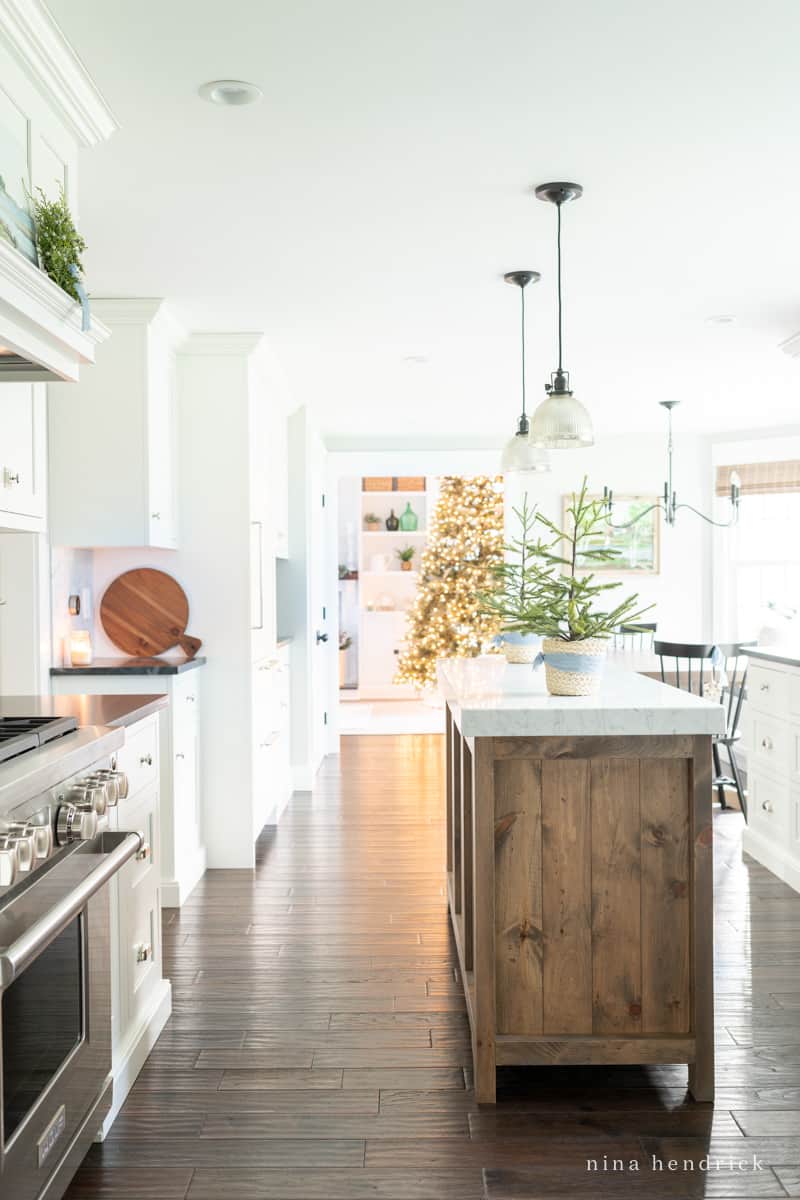 Simple Blue Kitchen Christmas Decor
Like everything else this year, Christmas decorating hasn't been the easiest thing due to the pandemic. Items that were ordered a while ago haven't shown up yet, Target runs are a thing of the past, and it's certainly not simple anymore to run to the grocery store and get fresh flowers. But really, it's no reason to fret. A bunch of "stuff" certainly isn't what Christmas is about anyway!
You can see the other ways I brought blue into my Christmas home by visiting this tablescape post and my full Blue Christmas housewalk here!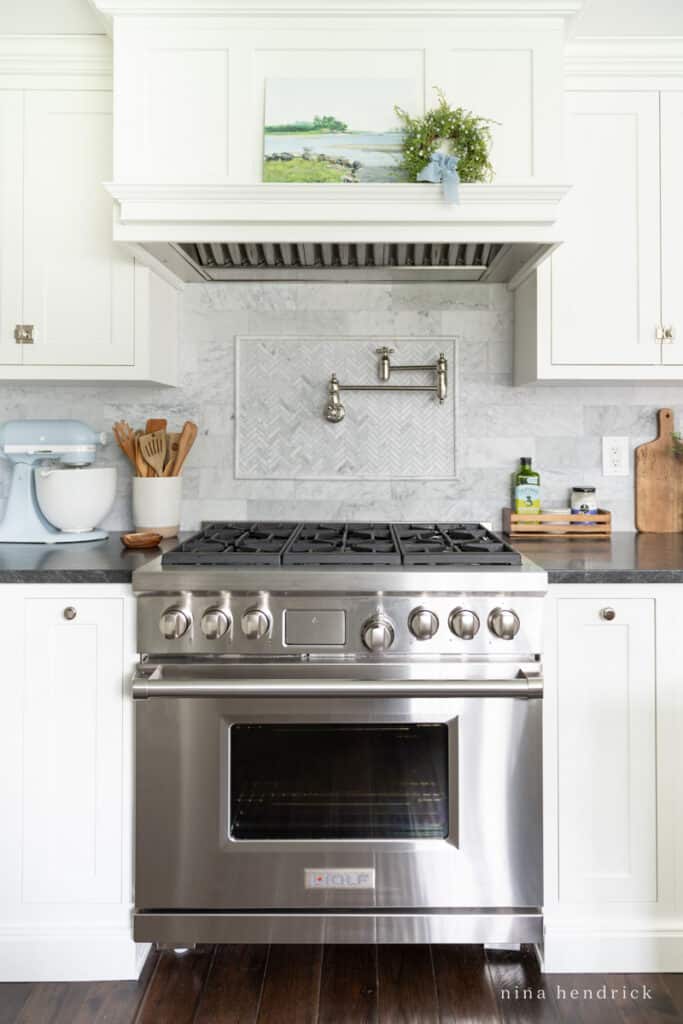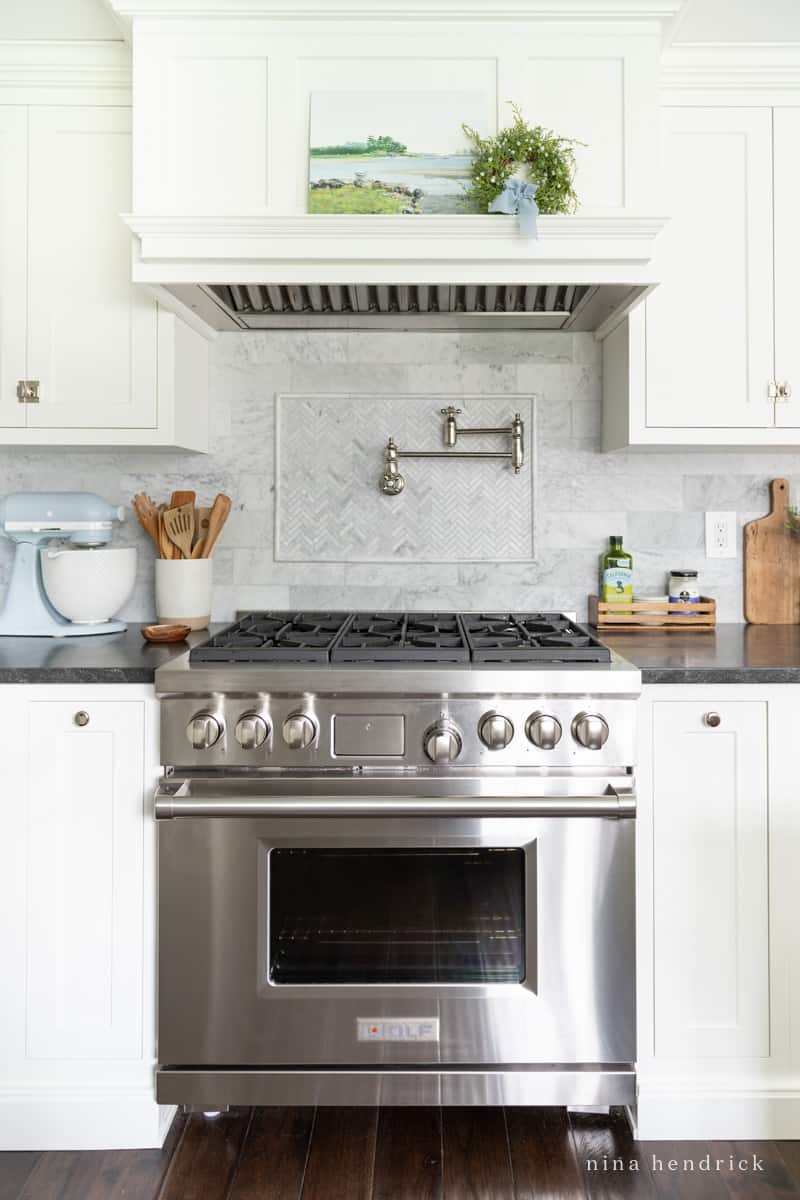 Blue Christmas Kitchen Decor Idea One: Use What You Already Have
Get creative and use the items you already have on hand to create a festive kitchen. Hang twinkling lights around the windows and counters and put small ornaments on the shelves. Use seasonal kitchen towels and tablecloths to add a pop of color. If you have a kitchen island, add a centerpiece with a festive holiday floral arrangement. Add a few pinecones, a Christmas Village, and a festive wreath to the walls. For a finishing touch, hang a festive garland and some jingle bells on the door.
I made lemons into lemonade to share the few simple blue Christmas décor touches I've brought into my kitchen to kick off the season, mostly with what I already had on hand! I'm joining a couple of other bloggers today hosted by Sheila of Maison de Cinq, so make sure to visit her post to see more of the tour.
This post contains affiliate links, which means I may get a small commission (at no extra cost to you) if you shop my link. Please see my disclosure if you'd like more info!
The inspiration for my entire theme this year is the gauzy French blue ribbon you'll see here and there. It's always one of my favorite colors (and the main color of my brand) so it's certainly no hardship to have a "blue" Christmas! I went with this because it's already such a dominant color in our home, and it allows me to make minimal changes (I can use most of our everyday decor) and also do it slowly over time.
2. If Things Don't Go According to Plan, Make a New and Simpler Plan
If you're feeling overwhelmed by the thought of decorating your kitchen for Christmas, don't worry. There's no need to go all out with a large display of decorations. Instead, try a simpler approach with a blue Christmas kitchen decor. Place a blue or white runner on the island or table and decorate it with a simple centerpiece. Add some blue and white candles, a few Christmas dishes, and a blue ribbon to your kitchen for a subtle but elegant look. With a few simple additions, you can give your kitchen a festive look without overdoing it.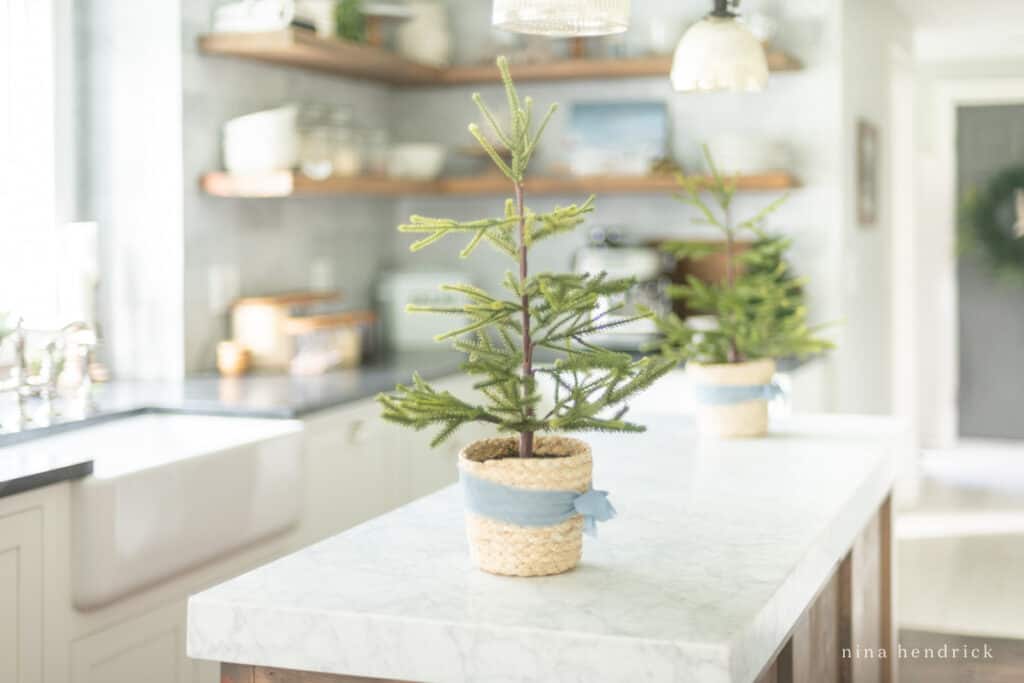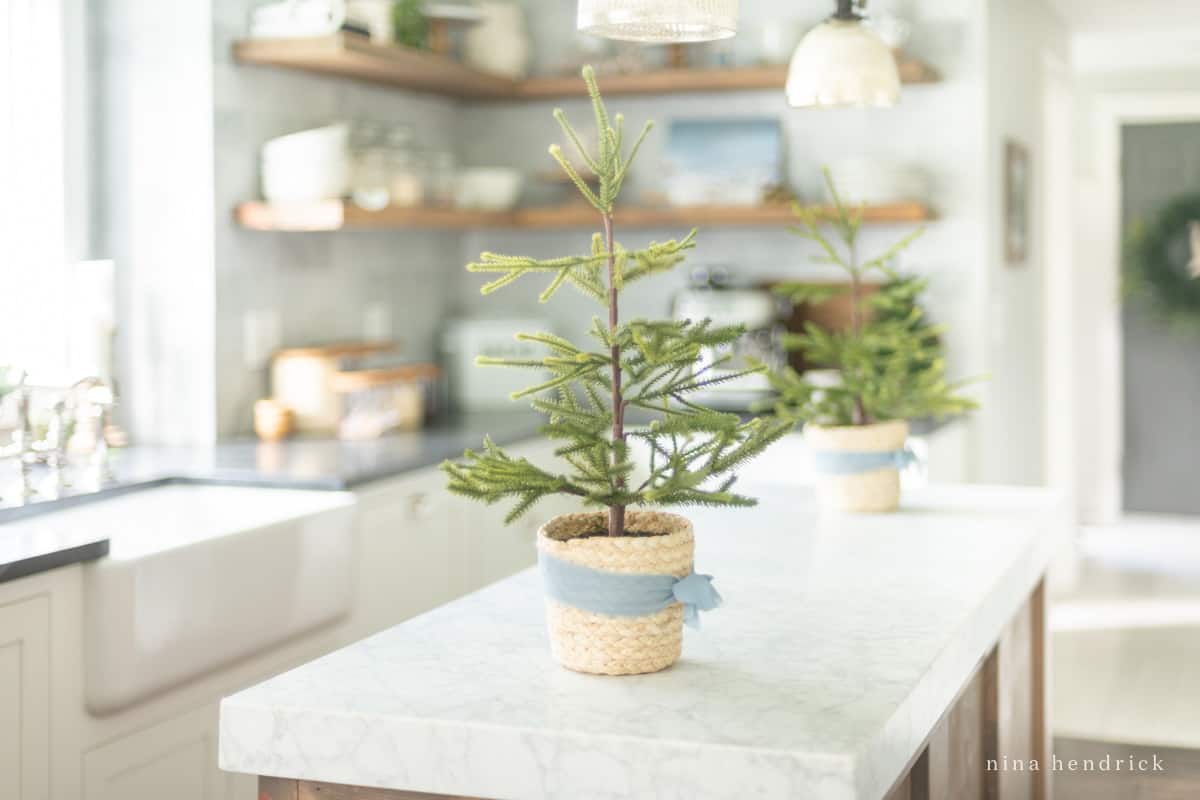 As I mentioned, I mostly used what I already had, but these sweet little Charlie Brown-style trees are a new addition. They were actually destined for the porch, but my rosemary trees still haven't arrived. I can't really complain, they look adorable here! I feel like they are the perfect symbol of this theme — simple, but pretty, and a bit imperfect.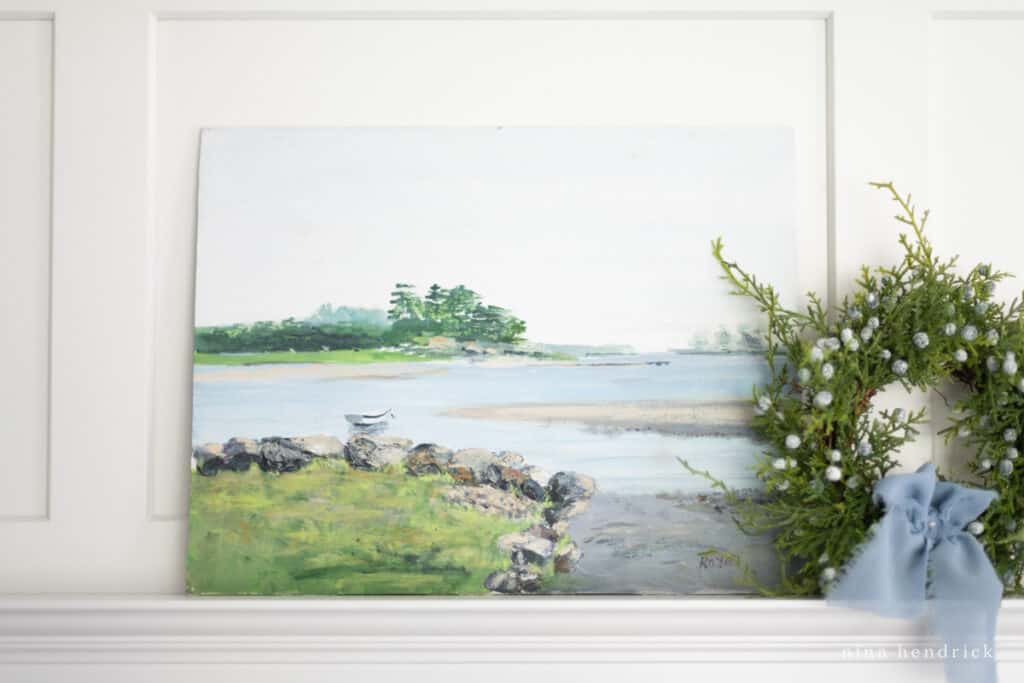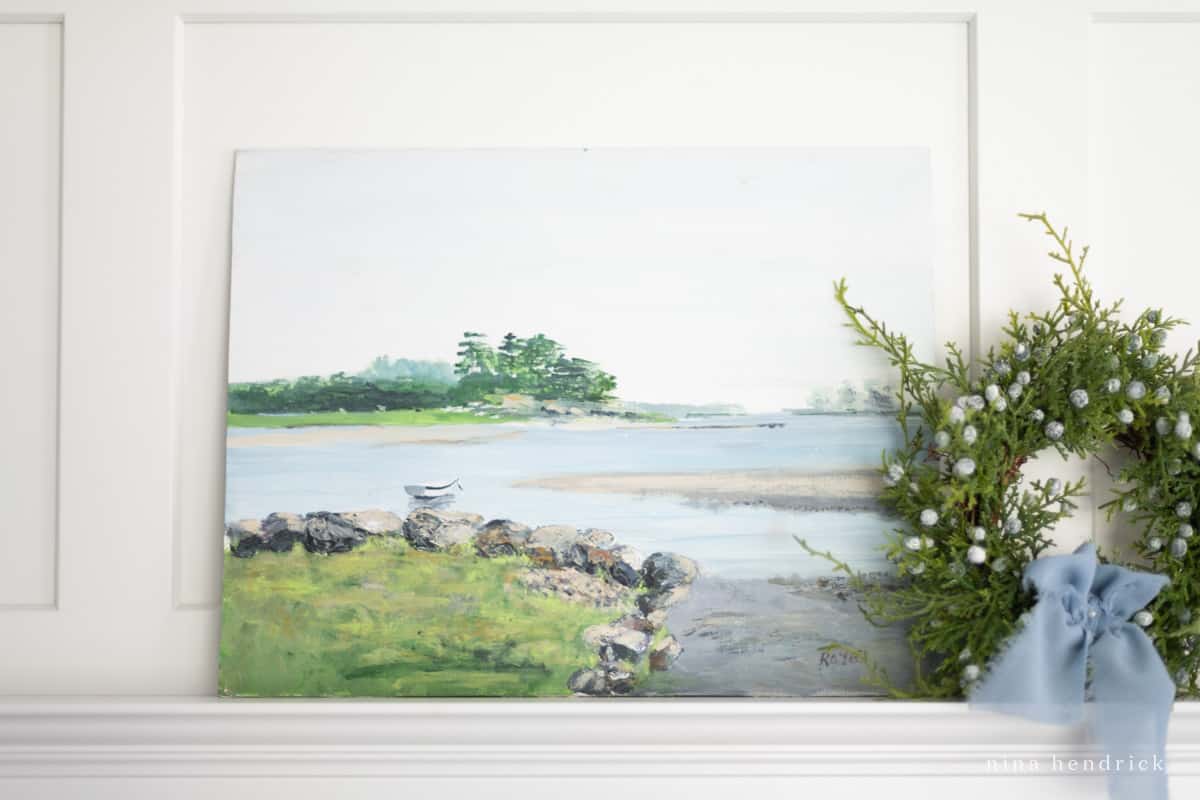 The other notable new addition are these little wreaths. I originally ordered enough for the chairs and the windows behind the sink, but only these two little guys have arrived so far, so I reassessed my plans. Side note: one other bonus to these colors are that my grandfather's coastal paintings can stay right where they normally are.
3. Don't Be Afraid to Change Things Up Later On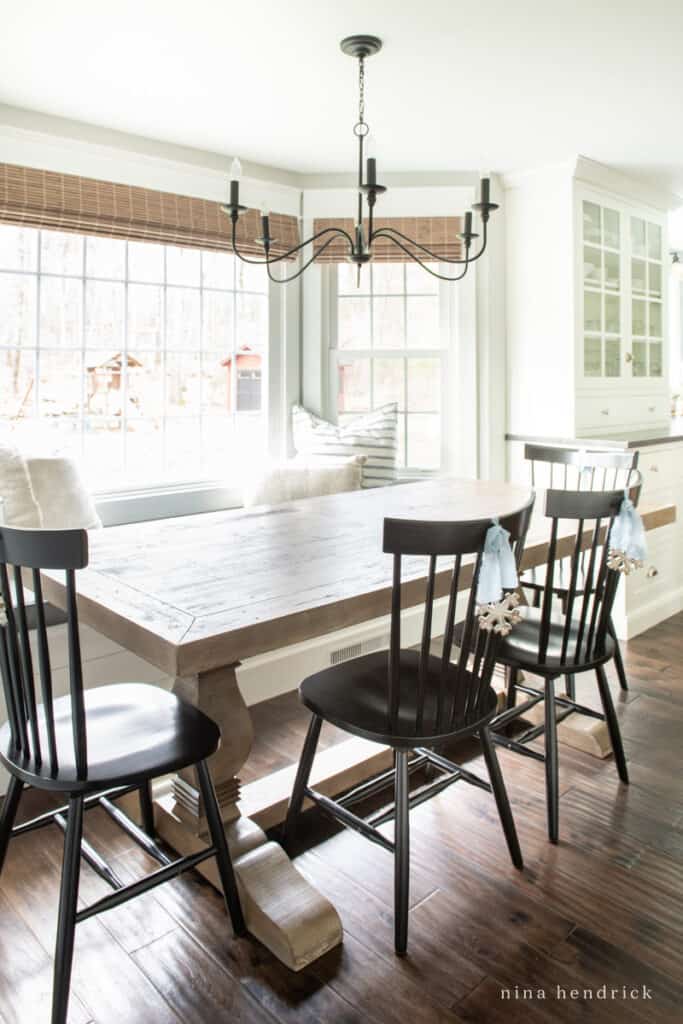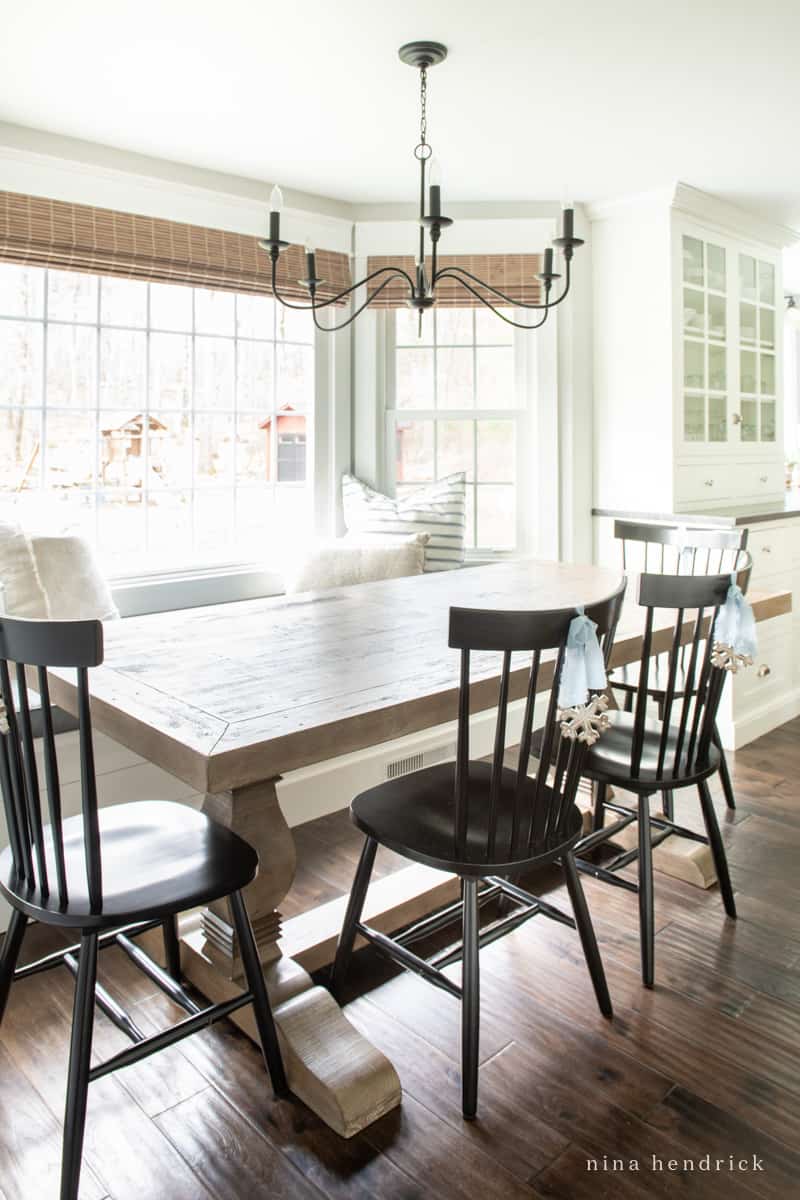 Instead of wreaths on the chairs in the breakfast nook, I used some of the wooden snowflake ornaments that I've had for years (unfortunately, I no longer have a source for them). I love these! I figured that they could withstand the kids sitting in these chairs until the wreaths all arrive. Then I'll swap them out. That's an important point to make, you can always evolve your decor as the season progresses! It's a great way to keep things fresh and keep your home looking festive, even late in the season.
On the shelves, I brought in a couple of subtle Christmas touches but primarily left what's usually there in place. The small oil painting is another of my grandfather's. I love to see all of the little touches when I go to use my new espresso machine that Mack got me for my birthday (admittedly, I use it a lot).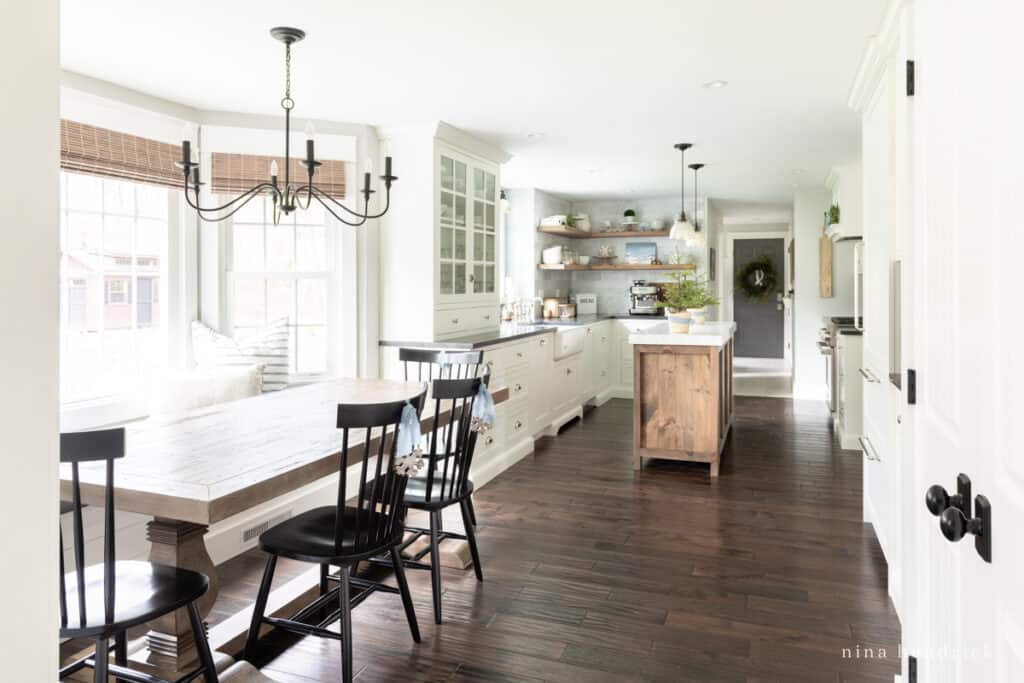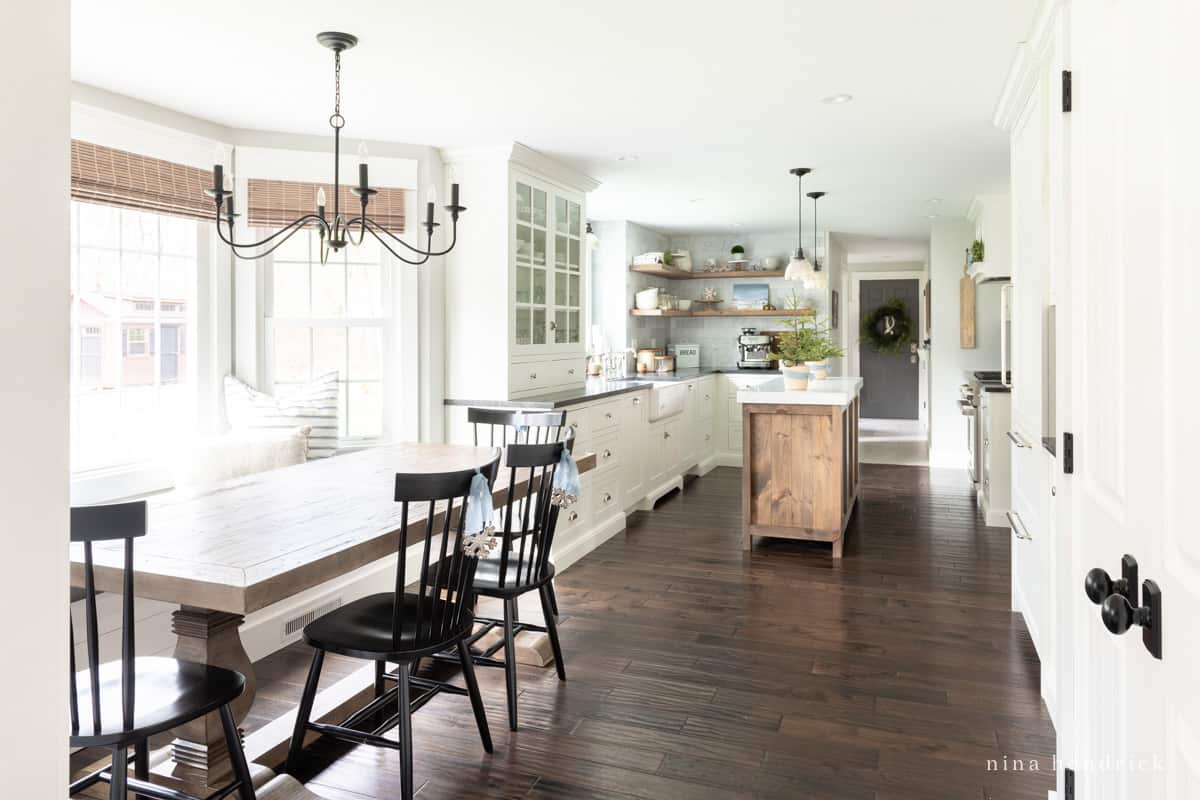 So, there you have it! That's my early & simple blue Christmas kitchen decor. I hope these tips are helpful for you and that you give them a try. But don't be afraid to change things up later on. If you're feeling inspired to add more elements to your Christmas kitchen decor, go for it! Have fun with it and create a space that feels special and unique to your home.
To see the full blue Christmas kitchen source list, please visit this post!