Learn how to transform an old window to DIY window mirror decor for your wall using looking glass spray paint. This is a great idea for the antique windows you see at yard sales and thrift stores!
Any time I can create DIY decor that mimics something expensive from the store, it feels like a real win. This DIY barn window mirror wall decor certainly fits that description. Some of my other favorite decor DIYs are this pallet flag American flag and DIY cafe shelves.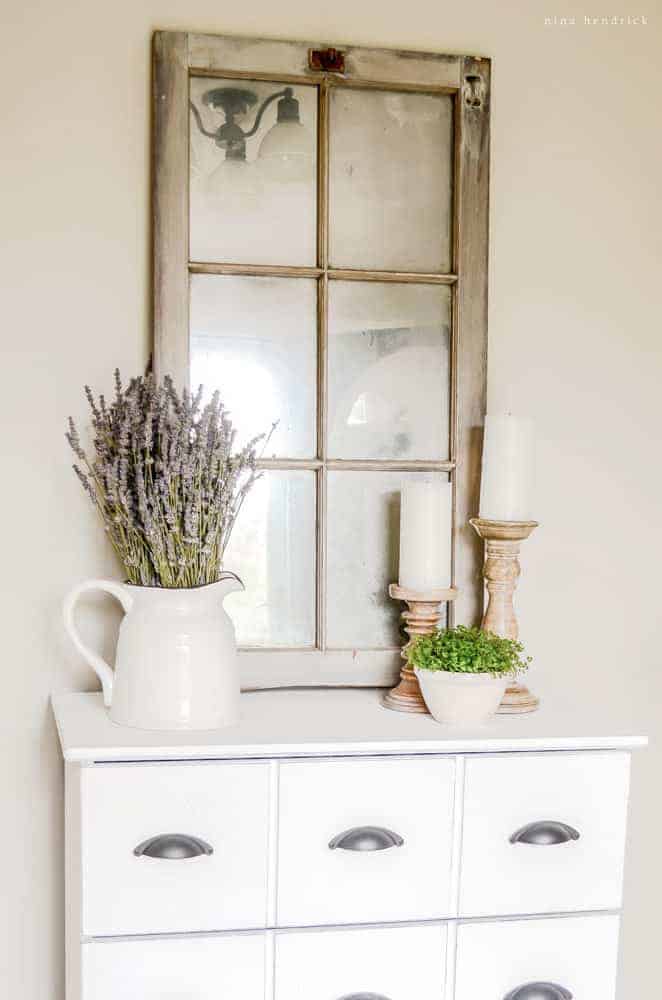 DIY Barn Window Mirror Wall Decor
Originally published February 12, 2014.
This post contains affiliate links. Please see my disclosures here for more information.
I picked up this old window in the spring of 2013. I was driving down the road by my son's preschool on trash collection day when this window caught my eye. They propped it up against the mailbox in front of an antique colonial farmhouse beside the trash, as if the owner knew there was a possibility someone may consider it a treasure.
Before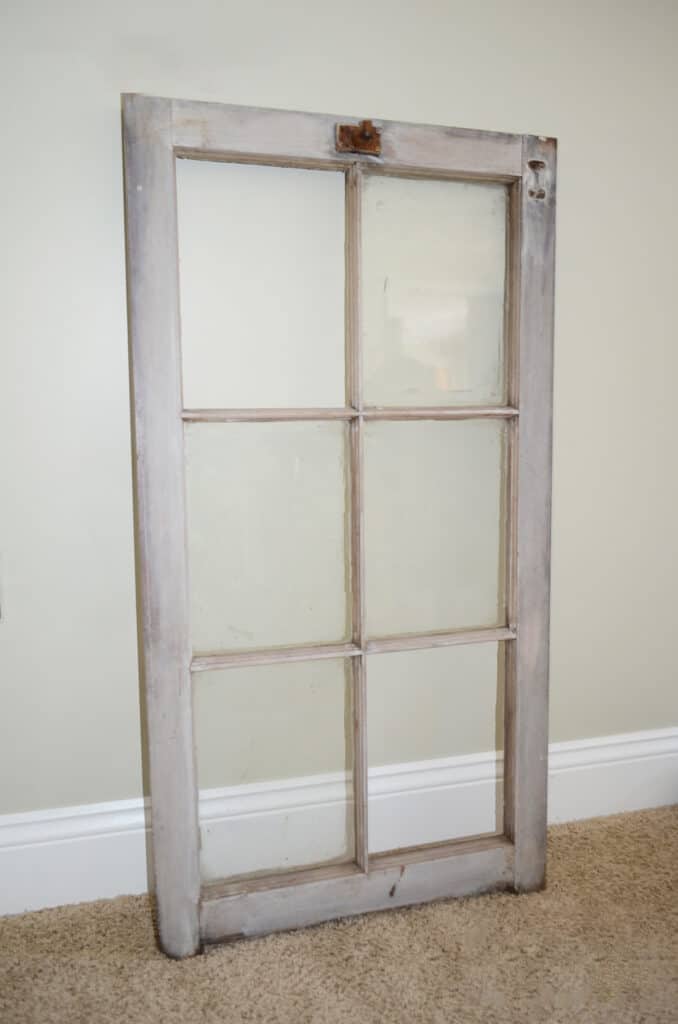 Of course, I had to pull over! There were two broken panes of glass, and as I carefully avoided the broken glass to put it in the back of the car, I noted that it actually came from the barn they were renovating, weathered gray barn wood and all. Score!
If you aren't lucky enough to snag a free window on trash day, thrift stores and salvage yards are a great resource. You can also shop for them online!
I had a few ideas for what to do with the window:
transform the old window into a chicken wire message center
paint the panes with chalkboard paint
add photos to the window panes
transform it into DIY window mirror wall decor
I suppose now it's pretty easy to see which option I chose!
I have been wanting a window mirror for a while. As soon as the idea struck of transforming the window to a mirror, I immediately knew that's what my barn window should become.
DIY Barn Window Mirror Tutorial
I have been dying to try out glass-effect spray paint, so I already knew my method for transforming the clear glass to a mirror-like finish. I also knew I wanted a slightly antique-look, so I used the method I describe below to distress the glass.
It was the details related to this window that made the project a little more complex, but definitely not impossible.
Replacing Glass in a Glazed Window
This was actually an authentic glazed window, and the putty that originally held the panes in was chipping away. I was reasonably sure that the chippy paint on the backside of the window was lead.
Before I could replace the glass, I somehow had to remove the glazing without disturbing the chippy paint. Since the edge of the glazing was so close to the chippy paint, this made me very nervous!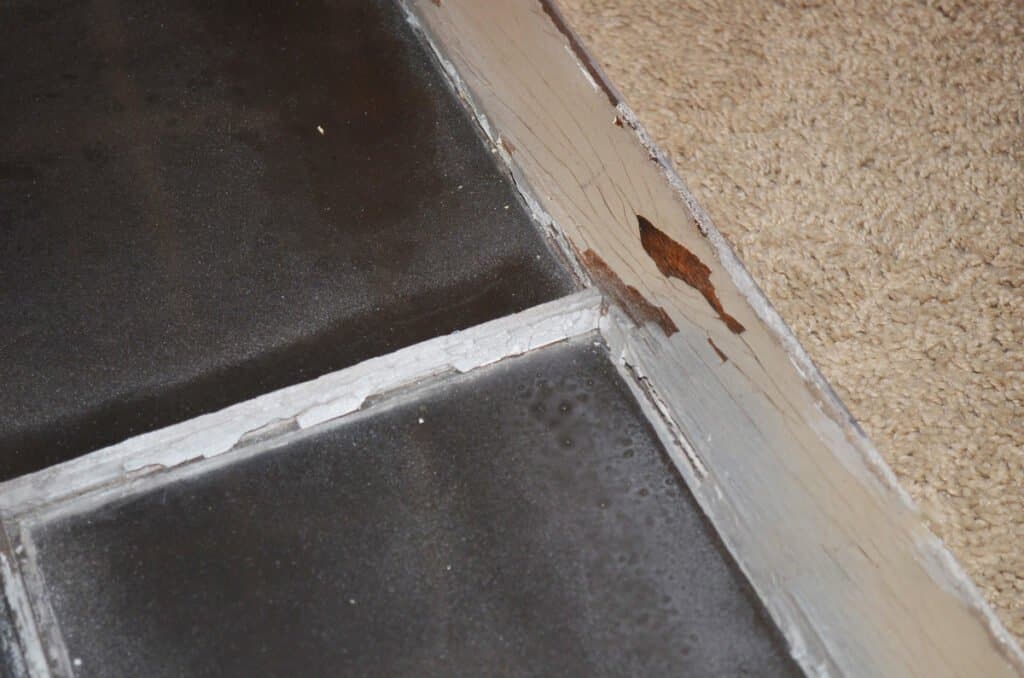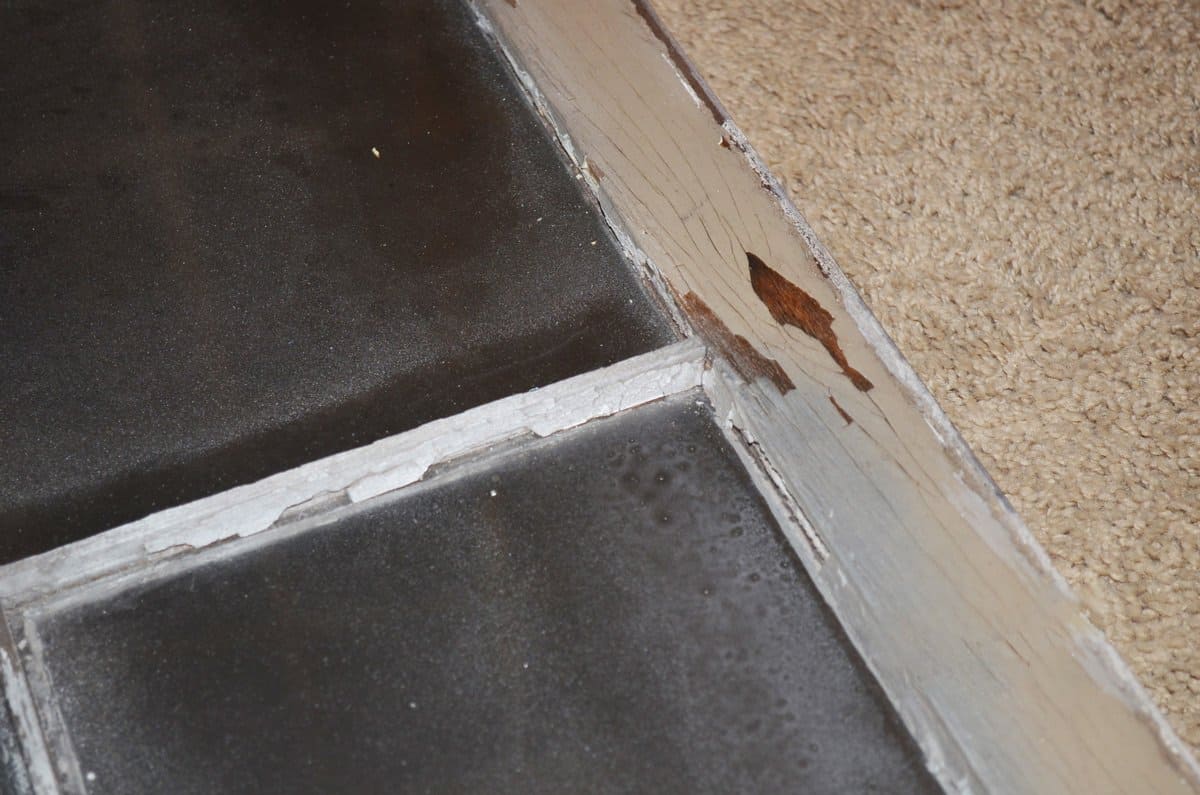 Sealing Potential Lead Paint
Zinsser Peel Stop turned out to be a perfect solution for this project. Before anything else, I sealed up the back of the frame with the Peel Stop, just in case. I could remove most of the glazing safely, without chipping off the paint. I left the glazing that had been painted.
The next step was replacing the glass in the two missing sections. I took my measurements and headed to Lowes for replacement glass. This was tricky, as the remaining window glazing made it difficult to get a perfect measurement. I ended up having to take the glass back to have it re-cut. In retrospect, I should have just hauled the window in there! Ultimately, I prevailed and could get pieces that slid under the glazing.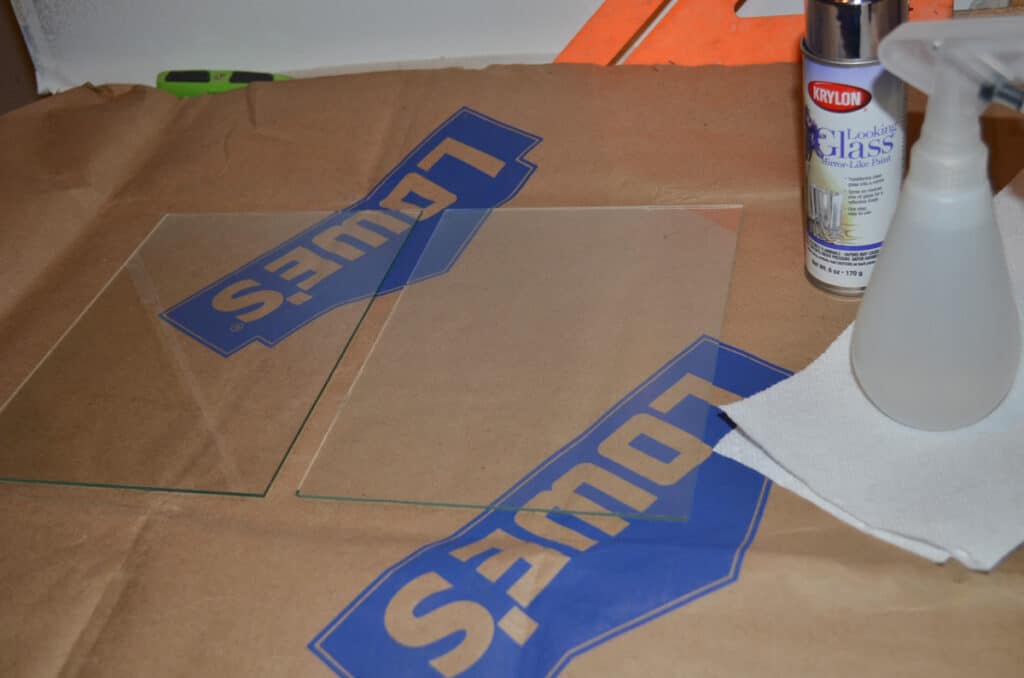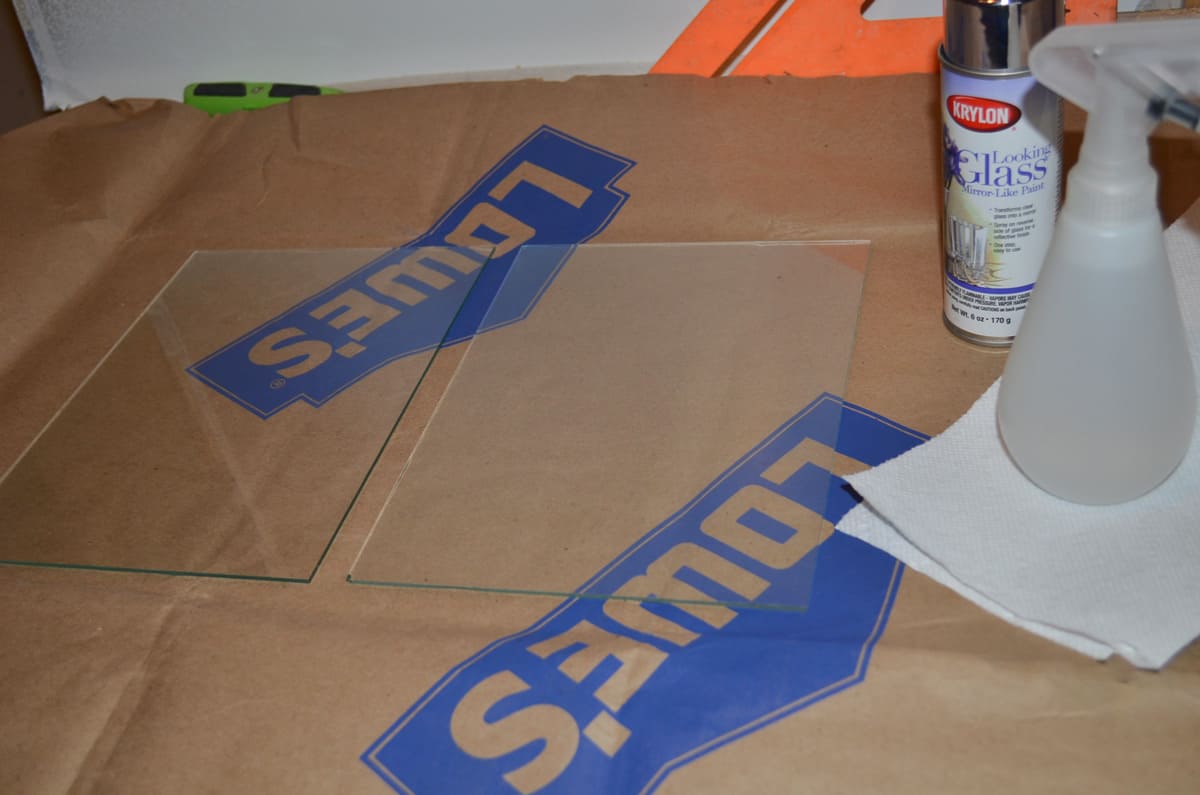 Painting and Distressing Replacement Glass for DIY Window Mirror Decor
I painted the two cut pieces before repairing the mirror. The mirror-effect spray paint is very easy to use- just make sure you have proper ventilation! This stuff smells like nail polish multiplied. It also dries very quickly.
Since my new pieces of glass were less rustic-looking than the old glass in the window, I did some light distressing with a 25% vinegar 75% water solution and a paper towel. I spritz the drying panes with the solution. The vinegar/water removes the mirror-like finish easily, and I just dabbed with the paper towel to pick up the droplets. Then I added another coat of Looking Glass.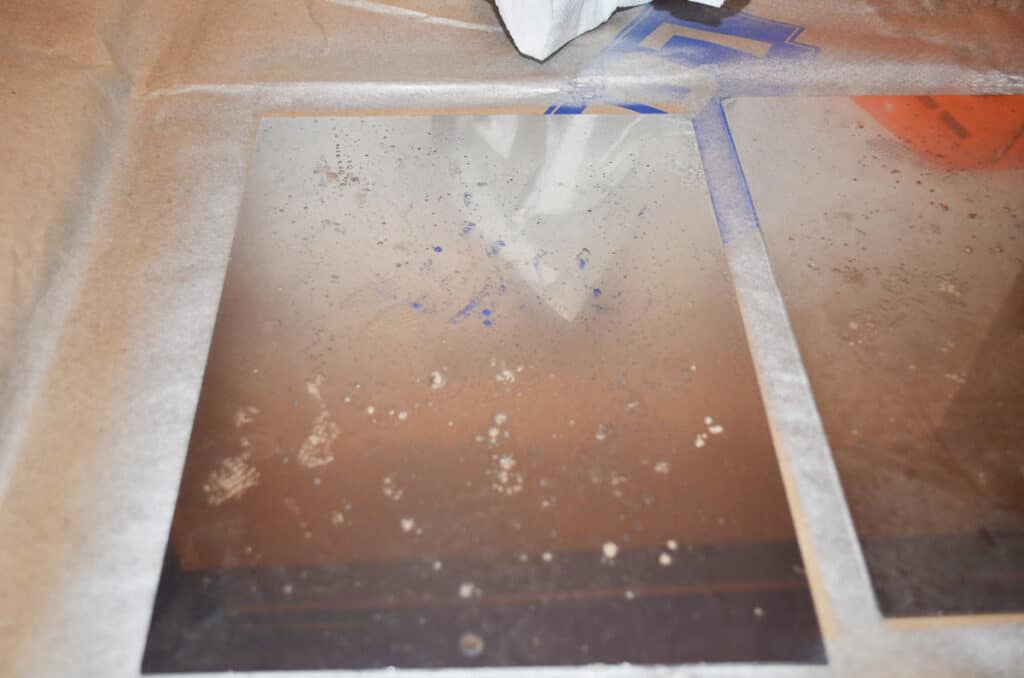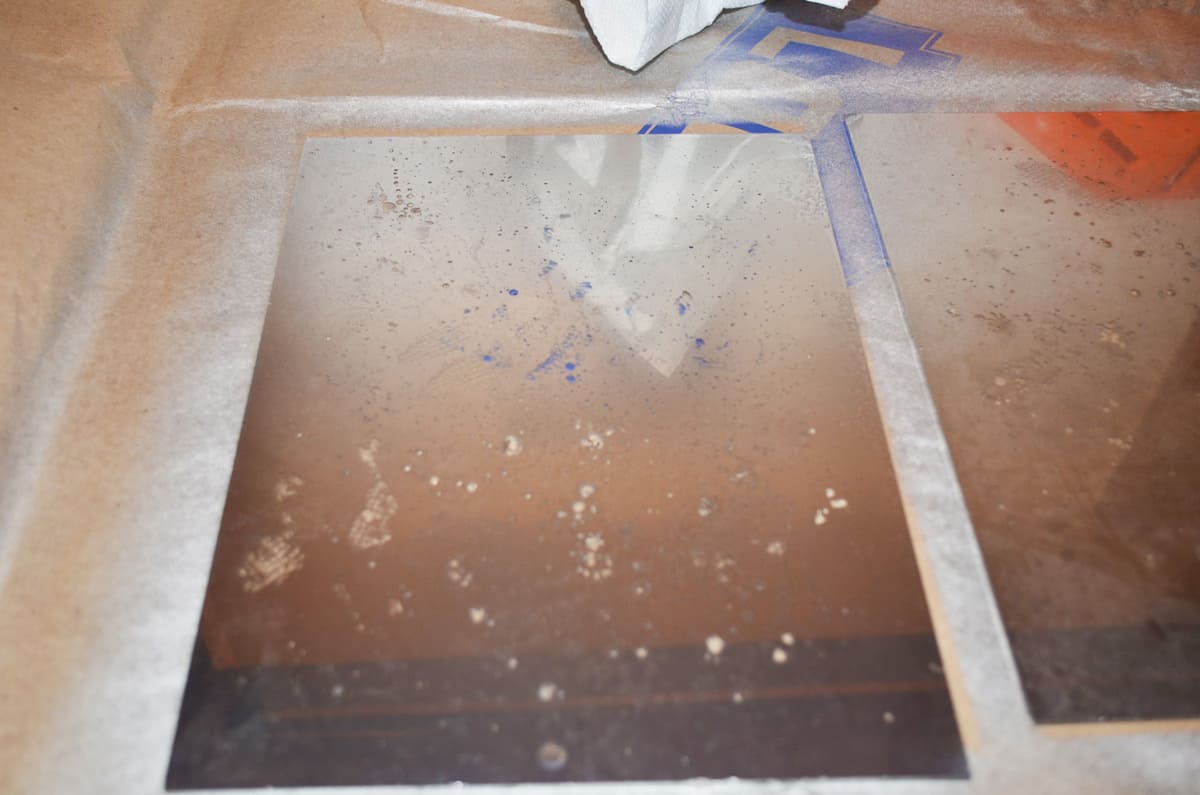 Prepping and Painting the Antique Mirror
I taped up the backside of the window mirror, using masking tape and masking paper. After I prepped it, I sprayed a coat of the looking glass paint.
As soon as it dried, I sprayed a second coat, then a third. The original panes were already very aged and rustic looking, so I didn't need any of the vinegar/water solution. There were spots where the mirror-effect spray paint inexplicably beaded. I assume there was something on the old window that prevented it from curing. I just kept layering the finish until it was no longer possible to see the shadow of objects behind the glass. It's still slightly translucent, but I am okay with that!
After everything dried, I secured the two new panes with glazing clips. I had wanted to do this step last, so the clips didn't show through. Now the mirror-effect paint hides the clips!
The Result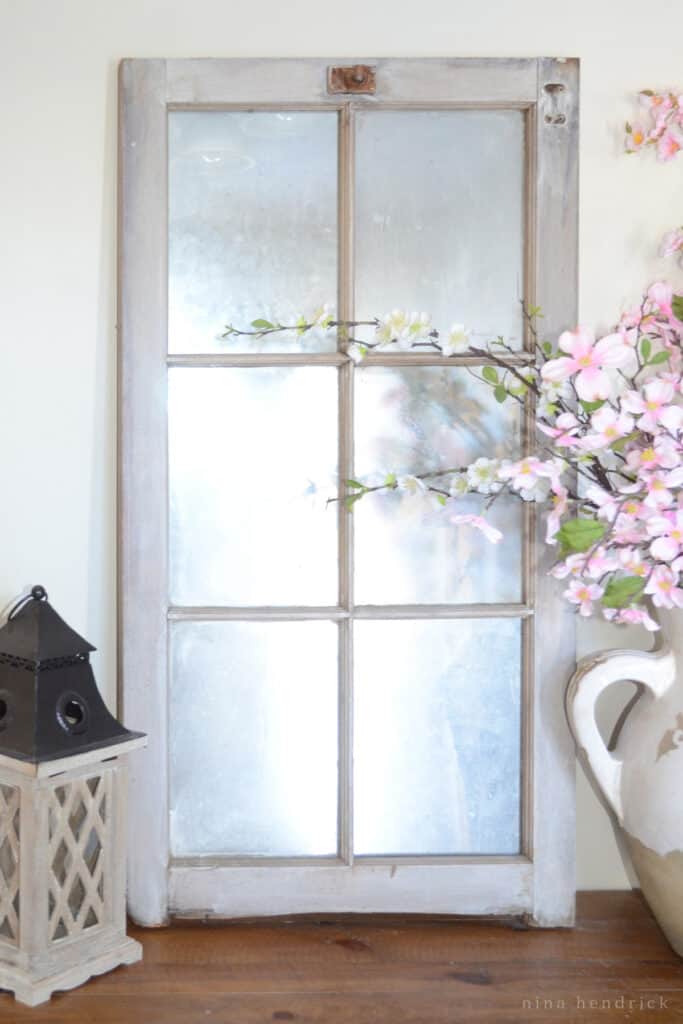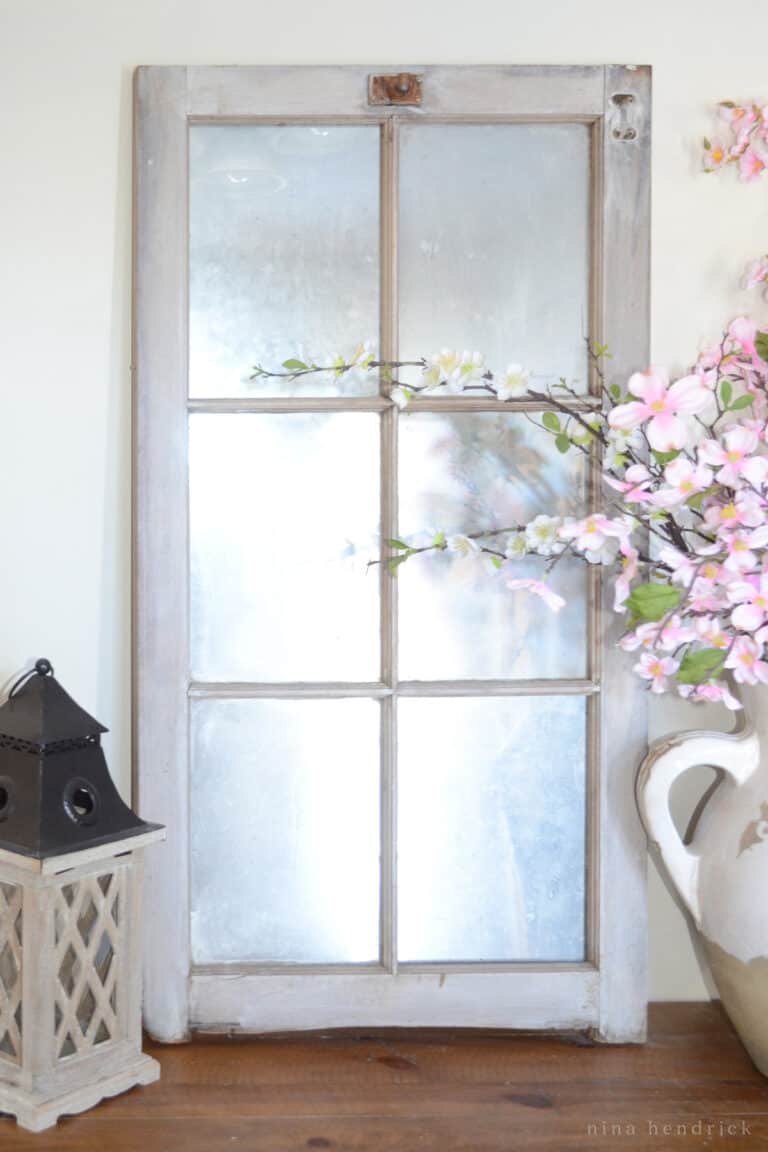 I have to say, I am quite in love with this technique for creating DIY window mirror decor! The mirror looks like something you'd spend a lot on at an expensive home decor store, but for under twenty dollars (free window, $7.58 for replacement glass, 8.48 for the mirror-effect spray paint and $1.14 for the clips).
Are you going to give this a try? Let me know in the comments if you decide to make your own window mirror wall decor.
Yield: 1 Window Mirror Wall Decor
DIY Barn Window Mirror Decor Tutorial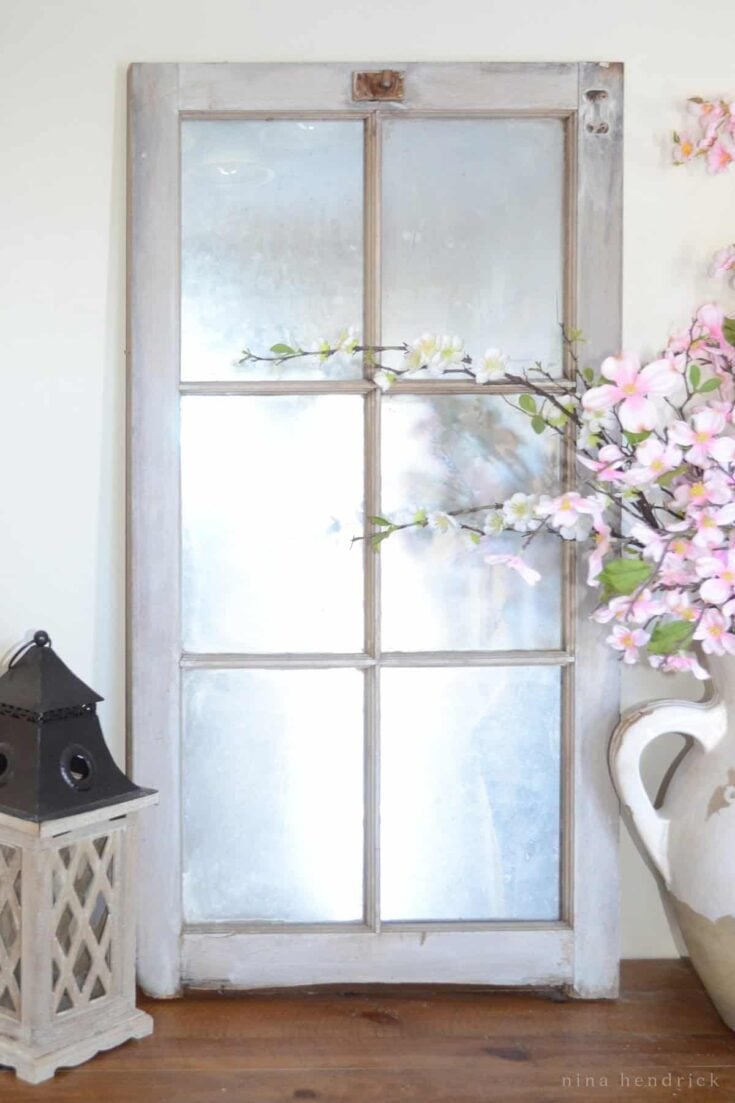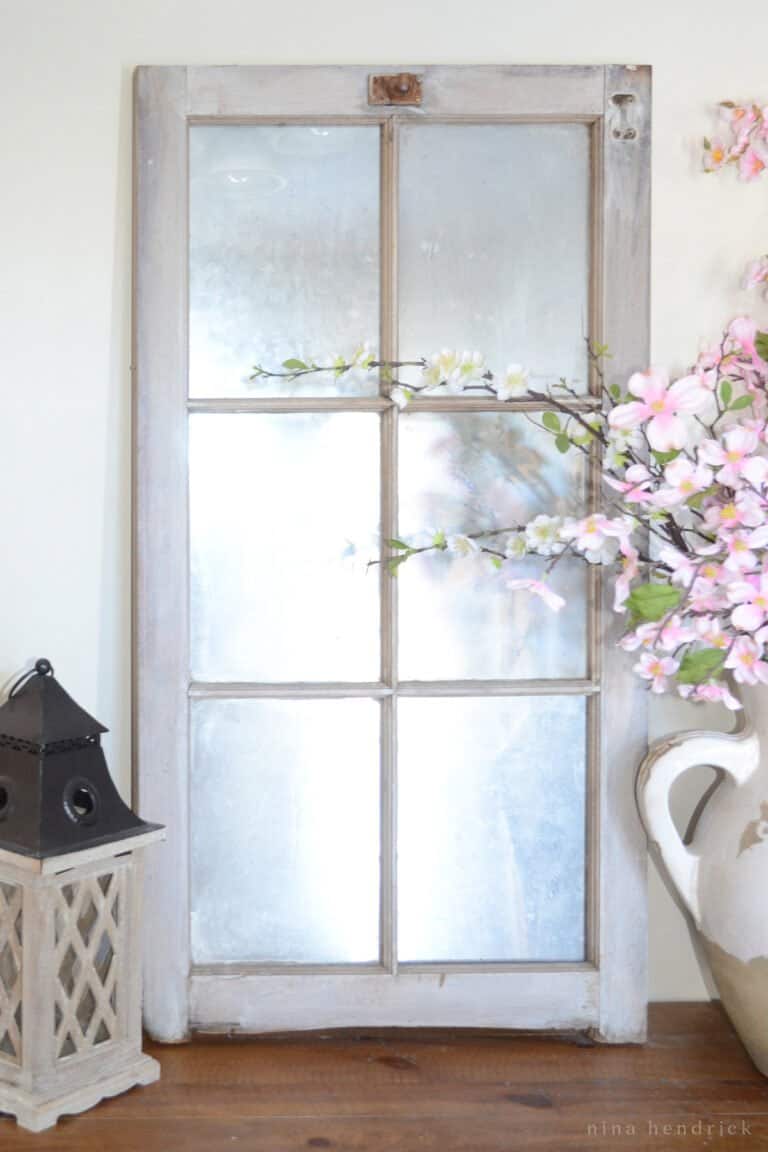 Learn how to transform an old window to window mirror decor using looking glass spray paint. This is a great idea for the antique windows you see at yard sales and thrift stores!
Total Time
1 hour
15 minutes
Materials
replacement glass (optional)
25 % vinegar + 75% water solution (optional)
Instructions
1. Prepare any needed replacements following the instructions in the Notes section.
2. If you suspect lead paint, I recommend using Peel Stop binding sealer to seal in any chips. Allow to dry.
3. Use masking tape and/or paper to tape off all wood grids and the window frame.
4. In a well-ventilated area, apply two-three coats of mirror-effect spray paint in even strokes. Allow to dry between coats. Optional: follow distressing method in Notes section between coats.
5. Remove masking paper and tape. Install any replacement glass with glazing push points.
6. Install weight-appropriate hanging hardware. Hang up your DIY Barn window mirror decor and enjoy!
Notes
Replacement Glass: After finding your antique or salvaged window, measure for any necessary glass replacement. Have replacement glass cut at the hardware store. Arrange replacement glass on masking paper and apply multiple coats of mirror-effect spray paint in a well-ventilated area. Optional: follow distressing method below between coats.
Optional Distressing Method: to distress new or replacement glass, apply a 25-75 vinegar-water solution with a spray bottle. Simply spray on the solution to the mirror-effect paint before it's completely dry and dab with a paper towel. Apply another coat of mirror-effect spray paint after. Repeat until ideal patina is achieved.